It was created by Jack Dorsey, co-founder of Twitter. It looks like Twitter, but it's not Twitter. Today we are talking about the Bluesky phenomenon.
Elon Musk has successfully caused outrage among many people with his actions on Twitter. This is not surprising, because the controversy around the website does not stop, and although many new products have appeared since the billionaire took office, it is difficult to single out at least a few of them that are really good. Therefore, users who are fleeing Twitter are looking for alternatives, and Bluesky could soon be one of them.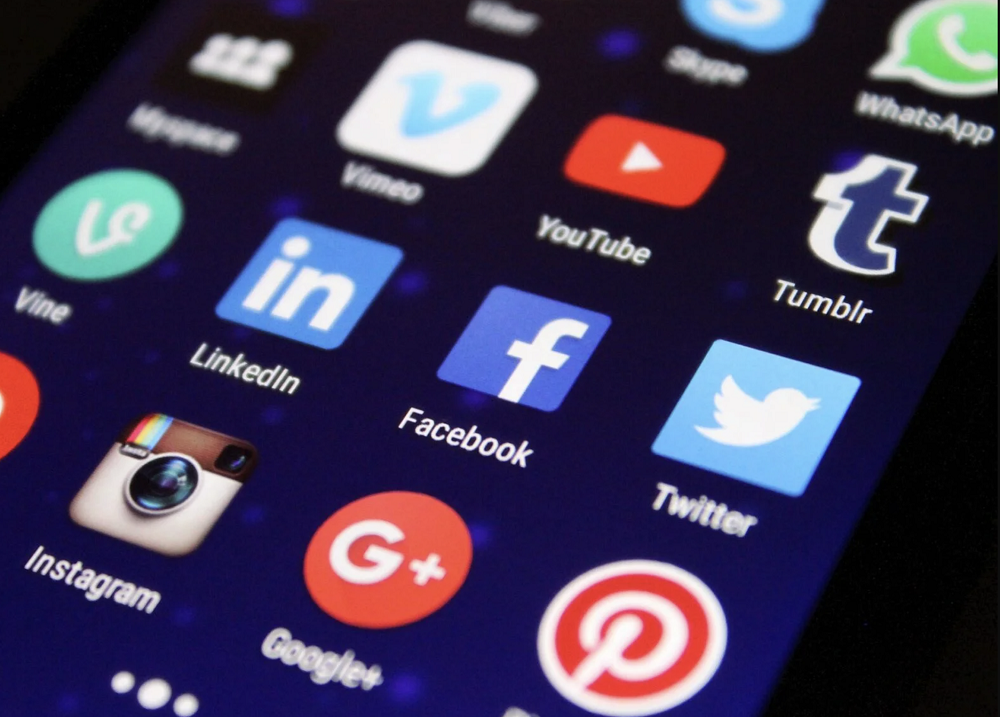 The circus that Musk has been running on Twitter for months has helped many social media sites and platforms. So far, perhaps the new social network Mastodon, which has been steadily gaining traction since the billionaire took over Twitter, has benefited most from Musk's antics. However, this is not an equivalent alternative, as the server-based social network works on a slightly different principle. Today, we will focus on another, fairly recent social network, which is Bluesky by Jack Dorsey, co-founder of Twitter.
Read also: Twitter in Elon Musk's Hands — A Threat or an "Improvement"?
What is interesting about the Bluesky network?
Bluesky is a new microblogging social network touted as one of Twitter's main competitors. The platform focuses on creating short content on a continuous timeline and is very similar to… Twitter.
The difference lies in the use of the AT protocol, an exclusive protocol that allows several different social networks to communicate with each other in the same room. To understand this better, think of email systems or phone numbers: regardless of the network operator, manufacturer or email service provider, you can communicate freely with other people.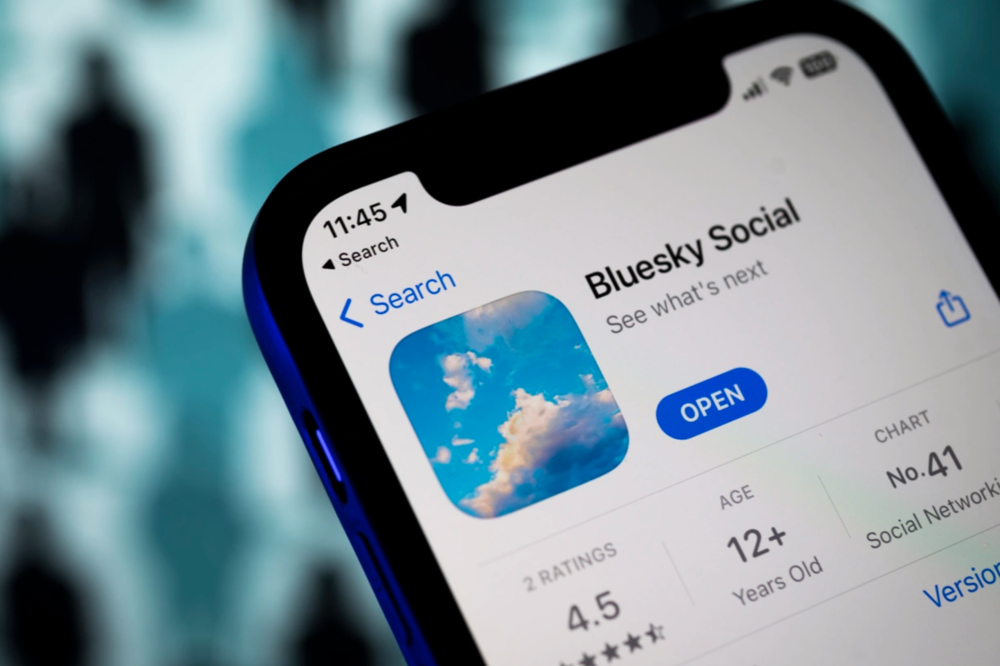 In addition, Bluesky will make its source code available to everyone, meaning that anyone can study the data or develop useful solutions based on it. Without corporate control, the community dictates the direction of service delivery in a more democratic way.
History of Bluesky
The history of Bluesky is intertwined with the evolution of Twitter, as the project was born in 2019 due to the platform's dynamism. The idea was to invest in an open system that would allow for a less centralised network without losing the essence of the service.
Bluesky was founded by Jay Graber, an expert in decentralised social networks and a critic of the concentration of power in the hands of large tech companies. The board includes none other than Twitter founder and former CEO Jack Dorsey and Jabber/XMPP inventor Jeremy Miller.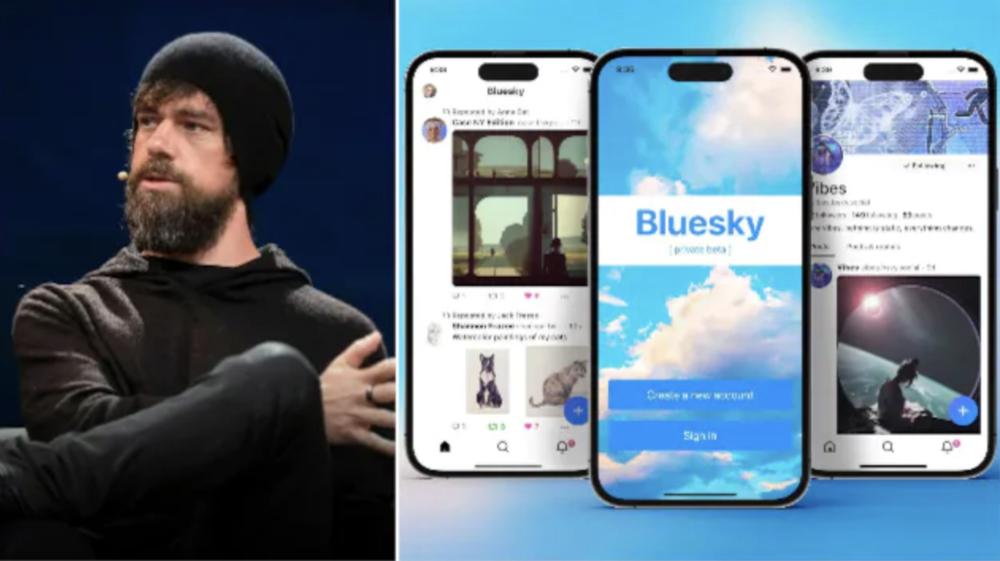 Jack Dorsey set out to create a successor to Twitter after leaving the helm of Twitter in 2021. His idea was to help restore his social network's roots as it was in the late 2000s.
The platform was in jeopardy when Musk announced the purchase of Twitter, as the billionaire was apparently not going to invest in a competing service, i.e. Bluesky, Elon Musk was unwilling to give away a cent of the $44 billion he paid for Twitter. Dorsey's solution was to cut ties with Twitter and strike out on his own to start a new company.
Almost at the same time as Musk was finalising the acquisition of Twitter, Dorsey announced that he would soon launch a beta version of the new decentralised social network. It took only 48 hours for 30,000 people to register for the test. This registration is still ongoing, and closed tests have already begun, which brings us closer to, for example, open beta testing, when we will be able to say something more about the service itself.
It is worth mentioning that Bluesky is not exactly an alternative (and not even a new one) to Musk's platform, but rather a spin-off. The initiative was created in 2019 and funded by Twitter, and the goal was to develop technology that would later be transferred to the parent company. In April 2022, $13 million was donated, but with virtually no obligations or conditions, except for further research. Dorsey wanted to solve the problems of social media that existed at the time.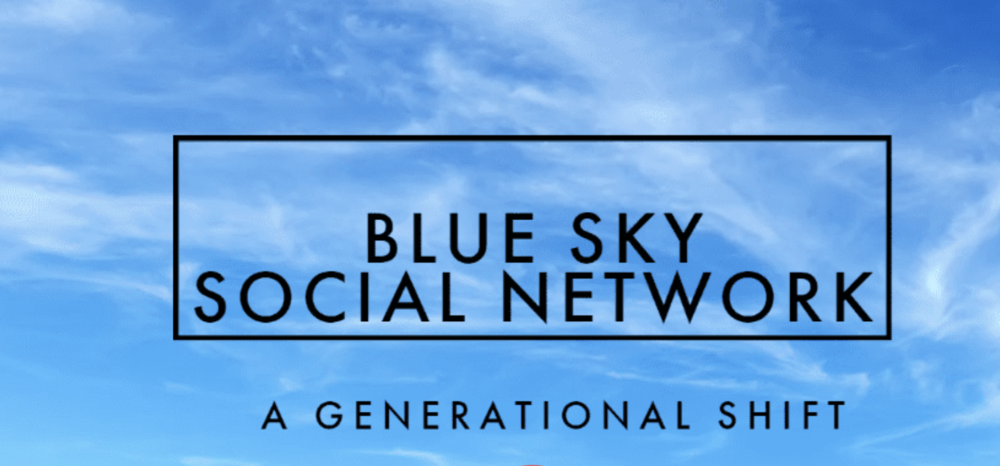 However, what is important for future users is that the Bluesky project is owned by Bluesky Public Benefit LLC, and Twitter does not own a controlling stake. It is a non-profit institution, just like Mastodon. Instead, it aims to create a new "open and decentralised" form of social media. Social networks such as Twitter and Instagram are centralised commercial services owned and operated by a particular company that ultimately has the final say on everything that happens on them. But at Bluesky, everything will be completely different. At least, that's what the project founders say.
Read also: How Social Media Impact Lives: Example Of One Tweet
What is the AT protocol?
Bluesky is a decentralised social networking application, which means it runs on multiple servers run by multiple organisations. It uses a technology called AT (Authenticated Transfer Protocol) to store your account data, effectively connecting these "decentralised" elements. It sounds complicated, but, simply put, the service should work in a similar way to Mastodon. In the end, users will get a version of Twitter that gives them more control over algorithms, moderation, recommendations, etc.
The full name Authenticated Transfer Protocol, AT protocol, is an open source communication language based on a federated system. That is, the technology is similar to Mastodon, but with a much more convenient operation for a non-professional user.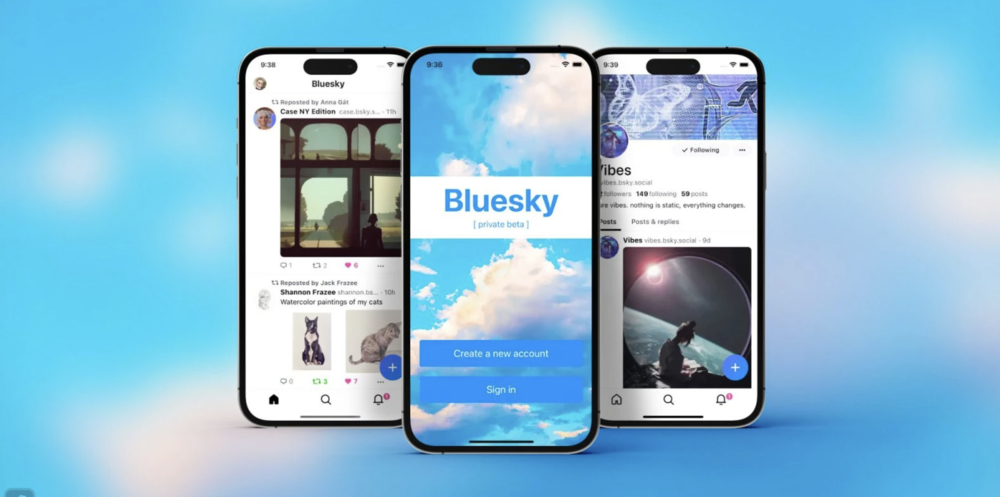 The protocol allows you to create individual social networks within a larger system that can communicate with each other in an integrated way. It is also possible to move your account from one service provider to another without losing content and contacts.
It's like an app that could combine Instagram, Facebook, TikTok, Snapchat, and Twitter in one place. Each service would have its own features, but you could see your friend's tweet in the same place you see a short video from an influencer.
Services can create their own networks to build a community close to the consumer, with their own management method, special algorithms and exclusive moderation rules. The interesting thing is that no one will own everything, so decisions are made by everyone together, more or less like in the world of Linux distributions.
But what does Bluesky actually look like?
Well, Bluesky… it's like Twitter. At least for the moment, because it's hard to say much more about an app that, although it's already available for download, you can't try. It's currently in closed beta, so availability is very limited. On the Bluesky website, however, you can sign up for the beta and wait for the lucky break, i.e. an invitation to participate in the tests.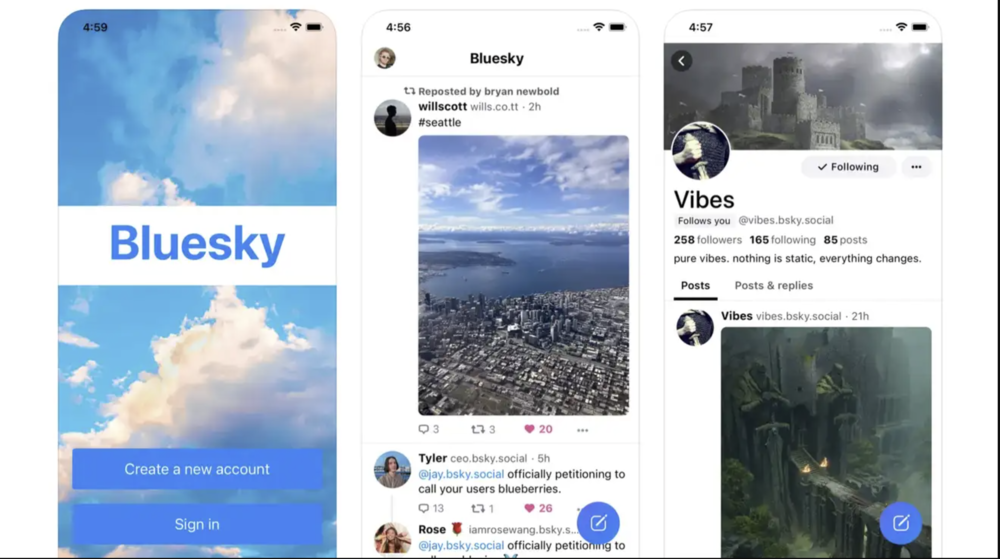 Under these circumstances, it is difficult to say anything more about the service's operation, as the only information we know comes directly from the official website, and there is not much information (and it has not been updated since October 2022, except for the announcement of the beta launch). The screenshots show that the app's interface is roughly the same as Twitter's – we have comments, profiles, likes, and retweets. In the context of the news about the genesis of the app, such a great similarity is not surprising.
This will make it much easier to find new users who switch to Bluesky from Twitter. Everything will be very familiar, but without the flaws that Musk's platform has.
How can I get an invitation to Bluesky?
There are two ways to get an invitation to Bluesky:
Log in to the Bluesky website (bsky.app) to wait for the waiting list. To get started, go to the official Bluesky website. Enter your email address, click "Join the waiting list", and then wait. Once you're logged in, enjoy exploring and sharing information on a freer internet.

Receive an invitation from a user who is already using Bluesky.
The second method is more complicated, but more effective, as it guarantees instant access after receiving the invitation code. Those who are currently on the waiting list may have to wait months to join the social network, and there is no telling how long that might be.
This guest system requires someone who is already registered to also send the code for you. This is an entry-level model that is very similar to Orkut and more recently Clubhouse.
The problem is that the number of available invitations is limited to only one per week. After 30 days, you'll probably be able to invite a maximum of four people, which is very small compared to the huge lists of friends on social media.
How do I know if I have an invitation to send?
Users with available invites can see them in the side menu right below the list of their followers and people they follow. Simply look for the ticket icon with the number of available invitations and the text "Invitation Codes".
Read also: Modern artillery is Ukraine's superweapon. And what does Elon Musk have to do here?
Bluesky vs Twitter
As I said before, Bluesky looks a lot like Twitter, especially with the older versions of Elon Musk's network. It has everything you need to know: two timelines (one algorithmic and one for followers), four bottom tabs, a side menu, short posts, and interaction tools: "Like, Repost, and Comment.
However, Bluesky still doesn't have as many features as its competitors. Video, audio, and GIFs are not supported, but you can add external links and images.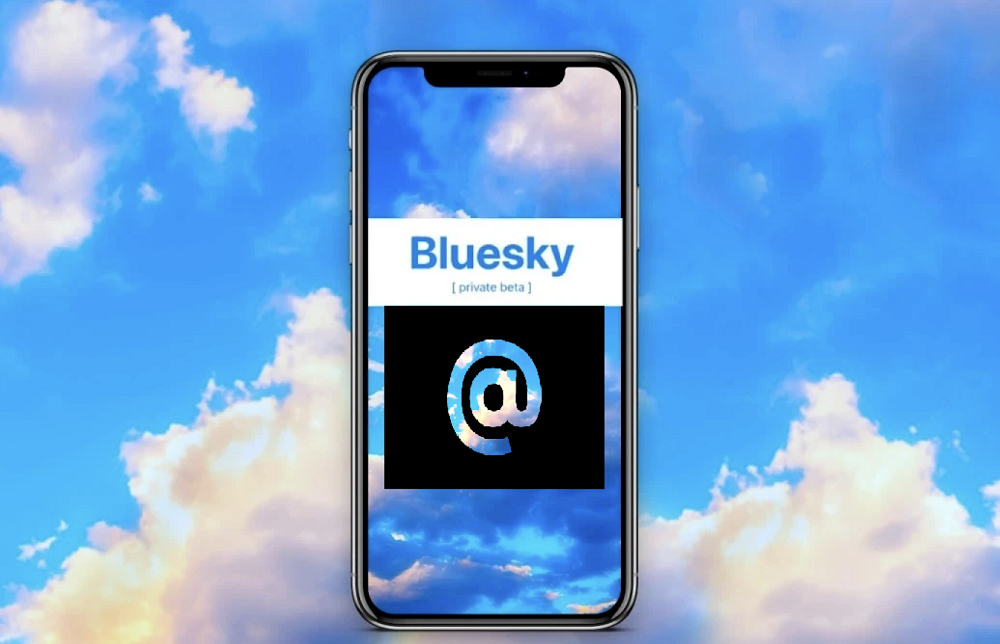 The service also lacks a subscription system and many profile settings. Only English is available during the trial period, although you can publish in the language of your choice.
Note the difference in speed between the systems: Bluesky requires a few seconds to load messages, even those you have read before, Twitter already does it almost instantly, updating very quickly with news.
The combined system is virtually invisible, as you already register at @username.bsky.social. As other domains come along, people may get a little confused by this long identifier, but so far it's been as easy as creating a Twitter account.
Read also: The best tools based on artificial intelligence
Is it worth using Bluesky?
The best answer for those in doubt about using Bluesky is the old "it depends…" reference. If you are using the platform to interact with friends and they are registered there, the system is ideal because you have less competition.
It may be too early to use the platform for companies and brands that need to promote their products. Similar to Mastodon and Ko, which grew rapidly during the Twitter crisis, the same is happening with Bluesky now, but the number of users is still small (especially because access is limited).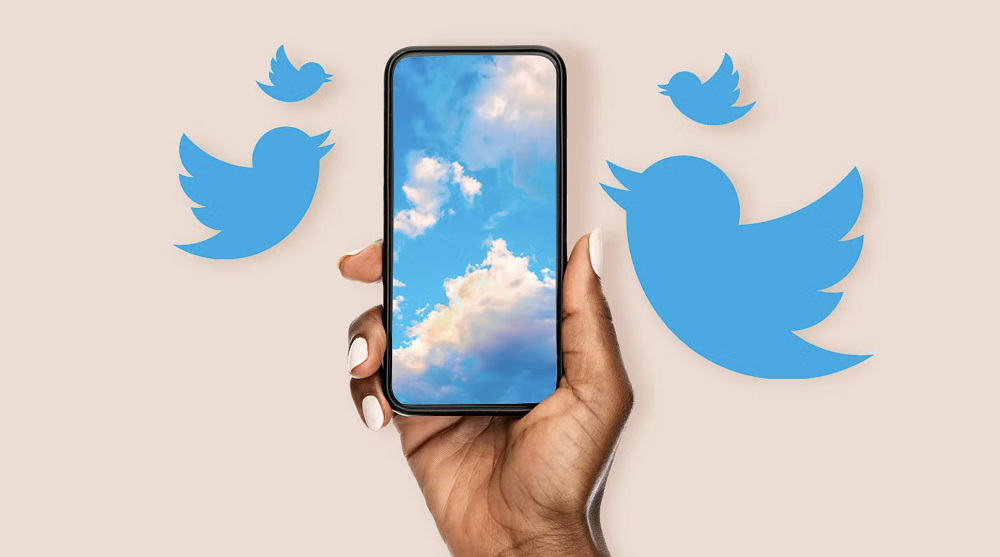 At the initial stage, people are enthusiastic about following each other, creating all kinds of content, trying to make a name for themselves on the social network. The problem is that this euphoria can pass, and everything that has been built there will be lost.
The trick then is to use it sparingly, always duplicating content on other social networks and being aware that something can go wrong. The next six months should be pivotal in getting a more reliable verdict on Bluesky's success or failure. We will definitely keep an eye on the phenomenon of the new social network Bluesky and will update you as soon as possible.
Read also: