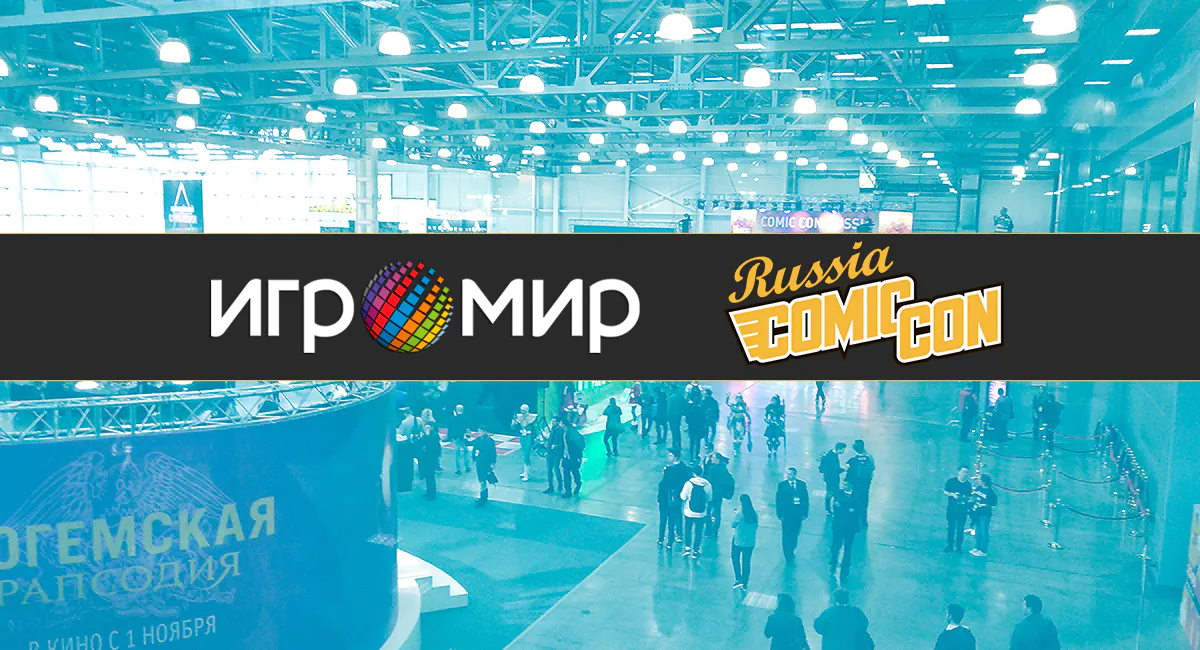 It's been an eventful 4 days in the Russian capital as hundreds of gamers, cosplayers, internet celebrities and ordinary visitors rushed to IgroMir & Comic Con – two of the biggest pop culture conventions, merged into one. But I guess you probably never heard of it, since even with its current size it is nowhere near as important or epic as its American or European counterparts. But what is it? How does it look? What even is there? Let's try and find out.
I don't really know who came up with an idea to merge IgroMir & Comic Con Russia into one but that was probably a bad idea. Two events, similar in their own ways, but different in others, constantly step on each other's toes. People mix the two – hell, even companies don't know where to go. Nintendo was located right in the center of Comic Con which is a non-gaming event. There are other gaming companies here too, desperate to find new audience. There really is no difference between the two conventions.
Among the biggest companies represented here are Blizzard Entertainment, ASUS, Activision, Microsoft, PlayStation, Warner Bros. Interactive Entertainment, Nintendo, Ubisoft, GIGABYTE, OMEN by HP etc. Almost every big gaming company is represented, although, as we'll soon find out, not all of them did their best. For example, PlayStation – by far the most successful console maker in Russia (which predominantly is a PC market) – slacked off with only one notable stand showing their Spider-Man exclusive. That and some Fortnite booths – that's about it.
The PlayStation stand shows us nothing new.
The limited PS4 Spider-Man Edition sure is a looker, but it's hardly something you buy a ticket for. You can't buy it or play it. Nintendo, on the other hand, set up a whole shop with consoles, games and accessories. PlayStation was my first big disappointment of IgroMir & Comic Con. There's nothing new or exciting. We've seen this attitude before: since we're already winning, we can skip the show. For the biggest gaming event in the country it is a disaster.
But let's take a look at what's for offer here. For example, these custom controllers. Most are decorated with logos of Russian football/soccer clubs for some reason.
This PUBG controller looks nice enough though.
And here we have Todd Howard's car, parked right in the center. I'm kidding, of course.
I was surprised by Xbox's presence. A big, flashy stand with various fresh games like Kingdom Hearts III. Good job from Microsoft, but I can understand their eagerness to impress – just recently we found out that for the first time Nintendo has surpassed Xbox in terms of sales. That made it the second most popular console maker in Russia, and that's something, considering that mostly people here don't see the appeal of Nintendo's "kiddy" games.
Read also: Far Cry 5 review – The Lovable Mess
Ok, who is actually interested in this? Here we have another Lego game which I completely ignored since I stopped playing  TT's titles a long time ago. Let's hope they won't share Telltale's destiny.
Nothing new here, just good ol' Hearthstone. With live music. A nice touch, but we want something fresher.
Wow, now that's better – Soulcalibur VI! That we might wanna play, especially since Geralt from The Witcher is massively popular here (starting with the books a long time before there were any games).
Hitman 2 is also represented. The franchise is also loved so the interest is definitely there.
Blizzard Entertainment is massive in Russia with tons of popular IPs like Hearthstone, Overwatch and Warcraft. Hence probably the biggest show of the convention with two loud hosts and tons of people. The hosts were very cringey, but teenagers seemed happy. Good job from Blizzard.
Cosplayers. There were tons of them here, and they were the main attraction for many. The cosplay scene in Russia is still young, but people get better with every year.
Right in the center of Comic Con (I don't know why here and not at IgroMir where all the games are) we see Nintendo (and their local slogan which says "Plays differently), surrounded by movie trailers and Marvel figurines. A good, good job from them – their area is substantial, with lots and lots of TVs with Switches. There were more than 20 games, both new and old, including Diablo III: Eternal Collection and Super Mario Party.
Along the way we see Just Dance enthusiasts, awash in their excitement for the new game. I had no idea that Just Dance was that popular here – it's seemingly bigger than Fortnite. Oh well, good for them.
Merchandize is everywhere. Toys, cups, T-shirts, figurines, posters – never forget that IgroMir & Comic Con are here to sell. I don't like Funko's stuff, so let's move along.
Marvel is huge in Russia just like anywhere else, so here we have helmets, life-sized statues and other neat stuff. Right beside Marvel there's a puny Star Wars stand with Lego creations, figurines and life-sized Phasma and Kylo Ren. Nothing to write home about – Disney's movies aren't so hot right now and many russian people prefer the old stuff like the OT or the prequels. Source: I was part of the fandom for most of my life. Still, Stat Wars is everywhere, and there were a lot of cosplayers with lightsabers. Even people who are serious about saberfighting – a made-up discipline for mastering the art of fighting like a true jedi.
Now who is excited for Bumblebee? Yeah, same here.
Ubisoft always tries hard to impress. Last year they build a pyramid to promote Assassin's Creed Origins, and this year the tradition continues. On the other side is a Tom Clancy's The Division 2 demo.
And here's Nintendo again. Tons of games and cute and knowledgeable promo girls to play them with – a true corporate paradise.
By the way, the so called "booth babes" were there in force – that's not America and no one really cares about the #MeToo movement. Half-naked pretty ladies were everywhere: they promote games, stores, hardware etc. And that's not necessarily bad.
Nintendo always brings along the massive Amiibo collection. Look, but don't touch.
Nintendo princesses come to every big event. Thankfully, no Bowsettes!
As you can see, people are starting to dig Nintendo, which warms my heart. All of it is thanks to good work by Nintendo Russia and, of course, to Switch itself. The company hosts different events, showcases Labo and various games and ports. A good year for them.
You can buy almost anything from Switch to 3DS or Wii U. The latter is my favorite console and I was glad to see tons of great games with 70% off! I never expected people to freak out about this, but there were a lot of people who kept buying dozens of games. Wii U collecting is very much alive.
Toys, t-shirts etc. Detroit: Become Human is weirdly popular, which is great. Probably because actors Bryan Dechart and Amelia Rose Blaire visited the convent.
Comic books, mostly in Russian. Well, it's Comic Con, so…
Advertising is what keeps IgroMir & Comic Con alive. Everyone showcases their newest and bestest hardware, which is logical, but also sad. There's no soul, no cozy atmosphere. I hoped for something else. There aren't many consoles, so most of the place was taken by PC manufacturers with soulless rows of processors, video cards and accessories.
A neat steaming demon attracted lots of attention.
And what about the Russian gaming industry? Well, it was represented mainly by these two games: Redeemer: Enhanced Edition and 9 Monkeys of Shaolin. You could also play the latest DLC for Kingdom Come: Deliverance from our friends in Czechia.
And now to the headliners. Buka (one of the biggest distributors) did well by constructing a life-sized train car from Metro Exodus. Nothing attracted more people, and the queue was ruthless. Dmitry Glukhovsky – the author of the books – also visited the event.
And now to crap. Sorry, but there's no other way of putting it. Among the well-loved game franchises and hot new titles there were also lame "hey fellow kids" appeals to younger audiences from the state TV channels. NTV, Channel One Russia, TV3 and other all tried to act cool and showcase their new serials and shows. Russian moviemakers were also present, but people didn't come here to look at yet another patriotic "masterpiece" about WW2.
Verdict
IgroMir & Comic Con Russia is a strange beast. These are two events that act like one. IgroMir was once a respected E3 lookalike, but now it's a shadow of its former self. But people will come, of course. To play the games that are yet to come out, to see the spectacle. Some left disappointed – especially those who'd bought an expensive ticket to see Michael Rooker, who didn't show up. Some – ecstatic after seeing the ever-charming Bryan Dechart and Amelia Rose Blaire. Overall, though, I wasn't impressed. You can feel the lack of funds. Bad organization spoiled the mood for many. There were too many people and not much place for them.
IgroMir & Comic Con Russia want to impress, but they fail at that. It's supposed to be an international event, but you won't ever see foreigners, except those who were paid to come. It's a big event for cosplayers, but for some it's just an opportunity to push product. Still, there's nothing better for gaming fans in Russia of which there are many. Some still reminisce about the good old days when IgroMir was still young and independent, and when game creators actually wanted to come and show their latest product. Those times for now are over.
And yet we need something like IgroMir to see that even with all that's happening in the world people still read comics, respect other cultures and enjoy different hobbies. We are still together, even when our leaders want us to stay apart.