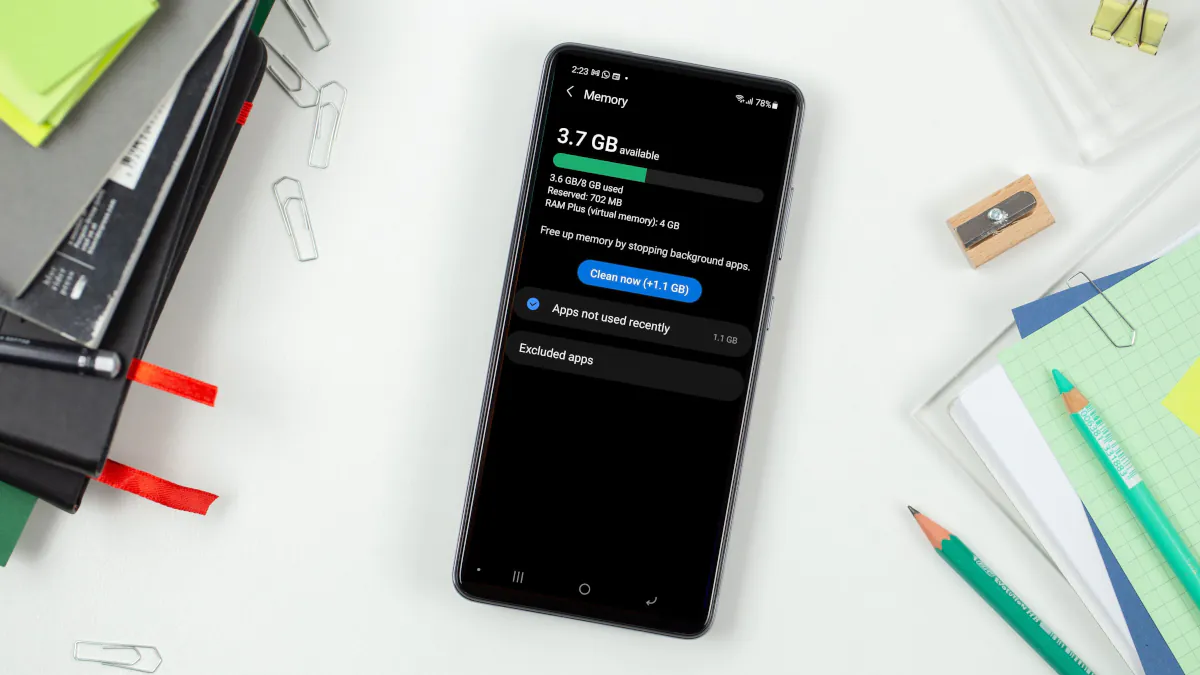 Today, Android smartphone models with the function of expanding RAM are becoming more and more common. This is mostly the prerogative of inexpensive and mid-budget devices that have a small amount of RAM, which makes it difficult for them to cope with resource-intensive tasks. What is virtual RAM, how does it work, where can it be found, and can it turn a smartphone into a rocket – read our article.
What is RAM expansion in a smartphone?
Smartphone RAM is a digital storage used to store data from currently running processes, and it is also used by the processor and operating system. Simply put, RAM is one of those elements that is responsible for the speed of the device and its performance. The more RAM you have, the easier demanding games and programs run, and the better your smartphone handles multitasking.
The amount of RAM affects the cost of a smartphone, which is why budget devices are often equipped with a small amount of memory, such as 3 or 4 GB. At the beginning of use, a modest amount of RAM may have little or no effect on smartphone performance – the device can work quickly and stably. But over time, many processes begin to require more and more resources, and updating software to newer versions, including updating the operating system, can significantly slow down the speed. So it turns out that you bought a lively new smartphone, and a year later it starts to lag and freeze.
To mitigate this problem, many developers today offer dynamic memory expansion. If this function is provided, it means that a smartphone can reserve a certain amount (usually from 1 to 8 GB) of permanent memory for the purposes of RAM. By the way, a similar technology (paging file) has long been used in PCs, but smartphones have only recently come to this feature.
Read also:
How virtual RAM works
Virtual RAM cannot completely replace hardware memory, but it can significantly relieve it. The fact is that the speed of the internal drive and RAM is different – RAM is the leader in terms of data writing and reading speed.
Thus, virtual RAM can take on a number of tasks to free up RAM space for more resource-intensive processes and programs. If you draw an analogy, it's similar to how we expand permanent memory with a memory card. Some data and applications can be stored on a flash drive, while others (especially system applications) should be stored exclusively on the internal drive.
Is it supported on all Android smartphones?
Dynamic memory is not a default feature for all Android smartphones, it is only present in some models from some manufacturers. For example, smartphone variants with dynamic memory can be found in Poco, Vivo, Realme, Oppo, Oukitel, realme, and other brands. In the technical specifications of such models, the section "RAM" usually says 6 GB + 2 GB, 4 GB + 1 GB, etc.
How to increase the RAM in your smartphone
So, we have already determined that the ability to expand RAM is not available in every device. But if your smartphone supports dynamic RAM, it's not difficult to increase it. Let's take the realme 10 Pro Plus as an example.
In the settings, look for the "About Device" item at the bottom of the list. By clicking on it, you can see the main characteristics of the smartphone: model name, software version, name, flash memory, processor, cameras, and, in particular, the amount of RAM.
Tap on the RAM, and the settings for using virtual memory open up. In this model, you can choose the amount of RAM expansion from 4 to 8 GB.
Set the desired amount, reboot the device, and you're done.
Conclusions
Can we say that dynamic memory in a smartphone is equivalent to a large amount of hardware RAM by default? If we compare real 6 GB of RAM and 4 GB of RAM + 2 GB of virtual memory, then, of course, in the first case, the smartphone will be more productive and responsive. But, at the same time, dynamic RAM can expand the capabilities of low-cost smartphones without changing their price.
In any case, the presence of virtual RAM is much better than its absence, especially when it comes to low-powered devices. And for advanced gadgets with 8 GB of RAM or more, the presence of dynamic RAM will serve as a good asset for the future, as you are unlikely to experience braking and freezing in the coming years.
Read also: