The segment of gaming devices is incredibly developed today and it would seem that we have seen it all. Usually, they are powerful, massive laptops with advanced hardware, proprietary software for setting up optimal performance, gorgeous screens for a better gaming experience, sensitive backlit keyboards, and all that. Perhaps there is nothing to surprise here. But Lenovo proves the opposite from year to year. Let's find out what gaming laptops are capable of in 2023 with the Lenovo Legion Pro 7i. It combines incredible performance, exceptional battery life, the latest AI technology, and thoughtfulness to the last detail to deliver an unrivalled gaming experience.
Why is Lenovo Legion Pro 7i the best choice for a gamer?
The Lenovo Legion Pro 7i is an all-in-one productivity machine. It has everything you expect in a gaming station and more. Why is the Legion Pro 7i one of the best solutions on the market for players? We have a number of reasons.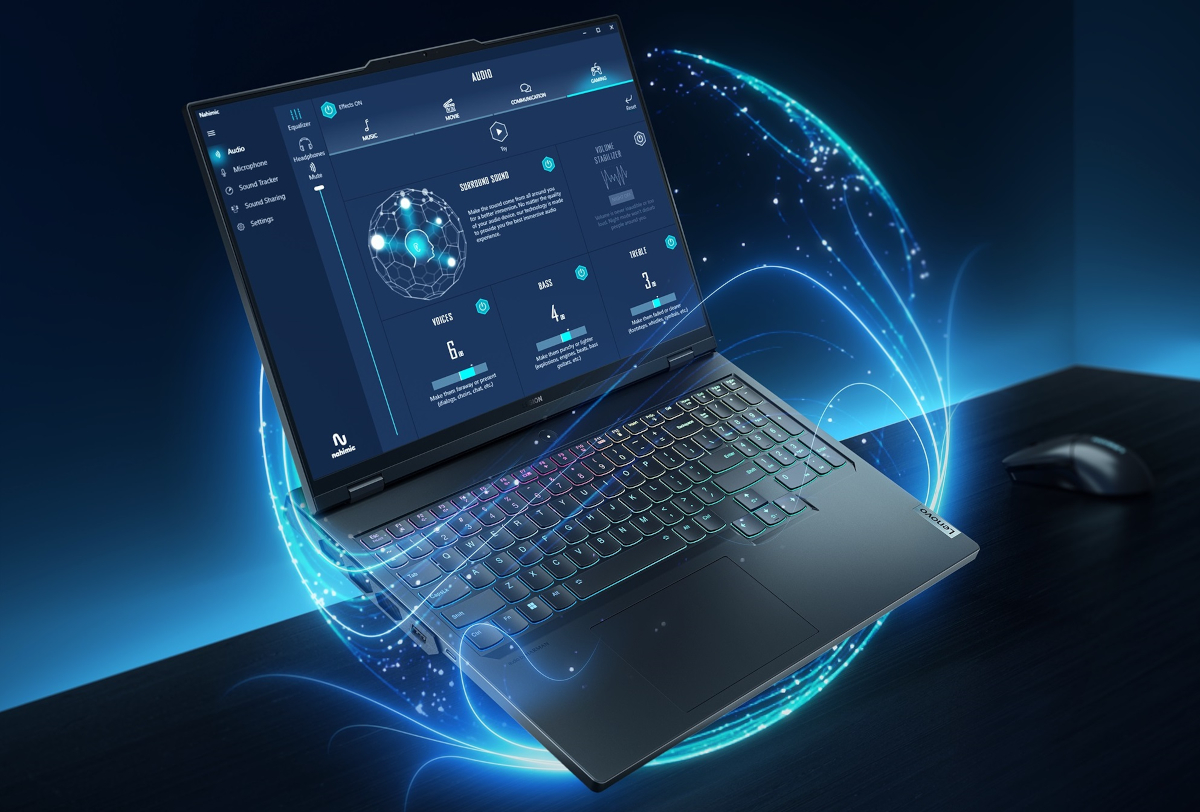 The best performance
The Lenovo Legion Pro 7i's hardware does not limit the player in any way. The top and heaviest AAA games are in its element. The Legion Pro 7i can handle anything you want to run on it, because this minimalist and modest-looking body hides a real performance monster.
The maximum configuration offers a 13th-generation Intel Core or Ryzen 7000 series, a 2TB Gen 4 PCIe SSD and 32GB of RAM (DDR5, 6000 MHz in overclock mode). The icing on the cake is a discrete graphics card up to GeForce RTX 4090 (GDDR6, 16 GB, 175 W) with NVIDIA Ada Lovelace architecture, which supports ray tracing technology, AI-based neural graphics, and provides the lowest latency at ultra-high frame rates. This "ammunition" provides incredible performance that will take gaming sessions to a whole new level. You can do anything with it.
Advanced cooling system
The highest-performance hardware requires stable and efficient cooling. That's why Lenovo has developed the Legion Coldfront 5.0 multi-element system, which expertly cools the "fuse" of this beast. The core of the system consists of coolers that feature 3D blades with a thickness of just 0.1 mm, and it also uses liquid metal to improve heat dissipation from the CPU and GPU. Thanks to the sophisticated air intake and exhaust systems, air is drawn in through the bottom grille and out through the vents on the sides and rear, effectively cooling and maintaining maximum performance regardless of load.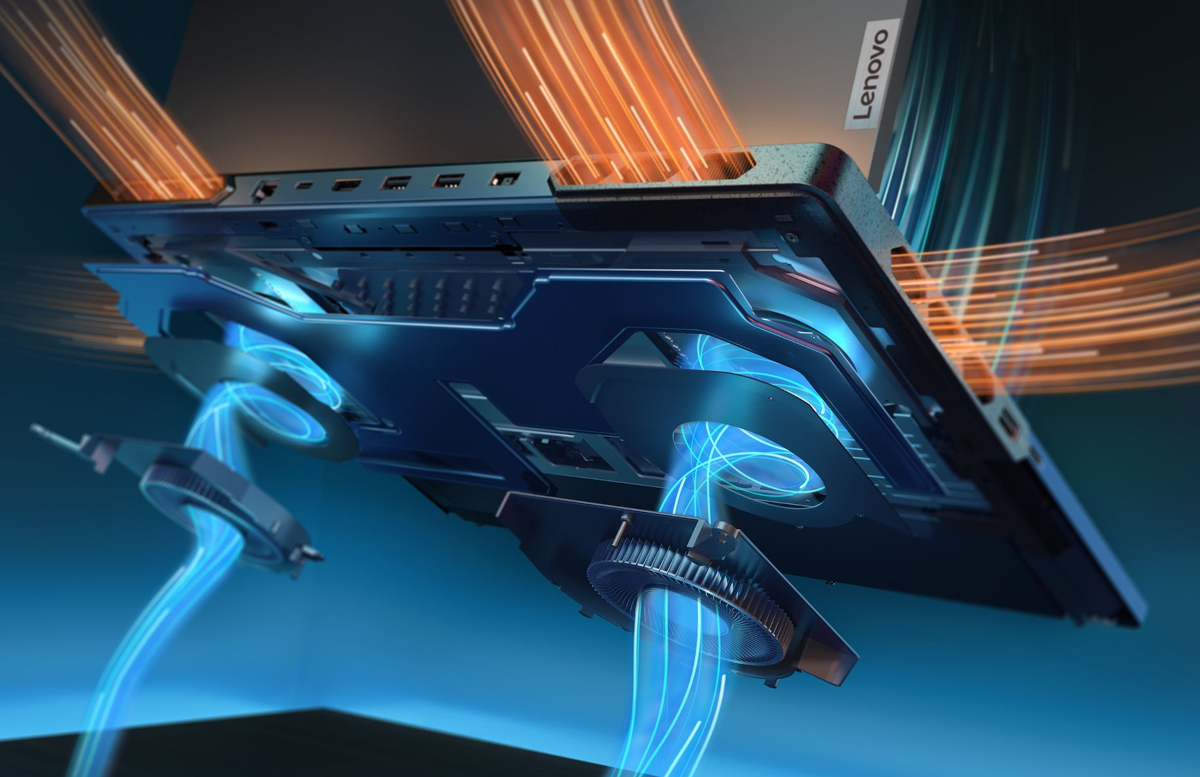 But that's not all. As an option, Lenovo Legion Pro 7i uses hybrid heatpipe technology, as well as additional steam chambers for the CPU and GPU, so performance always remains at its highest level.
Lenovo PureSight top-of-the-line gaming display
"The smart technology in the Lenovo Legion Pro 7i isn't just for the internals – it's also used to deliver a stunning display. The 16-inch WQXGA display has incredibly thin bezels and covers 93.6% of the surface. It covers 100% of the RGB colour space and has a brightness of 500 nits. No gaming display is complete without a high refresh rate, and the Legion Pro 7i can go up to 240Hz.
It uses the LA2-Q AI chip, supports Dolby Vision, HDR and NVIDIA G-SYNC, which allows you to get the smoothest, highest quality and most saturated image. The screen of Legion Pro 7i has been certified by TÜV Rheinland and X-Rite Pantone, which means that we have a high-end display that will satisfy both amateur and professional gamers. Long game battles with a screen of this level will immerse you in virtual worlds and provide an incredible gaming experience.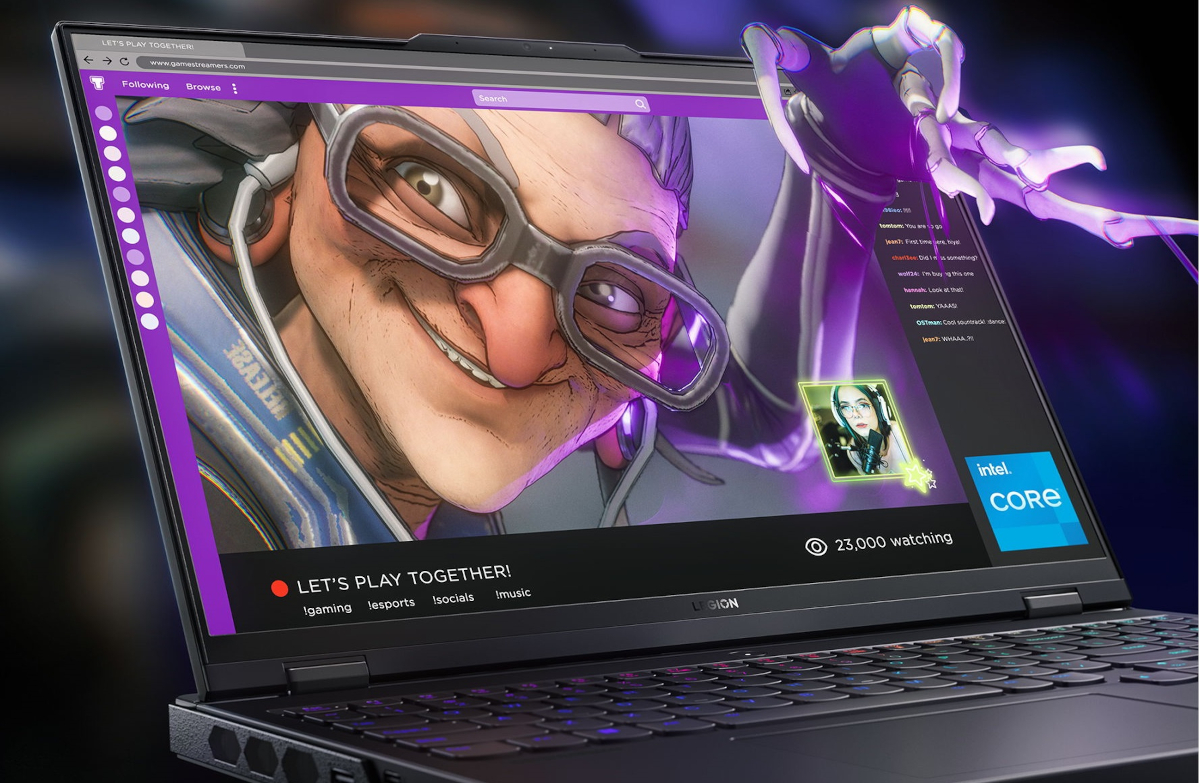 Many connectors – many possibilities
It would seem that the number and variety of ports in gaming machines is not the most important parameter. However, it is what frees up your hands when you need to connect additional devices, monitors or peripherals. So, on the left side of the Legion Pro 7i, there is a USB-A 3.2 Gen 1 and USB-C 3.2 Gen 2 with DisplayPort 1.4 and power supply (140W), and on the right side, there is another USB-A 3.2 Gen 1, a 3.5mm audio jack, and a physical button for switching the camera shutter. These are probably the most popular elements and will always be at hand.
Other connectors that you don't use as often are located at the back – a pair of USB-A 3.2 Gen 1, HDMI 2.1, another USB-C 3.2 Gen 2 with DisplayPort and power, and RJ45 for wired network connection. In addition to physical ports, we also have WiFi 6E and Bluetooth 5.2 modules for wireless connections. So Legion Pro 7i has everything you need for a comfortable gaming experience in any circumstances.
Read also: Which Lenovo earphones to choose in 2022?
Maximum battery life and super fast charging
Battery life is usually a weak point in gaming laptops. Powerful hardware and heavy loads can often drain the charge to zero in a matter of hours.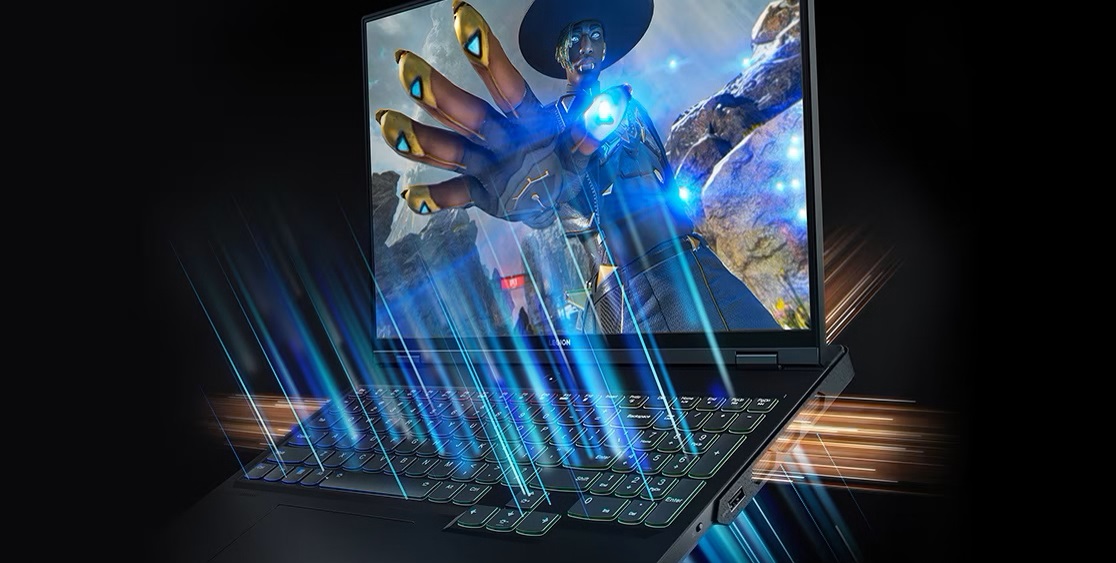 It is equipped with a 99.99 Wh battery – according to IATA regulations, this is the maximum permissible battery capacity for devices that can be transported on an aircraft without hindrance, and larger batteries require a permit. This means that you can take Legion Pro 7i with you on your trip without any problems and without worrying about anything.
It is worth noting that the battery is equipped with Smart Battery v3.0 technology, which preserves its capacity and reduces wear and tear during prolonged use using machine learning. Support for fast 140W Super Rapid Charge with USB-C interface reduces laptop charging time by several times. Thus, a battery with this capacity charges up to 80% in 30 minutes, and it takes 1 hour to charge 100%.
The perfect keyboard for unrivalled gaming experience
Every gamer knows how important control accuracy is during game battles. After all, the outcome of a battle can be decided in a matter of seconds or even fractions of seconds. Lenovo knows what really matters in gaming, so they've developed the Legion TrueStrike gaming keyboard to satisfy the most demanding gamers.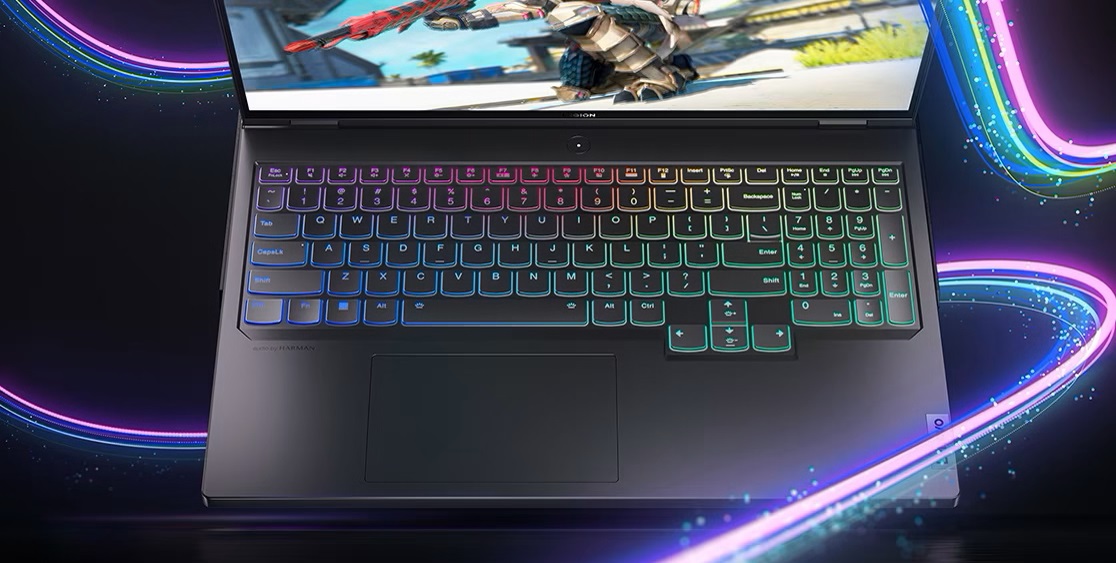 The keyboard in Legion Pro 7i is full-size, equipped with a numeric keypad and false alarm protection, has a 1.5 mm key travel, and advanced customisation options. It also supports the replacement of the most popular WASD caps among gamblers. Of course, the Legion Spectrum RGB backlighting is also included, which allows you to select the backlight mode for each individual button. Just like the keyboard, the backlighting of the ambient light strip is customisable. By the way, thanks to intelligent technologies, this bar can synchronise with what is being played on the screen, maintaining the gaming atmosphere. The keyboard is complemented by a comfortable and large Mylar touchpad, which responds to every touch and gesture with lightning speed.
Software and AI technologies for a unique gaming experience
Top-of-the-line hardware, a high-quality screen and a responsive keyboard are not all that a gamer needs today. The gameplay requires a balance in the work of absolutely all components, which together create an unrivalled experience of battles and battles. Lenovo Legion Pro 7i operates with technologies based on artificial intelligence, which allows you to get a new and incomparable gaming experience.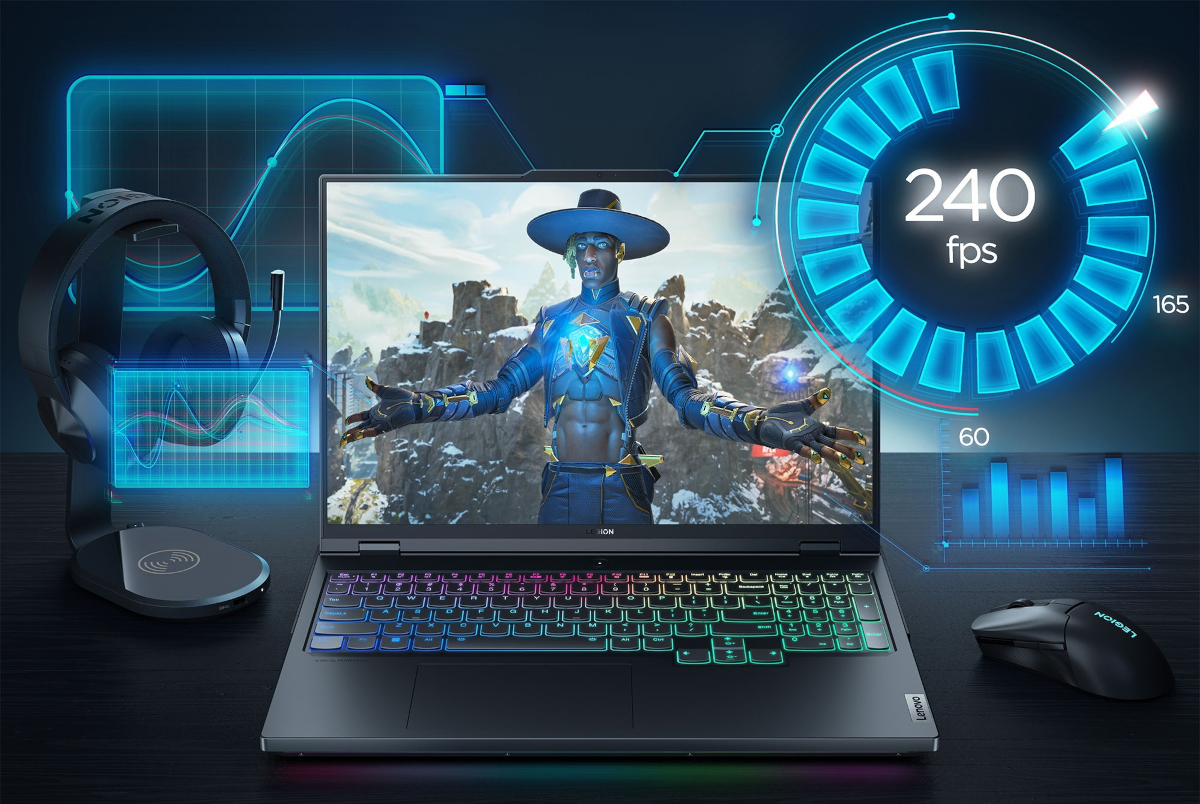 Lenovo Vantage. This utility is a universal control centre that allows you to flexibly configure your laptop depending on your usage scenario. It gives you access to a variety of functions, from setting the backlight to controlling overclocking.
Support for Tobii technology. This feature will provide a completely new gaming experience. Using a built-in 1080p camera, Tobii Horizon tracks head movements, adapting the image and expanding the viewing angle, as well as tracking screen usage time, can automatically reduce the brightness level of the display and lock it.
Lenovo AI Engine+. This algorithm is powered by the LA-2Q AI chip with AI and optimises system performance, maintaining the best possible efficiency in any task. By collecting data from a variety of system sensors, the technology flexibly adjusts the main parameters for the best gaming experience. It also ensures that the player enjoys maximum performance not only at the beginning of using the laptop, but also after many years.
Sound that makes the virtual real
Sound is what will help you to immerse yourself in the game atmosphere even deeper. It is the sound that sets the mood of the game and finally blurs the line between the virtual and the real. Lenovo Legion Pro 7i boasts high-quality surround sound and a set of gaming audio settings that will take the sound in games to the next level.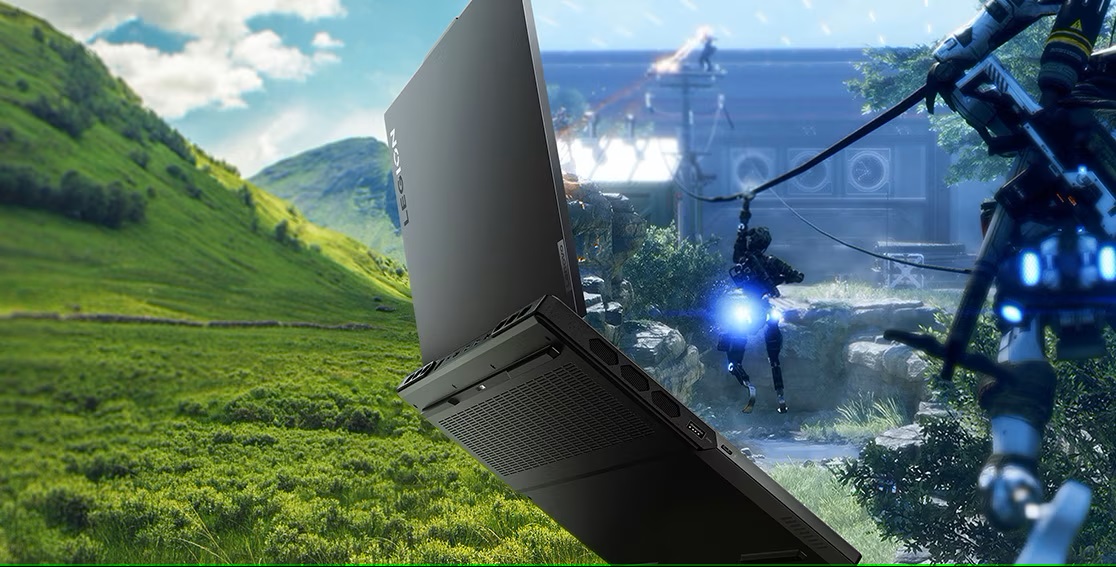 This was achieved with the support of SteelSeries' Nahimic technology. But it improves not only sound transmission, but also voice transmission. Legion Pro 7i allows you to communicate with your team at a very high quality level without additional equipment and broadcast streams at a professional level.
Read also: Not just laptops: review of Lenovo accessories
Is Lenovo Legion Pro 7i designed only for gamers?
Lenovo Legion Pro 7i is freedom from any restrictions. So, despite the fact that the laptop was primarily designed for gamers, it has a much wider target audience. Legion Pro 7i is able to meet the requirements of not only those who consume content, but also those who create it. Game developers, designers, architects, 3D and rendering professionals – this is just a small list of those for whom Lenovo's laptop will become a reliable working tool.
All conditions are created for work here. Top-of-the-line hardware, an efficient cooling system, and well-designed software that unlocks the device's potential to the fullest will ensure ultra-high performance when working with graphics and using heavy professional applications. The high-end 16-inch display with 100% RGB colour space coverage, HDR support and X-Rite Pantone certification will appeal to designers of all kinds. The large battery capacity and the use of AI to extend battery life will come in handy for those who work frequently on the road or in the field.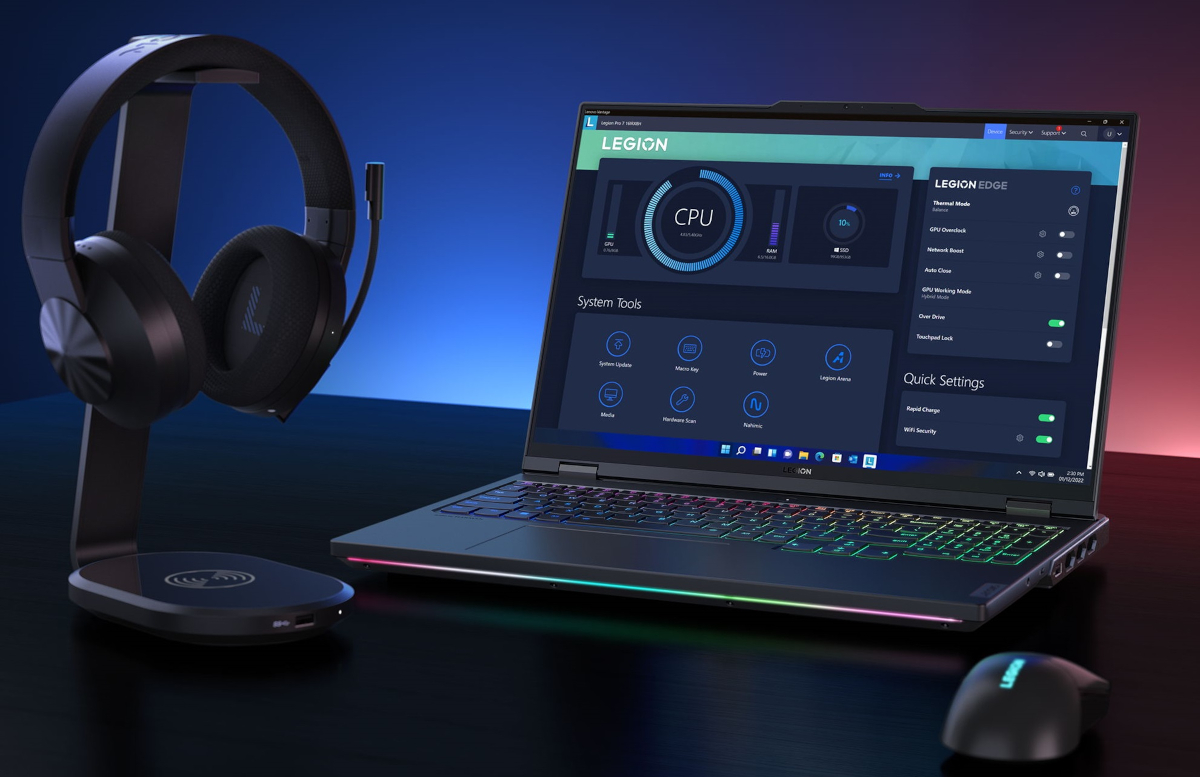 In conclusion, it is worth noting that Lenovo Legion Pro 7i, dressed in a discreet body, looks stylish and status, and is also created with care for the environment. The lower part of the case is half made of recycled aluminium, and the upper part uses 30% recycled polymers. Lenovo calls the device the most environmentally friendly laptop in its line-up.
The Legion Pro 7i is a case where uncompromising power, intelligent functionality and the most advanced AI technology are combined in one laptop. The device looks like a visitor from the future – omnipotent and incomprehensible. It opens up endless possibilities for every user – for unrivalled gaming, content creation, work, and life.
Read also: