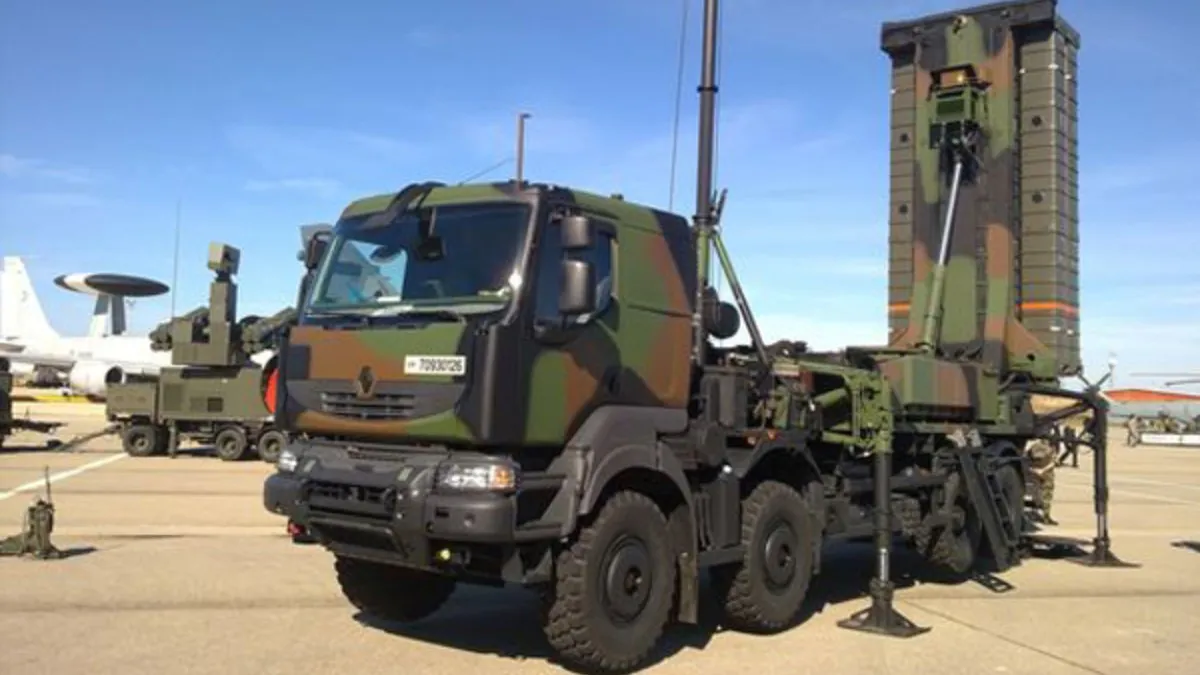 It recently became known that Italy and France agreed to provide Ukraine with European SAMP/T anti-aircraft missile systems. What is interesting about these air defense systems?
There are never too many anti-aircraft defense means during the war. This is how the situation in Ukraine can now be described, where the threat of Russian strikes by Iranian-made missiles and drones on critical infrastructure is very relevant. We need any means of air defense and anti-missile defense in any quantity. The more of them Ukrainian defenders have, the more calmly the country will live and fight.
Therefore, the news that our French and Italian partners have agreed to provide Ukraine with the modern SAMP/T anti-aircraft missile complex is very important and pleasant news. These air defense systems will become an integral part of the echeloned airspace protection system of Ukraine and will help to effectively protect the sky above our cities and villages.
Recommended reading: Weapons of Ukrainian victory: French Crotale SAM
What Is Interesting About the SAMP/T Air Defense System
The SAMP/T air defense system, also called MAMBA in the French military, is a modern anti-missile system designed to protect the battlefield and critical facilities (such as airports and seaports) against all current and future air threats. The SAMP/T air defense system is produced by Eurosam, a joint venture between MBDA and Thales (50/50).
SAMP/T was operationally deployed by the French Army and Air Force, as well as the Italian Army in 2011. Although the Italian Air Force uses another air defense system – MEADS, the SAMP/T anti-aircraft missile system replaces all existing medium-range air defense systems.
The primary role of SAMP/T is to protect deployed troops and vital facilities. The French Air Force uses these systems to protect its air bases. The SAMP/T system can engage enemy aircraft as well as various missiles, including cruise missiles, surface-to-air missiles, and anti-radiation missiles. In addition, the SAMP/T has demonstrated its ability to counter tactical ballistic missiles as well. The system can hit aircraft at a distance of up to 120 km. The range for ballistic and anti-radiation missiles is 15 km.
The key components of the air defense system are the Aster 30 interceptor missile and the Arabel multifunctional radar. SAMP/T has been designed to operate under extreme conditions with a variety of jammers and electronic countermeasures. Interoperability with other NATO air defense systems is another key point of the SAMP/T program. The entire system can be transported via NATO's latest tactical transport aircraft, such as the Airbus A400M and Lockheed-Martin C-130J Super Hercules, allowing one to deploy them anywhere on the globe.
Recommended reading: Weapons of Ukrainian Victory: NASAMS air defense that protects Washington
Some Facts From the History of the SAMP/T Air Defense System
The world first heard about the SAMP/T air defense system in February 2011, when the French Air Force, after the Volfa exercise, deployed the MAMBA unit (SAMP/T) to provide air defense during the G8 summit in Deauville. The first French MAMBA squadron received operational status in October 2011. In March 2012, MAMBA (SAMP/T) proved its ability to support mobile army formations by keeping pace with their maneuvers.
In June 2012, the Italian Army activates its first SAMP/T system in Mantua. On March 6, 2013, the Italian Army and the French Air Force deployed their SAMP/T medium-range air defense systems for the first time under the NATO architecture to successfully intercept a target, including a ballistic missile, during hostilities. After approximately 300 km of ballistic flight, the target launched from the aircraft was destroyed by an Aster 30 interceptor missile. In September 2013, Singapore's Minister of Defense announced that the Republic of Singapore Air Force (RSAF) would acquire the Eurosam Aster 30 / SAMP-T air defense system to create a multi-layered defense against aerial threats.
Recommended reading: Silent killers of modern warfare: most dangerous military UAVs
SAMP/T Modifications
In addition to the main modification of the Aster 30 interceptor missile, there is also a version of the missile called Aster 30N. This is an upgraded version. which received more adjustment methods and increased accuracy of guidance.
In addition, the anti-aircraft missile complex itself received a kind of update – the SAMP/T NG modification, which includes:
An improved missile to expand the ASTER family: ASTER Block 1 NT (new technology) with a new homing system and a new computer capable of confronting new emerging threats.
Updated starter with new electronics.
A new multifunctional radar with an active electronically scanned rotating array.
Command and control module based on the updated open architecture of the control software and advanced connectivity.
Recommended reading: Weapons of Ukrainian Victory: Turkish-Made MRAP Kirpi
Launching Unit of the SAMP/T Air Defense System
The SAMP/T MAMBA launcher is equipped with eight ready-to-fire rocket pods mounted in the rear of an 8×8 truck chassis. A missile can be fired from each launcher in less than ten seconds. During firing, four hydraulic stabilizers lower to the ground, supporting the truck's chassis at the rear and on each side.
The complete SAMP/T system consists of 4 launch vehicles, a Thales Arabel multifunctional radar with a "friend-or-foe" identification system, a striking module based on a command-and-control vehicle, and an automotive electric generator. In addition, the launchers are accompanied by two trucks with hydraulic cranes and trailers that carry spare missiles for reloading.
Recommended reading: All about the General Atomics MQ-9 Reaper
Aster 30 Block 1 Rocket
The SAMP/T anti-aircraft missile system uses Aster 30 block 1 missiles, which are equipped with a modified homing system, a detonator, signal processing, and a guided explosion warhead, where the larger fragments of the warhead are aimed at the target. The Aster 30 rocket has a tandem solid propellant first stage that is jettisoned after launch and flips before the mid-course phase. The missile uses mid-course inertial guidance, with guidance correction data transmitted from the ground-based fire control center via the Arabel multi-function radar data link. The maximum speed of Aster 30 missiles is 1.4 km/s. Aster 30 has the ability to intercept targets at an altitude of 50 m to 20 km. Against aviation targets flying at altitudes of more than 3 km, the maximum range of the Aster 30 is 100 km. For aviation targets flying at altitudes of less than 3 km, the range of the Aster 30 is 50 km.
Aster 30 is a two-stage rocket. The booster directs the missile in the direction of the target. It separates a few seconds after launch. Thanks to the two-stage layout, the rocket can reach a speed of Mach 4.5 in 2.5 seconds.
In addition, this missile has high maneuverability. By mid-course, the missile is guided using updated target data transmitted by the multi-function radar. At the homing stage, the missile is guided by an electromagnetically active homing warhead. The homing warhead was originally designed to defeat inconspicuous cruise missiles. The Aster 30 missile is so accurate that it hit the target in 70% of test firings. Although direct hits are not required, as this missile also has a small high-explosive warhead.
Recommended reading: Weapons of Ukrainian Victory: Aspide Anti-Aircraft Missile System
SAMP/T Mobility
The SAMP/T missile launcher of the French army is mounted on a Renault 8×4 Kerax transport and assembly vehicle. The SAMP/T for the Italian Army is mounted on IVECO Astra 8×8 trucks, each truck with eight missiles.
The Kerax truck is a militarized commercial vehicle-based chassis and tractor unit adapted to the specific needs of the armed forces. All elements of this air defense system are fully mobile and can be redeployed within a short time. The SAMP/T air defense system can change its location up to several times a day.
Recommended reading: Weapons Of Ukrainian Victory: MRAP International MaxxPro By Navistar Defense
Control Unit
The SAMP/T system consists of a fire control unit based on the ARABEL multifunctional electronic scanning radar, a truck with a vertical ground launcher mounted on Italian Astra/Iveco trucks and French Renault-KERAX 8×8 trucks, an engagement module including a Mara computer and Magics operator console, generator module and truck maintenance and repair tools. The complex also includes an escort vehicle that carries spare missiles for the SAMP/T air defense system.
Recommended reading: Invasion of Ukraine: Bayraktar TB2 strike UAV review
Features of the Combat Use
This modern weapon is capable of effectively combating various aerial threats. The anti-missile and anti-aircraft systems can eliminate all the latest threats. The SAMP/T air defense system is particularly effective against cruise missiles, which are characterized by high speed, maneuverability, angle of attack, and flight height. This ability is provided, first of all, by the reaction time of the fire control system and the maneuverability of the interceptor missile itself.
360° detection and damage area coverage is provided by each deployed section: a rotating multifunctional radar antenna and a vertical missile launch system Aster 30 block 1.
Among the features of the combat use of the SAMP/T air defense system, there are high firepower capable of countering numerous coordinated and multidirectional attacks (up to 48 missiles ready for firing) and the ability to track 100 air target trajectories and hit 10 of them simultaneously.
The anti-aircraft missile complex has high resistance to countermeasures and is capable of delivering a pre-emptive strike on targets thanks to its tactical and strategic mobility. Also, SAMP/T has a very short time to deploy and withdraw the system from impact and requires a small number of personnel to deploy and operate the system. But the most important thing is that the anti-aircraft missile complex has the ability to work both in an autonomous mode and as an integral part of a wider architecture. These air defense systems can be coordinated by the NATO command and control structure. This allows combining radars, as well as air defense and anti-ballistic equipment of different countries into one network.
Recommended reading: Weapons of Ukrainian Victory: ATACMS missiles for HIMARS and MLRS
SAMP/T Specs
Type: Long-range anti-aircraft missile systems
Armament: Eight Aster 30 block 1 missiles
Rocket weight: Launch mass 450 kg
The length of the rocket: 4.9 m
Range of the missile: 100 km
Missile control: Inertial guidance
Warhead: High-explosive explosive part, fragmentation
Explosive load: 15 kg
Radar: Arabel radar for surveillance, tracking, and missile guidance.
Ukraine desperately needs air defense equipment, so the decision to supply SAMP/T anti-aircraft missile systems is extremely important for us. Even a small number of these complexes can qualitatively strengthen the country's anti-aircraft system. The ability to counter short- and medium-range ballistic missiles makes the system ideal for defending against a massive attack by a wide range of Russian air threats and can provide protection against such threats in the future.
Read also: 
The invaders have nowhere to escape from retribution. Death to enemies! We believe in our Victory! Glory to the Armed Forces! Glory to Ukraine!
You can also help Ukraine fight with Russian occupants via Savelife or via an official page of the National Bank of Ukraine.