At the end of last year, the Taiwanese brand A4Tech introduced A4Tech 2Drumtek B25 in-ear TWS headphones with a rather pleasant price tag (as with all the company's headsets) – only $32. Their special feature is the M.O.C.I. hybrid diaphragm, which is made of mycelium and carbon fibre. According to the manufacturer, thanks to this technology, the B25 has "clear highs and mids combined with deep, pleasing bass". This is what we will check in this review.
Read also: A4Tech Bloody M90 review: TWS earbuds for gaming
Main features of A4Tech 2Drumtek B25
Type: TWS, in-channel
Bluetooth version: 5.2
Audio codec: SBC
Emitter size: 10 mm
Frequency range: 20 Hz – 20 kHz
Control: touch screen
Battery capacity: 380 mAh (case), 40 mAh (headphones)
Headphone operating time: up to 5 hours (50% volume)
Operating time with case: up to 20 hours (50% volume)
Charging: wired USB Type-C
Charging time: approx. 1.5 hours (case and headphones)
Protection against water: IPX4
Weight: headphone – 4 g, case – 39 g
Dimensions: earphone – 23×34×6 mm, case – 52×63×26 mm
Additional features: support for Google Assistant, Amazon Alexa and Siri voice assistants, M.O.C.I. hybrid diaphragm.
What's in the package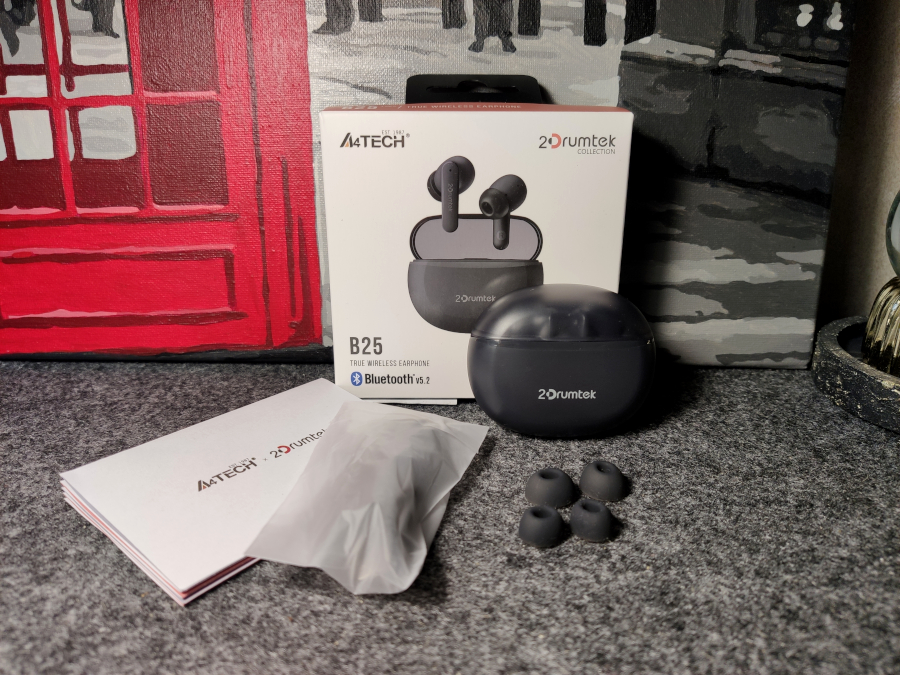 The headphones arrived in a simple neat package, inside which there is a headset in a charging case, two pairs of additional silicone ear cushions (M are installed by default, and the box also has S and L sizes), a portable USB-A to USB Type-C cable and accompanying documentation – a warranty card and a manual. By the way, the manual is only in Ukrainian – finally, there are no Talmuds in all languages of the world.
Read also:
Design and materials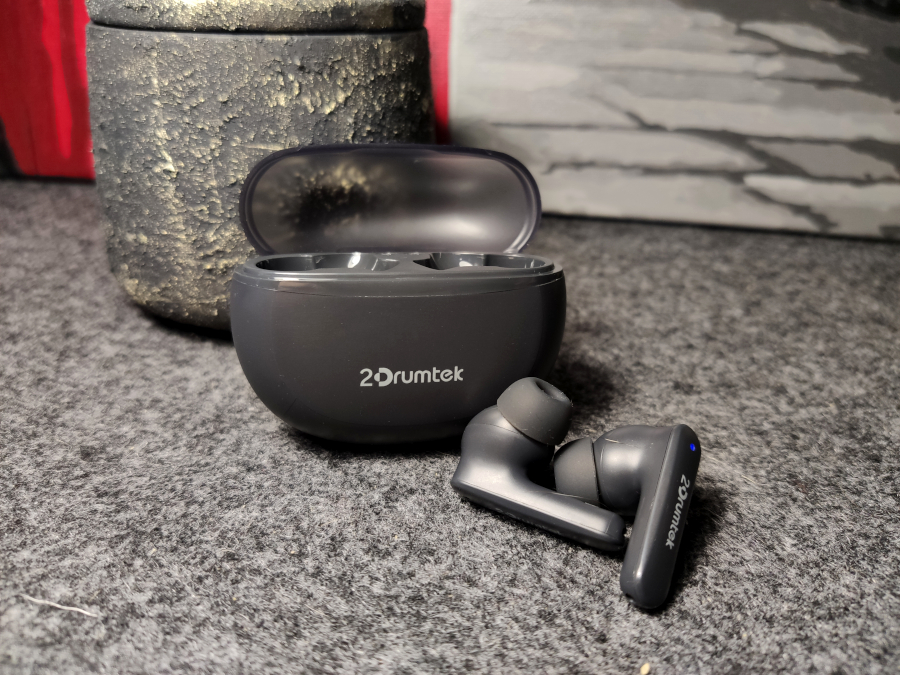 The base of both the case and the headphones is made of matte plastic. It can be dark grey, as in our review, or white. On the images on the web, you can also find A4Tech 2Drumtek B25 in a youthful turquoise colour, but they probably won't be available on our market.
The case has an oval shape and is rounded on all sides. It weighs only 39 g and measures 52×63×26 mm. The lid is translucent, and under it you can see a small edge made of glossy plastic. On the front side there is an inscription "2Drumtek" and on the back side – "A4Tech". Also on the back of the lid you can see the technical markings and a short list of some characteristics.
The charging connector is located on the bottom, and to the left of it is the LED charge indicator. Green glow indicates that the case has between 100% and 70% of charge left, yellow glow indicates between 70% and 30%, and red glow indicates less than 30%.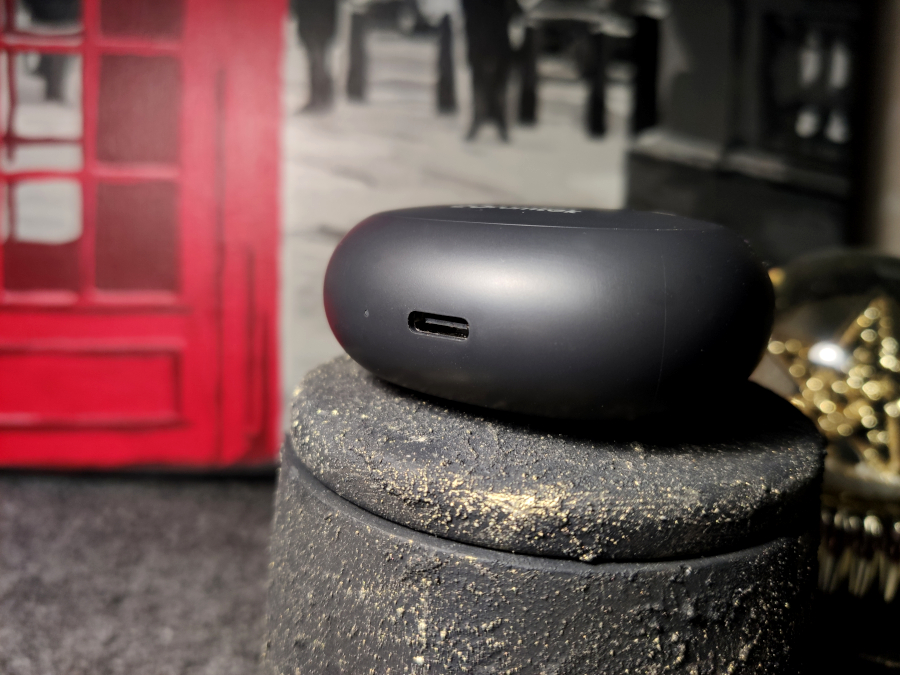 Now let's take a look at the headphones themselves. They have a fairly standard shape for TWS vacuum headphones – with a stem and an ear cushion directed towards the ear canal. Each of the headphones is labelled inside ("L" and "R"), and there are a pair of charging terminals and microphone holes on the bottom.
Outside, on the "leg" you can see a duplicate inscription "2Drumtek", and above it – an LED indicator. Below the display is a touch control panel, which we will discuss in more detail below.
As for the overall impression of the B25, they seem quite simple. They use ordinary materials and the design of the headphones is also quite standard, which does not create a wow effect. Nevertheless, they are well built, and there are no questions about the build quality.
Ergonomics and comfort of use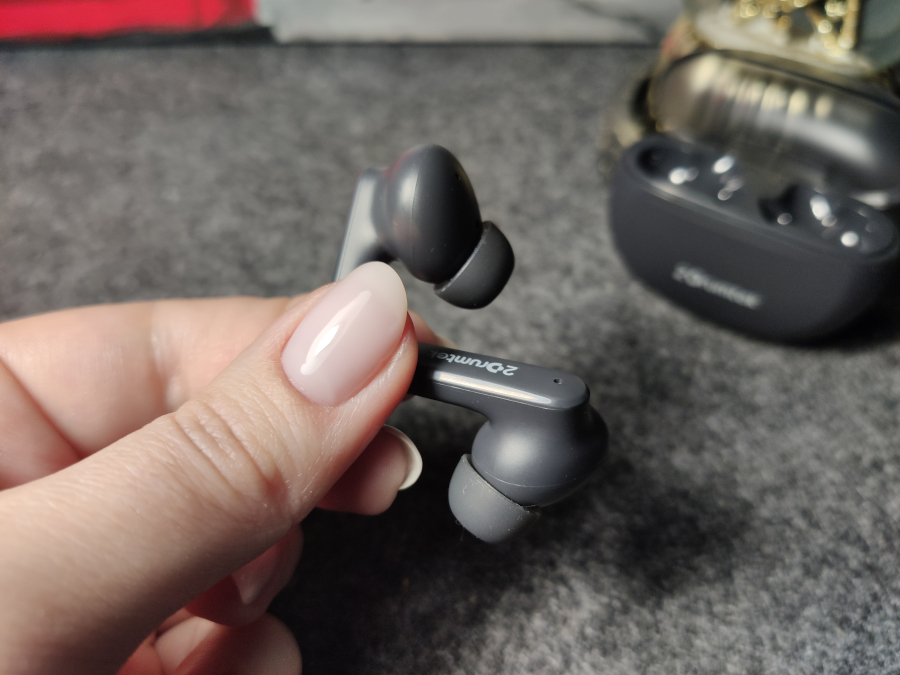 Are A4Tech 2Drumtek B25 comfortable to use? They are comfortable. They have a good fit, and with dimensions of 23×34×6 mm, each earbud weighs only 4 g. The headset is almost imperceptible in the ear, and thanks to the fact that the set includes ear cushions of different sizes, it is not a problem to choose the right one for yourself. They hold well when you change the position of your head, but they are not designed for active sports. However, as always, I recommend trying on the headphones before making a final choice, because the comfort of the fit is an individual matter.
Read also:
Connection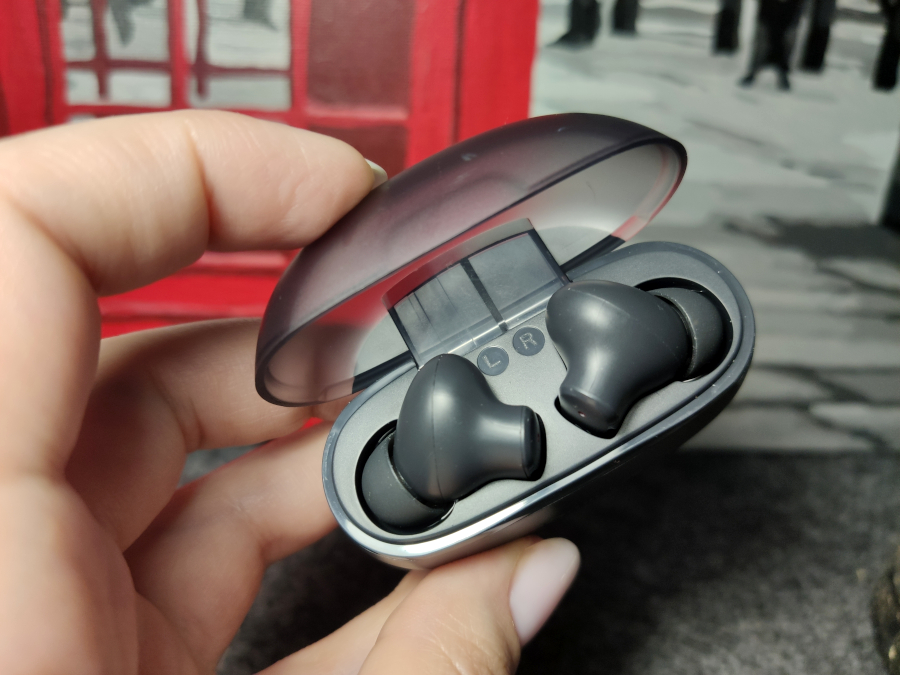 Synchronisation with a smartphone or any other device takes no more than a minute. You just turn on Bluetooth on your smartphone/tablet/laptop, open the headphone cover, find 2Drumtek B25 in the list of available gadgets and connect. Actually, that's all. Then the headset will automatically connect to the devices when you open the lid (if Bluetooth is enabled).
Control A4Tech 2Drumtek B25
The touch controls of the headphones are well thought out and provide all the necessary functions, from calling the voice assistant to adjusting the volume. In addition, it is worth noting that it works quite clearly and the headset perceives all gestures quickly. This is not common in budget headphones, so it's definitely a plus.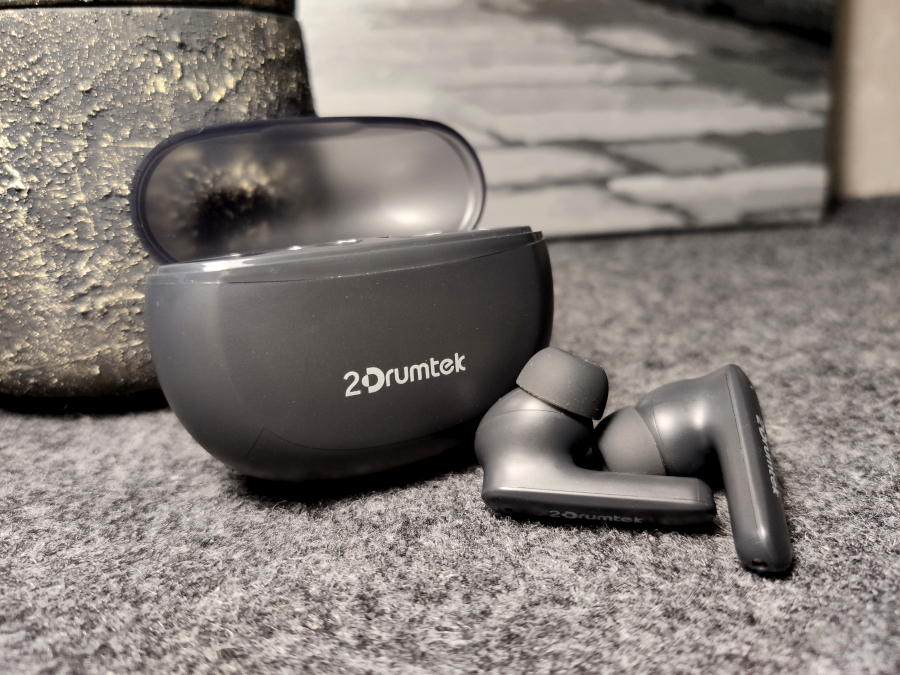 The management scheme looks like this:
Play/Pause – single tap on any earbud
Volume down – hold down the left earbud
increase the volume – hold the right one
previous track – double tap on the left earphone
next track – double tap on the right earbud
call the voice assistant – triple tap any earbud
Calls – you can hang up/ pick up the phone by holding down any earbud for 2 seconds during a call
Read also:
Sound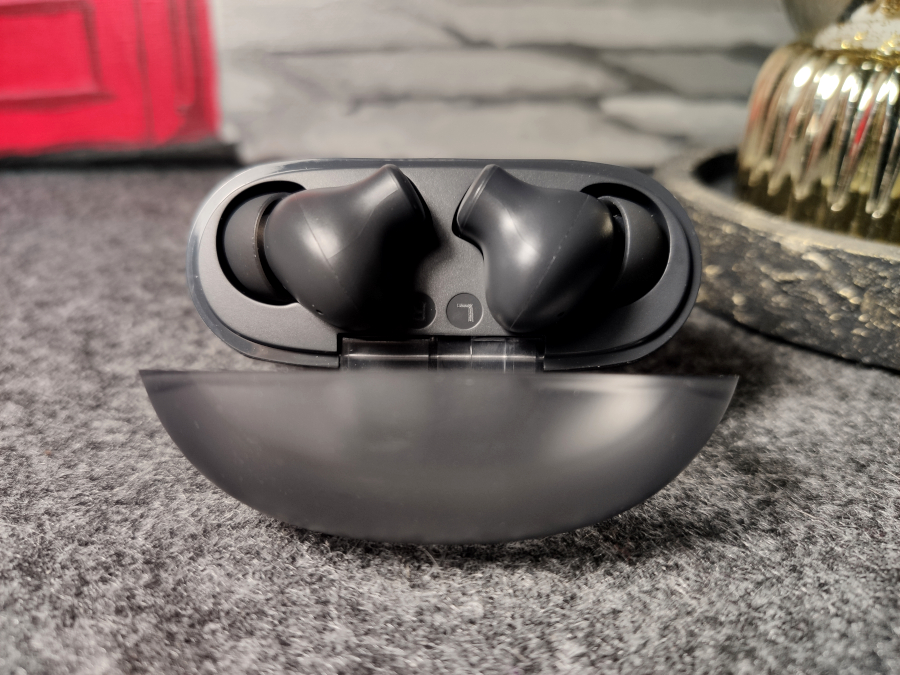 The sound is provided by 10 mm drivers, and let's not forget about the hybrid diaphragm made of mycelium and carbon fibre, which, according to the manufacturer, should provide good sound. It is stated that only SBC is supported, but on my smartphone I was able to switch to AAC. The noise cancellation in the headphones is only passive, which is provided by the form factor of the headset, so sometimes you can hear ambient sounds when switching between tracks. But this does not affect the listening experience.
So what do we have in practice? In practice, everything is rather unexpected. In a positive sense. I have not yet heard such thick and characteristic bass as in A4Tech 2Drumtek B25 in headsets with a price tag of $30. Apparently, the diaphragm makes the difference here. The low ones are very bright and voluminous, and for some people they may even seem excessive. But I love it. The sound is very atmospheric right out of the box, I heard "bass" in those tracks where I didn't even know it was there before. So, if you like a juicy bass sound, you will definitely like it.
As for the volume level, it is excellent. In general, I like to listen to music almost at maximum (in budget headphones, for sure, because they are often relatively quiet), but in the case of B25, the comfortable level for me was about 80%.
When listening with SBC, depending on the music genre (or even a specific track), you can feel the treble clipping and because of this, the sound is not particularly clear. This concerns mainly dynamic music – metal, electronics, especially where there are female vocals. But this "problem" is solved simply by lowering the volume. In the case of AAC, everything is much better and the sound has really become clearer and crisper no matter what you are listening to. If your smartphone supports the AAC codec, I recommend switching to it right away.
As for the use of equalisers with A4Tech 2Drumtek B25, I personally did not like it. The sound immediately becomes quieter and flatter and loses all the atmosphere, so I would not recommend spoiling the sound with improvers. But this is a matter of taste.
Headset function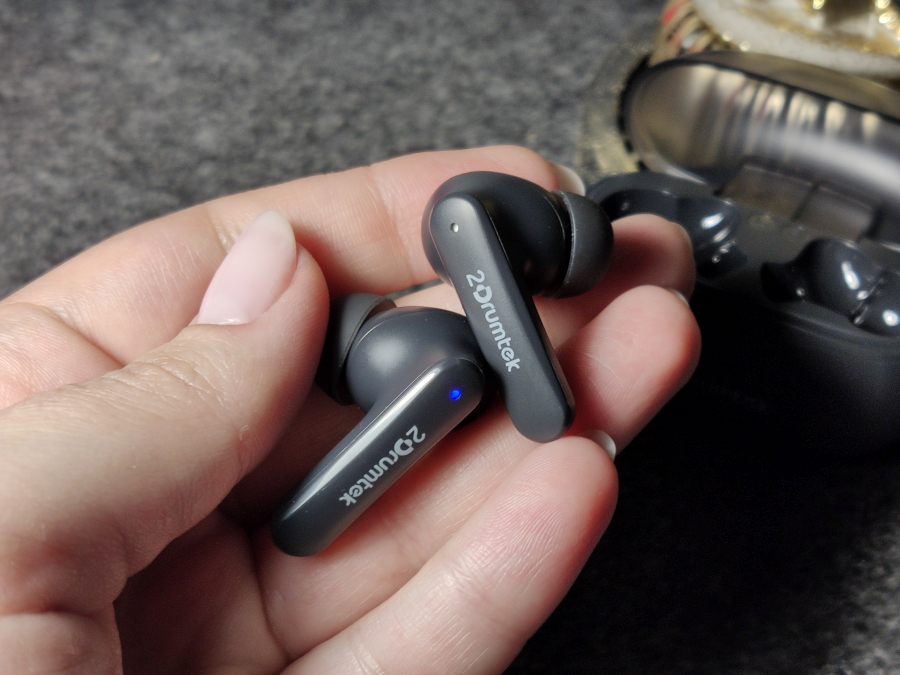 A4Tech 2Drumtek B25 do not have any noise cancellation system for microphones, which is not surprising when you consider the price tag. Therefore, the headphones do a good job of transmitting voice in a quiet room, but on the street or in a noisy city, ambient sounds still interfere. If you are looking for a headset not only for music but also for communication, it is better to pay attention to models of a higher price segment.
Read also:
Connections and delays
I connected the headphones to both a smartphone and a laptop, and during testing I didn't find any problems with delays or connection quality. Unlike my old and similarly inexpensive TWS from realme, which keep in touch with the phone well but often fall off the laptop, this is not the case with B25.
Battery life of A4Tech 2Drumtek B25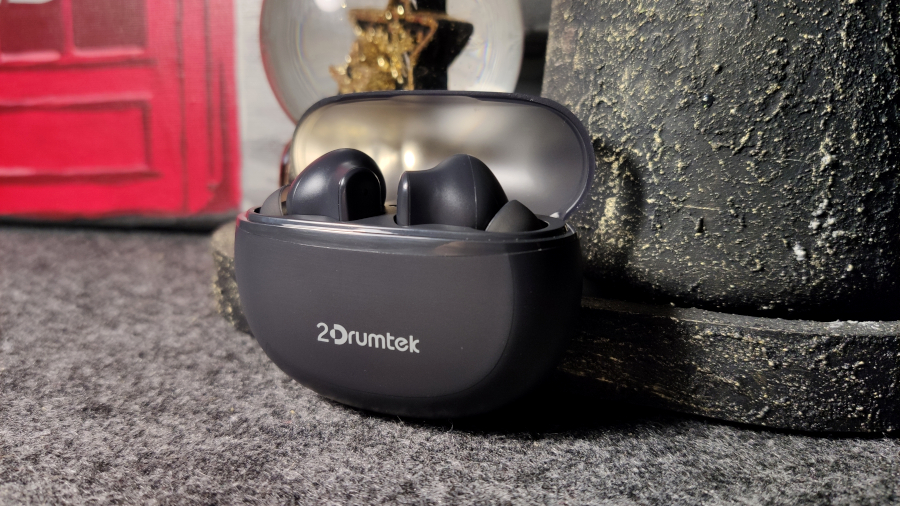 The battery capacity of the case is 380 mAh, and each headphone contains 40 mAh batteries. The manufacturer assures that the total operating time of the headphones with the charging case is 20 hours if you listen to music at 50% volume, and one charge of the headset will last up to 5 hours under the same conditions.
But, as it turned out, the headphones can work for 5 hours at maximum volume. For example, after 2.5 hours of listening at 100% volume, the charge dropped by only half, so 5 hours of autonomy can be obtained under any circumstances. It takes about 1.5 hours to fully charge both the headphones and the case, so both the operating time and charging time can be called comfortable for daily use.
Conclusions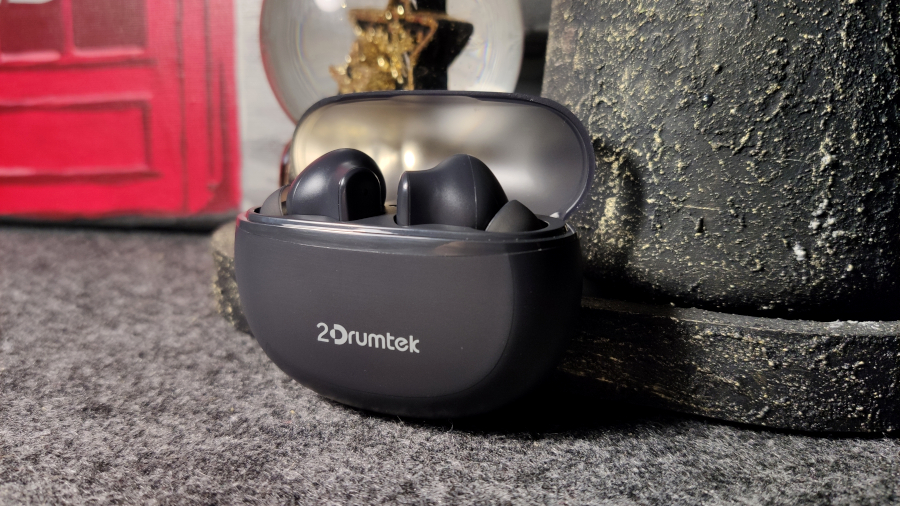 In my opinion, A4Tech 2Drumtek B25 is a really worthy option for those who need affordable in-ear TWS with very (very!) rich bass and good battery life. Yes, simple materials are used here, the design does not cause any particular delight, and it's not a good idea to talk in a noisy city. But thanks to the pleasant surround sound, you can easily turn a blind eye to this. Especially remembering that they cost a little more than $30.
It is also worth noting the good fit of the B25 and their ergonomics, as well as the fact that they keep in touch with devices, which is not so common in the budget segment. So for the money, these are excellent headphones.
Read also: