In 2021, I wrote a review comparing the Huawei FreeBuds 4 in-ear headphones and the 2nd generation Apple AirPods. And although I use an iPhone and a MacBook, I can't say that I'm a huge Apple fan. I wasn't crazy about Apple headphones, I used them for a while, then I got FreeBuds 4 for a test, found out that they were better, bought them and sold the Apple headphones. Since then, a lot of water has flowed, I switched to the more advanced Huawei FreeBuds Pro 2, and after the announcement of Apple Airpods Pro 2, I wanted to organise a battle "Apple Airpods Pro 2 vs Huawei FreeBuds Pro 2". That is, to compare the current "earbuds" and find out whether the status quo has changed.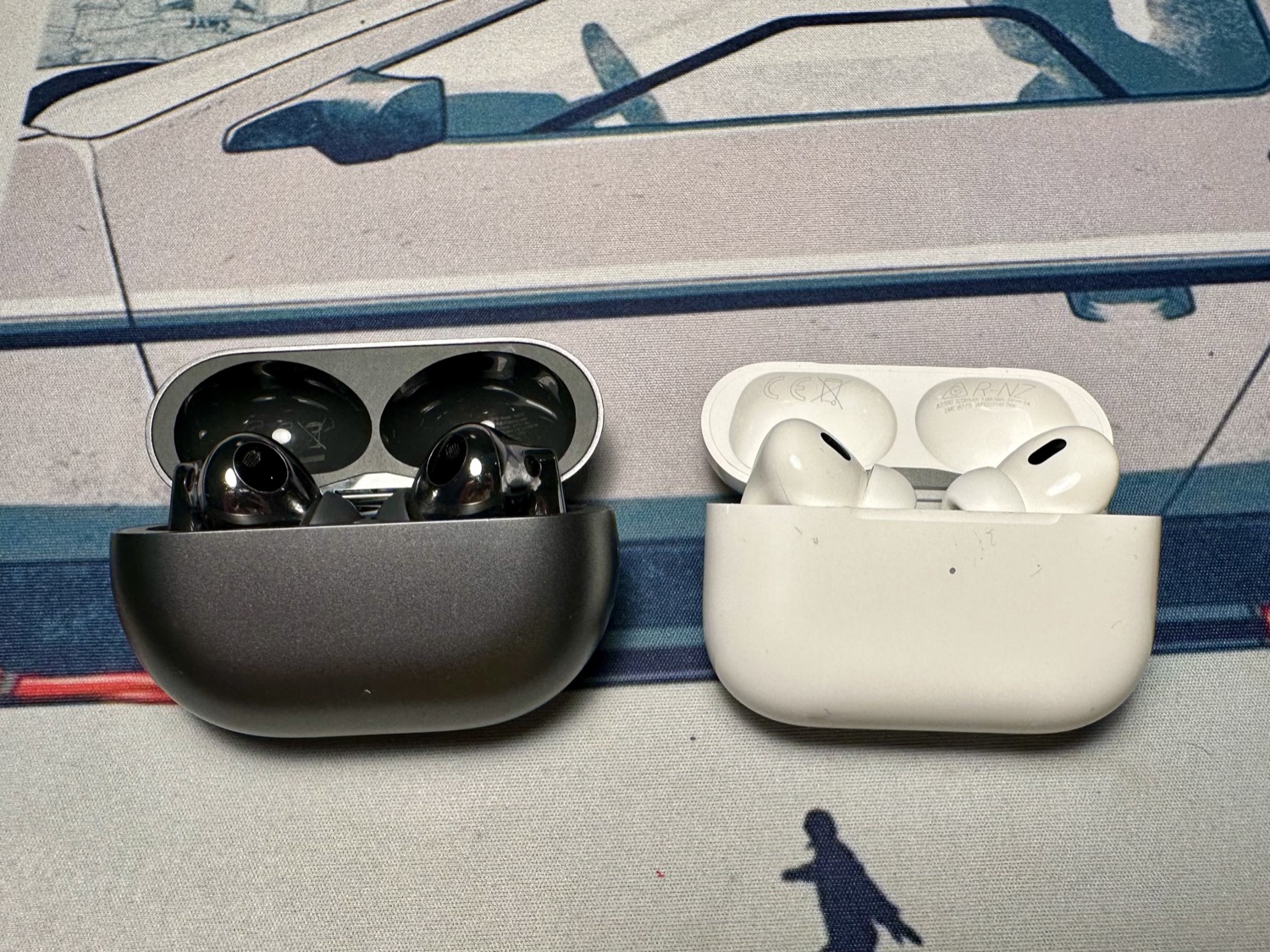 I was lucky enough to snatch up AirPods Pro 2 in an outlet. In an outlet because, of course, I didn't plan to keep them, I wanted to check them out and return them. There was no point in buying brand new headphones for this purpose, and outlet returns are easier. By the way, I got the headphones brand new, and I personally removed the protective seals. And they got to the outlet because of a crumpled box. We're not going to compare the sets, as everything is identical, but let's start with the appearance.
Read also:
Airpods Pro 2 vs FreeBuds Pro 2: Design
First, let's take a look at the cases. Both are not small, but the AirPods case is thinner and more compact, so it's easier to carry it in a bag or narrow pocket. On the other hand, we can't say that the FreeBuds case is too big.
As for the build quality, AirPods are a bit of a pain. Most cases slide the lids from side to side right out of the box, with a click and sometimes a creak. I even recorded a video proof:
It seems like a small thing, but for the money, I would like to do without it. Huawei's build quality is perfect.
Let's also discuss colours. Apple traditionally produces headphones only in white. I have nothing against white, but I want variety. Huawei understands this, so FreeBuds Pro 2 are available not only in white, but also in silver and blue. Silver is a kind of dark metallic in the case of the case and a shiny gloss in the case of the headphones, it looks great.
Apple has a typically glossy white case, which typically collects scratches quickly. And all the dust sticks to it, as you can see in the photo. Of course, there's a whole industry of "case covers" for AirPods, so it's not hard to protect the headphone case. There are also such accessories for FreeBuds, but I don't use them, my FreeBuds Pro 2 case has been in perfect condition for six months now, and I don't take care of it at all and carry it around in my purse with a lot of small things.
The innovation of Apple Airpods Pro 2 is a metal loop for the strap on the case. Perhaps someone will find it convenient, but I don't see the point of carrying the headphones somewhere on the loop (they will accidentally come off and the lid will open). It's also a way to cover the case with scratches.
Let's take a look at the headphones themselves. Here, Apple Airpods Pro 2 vs Huawei FreeBuds Pro 2 are similar, except that the FreeBuds have wider and more rectangular "legs". But the "droplets" themselves are almost identical in shape.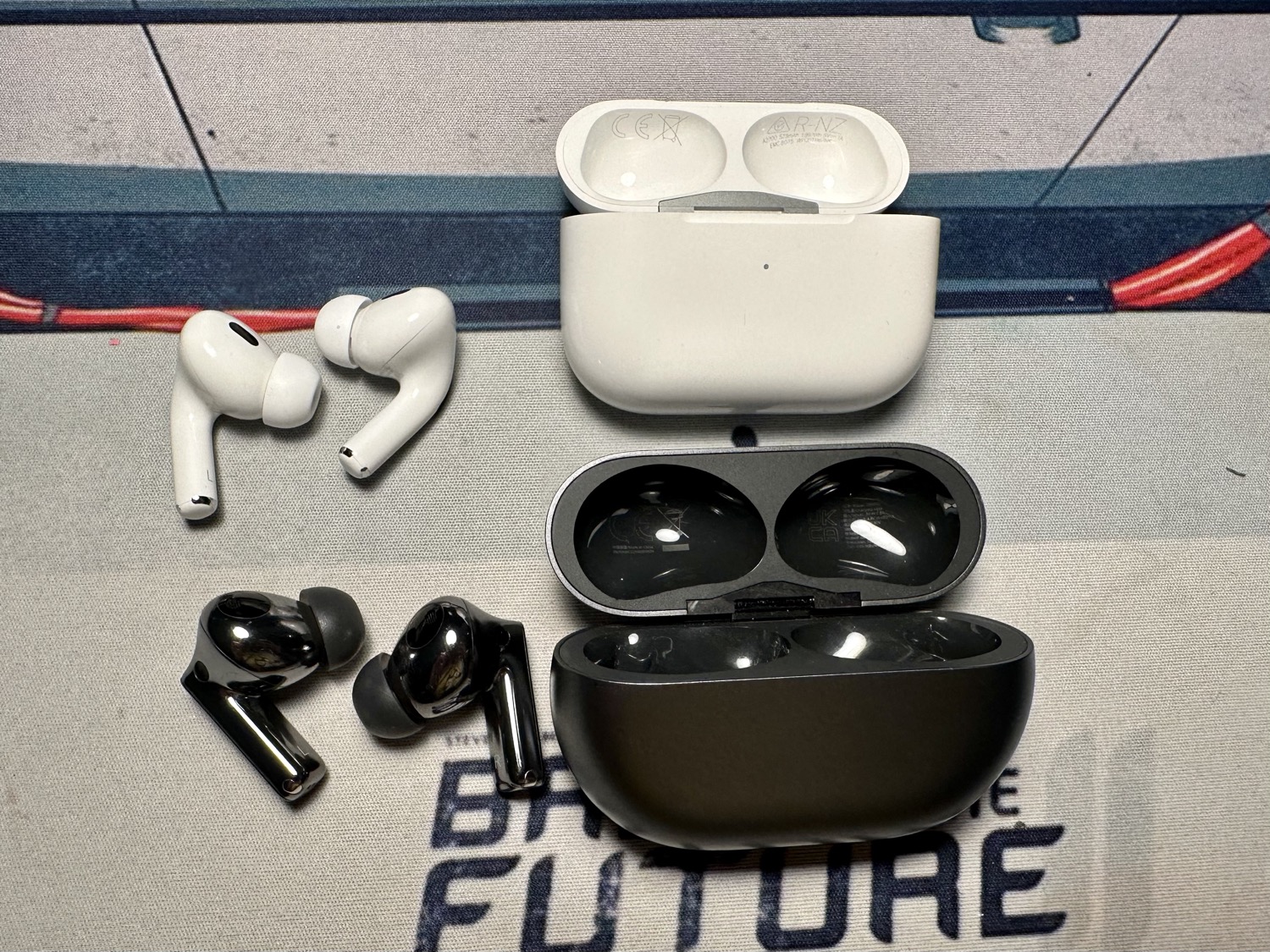 Both Airpods Pro and FreeBuds Pro in the second generation have received an improved design, becoming more compact and comfortable for the ears. I tried the first-generation Airpods Pro once, and they pressed on my ears to the point of pain, so we were not destined to become friends.
The Airpods Pro 2 fit my ears perfectly, they don't cause any discomfort. I can say the same about FreeBuds Pro 2. And since their shape is very similar, I think that if AirPods Pro 2 fit you, then FreeBuds Pro 2 will be comfortable. And likewise, if the former do not fit, then the latter will not either.
The winner of the section: Huawei FreeBuds Pro 2 (case is more practical, more colours, although the size is larger)
Read also: TWS HUAWEI FreeBuds SE Earphones Review: A Versatile Soldier
Control
Most TWS headphones are controlled by tapping, but some are controlled by pressing/pinching the touch keys. If I'm not mistaken, it was Apple who came up with this with the first AirPods Pro. The trick is that the headphone leg must be squeezed with two fingers to get tactile vibration. To be honest, tapping control is easier and more convenient for me. But what can you do, Huawei has adopted touch keys for its Pro model, so I had to get used to it. In general, both AirPods Pro 2 and FreeBuds Pro 2 have clear controls, no complaints.
The control method itself is no different between Apple and Huawei: play/pause, switching tracks, calling the voice assistant, switching between noise reduction and sound transparency modes. The gestures are identical, so I won't describe them, I'll show you screenshots.
Елементи управління AirPods Pro (2-го покоління))
The only thing is that Huawei has a few more settings for these commands, some of them can be reassigned, some can simply be disabled.
A revolutionary innovation (I'm being sarcastic) of AirPods Pro 2 is the ability to change the volume level by gesturing along the headphone leg. Competitors have had this for a long time, but Apple invented it just last year. And only for the Pro model, the regular AirPods 3 did not receive this wonderful feature. And Huawei has had it since 2020, that is, since the introduction of FreeBuds Pro.
Section winner: draw
Sound quality, noise reduction and transparency mode
I don't know how to draw frequency response charts and talk about the soundstage with a smart face. But I've been testing headphones for many years (among other things), so I can tell you where the sound is better and where it's worse. So, both AirPods Pro 2 and FreeBuds Pro 2 sound great, "flagship". The sound is clear, voluminous, detailed, the bass is pleasant, but without kinks. Perhaps audiophiles or people with special sound preferences will notice some important points and differences, but as for me, both headsets have a high level of sound.
And now Apple fans may leave this article and say that I'm biased and nitpicking, but I'll say it: FreeBuds Pro 2 worked and work stably, but when using AirPods Pro 2 with an iPhone, the sound "floated" from time to time, and in each headphone in a different way! It's hard to describe it in words… I've never eaten hallucinogenic mushrooms, but those who have said that the effects are similar. I tried to catch a pattern, and most often the glitches appeared when I unlocked my iPhone, when switching between apps.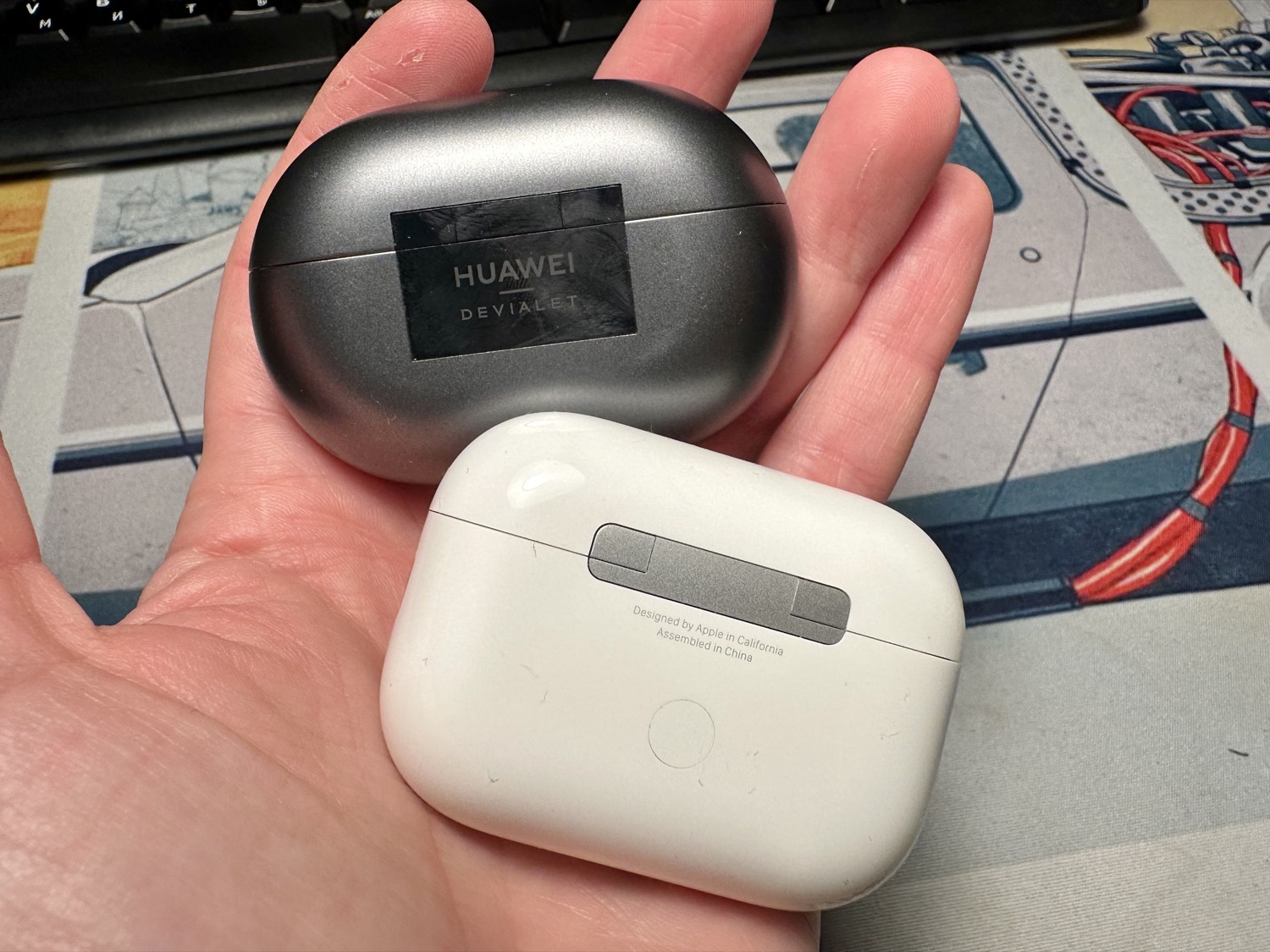 In any case, this is not normal for headphones for so much money. And here you can say that the headphones were probably returned to the outlet because they were defective, but no – they were new, I personally broke the seals off the box. Perhaps the problem could have been solved by updating the software, or perhaps by going to the service, but I didn't bother to look into it. I managed to find references to similar problems on the web, so I'm not alone. Let's assume that this is a rare glitch, otherwise the batch would have been recalled by now, Apple keeps an eye on such things.
As top pro headphones, both AirPods Pro 2 and FreeBuds Pro 2 support active noise cancellation technology. Using the first-generation AirPods Pro as an example, I didn't like it – it was too aggressive, to the point of headaches. But with the second generation, everything is fine in this regard – they filter out extraneous noise well (of course, not all, but low-frequency noise – those with which ANC, by definition, copes better) and there is no discomfort. AirPods Pro 2 are often taken as a benchmark when evaluating the quality of ANC in new headphones.
What do FreeBuds Pro 2 have to say about this? According to my feelings, there is almost no difference, but the advantage is still on the side of the "apples". ANC works "cleaner" and filters better.
However, FreeBuds has three levels of noise cancelling intensity. It can be useful to turn on only the minimum or medium level to avoid feeling "like in a barrel". At the same time, the headphones are able to detect the noise level around them and activate the desired mode. AirPods don't have any of this.
But what AirPods Pro 2 has is the proprietary Spatial Audio technology. To activate it, you need to turn your head and ears towards the camera (similar to the first time you set up Face ID) so that the phone records the movements. And then the sound will adjust to the movements of your head. The Spatial Audio function is a kind of 5.1 sound system imitation. I set it up, tried it, and what can I say – the volume really appears, not even a volume, but a whole space. It's like listening to the sound not through headphones, but sitting in a cinema. And head movements are really tracked. The function can also be activated not only for the movies, but also for ordinary music, there are even tracks recorded specifically for Spatial Audio. But I was not very enthusiastic about the effect, and it eats up the battery faster.
Both headphones have a "transparency" mode, which cancels out the effect of the earbuds and amplifies external sounds and works without any problems. AirPods Pro 2 also has a special adaptive transparency setting. This is when the sounds you need (voices, car noise, etc.) are automatically amplified, but unnecessary sounds like lawnmower noise or police/ambulance sirens continue to be muffled. FreeBuds Pro 2 does not offer this functionality.
Let's also discuss the sound quality during phone calls. I had no problems with either, and I could be heard even in noisy traffic or in strong winds. According to the specifications, FreeBuds Pro 2 has a bone conduction sensor that reads sound regardless of the noise around it. AirPods do not have this. But in any case, I can't say that anyone has complained that I'm hard of hearing.
Winner of the section: each has its own nuances and advantages, but in the end, a draw
Read also: Huawei FreeBuds 5 review: Super headphones with a strange design
Connection, interaction with devices, application
Having "apple" devices, using AirPods is, of course, a pleasure. As soon as you open the lid of the headphones, both the phone and the laptop say "hooray, AirPods, let's connect! On a MacBook, if you have AirPods connected, you can see the charge level of each headphone and switch between ANC/transparency modes. The headphones seem to be built into the system, and you don't need to install any software to control them.
A nice feature is that AirPods work with the "dynamic island" (the cutout for the front cameras in the iPhone 14 Pro). It displays the headphone connection, information about their discharge, etc. A trifle, but cool.
By definition, FreeBuds Pro 2 cannot have such features, or rather, they can, but with Huawei smartphones and laptops, which not everyone has. However, in fairness, if you use AirPods with Android, there will be no app at all, as well as some of the functions. (But probably only perverts buy AirPods for use with Google phones).
To configure the functions and capabilities of the FreeBuds headphones, you need to install the Huawei AI Life, I can't say anything bad about it. It's comfortable, it works stably. And there are all the features that are available in the iOS interface for AirPods, such as basic and advanced settings, checking the correct size of the tips, finding lost headphones, and so on.
In general, both headphones connected to the phone (and other devices) quickly, the connection was stable, and there were no delays.
Now let's discuss what I was most interested in after the Huawei FreeBuds 4 vs Apple AirPods test. Has something changed for the better for the "apples" in terms of working with two devices at the same time? Well, I'll answer right away – NO, it's still a glitch on a glitch. And I'll sigh again – for the money…
I won't describe everything again, as I wrote in detail about the problems with AirPods when switching between iPhone and MacBook back in 2021. Nothing has changed since then. The headphones don't "switch" from one device to another when you need to, you have to do it manually, sometimes they fall off, the logic is not clear, and it's easier to disable the ability to work with two devices at the same time so as not to get nervous.
What about FreeBuds? Everything is great. I'm watching a TV series on my laptop, someone calls me – I take the call and hear the caller through the headphones. I switch the show back on and the sound comes from the laptop. Or I pause the series to scroll through the latest Instagram stories, and if I come across a story with sound, I hear it through the headphones. In the AI Life app settings, you can choose a priority device (for example, if the sound is coming from it, so that you don't switch to another device, even if you have something with sound on it), but I didn't do that, and everything works perfectly in automatic mode.
Moreover, the auto-switching function works not only with MacBooks and iPhones, my husband also has headphones with this function (FreeBuds 5i), and he uses a Windows computer and an Android phone, and there are no problems either.
So Huawei is a clear winner in this section, as the Chinese have managed to implement what Apple has been unable to do for years.
UPDATED: I talked to a person who uses AirPods with a whole "family" of Apple gadgets – listening to music from a smart watch, using Apple TV, iPhone, and so on. He claims that only his AirPods switch automatically between all these devices, with other headphones there would be a bunch of problems. Perhaps, in such a situation, you really can't do without apple headphones.
The winner of the section: Huawei FreeBuds Pro 2
Bonus: Search for headphones
In the case of Huawei FreeBuds Pro 2, you can only find lost headphones – each has the option to turn on the sound that will be emitted through the headphone speaker, that is, not too loud. You can also check where they are or have been recently on the map.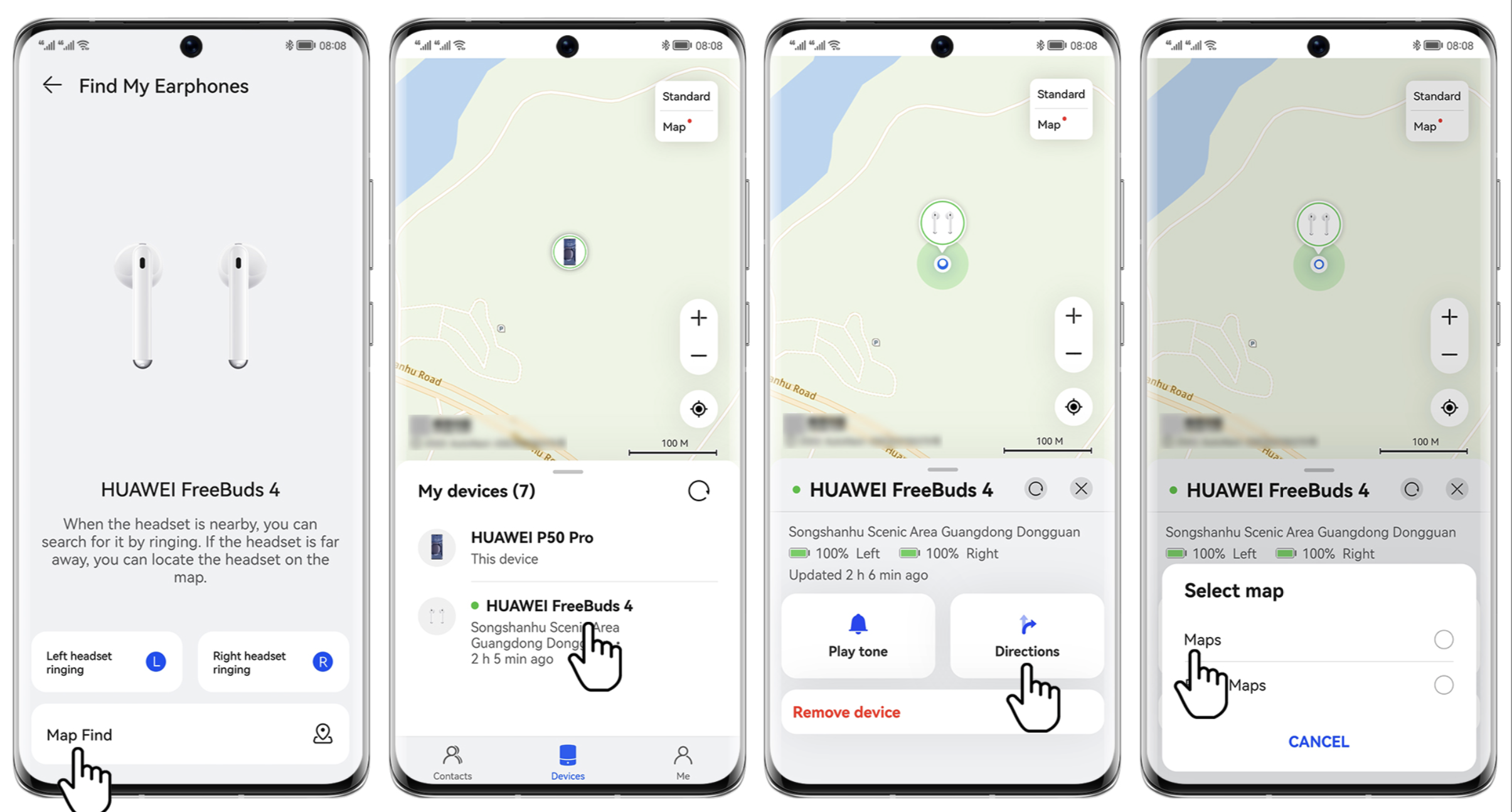 Apple is more thoughtful than ever. The Airpods Pro 2 brought an innovation – the case is equipped with speakers, so you can search not only for the headphones, but also for the case itself, and it emits a loud sound.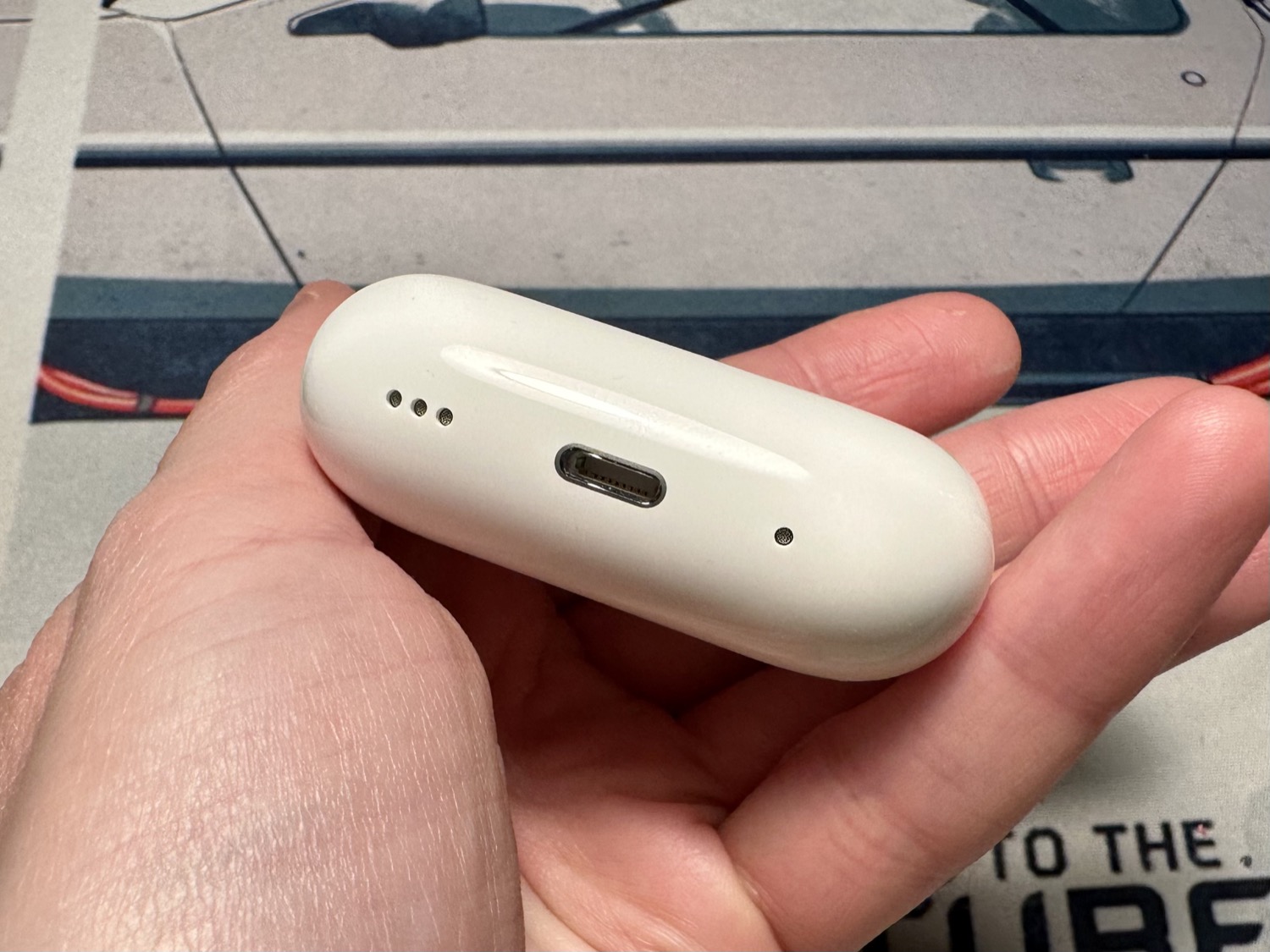 Moreover, in some countries, smart search is available, not only within the Bluetooth range of your phone, but also with the help of other people's compatible devices (Ultra Wideband, a feature of the new chip). And when you search for a case or headphones, the app can show you how close you are to the item.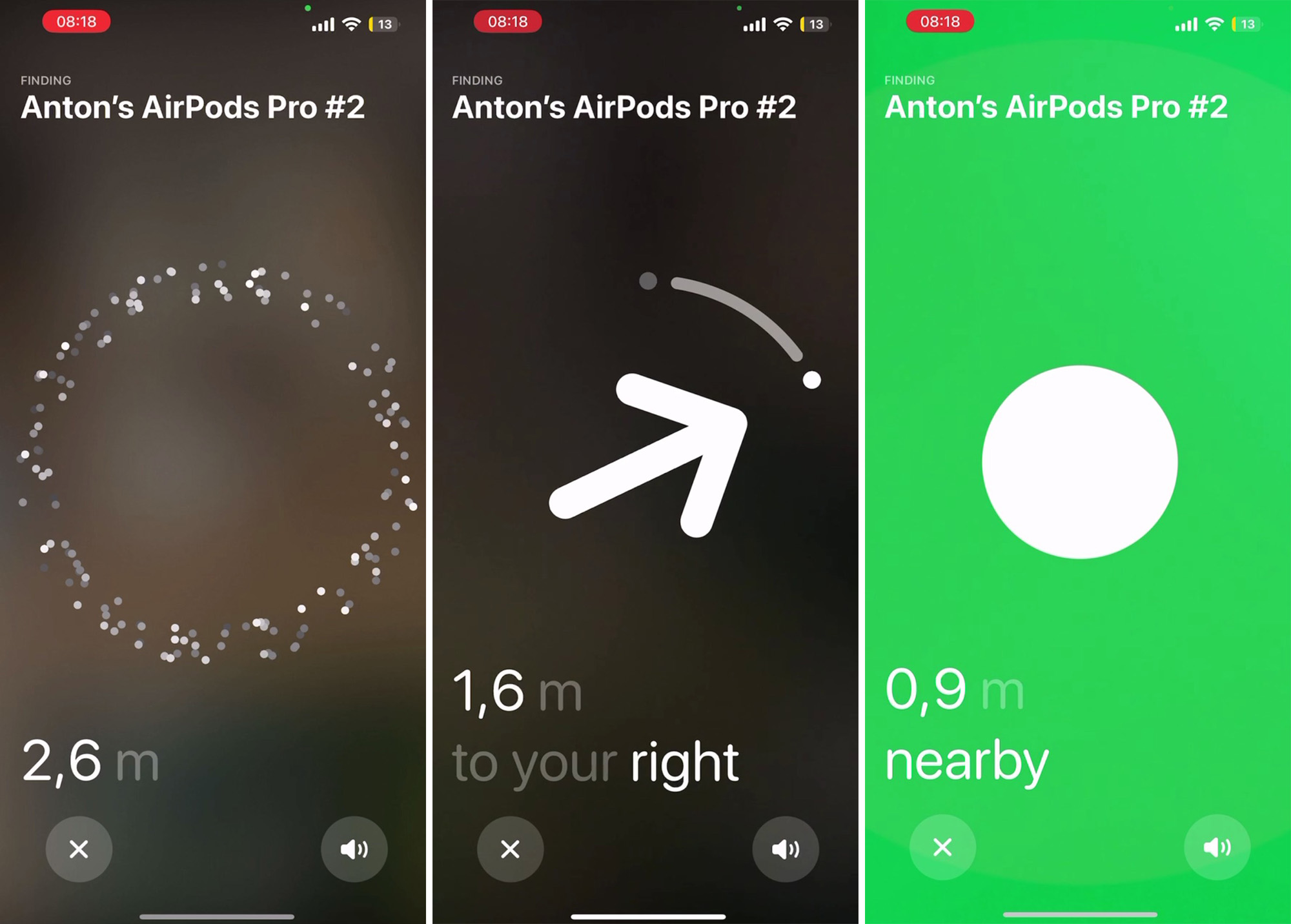 You can also use the Find My service to see the last location of your headphones on the map, even if they are dead.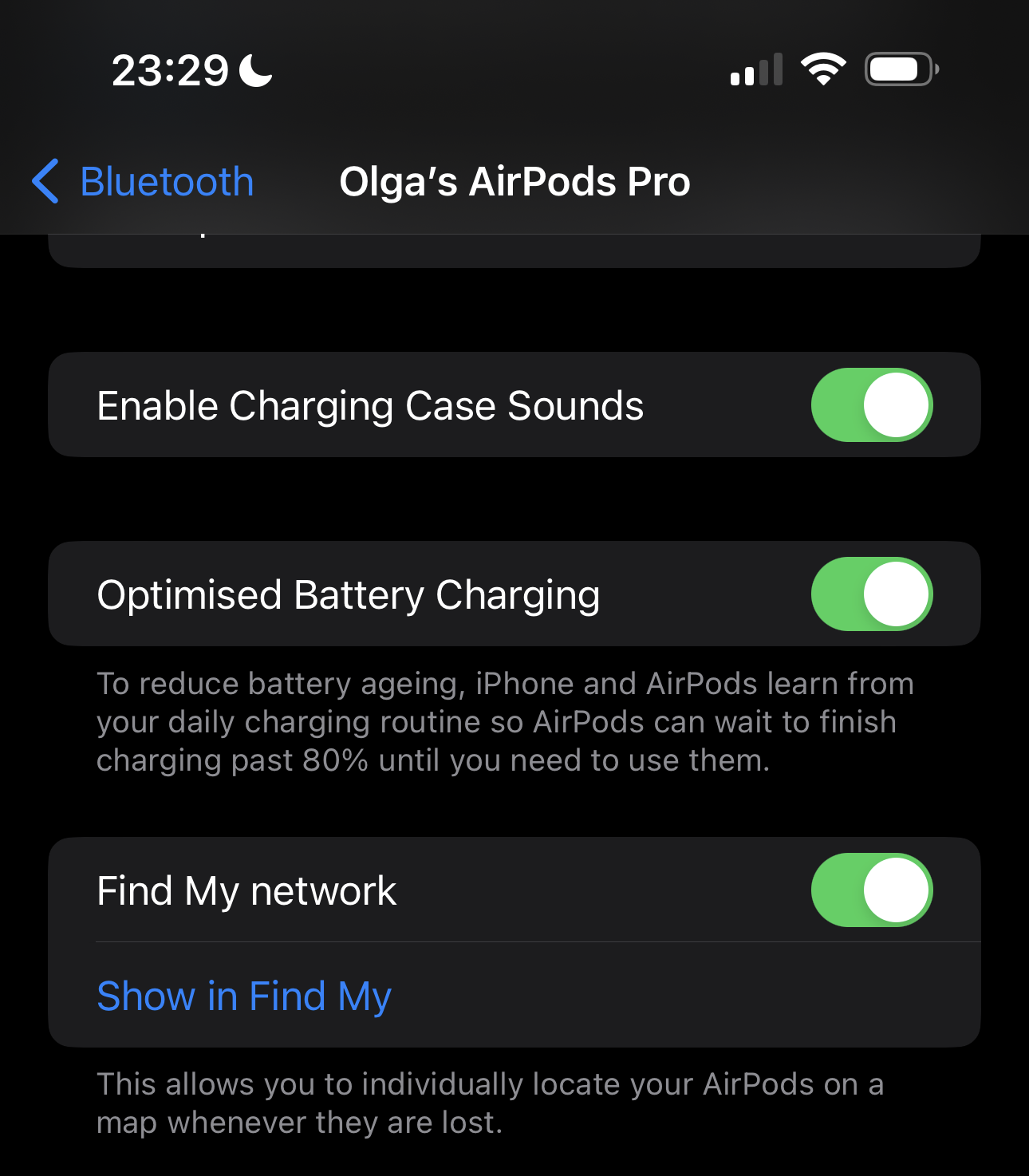 Another bonus of having a speaker in the case is the sounds, for example, when it is connected to the charger. But they can also be turned off.
The winner of the section: Apple Airpods Pro 2
AirPods Pro 2 vs FreeBuds Pro 2: Battery life
Everything is about the same here. AirPods Pro 2 lasts about 6 hours on a single charge, FreeBuds Pro 2 – about 6.5 hours. If you turn on ANC, then FreeBuds will last about 4 hours, and AirPods – about 5.5 hours (an interesting difference, apparently, has something to do with the implementation of the technology and the new chip).
AirPods Pro 2 can be charged 4 times in the case, which gives a total of about 30 hours of headphone life. With FreeBuds Pro 2, everything is about the same, and we end up with the same 30 hours of battery life.
Both Apple and Huawei headphones can be charged both with a wire and wirelessly, the latter method is, of course, slower.
But there is still a difference in some respects. FreeBuds has two charge indicators – one for the headphones (inside) and the other for the case (outside, next to the charging connector). And they glow in three colours: green for full and almost full charge, yellow for medium and red for low.
In AirPods, the indicator is traditionally one and can only light up in two colours – green (full) and orange (less than one full charge cycle) – which is completely uninformative.
And to view the charge level, you need to bring the widget to the desktop, which does not show the charge of each headphone without dancing with a tambourine. And to find out the charge of the case, you have to open it – too much hassle.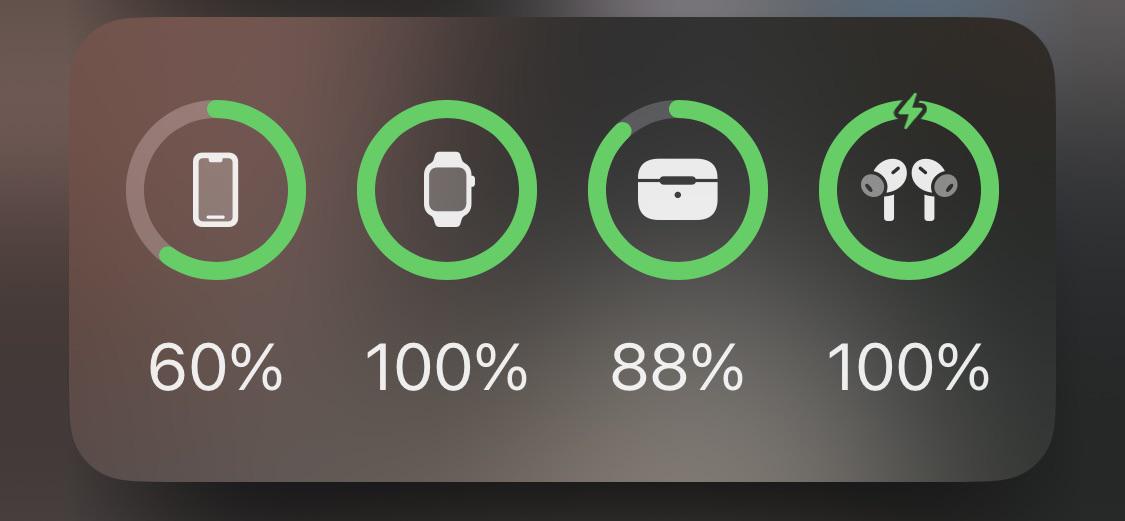 Although FreeBuds doesn't have system integration, it's easier: you can check the charge of each headphone and the case in the AI Life app. The headphones need to be connected to the phone, and the case does not need to be open.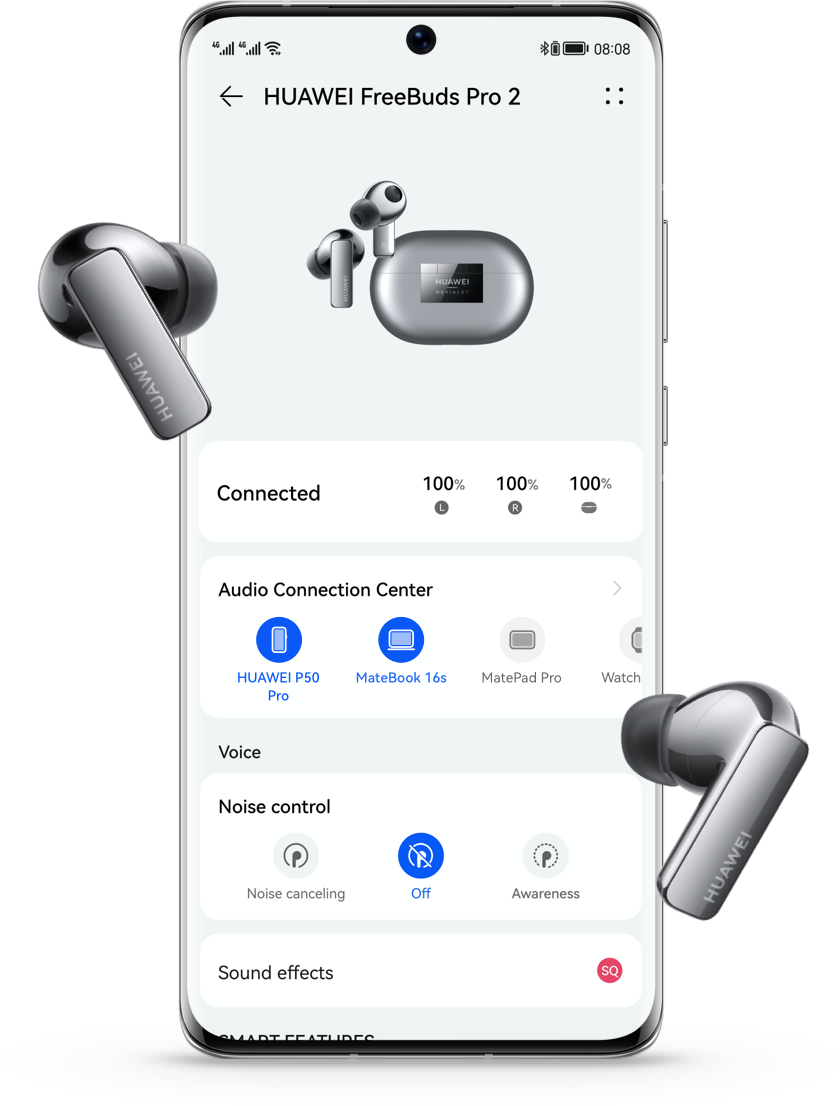 The winner of the section: Huawei FreeBuds Pro 2
Conclusions
Well, if Huawei FreeBuds 4 tore Apple AirPods like a hot water bottle at one point, the balance of power has changed in the case of the "proshkas". Apple's brainchild no longer loses so badly in terms of control, battery life, sound quality, and ANC. And it even has advantages in the form of more efficient noise cancellation, cinema sound, lost headphones search, and longer operating time with ANC enabled.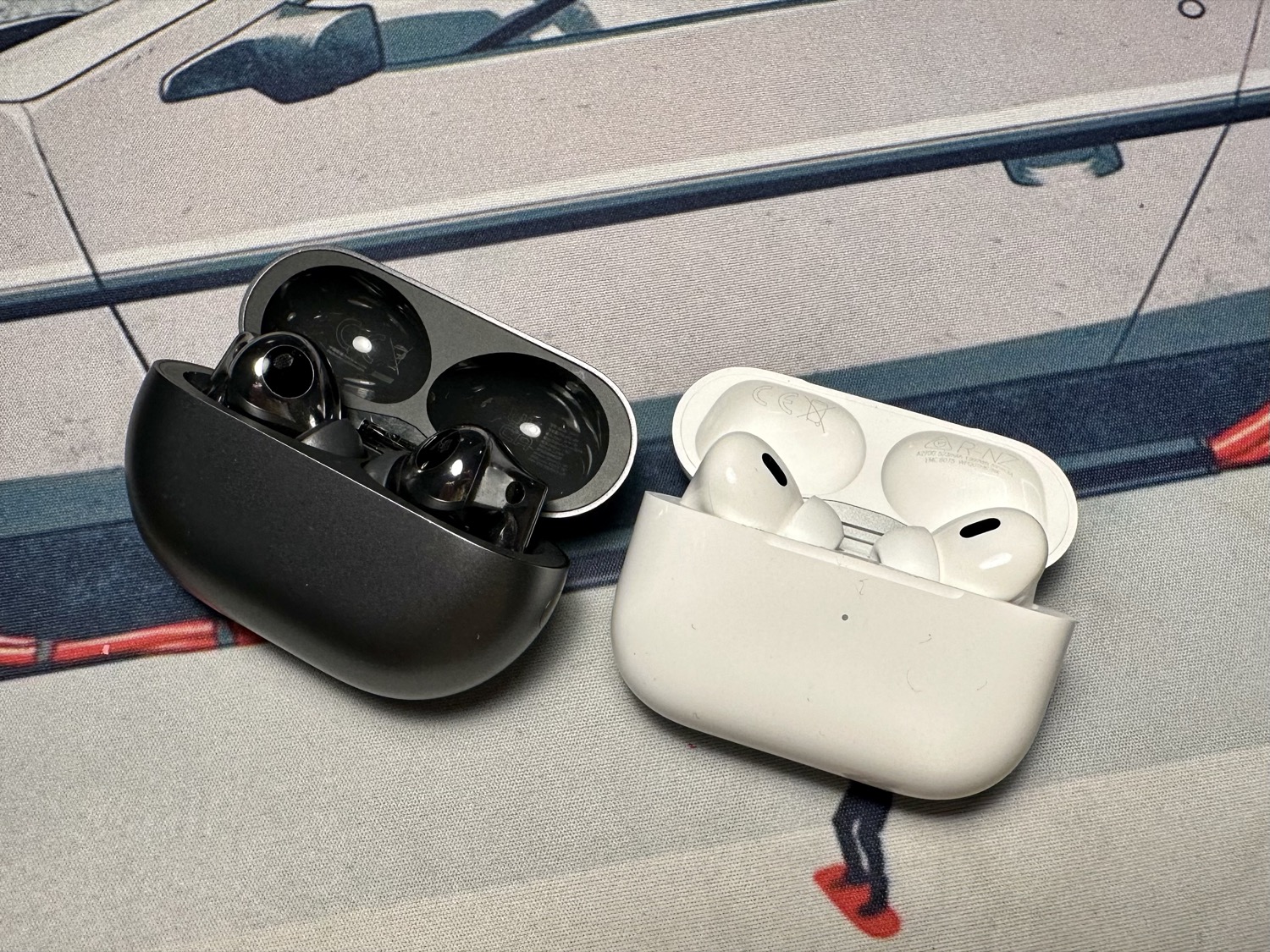 Nevertheless, Huawei FreeBuds Pro 2 still wins on most points. And in the case of Apple AirPods Pro 2, the main feature of the "ecosystem" – automatic switching between two devices – works with difficulty. Whereas Huawei's feature works fine even with Apple devices.
What can we conclude? Both headphones are great in terms of design, sound, battery life, additional features, etc. But Huawei is still better in a number of ways.
And if you (like me) use an iPhone and think that you have no choice but AirPods, I hasten to destroy this illusion – you can buy top-end headphones from another brand, they will work with your iPhone/Macbook/iPad in almost the same way, and sometimes better. Besides, FreeBuds Pro 2 are about 120 bucks cheaper, and you don't have 120 bucks lying around. So I don't see any point in overpaying for overpriced Apple gear.
If you have any counterarguments on the topic of Apple Airpods Pro 2 vs Huawei FreeBuds Pro 2, please feel free to comment! And thank you for your attention.
Read also: