Before answering the question from the title, let's define ourselves: what does "cheap" even mean in the world of headphones? Personally, by "cheap" I mean the price segment from $10 to $20.
Let me make a remark that we are talking about HI-FI sound, and therefore, we immediately exclude wireless models, especially for this money. Yes, I understand that many people will now argue that technology is evolving and there is no difference between wired and wireless sound in 2023. But I will still remain true to my own experience and insist that the differences in sound are not just there, they are really noticeable. And they are especially noticeable for those who really appreciate good sound. In short, only wire, only hardcore.
But let's get back to the price issue. It would seem that we are talking about $10-20, so what kind of HI-FI can we talk about? Indeed, for this money you can buy at most simple plugs for utilitarian use from A-brands. For example, Sony MDR-EX15LP or JBL C16 sound much better than entry-level wireless headphones like Redmi AirDots, but they are still far from adult sound.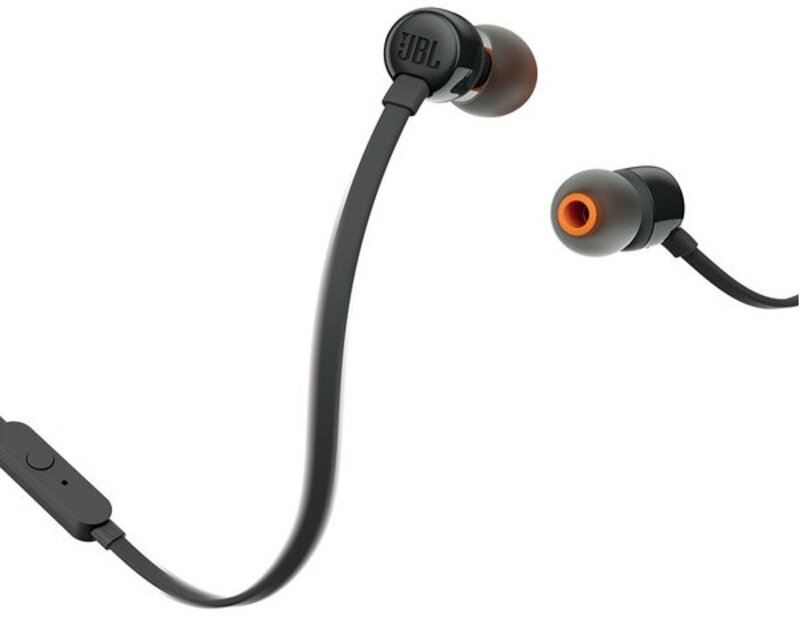 In short and simple terms, the JBLs mumble in the bass, while the Sonys, although deeper in low frequencies, screech too much in high frequencies, which makes them very problematic to listen to at high volume. On top of that, both models mix even well-recorded instruments into a loose mess, which is very critical when listening to instrumental tracks. Well-known brands are in no hurry to jump over their heads in this price category, selling headphones for the masses who are completely undemanding to the sound.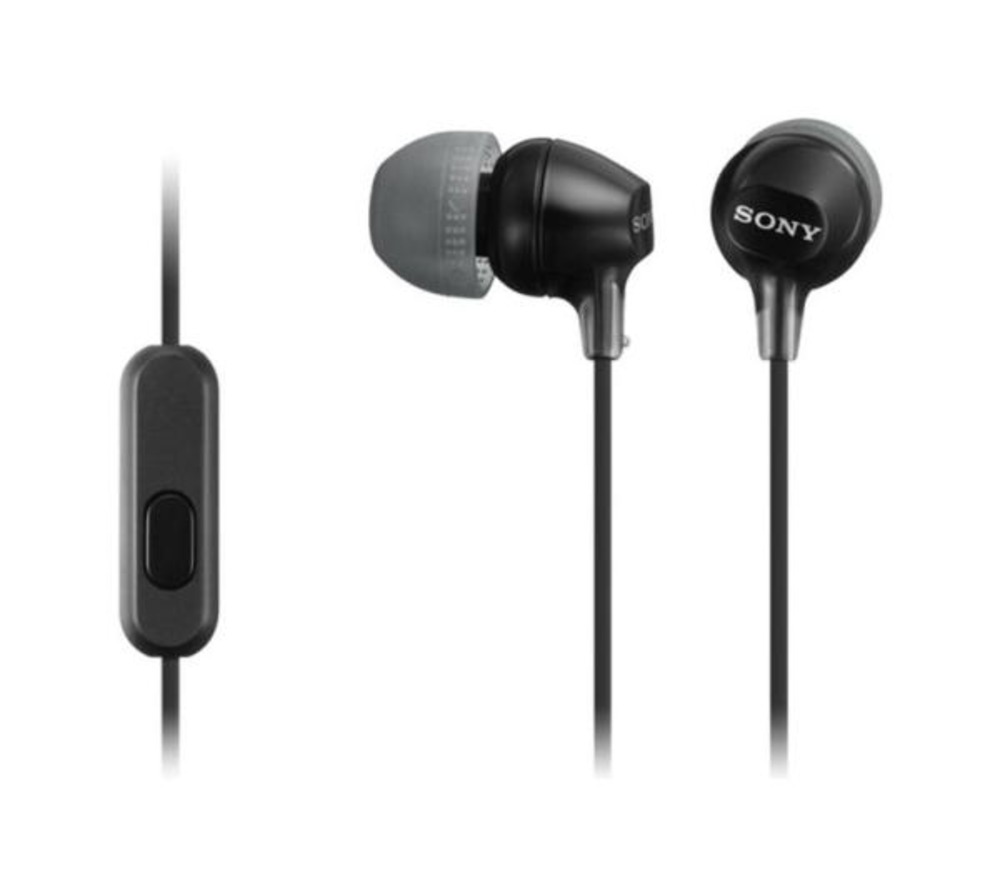 But this doesn't mean that there isn't a way to experience the world of high-quality music on an ultra-low budget. There is, and its name is KZ EDX pro – in-ear Hi-FI headphones for mobile use, which currently cost about $9 on Aliexpress. To answer the question from the title – yes, real mobile HI-FI headphones can be cheap. Now let's find out what this black audiophile magic from the Middle Kingdom is and whether there is a catch in all this splendour.
What is KZ anyway?
If you think that the KZ brand is just another nameless piece of junk from Ali, this is not the case at all. First of all, you need to understand that the entire HI-FI world is divided into two conventional parts – Western and Asian. The former includes bang & olufsen, bowers & wilkins and other sennheisers. The Eastern pole, on the other hand, is much less known to the average citizen and much more dynamic in terms of development. This is a completely unique, closed market with its own players and fans, interesting primarily to audiophiles and enthusiasts. And the KZ (Knowledge Zenith) brand is one of the most famous animals in this exotic zoo.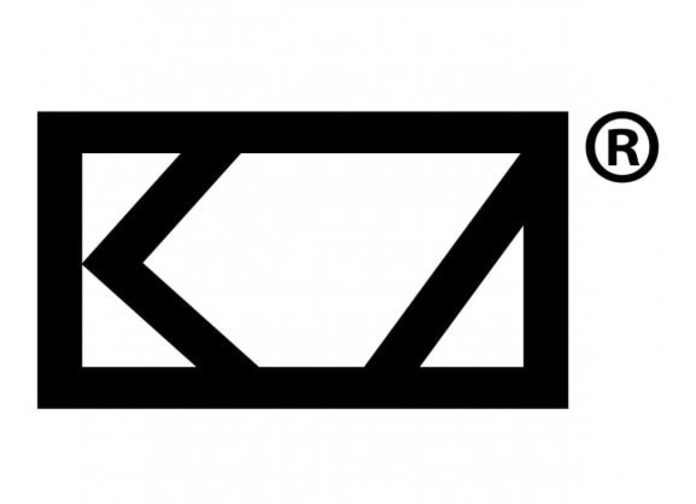 The company mainly specialises in in-ear wired HI-FI headphones for mobile use, although they also have wireless models in their range. Currently, their philosophy is to provide the best possible sound for the least possible money. The closest analogy to KZ from the world of smartphones is OnePlus in the days of the OnePlus One (you get the picture). And the EDX pro model is the absolute quintessence of the "maximum for your money" philosophy.
Read also: OnePlus Buds Pro 2 TWS headphones review: a versatile flagship
Emerald rock stars
People are greeted by their clothes, and a gadget by its kit. Well, that's what we'll do. The device comes in a minimalist cardboard box with headphones, a cable, a set of replaceable silicone ear cushions, and an instruction manual inside.
When I opened the box for the first time and saw the headphones, I was, to put it mildly, blown away by the design. Yes, yes, I'm about to discuss the appearance of $10 ears because I'm overwhelmed with emotion! Daring, brutal, stylish. In a word – punks. A massive metal disc adorns translucent, emerald and no less massive cases. All this looks very original and distinguishes the owner of EDX pro from the crowd.
Although, the appearance is for an amateur, it is definitely more expensive than its price. The headphones are available in green, white and black and gold colours. The main advantage of the design is that it does not have a utilitarian look, which it should, given the price, but in any case, it is a matter of taste.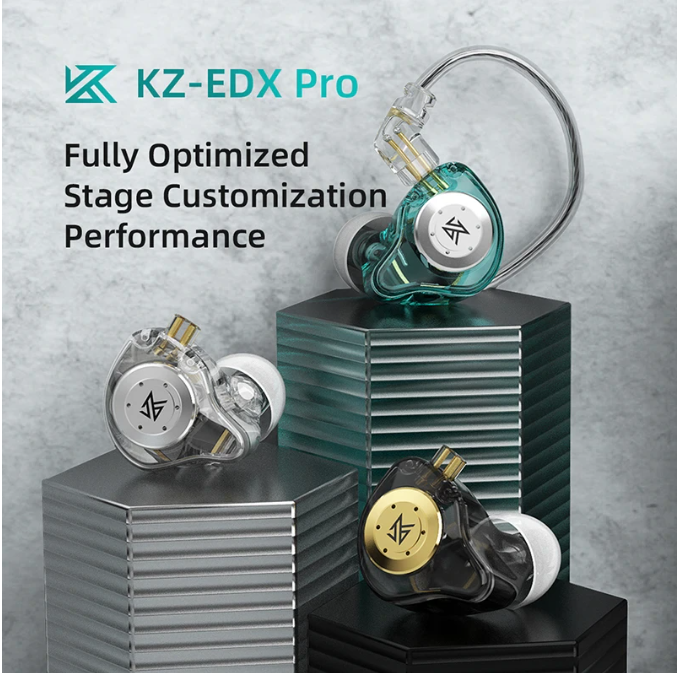 As for the rest of the equipment, the stock silicone ear cushions are just fine. But you know what? Fuck those ear cushions, now we're going to talk about the icing on the cake! Why so pompous? Because it is the best cable you can get for your money (and later you will understand why I am so focused on this aspect).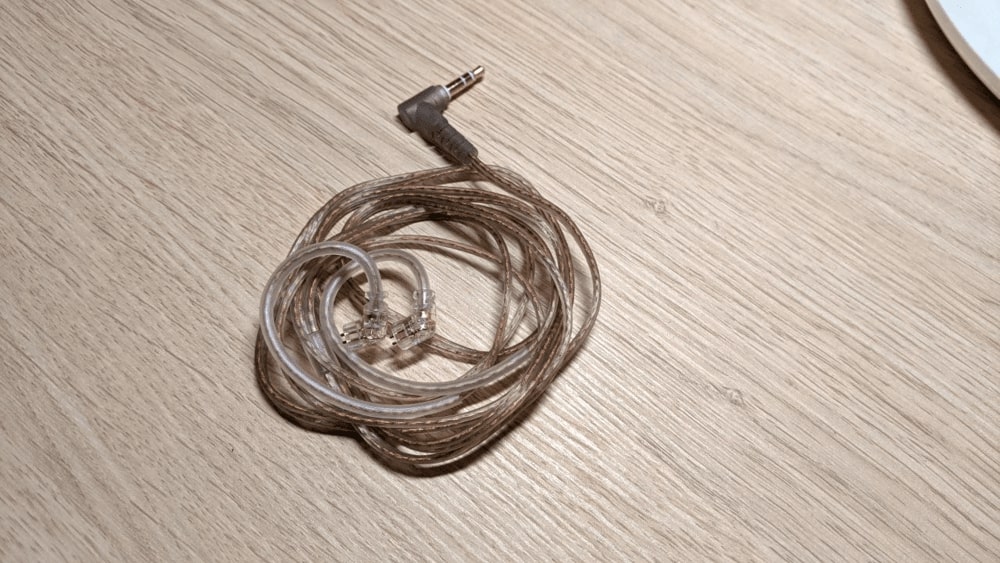 First of all, this cable is detachable (it connects via a standard 0.78 mm QDC plug), which is very convenient. In the event of a breakdown, it can be easily replaced, and AliExpress is full of suitable options.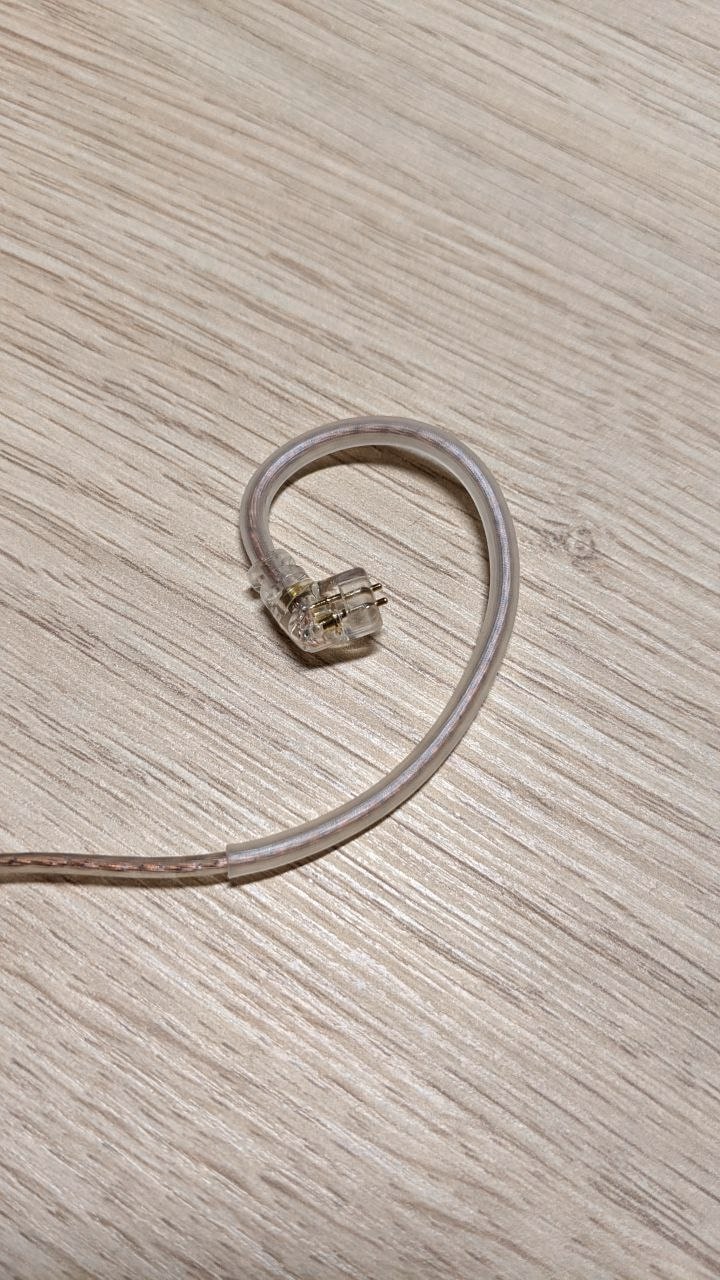 But it is not a fact that it will be necessary, because the cable is made of good quality silicone. It's thick and durable, not that snotty something that classmates from A-brands have – the same JBL and Sony I mentioned above.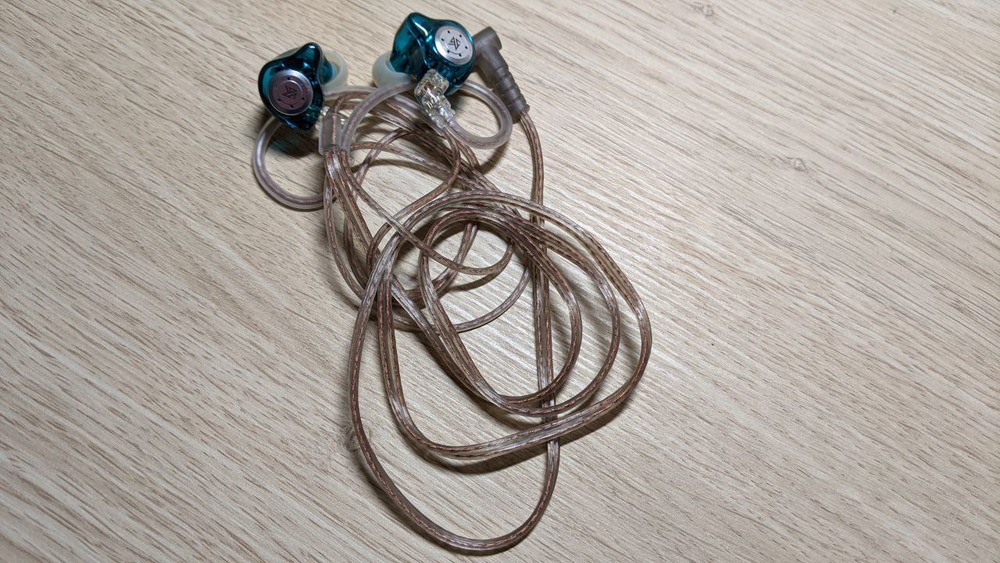 Yes, it is not twisted, the wire is made of ordinary copper, not silver-plated, and a burned-out audiophile is unlikely to appreciate such a cord. But a burned-out audiophile most likely has headphones from another price category and a custom cable for at least $30. And for a user who has EDX pro as their first HI-FI headphones, such a cable will be a real luxury. However, let's dwell on the topic of cables in a little more detail, because in the world of cheap ears, this is a separate and very painful issue.
Read also: Sennheiser Momentum True Wireless 3 Review: the third generation of audiophile headphones
The epidemic of bad cords
This section of the review is a lyrical digression, in which I will bombard you with a lot of bombshells. This is not only my personal pain, it is shared with me at least by my best friend. When I say pain, I mean the same Sony MDR-EX15LP headphones and their cable. I have had experience with two pairs of headphones of this model, one was my own, the other, as you probably already understood, was used by my friend (black ones are mine, blue ones are his).
And now, dear readers, please answer the question. How long did these two pairs of ears last? The correct answer is 4 months each. And it was the cable that was to blame. The right ear of the blue ones stopped sounding, and the left ear of the black ones. Only after 4 months. Two pairs at once. Almost synchronously. Perhaps a defective batch? I would have thought so too, if not for one thing. Although we bought the headphones at almost the same time, we bought them in completely different places, and even more so in different countries. Of course, we didn't blow dust off them, but simply used them for their intended purpose. But 4 months of service is too short. Isn't it?
By the way, about a year and a half ago, I already had headphones from KZ of the EDX line, but without the PRO prefix. They cost a ridiculous amount of money (about $5) and had the same detachable cord. They lasted a year and would have lasted longer if I hadn't lost them at a picnic. Mind you, I also carried them in my key pocket, and the cat swatted them off the table (which was not the case with the Sony).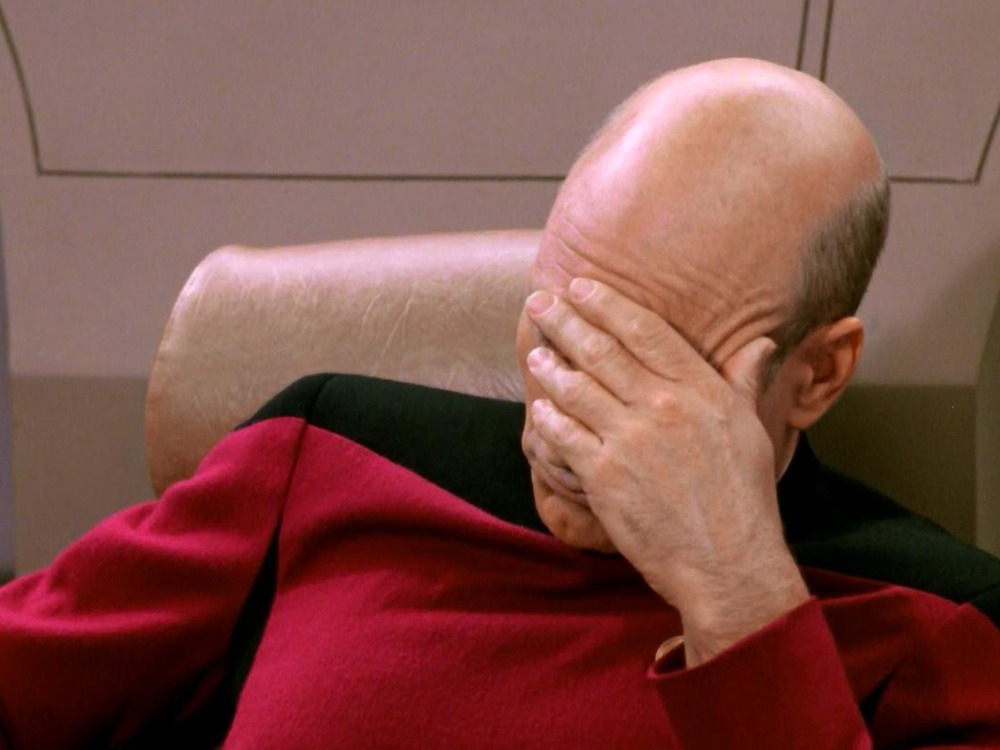 The second point is the 3.5 mm plug. The EDX has a massive one and from the first moments of use it evokes a sense of reliability, Sony had no complaints about its performance, but when I plugged the plug into my old iPad and then took it out, I was constantly afraid of breaking it. You could say I'm nitpicking, of course, but it's still part of the user experience that I feel compelled to share with you.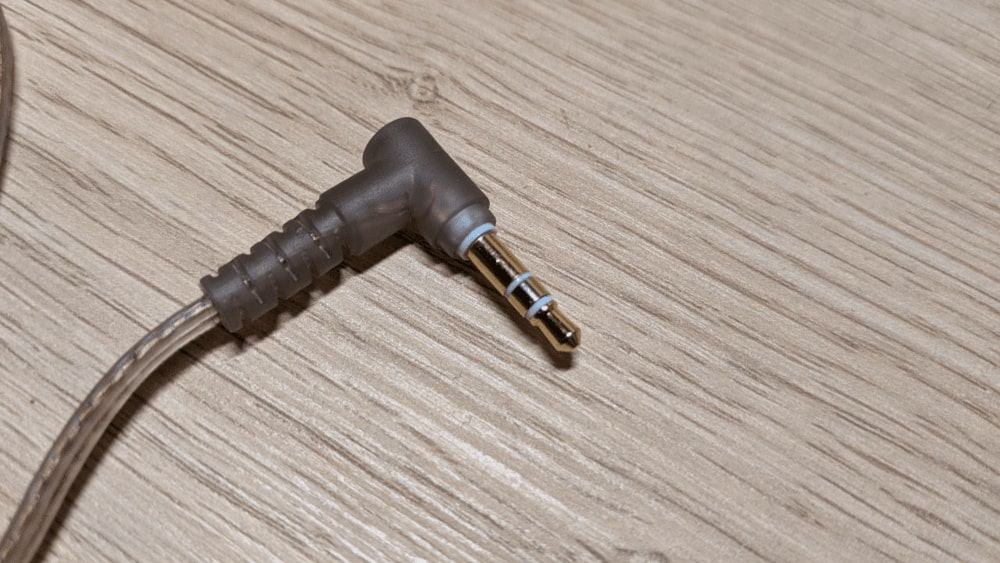 But that's not all. Upset after the Sony broke down, I went around Warsaw in search of temporary fixes until the EDX pro came from Ali, and purely on a whim, I took the cheapest headphones from the supermarket (they also cost about $5). And… it's something called ARKS, which I forbid to buy even for those whose requirements for headphones are "just play music". They hiss, screech, squeak, and sound literally rubbish. And for me, as a person who has been playing music professionally for 7 years, this sound felt like torture.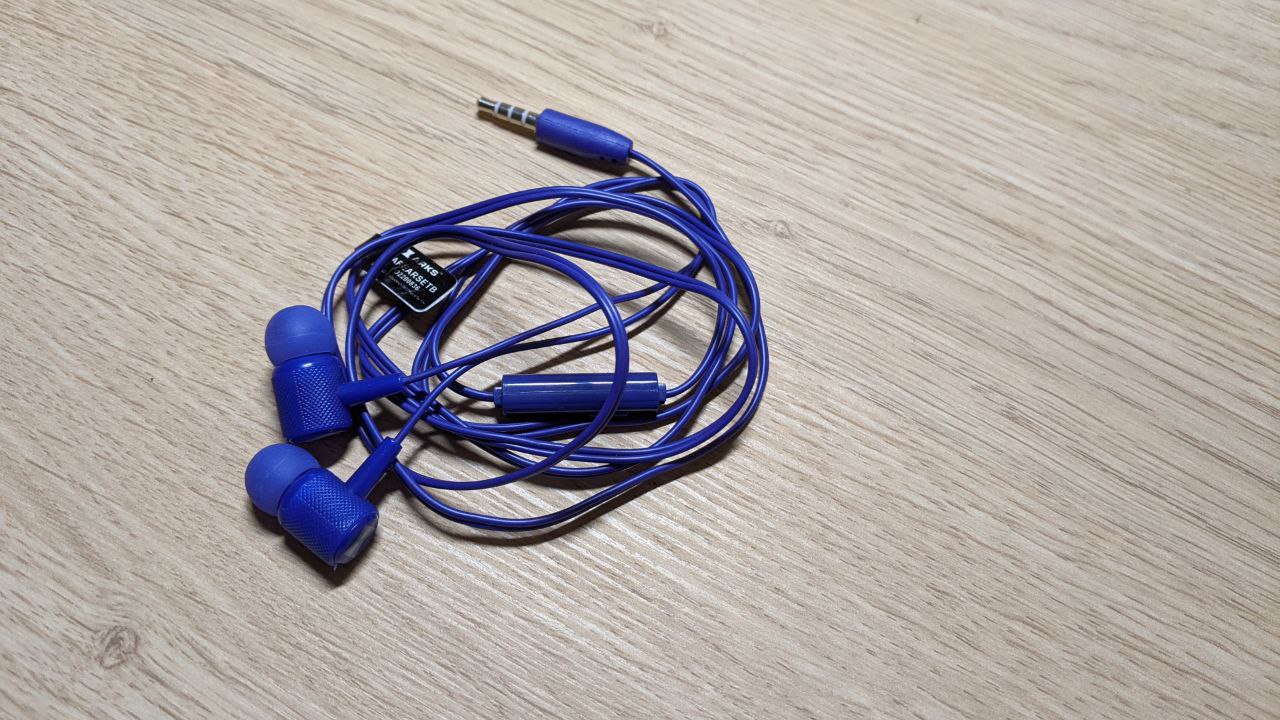 However, it wasn't the sound that surprised me, as I expected something similar, but the wire. It's the same as Sony's: a thin, non-removable rubber "snot". And even though the Japanese sound 300 heads higher, the fact that the quality of the wire is the same as that of supermarket in-ear headphones says a lot about the manufacturer's attitude to the budget segment. Judging by the reviews, the JBL C16 and many other classmates of this Sony model have problems with the cable. But if A-brands have low quality standards for budget headphones, should this be the norm?
Read also: Huawei FreeBuds 5 review: Super headphones with a strange design
Absolute harmony and comfort
Let's move on to the main advantage of KZ EDX pro – their sound. And if you thought that I was praising these headphones too much, get ready, now I will praise them 10 times more, because there is something to be praised. I don't plan to load the review with unnecessary mathematics such as speaker size, impedance and other numbers. My reviews are primarily about impressions, because I write them in such a way that it would be interesting to read for those who do not understand all kinds of ohms, milliwatts, frequency response decoding and cellulose drivers. All you need to know is that these are in-ear headphones (they sit deep in the ear).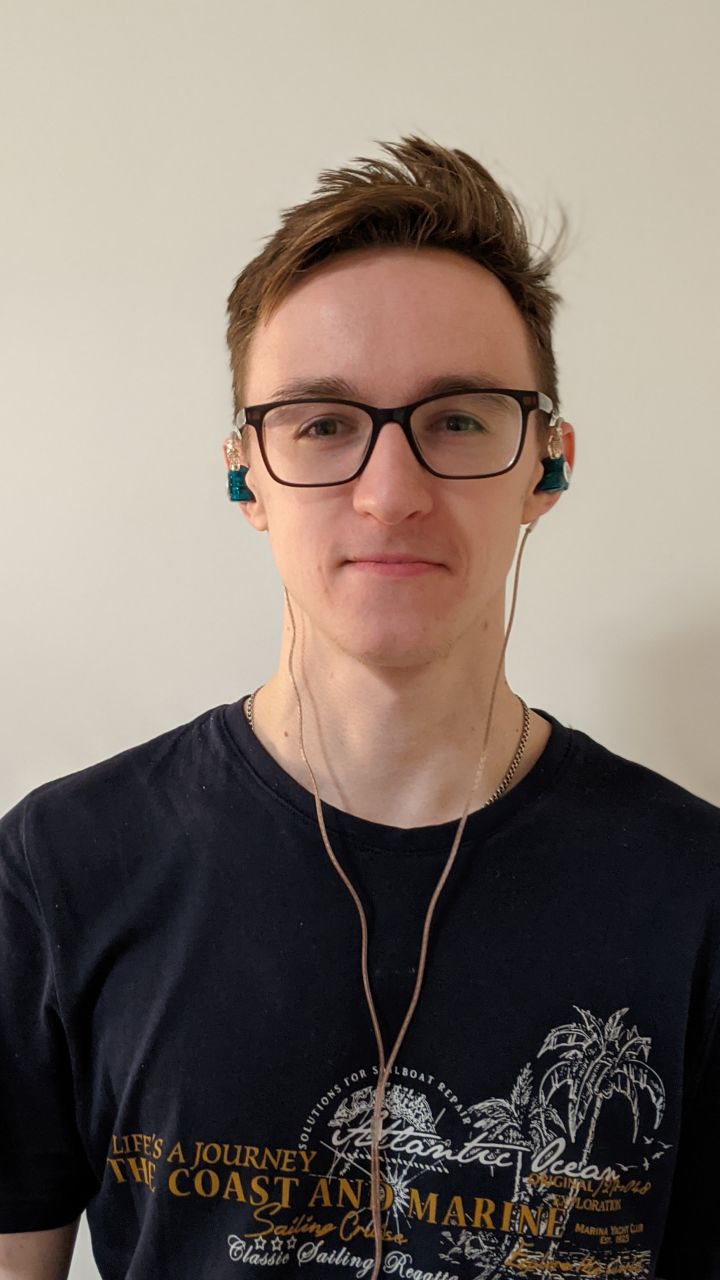 First, a few words about ergonomics, as a comfortable fit is one of the aspects of good sound. The device sits confidently in your ears, but you need to take into account the design features, since the headphones are first attached with a cable around the ear and then inserted inside. I should note that the ear cushions are very tight, and do not be afraid to bend them under your ear to achieve comfort. As for the ear cushions, they are quite good for stock ones.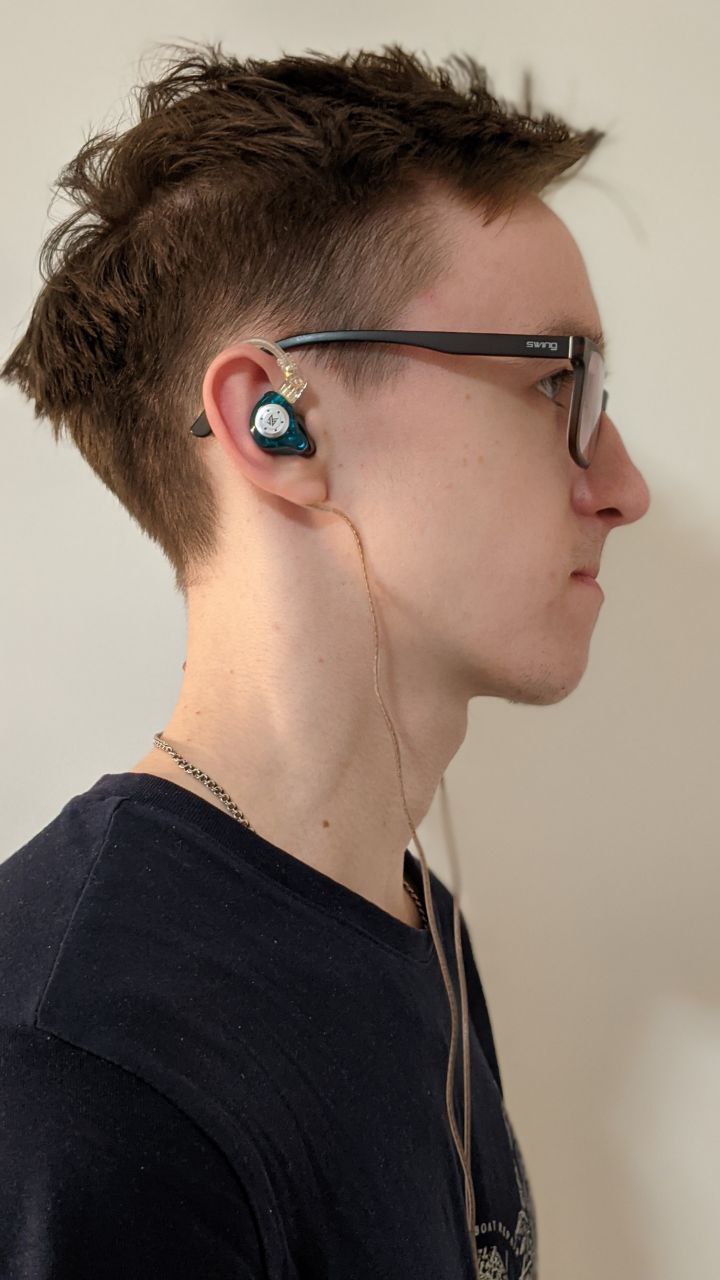 The main advantage of EDX pro sound is the perfect balance of frequencies. There is everything in moderation – the low end provides a good bass foundation, has texture and gives the sound the right weight and good depth. The middle is not sandwiched between the bottom and the top, and occupies enough space on the sound canvas. And the tops are perfectly defined, very tightly assembled and do not feel shaky or loose at all.
So, translated from audiophile to human, we have: excellent separation and delineation of instruments, they do not feel like a single pile of sounds. Each instrument on the virtual stage is where it should be, and considering that we are not talking about professional (studio) headphones, the accuracy of the virtual stage construction is generally excellent. The sound detail is also good, you can even hear characteristic echoes in such genres as jazz and blues, provided the track has a good bitrate. With good sound detail, there is no dirt or smearing of the vocals. I fully enjoyed the first two albums of Linkin Park, and in particular, Chester Bennington's vocals. It's just a tower!
The battle with Apple
But what if we go further and compare EDX pro with much more mass-produced, expensive, and at the same time everyone's favourite headphones? Fortunately, I just found them – the first-generation AirPods Pro, which my girlfriend has been using for several years now in conjunction with the iPhone XR. In the end, I came to the conclusion that the apple headphones sound worse, and noticeably so (from a professional point of view), but they will give more of an initial WOW effect for the average user.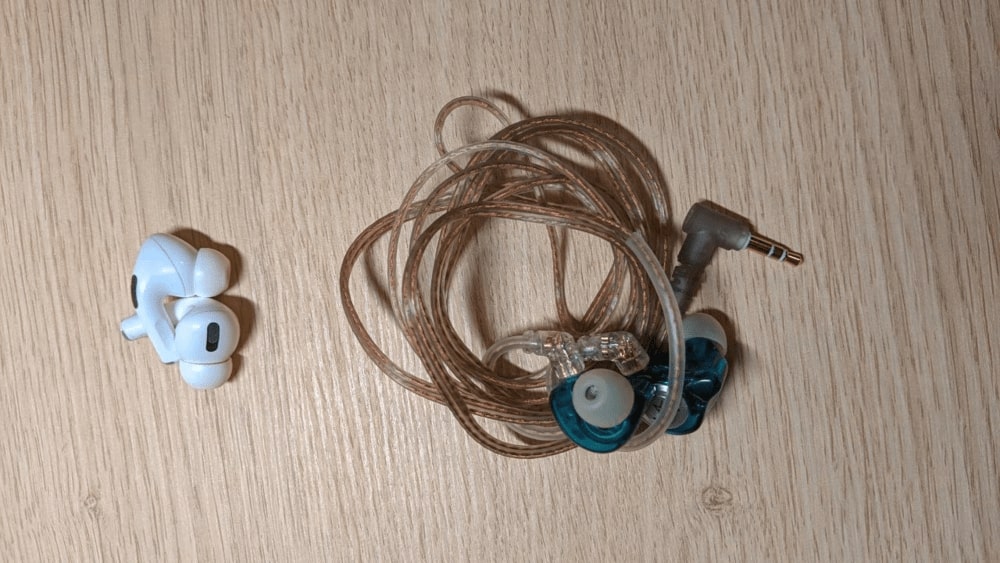 AirPods sound very massive, wide and deep, even too deep, which creates a cinema effect in the listener's head. But excessive depth leads to a "push-up" effect, when there is volume, but it's empty inside. And as a result, headphones cannot fill such a three-dimensional canvas with sound. The instruments on the virtual stage are too close to each other, and the bass begins to eat up vocals and instrumental parts at 50-70% of the volume.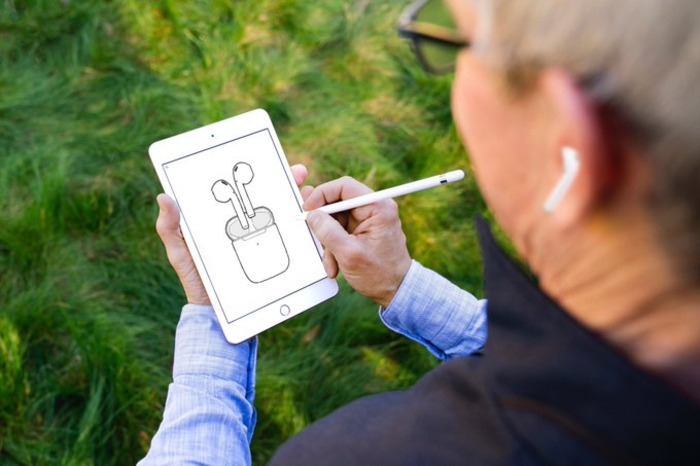 A little clarification. I have the utmost respect for AirPods as the world's best headphones in terms of user experience (provided you're in the Apple ecosystem). But these are the best smart headphones, and we are still talking about HI-FI sound – and here EDX pro is definitely in the lead. No matter how shocking it is, given their price.
Read also: Apple AirPods Pro 2 vs Huawei FreeBuds Pro 2: which headphones to choose?
Entrance ticket to the world of HI-FI
Knowledge Zenith EDX pro is really the most for its price in terms of sound quality. They are versatile in genres and open up perfectly even with a $250 smartphone (although it will be even cooler with a HI-FI player for the same money or a tap whistle). To be honest about competitors, they haven't been invented for this money yet. Neither Sony, nor JBL, nor Philips will give you anything close to the sound of EDX pro for this money.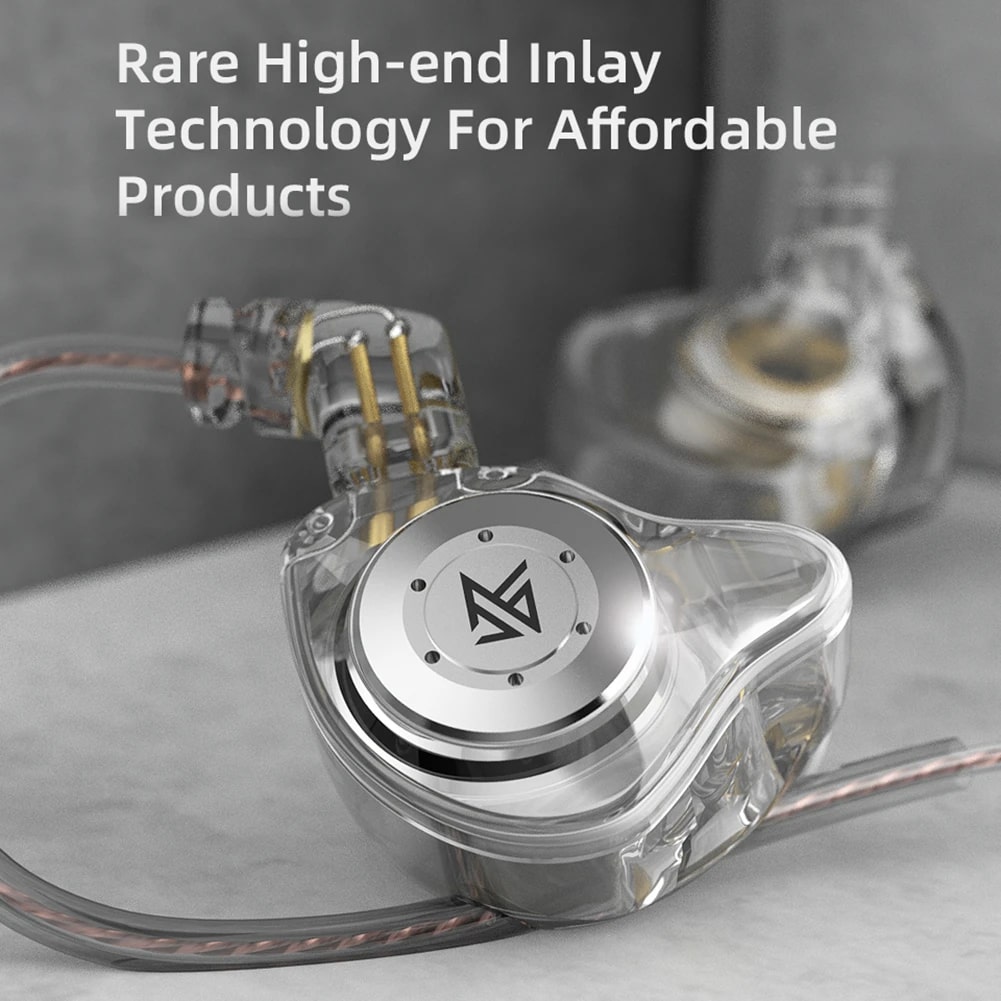 If we talk about Chinese HI-FI competitors, EDX pro sound on a par with most models for $60-70, and a strong quality difference is visible from a hundred. You can compare them with the legendary budget killers VE Monk Plus from Veclan. But this is a more specialised and sharp thing, designed specifically for rock and metal. In addition, the format of the earbuds can scare off many people.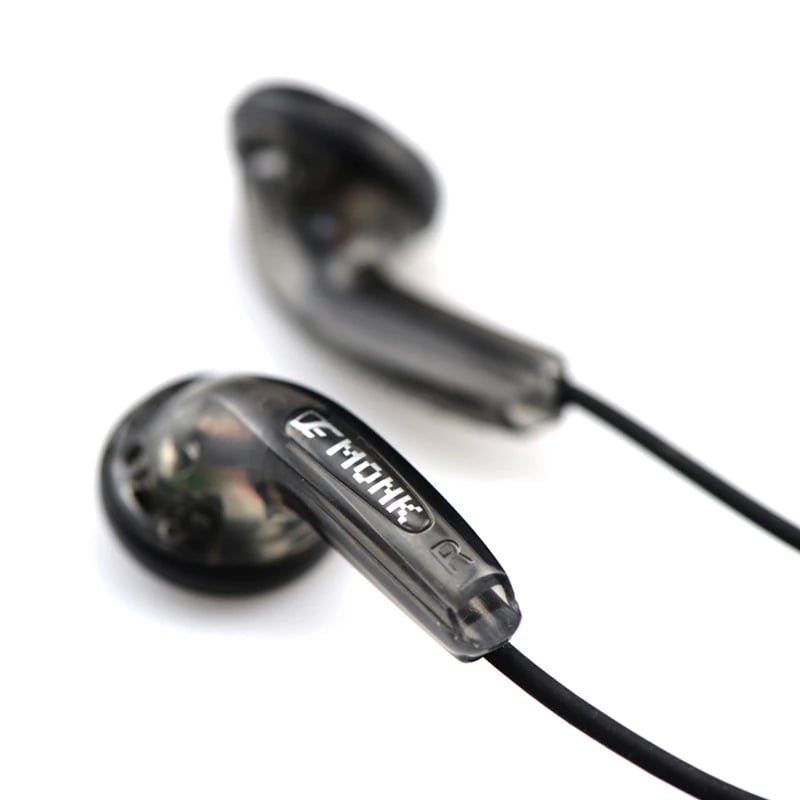 If you want to plunge into the stormy HI-FI waters, but you don't have the opportunity or desire to spend money, KZ EDX pro is definitely your option.
Read alsо:
Where to buy