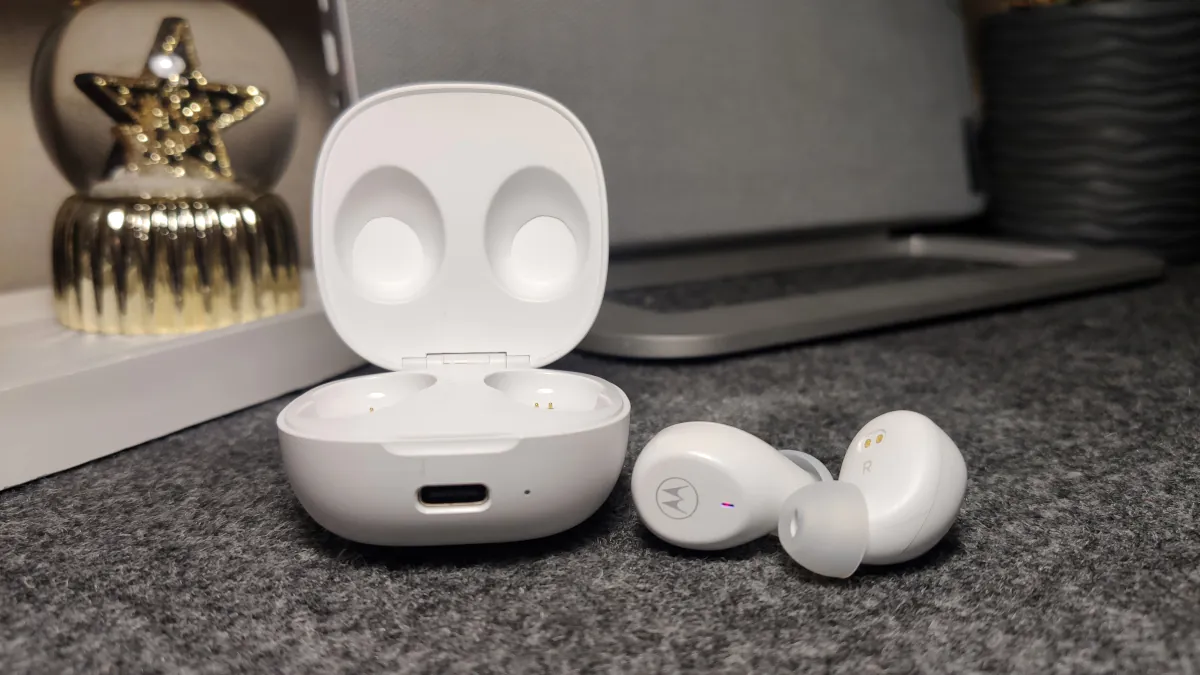 Motorola is known for producing not only cool smartphones, but also reliable, high-quality and mostly inexpensive headsets. And it does not forget to add new products to its headphones range. Denis Zaychenko has already talked about one of them, Moto Buds 85,  and today it's time to get to know Moto Buds 105.
This is a decent TWS headset with basic functionality. You won't find any top features (such as active noise cancellation, auto-pause, or wireless charging), but it copes with its main task of providing a pleasant sound and stable connection. Now let's take a closer look at the advantages of Moto Buds 105 and its disadvantages.
Read also: HUAWEI FreeBuds 5i headphones Review: comfortable, stylish and affordable
Main features of Motorola Moto Buds 105
Type: TWS, in-channel
Bluetooth version: 5.2
Audio codec: SBC
Control: touch screen
Battery capacity: 300 mAh (case)
Headphone operating time: up to 8 hours, 50% volume
Working time with case: up to 21 hours
Charging: wired USB Type-C
Charging time: up to 2 hours
Protection against water: IPX5
Additional: support for Siri and Google Assistant voice assistants, 2 years warranty
Moto Buds 105 price
At the time of writing, Moto Buds 105 costs about $55. Therefore, the headphones can be classified as representatives of the "budget+" or entry-level medium class – this is not a penny version with just about any sound, but there are no advanced features.
What's in the package
Moto Buds 105 arrived in a branded cardboard "box" that looks quite presentable. If you're choosing a headset as a gift, you don't have to worry about the design.
Inside there is a case with headphones, two pairs of additional silicone ear cushions of different sizes (S and L, M are already installed on the headset), a small USB-A to USB Type-C charging cable, and accompanying literature.
Read also: Tronsmart Onyx Prime review: Dual-driver TWS buds for $50
Design and materials
Let's start with the Motorola Moto Buds 105 case. The headphones are generally available in two classic colors: black and white. It is the latter that we have on review.
The case has the shape of a cube rounded on all sides and is made of matte and pleasant to the touch plastic. The lid holds perfectly on the hinge, does not stick, does not play, and closes with a characteristic plastic sound. There is a Motorola logo on top of it. By the way, when you open the case, you can hear the recognizable greeting "Hello, Moto!" and the signature Motorola "bell" from the headphones, which will bring a sophisticated fan of the brand back to the 2000s.
On the front end you can see an indicator and a power connector.
There is nothing on the other sides, and there is technical information and labeling on the bottom.
Inside, the case is also made of matte plastic. But the headphone case combines both matte (on the inside) and glossy (on the outside). Moto Buds 105 themselves have a "comma" shape, with the body pointing upward. There is a flat panel with a logo on the front, which provides touch control. Below the logo, you can see the display hole and the microphone. So in total, we get two microphones – one on each earphone.
On the back, you can see a pair of charging terminals and the "L" and "R" on the corresponding headphones. The leg is small, with a grill for the emitter and a thin rim for fixing the ear cushions.
Ergonomics and comfort of use
In my opinion, the shape of a kind of "comma" is the most successful form for in-channel TWS. Especially for those who are not very lucky with the fit of "vacuums". With the body pointing upward, the center of gravity of the headphone changes, and another fixation point appears. Thanks to this, the headset holds perfectly and does not fall out while moving.
The headphones are equipped with three pairs of ear cushions of different sizes, so you can choose the most comfortable option. The headphones themselves are very light, and the ear cushions are soft and pleasant to the touch, so the headset is really comfortable to use for a long time. After a while, you get used to its presence and stop noticing it at all. However, ergonomics is an individual thing, so I recommend trying it on before making your final choice.
Connecting to a smartphone
Motorola Moto Buds 105 do not need to be synchronized with the app, so they connect directly to your smartphone. To connect, simply turn on Bluetooth on your smartphone or other device, open the headphone case, find Moto Buds 105 in the list of available devices, and connect to them. Then the headphones will connect to your smartphone automatically (if Bluetooth is enabled) when you open the charging case.
Moto Buds 105 controls
Moto Buds 105, like most TWS headsets on the market, has touch controls. Convenient, logical, the way it should be. Here's how it works.
One tap on the left/right earbud – Play/Pause, accept/end an incoming call
Double tap on the left/right earbud – next track
Triple tap – previous track
Holding down the left/right earpiece for 2 seconds – reject the call, call the voice assistant
It also has functionality for managing three-way calls and phone conferences. I don't know if anyone uses them at all these days, especially with headphones, which perform mediocrely in calls. But the ability to reset them to the factory settings with touch controls is a very usable feature in the headset.
To do this, turn off the headphones, hold down the touch button on the headphone for 5 seconds, after which the indicator will quickly flash red and blue. Then you need to quickly touch the touch panel 4 times and make sure that the indicator flashes purple. After that, you can put the headphones in the case, wait for them to synchronize with each other, and then connect them again. By the way, such a complicated combination of resetting actions ensures that you will not be able to "reset" your headset by accident.
Read also: ASUS ROG Cetra True Wireless Review: Gaming TWS Headphones
Sound
Moto Buds 105 support only one audio codec – the basic SBC. At the time of writing, we could not find the characteristics of the emitters themselves, but neither the first nor the second prevents the headphones from having a decent sound. And for its price category – very decent.
The sound is well balanced, there are no obvious distortions in some frequencies. The sound is clean and clear, it shows itself well in different musical directions, the volume level is quite comfortable even at the maximum. As for the subjective perception, I lack a little bit of bass here – it would add atmosphere and even more volume to the sound. It is not possible to say that there are no "low" basses here at all. They are there, but they lack a little bit of expressiveness. Otherwise, the sound is excellent. Of course, audiophiles will not find Moto Buds 105 their ideal sound, but most users will surely like it.
The headset doesn't have an active noise canceling system, but these are in-ear headphones, so passive noise canceling is the default. And, by the way, it isolates well from the outside world.
Headset function
To be honest, mobile conversations are not the strongest point of Moto Buds 105. We have two microphones here, one on each side. But there is no noise reduction system (ENC) for them. So in a quiet environment, the voice is transmitted quite well, but it seems that you are speaking a meter away from the microphone, somehow remotely. But in a noisy city, you have no chance at all – the surrounding sounds will drown you out once or twice and the person you're talking to will most likely offer to call you back later. But, of course, you can hear the voice on the other end of the line perfectly.
In my experience, the problem with voice quality is inherent in most TWS headsets with a price tag of about $100, so this situation with the microphones in Motorola Moto Buds 105 did not come as a surprise to me. So, if you're looking for headphones to use as a headset frequently, I recommend paying attention to more expensive models on the market.
Read also:
Connections and delays
The advantage of headphones from a serious brand (even if they are not expensive) is that you can be sure that there will be no problems with the connection and the quality of the connection. Moto Buds 105 has the same connection. During the test, the headset confidently kept in touch with the smartphone and there were no arbitrary disconnections, which is often the case with ordinary budget models. There were no noticeable delays in signal transmission either.
Moto Buds 105 Battery life
The manufacturer claims that the headphones can hold a charge for up to 8 hours, and with a case that has a 300 mAh battery, this figure increases to 21 hours. Of course, these figures are based on 50% volume, so for those who like to listen to music louder, the battery life will be lower. So, at 100% volume level, the headphones lose 20% of their charge in 1 hour. So under such conditions, you can get 4-5 hours of operation on a single charge. And this is a very decent result for TWS.
As for the charging speed, the headphones are not a smartphone, so it does not play such a strategic role. Especially when you charge them once or twice a week, or even less often. So up to 2 hours for charging, in my opinion, is not that long. Although I would like it to be faster.
Conclusions
Motorola Moto Buds 105 is a worthy representative of basic TWS. The headphones are perfect for both the first fully wireless headset and more experienced users looking for good sound, good battery life, thoughtful ergonomics, and a reasonable price tag.
Moto Buds 105 has a nice minimalist design, good equipment, materials, and build quality, and thanks to its shape, it fits well. Even for those who find it difficult to make friends with vacuum models. The sound of the headset is high quality and clear, a little lacking in bass, but the sound has volume and depth. The touch controls are convenient and work clearly, the battery life is also on par, and the connection quality leaves no questions. What definitely needs to be improved is the quality of voice transmission during phone calls. This model will definitely not satisfy a user who is looking for a headset for conversations.
Читайте також: