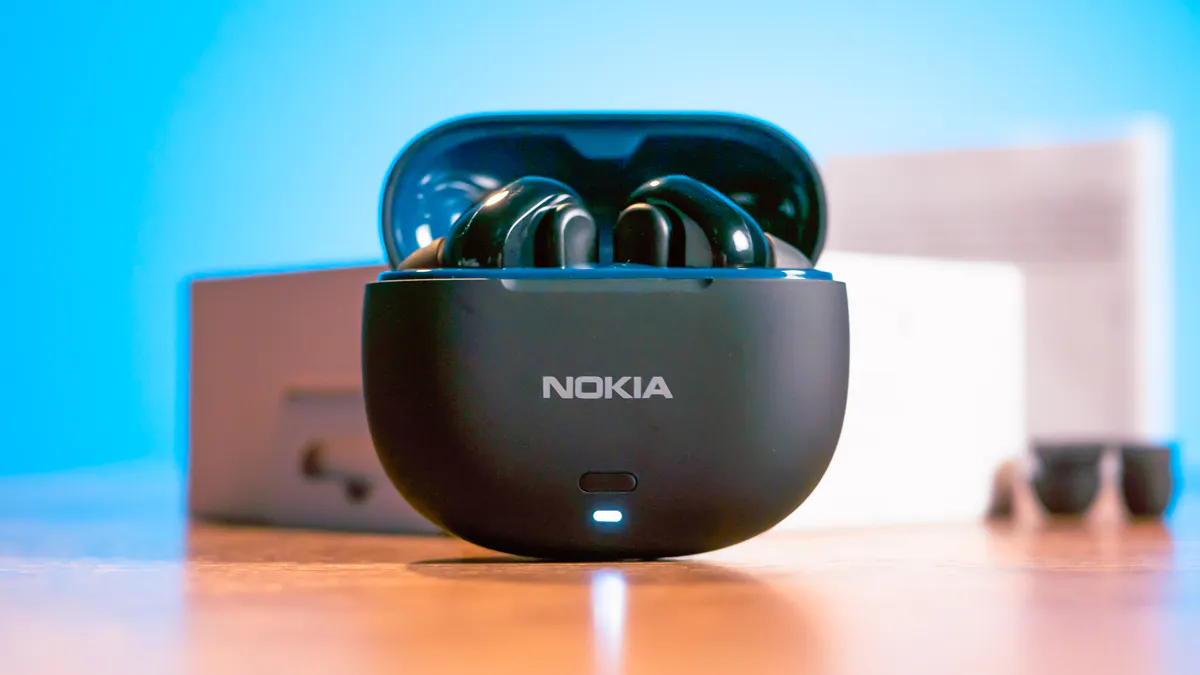 Nokia accessories can almost always be described as "grounded". Let's take Nokia Go Earbuds 2 Pro as an example. They are budget-friendly, reliable, well-made, and deliver exactly what you expect from them, and not a bit more. A small island of stability where there are no surprises. And this is by no means a bad thing, especially now.
Market positioning
And if you're reading this review and ask where this feature is, where that feature is, and why there's so little else, don't forget that this is a budget device. And given that this is not a Chinese budget model for dumping prices, everything becomes clear.
Package contents
The package, by the way, includes the headset itself, as well as a USB cable and spare silicone earbuds of different sizes. There is a question about the earbuds – they are very thin, so if the headset doesn't fit in your ears as it should, it may not be their size that is the problem.
Read also:
Appearance
The best way I can describe Nokia Go Earbuds 2 Pro from the outside is the word "almost". Visually, this is almost a standard TWS headset, but it has enough uniqueness to stand out from the crowd.
The case is nice, matte black, with an oval operation indicator on the bottom. It opens wide enough to take the headphones out of their seats without any problems.
The headphones themselves are completely black, streamlined without buttons, but with noticeable grooves as standard, and come with covered contacts on the bottom. Plus, they have IPX4 splash protection.
The smooth and soft shape is what makes Nokia Go Earbuds 2 Pro unique. Not too much, but enough to cause surprise. In the ears, the fit is absolutely fine, but as I said at the beginning, the ear cushions can be too thin.
Technical characteristics
Specifications. The frequency is from 20 to 20,000 Hz, the impedance is 32 ohms, the weight of the headphones is 4.3 g each, and the weight of the case is 45 g. Bluetooth – version 5.2, working radius – 10 meters. The battery life is 24 hours with the case and up to 7 hours on a single charge. I also note a 2-year warranty.
Read also:
The most interesting feature of Nokia Go Earbuds 2 Pro is probably Google Fast Pair. In short, it allows you to connect headphones like Apple AirPods – through a pop-up window, without having to go into the Bluetooth menu. You'll use this feature very rarely, but it's almost universal – it works with Android 6+, so it's nice.
Control
The main point about using Nokia Go Earbuds 2 Pro is the touch control. It's just a little bit more sensitive than I would personally like. It's easy to get used to, but it takes time, so be prepared for it.
The control scheme itself is not just normal – it's intuitive. One touch on the sensor to play and pause or confirm a call. Hold it down for two seconds to reject or end a call, or to call an assistant. Four taps to switch to low latency mode.
Change the volume in two taps, switch the song forward or backward in three taps. The left earbud is responsible for volume down and back, and the right earbud is responsible for volume up and forward.
Therefore, I would not recommend using only one of the two – but it is possible. After connecting, it is enough to hide one earbud in the case, and the other will work stably on its own.
Operating experience
In all other respects, Nokia Go Earbuds 2 Pro is an absolutely great headset, noticeably above average, which is nice considering the price. The sound quality, again, is above average, without any special achievements, but the bass is not bad, and the three-dimensional scene is felt, and the low latency for games works.
The sound of the microphones is very, very good, clear and the noise canceler works. In fact, this is the only noise canceling device that the headset has, ENC (Environmental Noise Cancellation) during a call.
The battery life is sufficient for an average citizen to spend as much time as necessary with the headphones, put them in a case, and use them until they can be recharged later. There are no questions here, and charging is relatively fast.
Now, if we forget for a second that this is a budget headset, what does the headset lack? Obviously, any active noise canceling mode. This is probably the only thing that surprised me when I started to study the accessory.
But then I remembered that this is a budget headset. And I don't recommend you to forget about it.
Summary of Nokia Go Earbuds 2 Pro
Nokia Go Earbuds 2 Pro is a simple in features, but very high quality TWS headset. It doesn't dump on you with its features to price ratio, but it does what it can do almost flawlessly.
Read also: