Today, we are pleased to offer you a review of the second generation of OnePlus' flagship wireless headphones – Buds Pro 2. It features Google's surround sound technology, active noise cancellation, collaboration with Dynaudio, and an equaliser designed by Hans Zimmer himself. In addition, these are headphones that work with both Android and iOS via the HeyMelody app. Can they really compete with AirPods?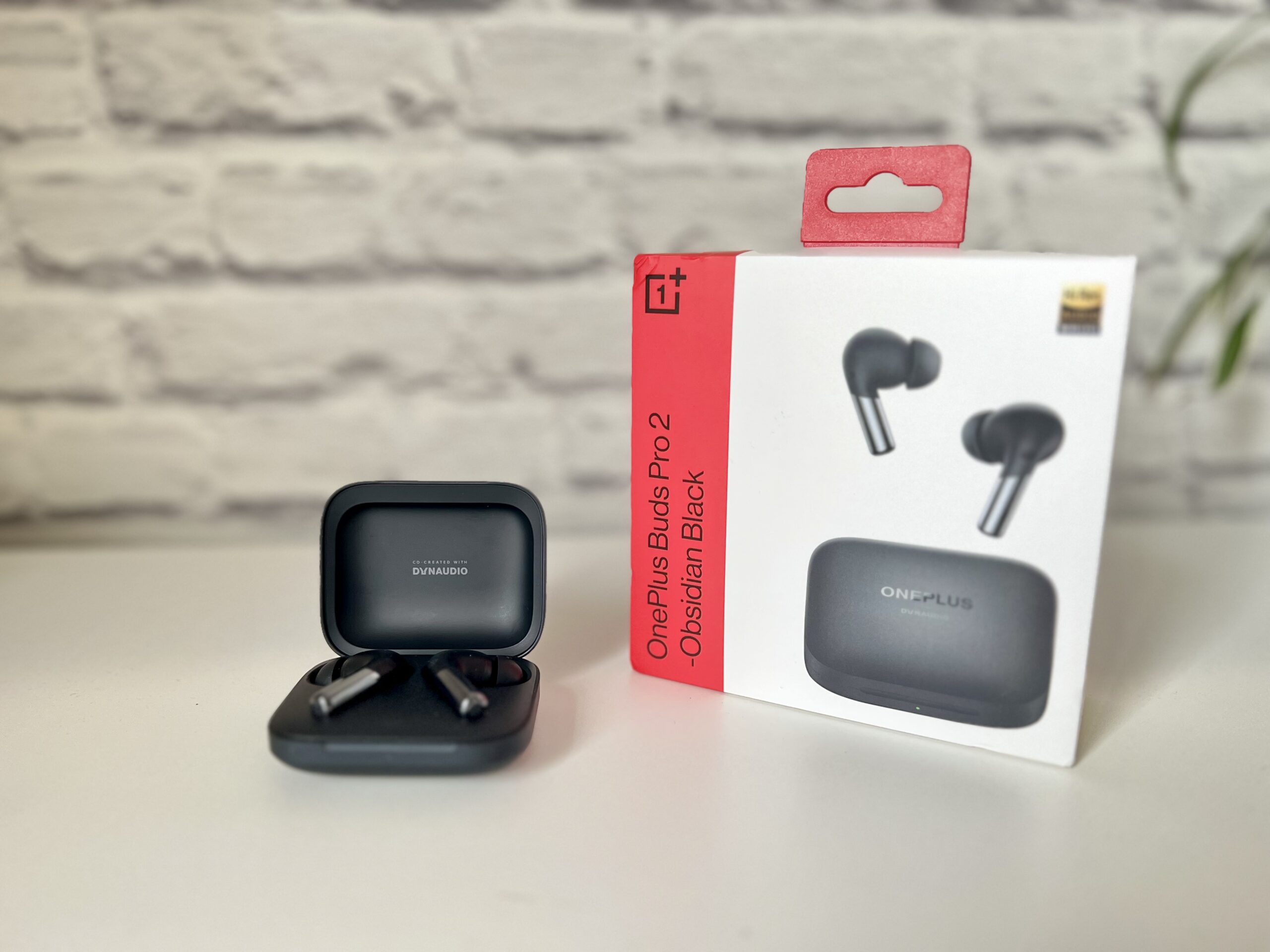 OnePlus Buds Pro 2 positioning and price
Launched in mid-February, OnePlus Buds Pro 2 is the second generation of the headphones in this series with enhanced features and improved sound quality. Design and specifications – everything looks perfect. The headphones are small and have a very nice shape. They resemble AirPods. It's all kind of "premium," but do we really get advanced, top-of-the-line headphones for ∼$200? Well, we tested it.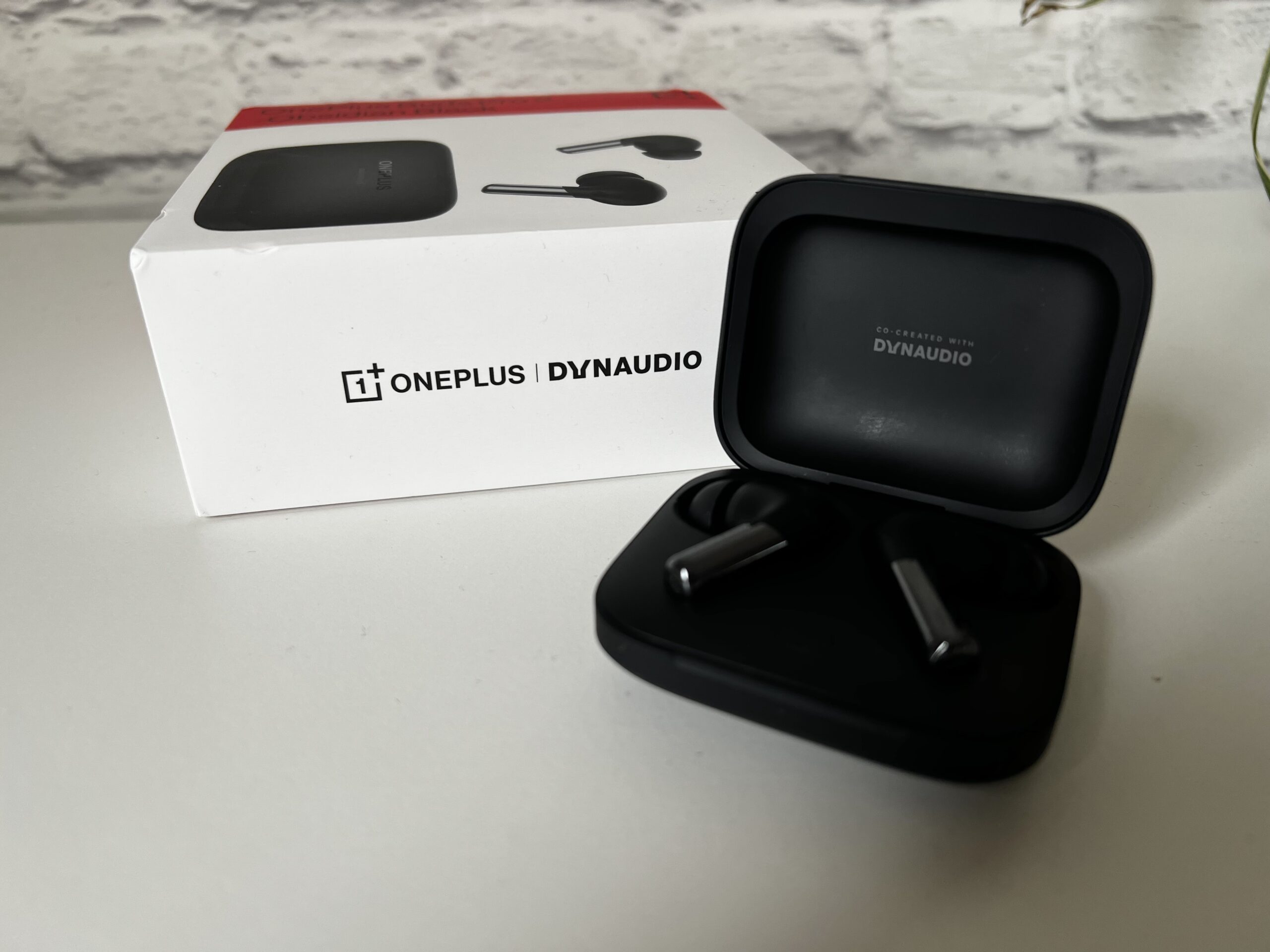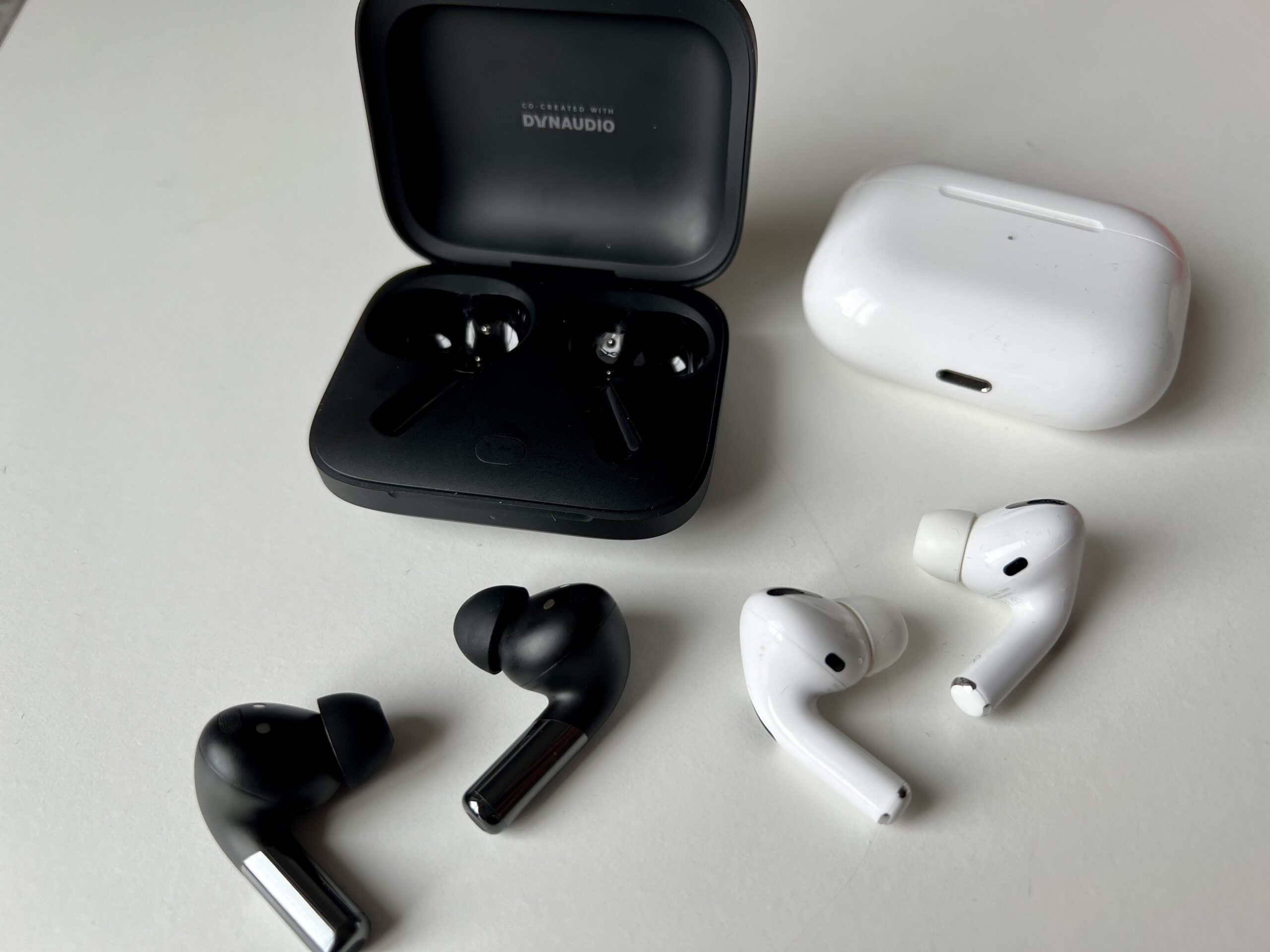 In Poland, where the test took place, OnePlus Buds Pro 2 costs $210.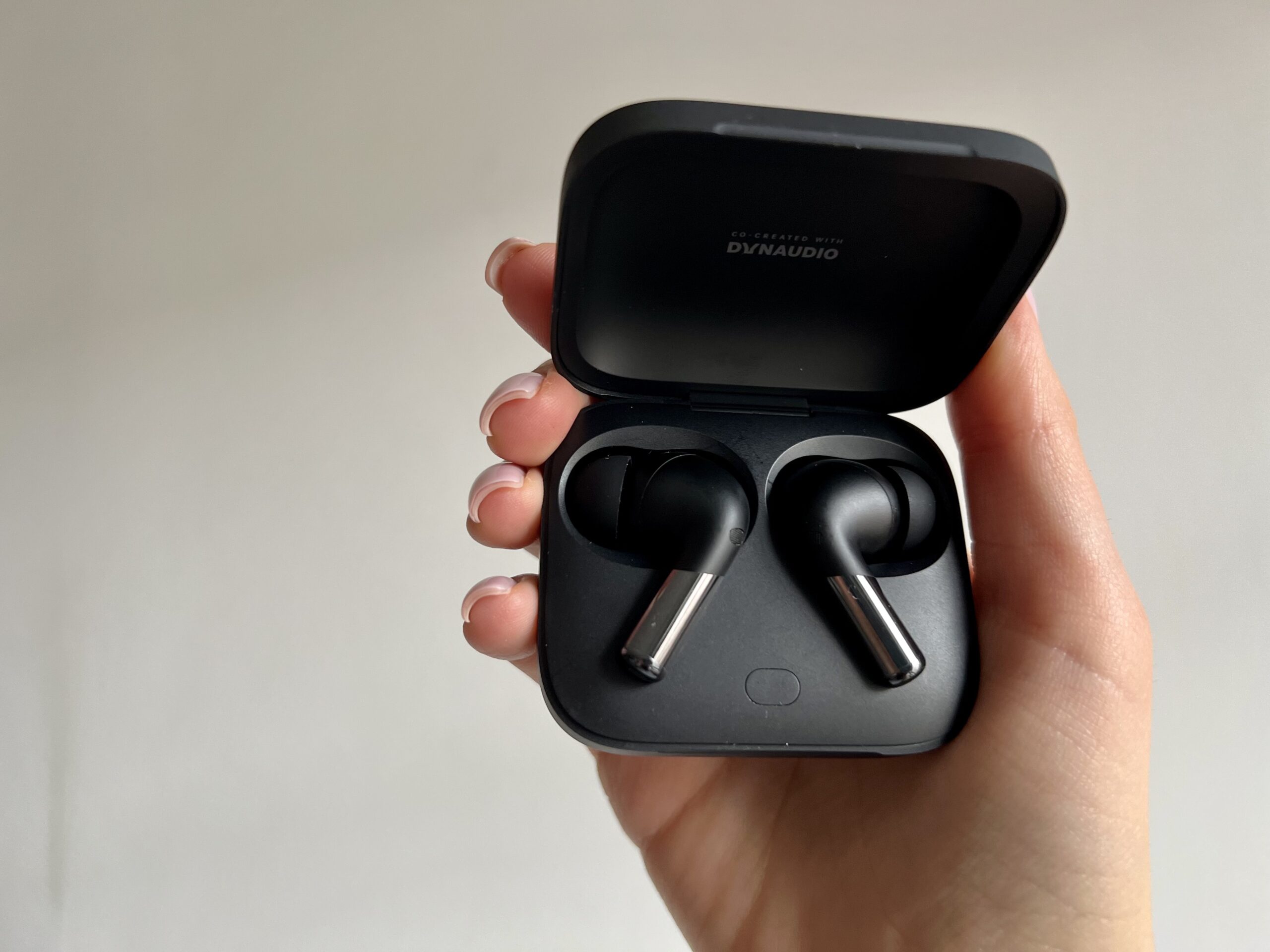 Read also: realme Buds Air 3S headphones review: Good sound for an affordable price
Technical specifications of OnePlus Buds Pro 2
Connectivity: Bluetooth 5.3
Codecs: SBC, AAC, LC3, LHDC
Speakers: 11 mm woofer, 6 mm tweeter
Headphone sensitivity: 108 dB
Frequency response of the headphones: 10 – 40000 Hz
Noise cancellation: Active (ANC)
Number of microphones: 6 – three on each earbud
Microphone sensitivity: -38 dB
Range: up to 10 m
Charging: via USB-C connection
Power supply: 60 mAh headphone battery, 520 mAh charging case battery
Maximum operating time: up to 9 hours, up to 6 hours with ANC enabled, up to 39 hours with charging case
Charging time: approx. 2 hours, 10 minutes of charging corresponds to 3 hours of headphone use
Additional features: touch control panel, triple set of microphones, dust and water protection (IP55), wireless charging case, automatic pause when headphones are removed from ears
Weight: earbuds 4.9 g, case 47.3 g
Manufacturer's warranty: 12 months
Package contents
The OnePlus Buds Pro 2 comes with wireless headphones, a charging case, a USB-C cable, silicone caps in S, M and L sizes, and a user manual. There's no charger, but that's standard equipment.
Read also: HUAWEI FreeBuds 5i headphones Review: comfortable, stylish and affordable
Design, materials and build quality
The headphones look classic, simple and high-quality, and have a premium finish.
The case has a sleek, small, rectangular design with a combination of matte and glossy finishes. It is made of high quality plastic.
Inside the case, we see the headphones lying on top, not removed. There are no problems with taking out and putting in the headphones – the magnet fixes them well. The charging case is IPX4 certified, so it is not afraid of water drops.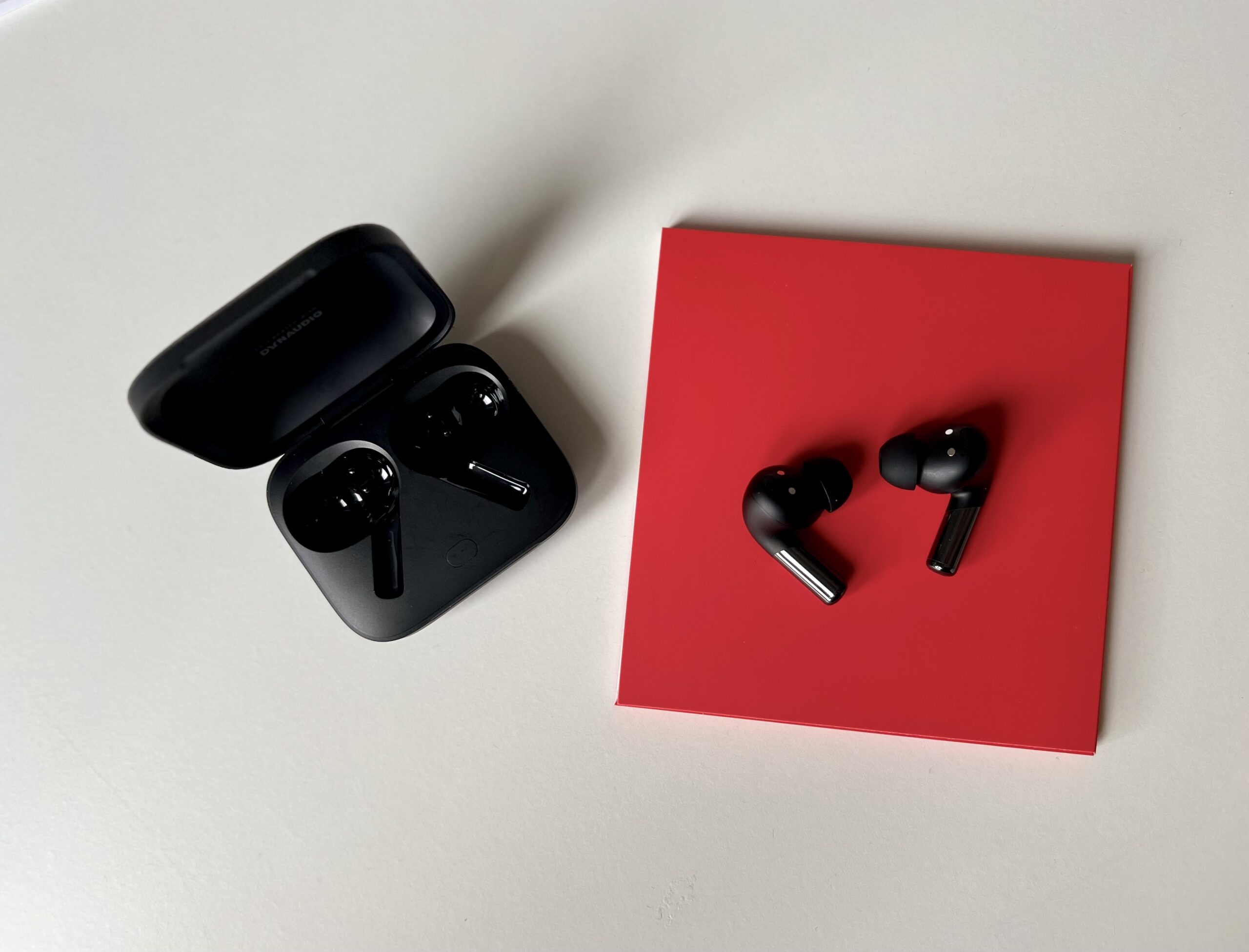 The headphones also combine matte and glossy materials. The design is reminiscent of AirPods, and that's a good thing. They do not stick out of the ear, they are small, not almost half the cheek. The headphones' "legs" are metal, and they are tactile – this is how you can control the sound and other functions, which I will talk about later. The headphones are certified according to the IPX5 waterproof standard, so if you get caught in unexpected rain, they will not be damaged. But you shouldn't get them too wet either.
Buds Pro 2 are available in two colours: Eternal Green and Obsidian Black. We tested the second variant.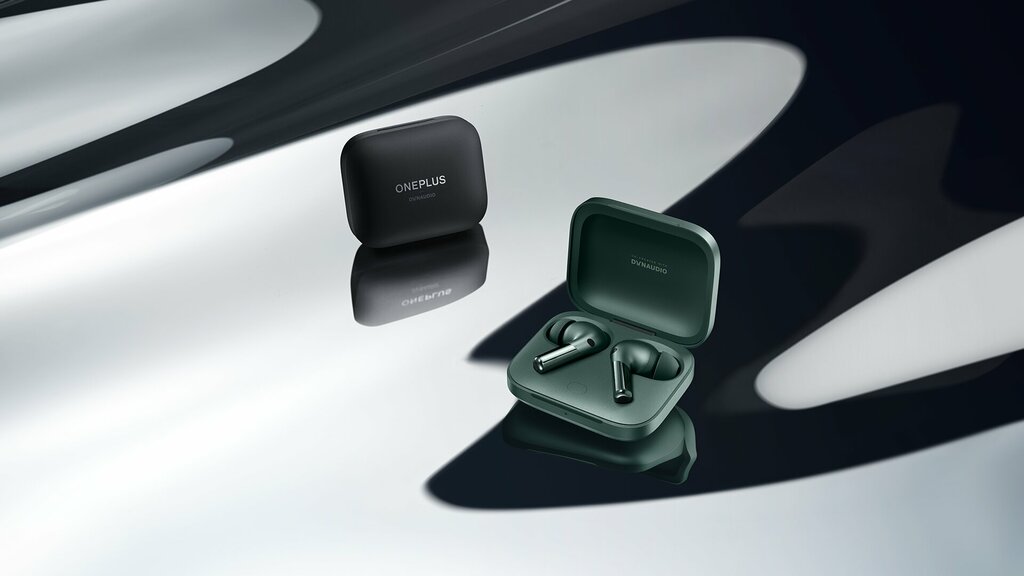 OnePlus Buds Pro 2 sit nicely in the ear, are very lightweight, and even a few hours in the headphones do not cause discomfort.
Read also: OnePlus Nord 2 5G review: Almost a flagship killer
OnePlus Buds Pro 2 sound and microphone
To achieve the best possible surround sound, OnePlus collaborated with composer Hans Zimmer, who developed a special Soundscape equaliser for the brand. So the requirements for sound quality were significant.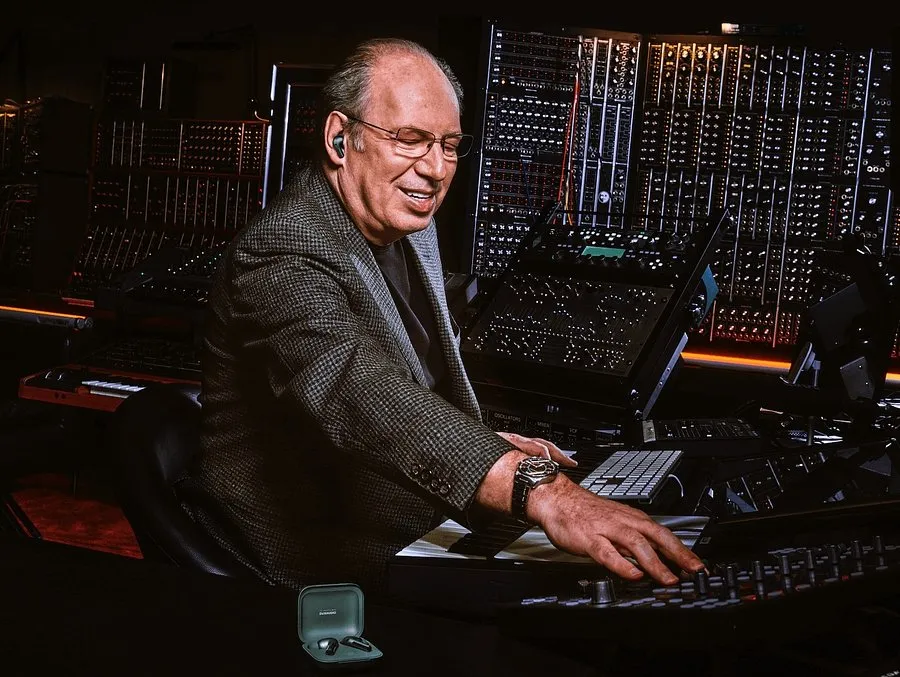 Overall, Buds Pro 2 sound very good. From my experience, these are not the best headphones on the market, but they have no drawbacks that would make them not worth buying. The sound is pleasant, clear and noise-free. The bass level is stable and accurate, and can be individually adjusted in the HeyMelody app.
There is an option for sound correction, so you can adjust everything the way you like. In the Sound Master mode, you can choose bass boost or just the Hans Zimmer sound space. There is a noticeable difference between all the modes, and I mostly used only the Zimmer mode. The only drawback is that the sound loses a little bit of quality at very high pitches.
If we compare listening to music on OnePlus Buds Pro 2 and AirPods Pro, they are very similar, with slightly better sound quality on AirPods, but this was noticeable only with certain sounds. Changing headphones while playing the same playlist, after a while I could no longer distinguish which headphones I had.
As for calls, everything is fine. The sound is clear, and noise cancellation does a good job of suppressing low and medium external noise. The microphone also transmits the voice very well and muffles ambient sounds (except in very strong winds, when you can hear crackling). My interlocutor and I tested the headphones, comparing them with the 1st generation AirPods Pro. The sound quality was about the same, and even in favour of OnePlus. The microphone of OnePlus Buds Pro 2 picked up only my voice, and it was clearer and crisper, while the AirPods microphone picked up ambient sounds in addition to my voice, such as noise from the street or the kettle being turned on.
Read also: ASUS ROG Cetra True Wireless Review: Gaming TWS Headphones
Smart features of OnePlus Buds Pro 2
Noise reduction
Smart Adaptive Noise Cancellation (ANC), which, according to the manufacturer, eliminates ambient noise up to 48 dB and up to 4 kHz wide. In the settings, you can manually set the noise reduction level: smart, which automatically adapts the noise reduction to the surrounding conditions, maximum, moderate and light.
Using this function, you want to cut off ambient noise, so, of course, it is best to choose the maximum, which still lets some sounds through. It works fine, of course, it does not completely eliminate ambient sounds, but when listening to music, you can hardly hear traffic. But voices, sirens, or construction sounds do penetrate.
I often use the "transparency" mode – you can listen to music and talk to others – useful, for example, when shopping. This mode works well.
"Golden Sound"
This is one of the functions of the HeyMelody companion app, which allows you to perform a headphone fit test.
By scanning the ear canals, Buds Pro 2 adjusts the sound quality specifically for the user. In fact, after such a test and applying these settings, the sound becomes better, more pleasant and it seems that you can catch more sounds. Here are screenshots of what it looks like:
Surround sound
OnePlus Buds Pro 2 support Google's new virtual surround sound technology. But this feature is not available everywhere. It's built into Android 13 and only works with the OnePlus 11. There is another way to enable this feature – it's available on other Android 13 phones, but only in certain apps, like YouTube.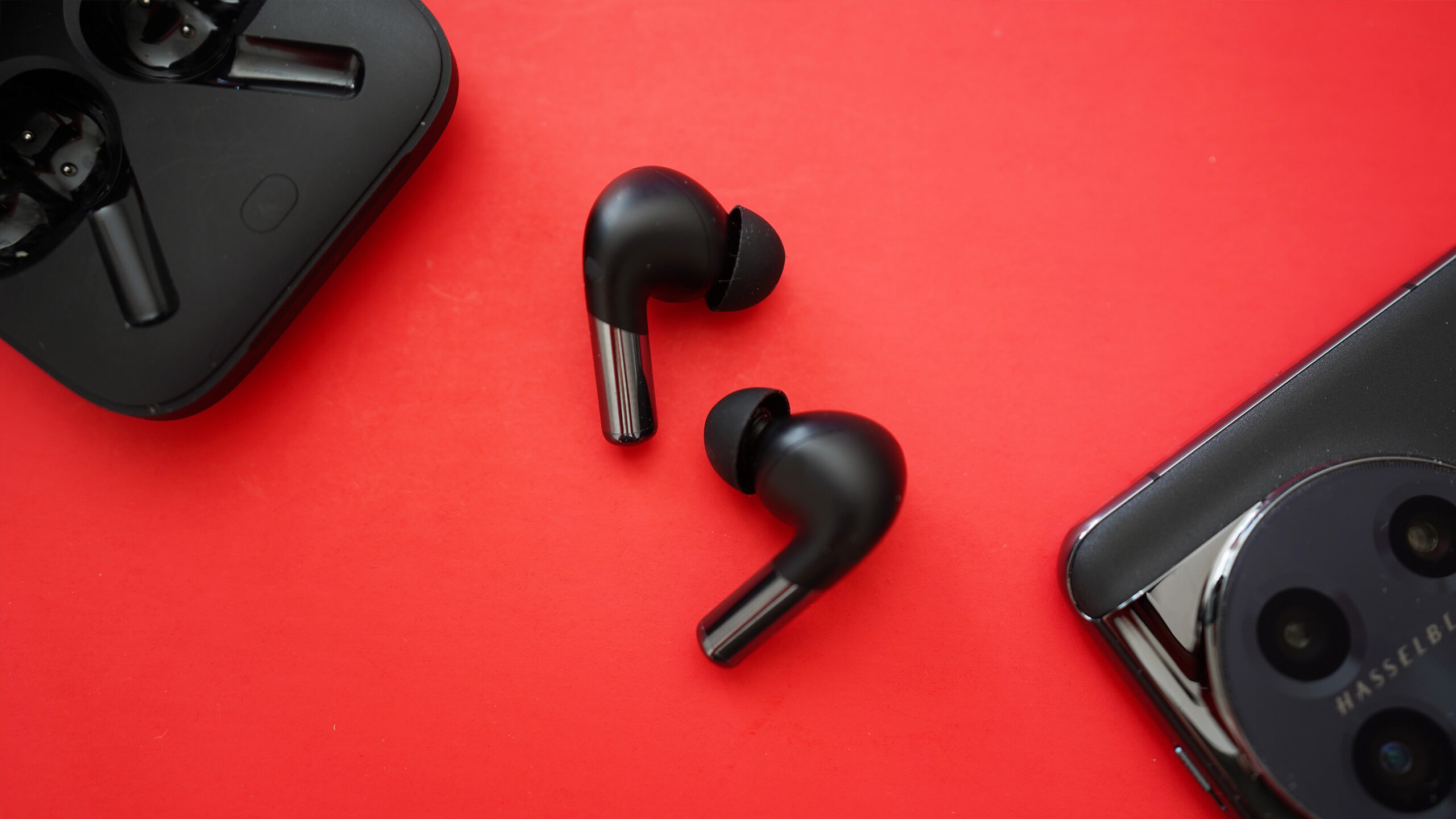 ZenMoode
The manufacturer has also provided a special mode for relaxation. ZenMode Air is the ability to turn on relaxing sounds while suppressing ambient sounds. It's a cool, new feature, but is it really necessary? I don't know, I used it a few times out of curiosity, but would I use headphones for relaxation? I don't think so.
Read also: TWS HUAWEI FreeBuds SE Earphones Review: A Versatile Soldier
OnePlus Buds Pro 2 connection, control and software
As standard, the headphones connect via Bluetooth. Additionally, OnePlus Buds Pro 2 allow you to access their features through the built-in software on OnePlus phones or through the Oppo HeyMelody app, available on Android and iOS.
For Android
For iOS
Unfortunately, I didn't have a OnePlus phone and couldn't test the headphones with it. But when it comes to other Android phones, iPhones, laptops, tablets, etc., the headphones connect to everything without any problems.
By the way, if you have an Android smartphone, some of the options will be available right from the system settings! Here's an example: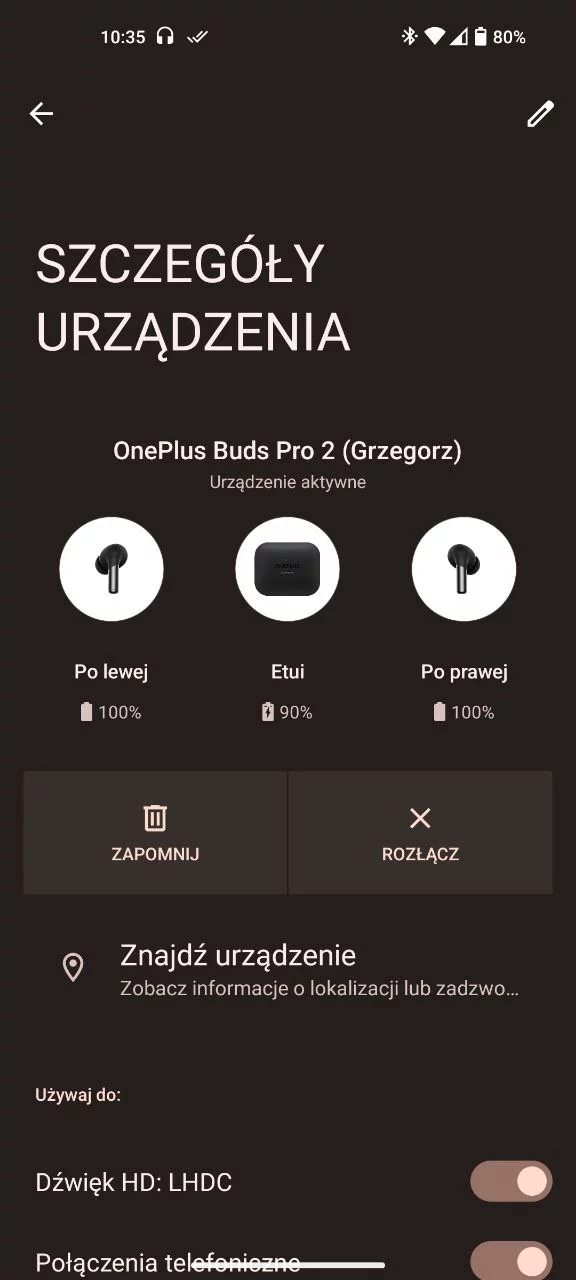 Touch control
The headphones can be operated by pressing the legs, although they are quite short, but there are no problems. We have the following options for touch and settings:
One touch: Pause playback/answer an incoming call/hold a call
Two taps: next song/reject call
Triple tap: previous song
Hold for 1 second: switch between noise cancelling modes
Long press for 3 seconds: focuses the headphones
However, I missed the volume control, there is no way to swipe up/down on the touch panel to adjust the volume.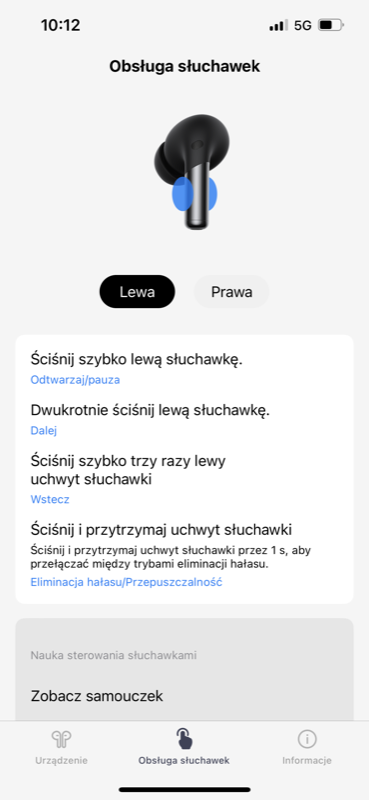 You can control the headphones through the software on your OnePlus phones. The settings are built into the Bluetooth menu. If we have another Android or iOS phone, we need to use the HeyMelody app. There we will find all the settings for noise cancellation, sound correction, golden sound, sound editor, etc.
I would like to add that the headphones support multipoint technology, i.e. they can be connected to two devices simultaneously and switch themselves if necessary.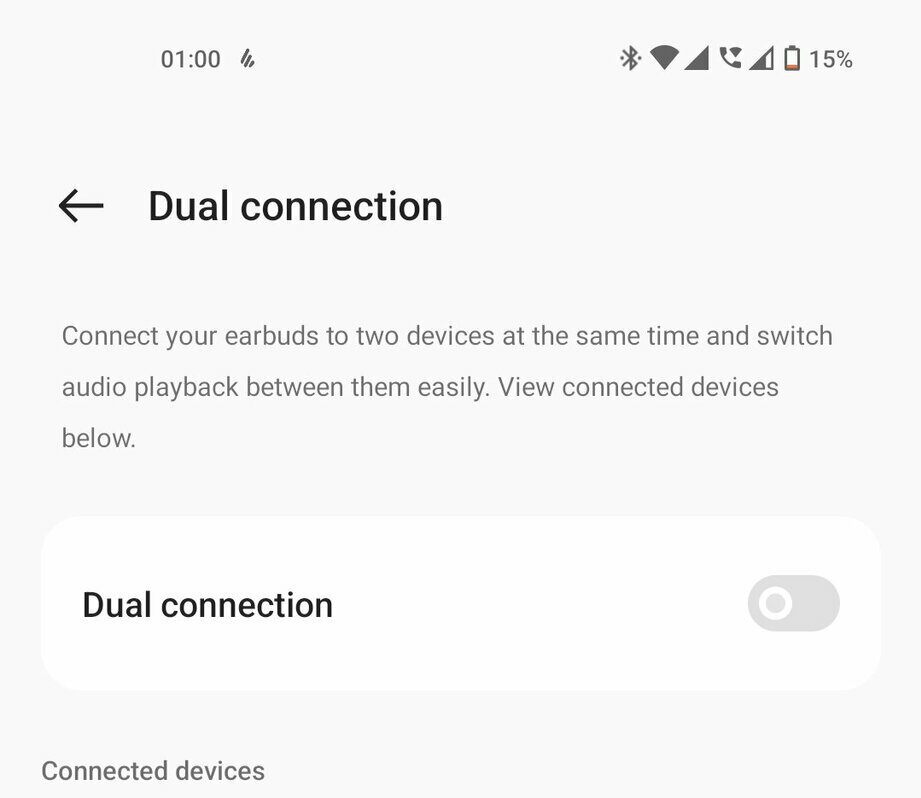 Operating time of OnePlus Buds Pro 2
The manufacturer guarantees up to 9 hours of operation without ANC, and 6 hours with ANC. Fully charged headphones and case provide up to 39 hours of listening without ANC, and 25 hours with ANC.
I used the headphones mostly in ANC mode, in which they ran out of power after about seven hours. It took me four days to run out of juice on a fully charged case, with several hours of music and calls.
So, the manufacturer's data is true, and the headphones themselves have a great operating time!
I should add that Buds Pro 2, as befits top models, can be charged both wired and wirelessly (i.e. via the case).
Read also: Sennheiser Momentum True Wireless 3 Review: the third generation of audiophile headphones
Conclusions
OnePlus Buds Pro 2 are great headphones that can compete with AirPods, Huawei FreeBuds Pro 2 or Samsung Galaxy Buds2 Pro, because the sound quality is really high. The design, construction and advanced features (ANC and intelligent sound "amplifiers") are also up to par, not to mention the record-breaking battery life of these headphones.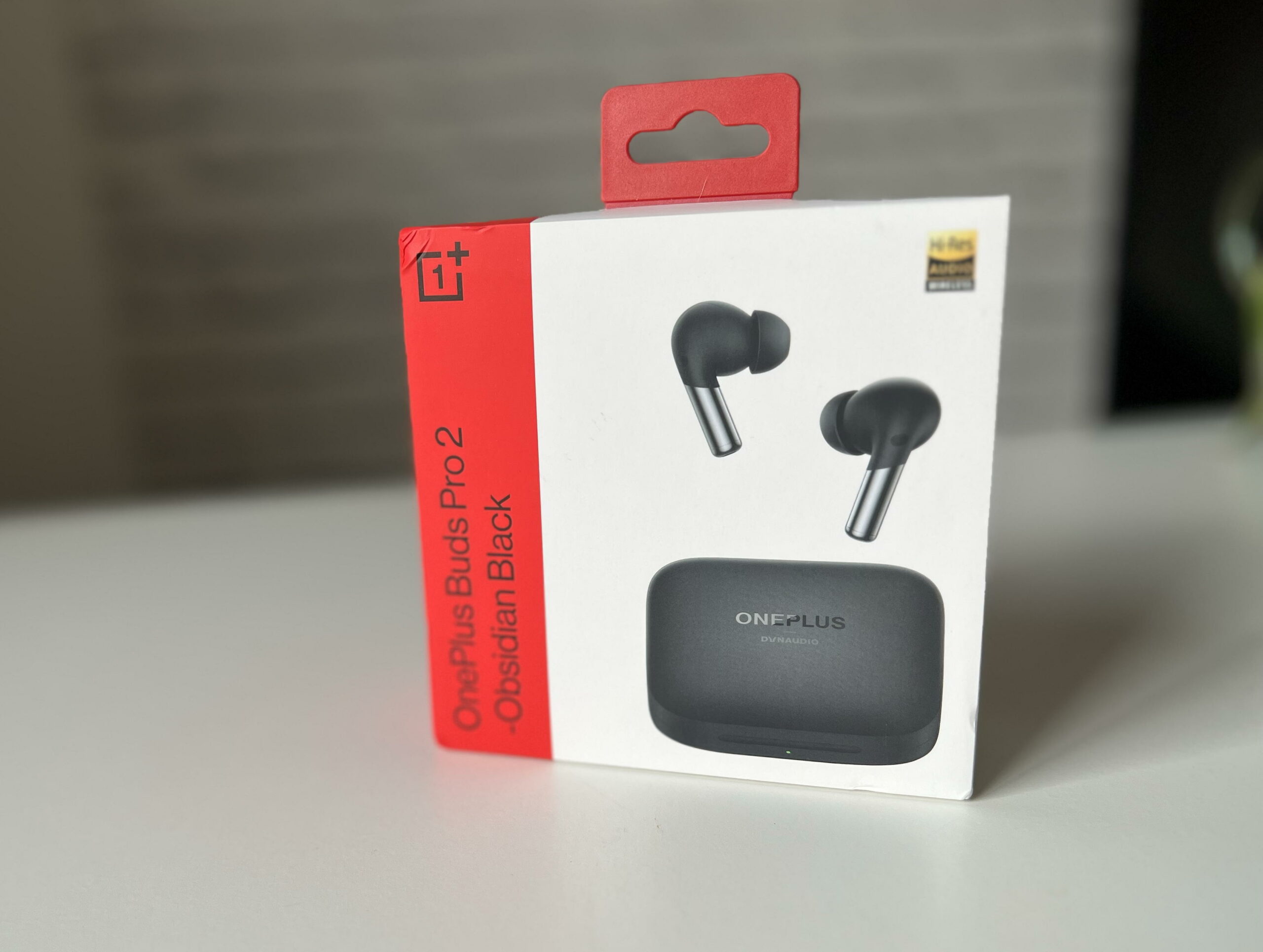 Buds Pro 2 has everything we expect from headphones today: compact size, sleek shape, noise cancellation, convenient touch controls, excellent sound quality and a microphone. The downside is the relatively weak ANC and the availability of some features only on Android smartphones or only on OnePlus models.
The OnePlus Buds Pro 2 headphones were designed with the needs of users of different smartphones in mind, but they should definitely be an obvious choice for anyone with a OnePlus phone.
Read also: