What brings people together on trains, at train stations, in shops, schools and at work? The presence of wireless headphones! This product has become an indispensable attribute of a modern person. Personally, I can't imagine leaving home without my phone, headphones and smartwatch. But today we are going to talk about realme Buds Air 3S headphones worth about $40. What can they offer the user?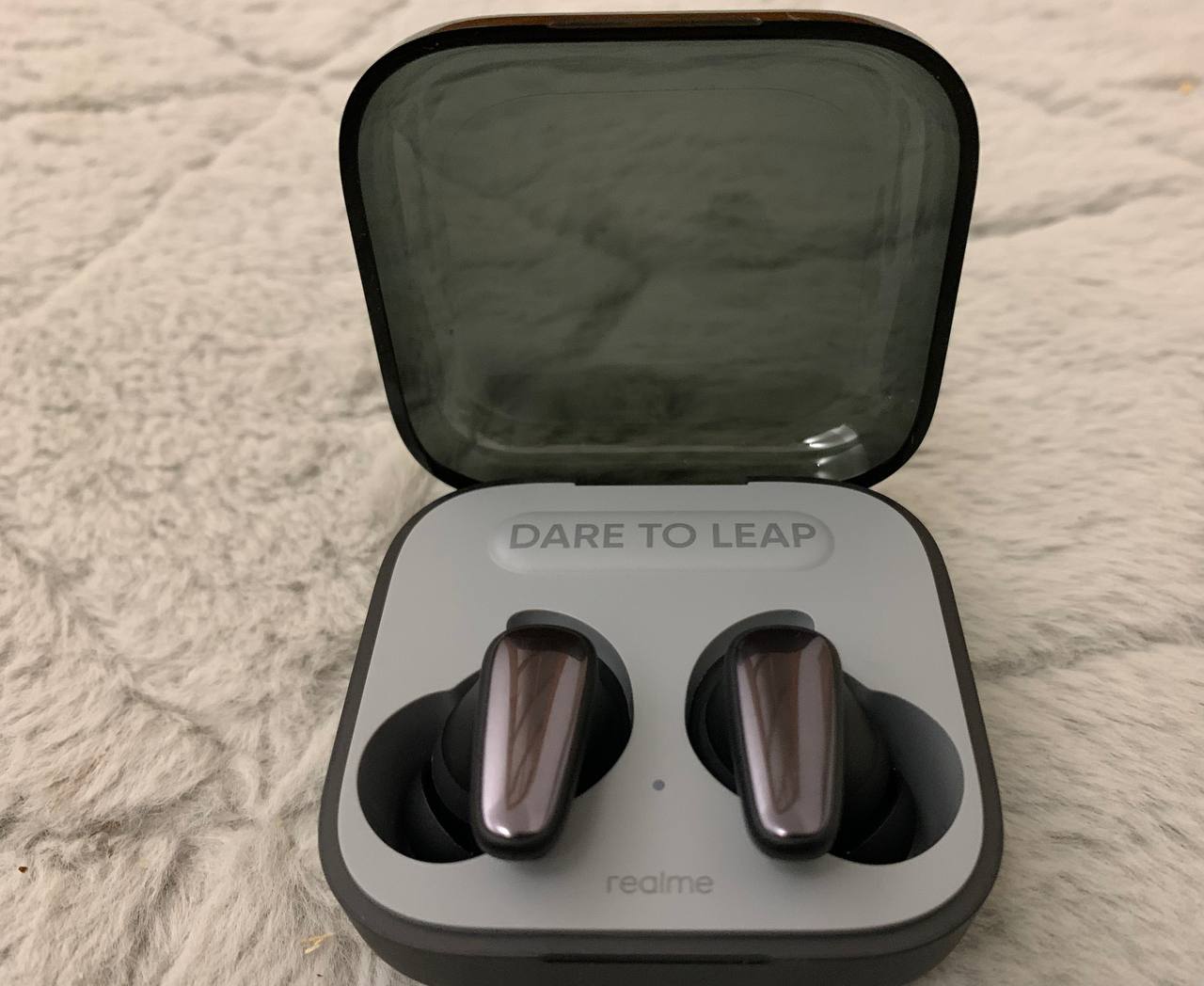 Read also: OPPO Reno7 review: Will you manage to fall in love with it?
Positioning and price
realme is a Chinese company that follows the trends and needs of its audience, so it constantly presents new models. And even those that are not "new" can boast of good quality and modern design.
For example, the realme Buds Air 3S were released in September 2022 but are still popular. The headphones are sold for between $40 and $60 depending on the store (even cheaper on AliExpress). Let's see what you get for this price.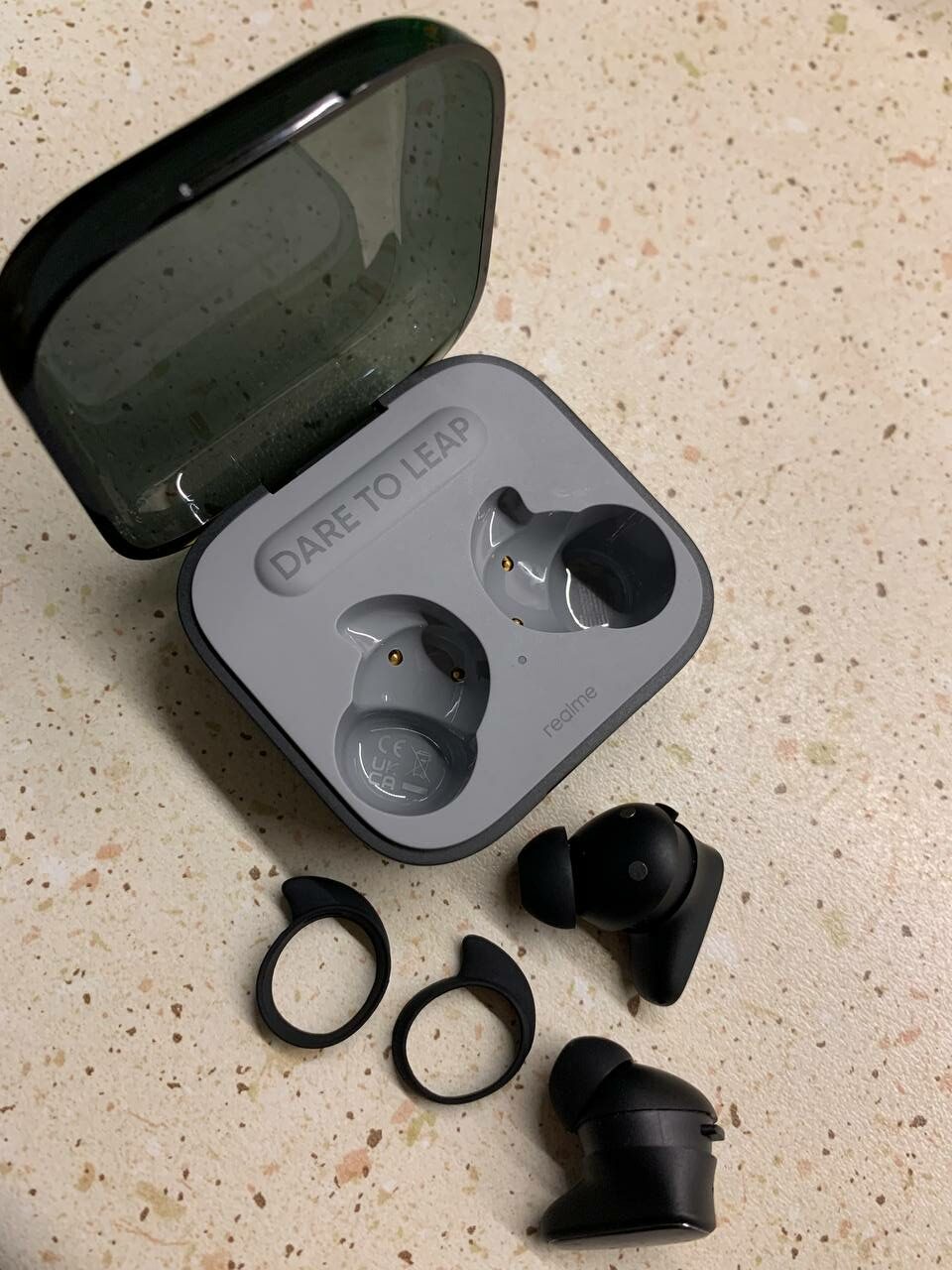 Read also: Philips TAT1207 headphones review: bass babies
Package contents of realme Buds Air 3S
The set includes the headphones themselves, a USB-C cable, caps of different sizes (the smaller one is S and the largest one is L, the "golden mean", i.e. M, is already on the headphones), and documentation.
Technical specifications of realme Buds Air 3S
Connectivity: Bluetooth 5.3
Headphone design: in-ear
Sensor: 11 mm
Connector: USB Type-C
Charging time: approx. 60 min; fast charging – 10 min (gives about 5 hours of operation)
Maximum operating time: up to 7 hours or up to 30 hours with charging case
Compatibility: Android, iOS
Codecs: SBC, AAC
Water protection: IPX5
Colours: black, white
Additional information: Dolby Atmos support, touch control panel, 4 microphones, background noise reduction during calls, game mode, ability to connect two devices simultaneously, special application
Accessories: headphone charging case, short USB type C cable, user manual, three pairs of S/M/L silicone tips
Guarantee from the manufacturer: 24 months
Price: from $30 (AliExpress)
Design, materials and construction
As soon as I saw the headphones, I immediately thought of a shark. Indeed, the design is associated with the sea animal – or rather, with its "fin".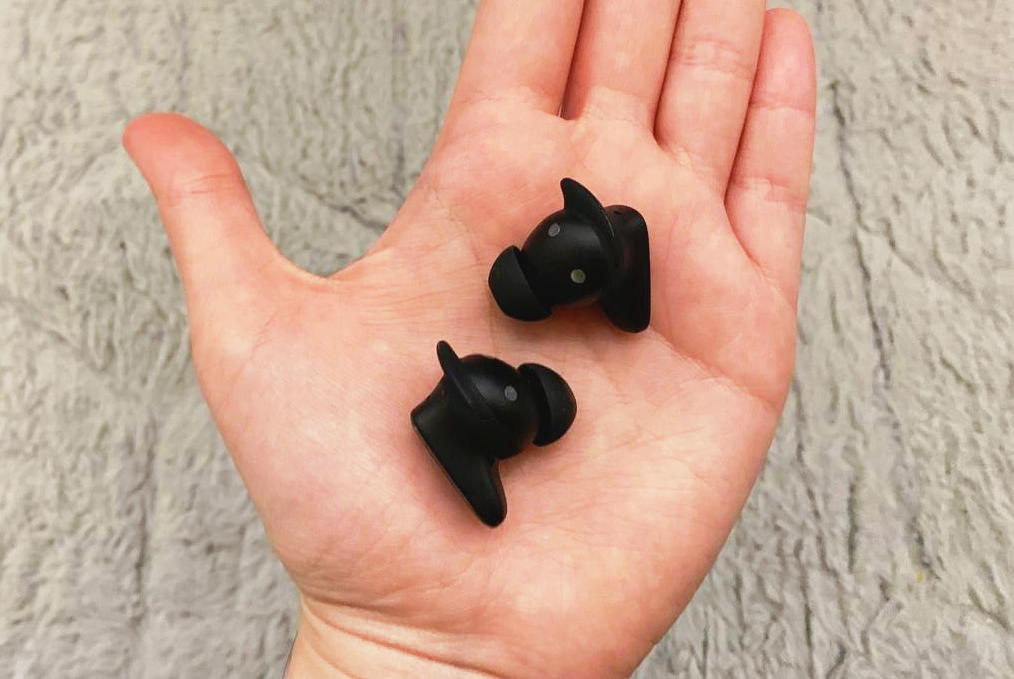 This element is very important because it not only makes you stand out from the competition, but also helps to keep the headphones in your ears better, which can be important for fitness and sports enthusiasts. The ear cushions can be removed for cleaning, for example.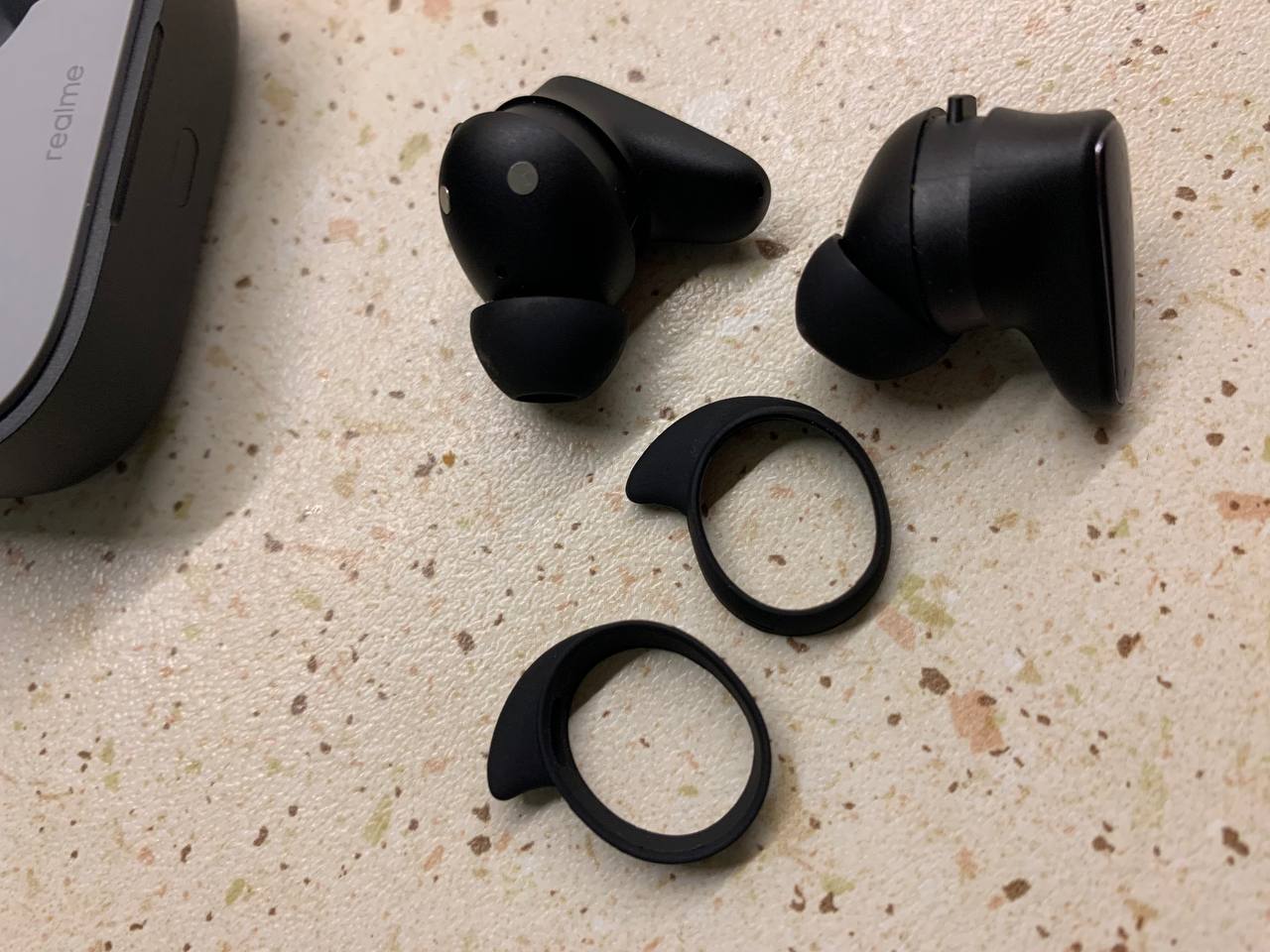 The Buds Air 3S are small and sleek, as you can see, the headphones have shortened legs, and I like this because they are easy to insert into the ear and, despite their size, they do not fall out.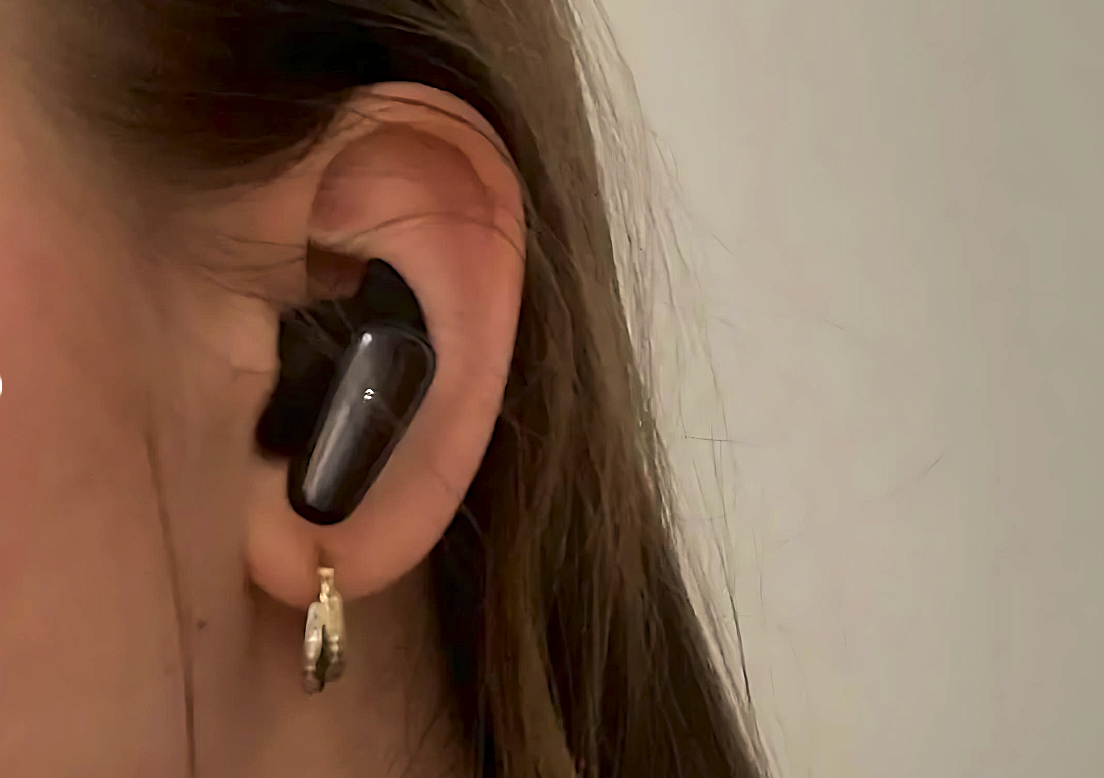 The headphones are in a square case, which has a smooth plastic lid (interestingly, transparent), the bottom is also made of plastic, but it is matte. I should note that the top cover actively collects fingerprints, so you should think about a case or use a cloth more often.
The Buds Air 3S are attached to the case with special magnets and inserted vertically into the recesses.
Opening the case, we see a large inscription: "DARE TO LEAP" (the company's motto) and a smaller one below the headphones themselves: "realme". Below is only a button to connect the device.
Everything looks cool and laconic, each component is well fitted, nothing "squeaks".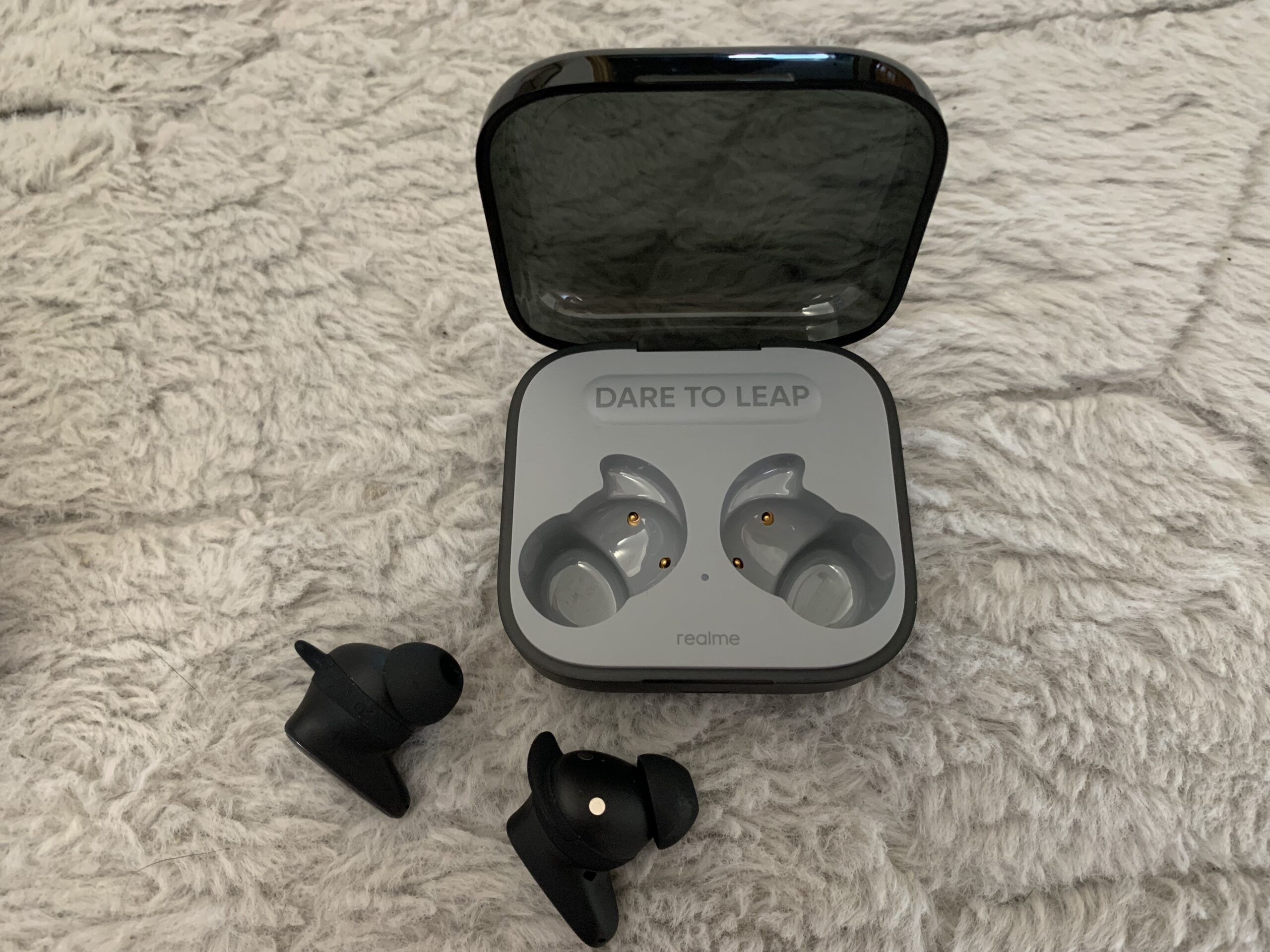 There is a USB-C port for charging at the bottom of the case, and an LED indicator on the front that lights up when the lid is opened and shows the charge level of the case.
The headphones also have an IPx5 rating, which means protection against water jets from any direction. In practice, the headsets can be wet without any problems, but you shouldn't do it on purpose, and it's also not advisable to swim or take a shower in them.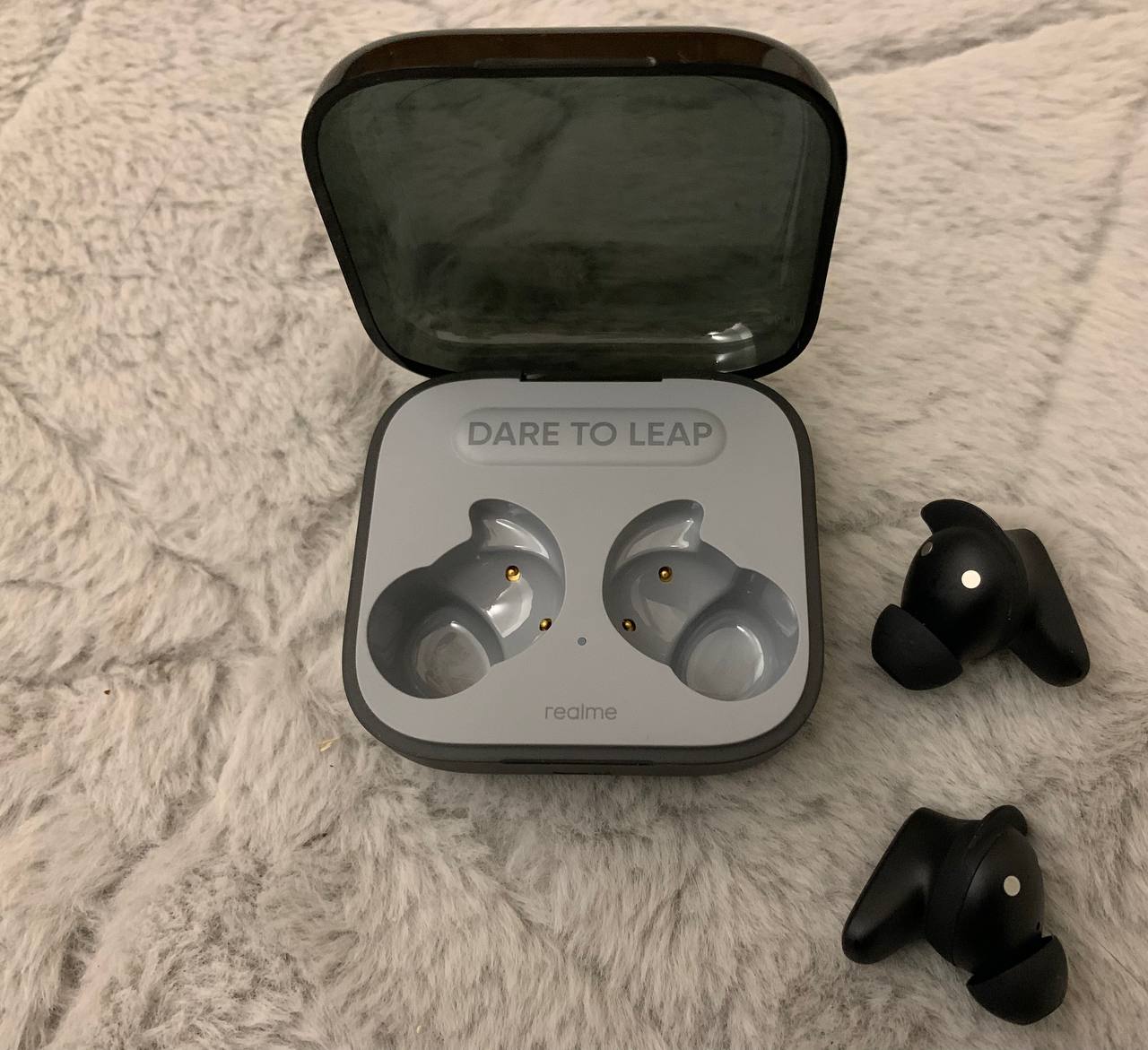 realme Buds Air 3S are available in two classic colours – black (as in our review) and white.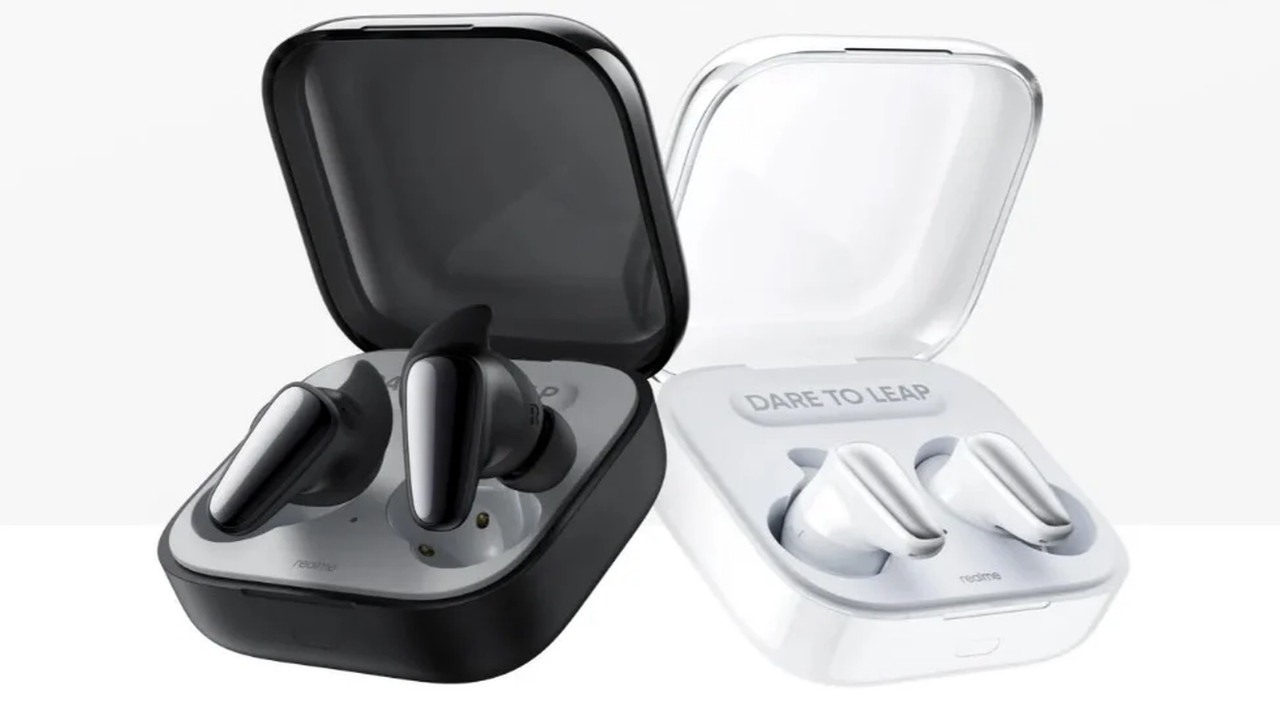 Read also: HUAWEI FreeBuds 5i headphones Review: comfortable, stylish and affordable
Connection, control and software of realme Buds Air 3S
As usual, the user has two options for connecting the headphones to the gadget: via Bluetooth or via the realme Link app. I prefer the first method, as it is quite fast and efficient – you need to hold the button for a few seconds until the indicator starts flashing white and find the headphones in the list of available devices in the Bluetooth connection.
Version for iOS
Version for Android
However, keep in mind that quick pairing also has its drawbacks. For example, you can't see the charge level of your headphones and case, and you can't select additional options offered by the app.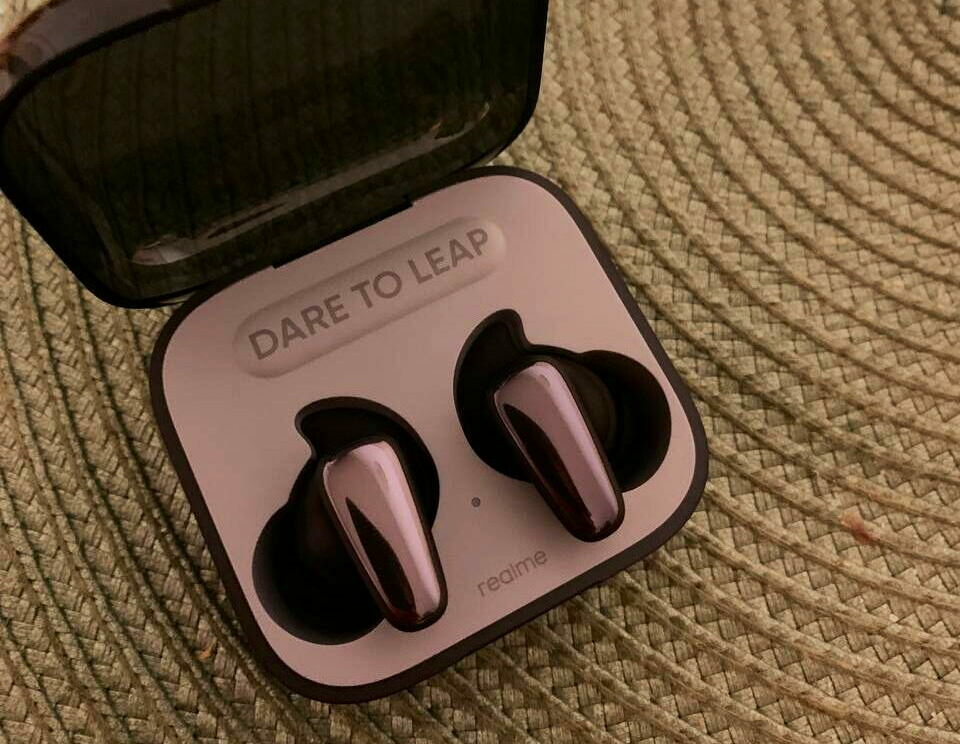 Regarding applications. Pairing does not take much time. You go to the app, register an account (unfortunately, you can't do without it) and immediately see the "Pair" function, after which realme Link asks you to turn on Bluetooth and connects your device to the headphones. realme Link is a simple tool that helps you customise your headphones to suit your own sound preferences.
The interface is simple and straightforward, among the features we have: Vocals, Original sound, Clear bass, Deep bass, Custom, Volume up. There is also a list of modes that you can use, such as: game mode, connect two devices, customise buttons.
So if you want to dig into the functions and feel like a real audiophile, the app has all the tools for that. However, I'm an unpretentious user and I'll talk about normal use, since I haven't changed anything on purpose.
I should add that the headphones can connect to two devices at the same time and switch themselves if necessary. For example, if I have some video on my smartphone or laptop, when I get a call, and so on. You don't have to switch manually and you don't have to, for example, turn off Bluetooth on your smartphone so that the device doesn't "fight for access to the headphones".
There is also a game mode with very low latency, but I'm not a gamer, so I didn't use it.
Read also: Sony LinkBuds WF-L900 headphones review: originality at maximum performance
Sound of realme Buds Air 3S
The realme Buds Air 3S are really good, including thanks to the 11mm driver and support for Dolby Atmos technology. I listened to music while travelling, in between lectures and in the city. And despite various internal noises, the headphones performed well. The sound and bass pleased me, nothing was missing. Speaking of bass, realme advertises the headphones as "made for bass" because they have a triple titanium bass driver. And it really is!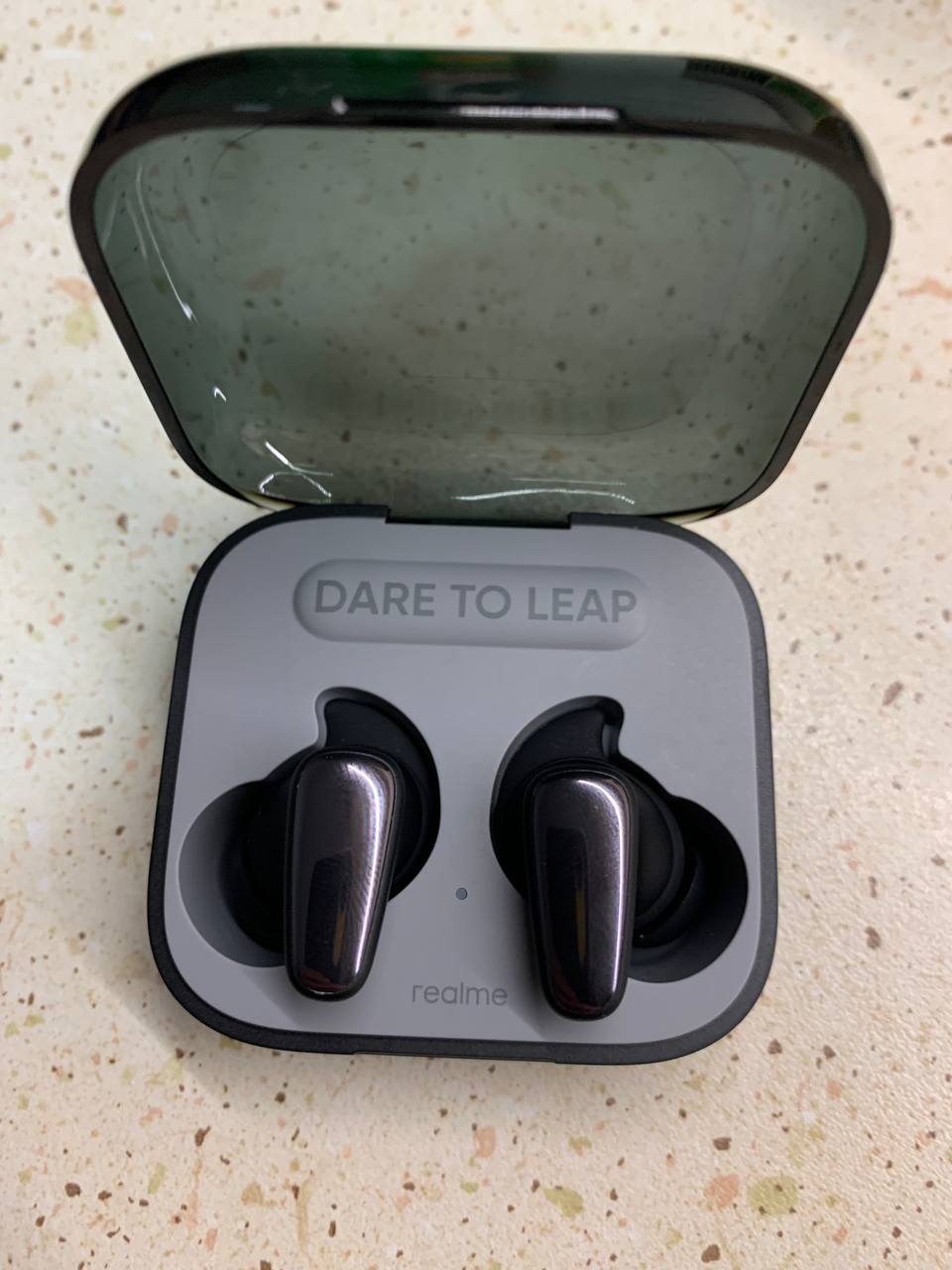 Double-tap allows you to pause/play the music, and you will hear a mini-beep confirming that the pause/play has actually occurred. In turn, to select the next song, you need to tap the body three times.
If you want to turn on the music without your phone, hold down the touch field of the right earbud. And for the opposite function, hold down the touch field of the left earphone.
The only disadvantage I noticed is that the music continues to play even when you take one earbud out of your ear. That is, there is no auto-pause option.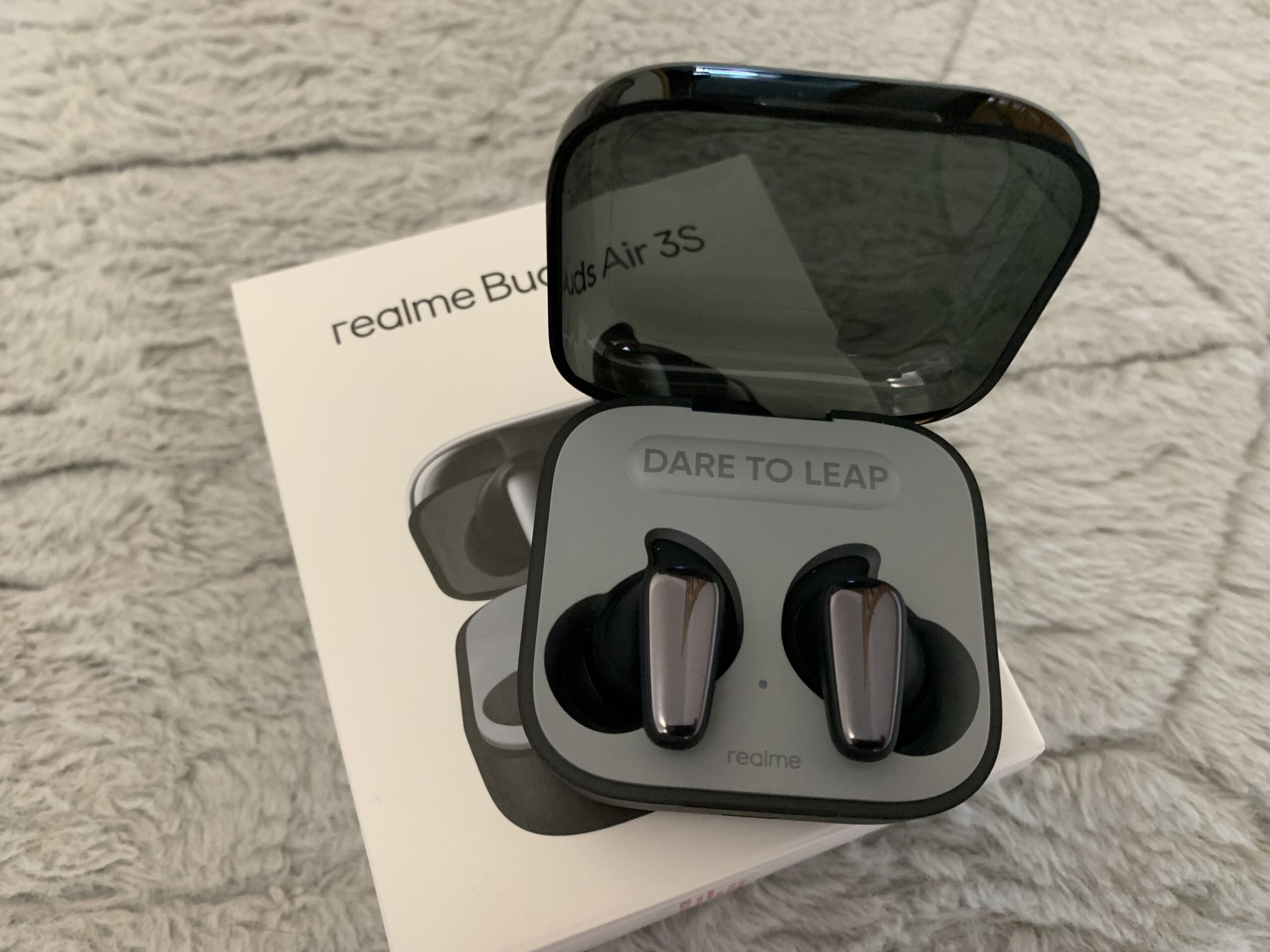 Read also: Huawei FreeBuds 5 review: Super headphones with a strange design
Voice communication
I also had no complaints during phone calls – the other person could hear me well, and I could hear him. There was no noise or interference. Another plus is that the headphones have 4 microphones and intelligent noise cancellation during calls, which helps to remove unwanted background noise.
In other reviews, I read that Buds Air 3S doesn't have the best microphones, but I can't say that personally.
Operating time of realme Buds Air 3S
In the manufacturer's information, we can read that the headphones last a long time and charge quickly. I decided to check it out. From the general information, the case has a 460 mAh battery, and each headphone has a 43 mAh battery. realme claims that the headphones last up to 7 hours, and with the charging case – up to 30 hours.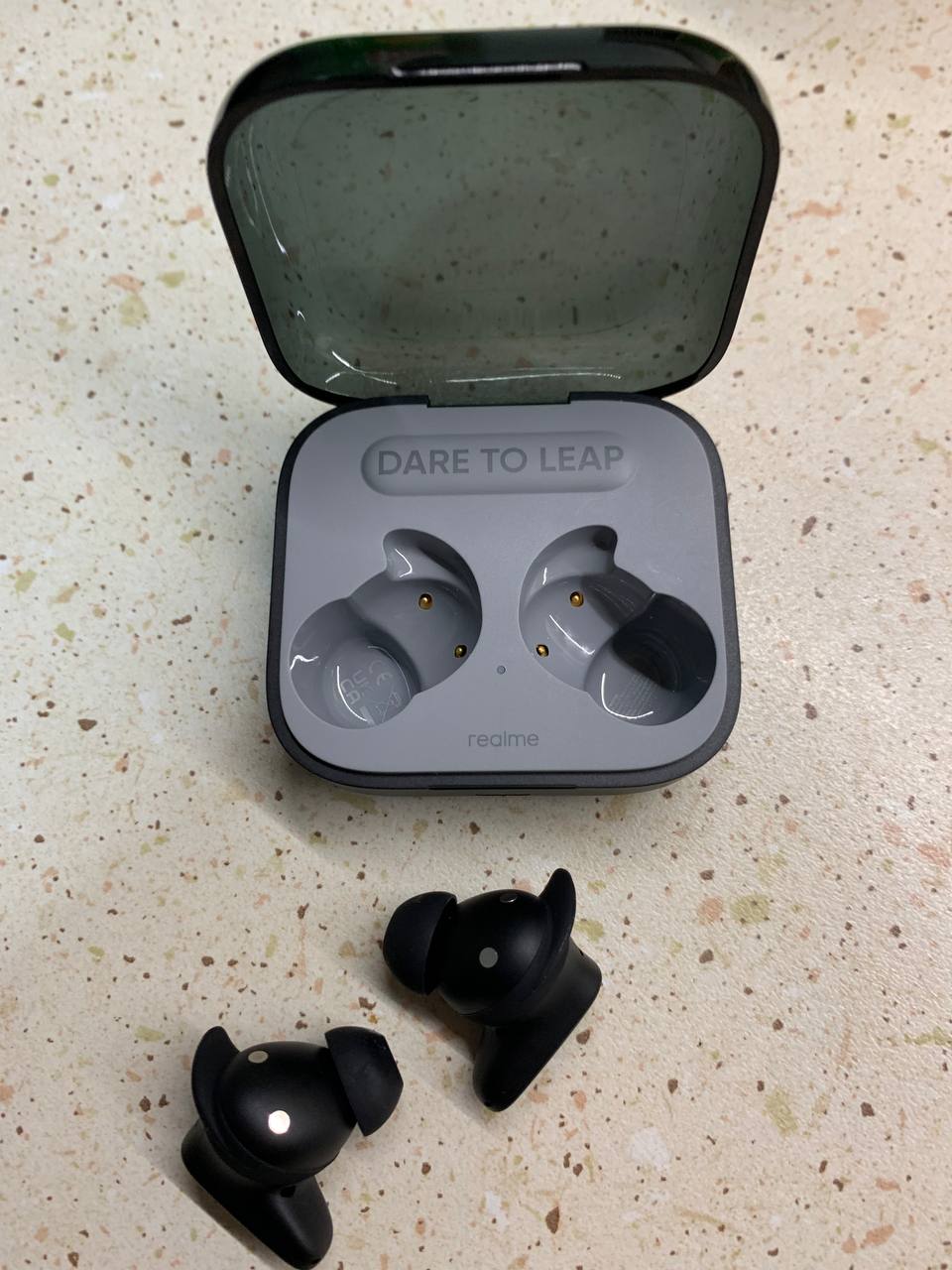 Simply put, my tests confirm this. 7 hours of operation is a lot, and you don't have to worry about the headphones running out of power quickly. With the charging in the case, Buds Air 3S will really work up to 30 hours. That is, if you listen to music or talk on the phone for 3-4 hours a day, the headphones will last more than a week!
Speaking of charging, the case charges up to 100% in 55 minutes, and with 10 minutes of fast charging, you can get up to 5 hours of headphone use. Super results!
Read also: TWS HUAWEI FreeBuds SE Earphones Review: A Versatile Soldier
Conclusion
realme Buds Air 3S are decent headphones at an affordable price. They have good sound (especially for those who like bass), excellent battery life, and provide high quality voice transmission during a conversation. For about $40, we have everything we need, as well as an interesting design and a good price-performance ratio. Of course, the market is constantly changing and there are alternatives, but the Air 3S is a model that will be relevant for many years to come. The only thing it lacks is ANC, but not everyone needs this feature.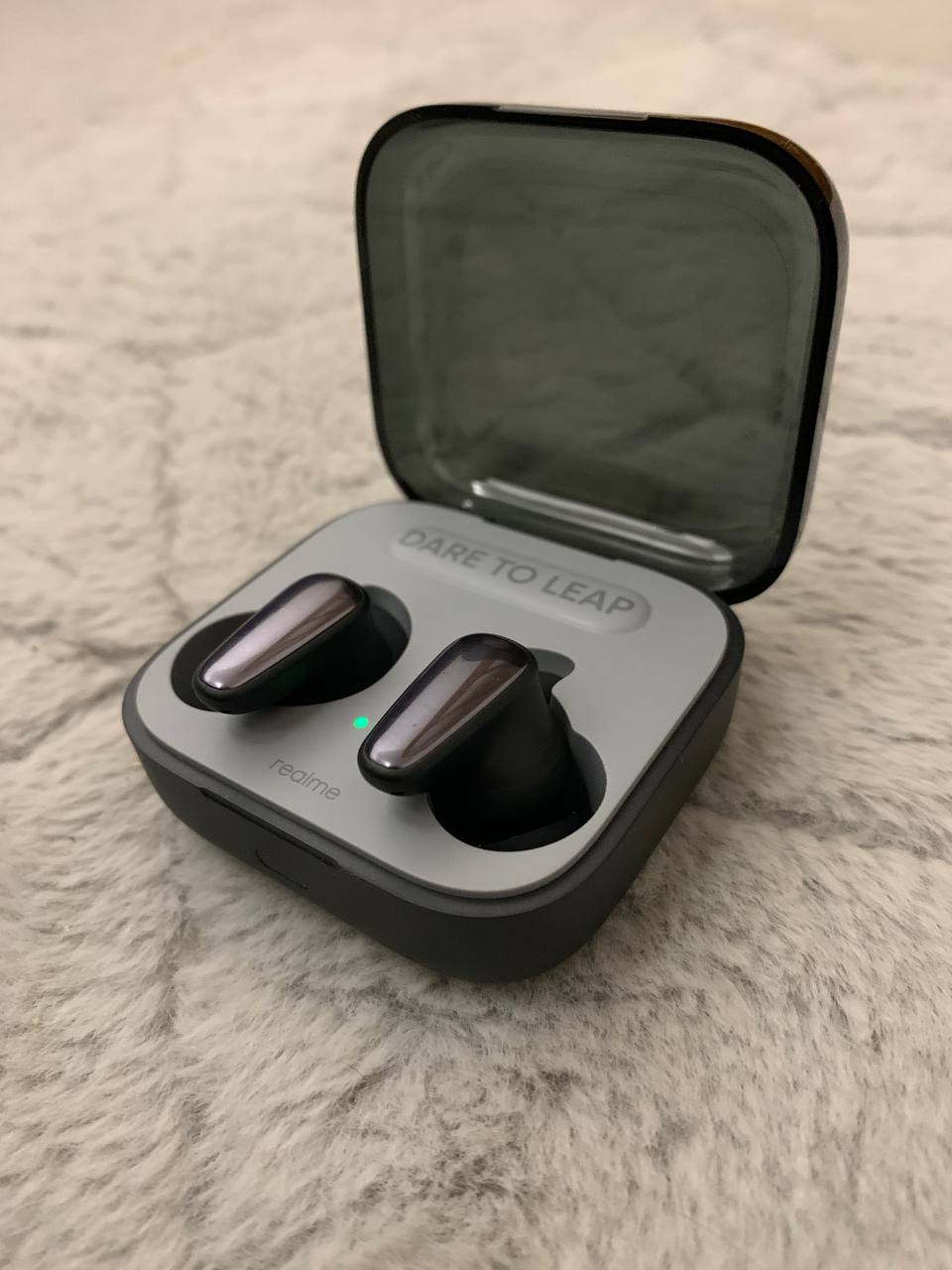 Read also:
Where to buy realme Buds Air 3S