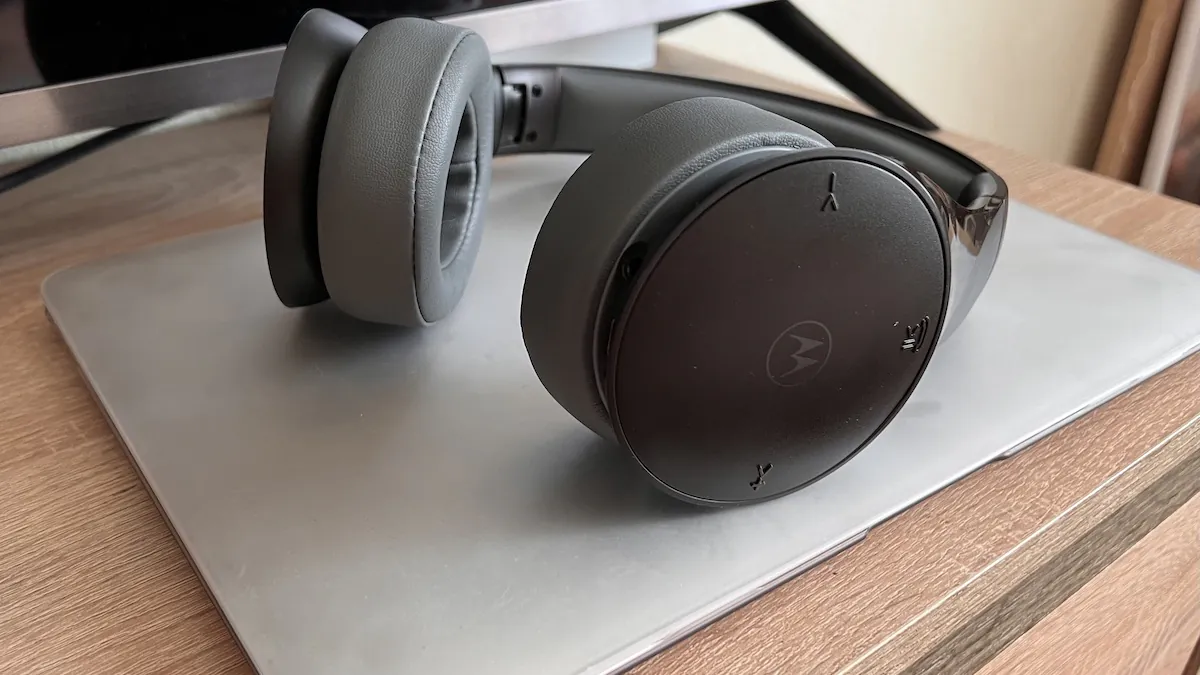 As work from home becomes more and more widespread, we become more and more inclined to organize our space in a comfortable, rather than portable manner. For example: while your 13-inch laptop screen may be good enough to work in a coffee shop, hooking your working machine to a huge widescreen monitor gives you an instant boost to productivity. And same can be applied to the headphones/earphones space. While MOTO XT500+ from Motorola Sound may be too bulky for on-the-go use or taking them to the gym – using them at home proved to be a very pleasant experience. Something that way exceeds its budget-level $43.99 price tag. More on this in review.
Key specs
Type:

Over-ear

Microphone:

1 on the right earcup

Bluetooth version:

5.0

Codec:

SBC

RF Freq:

2.402 – 2.480 GHz

Operation distance:

>10 m

Driver size:

40 mm

Max power:

30mW

Playtime:

up to 25 hours

Charging time

: < 2 hrs to full charge

Battery capacity:

300mAh

Charging port:

USB-C

Additional features:

Analog Audio in, Audio/volume controls, LED indicator, Voice assistant quick access
What's in the box?
MOTO XT500+ comes in a great-looking cardboard box which reminds me of the good old cell phone boxes of the early 2000-s – with the large product photo and a person using the headphones on the box. Too bad that not so many other Brands follow Motorola Sound's footsteps in this aspect. Near this photo (at least in my review unit) you can find a Warranty card attached. And that's something worth showing off before you open the product – a 2-year official warranty. 
And with a newly gained confidence, I'm looking inside to find a pair of black over-ear headphones (there's also a white option if you like it),  Quick Start guide, USB-C charging cable (long gone micro-USB days), and 3.5 mm to 3.5 mm audio cable. You got it right, MOTO XT500+ can be used in wired mode, but more on this later. With box contents out of the way let's look closer at the headphones themselves.
How do they look and feel?
Wrapped in mostly matte plastic (with a small addition of a glossy one on the side panels) MOTO XT500+ is one of the bulkiest headphones that I've used in a while. But that's because I haven't used over-ear headphones since Sennheiser HD202, and, boy, many things have changed during that lengthy period of time. 
MOTO's pair of headphones is light, thanks to a plastic body, and portable, thanks to folding cups. It's also really comfortable to wear them – cups and overhead have foam cushions on them, covered in a soft eco-leather. It's just enough for you to don't feel the pressure when wearing them, especially given that you can adjust the height of each cup. The inner side of the headphones contains stylized marks for the left & right cup (for the people like me who are obsessed with wearing headphones the right way), make, model name, and certification information.
So now, when we figured out which side is which, let's take a look at the outer side of the cups to check what's on them. The left cup feels lonely, without any element on it, while the right one houses everything: three physical buttons for audio control, USB-C charging port, LED- status indicator, 3.5 mm audio in, and a microphone hole. However, Motorola Sound engineers somehow managed to balance both cups, so I've never felt inclined to the right side, even when connecting headphones via cable. 
Another great engineering solution is physical audio control buttons – when almost all headphones now have touch-sensitive controls, it's good that MOTO XT500+ went for something that clicks and can be easily distinguished (thanks to volumetric marks). But beware, clicks are too distinguishable, to the point when I don't recommend using them late at night if somebody around you is trying to sleep. It's not a problem for you, though – passive sound isolation is good enough to focus on what you're listening to.
Read also: Motorola Moto G200 review: Snapdragon 888+, 144 Hz and interesting design
How do they sound?
More on the matter of sound. I'm not going to pretend that I'm an audiophile that can distinguish the lossless audio from the lossy one in a matter of seconds and dive deeper into the nuances of the sound. But if the headphones' sound is bad – I can tell it. Thankfully, that's not the case with MOTO XT500+.
I've tested them with Forza Horizon 5 soundtrack on Spotify – as great and pretty diverse showcase of different music genres: from pop to rock, and from EDM to the classics. And regardless of the playlist, I've never wanted to take headphones off and change it to something different, all the tracks were sounding good: is it guitar riffs on Bring Me The Horizon – Teardrops, or high pitch sounds of Deadmau5 & Wolfgang Gartner – Channel 43. But you need to keep in mind some peculiarities of MOTO XT500+ sound: by default, headphones favor instruments over vocals, so if your playlist contains mostly vocal tracks – you'd better use an equalizer to adjust this.
But when I was really impressed is when I decided to listen to some Psy/Uplifting Trance, and something that sounded mushy on my good old Sennheiser HD202, like Angry Man – Tyrant (Angry Acid Mix) or Rompasso – Angetenar (Alexander Popov & Paul Oakenfold Remix) finally sounded clear and crisp, even at maximum volume.
How this pair of headphones sound at maximum volume is another shout-out to Motorola Sound engineers – while I don't recommend listening to the music on a maximum volume, your ears won't bleed if you'll do so. Even at peak, there were no cracks or sound distortions – which is great, considering that other affordable headphones usually show their best at 70% volume and then turn into a sound nightmare. But music, as it turned out, is only one of the best use scenarios for MOTO XT500+ and I'm gonna tell you why.
What is the best use case for them?
Throughout the week that I've been reviewing MOTO XT500+, I've tried to use them as my daily driver and that means using them in all my usual scenarios: on the go, in public transport, watching movies, playing games, and attending zoom calls.
I don't like wearing over-ear headphones in public, favoring in-ear ones, especially during the winter, when you're usually wearing beanie hats. And I still believe that you should be bold enough to wear MOTO XT500+ on the street. It was comfortable though and the sound is great in and out of your house.
I was pretty impressed by the microphone: my wife heard me loud and clear during our phone calls, something that was a miracle for any affordable headphones of 2-years ago.
Passive noise isolation worked well when on the street, but the lack of active noise canceling was apparent when I tried to ride on public transport. Sure, Kryvyi Rih Metrotram is an extreme example – as it's even noisier than the regular Metro. And thanks to the MOTO XT500+ capability to sound good at any volume level – it wasn't a pain of a ride. But if you're considering taking rides like this regularly – you'll probably look for more expensive ANC headphones.
That's why I believe that the best use case scenario for MOTO XT500+ is at your home. Passive noise isolation is just enough for you not to hear the Robot Vacuum next door and they were comfy enough to wear them for a couple of hours in a row. I've even managed to sit in them through multiple 45-min – 1-hour zoom meetings, something that caused me discomfort when I've been using in-ear headphones. And with my colleagues sounding clear enough and saying the same thing back to me – I can recommend MOTO XT500+ as a go-to Zoom device.
Read also: Huawei FreeBuds Lipstick review: More than just new coat of paint 
Another great use case scenario – watching movies or TV series and not distracting your household members. There's one caveat though – you need to test MOTO XT500+ with your Multimedia device of choice: headphones acted weirdly with my Mi TV 4S, with sound lagging every 30 seconds, but I enjoyed using them with Mi Box S at my parents' house – there were no problems at all. They also work perfectly smoothly with Apple devices: all multimedia buttons work and you can even call Siri, by double-tapping the Volume+ button. What a great budget alternative to the Beats headphones and AirPods Max!
There's also lots of fun using MOTO XT500+ wired. Yes, you lose multimedia buttons and microphone capabilities, but now you can use your pair of headphones without the need to turn them on. I've tried it this way, by connecting them to my Xbox controller (Microsoft & Sony still believe that you need special compatible headphones to use them wirelessly with your console, what a shame) and they worked just fine! Now nobody in my household will be distracted by Mass Effect Legendary Edition sound effects, especially combined with some Psy/Uplifting Trance music on Spotify (believe me – that's an awesome experience).
Wired mode is also a great backup plan if you run out of battery. But this could happen only if you forget about the headphones' existence for a couple of months. Brand's claim that they can work up to 25 hours on a 300 mAh battery sound true to me: I've received them precharged out of the box and in 7 days that I've used them, listening to music and watching videos for a 1.5-2 hours a day on average, I've never had to recharge them. Only in the middle of the 8th day I've heard Bat low, which is a great result for a mostly home-use device.
Why should you buy them?
After using Motorola Sound's headphones for more than a week, I've never thought that entry-level over-ear headphones could sound that good and be great in use. While there are definitely some specifics to consider (no ANC, need to test them with your device), I still enjoy using them daily and could easily recommend them to you. To whom MOTO XT500+ will be a great fit:
If you're looking for an affordable, yet reliable device. With 2 years of an official warranty and a $43.99 recommended price tag in Ukraine (official distributor promises an even better price at the start – around $38.99) it's a good choice if you don't want to spend an extra buck while receiving headphones that sound good and offer a great set of features.
If you're looking for a budget alternative for your Apple device. With a price way cheaper than Apple's own headphones, quick access to Siri, and stable performance regardless of the device (Mac/iPad/iPhone), it's a good entry point to a good sound.
If you're looking for great home-office headphones. MOTO XT500+ is comfortable to use, sounds good, and has a great microphone – a great option for your lengthy Zoom calls or focus mode working.
If you need a pair of headphones to consume multimedia content at home. With long battery life, comfortable fit, and ability to use them with or without wires – it's a perfect companion for late-night binge-watching or gaming sessions, that will not distract your household members.