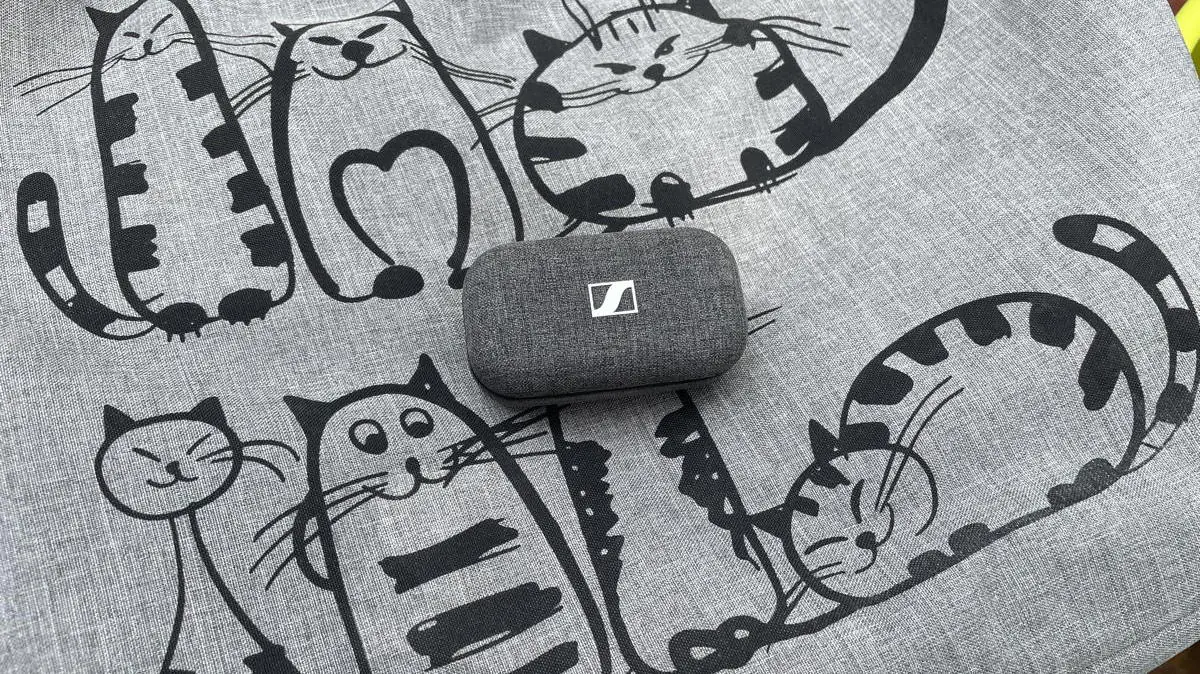 They say AirPods are too expensive, Beats are too expensive, but for really expensive headphones, including TWS, you have to go to the audiophile world, that's where the prices are insane. By the way, the heroes of our review, Sennheiser Momentum True Wireless 2, are not as expensive, since there are in-ear wired (!) models for 500-1000 British pounds. And the Momentum TW2 belongs to, according to audiophiles, more of a "budget" level.
In addition to audiophiles, there is, of course, a huge world of ordinary people who buy Xiaomi headphones (and analogues) for 20-50 bucks and are more than happy. There are also those who choose more expensive models at the level of AirPods. And even they'll find the Sennheiser Momentum True Wireless 2 expensive. In this review, we will try to find what's so good about the earphones from a famous German brand and whether they are worth your attention.
Market positioning and price
Let's start with the fact that the Sennheiser brand is no longer German. But fortunately, it's not Chinese as well, as it often happens. A company with a long history that once invented the format of open headphones (the first model Sennheiser HD 414, 1968), sold its consumer electronics division to Swiss Sonova (specializing in medical hearing aids) in early May this year. Despite the fact that 2019 showed record sales, the headphones business remained unprofitable. What happens next, we'll live and see. But the review gadget hero is a "pure-blooded" Sennheiser.
The first generation of Sennheiser Momentum True Wireless was released in 2019. These were the first TWS earphones in the company's lineup. The emphasis was on high-quality sound.
They were replaced by the Sennheiser Momentum True Wireless 2 model, which brought useful innovations – improved batteries, active noise control, a fresher version of Bluetooth, a slightly more compact design.
Headphones cost ~$360. Of course, that's a lot. Of course, it's not for everyone. But if sound connoisseurs decide to buy, what will they get? Let's figure it out.
Read also: Samsung Galaxy Buds Pro review: TWS earbuds with unique features and couple of compromises
Full specifications of Sennheiser Momentum True Wireless 2
Type: earbuds
Converter: dynamic, closed
Frequency range: 5-21000 Hz
Bluetooth: 5.1
Listening time: up to 7 hours / up to 28 hours including the charging case
Noise control: active with a special microphone in each earphone
Codecs: SBC, AAC, aptX
Standards: HSP, HFP, AVRCP, A2DP
Microphone frequency range: 100-10000 Hz
Total Harmonic Distortion: < 0.08% (1 kHz, 94 dB)
Case charging: USB-C
Charging time: 1.5 hours to 100%, 10 minutes for 1.5 hours of listening
Weight: 70 g (earphones with case), 6 g (one earphone), 58 g (case)
Case dimensions: 76,8 x 43,8 x 34,7 mm
Moisture protection: IPX4
What's in the box
In the package you will find the buds themselves, a charging case, a short USB-USB Type-C cable, replaceable eartips and documentation. There are 4 tip sizes available.
Design
Let's start with the case itself. It has a pleasant fabric coating. There are two color options: light gray case and white earbuds, and dark gray case and black earbuds.
It looks cool, but I doubt the practicality a little – the fabric case can get dirty and cleaning it will be much harder than a plastic cover. But the case won't get scratched, which is a plus.
The case is large, larger than usual compact models. Ladies can throw it in the bag easily, but it won't fit in pockets.
The build quality of the case is pretty much perfect. But it was difficult for me to open it with one hand. The lid holds well thanks to the magnet, and it won't open by accident. The magnet, however, should've been disguised.
Inside the case we have charging pins. The earbuds are easy to install in place, even if you've never used TWS. It's easy to take it out either.
On the back of the case there is a USB-C charging connector, an LED charge indicator and a button to turn on this very indicator. If the case is closed or without earphones, the LED will show the case charge in one of three colors, if the case is open and the earphones are inside, it will show their charge.
Now let's look at the headphones themselves. They are also large, but the shape is as ergonomic as possible.
The buds have holes for additional ANC microphones, optical sensors, charging contacts, LED indicators (display the status of the connection, report a drop in charge). The microphone connector is only on the right earphone, as the left one cannot work on its own.
The earphones' are also protected by a sponge-like layer that you can find under the tip.
Are they convenient? Well, everyone's ears are different. However, despite the large size of the earphones themselves, the part that fits directly in the ear is made as thoughtfully as possible. Let's assume that the model will suit most people. At least feedback confirms this. Personally, I had a negative experience with AirPods Pro (I had to return it, my ears hurt), and here there are no problems, you can wear it for hours.
And please don't neglect the manual like I did at first. The buds should be placed in the ear and rotated a little. This way they will fit perfectly.
These "barrels" fit me like a glove. No matter what I did – running, jumping during training  – not once did they fall out. The main thing is not to forget to "screw them in," as shown above. And the way TW2 looks is a personal matter.
In conclusion of this section, I will add that the headphones support IPX4. It's splash protection, nothing more. You can listen to music even when it's raining, but it's better not to swim with them.
Read also: Huawei FreeBuds 4i review: TWS buds with ANC and great battery life 
Connection
Everything's standard here. For the first pairing, you need to put on your buds and hold the touch areas on both with your fingers. When you hear "Pairing" and see the name Sennheiser Momentum True Wireless 2 in the settings of the device, you can connect the buds.
Buds can't work with two devices at the same time. That is, if you listen to music from your phone and then want to watch movies from your laptop, the earphones need to be manually connected to the laptop's Bluetooth, and vice versa. The buds sync with the device to which they were last connected automatically when removed from the case. The Momentum True Wireless 2 can remember up to eight devices.
It is also worth paying attention to the peculiarities of the right and left earphones. The Sennheiser Momentum TW2 uses essentially outdated technology, where the right earphone is the driver and keeps the connection to the smartphone, and the left earphone is driven and receives all the data from the right ear.
You won't be able to use only the left earphone, even the manual says that. More precisely, it will work, but if the right one is somewhere nearby and is also connected. For example, lying in your pocket. But it can't be charging in the case. That's a serious disadvantage. Personally, I often use only one earphone while the second one is charged during working calls or listening to audiobooks. Momentum TW2 force you think about which one you use, and you won't be able to use the left one while recharging the right one.
Controls
The advantage of Momentum TW2 is the wide range of touch control capabilities. However, something similar is found in most cheap models. But AirPods, for example, have only three touch control functions.
By default, the settings are as follows. Right earphone:
answer/end call – one touch
voice assistant – one touch
reject the call – one touch
Ambient sound – double tap
ANC activation – triple touch
volume increase – touch and hold
Left earphone:
play/pause – one touch
next track – double-tap
previous track – triple touch
volume down – touch and hold
The separation of functions is logical, the left earphone is responsible for playback, the right earphone is responsible for the effects and additional functions.
Of course, all these touches can be reconfigured in the app. Let's talk about it below.
The model supports automatic pause function when taking out one of the buds. It works, but the feature can be disabled in the settings.
Speaking of controls, I didn't have any problems with them, everything is clear. But with double and triple touches took me some time to get used to. I couldn't get what the interval of these touches should be for the earphones to perceive them, and instead of turning on the noise control, I constantly lounched the voice assistant. After a few days, I got used to it, so it'll probably take you time to get used to it as well.
However, in my opinion, it's better to reconfigure the default controls. For example, I hardly use a voice assistant so it's better to change its command.
Read also: Big comparison of 10 (+1) TWS earbuds: Samsung, Huawei, Sony, Panasonic, Tronsmart, Realme
Sennheiser Smart Control app
Quite a primitive app, this. Both in terms of design and features.
The first time you launch it, you'll see a brief instruction. At the bottom there are three menu items – switching on and configuring Ambient mode, equalizer and connections.
There is also a side menu where you can only see a list of your Sennheiser devices (if there are many of them) and go to the settings.
Here's a list of settings:
Here you can set up a smart pause (when you take it out of your ear), ANC (on or off only, no settings), the sound of your voice when talking, Hi-End sound (makes sound more "audophilic", which not everyone will like; it affects battery life), sounds and audio phrases, as well as touch controls.
As already noted, any touch action can be disabled or reassigned except for call action.
The equalizer setup looks a little weird. On the first tab, you are asked to change one point by adjusting the entire bar without the possibility of adjusting a specific part of the scale. This option is convenient for those who want to do basic things – add bass, highlight middle frequencies, etc. But it was strongly criticized, so in one of the updates, a standard equalizer with the ability to save presets was added.
But it's not nice that the app does not show the charge of the case and each earphone. Yes, it is impossible to find out the exact percentage of the case charge. You can only look at the LED indicator, which can show three colors (green means 100% charge, orange means less than 90% charge, red means almost empty). Unacceptable for this kind of money.
Read also: Huawei FreeBuds Pro review. Near Perfect TWS Earbuds 
Sennheiser Momentum True Wireless 2 sound
I'll be honest, I'm not an audiophile. I don't know the lingo or pretend to hear all the subtle differences of files with different bitrate. All I know is that this pair sounds better than Apple's AirPods Pro. Perhaps it's not surprising, because Sennheiser are known for high-quality sound. The sound is rich, clean, clear, well balanced, with pleasant bass. It's perfect.
Some say that the first version of Sennheiser Momentum True Wireless sounded better than the second, but that's up for a debate.
ANC and Ambient sound
Let's talk about important features that are increasingly common in TWS earphones. People use them in transport, in the office, on a busy street, in shops. And they should be comfortable.
First of all, the format of Sennheiser Momentum True Wireless 2 itself helps with noise. The buds already behave similar to earplugs. Especially if the size of the tips is just right.
In my opinion, active noise control is not even a necessity. Except if you're flying on a plane or sitting in a very noisy office. Or near a 24-hour microwave or lawn mower. The last two examples are a joke, of course, but it was near them that I tested ANC (as I rarely use transport, and I do not work in the office). And the ANC worked like a charm, blocking all sounds.
Of course, if we talk about voices, even a very good active ANC will not completely filter them out. But it will make it less noticeable and intrusive.
When compared to AirPods Pro, Sennheiser Momentum True Wireless 2 has a much better ANC implementation. You don't get tired of it, there is no discomfort, no feeling of pressure on your head. Of course, full-size headphones will have even better ANC, but Momentum TW2 are as good as they can be.
I said above that even without noise control turned on, the earphones are very well insulated. That's right. That's why it's better to walk with caution on the roads, as you can completely miss an incoming car. This is why you need the Ambient mode! The mode is useful not only on busy streets, but also, for example, in a store, at railway stations or when you need to talk to someone quickly. The point is that the buds "listen" to the sounds around you and transmit them in your ears as if you heard them without headphones. As a result, there is no "plugged ears" effect and you can, for example, exchange a couple of phrases with the cashier without taking out your earbuds.
The transparent mode in Sennheiser Momentum True Wireless 2 works again very well. I remember the AirPods Pro, which I tested for two weeks. They had a kind of artificial, unpleasant sound, often with background noises. But Sennheiser is on top. You turn on Ambient sound and hear everything! Birds sing, trees rustle! Sennheiser really did a good job with the sound, ANC and Ambient mode.
Overall, there are no issues with the sound and operation of earbuds. During the conversation the voice is clear, there's no delays. However, it should be understood that with buds of this format, the microphone is located far from your mouth and the device has to amplify the sound. In games, or when watching movies, everything is also great. The Bluetooth connection is reliable, working through a couple of concrete walls.
Read also: TWS OPPO Enco X Review: Almost Perfect + ANC

Battery life
According to the manufacturer, the earbuds can work for up to 7 hours from one charge and can be charged three more times in the case. We get a total of 28 h from charging. Although, of course, it depends on what volume you use, how often you turn on ANC and the Ambient mode. During the test, the buds lasted 5.5 hours with the ANC constantly on and the volume just above average. If you turn off the ANC and slightly lower the volume, 7 hours or even a little more are achievable.
Only 10 minutes of charging the earphones in the case will be enough for 1.5 hours of  music. The case can charge the buds three times. The box itself can be fully charged for about 1.5 hours. There is no wireless charging, although even cheaper rivals have had it for a long time (AirPods, Huawei FreeBuds, Galaxy Buds and so on).
Verdict
Sennheiser Momentum True Wireless 2 are expensive TWS headphones for those who value high sound quality. Not at the level of Chinese buds for 50 bucks, but those aimed at audiophiles. It seems like Momentum True Wireless 2 have no competitors among Sony and Bose models, and we won't even mention AirPods at all, overrated as they are.
Despite seeming large, the Momentum True Wireless 2 sit very comfortably in the ears. They provide excellent sound insulation and offer perfectly implemented ANC and Ambience mode. Battery life is also quite good.
Among the main shortcomings are a miserable (sorry, but you can't say otherwise) mobile app, a "dependent" left earphone and a very high price. In short, the sound is great, but in some respects, these expensive buds lose to cheap Chinese ones. Would you buy Momentum True Wireless 2?
Pros
High sound quality
Active noise control and Ambience mode are perfectly implemented
Excellent soundproofing even without ANC
Comfortable and reliable fit
Well-designed and fully customizable touch controls
7 hours of operation from one charge + 3 charges per case
Basic moisture protection
Excellent build quality
Support for basic codecs – SBC, AAC, aptX
Reliable Bluetooth connection
Cons
Weak app with few settings
It is not possible to see the charge percentage
Left earphone does not work without the right earphone
The case is too large, its fabric coating can get dirty.
You have to get used to touch controls.
No wireless charging of the case
High price
Read also: Marshall Major IV headphones review: Rock and roll doesn't need wires