I don't like in-ear headphones, I love the over-ear ones – in the second case, you do not need to put anything in your ears. But in-channel wireless headsets have an indisputable advantage – size. Even if you fall asleep with them, even if wearing a hat, there are no wires and you don't look like a fool.
Tronsmart Spunky Pro is a set of a pair of small in-ear headphones with decent battery life and support for the required minimum of protocols and codecs for a modern Bluetooth headset, with protection from splashes, rain and sweat. There aren't enough supported audio drivers, but this should not interfere with the sound acceptable for such devices. An integral part of the kit is a case for charging and storing them.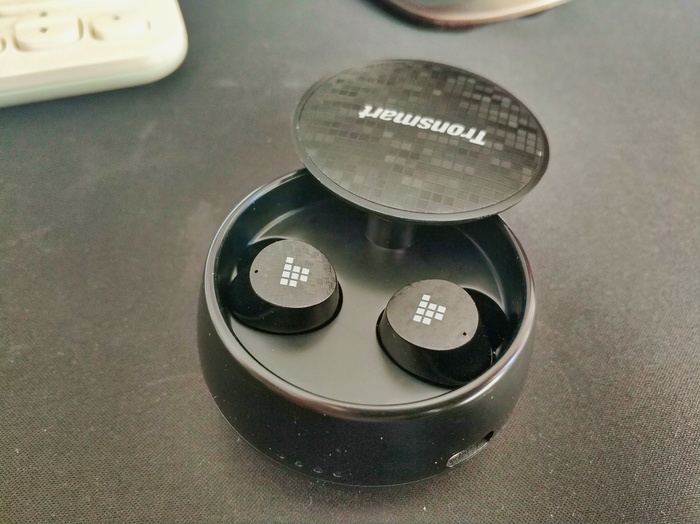 Positioning and price
In the TWS line of Tronsmart Spunky Pro headsets, they are in the same boat as Encore S5 and Encore Spunky Buds. For Spunky Pro, the manufacturer promises "excellent deep bass", "crystal clear sound" during a call and "more convenient" touch controls. Encore's Spunky Pro Spunky Buds is distinguished by the smaller size of the headset itself (with much smaller audio drivers) and the wireless charging of the case equipped with a USB Type-C connector. Perhaps this is what explains the presence of the word "Pro" in the title. And they are more compact and more modern than other models of the line. The headset costs about $30.
Where to buy:
Tronsmart Spunky Pro Specifications
Any TWS headphones (True Wireless Stereo) are made on the basis of a specific SoC ("system-on-chip") – for example, Qualcomm, Broadcom, Realtek and other companies. The manufacturer of a particular headset purchases them, but does not do it himself. The presence of support for certain codecs, Bluetooth profiles, DSP, a way to connect to a smartphone (each of the devices connect independently or sequentially through one "main" headphone), noise reduction, support for additional sensors all depend only on the selected chipset.
So what does the company itself? It chooses audio drivers and puts it all in a case of different levels of convenience and attractiveness, in some cases write software for target platforms and sell it. In fact, this is a very important and difficult job.
Bluetooth Version: 5.0
Compatibility: A2DP, HFP, HSP, SBC, AAC
SoC: Realtek RTL8763B (according to Root-Nation.com)
Batteries in the headphones: 2 x 35 mAh, full charge 1.5 – 2 hours (according to the manufacturer)
Battery in the charging case: 400 mAh
Talking Time: 3.5 hours (according to the manufacturer)
Listening to music: 3.5 hours (according to the manufacturer)
Standby: 2 months (according to the manufacturer)
Audio drivers: dynamic, 6 mm each
Frequency range: 20-20000 Hz
Waterproofing: IPX5
Wireless Charging Case (Qi) or USB Type-C
Voice Assistant Support (Google Assistant, Siri, Bixby, HiAssistant)
A little bit about the chipset on which Spunky Pro is "built". Tronsmart does not indicate the SoC used anywhere, but when you connect the device to a computer, you can find out the vendor ID (Vendor ID). In the case of Spunky Pro, it is 0x005D. According to Company Identifiers | Bluetooth Technology Website, this identifier is assigned to Realtek Semiconductor Corporation. I turned to the manufacturer, and it confirmed this information.
Among the chips manufactured by Realtek, SoC RTL8763B falls under the specifications indicated for Spunky Pro. In the documentation, among the various characteristics, we find support for Real Wireless Stereo (RWS – the same as TWS), RCV (Real Clear Voice), dual analog or digital microphones (8/16 kHz, noise reduction and echo), support for 24-bit audio, support for SBC, AAC decoders, charge up to 400 mA. Of course, there is no support for aptX or aptX HD, because these are Qualcomm's proprietary codecs. The probability that Spunky Pro is really designed on the basis of RTL8763B is very high, although we have not received official confirmation from the manufacturer.
What's in the box
In a small box made of high-quality cardboard you will find a case for storage and charging, a short USB Type-C cord, two pairs of ear pads of different sizes (the third pair, the "middle" one is installed on the headphones), and instructions for a quick start. Do not rush to get rid of the documentation – these are your guides to connecting and reconnecting, as well as managing Spunky Pro. Nothing redundant.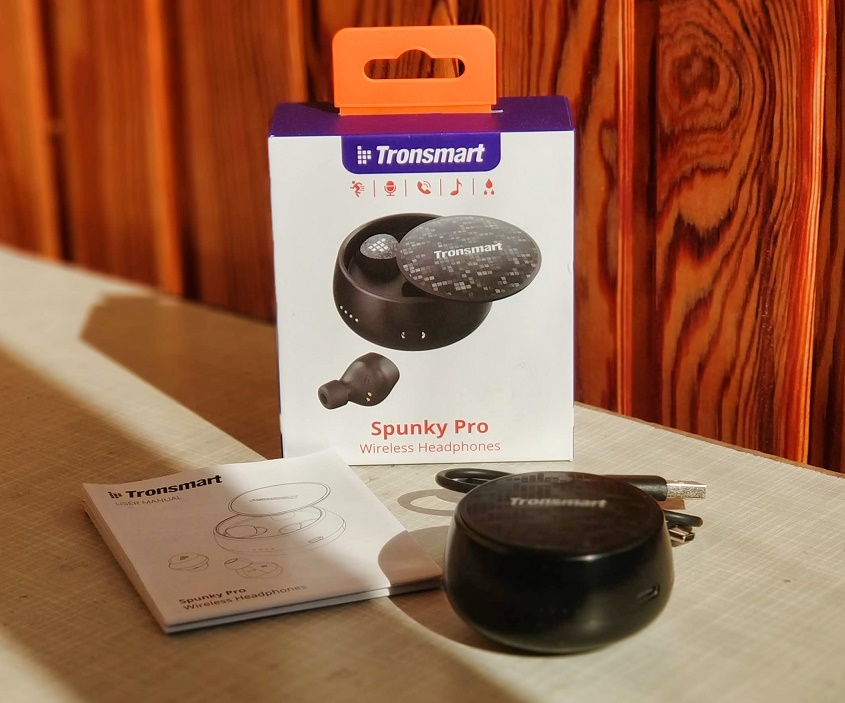 Design, materials, build quality, construction
Spunky Pro looks like a small asymmetric "puck" made of matte plastic. Case cover is textured: this is a matrix made of tiny squares that reflect light from different angles, which makes it look interesting. The lower part of the case is rounded, technical information is imprinted on the bottom. It is heavier below (the battery is located there), and thanks to this and its shape, if you put it on its side and slightly push it, it does not fall over. Given that the case can be recharged wirelessly, this design is quite practical.
Around the circumference of the case are a charge indicator of a case of four LEDs, a USB Type-C port, a round mechanical button recessed into the case. It can be pressed easily.
Pressing the button releases the locking mechanism, the lid "bounces", after which it can be rotated on a hinge. It opens with a rather sharp sound, but I quickly got used to holding it with my index finger, pressing the middle button. It does not hang open, it remains in the position in which you leave it. In general, the entire device looks and feels reliable and the build quality is fine. As I recall, our Surkov lightly scolded the design of the Tronsmart Encore Spunky Buds? It seems like the Tronsmart engineers did not sit idly by, obviously working on the bugs. In addition, the case has become much smaller.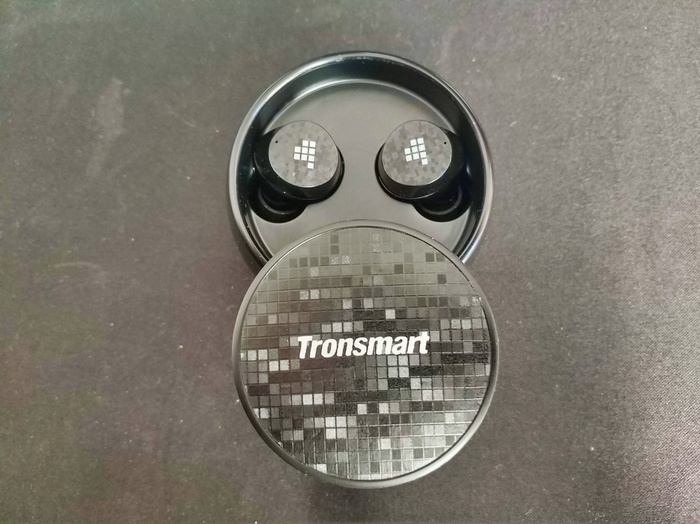 Under the lid in the recesses is the Spunky Pro headset, charging. The headphones are firmly held by magnets – they do not fall out, even if you turn the case over and shake it. And at the same time they can be removed and hidden back.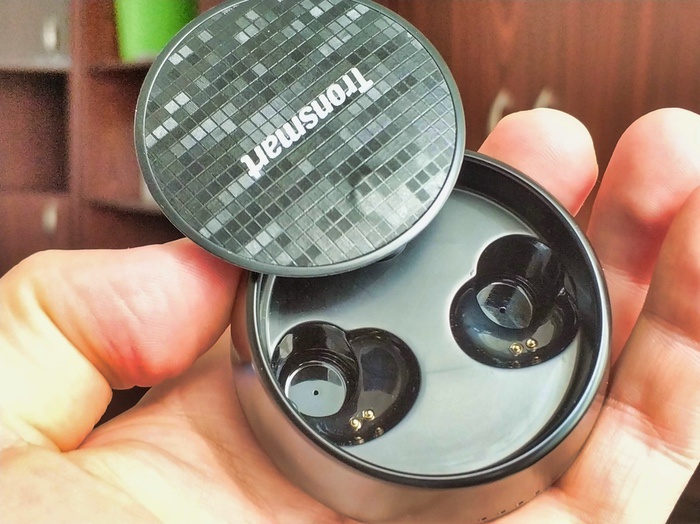 Spunky Pro headphones are plastic, small, lightweight. They have an "anatomical" shape – the inside of each "droplet" is trying to repeat the bend of the auricle. On the inside there is a contact group, engraved headphone designation (L or R – Left / Right). Further, the "droplet" is pulled into the "tube" in which the sound driver is located; it ends with a mesh to protect the device from ear wax.
The "front" side of the headphones is almost flat, with the same "matrix" pattern and company logo. On each earphone below the logo is a microphone hole, combined with a two-color indicator (red and blue light). The indicators are dim and that's great.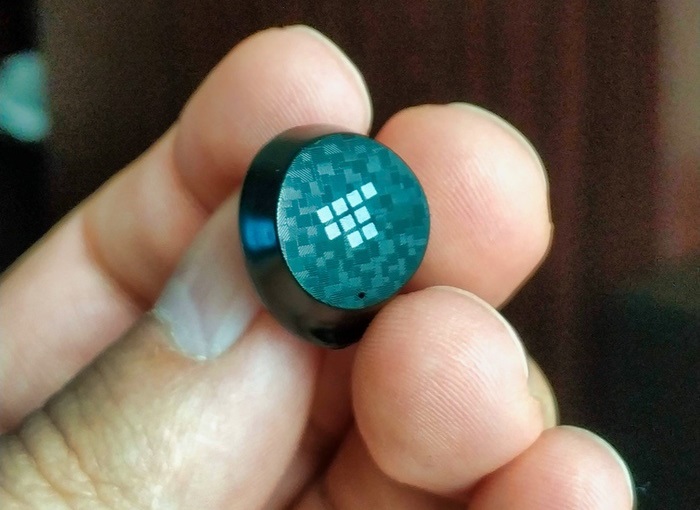 The headphones are comfortable and discreet, the case looks neat. Tronsmart Spunky Pro is a beautiful headset overall.
Codec support
Let's start with the codecs. The chipset is Realtek, which means no aptX or LDAC. That's okay though – Spunky Pro supports SBS and AAC audio decoding. With the first, everything is clear: the good old codec, which is supported by everyone and everything. AAC is also a good old codec, but we should thank Apple for its relatively active use in Bluetooth devices.
AAC support is good for users of Apple devices – I used Spunky Pro with an iPad with no problems. Even if your android supports AAC, SBS provides a higher bitrate and less latency in data transfer – in theory. In practice, when using AAC on my Xiaomi Mi 6 with current stable firmware (MIUI 10, Android 9), data transfer is more stable, without periodic "jumps" when changing the bit rate, as when using SBS.
SBS, although it is a really cool codec, has one unpleasant feature: under poor conditions for streaming audio it dynamically lowers the performance of a parameter called bitpool, which directly affects the bitrate of a stream. The bitpool can automatically decrease, but cannot increase during data transfer, even when normal conditions are restored – for this you will have to reconnect. Any TWS headset is a miniature device that is sensitive to the signal source, respectively, AAC (in my case) provided a more stable quality.
Ergonomics
But enough about codecs, let's talk about convenience. I managed to get used to Spunky Pro in just a few days. If you choose the right earcups (the set includes traditional large/medium/small), the headphones will not only comfortably "sit" in your ears, but also provide good sound insulation and at least acceptable sound.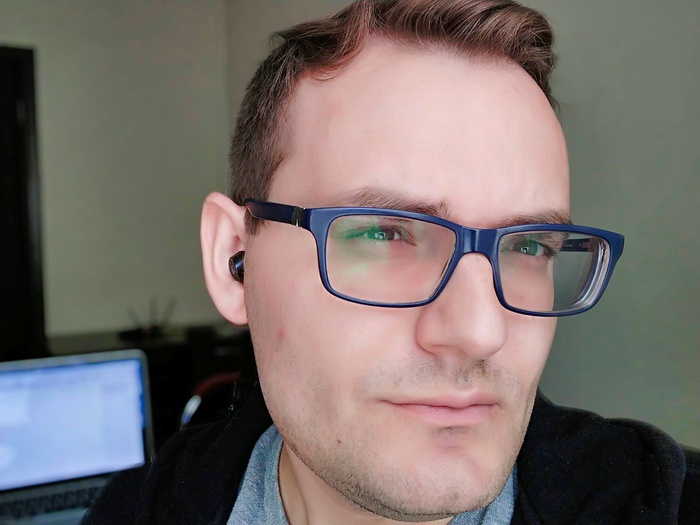 When walking or running, the headphones do not fall out. I literally never lost them. In addition, they are so small that they practically do not protrude from the auricles; they are almost completely invisible. It is not only aesthetically pleasing, but also practical. For example, Spunky Pro can be used lying on a pillow in any position.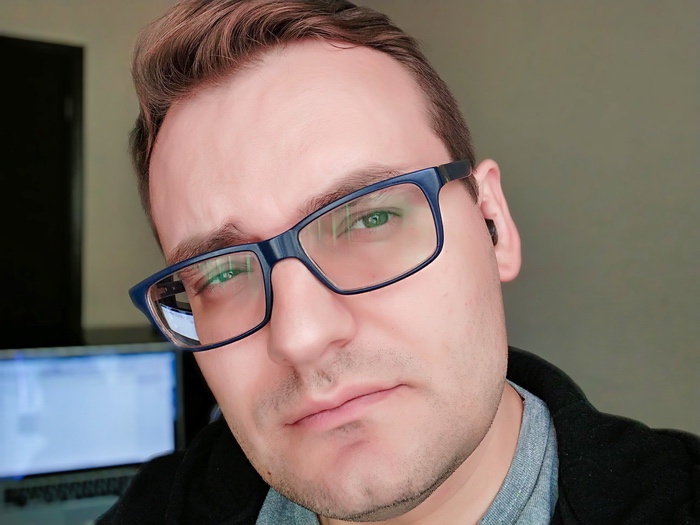 In size and convenience, middle ear pads suited me best. With the biggest, the sound is more bassy. But they immediately began bursting my auditory canals – which is unpleasant.
In general, if you buy this headset, and any other earbuds, you better experiment with ear pads, it's worth it. Material, size, shape – changing ear pads is like changing your headphones.
How do they sound? Very good, as for 6 mm drivers. No, seriously, what did you want. Here, as with the matrices and camera optics in smartphones: what they can't convey, will be finished by software and your brain.
Spunky Pro can be called bass "ears." But high ones may not be enough, especially for older people – with age, hearing deteriorates, primarily our ability to perceive high frequencies. In this case, the equalizer will help you. Or just hammer in: it will distort you already distorted sound.
I had the opportunity to compare Spunky Pro with Samsung Galaxy Buds and Nillkin Liberty E1. "Buds" are less bassy, but more "transparent", "airy". Liberty E1 are loud and bassy. I can't say that the "brothers" sound better or worse. They are different, but in sound (albeit not in functionality), it's all one class of devices.
Voice transmission is good – again, for a device of this class. There is stereo sound, noise and echo cancellation. In the room, on the street, the sound is clear.
Functions, management, features
Spunky Pro supports streaming media, speech, device management. Nothing unusual for a modern Bluetooth headset. This is a TWS (RWS) device, which means no wires to transmit sound.
Before connecting the headset to a smartphone or other device for the first time, you need to "pair" the headphones with each other. To do this, it is enough to get them out of the case. Both headphones will first go into pairing mode (the blue and red LEDs will flash in turn on both headphones), then they will communicate with each other (the right one will stop flashing, and the left one will continue, switching to the pairing mode with the smartphone). In the list of devices ready to connect, instead of two instances of Tronsmart Spunky Pro, there will be one.
If you first connect the headphone to the smartphone, and then pair them together, then although you can listen to music, only the left headphone will transmit speech during the conversation, noise and echo canceling will also not work. So you better reset the connection and start all over again.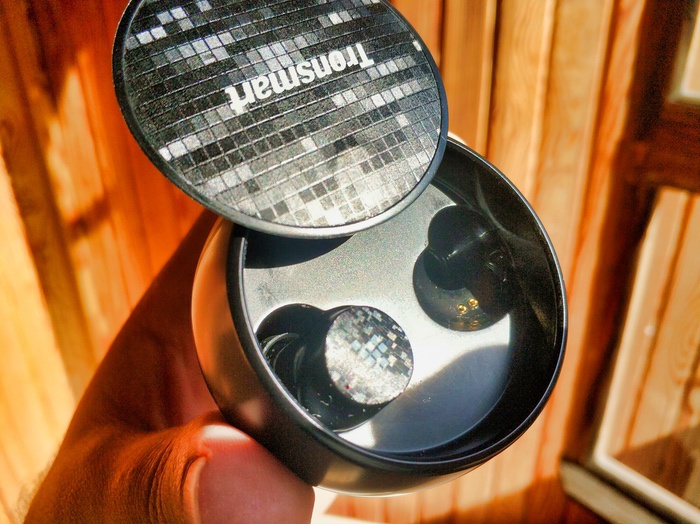 To control the headphones you can touch surface on each of the headphones. Headphones turn on automatically when they are taken out of the case, or, if they are turned off, by a long touch of the sensor (3 s). You can turn them off by placing them in a case, or by even longer (5 s) touch.
The control functions common to the left and right earbuds are: call a voice assistant (touch for 2 s), answer a call / end a call (short touch), start playback / pause (short touch). For right: next track (double tap), previous track (triple tap). For the left: make it louder (double touch), make it quieter (triple touch).
I recommend that you study and save the instructions just in case.
Do you remember that the left earphone is the main one? If the signal transmission is unstable, especially on the go, try placing the smartphone closer to the left earphone. Also, do not cover it with your hand, otherwise the right one may "drop off". In principle, these tips are relevant for any TWS-headset.
Tronsmart Spunky Pro battery life
The time of operation and charging of the headset and case are close to the data declared by the manufacturer. Headphones can be recharged from the case for up to 4 times. They will be fully charged for about 1.5 hours, from a single charge they work for about 3 hours. I constantly listened to them, then hid them in a case, then repeated the whole process.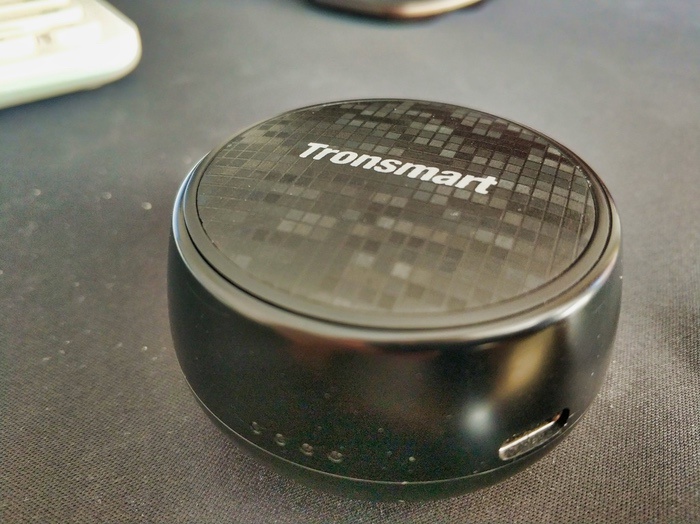 The case supports Qi wireless charging. This means that it can be charged even from a smartphone, if it supports such a function. Special thanks to Tronsmart for the USB Type-C – it's convenient. The case can be charged in about 2 hours. Fast charging is not supported, the maximum 500 mA.
Verdict
For $30 you can grab miniature headphones with good sound quality and battery life. There are no additional sensors or proprietary software, as in the much more expensive Galaxy Buds. But there is a good voice quality, discreet and attractive appearance, high usability… You know, it seems to me that Tronsmart Spunky Pro is one of the best "budget" TWS headphones for every day. Recommended!
Where to buy Tronsmart Spunky Pro
Subscribe to our accounts: