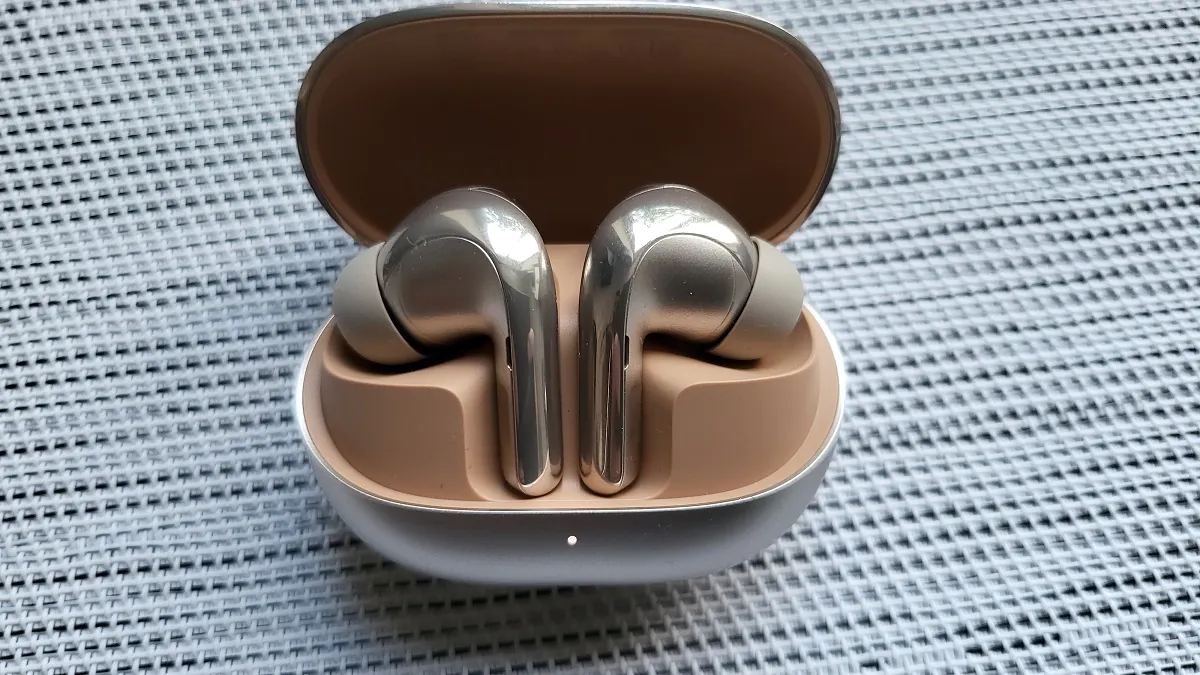 Three noise cancelling modes, 6-stage manual noise cancellation and transparency mode, support for LDAC, SBC, AAC and LHDC 4.0, as well as Bluetooth 5.3. This is all about Xiaomi Buds 4 Pro.
With smartphone manufacturers increasingly abandoning the 3.5mm headphone jack, it's no surprise that more and more mobile phone manufacturers are entering the wireless Bluetooth headset market. Of course, most experts and users still consider Apple AirPods to be the benchmark for wireless headphones. But this is not always the case. Other manufacturers of TWS headphones are not standing still either, and offer really interesting devices.
Read also: Xiaomi 13 Lite review: diminutive might
What makes Xiaomi Buds 4 Pro interesting
Of course, the Chinese company Xiaomi is among them. Those who associate Xiaomi Buds headphones with cheap "Chinese" will have to change their approach to gadgets from this manufacturer. Almost a year after the release of the fully wireless Xiaomi Buds 3 Pro headphones, the Beijing-based electronics giant is releasing a new Bluetooth headset with noise cancellation – Xiaomi Buds 4 Pro. This is a truly top-of-the-line model. Workmanship, appearance, functionality – everything indicates that this is the flagship product of the Chinese brand.
The gadget has better sound quality and handling than the previous generation, as well as the industry's strongest intelligent active noise cancellation by 48 dB and improved independent spatial sound. In addition, we have a 6-stage manual noise reduction system and a transparency mode, 3 noise reduction modes. Special attention should be paid to the support of LDAC, SBC, AAC and LHDC 4.0 technologies. The wireless headphones can be connected to mobile devices using Bluetooth 5.3 technology. Add to that high-quality sound, excellent microphones and an ultra-light weight of just 5g.
For €250, Xiaomi Buds 4 Pro offers high-quality streaming, active noise cancellation, long battery life, surround sound, and head position tracking. After a few days of testing, I can confidently call Xiaomi Buds 4 Pro a balanced, versatile headset. Are you intrigued? So let's take a closer look at the new TWS headphones from Xiaomi.
Xiaomi Buds 4 Pro specifications
First, let's take a look at the specifications and functionality of Xiaomi Buds 4 Pro.
Type: True Wireless Stereo (TWS)
Connection interface: Bluetooth 5.3
Speakers: 11 mm, with neodymium magnet
Frequency range: 20 – 20,000 Hz
Resistance: 32 ohms
Microphone: narrow directional
Microphone frequency range: 100 – 10,000 Hz
Sensitivity: -48 dB
Support for ultra-high definition protocols: LHDC 4.0 and 96kHz high-definition audio, SBC, AAC, LDAC (Hi-Res Audio Wireless certification)
Protection against moisture: IP54
Battery capacity: headphones – 53 mAh, charger – 565 mAh
Battery life: headphones – up to 9 hours, with charging case – up to 38 hours
Fast charging: 5 minutes for 3 hours of playback
Weight: one headphone – 5.0 g, charging case – 39.5 g
Truly modern wireless headphones with good sound, interesting features and capabilities.
Read also: Xiaomi 12T Pro smartphone review: Clark Kent or Superman? 
Package contents
The headphones came to me packed in a thick black cardboard box with an engraved image of the headphones and information about them.
On the front, in addition to the image and the name of TWS-headphones from Xiaomi, in the lower right part you can see the inscription "Hi-Res Audio Wireless". It seems that this is what the manufacturer wants to emphasise. The back has a lot of information about the headphones themselves, their capabilities, support for connection interfaces and various protocols. Those who are interested can read it right away.
Inside, in addition to two Star Gold Xiaomi Buds 4 Pro headphones (there are also more classic black Space Black ones), there is a charging case also in gold, a USB Type-C charging cable, two additional pairs of ear pads and a paper user manual.
A standard set for modern TWS headphones. There's nothing new here, but it's quite enough for use.
Read also: ASUS ROG Cetra True Wireless Review: Gaming TWS Headphones
Convenient charging case
Let me start my story with the charging case. Its outer surface is glossy and shiny. As for the design of the case, Xiaomi has developed a lid that opens forward, like the front cover of a car engine. I must admit that in the first minutes of use it caused some inconvenience. I had to get used to it and adapt. Unlike previous Xiaomi models, this is a new approach to design.
Gold-coloured headphones are more suitable for women. This is especially true when you hold the Xiaomi Buds 4 Pro charging case in your hands. Like a fashion accessory, similar to a set of cosmetics, it will certainly find its place in a woman's handbag or clutch. Although men may also like it, and for those who are more picky, there is a black Xiaomi Buds 4 Pro.
There is an LED on the front of the case that shows the charge level.
There is nothing on the back except for the lid hinge, which is almost invisible.
At the bottom of the Xiaomi Buds 4 Pro charging case is the USB Type-C charging interface, and to the right of it is the standard Bluetooth pairing button that can be found in almost all Xiaomi Earbud products.
In my opinion, it would have been nice if the set also included a silicone protective case to protect the smooth surfaces of the case from possible scratches, especially when carrying it outdoors or in a bag.
Read also: Motorola Moto Buds 105 review: decent basic TWS headphones
Stylish design of Xiaomi Buds 4 Pro TWS headphones
As already mentioned, I received Xiaomi Buds 4 Pro in Star Gold for testing, so I was pleasantly surprised by their appearance. The new product really has a first-class design and high-quality plastic coating. Frankly speaking, in terms of quality and design, they are on the same level as Apple or Samsung. Xiaomi managed to surprise me, because I was sceptical about their TWS headphones before.
Xiaomi Buds 4 Pro received a "space" capsule design that almost completely matches the contours inside the charging case, and several built-in magnets for fixing the headphones inside. During the presentation, the manufacturer noted that the charging case received an antibacterial coating with inorganic ions that protect the gadget from bacterial growth.
I liked the streamlined shape of the headphone case and the decorative elements made by high-pressure moulding. You immediately feel that this is a top-of-the-line model, where everything is thought out and made very well. There are two charging magnetic contacts on the bottom of the headset, and a microphone is located at the bottom.
I was comfortable wearing the headphones for a long time, I didn't feel any discomfort, that is, based on my personal subjective experience, I can say that Buds 4 Pro headphones are very comfortable to wear and fit well in my ears without slipping.
They are very lightweight, weighing only 5 g each, or 10 g per pair, and the charging case weighs 40 g. That is a total of 50 grams, so you can carry them in a small handbag or pocket.
The key is to choose the right size ear cushions. The earbuds come in three different sizes – small, medium and large – to ensure a secure and snug fit for any ear size. The headphones are water-resistant, with an IP54 rating, making them suitable for use during exercise or in light rain.
Read also: Tronsmart Onyx Prime review: Dual-driver TWS buds for $50
How to control Xiaomi Buds 4 Pro
The headphones support gesture controls such as double-tap, triple-tap, and long-tap, which can be configured in a special app. Of course, the device also supports work with the Xiao Ai voice assistant (which speaks only native Chinese for now) and three audio modes.
In the app, which I'll discuss later, you can set up multi-level mechanisms for the transparency and noise cancellation functions of the wireless headphones. The transparency function offers three modes: standard transparency, voice or ambient sound enhancement. The noise cancelling mode has six customisable configurations that users can manually activate depending on the environment.
As befits a premium headset, Xiaomi Buds 4 Pro also detects the position of the earbuds. In other words, if you insert the headphones into your auricle, music automatically starts playing. This also works in the opposite direction: when you take the headphones out, the music is turned off. There is a test mode that allows you to adjust the position of the headphones according to the test results to get the best listening experience.
You can also enable the Smart Free Pick-up noise canceling option yourself. Its essence is that when we use the classic noise reduction mode, we risk not hearing when someone addresses us. But thanks to this feature, the headset will let through the sounds of the human voice, while still cutting out most noise. An interesting approach that makes wireless headphones really "smart" – everything Xiaomi likes.
Xiaomi Earbuds mobile application
As promised, I'm going to tell you about the Xiaomi Earbuds mobile app. I tested its version for Android smartphones, so I'm going to talk about it. I'd like to point out that Xiaomi Buds 4 Pro is not for Apple users, just like AirPods are not for Android users. So this is not a negative point – it's just a note: if you use iOS, you lose a lot of functionality without access to the app.
The app is intuitive and very easy to use. There are all the necessary tools to monitor the status of the headphone batteries and charging case. Xiaomi sends firmware updates through the app, which is a positive thing that we tested in practice. There you can find several useful features, such as in-ear detection and the "Find Headphones" function, which allows you to quickly locate an earbud that is accidentally lost.
The app also allows you to configure the multi-level mechanisms for the transparency and noise cancellation functions of your wireless headphones in more detail. I spent a few minutes and adjusted the headphones to my needs. There is nothing unusual or incomprehensible about it.
Read also: HUAWEI FreeBuds 5i headphones Review: comfortable, stylish and affordable
Sound quality and noise reduction mode
The ultra-dynamic dual-magnet moving coil installed in Xiaomi Buds 4 Pro headphones uses an 11mm large-amplitude driver and supports high-frequency sound reproduction up to 96 kHz, which significantly improves the quality of tri-band sound.
Immersive sound
When using Xiaomi Buds 4 Pro for its intended purpose, i.e. for listening to music, the gadget reveals itself in all its glory: vocals are clear and bright and have richer high frequencies, the bass part is also balanced and rich.
In general, the sound quality of Xiaomi Buds 4 Pro leans more towards a three-frequency balance, the analytical power allows you to qualitatively separate the human voice from musical instruments, and to detail the sound on the spot. The sound field is quite wide, and even if spatial audio is not enabled, you can feel a fairly obvious stereo sound effect.
Spatial sound capabilities. The gadget dynamically tracks the direction of your head to deliver an immersive 360° surround sound experience when watching videos, keeping the surround sound in a fixed position as you move your head and making human voices sound more like real life, making the sound more alive. When watching dynamic scenes such as car chases, it feels like sitting in a cinema. You turn your head in all directions and the sound comes from all sides.
The spatial sound feature is mainly designed to significantly improve the viewing experience by providing an immersive effect. And most importantly, it is compatible not only with Xiaomi mobile phones – the company claims that spatial sound will work with any other Android mobile device. I was convinced of this when I listened to music with my Samsung Galaxy Fold3.
Read also: Xiaomi 12T smartphone review: clone attack
ANC (Effective Noise Cancellation)
One of the key features of the Xiaomi Buds 4 Pro is its advanced noise cancellation technology, which uses a triple microphone to drown out ambient noise and deliver crystal clear sound. This is especially useful when you're in a crowded place or on the go and want to focus on your music or podcast without distractions.
Xiaomi Buds 4 Pro also comes with three transparency modes, allowing you to hear your surroundings without taking off your headphones. This is especially useful when you need to listen to an announcement or talk to someone without taking off your headphones. Inside the app, you can choose three levels of transparency. In addition, as I said, there are six levels (ANC) of active noise cancellation. This feature can be adjusted manually or automatically by selecting the Adaptive Noise Cancellation option.
I really like the fact that when the ambient noise level gets really high, the maximum noise reduction mode is activated. For example, if you stand near a carriageway and talk to someone on the phone. Thanks to the wind noise cancellation algorithm developed by Xiaomi and the unique windproof physical structure, only the faint low-frequency sound of a car can be heard. Although the headphones can't eliminate this noise completely, the noise cancelling effect is enough for a phone call or listening to music.
Read also: Xiaomi 12 Pro Flagship Review: Is It Worth Choosing?
Xiaomi Buds 4 Pro battery life
According to the manufacturer, the Xiaomi Buds 4 Pro chip uses an industry-leading 12nm process. This chipset should provide a better balance between power consumption and performance. I was curious about the battery life in practice.
Testing has shown that if you disable noise cancellation, spatial sound, in-ear detection, and the Smart Free Pick-up option (i.e. turn off almost everything you can), then after 1 hour of continuous audio playback, the left earbud discharges from 100% to 88%, and the right earbud's charge drops from 100% to 90%. This is a pretty good result for TWS headphones.
As for the average simultaneous operation time of both headphones, the manufacturer claims that it should be about 9 hours. In practice, this is almost true. The headphones worked for me for 8.5 hours on a single charge while listening to music and a couple of phone calls. The total battery life with the charger can reach about 38 hours, which is true. Of course, if you turn on more functions, especially noise cancellation, the battery life will be shorter, but using the gadget with the charging box during the day will definitely not be a problem. And it was really nice, because you don't constantly wonder if the headphones are dead when you have to give a lecture or sit down to watch your favourite TV series.
It's great that fast charging has finally come to the wireless headset market. In Xiaomi Buds 4 Pro, both the headset and the charging case support fast charging technology. Xiaomi says that the wireless headphones can be fully charged in 30 minutes after they are placed in the case. In fact, this is not entirely true. For me, the charging process from 10% to 100% took 34 minutes. Although, in fact, the battery of the left earbud gains from 60% to 85% in 5 minutes, and in half an hour Xiaomi Buds 4 Pro actually fully replenish the energy reserve from 15% charge. I did not want to completely discharge the headphones to zero.
Xiaomi Buds 4 Pro also support the Qi wireless charging protocol with a power of 2W. My Huawei Mate 40 Pro supports reverse wireless charging, so I decided to take advantage of this feature. Yes, the charging process is much longer (it took me almost 1.5 hours to charge from 15% to 100%), but in some cases it is very convenient. Especially when travelling or experiencing power outages.
Read also: Xiaomi 12 Review: Flagship For Everyone 
Is it worth buying Xiaomi Buds 4 Pro
Frankly speaking, I have always been sceptical about TWS headphones from Xiaomi. For some reason, I always associated them with a cheap copy of AirPods. But after testing Xiaomi Buds 4 Pro, my opinion changed dramatically.
The new product from Xiaomi is really worthy of attention. Yes, the price of €250 may seem high for some, but the headphones are worth it. This is truly a top-of-the-line, flagship model of TWS headphones from Xiaomi, which is in little way inferior to direct competitors on the market.
The headphones pleased me with their high-quality sound, effective noise cancellation system, interesting, premium design, and sufficient battery life. Listening to music in them is a pleasure. The introduction of support for LHDC 4.0 ultra-high-definition protocols and high-definition sound of 96 kHz, SBC, AAC, LDAC (Hi-Res Audio Wireless certification) have fully justified themselves. These headphones seem to be designed for music lovers.
All in all, Xiaomi Buds 4 Pro is a great wireless headphone with many features and exceptional sound quality. The headphones are comfortable to wear, have a long battery life and support fast charging. The noise cancellation and transparency modes are particularly useful, and the touch controls make it easy to navigate between music and calls. With a competitive price, the Xiaomi Buds 4 Pro is definitely worth a look for anyone looking for a new pair of quality wireless headphones.