Before talking directly about the Bang & Olufsen Beosound Explore speaker, I will tell you my only association with this company. And it is connected, oddly enough, with LG. The fact is that in the primeval years, when LG was still making smartphones, it released the V30 and V35 models equipped with the BEST digital to analogue audio converter on the mobile market. Probably only the flagships from Sony were similar.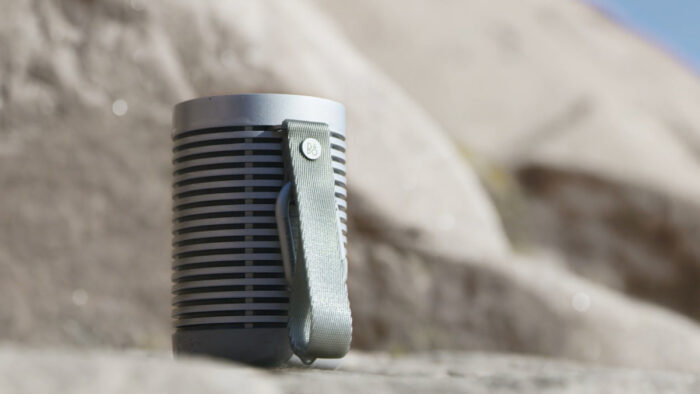 What does it mean? This means that when you connected headphones to a mini-jack, you started listening to music as if you were sitting in a studio, with equipment ten times more expensive than this smartphone. And since in those days it was not yet embarrassing to put in the box not only a charger, but also headphones with a microphone, it is obvious that LG had a problem.
For such a phone, it was necessary to choose an audio company that makes headphones WORTHY of the best mobile sound. And as I understand, selected models included headphones from Bang & Olufsen.
Market positioning
It's a luxury brand, more luxurious than Sennheiser and the former AKG. The prices are appropriate – almost $300 for a fairly simple wireless speaker.
What's in the box
But this price translates into … Yes, everything.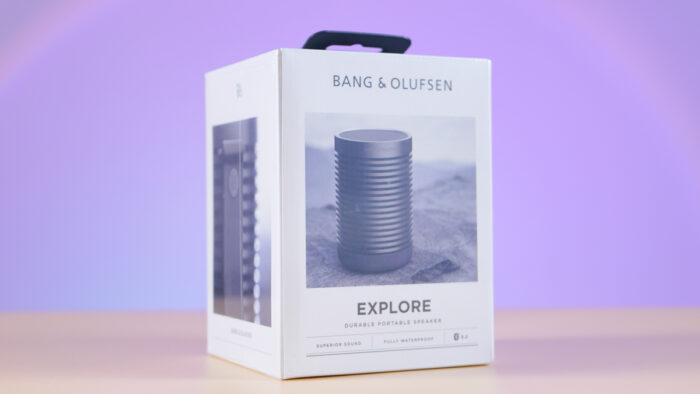 The Bang & Olufsen Beosound Explore box looks like a container for the most valuable serum, and the speaker itself is covered from above and below with silicone … not even plugs, just coating.
And in the box below there is an instruction manual plus a proprietary Type-C cable with a logo and even a small, but no less proprietary, hook.
Design
The hero of the review looks like a synonym for the word "industrial design". It looks like a 40mm shell, rounded at the bottom and flat at the top, cut and stretched to fill the gaps with a waterproof fabric mesh.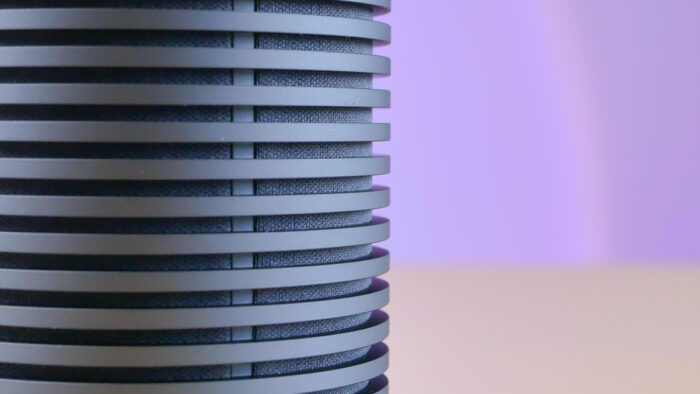 The ribs have sharp corners, the metal is rough and solid gray, as is the high-quality rubberized texture at the top and bottom.
Above is also a set of five control buttons, plus an LED.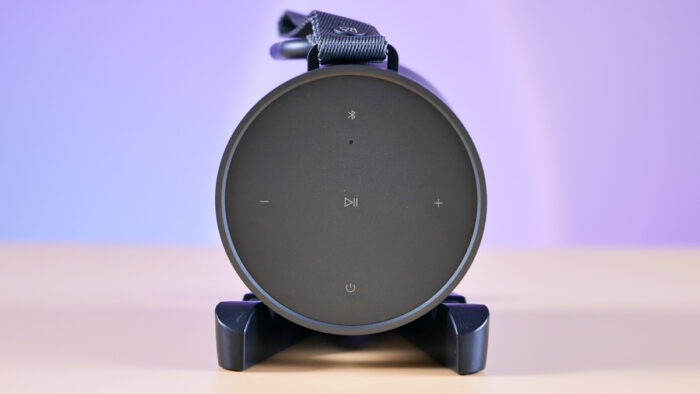 Below is a USB Type-C connector for charging, as well as an indicator of this very charging.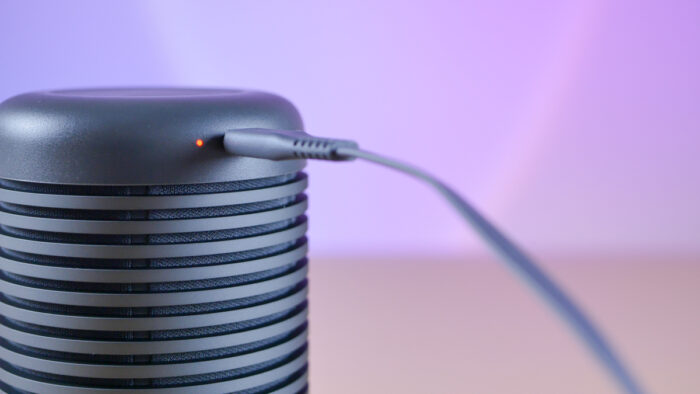 On the top side there is a strap threaded through a metal loop, which, according to the sensations, is a part of the case. The hook, by the way, is threaded through one of the loops on the strap.
Specifications
The speaker power is as much as 30 W, the signal-to-noise ratio is 91 dB, the frequency response ranges from 56 to 22 700 Hz. There's Bluetooth 5.2, although I won't say absolutely anything about the chipset, because I don't know anything about it.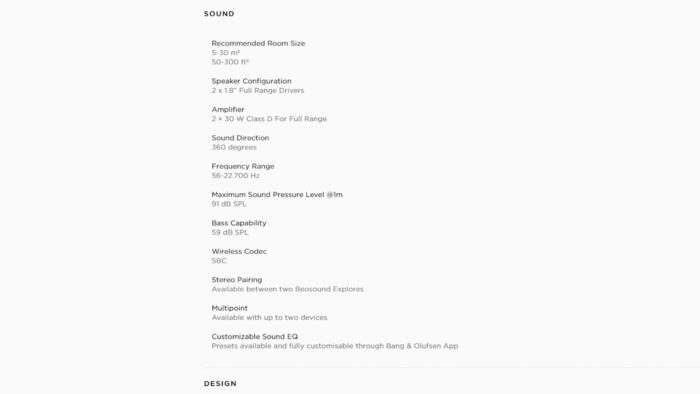 Weight is 631 g, height is 124 mm, diameter is 81 mm. This is not a pocket speaker, it is relatively heavy, but it fits easily into a backpack. It works for about 27 hours on a single charge with a 2400 mAh battery. It takes two hours to charge.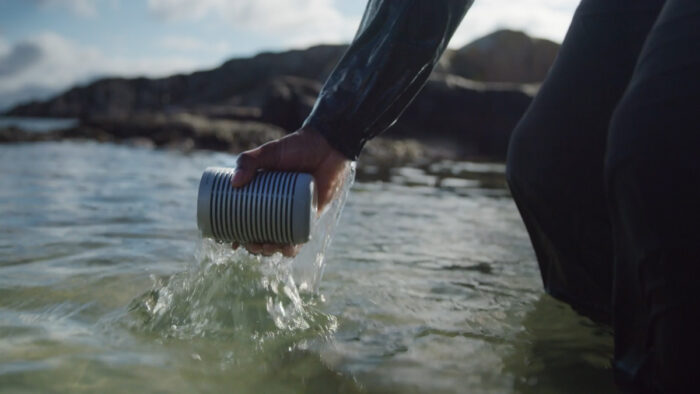 The speaker is dust and moisture resistant according to the IP67 standard, resistant to scratches, and can also be connected in a stereo pair with another speaker. I could not check how this happens, in the absence of another speaker, but the feature is there.
Software
When connected to an Android smartphone, it automatically (!) prompts you to download the Bang & Olufsen branded app. Nice, stylish, quite expansive, and through it I learned that besides the color of gray, the speaker can be green or pure white. The snow-white color looks especially premium.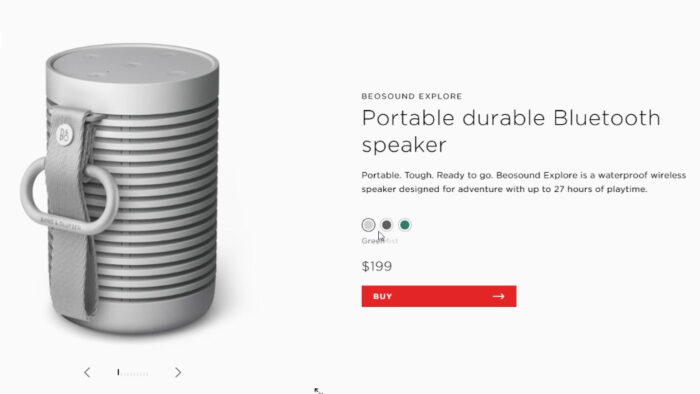 This, of course, is not the only feature of the app. After a brief, albeit obvious instruction, you change the sound profile, connection, volume, and update the firmware.
Sound profiles are … unusual and interesting. The good news is that they really change the sound, and you can customize your own preset. The bad news is that you can't use sliders, only your personal experience of how the sound should be.
This is much, MUCH better than Sennheiser's proprietary app, but still people who buy such a speaker should probably be given the opportunity to fine-tune the sound. Although this is a great solution.
In use
How does the speaker sound? Like a 5.1 audio system. It fills a space of 10 square meters with sound, and at full volume it sounds more powerful than all my speakers, headphones and smartphones combined. And yes, I cannot guarantee that it is the loudest speaker in the world. It may not even be the loudest speaker of this size, I don't know. I know that I am not comfortable listening to it at maximum volume in the apartment.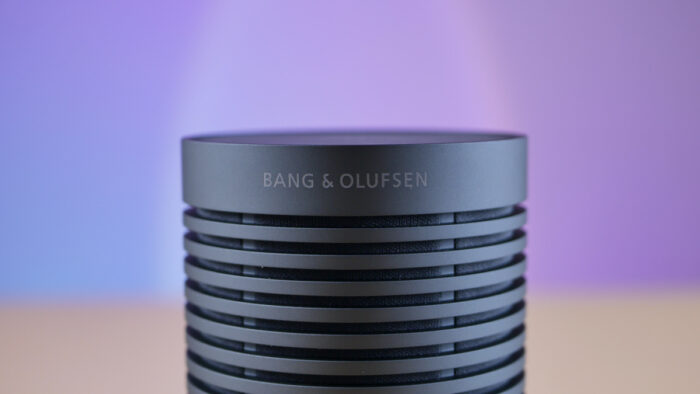 Even at arm's length it is unpleasant. And I listened to music at a third of the volume maximum. There was no distortion of the sound at all.
The sound is obviously amazing. Bassy, clear, sonorous, sweet – I am extremely happy with the sound, there is nothing else to say. The three-dimensionality of the audio is clear: my favorite test moment is happened at 2:42 of the song Momma Sed (Tandemonium Mix) by Puscifier, as it gives a sense of stereo bouncing on the sides and a pronounced center.
Main issue
This is an important moment. If you have this kind of money for a wireless speaker, then buy it and do not think too much, this is a pocket audio system of unprecedented sound quality, with an amazing body and impressive battery life.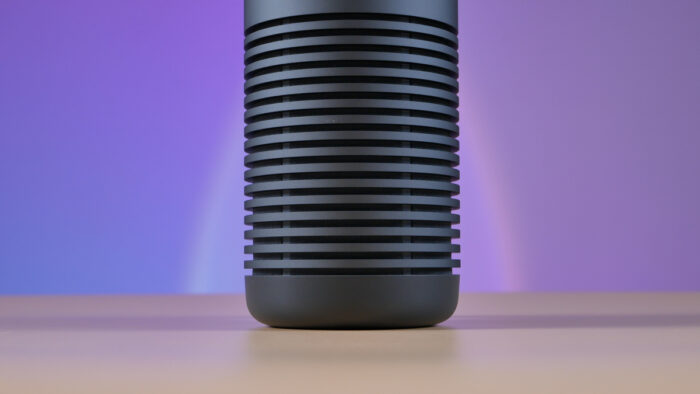 But the keyboard has a weak point. Before updating the firmware via the Android app, you will have to endure the obvious latency when playing music from your computer. I am talking 2-3 seconds with YouTube. At first, I thought this was due to the lack of codecs – the Bang & Olufsen Beosound Explore does NOT support anything better than the standard SBC. But no, playback through from a smartphone doesn't show any signs of latency.
Even if you update the firmware, it doesn't always help. The update did even appear for me the first time … And the app froze a little when I fiddled with sound profiles … But I can blame Android for these glitches.
Frankly, I was very scared that the boutique company once again made the product the way it can do it, and if it made a wired speaker, it would be perfect. But it might not have enough expertise and knowledge. But everything worked out – the codec did not interfere with the work, and this is the main thing.
Verdict
The Explore is not a universal model. It needs support for modern audio codecs for that. Which are not 100% needed, but their absence is surprising at least.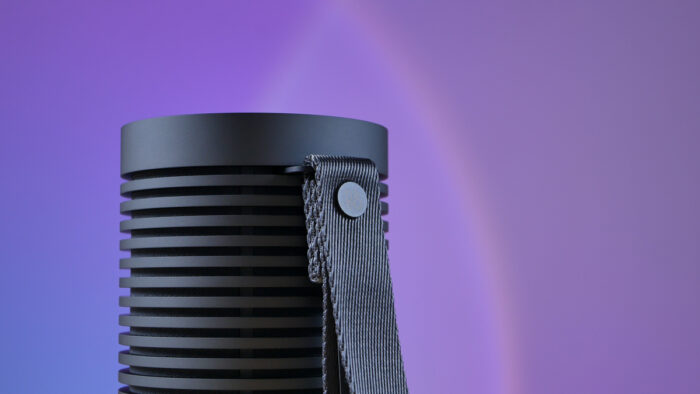 This does not affect sound quality, battery life, build quality or presentation – all of the above are 10 out of 9. If you only want to listen to music in phenomenal quality, then the Bang & Olufsen Beosound Explore is a wonderful choice.
Read also: Smartphones created in partnership with well-known brands: Winners and losers
Subscribe to our accounts: