Wireless speakers grow more and more popular among the youth of today. Teenagers seem to prefer colourful Bluetooth speakers of various sizes and power to headphones. Looks like boomboxes are back! Today we take a look at one of the most advanced representatives of this trendy tech – Promate Silox.
Promate Silox features
Let me get this straight – the speaker is truly awesome. It has all that you might want from a device of this segment.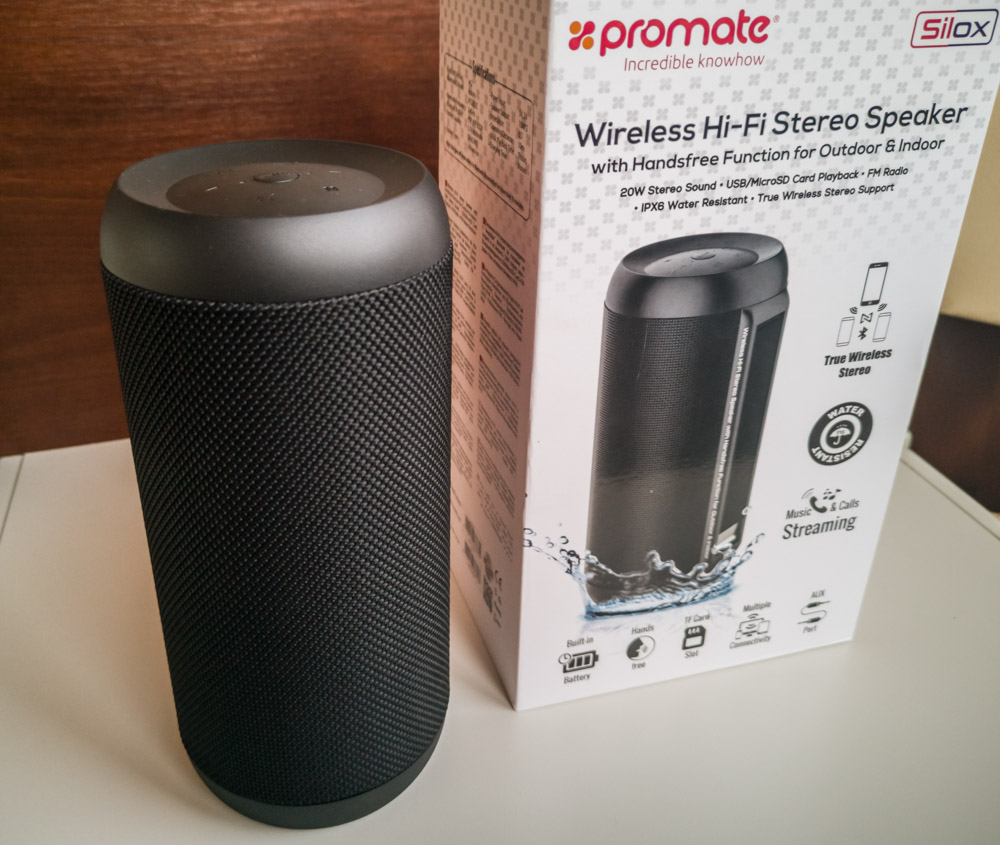 Promate Silox is IPX6 standard water-resistant, which means that the speaker is not afraid of rain and strong water jets from any direction. But immersion in water, especially long-term, is not recommended, although I don't think that a small puddle would harm the gadget. Water resistance is very cool, especially considering the fact that you'd typically use the device outdoors. In addition, I often use speakers like this on picnics and it's great to know that the device is afraid of no beer or lemonade, or even dirt. If it's dirty, just wash it off in a shower.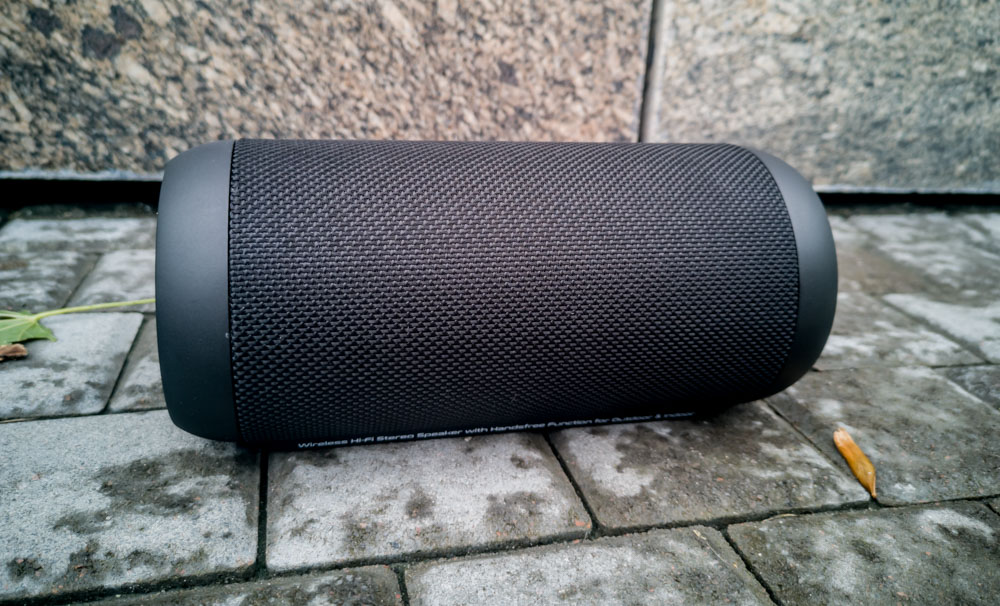 In addition to playing music from a smartphone, tablet or laptop via Bluetooth, you can connect the speaker to a sound source using the bundled AUX cable with 3.5 mm jacks at the ends. The speaker has an appropriate connector.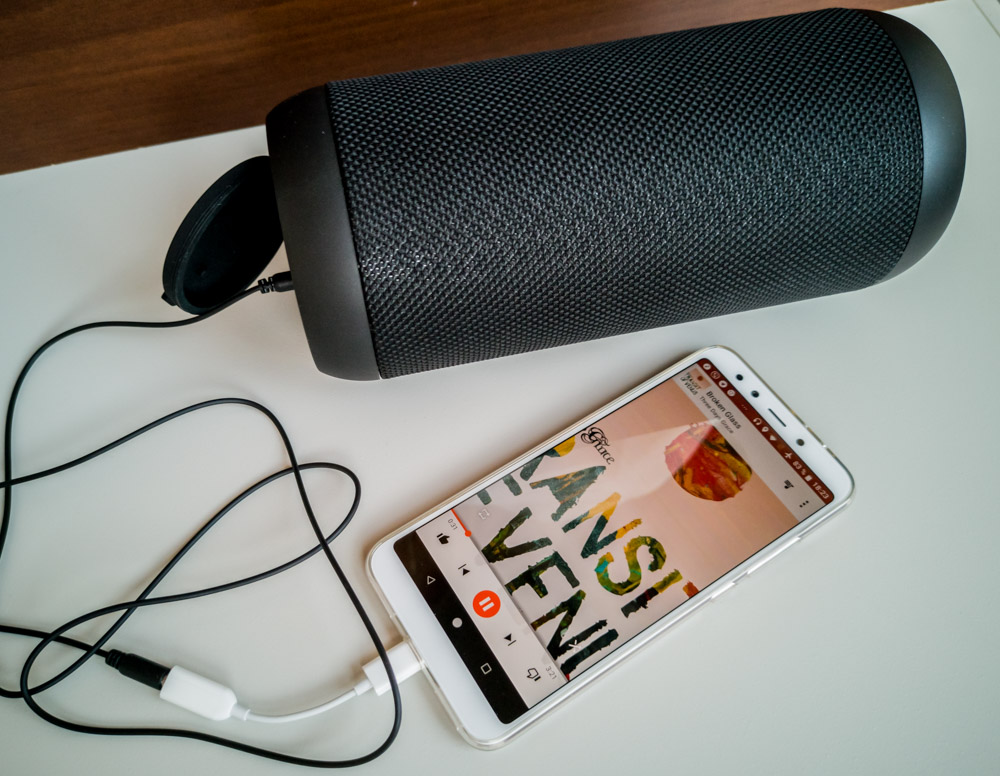 The next great feature is playing music from the microSD card – that way you do not even need to connect Promate Silox to the sound source since it already is an independent player with built-in speakers. A true boombox from the 90s!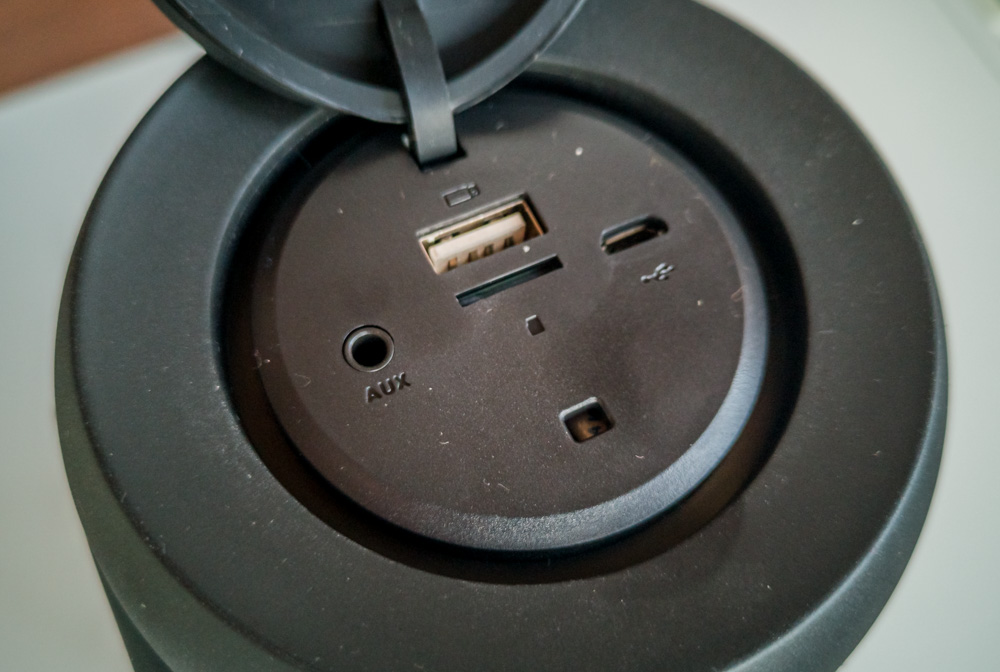 Another neat feature that reminds me of cool Japanese tape players from Sharp or Panasonic is built-in FM radio. If you are a fan of listening to radio outdoors, then Promate Silox is just what you need.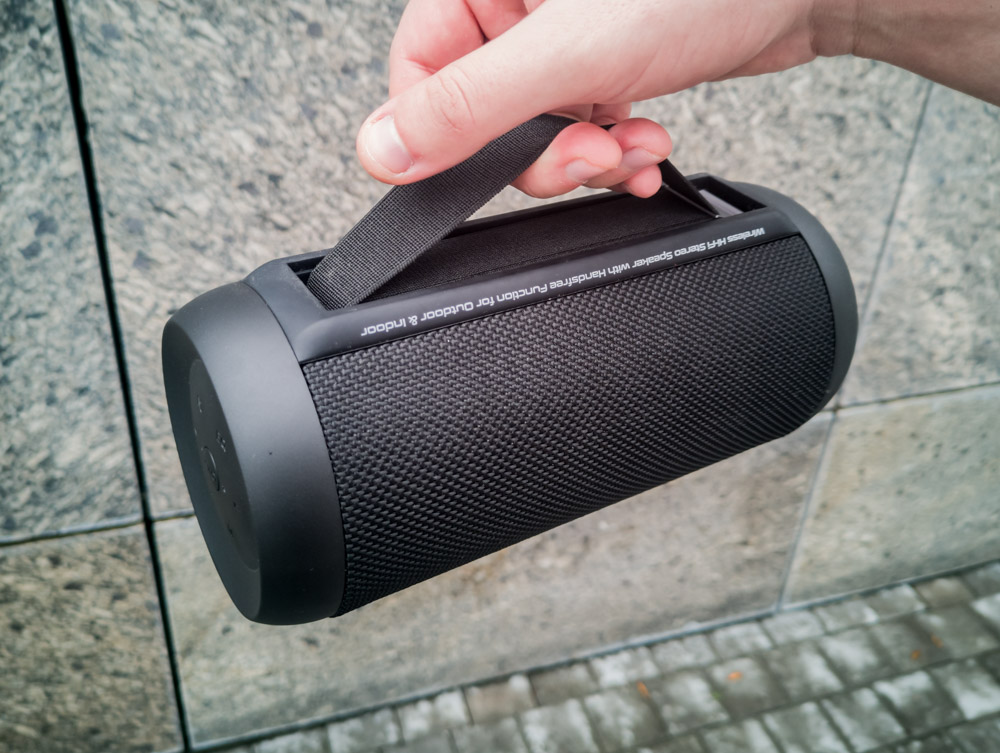 Duplex TWS mode is another cool feature that helps you to create a true stereo effect with two Promate Silox speakers. It works only via Bluetooth.
And finally, the speaker supports hands-free communication with the ability to reject an incoming call, switching to smartphone, and redialling the last phone number.
Promate Silox technical specifications
Bluetooth version: v4.2
Bluetooth-chipset: Actions ATS2825C
Bluetooth frequency: 2.4 GHz
Bluetooth profiles: HSP, HFP, A2DP
Bluetooth range: 10 m
Battery: 3.7 V, 6600 mAh
Battery type: Li-Ion
Power supply: 5 V, 2 A
Speaker power: 2 to 10 watts
Impedance: 6 Ohm
Playing time: 7 hours
Charging time: 5 hours
Design, materials and build quality
Promate Silox is a fairly large speaker with the popular barrel-shaped design. The main material is most likely a thick plastic. The middle part consists of loudspeakers, covered with a large nylon net, the ends of which are made of rubberized plastic with flexible rubber inserts above the moisture-protected buttons and a powerful rubber plug-cap, which covers the ports at the bottom.
The speaker can be installed in two positions – vertical and horizontal. For the second position, there is a flat pad made of the same rubberized material, which, in addition to providing the stability of the structure in a horizontal position, also contains a recess in which the elastic belt is hidden.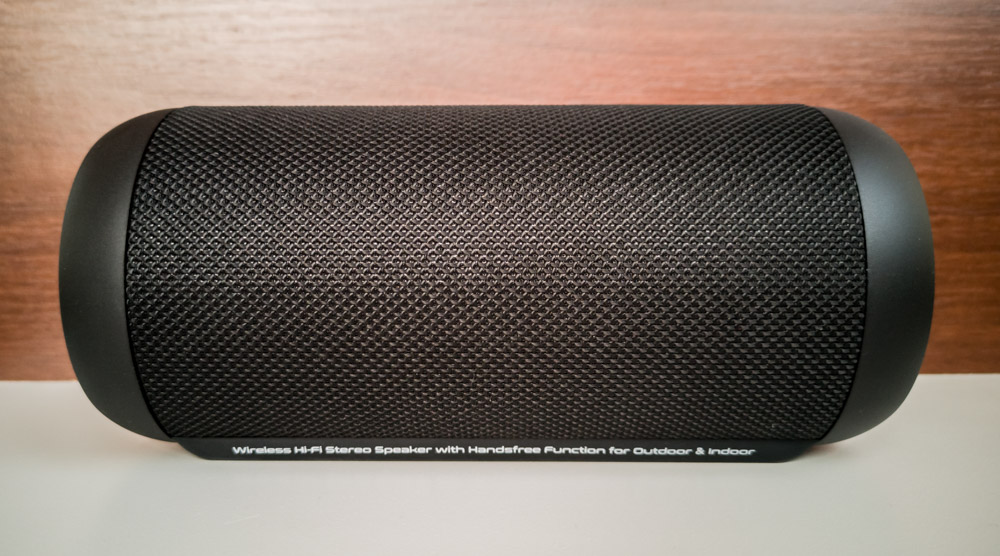 The belt can be used as a handle and as a strap for the hand (or to hang a speaker on a tree branch). For that there is a buckle that can be unfastened. In short, everything is there for your comfort.
The build quality of the Promate Silox speaker is excellent. There are absolutely no complaints. All details are adjusted precisely, there are no gaps, the materials are top-notch and pleasant to the touch.
Elements' configurations
At the top of Promate Silox there is an area with a block of multifunction buttons and 2 LED indicators. They provide full control of the of the speaker. The central button turns the device on and off, and also pauses the playback. Two buttons on the sides switch tracks and control the volume.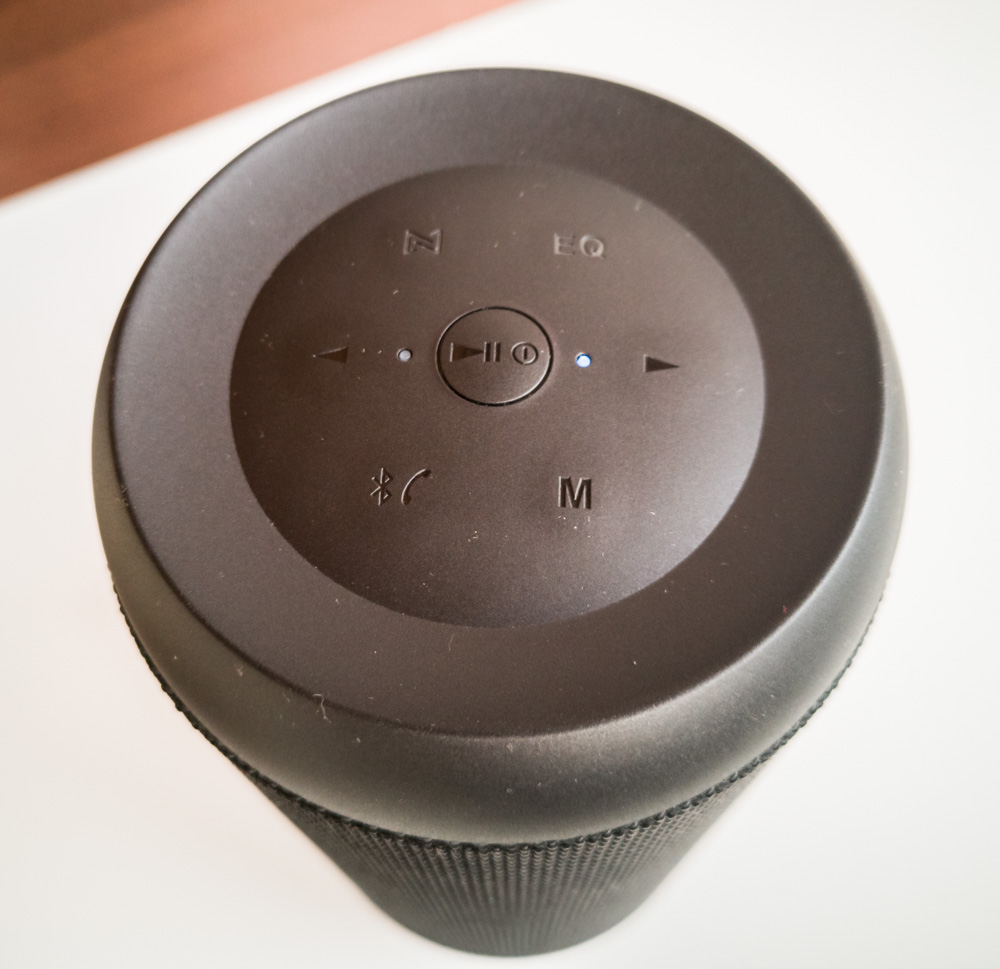 The other four buttons are for switching modes and activating other functions. I will not describe those in detail since there is an instruction manual for this.
On the bottom of the speaker there is a rubber stopper with a strap. When opening it we see the microUSB port for charging, microSD card slot, 3.5 mm AUX-input and … full-fledged USB-A port.
The inclusion of the latter puzzled me. It turns out that this is another bonus function of the speaker – it can double as a power bank! Yes, Promate Silox can charge your smartphone or tablet. Now that is cool. The function is, of course, non-essential, but still, a nice bonus.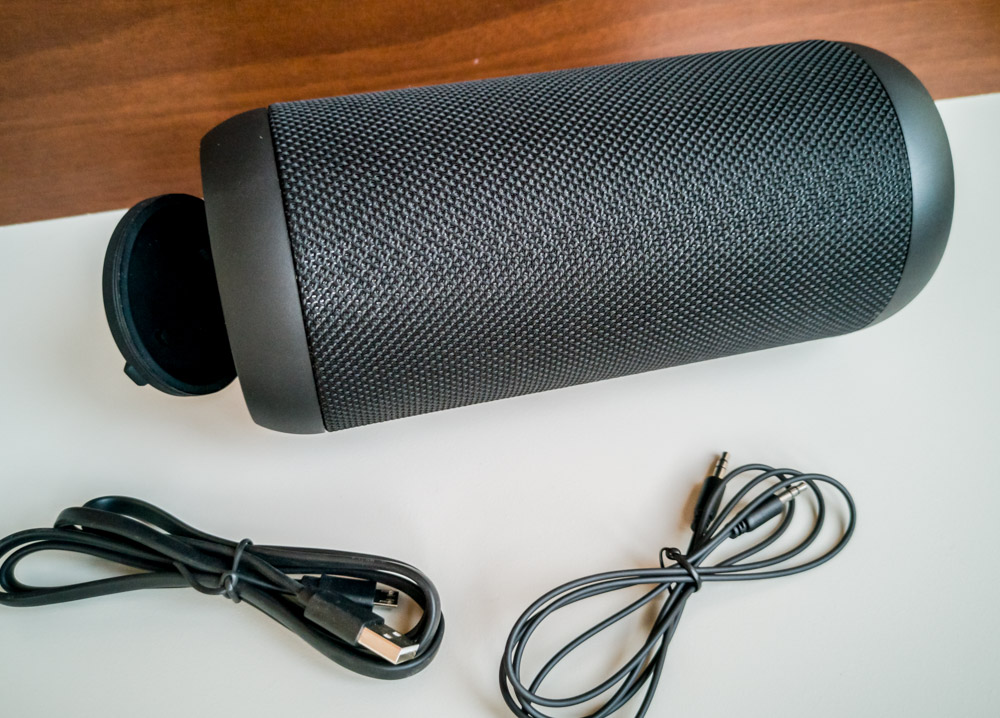 Sound
In general, I liked the sound of Promate Silox. There are two speakers and they are very powerful. In total, the speaker produces 20 watts. At the maximum volume there is no distortion. But be careful, the sound is so powerful that the vibration makes the speaker move on a flat surface when it is in a horizontal position (and it's not light). So yes, it can run away from you. Here is the proof:
When in vertical position the speaker is stable.
Of course, don't expect miracles. However, sound is good enough. Just remember: this is not a device for audiophiles. As an outdoor speaker, it's more than enough. The sound is loud and low frequencies are very pronounced. Although, highs and mediums are also present. The frequency range is well balanced. In addition, the speaker has a built-in equalizer with three presets, so you can choose the type of sound that suits you. You can be sure that on a picnic you'll be louder and bassier than anyone else.
Verdict
Promate once again pleasantly surprised me with a quality product. Promate Silox is a neat Bluetooth water-resistant speaker with rich and juicy sound. There are tons of cool features, which may not shock you, but are definitely welcome. $74 is a great price for such a device.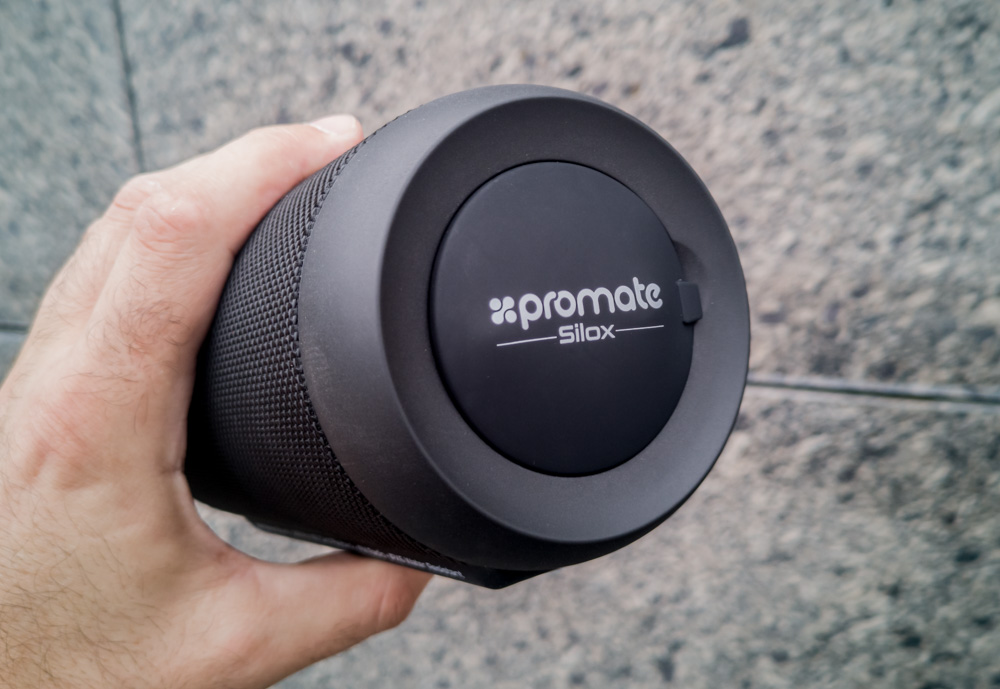 I can easily recommend the speaker to advanced teenage music lovers, those who love picnics with music and simply tourists. Wait till it's on sale and buy it right away.
All photos are from Huawei P20 Pro.