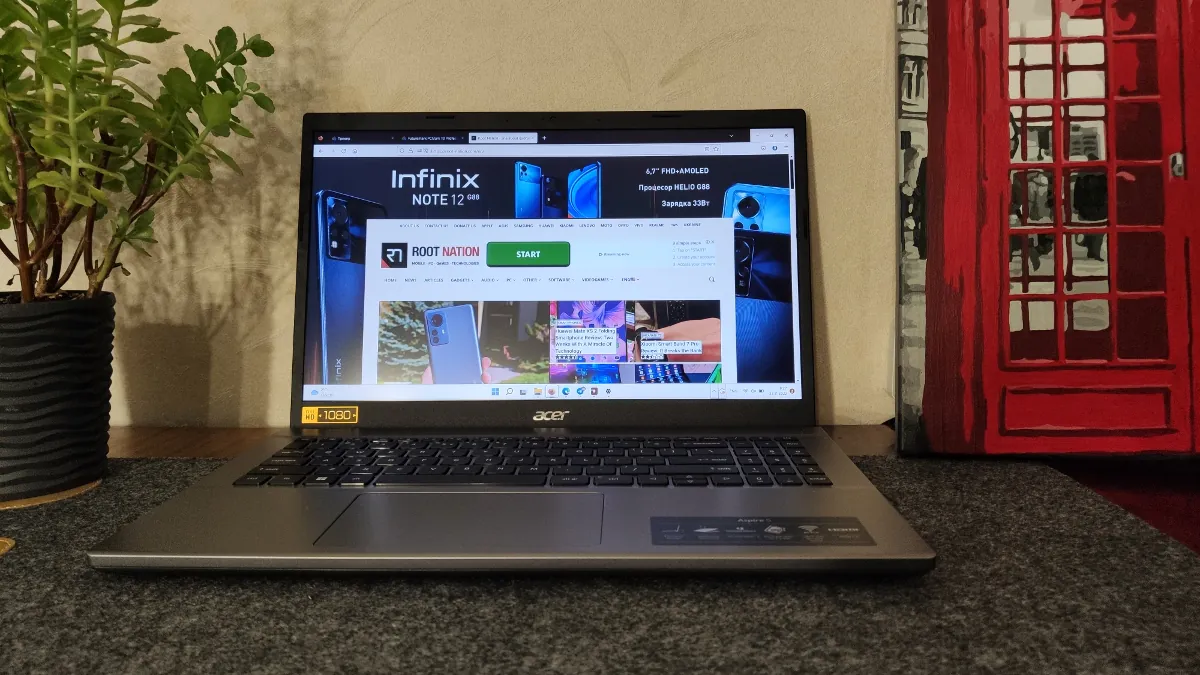 The Acer Aspire 5 line of laptops comes in a variety of configurations, including models for work and study, as well as advanced options with discrete graphics and touchscreen. However, they are united by the fact that all devices of the 2022 series are powered by the latest 12th generation Intel or AMD Ryzen 5000 series processors. We're reviewing the 15-inch Acer Aspire 5 A515-57, which is based on the latest Intel Core i3-1220P. This is an inexpensive productive device for everyday use, which has a very nice modern filling, but is not overloaded with additional features.
Read also: Acer Swift Edge review: sleek 16-inch laptop
Specifications of Acer Aspire 5 A515-57
Display: 15.6″, LCD, 1920×1080, 60 Hz, 16:9 aspect ratio, 142 ppi
Operating system: Windows 11 Pro
Processor: Intel Core i3-1220P, 10 cores (2 cores up to 4.4 GHz in Boost mode, 8 cores up to 3.3 GHz), 10 nm, 12 threads
Graphics: Intel UHDGraphics
RAM: 8 GB, DDR4-3200
Storage: NVMe SSD 512 GB (2×256 GB)
Interfaces: Wi-Fi 6 (802.11ax), Bluetooth 5.2
Camera: 0.9 megapixel, 720p
Ports: 3×USB-A 3.1, 1×HDMI, 1×USB Type-C 3.2 Gen2 (with Thunderbolt 4 and DisplayPort), 1×3.5mm combo audio jack, 1×LAN, Kensington Lock, power jack
Sound: 2 stereo speakers, dual microphone
Battery: 50 Wh, 65W charger
Dimensions: 36.29 × 23.78 × 1.79 cm
Weight: about 1.77 kg
Positioning and price
The Acer Aspire 5 series of laptops is a mid-range lineup that has many modifications to suit any need. First and foremost, these are devices for work and leisure, so the hardware is appropriate – productive, but not gaming. If you need gaming solutions, it is better to look for them in the Acer Nitro series.
One of the advantages of the Aspire 5 is its price – prices for the 2022 model range start at $630. And for this money, you can buy a model similar to our test laptop: with a 15.6-inch FullHD, but IPS screen, with Intel Core i3-1220P, 8 GB of RAM, 256 SSD, and integrated graphics. The price/ hardware ratio is very competitive.
Package contents
We have a test laptop, so it arrived in a simple cardboard box with a charger in it, in addition to the laptop itself. Of course, the version for sale will come with accompanying documentation, and possibly something else, but we're reviewing the basic package.
Read also:
Acer Aspire 5 A515-57 design
The design of the Acer Aspire 5 A515-57 surprised me very pleasantly. And here's why. A few years ago, when I was choosing a work laptop for myself, I was choosing between one of the Acer Aspire 5 versions (2020 or even 2019) and a 14-inch ASUS Zenbook ultrabook with similar characteristics. The Aspire 5 suited me in every way, and it was cheaper, but I didn't like its design at all. It was classic to the point of being insane: big, heavy, plastic, and with wide bezels. It was a kind of greeting from the past, although with a rather pleasant "filling". So then my choice fell on option #2. Why am I telling you this? The point is that if I were faced with a similar choice today, the design would definitely not prevent me from choosing the Acer model.
The 2022 Acer Aspire 5 looks much more modern and attractive. Yes, it's not a top-of-the-line laptop and it still has signs of an affordable device, but overall, the picture has improved. The device we reviewed is in noble gray, but it is also available in gold and green metallic colors.
The base of the case is made of plastic, but the top cover is metal and has a matte texture, so it practically does not collect fingerprints. It has a neat brand logo on top and decorative metal "legs" on the sides.
Below, on the beveled end, we see the name of the Aspire line and another pair of legs. Unlike the ones on top, these are made of either soft plastic or hard rubber, and they already serve as legs when the laptop is opened. By the way, the laptop can open 135 degrees, which helps to increase the intake of cold air and increases the keyboard angle to make typing more comfortable.
Turning the laptop over, we see 4 rubberized legs, symmetrical speaker grilles on the sides, and holes for cold air intake.
The hot air comes out of the holes at the back.
On the left side we see a power connector, a LAN port, HDMI, a pair of USB-A and Type-C with Thunderbolt 4.
On the right side are charging indicators, a combined 3.5 mm jack, another USB-A jack, and a Kensington lock keyhole.
The screen is framed by quite noticeable bezels, of which the lower one with the logo stands out. The keyboard here is full-fledged, with a number pad, and a touchpad is located below it.
Acer Aspire 5 A515-57 Display
The screen in the test model is a 15.6-inch FullHD LCD with a refresh rate of 60 Hz, an aspect ratio of 16:9, and a pixel density of 142 ppi. The display is not bad, but it has all the features inherent in its type.
It does not boast wide viewing angles, and the color reproduction changes with some deviation. In addition, although there are no complaints about the brightness, it lacks a little contrast. However, it is convenient to work with the information on the screen and your eyes do not get tired. So, the device is not designed for designers and graphics work, but it is well suited for office use and study.
Read also: Acer Predator Helios 300 (2022) gaming laptop review
Keyboard and touchpad
The keyboard is of the island type and has a Numpad. Unfortunately, our version does not have a backlight. The top row of keys, as well as the "calculator" on the right, have more compact dimensions compared to the others, but this does not interfere with work. The key stroke is standard for laptop keyboards, the keystroke is quite quiet, everything is quite familiar.
As for the touchpad, it's large and comfortable and has two hidden buttons on the bottom. Well, as in most laptops. And some modifications of the Acer Aspire 5 A515-57 also include a fingerprint scanner, which is located in the upper left corner.
Hardware and performance
The Acer Aspire 5 A515-57 uses 12th generation Intel processors, and our sample has an Intel Core i3-1220P. The chip is made on a 10-nm process technology, has 12 threads and 10 cores, including 2 powerful cores that can overclock to 4.4 GHz in Boost mode, and 8 energy-efficient cores up to 3.3 GHz. In the review model, the graphics are processed by built-in Intel UHD Graphics, although there are modifications with discrete solutions.
There is 8 GB of DDR4-3200 RAM, which consists of two modules of 4 GB each. If desired, it can be expanded to 32 GB, or even all 64 GB – this is the maximum amount supported by the processor and motherboard.
For data storage, Acer Aspire 5 A515-57 has a pair of 256 GB NVMe SSDs. As for wireless modules, the laptop includes Wi-Fi 6 and Bluetooth 5.2.
In terms of performance, it's more than enough for everyday workloads and multitasking – surfing, making work calls or studying remotely, working with texts, tables, presentations, watching videos, processing images, etc. It's nice to be able to increase the size of the RAM, because 8 GB is almost there for 2022. Of course, the laptop is not suitable for gaming – something old and "light" will work on it, but it is not suitable for serious gaming.
The results of some tests can be found here:
Read also:
Camera, sound and microphones
All you need to know about the camera in the Acer Aspire 5 A515-57 is that it's there and can be used for video calls. The camera module with a modest 0.9 megapixel resolution transmits an image of sufficient quality for the person on the other end to see you clearly, but you don't need to expect more from it. To transmit sound, it uses several microphones located on both sides of the camera. And they are enough for calls.
As for the sound, there are a pair of stereo speakers located at the bottom on both sides. When making calls or watching conversational videos, everything is heard well, cleanly and clearly, but this is not the best option for music. The sound is rather flat, because there is minimal bass, so you won't be able to fully enjoy a piece of music. However, they are enough for other use cases.
Acer Aspire 5 A515-57 battery life
The battery here is 50 Watt-hours and is charged by a 65-watt charger.
Given the capacity and well-balanced energy-efficient filling, you can expect 6-7 hours of operation on a single charge under normal load (working with browsers, texts, email, etc.) not at maximum brightness. With more "heavy" tasks that load the processor from the heart, the battery life will last for 1.5-2 hours. This is what happened to me when using some benchmarks – in an hour, 18% of 70% remained. This is not surprising, because the tests overclock the hardware to the maximum.
Conclusion
The Acer Aspire 5 A515-57 is a good choice for students, pupils, office use and just for undemanding users looking for a good balance between price and quality. The 2022 model attracts with a modern design with a metal lid surface, a productive fresh 12th-generation Intel processor that copes with everyday workload, good battery life, and support for the latest interfaces, including Wi-Fi 6 and Thunderbolt 4.
Yes, there are questions about the display quality, but it is very likely that these questions arose specifically for the sample. In any case, the lineup includes various models that will satisfy even more demanding users.
Читайте також: