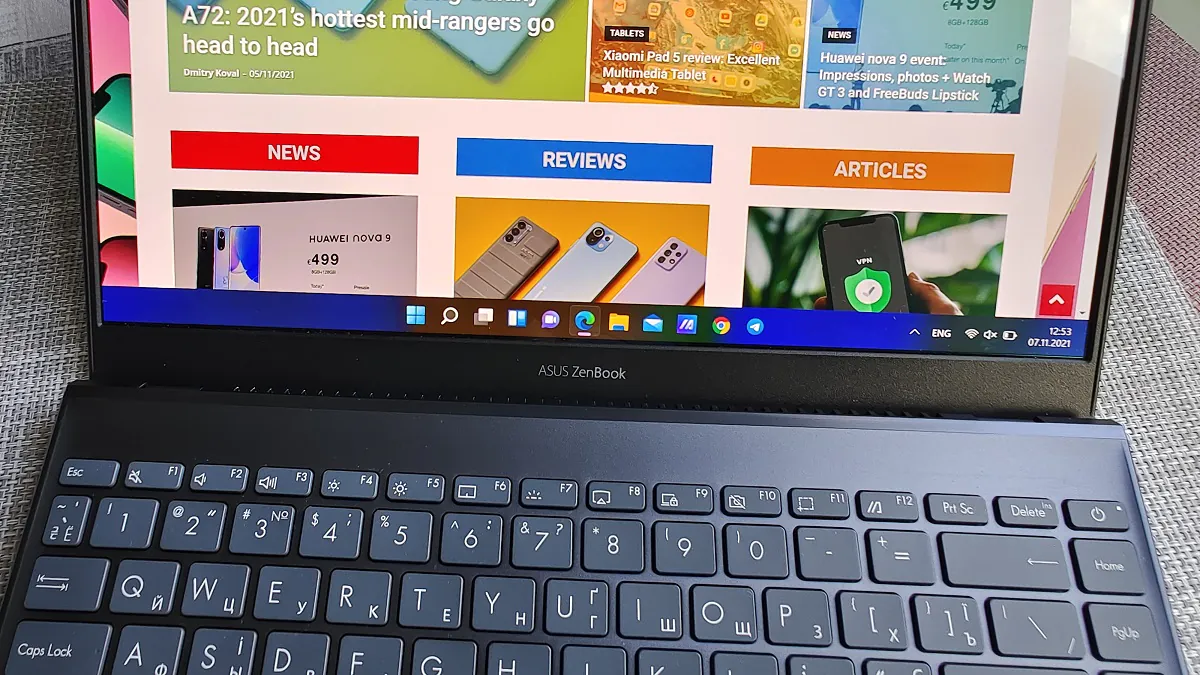 The ASUS ZenBook 13 OLED (UX325) is a 13.3-inch Ultrabook that delivers superb experience thanks to its OLED screen. But what else does it bring to the table?
ASUS has been in the notebook market for a long time. Its ZenBook series devices are very popular, and for a good reason. Laptops in this series always impress with their sleek design, innovative solutions and power in a slim package. ASUS ZenBook is usually cool, stylish and exciting. Sometimes it looks like a device from the future.
OLED displays in smartphones are a norm now, and now it's time for laptops to catch up. You need to understand that the production of such screens is still quite expensive, but ASUS has been developing OLED devices for some time. They have the means.
I was looking forward to seeing an OLED display in the ZenBook series as well. After testing the ASUS ZenBook 13 (UX325) ultrabook last year, I really wanted the company to release something similar, but with an OLED screen. And they did just that and presented the ASUS ZenBook 13 OLED (UX325). Let's take a look at it.
Full specifications of the ASUS ZenBook 13 OLED (UX325JA)
| | |
| --- | --- |
| Processor | Intel Core i5-1035G4, 4 cores, 8 threads, 1.1 – 1.5 GHz |
| Video accelerators | Iris Plus Graphics |
| RAM | 16 GB LPDDR4X-3200 |
| Drive | Samsung MZVLQ512HALU-00000, 512 GB |
| Display | 13.3″, 1920×1080, OLED, 60 Hz |
| Communications | Intel Wi-Fi 6 AX201, Bluetooth 5.0 |
| Connectors | 1× USB Type-A 3.2 Gen 1, 2× USB Type-C 3.2 Gen 1 (Display Port + Power Delivery), 1× HDMI 2.1 |
| Webcam, microphone | Available |
| Protection | MIL-STD 810G |
| Additionally | Keyboard backlight, USB-A-Ethernet and USB-C-3.5 mm Mini Jack adapters |
| Battery | 67 Wh, Li-ion |
| Dimensions | 304.2×203.0×13.9 mm |
| Mass | 1.14 kg |
| | |
| | |
Why ASUS ZenBook 13 OLED (UX325)?
ASUS ZenBook series laptops have always been distinguished by grace, lightness and elegance. But our model is interesting, first of all, for its bright OLED display that is just great for creative users who do a lot of editing.
The laptop itself looks very elegant, every detail is carefully crafted, you can feel the style and grace of the ZenBook series. But this 13.3-inch model will also delight you with a powerful 10th generation Intel Core i5 processor, which paired with a graphics video accelerator Iris Plus Graphics will surprise you with its power and high performance. There's also fast 16 GB RAM and a 512 GB SSD from Samsung. It's perfect for Windows 11, however, you will have to manually update it.
In addition, the new product from ASUS has a compact size and weights only 1.14 kg. This laptop will become your indispensable companion in the office, at home, at the university or on a business trip. And all this splendor starts at just $1071, which is incredible for a device with an OLED display. I spent three weeks with the notebook and, to be honest, I didn't want to part with it.
What's in the box
The hero of the review comes in a small original gray box with the ZenBook logo and two lines resembling the letter V.
Inside, in addition to the ultrabook itself, there is a charger, a fabric cover for transportation, as well as two interesting adapters with USB Type-C. One is for an Ethernet cable, and the other is for connecting a wired headset. The usual set for a modern ultrabook.
A little about the laptop case. It is made from fabric, and it's pleasant to the touch and easy to carry. The device fits easily in it and sometimes it even resembles a tablet because it's so compact and thin. I wish there was a pocket for adapters though.
Read also: ASUS ZenBook Pro Duo UX582 Review: 4K OLED, GeForce RTX 3070 and… Two Screens
Design
Honestly, I have always been fascinated by the design of the ASUS ZenBook series. The Taiwanese company always manages to create a compact, elegant device. The ASUS ZenBook 13 OLED (UX325) is no exception.
In terms of design, the ZenBook 13 OLED is nearly identical to the ZenBook 13 UX325 I reviewed a couple of months ago. That's not bad, as the design of the previous ZenBook 13 already looks beautiful and premium, with the concentric circle texture on the lid and the brushed metal finish.
I reviewed the Pine Gray model, but there is also a Lilac variant. The ASUS ZenBook 13 OLED (UX325) boasts a compact, thin and ultra-light all-metal design with a thickness of 13.9 mm and a weight of 1.14 kg. Its dimensions are 304.2×203.0x13.9 mm. It is quite a small, compact ultrabook. It doesn't take up much desk space, it's convenient to carry around, and it fits easily into your bag.
Despite its sleek design and slim design, the ASUS ZenBook 13 OLED (UX325) has been tested to meet current US military MIL-STD-810G standards for reliability and durability. In particular, the ultrabook has passed a number of tests: it is very resistant to vibration, withstands drops from a certain height, and also works great at low temperatures down to -33° C. Of course, this does not mean that you should toss it around, put it in the refrigerator or roll it in a centrifuge. But I tried dropping it from a height of 80 cm, and he remained safe and sound.
The laptop is equipped with a proprietary ErgoLift hinge, which raises the keyboard to a more comfortable angle when you open the lid. By the way, it is very easy to open the laptop lid with one hand and immediately start using the device, but the angle of inclination of the lid is fixed. By the way, the maximum angle of inclination of the lid is not more than 150°.
At the bottom there are four rubberized feet that allow the laptop to lie firmly on a flat surface. A strip of ventilation grilles can also be seen here. However, there is one caveat. If you often work with the device on your lap, you can cover some of the grates and feel hot air coming out from the inside.
The front has two Harman Kardon certified speakers on both sides. The inscription under the keyboard will also remind you about this. The speakers themselves are quite loud and have a rich sound. They are enough for watching video content, but for music it's better to use a headset.
Almost the entire front panel is occupied by a screen with rather thin bezels. True, the top and bottom bezels are slightly thicker. On the top one there is a rather interesting webcam with an IR sensor to support the Windows Hello function.
I really like this feature in modern laptops. No need to waste time entering a password or PIN, just open the device, look at the camera and you're in. Very convenient and practical. The screen itself occupies 88% of the usable area.
Read also: ASUS ZenBook Pro Duo UX581GV review – Unique Laptop of the Future
Keyboard and touchpad
The keyboard is located under the screen, and if you have worked with a ASUS ZenBook at least once, you will notice how comfortable their keyboards are for typing. With the  ASUS ZenBook 13 OLED (UX325), we also get a very comfortable, albeit slightly truncated, keyboard without a numeric pad. The keys are very pleasant to the touch, they have a fairly quiet and clear, albeit short (1.4 mm) stroke. Typing on such a keyboard is a pleasure. I am typing blindly, but there have never been any mistakes. The keyboard has a pretty nice adjustable three-level white key backlighting.
A few nice words about the touchpad. I haven't used a computer mouse for quite some time now. Modern laptop touchpads have practically replaced it for me. My mouse is now being used only for games. The touchpad of the ASUS ZenBook 13 OLED (UX325) is quite large, slightly elongated horizontally. It is pleasant to the touch, quite smooth, sensitive to finger movements, and it supports Windows 11 gestures.
There are several interesting features here. A swipe in the upper left corner launches the calculator, and if you click on the icon in the upper right corner, you activate the NumPad.
A very cool and handy feature. It will take you a while to get used to it though.
Read also: ASUS ZenBook 13 (UX325) review: New Member of the ZenBook Family
Are there enough ports and connectors?
This is a question I often hear from friends and acquaintances when they are interested in thin ultrabooks such as the ASUS ZenBook 13 OLED (UX325). Nevertheless, the compactness and small thickness of the case often limits the number of ports and connectors. In our case, too. In ASUS ZenBook 13 OLED (UX325) there are not many of them, although they are quite enough for work.
The right side houses one full-size USB Type-A 3.2 Gen 1 port and a slot for a Micro SD memory card. Just below the power-on indicator.
On the left we also have two Thunderbolt 3 ports in USB Type-C format and an HDMI 2.1 video output connector. There is also an LED indicator that turns on when the laptop is charging.
It would seem not a lot, but we also have two adapters at our disposal. One with USB Type-A to Ethernet, which will allow you to use wired Internet, and the second from USB Type-C to 3.5 mm audio jack, which will allow you to connect a wired headset.
The 65 W charger is powered by a USB Type-C port, and if you also connect both adapters, then only the HDMI 2.1 video output connector remains free.
This is a bit like the situation with the MacBook and a sea of adapters for it.
Read also: ASUS ZenBook Pro Duo UX582 Review: 4K OLED, GeForce RTX 3070 and… Two Screens
Fantastic OLED display
But still, the main feature here is the OLED display. Until recently OLED screens in laptops seemed unrealistic. But we've come a long way.
The ASUS ZenBook 13 OLED (UX325) features a gorgeous 1920×1080 13.3-inch OLED display from Samsung with a 60Hz refresh rate. The OLED panel allowes the laptop to display very nice, vibrant colors, with deep blacks. The matrix itself boasts 100% DCI-P3 coverage and 88% Adobe RGB coverage, as well as certification from Pantone.
I was particularly impressed by the excellent uniformity of brightness and color temperature across the entire display area. It is also worth noting that this display has maximum viewing angles. In other words, there is practically no color distortion from any view angle.
This is truly one of the best screens available today, and definitely the best screen you can get in a 13-inch laptop. In terms of its visual qualities, it is as close as possible to a Smart TV. Colors are displayed very vividly and I was able to notice a big difference in image quality between a 1080p video and a 4K YouTube video.
The MyASUS app allows you to customize the display settings to suit your specific needs. There is an interesting option here called Tru2Life, which should improve the visual quality and make the image even more realistic. You will definitely notice the difference, but the default settings are also pretty good.
Read also: ASUS ROG Zephyrus Duo 15 review – Premium Gaming Laptop with Two Screens
Enough power for everyone
Good performance is as important as looks. In this regard, the ASUS ZenBook 13 OLED (UX325) will definitely not disappoint you. The hero of my review boasts a quad-core Intel Core i5 1035G4 processor. It is a 10th generation Ice Lake U chip based on the Sunny Cove architecture. The processor is based on 10 nm technology and has 4 cores and 8 computational threads. It operates at a base frequency of 1.1 GHz, and in Turbo mode its frequency can be increased to 3.7 GHz.
The base frequency of the laptop can be reduced to 800 MHz or increased to 1.5 GHz. You can also set the TDP to less than 12 W or more than 25 W, here ASUS left the base 15 W. The processor is complemented by integrated Gen 11 Iris Plus Graphics. With 16GB of LPDDR4X RAM running in dual channel mode, this laptop can take full advantage of  the graphics core.
It should be noted that the performance of this graphics accelerator is enough for comfortable use when performing office tasks, as well as for watching video content from YouTube. In terms of gaming capabilities, it is sufficient for simple games or newer games with low graphics settings.
In terms of storage, you get Samsung MZVLQ512HALU-00000 512 GB M.2 NVMe SSD.
For comfortable work, it is quite enough. The new Windows 11 runs great on such a device.
The laptop is equipped with the Intel Wi-Fi 6 AX201 module, which supports the IEEE 802.11ax protocol and Bluetooth 5.0. In other words, with a Wi-Fi 6 router at home, you will be able to enjoy the benefits of wireless connectivity. I have never had any problems while using the ultrabook.
Read also: ASUS VivoBook S15 M533IA review. Metal-clad mid-ranger
Cooling and operating noise
The laptop is cooled by one fan. Cooling air is drawn in from the bottom of the laptop base. The air outlet is located at the back between the hinges. The best conditions for cooling are in the so-called operating mode A, when the base has the greatest space for air inlet and the outlet is freely directed upwards.
The laptop is very quiet. The fan does spin, but it is so quiet that you can only hear it if you literally put your ear to the keyboard or bring it closer to the bottom of the laptop. You will be able to feel the warmth in the space above the keyboard and below the display.
Under load and during tests, the laptop is noticeably warmer to the touch, more on the left side of the keyboard, but it is still comfortable to work with. The fan works noticeably louder, but at an acceptable level; ambient noise or medium volume music can easily drown it out.
Great battery life
It is very rare to find an Ultrabook with good battery life. Less impressive batteries are a trade-off due to ultra-portable dimensions, but the ZenBook 13 OLED is different. It uses a 67 Wh 4-cell battery that's supposed to be good for 16 hours. But, of course, in practice, the declared parameters are rarely correct. I found that the battery lasts about 14 hours on a single charge. Quite a good result. If you have a 100% charged battery right at the start of your work day, then your next day will start with about 30-35% remaining. And this is based on the assumption that you have an 8 hour work day and are using your laptop in moderation.
I was wondering how the gluttonous OLED panel would behave. The results are more than satisfactory. Of course, it consumes a little more energy than an IPS matrix, but the trade-off is worth it.
Plus, the ASUS ZenBook 13 OLED (UX325) comes with a 65W fast charge adapter, so it takes about 2 hours to fully charge.
Should you buy the ASUS ZenBook 13 OLED (UX325)?
With the arrival of OLED panels, the ultrabook world has changed forever. This small, compact, but at the same time powerful laptop will not leave you indifferent. Right now I myself really want to buy the ASUS ZenBook 13 OLED (UX325). I am so used to it that it will be very difficult for me to go back to my Huawei MateBook X Pro now.
The ASUS ZenBook 13 OLED (UX325) has a stunningly elegant design, compact size, great build and a fantastic display. It's almost perfect. Of course, it is worth mentioning the keyboard, which takes getting used to in the early days, the sometimes annoying random operation of the NumPad, and the small number of ports, but all these disadvantages are covered by one significant plus – the OLED display. You need to see it for yourself.
Who should buy it? The ASUS ZenBook 13 OLED (UX325) is not your typical ultrabook. It is a powerful machine for those looking for the visual benefits of an OLED screen in a lightweight and portable design.
Pros
excellent design, compact size
slim body
high quality OLED display
sufficient performance
excellent battery life
quiet operation cooling system
moderate cost, for OLED
Cons
a small number of ports and connectors
keyboard and touchpad take some getting used to
Read also:
Subscribe to our accounts: