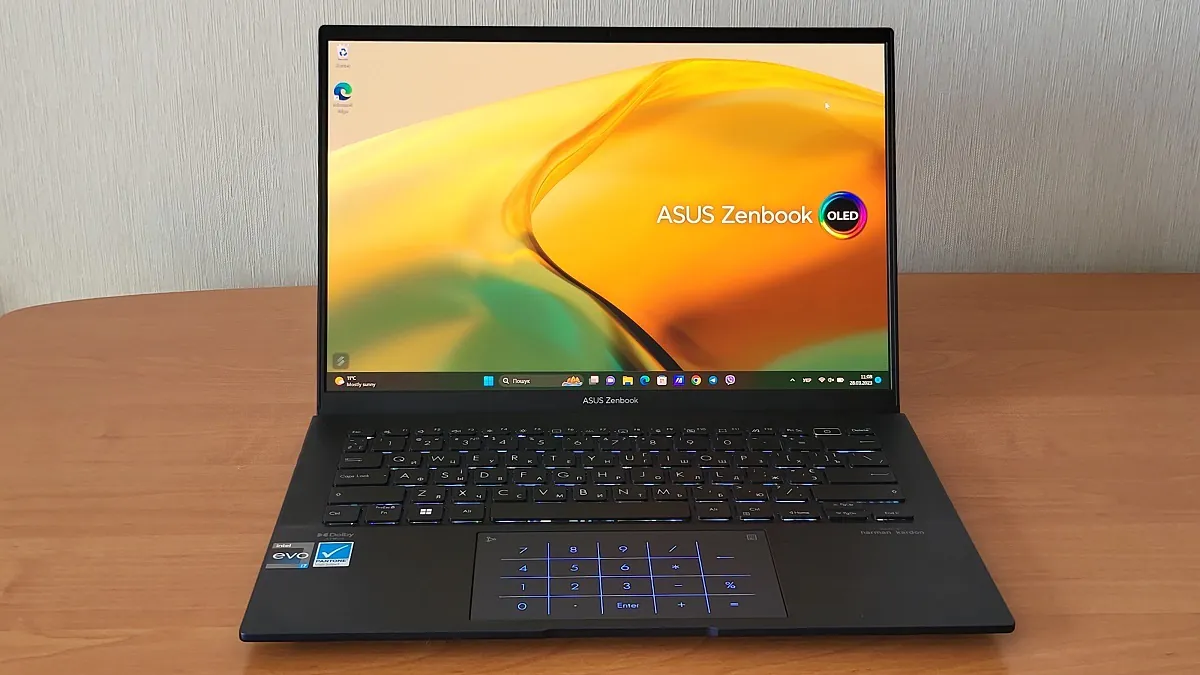 A gorgeous OLED screen, an Intel Core i7-1260P processor, elegant design, and a capacious battery – all this is ASUS Zenbook 14 OLED. Today in our review, we're going to talk about this ultraportable laptop.
Recently, ASUS has begun to use OLED technology very actively in its devices, and the manufacturer equips most of the new laptops for everyday use of the Vivobook series, Zenbook business models, and ProArt Studiobook for professionals with this type of matrix. We have already had the opportunity to test several of these devices from ASUS, and the screen was undoubtedly one of the biggest advantages of these laptops.
Now our editorial team has received the Zenbook 14 OLED (UX3402), which seems to be a really attractive offer for those looking for an efficient, mobile and elegant laptop at a good price (perhaps not the cheapest offer in this segment, but it is still at the bottom of the offerings among devices with such matrices). So let's see if this is actually true.
Read also: Huawei MateBook 14s laptop review: 90 Hz and premium design
What is interesting about ASUS Zenbook 14 OLED (UX3402)
ASUS Zenbook 14 OLED (UX3402) is, as the name implies, a 14-inch laptop equipped with an OLED panel, which we already know from the Zenbook 14X OLED (UX5401E). However, its advantage is not only the type of matrix, but also the high resolution (2880×1800 pixels) and 90Hz refresh rate, plus support for touch and stylus. The heart of the laptop is a powerful Intel Core i5-1240P or Intel Core i7-1260P processor (12th generation, i.e. Alder Lake series), supported by an integrated Intel Iris Xe graphics card, 16 GB of LPDDR5 RAM, and 512 GB NVMe PCIe 4.0 SSD. As you can see, the hardware has very solid specifications that should satisfy the target user. We also expect a long battery life, which, combined with a mobile and stylish design, can make this product a success.
Of course, with such a powerful, modern filling, you shouldn't expect an ASUS laptop to be cheap. ASUS Zenbook 14 OLED model UX3402 with Intel Core i5-1240P processors can be bought for as little as ∼$1300, but for a more powerful configuration with Core i7-1260P you will have to pay ∼$1500. Our device has the older processor model. Yes, this is a rather high price, but believe me, it's worth it. I was convinced of this when testing the ASUS Zenbook 14 OLED (UX3402).
ASUS Zenbook 14 OLED (UX3402) specifications
Model: ASUS Zenbook 14 OLED (UX3402Z)
Processor: Intel Core i5-1240P (12 cores / 16 threads), up to 4.4GHz, 12MB cache; or Intel Core i7-1260P (12 cores / 16 threads), up to 4.7GHz, 12MB cache
Video card: Intel Iris Xe 1.3 GHz (integrated)
Screen: OLED, 2880×1800, 16:10, 14 inches, 90 Hz, optional touch (Samsung SDC4171)
RAM: 16 GB LPDDR5 4800 MHz (dual channel)
Drive: SSD M.2 PCIe 4.0 1 TB (Micron_3400_MTFDKBA1T0TFH)
Ports and connection interfaces: 2x Thunderbolt 4 / USB 4 (DisplayPort and PowerDelivery), USB Type-A 3.2 Gen2, HDMI 2.0b, 3.5 mm jack, microSD reader
Operating system: Windows 11 Home 64-bit
Battery: 75W
Audio and video: stereo speakers, 720p webcam
Connectivity: Wi-Fi 6e and Bluetooth 5.3 (Intel AX211)
Dimensions: 313.6 × 220.6 × 16.9 mm
Weight: 1.39 kg.
Package contents
ASUS Zenbook 14 OLED (UX3402) is packaged in a black and grey cardboard box with a traditional ASUS laptop carrying handle. The front of the box practically repeats the lid patterns, and the name of the device can be seen in the left corner. If you want to find out more information about ASUS Zenbook 14 OLED (UX3402), you can find it on the sides of the box.
I like the way ASUS places its Zenbooks inside the box. The device itself is placed on a special pedestal, and all the accessories are in special cardboard pockets on the sides. The laptop also comes with a leather case, which is located in a niche under the top lid of the box.
In addition to the ASUS Zenbook 14 OLED (UX3402) and the aforementioned protective case, the box contains a USB Type A to RJ45 adapter for connecting to the wired Internet, a power supply with a connected cable, as well as various paper documentation with instructions, a warranty card, etc.
Surprisingly, the power supply is quite compact and lightweight, with dimensions of 63×101×29 mm and weighing only 227 g. It is marked W19-065N2B. The power supply unit is marked with a rated power of 65 W at 20 V of converted DC voltage. The built-in "euro plug" is not grounded and seems to be removable, but I did not dare to check it, because then I would have to disassemble the entire power supply.
Now a few words about the case. It's nice that ASUS cares about its customers. I am sure that many people will find this protective case useful.
The back is made of faux leather with the words "Zenbook" embossed on it, and the front is made of durable fabric. There is even a place for a stylus inside.
It's a pity, however, that this time ASUS didn't bother to add a stylus to the set, as it did before. The case is a great addition that will allow you to carry the laptop in your bag and not worry about the integrity of the device.
Read also: Acer Aspire Vero review: Eco-Friendly Laptop
Ultra-portable Max-Q design
ASUS has already accustomed us to a certain style and build quality of Zenbook laptops, and the tested model maintains the high standards of this series, but at the same time has received a clear design update. This means that this time we don't see the characteristic Zen pattern of concentric circles on the lid, but instead the manufacturer has opted for a smooth surface with engraved straight lines that create geometric shapes.
We must admit that this solution looks not only elegant but also stylish. The colour versions of the case also contribute to this. I tested the dark blue Ponder Blue version, but the Aqua Celadon is also available as an option. Almost the entire body, including the lid and control panel, is made of matte aluminium, which is quite practical, although it still collects fingerprints (though not as much as shiny surfaces).
Speaking of dimensions, this year's ASUS Zenbook 14 OLED has only 313.6 × 220.6 × 16.9 mm and weighs 1.39 kg. That is, we are dealing with a very compact and mobile device that is convenient to take with you on a trip or to a business meeting.
We should also note the restrained branding of the product, as two small ASUS Zenbook logos can be found only under the screen and on the bottom edge of the lid.
ASUS Zenbook 14 OLED makes a great first impression thanks to attention to such details as the design of the hinges (they allow you to open the lid very smoothly 180 degrees), bevelled edges, very thin bezels around the screen, including the bottom, which is quite rare nowadays. The use of ErgoLift technology hides part of the bottom bezel, making it almost invisible to the user.
In addition, when the lid is opened, the hinge slightly raises the back of the keyboard, tilting it towards the user, which improves the comfort of use and allows airflow from below. Moreover, the whole structure looks very sturdy, thanks to the materials used. Both the lid and the working panel are rigid, although the keyboard bends slightly under pressure in the middle area, but this does not affect the comfort of use.
I had no comments on the quality of workmanship, because both the materials and the fit of the individual elements are of the highest level. Nothing squeaks or wobbles, even when the device is excessively squeezed. What's more, the laptop has received the MIL-STD-810H protection certificate, which is used by the US Army. This certificate proves that the laptop can withstand a lot of negative impacts, such as extreme temperatures, drops from a low height, humidity, etc. In addition, the screen is protected by Corning Gorilla Glass.
Read also: MSI Katana GF66 11UD review: versatile gaming laptop
Ports and connection interfaces
ASUS Zenbook 14 OLED users will not have to complain about the number and variety of ports. Yes, there aren't too many of them, but this is compensated for by the variety of choices. However, on the left side we find only a full-size USB 3.2 Gen 2 and fan grilles. Although there is still enough space.
On the right side, there are two Thunderbolt 4 ports (supporting USB-C Power Delivery and DisplayPort 1.4 technologies and providing a maximum bandwidth of 40 Gbps), an HDMI 2.0b connector, a 3.5 mm Combo Audio Jack for headphones and a microphone, and a microSD card slot. We didn't find a LAN port, but this is probably due to the small thickness of the laptop case. There is a place for a USB Type-A to RJ45 adapter for gigabit Ethernet, although I'm sure that another USB Type-A port would not hurt anyone. But overall, it's not bad, considering the size and weight of the laptop.
In the new ASUS product, the very popular Intel AX211 network card is responsible for wireless connectivity. It should be noted that this is a system that supports Wi-Fi 6E with a maximum transmission speed of 2402 Mbit/s with support for 2.4 GHz, 5 GHz and 6 GHz bands and a channel width of 160 MHz. Wi-Fi 6E technology is gradually becoming standard for new ultrabooks (especially in this price range), so its presence is not surprising, and we would rather be surprised if it were not. ASUS Zenbook 14 OLED also has Bluetooth version 5.3 support for connecting devices. In all cases, the connection was flawless during the tests, and the Wi-Fi transmission speed was really fast (up to 900 Mbit/s).
As you can see, the ASUS Zenbook 14 OLED can please with a modern set of connection interfaces and a sufficient number of ports, even despite its slim body.
Comfortable keyboard
When you first open the lid of a laptop, you can't help but notice a very good and comfortable keyboard. In general, I believe that the keyboard in the ASUS Zenbook series is one of the most comfortable.
In Zenbook 14 OLED- (UX3402), the keyboard is not much different from that of its predecessor, although the layout has changed slightly. So, once again, we get an island design with clear key spacing with a typical 1.4 mm pitch, comfortable caps with a 0.2 mm curvature and clear feedback, which makes typing very comfortable.
This is also facilitated by the fact that the keyboard lies on the tabletop with a slight inclination towards the user. The fact is that tilting the lid above 90 degrees raises the back of the laptop by 3 degrees, improving ergonomics while typing. This time, the power button is not located in the upper right corner of the keyboard, as the Delete button is now located there, but a little to the left of it. It is highlighted with a white frame for convenience.
I had to get used to this location of the power button, as I missed it several times and accidentally turned off the laptop, which was unpleasant.
In addition, the group of keys PgUp, PgDn, Home and End has disappeared on the right side. The absence of a number pad is not surprising in this type of laptop, but it seems that ASUS did not fully use the space on the sides of this model, which is better used in the Zenbook 14X OLED UX5401E. I'm also not a big fan of the thin directional arrows, but I have to praise the numerous shortcuts that can be very useful.
Although, as I have already said, the keyboard itself is very convenient to use, you quickly get used to it, which is a big plus. Among the advantages, it is also worth noting a qualitatively implemented 3-stage white backlight.
It is very convenient in the dark, especially since you can adjust its brightness using the F7 key.
Touch panel with NumberPad 2.0
Once upon a time, the introduction of NumberPad 2.0 technology in the ASUS Zenbook series caused a real sensation among users. It qualitatively distinguished the ZenBook touchpad from its competitors. This time, however, the touchpad does not act as an additional display, but thanks to NumberPad 2.0 technology, it can turn into a numeric keypad. This solution may not be as convenient as a physical number pad, but it largely compensates for its absence.
You can switch from a traditional touchpad to the NumberPad by holding down the icon in the upper right corner of the touchpad, and then an illuminated grid with numbers and other symbols appears. We can even adjust the intensity of this backlight by holding the icon in the upper left corner.
What's more, even when the NumberPad is active, intelligent software allows you to use the touchpad to control the cursor. In addition, the touchpad surface area is quite large (130×74 mm), has very good glide and precise buttons, despite the monolithic design, and at the same time perfectly copes with gestures, even with four fingers. This is very convenient when working with applications and programmes.
Read also: ASUS ROG Flow Z13 Review: Monster Tablet with GeForce RTX 3050 Ti and Core i9
Incredible 2.8K OLED display with 90Hz refresh rate
One of the main advantages of the laptop in question is the presence of an OLED display, which is still quite rare on the PC market. It's the same panel as the Zenbook 14X OLED (UX5401E), i.e. a 14-inch Samsung ATNA40YK04-0 matrix with a resolution of 2880×1800 pixels and a refresh rate of 90 Hz.
Due to the absence of classical backlighting (in this case, diodes generate light spontaneously), it allows for absolute blackness (diodes simply go out). In terms of image quality, colours, etc., LCD monitors are not inferior to OLED displays. The advantage of the former may be the higher maximum brightness, but on the other hand, this is offset by the higher contrast and deeper blacks of OLED displays.
The display used in this case has a glossy surface, so working in a sunny room can be a problem, but due to the high brightness, it is negligible and almost invisible. An additional advantage of OLED is also the fastest pixel response time (0.2 ms), thanks to which we don't have to worry about halos or residual images. We should also praise the touch support, which is almost at the level of a smartphone.
Let me remind you of the factory settings of the OLED panel:
White dot: 6626K
White brightness: 364.35 cd/m² (100%)
True contrast: infinite
Average Delta E error: 1,62
As you can see, the screen has a wide colour palette, and a colourimeter test confirmed that we are dealing with a panel that can definitely be used even by professionals. The manufacturer promised 100% coverage of the DCI-P3 colour palette, and the colourimeter actually recorded 99.0% reproduction of this gamut at 121.2%. It should be remembered that this is a very demanding standard used mainly in the film industry, so such high scores definitely deserve recognition. In the case of the more popular sRGB gamut, the results are also impressive, as the coverage is 100% and the density is as high as 171.1%. Adobe RGB mode also performed well, with 95.2% and 117.9% respectively. These are great results. The default colours seem a little oversaturated, but you can tweak them with the appropriate profile. The blacks are amazing and the viewing angles are very wide. The impressions are very positive.
The organic display also supports HDR (HDR True Black 500 certificate), but the manufacturer's claimed brightness of 550 nits is likely to be obtained only temporarily in HDR content, as the maximum constant brightness measured by the equipment is only 365 nits. Nevertheless, the screen performs very well with the wide tonal range technique, which is also due to the specifics of OLED. This is possible due to the unlimited contrast and the ability to control light emission at the sub-pixel level, which localises HDR effects much better.
Moving on to more detailed measurements, I note that the contrast is apparently infinite, and the colour temperature is close to the desired neutral value of 6500 K, i.e. 6626 K. The average Delta E error is only 1.34, which is an excellent default value (the maximum error for pure blue is 3.59). Taking these results into account, the local gamma response is not surprising, as it deviates from the model very slightly. Thus, the laptop is suitable for professional graphics work, although professional calibration can be performed beforehand.
The positive image perception is also influenced by the absence of typical backlighting problems inherent in LCDs and effects such as IPS Glow or haze. So much has been written about image burn-in and residual image in OLED that I won't dwell on it here. In addition, I did not have the opportunity to test the device for a long enough time to give categorical assessments here. It should be remembered that a lot depends on the use, and if you follow certain rules, there should be no problems. The technologies that ASUS uses (refresh and pixel shift) will certainly be useful as well.
Sound system, 3DNR webcam and fingerprint scanner
ASUS Zenbook 14 OLED, like other devices in the Zenbook series of this generation, has a premium level of audio performance. It is equipped with a 2-speaker system with Dolby Atmos support, tuned by Harman/Kardon and controlled by the Smart Amp system. The Realtek ALC3288 codec is also worth mentioning.
Due to the slightly thicker thickness than the 13-inch model and the location of the speakers, the surround sound and immersive effect are slightly enhanced, and the presence of bass is also worth noting. This is extremely good when watching videos, listening to music, and playing games. Thus, ASUS once again confirms the increase in the sound level in the entire range compared to the first Zephyrus with 6 speakers.
The built-in webcam is available in two versions for this model: 720p and 1080p. In my case, it's 1080p, which records at 30 frames per second. However, the camera has been given a boost in image capture quality with ASUS 3D Noise Reduction (3DNR) technology, which adjusts dynamic range and colours through a number of modes available in the MyAsus app. The only thing missing from the built-in camera is the lack of an IR sensor with face recognition, which means we can't use Windows Hello biometric verification. This drawback is compensated for by the fingerprint reader built into the power button. It is accurate and fast, so it works well when used.
The microphone was a pleasant surprise. Its developers have equipped it with a built-in AI noise cancellation function available in MyAsus, and activating ClearVoice mode makes the voice clearer and eliminates background noise if it is continuous and insignificant.
High performance: is cooling enough for the Alder Lake processor?
My version of the Zenbook 14 OLED is powered by Intel's latest generation of low-power processors. Here we find a chip from the Alder Lake family, the Intel Core i7-1260P. The letter P at the end indicates that it belongs to a new family of processors that is midway between the H series of high-performance laptops and the U series of thinner and lighter ultraportables. In total, this processor has 12 physical cores, 8 more economical (3.4 GHz) and 4 more powerful (4.7 GHz). The more powerful cores also support Hyper Threading, so the processor has a total of 16 logical computing threads. The processor can operate in the TDP range of 20 – 64 W, but in our case only 28 W, and supports a maximum of 64 GB of RAM. For enterprise customers, it also offers vPro (remote laptop management without the need for a working OS). The Intel Core i7-1260P is equipped with a third-level cache that is much larger than the previous generation, 18 MB.
All of this is complemented by 16 GB of LPDDR5 RAM, which is integrated into the board and operates at 4800 MHz. That is, the memory module is soldered directly to the board, so it cannot be replaced. There is no socket for the memory module, so the RAM cannot be expanded. However, 16 GB should be enough for all potential users of this laptop for the entire service life, both physical and moral. The advantage of the built-in memory here is that it works in dual-channel mode.
The processor includes an Intel Iris Xe graphics core. In this processor, it operates at a frequency of up to 1.4 GHz, has 96 computing units and a 128-bit bus. Intel Iris Xe uses shared RAM for its operation. In the current generation, the video card supports a maximum resolution of up to 7680×4320 pixels and 60 Hz via DP 1.4a. In our case, the built-in panel supports eDP 1.4bi 90 Hz with a resolution of 2880×1800 pixels. Integrated graphics can work at the same resolution via HDMI 2.1 output, but in this case at 60 Hz. Performance tests show that the Intel Iris Xe is far superior to the older, entry-level NVIDIA GeForce GTX 1050 dedicated graphics chip, so you can play older 3D games at a relatively decent level, or even newer games with less detail. Working with documents, surfing the Internet, and watching videos shouldn't be a problem.
We also have at our disposal a 1TB Micron_3400_MTFDKBA1T0TFH SSD module with an NVMe controller. Thanks to the 12th generation processor, i.e. the PCIe 4 bus, it achieves approximately twice the transfer speed compared to laptops with previous 11th generation processors (compared to the top SSD models used in the previous generation, and compared to weaker modules, the increase will be even more significant). The standardised size (physical) 2280 module is replaceable. But I am sure that 1 TB of memory will be more than enough for you to work comfortably.
All of this runs under Windows 11 Home Single Language. Among the interesting things, we should mention the excellent MyASUS utility, which will help you effectively manage your laptop settings. I am sure it will be useful to everyone who buys a device from ASUS.
Read also: ASUS ZenWiFi Pro ET12 Review: Powerful Mesh System
Test results and impressions of using ASUS Zenbook 14 OLED
In the AIDA-64 stress test, which results in a 100% load on all processor cores for a long time, we note relatively low frequencies (2.10 GHz on average), but stable. At the same time, you need to be prepared for the fan to be quite audible. At the same time, cool air is sucked under the bottom of the case (which is not completely adjacent to the table thanks to the Ergolift system), and hot air is exhausted through the ventilation grille installed on the left side of the keyboard. This system seems to be quite effective, as the temperature at the CPU level is maintained between 80° and 85° most of the time. To the touch, the heat is rather mild in the keyboard and hinge area, but significant under the laptop itself, which is still worth noting.
In any case, the performance of the Core i7-1260P is in line with CineBench R23, where the new Intel processor scores 6559 points in the multi-core index and 1361 points in the single-core index. In other words, our Zenbook significantly mitigates the heat of its CPU to get the most out of it.
The PCMark 10 test provides an overall assessment of a machine's performance. In this test, our device received 4714 points, which is the average score among the laptops I tested. At first glance, this may not seem high enough.
Using the 3DMark utility, I ran tests on the Night Raid and Time Spy games. The scores are comparable to other ultraportable laptops in this category. The generation change does not allow Intel to improve performance.
Obviously, the ASUS Zenbook 14 OLED is not a laptop designed for video games. With the integrated Intel Iris Xe graphics chip, you'll have to settle for minimal graphics performance. But you can play games of medium complexity. The impressions are quite positive, although we had to sacrifice detail.
Testing the Micron_3400_MTFDKBA1T0TFH SSD in CrystalDiskMark allows you to make sure that the built-in SSD has an excellent level of performance. File transfers will be fast and software will run efficiently.
Read also: ASUS ZenBook Flip S (UX371EA) review – Top-Of-The-Line Transformer
Cooling system, fan noise
The laptop's cooling system consists of a single turbine fan with a large heatpipe that runs from the processor to the side grille. The specs don't mention anything about the type of thermal paste used, but we can assure you that it's a very quiet device overall.
Does the built-in fan do its job? Yes, it's quite powerful, although it's also quite loud. In the MyASUS utility, I switched to the "Whisper" mode, because sometimes, especially when trying to play games on the ASUS Zenbook 14 OLED, the fan was quite noticeable. Although the processor temperature was at acceptable levels, the case, especially the back, felt hot.
I got 50°C in some places of the keyboard under load, and even over 55°C in some places. However, this is an extreme case, this type of laptop will obviously rarely be used so intensively, so you can comfortably keep it on your lap while working.
The situation is similar in terms of work culture, as the laptop is almost silent during everyday tasks, and even during more intensive work, the noise is really gentle (up to 37 dBA). However, at maximum load in standard mode, it reaches 43 dBA, and in performance mode at maximum fan speed, it even reaches 47 dBA.
Read also: ASUS 4G-AX56 Review: high-quality LTE router
Good battery life
The ASUS Zenbook 14 OLED (UX3402) has a 4-cell 9702 mAh lithium-ion battery with a capacity of 75 Wh. Given the OLED panel, which is clearly more energy efficient than LCDs, and the 10nm Intel processor, I expected a really long battery life. It should be noted that the laptop did not disappoint me. The battery test of the PC Mark 10 Modern Office shows that with daily use in standard mode with 50% screen brightness, you can expect more than 14 hours of operation without having to reach for the power adapter. Of course, during more intensive system tasks, this time is significantly reduced, but it's still a very good result that clearly exceeds the average battery life of other laptops of this type. If you select Performance mode, this time is almost halved.
In everyday use, the laptop lasted up to 12 hours on a single charge. This result can be obtained during more intense work with a screen brightness of 30%. When relaxing with Netflix, you can expect 10 hours of battery life with half the screen brightness, and 7 hours with 100% screen brightness.
The laptop comes with a 65W charger, which is a typical charger for such a laptop. The laptop charges quite quickly. The whole process from 0% to 100% takes a little over 1.5 hours.
Conclusions
The ASUS Zenbook 14 OLED (UX3402) is one of those laptops that I can recommend to most interested users without hesitation. It has almost everything you would expect from a laptop of this class, although, of course, there are some drawbacks. Let me start with them. I didn't quite like the built-in speakers, as they produce a sound that is almost devoid of low tones. Also worth mentioning is the rather high temperature of the case if we use the full power of the equipment. Still, the Intel Core i7 1260P is powerful, but also quite hot. The Intel Core i5 1240P, which is also used in the ASUS Zenbook 14 OLED (UX3402), would have been enough for me. Also, the camera still leaves much to be desired, although this is a problem with almost all Windows laptops. Speaking of prices, it should be understood that this is a premium product and there are no low prices in this segment anymore. I also missed the included stylus, but that's another story.
But after spending a fairly significant amount of your money, you get a top-of-the-line Zenbook laptop. The build quality is very high, and I really liked the updated design of the aluminium case. The undoubted advantage of this laptop is, of course, its OLED display – bright, with high resolution, a very wide colour palette, good colour reproduction, infinite contrast, good HDR reproduction and a refresh rate above the standard (90 Hz).
We shouldn't forget about the very productive SSD drive and a solid processor that can handle the tasks we expect from this type of laptop without any problems. In addition, we get a very comfortable keyboard, a large touchpad with the NumberPad option, a fairly good set of ports, a fairly high-quality webcam, and a long battery life. And all this is enclosed in a very thin and lightweight body, which contributes to the mobility of the device.
The ASUS Zenbook 14 OLED (UX3402) is an ideal choice for those looking for a powerful, mobile and versatile laptop in a slim body with a modern design.
Read also: ASUS ROG Rapture GT-AX6000 EVA Edition Review: Powerful Gaming Router
Advantages
excellent design, metal case
sufficient number of ports and connection interfaces
good keyboard, touch panel with NumberPad
high-quality, calibrated 2.8K OLED display
excellent performance thanks to Intel Core i7 1260p
hardware for 3D design and visualisation
excellent battery life
reliable operation of the cooling system
Disadvantages
the camera still leaves much to be desired
rather average sound of the speakers
high price
Read also: