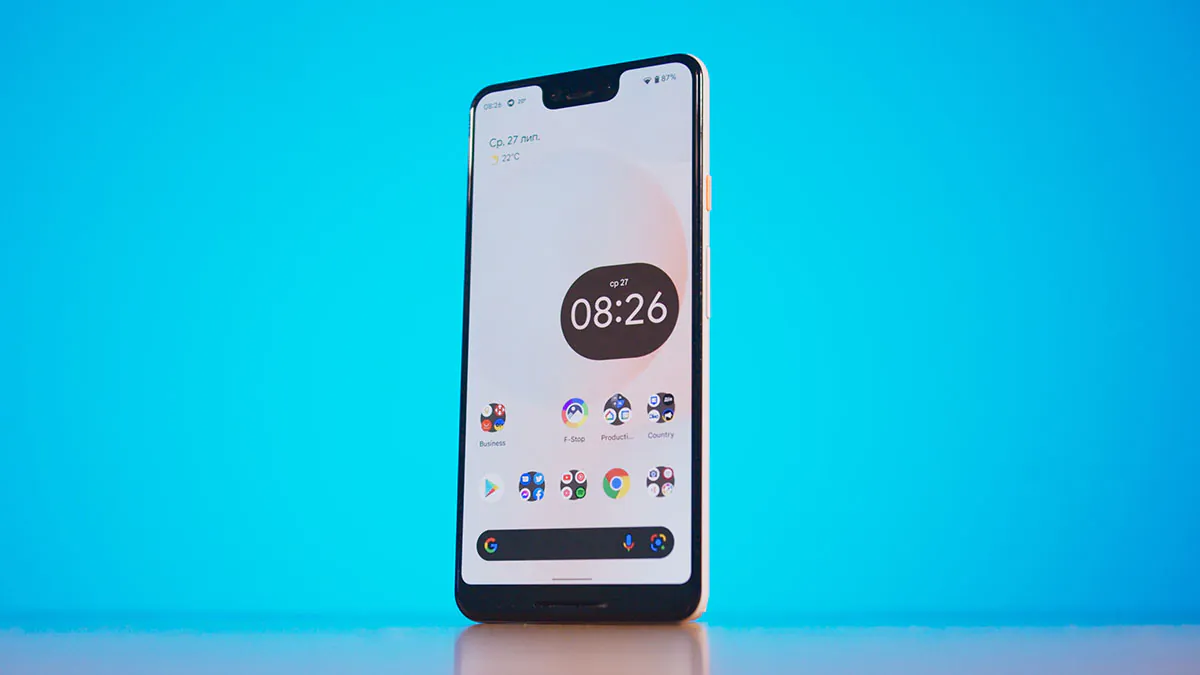 The Google Pixel 3 XL is a drill. At the end of the material, I will give you the context, but now I will just say the following. This is a tool. Very loud, and reliable, but not even close to being versatile. And, like a drill, more pleasant to use than many hyper-budget smartphones.
Rivals
The phone is quite cheap now. And even comparing it to the newer models, it still looks exciting. There are rivals, sure. Go to your local store, and you'll find 5 models or so from the brands you might know.
But, the thing is, they mostly have 3 gigabytes of RAM, no NFC, micro-USB ports, PLS screens with a resolution that is below Full HD, and routers-level processors… Also, I absolutely do not guarantee the quality of the case and the freshness of the Android OS.
Of course, modern budget phones have certain hardware advantages. And there are almost always three. Support for memory cards, sometimes an energy-efficient processor, and also sometimes a wide-angle camera.
Why Pixel
However, you need to understand that the Google Pixel 3 XL was once a flagship. Think about it: Google's flagship. Therefore, in perfect condition, even used, it's still a beast. The materials of the case, the speed of work, the quality of the screen, and the cameras. It's all miles ahead.
There is glass at the back, which I really don't want to hide in a case. The processor here is Qualcomm Snapdragon 845, which is more than fast enough.
The screen is NOT PLS. I deliberately didn't look at the specifications at first but tried to guess for myself. Le's say it's a 60Hz AMOLED, 2K resolution… Hmm, I almost guessed it. OLED, 2960×1440. Actually, one could guess, because Pixel screens are being made by LG, and it only makes OLED.
Now to the camera. There's only one module, inferior to, say, a wide-angle module. But once this camera once competed with the iPhone and Samsung.
And next to budget phones, where wide-angle cameras sometimes get less than a megapixel, it makes no sense to even compare them. By the way, you can always make photos with a front-facing wide-angle camera.
Pixel 3 XL features
However, all that I have described above are the advantages of almost always any used flagship compared to new devices. Regarding the Pixel 3 XL specifically, I have my own thoughts, and as usual, they are absolutely not positive.
Read also: TECNO Camon 19 Review: A Stylish Smartphone With a Powerful Camera
And in terms of Google Pixel, everything always starts with a shell. Pure Android from Google is fast, very fast, the fastest I've ever used, even though the smartphone is in its fourth year. Android 12 is no joke.
However, the "problem" is that speed is not a problem when you fly without luggage. I mean, a half-empty shell is easy to optimize. And the disadvantage of a half-empty shell is not that there is no shovelware there – it's that the number of features is very limited.
It is not possible to set the silent mode timer directly from the home screen. In general, you can set it up, but it's rather clumsy. Pro mode for video? Nope. PHOTO pro mode? Don't even dream. But my belly shows when using the wide-angle selfie camera module. I will not post the photo here, you are not on PornHub, just take my word for it.
The niceties
The shell has advantages, of course. For example, automatic app sorting. I dragged two programs onto each other, and the Business folder was created independently.
I really liked the, let's say, "reasonable" lock and unlock animation. It is aesthetically pleasing and is very similar to the rule of justified light in a movie frame.
Aesthetically, it's… charismatic. You can see for yourself that the trends of 4 years ago are all present, the notch is perhaps the largest in history, and there is another notch from below with a speaker.
And if you think that such things in themselves can scare me away, here is my favorite smartphone in my favorite color:
And yes, I love the concept of Nothing Phone (1), you guessed it right.
Well, that is, Google released a certain Serge Gainsbourg of smartphones. Surprisingly, functional and charismatic beyond measure. The notch did not seem useful to me. Yes, it was made to fit TWO selfie cameras and a powerful speaker. Which is very useful, especially for a person who NEVER takes selfies.
And the dual front stereo also turned out to be negatively useful, because I never listen to music and I don't watch movies without headphones. On the other hand, after a few hours you generally forget about the notch.
There is enough space on the screen, the smartphone is relatively easy to use with one hand. Although when you search for apps, you absolutely always need to reach with a second hand. Why not make the search bar at the bottom? Haven't thought of it yet I guess. But they thought of opening the keyboard as soon as the search mode is turned on.
But the lock screen always requires confirmation after entering the PIN. I don't like ergonomics in general. Placing the lock button ABOVE the volume buttons is a no-no. Uncomfortable and not ergonomic.
Hardware issues
The battery here is meager, 3500 mAh. The shell is naked as well, so one might expect the battery to last a while. But alas.
When you use any app, the smartphone gets greedy like a OnePlus. This smartphone usually lasts for half a day for me. Luckily, Quick Charge 4.0 supports 27W. Therefore, in an hour, a small battery is charged almost completely.
I'm not wildly enthusiastic about the hardware component. 64 gigs of storage is not enough. 4 GB of RAM is also not much, but the closest 6 GB option is the 4th version.
It's sad that there is no support for either a mini-jack, or microSD, or two SIM cards. And Google is doing its best to force Pixel users to transfer media files to the cloud. But the speed of access there, well, excuse me … And if there is no Internet? I have at least a few places in my house where there's no Wi-Fi signal.
Also quick – how does OnePlus 9 Pro (4x more expensive) compare to the Google Pixel 3 XL?
The Pixel certainly has worse features in general, and especially in the camera department, however, the fingerprint scanner works better, the shell is faster and the aesthetics… I personally like it.
Yes, bare Android 12 looks great – no questions here. Just like the smartphone itself. It is unique.
The Google Pixel 3 XL: Our verdict
Going back to the beginning… Why is the Google Pixel 3 XL a drill? Because, firstly, it is loud, both in terms of the speakers and visuals. Further, it is a very narrowly focused tool that you either trust with your tasks or do not use it at all. This is a very narrowly focused smartphone, this is the vision of relevance from Google 4 years ago.
And Google didn't cram everything in here, so it's not a Swiss Army knife. But they've put enough in here that this tool can poke holes in your problems so you can actually solve them.
And secondly, a high-quality drill will work properly after 5 years, just like a new one. Therefore, if you are satisfied with a limited pool of features, you will not need anything else, besides this, for a very, very long time.
You can also help Ukraine fight with Russian occupants via Savelife or via an official page of the National Bank of Ukraine.