Today we talk about the flagship smartphone from Huawei's sub-brand, which can hardly be called a more affordable alternative to Huawei P30 Pro. Honor 20 Pro, on the other hand, looks much more like it. But as for Huawei P30, Honor 20 can be considered its low-cost counterpart. I tried to test the smartphone in full and today I will tell you what it is good for. And it's is really good!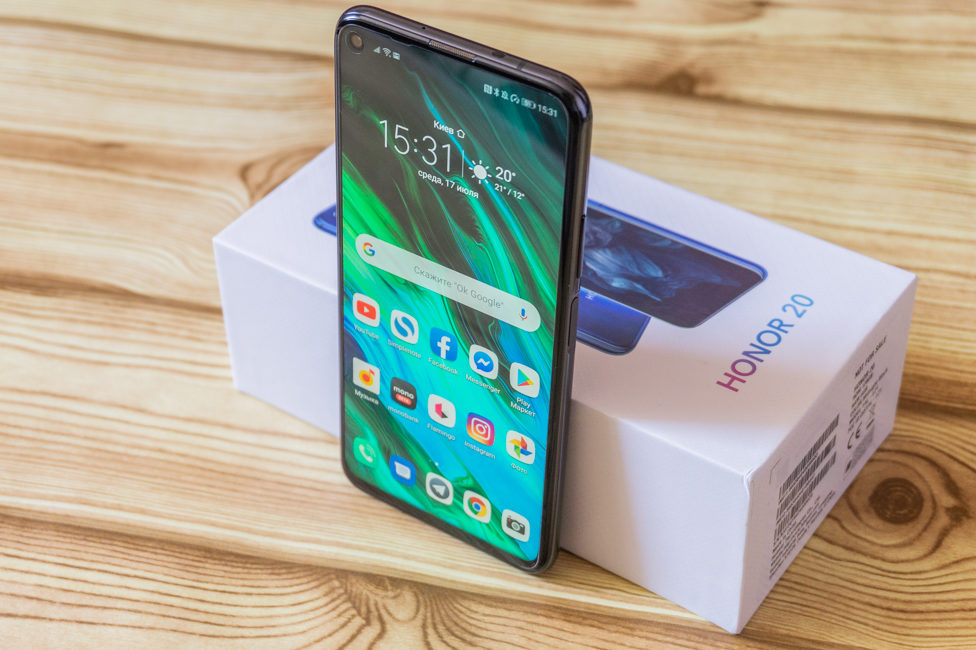 Technical characteristics of Honor 20
Display: 6.26″, LTPS (IPS LCD), 2340 × 1080 pixels, 19.5:9 aspect ratio
Chipset: HiSilicon Kirin 980, 8-core, 2 core Cortex A76 with a frequency of 2.6 GHz, 2 core Cortex A76 with a frequency of 1.92 GHz, 4 core Cortex A55 with a frequency of 1.8 GHz
Graphics accelerator: Mali-G76 MP10
RAM: 6 GB
Storage: 128 GB
MicroSD memory cards: not supported
Wireless networks: Wi-Fi 802.11 a/b/g/n/ac, Bluetooth 5.0 (A2DP, LE, aptX HD), GPS (A-GPS, GLONASS, BDS, GALILEO, QZSS), NFC
Main camera: main 48 megapixel module, aperture f/1.8, 1/2″, 0.8µm PDAF; additional extra wide angle module 16 megapixel, f/2.4, 13 mm, 1/3.1″; macro module 2 MP, f/2.4, 27 mm; depth sensor 2 MP, f/2.4
Front camera: 32 megapixel, f/2.0, 0.8µm
Battery: 3750 mAh
OS: Android 9.0 Pie with Magic UI 2.1 shell
Dimensions: 154.3 × 74 × 7.9 mm
Weight: 174 g
Where to buy Honor 20
What's in the box
Honor 20 comes in a standard medium-sized carton. Inside is a smartphone, a SIM card eject tool, a silicone transparent case, a USB/Type-C cable, a powerful charging adaptor (22.5 W) and an adaptor from Type-C to a 3.5 mm audio jack.
If we are talking about the bundled case, it is simple: it almost does not have sides around the screen (if a protective film is glued on it), but it protects the camera unit well. The protective film, by the way, is pasted out of the box, its quality is quite decent.
Design, materials and build quality
Honor 20 is an attractive smartphone in my opinion. There are no motorized blocks, large notches or drops in the screen. The front camera is embedded in the display in a small round hole. It's not a new thing, Samsung Galaxy S10 already has this.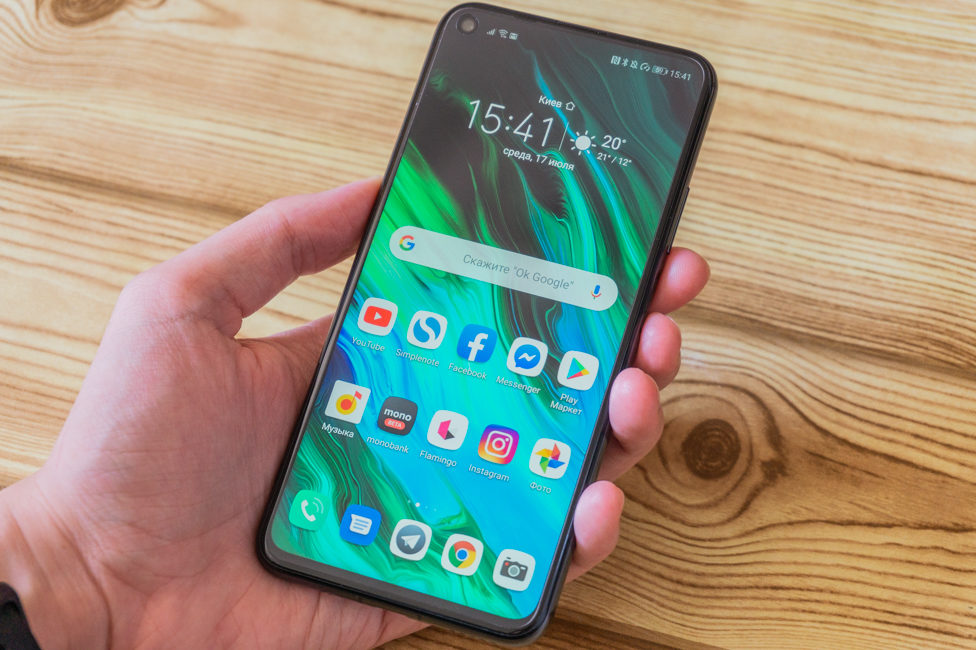 But it is also fair to note that a similar solution has already been applied in the smartphone of this brand – in Honor View 20. Personally, I am not at all embarrassed by this type of notch, I am even glad that in Honor 20 they decided to leave the drop-shaped one.
Unlike Galaxy S10 or S10e, the camera is not in the upper right corner, but in the left one. Bezels around the display have optimal thickness. Not very thin, of course, but I can't call them fat either.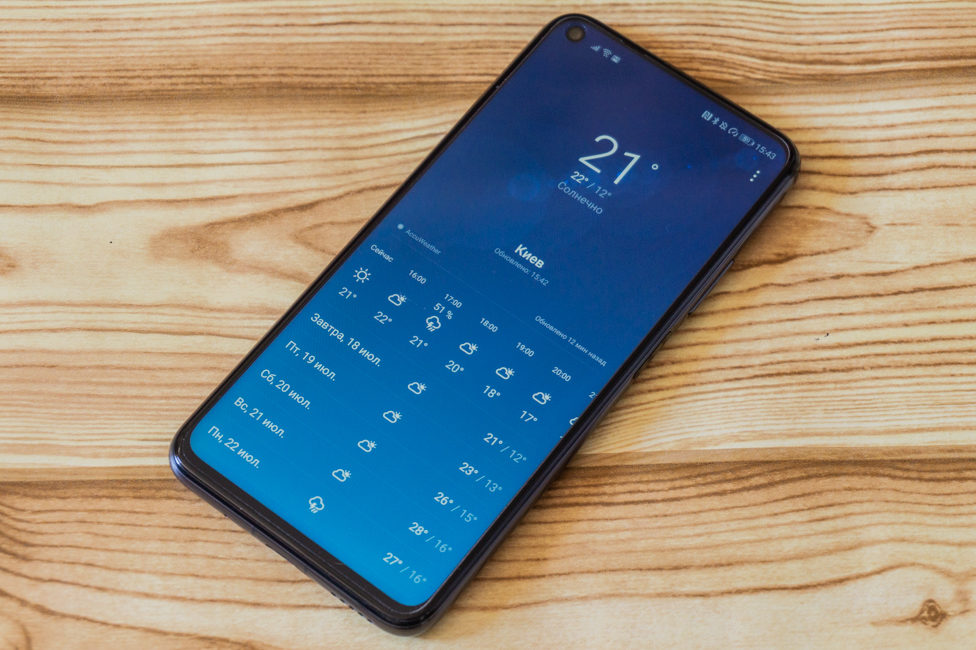 From the back, Honor 20 in black cannot boast gradient coloring, however there is a spectacular overflow. It has a certain depth and a certain curvature – it looks very cool, I have not seen this before.
The color palette includes black (as my copy) and blue. The first is of course more restrained, and if you want to stand out, then blue will fit perfectly for this role.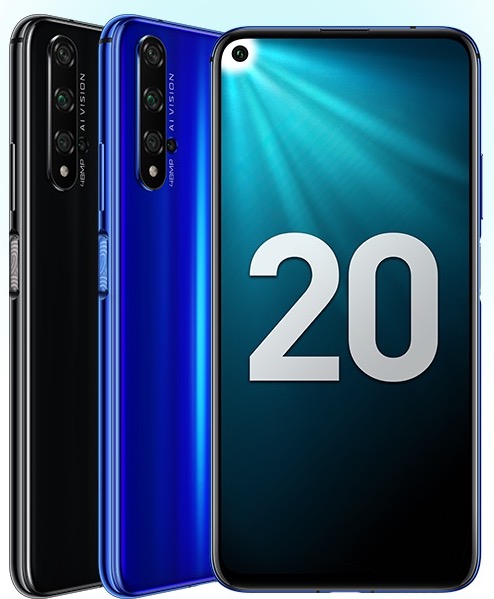 By design – this is a typical sandwich made of glass on both sides, and a metal frame. Oleophobic coating behind is present, but the smartphone is not too slippery. It is quite possible to use it without a case, if you do not worry about a block of cameras. After all, it's a little above the surface of the case, so be careful.
The build quality of Honor 20 is excellent, but unfortunately, moisture protection is missing. The device does not get dirty as much as Honor 10i, but still collects prints and dust particles. Especially around the cameras. But you can remove them easily, not like with 10i or 10 Lite, which attract all the garbage.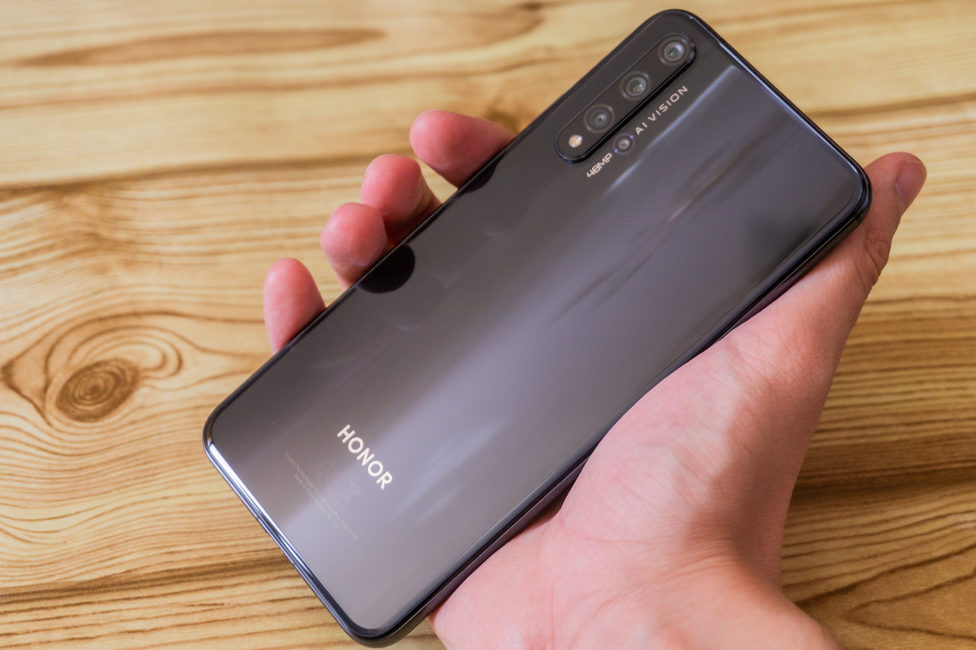 Elements' configuration
In front of the screen there is a light sensor, a mesh with a speaker, with LED for notifications underneath. The speaker itself is located as if at an angle, but how does this affect the convenience of communication we'll find out later. The small notch has a diameter of 4.5 mm. There is nothing under the screen.
On the right side there is a power button, combined with a fingerprint scanner, and a volume control key. It's good that they didn't do a separate platform and a separate power button – you seeing this, Sony? On the left is a slot for two SIM-cards of nano-format. No place for microSD or Nano Memory card, just like in Huawei P30 Pro.
At the bottom there is a multimedia speaker, a Type-C port and a microphone. Above is a microphone and a window with a proximity sensor. Frankly, didn't expect it here. Very similar to the infrared port for controlling household appliances, but this is the proximity sensor. I have some clues as to why it is here, but I will tell about this in another section of this review.
On the back panel on the left there is an oblong block with three camera eyes and an LED flash. Near the block are vertical 48MP inscriptions and AI VISION, and between them is one more peephole. In the lower part we have branding and other markings.
Ergonomics
The Honor guys managed to find a good balance between the size of the screen of the smartphone and its dimensions. The latter, by the way, are as follows: 154.3 × 74 × 7.9 mm. It is relatively well placed in the hand, you can easily use it with one hand. Although this point depends on the size of the palm, of course.
In terms of dimensions, it's not all like Galaxy S10e, but here the screen is noticeably larger. I like the shape of the case and the weight of the gadget (174 g); Honor 20 does not cause any discomfort during long-term operation. The volume key and the fingerprint scanner (or the power button) are located in the right place.
Honor 20 Display
Starting from this section, some really interesting features of Honor 20 appear. So, the display of the smartphone has a diagonal of 6.26, a resolution of 2340 × 1080 pixels, an aspect ratio of 19.5:9 and a pixel density of 412 ppi.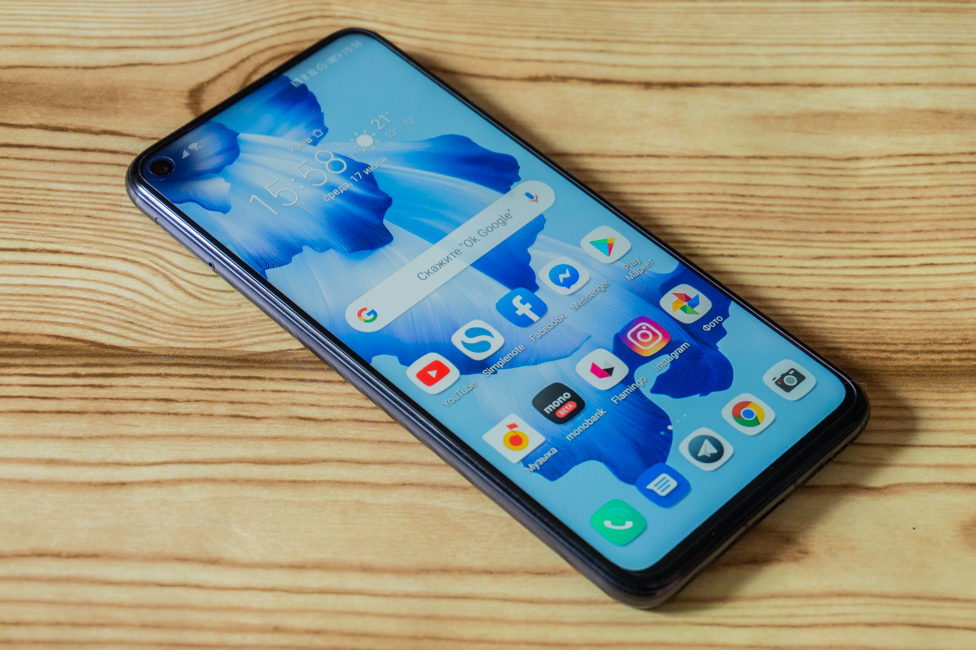 But the most important thing is the matrix. Here, in contrast with lots of flagships/sub-flagships from different manufacturers, we have not OLED, but the LTPS matrix. The IPS panel is slightly improved in terms of energy saving. What is special about it?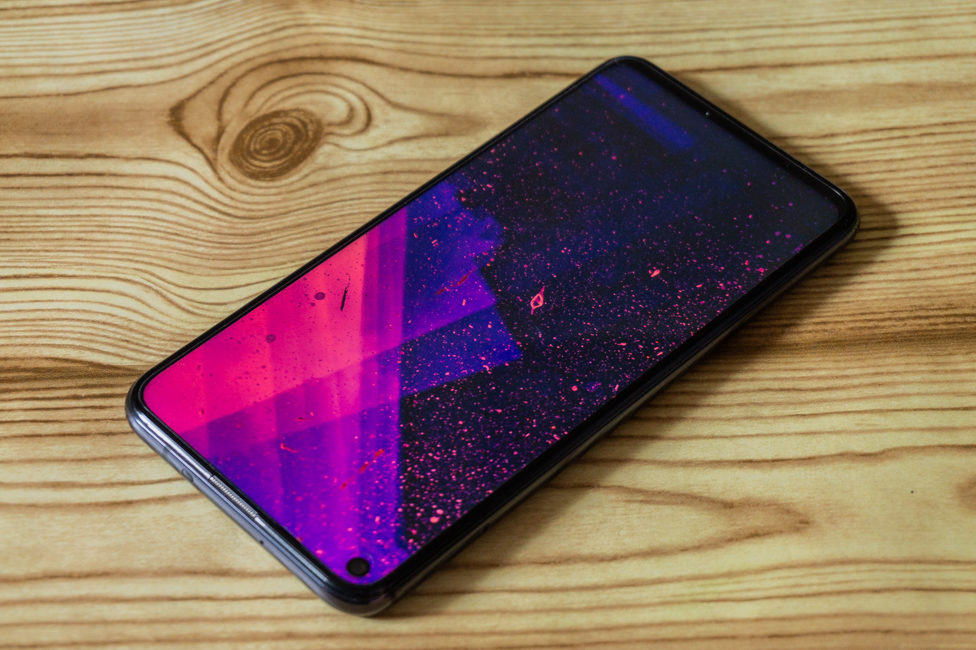 First, it is now a big rarity in the flagship segment. How many  the top devices of this year with IPS can you name? The question is slightly rhetorical and I personally, besides Honor 20 (and its Pro version) and ASUS ZenFone 6, cannot remember anything else. Secondly, this is an important parameter for those users who experienced tired eyes or other negative effects of OLED screen.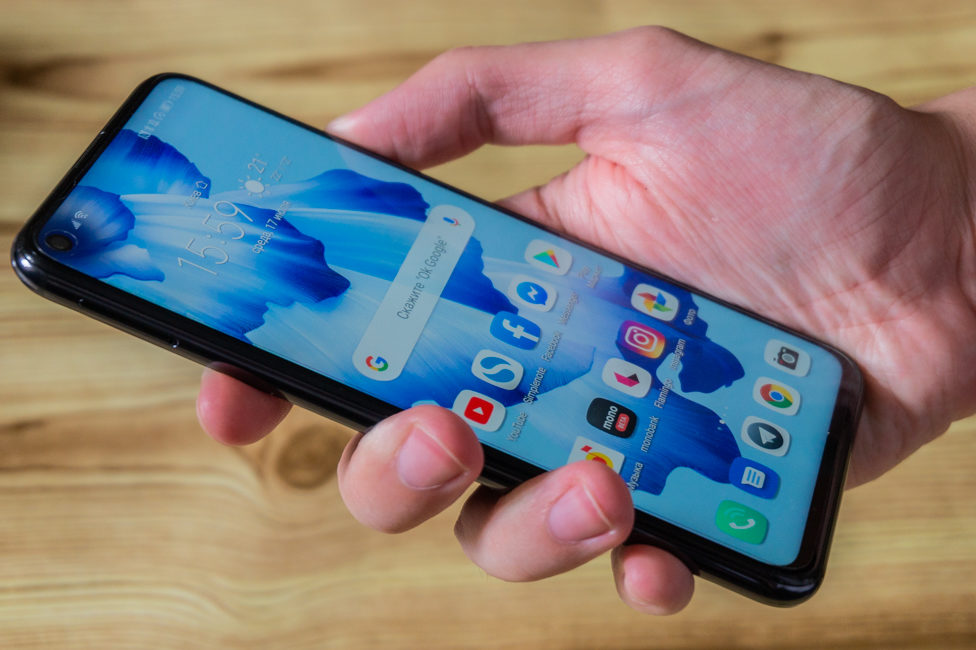 You can find a third reason, like the unnatural colors on OLED panels. But as for me it would have been far-fetched. Any adequate manufacturer of smartphones offers the possibility of choosing the display mode and, as a rule, "natural" (the name may be different, but does not change the essence) offers a more relaxed and natural image. IPS in Honor 20 is a big plus for me, there are no issues with the technology.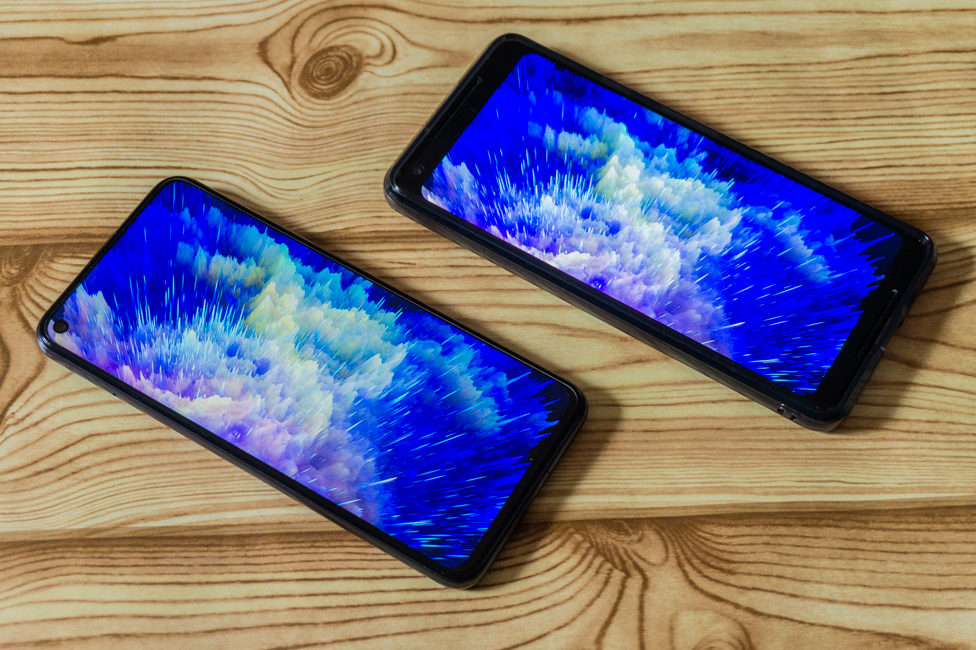 I like the screen here. It offers excellent brightness, which is enough on a sunny day, good contrast and color reproduction, as well as very good viewing angles.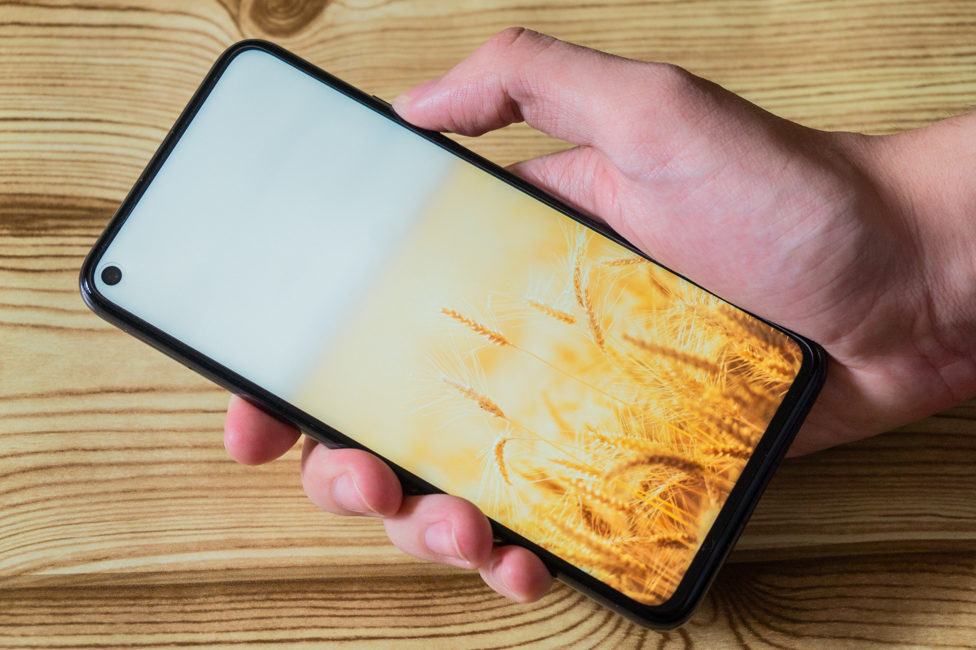 The only issue of the display is that if you look at a dark picture at a diagonal angle, color fading will be noticeable. But with standard use, the black color on this display looks normal.
According to the settings, we can change the color mode and temperature of the screen. You can enable eyesight protection to reduce the blue glow of the screen; you can forcibly reduce the resolution to HD+ in order to save battery life. As always, there is a forced full-screen display option for non-optimized applications or games, as well as masking the notch for the front camera, which simply fills the upper part of the screen with black. There is no dark interface mode or Always-On option, for obvious reasons.
And by the way, about the color modes. If you are really an IPS lover, then "Normal" colors are for you. Because the "Bright" profile tends to oversaturate the picture like its an AMOLED display.
Honor 20 Performance
Honor 20 has good hardware. This is Huawei's own high-performance platform – HiSilicon Kirin 980. It is also used in Huawei P30 series. The eight-core 7-nm chipset is divided into three clusters: 2 Cortex A76 cores with a maximum clock frequency of 2.6 GHz, 2 Cortex A76 cores with a clock frequency of 1.92 GHz, and 4 Cortex A55 cores with a frequency of 1.8 GHz. Graphic tasks are performed by Mali-G76 MP10 accelerator.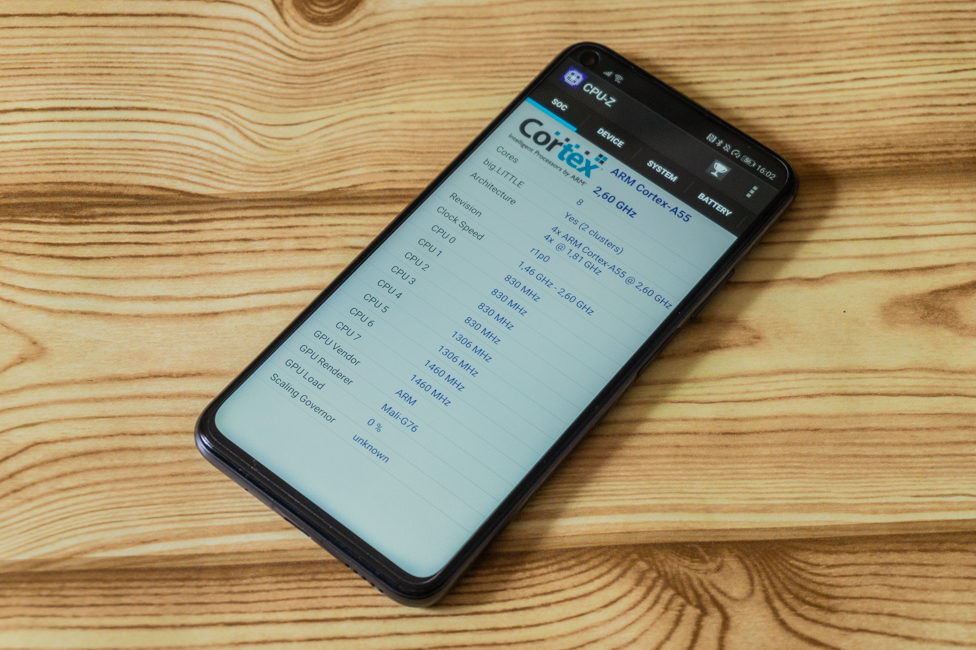 Before showing you the results of Honor 20 tests in synthetics, I would like to remind you that some time ago, Huawei was accused of overstating benchmarks. When the system detected the test, the maximum performance mode was activated, which the user could not turn on by himself. But the company did not deny it and announced the future possibility of selecting the maximum performance mode by the user. And as you can see, they kept their word – in the settings, in "Battery", another mode appeared next to the power saving modes – "Power Mode". Let's see how it changes things.
Well, here words are unnecessary – everything is obvious. The throttling test is especially indicative. In normal mode, the smartphone loses up to 43% performance, quickly, and in power mode up to 33% and maintains a normal level much longer, as can be seen from the graph.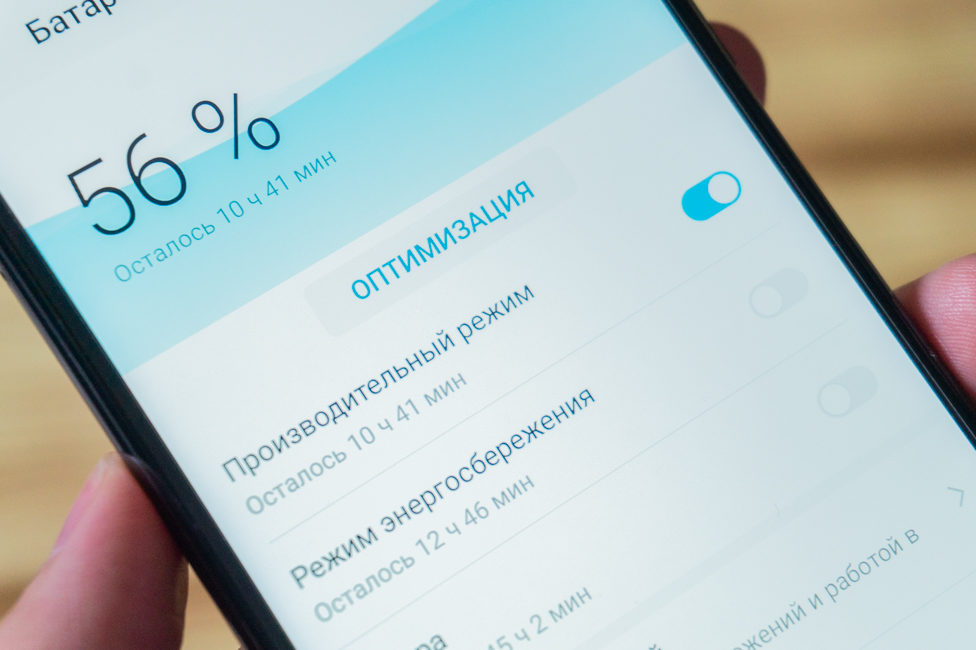 What does all this information mean? First of all, you just need to know it. But how is it helpful? If you do not play games on your smartphone, then you can probably do without it. Moreover, Honor 20 works very fast, and the shell flies. Normal mode is good for the battery as well. But gamers who enjoy mobile games with good graphics and high stable FPS – those really need maximum performance mode.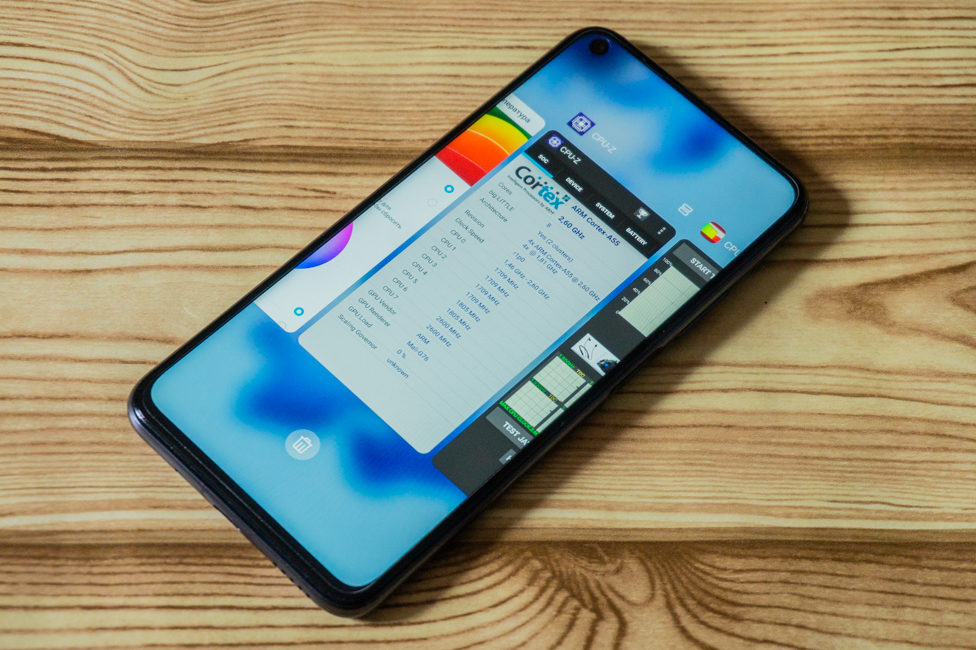 But for the games – later, and now – the memory. Honor 20 exists in one modification, as I said – 6 GB of RAM and 128 GB of storage. There are no questions about multitasking – the phone will stay relevant for a long time. Storage is also enough for everything – the user is has 110.67 GB. But you can't expand the memory with the help of memory cards.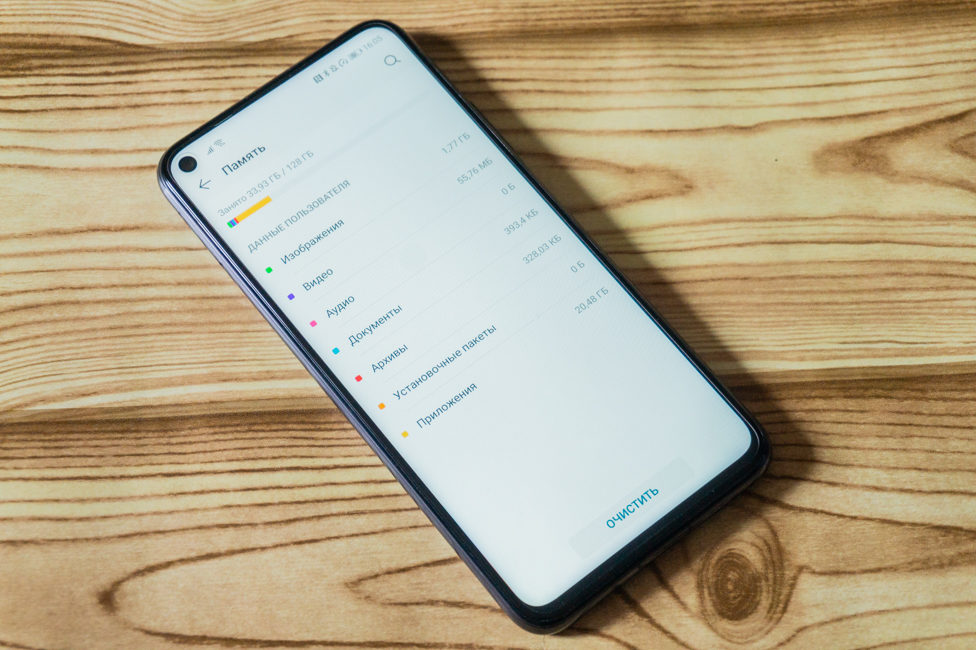 I have already told everything about the work of the device itself – it is simply gorgeous, thanks to top flagship chip from Huawei. Now for the games – they were tested in the power mode mentioned more than once, all data from GameBench:
Mobile Legends – maximum possible graphics options, 60 FPS
Asphalt 9 – the maximum possible graphic parameters, 30 FPS
Evil Lands – ultra graphics, 54 FPS
Fortnite – "Epic" graphics (limited to 30 fps), 30 FPS
PUBG Mobile – maximum graphics settings, 40 FPS
Shadowgun Legends – ultra-graphics, 59 FPS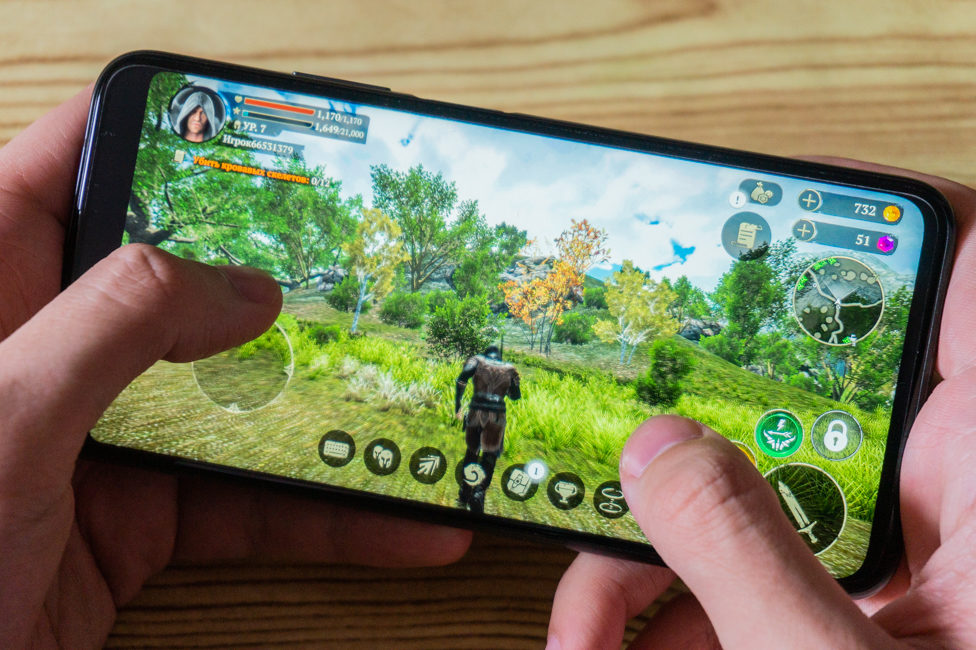 Of course, the smartphone supports GPU Turbo technology, and for it to work, you need to add games to a special game center and run them from there. But the game tests above were carried out through the measurement utility, and therefore I won't tell you what the final FPS will be if you run applications through the game center and even with the maximum performance enabled, but I suspect that Honor 20 will get even warmer.
Honor 20 camera
On the back of Honor 20 we have as many as four cameras. Multiple cameras is a trend and one can hardly surprise anyone with such quantity now. However, in this case there is something new. So, four cameras:
main module 48 Mp, aperture f/1.8, 1/2″, 0.8µm PDAF
additional ultra wide-angle module 16 MP, f/2.4, 13 mm, 1/3.1″
macro module 2 MP, f/2.4, 27 mm
depth sensor 2 MP, f/2.4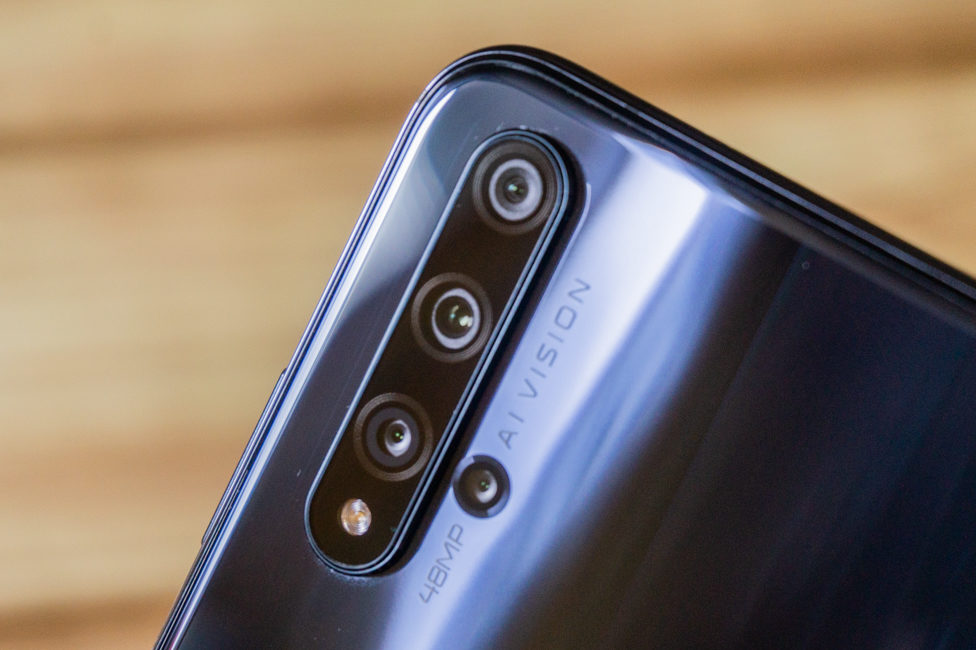 Let's start in order. The standard camera is 48 megapixel, but as always, the manufacturer recommends a default of 12 megapixel and this is the norm. I took pictures both in the first and in the second modes – the miracle did not happen, at least with 12 megapixel and with "ordinary" 48 megapixel photos. The fact is that in the permission change menu, the user is allowed to select not only 48, but also "48 Mp – Ultra-clear with AI". In this format, for one shot, you will need to hold the smartphone for about 4 seconds while shooting. Like when shooting at night. And in my opinion there is a difference in the details, but again – for every day this method of shooting is not the most useful. More time is needed, the ability to switch between lenses disappears.
The main camera in the smartphone is good. The details are there, the colors are correct, although I would like to have a wider dynamic range. Honor is confident in the quality of the module, and therefore there is a button to quickly turn on the double zoom. As you understand, this is a digital zoom. It cannot, however, boast high quality, but with good lighting it will do for social networks.
PHOTO EXAMPLES IN FULL RESOLUTION
The portrait mode is here, it is assisted by a separate depth sensor. It works fine, mostly. There is a night mode – in general, it shows good pictures taken in the dark or in the evening. Within reason, of course, some kind of light should definitely be there.
I rather liked the super-wide module. In daytime it's as good as the main one. But in the evening this module is losing ground.
The last module is macro. It does not have autofocus, it has a 2 megapixel sensor (f/2.4), which makes it clear that it needs a lot of light. In fact, the picture will be sharp if there is a distance of 4 cm between the module (which is separate from the main unit) and the subject. You can switch to it from the modes menu by selecting the "Super Macro".
Video can be recorded in 4K at 30 fps, 1080p with 30 or 60 fps. There is no optical stabilization – only electronic. But it's actually very good. On the whole, the quality is quite decent. Video in slow-motion can be either 1080p with 120 FPS or 720p with 240 or 960 FPS. Accelerated video is only in HD-resolution with 30 frames per second.
Front camera: 32 MP, f/2.0, 0.8µm. Unfortunately, without autofocus, but the detail is excellent. AR and other decorators are in place.
The camera application will suit even the most demanding user, because there is… everything. Starting from a whole pack of modes and ending with saving photos in the RAW format.
Unlocking Methods
Since we have a smart phone with an IPS screen, there's no in-screen fingerprint scanner. So, it's placed on the right side in the power button. The stability and speed of response are amazing. Usual great scanner from Huawei or Honor.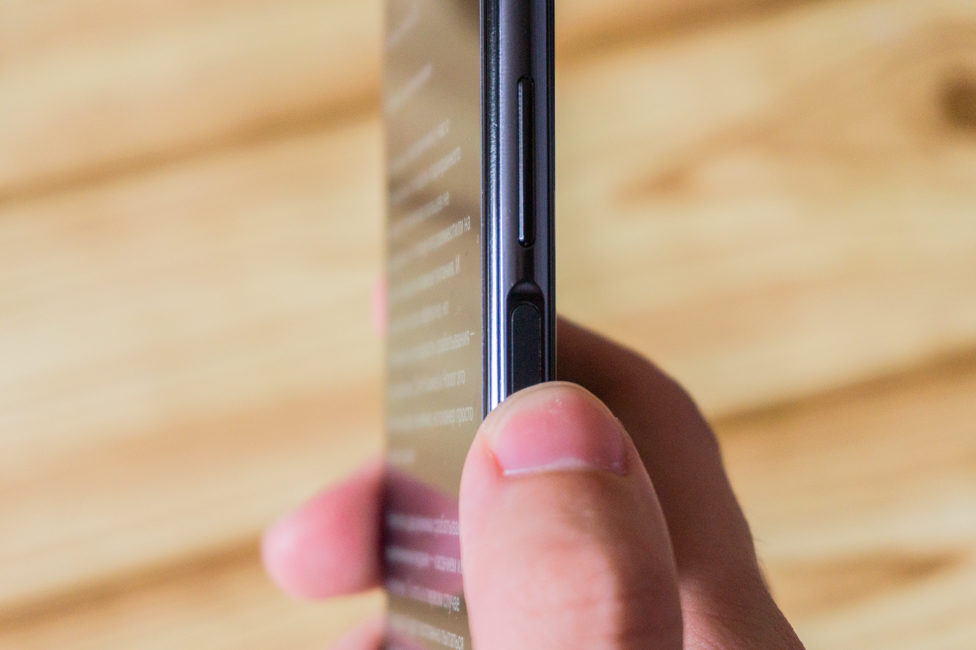 It has two modes of operation when the screen is off – by touching or pressing. In the first case, the pad will constantly try to read the fingerprint and this is a bit inconvenient, because accidental unlocking in is simply inevitable. The second method in which you need to press a key (if the screen is off) seemed to me more optimal.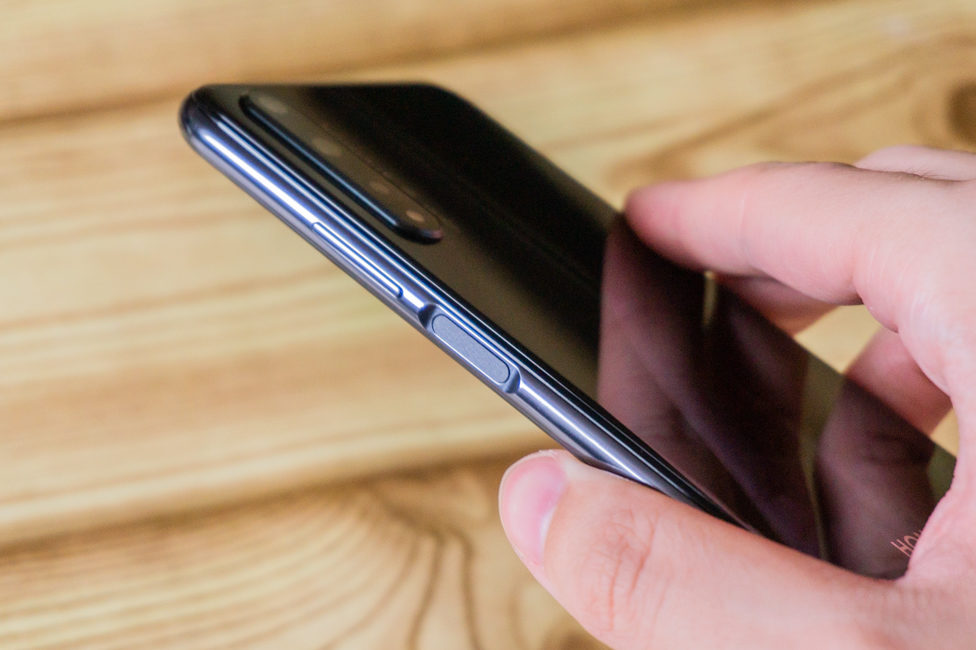 Honor 20 can be unlocked quickly. In the dark, the screen adds a bit of brightness even with the feature disabled. But if it just becomes brighter in order to highlight the face, then with the activated additional backlight switch, instead of the usual Lockscreen, a white background appears.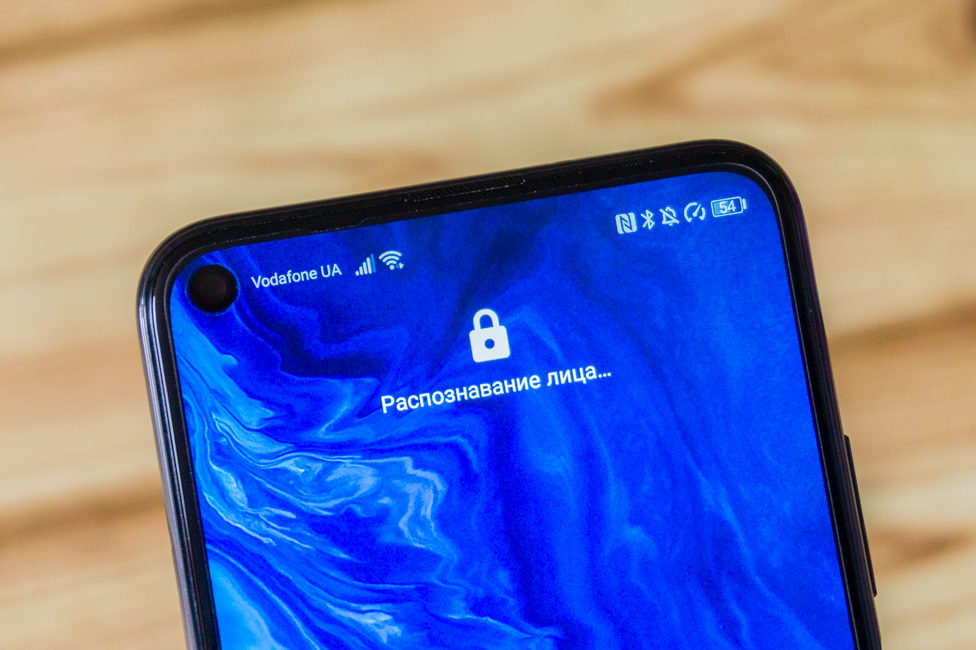 Honor 20 battery life
The battery in Honor 20 is medium capacity – 3750 mAh. It seems not bad, but it could be more. However, the smartphone survives for a long time. After 7 hours of work, the phone can be charged only in the evening.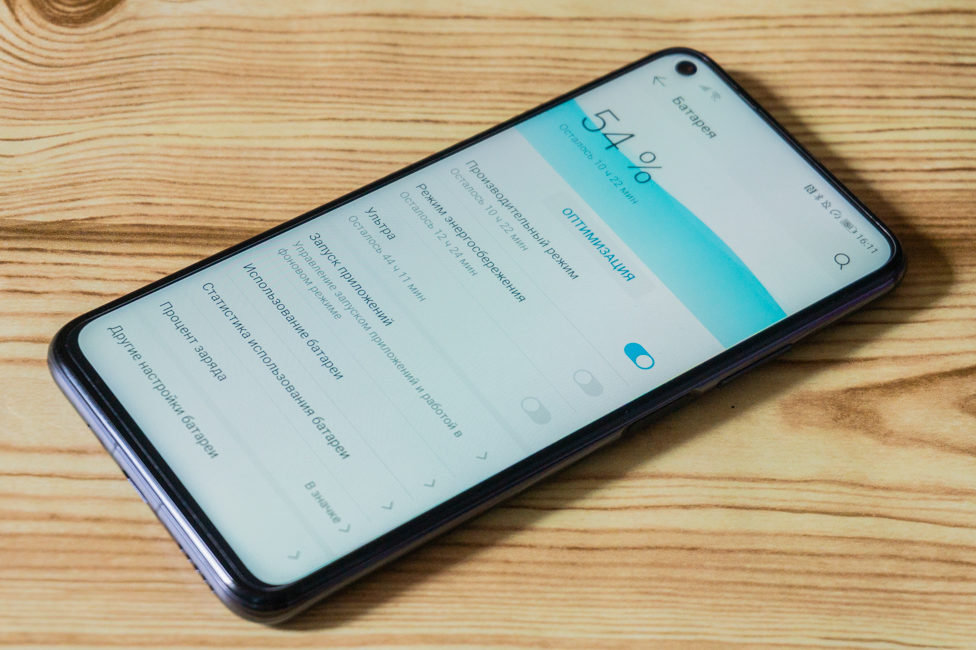 In general, I've been charging it no more than once a day for a week of operation. And one charge was enough for 6-7 hours of screen activity. In PCMark 2.0 with the maximum brightness, G20 lasted 7 hours and 12 minutes. In short – the battery is fine.
We were pleased with the support for quick charging thanks to Honor SuperCharge. The power of the bundled charger is 22.5 watts. But wireless charging, alas, is absent. The timing of regular charging is:
00:00 — 18%
00:30 — 65%
01:00 — 96%
01:10 — 100%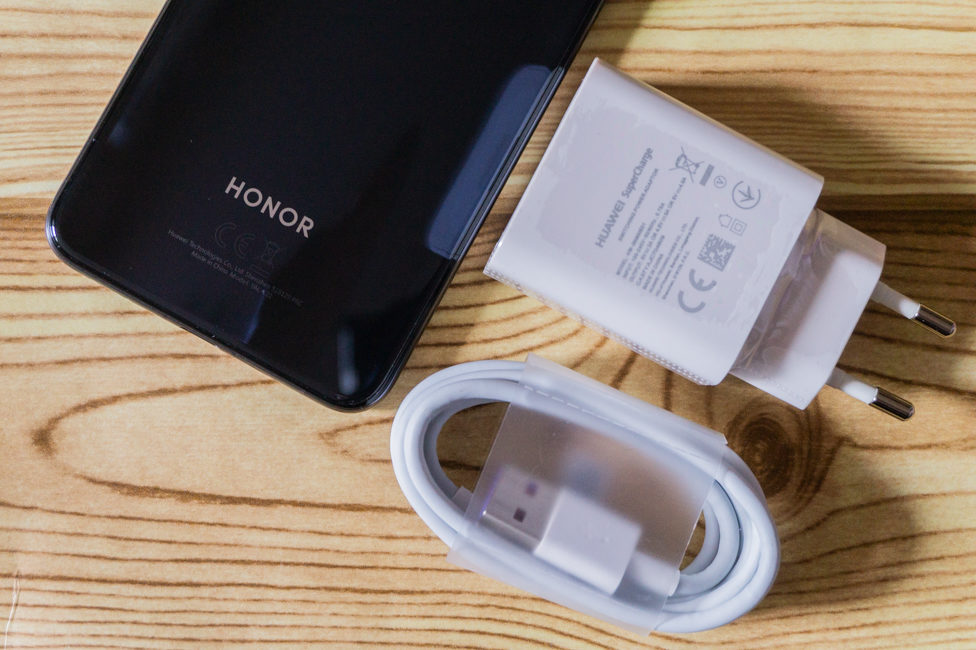 Sound and communication
The earpiece speaker is not located directly, but at a slight angle. Because of this, at first, it is a bit unusual talking on the phone. You have to hold the smartphone at an angle too, and this justifies proximity sensor. One can get used to it, but I would like to see a more classic arrangement. However, for those who rarely speak on the phone it will be fine.
The multimedia speaker, unfortunately, plays on its own. So, no stereo. If we talk about its quality, it is quite good, the volume margin is not bad. But the volume, of course, is not enough and nothing can be done about it.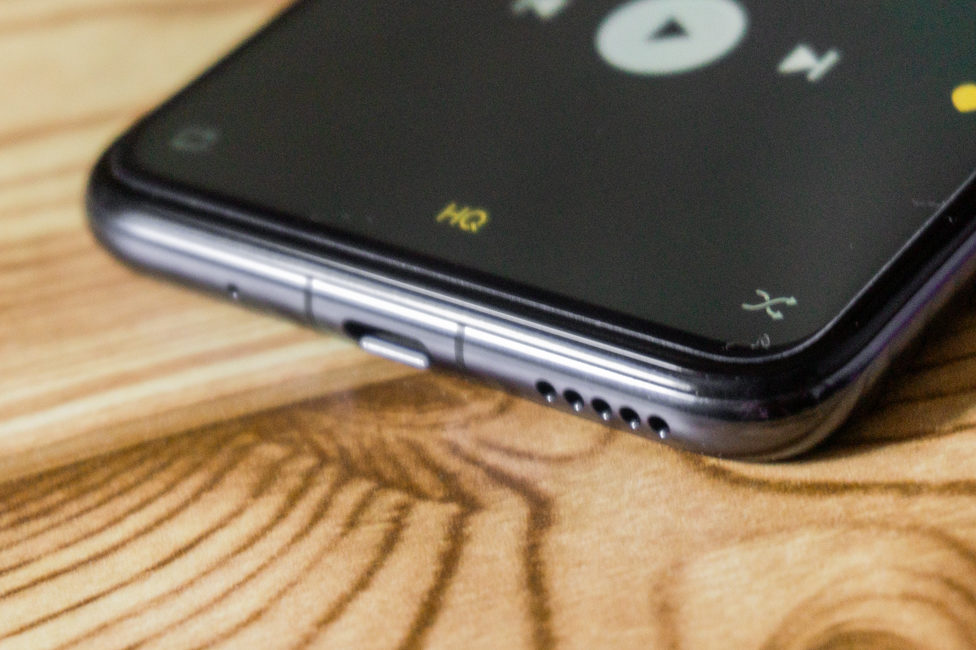 Headphones. To connect the wired headphones with a standard 3.5-mm plug you will need a bundled adapter.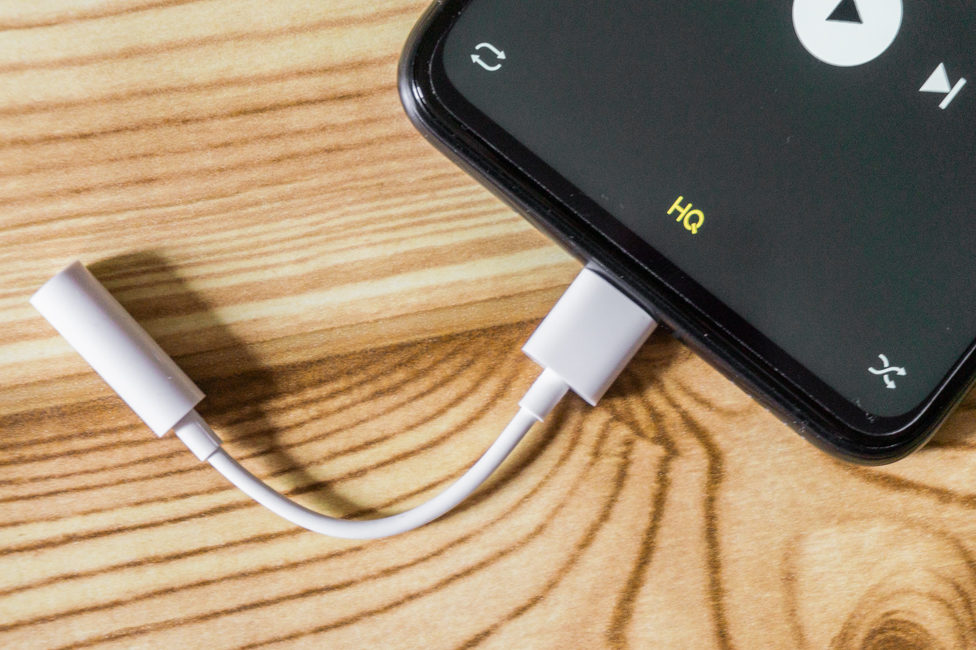 But at least it is not bulky. The sound can be described as good, and especially if you additionally twist the equalizer and experiment with other effects.
The wireless headset also has a good sound, but a very small margin of volume. But maybe it depends on the headphones, I tested with the RHA MA650 Wireless. Perhaps with others it will be better, but even at home I had to turn the volume up to the maximum. Audio effects with Bluetooth audio also work.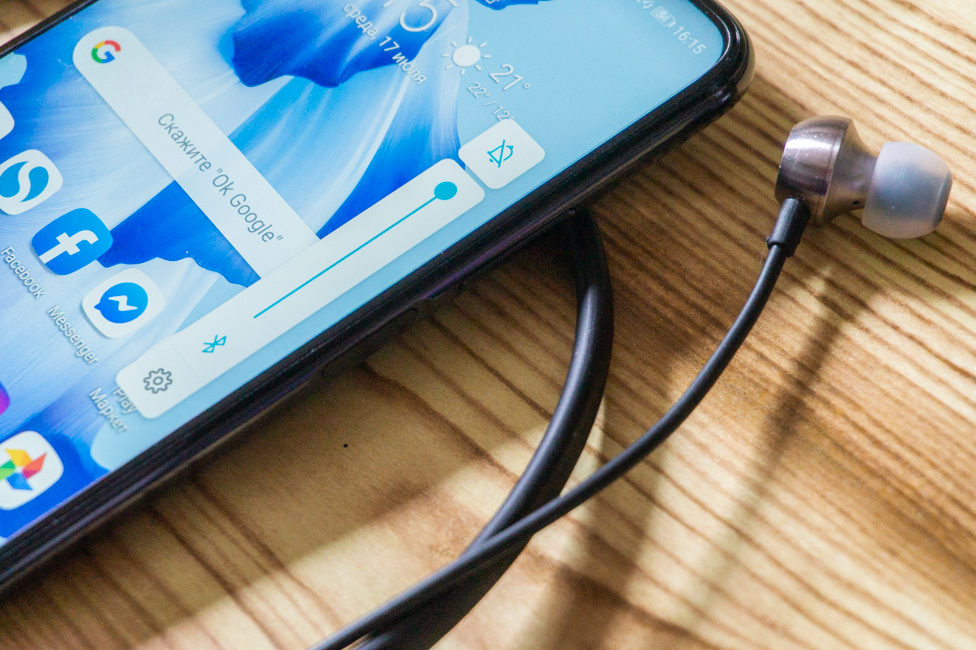 With full communication, all current standards are supported: Wi-Fi 802.11 a/b/g/n/ac, Bluetooth 5.0 (A2DP, LE, aptX HD), GPS (A-GPS, GLONASS, BDS, GALILEO, QZSS) and NFC.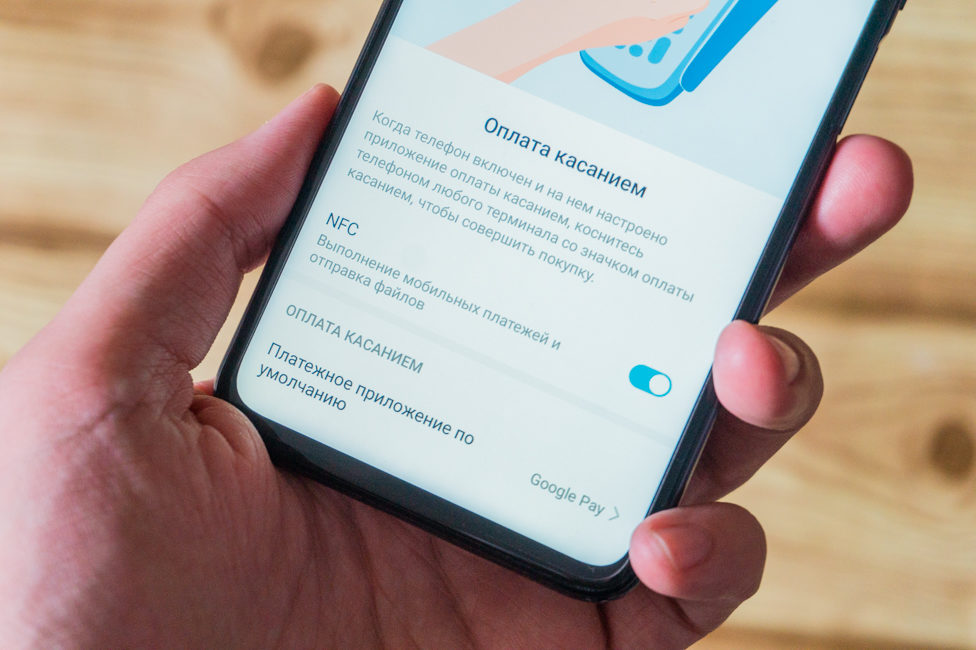 Firmware and software
Honor 20 works on Android 9 Pie with EMUI shell, or more precisely Magic UI version 2.1.0. In fact, this is the same old EMUI, I didn't see any differences between them, Huawei just decided to "divide" brands a little more. The interface has everything you need – three ways to navigate the system, customization via themes and a variety of icons, one-handed control, and much more.
We have already talked about the EMUI shell countless times, both in the reviews of Huawei and Honor smartphones, and in individual materials. Read reviews of P20 Pro and P30 Pro, as well as our other related articles.
Verdict
Honor 20 is a good smartphone. Not without its issues, but you've gotta leave something to the Pro-version. The phone lacks 3,5 jack, water resistance, wireless charging and stereo sound.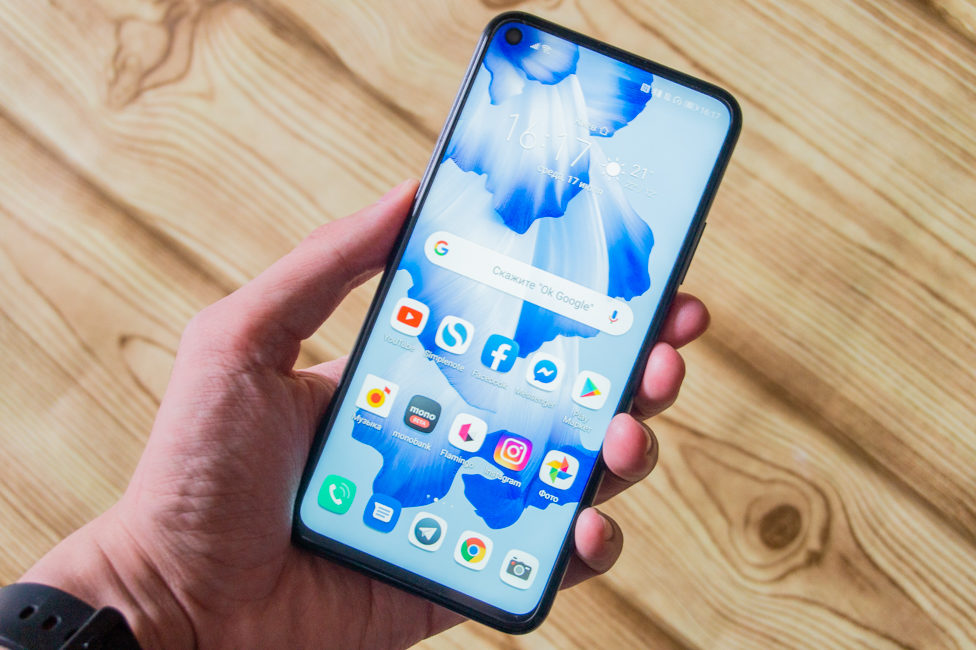 On the other hand, the design is great, as well as the IPS-screen and the hardware that runs any game you throw at it. The cameras are also fine, the battery, too. And it all costs normal money, considering that it's a flagship.
Where to buy Honor 20
Subscribe to our accounts: