The Huawei P60 Pro is a new flagship smartphone that was previously shown in China, and today, at a presentation in Munich, the start of its European sales was finally announced. We received the device a few weeks ago, and we tried to thoroughly test it and prepare a detailed review, as well as compare it with its predecessor and current competitors. In this article, I will also talk a little about the software component of the mobile platform created by Huawei during the past sanctions years.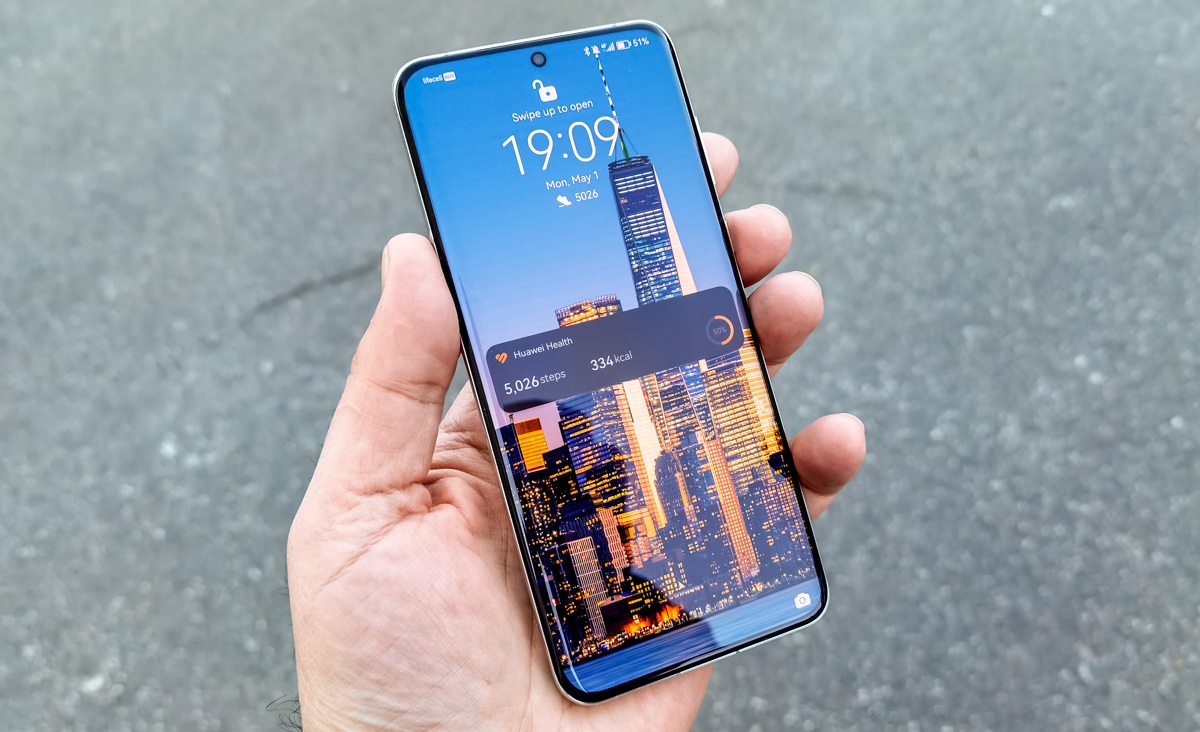 What's going on with Huawei? Instead of an introduction
You probably know that there was a fast-growing global leader in the smartphone market, Huawei. I remember going into the subway and seeing half the people there holding devices of this brand. But for four years now, Huawei's mobile division has been operating under the most severe sanctions imposed by the US government. These unprecedented restrictions prohibit the use of advanced hardware components by the manufacturer, and most importantly, the company has been excommunicated from the church of Google Mobile Services (GMS or gapps). Most customers, of course, immediately turned away from the brand: "Ewwww, we don't need such smartphones for free!".
What did the manufacturer do? It would seem that it was time to fold your arms across your chest, wrap yourself in a white blanket and crawl towards the cemetery. After all, it was not far away and easy to get there – just a short walk down the hill and you were there. But the persistent Chinese suddenly climbed in the opposite direction – up an almost sheer cliff. Everyone was shouting at them: "You idiots, you will fall into the abyss, you will not succeed, you will not be able to fight the system!" And they continued to climb up, without any special equipment or insurance, bleeding their fingers. And you know, after almost 4 years, they finally reached a plateau where they could get down on all fours and even try to stand up. Don't believe me? Then you should definitely read this review.
By the way, I warned you that back in 2020… Read here: From Shell to Platform. What the Future holds for Huawei
In general, in the past years, the company has managed to launch new smartphones outside of China, for example, at the end of 2021, I attended the last pre-war presentation of Huawei nova 9 and even managed to release a review before the full-scale invasion began. Also, after numerous delays and postponements, the world saw the first fully sanctioned flagship Huawei P50 Pro (read the review), which was released first in China (in mid-summer 2021, two years after the presentation of the previous generation P40). It was only in early 2022 that this smartphone arrived in Europe.
Read also:
It so happens that among other smartphones in my arsenal, I still have a Huawei P40 Pro, and I don't have a better camera at the moment (it has modules that were developed before the sanctions in partnership with Leica), so all the photos of the new device for the review were taken with it. Also, during the testing process, I will constantly compare the cameras of the two smartphones, and from time to time, the performance of other equipment.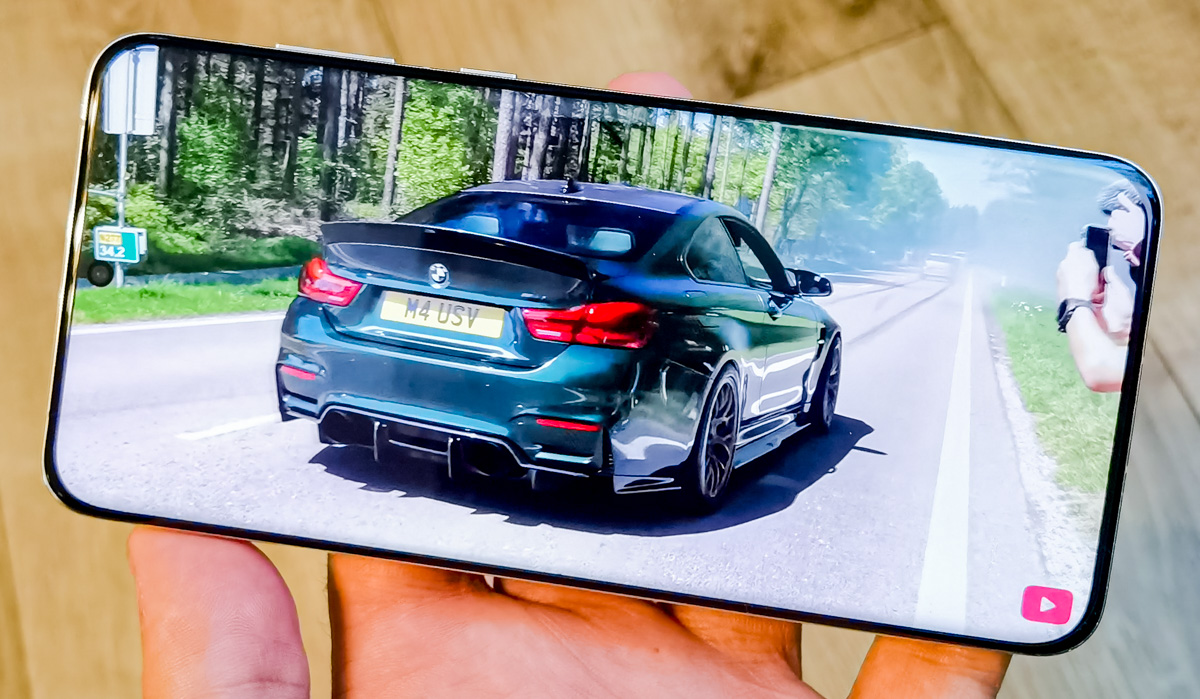 Main characteristics of Huawei P60 Pro
Dimensions: 161.0 x 74.5 x 8.3 m
Weight: 200 g
Dust and moisture protection: IP68 (immersion up to 1.5 m for up to 30 minutes)
Display: 6,67″ LTPO OLED, 1 billion colours (~89.8% screen-to-body ratio), 1220×2700 pixels (~444 ppi) resolution, 120 Hz screen refresh rate, independent screen brightness control (PWM dimming) up to 1140 Hz, touch sensor refresh rate up to 300 Hz
Protective glass: Kunlun Glass
Software platform: HarmonyOS 3.1 (China), EMUI (Europe), without Google Play services
Processor: Qualcomm SM8475 Snapdragon 8+ Gen 1 4G (4 nm) 8-core (1×3.19 GHz Cortex-X2 & 3×2.75 GHz Cortex-A710 & 4×2.0 GHz Cortex-A510)
Video accelerator: Adreno 730
RAM: 8 or 12 GB
Permanent memory: 256 or 512 GB (UFS 3.1)
Memory card slot: NM (Nano Memory) up to 256 GB, hybrid – instead of a second nano SIM
The main camera is a triple camera:
Wide-angle module: 48 megapixels, f/1.4-f/4.0, 25 mm, PDAF, Laser AF, OIS
Telephoto module: 48 megapixels, f/2.1, 90 mm, PDAF, OIS, 3.5x optical zoom
Ultra-wide module: 13 megapixels, f/2.2, 13 mm
Extras: LED flash, HDR, panorama
Video recording: 4K@30/60fps, 1080p@30/60fps, 1080p@960fps; gyro-EIS

Front camera:

Ultra-wide module: 13 megapixels, f/2.4
Additional features: Panorama, HDR
Video recording: 4K@30fps, 1080p@30fps

Sound: stereo speakers
Wireless communicationsї:

Wi-Fi: WLAN Wi-Fi 802.11 a/b/g/n/ac/6, dual-band, Wi-Fi Direct
Bluetooth 5.2, A2DP, LE
NFC:  NFC-SIM, HCE
Infrared port

Geolocation: GPS (L1+L5), GLONASS (B1I+B1c+B2a), BDS (B1I+B1c+B2a), GALILEO (E1+E5a), QZSS (L1+L5), NavIC
Satellite communication: BDS Satellite Message
Port for charging and data: USB Type-C 3.1, OTG
Sensors and gauges: optical fingerprint scanner under the display, accelerometer, gyroscope, proximity and light sensor, compass, colour spectrum sensor
Battery: Li-Po 4815 mAh
Charging: 88 W wired, 50 W wireless, reverse wireless
Case colours: Black, Emerald Green, Purple, White
Read also: Huawei Watch Ultimate review: Top smartwatch and competitor for Apple Watch Ultra
Positioning and price
At this point, I recommend sitting down if you are standing and grabbing the armrests of the chairs tightly so as not to accidentally fly into the stratosphere. So, attention, prices for Huawei P60 Pro in Europe: Almost 1200 EUR for the 8/256 GB version and about 1350 EUR for the 12/512 GB version. That's a lot!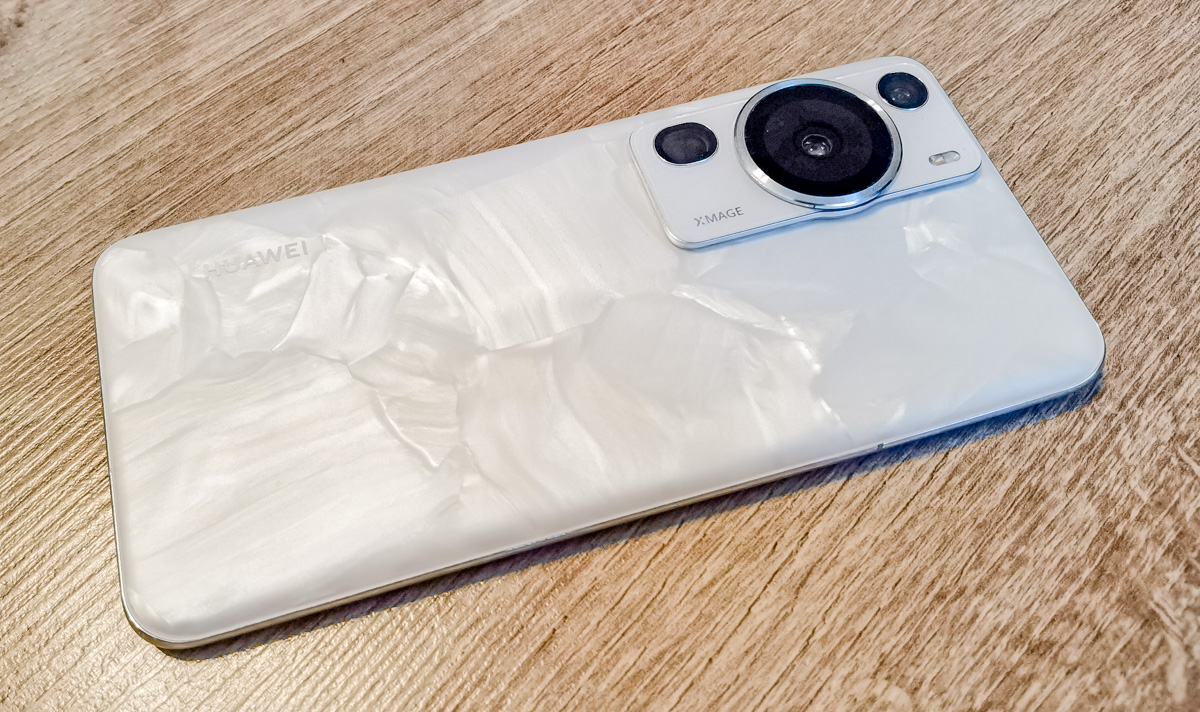 I'll leave aside my thoughts on the success of sales of a smartphone without Google services at this price. Someone will definitely buy it, because for one major drawback (which I can easily refute personally, as I have been using a similar smartphone for 3 years), Huawei P60 Pro has many advantages.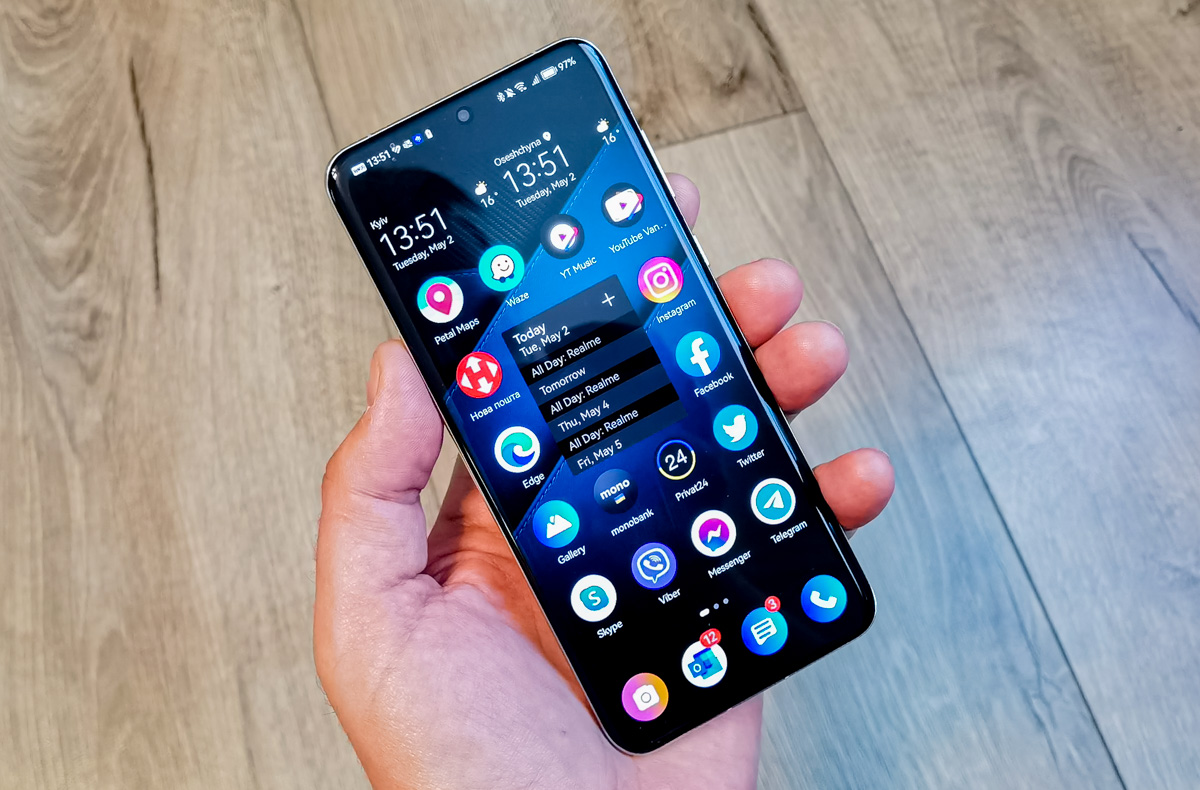 In general, the cost of a new smartphone is typically flagship, at the level of the main competitors, albeit not in terms of marketing, but in terms of technology – Samsung, Apple, and recently Xiaomi (which has deftly intercepted cooperation with Leica in the field of mobile photography). In this case, I believe (and I have said this many times before) that Huawei is simply trolling the market and competitors with high prices. It seems to me that the manufacturer is clearly not counting on large sales of its new flagship smartphone in the region. But at this stage, the main thing for the company is not victory, but participation, i.e. presence in the market and constant filling of the news space with its newsworthy events. And Huawei P60 Pro will provide plenty of newsworthy events and hype, I guarantee it. Because the smartphone is really good. And I will try to prove it to you. Let's move on!
Supply set
We won't find anything unusual in the box. The standard gentleman's set includes an 88W charging adapter with two outputs – USB-A and Type-C (which is undoubtedly cool), a USB-C cable on both sides, a SIM tray key, a manual and a simple transparent silicone case. There is a protective film on the screen.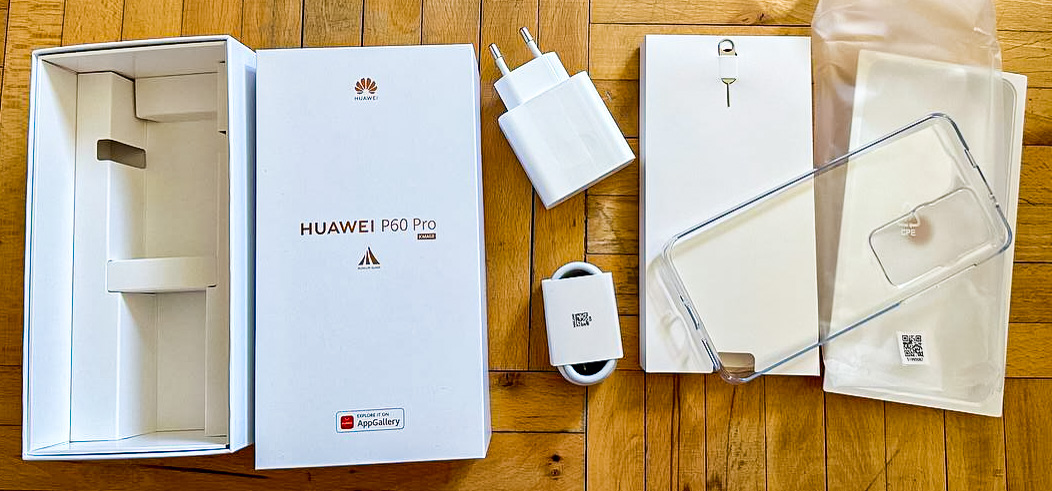 Design, materials, construction
I won't say that the design of the P60 Pro is very outstanding, but at the same time, it is definitely original and recognisable, not copying elements invented by other manufacturers. Moreover, to some extent, I can trace the continuity of design solutions over several generations of Huawei P-series flagship devices.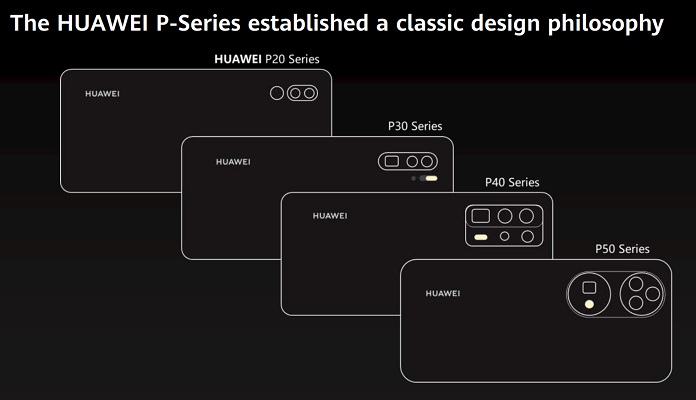 From the front, the P60 Pro looks more like the 50 Pro due to the single front camera in the middle. Let me remind you that before that, P40 Pro had a dual front camera unit with an additional ToF module located in the left corner.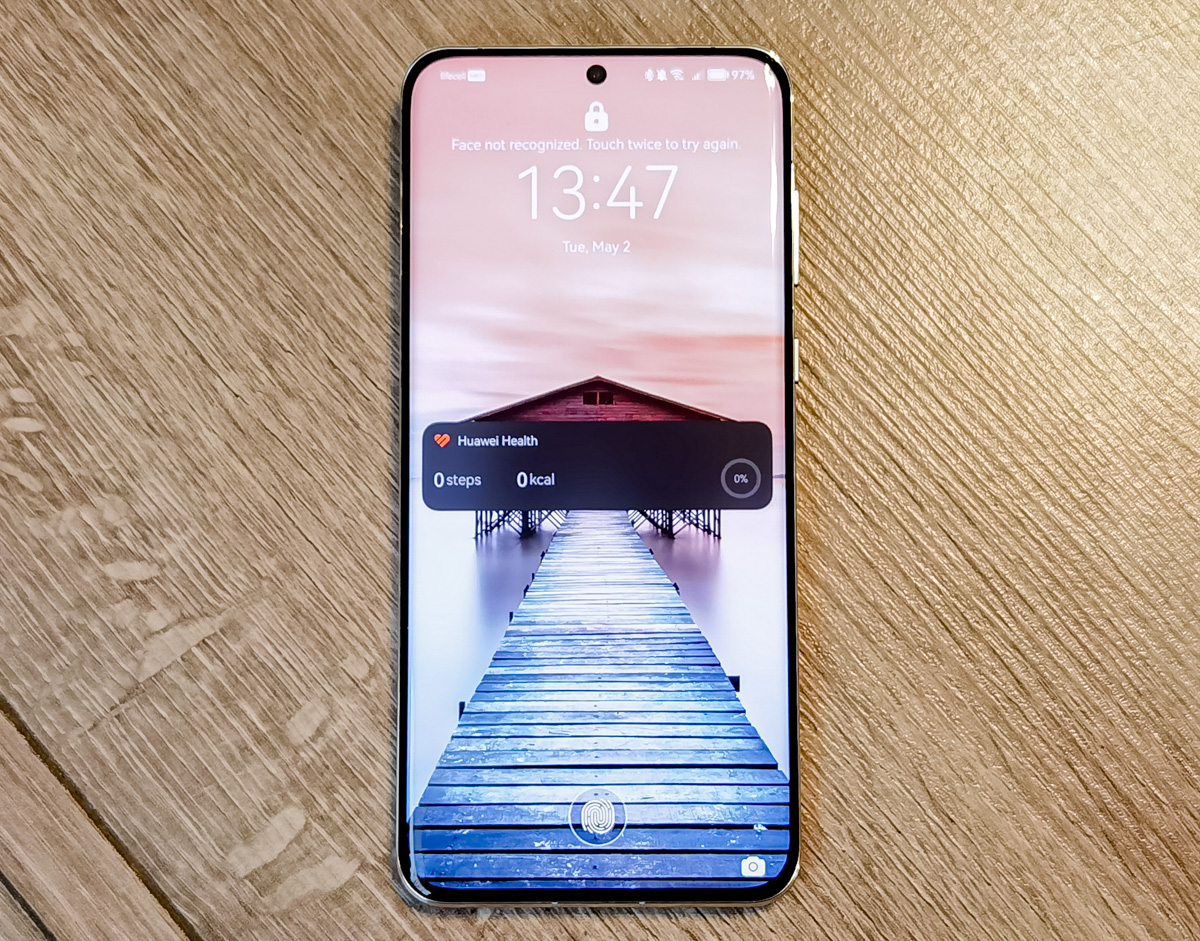 What I particularly like about the front of the smartphone is the rounding of the glass around the perimeter. This solution was first used in P40 Pro. Moreover, this is not just a decorative effect of the front glass. The edges of the smartphone screen are also curved – more on the sides and a little bit on the top and bottom. In addition to the fact that the smartphone looks spectacular, the image on the screen seems to be pushed forward towards the user, the rounded edges of the smartphone also provide greater comfort when controlling the smartphone with gestures, as it is more convenient to swipe from the edge of the screen.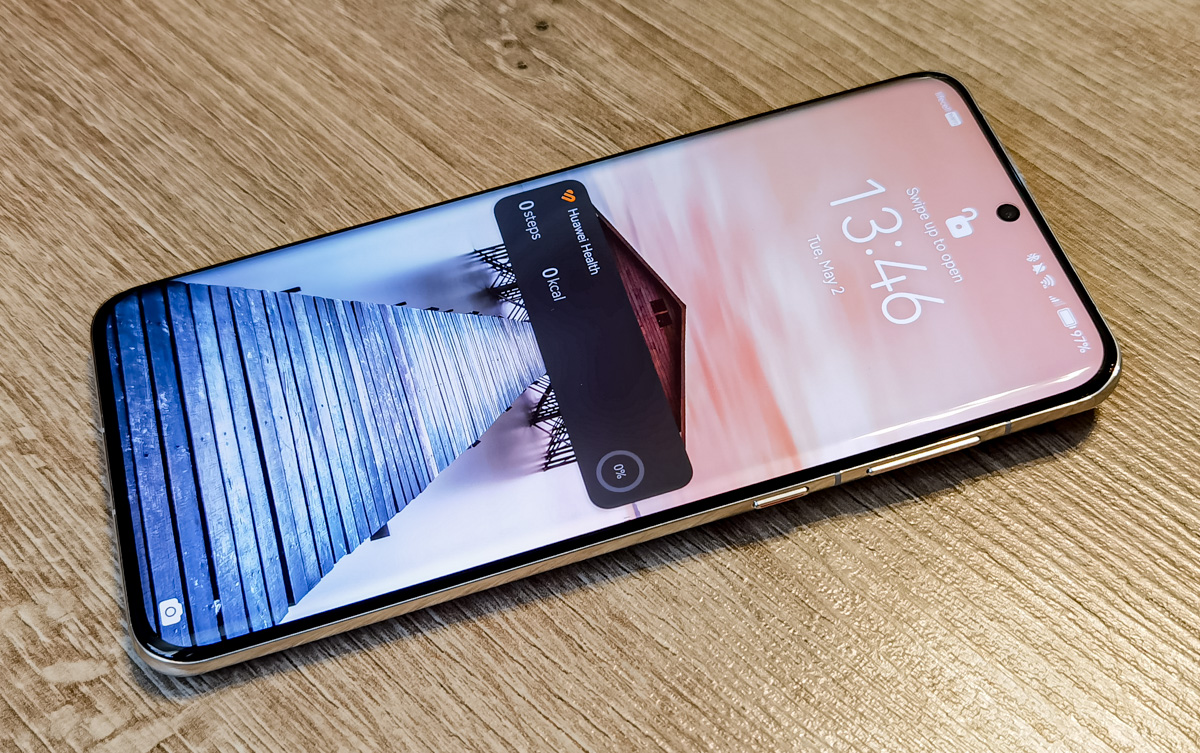 The main design element at the back is a camera unit with a large central module, and it also looks quite unique and original compared to the competition.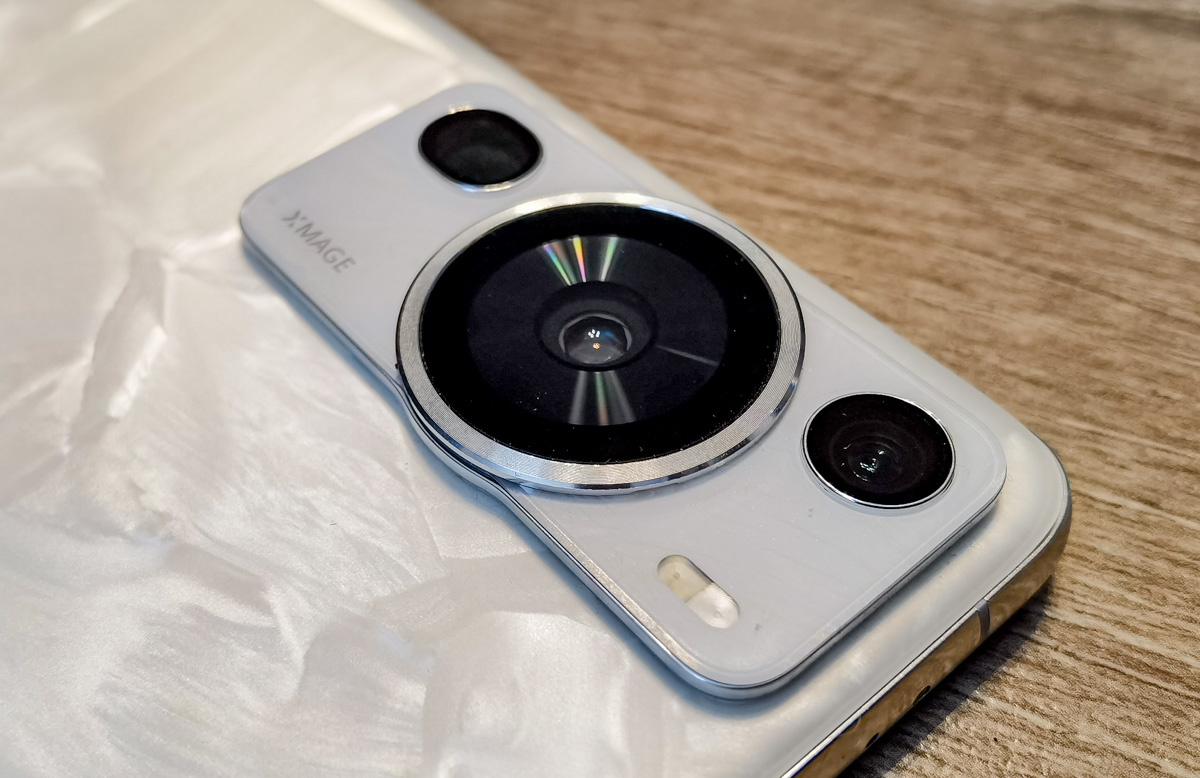 By the way, this design of the camera unit was not chosen by chance, it is stylised to look like a classic film camera with a large lens. Another hint that we are holding an advanced photographic flagship.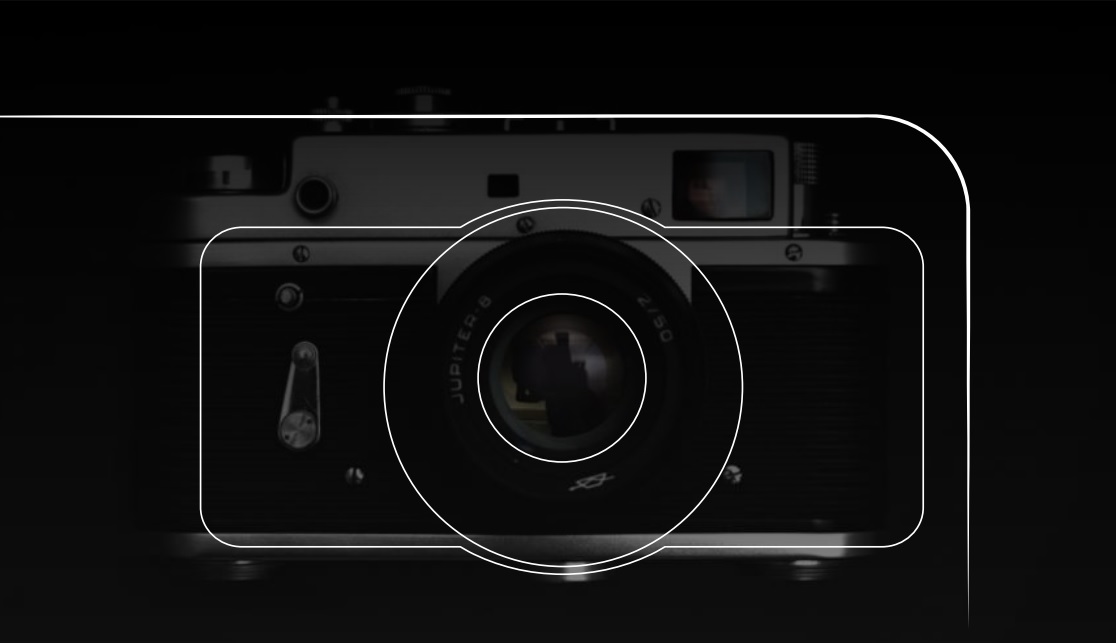 Huawei offers several colour options to choose from, but of course, the most unusual this year is white. In this version, the back cover is made in a pearlescent design. And you won't find the same pattern on different devices, the pattern is unique for each individual smartphone.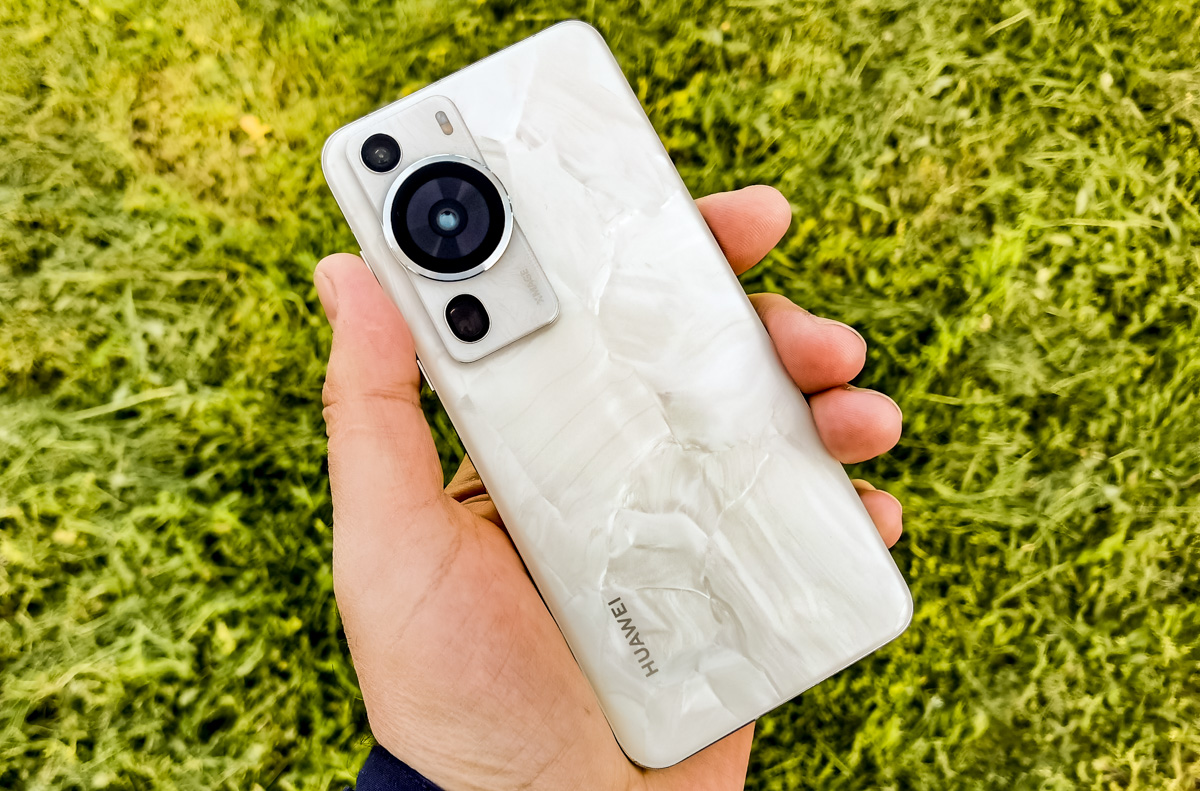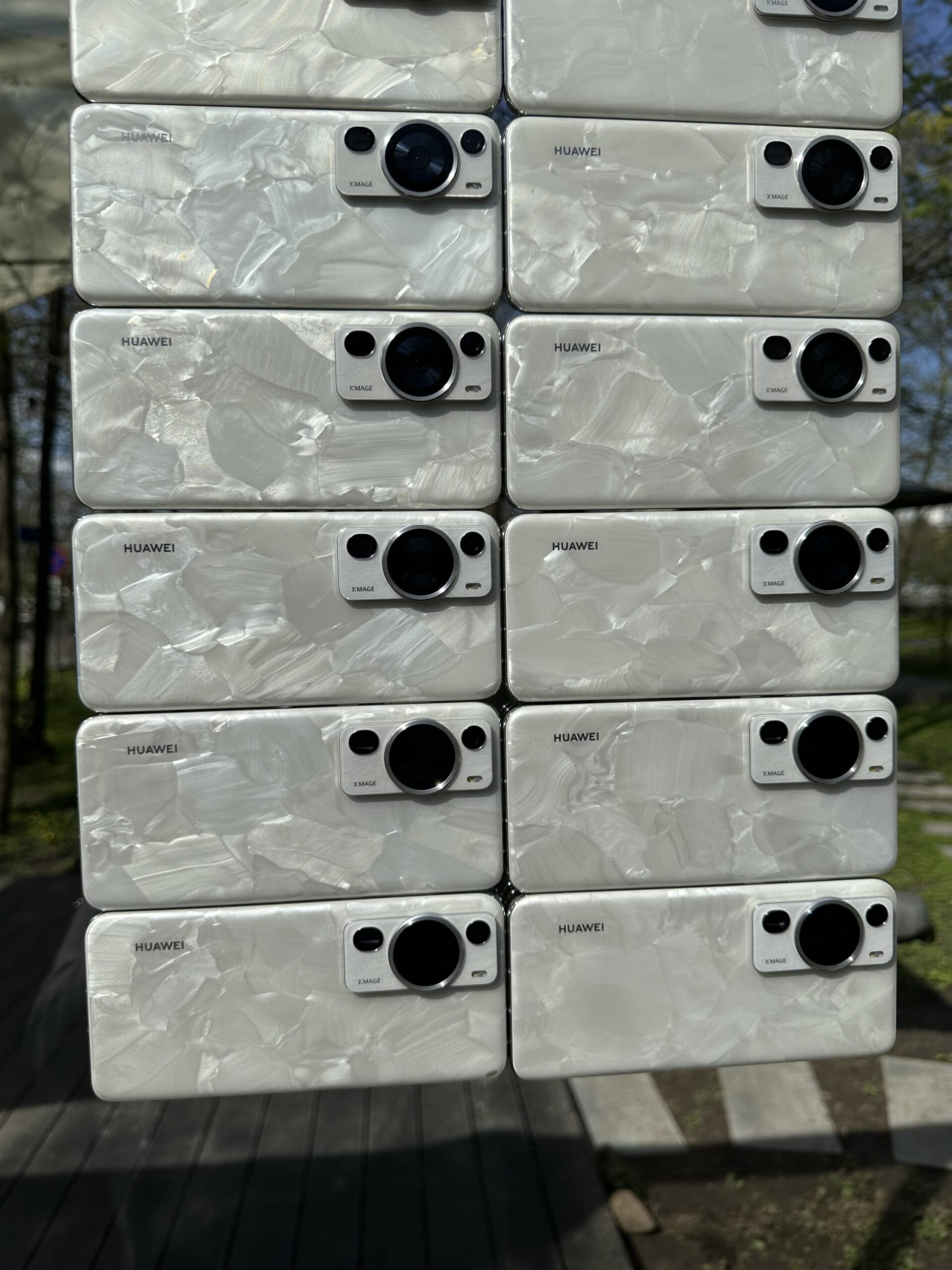 The smartphone is available in 4 colours, but only black and white will be available in Europe. Personally, I liked the green version the most, it's a pity that it won't be available in our area.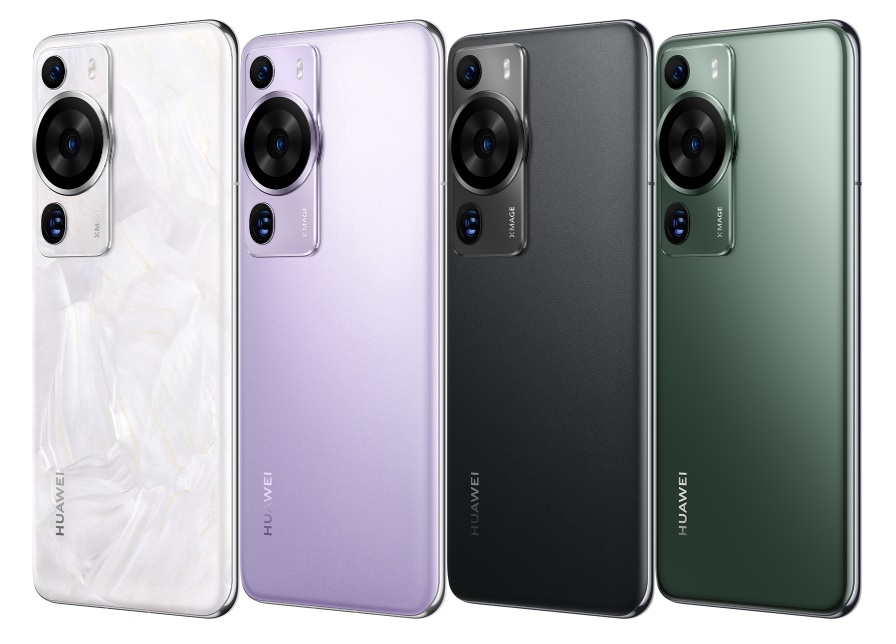 As you can imagine, I'm testing a smartphone with a white body. At first, the pearlescent cover seems too pretentious for my taste. It evokes associations with the grip of a Mauser pistol of some Arab sheikh. The black version, judging by the photo, is quite restrained and pleasant, with a matte finish.
By the way, the lid of the white smartphone is also matte, pleasant to the touch and does not collect fingerprints at all. Over time, I got used to its appearance and at some point I even started to like the white smartphone. In addition, no matter what colour you choose, all the "beauty" is likely to be hidden by the case.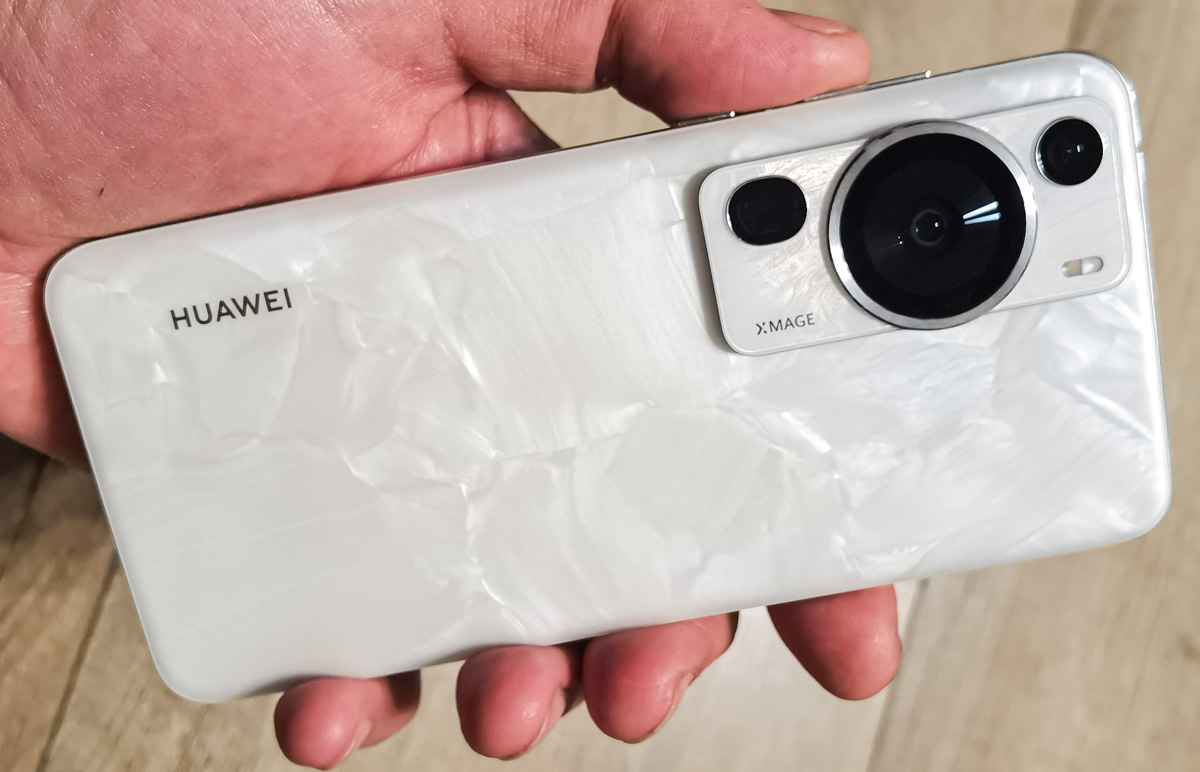 The materials used in Huawei P60 Pro are traditionally flagship – a metal frame around the perimeter, glass on the back.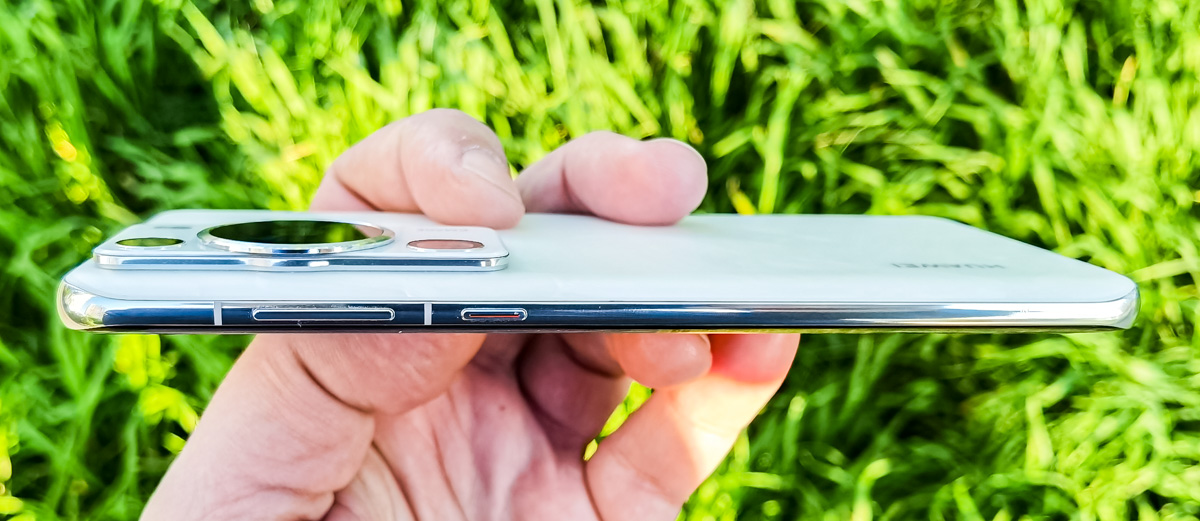 The camera block is also framed by metal, with a metal ring around the main module in the centre, which protrudes above the block.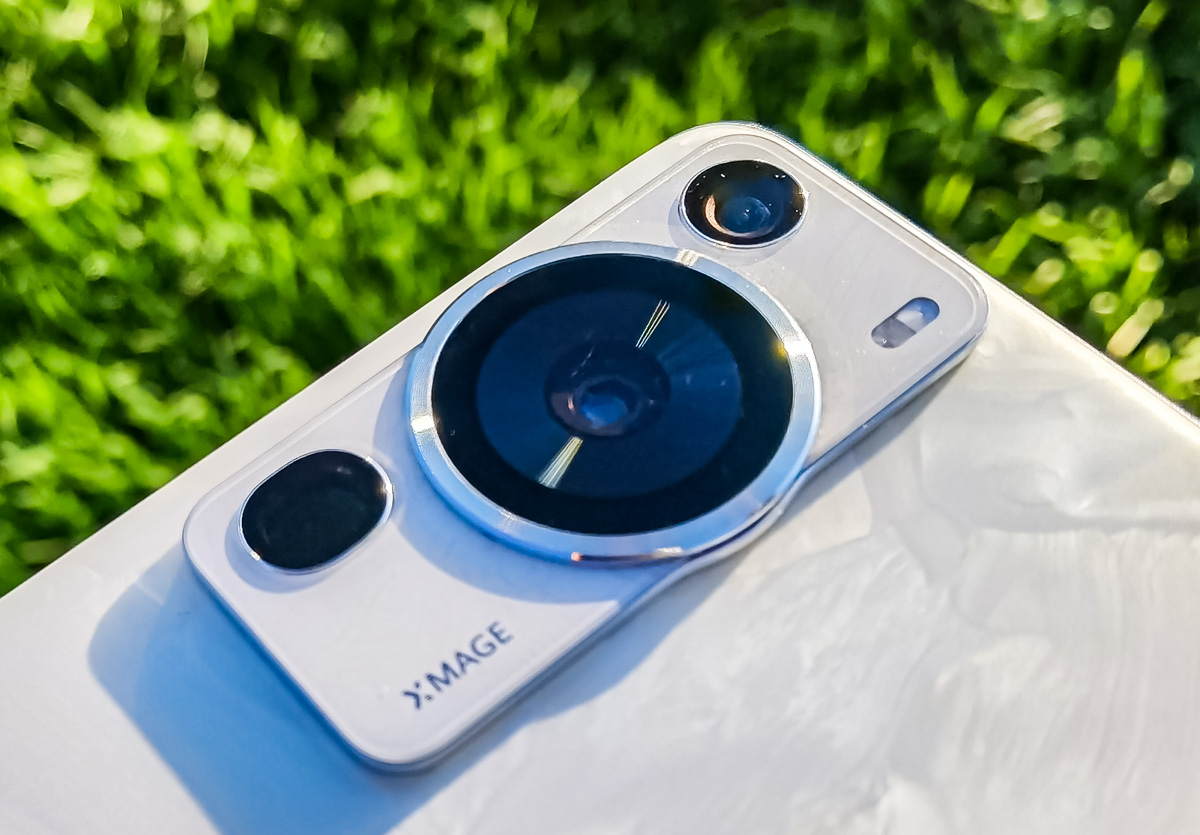 There are no complaints about the build quality, it's perfect, and the familiar Huawei quality hasn't disappeared. It is also worth noting the traditional presence of IP68 dust and moisture protection in the smartphone.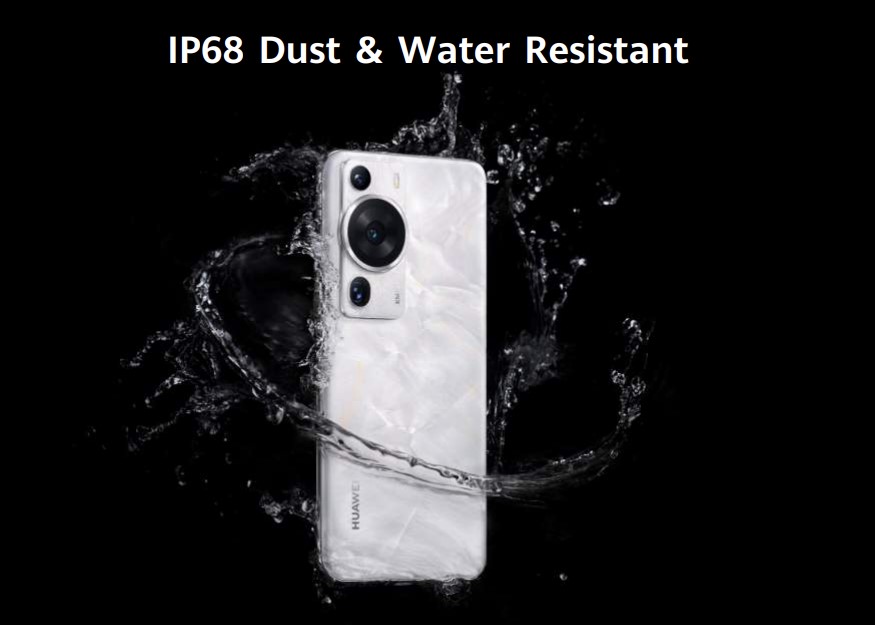 In addition, the manufacturer claims that the Kunlun Glass used in the P60 Pro is 10 times stronger than the one previously used in Huawei smartphones, but does not specify which solution they are comparing it to.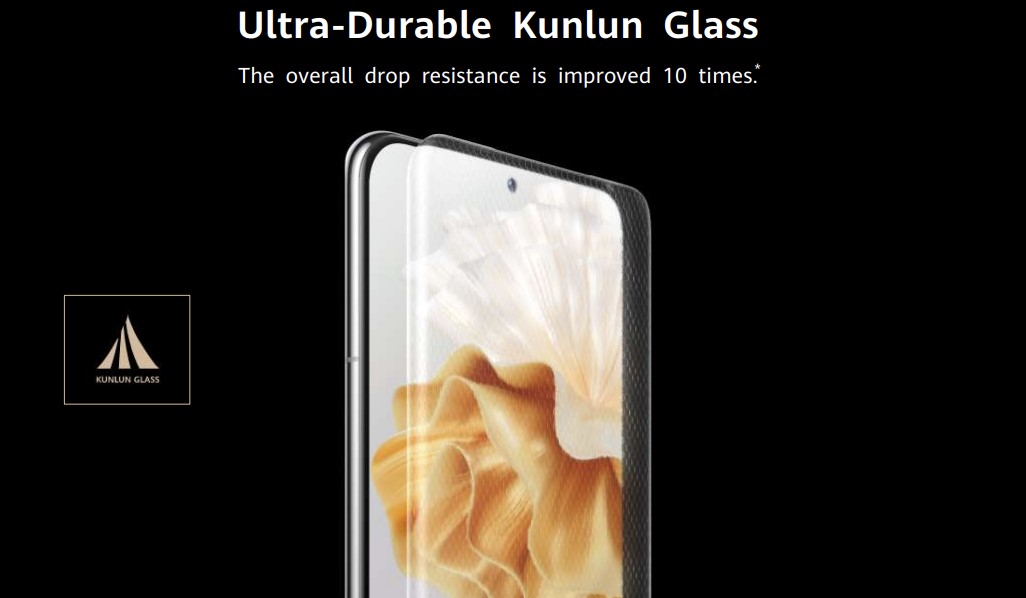 That's okay, I managed to test the glass's durability in practice. I'm ashamed to admit that I dropped my smartphone during the tests (this happens not often). The incident happened, sorry, in the bathroom – the smartphone fell from a height of about 1.5 metres onto the ceramic tiles, and as luck would have it, the screen was down. It was quite an exciting few seconds until I picked up the smartphone and made sure it was completely undamaged. So it's okay, feel free to drop it! If anything, it's a joke, mechanical damage is not covered by the warranty, and in general, it's difficult to repair, keep in mind.
It's also worth noting that the smartphone is small in size, which is rare for a flagship, especially with the "Pro" prefix. This is especially noticeable against the iPhone 14 Pro Max and Samsung Galaxy S23 Ultra. The rounded edges of the screen also work for compactness. The device is very conveniently operated with one hand, light, thin – and this is a huge advantage!
Layout of the elements
Let's take a quick look at the new product from all sides.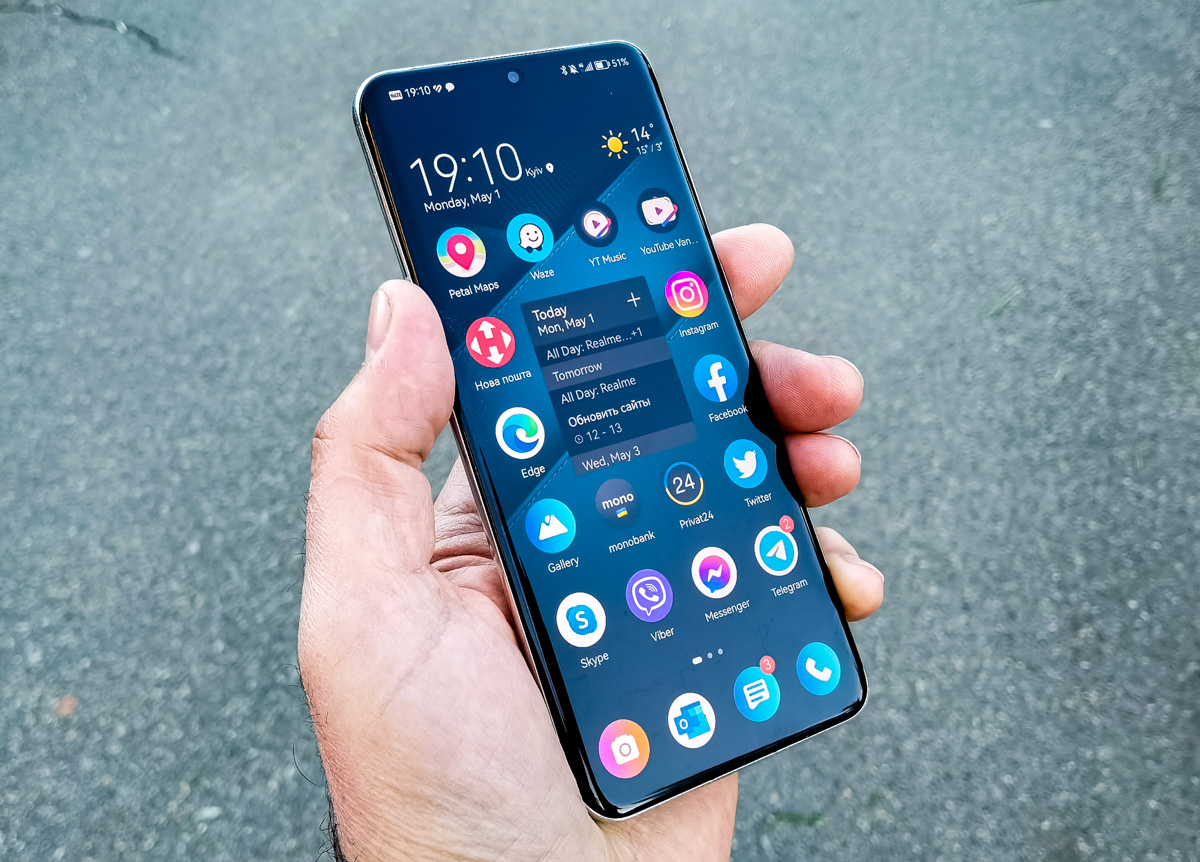 In front is the screen, the bezels are minimal, as befits a flagship. There's a small camera peephole on top. And somewhere in the frame are light and proximity sensors. There is a thin slot for the earpiece speaker between the bezel and the glass. This makes the smartphone different from previous devices in the line, which used acoustic display technology (starting with P30 Pro).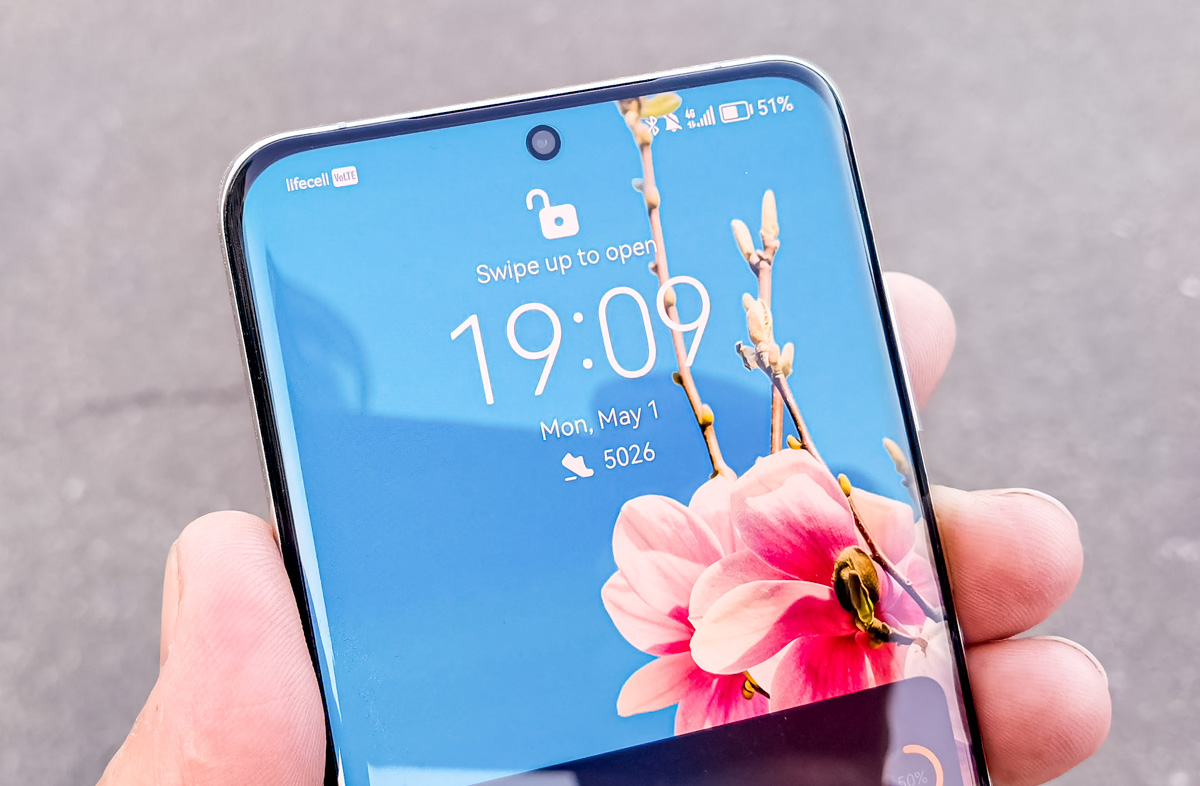 The optical fingerprint scanner is located under the glass at the bottom. Too low, in my opinion; the P40 Pro has it much higher and it's more convenient to use it with one hand.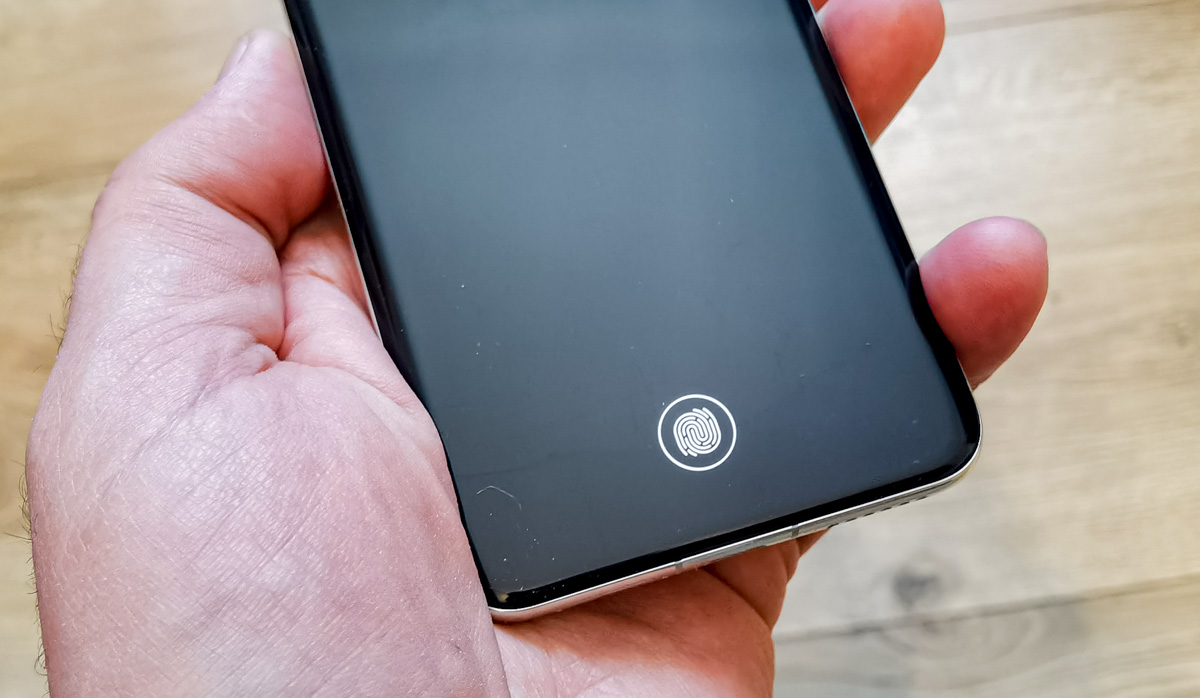 The left side is empty. On the right is the power button with a traditional red luminescent marker and the volume key above.
At the bottom is a SIM and memory card slot, microphone, USB-C port and the first speaker. On the top edge we see the second speaker, a microphone and an infrared port that turns the smartphone into a home appliance control panel.
On the back is a large triple camera unit with XMAGE, a light spectrum sensor and an LED flash. And the Huawei inscription is in the traditional place – at the bottom left.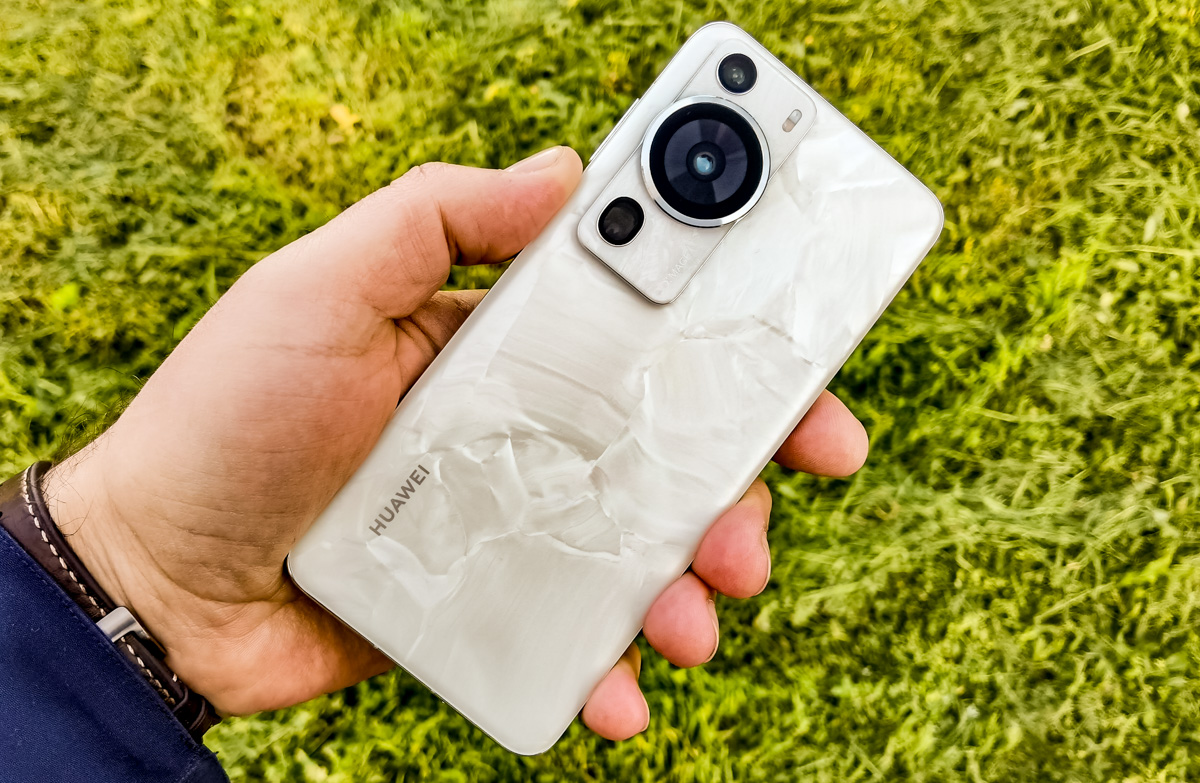 Read also: Huawei MatePad SE 10.4 tablet review
Screen
Huawei P60 Pro has a 6.67-inch LTPO OLED matrix curved on 4 sides with a resolution of 1220×2700 pixels (~444 ppi), which the manufacturer calls HUAWEI X-True Display. The screen's characteristics are truly flagship: the refresh rate is dynamic at 1-120 Hz, there is support for DCI-P3 colour gamut, and TÜV certification, which guarantees colour accuracy, which is important when working with professional photo editors.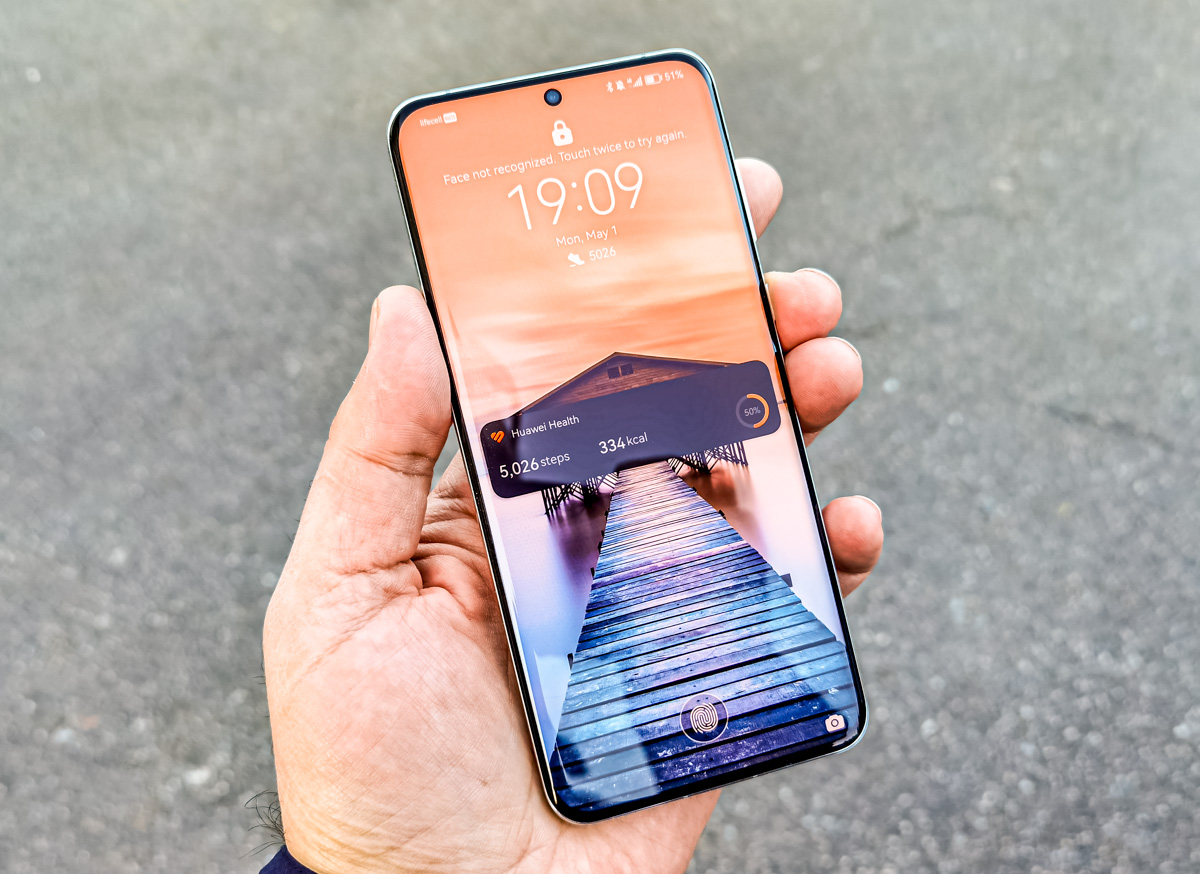 In the display settings, you can select the screen resolution, set the maximum refresh rate on a permanent basis, or switch the screen to the standard 60 Hz, select one of several colour profiles, or calibrate the screen colour temperature manually. There is also an option to reduce display flicker.
Huawei P60 Pro Display Setting
But no matter how impressive the performance figures are, the most important thing, in my opinion, is the real experience on the screen. And it is really great. This is especially noticeable when using the smartphone outdoors in bright light. Before that, I thought that the P40 Pro was good in such conditions, but the P60 Pro is clearly a cut above its predecessor.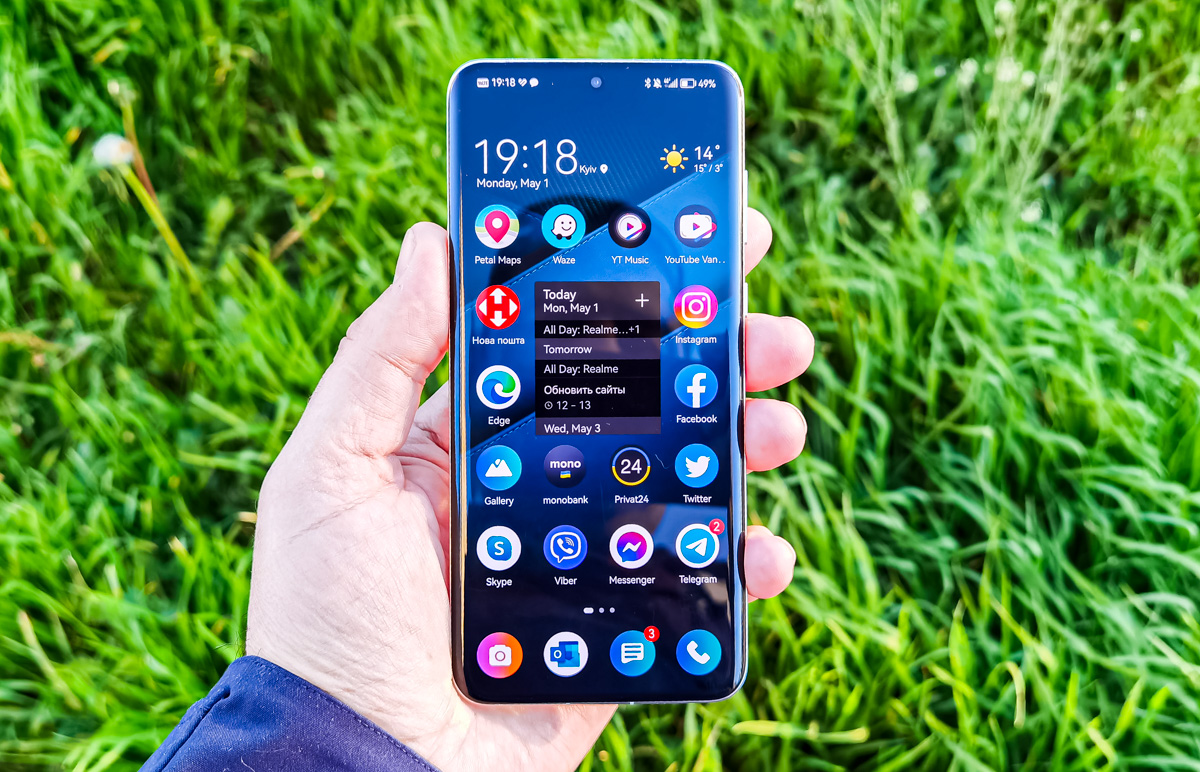 The display not only remains readable in any conditions, but also does not show distortions in contrast and colour reproduction as much as an older smartphone, which has a similar effect in bright sunlight.
In addition, it is worth noting the speed of the touch sensor, which has a refresh rate of 300 Hz. This parameter also improves the experience of using a smartphone, as it responds almost instantly to touching the screen and recognises complex gestures more accurately, for example, when you are typing continuously from a virtual keyboard.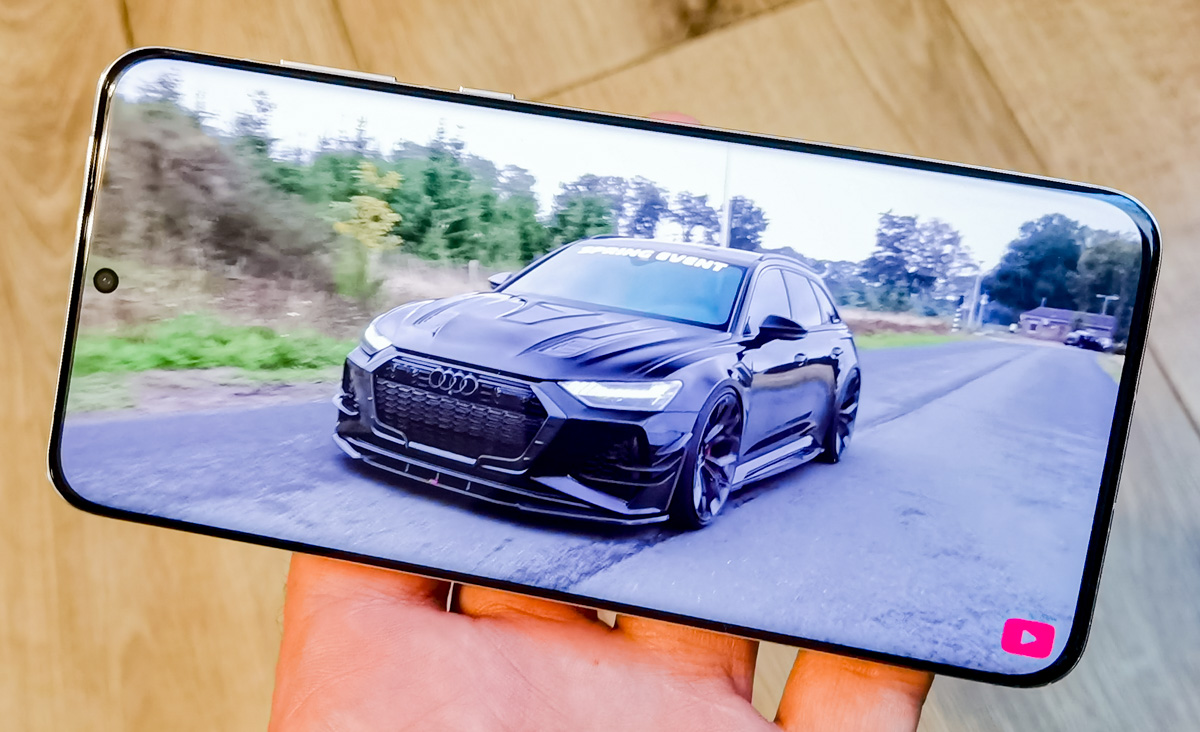 And another advanced technology implemented in the Huawei P60 Pro display is the control of the screen backlight brightness based on an independent external high-frequency oscillator up to 1440 Hz (more about the technology here). The use of an external oscillator eliminates display flicker (PWM) when the display is dimmed. Many users are susceptible to low-frequency flicker, which is common with standard AMOLED and OLED matrices with frequency-controlled backlighting. But the P60 Pro screen is free of this harmful effect and will preserve your eyesight even if you look at the screen for a long time in the dark at minimum brightness.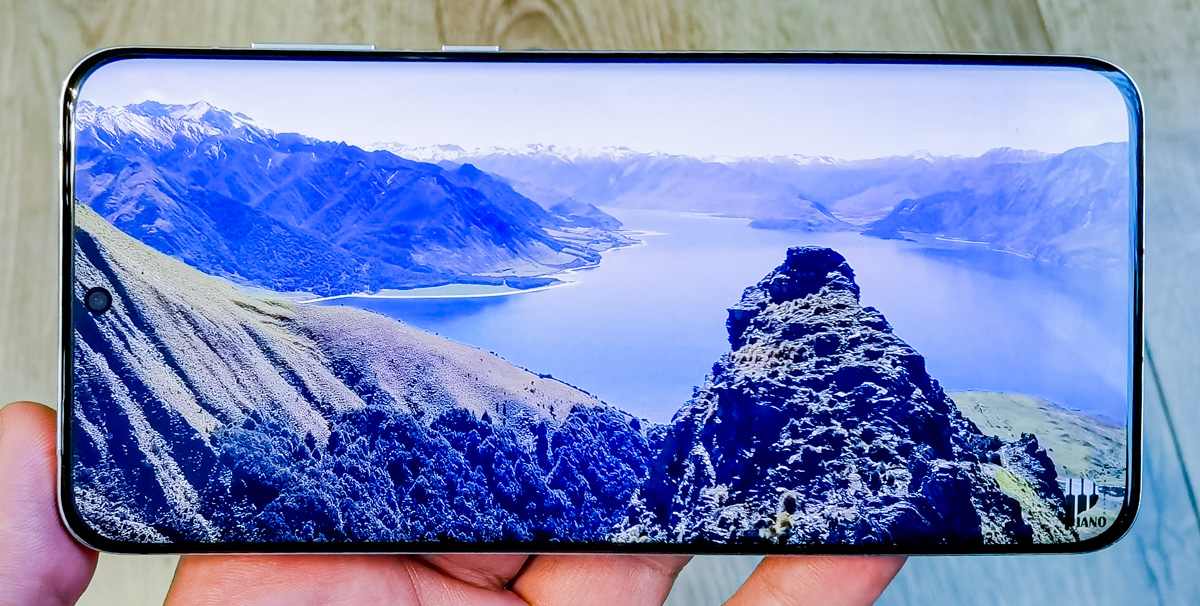 I can assume that Huawei P60 Pro has one of the best screens on the market at the moment. And maybe even the best. But since I did not make any special measurements or accurate professional comparisons, these are just my personal impressions based on experience (and I have seen many smartphone screens in my practice), so of course you can challenge me on this in the comments.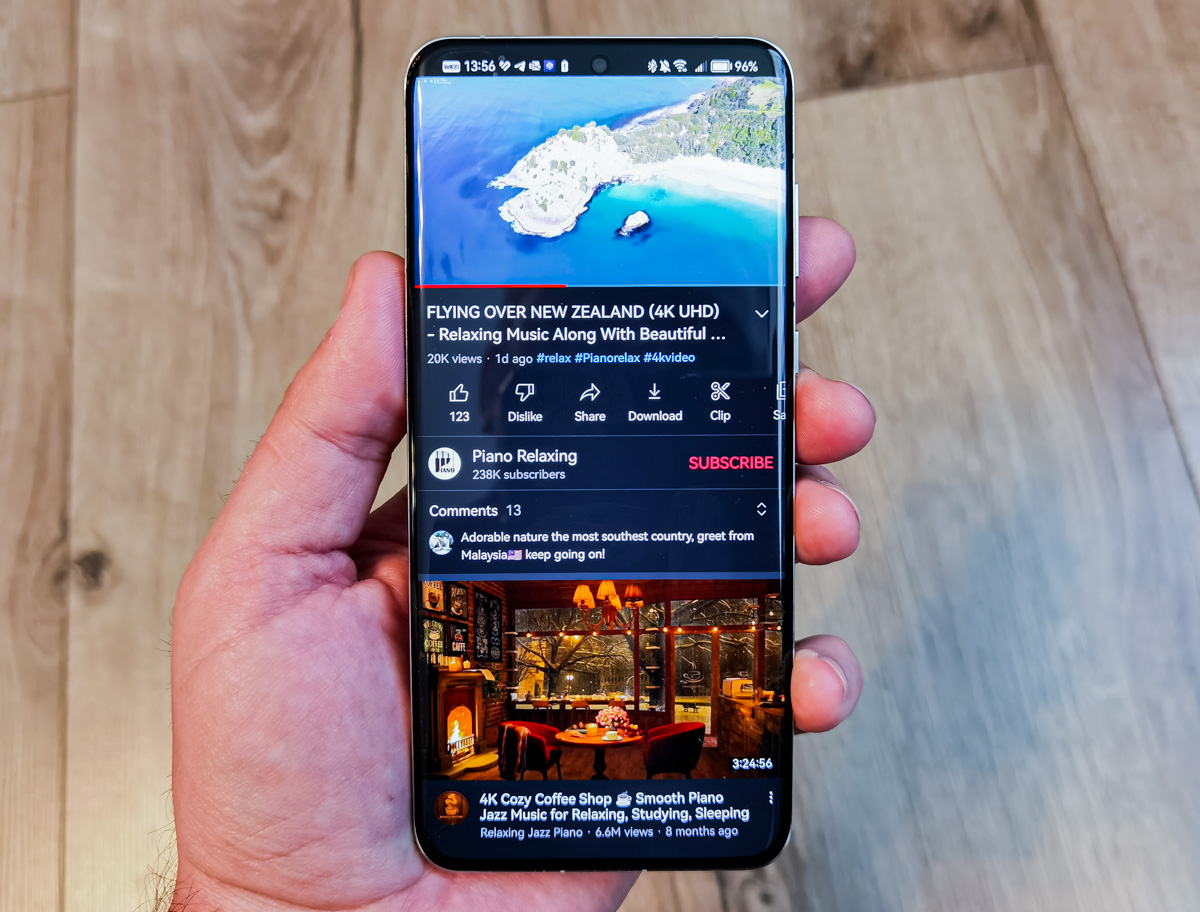 Performance of Huawei P60 Pro
The smartphone does not use the latest and most productive chipset – Qualcomm SM8475 Snapdragon 8+ Gen 1, and in a special "cut" version without support for 5G networks. Nothing can be done, no one has cancelled the sanctions. But at the same time, this is a completely modern 4-nanometre processor.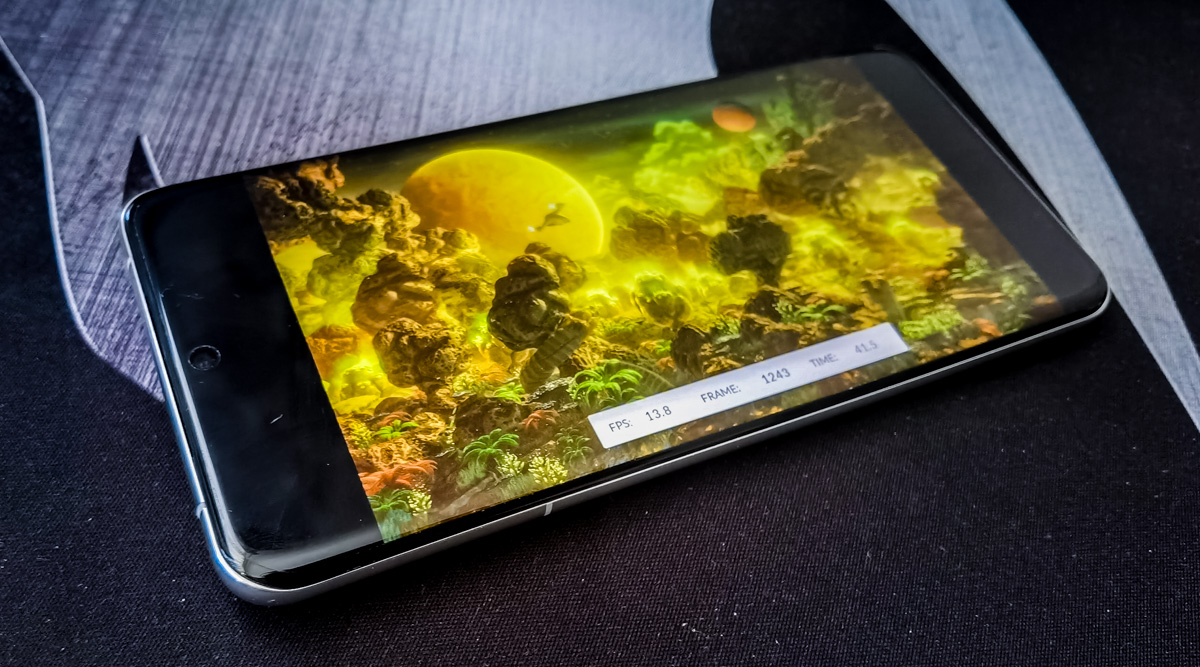 And the graphics of the Adreno 730 are good – it can handle any Android games in the highest possible resolution and with the best graphics quality.
Information about the CPU-Z system and AnTuTu:
Huawei P60 Pro CPU-Z & AnTuTu
Just for fun, I've collected all the screenshots with the results of popular benchmarks in one gallery for you, so if you want to study them, feel free. Also, the CPU stress test showed that the processor is not prone to severe throttling, which is good news for those who like to play mobile games on their smartphones for hours on end.
Benchmarks Geekbench, 3DMark, AnTuTu, CPU Throttling Test:
P60 Pro Geekbench, 3DMark, AnTuTu, CPU Throttling Test
What else is worth noting is the use of UFS 3.1 permanent memory in the smartphone. Yes, it's not the most modern or fastest version 4 again. Apparently, these are also the consequences of sanctions restrictions. But in everyday use, the smartphone proves to be an extremely fast device, as befits a flagship. Installing apps is fast, as is writing large amounts of data to the internal memory.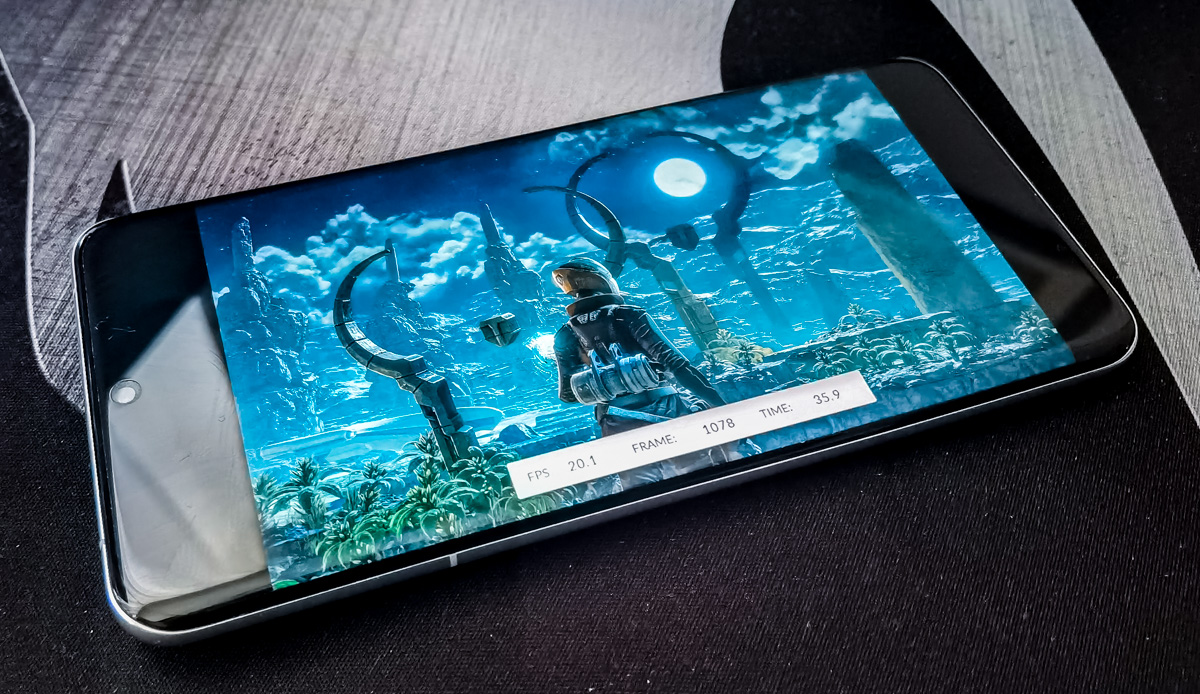 Purely nominally, the P60 Pro is 2 times more powerful than my current P40 Pro, and I wouldn't say that I experience any problems due to a lack of performance. And in general, if you don't chase absolute records, Snapdragon 8+ Gen 1 is a great solution that I'm sure will satisfy any, even the most demanding user.
Read also: HUAWEI Watch Buds review: smartwatch… with headphones inside
Huawei P60 Pro cameras
So we've come to the main highlight of the new smartphone – the main camera. It is triple and is called XMAGE. Huawei claims that this term combines all the company's technical developments in the field of mobile photography over the years, backed by years of user experience research, and generously flavoured with the classic traditions of artistic photography. This is the apogee of the apotheosis!

But seriously, the manufacturer is clearly hinting at a very cool camera. And what I have to say is that it's hard for me to disagree with this statement, the camera is probably one of the best on the market, if not the best in terms of photographic capabilities.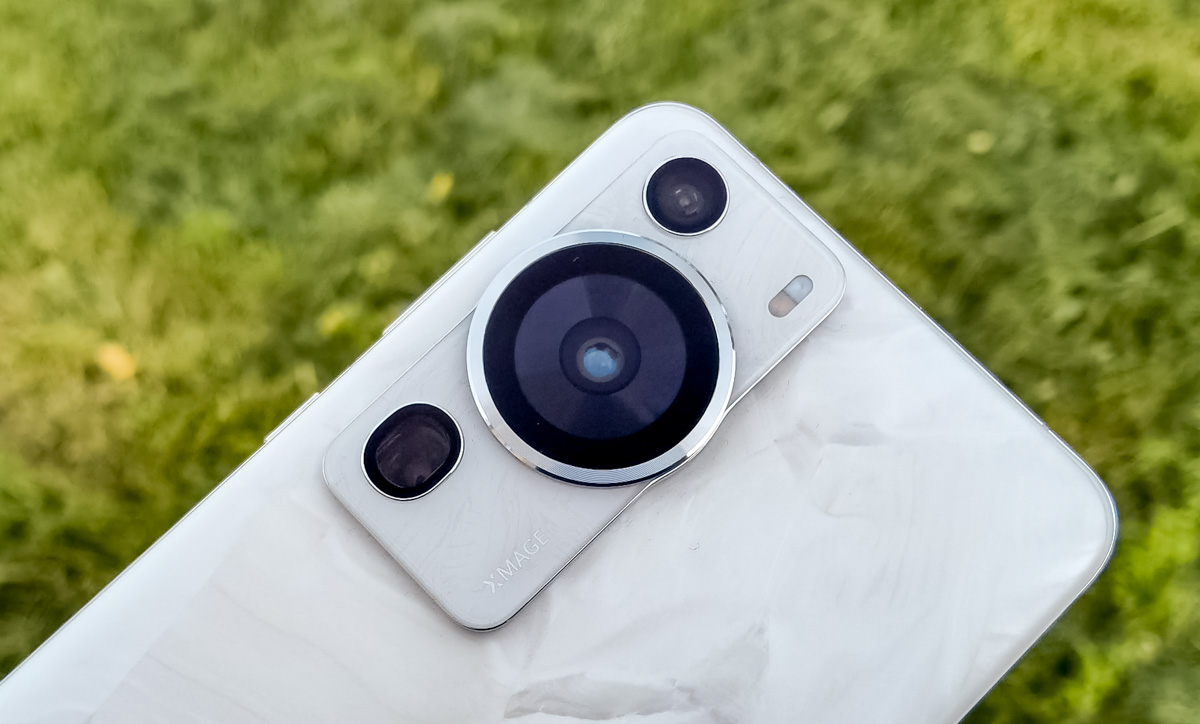 The main 48MP module, which the manufacturer calls the Ultra Lighting Camera, has a variable aperture of F1.4-F4.0, a focal length of 25mm and an optical stabilisation system. Is it just me, or is the 1.4 aperture currently the largest aperture in mobile cameras on the market? Correct me if I'm wrong.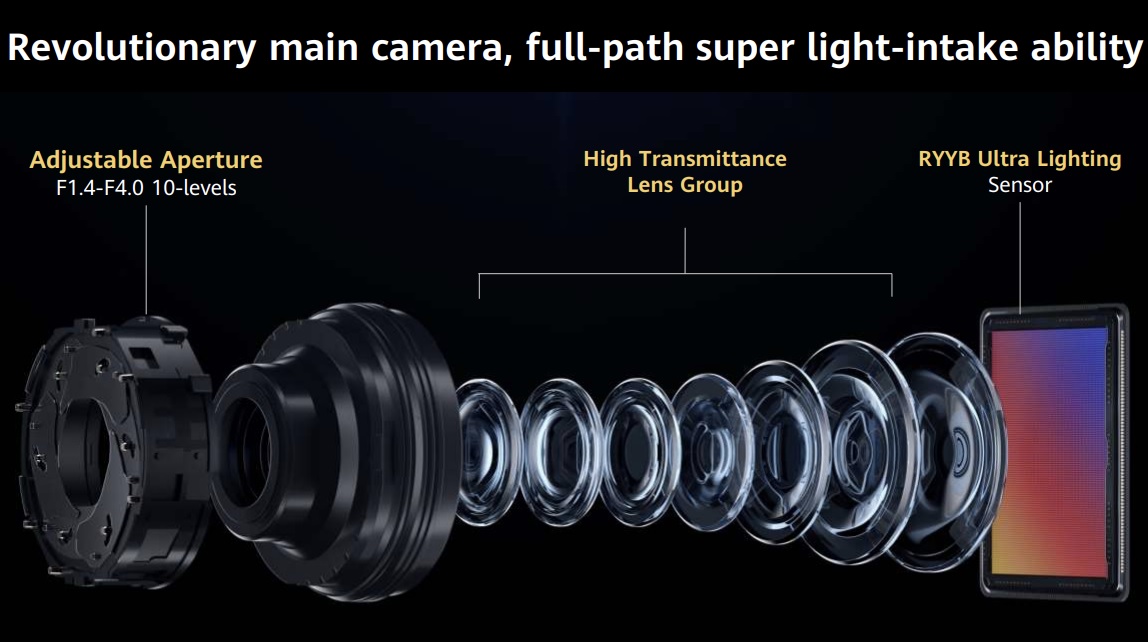 You can see how the mechanism for changing aperture works in real life in the photos below.
The manufacturer claims that the main module has a record light sensitivity. Compared to the P50 Pro, this parameter has been increased by as much as three times! And, well, the competitors are "resting" on this parameter. Let's check it out…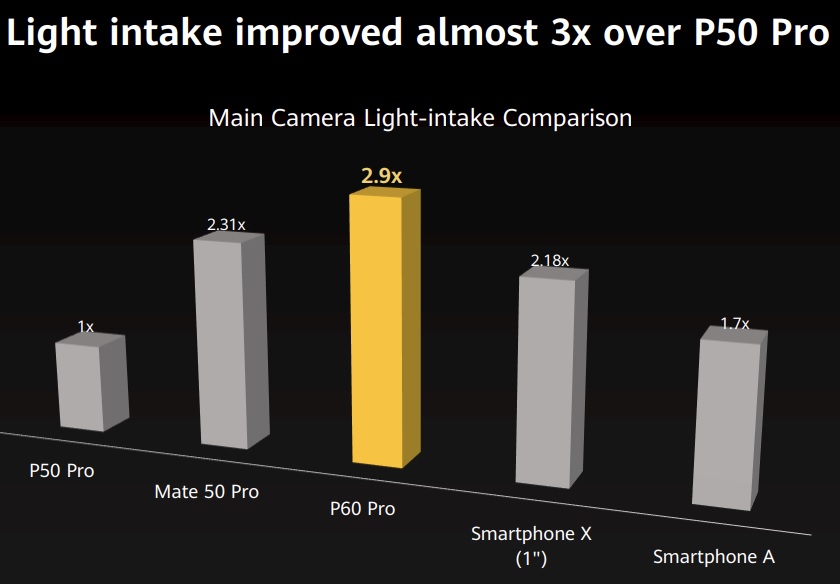 Then there's the ultra-wide 13-megapixel module with F2.2 aperture (13 mm focal length), which is probably nothing unusual, because it's not particularly highlighted in advertising materials.
And finally, the third module is an advanced periscopic telephoto camera with an aperture of F2.1 and a focal length of 90 mm, which has no analogues and is called the Ultra Lighting Telephoto Camera. It is also equipped with an optical stabilisation system.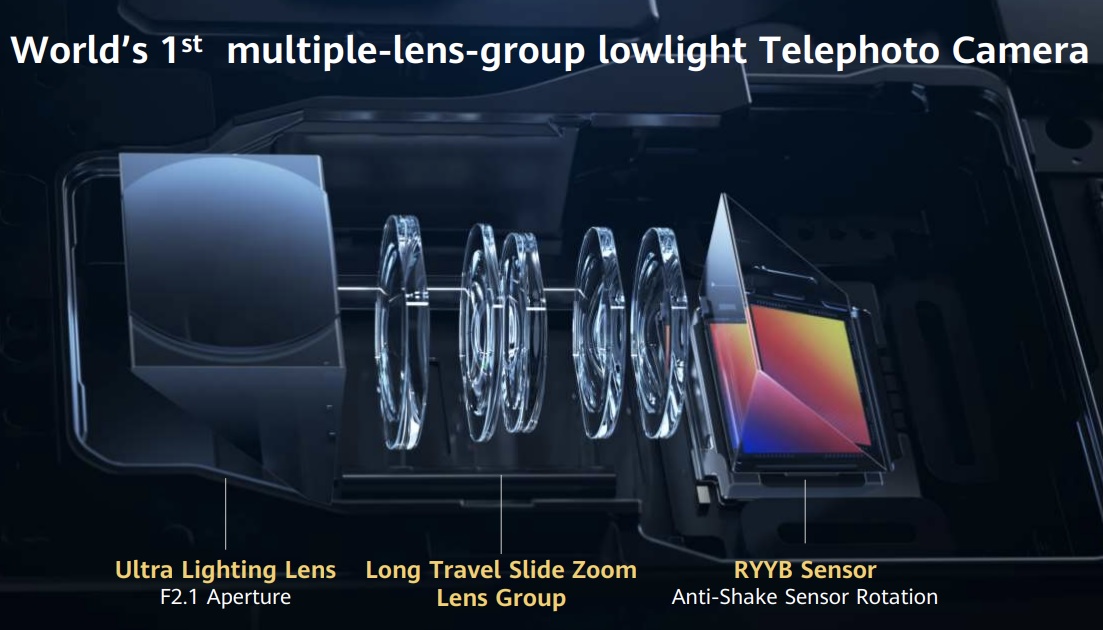 The new telephoto module also features improved light sensitivity, and based solely on the results of internal tests, Huawei has also produced a module with the best performance in the industry. We will also try to verify this in the near future – we plan to compare the P60 Pro with current competitive flagships.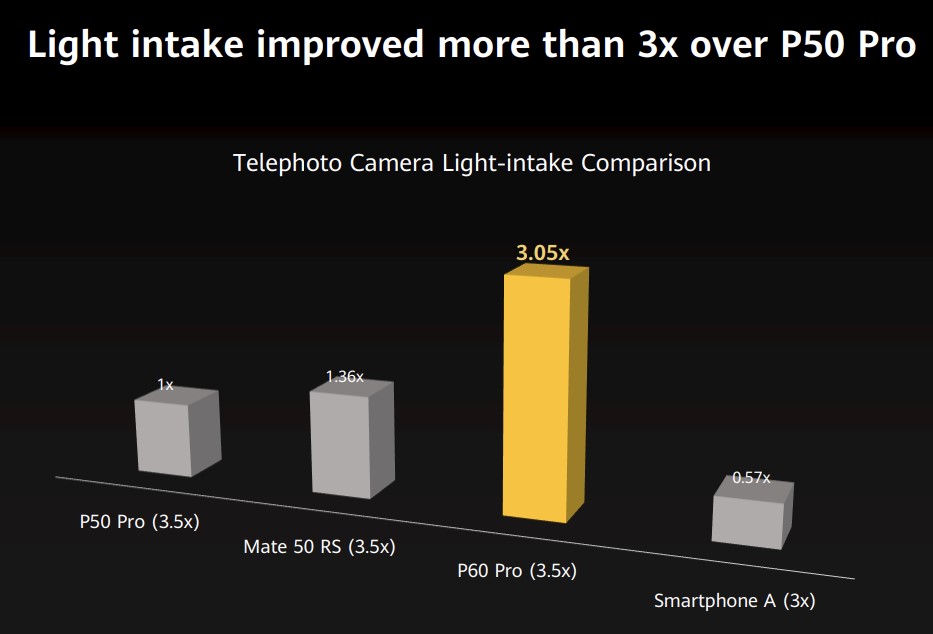 The focusing system of the main camera is carried out by phase and contrast autofocus, the presence of laser focusing is confirmed by some sources, but I personally did not notice this element, so the question remains open. I can only note that, compared to the P40 Pro, the P60 Pro focuses noticeably faster and more accurately.
The new smartphone has lost the ToF module, apparently its use could not be justified – in three years we have not received even a few applications that would actively use this type of camera.
Read also: Huawei FreeBuds 5 review: Super headphones with a strange design
Examples of taking photos
Okay, let's move on from theory to practice. And here the Huawei P60 Pro camera reveals itself to the fullest in all genres of mobile photography. Moreover, I was personally interested in comparing the new product with my current P40 Pro in complex scenes with backlight and in low light conditions. And in almost all cases, the P60 Pro demonstrates an undeniable advantage. Although the P40 Pro also has a cool camera, despite the fact that the smartphone is more than 3 years old, it can put many modern flagships under the belt or show approximate parity in most cases. But it really has no chance against the P60 Pro.
In order not to be unfounded, I will give you many examples of photos in different genres, taken in different conditions. There will be not only my photos, but also shots taken by my colleague Olga, for which I would like to thank her.
ALL PHOTOS AND VIDEOS FROM HUAWEI P60 PRO CAMERAS IN FULL RESOLUTION
Main camera mode
Telephoto lens
The periscope telephoto lens gives a 3.5x or 10x zoom (maximum due to optics) compared to the main module. And it's by far the best telephoto module I've ever seen in a smartphone! In other models, even typical ones like the Galaxy S23 Ultra or iPhone 14 Pro, it's just a way to zoom in on an object, without any super quality, just to zoom in.
Here, it's a really high-quality independent module that shoots… I won't say almost like a DSLR, because DSLR fans will be offended, but it shoots great! At the same time, you don't need to get close to the object (in the case of flowers, you don't need to climb into the bushes), just switch to 3.5x TV and it will immediately "make you beautiful". The pictures are clear, with excellent colour reproduction and perfectly blurred background. 10 points!
Portrait
Here, as you can see, the new TV camera does "very well". Portraits with it are especially good with a 3.5x zoom (relative to the main module), without having to get close to the person.
Zoom
If you want, you can also turn on the zoom up to 100x, the quality is good (thanks to AI processing, of course), but at maximum magnification it is difficult to catch the focus, the object often "floats".
As you can see, you can take pictures of the moon, no worse than Galaxy S23 (or even better, if you compare the detail, although, of course, this is not the merit of the optics). The manufacturer also promises the option of shooting the moon with other objects in the frame (without it being a luminous spot), but I was unable to repeat the photo from the presentation, perhaps due to partial cloud cover.
Night shooting
There's absolutely nothing to complain about, the pictures are perfect, clear, with enough light. Huawei's post-processing is very good. You can activate the night mode separately, but most often there is no point in this, since the phone mostly uses it too. In the "forced" night mode, the phone will always ask you to stand still for a few seconds to take a series of shots. In very dark conditions, photos using night mode may be a little lighter, but nothing critical. Here's a comparison, night mode on the right:
Front light
It is very important to evaluate the dynamic range. It is wide. Even if you don't understand anything in these terms, just look at the photos – they are very beautiful!
Macro photography
Of course, it's not a microscope like OPPO or realme, but the wide-angle module with autofocus makes it possible to take a photo almost close to the subject. Below you can see a leaf, an exercise mat, a chair upholstery, another leaf, and a cardboard scratching post for a cat.
Wide-angle module
The module cannot be called outstanding (if we compare it with a luxury TV set, for example), but it is certainly not bad either. It has excellent colour reproduction, clarity, and dynamic range. If you need to fit more into the frame, it will help.
ALL PHOTOS AND VIDEOS FROM HUAWEI P60 PRO CAMERAS IN FULL RESOLUTION
Selfie
As for the front camera, a 13-megapixel wide-angle module with F2.4 aperture is used. The photo quality is not bad, although for some reason the camera has lost autofocus, which was so accurate in smartphones of this line for several generations. The selfie camera can shoot video in 4K@30/60fps and 1080p@30fps.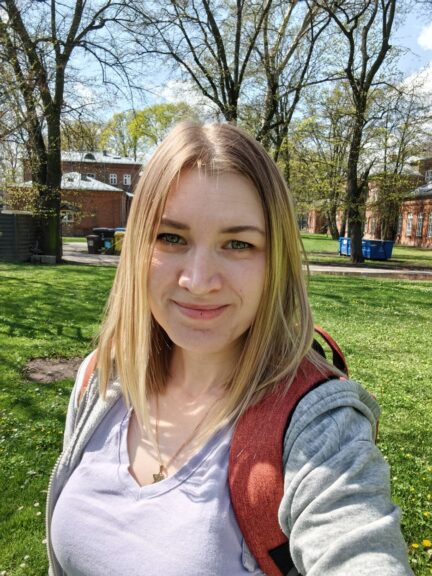 Video recording
The manufacturer does not focus on the camera's video capabilities. This is probably because Huawei P60 Pro cannot shoot 8K video like some competitors. The following shooting modes are available: 4K@30/60fps, 1080p@30/60fps, 1080p@960fps. In general, the quality is quite decent, I think. At least the P60 Pro shoots video much better than the P40 Pro. When shooting video, intelligent image stabilisation based on gyro data (gyro-EIS) is supported. You can see some examples of the videos below.
Daytime shooting 1080p@30fps
Night shooting 1080p@30fps
Daytime shooting and 4K@60fps stabilisation test
Daytime shooting and 4K@60fps zoom test
ALL PHOTOS AND VIDEOS FROM HUAWEI P60 PRO CAMERAS IN FULL RESOLUTION
Camera software
The camera application software is traditional for EMUI. On the main screen, you can switch between the main modes – night, portrait, photo, video, professional (manual settings) or go to the menu with advanced modes, such as monochrome, macro, documents, time-lapse, shooting with multiple modules at the same time, full camera resolution mode, etc. The main screen also has separate buttons for turning the AI assistant on and off, switching the flash mode and some of the auxiliary functions, as well as a button to go to the camera settings.
Huawei P60 Pro battery life
The smartphone is equipped with a record-breaking 4815 mAh battery for the P-series line. Although in absolute terms, of course, this capacity is rather typical for the class and size of the device. The battery life of the P60 Pro is quite standard – a full day in standard mode without games and active use of the camera and several days in economy mode. With continuous use in typical tasks (reading, email, browsing, social networks, messenger), you can expect 7-10 hours of active screen time, depending on the type of activity, type of Internet connection and quality of the mobile network.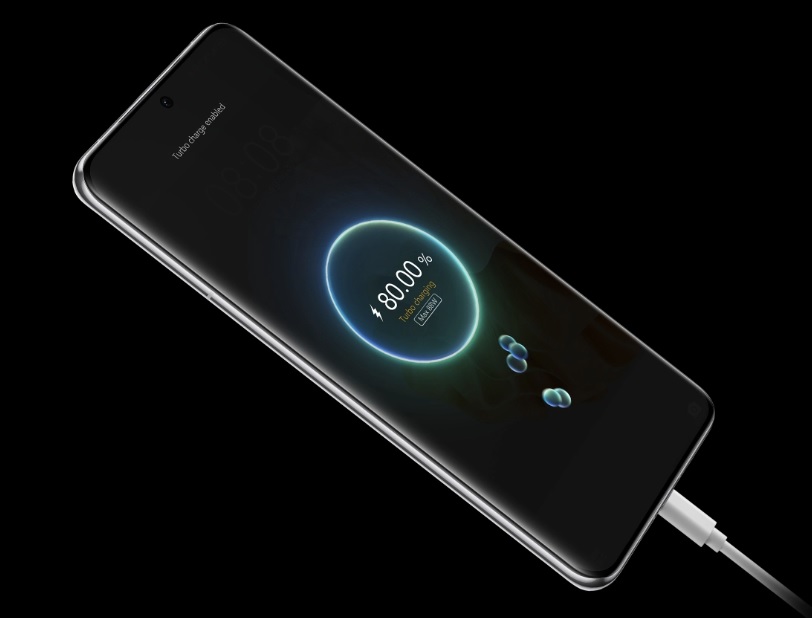 The bundled adapter provides fast charging of the smartphone. The maximum charging power is 88 W, which is not very much compared to the record 300 W of young and daring brands that we won't name here, but it is noticeably higher than the new market leaders. In any case, getting 50% of the charge in 10 minutes is a pretty decent result. In addition, P60 Pro supports 50W wireless reverse wireless charging, so you can charge a smartwatch or headset that supports the Qi standard.
Sound
One of the main features of Huawei P60 Pro is full-fledged high-quality stereo sound due to the use of two speakers on the top and bottom edges. The sound is really loud, like from a small speaker. And there are even the beginnings of low frequencies. In general, the frequency range is well balanced by the standards of the smartphone market. For games and watching videos, it will do.
The earpiece speaker is also good, but I thought it was a bit too "transparent" and doesn't provide privacy for voice communication, so people around you can hear your interlocutor's voice even if you turn the volume down to a comfortable lower threshold. I don't know why this happens, it seems that during a phone call, some of the sound also comes out through the holes of the upper external speaker. Although the speaker itself is definitely not working at this time (when it is really active, the sound volume is noticeably higher).
Read also: Apple AirPods Pro 2 vs Huawei FreeBuds Pro 2: which headphones to choose?
Communications
As I said, the P60 Pro does not support 5G networks. Unlike my old P40 Pro, which does. These are the ridiculous consequences of sanctions. I can't say that I personally suffer from this feature of the new smartphone. It's just that in Ukraine, the rollout of 5G networks was planned for 2022, but the war disrupted these plans, and now operators are not up to it, as you can imagine.
In addition, the new generation network itself is more of an infrastructure network (designed to support communication between the connection speed-demanding components of a smart city and IoT) and does not provide any significant benefits to the average user.
I don't want to list all the parameters of the wireless modules and the location system again, if you want, you can go back to the beginning of my story and look in the corresponding section. Let me just say that everything is fine with Huawei P60 Pro. Although, here we can also note the lack of support for the latest generations of relevant standards, such as Wi-Fi 6e or Bluetooth 5.3. I think these are also sanctions restrictions. Although these little things do not affect the user experience. As a bonus, the smartphone has a traditional infrared port, which provides remote control of compatible household appliances using the built-in universal remote control application.
But here's what Huawei P60 Pro has that its competitors don't – satellite communication! For the first time in the world, a commercial smartphone supports the BDS Satellite Message. Whatever it means, it's cool! Probably… Because in our area, the Chinese system of transmitting short messages via satellites is not used, and, accordingly, this function is useless for us, unfortunately.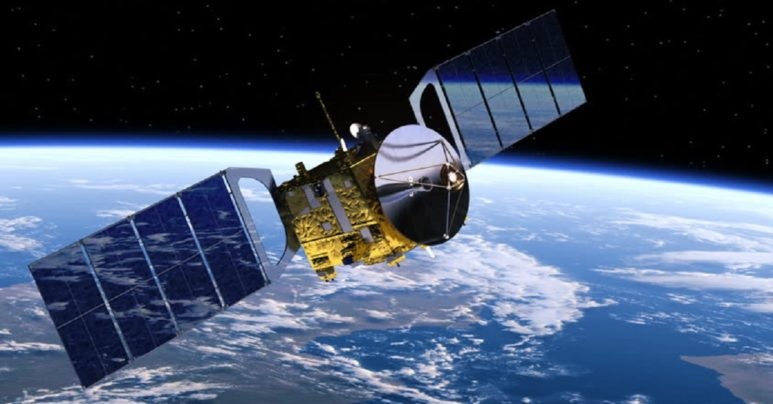 Firmware and software
The European version of the smartphone runs the familiar EMUI shell in version 13.1 (Android 12 under the hood). Of course, Google Services hasn't miraculously revived here, and it's not likely to return in the near future, and most likely it will never happen.
In this article, I described life with a smartphone without gapps in some detail. Since then, the situation hasn't changed fundamentally, although some qualitative changes have undoubtedly taken place. In short, Huawei smartphones run almost all the apps that work on regular Android smartphones with GMS. There are exceptions, of course, mostly related to native Google apps, but these limitations can also be circumvented, for example, by using third-party Vanced clients for YouTube and YT Music or, finally, by installing a virtual device shell like Gspace. With this option, you can log in to your Google account and install apps directly from Google Play. This is how I upload all the photos and videos I take with my smartphone to the Google Photos cloud service or use Google Maps, for example.
In principle, the only unsolvable problem in Ukraine is the inability to make contactless payments using Huawei smartphones. But there is an alternative option – to pay with a watch or bracelet, for example, Xiaomi or Garmin. Personally, I solve the issue with Xiaomi Watch S1 Pro. At the same time, the Huawei Pay payment system operates in most European countries, so there should be no problems with this aspect outside Ukraine.
What I don't understand about the current situation is the strange selective sanctions that, for example, are completely ignored by a giant like Microsoft. For a second, it is the most American company of all. But at the same time, the main MS applications are available for installation directly from the AppGallery app store – Outlook, Edge, Office. And this opens up certain opportunities for users, as Microsoft applications can be used as a gateway to the main services and data of your Google account – quite officially.
For example, basic synchronisation is provided through Outlook. And you can use your existing Gmail account for this purpose – just enter the data and get your mail, contacts and all calendars from your Google account.
And if you import all your Chrome browser data (bookmarks, history, passwords) into Edge on your desktop once, you also get synchronisation of all these elements through the Edge mobile version on your Huawei smartphone. The situation is simplified if you have a Windows PC or laptop. In this case, you most likely already have a Microsoft account and can use it freely for all the corporation's services on Huawei smartphones.
As for the native HMS (Huawei Mobile Services) platform, it is also consistently and continuously developing. The branded AppGallery app store continues to be filled with apps. Especially games. And even if the branded repository doesn't have the app you need, AppGallery will tell you where to download it, and immediately provide the necessary link. And later, it will inform you that an update is available for the application and again provide you with a link to download it.
In general, I don't consider the problem with the lack of Google services on Huawei smartphones in 2023 to be a problem as such. Any software request is solved. Either by a workaround that you just need to know, or by a third-party alternative, and often even better than the original Google option. If you are interested in the performance of any particular application, service or function on a Huawei smartphone without GMS, you can ask me in the comments, and I will try to study the question and answer as soon as possible.
Conclusions
Despite all the difficulties, under the yoke of sanctions, this year Huawei has managed to create and launch another flagship that can easily compete with the best representatives of the current smartphone market in terms of its photographic capabilities. For example, Samsung Galaxy S23 Ultra, iPhone 14 Pro Max, Xiaomi 13 Pro. And the big question is who will emerge victorious from this battle. We hope to conduct a direct comparison of the above smartphones in the near future to find out who is the king of mobile photography at the moment.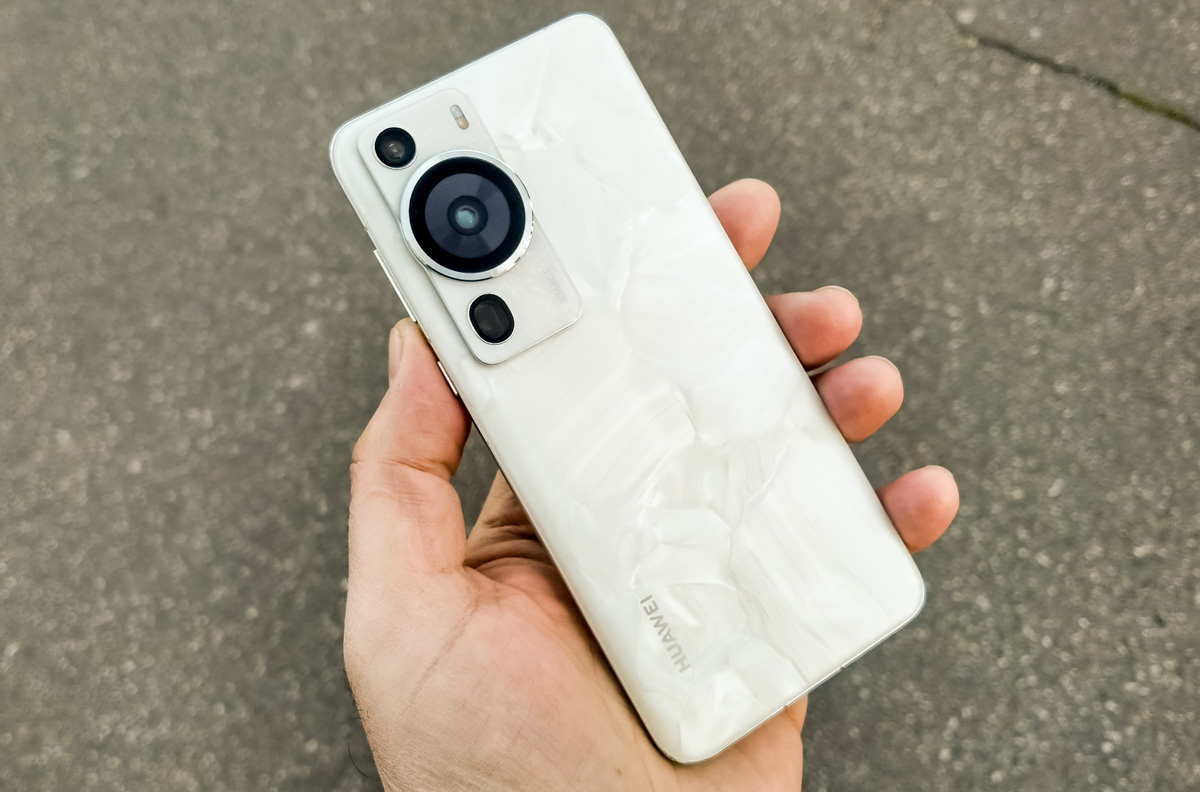 Of course, it's hard to expect Huawei P60 Pro to become a bestseller in Europe, but our world is multifaceted, and in other regions, such as Asia, the Middle East, South and Latin America, this smartphone can become quite popular.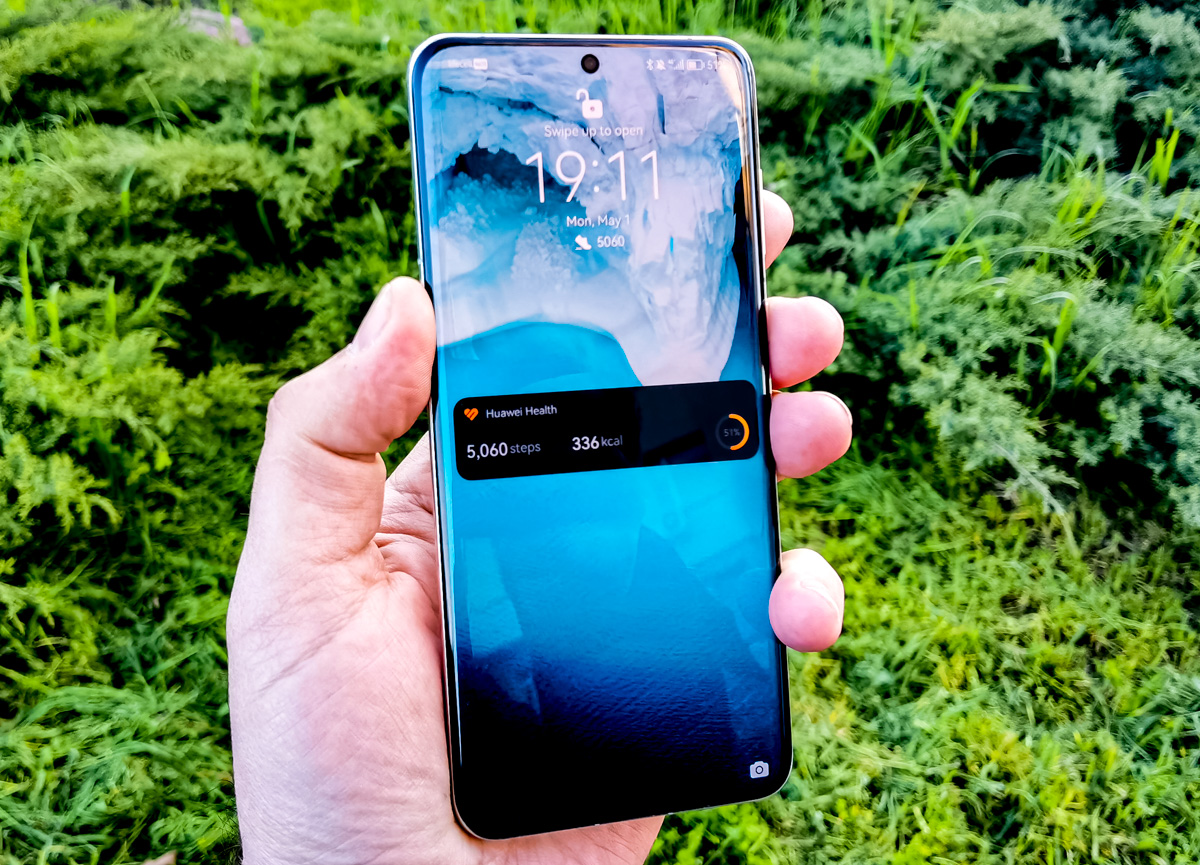 Personally, I really liked the smartphone. I like the design and build quality, as well as the excellent screen and perhaps the best camera for taking photos on the market. And the video quality of the smartphone is very good. Of course, I won't recommend this device to everyone, for obvious reasons. But as a second smartphone for photo enthusiasts, if someone can afford it, it can be considered. Personally, I would definitely like to have it in my arsenal of devices. That's all, see you soon!