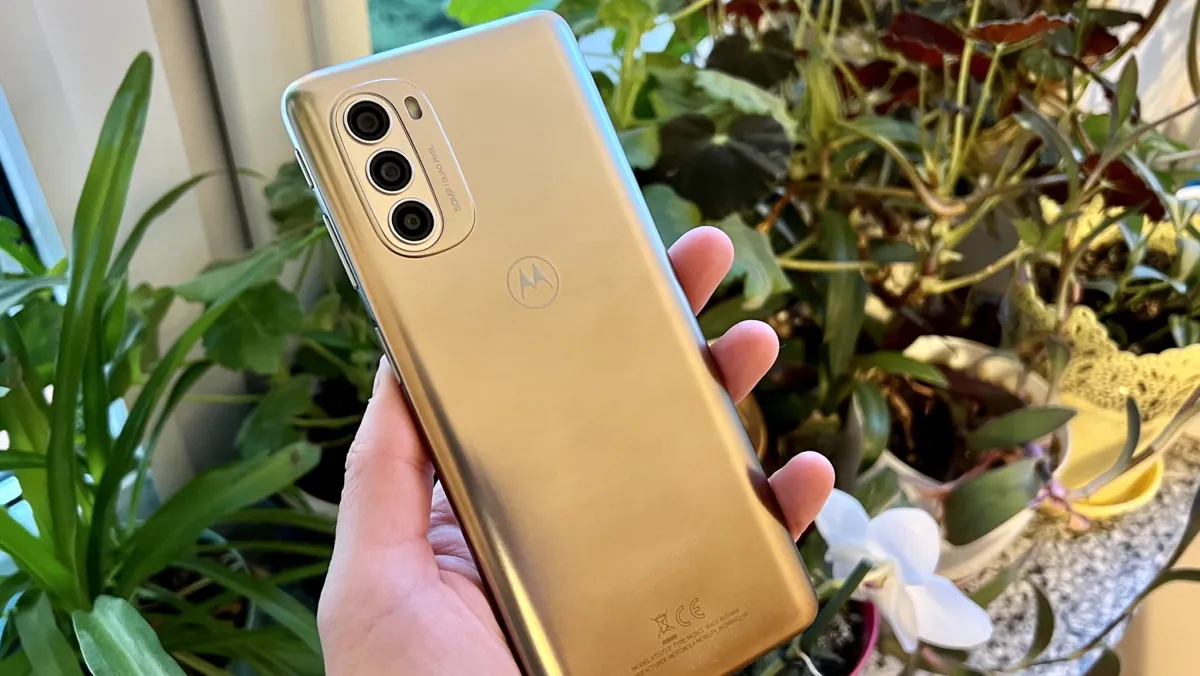 At the end of 2021, Motorola introduced an updated range of Moto G. We have already tested the base version – Moto G31 at $180, and more expensive Moto G71 at $310. Well, now we have one of the two middle models – Motorola Moto G51 (and there is also G41). Let us remind that we have also tested the flagship of the range recently, Moto G200. Well, in this review we are going to talk about the Moto G51, which costs around $250. Is it worth choosing this budget model and why?
Motorola Moto G51 specifications
Range positioning and price
Here is a table comparing inexpensive Moto G 2022, so as not to paint everything in words. Confused specifications, older models are somewhat worse than younger ones.
Motorola Moto G71
Motorola Moto G51
Motorola Moto G41
Motorola Moto G31

ОS

Android 11

Screen

6.4″, Max Vision, OLED, Full HD+, 60 Hz

6.8″, Max Vision, IPS, Full HD+, 120 Hz

6.4″, Max Vision, OLED, Full HD+, 60 Hz


Processor

Qualcomm Snapdragon 695

Qualcomm Snapdragon 480 Pro

MediaTek Helio G85

Memory

6/128 GB, no microSD

4/64 GB, microSD

6/128 GB, microSD

4/64 GB, microSD

Main camera

50 MP + 8 MP + 2 MP

48 MP с OIS + 8 MP + 2 MP

50 MP + 8 MP + 2 MP

Front camera

16 MP

13 MP

Battery

5000 mAh,  TurboPower 33W charger

5000 mAh,

10W charger

5000 mAh,  TurboPower 33W charger

5000 mAh, 10W charger

Other

5G, USB-C, Wi-Fi ac (2.4 и 5 ГГц), Bluetooth 5.0, GPS с Galileo, fingerprint sensor, FM radio, Dual SIM, 3.5mm, NFC, защита IP52

USB-C, Wi-Fi ac (2.4 и 5 ГГц), Bluetooth 5.0, GPS с Galileo, fingerprint sensor, FM radio, Dual SIM, 3.5mm, NFC

Dimensions and weight

161.19×73.87 ×8.49, 179 г

170.47×76.54 ×9.13, 208 г

161.89×73.87 ×8.30, 178 г

161.89×73.87 ×8.55, 181 г

Price, average

$330

$250

$260

$210
As you can see, the G51 is the only one in the range that did not get an OLED display. But it has a 120 Hz refresh rate. In addition, it has only 4/64 GB of memory, as in the junior model. But the set of cameras is the same as in the top G71. Fast charging lags behind, more precisely, it can't even be called fast by today's standards – only 10 watts.
Read also: Motorola Moto G31 review: affordable OLED smartphone
What's in the box
Everything is as usual: a 10W charger, a silicone case, a charging cable, a clip for removing the SIM-slot and documentation.
I liked the case – it is well made, protects the screen and cameras, has matte non-slip sides. No need to lok for a replacement.
Moto G51 design
The new G range differs from the last year's with a slightly changed camera module. Otherwise, we have a standard budget phone that does not stand out from the others.
The screen frames are wide even by the standards of a budget phone, there is a cutout for the camera in the center, the body is entirely plastic. The body colors are gradient, we have seen this a billion times already.
Available colors are Indigo Blue (transition from blue to dark purple) and Bright Silver. We have exactly the the second option, however, I don't see silver in it (except in the last photo). The back panel is rather gold. More precisely with a gradient from golden to rich gold. The side panels are also colored with a transition. Looks good, though nothing special. Still, the G71 was more interesting.
The panel is rather matte, fingerprints remain, but are not very striking. As for the front panel, there is no factory protective film, fingerprints remain and are clearly visible.
On the left side of the smartphone is only a slot for SIM-cards.
On the right side, at the very top, there is a button to call the Google Assistant. Even if you do not need it, you can't do anything, it cannot even be reassigned. Considering the dimensions of the phone, it can hardly be reached.
Below are a dual volume rocker and a power/lock button combined with a fingerprint scanner. The latter is a very convenient solution. The button is located at a convenient height, not recessed into the case, it has a clear shift. As for reading fingerprints – everything is perfect, the capacitive sensor shows itself in the best way. When you pick up the phone, the thumb rests exactly on the fingerprint sensor, unlocking is fast and without errors.
There is a special feature, double-tapping the lock key (not pressing, but only touching) brings up a custom menu with program icons for quick launch.
On the top edge of the smartphone is only a microphone that performs the function of noise suppression. On the bottom edge there is a 3.5 mm headphone output (it's good that not all smartphone manufacturers abandon it), a Type-C connector, another microphone, speaker holes.
You should note that the smartphone is very large. Even after the monstrously large iPhone 13 Pro, the new Moto G51 felt big to me. At the same time the screen is tall, but narrow, it makes things a little easier, but it's still much more convenient to control the smartphone with two hands.
The assembly is perfect. The case received protection according to the IP52 standard – from dust and vertical drops of water. Of course, you should not immerse the smartphone in water, wash it under a tap, and so on. But if you accidentally drip water on it or get soaked wet in the rain, hardly anything will happen to it.
Read also: Motorola Moto G71 review: the best of the rest
Moto G51 screen
As we found out in the introduction,  only the G51 did not get an OLED display in the new G range. Apparently to save money. Is it bad? Not necessary. OLED is more juicy, contrasting, this is a fact. But the IPS-screen installed in the G51 also produces decent color reproduction and generally makes a good impression.
Although black color is not as black as with the OLED matix.
As practice shows, IPS screens have an average refresh rate higher than OLED screens in the same price segment. So the G51 got a screen with a refresh rate of 120Hz. Whereas the OLED G31 and G71 have the usual 60 Hz. The picture, of course, is very smooth. Three refresh rate modes are available – automatic (the phone will set itself depending on the application and charge level), 60 Hz or 120 Hz.
Automatic brightness change works without flaws. There is an option to adjust the color temperature (removes cold shades in the evening), as well as three options for the saturation of shades.
The screen seems bleak in the sun, maximum brightness level is a bit insufficient.
Moto G51 hardware and performance
G51, being the successor to last year's G50, received a slightly improved chipset, Snapdragon 480+. In general, this is still the same 480 announced at the beginning of 2021, only the frequency of the two main cores is 200 MHz higher and the 5G modem is newer.
In theory, the model is available in different memory options, including 8/128 GB, but only the base 4/64 GB has reached the European market. And, of course, 4 GB by today's standards is not solid at all. As well as the 64 GB drive. There is a slot for memory cards, but you can use it only if you refuse the second SIM.
As for performance, this smartphone is not the top score. However, this is still a budget model for undemanding users who do carry expensive top models all the time (unlike I do). In basic tasks, everything is fast, demanding games are launched, although not with maximum graphic settings and with delays from time to time. But in general, the Adreno 619 video chip is not bad.
The main thing is, this inexpensive device is comfortable to use, and most users will be satisfied.
If someone really loves numbers, then I'll let you know that at Geekbench the device scores about 1700 / 540'parrots' (single core / multi core), in AnTuTu – 302.855 points.
Read also: Motorola Moto G60 review: Budget phone with 6000 mAh and 120 Hz!
Moto G51 cameras
The G51 model received exactly the same set of cameras as the G31 and G71. The block consists of three lenses: the main 50 megapixel module, 8 megapixel ultra-wide angle and 2 megapixel macro camera. At the same time, traditionally, pictures are not saved at the maximum resolution, but the technology of combining four pixels into one is used, so the main sensor produces a photo of 12.5 megapixels (4080 × 3072), and not 50 megapixels. In the settings, you can also enable the maximum resolution of 8160 × 6144, but this does not make much sense – the photos will take up more space, the color reproduction will be worse.
Describing the quality of shots for the third time is completely boring (here you can read the section about the G31 cameras, here – the section of the G71 cameras). Cameras are quite common, they take pictures. In good light, everything is fine, most users will not find anything to complain about. If the street is gray and cloudy, then the detail drops, especially when it comes to the background. The same story with home lighting. But in general, nothing critical either, it's not a shame to post a photo on a social network.
ALL PICTURES FROM MOTO G51 IN ORIGINAL RESOLUTION
Pictures in the dark are of medium quality. Fuzzy, blurry, could be better. Like all smartphones, the Moto G51 has a night mode. It delicately brightens the photo, but you have to pay for it with quality – noise and graininess appear. But if there are luminous elements in the frame, signs, then the night mode will make them clear and readable. Here are examples, night mode on the right:
Wide angle lens is OK. Yes, the color reproduction is worse than in the photo from the main lens, blurring appears, but sometimes you need to fit more into the frame than the main module 'sees', and the phone can handle it. Examples of photos, wide angle on the right:
There is still a macro lens. In cheap smartphones, it is installed with the goal of 'to have more cameras.' You can't even dream of acceptable quality, photos are rarely clear enough. This is especially noticeable in full size, all photos are available at the link.
13 megapixel front camera is OK, considering the cost. With good lighting, it's not a shame to post the selfies you get on social media.
The smartphone records video in 1080p at 30 or 60 fps. The quality is good, I note fast autofocus, good digital stabilization. You can watch an example video from Moto G51 at this  link.
Motorola offers slow-mo mode (240 fps), "sporty color" mode (highlighting one specific color in the recording), slow motion video, and dual recording, which allows you to simultaneously record video from the front and rear cameras.
The camera interface is standard for Moto. Visible, comfortable. In addition to the standard shooting modes, there are also 'selective color' (leaves one color in the photo), panorama, 'live' photos, real-time filters, PRO-mode with RAW support.
Data transfer
The standard set is 5G, WiFi 802.11 a/b/g/n/ac 2.4 + 5 GHz, Bluetooth 5.1, NFC for payment in stores, GPS, GLONASS, Galileo. If this is important to you, then there is no compass (magnetic sensor). There are no complaints about the operation of data transmission modules either.
Moto G51 sound
The speaker is monophonic. In general, the sound is normal, very loud. The headphones have good sound quality. Pleased with the presence of a 3.5 mm jack, so you can use wired headphones.
Last year's Moto G series had a built-in equalizer. The newer models (at least the G31 and G71) do not have it, but there is a Dolby Atmos mode with pre-installed presets.
Read also: Motorola Moto G60s review — Big budget phone with super fast charging
Software
Moto G51 runs on fresh Android 11 out of the box. The update to the current Android 12 will be in the coming weeks. But don't count on the 13th version. Although security updates will come regularly for at least three years.
The traditional advantage of Moto is smart, 'clean', perfectly optimized Android without any shells. Only its own launcher is used, but it does not differ significantly from the usual Android.
There are some features, for example, the notification time on the lock screen with the ability to quickly preview them by tapping (Peek Display). This screen is activated by itself, if you pick up the device, and with a dark background and minimum brightness to save energy.
And, of course, we must not forget about the 'Moto Functions' configured in a separate application. We are talking about gesture control, design themes and other features (for example, for gamers or an active display if you look at it, launching a flashlight with a shake or a camera by twisting your wrist)
Another curious feature is the ability to run applications in a separate window during the game, but their choice is very limited. There are other 'tweaks' for gamers.
Moto also has the option of splitting the display into two parts, but not all applications support it.
Read also: Motorola Moto G10 vs Moto G20: Which Twin to Choose?
Moto G51 battery life
The battery of the new toy has a capacity of 5000 mAh, for the Moto G-series it is the 'golden standard'. An energy-efficient processor and well-optimized software also matter. During the tests, I always had enough battery charge until late in the evening. At the same time, I am an active user and almost never let my smartphone out of my hands. On average, the phone provides around 7 hours of active screen time at above average brightness. I think that for a less active user than me, the Moto G71 will last for a couple of days of use.
The phone comes with a 10W charger. By today's standards, this is completely lacking, you can't even call it fast charging. However, the G31 and G51 in the current G-series received  this particular charger and charge up to 100% in just over two hours. But Moto G71 and Moto G41 support 33 Watts.
Read also:
Conclusions, competitors
Well, we got acquainted with the next budget model from Motorola. Why choose it, and not other novelties of the G-series or not models of competitors? Maybe you like the design, maybe you're a fan of the brand, maybe you'll get a good discount. Among the advantages of the Moto G51 are 'clean' and well-optimized Android, a nice 120 Hz screen (although an IPS one), a durable battery, a decent (considering the price) set of cameras. The processor is not the best, but it is enough for basic tasks. There is very little memory. 10W charging is not serious in 2022.
What alternatives are available? There are many. For example, Xiaomi Redmi Note 9 Pro 6/128GB costs a little more, but has an almost high-end SD 720G processor, 30W charging, better cameras, more memory. OPPO Reno 5 Lite 8/128GB is also a little more expensive and much more interesting in terms of features. From the same series – a fresh hit POCO M4 Pro 5G 6/128GB from Xiaomi.
Read also:
Samsung fans can look at the Galaxy A32 or Galaxy M22. The first one costs the same as the Motorola G51, the second one is slightly cheaper. Their processors are more powerful, charging is faster, and in the case of the A32, the design is more interesting, almost a flagship.
Read also: Samsung Galaxy A32 review: 90Hz display and improved camera
The brand new ​​Redmi Note 11 is cheaper than the Moto G51, the model received a very bright AMOLED display, 33 W charging, a powerful Snapdragon 680 chipset, excellent cameras with a main 50 MP sensor, as well as a trendy 'flat' design.
VIVO Y33s 8/128GB is also cheaper, it has more memory and faster charging, but a worse processor.
Of the good old hits, you cannot help mentioning realme 8 and POCO X3 Pro. The first one costs less than the Moto G51, stands out with an AMOLED display, an on-screen fingerprint scanner, an advanced Helio G95 chipset, large amounts of memory, in general it knocks out Motorola flat. The second one is a little more expensive, but in terms of hardware it is much more interesting.
Read also:
In Motorola's own range, you can take a look at the G60s and G60 with similar prices. They have more memory, better processors, cameras, even greater autonomy.
Read also:
Well, as you can see, there is a wagon full of alternatives, and I haven't mentioned about small cart yet. What do you think of the Motorola G51? Is this smartphone worth your attention?
Read also: