Motorola is one of the few companies that produces good quality models at an affordable price. In today's review, we'll take a look at an affordable device from the updated lineup – Moto G53. To be honest, you can get lost in all these series, because Motorola is constantly releasing new models, although the previous ones are still relevant and available for sale (we are talking about Moto G51 and Moto G52). Sometimes new versions are inferior to last year's ones, for example, we recommend reading our Moto G23 review. This time, we're going to talk about the Moto G53, the mid-range model of the G series in 2023.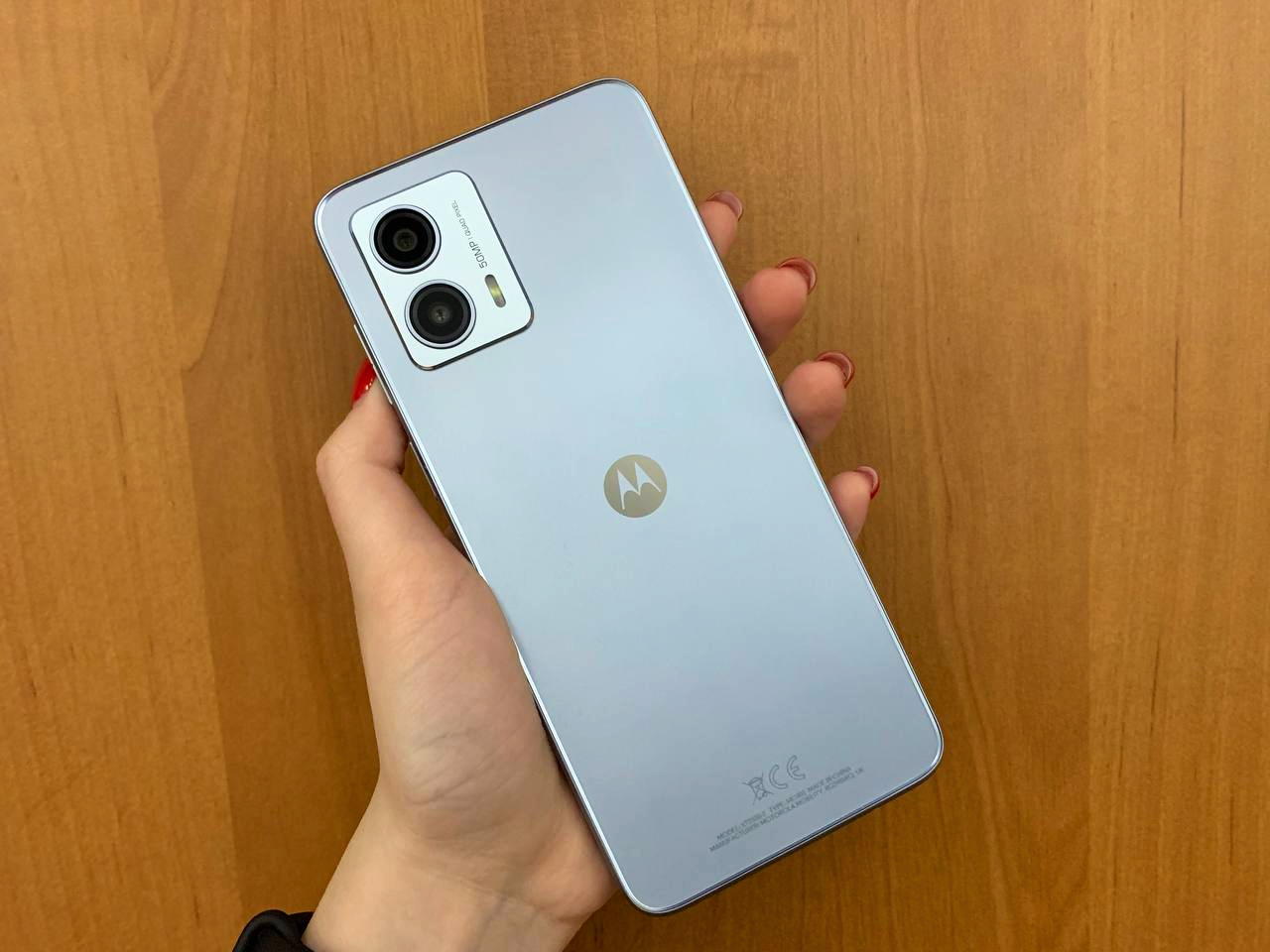 Moto G53 5G positioning
To be honest, if you're not a fan of Motorola devices, it can be difficult to choose a "dream phone". There are quite a few devices in the G 2023 series alone – Moto G13, Moto G23, Moto G53 5G, Moto G73 5G – and there will be even more! Each of them has common features – a beautiful design, a thin and elegant body, a large screen. But let's remember that last year's lineup is still popular (e.g. Moto G82, G72, G52, etc.), and this greatly expands the choice.
Motorola is clearly saving money this year. Let's compare the new G53 with the cheaper (!) G52. A 120Hz screen instead of 90Hz is good, but the resolution has dropped to regular HD – it's even ridiculous in 2023! The processor has also been downgraded – here we have an 8 nm Snapdragon 480+ 5G instead of the 6 nm Snapdragon 680 4G. The performance is comparable, but the energy efficiency of the Snapdragon 680 is worse. Okay, 5G support is an advantage, but not for everyone! The camera set has become weaker, there is no wide-angle lens, the selfie module is worse. Charging has also slowed down – instead of 30 watts in the case of the G52, we have only 10 watts! This is quite frivolous.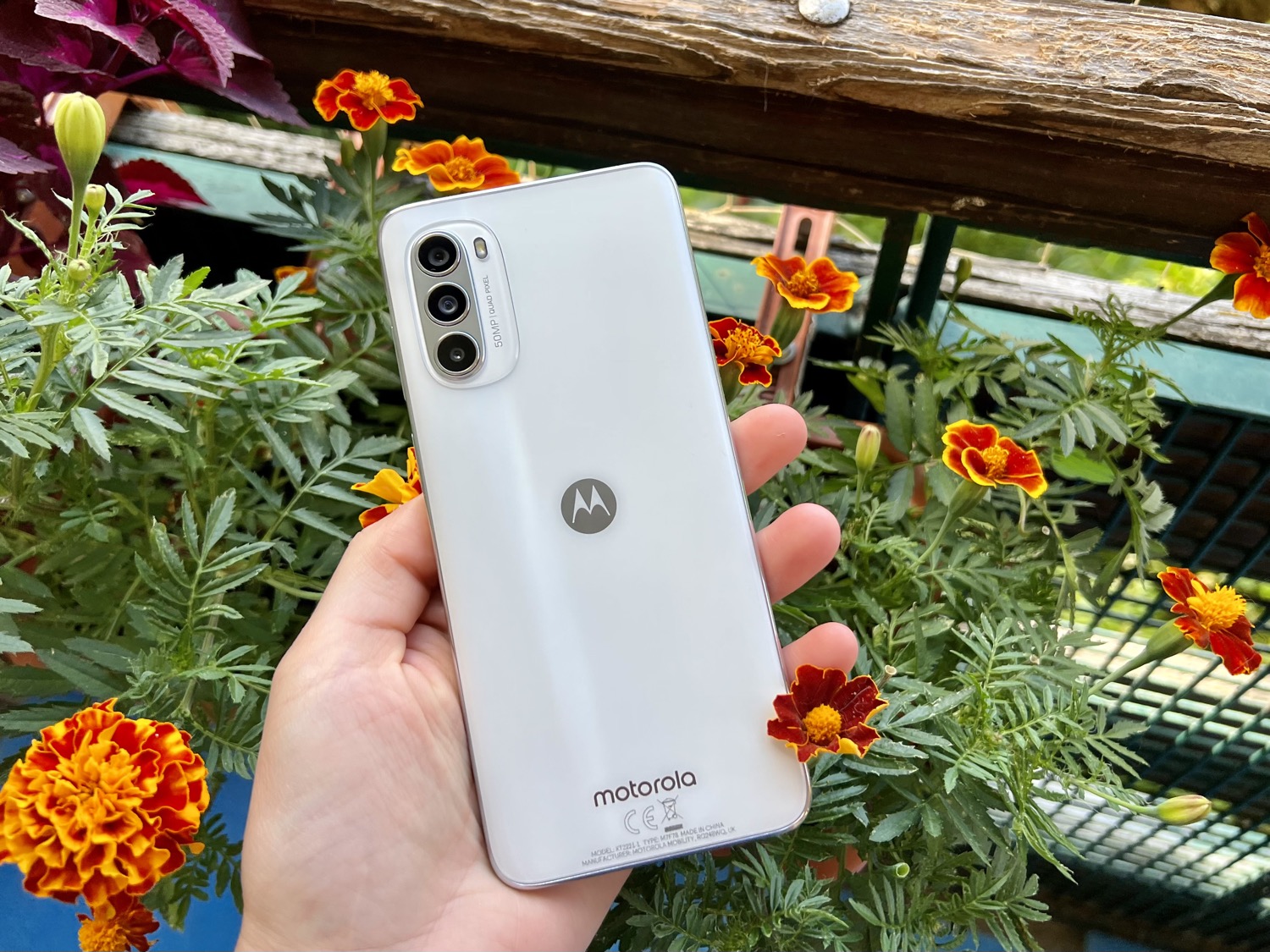 If we compare the G53 5G with other smartphones in the line, we can see that the younger G23 has a Helio G85 chipset, and the older G73 has a powerful Dimensity 930. The G23 and G53 have weak HD screens, only the G73 has Full HD. You can also notice differences in photographic capabilities, as the cameras of the models are also different. The G23 has a wide-angle module, the older G73 5G also has one, but the G53 doesn't for some reason! The G23 charges at 30W, the G73 also, and the G53 at 10W!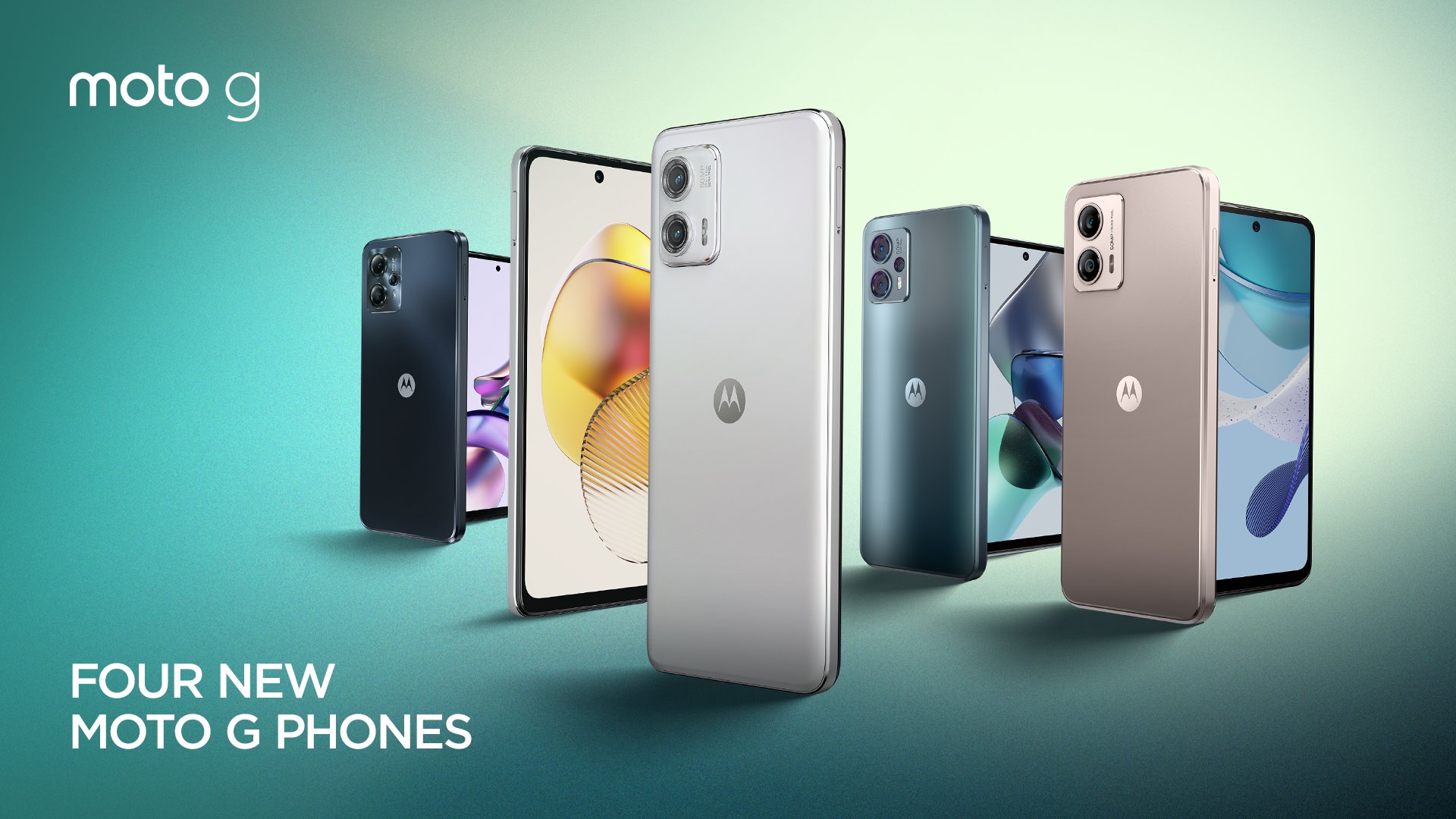 This is all quite surprising. You can compare the Moto G23, G53 and G73 here. Is it worth buying the Moto G53 at all? We'll explain!
Read also:
Moto G53 5G specifications
Operating system: Android 13
Display: 6.5″, IPS LCD, HD 1600×720, 20:9, 370 ppi, 120 Hz
Processor: octa-core Qualcomm SM4350-AC Snapdragon 480+ 2.20 GHz 8 nm
RAM: 4 GB
STORAGE: 128 GB + separate microSD card slot
Cameras: Front 8 MP, rear 64 MP + 2 MP macro module
Battery: 5000 mAh, 10W charger included, the phone itself supports charging up to 20W
Audio: 3.5 mm headphone jack, Dolby Atmos stereo speakers
Data transmission: 5G, Wi-Fi ac, BT 5.1 LE, GPS, NFC
Optional: fingerprint scanner, FM radio
Dimensions: 162.7 × 74.7 × 8.2 mm
Weight: 183 g
Package contents
Motorola, as we can see, does not follow eco-trends, but has its own approach even to the equipment. The device arrived for the test in a neat cardboard box.
Here we see a standard set, namely a 10W charger with a USB-C cable, a SIM card eject tool and documentation.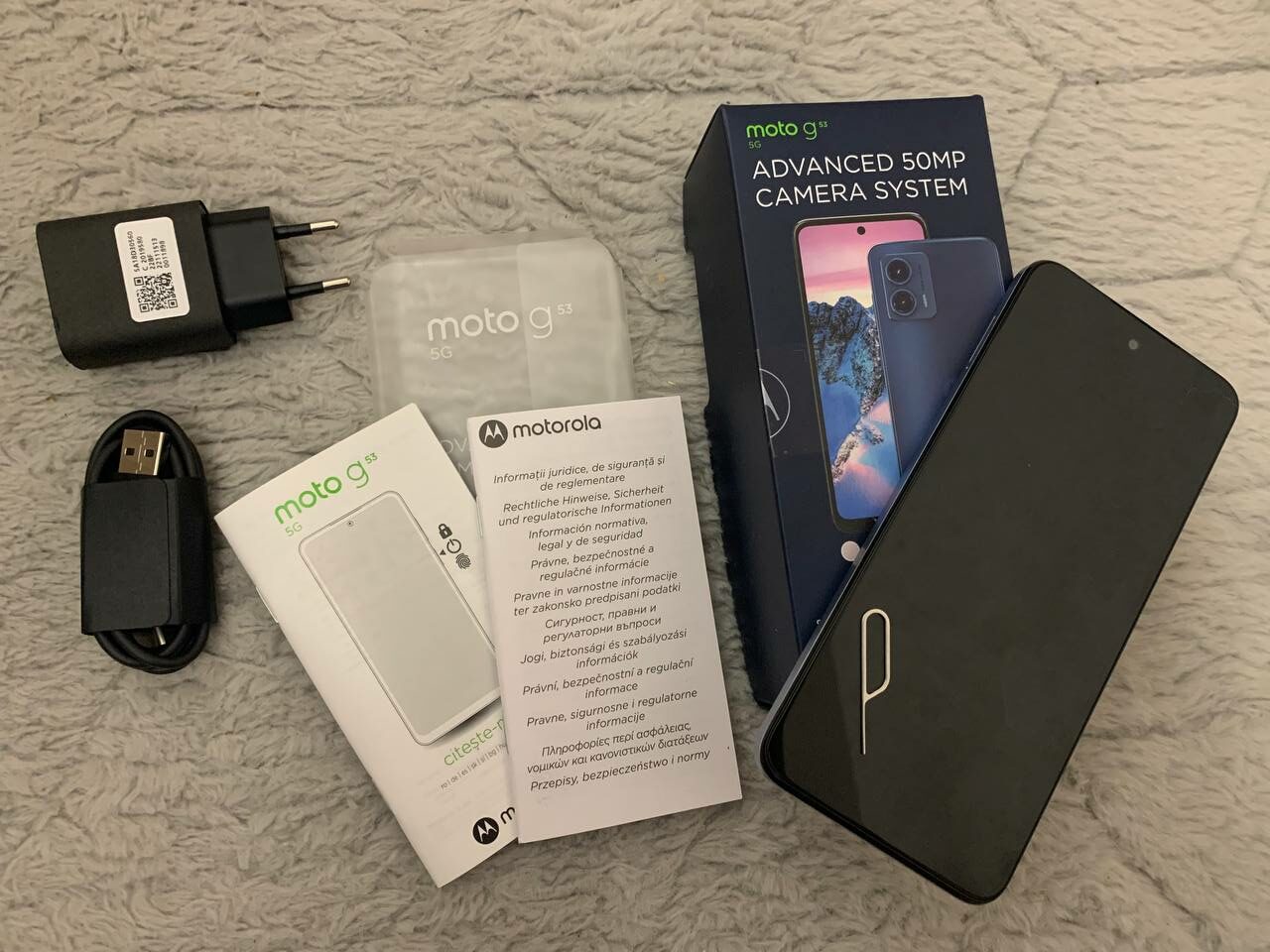 The only thing it doesn't have is a case. I was surprised by this, because Moto has always had cases (again, saving money?), but in reality, many of us don't need this silicone miracle that will turn yellow after a while.
Read also: Motorola Edge 30 Fusion review: "flagship killer" or is it too loud?
Moto G53 design
I've always said that Motorola focuses on thoughtful design for both its expensive and affordable gadgets. Just look at this! What elegance and perfection!
The back of the case is made of plastic, but do not rush to conclusions, personally I liked the back panel because it imitates metal and does not collect fingerprints at all. The flat sides are made in the same colour scheme as the back of the phone.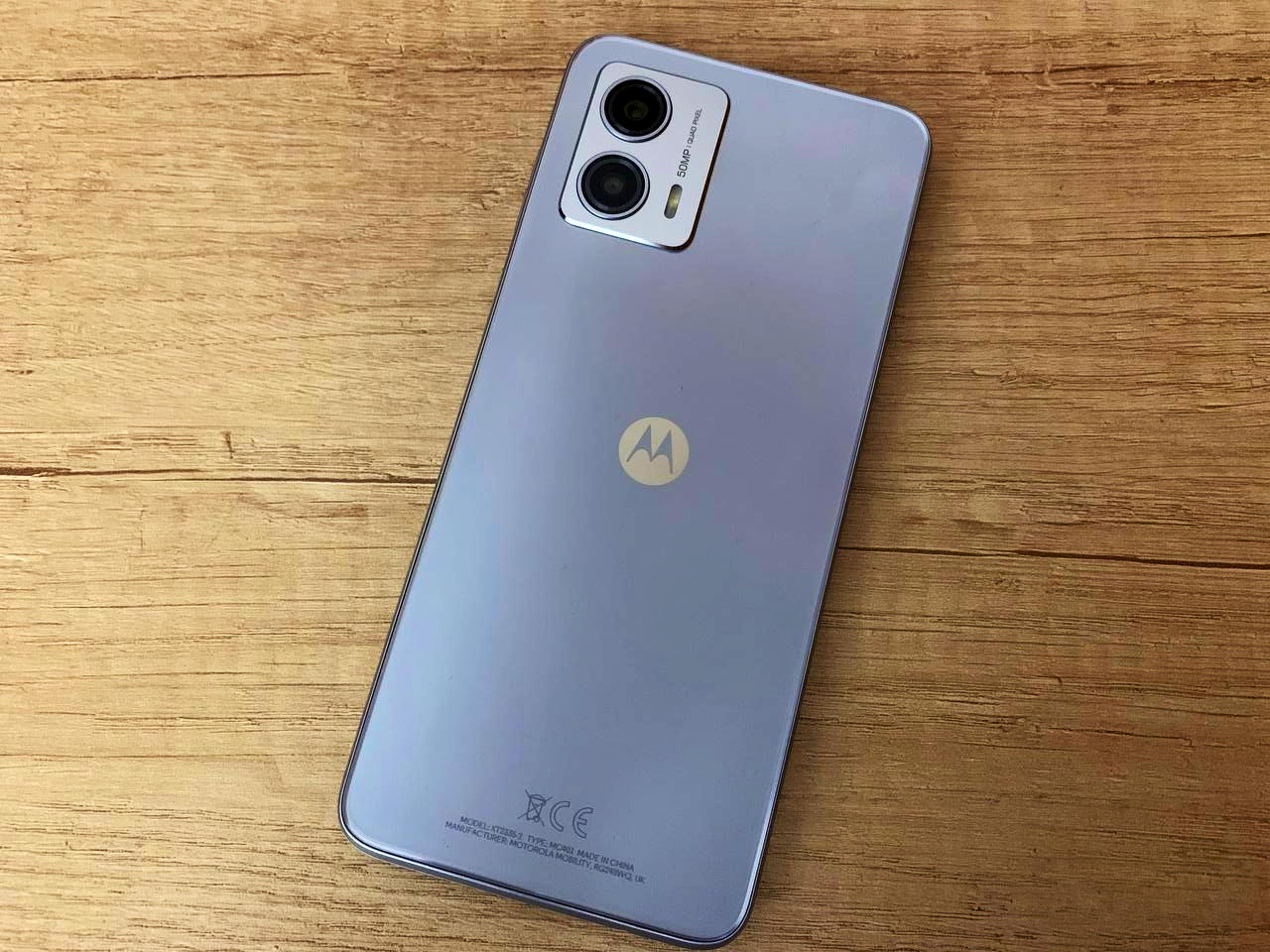 In addition, the camera island has been updated and looks modern. The camera island houses the main camera and the macro camera.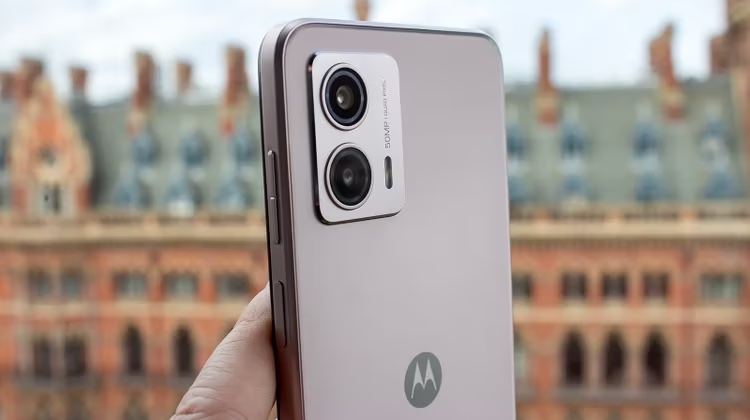 The Moto G53 is light and thin, thanks to its small display bezels, narrow and elongated screen and, of course, its light weight.
You can choose from ink blue, silver and pale pink. Each option is classic and attractive in its own way.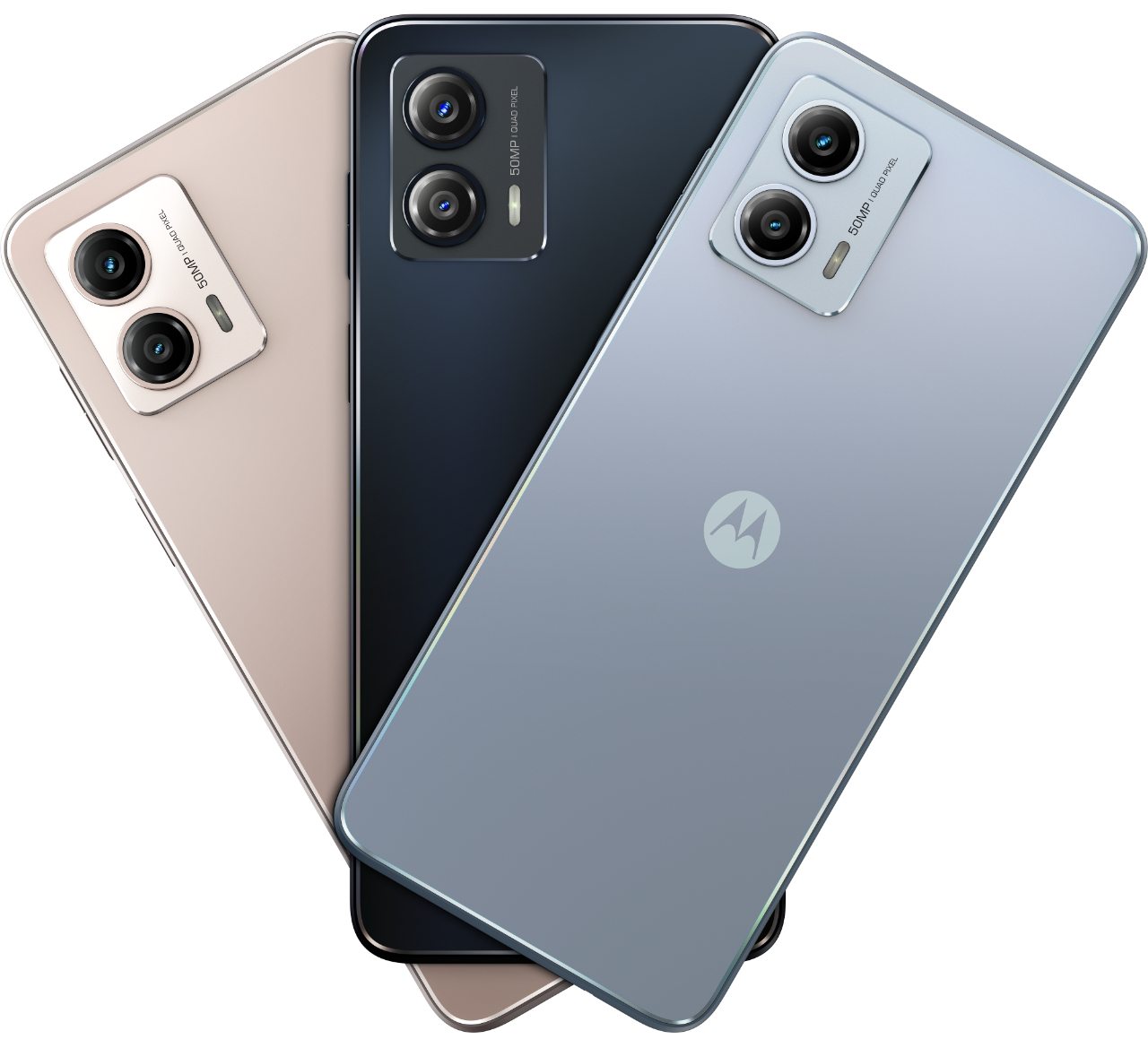 Location of the elements
Well, let's see what the smartphone looks like from different angles. On the front panel there is only a round notch for a selfie camera, a microphone and a speaker at the bottom. Next to it is a 3.5mm headphone jack (it's good that the manufacturer thought about those users who don't want to buy wireless headphones) and a USB-C charging port.

On the right are the function buttons: the upper one controls the volume, and the lower one is a multifunctional power button with an integrated fingerprint scanner.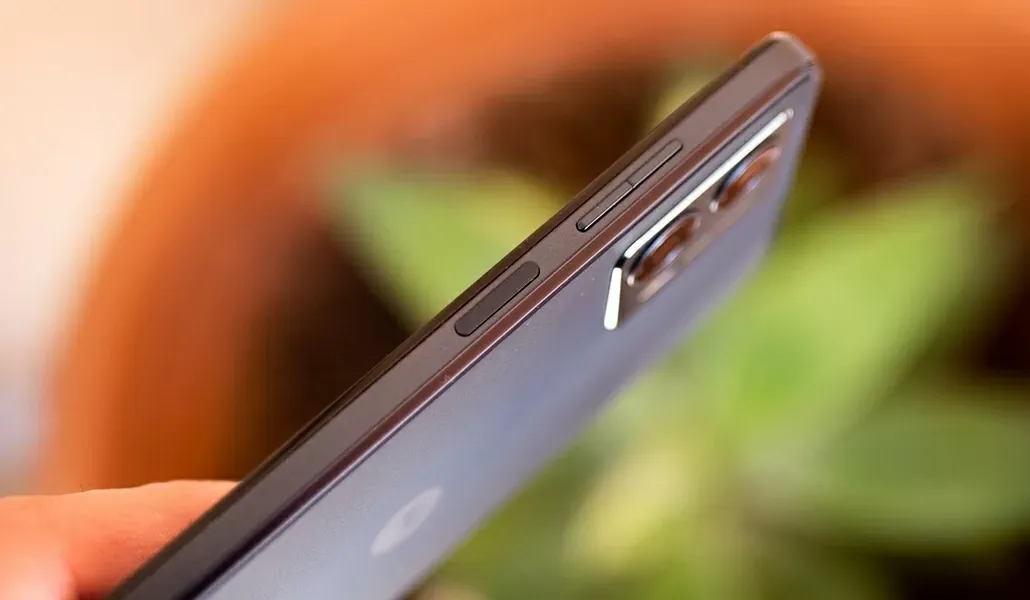 In my opinion, the fingerprint scanner is the best way to unlock the device. In this case, the response was quick and without complaints.
On the left side of the smartphone there is a tray for SIM cards and microSD memory cards, and that's it.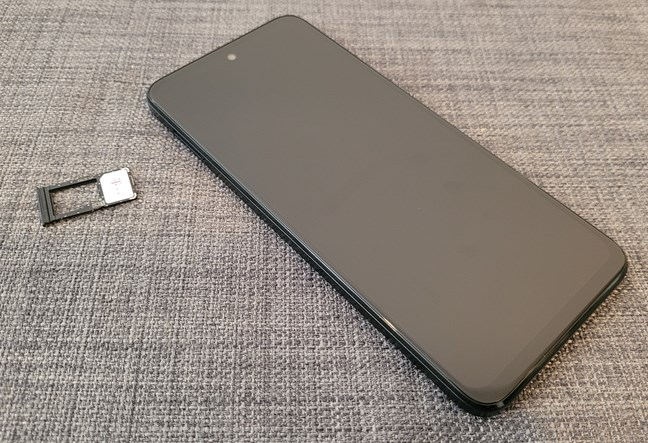 It is worth noting here that Moto G53 has a hydrophobic coating. Just remember that this is not a waterproof gadget and it is better to be careful when using it, for example, in the bath.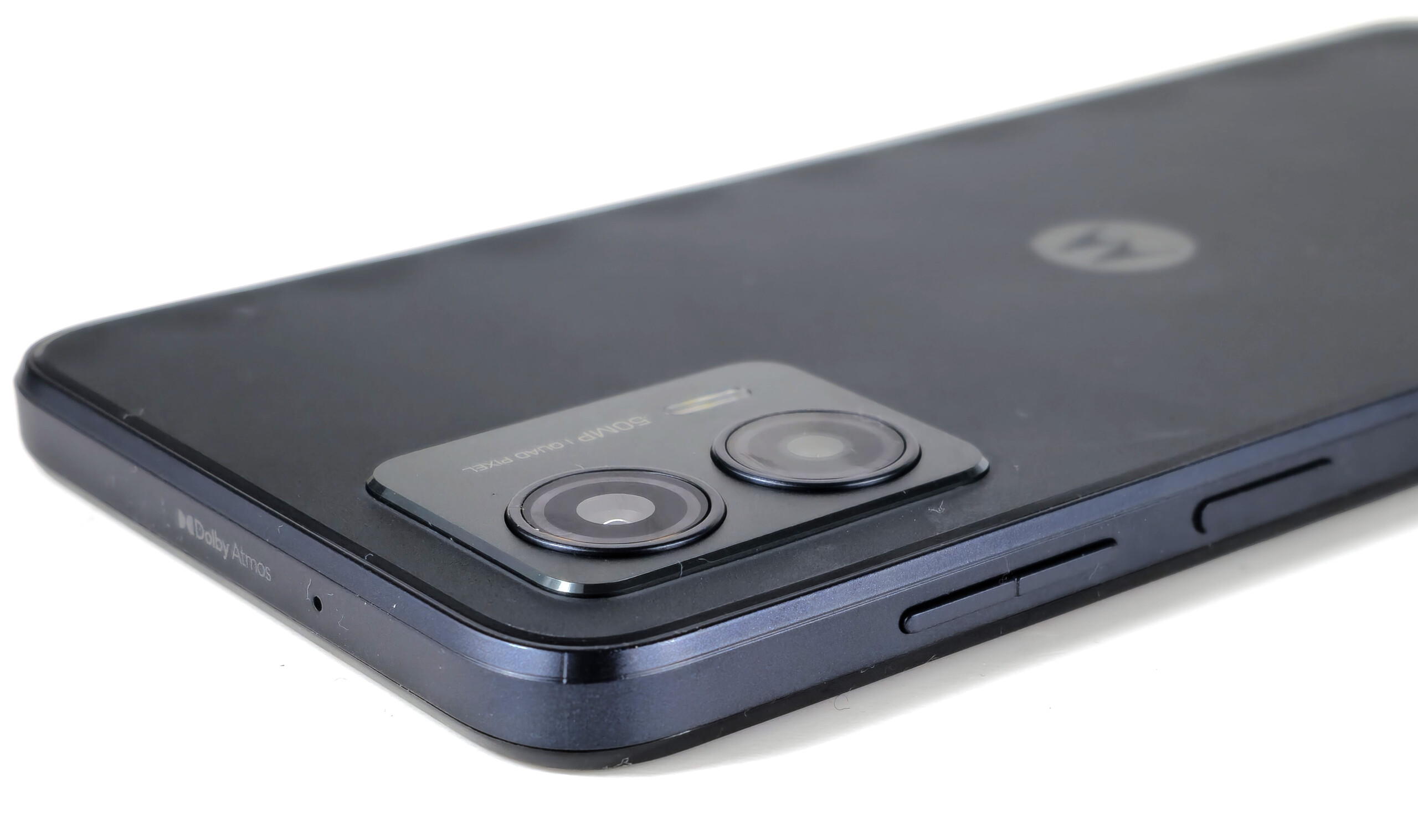 The ergonomics and build quality are of a high standard. Each design element is well fixed, and the smartphone itself is light and comfortable to use, the hand does not get tired.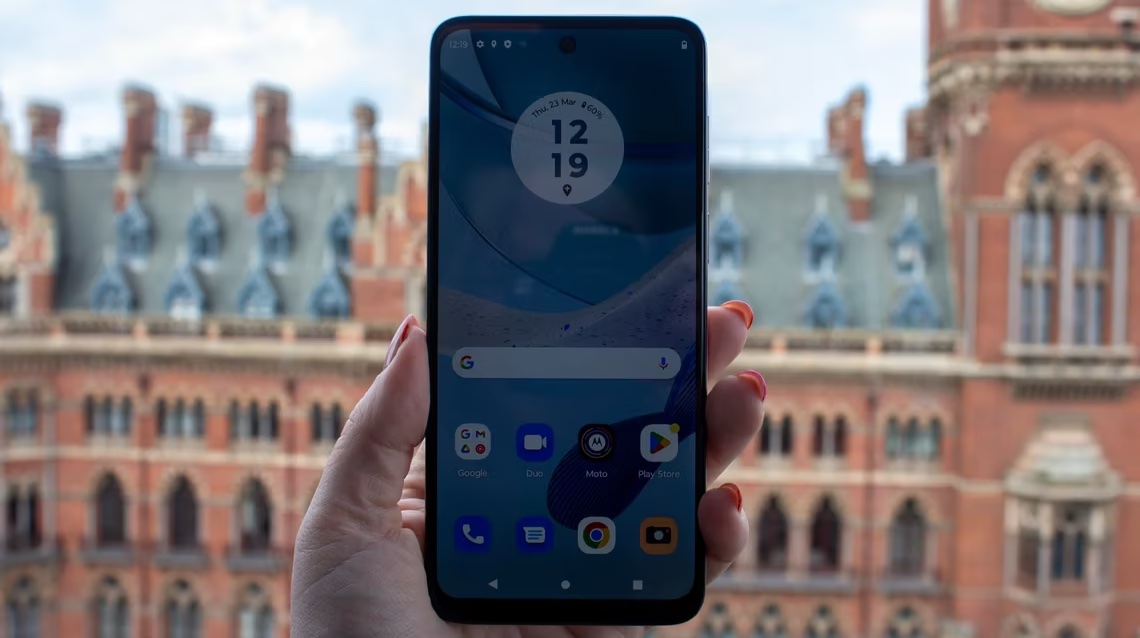 Read also: Motorola Edge 30 Ultra Review: Can Moto Make Flagships?
Screen
We're dealing with a budget gadget, and you shouldn't expect too much from it. Unfortunately, the screen is the Achilles' heel of Moto G53 against the competition. Here we have a 6.5-inch IPS panel with HD resolution. These parameters give only 270 ppi.
I was unpleasantly surprised, because every other device at this price has a Full HD screen. The Moto G23 also has an HD screen, but you can forgive a cheaper model, but this is a failure. I understand that everything is getting more expensive, you have to somehow cut back on functionality when necessary, but this is definitely too much.
Almost automatically, an IPS panel means a dim screen and small viewing angles. And this prediction came true in real life. The screen is dim, viewing angles are poor, and working on a sunny day is uncomfortable.
The screen refresh rate of 120 Hz is a good indicator, but with such characteristics of the matrix, it is not at all pleasing.
Nevertheless, I can say that there are many options for customising the screen. We can change the brightness level, set the automatic brightness, choose 60, 120 Hz or default resolution. In addition, we have a dark theme, different font sizes and colour settings (natural/saturated). Other cool features include Attentive Screen (the backlight stays on while you look at the display), Swipe to Split (for working with two apps on a split screen), or Three-Finger Screenshot.
Read also: Nothing Phone (1) Smartphone Review: There's Something in It
Equipment and performance
The octa-core Qualcomm Snapdragon 480+ 5G is probably a good option in the mid-range price segment. But the smartphone performs poorly, apps open slowly, and sometimes content crashes. The only good thing about this chipset is 5G, but let's face it, not every user needs it, and the chipset model itself is outdated and slow. However, Moto G53 has no throttling, and this is a plus.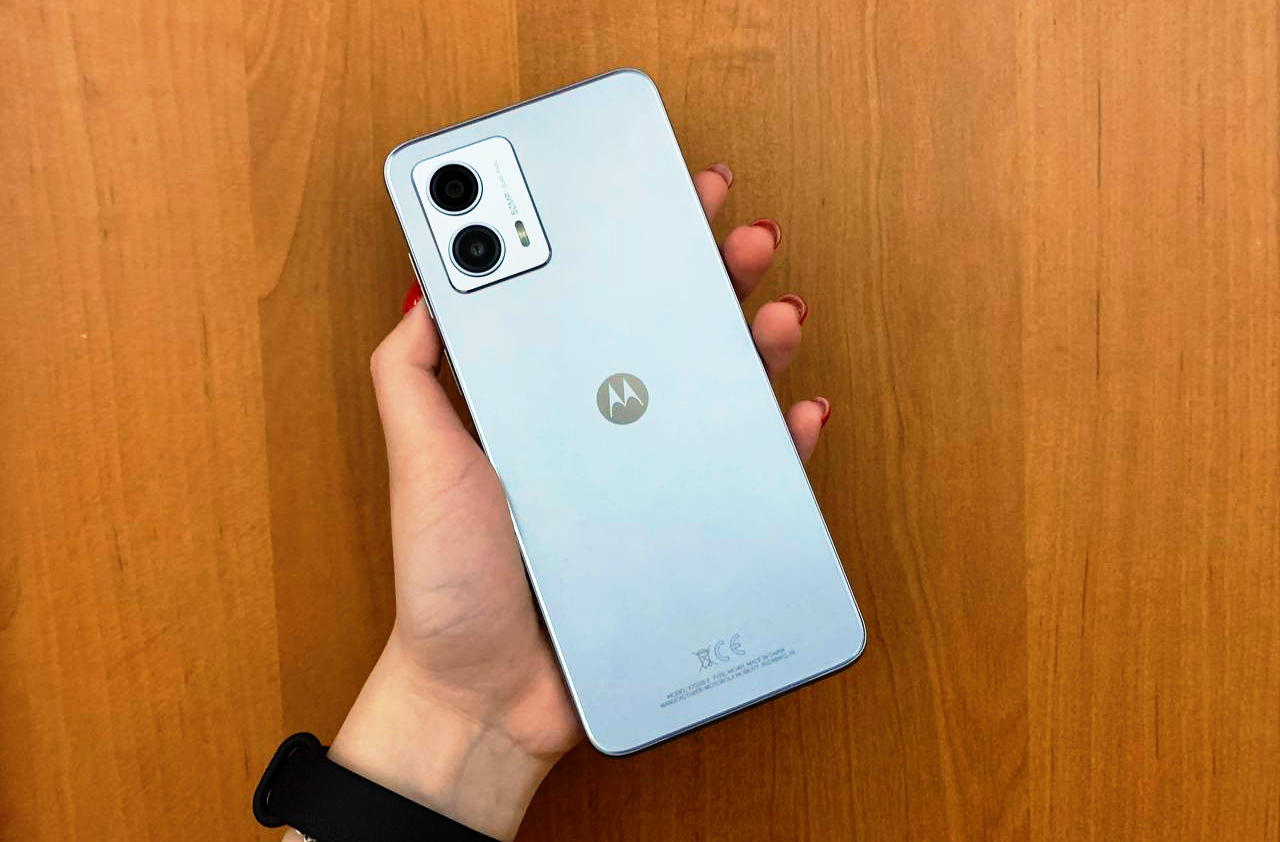 Moto G53 has 4 GB of RAM and 128 GB of storage. This is not enough, no matter how you slice it. 6 GB would be enough. Such a modification exists (even with 8 GB!), but it is not available in Poland, where the testing took place. There is also no function of software expansion of RAM.
Read also: Motorola Edge 30 Neo Review: Beautiful Toy With Wireless Charging
Motorola Moto G53 cameras
I knew from the start that I shouldn't expect super-quality photos from a budget camera. But – surprisingly – even in some cases I really liked the shots taken with Moto G53 (usually in good light). It was worse with the night mode, but first things first.
The set of modules is as follows:
Front camera: 8 megapixels
Rear camera: 64 megapixels
2 megapixel macro module
We don't have a wide-angle camera, which is again a shame.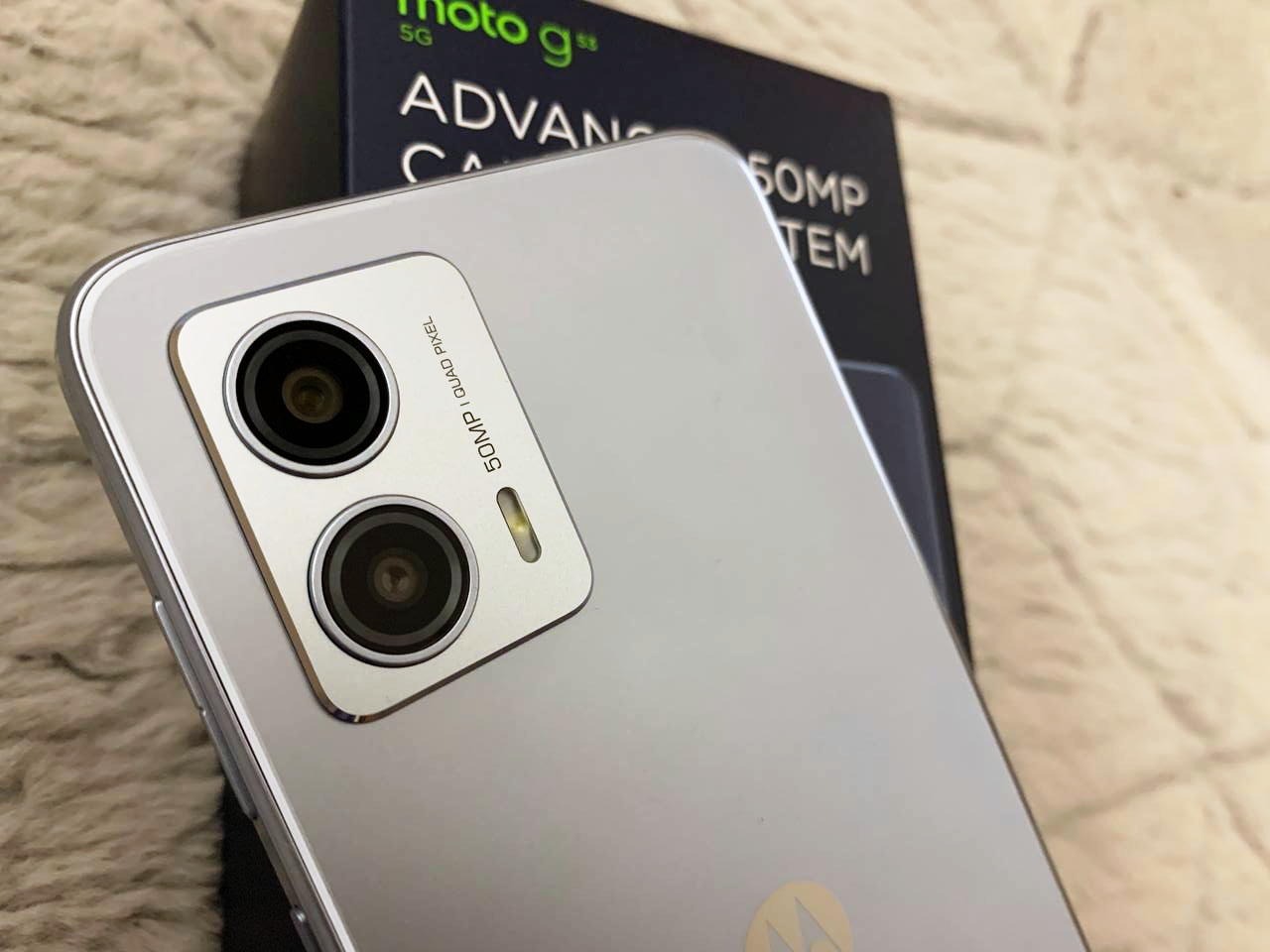 As for the main unit, the sensor works well. With sufficient light, the shots are clear and rich. However, shooting still takes a lot of time – you need to stand still to help the camera recognise objects. This is sometimes not a good thing, because you want to take a quick picture and be sure that it's right the first time. But we have what we have.
To me, the selfie lacked naturalness. It seemed to me that everything was so soapy and artificial that I would like to get the effect of warmer colours.
The macro module is rather… useless – 2 megapixels can be used only for "entertainment". The quality of the pictures is poor, although it's not obvious in the thumbnails. But once a year you can make a "close-up shot", at least the colour reproduction is nice.
The smartphone records video at 30 fps, so it's not surprising that the quality is poor, because we're talking about an average budget phone, and we'll overlook that too. Because content creators will definitely not choose a phone in this price range for their work, and this is understandable.
Let's talk about the night mode. I stood near one object for 5 minutes to shoot something acceptable. The module needs light, and the more light, the better, because with minimal lighting, you get this: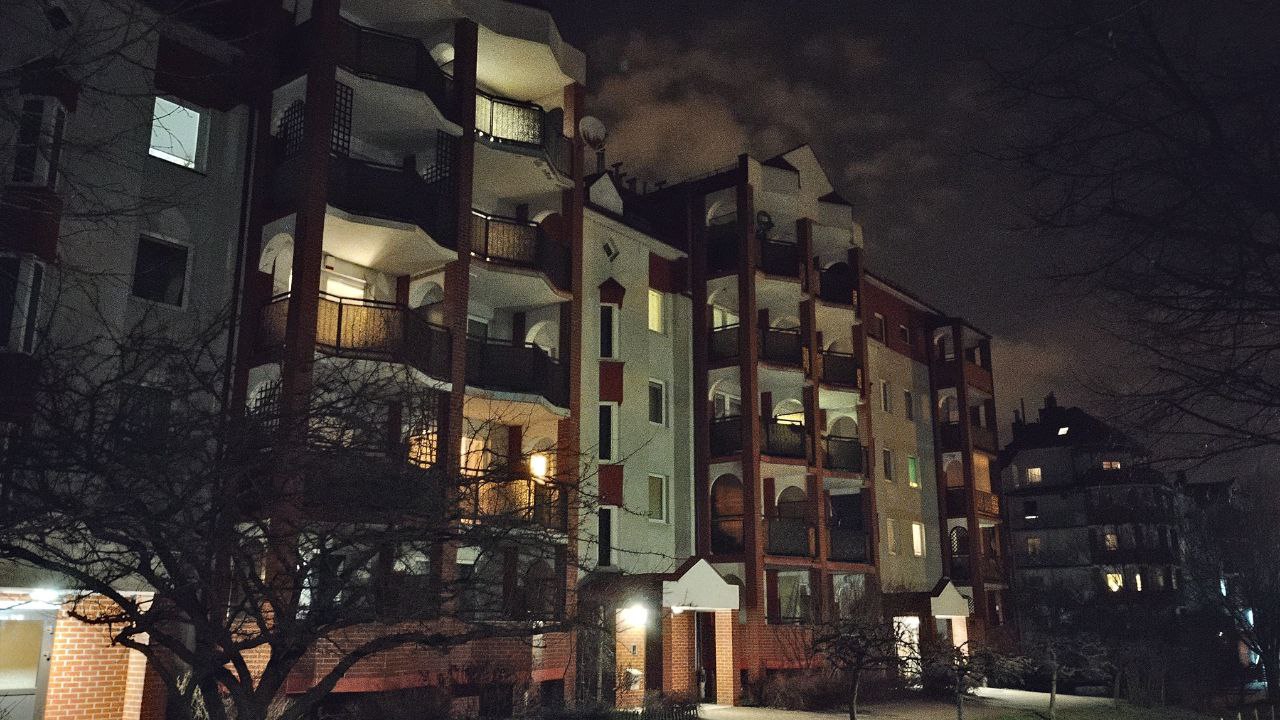 If you want to take pictures of luminous objects, you won't have any problems, although the quality will still be far from perfect.
To sum up: for a device of this segment, the photos are not bad. You can't expect great detail and sharpness. But you can always take a picture of something at home (a flower or a cat) or while walking around the city to "catch the moment" on a sunny day. The macro module and night mode are just there.
The camera interface is standard for Moto – intuitive and user-friendly. In addition to the usual shooting modes, there is a "colour selection" option (leaves one colour in the photo), Pro mode, time-lapse, group selfie and a cool dual-save function (you see two screens at once).
Data transfer and sound
There is support for 5G networks (and this is probably the only advantage if you are looking for an affordable model with 5G), otherwise everything is standard – dual-band Wi-Fi, NFC for in-store payments, Bluetooth 5.1.
Motorola Moto G53 produces stereo sound. There is a Dolby Atmos label. The entire stereo system provides clear and high-quality sound. For the money, there was nothing missing: movies, music, and podcasts played well, the sound was loud.

Dolby Atmos mode is supported with presets – music, movies, games, podcasts, custom (equaliser). By default, the phone adjusts the sound mode using AI.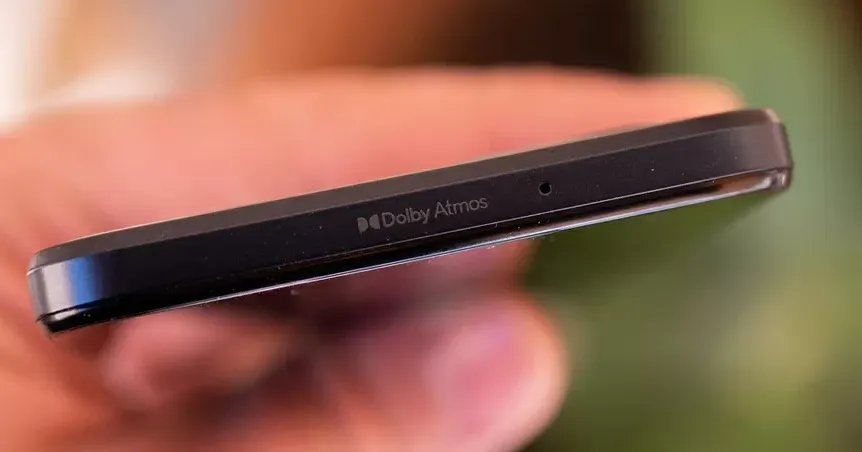 Read also: Motorola Edge 30 Review: Balance At Maximum
Software
This is one of the most interesting sections of the review. Because the Moto G53 system is based on fresh and clean Android 13 with cool additions from the manufacturer.
There are special themes, gesture controls (for example, switching on the flashlight by double shaking the phone, activating the camera by turning your wrist, taking a screenshot by tapping the screen with three fingers, activating silent mode by turning the smartphone screen down, etc.) and much more (active display, the ability to split the screen into two parts, a sidebar for quickly launching applications and floating windows, the ability to launch applications in a separate window during the game, and other game settings).
The Moto app offers many useful features, and everyone can customise the system to suit their own needs. There are components that are responsible for other functions, for example, in the options: "Personalisation" we can choose between different themes, icon shapes, font size, etc. Another section is Gestures – as always, this is a unique feature of the manufacturer (probably no other Android device has better gestures than Moto).
However, we knew everything listed and shown above before. And yet there are new features. Spaces, for example, is an opportunity to create a limited and safe space for children by selecting available applications.
There is also a traditional Android 13 panel to control the privacy or security of your personal information, even online. Motorola lets you create a secret folder that only you can access, set up internet security, swap keys on the numeric keypad so no one can see your code. You can find out which apps are accessing your phone's features (camera, microphone, location, etc.) and personal data, and how your sensitive information is being used. In addition, Motorola offers ThinkShield to help protect your data.
We also have the Google Safety app. It allows you to share your location in a critical situation, activate a safety check (once at a certain time, the phone will ask you to confirm that everything is fine, otherwise it will send a notification to selected contacts). You can also enter medical information about yourself and enable alerts for unforeseen situations.
From the software point of view, I am generally satisfied – a fresh version of Android, no unnecessary elements and everything the user needs.
Productivity and working hours
As for the operating time, I'm happy for the second time! Two days without recharging is easy! It's all thanks to the 5000 mAh battery and unpretentious components. This means you can play, study and work for two days without waiting for the phone to recharge.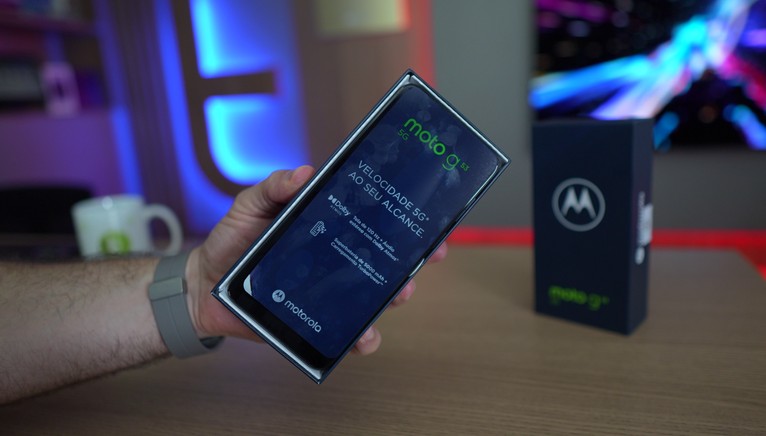 With the screen switched on frequently with the brightness turned up, automatic refresh, working with documents, and background applications enabled, Moto G53 lost only about 40-45% of its charge in 24 hours of operation. So if you have more modest requirements than I do, then you should be especially pleased with the gadget's battery life.
It comes with a charger with a cable and adapter, so you don't have to look for additional accessories. But again, there are some simplifications… The phone is charged by a 10W charger. This is not serious. Even the younger G23 has 30W, the predecessor G52 also had 30W. It takes about 2 hours and 40 minutes to fully charge the G53. This is the ratio – long-lasting and long-charging (well, there are no miracles in this case).
I should add that in some markets, Moto G53 is sold with a 20W charger, which means that faster charging is possible, but you will have to buy an additional accessory, which entails additional costs.
Read also: Motorola Moto Edge 30 Pro review: is it really a flagship?
Results, competitors
The Moto G series is full of innovations and models with improved specifications. Against this background, Moto G53 showed average results. On the one hand, we have excellent battery life, an interesting design, a large screen with narrow bezels, stereo sound, modern and user-friendly software. But is it worth paying about $270 for it? Especially if you pay attention to the fact that the screen is a prehistoric HD IPS (120 Hz doesn't help), that the cameras are very simplistic, that the performance is quite low, that the charging power is only 10 watts…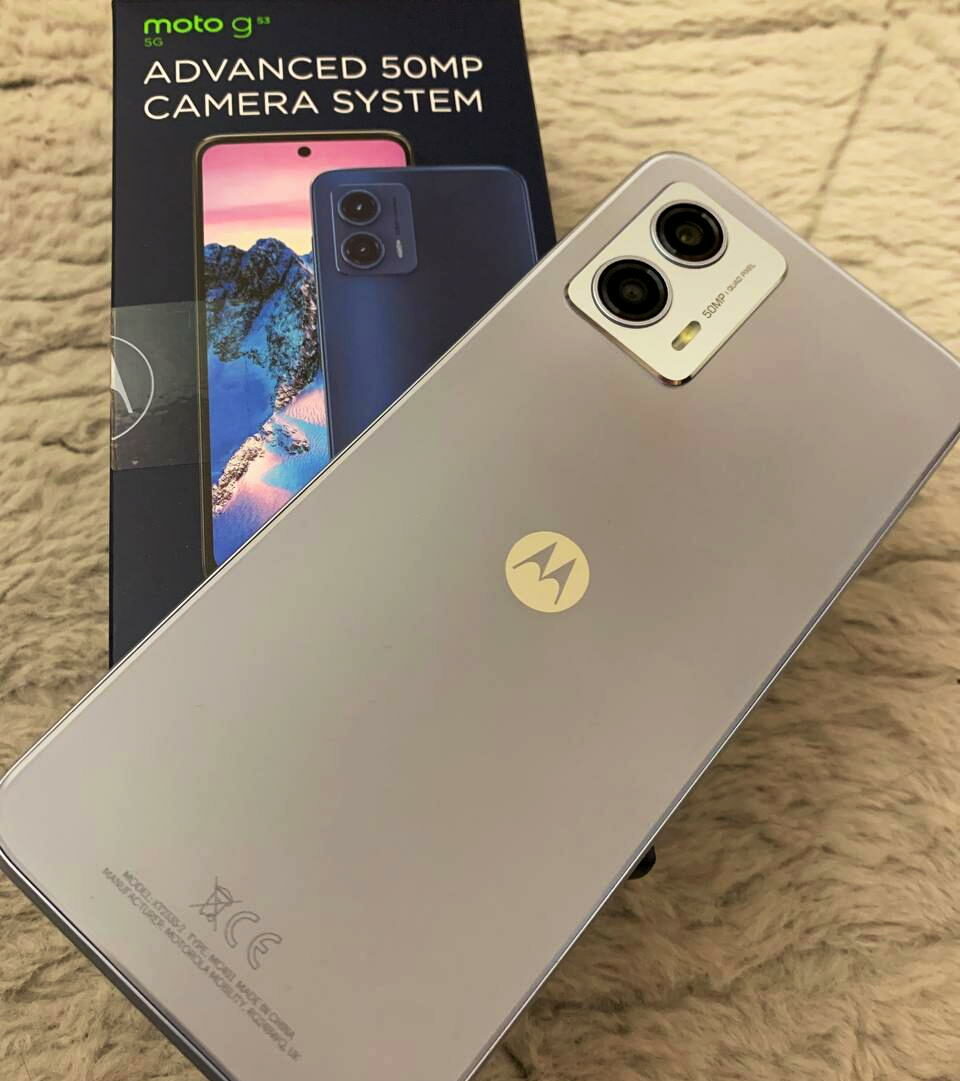 Moto G53 is inferior in many ways to the models of the same series released in 2022. The G52, for example, is better in almost everything (screen, cameras, charging, chipset). It just doesn't have 5G, but who cares?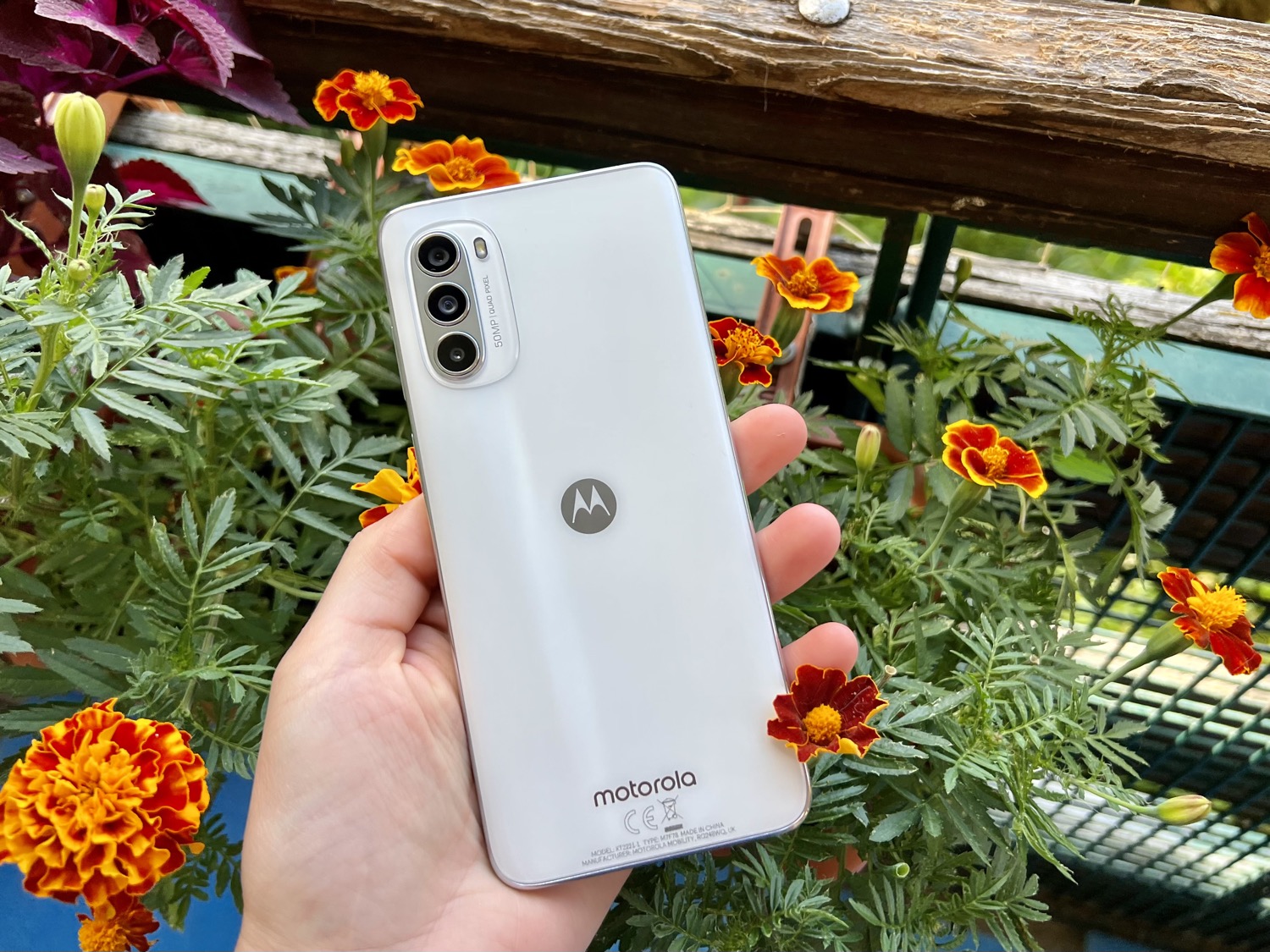 Read also: Comparison Of Moto G52 And Moto G62 5G: So Similar And So Different
The Moto G62 5G has the same chipset as the 5G, a Full HD screen and 15W charging. And the Moto G82 5G has a beautiful 120Hz Full HD AMOLED display, 6GB of RAM, a camera with optical stabilisation, 5G, and a powerful Qualcomm Snapdragon 695…. The Motorola Edge 20 Lite has an OLED display, 5G, 8GB of RAM, an ultra-wide-angle lens and a good 108MP camera, while the MediaTek Dimensity 720 performs well. At the same time, the price difference is quite insignificant. And why should someone choose the G53? Because it looks cool? And that's it? Most likely, only someone inexperienced will do this.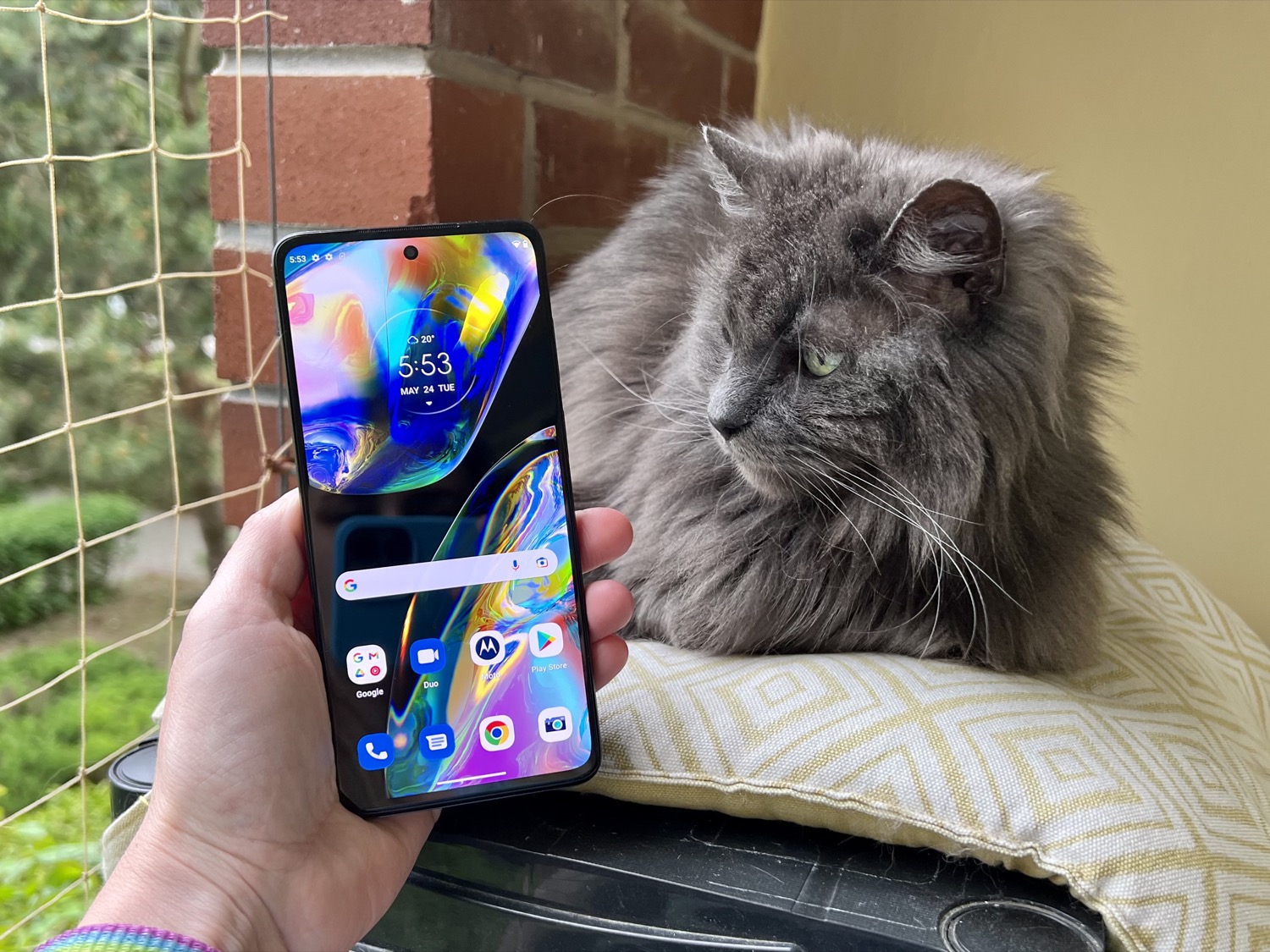 The Moto G72 doesn't have 5G support, but it looks impressive, with a full HD AMOLED screen, 108MP main camera + ultra-wide-angle shooter, 6GB of RAM and a powerful 6nm MediaTek Helio G99 chipset.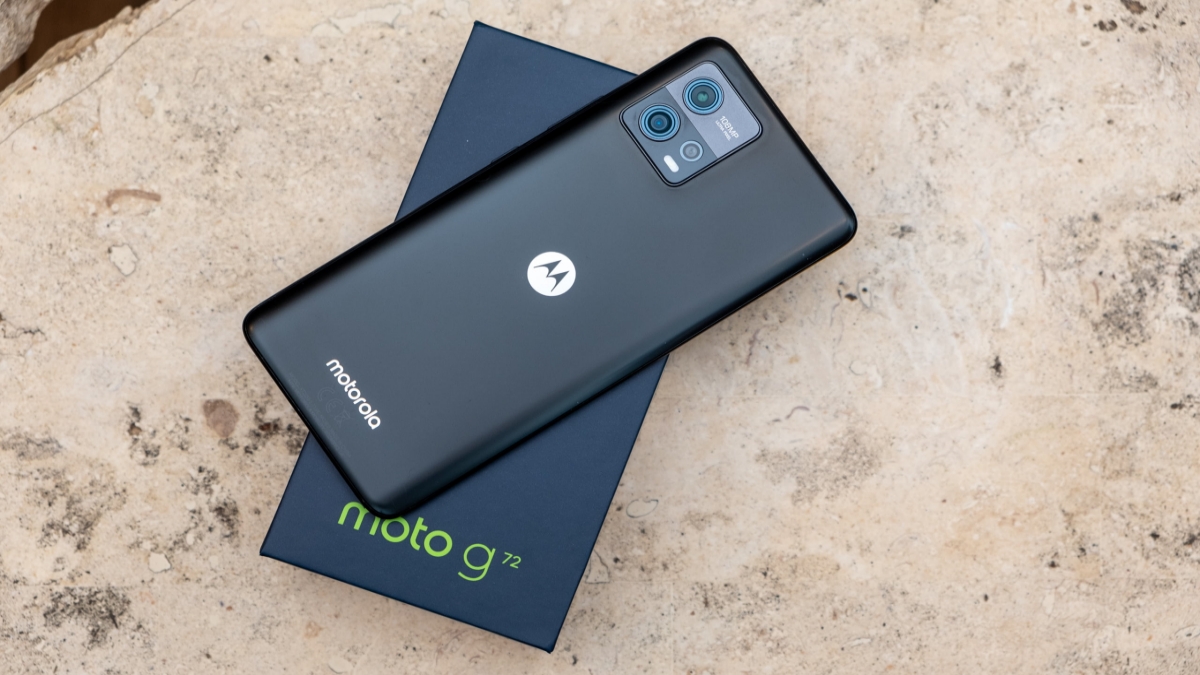 Read also:
We haven't even talked about competition from other companies yet. But we won't list all the models, because the list would be too long. However, for around $300, you can find quite a few smartphones with Full HD and even AMOLED, with 6 or even 8 GB of RAM, better cameras, faster charging, etc. Perhaps only without 5G, but not everyone needs it. And sometimes without Android 13, but in the end, this is also not a reason to choose a model with inferior specifications.
For example, the Realme C55 8/256 (the most successful novelty of recent weeks – a lot of memory, super cameras, 33W charging, our test is here), Galaxy M33 5G, realme 10 8/128, Infinix Note 12 Pro 8/256 or for those who want 5G, Infinix Note 12 Pro 5G 8/128, realme 8 and I think that's enough.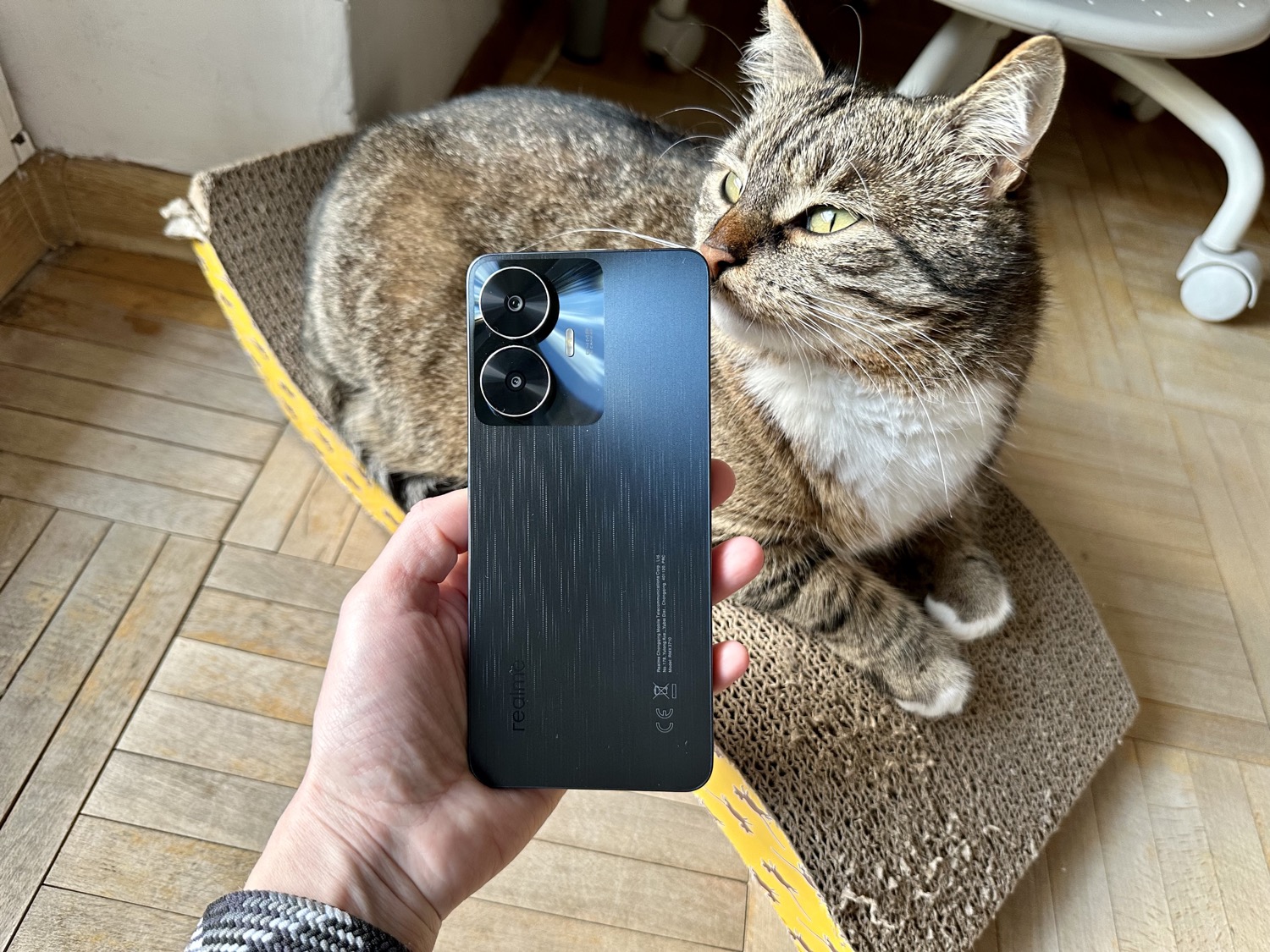 Read also:
Well, Motorola is releasing another "child of inflation" – a phone with uncompetitive specifications. So far, only the Moto G73 5G looks like a successful and adequately priced smartphone out of the entire lineup. We have its test, so we recommend reading it!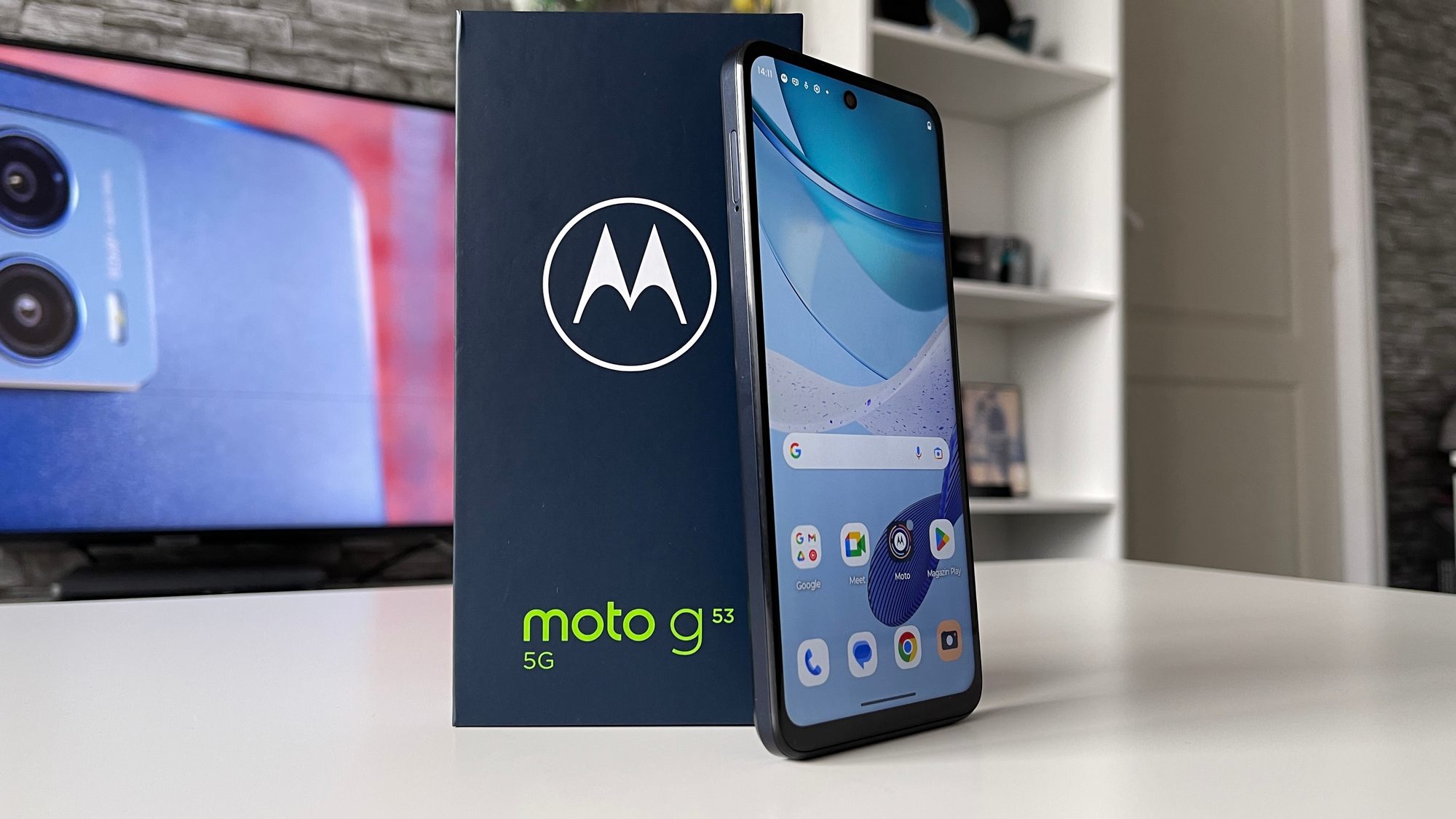 Read also: