The Moto Edge 30 series is developing throughout 2022. Back in the spring, we got acquainted with the Edge 30 Pro model, which was good for everyone, but did not reach the title of a full-fledged flagship. At the end of the summer, we published our review of the "basic" Motorola Edge 30, which turned out to be a successful middleman. And in September 2022, an event took place at which Motorola presented a trio of new products – Edge 30 Fusion, Edge 30 Neo, and Edge 30 Ultra. Gradually we will get acquainted with each of them, but let's start with the younger model of the updated line – Moto Edge 30 Neo.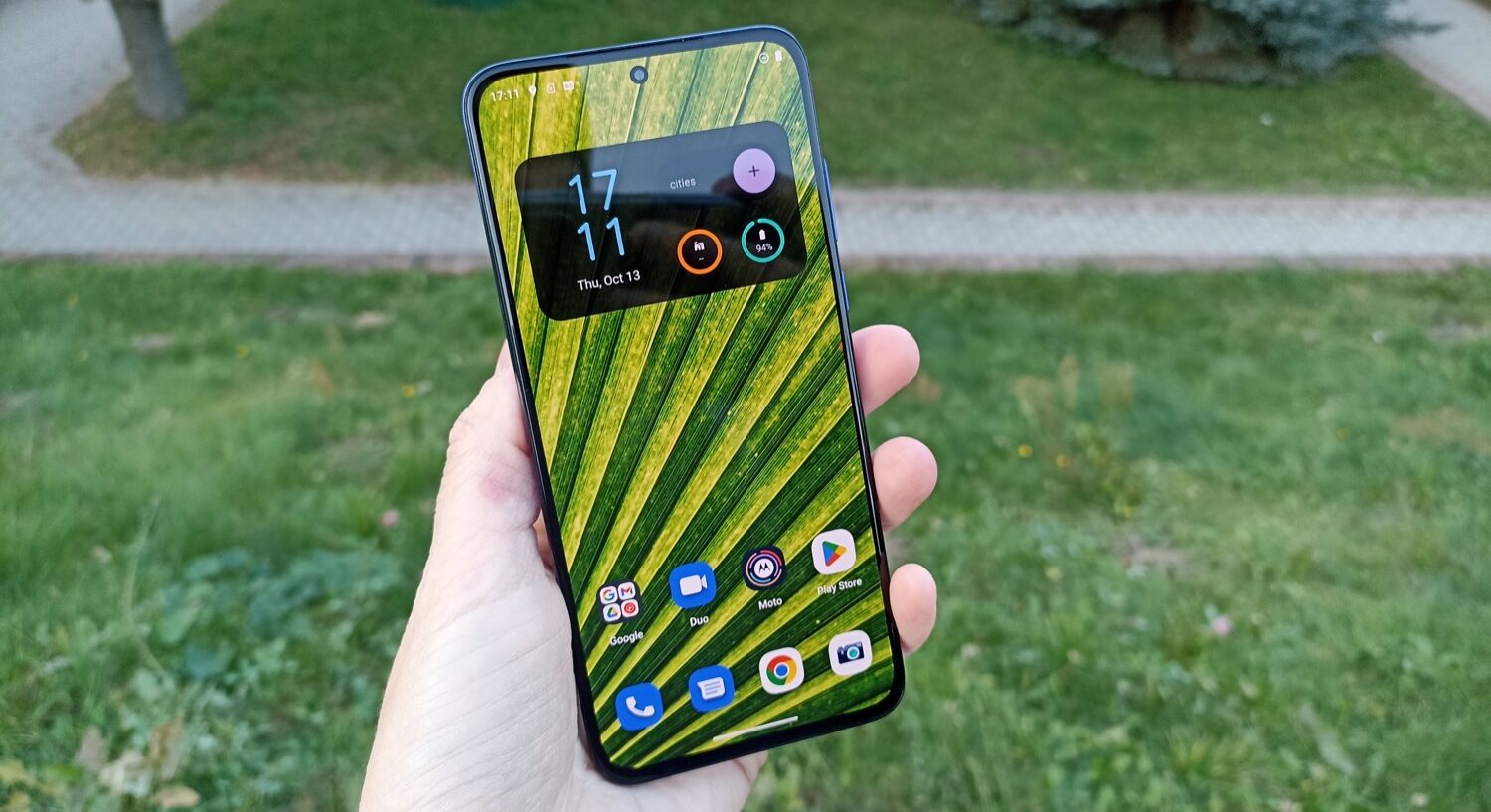 Specifications of Motorola Edge 30 Neo
Screen: P-OLED, 6.28 inches, 2400×1080 pixels, 20:9 aspect ratio, 120 Hz refresh rate, HDR10, DCI-P3 color palette, built-in fingerprint sensor, Gorilla Glass 3 protection
Processor: Qualcomm SM6375 Snapdragon 695 5G (6 nm), Octa-core (2×2.2 GHz Kryo 660 Gold & 6×1.7 GHz Kryo 660 Silver), Adreno 619 video chip
Memory: in Europe, only the 8/128 GB version is available, but in general there are models with 6 GB of RAM and 256 GB of storage, there is no memory card slot in any case, the type of RAM is LPDDR4x
Battery: 4020 mAh, TurboPower 68W fast charging, 5W wireless charging
Main camera: 64 MP, f/1.8, 0.7 μm, phase autofocus, optical stabilization + 12 MP wide-angle lens, f/2.2, 120˚, 1.12 μm, autofocus
Front camera: 32 MP, f/2.4, 0.7 µm
Data transmission: 5G, Wi-Fi 802.11 a/b/g/n/ac, Bluetooth 5.1, NFC, GPS, A-GPS, GLONASS, Galileo, magnetic compass, USB Type-C 3.1, ReadyFor mode
OS: Android 12
Dimensions and weight: 152.9 × 71.2 × 7.8 mm, 155 g
Materials: plastic frame, plastic back cover, splash protection
Colors: Very Pery (purple), Black Onyx (black), Ice Palace (white), Aqua Foam (green)
Price: about $370
Range positioning and price
The new Edge 30 Neo is the youngest in the updated series. In general, the Edge line for Motorola is devices with an emphasis on style and good cameras. If you want to visually compare the three new products of the series, here is a good link. And here it is with a picture, click to enlarge: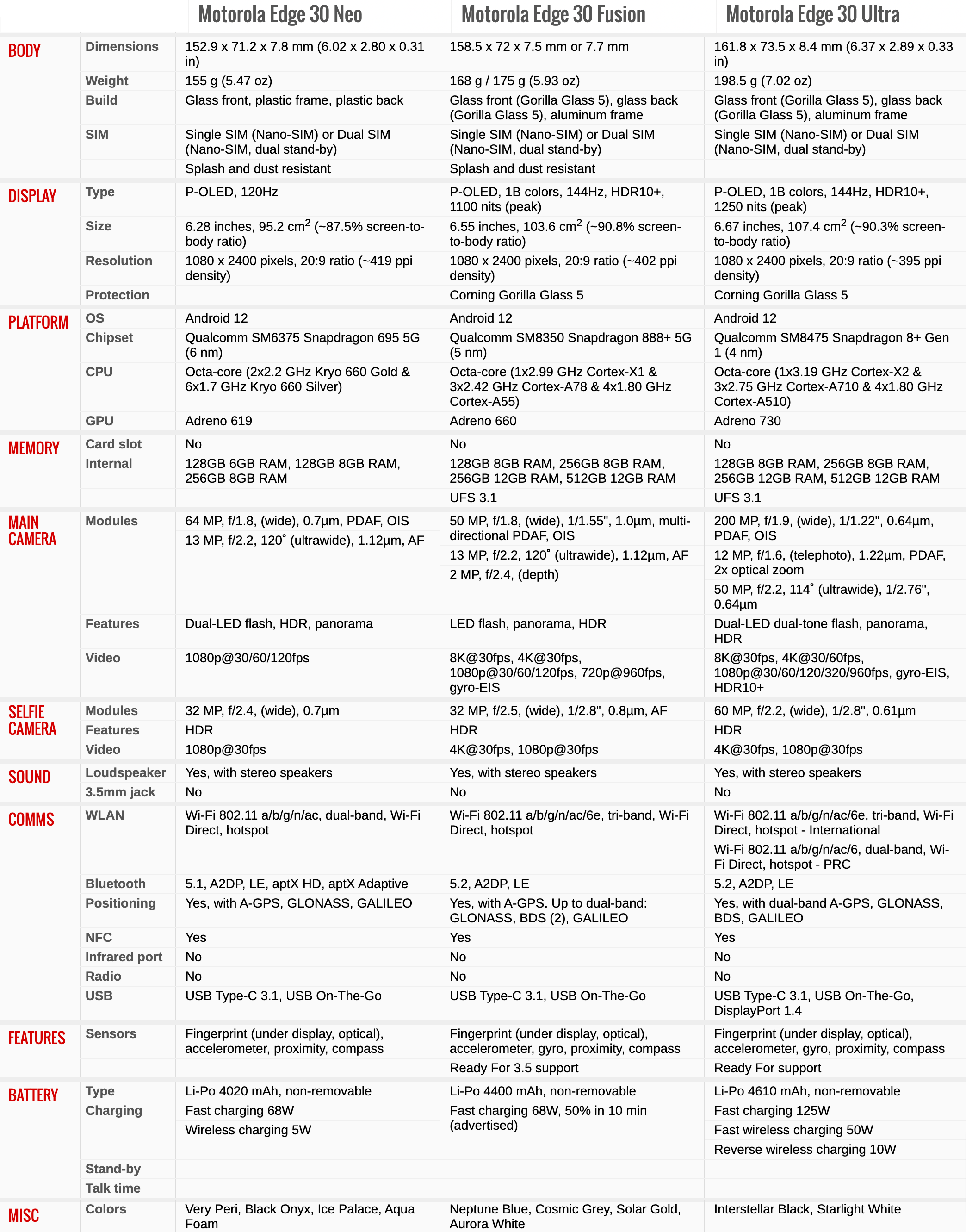 In short – the Fusion and Ultra versions have larger and more advanced displays, premium materials (glass back panels, aluminum frames). As for the chipsets, the Edge 30 Neo received a version for "mid-range", the Fusion has last year's 888+ "dragon", and the flagship Edge 30 Ultra has the latest Snapdragon 8+ Gen 1. Also, the older models received versions with 12 GB of RAM and 512 GB of internal memory and, unsurprisingly, much more advanced cameras (more modules, and the Ultra has 200 megapixels). And of the little things – more capacious batteries, newer versions of wireless modules. And Ultra also has 125 W of wired and 50 W of wireless charging.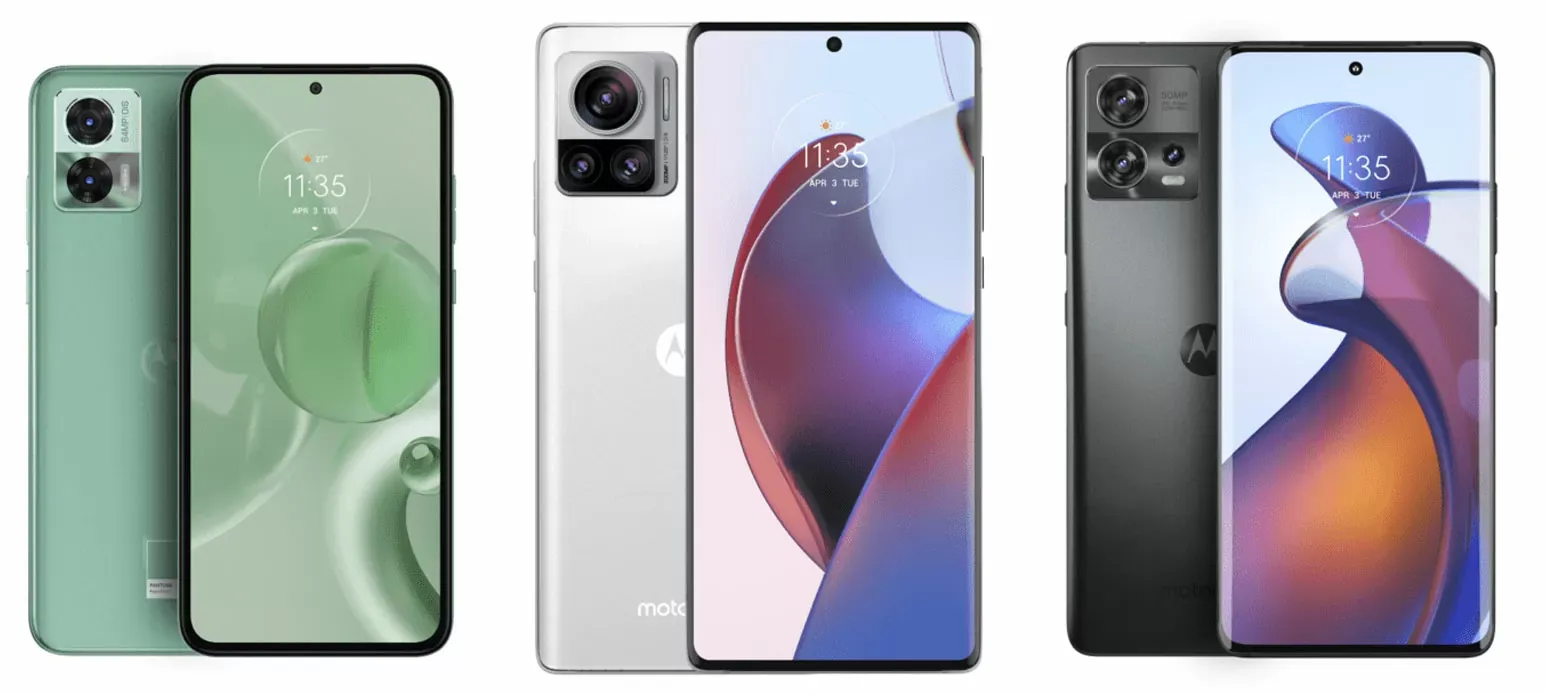 And, of course, Edge 30 Neo is almost twice cheaper than Edge 30 Fusion and almost three times cheaper than the advanced Moto Edge 30 Ultra. Namely – about $ 370 (330 euros).
As for the mid-ranger, the novelty is very attractively equipped, apart from the simple Snapdragon 695 chipset. Juicy and clear 120 Hz OLED screen, 64 megapixel main camera with OIS, decent 13 megapixel wide-angle, high-quality stereo speakers, 68 W fast charging. And – which is rare in this price segment – a built-in fingerprint scanner and wireless charging. What is also important – we have before us one of the few compact smartphones, which we will talk about later.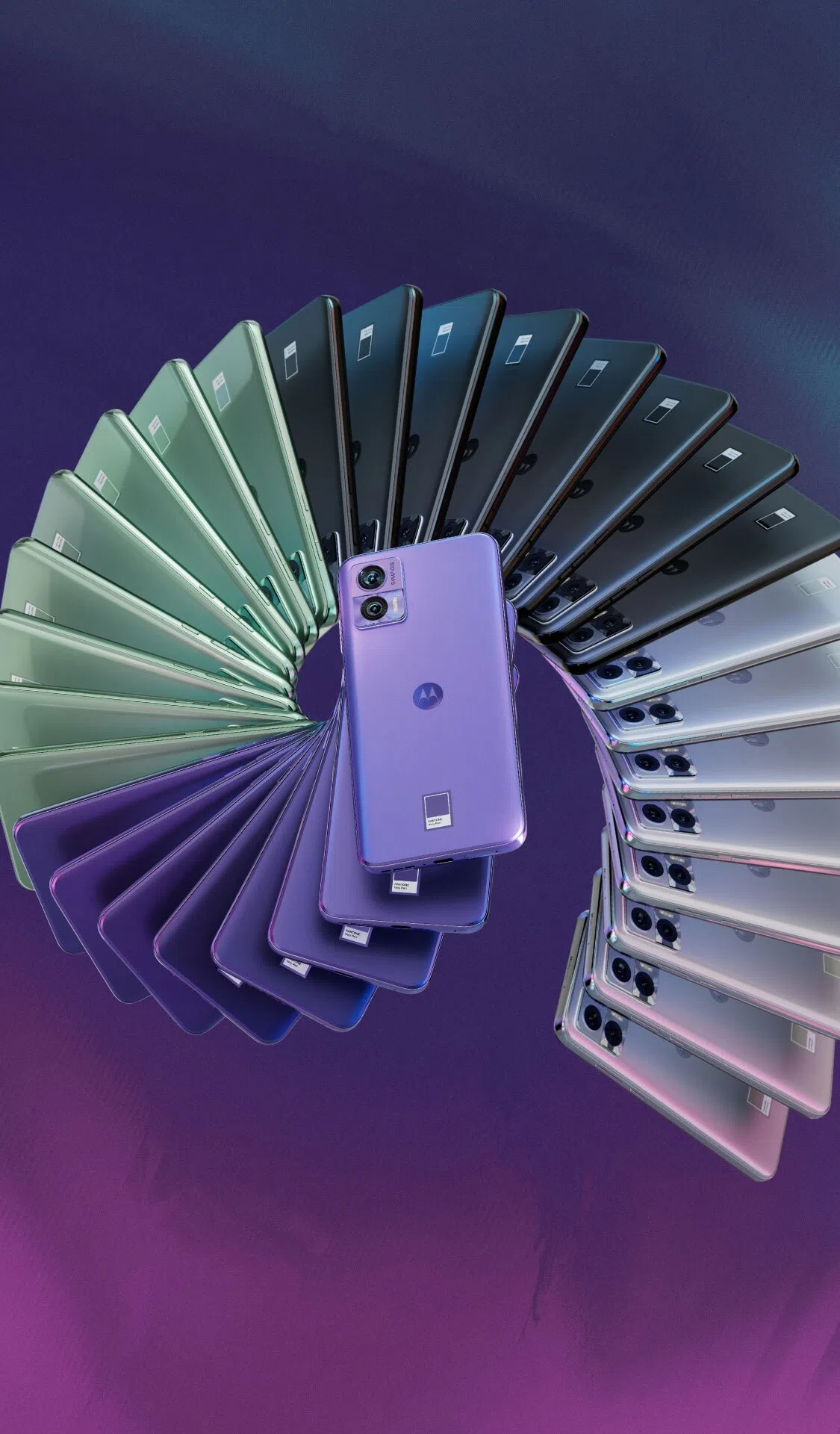 And in this section it is worth comparing Moto Edge 30 Neo and the basic Moto Edge 30, which was introduced in the spring of 2022. It so happened that they currently cost almost the same, but the "regular" Edge 30 has a more advanced screen, more powerful and more interesting set of cameras. Instead, Edge 30 Neo (actually, the name implies that it is the "new Edge 30") has a fresher design and the ability to charge without wires. Of course, the model will become even cheaper, now the prices for it are at the maximum, as for any new product.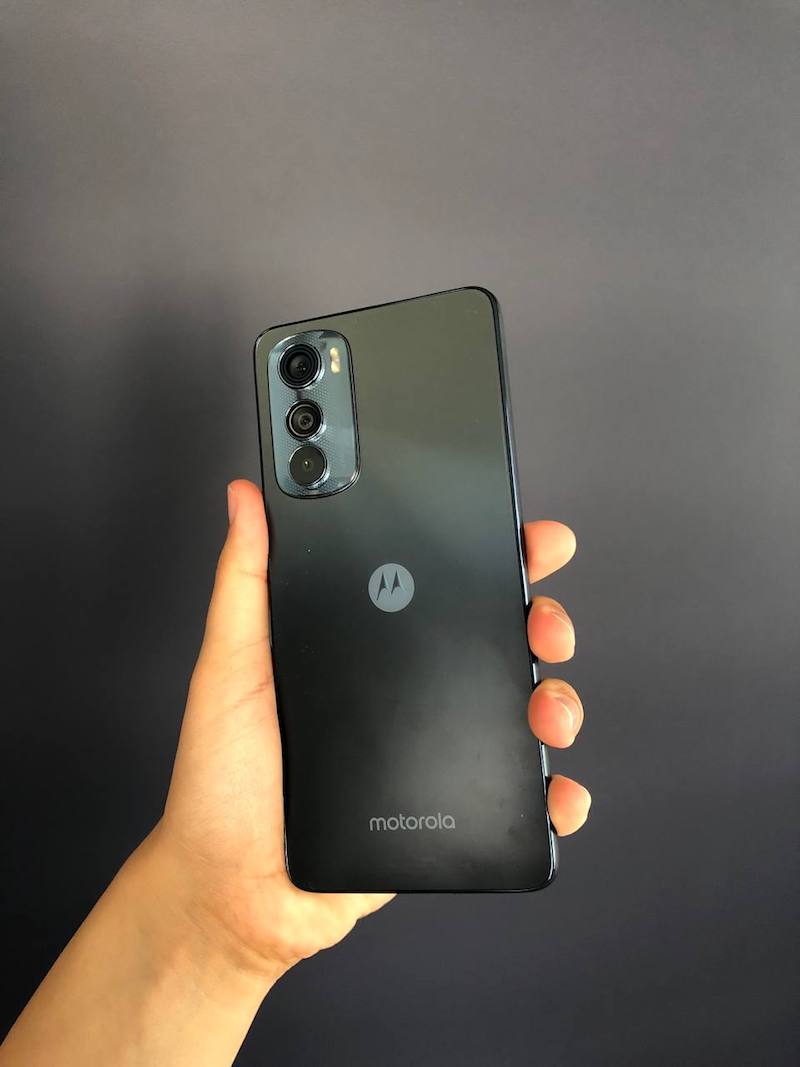 Well, enough introductions, let's get acquainted with the compact handsome Moto Edge 30 Neo point by point.
Read also:
Delivery set
In the updated series Motorola focuses on eco-friendly packaging. No plastic bags, only  biodegradable cardboard and soy ink.
In a compact box you will find the phone itself, 68 W charger, cable, pin to open the SIM slot, case and documentation.
It is worth mentioning the case – for the first time I meet not silicone, but hard plastic one. Among the advantages – it looks better, does not turn yellow, does not spoil the design and color of the back panel. On the downside, it does not protect all sides of the phone (there is nothing to attach the lanyard to), if you often take it off or put it on, the corners may crack – I had it happen in one place, although the case can still be used, it did not fall apart.
Moto Edge 30 Neo design
The first thing to note is that the smartphone is small and light! It will immediately catch your eye when you see it and pick it up. Compact smartphones are rare in general, and especially in the middle price range, so it is pleasing that Motorola has created a device in this format. It weighs 155 g – actually a fluff (by the standards of smartphones), the thickness of 7.8 mm is also minimal.
Here, for comparison, the Edge 30 Neo and a typical Galaxy M53 with a 6.7-inch screen.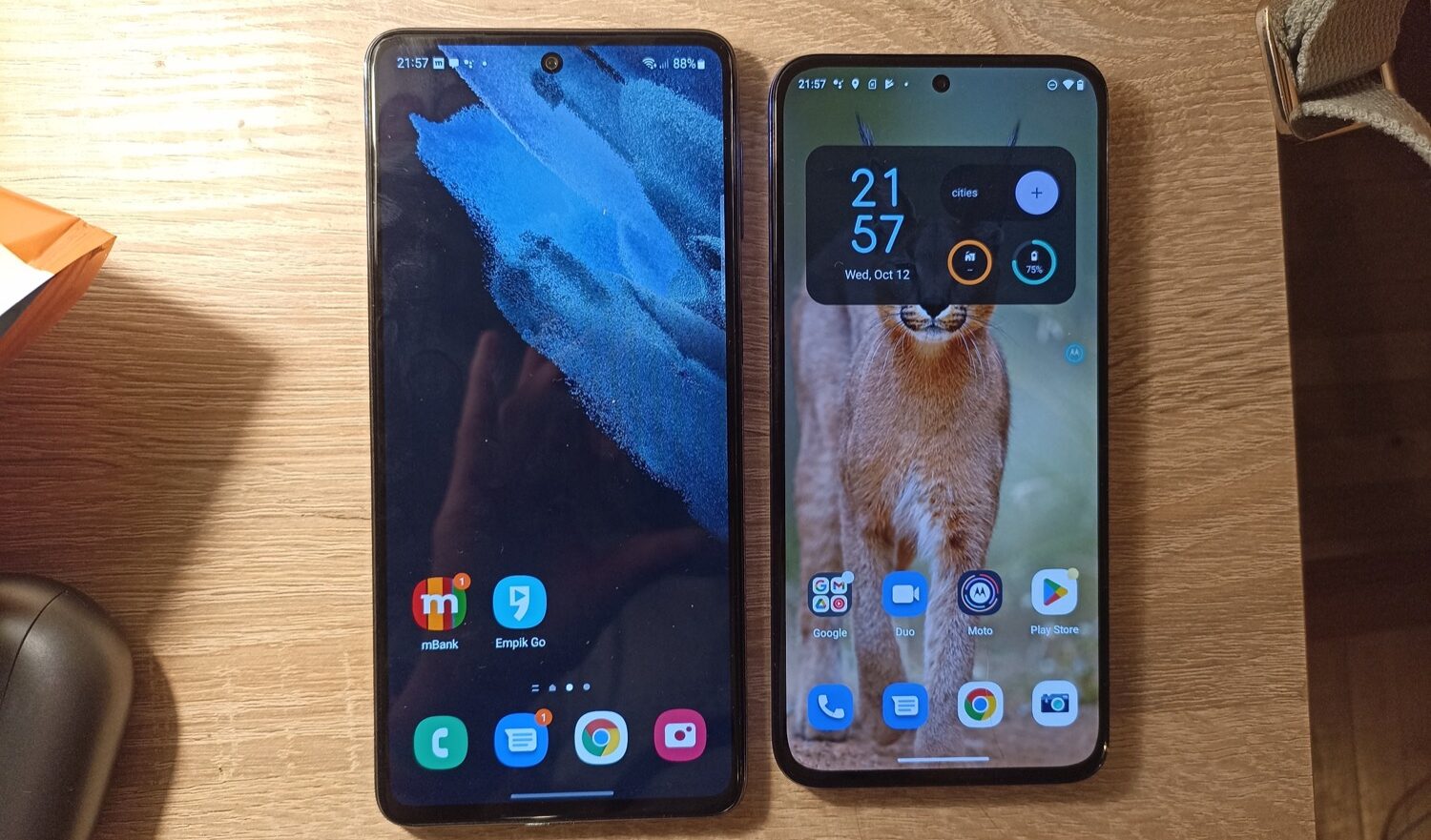 And this extremely nice device is in the pocket of jeans, where it does not interfere at all!
I sincerely recommend Moto Edge 30 Neo to everyone who is looking for a compact and at the same time not too expensive (like the "baby" Xiaomi 12, for example, with the same 6.28-inch display) smartphone. It does not tire the hand, it is convenient to use without grasping the body.
To be honest, I was afraid that I would have a kind of claustrophobia, which I had during the Xiaomi 12 test. But, apparently, a narrow screen with rounded edges also played a role then. Well, I used Edge 30 Neo for two weeks as my main phone and did not feel any inconvenience. Although, frankly speaking, I personally still like large screens – it is more convenient to work with text, watch photos and videos, etc. But everyone has their own preferences.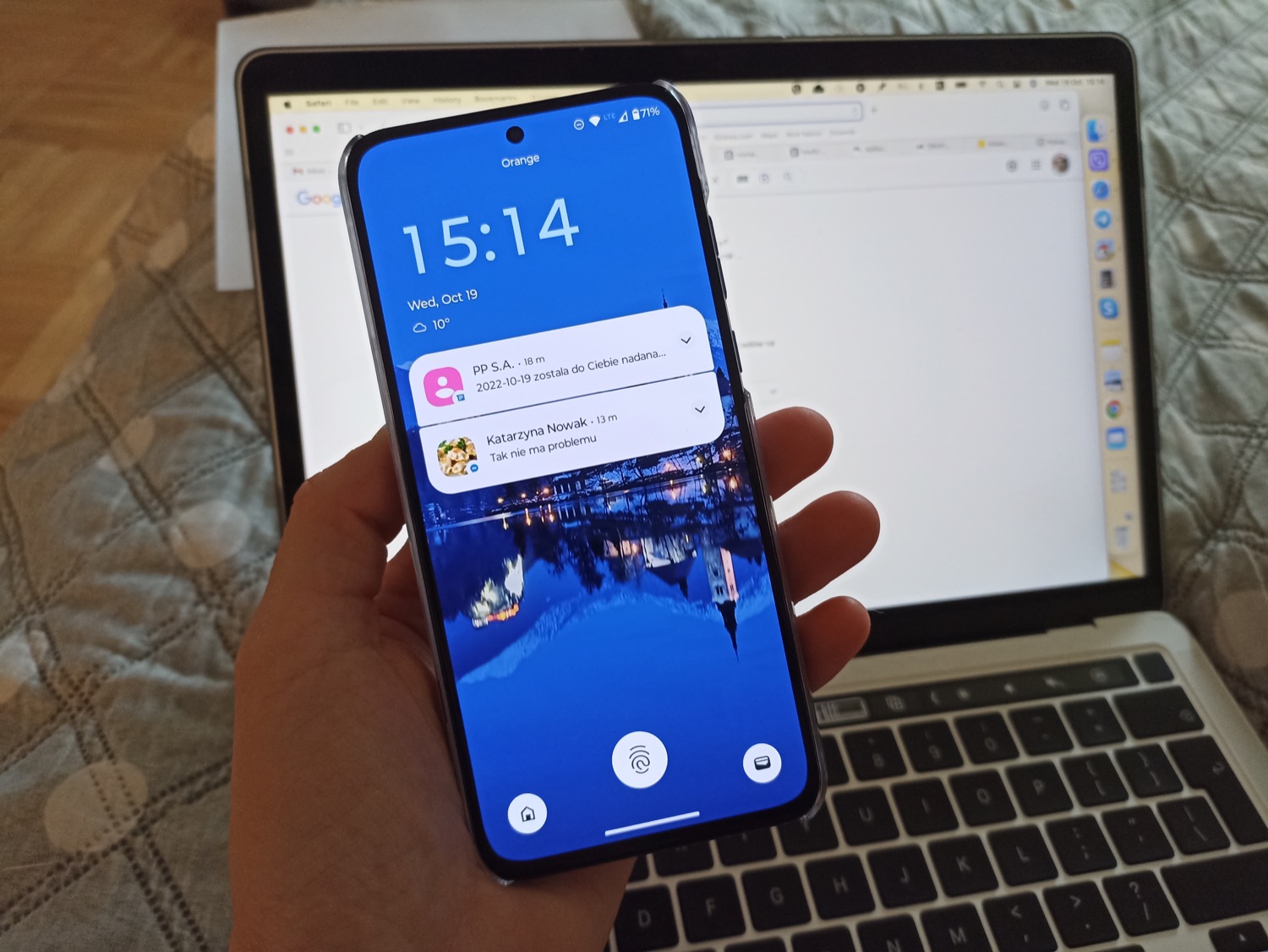 I really like the appearance of the front panel of the device – a small hole for the front camera, minimal (especially for a mid-ranger) and neatly rounded bezels.
The back panel is absolutely beautiful. Finally, Moto has updated the design of the camera unit, the new version is much more to my liking, it looks stylish and modern. And it protrudes slightly from the body, which is convenient.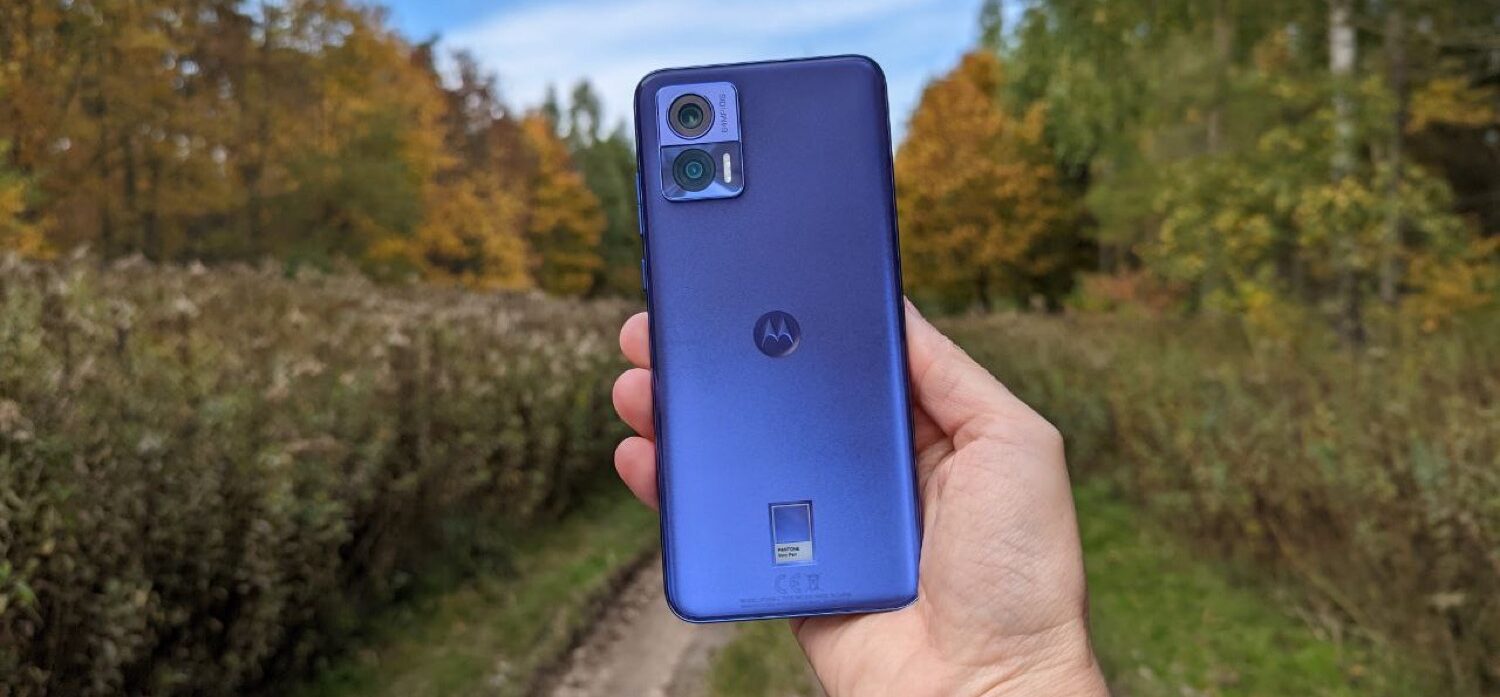 And the coolest thing is the coloring. To create the shades of the Edge 30 series, Motorola collaborated with Pantone, the international color institute, an organization that creates "trend" colors, studies the popularity of shades and helps large companies, such as Cadillac and Lacoste, to choose the right colors for their products.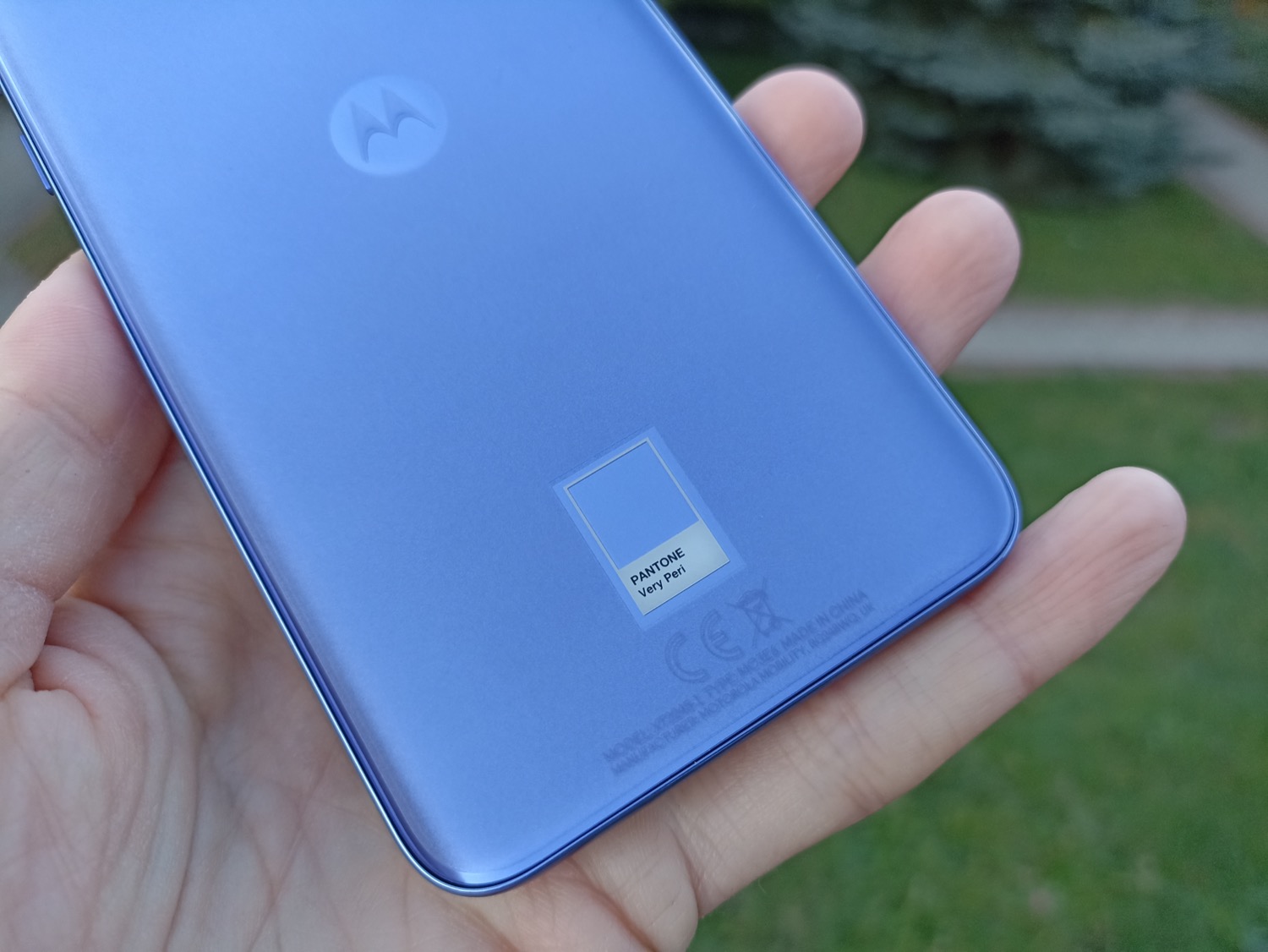 So, on the back panels of the new Moto Edge 30 Neo there are "samples" from Pantone with the names of fashionable shades. The model is available in four colors – Very Pery (purple), Black Onyx (black), Ice Palace (white), Aqua Foam (green).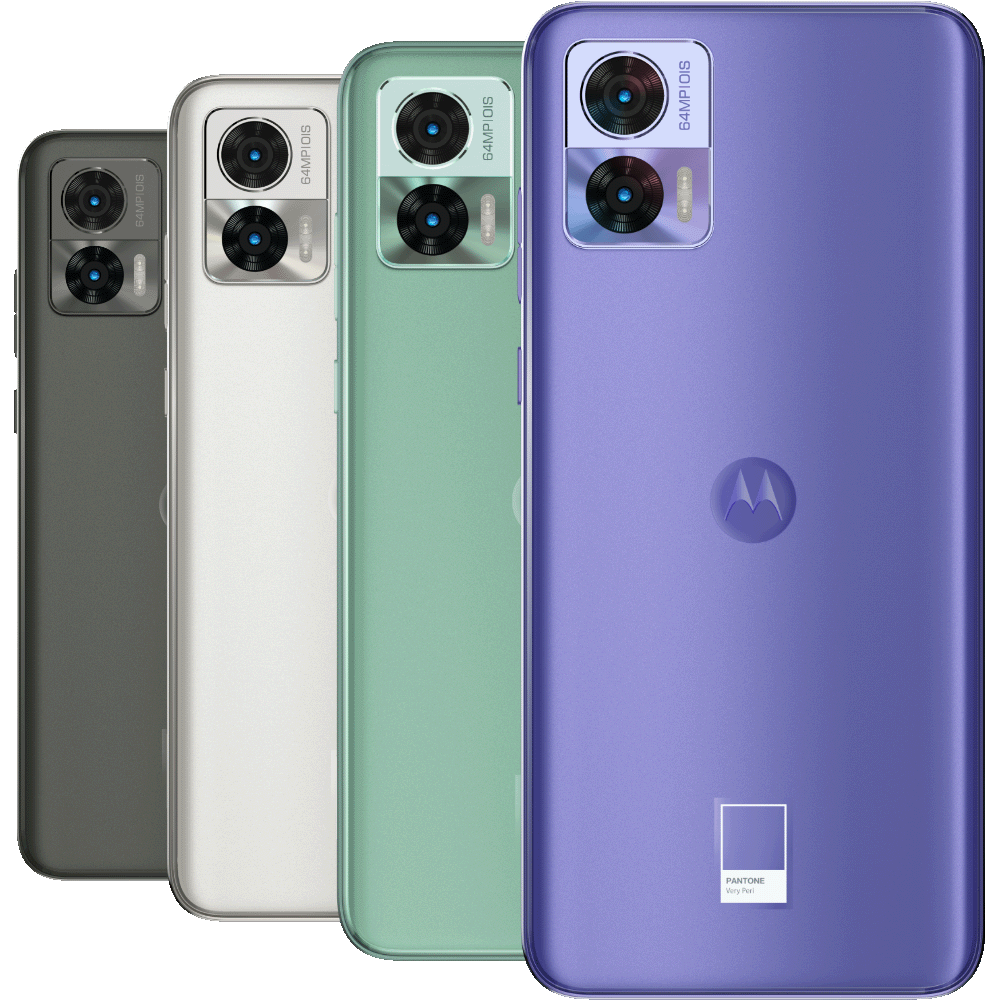 The most interesting are Very Pery and Aqua Foam, Moto promotes them in its advertising. As you can see, we received the purple version for testing. And to say that the color is beautiful is an understatement. In the light, the shade changes slightly from blue to purple and lilac.
The back panel is plastic and has a fashionable coating a la dry ice. Matte, shiny in the light, rough. It looks great and does not collect fingerprints at all. The glossy piece is only in the "frame" from Pantone, which also looks interesting.
An important and rare little thing – a light indicator of charging and notifications: the glowing rim of the camera unit. It's a cool solution!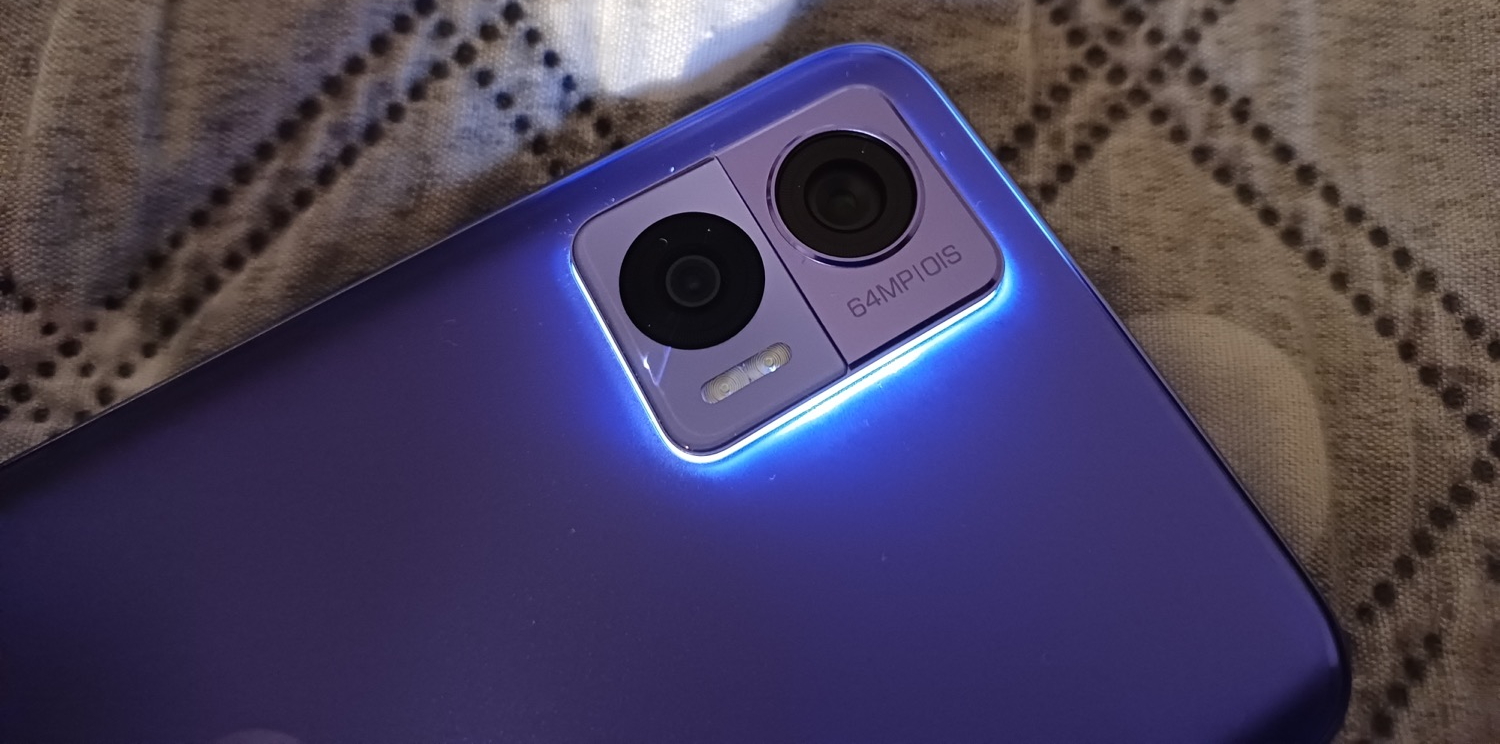 In the dark you will see the indication even when the phone is lying with the screen up. And if you put on the included case, the light will spread through it and illuminate even the sides – again, very impressive.
The operation of this indicator in the video:
The side frame is made of plastic, has a shade of the back panel and is interestingly made – matte with glossy edges.

There are no elements on the left side of the smartphone. There are volume and power/lock keys on the right side, located at a convenient height.
The fingerprint scanner, as already mentioned, is built into the screen. It is also at a convenient height, works quickly and clearly – there is nothing to complain about. Of course, there is also face recognition, but it is less reliable, and I prefer unlocking with a fingerprint – it is so convenient, I put my finger and it's ready.
On the bottom of the smartphone you will see a card slot (in the form of a "sandwich" for two SIM cards, there is no memory card slot), a charging connector, a microphone and three speaker holes. On the upper end there is only an additional microphone and Dolby Atmos inscription. "Where are stereo speakers?" – you may ask. The approach, habitual for inexpensive models, is applied – the role of the second speaker is performed by the earpiece speaker. We will find out how exactly this combination works later in the section about sound.
I would like to note here that the assembly of the device is perfect, and that Edge 30 Neo has a feature familiar to Moto models – basic protection against splashes and drops of water (IP52 standard). Of course, you shouldn't bathe with the phone, but accidentally getting it wet is probably not terrible.
Read aso: Motorola Edge 20 Pro review – Not so Pro
Moto Edge 30 Neo display
The novelty got a 6.28-inch P-OLED display with a resolution of 2400×1080, a refresh rate of 120 Hz and support for DCI-P3 color space.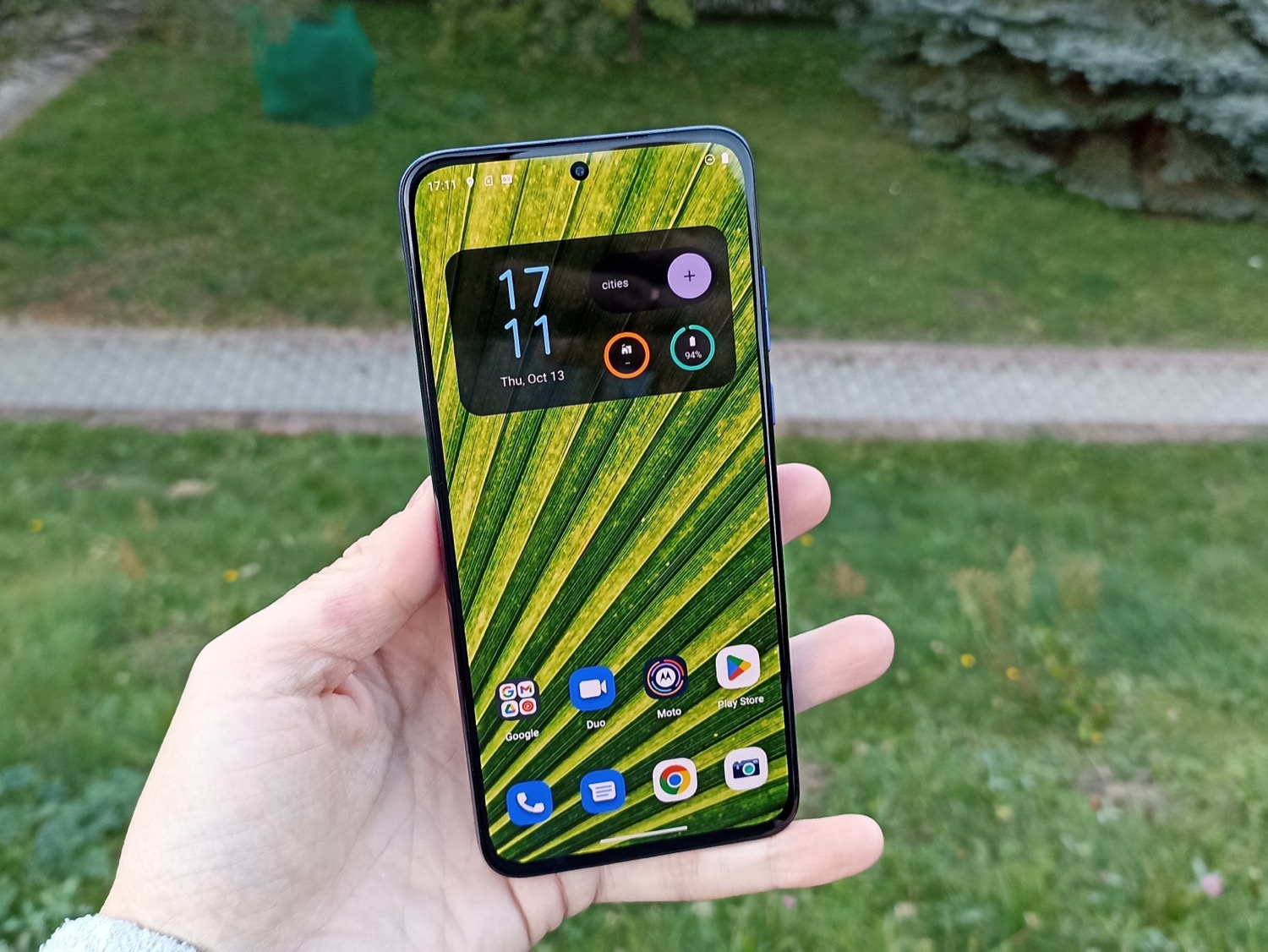 The display is excellent, as if straight from a more expensive model – that is why the phone makes a particularly pleasant impression when it is switched on. Considering the small diagonal, the clarity is very high. The picture is juicy, but not too much. The viewing angles are maximum, without color distortions. The depth of black is high.
Of course, thanks to 120 Hz, the picture is smooth, it catches the eye. There are three modes available – automatic (the phone will set itself depending on the application and charge level), 60 Hz or 120 Hz. I recommend using the automatic mode, when the phone itself switches between 48, 60, 90 and 120 Hz – the perfect compromise between smoothness and battery saving.
Automatic brightness change works without errors. There is an option to adjust the color temperature (removes cold shades in the evening), a dark theme, three options for saturation of shades and other familiar settings.
I really liked the "extra dim" function, which can be found in the "curtain" with quick settings. It allows you to reduce the minimum brightness of the display, which is important for bright OLEDs. For example, when I put the child to bed in the evening, I activate this mode – and I have something to read, and the screen light does not bother my son.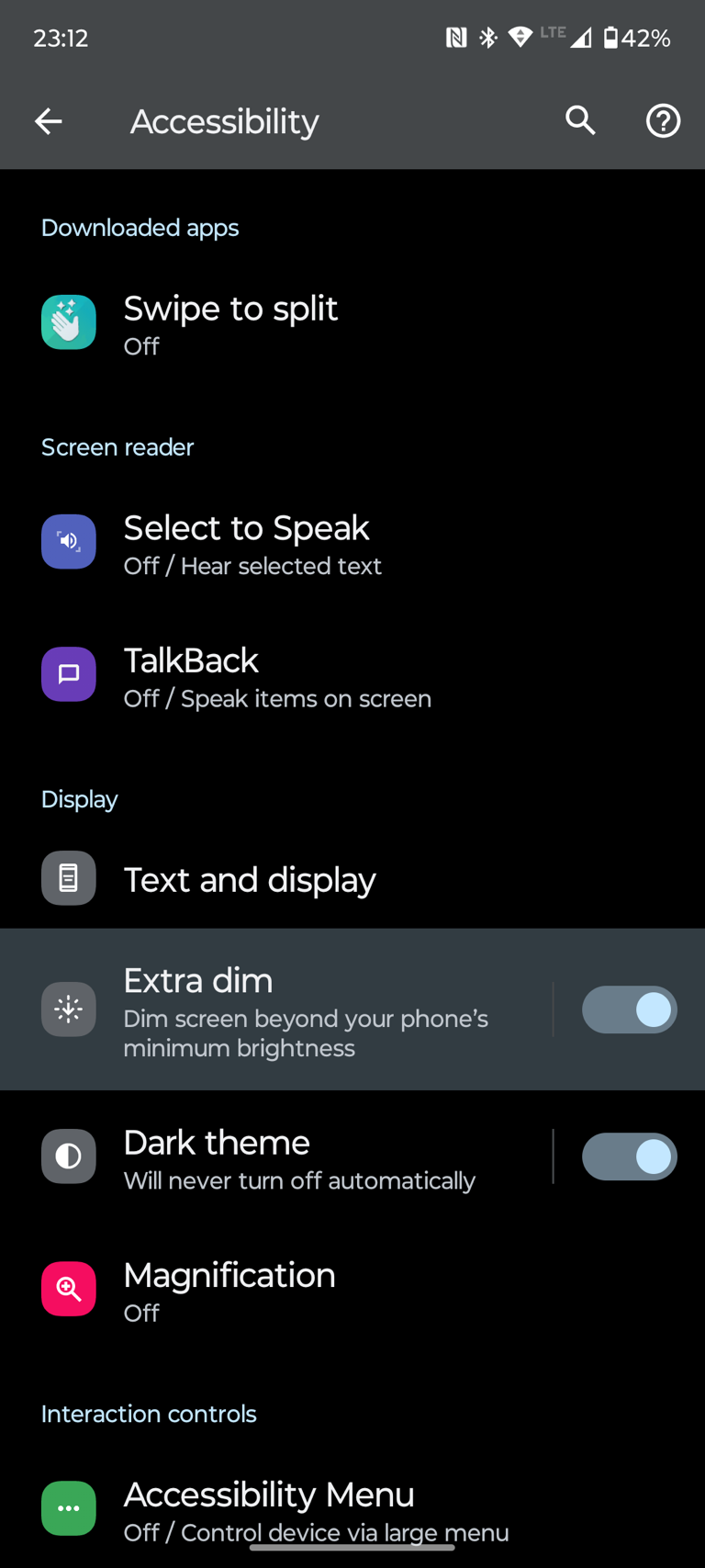 Readability in the sun is good, the display fades slightly. Standard brightness is about 500 nits, peak brightness is about 1000.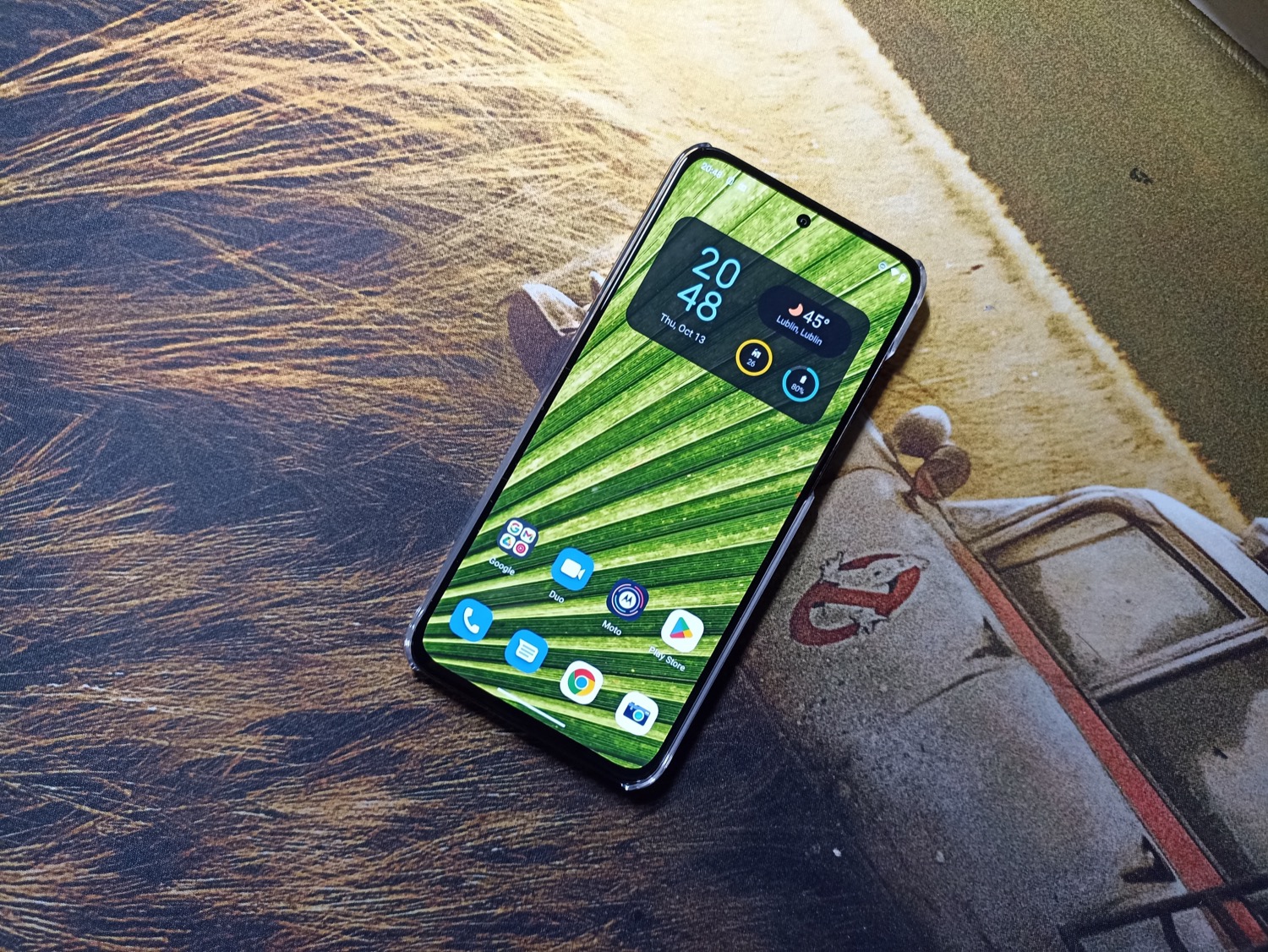 There is an analogue of AoD – time and notifications on the lock screen with the ability to quickly preview them (Peek Display). The screen activates itself for a few seconds if you pick up the device, touch the display or hold your hand over it, with a dark background and minimal brightness for energy saving. This feature appeared in Moto long before other manufacturers "invented" a full-fledged AoD. However, a full-fledged ALWAYS on display could be implemented in a smartphone with an OLED screen, but for some reason Motorola does not pay attention to this.
Read also: Moto Motorola Edge 20 review: Why do we need flagships anyway?
Hardware and performance of  Motorola Edge 30 Neo
The hero of the review is based on the Qualcomm Snapdragon 695 5G processor. This is a mid-level chip with the appropriate performance, containing 8 cores, divided into two clusters (2 cores of Kryo 660 Gold operate with a maximum clock frequency of up to 2.2 GHz, and the remaining 6 cores of Kryo 660 Silver with a maximum clock frequency of up to 1.7 GHz). Graphics processing is entrusted to the Adreno 619 accelerator. The 695 "dragon" powers many popular mid-rangers, in particular, realme 9 Pro, Poco X4 Pro, Moto G82 and G71, Redmi Note 11 Pro 5G. These models are much cheaper than our handsome "Very Peri", therefore, it would be nice to see a newer and more powerful processor.
However, the smartphone is fast in all basic tasks, any games will run, but do not expect top performance, the graphics will be at an average level, lags may occur. As for performance, the Adreno 619 video chip is not the best. On the plus side, our Neo never overheats and does not slow down the processor even under heavy load.
Read also:
Moto Edge 30 Neo is available in 6/128, 8/128, 8/256 GB storage options. However, only the 8/128 version is officially sold in Europe. It is a pity that there is no option with a larger drive, since 128 GB without a memory card slot is not enough for everyone. But it will be enough for most, especially if you use cloud services to watch videos, listen to music and store photo archives.
8 GB of RAM is an adequate amount for today's mid-ranger, there are no problems with restarting applications when switching between them. Moreover, there is a function of virtual expansion of RAM by 2 GB due to free space in the storage.
Results of benchmark tests for numbers lovers:
Geekbench: single core – 680, multi core – 1995
AnTuTu: 380819
GFX Aztek Vulkan High: 12
Cameras
Moto Edge 30 Neo received a set of two modules:
Main 64 megapixel with optical stabilization
12 megapixel wide-angle
And this is quite enough!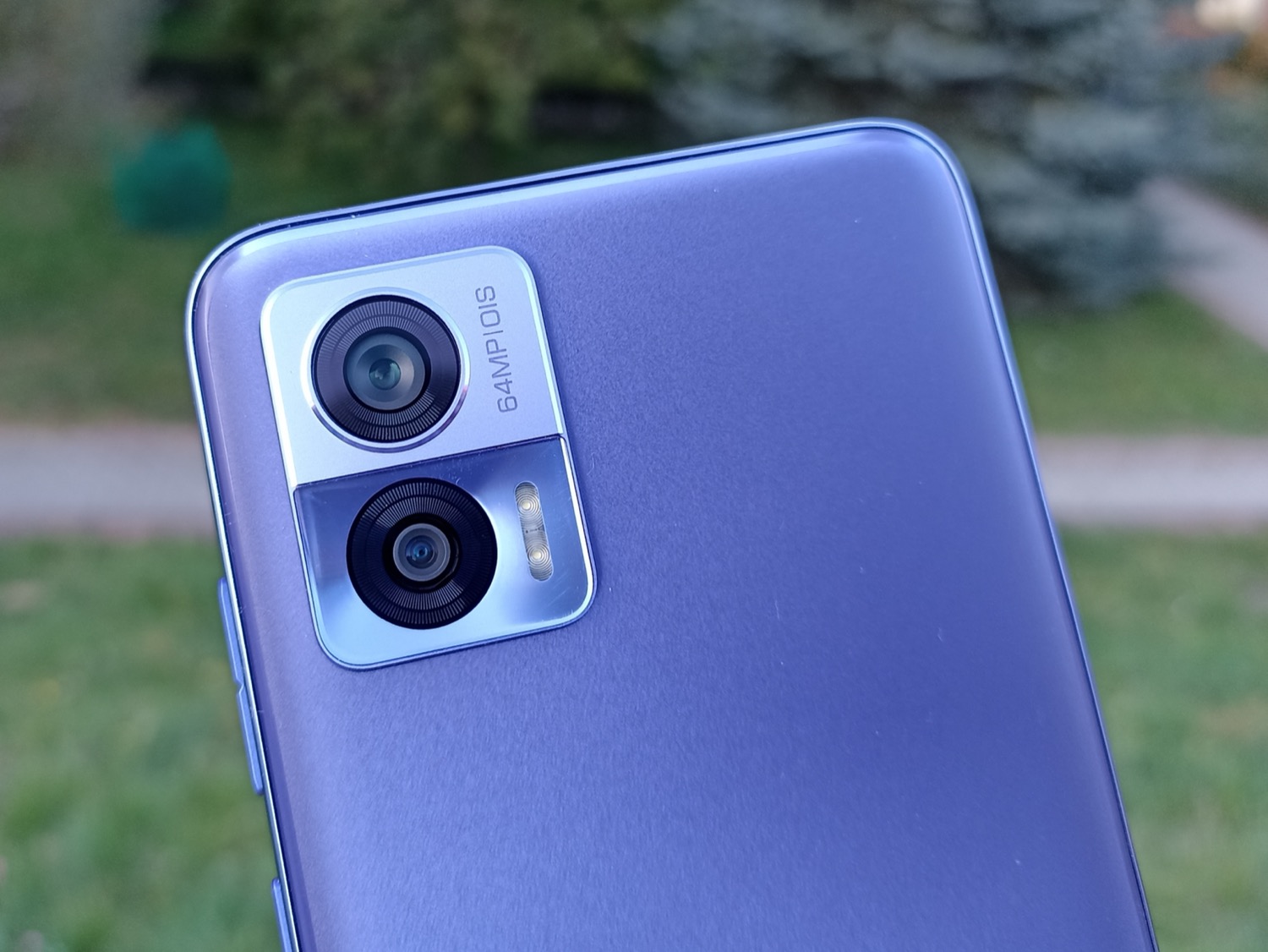 The main module has OIS for clearer shots and stable videos – great. There is also a wide angle to fit more in the frame. There is no macro module, but in inexpensive smartphones it is usually not needed anyway, a wide-angle with autofocus closes the issue of shooting with a strong approximation. Depth sensors are even more useless. A TV zoom without loss of quality would not hurt, but there is no tragedy without it. Let's talk about the photo quality.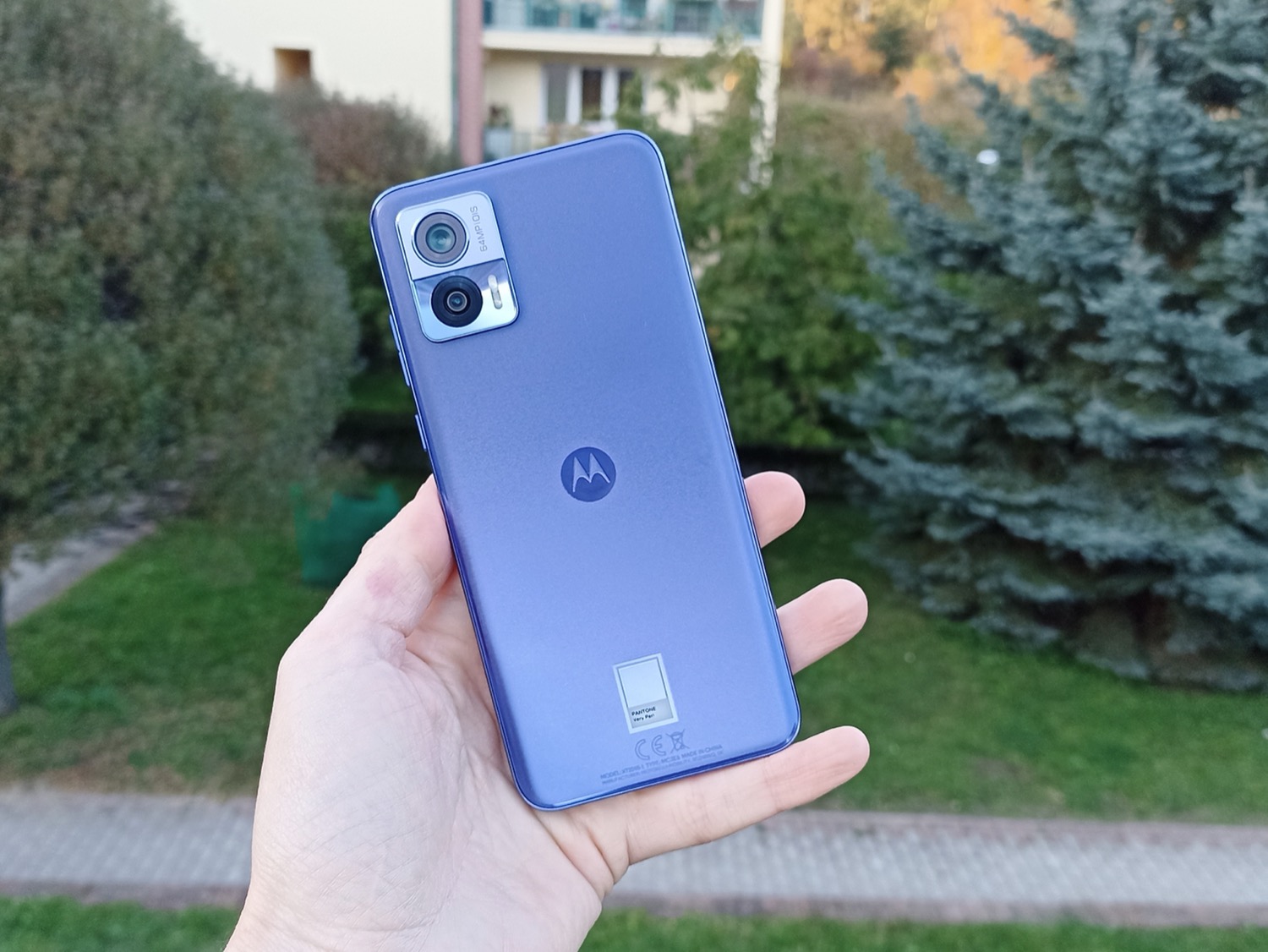 As always, Moto uses the technology of combining pixels, so the image is more detailed, and there are 4 times less megapixels in the photo in reality (16 megapixels at the output). If you wish, you can enable the original resolution in the settings, but there is no noticeable difference, and the pictures in 64 megapixels will "weigh" more.
Photos from the main camera are good, as for a typical "average". In good light, the detail is high, the dynamic range is excellent, there were no errors in the balance of white or the transfer of shades, the saturation is at a decent level, the focus is fast and accurate. Here are examples:
ALL PHOTOS FROM MOTO EDGE 30 NEO IN ORIGINAL RESOLUTION
The only thing is that I lacked the juiciness of color reproduction. Perhaps it is a matter of taste and someone prefers "gray everyday life", but, as for me, after a quick processing in the editor (even if you just click on the "auto enhancement" option) it becomes much more lively and pleasant. Examples, originals on the left:
In low light, photos are not good anymore, detail and clarity drop, moving objects can be blurred.
The less light, the sadder the situation. In the evening and at night, of course, you can shoot without activating the night mode, but I do not recommend it, because the photos will be blurry. With the night mode they become a little lighter and clearer. But still noisy and not with the best color reproduction. Here is a comparison, night mode on the right:
ALL PHOTOS FROM MOTO EDGE 30 NEO IN ORIGINAL RESOLUTION
The wide angle is not bad, the photos are good, with decent contrast and dynamic range, the corners are almost not distorted. Below is a photo with a standard lens (left) compared to a photo with a wide-angle lens (right):
The wide-angle camera has autofocus, so it can take not only "wide" pictures, but also macro from a distance of 2-4 cm. In good light, you can get quite good shots.
They look good in thumbnails, but in reality it can be difficult to get a clear photo, so evaluate the originals. In any case, this module is better than primitive 5 MP macro sensors in other phones.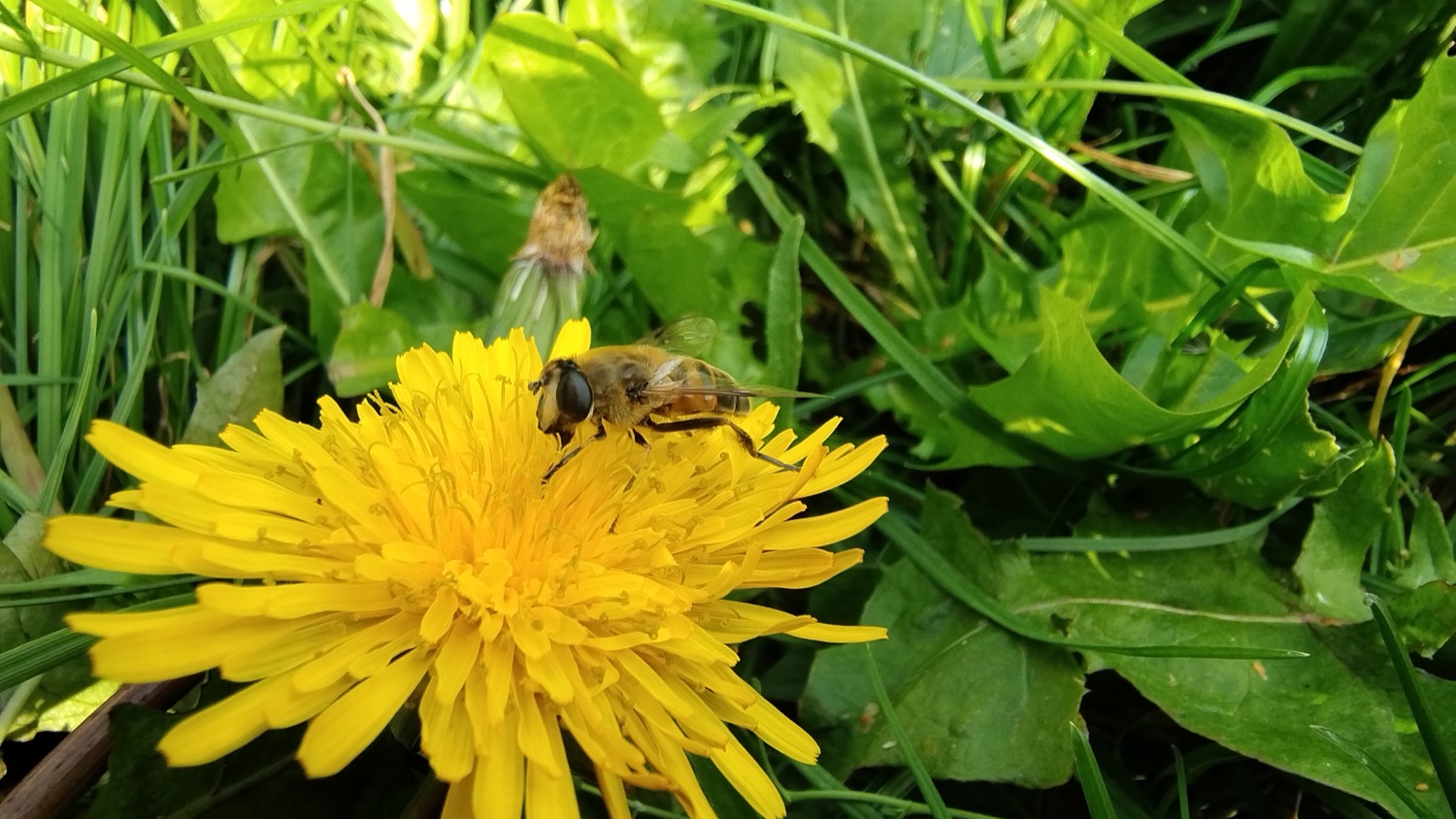 32 megapixel front camera does not make stars out of the sky. The photos are not particularly clear, the color reproduction is faded, the blurring of the background is far from ideal, and the worse the lighting, the worse the result.
ALL PHOTOS FROM MOTO EDGE 30 NEO IN ORIGINAL RESOLUTION
There is an option of backlighting by filling the screen with a white frame, but you are not going to look better.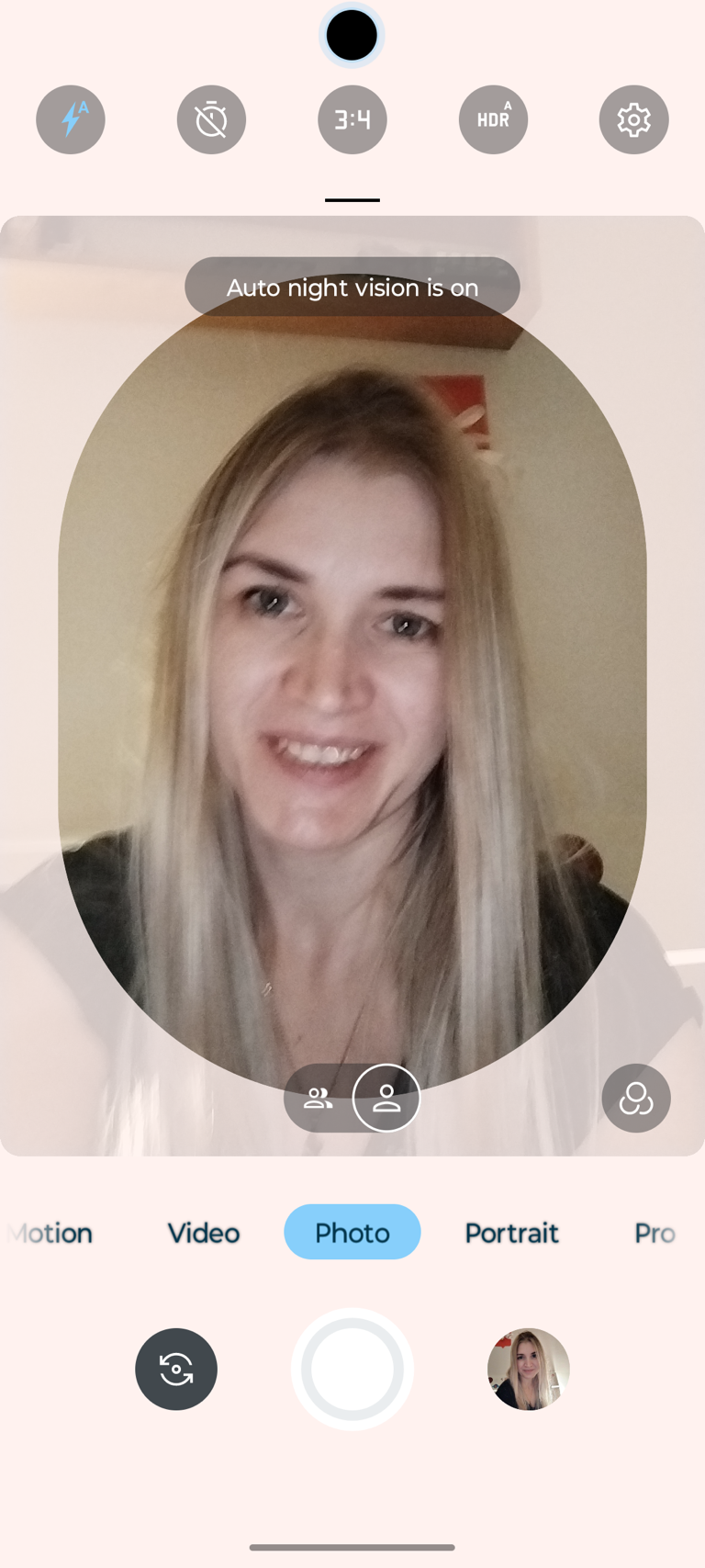 It is also possible to switch between close-up and wider view (if you want to take a picture with someone). But the difference is small:
In general, it will do for social networks, but bloggers and selfie lovers should choose something else.
Moto Edge 30 Neo can record 1080p video at 30, 60 or 120 frames per second. Someone will be upset by the lack of 4K support, already familiar in the middle price range. The video quality is rather weak, fuzzy, jerky, especially if there is movement in the frame. It is better not to shoot in the dark at all because everything is blurry and there is a lot of digital noise. Here are some examples:
The camera interface is standard for Moto. It is understandable and convenient. There is a Pro mode, which gives you almost complete control over the camera settings (such as white balance, ISO, autofocus, exposure and shutter speed), "selective color" (leaves one color in the photo), panorama, "live" photos, real-time filters, RAW format, etc.
Read also: Motorola Moto G32 review: Balanced and affordable
Data transfer and Ready For mode
The smartphone works with Wi-Fi 802.11 a/b/g/n/ac, Bluetooth 5.1, GPS, GLONASS, Galileo, with a magnetic compass, USB Type-C 3.1, NFC for payment in stores, 5G.
Moto Edge 30 Neo also supports the Ready For mode. I wrote about it in detail in the reviews of last year's top models Moto Edge 20 and Edge 20 Pro. Ready For is a mode of connecting a smartphone to a PC or monitor. The device acts as a laptop computer and offers a special interface for work. In the Ready For mode, the phone can be used as an alternative to a computer (there is a full desktop, separate windows), a game console, or use its camera and microphone for video calls. You can connect a wireless mouse, keyboard, the smartphone itself can be used as a touchpad.
This mode exists in different variations, depending on the model. Some devices support wired connection, some only wireless, some (like last year's Edge 20 lite) – only the Ready For PC option, which allows you to use Ready For in a separate window in the Windows application.
Edge 30 Neo has wireless Ready For and Ready For PC. I will not describe Ready For mode in detail here, since nothing has changed in it since last year. If you want details, I recommend you to refer to my Motorola Edge 20 Pro review, where the modes of connection to a PC are described in detail.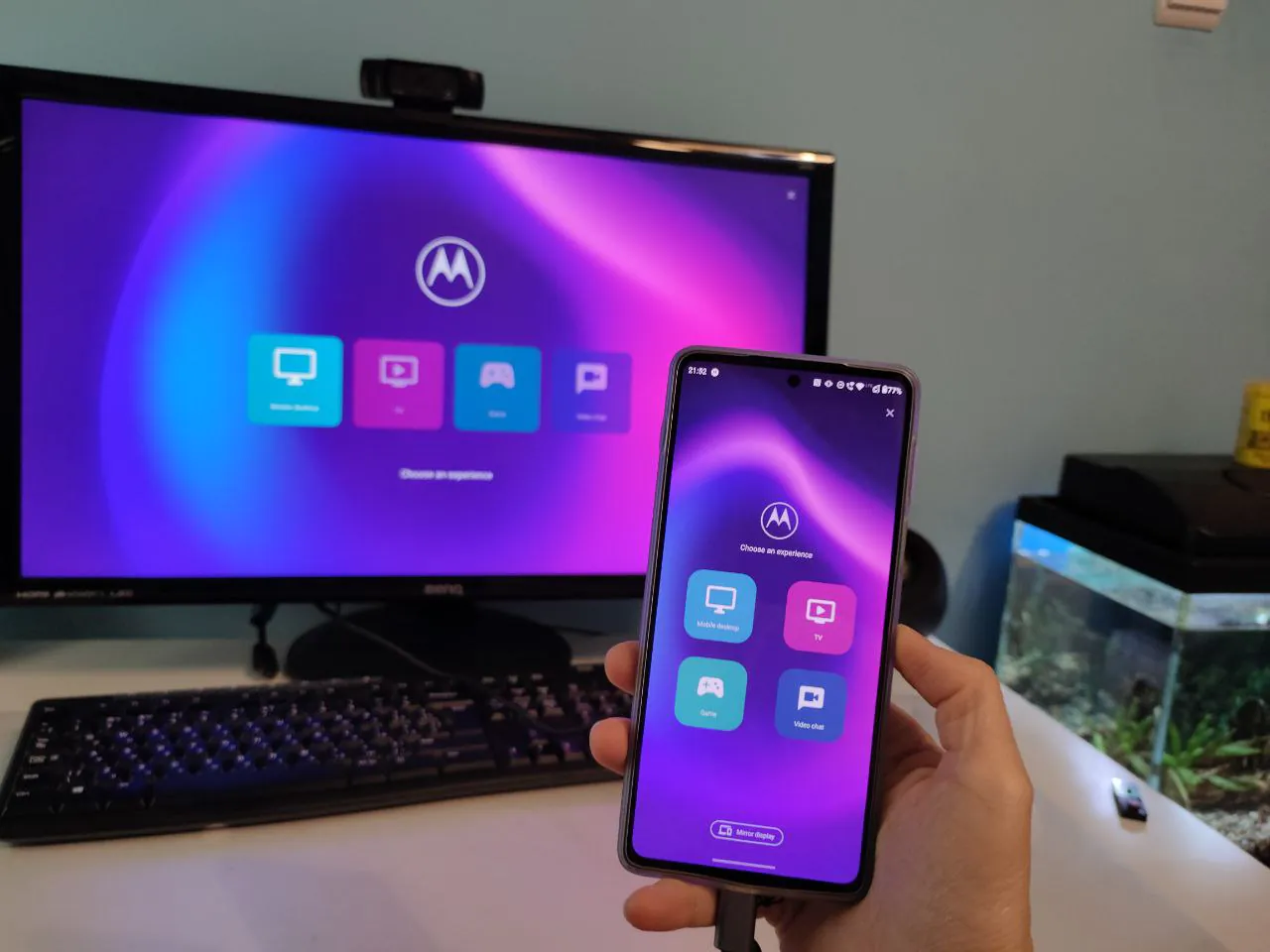 The Edge 30 series has only slightly changed the design of the Ready For application to match the style of Android 12.
Ready For is an interesting and rare feature. The only alternative can be called Samsung Dex, which is available only to flagships. In this case, the function is thought out and implemented well, there were no problems during the test, except for not the most convenient touch control. I will not say, however, that one cannot live without Ready For. But, probably, the possibility of connection to a PC will be useful to somebody.
Read also: Comparison Of Moto G52 And Moto G62 5G: So Similar And So Different
Sound
As already mentioned, the sound in the smartphone is stereo, with one speaker on the bottom, and the role of the second is taken by a narrow earpiece speaker above the display. We expected the worst, but there is nothing to complain about – the speakers are well balanced, there is no noticeable difference between them.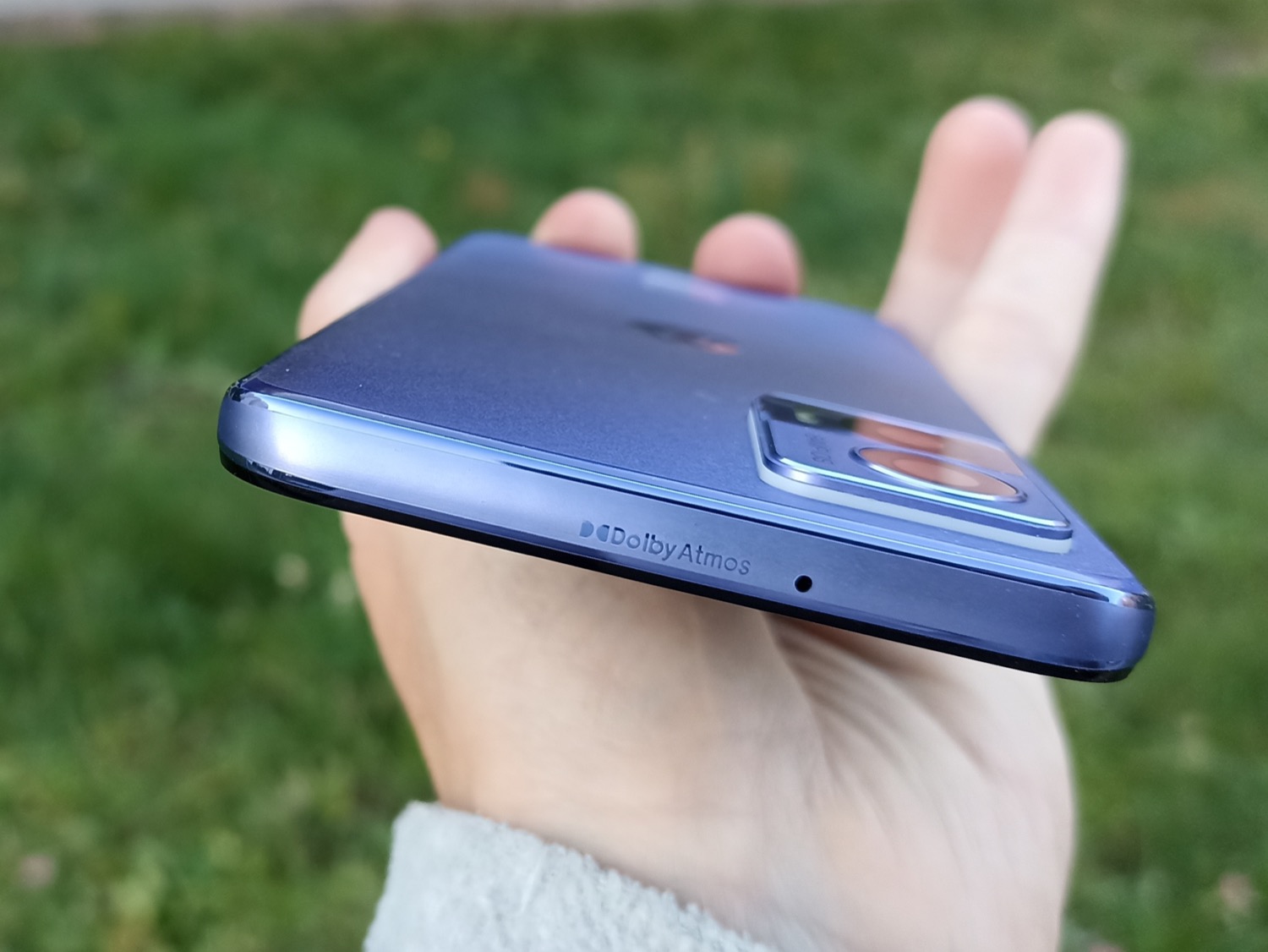 The sound is loud, high quality. For tweak lovers there are Dolby Atmos modes to choose from – music, movie, game, podcast. By default, the phone itself determines the nature of the audio and adjusts the sound.
In the sound settings you will also find the CrystalTalk function, which improves voice transmission during phone calls.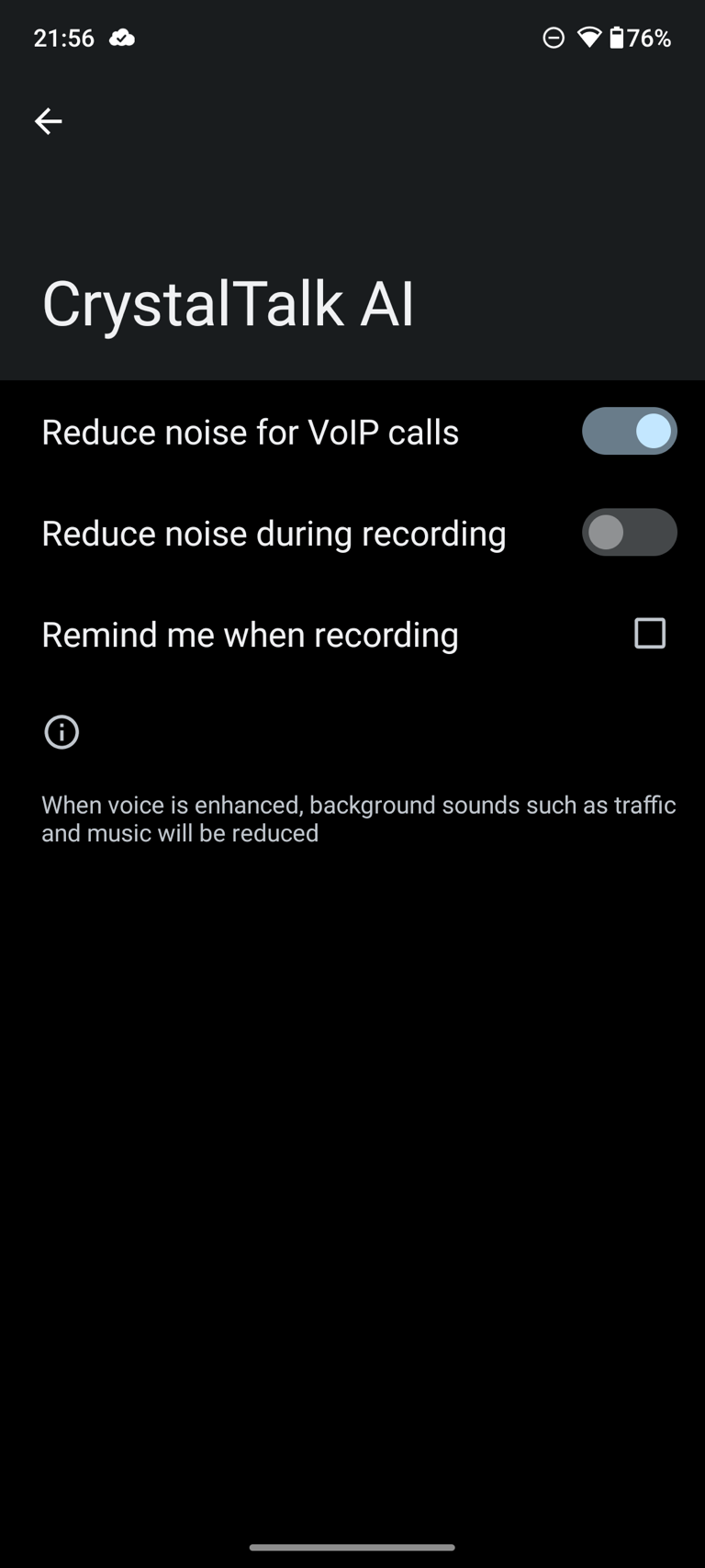 Read also: Moto 360 3rd gen smartwatch review: long term experience and positioning
Motorola Edge 30 Neo software
The OS is Android 12. I would like to see the 13th version "out of the box", but that is what we get. The look and feel of the interface is as close as possible to the "pure" Android. I think the operating system will be one of the decisive factors when choosing a phone for those users who do not like all kinds of shells.
I like the fact that Moto has its own exclusive features that Google does not offer to its users. All of them are grouped in the Moto application. There are interesting design themes, gesture control (a lot of things, for example, turning on the flashlight by double shaking the phone, activating the camera by double twisting of the wrist, taking a screenshot by touching the screen with three fingers, silent mode by turning the smartphone down, etc:
Moto display: displays time and notifications on the lock screen with the ability to quickly preview them by touch. It is activated for a few seconds when you pick up the device or hold your hand over it, with a dark background and minimum brightness for energy saving.
Active display (if you are looking at it).
Option to split the screen into two parts.
Ability to run applications and other tweaks for gamers in a separate window during the game.
One of the interesting novelties is the gesture of double tapping on the rear panel. By default, the Ready For function is assigned to it, but you can set the launch of any application or start/pause when listening to music. Hopefully, in the future Motorola will allow to assign more options to this gesture.
I would also like to note that in the latest version of the OS Motorola has updated the icons of its applications (by the way, there are only three of them, no excess in it as with competitors).
Also updated fonts, widgets with clock and weather for the desktop, time on the lock screen. Now the shell has a more modern look, and it's cool.
By the way, in the screenshots above you can see the standard font, which loaded when I rolled my backup during the initial setup. But after installing security updates, the Moto system font was activated by default – it's nicer, even the standard widgets look more impressive with it. Here is how it looks like:
Read also: XT500+ headphones review: Better at home
Battery life
Motorola Moto Edge 30 Neo is equipped with a 4020 mAh battery. It is not enough by modern standards. But do not forget that we are looking at a small, thin and light smartphone. And the developers managed to optimize energy saving well, because the phone provides about 6-8 hours of active use in various tasks with the screen on, just as in models with 5000 mAh.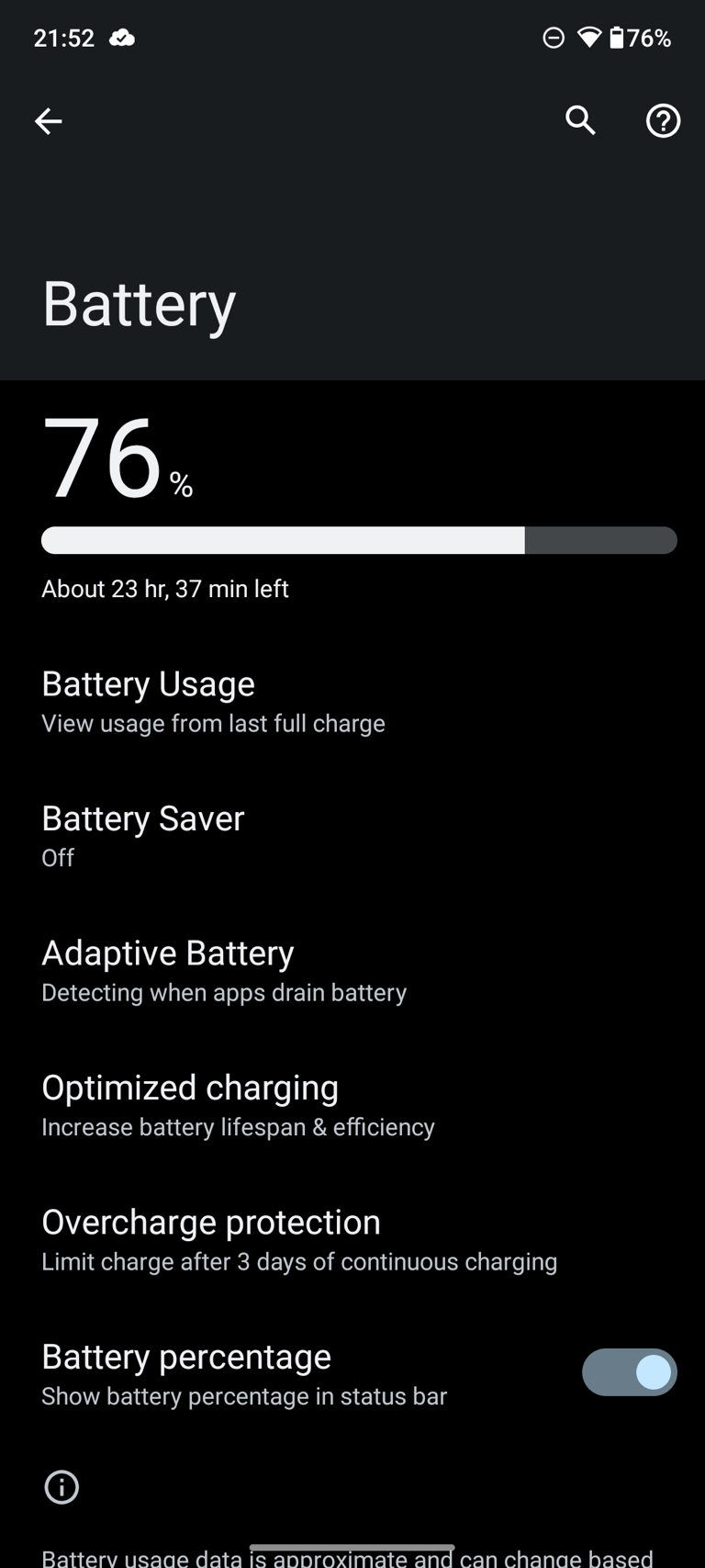 When I used it (and I am an active user who rarely lets the smartphone out of hands), I always had enough charge until late at night.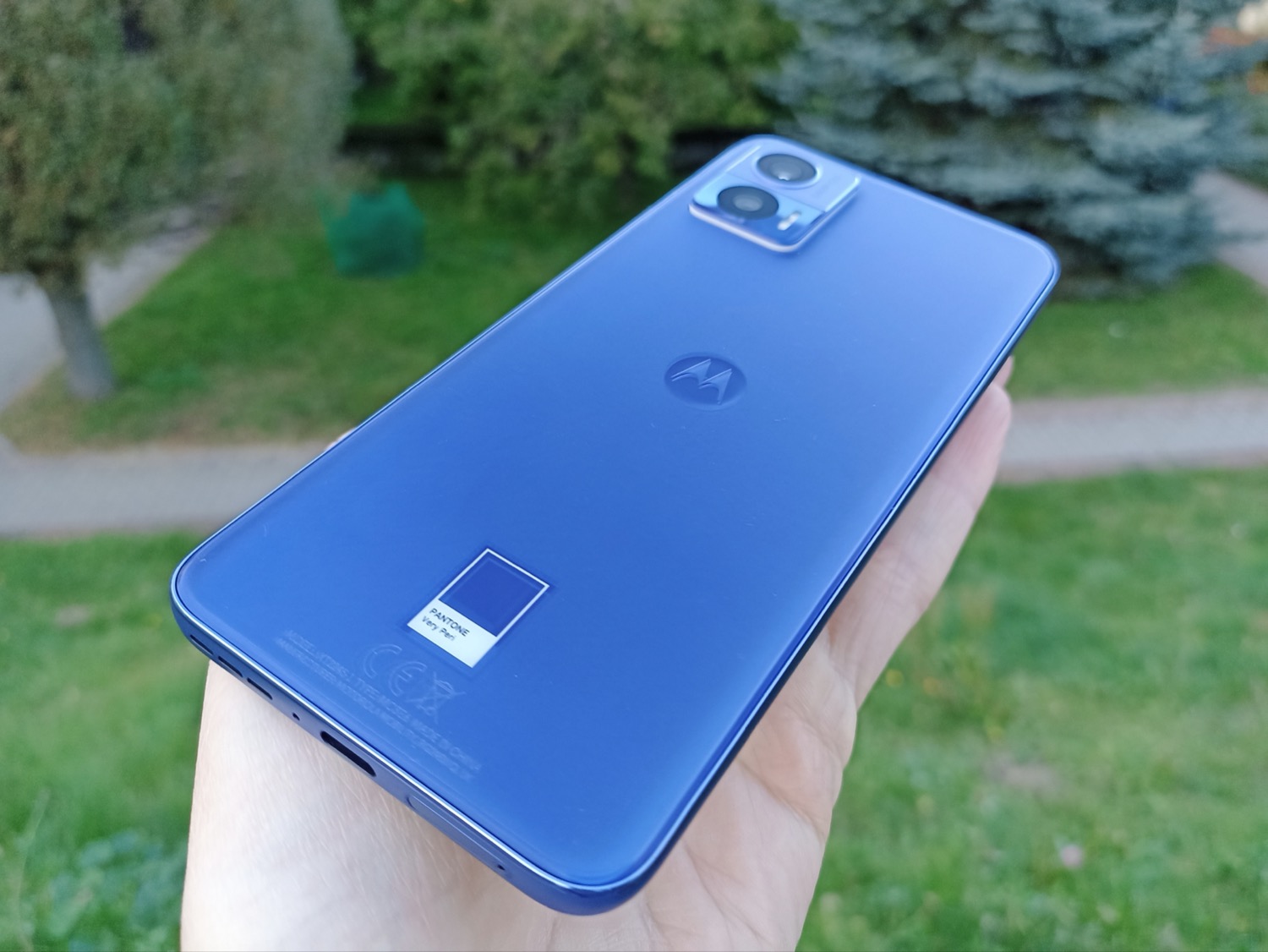 Thanks to the support of fast charging, you can recharge your smartphone quickly and easily. The included 68W TurboPower adapter, compatible with the USB Power Delivery standard, charges the device from zero to 100% in just 40 minutes. At the same time, 30 minutes is enough for 92%, 20 minutes – for 70%, in short – the results are excellent.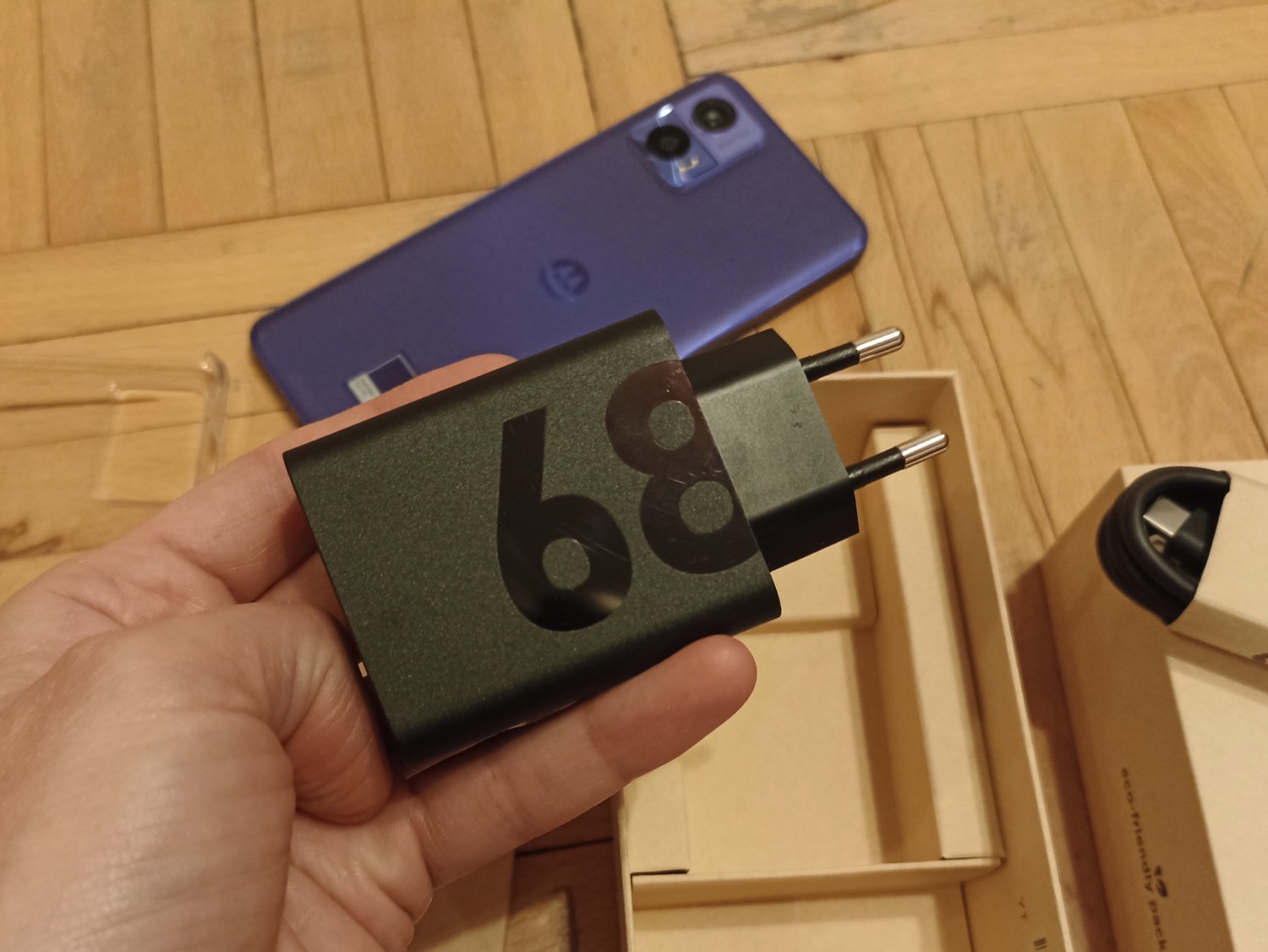 And another outstanding option is the support of wireless charging – after all, in the price category up to $ 400 it is practically not found, so far it is the exclusive privilege of flagships! Still, it is a convenient feature – you do not need to stick wires anywhere, put it on the charging station (at work or at night) – and the smart is charging slowly. Of course, very slowly, since the power is only 5 W and it takes two hours to fully charge.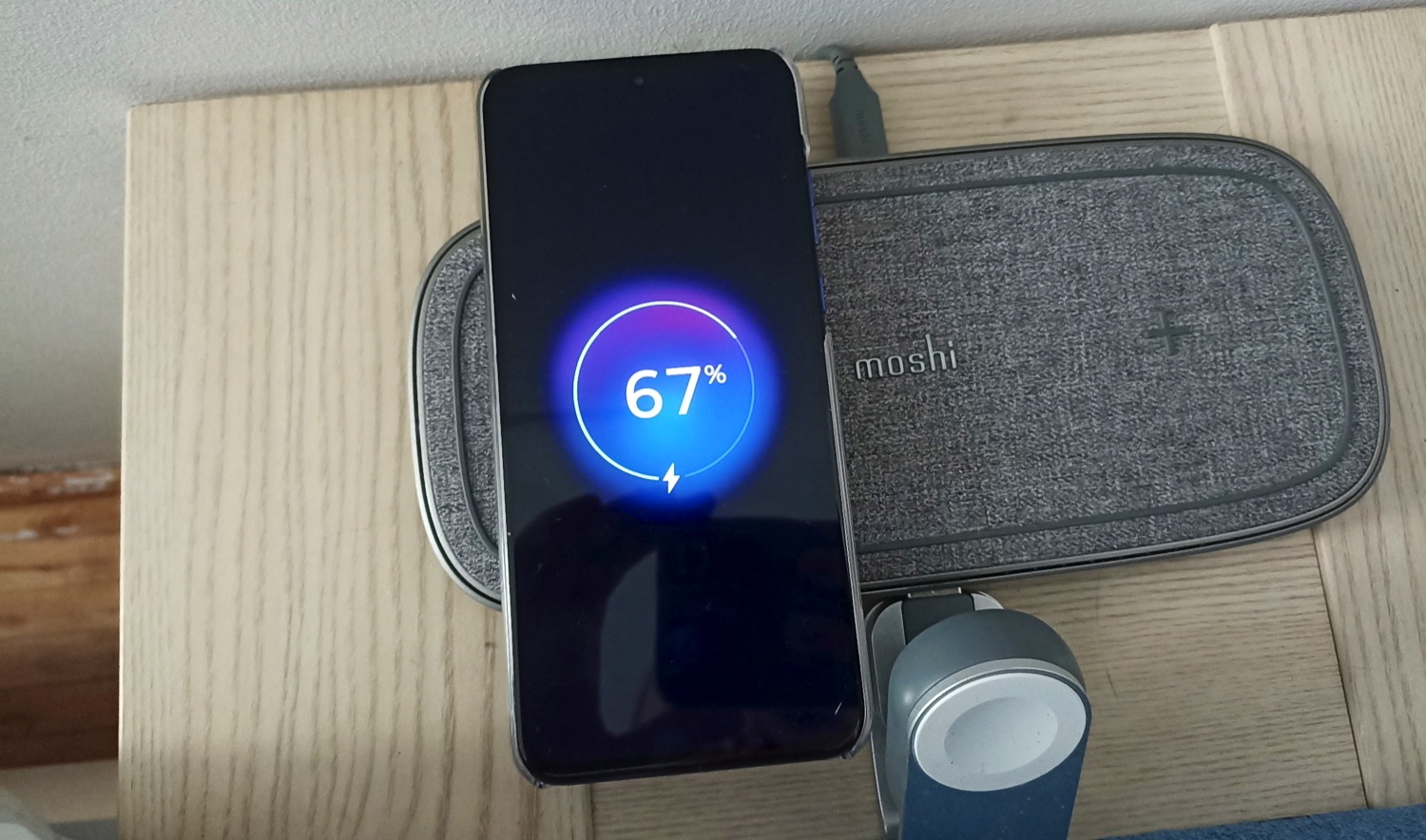 Read also: Motorola Moto G200 review: Snapdragon 888+, 144 Hz and interesting design
Conclusions
Motorola has created a very attractive "mid-ranger", which, frankly speaking, catches the eye, first of all, due to its design – matte "icy" back and shades from the Pantone color institute palette (primarily purple and green) captivate at first sight. On top of that, we are looking at a small smartphone, which is rare in the middle price segment, that competes with loads of "shovels".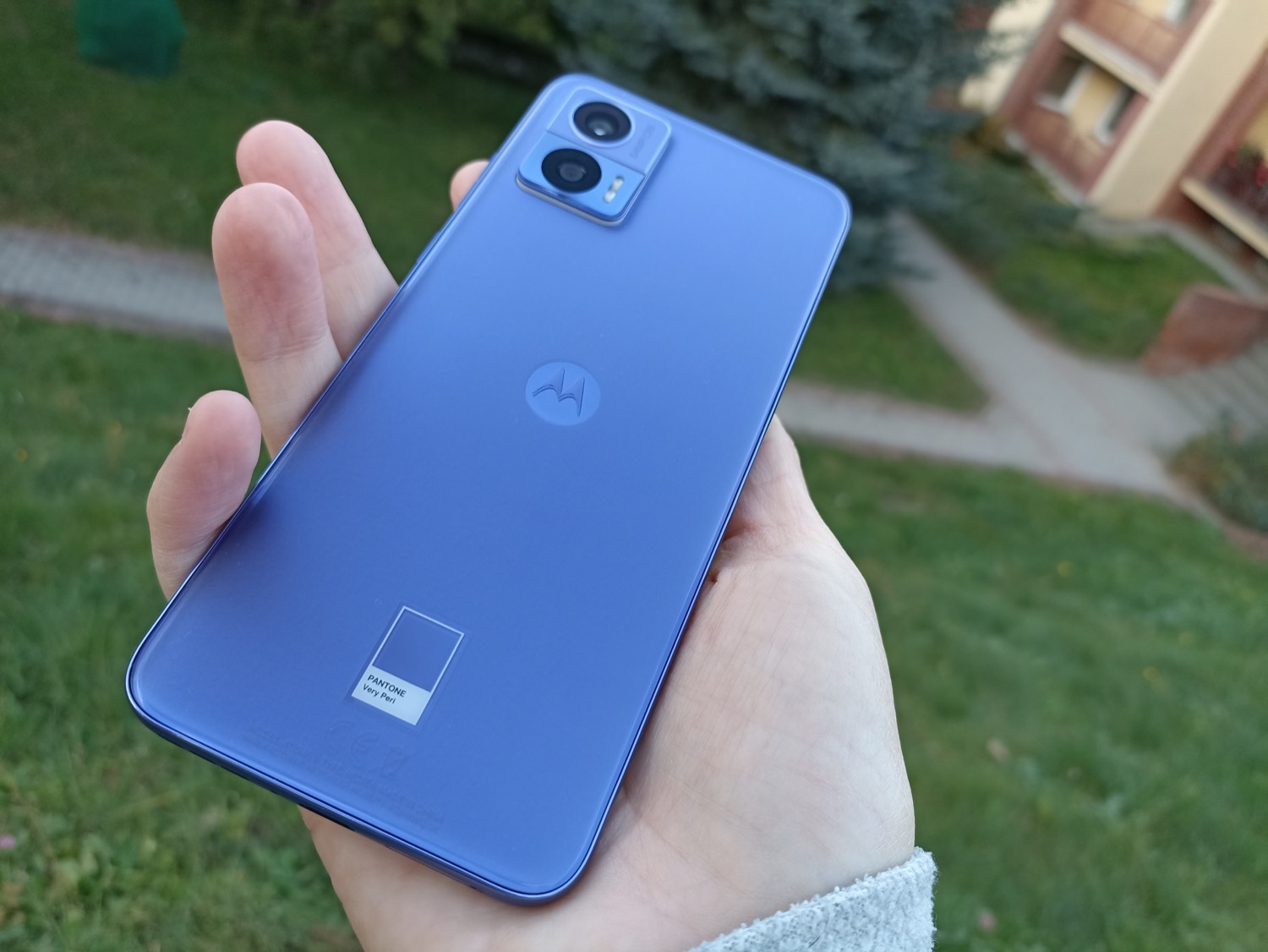 Among other advantages – flagship quality 120 Hz OLED screen, high-quality stereo speakers, long-lasting, albeit low capacity, battery, 68 W fast charging, wireless charging (a rarity, given the cost of a smartphone), clean and perfectly optimized Android with minimal and useful additions from Moto. A nice little thing is the camera bezel as a notification indicator.
Now about the cons. The pictures are great in good light, but unfortunately, everything becomes very sad if there is less light, the night mode is very weak. The video quality is also below average and there is no 4K support. The chipset handles all the basic tasks fine, but for this money there are plenty of smartphones with more powerful processors, so it would be nice to have something newer and more powerful.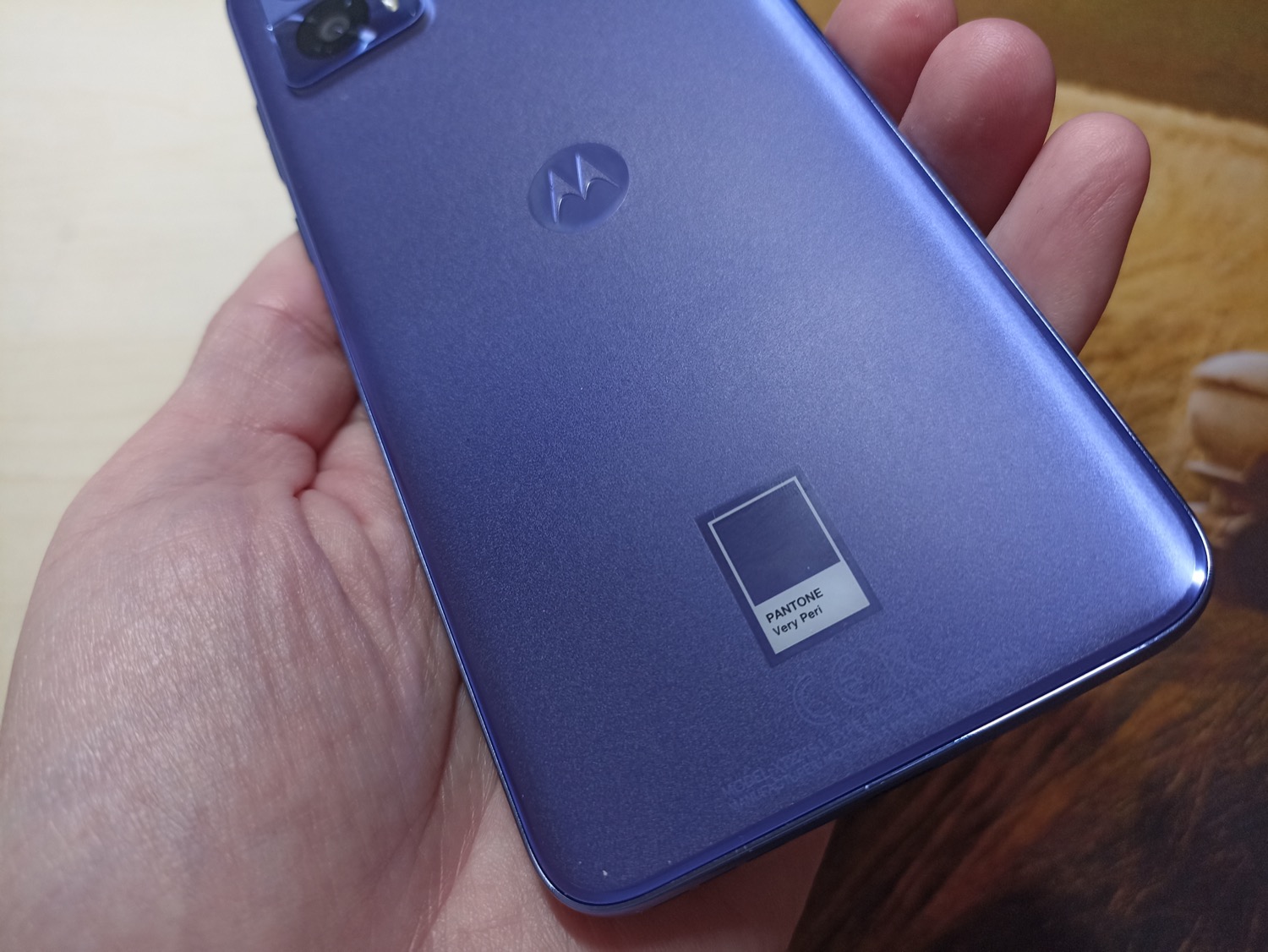 By the way, about other smartphones. Let's see what competitors Moto Edge 30 Neo has.
Let's start with two very similar models from the brands of BBK Electronics Corporation – Realme 9 Pro+ and OnePlus Nord 2T. Among the advantages of Moto are definitely design, the best wide-angle camera, wireless charging, pure Android. However, Realme and OnePlus win due to more powerful processors, stronger main camera modules and more durable batteries. From the same company I note the realme GT NEO 3T with an excellent 870th chipset, but the disadvantages are the same.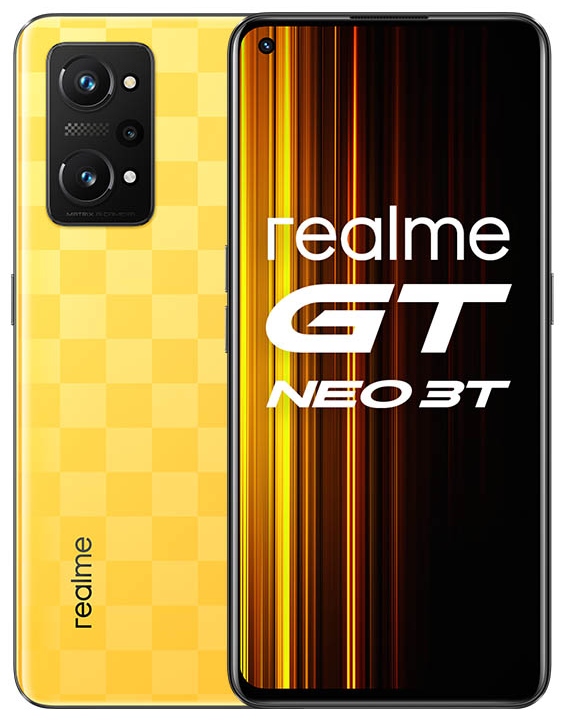 Also worth noting is Xiaomi 11T with a really cool 108MP camera and an advanced chipset. Redmi Note 11 Pro+ has an equally good camera, mega-fast 120W charging, but only 6GB of RAM. Xiaomi 12 Lite 8/128 is also a good choice thanks to its 108MP camera, high-quality screen and powerful chipset.
Read also:
Well, the "Google" Pixel 6a also comes to mind. Top chipset, compact size (6.1 inch screen, the only "not a shovel" in our comparison), the latest Android 13 and a guarantee of long operational updates, top shooting, IP67 water protection. If compared to Edge 30 Neo, the screen is not so great and charging is not so fast, but the operating time is slightly higher.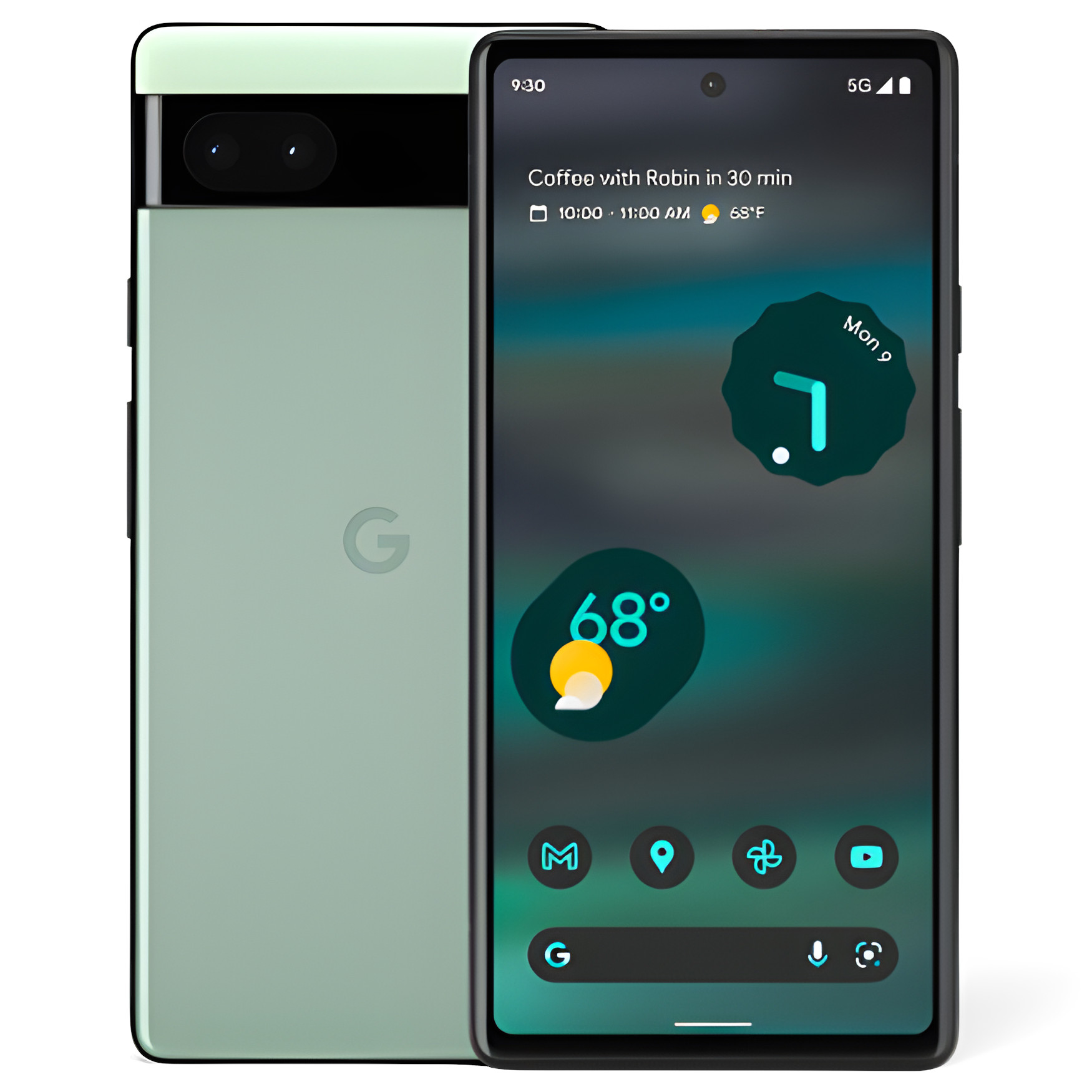 And we can not but mention here the basic Moto Edge 30. As I said in the introduction, now it has become cheaper and costs like the Neo version. And it has a more advanced screen, a more powerful set of cameras. The Edge 30 Neo has, again, a fresh design and the ability to charge without wires.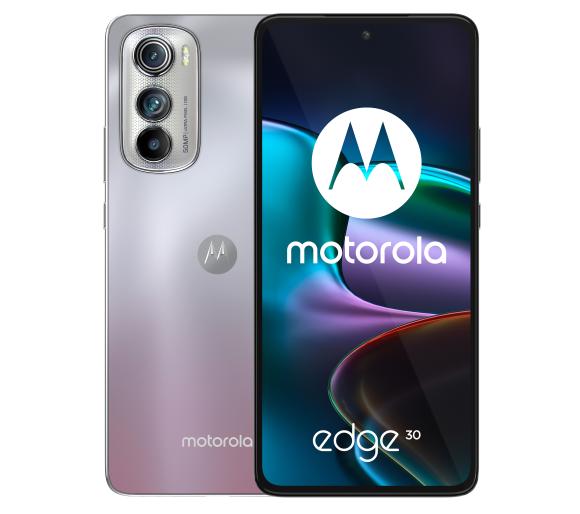 Well, that is all. Tell us in the comments what you think about Motorola Moto Edge 30 Neo and whether you want to buy this smartphone?
You can also help Ukraine fight with Russian occupants via Savelife or via an official page of the National Bank of Ukraine.