In September, Motorola announced the new Edge series for the second half of 2022 (our author attended the presentation in Milan). These are Edge 30 Fusion, Edge 30 Neo, and the flagship Edge 30 Ultra. We have already got acquainted with the cute Moto Edge 30 Neo, which surprised us with colors, as well as support for wireless charging. We are actively testing Fusion and the review will be published soon. Well, this material is dedicated to the most advanced Motorola today, the Edge 30 Ultra.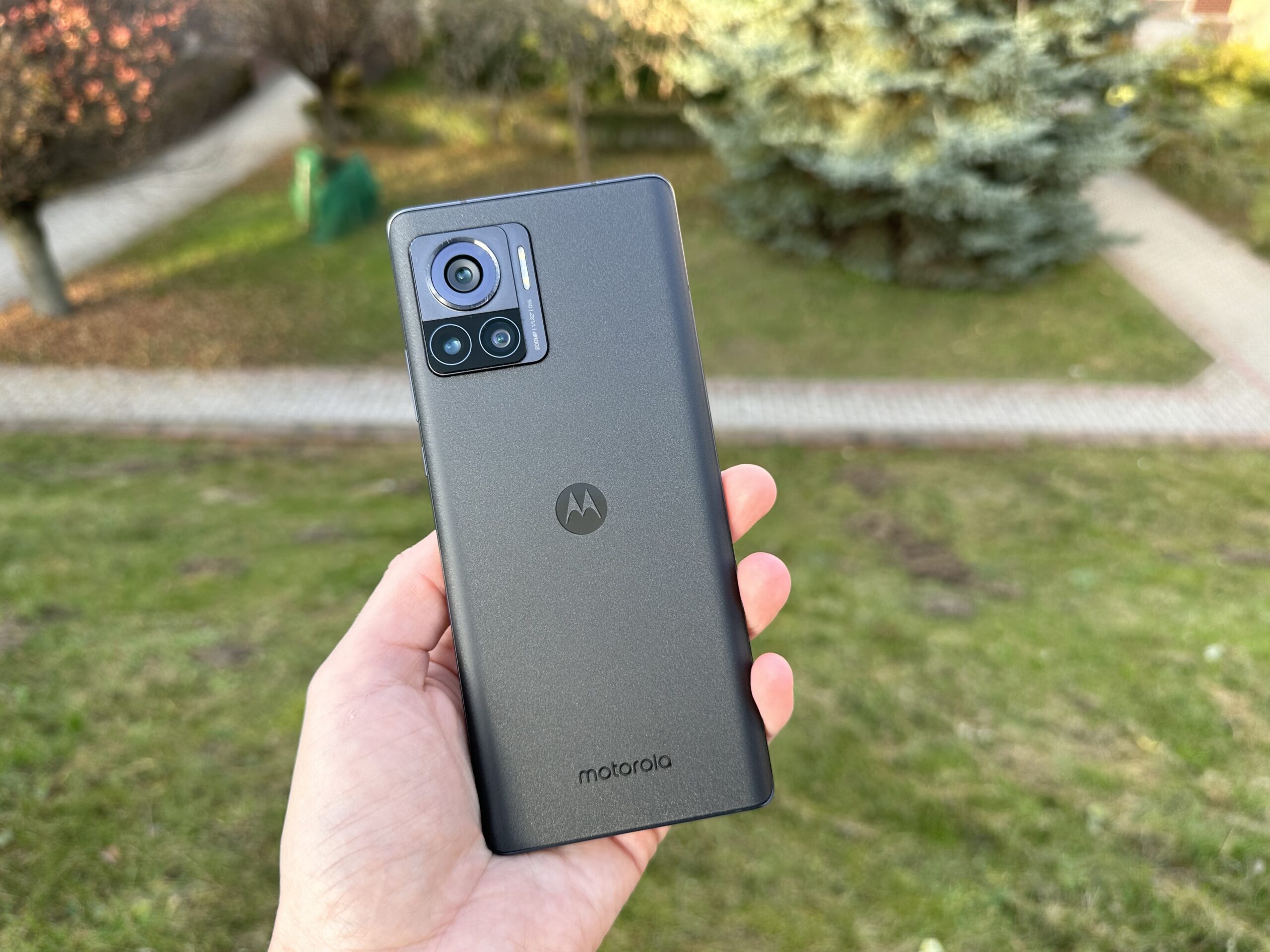 Positioning in the lineup and price
Here it is worth saying that Motorola did not have any flagships as such! There was a budget and mid-budget Moto G series, the main smartphones of which seem to be good, but they can only be called "flagship killers", and even hardly (our review of Moto G200 is here). There is the Edge series, the top models of which could already be called "flagship killers", but they were not full-fledged flagships. We tested Edge 20 Pro and it was not impressive (review here). Next came the Edge 30 Pro and due to a number of simplifications it could not be called a flagship either (read our review).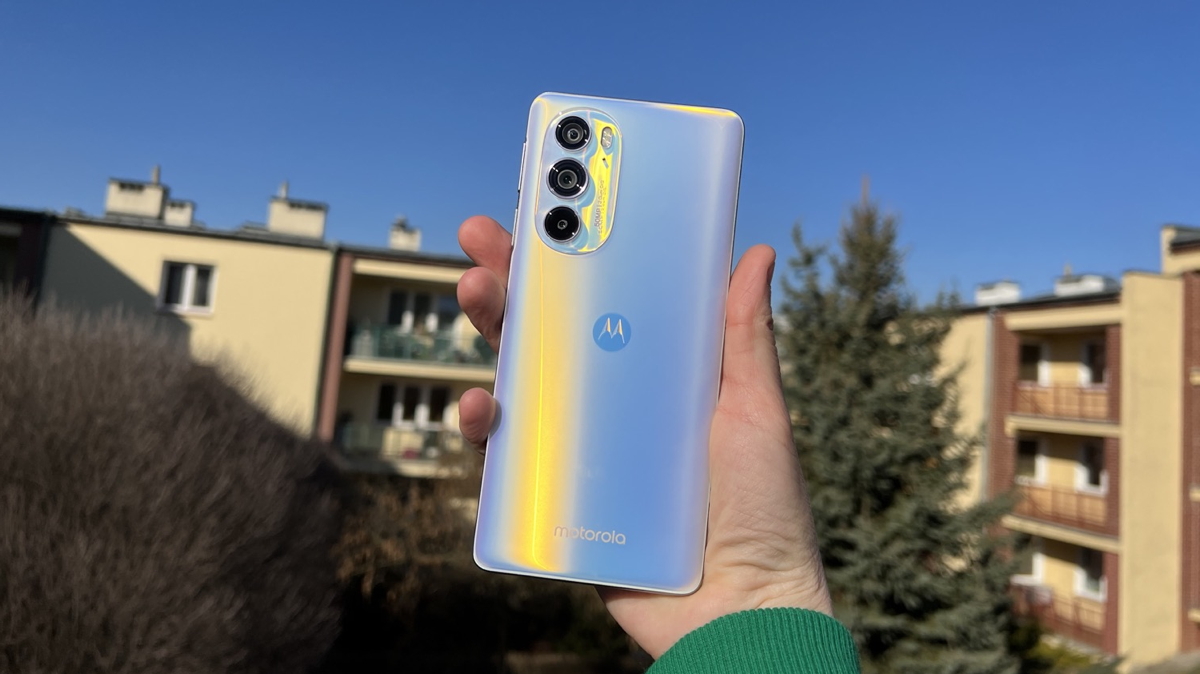 And finally, the series has been replenished with Motorola Edge 30 Ultra. The "Ultra" has to be a flagship, right? Yes, at first glance, it is very true. Premium design (metal frame, glass back panel), top-of-the-line Snapdragon 8+ Gen 1, high-quality P-OLED display, 12 GB of RAM and 512 GB of internal memory, an advanced set of cameras with a main 200 megapixel module, 125 W wired and 50 W wireless charging. In the review we will find out whether it is as good in practice as on paper.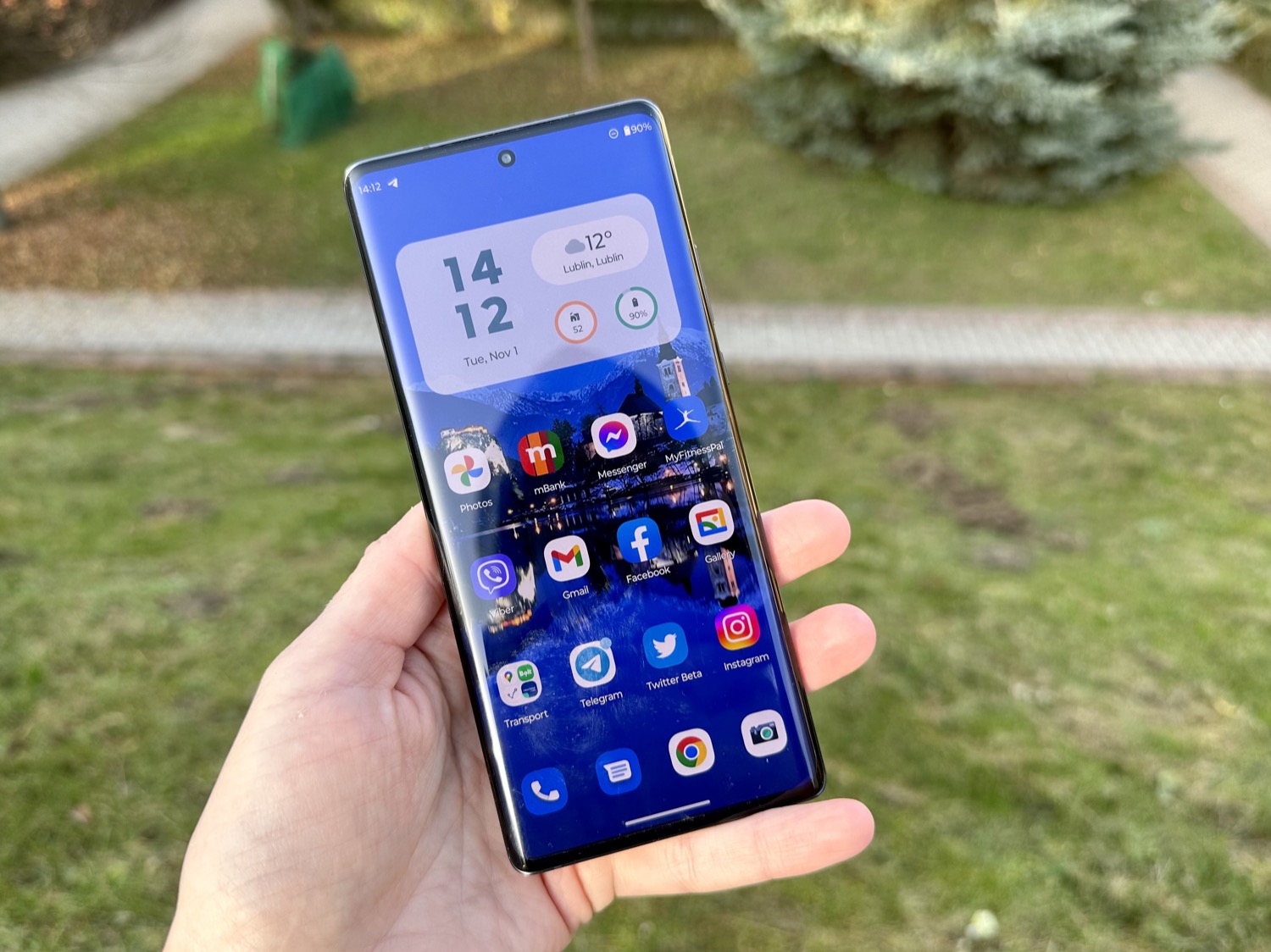 Read also: Motorola Edge 30 Neo Review: Beautiful Toy With Wireless Charging
And here I would also note that the "Ultra" differs from the average model in the updated Edge 30 lineup with more advanced display characteristics, a newer processor, more megapixels of all cameras, wider video recording capabilities, faster charging (Fusion does not support wireless at all). If you want to visually compare the specifications of Moto Edge 30 Neo, Fusion and Ultra, open the tablet at this link.
Motorola Edge 30 Ultra costs as befits a flagship – a lot. However, while we were (long) preparing this review, it managed to get under the holiday discounts and become cheaper. Now the device in Poland, where we tested it, is sold for 4000 PLN (500 PLN cheaper than at the start of sales), which is about $900.
Specifications of  Motorola Edge 30 Ultra
Screen: P-OLED, 6.67 inches, 2400×1080 dots, billion shades, 20:9 aspect ratio, 144 Hz refresh rate, HDR10, HDR10+ support, 1250 nits peak brightness, built-in fingerprint sensor, Gorilla Glass 5 protection
Processor: Qualcomm SM8475 Snapdragon 8+ Gen 1 (4 nm), Octa-core Octa-core (1×3.19 GHz Cortex-X2 & 3×2.75 GHz Cortex-A710 & 4×1.80 GHz Cortex-A510), Adreno 730 video chip
Memory: only 12/256 GB version is available in Europe, and in fact there are models with 8 GB of RAM and 128/256 GB of ROM, as well as 12/512 GB, there is no memory card slot in any case, the type of RAM is LPDDR5, the type of permanent memory is UFS 3.1
Battery: 4610 mAh, 125W PowerDelivery fast charging, 50W wireless charging, 10W reversible wireless charging

Main camera:

200 megapixel, f/1.9, 1/1.22″, 0.64µm, phase autofocus, optical stabilization
12 MP telephoto lens, f/1.6, 1.22µm, phase autofocus, 2x zoom without loss of quality
50MP wide-angle lens 114˚, f/2.2, 1/2.76″, 0.64µm
Video recording: 8K@30fps, 4K@30/60fps, 1080p@30/60/120/320/960fps, gyro-EIS, HDR10+

Front camera: 60 MP, f/2.2, 1/2.8″, 0.61µm
Data transmission: 5G, tri-band Wi-Fi 802.11 a/b/g/n/ac/6e, Bluetooth 5.2, NFC, GPS, A-GPS, GLONASS, BDS, Galileo, magnetic compass, USB Type-C 3.1, DisplayPort 1.4, ReadyFor PC connection mode
OS: Android 12
Dimensions and weight: 161.8 × 73.5 × 8.4 mm, 198.5 g
Materials: aluminum frame, glass front and back panels (Gorilla Glass 5), protection against dust and water splashes IP52
Colors: Interstellar Black (black), Starlight White (white)
Price: about $900
Read also: Motorola Edge 30 Review: Balance At Maximum
Delivery set
In the updated series Motorola focuses on eco-friendly packaging. No plastic bags, biodegradable cardboard, soy ink.
In a compact box you will find the phone itself, a large and heavy 125 W charger, a cable, a pin to open the SIM slot, a case and documentation.
The case is ordinary silicone (will turn yellow over time). It protects the cameras, the edges of the screen, but still spoils the beautiful design of the device and makes it somewhat simple.
And the case, of course, interferes with pressing the side keys, they become very tight. Without the case there are no problems…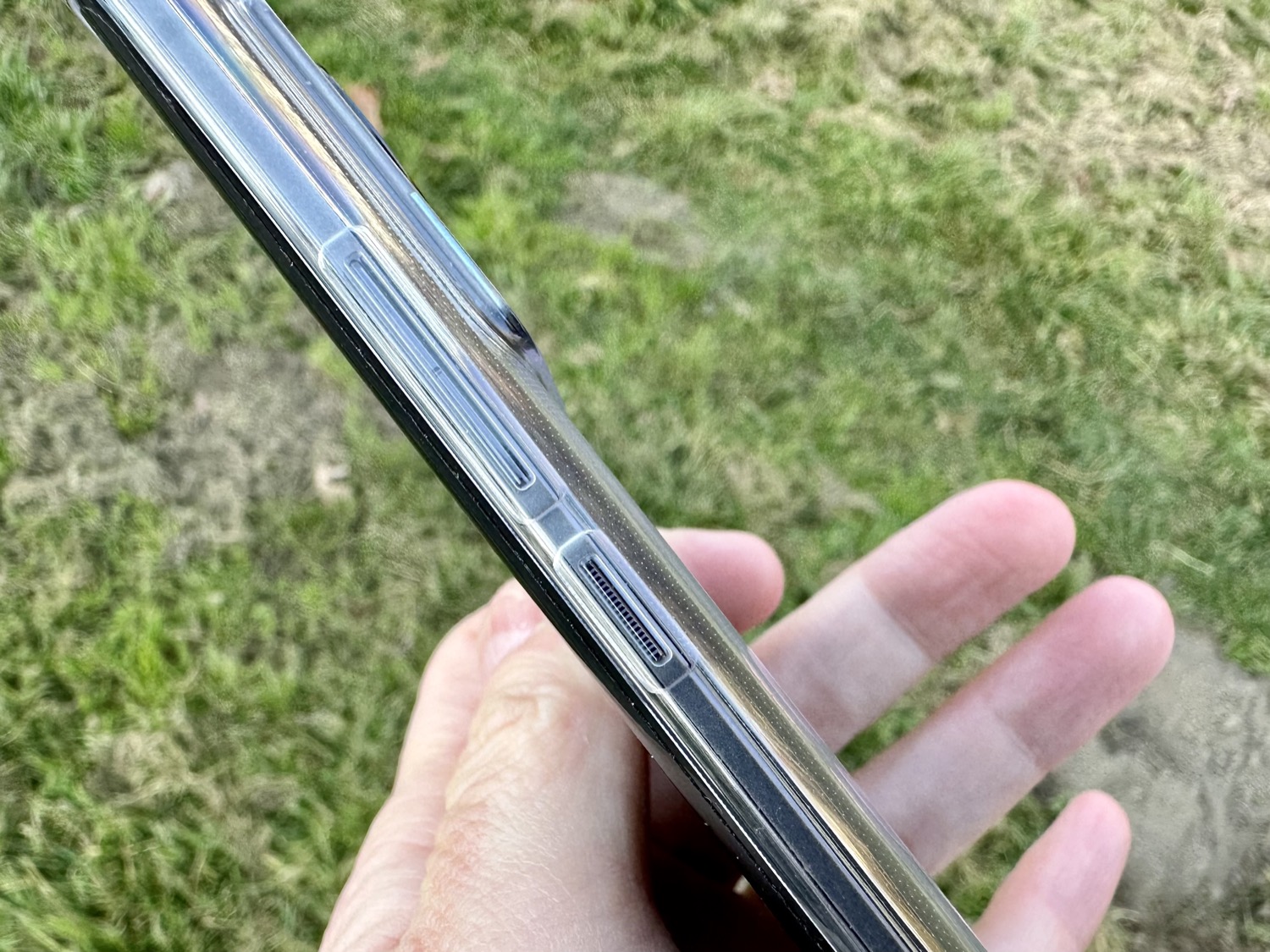 The factory film is glued on the screen, which can also be attributed to the elements of the kit.
However, I could not stand it and in a few days of using the smartphone I ripped it off, may the next reviewers forgive me. This film collected a lot of dust and fingerprints. The screen surface itself has a good oleophobic coating, so there are practically no problems with prints. In addition, the film interferes with your fingers when you make gestures from the edge of the screen. So, decide for yourself, but I think that the film is a nuisance.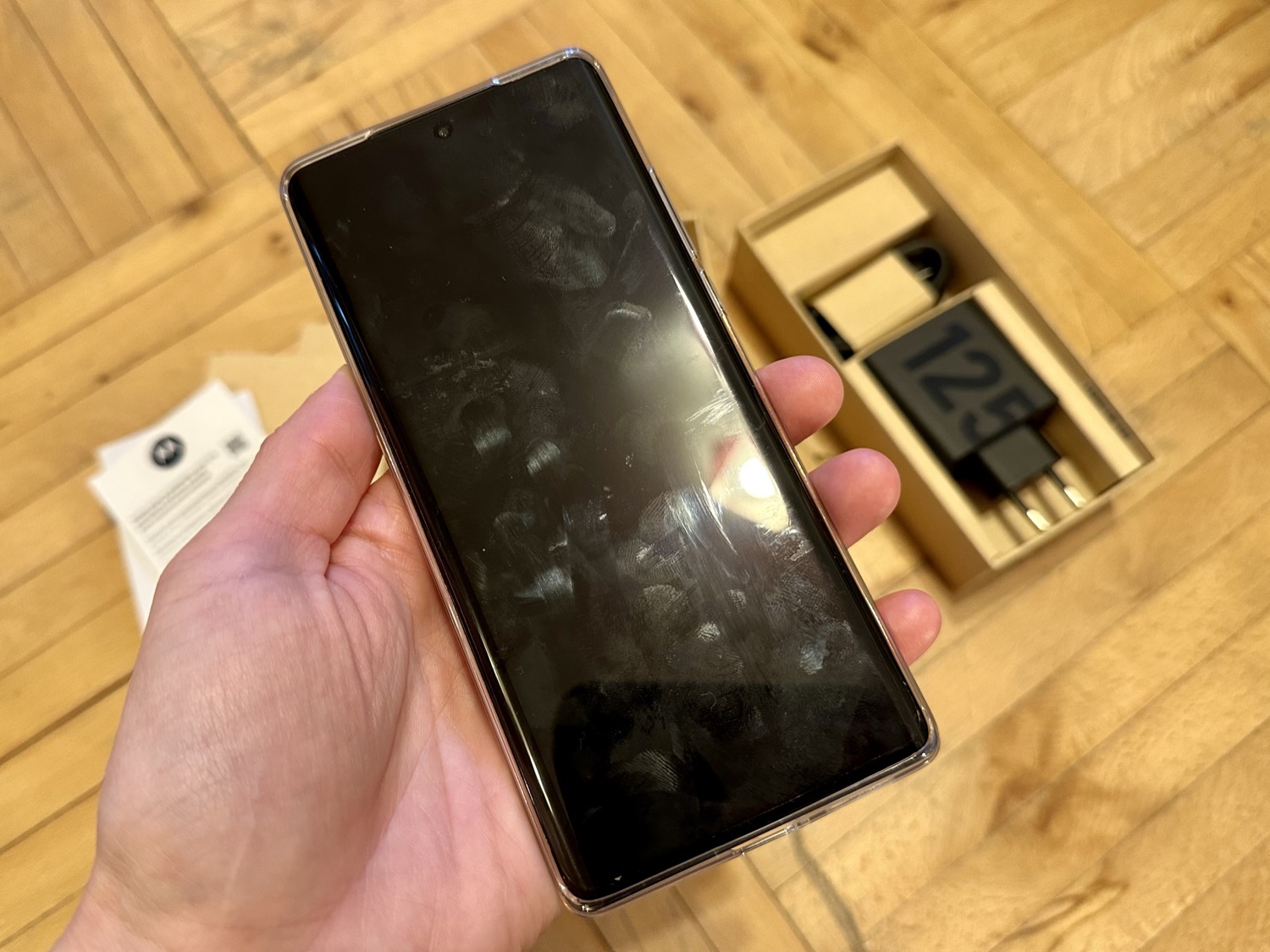 Read also: Motorola Moto Edge 30 Pro review: is it really a flagship?
Design of

Motorola Edge 30 Ultra
I was immediately impressed by the smartphone's appearance. In no way can we say that the Motorola Edge 30 Ultra does not attract attention or looks boring. The design is truly flagship.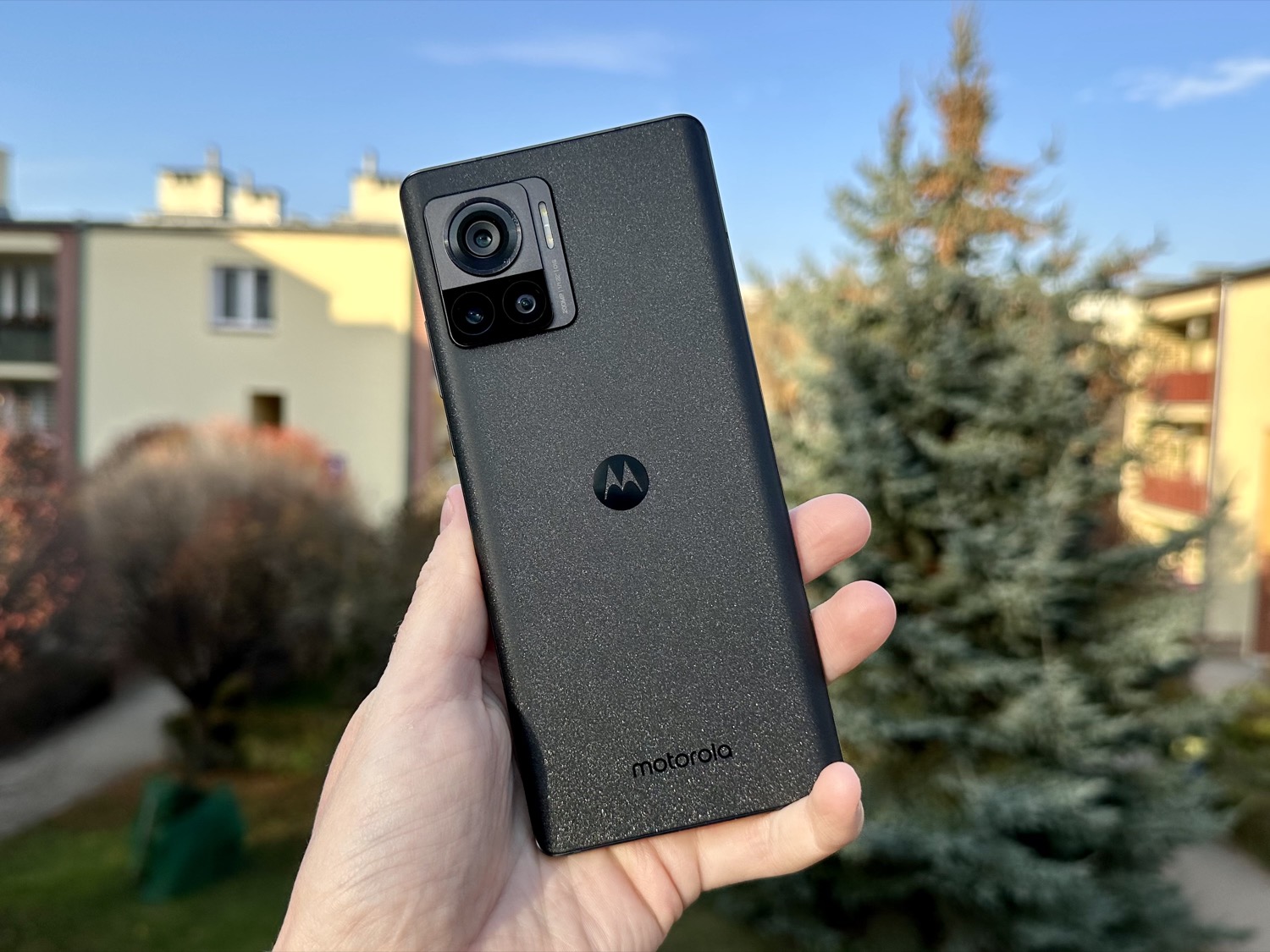 The screen has minimal bezels and strongly rounded edges, so it has an "infinite" look, an elegant notch for the front camera is built into the display, which is protected by durable Gorilla Glass 5.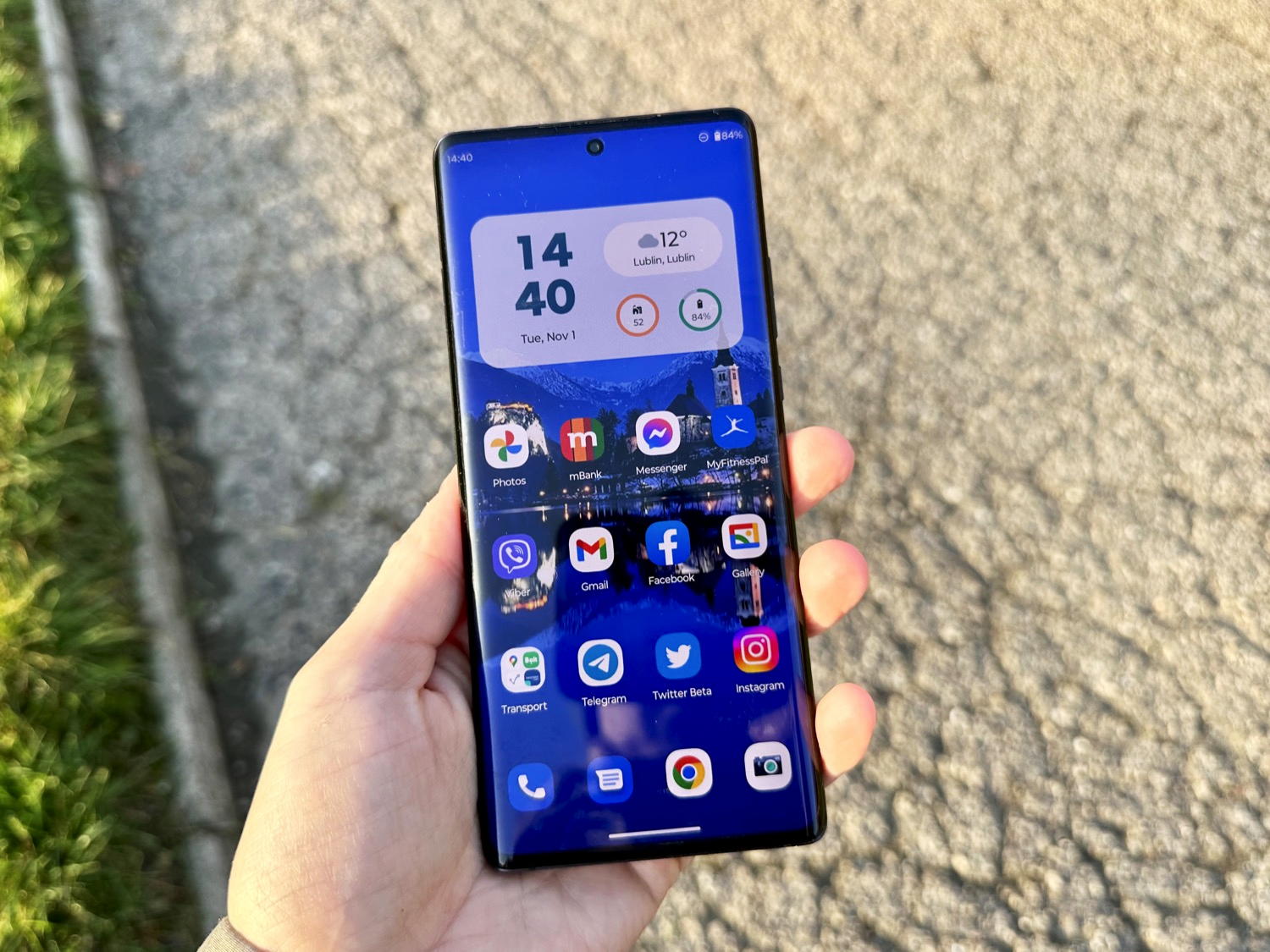 The case frame is aluminum, the sides are very thin because of the beveled edges, the top and bottom are flat like it is trendy now.
As for the rounded edge, I like what I wrote about it in the reviews of both Xiaomi 12 and Xiaomi 12 Pro. Although many people dislike this feature. As disadvantages, they call the inability to successfully choose a protective film (to hell with the film, the screen is already protected from scratches), false touches (I have never had them in all the years of using phones with such screens), distortion of the image at the edges (I do not see that it is distorted).
I believe that such screens are, first of all, beautiful. Second, they are ergonomic. The beveled edges make the screen and the phone itself narrower. Because of this, it lies better in the palm of your hand, feels thinner, it is more convenient to operate it with one hand. And in the case of Motorola Edge 30 Ultra everything is true. At the time when I tested this model, I just received a brand new iPhone 14 Pro Max. After a month's break from monster iPhones, I didn't even want to take it in my hands. And the Ultra seemed compact in comparison, although it is also a large model with a 6.67″ screen.
Well, the front part has been discussed and I can't wait to show you the back panel. We have seen such a solution more than once (Xiaomi 12/12 Pro, OPPO Reno6), but it is fascinating every time. Matte, shiny, slightly rough surface, like dry ice. Pleasant to the touch, does not slip in the hand, does not collect fingerprints at all. And it shimmers beautifully in the light.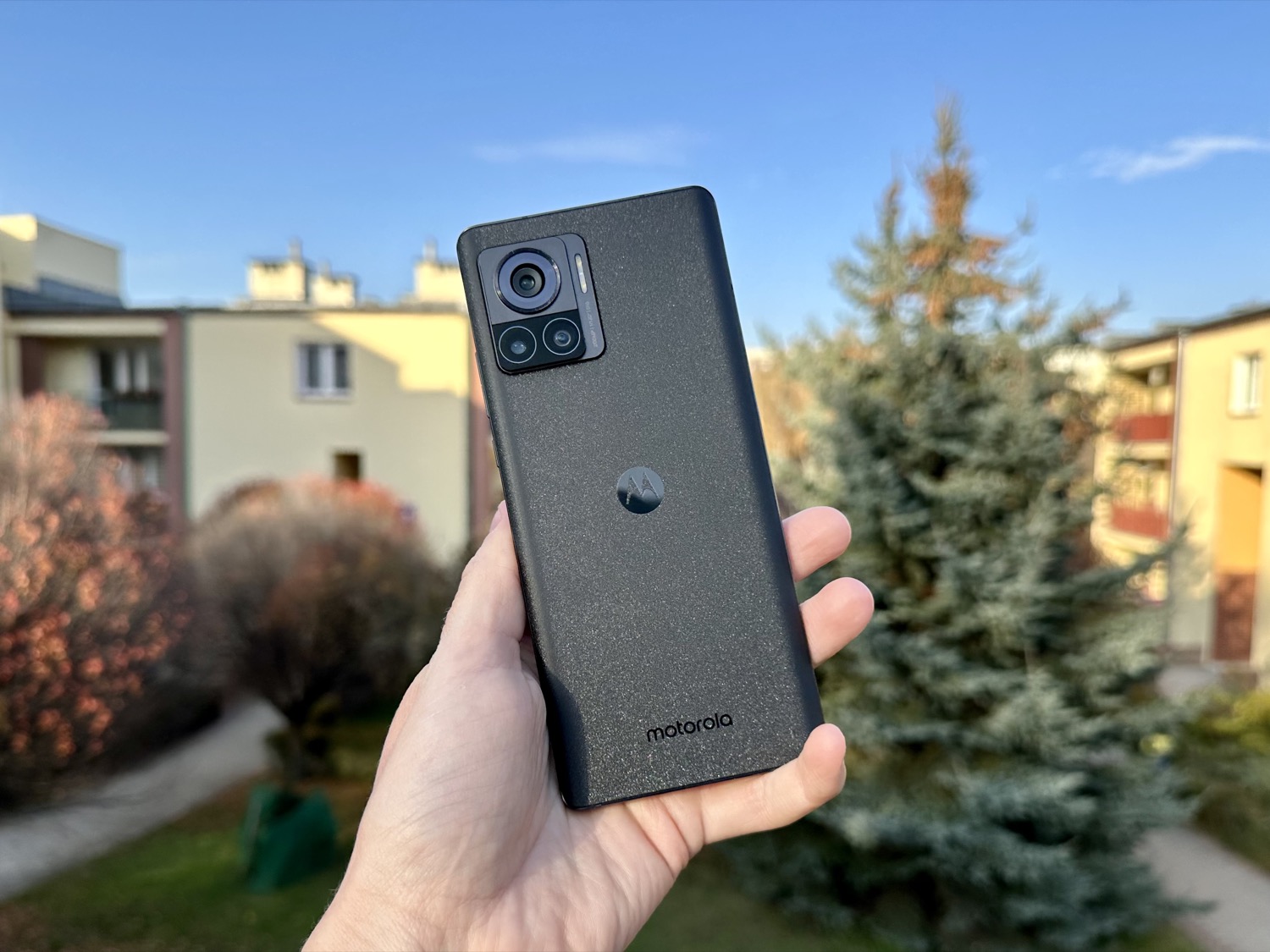 In the new Edge series Motorola has updated the design of the camera unit, the new version is much more to my liking, it looks stylish and modern. And the platform protrudes slightly from the body, which is convenient.
There are no elements on the left side of the phone. On the right side there are volume and power/lock buttons. The side bezels are narrow, as well as the buttons themselves, but I did not have any inconveniences during their use (except for situations when the phone is in a standard case, but perhaps you can purchase another, more thought-out one).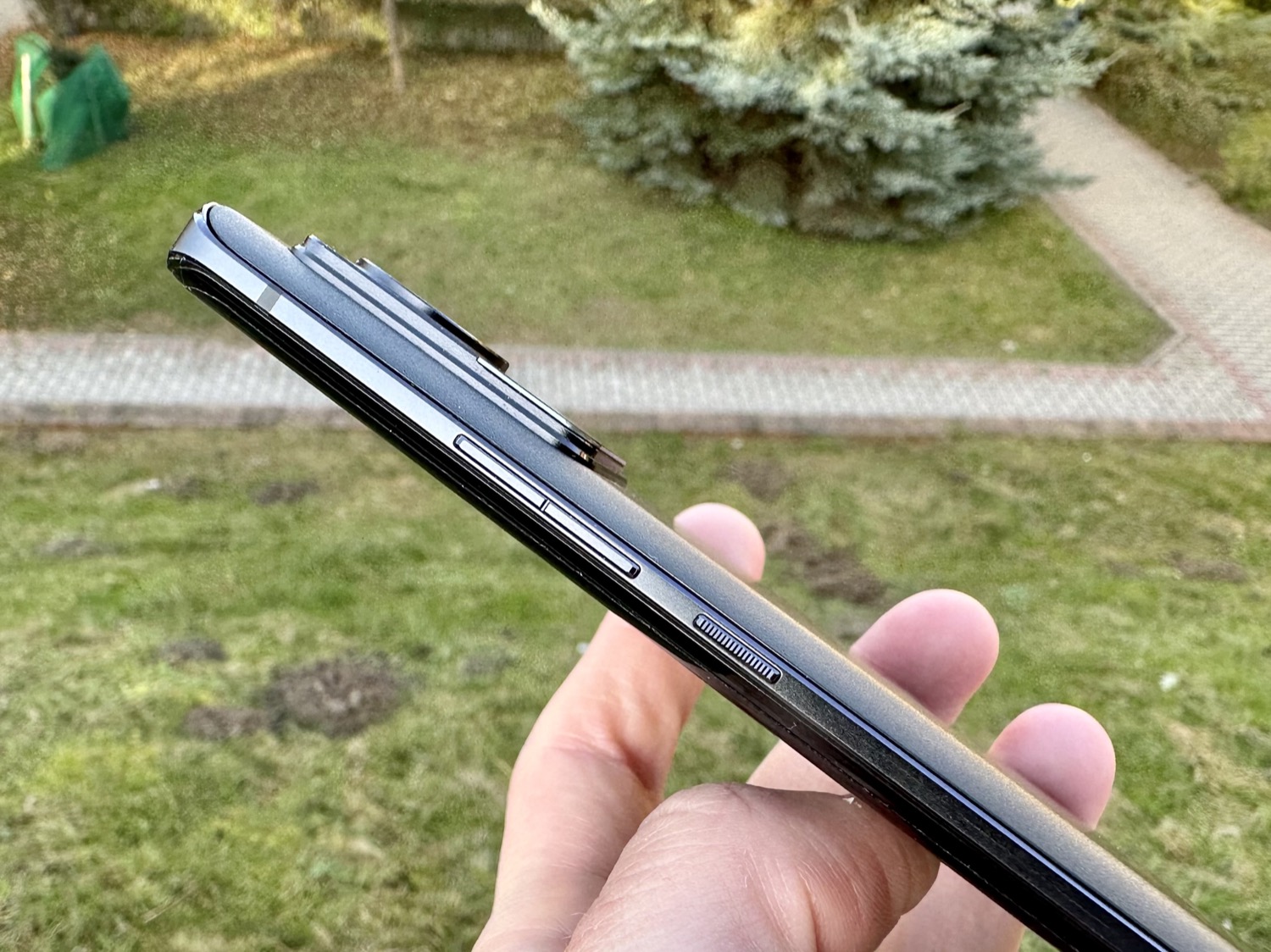 On the upper end there is only a microphone hole and the Dolby Atmos logo. On the bottom there is another microphone, a card slot (SIM only, memory cards are not supported), a Type-C connector for charging and a speaker hole. The sound in Motorola Edge 30 Ultra is stereo, but the second speaker is used as a compromise solution. There is no jack for wired headphones, as you can see.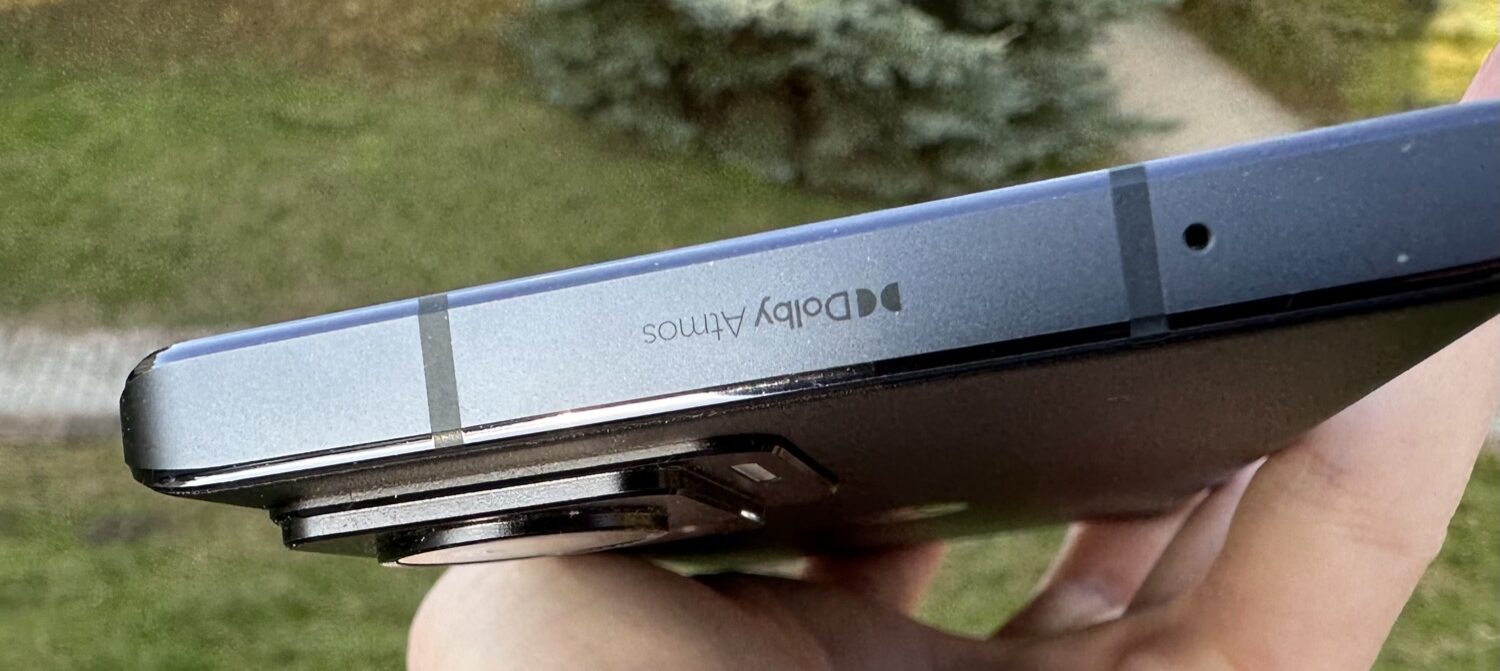 I would like to see a high degree of protection against water in the flagship, but, unfortunately, Moto ignored this moment. More precisely, there is an IP52 standard, like many four times cheaper models. But this is only against accidental splashes, you should not wet Edge 30 Ultra, as well as immerse it in water. It's a pity, but, for example, Xiaomi 12 Pro also does not have any IP rating.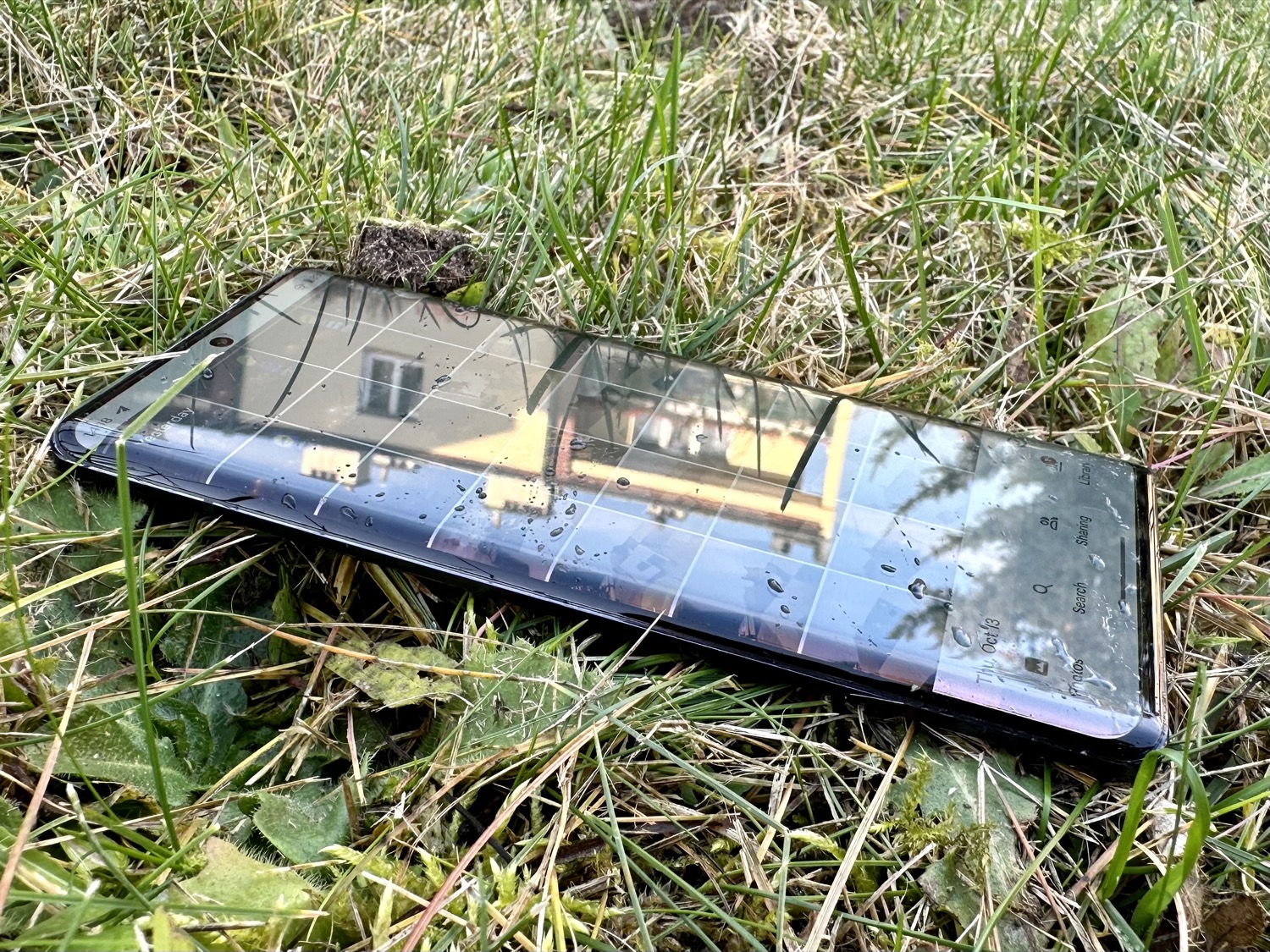 Available colors of the case are black and white. It is a pity, there is no variety, with such a textured rear panel other colors would look cool.
Read also: Motorola Edge 20 Pro review – Not so Pro
Display
Motorola Edge 30 Ultra received a display worthy of a flagship smartphone. P-OLED matrix (not only high-quality, but also economical), a billion colors, HDR10+ support, high refresh rate of 144 Hz.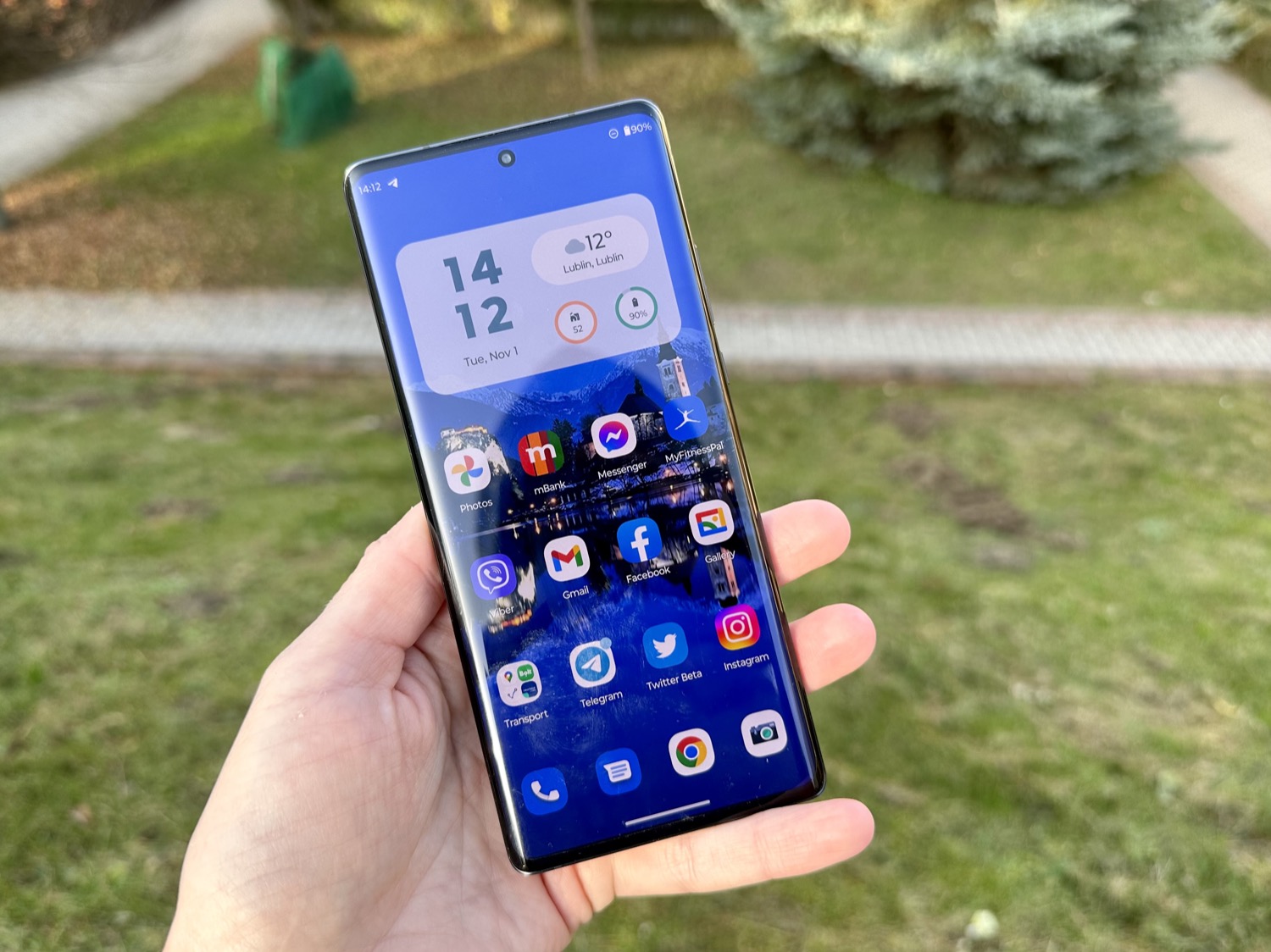 The screen is distinguished by high contrast, maximum viewing angles, excellent color reproduction, excellent brightness (up to 1250 nits in peak, even on a sunny day the image and text remain readable), smooth animations.
But unfortunately, Motorola cut some corners, although in small things – the resolution is typical Full HD+, that is, 2400×1080. While really top models, like the Xiaomi 12 Pro already mentioned here, can boast of QHD resolution (1440×3200). Yes, someone will not notice the difference with the usual Full HD, but personally I see it very well – fonts and even the smallest elements at higher resolution are especially clear. But again, this is a nitpick from the category of "cool" and "even cooler". And everything is cool in Edge 30 Ultra, the image is very clear. Just, I would like to see more in the flagship.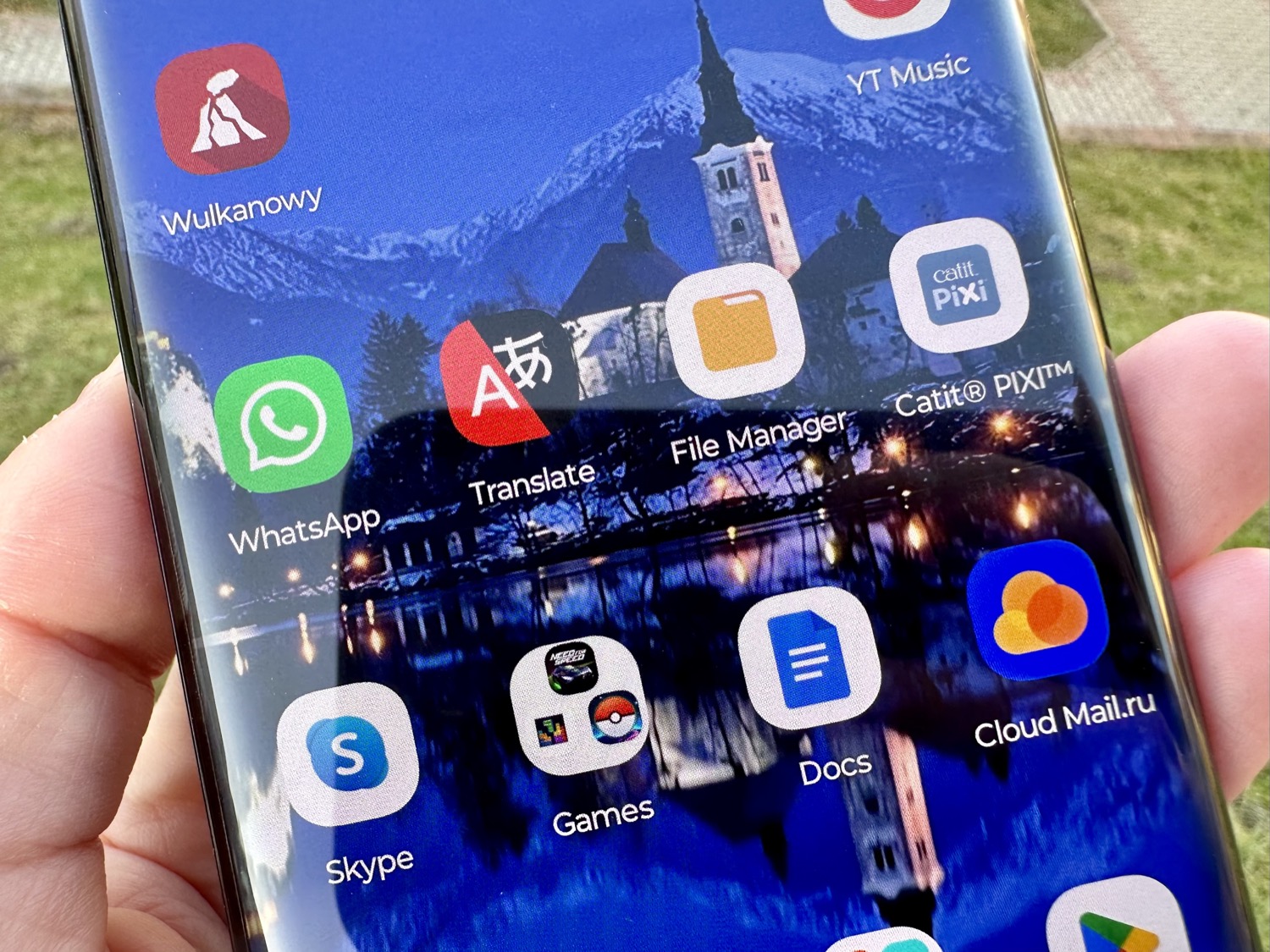 Thanks to 144 Hz, the picture is smooth, it catches the eye. There are three modes available – automatic (the phone will set itself, depending on the application and battery level), 60 Hz or maximum 144 Hz. I recommend using the automatic option, when the phone itself switches between 48, 60, 90 and 144 Hz is an ideal compromise between smoothness and battery life.
Automatic brightness change works without any errors. There is an option to adjust the color temperature (removes cold shades in the evening), a dark theme, three options for saturation of shades and other familiar settings.
I really liked the "extra dim" function, which can be found in the slider with quick settings.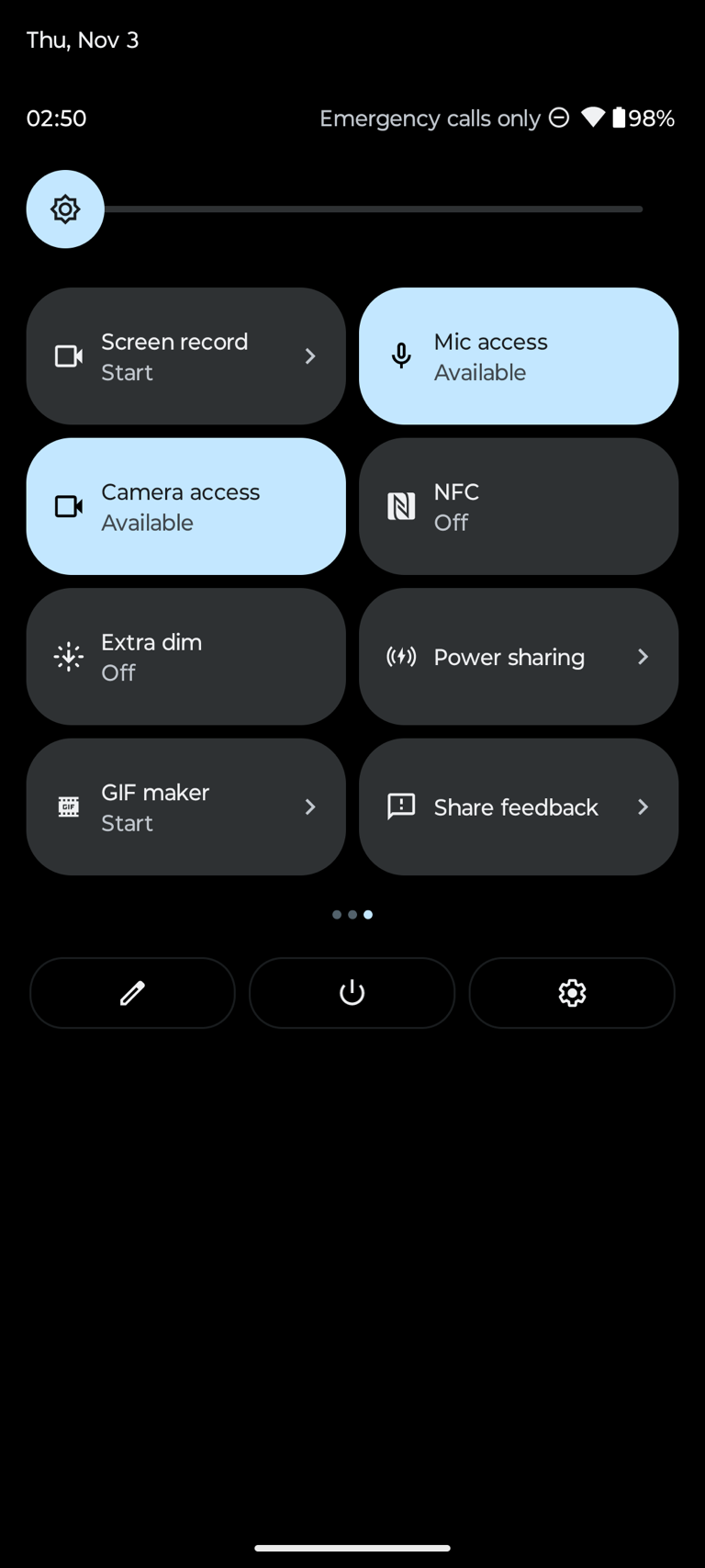 It allows to reduce the minimum brightness of the display, which is important for bright OLEDs. For example, when I put the child to bed in the evening, I activate this mode and I can read the web or social networks, and the screen light does not bother my son.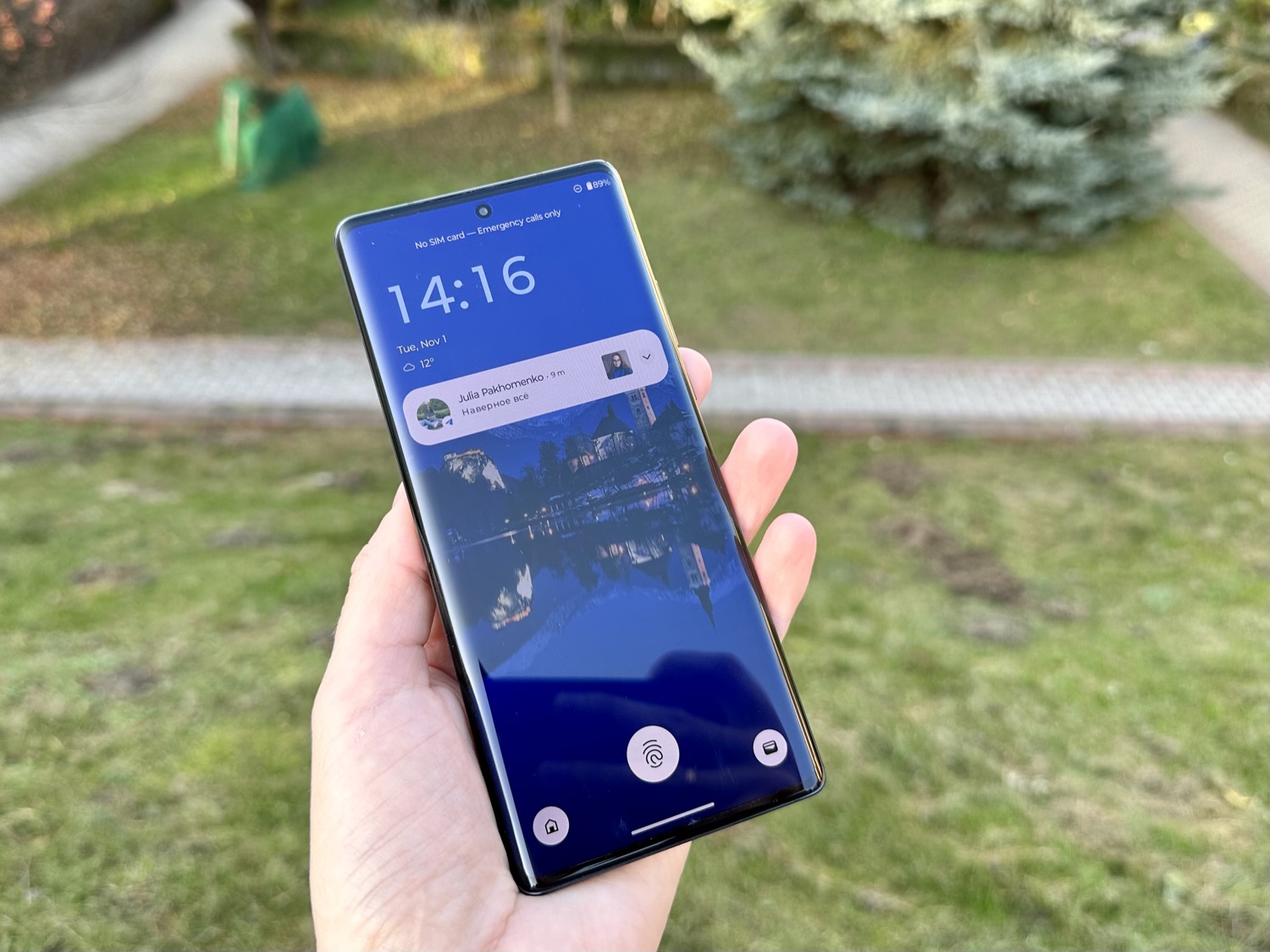 Motorola has its own analogue of AoD – time and notifications on the lock screen with the ability to quickly preview them (Peek Display). This screen activates itself for a few seconds if you pick up the device, touch the display or hold your hand over it, and with a dark background and minimal brightness for energy saving. This feature appeared in Moto long before other manufacturers "invented" their AoD. However, in a smartphone with an OLED screen, it would be possible to implement a full-fledged ALWAYS on display, but for some reason Motorola still does not pay attention to this.
I should also note that the fingerprint scanner is built into the screen. It is located at a convenient height, works quickly and clearly – there is nothing to complain about. Of course, face recognition is supported, but it is less reliable, and I prefer unlocking with a fingerprint – it is so convenient, I put my finger automatically, without thinking, when I take the device in my hands.
Read also: Moto Motorola Edge 20 review: Why do we need flagships anyway?
Hardware and performance of Motorola Edge 30 Ultra
Here it is enough to say that the smartphone is based on the latest processor, made on 4 nm process technology – Snapdragon 8 Gen 1. Of course, you should expect flagship performance from it, and these expectations are justified. Ultra fast in all tasks, pulls any games, there is even no point in describing in detail.
But what you should pay attention to is that in benchmarks our Ultra outperforms many other flagship smartphones, even with the same processors, such as Xiaomi 12 Pro. Not dramatically, but it still ahead. I noticed something similar during the tests of budget phones. The conclusion is simple – Motorola knows how to work with software and optimize it for each specific model. And they also have excellent software, almost pure Android, in which there is nothing excessive and unnecessary, it is also important.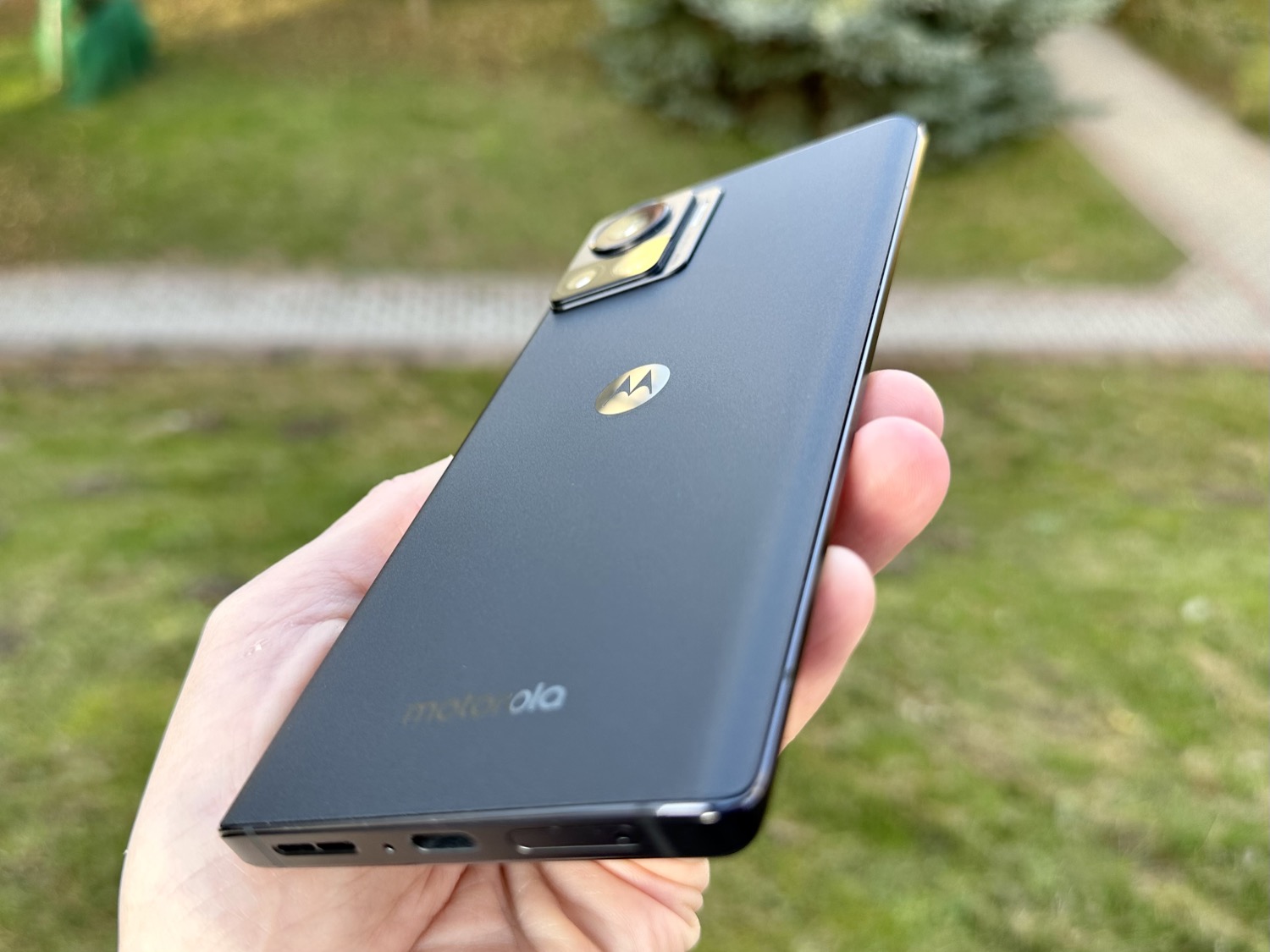 The smartphone scores 4,266 points in GeekBench 5 (multi-core), 1,269 points in GeekBench 5 (single-core), 1,074,724 points in AnTuTu 9, and 10,247 points in 3DMark Wild Life Vulkan 1.1.
I think that in the case of a powerful flagship it is more interesting not what it can run (because it can run everything), but how it does it, whether it is stable or does not overheat. I'll tell you: I did not notice overheating, even playing demanding games like Fortnite. The smartphone becomes warm, but no more than that.
Special stress tests show that with a prolonged high load on the processor, the model will slow down to about 80%, and then to 65%. But here we must understand that no game will create a long 100% load on the processor, and even more so – none of the daily tasks of a smartphone user. So I would call Motorola Edge 30 Ultra a very stable and incredibly powerful device.
In Poland, only the version with 12/256 GB of memory is sold, although in general there are versions with 8 GB of RAM and 512 GB of storage. Perhaps it was worth bringing the 512 GB version to the market, because 256 GB may not be enough for someone. And for some reason there is no slot for memory cards, actually I would like to see it in the flagship. 12 GB of RAM is the maximum for today, more is not needed. However, in the performance settings there is a function of virtual expansion of RAM by 3 GB at the expense of free space in the storage.
Read also: Moto G82 5G review: inexpensive smartphone with OIS and AMOLED
Cameras Motorola Edge 30 Ultra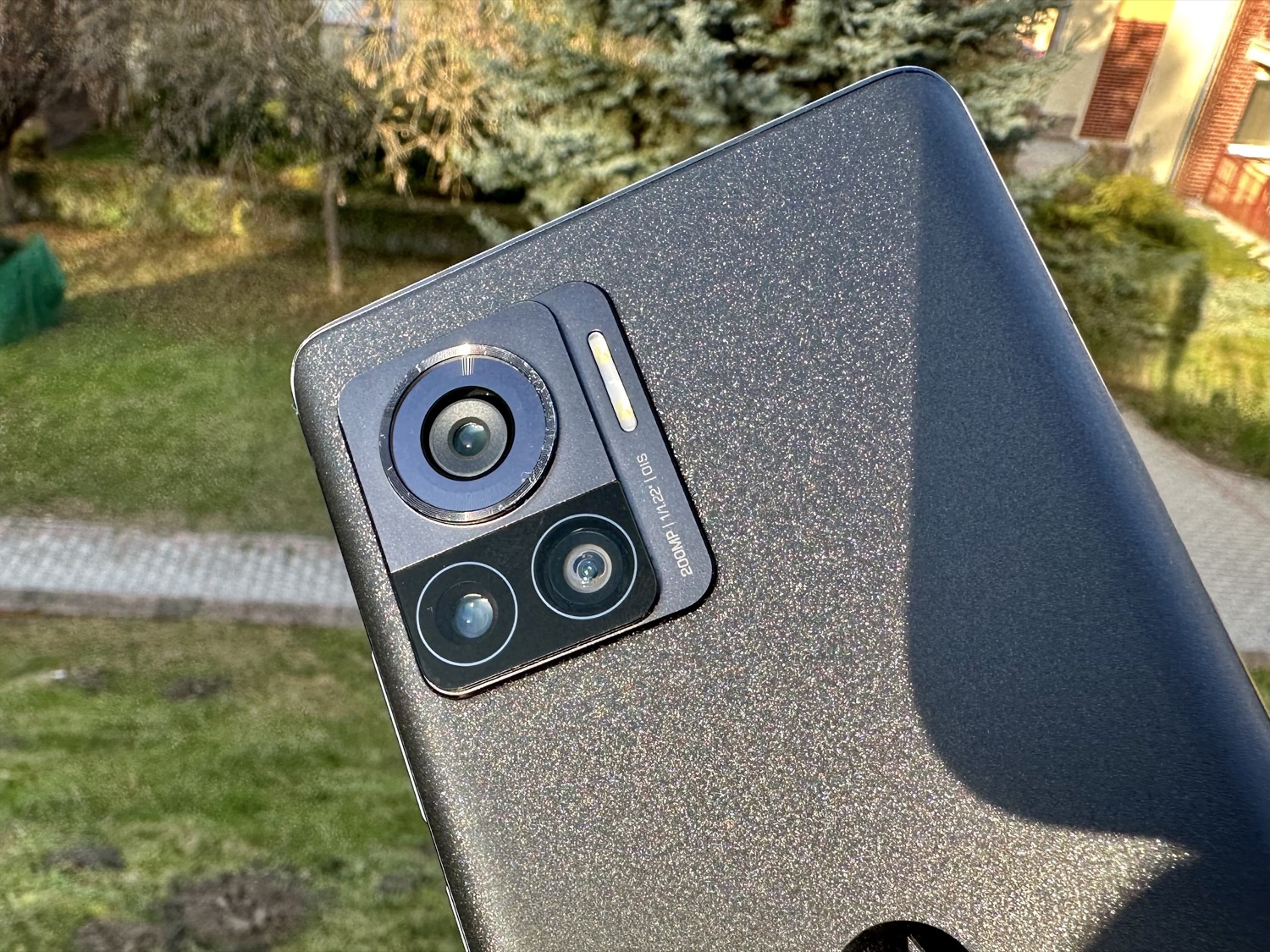 It is believed that Motorola cameras are "not top". It is said that budget models are not bad, but do not expect anything special from expensive models. Let's find out whether the new Ultra can change the situation. At least, it tries to. On paper, the set of modules looks convincing:
200 megapixel main camera, f/1.9, 1/1.22″, 0.64µm, phase autofocus, optical stabilization
12 MP telephoto lens, f/1.6, 1.22µm, phase autofocus, 2x zoom without loss of quality
50 MP wide-angle lens 114˚, f/2.2, 1/2.76″, 0.64µm
60 MP front camera, f/2.2, 1/2.8″, 0.61µm
At least, megapixels are abundant.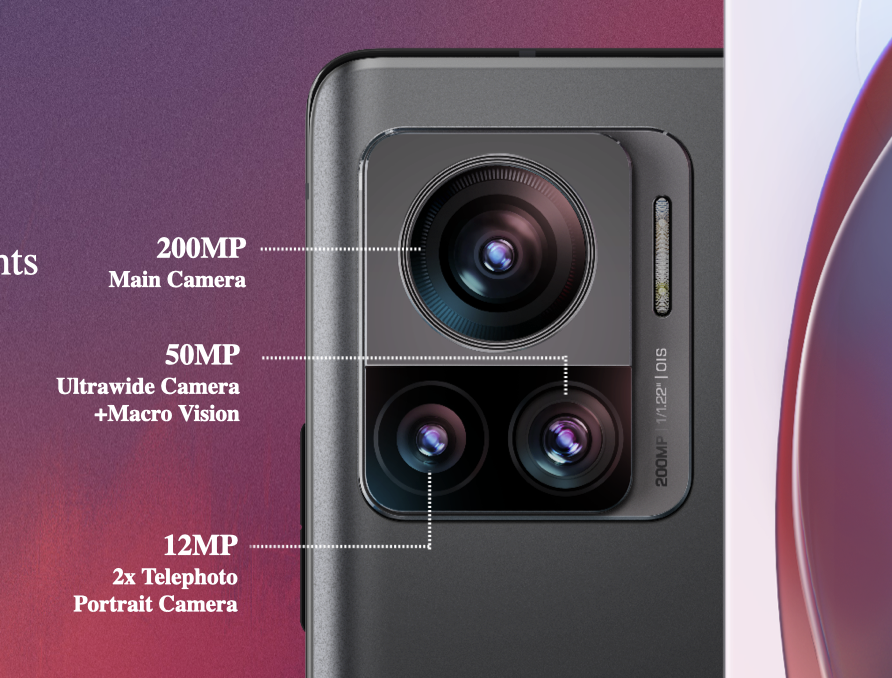 Read also: Motorola Moto G32 review: Balanced and affordable
More about the modules
The main 200 megapixel sensor is a fresh, and so far rarely found (in Edge 30 Ultra and Xiaomi 12T Pro) Samsung HP1 with optical stabilization. With 1/1.22″ format, it is one of the largest modules that can be found in smartphones. The size of individual pixels is 0.64µm. To improve the quality, the software combines several pixels into one, in this case, 16 in 1 (Samsung Tetra2pixel technology), which gives us a pixel size of 2.56µm and an image with a resolution of 12.5 megapixels at the output. You can take photos in full-fledged 200 megapixels, but the difference in quality will not be noticeable, and such photos will "weigh" too much (up to 80-90 MB) and will take too long to create. Although if you need some super-detailing (for example, you need to see small details in the distance), it is worth a try.
The wide-angle module is Samsung JN1, it also uses pixel binning technology (Tetrapixel, 4 pixels are combined into one). Format 1/2.76″, pixel size 0.64µm. The focal length is 14 mm. The module is equipped with autofocus, so it can be used for close-up shots.
The third camera is a Sony IMX663 telephoto lens (1/2.93″, 1.22µm), which allows you to zoom in twice without losing quality. Motorola calls this module portrait, it has a focal length of 50 mm equivalent. The aperture is f/1.6, which means that the sensor captures a lot of light.
Finally, the front module is a 60MP OmniVision OV60A with a focal length equivalent to 24mm.
Daytime photo from different modules
Let's move on to discussing the photo quality of Motorola Edge 30 Ultra. In daylight, the pictures are excellent, I did not expect anything else. Expressive colors, good white balance, exposure is on top, the detail is excellent.
ALL PHOTOS FROM MOTO EDGE 30 ULTRA IN ORIGINAL RESOLUTION
The telephoto lens also produces good results. I will not say that the clarity is perfect, but the detail is excellent and the color reproduction is also good. Below for comparison: left photo from the main module, right – from the TV lens.
Let me remind you that Motorola also calls it a portrait lens. Indeed, the equivalent of 50 mm with an aperture of f/1.6 can create decent portraits with a qualitatively blurred background.
Wide angle and portrait mode
In portrait mode there are two zoom levels, each of which simulates a different classic focal length.
The 35 mm version uses the main camera, the quality is good, more of the environment gets into the lens. The 85 mm mode also uses a telephoto zoom, the subject is very close, and you do not need to physically approach it. Software processing of such photos is very good, there are no drawbacks, although I still liked the 50 mm quality the most.
The wide-angle module produces good photos, but I would not call them ideal as they are sharp and contrasty. Here are examples, on the left is a photo from the main module, and on the right, for comparison, is a photo from the wide-angle module:
ALL PHOTOS FROM MOTO EDGE 30 ULTRA IN ORIGINAL RESOLUTION
Macro pictures
As already noted, the wide-angle lens can take macro photos thanks to autofocus. This solution is used in many top models from iPhone 13 Pro / 14 Pro to Huawei P50 Pro. The quality, in any case, is better than that of a separate macro lens, which can be found in mid-range smartphones. Macro with Edge 30 Ultra is beautiful, clear, with pleasant shades. I was delighted! Here are some examples:
Read also: Comparison Of Moto G52 And Moto G62 5G: So Similar And So Different
Zoom
The smartphone allows you to make a 10x zoom, but the optical zoom is limited to 2x only. Again, there is no 50x or 100x, as in some advanced flagships. But not everyone needs it. 10x is not perfect, but at least the texts will be readable. Examples (1x-2x-10x):
Night mode
The pictures taken on the Motorola Edge 30 Ultra in the dark are good. But no more than that. For example, the night photos with Xiaomi 12 Pro made me squeak with pleasure. And Moto has everything clear, without unnecessary digital noise, but nothing special, given the cost. Here are examples, I received the phone for the test on the eve of November 1 (All Saints' Day in Europe), so the theme is sometimes gloomy.
ALL PHOTOS FROM MOTO EDGE 30 ULTRA IN ORIGINAL RESOLUTION
Night mode is activated by default (Auto Night Vision option), so you do not need to bother with it when shooting. However, its optimal version is enabled, so to speak, for a compromise between quality and time, when you need to hold the phone still and without breathing. If you are in some very dark environment, it may make sense to activate the night mode manually through the menu in order to take photos longer, but the quality will be better. It makes no sense to shoot without using Night Vision at all, as the photos will be dark and often blurry, and luminous objects, such as signs, will be overexposed.
Here is a comparison, normal photo on the left, forced Night Vision on the right:
In the dark, you can successfully shoot both on the telephoto (to bring objects closer) and on the wide angle (to fit more in the frame), the quality will be high. Yes, in the case of wide angle the dynamic range will suffer, but it is not critical. And in the case of telephoto, nothing is noticeably affected, the module captures enough light, it does not need aggressive software processing.
Night photos with telephoto lens (standard on the left, telephoto on the right):
Night photos with a wide-angle lens (standard left, wide right):
Front camera of Edge 30 Ultra
The Edge 30 Ultra's 60-megapixel selfie camera produces gorgeous 15-megapixel self-portraits (again, the resolution is downscaled to get better quality). Photos have excellent detail, wide dynamic range and nice and vibrant colors. And even low light (for example, at home in the evening) is not a problem.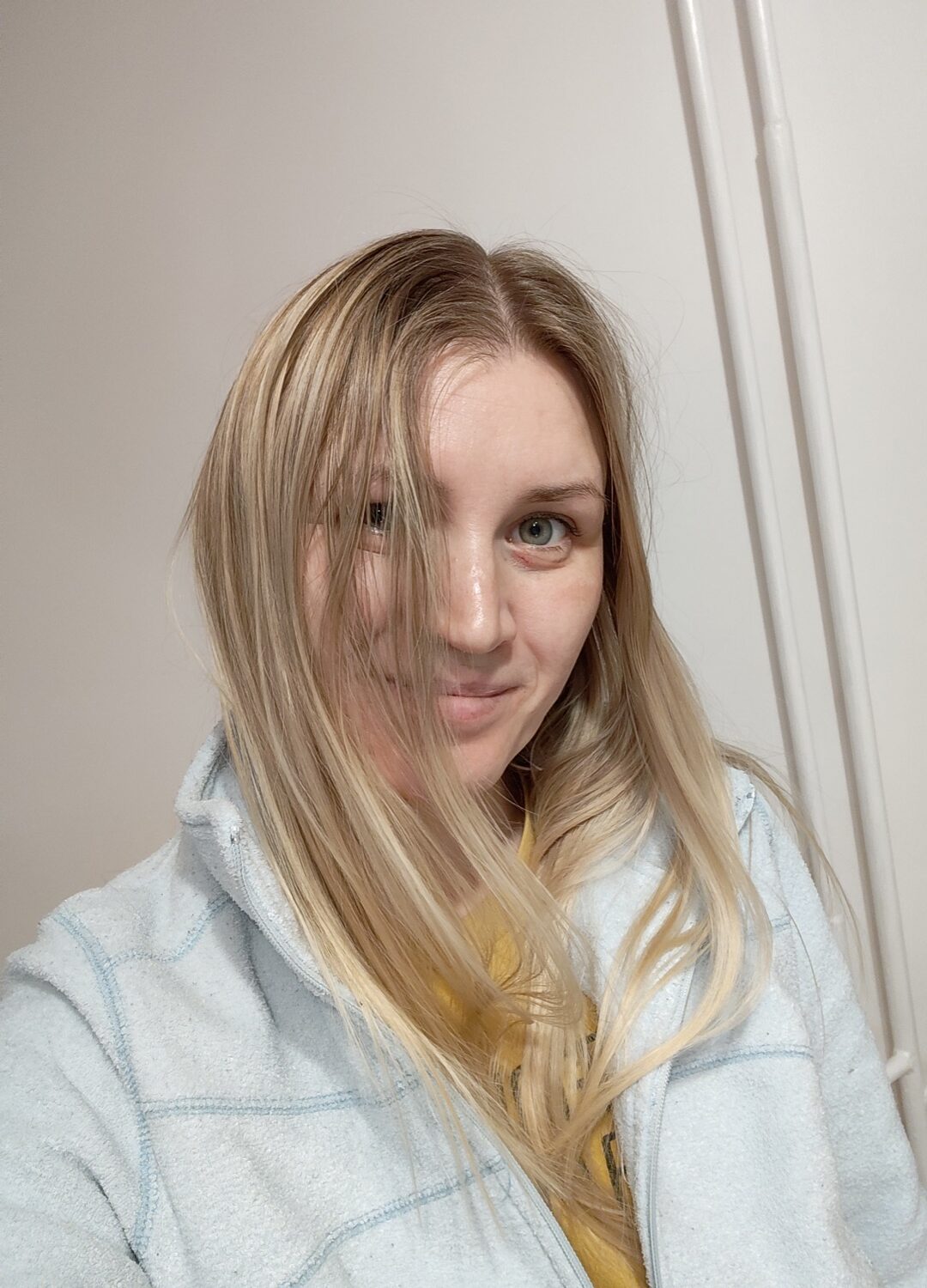 It is possible to switch between close-up and wider view (if you want to take a picture with someone). But the difference is minimal:
ALL PHOTOS FROM MOTO EDGE 30 ULTRA IN ORIGINAL RESOLUTION
In low light, the camera can highlight your face with a bright white frame, but it will not make you more beautiful.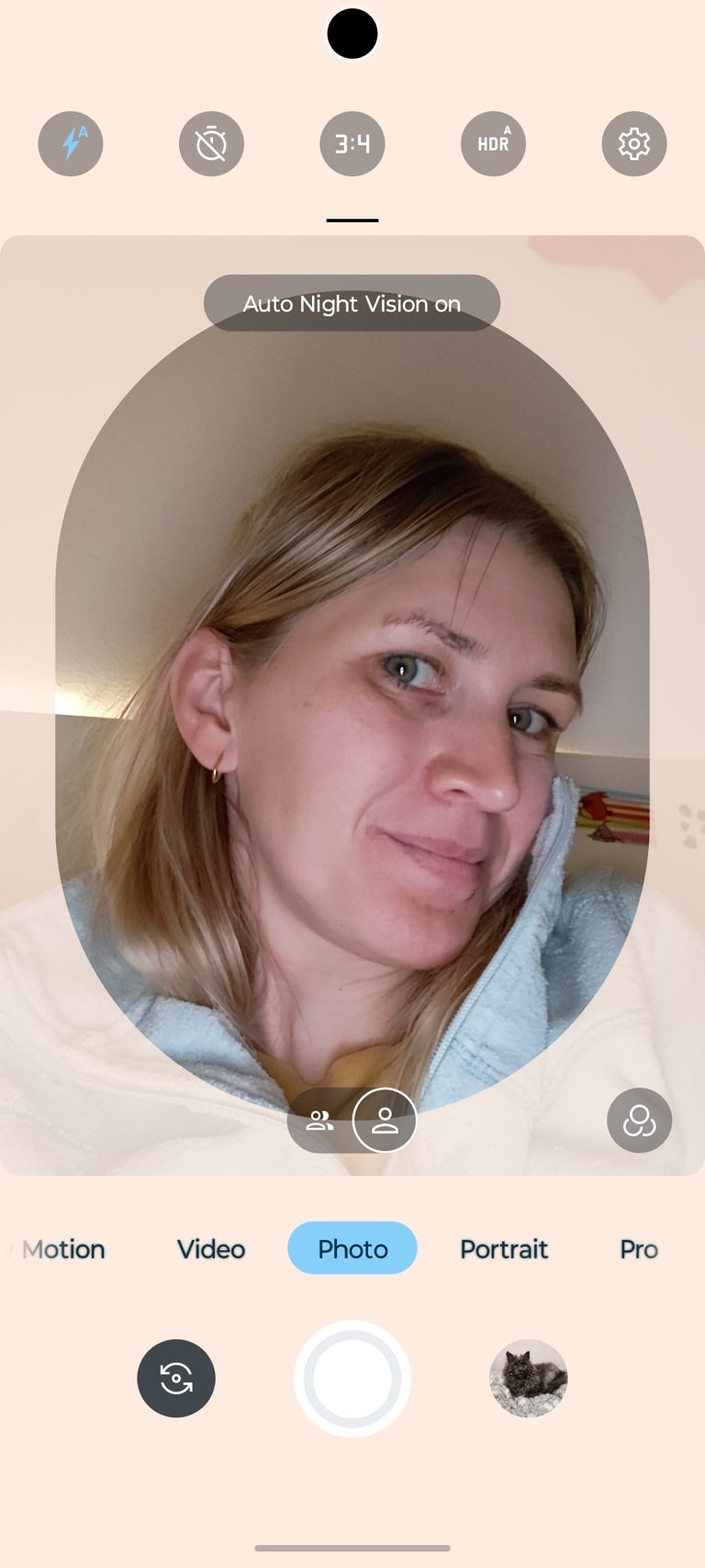 Quality of video shooting
Motorola Edge 30 Ultra supports video recording with a resolution of up to 8K@30fps (1080p and 4K at 30/60 fps are also available) when using the main camera. The wide angle and telephoto are limited to 1080p@30fps, which many consider a disadvantage, but as for me it is not critical. 8K is encoded using the h.264 codec by default, but you can choose the more efficient h.265 codec in the settings. Optical stabilization is available in all modes except 8K, and the sound is recorded in stereo at 256 kbps.
I see no point in shooting in 8K and 4K, 1080p@60fps is more than enough. In this mode the videos are beautiful, smooth, perfectly stabilized, with excellent juicy color reproduction and excellent dynamic range. Although there are no special complaints about 4K either. But 8K has twitches, clearly lacks stabilization, suffers in detail and color reproduction, and the number of frames per second in fact does not exceed 26. Examples:
FullHD 30 fps – day
8K – day
Night video is not the strong side of Edge 30 Ultra. The picture is somewhat blurry, digital noise is noticeable, autofocus lags, dynamic range is limited (regardless of the module), fps drops to 25-26, and any light source and its surroundings are eventually "cut off" to white. Examples:
Camera software
The camera interface is standard for Moto. It is clear, convenient. There is a Pro mode that gives you almost complete control over camera settings (such as white balance, ISO, autofocus, exposure and shutter speed), "selective color" (leaves one color in the photo), panorama, "live" photos, real-time filters, RAW format and so on.
Read also: Moto 360 3rd gen smartwatch review: long term experience and positioning
Data transmission and Ready For mode
The smartphone supports the latest Wi-Fi 802.11 a/b/g/n/ac/6e, Bluetooth 5.3, all possible navigation systems, there is a magnetic compass, USB Type-C 3.1, NFC for payment in stores, 5G.
And Motorola Edge 30 Ultra also supports the "Ready For" mode. I wrote about it in detail in the reviews of last year's top models Moto Edge 20 and Edge 20 Pro. "Ready For" is a mode of connecting a smartphone to a PC or monitor. The device acts as a laptop computer and offers a special interface for work. In the "Ready For" mode, the phone can be used as an alternative to a computer (there is a full desktop, separate windows), a game console or use its camera and microphone for video calls. You can connect a wireless mouse, keyboard, the smartphone itself can be used as a touchpad.
This mode exists in different variations depending on the model. Some devices support wired connection, some only wireless, some (like last year's Edge 20 lite) – only the Ready for PC option, which allows you to use Ready For in a separate window in the Windows application.
Edge 30 Ultra got all the features – both wired "Ready For", and wireless, and "Ready For PC". For the first option you will need a USB-C MHL Alt HDMI or USB-C-to-C cable and a compatible monitor.
I will not describe Ready For mode in detail here, as nothing has changed in it since last year. If you want details, I recommend you to refer to my review of Motorola Edge 20 Pro, where the modes of connection to a PC are described in detail.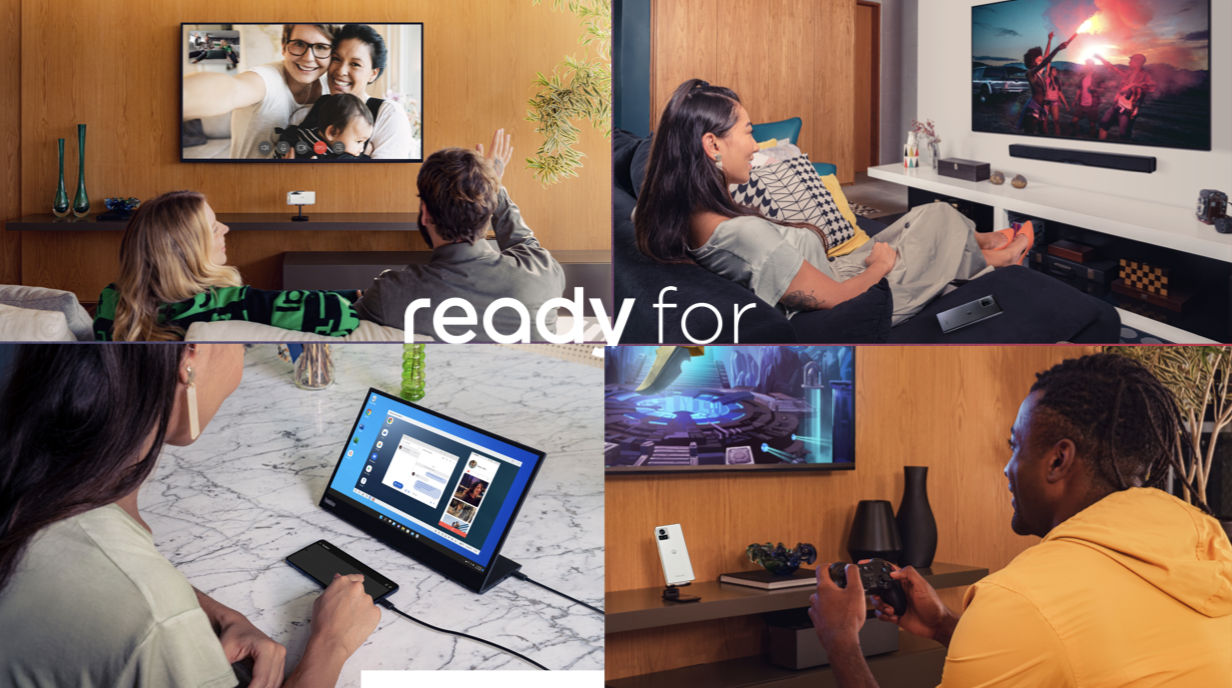 In the Edge 30 series, only the Ready For app has been slightly redesigned.
"Ready For" is an interesting and rare feature. The only alternative is Samsung Dex, which is available only to flagships. At the same time, the function is well thought out and implemented, no problems were observed during the test, except for not the most convenient touch control. I would not say, however, that it is impossible to live without Ready For. But, probably, someone can use the ability to connect to a PC.
Read also: MOTO XT500+ headphones review: Better at home
Sound
The sound of the smartphone is stereo, with one speaker on the bottom end, and the role of the second speaker is taken by the narrow conversation speaker above the display. I honestly admit that I expected worse, but there is nothing to complain about, as the speakers are well balanced, there is no noticeable difference between them, the sound is voluminous, loud, and in general it is of exceptional quality.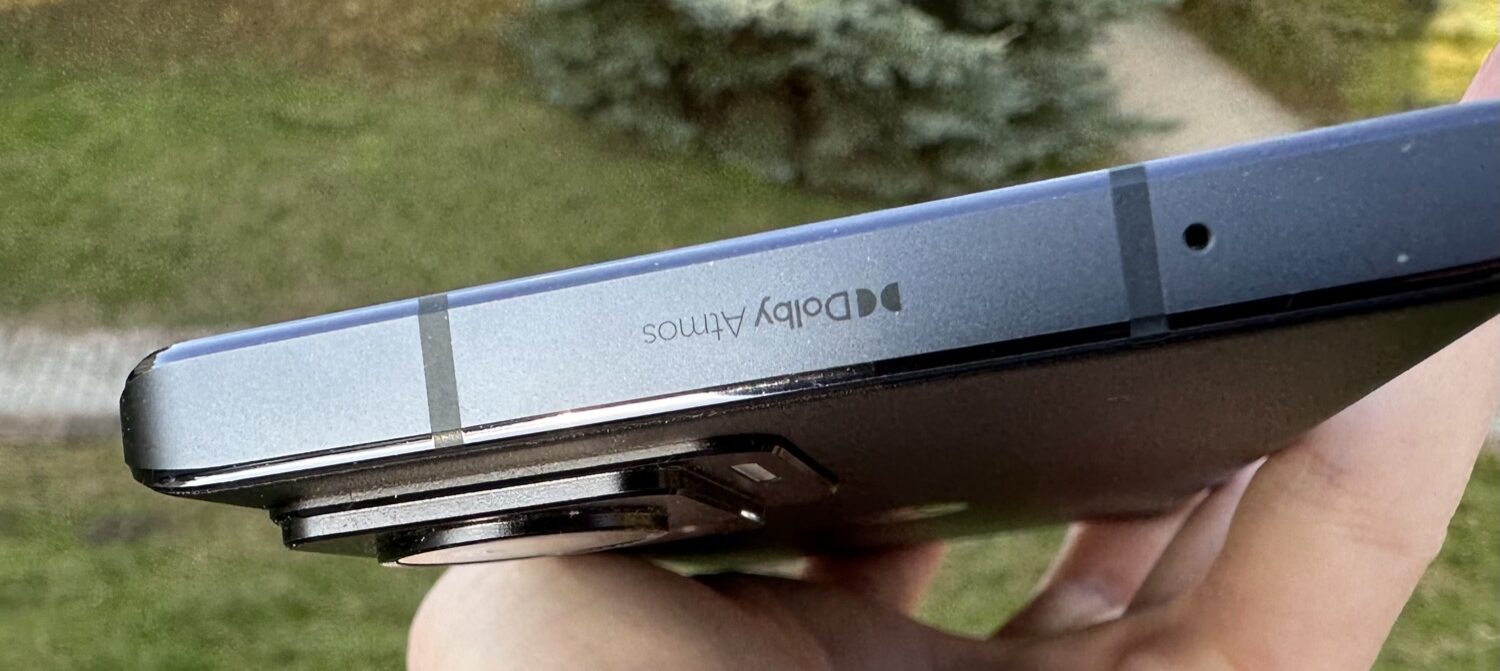 For the "tweak" lovers there are Dolby Atmos modes to choose from – music, movies, games, podcasts. By default, the phone detects the nature of the audio and adjusts the sound.