Relatively inexpensive Moto G smartphones are popular, so we test almost all available models. The last time we got our hands on devices from the very bottom of the line was in 2021 (we're talking about the G10 и G20), so it's interesting to see what has changed in 2023. Today we'll take a look at the new Motorola Moto G23. This is almost the youngest (only the G13 is lower) model in the current lineup.
Read also: Motorola Moto G32 review: Balanced and affordable
Positioning in the lineup and price
The smartphone costs about $190. It's not much, but it's not a lot. Over the past year, everything has risen in price. The G13 and G23, the "youngest" in the Moto G 2023 series, are almost complete twins. The G13 has a weaker front-facing camera and slower charging, no wide-angle lens and no version with 8 GB of RAM, and that's it. The G13 is slightly cheaper, by $20-30.
The older Moto G53 model costs the same as the G23 with 8 GB of RAM, but it has only a 4 GB version. But it has a screen with a refresh rate of 120 Hz (not 90), a Qualcomm processor, not Mediatek, has 5G, but for some reason there is no wide-angle camera, although the younger G23 has one. And the G53's charging is not as fast as the G23's (only 10 watts). Every year the Moto G series has such strange inconsistencies between the younger and older models. You can compare Moto G13, G23 and G53 at this link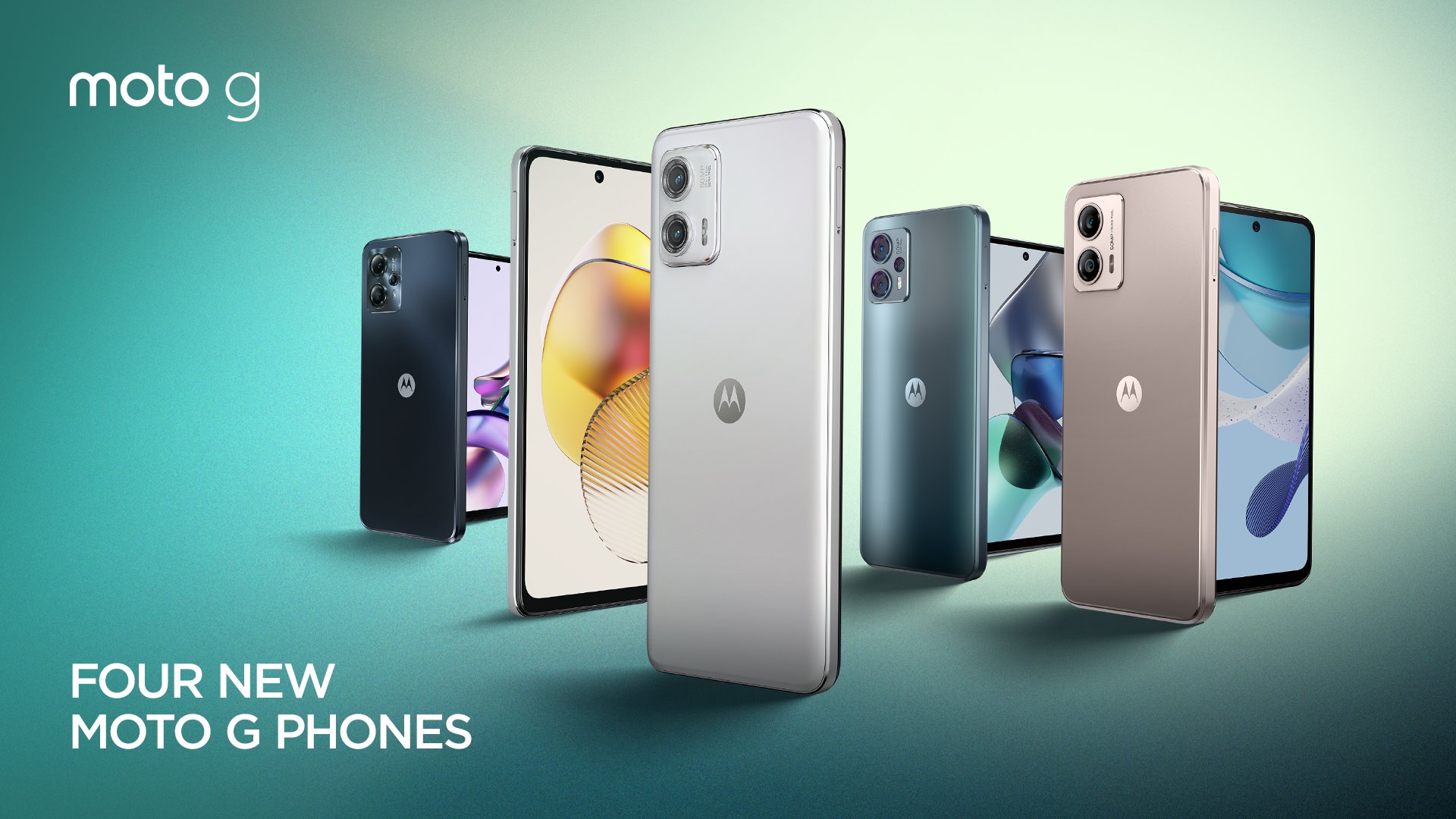 Since we can't fit more than three smartphones in the comparison, here's another link where we compare the G23, G53, and the older model of the updated line – the G73 (we're also testing it, the review is coming soon). The differences of the "eldest" are a 120 Hz screen (but not OLED, for some reason this year they are not in the G-series), a 6 nm Mediatek Dimensity 930 processor, an ultra-wide-angle lens with autofocus, 30 W charging, the latest version of Bluetooth 5.3, and 5G support. The G73 costs about $320.
Well, let's get back to the $190 Moto G23 and try to figure out what compromises the manufacturer made to make the smartphone affordable, and whether we are ready to accept these compromises.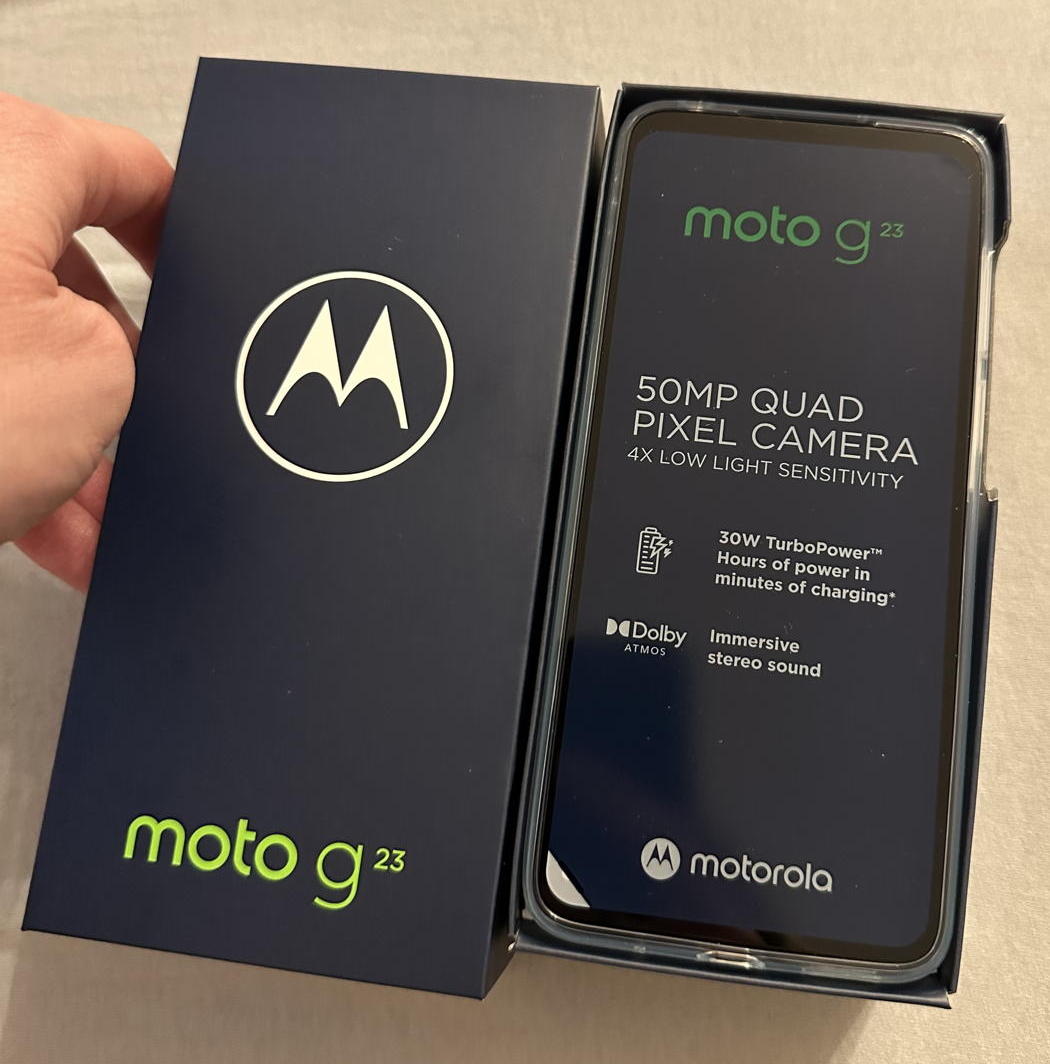 Read also: Motorola Moto G72 Review: Once Again a Strong Midranger!
Technical specifications of the Motorola Moto G23
OS: Android 13
Screen: 6.5″, IPS LCD, HD 1600×720, 90 Hz, 20:9
Processor: MediaTek Helio G85, 12 nm, 8 cores (2×2.0 GHz Cortex-A75 & 6×1.8 GHz Cortex-A55), Mali-G52 MC2 video chip
Memory: 4/128 GB or 8/128 GB, dedicated microSD slot

Cameras: 

50MP f/1.8, 0.64µm, phase detection autofocus, 1080p@30fps video recording
5 megapixel ultra-wide-angle f/2.2, 118˚
2 megapixel macro f/2.4
Front 16 megapixel f/2.5, 1.0µm

Battery: 5000 mAh, TurboPower 33 W charging
Sound: 3.5 mm headphone jack, stereo speakers
Design: waterproof case, colors Matte Charcoal, Pearl White, Steel Blue
Data transmission: 4G Dual SIM, USB-C 2.0, Wi-Fi ac (2.4 and 5 GHz), Bluetooth 5.1, satellite navigation (A-GPS, Galileo, GLONASS), NFC
Other: Fingerprint scanner, FM radio
Dimensions: 162,7×74,7×8,2
Weight: 184.3 g
Package contents
Oh, the good old state employees. It has everything: a 33W power supply, a case, a cable, a SIM-slot clip, and documentation.
The silicone case is comfortable, protects the camera lenses and screen thanks to the protruding sides – you don't have to look for a new one. Over time, it can only turn yellow.
Read also: Motorola Edge 30 Fusion review: "flagship killer" or is it too loud?
Design of the Motorola Moto G23
Every year, Motorola slightly changes the design of the Moto G series budget models. And this time, the smartphones look even more interesting and modern!
The camera unit is metal, with beveled shiny edges. The rest of the body is plastic, with flat sides, as is fashionable now.
The smartphone has a good aspect ratio – the screen is large, but narrow and elongated in height, and it fits comfortably in the hand. The device is heavy compared to similar models, but not too much, and the hand does not get tired.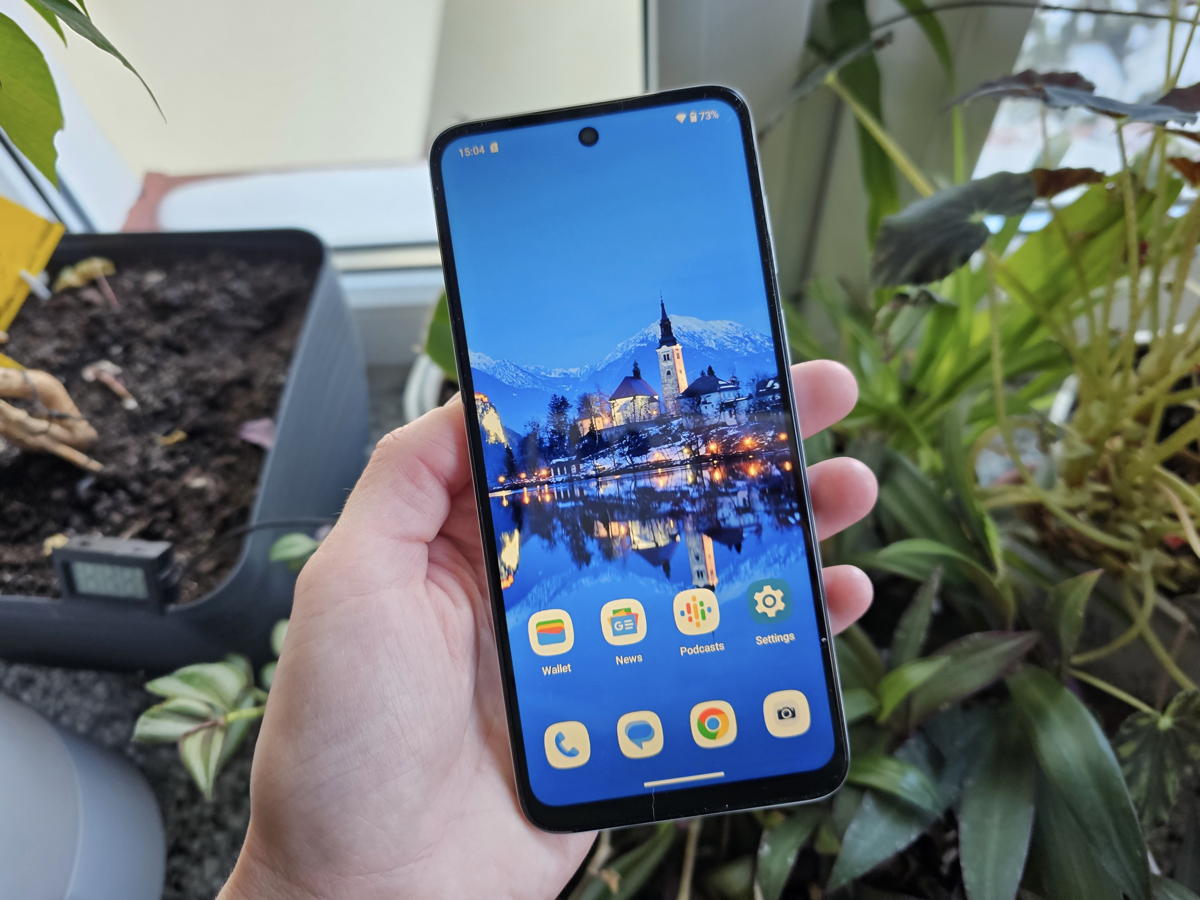 The display bezels are small, the top and bottom are wider than the rest, but this is forgivable for a budget phone. The front camera is elegantly integrated into the display.
The smartphone is available in three matte colors – gray, white and blue. I haven't seen the others in person, but I was delighted with the test pearl white. It looks gorgeous! And the back surface does not collect fingerprints at all.
Let's look at Moto G23 from all sides. On the left side there is only a slot for two SIM cards and a memory card (three separate slots). On the right is a dual volume rocker and a power/lock key with a built-in fingerprint scanner. The buttons have a clear, pleasant stroke and are located at a comfortable height.
The scanner works quickly and accurately. The smartphone also has a face recognition function, but it's much more convenient to put your finger on the side to unlock it.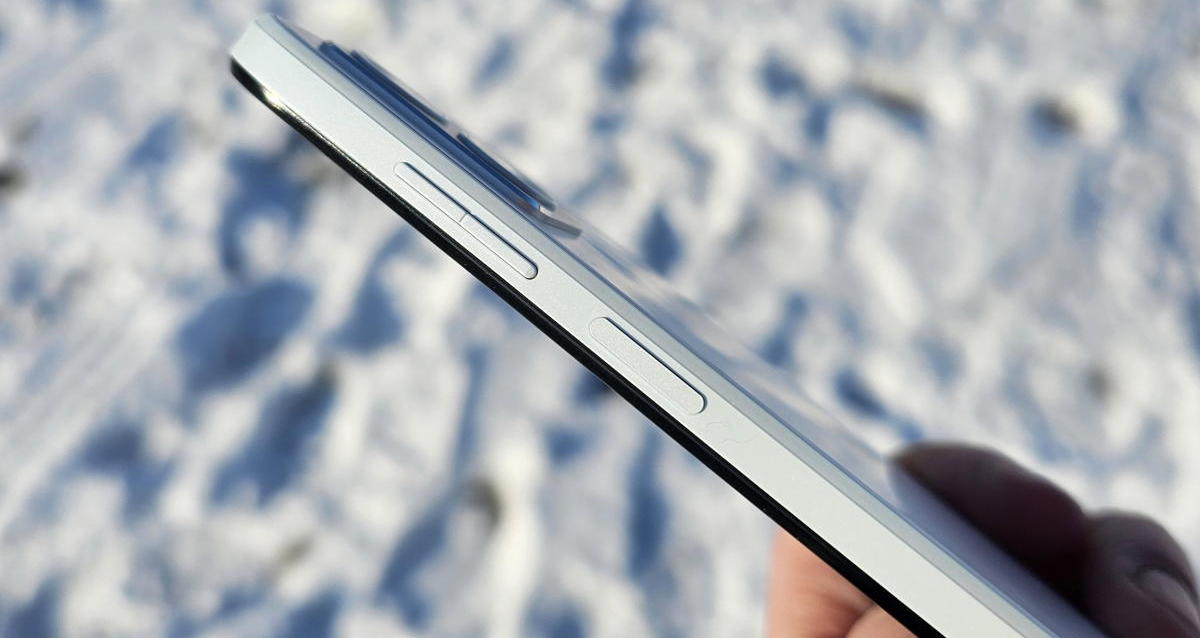 On the bottom end we see a microphone, a speaker, and a Type-C connector. On the top there is another microphone, Dolby Atmos labeling and a 3.5 mm headphone jack. It's great that at least in budget models, the manufacturer does not deprive users of the ability to use wired headphones.
Like all Moto G series, the G23 has a waterproof body. The model does not need to be bathed or specially wet, but accidental splashes of water should not be scary for it. The build quality of the smartphone is excellent.
Read also: Motorola Edge 30 Neo Review: Beautiful Toy With Wireless Charging
Moto G23 screen
And here's the first item on which we saved money. I don't ask for an OLED matrix in a budget model, but IPS is not of the best quality. When tilted, colors are distorted, the display either darkens or fades. The black depth is low, the white color tends to be yellow and becomes "dirty" when tilted.
However, for the target audience of undemanding users, none of this is a disadvantage. They may be upset only by the fact that the display fades very quickly in direct sunlight.
Motorola also saved on the resolution – 1600×720 pixels, although for this price all competitors have Full HD. Again, the target audience won't notice and won't be bothered, but the small fonts and icons are not particularly clear.
The refresh rate is 90 Hz, and this is a plus, the image on the screen looks smooth. 60 Hz is already becoming obsolete even in the budget price range.
Three modes are available – automatic, 60 Hz or 90 Hz. I recommend using the automatic mode, when the phone switches between different options by itself – a compromise between smoothness and battery life.
Automatic brightness adjustment works without a hitch. There is an option to adjust the color temperature (removes cold shades in the evening), a dark theme, three options for color saturation and other familiar settings.
There is an analog of AoD – time and notifications on the lock screen with the ability to quickly preview them (Peek Display). This screen activates by itself for a few seconds if you pick up the device, touch the display or hold your hand over it, with a dark background and minimal brightness for energy saving. Moto had this feature long before other manufacturers "invented" full-fledged AoD.
Read also: Comparison Of Moto G52 And Moto G62 5G: So Similar And So Different
Hardware and performance of the Motorola Moto G23
And another item that was saved on is the MediaTek Helio G85 processor, which was released 3 years ago, in 2020. Xiaomi last entered the market with this chipset in 2021. The processor is made using a 12 nm process, so you shouldn't expect anything special from it.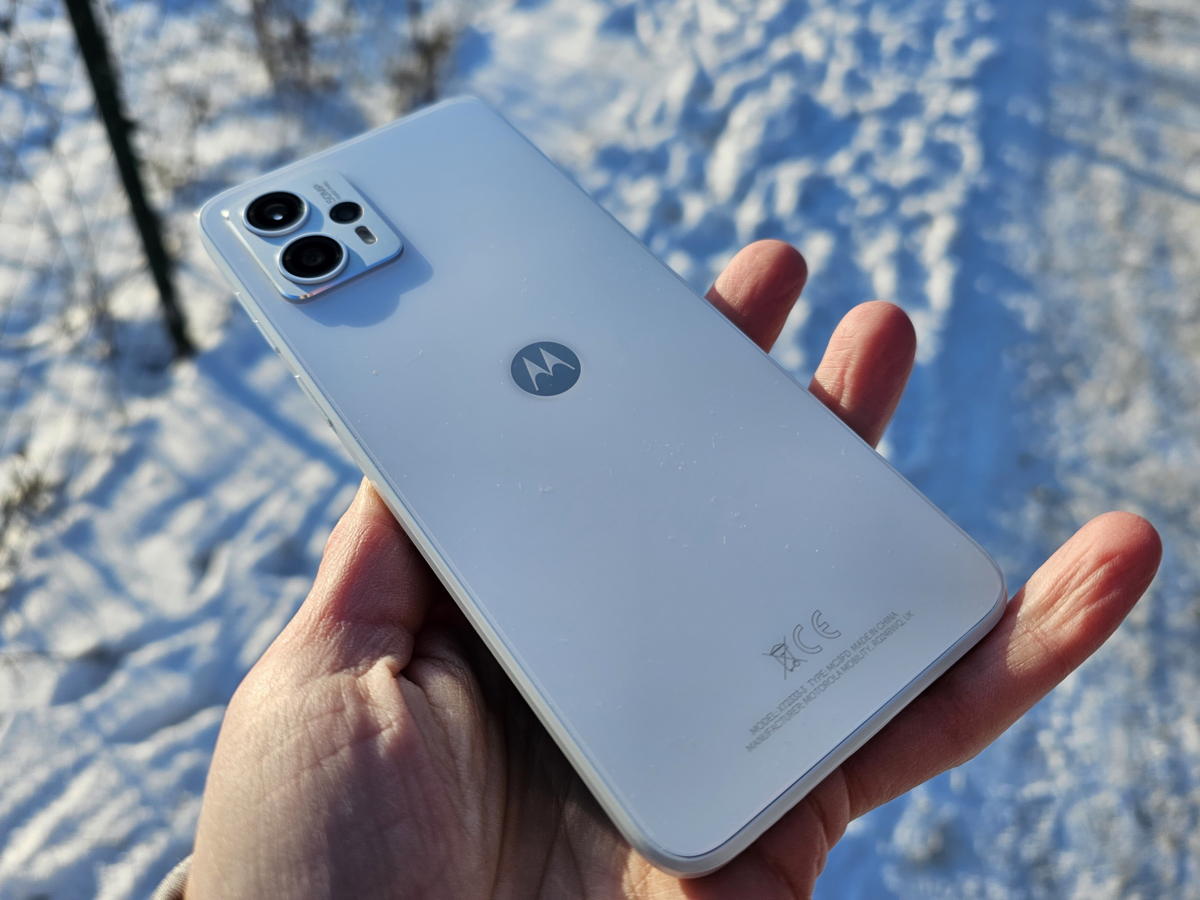 Moto G23 is suitable for simple everyday tasks – calls, SMS, instant messengers, Internet surfing. And even in such tasks there are delays, for example, when switching between programs. You can't even dream of playing serious games – they may run, but they will run slowly and unstably.
The basic version of the smartphone has 4 GB of RAM, the slightly more expensive version has 8 GB. Of course, more is better, and with 4 GB, apps won't run in the background at all. And in general, 4 GB of RAM in the minimum version is not enough given the price.
Both versions have 128 GB of internal storage, which will be enough for most users, and if not, you can install a memory card. And you don't have to give up one SIM slot to do this.
Read also: Moto G82 5G review: inexpensive smartphone with OIS and AMOLED
Motorola Moto G23 cameras
While last year's Moto G-series featured 108 megapixel modules, Motorola has probably caught up with the economy, even the older Moto G73 received only 50 megapixels. The main module is the same in the entire series – Samsung S5KJN1. A popular sensor that is installed in many budget models, for example, Redmi Note 11, Redmi 10C, POCO M4 Pro, realme 9i, realme 10, OnePlus Nord N20 SE. We've also already seen this module in Moto G71. For a budget phone like the G23, it's not a bad option. But there are nuances.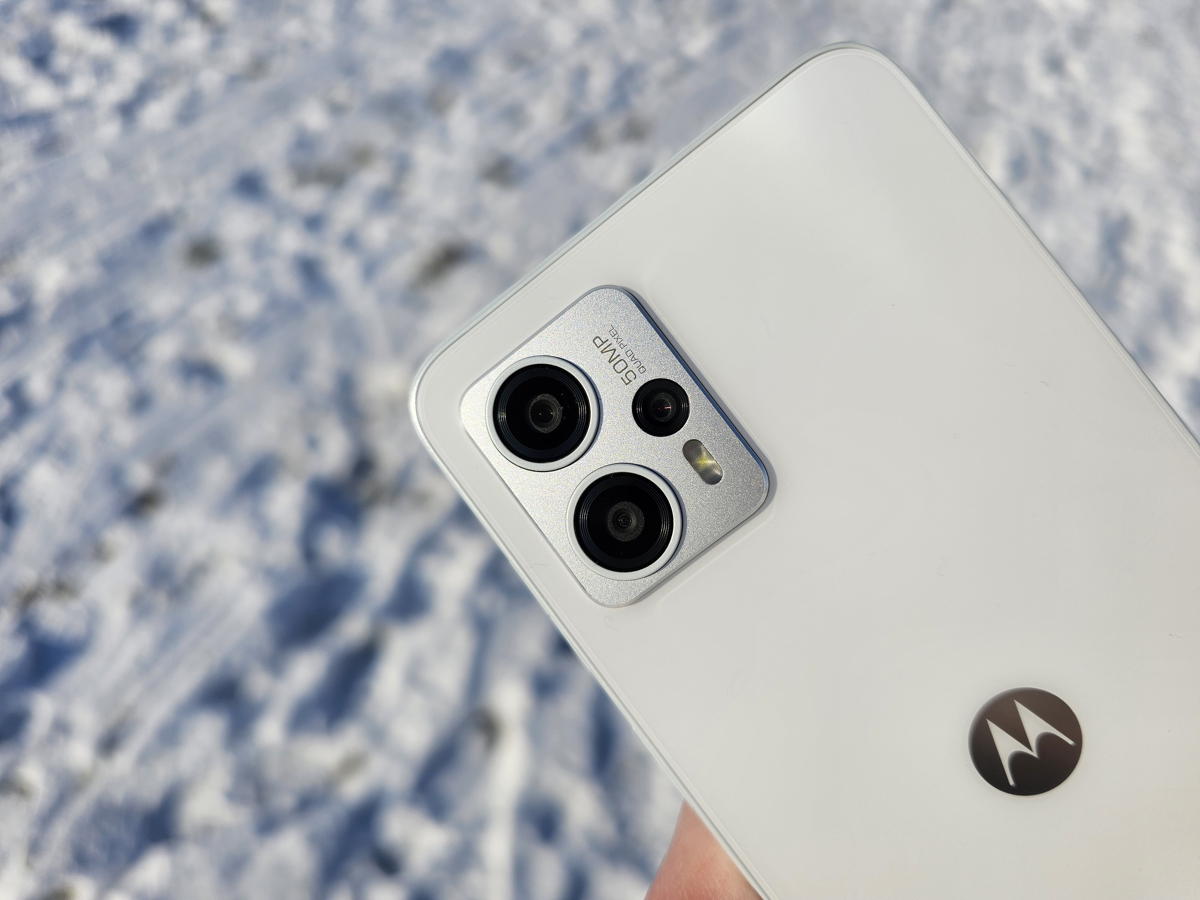 In good light, the photos are nice. The target audience will be satisfied, but nothing more. I would find fault with the color reproduction, dynamic range, and sometimes the white balance.
HERE ARE ALL PHOTOS FROM MOTO G23 IN ORIGINAL RESOLUTION
Pictures are not saved in the maximum resolution. As in all modern phones, the technology of combining pixels, in this case four into one, is used, so the main sensor produces a photo in 12.5 megapixels (4080×3072). In the settings, you can also enable a maximum resolution of 50 megapixels (8160×6144), but it doesn't make much sense – photos will take longer to take and color reproduction will deteriorate.
In low light, everything is sad. The Moto G71 didn't impress us with its dark mode, but the Moto G23 was even worse – like an 8-year-old phone! I assumed that it was the raw software, but the Motorola representative office could not tell me when the update would be released and what it would fix, so I'm publishing the review as is.
Here are home photos in less than ideal lighting. There is blurring and digital noise.
Below are photos taken in the dark. Frankly speaking, they are terrible. Poor clarity, lots of digital noise. A 2023 smartphone, even a budget one, shouldn't take pictures like this.
ALL NIGHT PHOTOS FROM MOTOROLA G23
There is a night mode, but it doesn't help. On the contrary, it tries to lighten the photo and makes it even worse. Here are examples, night mode on the right:
More or less decent photos in the dark can be obtained only if there are many luminous objects in the frame. Then the sensor has enough light to produce acceptable quality.
And for illuminated signs, night mode is useful – they will become readable. Example:
The 5-megapixel wide-angle is fine. The color reproduction is worse than in the photos taken with the main lens, the photos are less clear, and optical distortion in the corners is noticeable, but sometimes you need to fit more into the frame than the main module can see. Examples of photos, wide angle on the right (in original resolution here):
There is also a 2 megapixel macro camera. In cheap smartphones, such modules are needed for quantity. Even in good light, it's hard to get a decent picture. Examples are below, but to understand the problem, it is better to look at the photos in the original, they are available at this link.
ALL MACRO PHOTOS FROM MOTO G23
There is also a zoom option, of course, only digital, since there is no telephoto lens. The quality is "hug and cry" (full-size shots here).
But the 16 megapixel front camera turned out to be decent, selfies are clear, with good color reproduction, even in low light.
The smartphone records video in 1080p at 30 fps, not even 60 fps, let alone 4K. The quality is poor, the picture is jerky, and in low light there is a lot of flickering and digital noise. Examples are available at this link.
The camera interface is standard for Motorola, simple and convenient. In addition to the standard shooting modes, there is a "selective color" (leaves one color in the photo), panorama, "live" photos, real-time filters, PRO mode with RAW support. For video, Motorola offers slomo mode, sport color (highlighting one specific color in the recording), slow motion, and dual recording, which allows you to simultaneously record video from the front and rear cameras.
Read also: Motorola Moto G71 review: the best of the rest
Data transfer
5G is not supported, otherwise everything is standard – dual-band Wi-Fi, NFC for payment in stores, Bluetooth 5.1. There are no complaints about the modules' performance.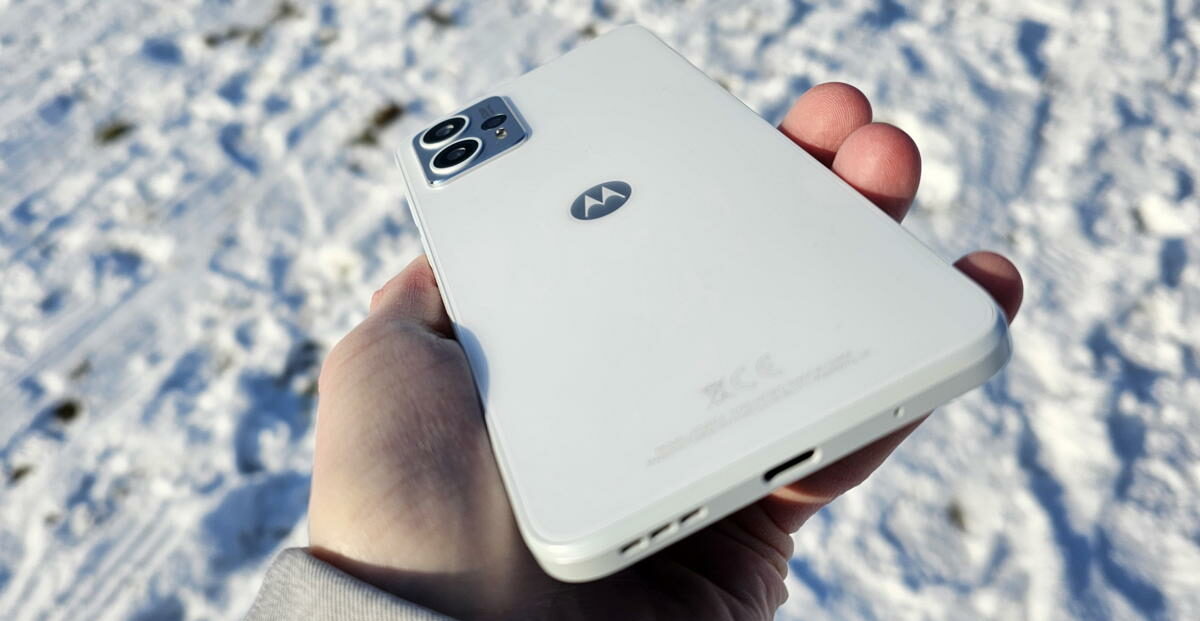 Sound
Moto G23 produces stereo sound. One speaker is located at the bottom of the case, the other is the earpiece speaker. The sound is not bad, the volume is sufficient. Since there is a 3.5 mm jack, you can use wired headphones.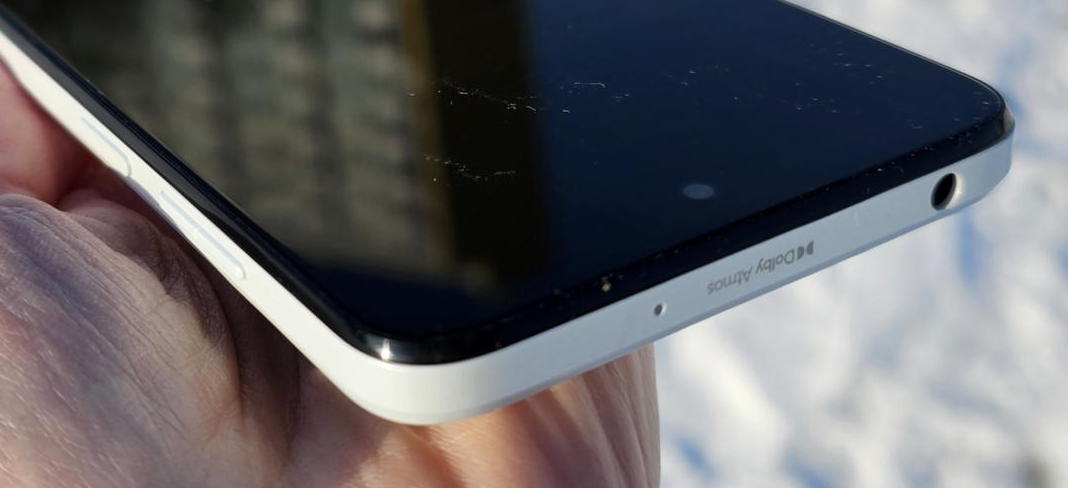 Dolby Atmos sound is supported with preset presets: music, movie, game, podcast, and custom (equalizer settings). And by default, the phone adjusts the sound mode based on AI.
Software
Motorola Moto G23 runs on the latest version of Android 13. Moto's traditional advantage is a nimble, clean, perfectly optimized Android without any bloatware.
Moto, as usual, adds some of its own features. For example, the previously mentioned Peek Display, notification time on the lock screen with the ability to quickly preview them with a touch.
And all the Motorola smartphones that I have tested in recent years had the proprietary Moto application with many useful functions, gestures and settings collected in one place. I was surprised not to find the application in Moto G23. I contacted the Motorola representative office and was told that the budget G13 and G23 do not have this application. Another simplification? It seems like a strange decision.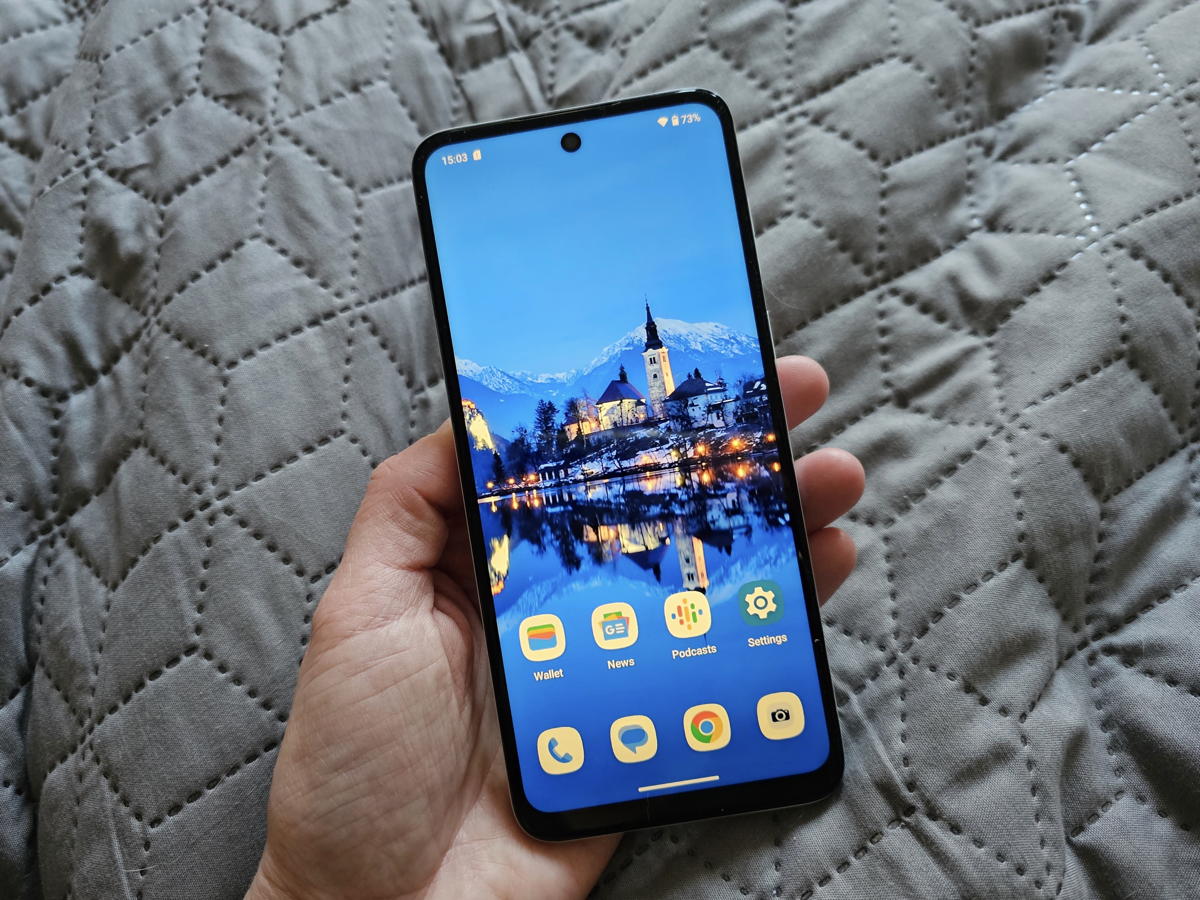 Nevertheless, some of Moto's functions remain. Go to settings – system – gestures. There you will find useful features: double-tap the fingerprint scanner to launch the selected application, the famous Motorola flashlight by double-shaking the smartphone, screenshot with three fingers on the screen, turn the wrist to activate the camera. But these are not all the gestures comparable to the range of Moto G71 in our review.
And there is no advanced theme engine, no option to split the screen into two parts, no attentive screen (active when you look at it), no game mode, no Extra Dim option to reduce the screen brightness at night. There's not even a function to add RAM at the expense of permanent memory, which is common in every budget phone nowadays!
I will say this – it's a complete jerk to cut the phone in terms of software! Simplifying hardware to save money is fine, but software is a jerk. Moreover, this was not the case in the Moto G series in 2020, 2021 and 2022.
Among the applications that were not available in previous versions of the software are Motorola News and the more interesting Safety. But the latter is not Motorola's merit. The Google Safety program appeared first on Pixel smartphones and is now available for smartphones running on pure Android. The application allows you to share your location in a critical situation, activate Safety check (the phone will ask for confirmation that you are okay once in a while, otherwise it will inform selected contacts). You can also specify medical information about yourself and enable notifications about nearby events.
Read also: Motorola Moto Buds 105 review: decent basic TWS headphones
Battery life of the Motorola Moto G23
The "gold standard" of the Moto G series is a 5000 mAh battery. And if we take into account the not-so-productive chipset and low-resolution screen, then in the case of Moto G23 we get a very "survivable" smartphone.
During the tests, the device always lasted me until late in the evening, and there was still a 30-40% margin left. At the same time, I am an active user, and I rarely let the smartphone out of my hands. On average, the phone provides about 8-9 hours of active screen time at above-average brightness with adaptive refresh up to 90 Hz. I believe that the average user will not have to charge Moto G23 more often than once every two days.
By default, the "adaptive battery" mode is activated, when the phone uses AI to learn usage scenarios and, depending on this, decides which apps to keep in the background, how and when to keep them in the background to save battery power.
Moto G23 comes with 33W charging. Now, this is not a record, as competitors in the budget segment have 60-100 watts. It takes about 1 hour and 20 minutes to fully charge the smartphone.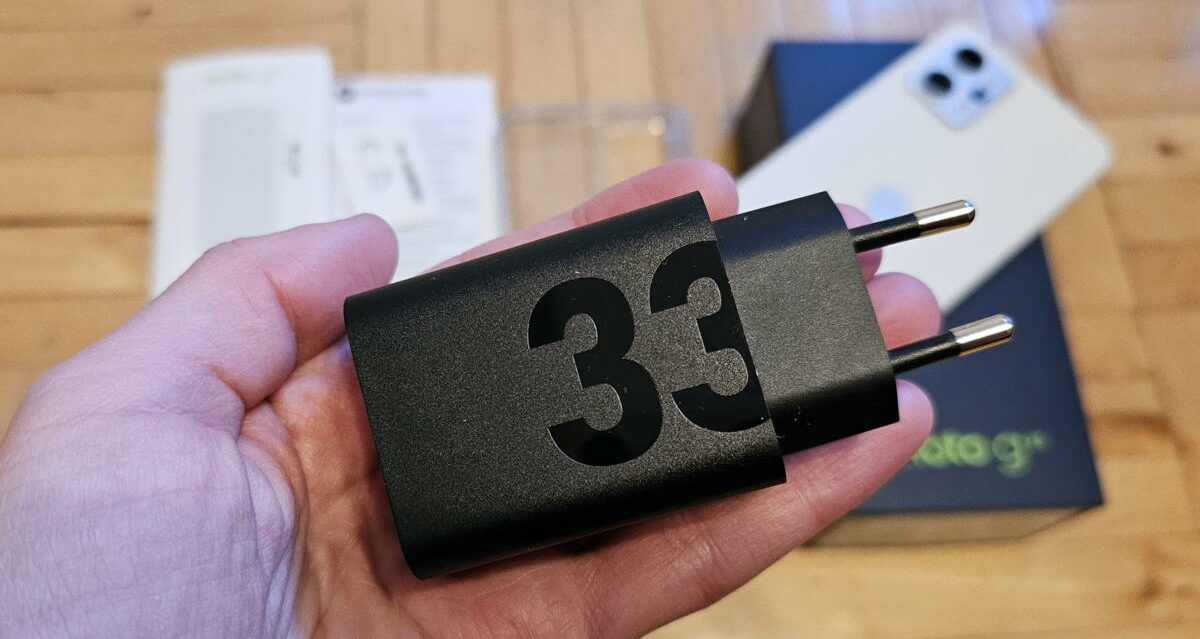 Read also: Realme 10 Smartphone Review: A New Mid-Range Hit?
Conclusions, competitors
As a person who has tested almost all current Motorola smartphones over the past three years, I can say that a year ago the company offered better devices for the same money. I can understand that everything is getting more expensive. The company clearly had to simplify to release a new budget phone.
But in my opinion, the simplifications are too strong. The screen resolution is low, the matrix quality is poor. The processor is 3 years old. 4 GB of RAM in the younger version is not enough (and there is no option to expand the RAM with a storage device). The cameras do their job well in good light, but in the evening and at night, turn off the lights and don't even try to shoot anything. The software has been cut in terms of functions, although this was not the case before.
What are the advantages? A fresh version of Android without a shell, excellent battery life, nice modern design. That's it.
So, we have a relatively inexpensive phone with an excellent battery for those who need basic functions (calls, messages, browser, instant messengers, photos in good light). Grandma, child, and so on…
To be successful in the market, Moto G23 should be cheaper. And now it's better to give preference to Redmi Note 10 Pro 6/128 instead (slightly more expensive, 120 Hz Full HD AMOLED screen, 6 GB of RAM, 108 megapixel camera, Snapdragon 732G chipset) or the almost similar Redmi Note 11S 6/64 with a fast Helio G96 processor. If you pay extra, you can buy a realme 9 8/128 with much more advanced hardware and better cameras. The relatively inexpensive Infinix NOTE 12 8/128 (2022) with more storage, MediaTek Helio G96, and an AMOLED Full HD screen is also worth a look.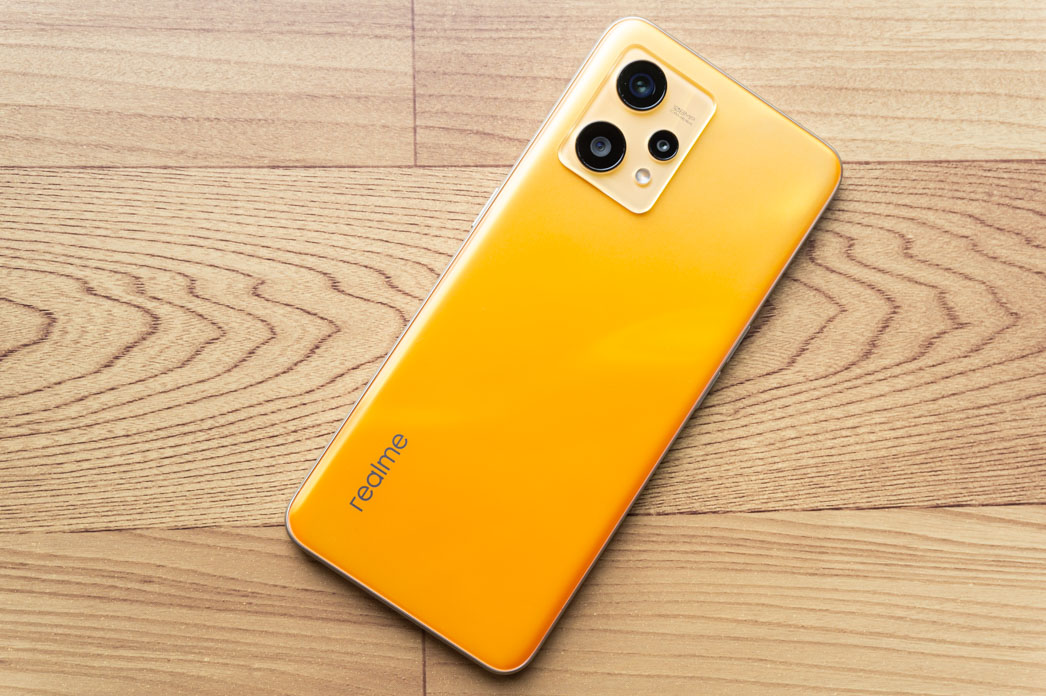 Read also: realme 8 Pro vs Redmi Note 10 Pro — Mid-range smartphones head-to-head
You can also buy Moto G31 4/64 with the same chipset and memory, the same cameras, but an AMOLED screen with Full HD resolution for a minimum price of $160. Yes, the Android version is older and charging is only 10 watts, but the savings are worth it. Last year's Moto G32 is slightly cheaper than the G23, has 6/128 memory, a Full HD screen, and otherwise is almost the same as the hero of the review. So why overpay? In general, Motorola did not impress this time.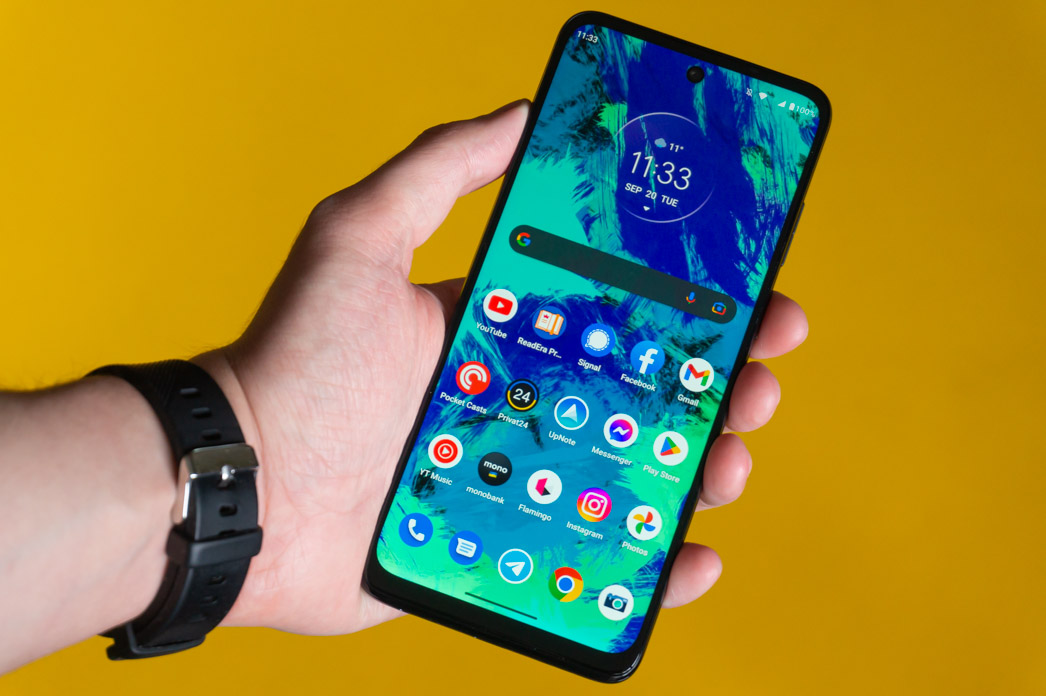 Read also: