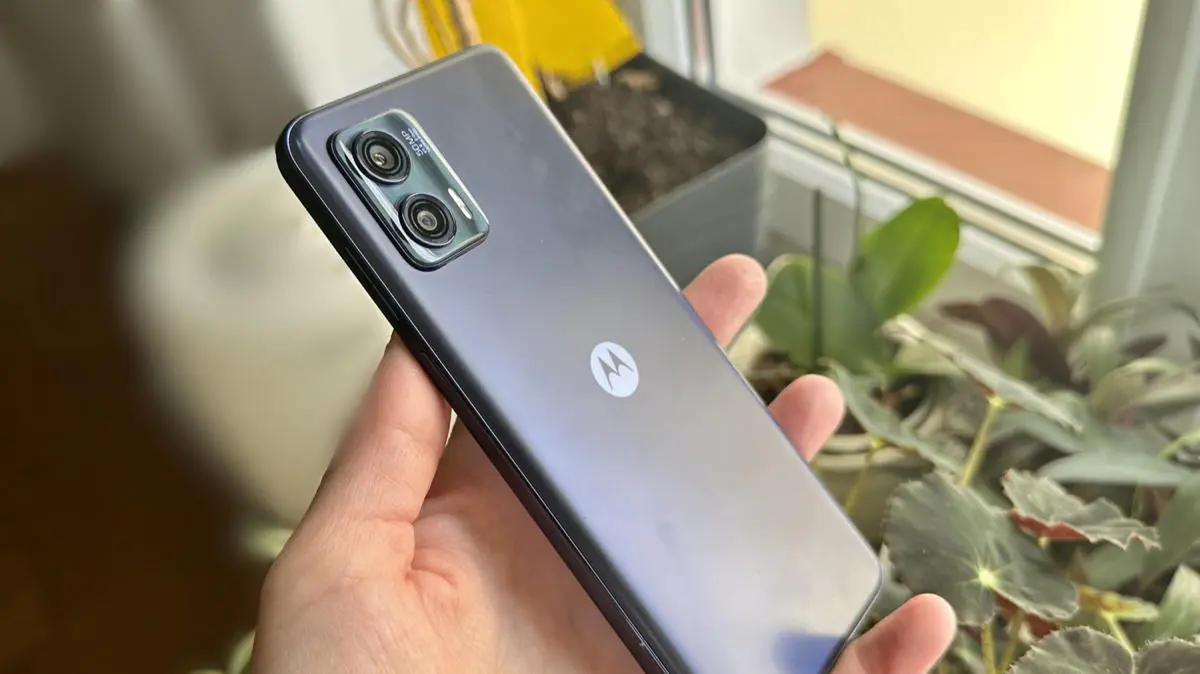 At the beginning of the year, Motorola updated its G series of budget smartphones and introduced four models for 2023. The lineup will continue to be updated, but now it includes phones from the most budget-friendly G13 and G23 to the mid-range G53 5G and the older G73 5G model. We tested the G23 recently and it turned out to be too weak, even for its low price. Let's see what the current top model of the G line, the Motorola Moto G73 5G, is capable of.
Read also: Motorola Moto G23 Review: Too many simplifications
Positioning in the lineup and price
We compared the models of the Moto G 2023 series in detail in the G23 review. Here, I'll briefly note that the older model received a 120Hz refresh screen, a 6nm Mediatek Dimensity 930 processor, an ultra-wide-angle lens with autofocus, fast 30W charging, the latest version of Bluetooth 5.3, and 5G support.
While the model below the G53 5G also works with fifth-generation networks and has a 120 Hz screen, but is powered by a weaker Snapdragon 480+ (you can compare chipsets here), lacks a wide-angle camera, has a low HD screen, and charges more slowly (only 10 watts).
Interestingly, the weaker G23 has both 30W charging and a wide-angle camera, although this doesn't help it become an interesting model. You can compare the three smartphones at this link.
Now for the prices. In Europe, the G73 costs about €300. It's not much, but it's also a lot, which allows us to expect decent performance and other features at the same level. There are plenty of competitors in this price range, so let's see if Moto G73 5G is worth choosing.
Read also: Motorola Moto Buds 105 review: decent basic TWS headphones
Technical specifications of Motorola Moto G73 5G
OS: Android 13
Screen: 6.5″, IPS LCD, Full HD 1080×2400, 120 Hz, 20:9
Processor: Mediatek Dimensity 930, 6 nm, 8 cores (2×2.2 GHz Cortex-A78 & 6×2.0 GHz Cortex-A55), IMG BXM-8-256 video chip
Memory: 8/128 GB (not available in Europe) or 8/256 GB, microSD combo slot
Cameras:

50 megapixel f/1.8, 1.0µm, phase detection autofocus, 1080p video recording at 30/60 fps
8MP ultra-wide-angle f/2.2, 118˚, 1.12µm, autofocus
Front 16 megapixel, f/2.4, 1.0µm

Battery: 5000 mAh, TurboPower 30 W charging
Sound: 3.5 mm headphone jack, stereo speakers
Design: water-repellent body, fingerprint scanner in the side key, Lucent White, Midnight Blue colors
Data transmission: 5G, USB-C 2.0 OTG, Wi-Fi ac (2.4 and 5 GHz), Bluetooth 5.3, satellite navigation (A-GPS, Galileo, GLONASS), digital compass, Dual SIM, NFC for payment
Dimensions: 161,4×73,8×8,3
Weight: 181 g
Package contents
The box contains a 30W power supply, a case, a cable, a SIM slot clip, and documentation.
The silicone case is comfortable, protects the camera lenses and screen thanks to the protruding sides – you don't have to look for a new one. Over time, it can only turn yellow.
Read also: Motorola Edge 30 Fusion review: "flagship killer" or is it too loud?
Design
Every year, Motorola changes the design of its budget Moto G series models. This time, the smartphones have a more interesting and modern look.
However, I liked the previously tested G23 better in appearance. The successful color of the test model's body probably played a role. The G23 also has fashionable flat edges. But the G73 came to us in a boring dark blue color, and the standard streamlined design does not inspire enthusiasm.
There's also a white version of the G73, which may look more interesting.
The back panel collects fingerprints, dust particles and hairs are clearly visible on it. Especially on the convex camera unit with a translucent glossy backing. But the cheap G23 had a metal "island" with cameras!
The smartphone has a good aspect ratio – the screen is large, but narrow and elongated in height, and it fits comfortably in the hand. The device is relatively heavy (181 g), but the hand does not get tired, the weight is well distributed.
The display bezels are small, the top and bottom are slightly wider, but this is not striking. The front camera is elegantly integrated into the display.
Let's look at Moto G73 5G from all sides. On the left side there is only a slot for two SIMs and a memory card. If you use a memory card, you'll have to give up DualSIM. In principle, this is the normal order of things for modern smartphones, but the G23 had a triple slot – why not do this in all phones in the series?
On the right side of the case there is a dual volume button and a power/lock button with a built-in fingerprint scanner. The buttons are located at a convenient height.
The scanner works quickly and accurately. The smartphone also has a face recognition function, but it's much more convenient to put your finger on the side to unlock it.
At the bottom we see a microphone, speaker, Type-C connector and a 3.5 mm headphone jack. It's good to see that at least in budget models, manufacturers do not deprive users of the ability to use wired "ears". There is another microphone and Dolby Atmos labeling on the top.
Like all Moto G series, the G73 has a water-repellent body. The model does not need to be bathed or specially wet, but accidental splashes of water should not be scary to it. The build quality of the smartphone is excellent.
Read also: Огляд TWS-гарнітури Motorola MOTO Buds 085
Motorola Moto G73 5G screen
In the previous two years, even the low-cost members of the Moto G series were equipped with high-quality OLED screens. Unfortunately, this year the downsizing has come – even the older model has only IPS. And while I can forgive the younger models like G13, G23 and G53, the older one should be ashamed of itself. Or rather, its developers.
To be fair, there's nothing terrible – the color reproduction is adequate. But there's no image richness and black depth that OLED provides. And the viewing angles are far from maximum; when you tilt the screen darkens, the white color becomes "dirty". And in the bright sun, you can hardly see anything on the screen.
Full HD screen resolution (1080×2400) – I wouldn't even focus on this, but the G73 is currently the only model in the lineup with Full HD. The rest have just HD, Motorola is playing with economy. Many users won't notice the difference, but if you care about the clarity of small fonts and images, you should choose the G73 in the Moto G 2023 series.
The refresh rate is 120 Hz, which is a plus, at least they didn't skimp on it. The picture is very smooth, however, in the price category of $300 and above, this is already a standard, it would be strange otherwise.
Three operating modes are available – automatic, 60 Hz and 120 Hz. I recommend using the automatic mode, when the phone switches between different options by itself – a compromise between smoothness and battery life.
The automatic brightness change works without misfires. Readability in bright sunlight, as I have already noted, is poor.
There is an option to adjust the color temperature (removes cold shades in the evening), a dark theme, three options for shade saturation, and other familiar settings.
There is an analog of AoD – time and notifications on the lock screen with the ability to quickly preview them (Peek Display). This screen activates by itself for a few seconds if you pick up the device, touch the display, or hold your hand over it, with a dark background and minimal brightness to save power. Moto had this feature long before other manufacturers "invented" a full-fledged AoD.
Read also: Motorola Moto G72 Review: Once Again Strong Midranger!
Hardware and performance of Motorola Moto G73
The device is based on the Mediatek Dimensity 930 midrange processor. This is an 8-core chip made using the 6 nm process technology. It consists of two 2200 MHz Cortex-A78 cores and six 2000 MHz Cortex-A55 cores. The chipset was announced in May last year and is aimed at budget gaming models. It cannot be called popular, as few smartphones of well-known brands run on Dimensity 930.
However, the processor is decent – there's nothing to complain about. The smartphone is fast in any basic tasks (instant messengers, browsing, mail, etc.), one might say it flies. And it does not "kill" programs minimized in the background. Any games will run, but don't expect top performance – after all, this is not a flagship. The graphics will be at or above average, with no delays or freezes. Moto G73 does not overheat even under heavy load.
In the EU, only one version of the Moto G73 5G is available for sale – with 8 GB of RAM and 256 GB of storage. Considering the price, this is great. The RAM is enough for demanding games, active Internet surfing and multitasking – 8 GB is now found even in flagships, which is quite enough. But, interestingly, there is no option to expand the RAM at the expense of permanent memory, which is now found in almost every phone and was also in last year's Moto. However, the smartphone works fine without it.
The 256 GB storage is more than enough for most users. Memory cards are unlikely to come in handy, but you can use them in the G73, only the slot is combined, so you'll have to give up Dual SIM.
Read also: Motorola Edge 30 Neo Review: Beautiful Toy With Wireless Charging
Motorola Moto G73 cameras
Last year, the Moto G series featured 108 megapixel modules, and now there are savings. Even the older G73 model has only a 50MP module. Yes, we all know that numbers are not the main thing, and even expensive iPhones with 12 megapixels take great pictures, but nevertheless, simplification, simplification…
I was unable to find information about the main camera sensor of the G73. But, judging by its characteristics, it is the same Samsung S5KJN1 as in the younger G23 and G53. Is this a bad thing? Surprisingly, no. Because in today's world of smartphones, sensors and optics are not as important as software processing using AI technologies. What is the result? Moto G73 takes much better pictures than the G23, and slightly better than the G53. Because the processor is modern, its capabilities are enough for photo processing, the AI module helps, and everything is on par.
I can confidently say that, given the cost of the smartphone, it takes excellent photos. Especially in good light, there's nothing to complain about.
In low light, of course, clarity and detail are reduced, but the pictures are still of high quality, and digital noise is not noticeable.
Night mode is a great help in the dark. It takes a little longer than usual to take photos, and you need to try to hold the phone as steady as possible. However, the resulting images are delicately clarified, sharpened, and digital noise is not noticeable. The quality is excellent. Below are examples, night mode is on the right, although it's better to compare in the original size, you can find many more photos from the G73 in this folder.
There are no complaints about the 8-megapixel wide-angle lens. Although the color reproduction is weaker than that of the main one, and the clarity is worse, these are trifles – if you need to fit more into the frame than the main module can see, the phone will do a great job. Example photos, wide angle on the right:
And most importantly, the wide-angle module is equipped with autofocus, so it allows you to focus sharply and take close-up photos in macro mode at the same time. Most often, this solution is found in flagship smartphones, while budget phones get macro modules "for show" that take very poor photos. I'm glad that this is not the case with Moto G73.
The photos in macro mode are not as good as those from expensive flagship smartphones, but considering the cost of the device, they are very good. Below are a few examples, I especially like the shot with chamomile, pay attention to the drop of water!
A 3x digital zoom is also available, but the quality is poor.
Selfies with the 16-megapixel front-facing camera are clear, with good color reproduction, even if the lighting is not the best. There is a neat "beautifier", but it's up to you whether to use it. There are two focal lengths available: closer for your loved one, and farther away for group selfies.
The smartphone records video in 1080p at 30 or 60 fps. It's a pity that there is no 4K, but not everyone cares. The quality is good, I note fast autofocus and clear stabilization. Video examples:
For video recording, Motorola offers slomo mode, "sport color" (highlighting one specific color in the recording), slow motion video, and dual recording, which allows you to simultaneously record video from the front and rear cameras. In addition to the standard shooting modes, the menu includes "selective color" (leaves one color in the photo), panorama, live photos, real-time filters, and PRO with RAW support.
Data transfer
The standard set for a budget mid-ranger is 5G, Wi-Fi 802.11 a/b/g/n/ac 2.4+5 GHz, the latest Bluetooth 5.3, NFC for payment in stores, GPS, GLONASS, Galileo. There is a digital compass (magnetic sensor). There are no complaints about the operation of the data transmission modules.
Moto G73 sound
The speakers are stereo. One is located at the bottom of the case, the other is the earpiece speaker. The sound is not bad, the volume is sufficient. Since there is a 3.5 mm jack, you can use wired headphones.
Dolby Atmos sound is supported with preset presets: music, movie, game, podcast, and custom (equalizer settings). And by default, the phone adjusts the sound mode based on AI.
Read also: Motorola Moto G32 review: Balanced and affordable
Software
Motorola Moto G73, like the entire current G series, runs on the latest version of Android 13. Moto's traditional advantage is a nimble, clean, perfectly optimized Android without any shells.
Moto, as usual, adds some of its own features. For example, the previously mentioned Peek Display, notifications on the lock screen with the ability to quickly preview them with a touch.
There is no manufacturer's shell as such, but the proprietary Moto application (which, by the way, is suddenly missing from the G13 and G23 this year) has many useful tweaks. In 2023, it received an updated interface and now looks more interesting.
There are advanced design themes, gesture control (for example, turning on the flashlight by double shaking the phone, activating the camera by turning your wrist, taking a screenshot by touching the screen with three fingers, silent mode by turning the smartphone face down, etc.) and other features (active display if you are looking at it, the option to split the screen into two parts, a sidebar for quick application calls and "floating windows", the ability to run applications in a separate window during the game, and other settings for gamers).
However, everything mentioned and shown above was familiar to us before. However, there are also some brand new features. For example, Spaces is an opportunity to create a limited and safe space for children by selecting available applications.
The traditional Android 13 panel for controlling your "privacy", that is, the security of personal data, in particular, on the network, has also appeared. Motorola allows you to create a secret folder that only you can access, set up Internet security, swap keys on the numeric keypad for entering a pin code so that no one can see your code, and study which applications have access to which features (camera, microphone, location, and so on) and how they are used. In addition, Motorola itself offers ThinkShield functionality (a reference to the Lenovo ThinkPad brand) to protect user data.
And now there is an app from Google Safety. It allows you to share your location in a critical situation, activate Safety check (your phone will ask for confirmation that you are okay once in a while, otherwise it will inform selected contacts). You can also specify medical information about yourself and enable notifications about nearby events.
Read also: Moto G82 5G review: inexpensive smartphone with OIS and AMOLED
Motorola Moto G73 5G battery life
The "gold standard" of the Moto G series is a 5000 mAh battery, so there's no need to worry about the "survivability". During the tests, the device always lasted me until late in the evening, and there was still a margin of 20-30% left. At the same time, I am an active user and rarely let the smartphone out of my hands. On average, the phone provides about 7-8 hours of active screen time at above-average brightness with adaptive refresh up to 120 Hz. I believe that the average user will not have to charge Moto G73 more often than once every two days.
By default, the "adaptive battery" mode is activated, when the phone uses AI to learn usage scenarios and, depending on this, decides which applications to keep in the background, how and when to save battery power.
Moto G73 comes with a 30W charger. Now, this is far from a record, as competitors in the budget segment have 60-120 watts. It takes about 1 hour and 20 minutes to fully charge the smartphone.
Conclusions
We really liked the Motorola Moto G73. We can say that this is a mid-range, which is what it should be. Nice design, 120 Hz screen, decent performance, long battery life, great cameras without compromises (even in the dark, a separate plus for the wide-angle with autofocus), clean and well-optimized Android with useful Moto features, excellent storage capacities (8 and 256 GB), even support for fifth-generation networks. For the price, it's a great deal!
Are there any drawbacks to the new Moto G73? The display quality is still not up to par, Motorola has abandoned the use of more advanced OLED displays that were present in the G line in 2021 and 2022. The charging speed could be faster in 2023, but it's not that critical.
Read also: