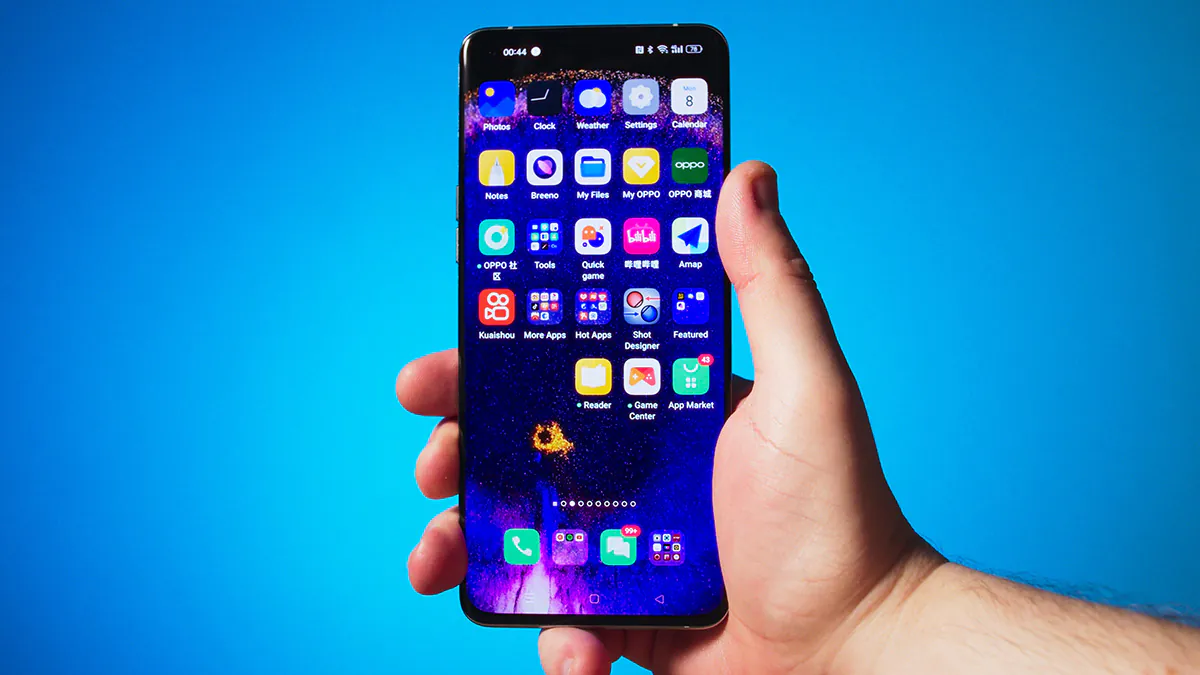 I will start this review of the OPPO Find X5 Pro from the end. With the exception of unusual ergonomics, this device is absolutely incredible in every other aspect, at least for me. The only thing I do not get is the shell. It's… different.
Design
I'll start with the good because there are many good things about it. This is a flagship. And the flagship is up to date. And despite the shell, it looks and feels hyper-elite in the hands.
This can be said about every OPPO flagship in recent years, ever since the company started making incredible back panels called the Gradient Arc. I also remind you that this company made a smartphone with a flexible screen … and the same design of the camera bump.
Read also: OPPO Find N review and user experience
And hey, more power to them!
Display
And … in terms of features, in fact, that's it. Nothing extraordinary comes next.
The screen is just the bomb. 120 Hz, AMOLED, bright and juicy. I don't specifically list characteristics, you don't need the exact resolution. Let me just say that this is not a Full HD panel, but the size here is 6.7 inches. Yes, it is 6.7 inches of unearthly beauty, but 6.7 inches nonetheless.
It's a lot!
Performance and cooling
The system-on-a-chip here is the Snap 8 Gen1. Not a plus version, just Gen1. And don't worry about the speed, it is a beast. The chipset is flagship, so don't expect games to slow down. If it's important to you, because I don't really care.
This case is cooled by an evaporation chamber with graphene gaskets for heat transfer. And outside of stress tests, in real situations, it is very difficult to overheat the smartphone, even at room temperature.
The phone hears up noticeable during the first activation, but that's about it.
Cameras
The cameras are flagship as well, the main and wide-angle modules are the same, 50 megapixels of solid beauty from Sony. Their quality is just great. Hasselblad did a good job as well. Color calibration looks nice and natural.
Here I will express my personal hopes, which are my personal problems as well… but I was waiting for hardware cooperation. Like Xiaomi did with Leica, or Nokia with Zeiss, because the latter provided optics for camera modules, which greatly improved picture quality and reduced the number of artifacts.
I can't wait for Hasselblad to do this, but so far there is only software optimization.
What don't I like? Telephoto module. It uses a different sensor, which is worse than the main one.
At the same time, I like the idea of a double telephoto, I'm for it.
In general, any zoom other than the standard one will be useful, because the standard module is considered wide-angle. Which is not very useful for portraits.
I believe that the telephoto module should be better than the wide-angle.
Reliability
The battery here is 5K milliamp-hours, with support for wired and wireless charging at 90 and 60 watts, respectively. This is a proprietary charger, SuperVOOC, but many devices that deliver 100 watts per Type-C charge the smartphone very quickly.
And the battery life itself is at least three times better than that of the Google Pixel 3 XL. Since the chipset is more economical, and the capacity is higher. With the bloatware, the situation is worse.
You get 256 GB of storage, and 12 GB of expandable RAM, up to 19! There is no microSD support, but the smartphone supports two SIM cards. The IP68 protection is in place as well.
Versions
This is where the problems begin. There are 5 versions of the OPPO Find X5 Pro. Three of them are 12/256. These are the international version, the Chinese version, and the Chinese version on MediaTek Dimensity. Do not laugh, MediaTek now makes good silicon, especially for the flagships.
You really need to try hard to find the international version. I was not lucky. This is a Chinese version. And here the problems begin. Not with a smartphone – with me. I understand perfectly well that this smartphone is not for our market, this is a Chinese version …
But I do not believe that the international version will completely change my attitude towards the current ColorOS.
I'm just giving you a list of the things I didn't like.
No Google Chrome pre-installed, although there are several other Google apps
There are two Wallets installed at once – the pne from Google and the Chinese version, with almost identical icons
There is no player window in the notification area, although this was cured by a reboot after the initial setup
When watching a video, the smartphone does not allow non-native players
Google Password Manager is NOT working
When entering passwords, the OPPO "secure keyboard" sometimes turns on, which cannot be switched to any other
Menu scrolling, despite being at 120Hz, feels slower than the Google Pixel 3 XL! This is due to the fact that the maximum scroll speed is low
When you create an app folder, you don't move icons into it, you copy them
Without installing an particular application from Google Play, you cannot migrate from an old smartphone
The camera app, although similar in design to OnePlus, is much more functional. Even if there is no 8K.
But there is a professional photo and video shooting, even a LOG profile! But there is no frame rate or resolution setting.
Also, the camera suffers from auto-switching of modules, which infuriated me 3 years ago and infuriates me now. It doesn't happen if you have enabled pro-photo mode, but in this mode, there is no obvious way to switch to the ultra-wide module. You can do it, but it's just not obvious.
So what's so great about it?
My issues with the phone are purely subjective. Let's move on to the objective problems. For reasons I don't understand and refuse to understand, the OPPO Find X5 Pro has INCREDIBLE notification problems. They just don't work. In any mode. In any situation.
I won't explain why this is a problem. It is obvious.
But worst of all is the absence of any sound warning regarding the air raids (I live in Ukraine). That is, this smartphone can literally kill, until the end of the war.
Thankfully, Pixophone upgrades these smartphones for international versions without any problems. And yes, there is a problem with notifications, it is not uncommon, but it shows itself, according to the official representatives, only on Chinese firmware.
Verdict
The OPPO Find X5 Pro is here to fight the iPhone. It's a slap in the face, it's a smartphone with a unique feel, it's style, it's aesthetic, it's art from the back and beauty from the front.
But, like the iPhone, this device obliges. You cannot change the password keyboard. You will have to trust a Chinese company that leaves you no choice.
So… somewhere I heard that OPPO is a brand for visual enjoyment. And for top-of-the-line tech, there are Vivo and OnePlus. And I agree. The OPPO Find X5 Pro is for situations where you need to impress the owners of the most expensive iPhones, and you will do it without any problems. However, if you are a power user, this is not your choice. For 15 hundred bucks, it is easy to find a much better device.