In recent years, it seems as if smartphone manufacturers have been locked in a large windowless room for months, thinking about how to make their next gadget stand out from the competition. At one point, one of them runs out of the room shouting: "We've got it! It's going to be a hit!". This is followed by the launch of another smartphone that may not necessarily seem as unique – or special, if you like – to everyone as its manufacturer imagines. OPPO Reno7 tries to attract consumers with two features – an orange eco-leather back panel and a camera mode with the telling name "Microscope". But is it enough to make you decide to spend around $350-400? Let's find out!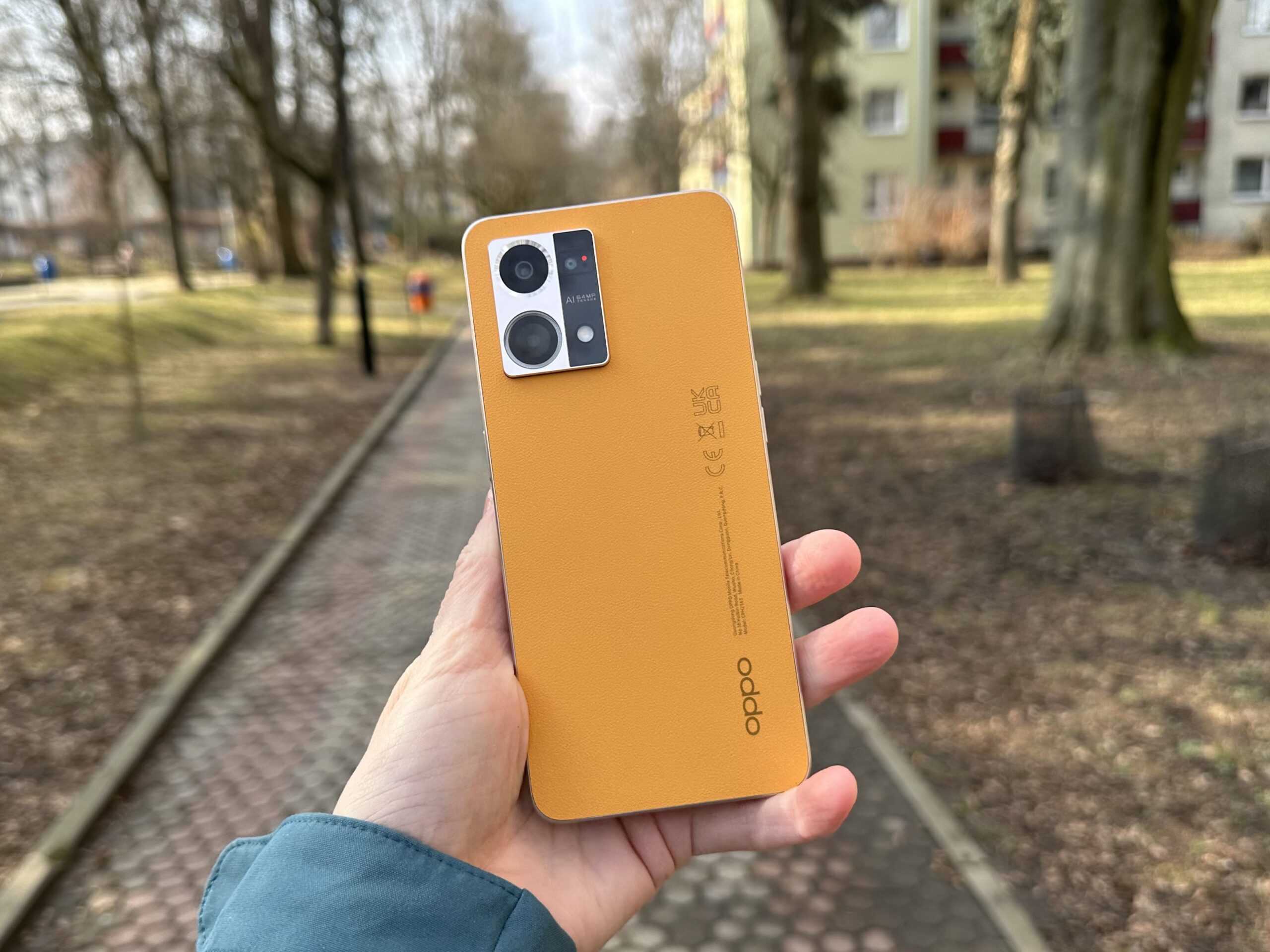 I should note that this is not the latest model, we are testing the Reno 8T – the review will be coming soon. But last year's Reno7 is still available in all electronics stores, sells well and is adequately priced. We didn't have time to test it earlier, so we're catching up!
Read also: OPPO A54s Review: Budget Phone With Large Battery And Triple Camera
Instead of introduction
What do we have on board? Qualcomm Snapdragon 680 octa-core processor with Adreno 610 graphics chip, 6.43-inch AMOLED display with a refresh rate of up to 90 Hz and a resolution of 1080×2400 pixels, 8/128 GB memory expandable via a memory card with a maximum capacity of 1 TB, three cameras: 64 megapixels (main) and 2 megapixels (monochrome and macro), 32 megapixel selfie camera, 3.5 mini-jack input and no 5G.
To all this we add a 4500 mAh battery and SuperVOOC 33W fast charging function, Corning Gorilla Glass 5, Dual SIM (the tray is not hybrid, by the way, so you can use two SIM cards and an SD card at the same time), a USB Type-C connector, a face scanner and a fingerprint scanner under the display.
After all, if we close our eyes, we can imagine the average budget/slightly above average (cross out the necessary) of recent years. Of course, there is a choice of colours: orange (Sunset Orange) or black (Cosmic Black).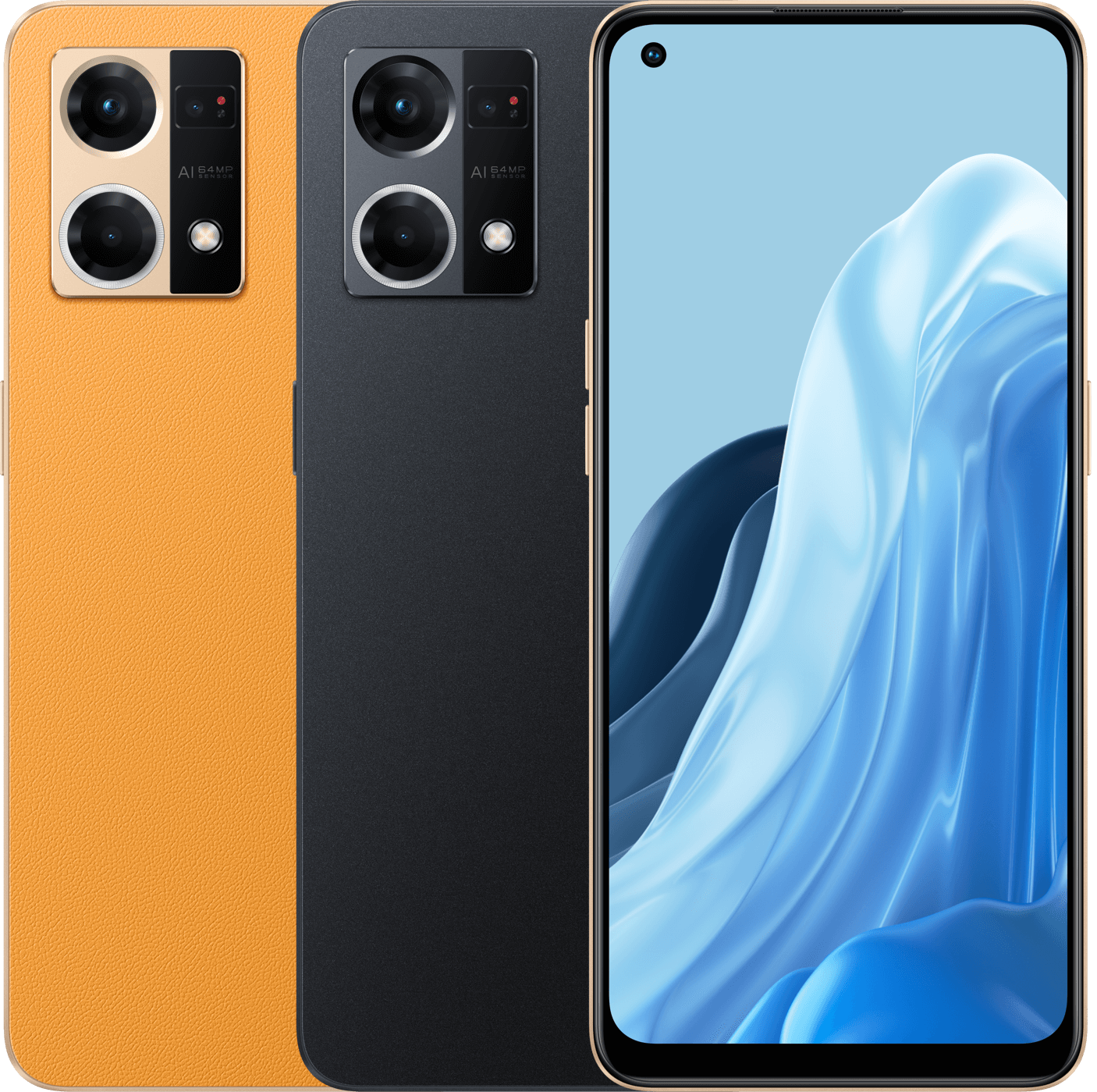 It's worth noting that the contents of the box look generous: a 33W charger, a USB Type-C cable, a case, a factory protective film and a quick start guide. But this is clearly not enough to determine whether this is a mid-range or more expensive smartphone. So let's move on.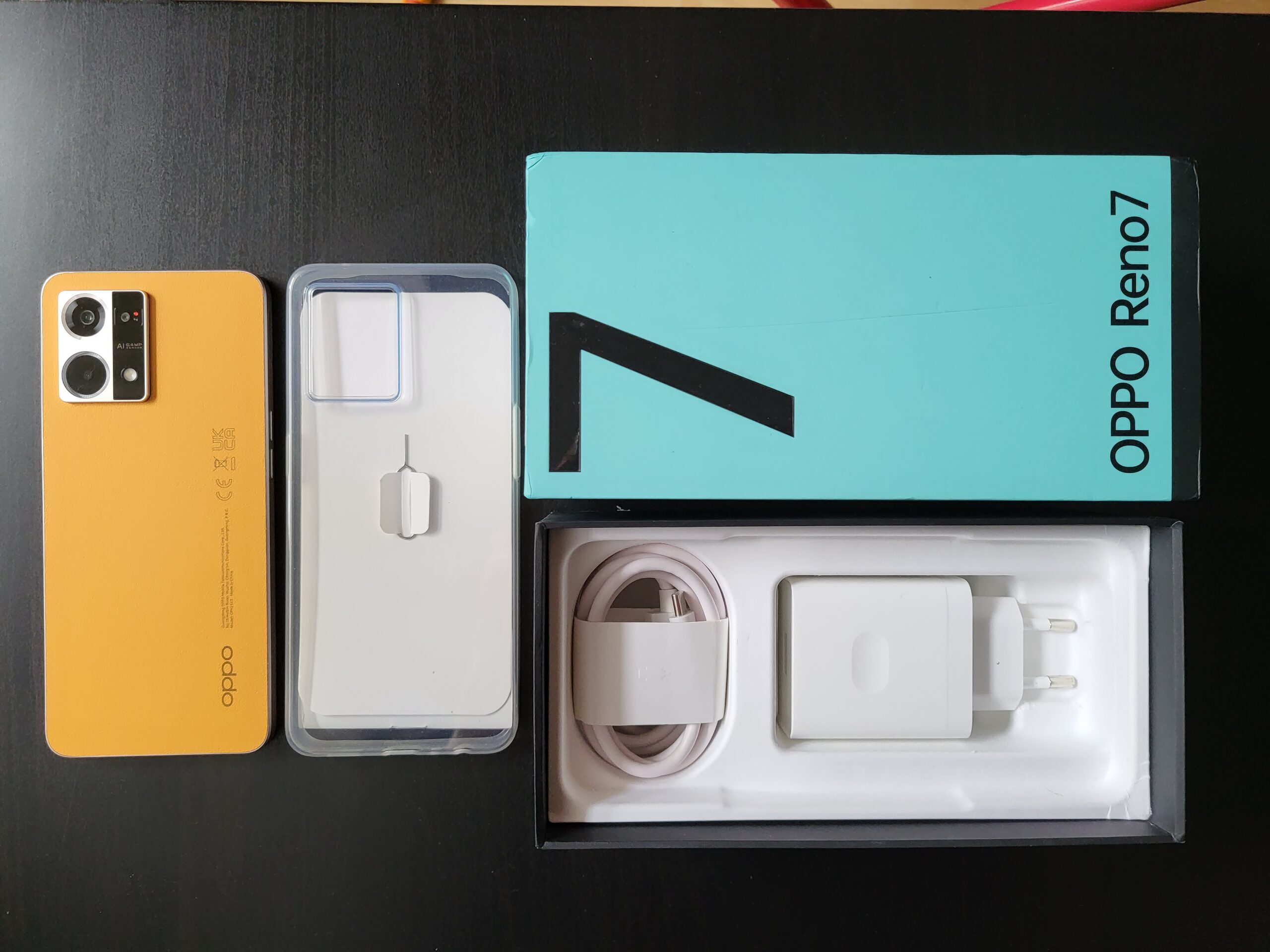 The Reno7 series is actually three similar models – OPPO Reno7 Lite, Reno7 and Reno7 5G. As you might guess, the first one will be the most "stripped-down" in terms of functionality, and the last one will be the most expensive. But will the difference be so noticeable? No, it will be most noticeable only on paper and in price.
However, the mid-range model under review certainly stands out among its brethren with its interesting design and the Microscope feature mentioned at the beginning, which we will return to later. As for the price, it starts at $300.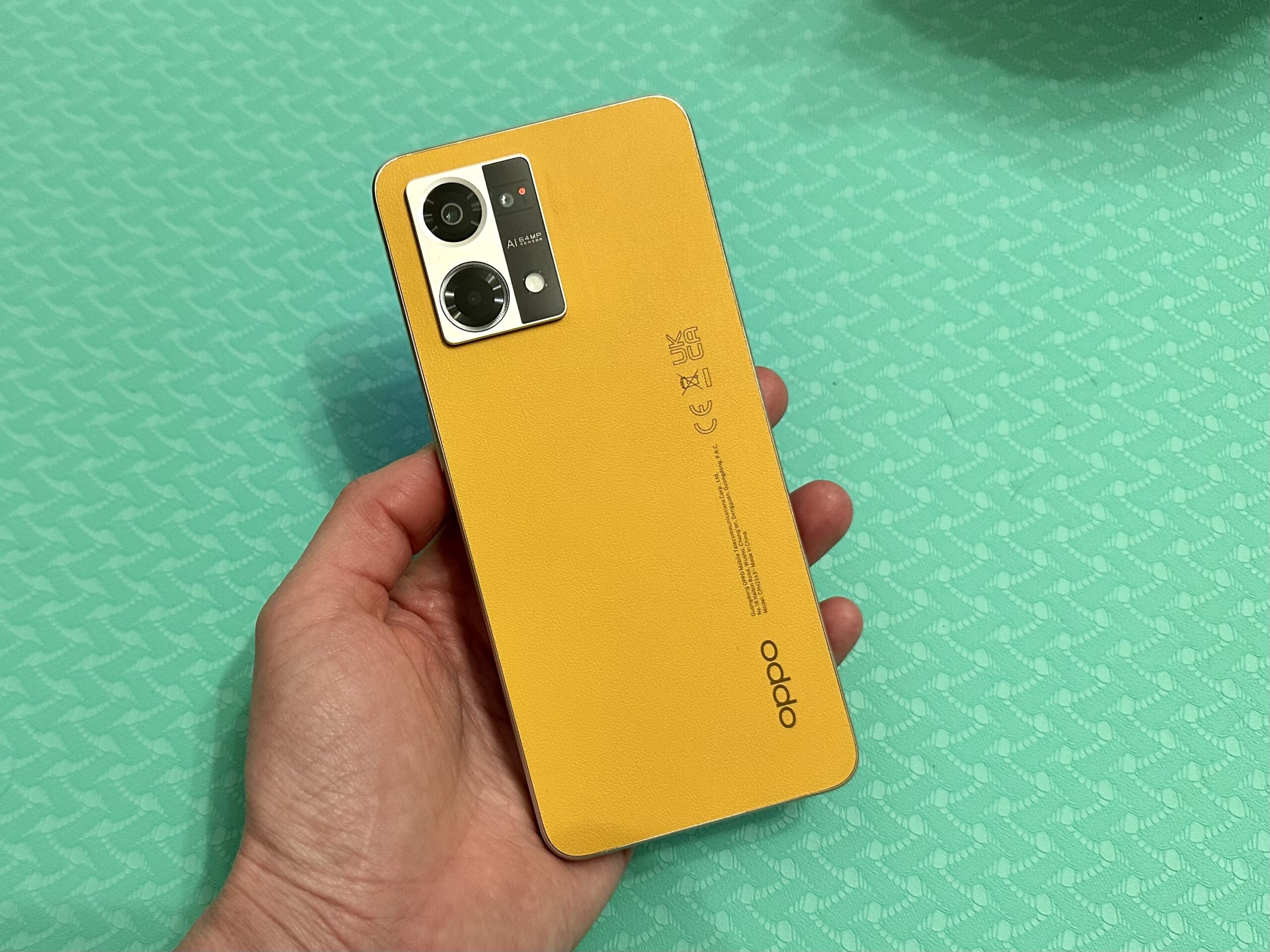 Read also: OPPO ENCO Air 2 TWS earbuds review: inexpensive and… kinda great?
Design
But first, we'll tell you about one of the two features that make this smartphone stand out from the competition and, at the same time, could be its last saving grace. As we already know, OPPO Reno7 is available in black and orange colours. While the former is nothing special, the leather-styled Sunset Orange is a real hit. I've always liked the design of leather backs on phones (for example, POCO had a series of them). So I admit that in combination with such a bold orange colour, the design of OPPO Reno7 will attract more than one interested look.
In addition, the phone is comfortable to hold in your hand, it's just light and thin, so I have no complaints in this regard.
However, I have noticed that I am very annoyed by the location of the volume and power keys on different sides of the Reno7. Although most people will disagree with me, because placing three buttons on one side can lead to pressing the wrong button at the wrong time. But for me, this decision on OPPO did not have the expected positive effect. I bet that the discomfort was caused by the fact that both the volume button and the power button are at the same level, albeit on different sides of the smartphone; I, on the other hand, have always intuitively looked for the latter a little lower than its actual location.
However, let's stop quibbling over the subjective issue of button placement, as for the rest of the "amenities", we have a 3.5 mm jack, USB-C, a microphone and a speaker on the bottom, an additional SIM and SD card tray on the left, and another microphone on top.
The side bezels are plastic, of course, and the display is protected by Corning Gorilla Glass 5. The selfie camera is located on the left side of the screen, and it's worth noting that although the chin at the bottom could be smaller, it didn't bother me personally, and I didn't notice this difference in width compared to other models from the very beginning.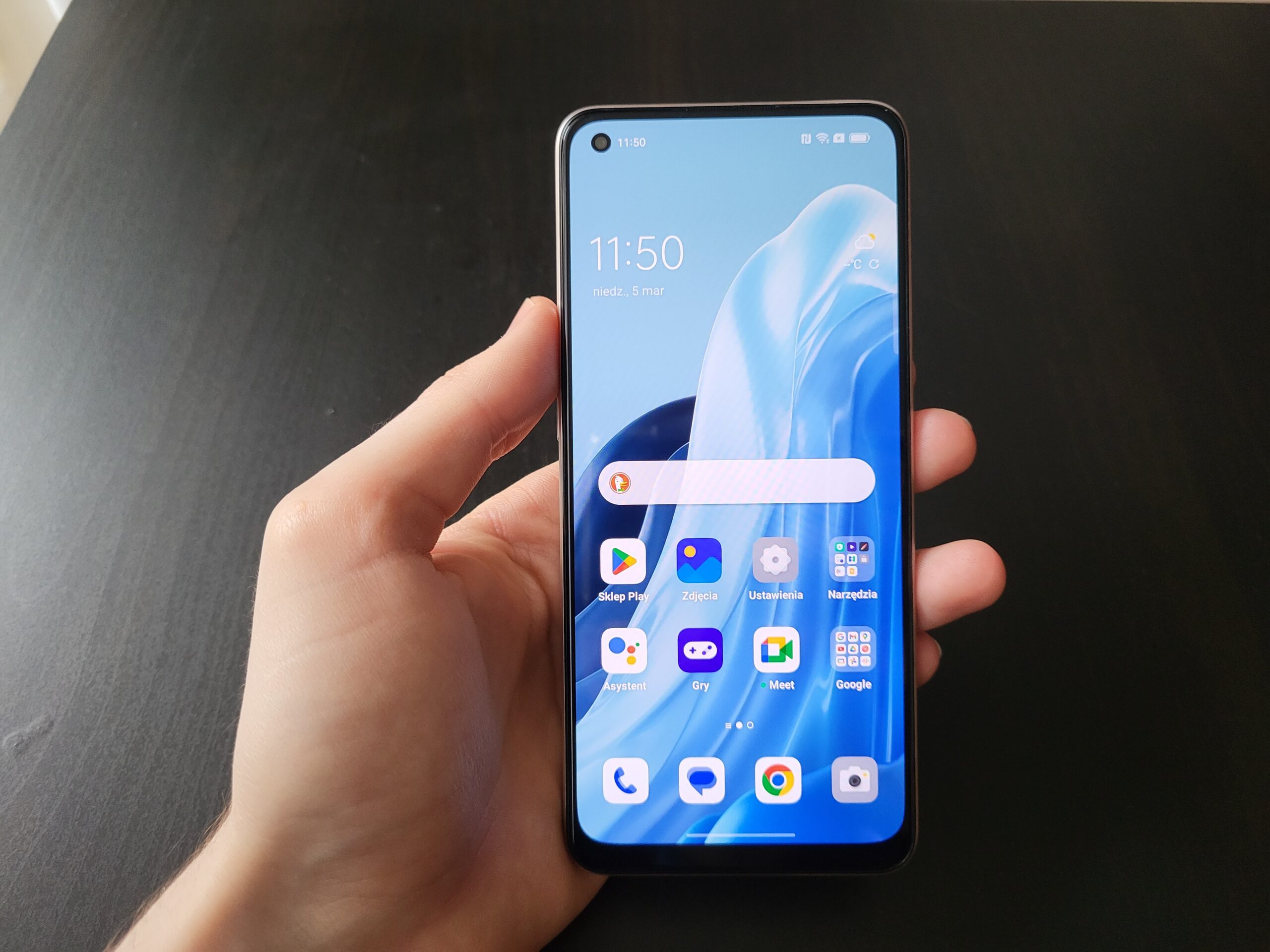 On the one hand, the presence of a protective film on the display right from the factory is a definite plus. But there is also a downside – the film gets dirty very quickly.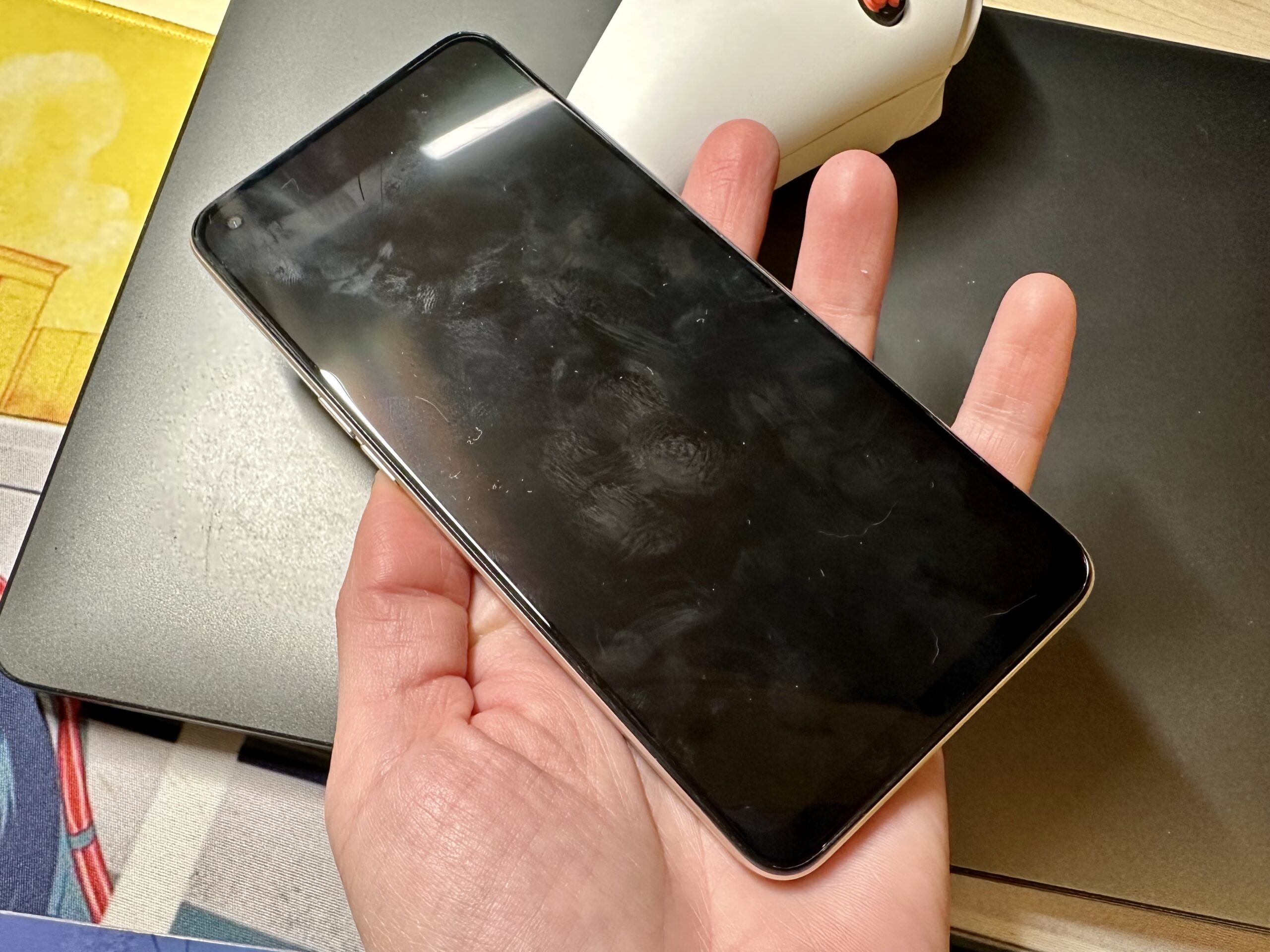 As for the fingerprint scanner, it's worth mentioning once again that it is located below the screen, and it's too low, that is, too close to the bottom edge. If in the case of the Samsung Galaxy S21FE such a low location of the fingerprint scanner did not bother me, then with the dimensions of OPPO Reno7 it was not very convenient to use it. It's also not the fastest or most accurate. Several times it happened that the scanner did not read my fingerprint or took a little longer than usual.
The last word on the topic of appearance is the rear cameras. As I already mentioned, there are 3 of them, placed in a rectangular frame or – as it is also called – an island, which does not look very impressive up close, but if you look at the back from a distance, everything is very neat and does not cut the eye at all.
Display
Returning to the display, AMOLED in mid-ranges is no longer something unusual (unless, of course, we're talking about the Moto G 2023 series). However, there are models whose screen looks truly divine, despite the moderate price. However, this is not the case with OPPO Reno7. I played around with the brightness, modes and colour temperature of the screen in the settings, and after each change, when I started using the phone, I quickly found myself thinking that the colours had simply faded.
Of course, the viewing angles remain acceptable – I didn't notice any unacceptable colour distortion, and the display doesn't cause any significant problems when viewing images outdoors. However, in general, OPPO could have tried a little harder. And I mean not only colours, but also the refresh rate, which is only 90 Hz. Although, looking at the smoothness of the system, I'm not sure that adding 120 Hz would have made a difference.
In the sun, the screen glares and fades strongly, which indicates a low level of maximum brightness.
Even the fairly extensive Always on Display settings, which I played with for a good 15 minutes and which really impressed me compared to other manufacturers' solutions, don't save the screen. It's worth mentioning here that OPPO has also added a lot of cool wallpapers, which I enjoyed browsing and customising. But do the personalisation options in terms of AoD and wallpapers play any role if we don't see these interface elements most of the time anyway? Let me say that this is a rhetorical question – definitely not.
Read also: OPPO Find N review and user experience
Performance
I've already hinted that OPPO Reno7 is far from a benchmark for smoothness, and now it's time to say a little more on this topic. It's worth starting with the fact that OPPO's decision to choose the Qualcomm Snapdragon 680 processor, which is comparable at least to the Mediatek Helio G88 (which, in my opinion, still works better) or Apple's iPhone 7/8 processors, is completely incomprehensible, and which was a significant step backwards compared to previous generations of the Reno series, where we could see, among other things, the wonderful Snapdragons 720G. And we, the users, have to pay dearly for this "bold" step by one of the brands of the BBK holding.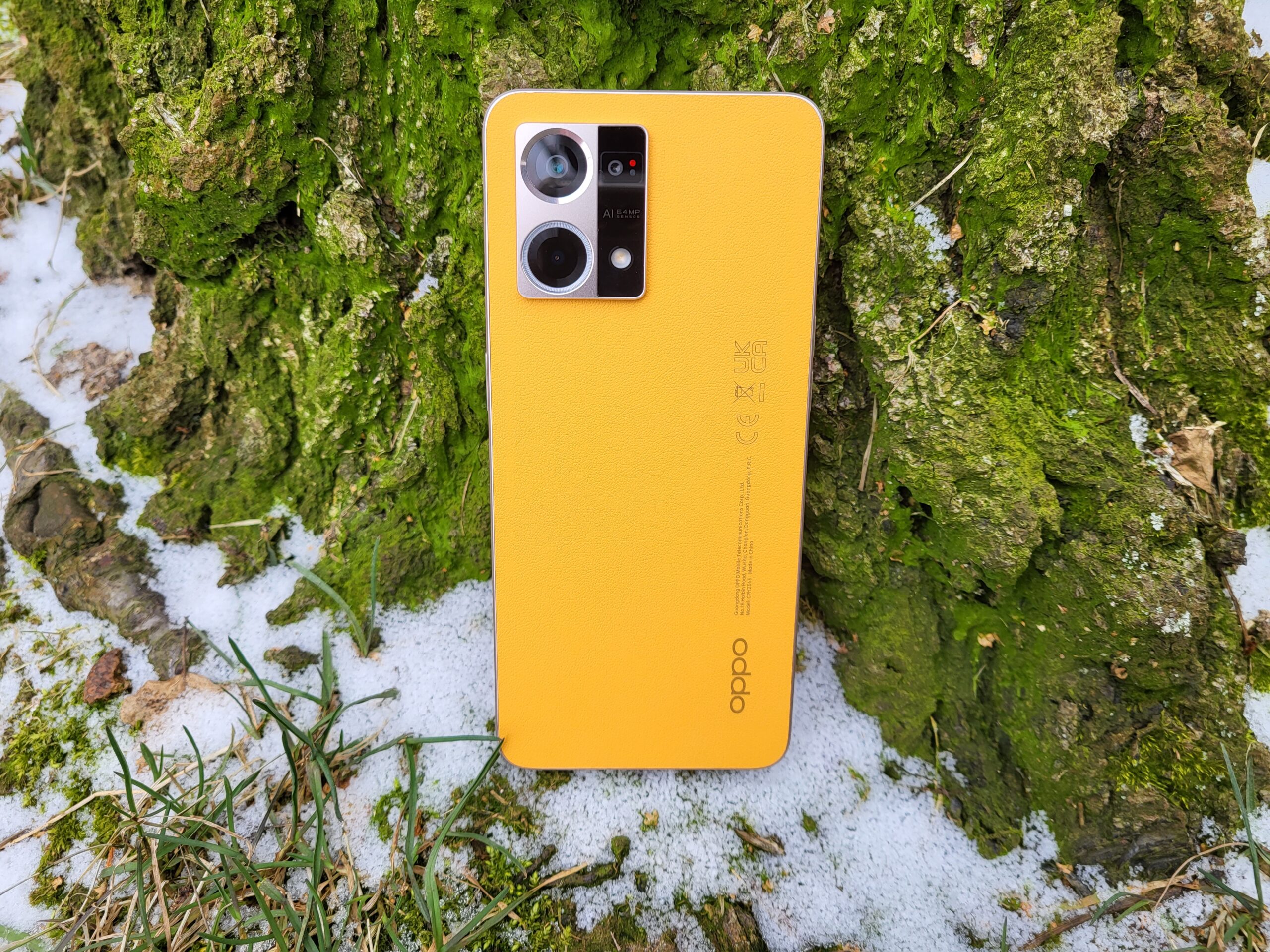 Needless to say, the phone lags even at the initial setup stage and in the first hours of use, when only a few additional applications are installed, the RAM does not load anything, and we struggle to scroll through the list of settings or start screens. And, in my opinion, the situation only gets worse when you switch to a 90Hz refresh rate.
So, approximately 288,500 AnTuTu points don't tell us anything if the phone simply doesn't cope in everyday use. I don't think my habit of top-end smartphones plays a role here, as I've been using mid-range smartphones for a long time and remember very well what the best of them can offer the user.
It's worth noting that despite its slowness and lack of smoothness in basic operations, OPPO Reno7 is still capable of running modern games such as Call of Duty, PUBG or World of Tanks on medium or low settings, so we can spend those few minutes in line at the store or office "with benefit". This does not mean, however, that we can in any way call this model a "gamer" model, the ability to run such games is just a nice addition when using a smartphone. The absence of throttling during prolonged intensive use is a definite plus, but that's where the advantages of the processor and its optimisation end.
This model does not have 5G support, and the ability to add virtual RAM in 2, 3 and 5 GB versions is rather unnecessary for two main reasons – 8 GB of built-in cache is enough even in most flagship devices, and the use of virtual RAM still leads to the "theft" of built-in memory. In a word, it's stupid.
OPPO Reno7 cameras
Let's continue. It's going to get even more interesting! The next point of our tour of the Reno series is the cameras. OPPO Reno7 actually has only one 64-megapixel camera (by the way, a pretty good Omnivision OV 64B sensor) and one selfie camera. At least a wide-angle module is missing, but there is a so-called monochrome lens for portrait shots and a microscope lens.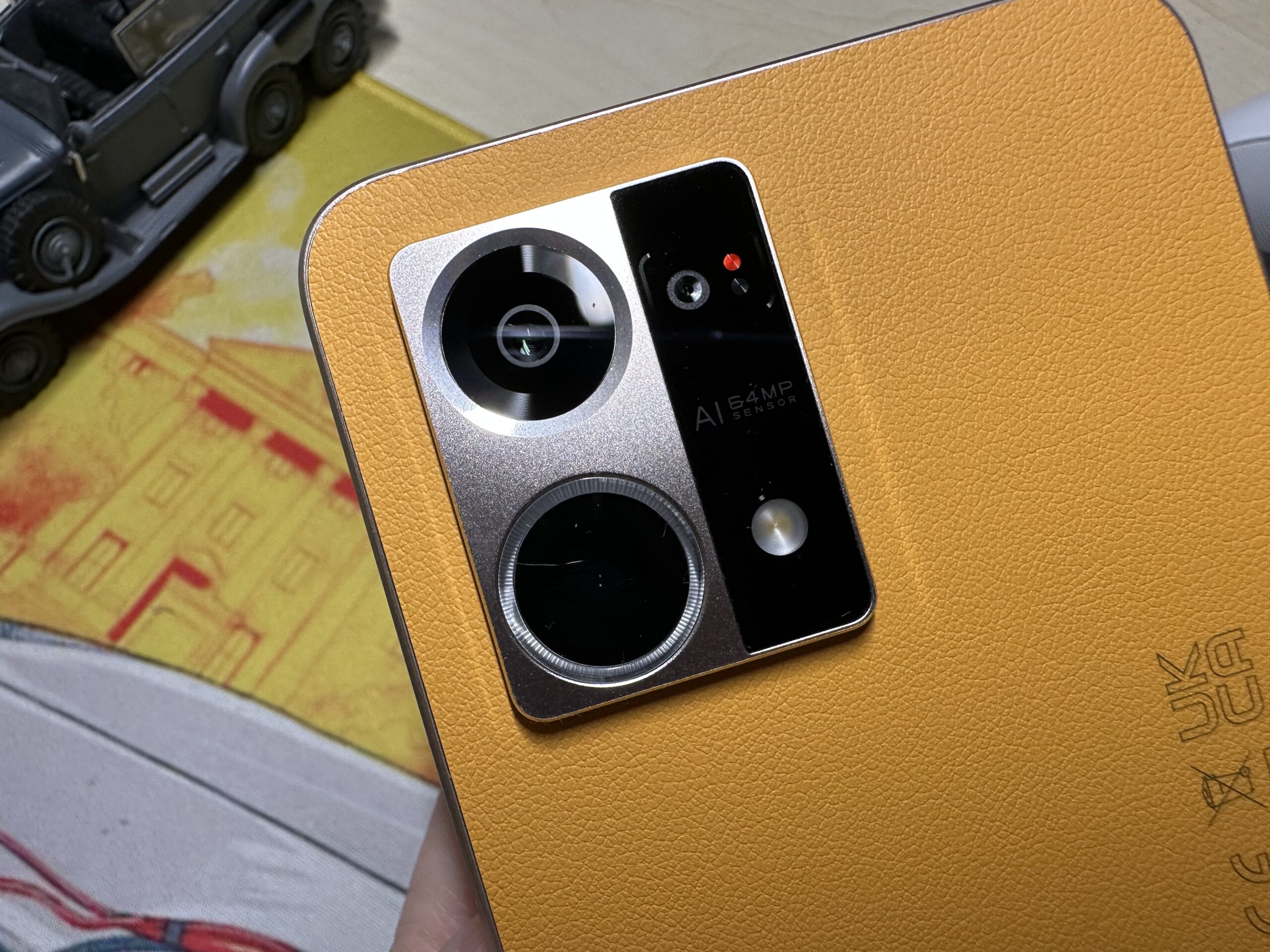 Needless to say, the pictures from the main camera are not of sensational quality, but in good daylight I even liked them, regardless of whether 64 megapixels or HDR was turned on or not.
FULL RESOLUTION PHOTOS FROM OPPO RENO7
A digital 2x zoom is also present, but I doubt that it will find wide application for mobile photography in this model – the quality is poor.
FULL RESOLUTION PHOTOS OF THE OPPO RENO7
The selfie camera with a resolution of 32 megapixels was a much bigger discovery – the pictures are elegant, the colours are realistic and detailed. Even in not the best lighting conditions. Tested by our editor Olga.
Portrait mode is also good, but the background blur looks rather artificial.
Unfortunately, that's where the good news about the cameras ends, because OPPO Reno7's night photos are extremely poor, even when you turn on Night Mode (maybe even worse with it, because there's a lot of noise). Here are some examples:
FULL RESOLUTION PHOTOS OF THE OPPO RENO7
Below is a comparison of the normal and night modes. You can see the full size here.
As for video, we're in for another disappointment – you can shoot anything you want, with a maximum FHD resolution and only at 30 frames per second. Of course, you can't count on optical stabilisation, only EIS is available, which also does not deserve the highest rating. All video examples with OPPO Reno7 are in this folder.
And here we come to the microscope, which we have already mentioned several times. Let's be honest, the 15x or 30x zoom on this camera module is just a child's toy, in case we want to see what the keys on the keyboard or a piece of paper look like up close for fun.
Due to the lack of optical stabilisation, you'll have to work hard to take a decent photo without blurring, and the zoom result won't always be impressive.
What's cool is a special bezel for illuminating photographed objects around the macro camera, without which the microscope won't work (it needs a lot of light), and which can also be used as an LED for notifications, calls, or charging, but that's about it.
In the end, I didn't really want to play with this thing, but our editor Olha was more interested and tried to "microscope" fabric, sugar, bread, cat hair, a nose and other objects. Below are examples of her experiments.
Let's start with fabrics. The microscope helps to see the structure of the weave even on fabrics where it is not visible to the naked eye.
Here's how interesting reflective fabric looks on a wheelchair:
And now for other examples. One by one: yoga mat, Lego wheel, human skin, biscuits, sugar, Lego block, cactus needle, bread, smartphone screen, pencil.
Olha shares: "Sometimes I couldn't remember what I was photographing with the microscope. For example: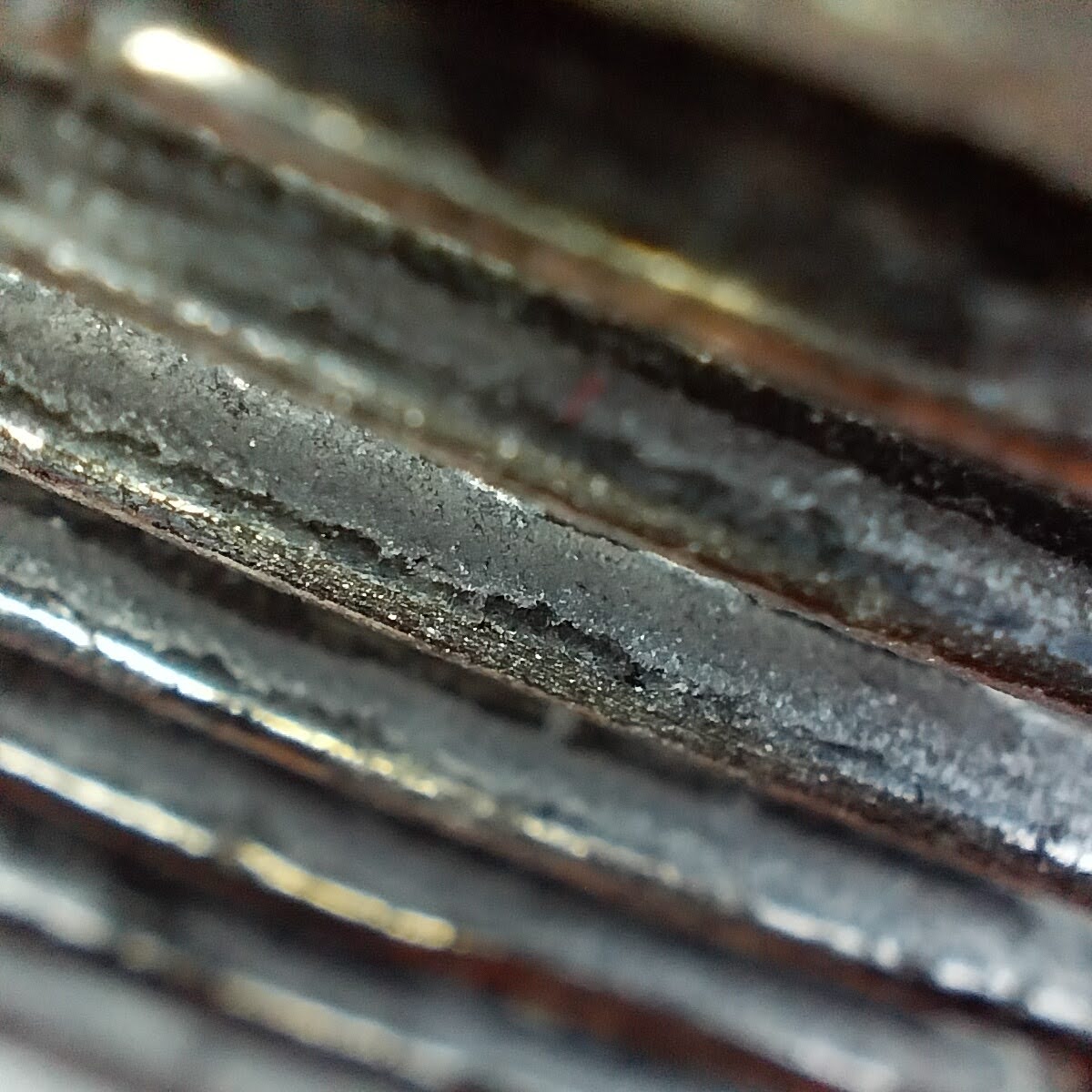 Тож я почала робити підказки для себе. Одна за одною – блокнот, отвір від роутера, пачка таблеток, яблуко, котяча дряпка, світловідбивна пов'язка, компоненти навушників TWS".
Speaking of cats! Below is an attempt to photograph the cat's fur and nose with a microscope. The quality is poor because he didn't want to pose.
Taking pictures of leaves is also a lot of fun!
And here, look at the moss and birch bud.
In this folder you can find all the images from the OPPO Reno7 microscope. They have a resolution of only 2 megapixels and are square.
"As you can see, you can get interesting results," says Olha, "but it really requires concentration, not every shot is successful. For the first few days, you can play around with this feature, surprise a few friends with the new product, and then you'll likely forget about the microscope.
Finally, here's what the camera app looks like:
Read also: OPPO Reno 6 Pro 5g review: So good I want one now
Software
Out of the box, OPPO Reno7 has Android 12 and ColorOS v.12.1. After a few days of use and a lot of updates, the phone has survived to Android 13 and ColorOS 13.0, but this hasn't changed the situation in terms of user experience.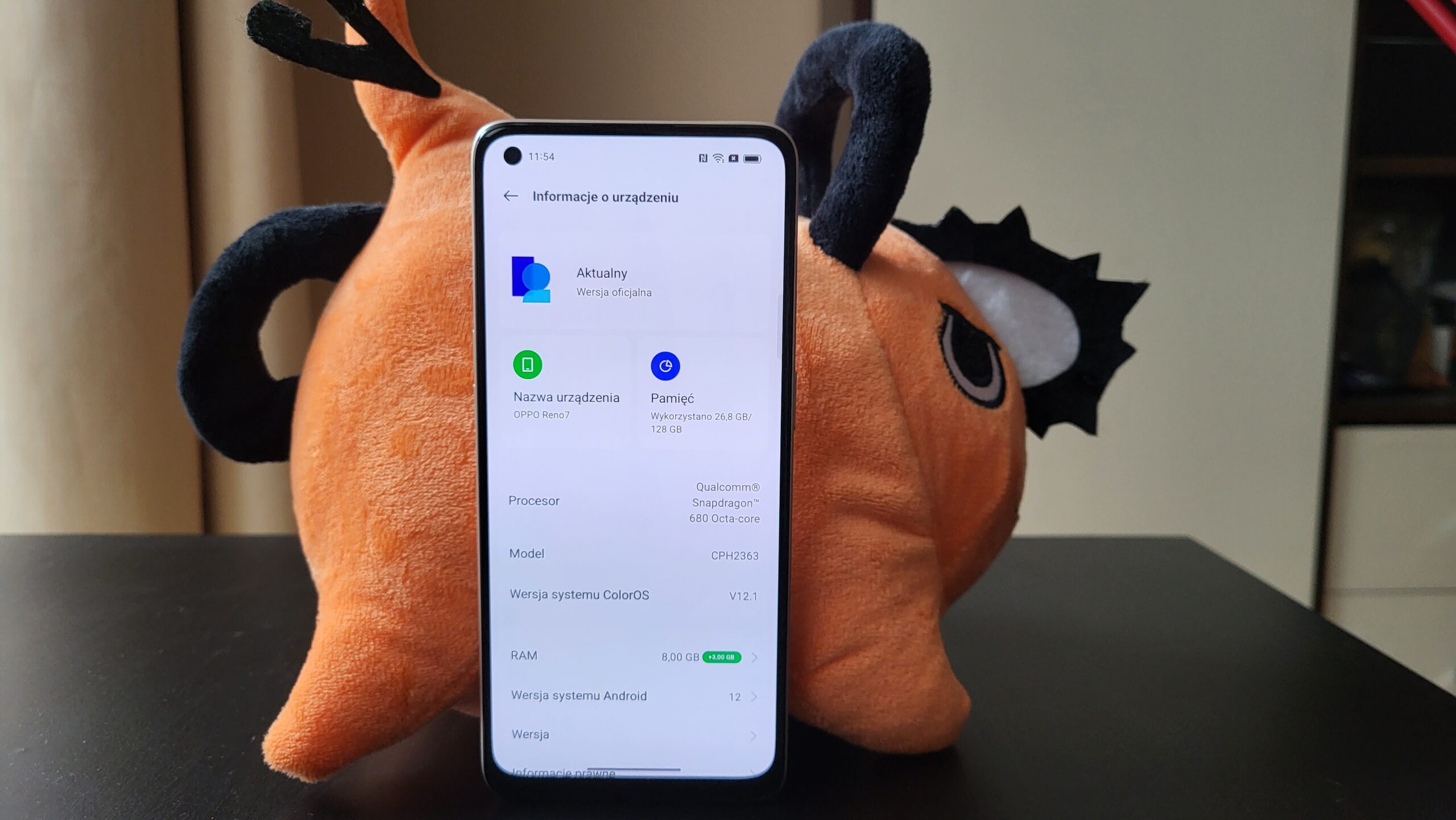 In general, I noticed that almost all graphic overlays for realme, Vivo, OPPO (the three that are part of the BBK holding), Xiaomi, Redmi and other Chinese phones are almost identical in design, so in this case I can't say anything detailed about the available graphical interface and advise you to read our previous OPPO review.
Perhaps the whole experience was spoiled by the constant stuttering of the device, or perhaps the system itself is not that expressive. On the other hand, however, this can also be an advantage, as it does not distract from everyday use. There are also no problems with figuring out what is where and how to configure something, so in short, we can say that ColorOS performs its main function and has everything you need to ensure that the average user has the essentials that he needs and expects from his smartphone.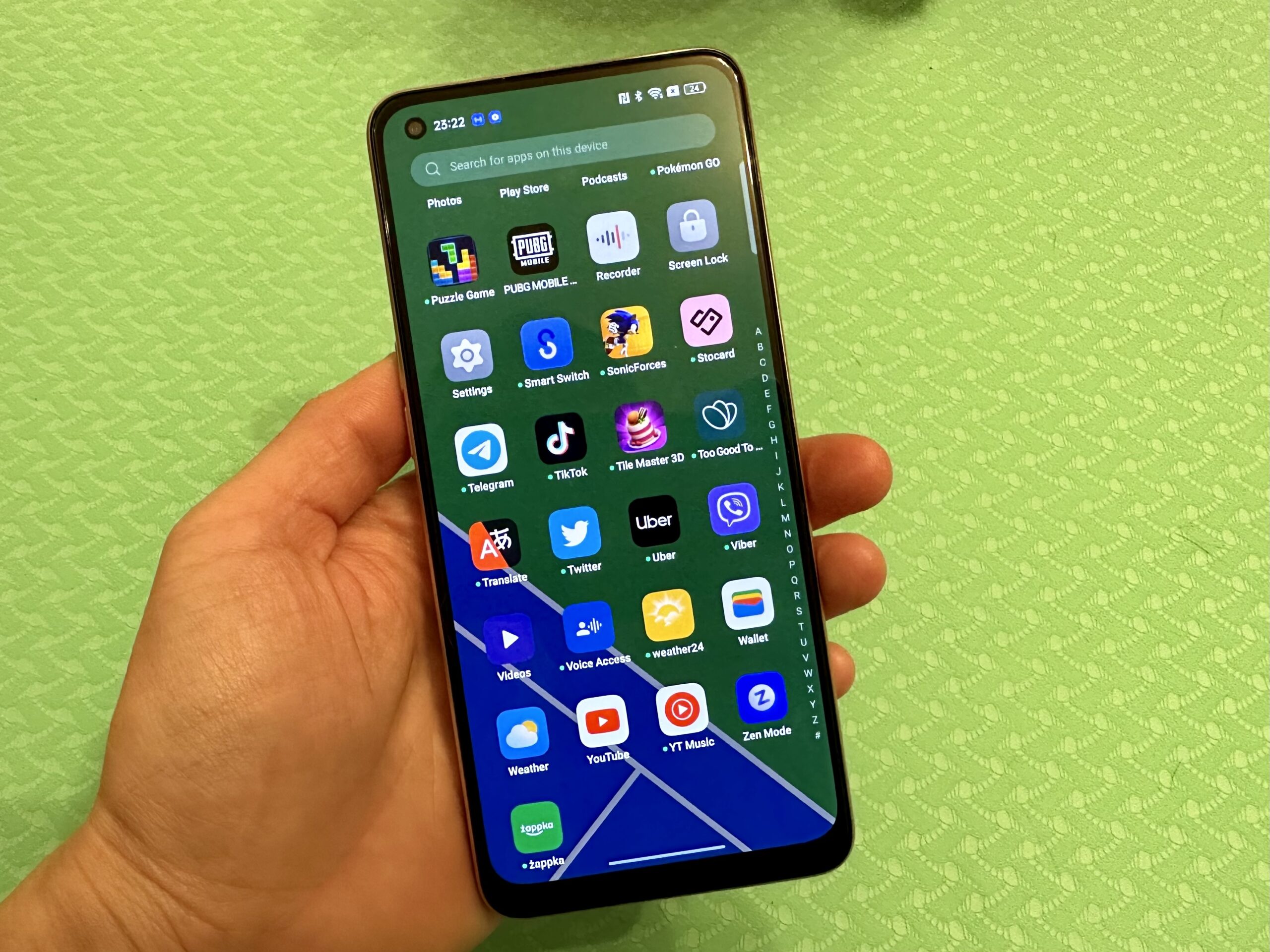 Battery
OPPO Reno7 managed to fit a battery of only 4500 mAh into its small, sleek, very compact and lightweight (note that the phone has dimensions of 160×73×7.5 mm and weighs 175 g) body. Why only? It would seem that 5000 mAh should be enough for this type of smartphone. However, even with such a battery, the device could easily withstand a day of use, and sometimes a little more, which can be considered a standard good indicator.
It's worth noting that the 33W SUPERVOOC fast charger and the corresponding adapter included in the package were a pleasant surprise. What does it do for us? Well, in 10 minutes the phone is charged by about 15-17%, in half an hour – by about 50%, in 60 minutes – by about 90-93%, and in a little over an hour (about 70 minutes) – by 100%. Not a record-breaking result, but not bad. A morning charge over breakfast and a quick shower will fill our battery to almost 100% (or even 100% if we eat more slowly and spend more time in the bathroom).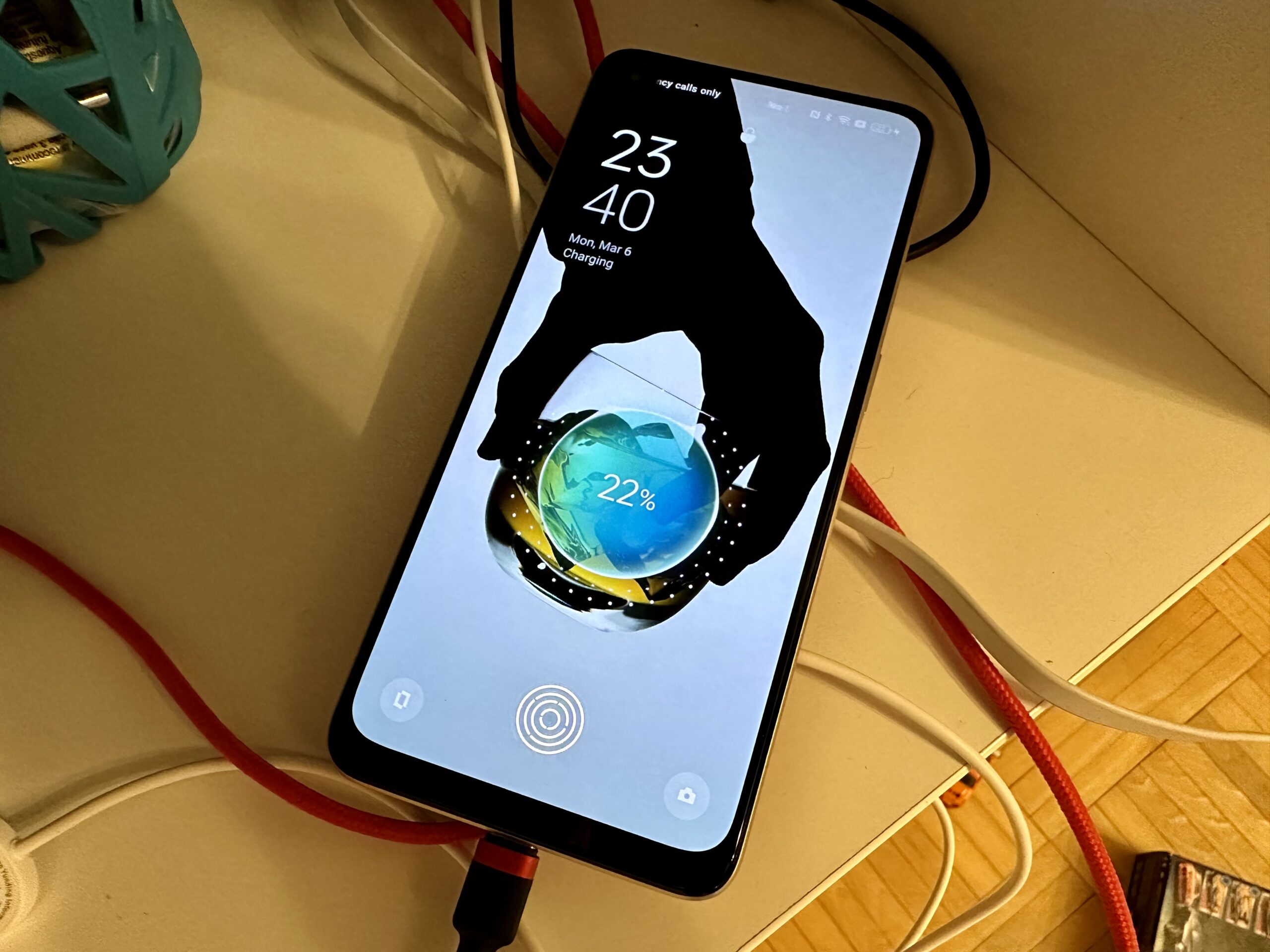 OPPO Reno7 sound and connectivity
We still have a few minor problems. One of them is the sound. In the case of this model, it's mono, since OPPO Reno7 has only one speaker on the bottom of the body for playing media files. At the very beginning of listening, I thought it was even a pretty good mono, but the more songs and YouTube videos I scrolled through, the more I came to the conclusion that this is not just a mono speaker, but a poor quality mono speaker. Something else can be said about using the phone with headphones, in which case the 3.5mm jack is a very good solution.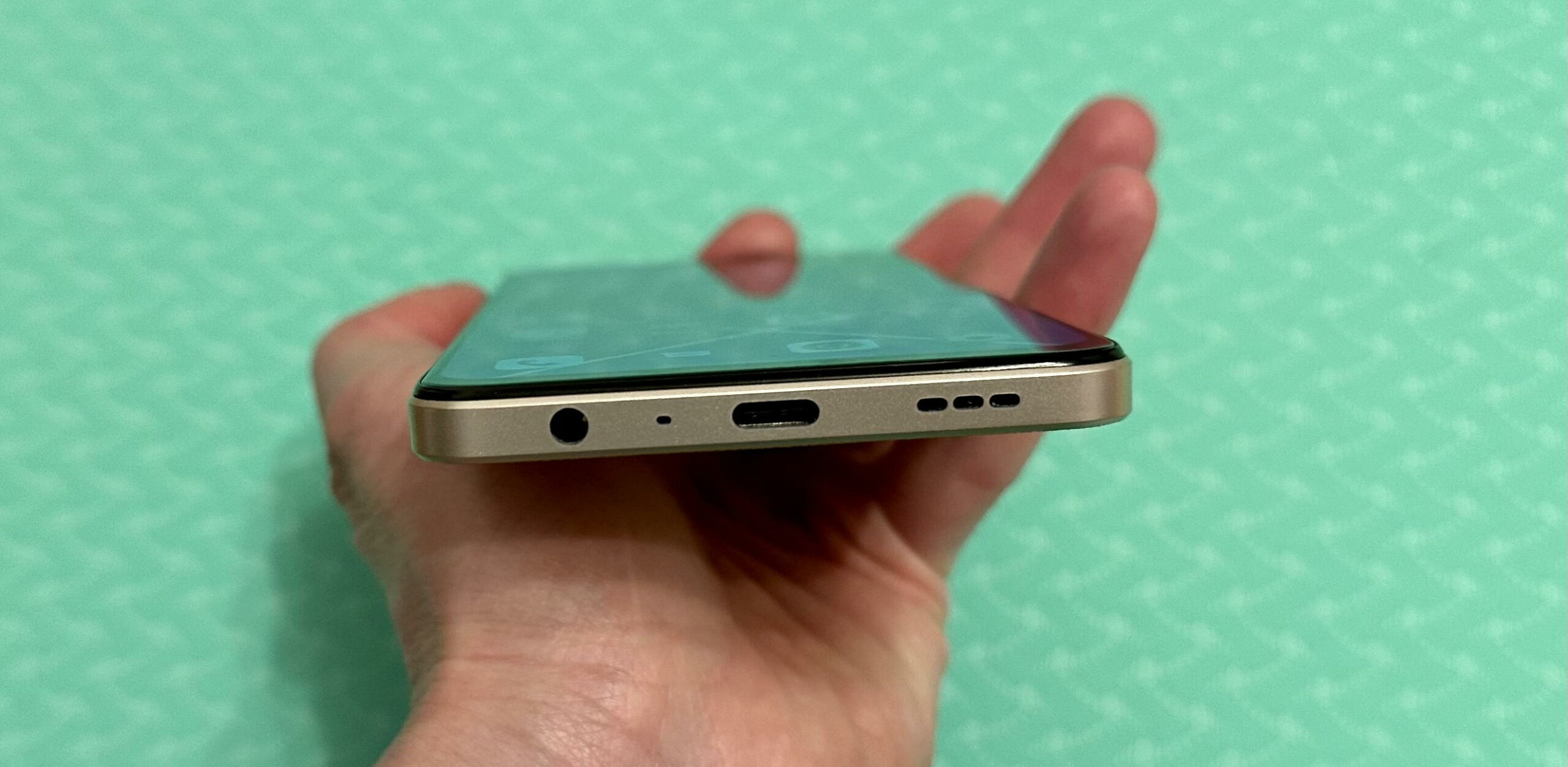 The settings include RealSound technology – different playback modes. The Smart Playback option is activated by default.
Add to the aforementioned headphone jack all the possible options such as GPS, A-GPS, Beidou, Galileo, GLONASS, QZSS, as well as NFC, Bluetooth 5.1 and Wi-Fi both 2.4 GHz and 5 GHz. The only unpleasant moment may be the UFS 2.2 internal memory standard, which is quite common in the mid-range segment, but in my opinion should not be used, especially by a manufacturer like OPPO.
Read also: OPPO A96 review: Extremely stylish budget smartphone
Conclusions
What can I say in conclusion? OPPO Reno7 is a device that can attract with its design, the orange version of the leather back looks interesting, and the microscope toy will catch your eye for a while. However, it won't be a smartphone that you'll become attached to and enjoy every day. Frequent stuttering of the interface and a mediocre AMOLED matrix make the phone more of a cool accessory for show than a device for work and leisure that accompanies us in everyday life.
Even if you catch OPPO Reno7 on a good deal, the agony of use is not worth the money you save, and the cool design will not be able to make you forget or forgive the manufacturer for all the shortcomings of this smartphone.
Read also: