OPPO produces phones with innovative features at attractive prices. An interesting novelty of 2023 is OPPO Reno8 T. The latest smartphone with an orange back in one version, a camera of up to 100 megapixels and… a microscope function! Is it worth buying this device? I will try to help you decide.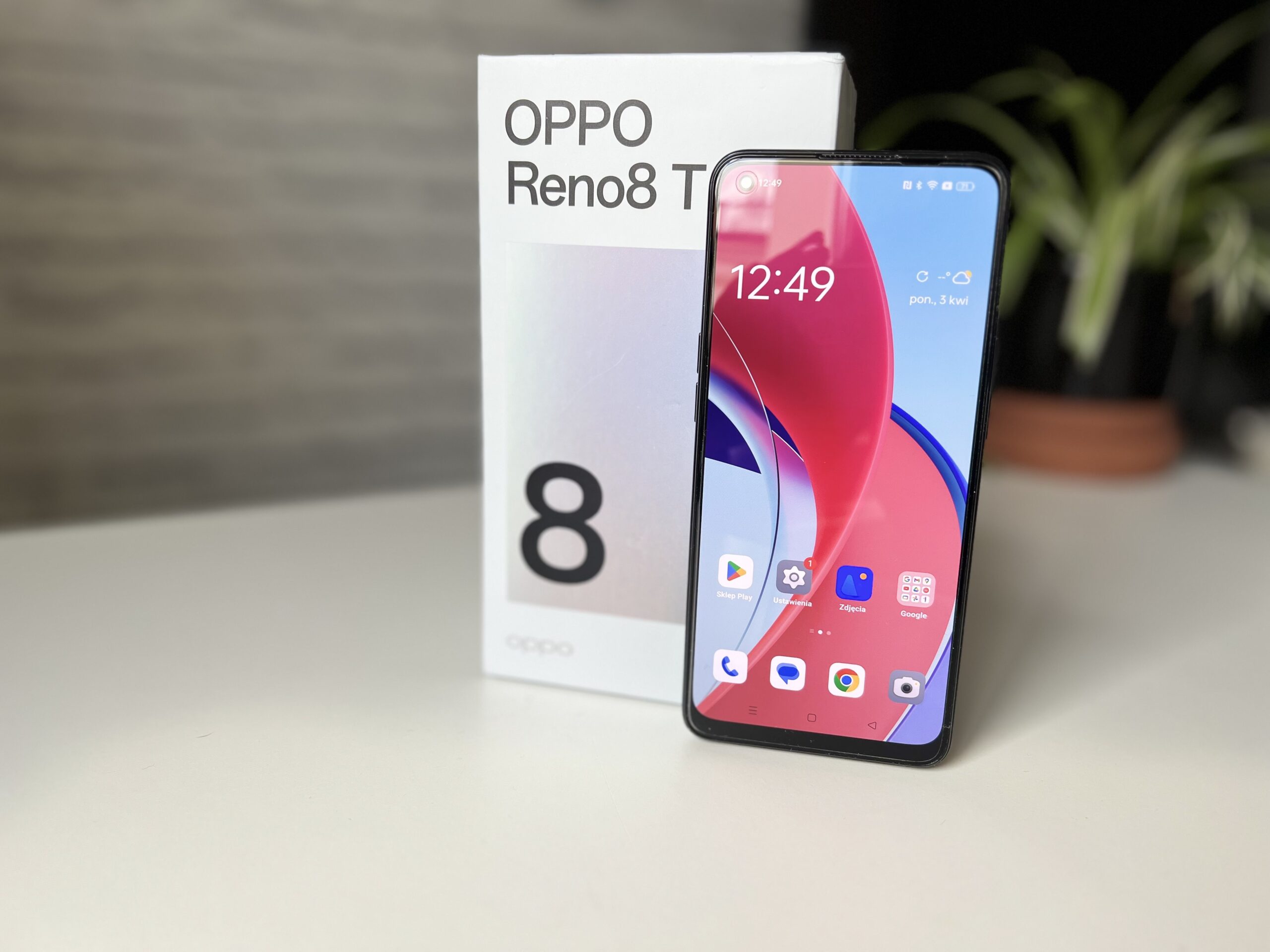 Now the prices for OPPO Reno 8T vary between $350-450. Let's see what you can get for this price.
Read also: OPPO Reno7 review: Will you manage to fall in love with it?
OPPO Reno8 T specifications
Screen: 6.43″, 2400×1080 pixels, AMOLED, 20:9 aspect ratio (density ~409 ppi), 90Hz refresh rate, Corning Gorilla 5 Glass
Processor: MediaTek Helio G99, octa-core, 2200 MHz (2×2.2 GHz + 6×2.0 GHz)
Graphics processor: Mali-G57 MC2
Operating system: Android 13, ColorOS 13
Memory: 8 GB of RAM (expandable by 4/6/8 GB at the expense of permanent memory), 128 GB of ROM, plus a memory card slot up to 2 TB
Available configurations: 8+128GB
Rear cameras:
– 100 megapixels, f/1.7, 26 mm, AF – main
– 2 MP, f/3.3, 34 mm – Microscope with x20 and x40 magnification
– 2 megapixels, f/2.4 – Depth of scene recognition
Front camera: 32MP, f/2.4, 22mm
Battery: 5000 mAh, 33W fast charging
Network and data transfer: Wi-Fi 802.11 a/b/g/n/ac, Bluetooth 5.2, GPS, GALILEO, GLONASS, QZSS, BDS, NFC
Sensors: geomagnetic sensor, light sensor, proximity sensor on the display, accelerometer, gravity sensor, gyroscope, pedometer, fingerprint reader
Optional: 3.5 mm headphone jack, USB type C
Dimensions: 160.80 x 73.84 x 7.80 mm
Weight: 180 g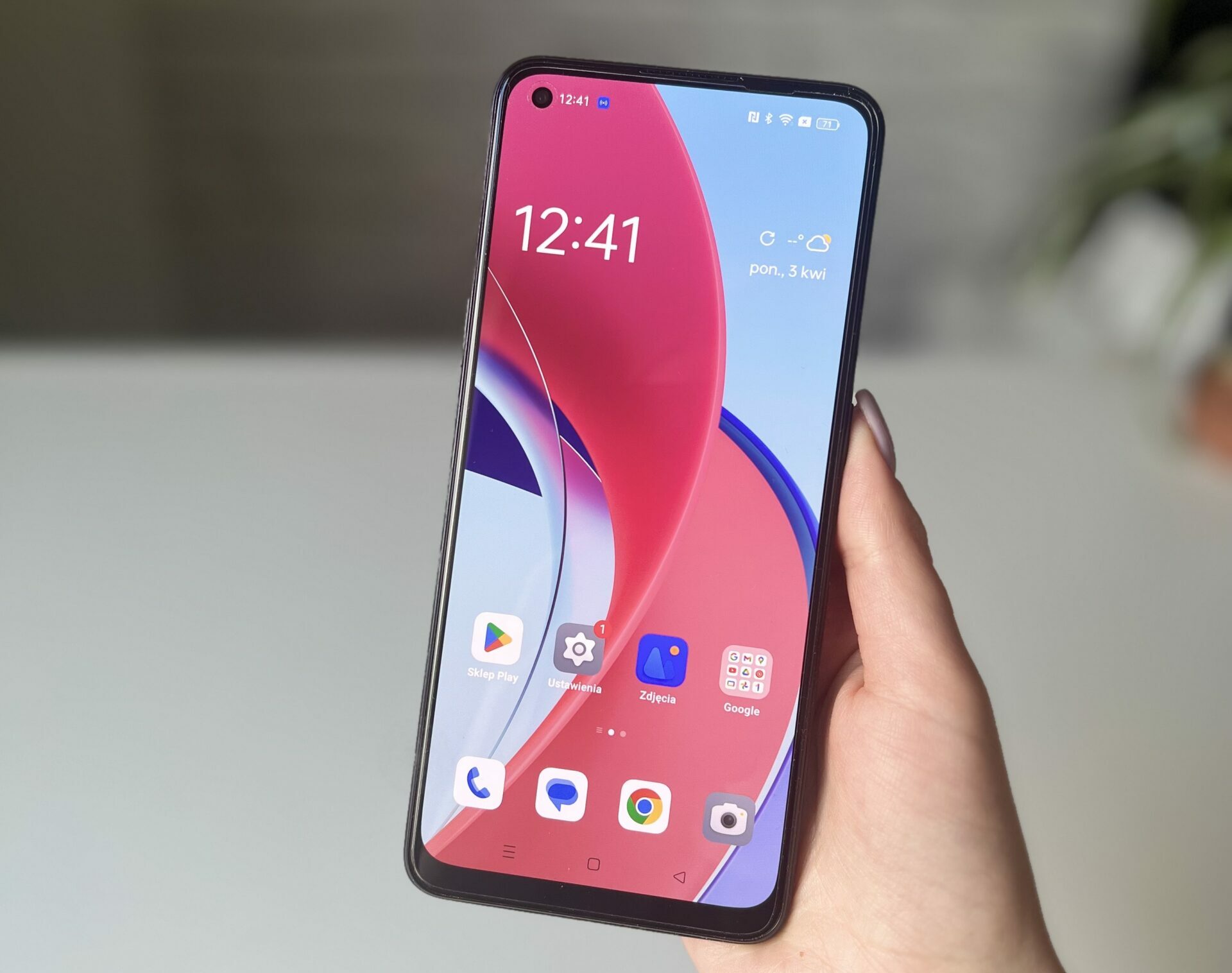 Read also: The best tools based on artificial intelligence
Package contents of OPPO Reno8 T
We received a large box. Inside, in addition to the smartphone, there is a USB cable, a needle for removing the SIM card tray and a 33W charger. There are also standard documents – a warranty and user manual.
The manufacturer immediately stuck a protective film on the screen, which was a nice touch. There is no case included, which is a pity, because it is a common thing for Chinese smartphones.
Read also: OPPO Enco X2 headphones review: is sound the most important thing?
Design, materials and construction
We have a black Reno8 T. Here we see a simple design, no features, everything is standard. In general, a typical thing for the middle price range. The main material is plastic.
The 6.43-inch AMOLED panel occupies most of the front and is protected by Gorilla Glass 5. The smartphone has narrow, slightly rounded bezels, with a slightly wider bottom bezel. A round notch for the selfie camera is built into the screen, in the upper left corner.
The rear panel of the test model has a matte plastic finish. It shimmers in different shades of grey and black. It hardly collects fingerprints.
In the upper left corner is the camera island. There are two round modules here – one houses the main camera, the other the other cameras and the flash. The camera modules protrude a little, and this can be inconvenient when used on a flat surface, but a case comes to the rescue.
An interesting element is the Orbit Light – an LED ring around the main camera that lights up when you receive notifications, charge or play games. You can customise it by colour or pulsation. It's a useful solution if you put the phone on the tabletop, but I don't do that, so it's not a useful feature for me.
Everything looks conservative, without any wow effect. It's a shame I didn't get the 8T in orange, because it looks really great – the back is made of orange vegan leather. We recently tested the OPPO Reno7 (pictured below) in a similar design, it looks great!
Read also: Xiaomi 13 Lite review: diminutive might
OPPO Reno8 T is quite thin at 7.8 mm. It fits well in the hand and is not too heavy, weighing 180 g, which is standard for most smartphones. I will only say that the back panel is quite slippery, so you should buy a case right away.
On the left side are the volume buttons, above them is a SIM card slot for two cards, plus you can expand the memory up to 1 TB. On the right side is the power button. The bottom edge is standard – a microphone, a USB-C port, a minijack headphone jack and a speaker. The top one has an earpiece speaker and a microphone. The location of the buttons is also standard, they are at a good height.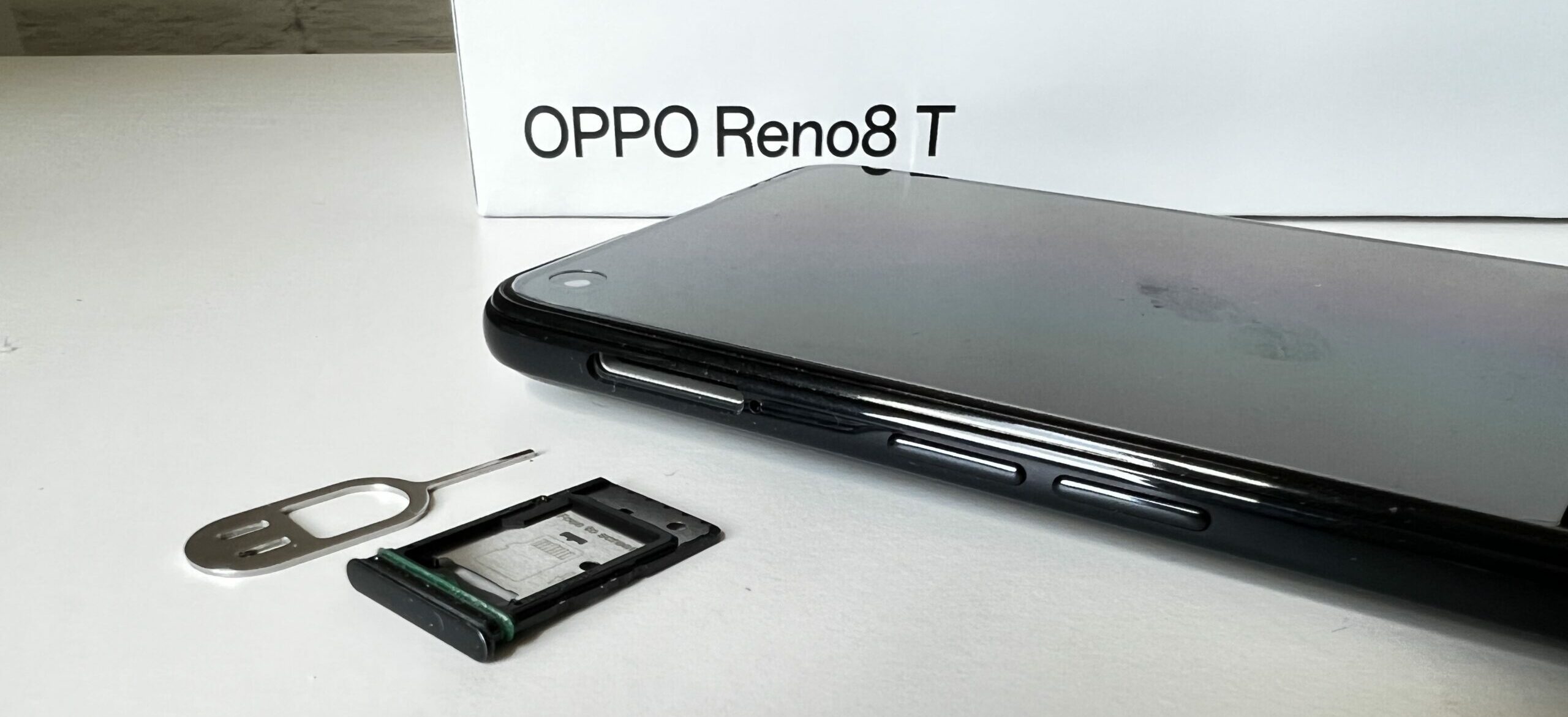 To unlock the phone, you can use the in-screen fingerprint scanner or activate the face recognition option. Everything works flawlessly, and so does face unlocking – even in a dark room.
In general, the design of the phone is not much different from other available models in terms of design or ergonomics.
OPPO Reno8 T screen
OPPO Reno8 T features a 6.4-inch AMOLED display with SGS certification for eye protection. The resolution is FHD+, the refresh rate is 90 Hz, and the touch sampling is 180 Hz. The display quality is okay, but it's not the best AMOLED, it's not vivid and bright enough. Sometimes I wanted to raise the brightness, but it was already at maximum, about the same as on the street on a sunny day. The maximum brightness is only 800 nits. For comparison, the recently reviewed Xiaomi Redmi Note 11S had 1000 nits, and in this respect I felt that OPPO lacked brightness.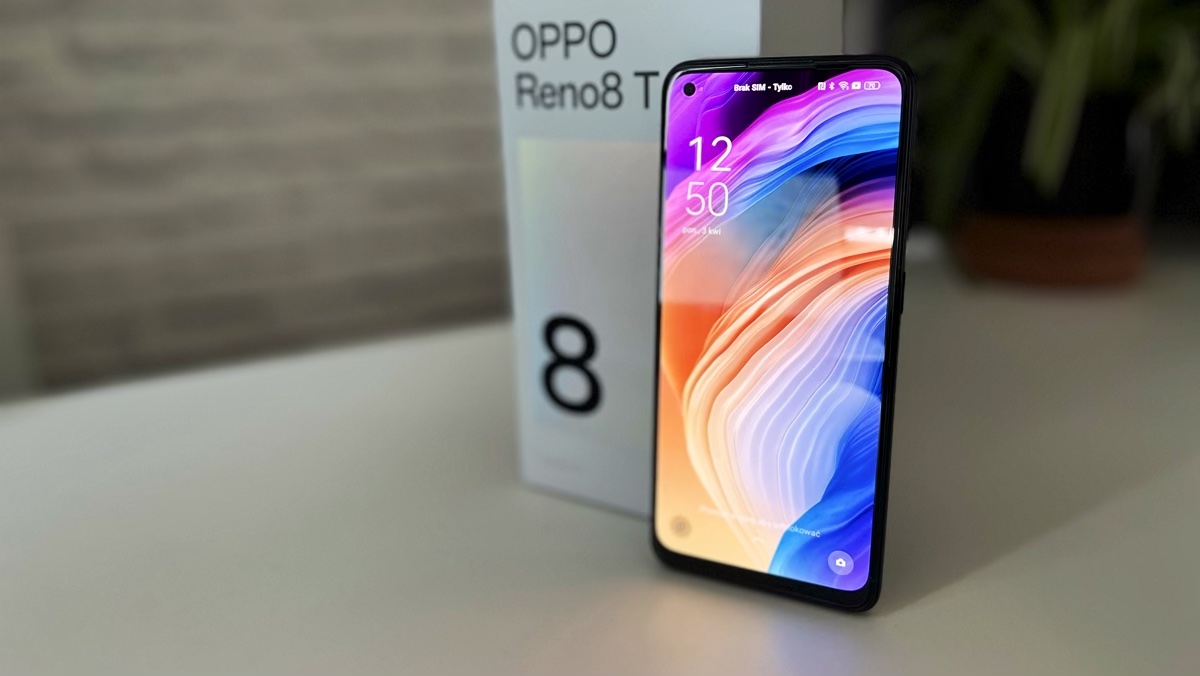 You can play around with the screen settings and adjust everything to suit you. We have light and dark modes. You can set your own schedule for switching modes. You can also personalise the fingerprint animation, screen edge illumination, bright or natural screen colour, and temperature.
Read also: OnePlus Buds Pro 2 TWS headphones review: a versatile flagship
OPPO Reno8 T performance
OPPO Reno8 T is powered by an octa-core MediaTek Helio G99 processor. This is essentially a mid-range processor available in many smartphones in this price range and even lower (POCO M5, realme 10, Moto G72, etc.). Performance test results:
Geekbench: single core – 694, multi core – 1878
3DMark Wild Life:1 366
3DMark Wild Life Extreme 379
In everyday life, the 8T works fine, nothing freezes, background apps work, and you can quickly switch between them. But this OPPO is definitely not one of the fastest, even in this price range. However, if you are not interested in the latest games, then the performance of this model will likely satisfy you.
The smartphone is available in 8/128 GB versions. 8 GB of RAM is a lot of RAM for today. Anyway, we have a mode that allows you to increase the amount of RAM from 4 to 8 GB at the expense of permanent memory.
As for the storage, 128 GB is enough for most users, but if this is not enough, we can easily expand the memory up to 1 TB using a memory card. The system takes up 13.5 GB.
OPPO Reno8 T cameras
OPPO Reno8 T has an impressive 100MP primary camera. We also have two 2MP sensors – one for depth and the other is a 40x magnification microlens that acts like a microscope! On the front panel we have a 32-megapixel selfie camera. It should be noted that there is no wide-angle camera, which is already quite standard for this price segment.
The camera app has several modes: normal, high-resolution, professional, extra HD, slow motion, time-lapse, panorama, and microscope.
The quality of the photos is good, although looking at the 100 megapixel inscription, I thought it would be better. But we know that numbers are not the most important thing. It depends more on the optical system and quality post-processing.
Let's look at the photos. The colour reproduction is okay (only in some photos I feel that the colours are not very good), the contrast and quality are satisfactory for social media.
ALL PHOTOS WITH OPPO RENO8 T IN ORIGINAL SIZE
We also have a night mode, of average quality, but acceptable for a model from this price range. Here are examples:
The microscope is a cool toy, in fact, I spent several days exploring different materials and structures in this mode. My colleagues have also been playing with it, testing the Reno7 and realme GT3 models (OPPO and realme are part of the same holding company, so the convergence of functions is not surprising), and now it's my turn.
When you want to take a macro photo of your surroundings, you need to hold the phone still to get a good focus. Photos of sugar cubes or a grid in a notebook, flower leaves and skin are included!
Sugar:
Leaf:
Cork board:
Notebook:
It's strange that Reno8 T saves photos taken in micro mode as a circle with a black background. I think this is a reference to a conventional microscope, but it looks bad, especially if you want to send them to someone or show them on social media. The Reno7 and realme GT3 take regular square or rectangular pictures, and that's somehow even better. But we are going further.
The selfie camera takes good and clear photos, although it throws up skin. Both normal and portrait modes are fine, the background blur is good. But it all depends on the lighting, the less it is, the more digital noise.
ALL PHOTOS WITH OPPO RENO8 T IN ORIGINAL SIZE
You can also record video in 720p or 1080p resolution. It's better to choose the second option, as the clarity is higher. The quality in good light is good, and the electronic stabilisation works well. Examples of videos from OPPO Reno8 T can be found in this folder.
Read also: Moto G53 5G smartphone review: Motorola, wtf?
Battery and operating time
OPPO Reno8 T is equipped with a 5000 mAh battery with 33W charging support (it's called fast, but by today's standards it's not that fast). It comes with a 33W SuperVOOC unit. The manufacturer claims that it charges the battery by 54% in 30 minutes. This is true, although it took an hour to fully charge. I mainly used the phone for social media, watching YouTube and taking photos. The 8T easily lasted the whole day on a single charge.
Read also: Six commandments of artificial intelligence
Sound and data transmission
The first speaker is located at the bottom edge and the second speaker is located at the top right next to the screen. The sound is crisp, loud and clear. You can activate the Super Loud 200% mode if you need to, for example, when you're outdoors.
In addition, we have a 3.5mm headphone jack on the bottom edge of the phone, and of course, headphones can be connected via Bluetooth.
OPPO Reno8 T does not have 5G support. There is a version with 5G, but not in our market. Otherwise, we have a standard communication package – Wi-Fi 5 (unfortunately, no Wi-Fi 6), Bluetooth 5.2 and NFC for contactless payments.
OPPO Reno8 T software
OPPO uses its proprietary ColorOS 13 shell on its smartphones. On our OPPO Reno8 T, it runs on Android 13. In terms of logic and settings, the shell is almost the same as in realme, vivo, Xiaomi, etc., the layout is almost identical.
There's everything you need to personalise your phone – colour settings, quick settings, fingerprint animations, and edge lighting. There are also versatile multitasking solutions, such as Edge panels, split screen mode, dynamic windows, quick return, quick launch and a smart sidebar. In addition, the Kid Space feature allows you to restrict access to content, and the Simple Mode makes it easier for older people to use the interface.
There is also an Always-On-Display function where we can set whether the mode is only activated for a certain time after touching the screen or permanently. The display can show the time, date, battery level, and notifications from applications. You can also control music from Spotify without unlocking your phone.
Here are some photos of what it looks like:
In general, the shell is well thought out and made in such a way that everyone can customise everything for themselves.
Read also: A4Tech 2Drumtek B25 headphones review: inexpensive TWS bass headphones
Conclusion
OPPO Reno8 T is a mid-budget smartphone. In my opinion, it offers us good features: cool cameras (including a microscope), long battery life, relatively fast charging with 33W. It's thin, compact, stable, and at least worth a look. As for this particular price range, the manufacturer has tried to offer us interesting features and even an unusual design (I'm talking about the eco-leather version, the grey version doesn't look as interesting).
Of course, there is a lot of competition among devices with this price, and I can't say that OPPO is the best choice.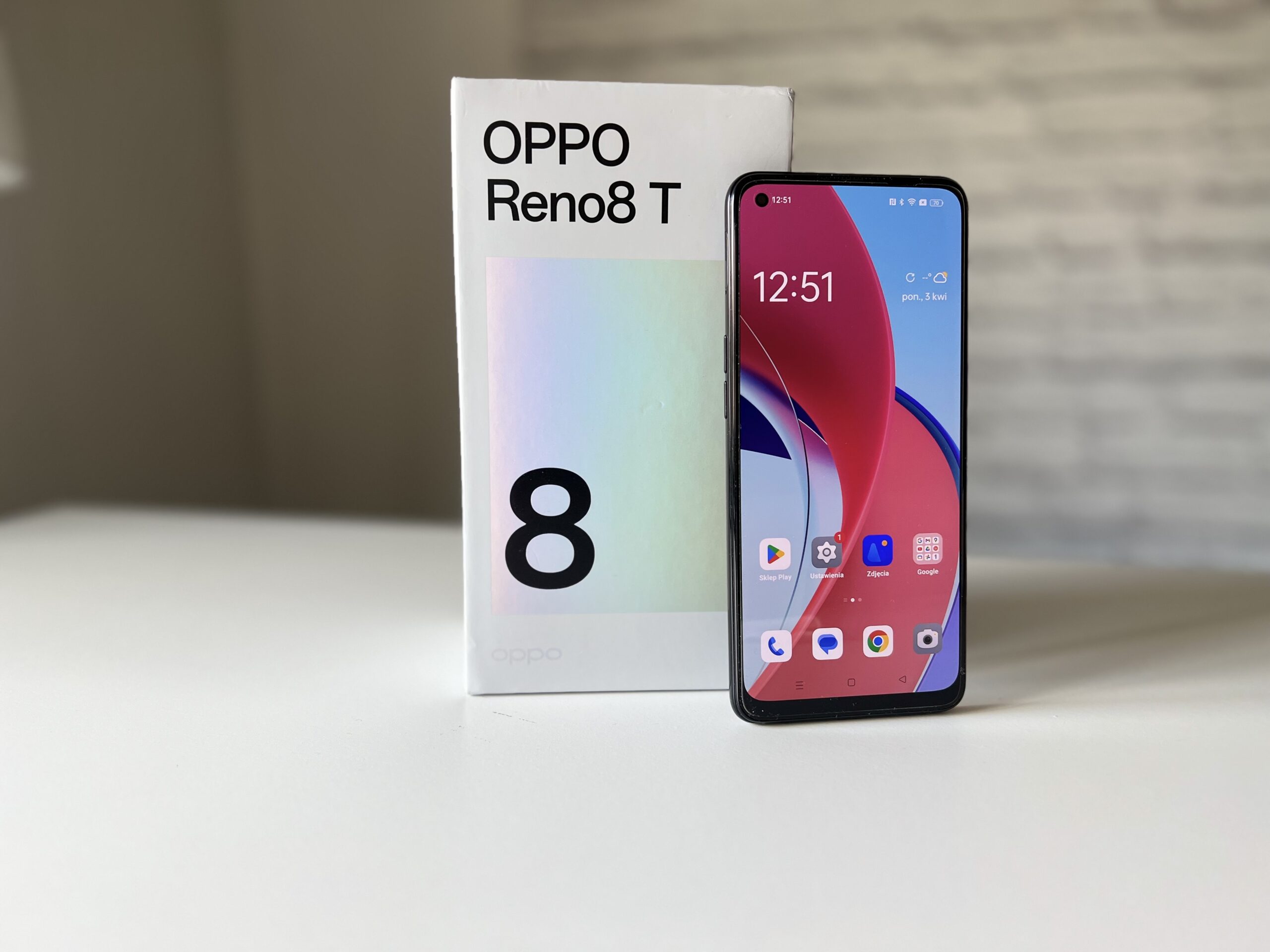 Final score: moderately average. No wow effect, nothing tragic either. It will probably attract someone's attention.
Advantages of OPPO Reno8 T
lightweight and elegant body
AMOLED screen
super camera, especially in good light
acceptable performance and stable operation
8 GB OF RAM
an interesting feature: a microscope
Disadvantages of OPPO Reno8 T
no 5G
no wide-angle camera
insufficient display brightness
not the best performance for the price
slightly overpriced
Read also: