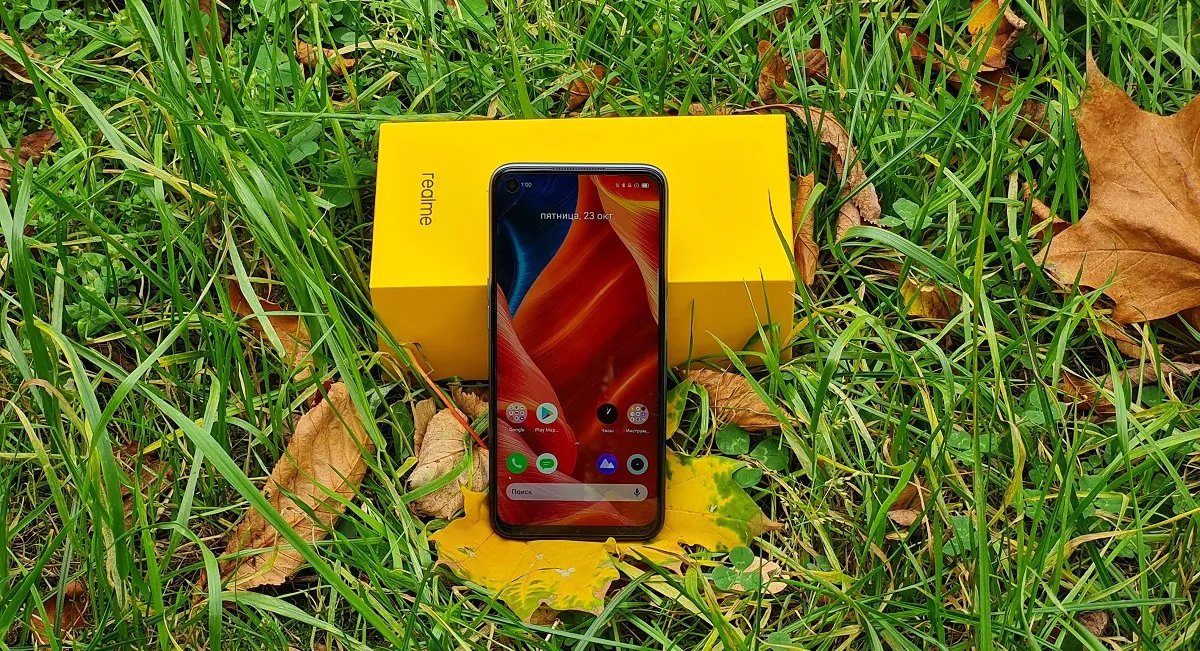 Do you need a good but inexpensive smartphone? Realme 7 offers many cool features such as an LCD display with a 90Hz refresh rate, a 5000mAh battery and a powerful MediaTek Helio G95 processor.
It just so happened that I never used Redme devices before. The smartphones of this company somehow bypassed me. For me, the competitors always had more interesting devices, or the Realme smartphone seemed boring (I'm talking about the Realme 6 series now). But the dizzying popularity of smartphones from the Realme brand, a sub-brand of OPPO, made me increasingly curious. But I wanted to test not the flagship of the company, but something from the middle range, where there is a huge field for innovation, experimentation, and where very interesting devices appear.
Therefore, I decided to try Realme 7. This smartphone, in my opinion, is much more interesting than its "older" brother Realme 7 Pro. So, let's begin.
Read also: Realme 7 Pro review: Realme 6 But With AMOLED?
Why makes Realme 7 interesting?
As I understand it, Realme's main mission is to create smartphones with amazing features at an amazing cost. This means that the company brings products to the market at very competitive prices.
The Realme 7 was presented alongside the Realme 7 Pro. In fact, this is an update of the sensational Realme 6/6 Pro series, which received, albeit not very significant, improvements. Although, why fix what's not broken?
Realme 7 also features a 90Hz display, 30W fast charging and cameras more or less similar to those used in Realme 6. Among the improvements, design deserves special attention, as well as the operation of the device itself, which will definitely surprise you with its stability and smoothness. The "older" Realme 7 Pro is a device with an AMOLED screen, but with 60 Hz, ultra-fast charging 65 W and a Qualcomm Snapdragon processor. But this smartphone is expensive compared to Realme 7. By the way, the review of Realme 7 Pro is already on our website.
I wondered if it was worth buying Realme 7 when there are already so many worthy rivals. Is it worthy of my attention and money? Ahead of the events, I will say that today it is one of the best smartphones in this category. Therefore, sit down more comfortably, and now I will try to prove it to you.
What is in the box?
Realme surprised us with its unusual, but, as it turned out, a standard set for the brand. In the yellow box we find a 30 W fast charger with a USB-C cable, a SIM card eject tool and manuals.
There are no headphones, which is a bit strange for a smartphone of this price range, but this is the company's decision and we'll have to put up with it. I mean Apple has completely abandoned not only the bundled headphones, but also the charger, and people aren't rioting. But there's a silicone case included. It really durable and fits well, preventing dust particles from getting inside.
Design
The design of the Realme 7 almost does not differ from the Realme 6. Like its predecessor, we see the elegant contours of the screen with thin bezels and a slightly accentuated chin. The selfie camera is located in the upper left corner of the screen in a small circular notch.
Is it original? Absolutely not. Is it aesthetically pleasing? Well, you decide, but I think that the design is nice enough.
The manufacturer chose to leave the upper edge empty, and on the left placed the volume buttons and a hybrid SIM tray. As has become usual, at the bottom there is a USB-C port, a mono speaker, a microphone and a 3.5 mm headphone jack. Although, let me remind you, there are no wired headphones in the box. On the right side is the fingerprint scanner integrated into the power button.
By the way, a very practical placement, much better than on the back panel, since you don't have to reach there with your finger again to unlock the smartphone. The scanner responds very quickly, and sometimes the sensor recognized my fingerprints even with wet hands.
The build quality of the remaining elements is also excellent. Even when squeezing, the case does not creak. In this context, it should be added that the Realme 7 and 7 PRO are the first phones to pass the TÜV Rheinland reliability test. It consists of 22 basic and 38 small tests that simulate typical situations in everyday life. In addition, we get a 3-year warranty and a 2-month free replacement period if our smartphone is found to be defective.
My impression is that Realme has decided to save some money on the back of the device. The material feels cheap to the touch. However, I am aware that for most users this will not be a big drawback, because the phone will immediately be put in the case after taking it out of the box. On the other hand, even transparent silicone will not hide the strange embossing.
Firstly, it seems that the backplate is glued from two different elements. Second, the asymmetrical line does not even pass through the center of the camera island. I must admit that it looks quite peculiar, although it will definitely set you apart from your of friends.
But be that as it may, Realme 7 tends to attract fingerprints, despite the matte finish. Therefore, the included silicone case will help prevent this phenomenon as well. But it should be noted that the Realme 7 is quite heavy (196.5 grams) and using a case makes the device even heftier.
I'm not a fan of heavy smartphones, but I think it's a necessary evil if you need big batteries. The Realme 7 is equipped with a 5000mAh battery and I will talk about its specs a little later.
Of course, there is also a place for the camera module. We find there 4 vertically positioned lenses and an LED flash. The module protrudes a little, but the silicone case easily covers it, and the smartphone rests comfortable on a flat table surface.
The cameras on the Realme 7 now also have a new design. We saw the square top of the cameras on the Realme C11 and C12, but with the Realme 7, the company used rectangles throughout. The camera island has a rectangular shape with rounded edges, which resembles the design of the Galaxy M series smartphones. I'm glad that Realme has tried to create a new design for the new series.
Despite the massive construction of the smartphone (dimensions are 162.3 × 75.4 × 9.4 mm), the rounded frames provide a secure grip. The device fits comfortably in the hand and is comfortable to use.
Read also: Realme X3 SuperZoom review – Affordable Flagship with Snapdragon 855+
IPS-matrix with 90 Hz refresh rate
The design and performance of the Realme 7 are certainly fine, but the undeniable advantage of this model is also a 6.5-inch LCD screen with Full HD+ resolution (1080 x 2400 pixels). However, the main advantage is the refresh rate, 90 Hz. It is known that manufacturers have been thinking for long time what display to install in the Realme 7 and 7 Pro. Even a kind of poll was conducted, where they asked the fans what they would prefer. The choice was an AMOLED panel with a low refresh rate or an LCD with a high refresh rate. Unsurprisingly, fans unanimously chose the first option, which is what the Realme 7 Pro is equipped with. Realme 7 also got a Full HD+ LCD screen. There is nothing bad about that, because here you get a refresh rate of 90Hz.
It's worth noting that Realme was one of the first manufacturers to use this element in budget smartphones, and until now, this refresh rate has only been seen in premium devices.
Is this even possible in this price range? Believe me, I was also skeptical at the beginning, but the image quality and fluidity in Realme 7 is truly amazing. No lags, no slowdowns.
And to be clear, I'm not just talking about games, but about any kind of entertainment. The 90Hz screen and the excellent performance of the Realme 7 (which I will discuss below) is a duo that delivers an overwhelming experience in the world of mobile gaming and multimedia.
You will also appreciate it when browsing websites or photo galleries. They update noticeably faster, ensuring you don't miss anything even in a rush. In other words: there is probably no better display in this price range.
Read also: Realme Watch review – First Smartwatch from the Brand
Fingerprint scanner and face unlocking
Some users, I'm sure, will whine, and say, why is the fingerprint scanner not in the screen? But I believe that the combination of the scanner with the power button is optimal in this segment.
Do you want to suffer with the scanner on the screen, dirtying it with your prints? Do you really think that the manufacturer will install a very high quality mechanism here? Not even all flagships are able to cope with this process quickly and smoothly. In addition, this location of the scanner is very comfortable and allows you to instantly unlock your smartphone.
And in general, what prevents you from using face unlocking? In Realme 7, it works great even in low light. I didn't have any problems with this process.
Sufficient performance of MediaTek Helio G95
Testing the Realme 7 was also very interesting for me in terms of experience with processors from MediaTek. I confess that I have encountered very little of them lately.
In addition, testing the Realme 7 for performance was also interesting because a completely new processor is installed inside it. Realme used a MediaTek Helio G95 processor with Mali-G76 graphics, which is a slightly improved processor over the Helio G90. Judging by the feedback from my colleagues, the Helio G90 performed well in Realme 6. It was interesting to find out what has changed, what has improved. That is why my expectations from Helio G95 were high, and, looking ahead, I will say that they were justified. In addition, the Realme 7 additionally has 8GB of RAM to support the system and 128GB of storage for files, which ultimately allows you to use the device very smoothly and without any annoying bugs. But let's talk about this in more detail.
Of course, in synthetic tests you shouldn't expect it to smash any records, and this shouldn't come as a surprise. There are many explanations and comparisons here, but I don't want to emphasize them too much. In addition, it should be remembered that the results of synthetic tests do not always correspond to what we get in everyday life. This was the case with the Realme 7.
This is especially true for mobile games. I've run several heavy games like PUBG Mobile, Call of Duty: Mobile, LifeAfter, and Sky: Children of the Light on Realme 7. However, I've never experienced any stuttering while playing them. For the battle royale game, I chose high-quality graphics, which the processor handled surprisingly very well. In addition, during the game, the smartphone practically does not heat up, as is the case with competitors on Qualcomm Snapdragon. After about a 30-minute session the smartphone warmed up a bit, but even that did not cause such discomfort that it made me put it off for several hours. In addition, the Realme 7 has features like Frame Boost that delivers full frame rate and can predict combat scenarios with high intensity visual effects.
Needless to say, day to day tasks like texting, texting, Instagram browsing, and web browsing are easy for the device. When it comes to taking photos, it doesn't take a smartphone long to open the camera app. However, there is a delay when using night mode.
Realme 7 supports all mobile formats up to 4G/LTE, but no 5G. The smartphone also supports dual-band Wi-Fi in the 2.4 and 5 GHz bands. There is also NFC and a Bluetooth 5.0 module. But we won't find an infrared port, notification LED or FM radio here.
For navigation we have support for GPS, GLONASS, BeiDou and a compass. Everything worked as it should!
Android 10 with Realme UI
The smartphone runs on Android 10 with its own Realme UI shell. The shell itself is very similar to the ColorOS that OPPO uses. This is not surprising considering Realme is an OPPO sub-brand.
The Realme UI shell itself is intuitive and differs little from the standard version of the Android.
Apart from a collection of several custom apps, for example for playing music, this is a de facto clean system. Realme even abandoned its smart screen, which was previously activated by swiping on the left, and replaced it with the one from Google.
In the settings, you can set, for example, the style of your desktop, set the gesture to drag icons down, load your own set of icons, enable special features or customize the smart sidebar. You also have more customization options for power saving modes. A separate area for games and cloning applications is the icing on the cake.
What about the sound?
Sound is clearly not a priority for Realme, at least in the budget class. And it is very noticeable. In Realme 7 we get a monaural speaker that sounds decent for this price segment. But there's a 3.5mm headphone jack on the bottom end.
The wired headphones sound pretty decent. The sound is smoother, but without clear bass and treble.
I tried adjusting the EQ settings, but it didn't change much. Still, the price does affect certain things.
Read also: realme Buds Air Neo TWS Headset review
Does the Realme 7 make good photos?
Today, most smartphones in this price range have good cameras. I mean, unless you're need dynamic range or depth of photography, these cameras are more than enough. Realme 7 also has good cameras, which I'll tell you about in more detail now.
In short, the Realme 7 camera will definitely not disappoint you. For its price, the smartphone offers many photographic possibilities and good image quality. And responsible for this is a set of four cameras, consisting of a 64 megapixel f/1.8 main lens, an 8 megapixel wide-angle f/2.3 aperture, a 2 megapixel macro with an f/2.4 aperture and a 2 megapixel depth sensor. In front is a selfie camera with a 16-megapixel matrix and f/2.1 aperture.
The 64MP main camera is responsible for most of the photos. Pictures taken with it retain natural color and have good exposure. Daylight photos are very detailed.
СМОТРЕТЬ ОРИГИНАЛЫ ФОТО В ПОЛНОМ РАЗРЕШЕНИИ
Photos are usually not blurry, and they have vibrant colors. The 10x zoom gives good quality at half scale. And then we get more and more noise.
Of course, you can find fault with colors that are too bright, artificially so, but I believe that this is the norm for this class of smartphones.
What's more, when you switch to a wide-angle lens, the world becomes even more colorful. The software color enhancement is clearly at work here. But I have a gripe with the 8MP ultra wide angle camera. The quality of photos taken in this format is not always impressive.
Yes, it covers a large area compared to the main sensor, but the quality drops in direct proportion. I'm not even talking about low-quality filming with this module at night. Although, the main camera was a pleasant surprise, especially when using the special Night mode.
The set also includes a macro lens and a depth sensor, which probably no one will use much.
СМОТРЕТЬ ОРИГИНАЛЫ ФОТО В ПОЛНОМ РАЗРЕШЕНИИ
The main sensor is much better suited for photographing subjects at close range. In addition, unlike a macro, it has no problems with locking focus.
The front selfie camera is a 16-megapixel matrix with f/2.1 optics. The quality of the photos is very good, the high detail of the photos is especially commendable. Although, when I snapped one photo with AI Beauty on and another without it, I couldn't find much difference between the two, which means you won't look natural on selfies. There will always be some anti-aliasing.
Of course, the Realme 7 can also record videos in both Full HD at 30 and 60fps, and 4K at 30fps.
As with all more affordable phones, 4K shooting is more of a marketing ploy than a useful feature. Larger videos will always be of lower quality, so you'd better shoot Full HD at 60fps.
The video quality is pretty decent, it does not suffer from aggressive refocusing, is stable enough and copes with fast scene changes.
An ultra-stable mode is also available, but I do not recommend using it often, as the video quality is significantly reduced. The sound is quite average, the microphones pick up too much ambient noise. At night, it is better to use the main camera only as a last resort, and do not shoot anything on a wide screen.
Excellent battery life of Realme 7
Realme has taught us about high capacity batteries. The manufacturer, however, did not stop there and used a 5000 mAh battery in the new model (the Realme 6 had 4300 mAh).
I was impressed with the battery life the Realme 7 has to offer initially. This equates to 7 hours of screen use, which equates to approximately 1.5 days of daily use.
Smartphone charging doesn't disappoint either. Thanks to the 30 watt charger, I managed to fully charge it in almost an hour.
| Battery charging speed | Charging time |
| --- | --- |
| 10% █ ░ ░ ░ ░ ░ ░ ░ ░ ░ | 6 минут |
| 20% █ █ ░ ░ ░ ░ ░ ░ ░ ░ | 9 минут |
| 30% █ █ █ ░ ░ ░ ░ ░ ░ ░ | 12 минут |
| 40% █ █ █ █ ░ ░ ░ ░ ░ ░ | 23 минуты |
| 50% █ █ █ █ █ ░ ░ ░ ░ ░ | 28 минут |
| 60% █ █ █ █ █ █ ░ ░ ░ ░ | 36 минут |
| 70% █ █ █ █ █ █ █ ░ ░ ░ | 42 минуты |
| 80% █ █ █ █ █ █ █ █ ░ ░ | 49 минут |
| 90% █ █ █ █ █ █ █ █ █ ░ | 54 минуты |
| 100% █ █ █ █ █ █ █ █ █ █ | 58 минут |
Of course, the smartphone does not support wireless or inductive charging. But whoever expects this from a phone for such a price can be the first to throw a stone at me!
Should you buy Realme 7?
Realme 7 is a fresh stream in the murky mid-range waters. For very affordable money, it offers premium features only available in much more expensive devices, which will certainly put pressure on the competition, and which buyers will ultimately benefit from. These premium features include a 90Hz display and 30W charging, which are currently not the standard for the lower mid-range.
In addition to the top-notch display and battery with fast charging, in the Realme 7 you can also count on enough power to play games, an operating system with a light Realme UI shell, quality photos and videos in good lighting. The presence of a 3.5mm audio jack or NFC will please many people, too.
What disappointed me a little was photos and videos in bad light, no wireless charging, and no water and dust resistance. However, all the disadvantages are negated by the price, which I refer to throughout the review. I can say with full responsibility that Realme 7 is the best offer on the smartphone market in the price-quality category.
Pros
nice design and materials;
high-quality display with a refresh rate of 90 Hz;
enough power to play mobile games;
well-optimized Android 10 system with Realme UI extension;
5000 mAh battery;
fast charging (30W);
photo and video above average in its class in good lighting;
Cons
photo and video quality in low light;
lack of wireless and inductive charging;
no water and dust protection.