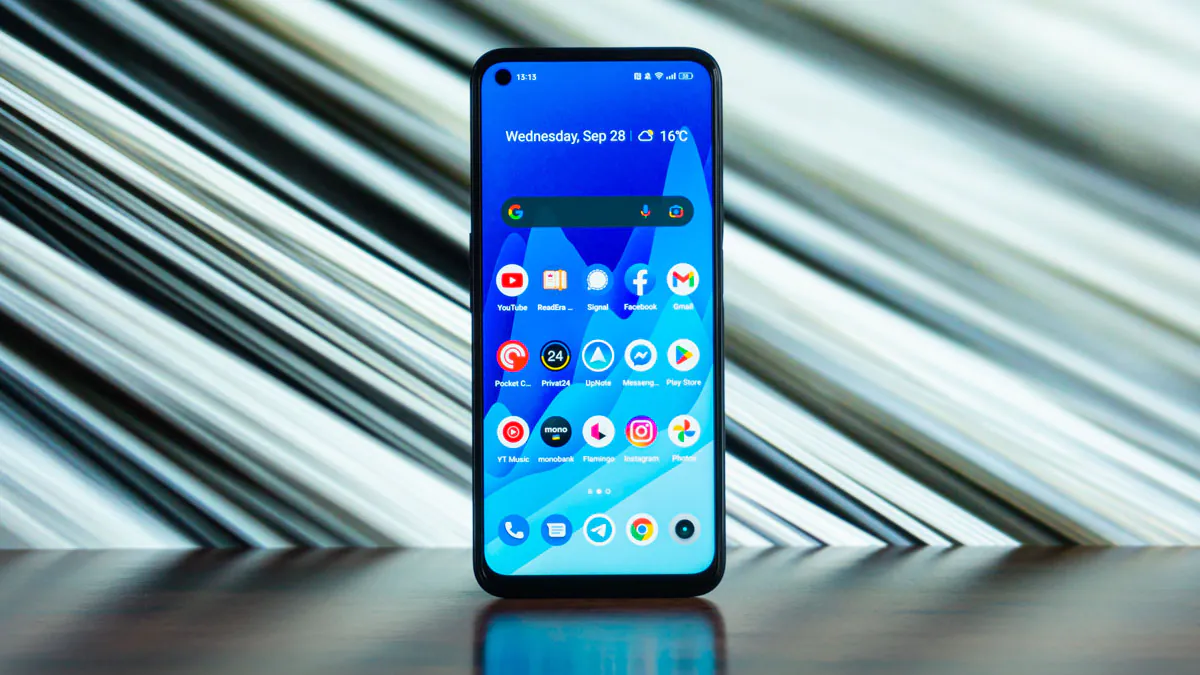 Back in mid-February 2022, realme announced a couple of new smartphones of the "numbered" 9th series: realme 9 Pro and realme 9 Pro+. We have already talked in detail about the advanced "nine plus" recently, and now it's time to get acquainted with the regular realme 9 Pro. Let's find out what distinctive features the 9 Pro has compared to the 9 Pro+, whether this smartphone has any advantages over the older version, and whether it deserves your attention.
Technical specifications of the realme 9 Pro
Display: 6.6″, IPS LCD matrix, 2412×1080 pixels, aspect ratio 20:9, pixel density 400 ppi, refresh rate 120 Hz, sample rate 240 Hz
Chipset: Qualcomm SM6375 Snapdragon 695 5G, 6 nm, 8-core, 2 Kryo 660 Gold cores with a clock frequency of 2.2 GHz, 6 Kryo 660 Silver cores with a clock frequency of 1.7 GHz
Graphics accelerator: Adreno 619
RAM: 6/8 GB, LPDDR4X
Permanent memory: 128 GB, UFS 2.2
Support for microSD memory cards: 256 GB
Wireless networks and modules: 5G, Wi-Fi 5, Bluetooth 5.1 (A2DP, LE, aptX HD), GPS (A-GPS, GLONASS, BDS), NFC
Main camera: triple, wide-angle module 64 megapixels, f/1.8, 26 mm, 79°, PDAF; ultra-wide-angle module 8 megapixels, f/2.2, 1/4.0″, 1.12µm, 16 mm, 119°, FF; macro module 2 megapixels, f/2.4, 22 mm, 88.8°, FF (4 cm)
Front camera: 16 megapixels, f/2.1, 1/3.09″, 1.0µm, 26 mm, 79.3°, FF
Battery: 5000 mAh
Charging: 33W fast wired Dart Charge
OS: Android 12 with realme UI 3.0 shell
Dimensions: 164.3×75.6×8.5 mm
Weight: 195 g
Positioning of realme 9 Pro
As I noted in my review of the realme 9 Pro+, it is with this series that the manufacturer for the first time resorts to a strategy when it releases two advanced smartphones at once. But it's worth noting that they are quite different from each other. That is, this is not a case where the difference between the devices is, relatively speaking, in the display diagonal, dimensions, and other aspects.
However, they both belong to the middle class and are sold at corresponding prices. It's quite logical that the regular Pro version is cheaper than the Pro+, and given this, we can conclude that one smartphone must be simpler than the other in some way. But we have yet to figure this out.
The package contents
The smartphone is delivered in the same cardboard box with a branded design in yellow and black accents. The package is basic, as for the manufacturer's current smartphones: a power adapter and a USB Type-A/Type-C cable, a protective case, a card eject tool and some accompanying documentation. The first difference of the 9 Pro is the bundled charging, and here it is simpler compared to the older "brother" in the series. However, in general, it is considered quite powerful for the mid-range segment – 33 watts.
The protective case is silicone, tinted, without any matte inserts. The quality is acceptable, and the protection is also normal: there is a rim above the screen, duplicate buttons, and the camera unit is completely covered, but with separate cutouts for each module and flash. Also, according to good tradition, a protective film is glued to the smartphone screen right out of the box.
Design, materials, and build quality
The design of the realme 9 Pro, in short, is completely identical to the 9 Pro+. This design, of course, has its own interesting and unique visuals, but there are also some questionable moments. In general, the smartphone looks not much different from other devices of the 9 series, and they are all similar in one way or another. There's nothing particularly interesting about the front, but the back and coloring are worth mentioning.
On the front we have a typical realme smartphone. The front camera is located in the upper left corner of the screen. In this case, the peephole is not very compact, unlike the realme 9 Pro+. This is due to a different type of display, but its diagonal is also larger, so there is nothing critical about it. The bezels around the display are not the thinnest by modern standards, especially the bottom bezel.
The camera island hasn't changed visually either, except for its size. Here, the rectangle has become slightly larger due to the increase in the size of the device itself, but otherwise it has remained exactly the same. It's a rectangular glass block with rounded corners, which houses three dedicated camera modules, a flash, and other inscriptions.
You can also note the flat bezel around the perimeter of the case, but the edges themselves are traditionally of different widths: narrow on the sides on the left and right and wider at the top and bottom. In addition, the curved edges of the back slightly overlap on the right and left sides, making the smartphone feel thinner than it actually is. The frame is made of plastic with a practical matte finish.
The design of the back panel and the general impression of the smartphone really depends on the color of the smartphone. In this case, let's just say it's not the most attractive, as it's just a black color that shimmers in the light. We've been seeing something similar for years now in a variety of Android smartphones. But the other two colors are much more interesting.
There are three of them in total: black (Midnight Black), green (Aurora Green) and blue (Sunrise Blue). In my opinion, the blue color is the most unique. I described it in full detail in the realme 9 Pro+
, but in short, it has the effect of changing color in the sun. Photochromic finishes can change their original color under the influence of sunlight or ultraviolet light.
The materials of the case are ordinary: glass on the front, glossy plastic on the back and a matte plastic frame around the perimeter. There is no particular practicality, especially in the case of the black color. The smartphone gets very dirty: it collects absolutely all stains and prints, as well as attracts dust and small lint. From my experience with the light blue version, I can say that it is not only more interesting in visual terms, but traces of use will not be so noticeable.
The smartphone is assembled well: the buttons do not wobble, the body does not emit any extraneous sounds when twisted. The only thing is that when you press hard on the back, you can see how it bends a little. Obviously, there is no moisture protection here either.
Raed also: realme 9 Pro+ Review: Sturdy Middle with Curious Design
Layout of elements
All the main functional elements on the front are located in the upper part. The front camera is embedded in the upper left corner, in the middle of the bezel there is a speaker slot and a window with proximity and light sensors. There is no notification indicator.
On the right side is the power button combined with a fingerprint scanner. On the left side there are two separate volume keys and a combined slot for two nanoSIM cards or one SIM and a microSD memory card.
There is only an additional microphone for noise cancellation on top. At the bottom are all the other usual elements: the slots of the main multimedia speaker, a USB Type-C port in the center, the main microphone and a 3.5 mm audio jack.
At the back, in the upper left corner, there is a block with three cameras, a flash, and inscriptions with camera settings. All three eyes protrude above the camera island. Below is a silver vertical realme brand logo and various service markings opposite.
Ergonomics
The realme 9 Pro smartphone is larger than the Plus version in terms of dimensions and display diagonal and is one of the largest of the entire 9 series in general. With a diagonal of 6.6″, it has body dimensions of 164.3 × 75.6 × 8.5 mm and weighs 195 g. It is difficult to operate with one hand because of its size, which is obvious and nothing new. It's good that a one-handed control mode is available here, and it can help out when using it on the go and simplify the use of the device.
The smartphone feels fine in the hand without the case, although not everyone may like the previously mentioned thin edges on the left and right. Nevertheless, thanks to the curved edges of the back, the transition is smooth and there is no discomfort at all. The physical buttons are spaced on different sides and located closer to the middle, so there is no need to reach for them at all. Plus, among the positive aspects, we can note separate and large keys for changing the volume level.
Realme 9 Pro display
The realme 9 Pro display has a 6.6″ diagonal and is made using IPS LCD technology. The panel resolution is Full HD+ (or 2412×1080 pixels), the aspect ratio is 20:9, and the pixel density is 400 ppi. The screen also has a high refresh rate of 120 Hz and a sampling rate (or touch reading) of 240 Hz. That is, in this smartphone, the manufacturer has chosen a different IPS and 120 Hz connection instead of AMOLED and 90 Hz, which is used in the realme 9 Pro+.
It's hard to say which option is better, because it's an individual thing. There are those who do not like OLED displays because of PWM, for example, and for such users, IPS will be better. Others, on the contrary, will choose OLED because of the higher picture quality in terms of color reproduction, albeit with a lower refresh rate. Although the difference between 90 Hz and 120 Hz, in my opinion, is not as significant as between the classic frequency and any higher frequency.
Anyway, the screen itself is of good quality. Normal, relatively high level of maximum brightness, which is enough even for outdoor use. But not in direct sunlight, of course. The color reproduction is close to natural and without unnecessary decoration, even with the selected bright color mode. The contrast level is generally typical for IPS technology.
In the settings, you can also choose a different color display mode with even softer and less saturated colors. Plus, you can adjust the color temperature to make it either warmer or cooler. Viewing angles are also standard for this type of display. They are wide: there is neither distortion of individual colors nor changes in color temperature at different angles. Traditionally, dark tones fade slightly under the diagonal, but this is a common occurrence.
Now to the refresh rate. The fact that the manufacturer has chosen a frequency of 120 Hz is certainly nice. With a frequency of 90 Hz with an IPS screen, there would be more questions about the smartphone, because this is no longer the level of an average, which is the realme 9 Pro, but rather even a modern budget smartphone. It is also noted that the frequency is dynamic, and there are 6 levels in total: static (30 Hz), movie (48 Hz), TV program (50 Hz), video (60 Hz), games (60/90 Hz) and scrolling (90/120 Hz).
All of them are used for automatic display mode, but personally, for example, I could not see a frequency below 48 Hz. It is unclear what static mode means and under what conditions it is activated. In addition, in automatic mode, the frequency is often 90 Hz, and in some programs it is reduced to 60 Hz, that is, the maximum frequency is used less often than we would like.
In other words, the automatic mode is rather controversial here. It seems to help save battery power, but the abrupt change from 60 Hz to 120 Hz and vice versa, depending on the program, is too striking. Personally, I settled on the constant 120 Hz mode, moreover, it can also be called dynamic in some way, unexpectedly. For example, when viewing photos and videos, the frequency drops to 60 Hz, but at the same time in other applications it will be 120 Hz.
The frequency of reading touches (sampling) is declared to be 240 Hz, which is less than the 9 Pro+ with 360 Hz. This parameter is important for fans of mobile games, especially competitive projects. You can change the sensitivity in all games through the built-in game hub, but in officially supported games, such as PUBG Mobile, the difference is very noticeable with the recommended touch optimization.
As for the settings, everything is typical for realme smartphones: light/dark theme with its own settings and auto-switching, color mode and temperature, customizable eye protection, improved color reproduction in video, auto-rotate and auto-off, choice of screen refresh rate (auto, 60 Hz, 120 Hz) and display: settings for displaying the front camera notch and full screen mode for applications.
Read also: realme 9i Review: For Whom Is This Budget Phone?

Performance of the realme 9 Pro
Inside the realme 9 Pro is a 6nm Qualcomm Snapdragon 695 5G chipset with 8 processor cores. They are divided into two clusters: 2 Kryo 660 Gold cores operate at a maximum clock speed of up to 2.2 GHz, and the remaining 6 Kryo 660 Silver cores operate at a maximum clock speed of up to 1.7 GHz. Graphics processing is entrusted to the Adreno 619 accelerator. Performance tests show that we are dealing with a mid-range platform.
However, the manufacturer has managed to cool the hardware. In trotting tests, the decrease in processor performance is really small. With the "smart" (standard) mode of operation, the performance level dropped by a maximum of 10% in 15 minutes, and in half an hour under the same conditions by only 8%. If you choose the productive mode, the difference is literally minimal: 11% and 9% in 15 and 30 minutes, respectively.
The amount of RAM in a smartphone depends on the specific modification, and there are two of them: with 6 GB and 8 GB of LPDDR4X RAM. There is nothing much to add here – any amount is enough for the normal operation of the smartphone. Moreover, there is an option for virtual RAM expansion if there is excess free space in the permanent memory. For the 8 GB version, an expansion of up to 5 GB is available, and for the 6 GB version, most likely, it will be slightly less.
In turn, the amount of permanent memory does not change and is the same for the two modifications – 128 GB with a UFS 2.2 drive. Of this, 105.80 GB is available for the user, but you can expand the storage with a microSD card up to 256 GB. Unfortunately, you will have to sacrifice the second SIM card for this. The slot in the realme 9 Pro is combined and does not allow you to use three cards at the same time.
The smartphone shell is smooth, programs open instantly and work without any problems. At 120 Hz, we didn't notice any jerks or twitches in the system animations, and overall the smartphone feels fast and responsive. It copes with undemanding games perfectly, and any resource-intensive games can be played at least on medium settings and quite often on high graphics settings. Below are the measurements of the average FPS:
Call of Duty: Mobile – very high, all effects are enabled except for rays, Frontline mode – ~60 FPS; Battle Royale – ~40 FPS (game limitations)
Genshin Impact – medium, frame rate 60, ~36 FPS
PUBG Mobile – high, 2x antialiasing and shadows, ~30 FPS (game limitations)
Shadowgun Legends – ultra graphics, frame rate 60, ~53 FPS
Realme 9 Pro cameras
The main camera unit of the realme 9 Pro also has three modules, but only the main wide-angle module differs from the 9 Pro+ model. It's the same as the regular 9 Pro without the optical stabilization system and is simpler in itself, despite its high resolution. In addition to it, there is an auxiliary ultra-wide-angle module and a dedicated module for macro photography:
Wide-angle module: 64 megapixels, f/1.8, PDAF, 26 mm, 79°, PDAF
Ultra-wide-angle module: 8 megapixels, f/2.2, 1/4.0″, 1.12µm, 16 mm, 119°, FF
Macro module: 2 megapixels, f/2.4, 22 mm, 88.8°, FF (4 cm)
The standard photo resolution for the main module is 16 megapixels, and the full resolution is available as a separate 64 megapixel mode. You should shoot in this mode mainly in situations where you plan to do something with the photo in the future. They are softer with less aggressive post-processing, but with a little more noise.
In normal mode, the realme 9 Pro shoots well for its class. The shots are sharp and detailed, the colors are rich, the dynamic range is quite wide. In a room with not very good lighting, there will be a little less fine detail, but digital noise is not suppressed too aggressively and this is noticeable in the shadows. The HDR mode needs to be monitored, because in certain situations it goes a little overboard and the pictures are not very natural.
EXAMPLES OF PHOTOS IN FULL RESOLUTION
Evening pictures are quite ordinary for a classroom, not very bright, but the situation can be corrected by the night mode, which "extracts" more information from dark areas and better processes bright areas. However, these photos have too much artificial sharpness, which is why they don't always look good.
Photos from the ultra-wide-angle module have a colder tint compared to the wide-angle module and slightly less vivid colors when it comes to color reproduction. But in terms of quality, there is no comparison. The dynamic range is not as wide, there is more digital noise, even in daytime photos, and lower detail. Its main advantage is the 119° viewing angle.
EXAMPLES OF PHOTOS IN FULL RESOLUTION
I wouldn't shoot with this module in the evening, but if you have no other options, you should use the night mode. It also works for ultra-wide angles, which is good, and at least you can see something in the picture, but there will be problems with white balance.
The macro module, in turn, is the simplest ordinary one, with a low resolution of 2 megapixels and fixed focus – the optimal distance for shooting is about 4 cm. But you need to understand that this camera does not shoot well in any case: there is a minimum of detail, and the color reproduction is faded and unnatural. So you shouldn't count on high-quality macro shots.
EXAMPLES OF PHOTOS IN FULL RESOLUTION
Video recording on a smartphone is not good because of the weak ISP in the Qualcomm Snapdragon 695 5G chipset. It can't record video at a resolution higher than 1080P, and since there are several cameras, the frequency is also limited to only 30 FPS. For a smartphone of this level, this is extremely weak and the results are not impressive at all: the sharpness is not enough, the color reproduction is slightly embellished, the dynamic range is not wide, and the electronic stabilization is not the best either. And that's all about the main wide-angle module, and the ultra-wide is, predictably, even weaker. This is not the level of a modern mid-range, of course.
Front camera module with the following parameters: 16 megapixels, f/2.1, 1/3.09″, 1.0µm, 26 mm, 79.3°, FF. In excellent lighting conditions, the photos are quite pleasing in terms of color reproduction and clarity, but almost always the pictures are "noisy" in the shadows, even under very good conditions. And it is clear that the detail also suffers when shooting indoors, for example, with an average level of lighting.
Video recording is available at a maximum resolution of 1080P and 30 FPS with electronic stabilization. There's nothing special about the video either: it lacks a bit of sharpness, there are noticeable twitches of stabilization while walking, but the picture is not distorted during sudden movements, and the color reproduction is fine.
The camera app is standard for the current version of realme UI, and there are many, many different modes and settings. There are photos, videos, portraits, street, night, 64 megapixels, manual Pro, panorama, macro, movies, slow motion and fast motion video recording, dual-window mode, text scanning, astronomy mode, and shift/tilt (Tilt-Shift). Modes can be sorted and moved to or from the main shooting screen. Settings include: watermark, grid and guides, level, shutter sound, location, shooting methods, quick start, and more.
Read also: realme Pad review: First tablet from the brand

Unlocking methods
The fingerprint scanner is a classic capacitive type, combined with the power button and located on the right side of the smartphone. Manufacturers learned how to make such scanners a long time ago, and now it is extremely rare to find a smartphone where it works poorly. In realme 9 Pro, the scanner is excellent in all respects, it works quickly and stably. Just put your finger on it for a moment and the smartphone will be instantly unlocked.
There is also a face recognition unlock function. It works almost as fast, especially in good light. But the less light there is around, the slower the process will be. You can also use this method in complete darkness if you enable the corresponding option for face illumination in the settings. But it will not always be comfortable for your eyes, because the lighting is compensated for by a bright white background.
In the scanner settings, you can enable the function of quickly launching a hidden application when you put a certain finger on it and choose the unlocking method: a regular light touch to the pad or a full-fledged strong press on the button. There are also several settings for unlocking by face recognition: quick transition to the desktop/open window without a delay on the lock screen, the function of backlighting the face on the screen in low light, and the prohibition of unlocking with closed eyes.
Realme 9 Pro battery life
The realme 9 Pro has a 5000 mAh battery, which is more than the 9 Pro+ model. But let's not forget that here, at least, the screen is larger and the refresh rate is higher. So there is no significant difference between them in terms of battery life in favor of one or the other device. In general, the smartphone is very durable and lasts for a day of normal active use. Although it can hold out for a day and a half, if we talk about more moderate use without serious loads.
In 120 Hz mode, in normal everyday use without frequent use of the camera and without demanding games, the smartphone lasts an average of one and a half days with 7-9 hours of active screen time. In the more objective PCMark Work 3.0 battery test at maximum screen brightness and 120 Hz, it lasted 8 hours and 43 minutes, which is about 20 minutes longer than the realme 9 Pro+.
Fast wired charging with a smartphone is also supported, but it is simpler. The bundled 33W power adapter with Dart Charge technology charges the smartphone from 10% to 100% in 1 hour and 13 minutes. This is a normal good indicator for a modern mid-ranger, although there are already many smartphones in this segment that charge in an hour or even faster. Below are the detailed measurements of the charging speed:
00:00 — 10%
00:10 — 27%
00:20 — 44%
00:30 — 58%
00:40 — 72%
00:50 — 85%
01:00 — 93%
01:10 — 99%
01:13 — 100%
Sound and communications
The earpiece speaker performs its main task with high quality. The interlocutor's voice is clear and the volume margin is quite enough. Unfortunately, this smartphone no longer has stereo sound and the earpiece speaker is not used when playing multimedia in conjunction with the lower one, unlike the same realme 9 Pro+.
The main multimedia speaker can be praised for a good volume margin, but it is not remarkable in terms of quality. At low and medium volume levels, it's not too bad, but with an increase in volume, some frequencies are already distorted. But stereo sound is definitely not enough, at least for a larger volume.
With headphone playback, everything is generally typical for mid-range smartphones. The main thing is not to forget that by default, both the speaker and headphones (wired and wireless) have Real Sound technology enabled with a "smart" profile that does not always guess a specific scenario. You can change it manually by selecting a different one (movies, games, music).
When you connect headphones, the latter will also have an equalizer with several presets and the possibility of manual customization. You should not neglect the available settings if the default sound is not expressive enough. The 3.5 mm audio jack is also Hi-Res Audio certified.
The realme 9 Pro has more than enough wireless modules, and they are all up-to-date. The smartphone supports 5G networks, there is a Wi-Fi 5 module with support for two bands, Bluetooth 5.1 (A2DP, LE, aptX HD), GPS, GLONASS, BDS and NFC. It would be even nicer with Wi-Fi 6, but it falls a little short of the flagship level. There are no problems with mobile networks and other modules, they all work stably.
Firmware and software
As for the software, the realme 9 Pro does not differ from the 9 Pro+ and runs the same version of Android 12 and the proprietary realme UI 3.0 shell. I talked about it in more detail in the review of the Plus version and in general there are practically no differences. Here you can also partially change the appearance of the user interface, customize the home screen, enable screen splitting and flexible windows (floating application windows), a side smart panel for quick access to programs and other functions. There are also two ways to navigate the system (gestures or three buttons at the bottom), a number of gestures and movements to perform certain actions.
Conclusions
The realme 9 Pro is not a bad smartphone in itself, but it lacks a few things to compete more confidently in this segment. For example, 4K video recording and stereo sound. Nevertheless, it's hard to single out the strengths of the 9 Pro that the others don't have. So we're looking at a typical mid-range smartphone with its simplifications rather than a smartphone with some really striking unique features.
It has a good-quality display with a high refresh rate, the main camera takes good photos, it has enough performance for games, and it has good battery life and fast charging. However, you can describe other smartphones for the same money in a similar way, I repeat. The only advantage is the support for 5G networks, but you know that they are not yet very widespread.
Read also: