Bright 6.9-inch 120-Hertz screen, a 5000 mAh battery, support for 5G networks, a 108-megapixel camera with 100x zoom, 8K video shooting… This is not my wishlist, but the specifications of Samsung Galaxy S20 Ultra 5G, which I will discuss in detail in this review.
What's so interesting about Samsung Galaxy S20 Ultra 5G?
I'm already used to the fact that each subsequent Samsung Galaxy S is better than the previous one. Sometimes the company makes big jumps, sometimes smaller, but it regularly improves its flagships to make them better than last year's models. In the case of Galaxy S20 Ultra, everything is a little different, because it is by far the best, most powerful and, unfortunately, the most expensive model of the S line in Samsung history.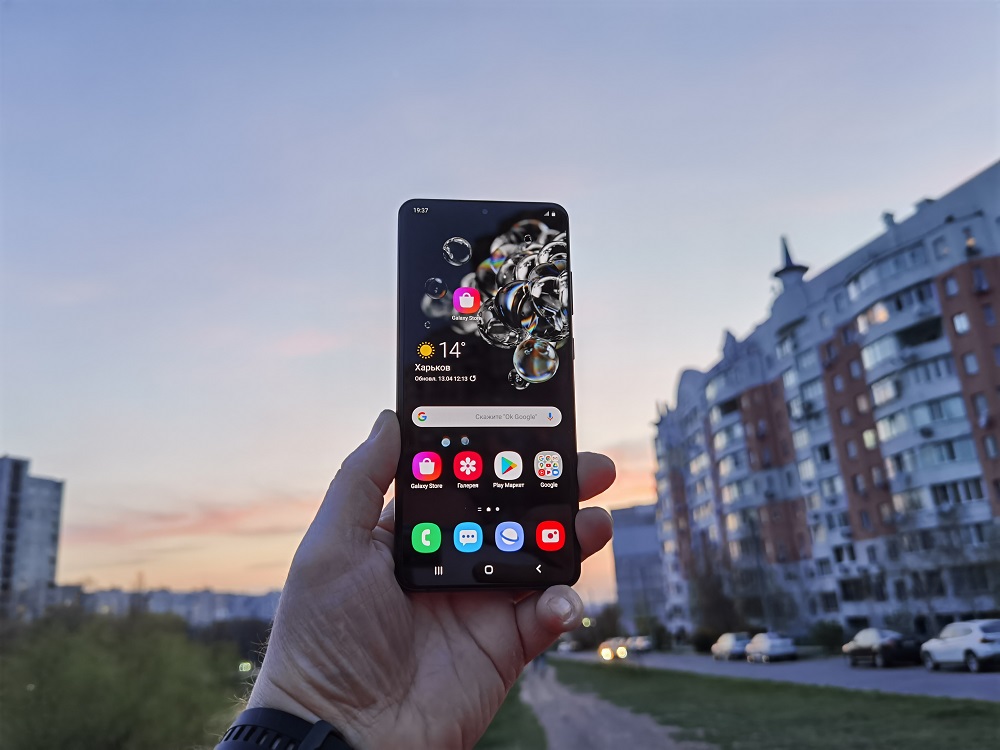 I seeing how the policies of smartphone manufacturers change and how they are trying to adapt to current trends. And it seems to me that Samsung understands the mobile market, adding more models to its popular series.
This year the manufacturer abandoned the flat, small successor to Galaxy S10e, and next to the usual S20 and S20+ decided to introduce Galaxy S20 Ultra. Let's find out if it is really as ultra as the name implies. I already talked a little about my first impressions of this amazing smartphone, and today the time has come for a more detailed review.
Design, materials, battery configuration, build quality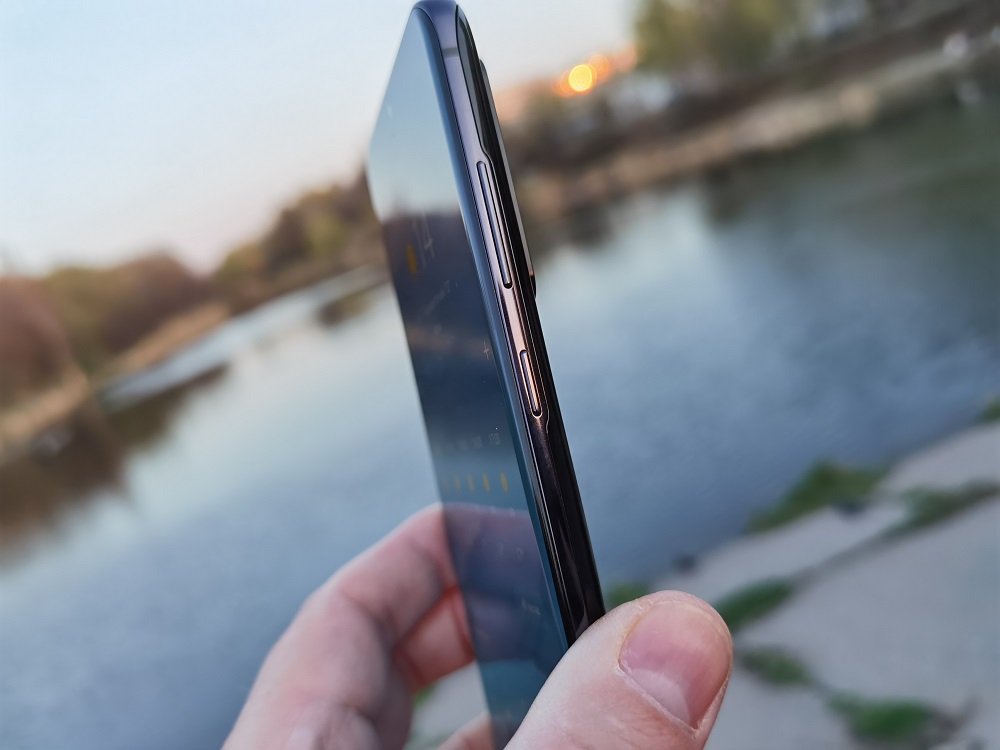 Visually, Galaxy S20 Ultra is not much different from other smartphones in the S20 line. But you must understand that this is a massive smartphone that weighs 220 g (more than 2 chocolate bars), and its dimensions are 167 x 76.4 x 11.2 mm (8.9 mm without protruding camera optics). So, this is definitely not a device the fans of compact phones. However, if you are not concerned about the large dimensions of the case, then in return you will get a solid waterproof construction made of metal and damage-resistant Gorilla Glass 6, as well as a 6.9-inch dynamic AMOLED screen with a resolution of QHD+ (1440 x 3200 pixels), which additionally covered with factory protective film.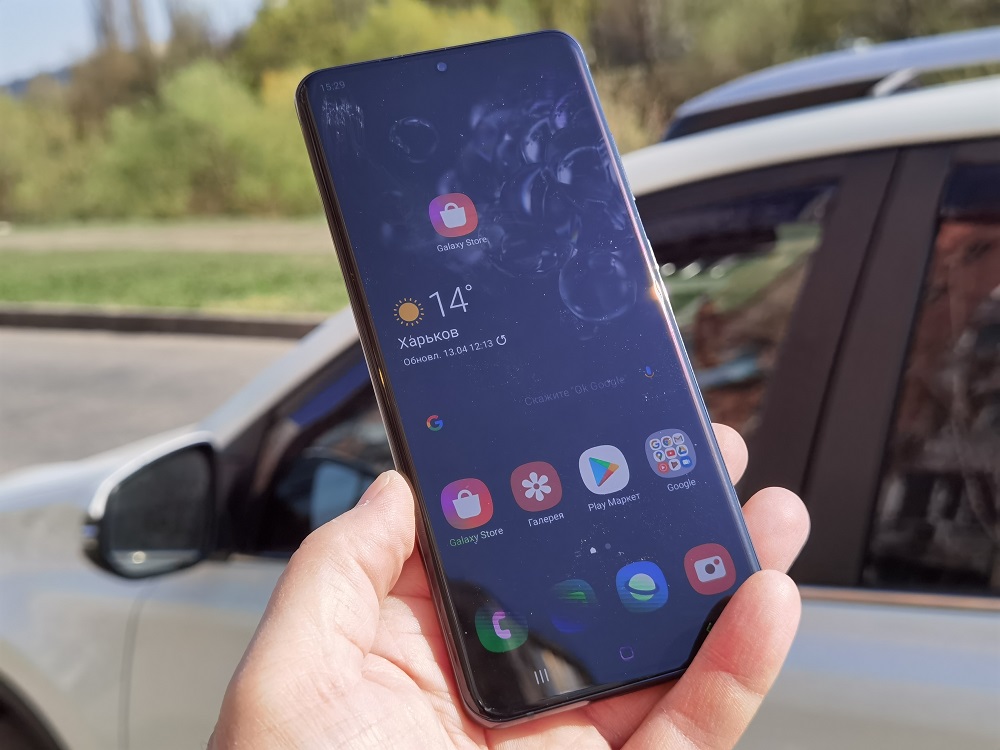 In the new Galaxy S20 series, screens are no longer curved on the sides, as in Galaxy S9, Galaxy S10 or Galaxy Note10. Everyone who complained about the reduced convenience and practicality of such a solution will like this. The front of Galaxy S20 Ultra 5G has become a bit more conventional, but of course, this is a matter of taste.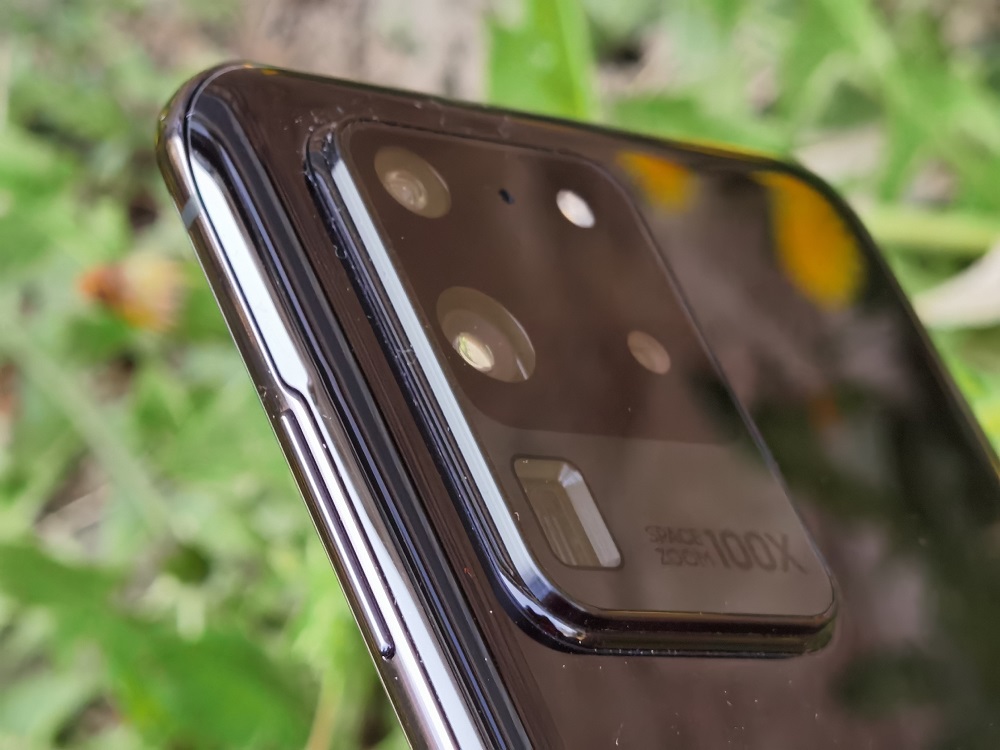 The large module of the main camera is very characteristic, and rather bulky design element of the back panel. In addition, it strongly protrudes above the rear surface (2.3 mm). Such a hump would be difficult to disguise, especially in a thin case, but on the other hand, it would be a shame to make the entire body a quarter centimeter thicker.
The buttons that control the operation of the smartphone (power and volume control) are located on the right side of the case.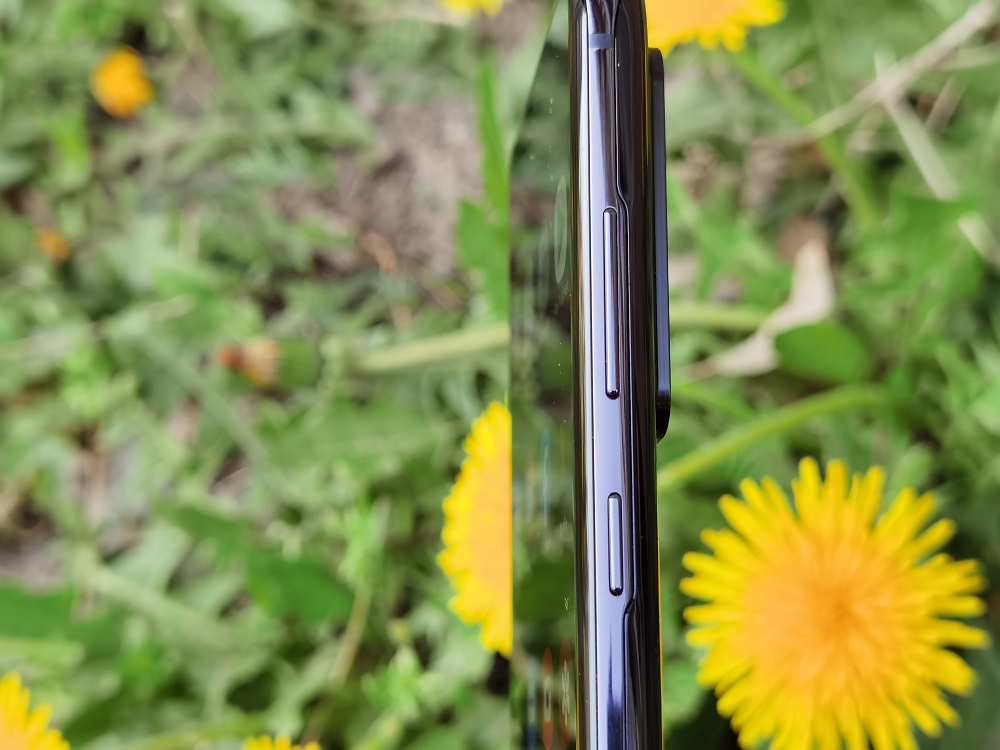 And the tray for two Nano SIM cards (or one microSDXC card) is located at the top of the device's aluminum frame.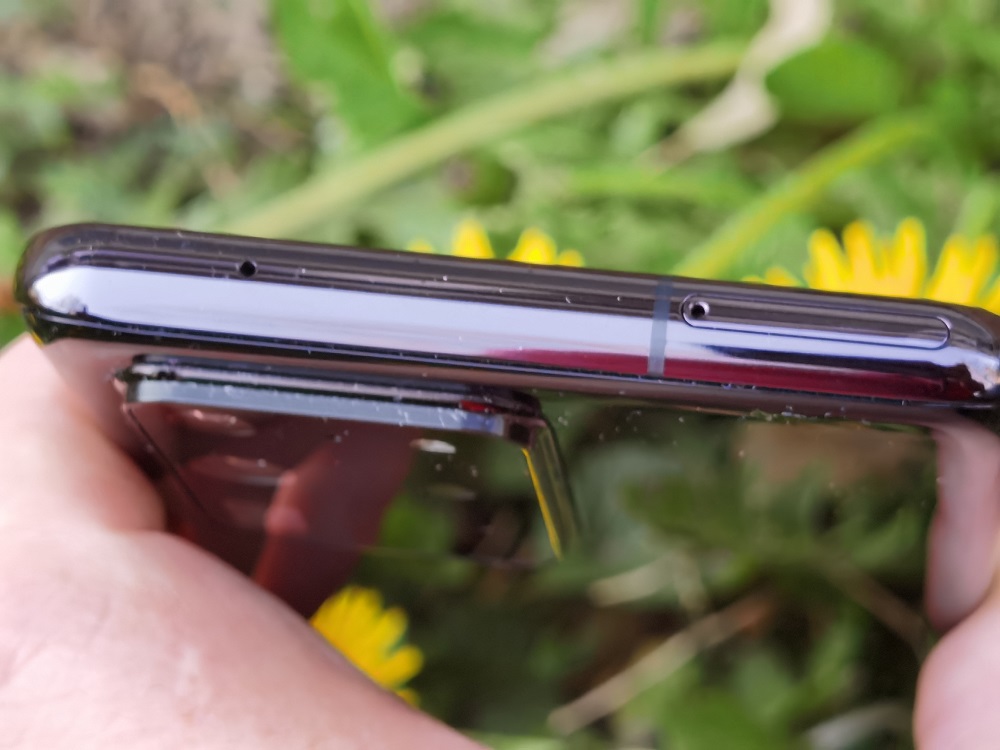 Below we see the USB Type C port and the grill of the main speaker of the smartphone. I note that Galaxy S20 Ultra 5G has stereo audio, the second sound source is located in the earpiece speaker above the screen.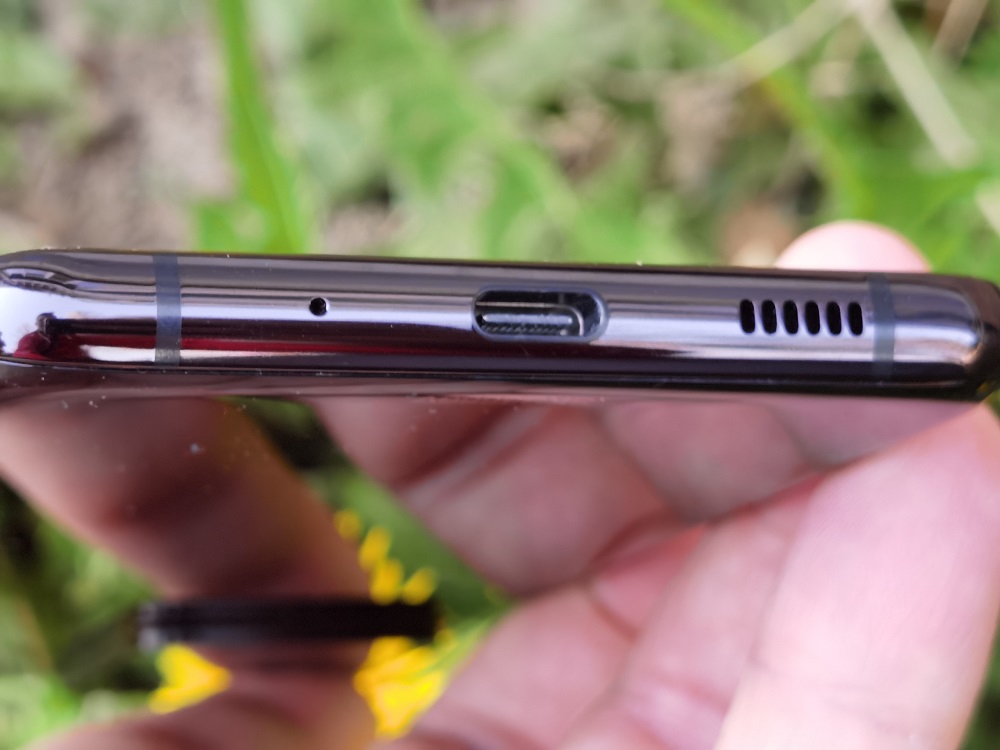 I must admit that for a smartphone Galaxy S20 Ultra 5G's speakers work very well. It all makes a very good impression. The device plays loudly, and the stereo effect when listening to music, watching movies or in games is clearly audible.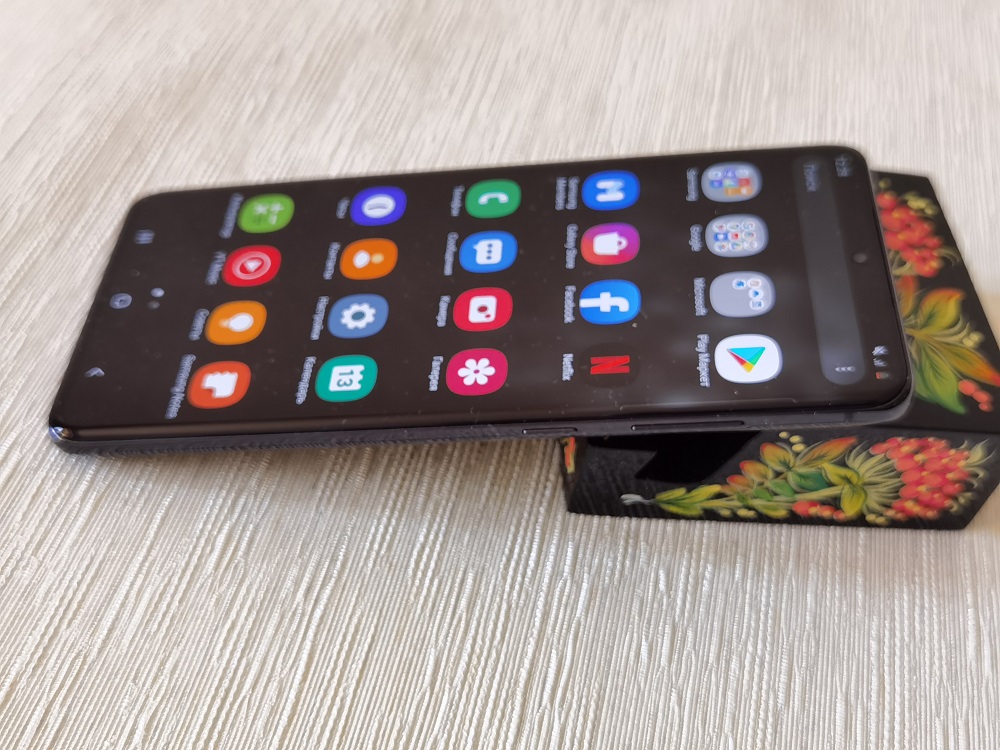 Galaxy S20 Ultra 5G looks very good. A graceful, aesthetically shaped aluminum frame around the perimeter connects the two panels of Corning Gorilla Glass 6. There are zero sharp edges that are unpleasant to the touch. Except for the edges of the protective film.
The oldest flagship in Galaxy S20 series is much flatter than with the older Galaxy S10 or Galaxy Note10. To some "experts," such a display without curved edges may seem less modern, but such a solution had as many supporters as opponents. The latter may blame the curved screen for the lack of practicality and zero functionality, although, frankly, unreasonably.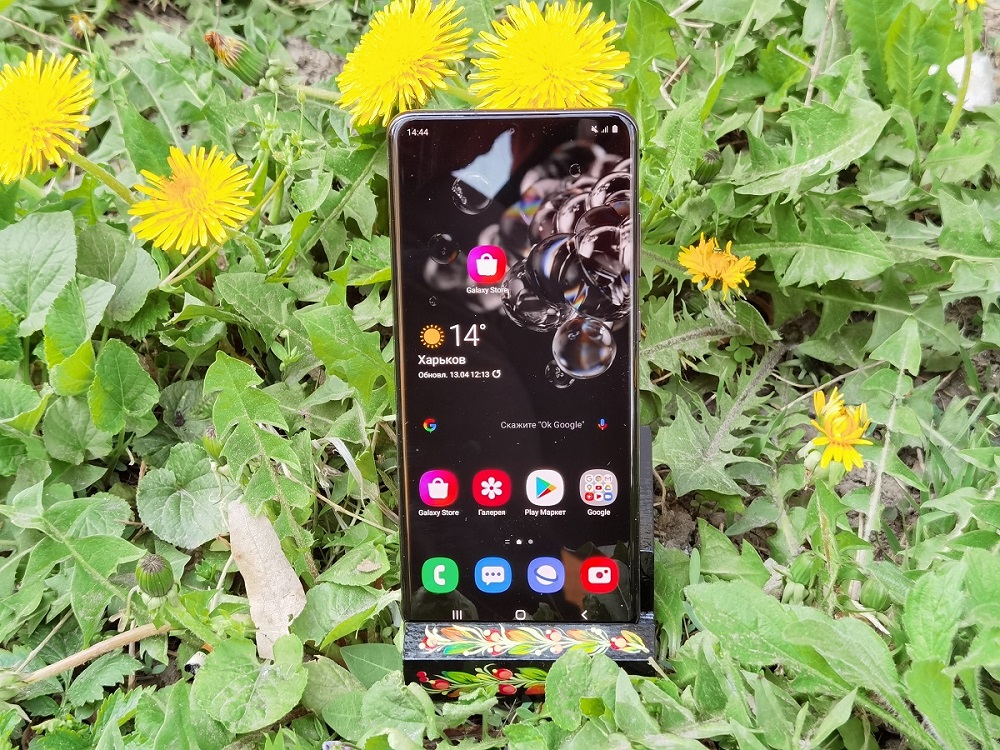 The design of the smartphone is minimalistic and restrained, but at the same time elegant. In addition, the finish of the case looks great. The device complies with the IP68 protection standard, so do not worry about splashes.
I love big smartphones and my palms are not very small, but even for me it was difficult to use the smartphone with one hand. Samsung Galaxy S20 Ultra is more likely a device for people who like serious, classy things.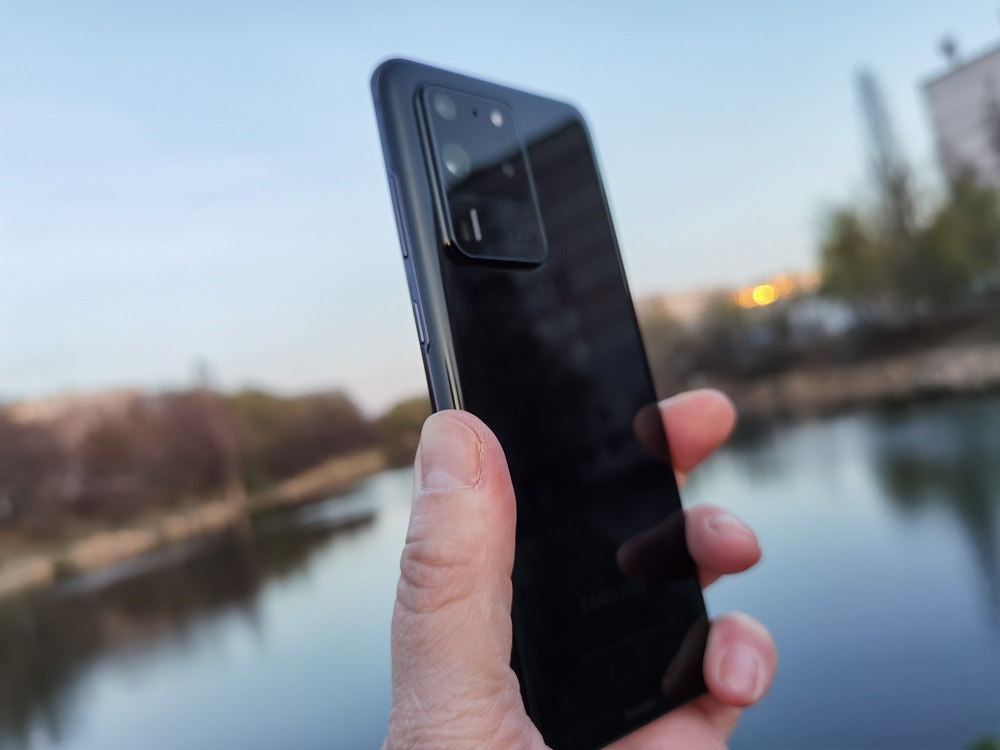 Samsung's new product is available in black and gray. Both colors are very classic, although, in my opinion, the gray version looks much lighter and, therefore, a little more attractive.
120 Hz refresh rate screen
Galaxy S20 Ultra 5G screen continues the great traditions that began with the displays of Galaxy S10 and Galaxy Note10 smartphones. This is a very good Dynamic AMOLED panel with narrow bezels with a resolution of QHD+ (3200 × 1440 pixels) and a large diagonal of 6.9 inches.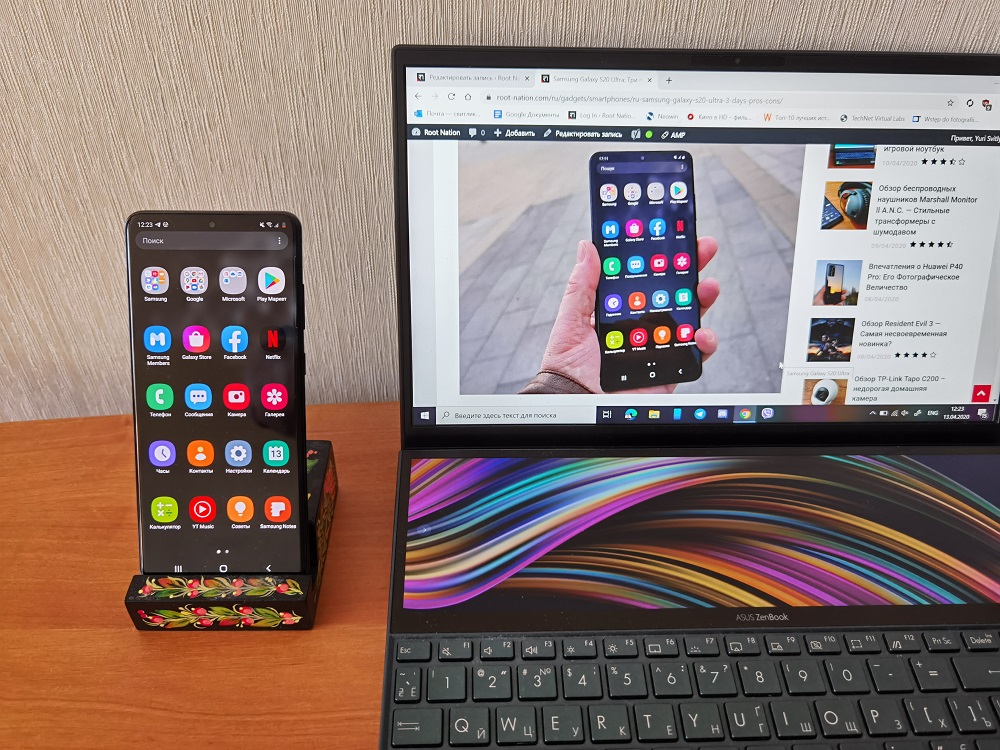 The selfie camera is located in the center of the screen hole, like Galaxy Note10. Thus it looks better than Galaxy S10, where the camera was located in the upper right corner of the display.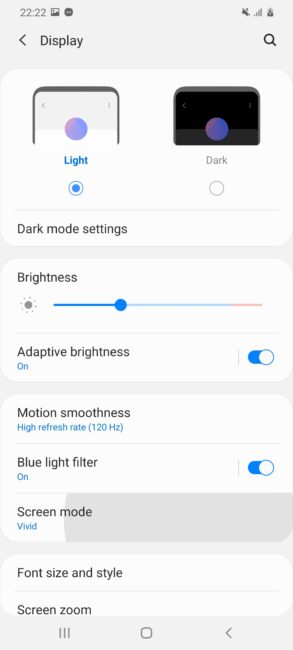 Samsung boasts that the screen of Galaxy S20 Ultra has a refresh rate of 120 Hz. And the function itself makes a positive impression. The only problem is that 120 Hz is only available for Full HD+ resolution. Selecting QHD+ will automatically return to a refresh rate of 60 Hz.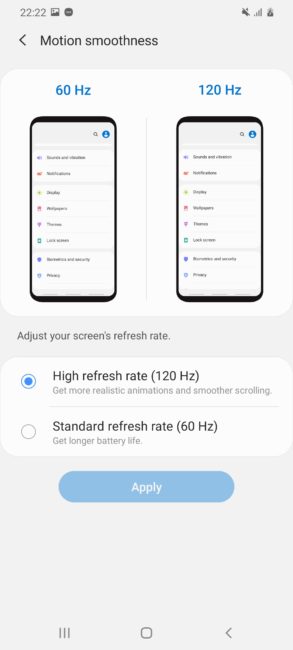 The screens of the Dynamic AMOLED series first appeared in Galaxy S of the 10th generation, replacing the old Super AMOLED panels. They have attractive colors and a wide gamut of DCI-P3, with very high brightness. Also, the screens support HDR content, have a sensational contrast and provide very wide viewing angles.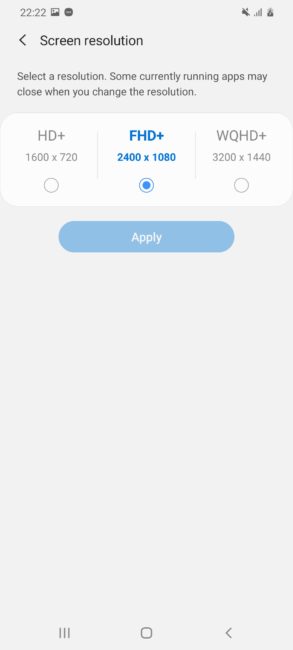 The concept of factory calibration of the screen has also changed in Galaxy S20 Ultra 5G. As in the older Galaxy S10+ or Galaxy Note10 +, in the display settings are limited to two modes of its operation: saturated and natural colors.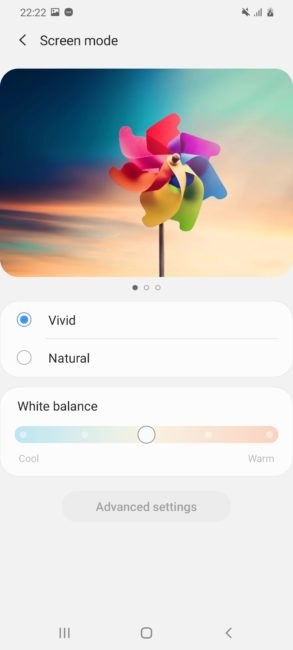 In last year's flagships, the saturated color mode was calibrated in accordance with the requirements of the wide color range used in cinema – DCI-P3, and in the second (natural) mode, the panel switched to a narrower sRGB color range. But Galaxy S20 Ultra in both settings displays the maximum color range (in the green spectrum, even exceeding the DCI-P3 space requirements). The lack of cropping of the range of displayed colors in accordance with DCI-P3 recommendations was manifested in the unnatural curvature of the measurement graph by saturation points. In practice, the screen turned a little greenish. But it all was fixed in the August firmware update.
But from the point of view of the average user, the image quality on the screen of Galaxy S20 Ultra 5G is very good. In natural color mode, a neutral white balance is achieved and, therefore, a more accurate color tone in general.
With manual settings, the brightness indicator of the white color of the screen can reach an impressive 388 cd/m2. And during operation, the it automatically increases the brightness in strong external lighting – 629 cd/m2 (for the entire white screen). However, if the white content in the image is reduced to 30 percent (a more realistic scenario if a dark theme is not used), then the maximum brightness will increase to 925 cd/m2, and even up to 1085 cd/m2 with 20 percent white on the screen. Such short-term brightness is used not only on a bright sunny day, but also when viewing HDR content.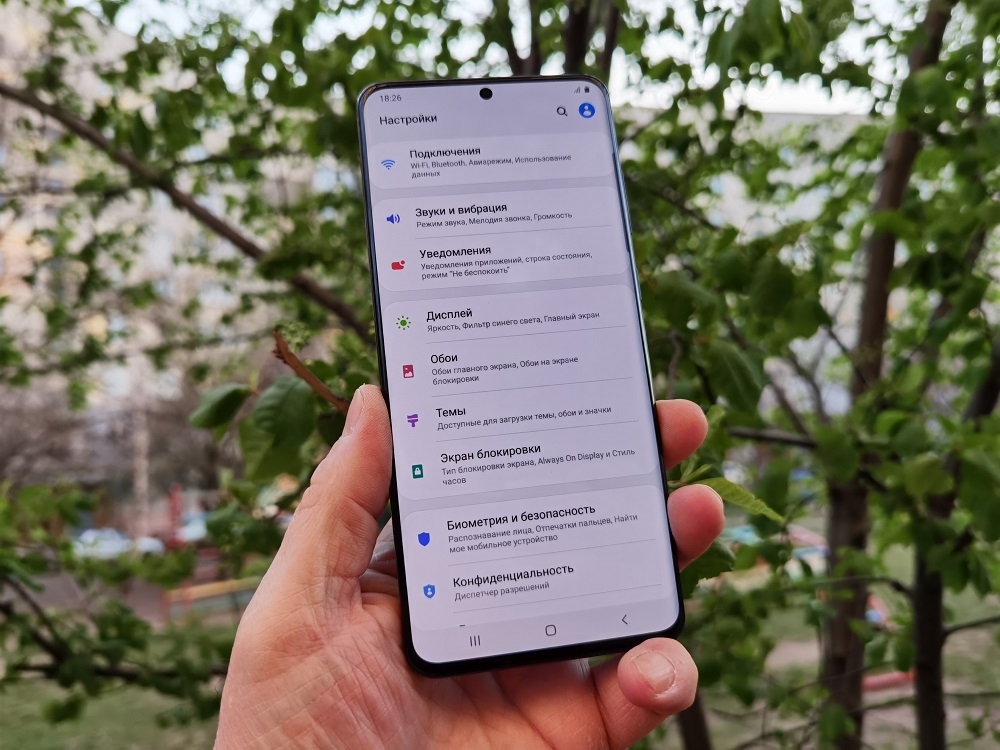 The screen itself is simply fantastically clear, with high contrast. Amazing deep black, rich palette of colors and shades, excellent viewing angles, I never saw anything better. The display is ideal for viewing photos and multimedia. And for games.
Of course, the smartphone has the Always On Display function, which displays the time and notifications when you are not using the phone. It more than replaces the lack of a notification LED, although it consumes more energy, it is also more informative. It ensures protection from pocket calling.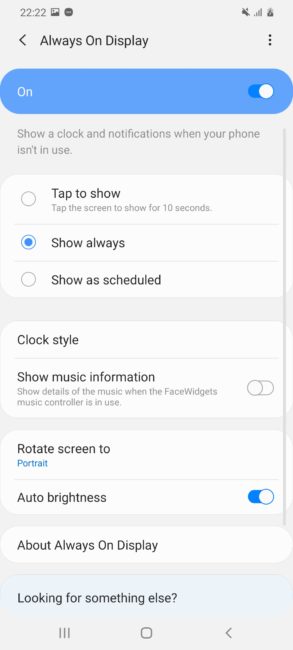 Unlocking
The fingerprint scanner is again placed under the screen, and I got the impression that it works better than in S10 (+) and Note10 (+). Although at first I did not like it, as I wrote in the previous article. But after the next firmware update, the scanner began to work perfectly. Most likely, the reason for the previous problems in the scanner was the fact that I had an engineering sample in my hands. I also hope that Samsung got rid of problems with the scanner when using third-party protective films.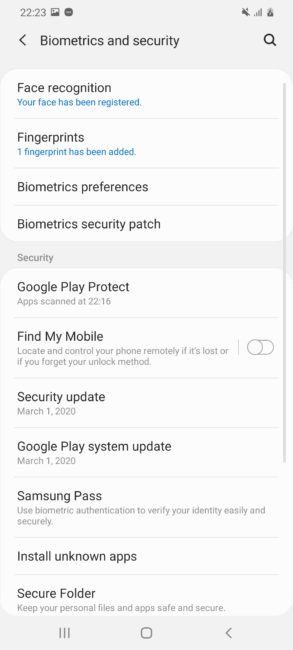 Face recognition also works pretty well. This is certainly not the FaceID level in the iPhone, and there are still security problems with this method of unlocking the smartphone, but the system works quickly and rarely makes mistakes.
Performance and features of Samsung Galaxy S20 Ultra 5G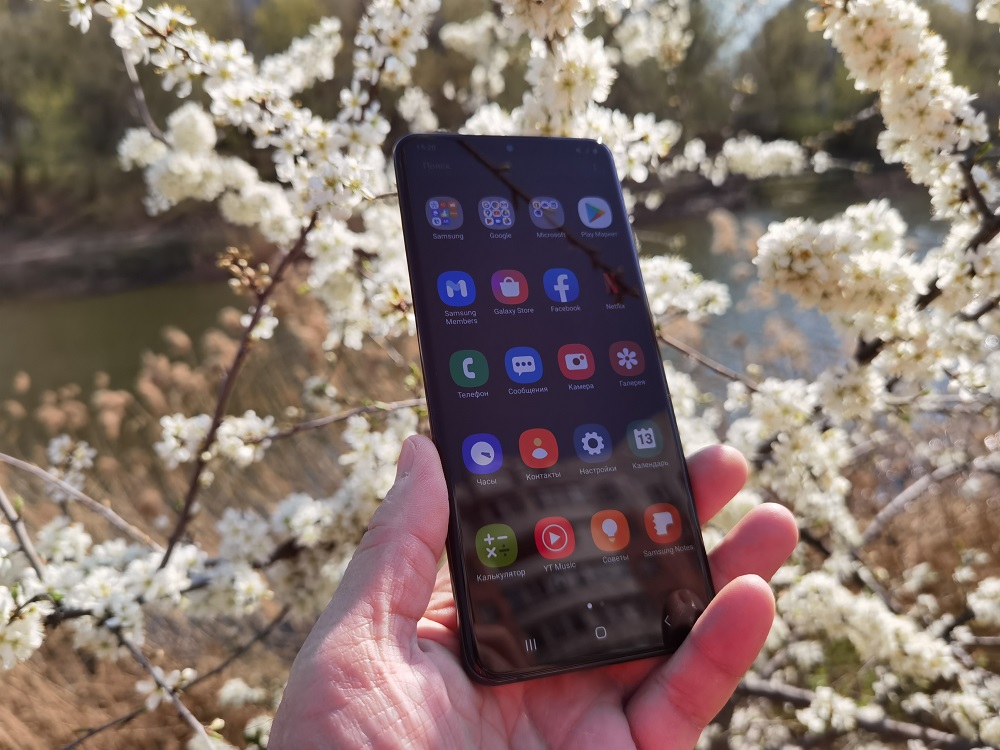 I do not understand the eternal debate about which system-on-chip is cooler: Samsung Exynos, Qualcomm Snapdragon or Huawei HiSilicon Kirin. This is a pointless argument when it comes to flagship SoC. In real use, the user is unlikely to catch the difference. This difference can only be seen in synthetic tests. But who really needs these tests? These are just tests in which each processor is good in its own way.
And in my case, Samsung Galaxy S20 Ultra is running the powerful new Exynos 990 chipset, made using 7nm technology. It has a total of eight processor cores (2 x 2.73 GHz Mongoose M5, 2 x 2.50 GHz Cortex-A76 and 4 x 2.0 GHz Cortex-A55) and a Mali-G77 MP11 graphics core. Compared to Galaxy S10, processor performance increases by almost 15%, and graphics performance increases by as much as 25%. It's more than enough, especially if you often play mobile games, but be prepared for the fact that the back of S20 Ultra heats up a little more than you expected. This is not critical, but sometimes noticeable, especially when shooting 8K video.
Add 12 GB of RAM and 128 GB of storage (in some markets you can also find a version with 16 GB of RAM and 512 GB of storage).
At least the user has the opportunity to expand the memory through a hybrid slot, which can contain one nanoSIM and microSD card (up to 1 TB) or two nanoSIM. If you use one nanoSIM with a memory card, then the second module can be used in conjunction with an electronic SIM card. That is, your phone can have two active numbers (nanoSIM + eSIM) and extended memory.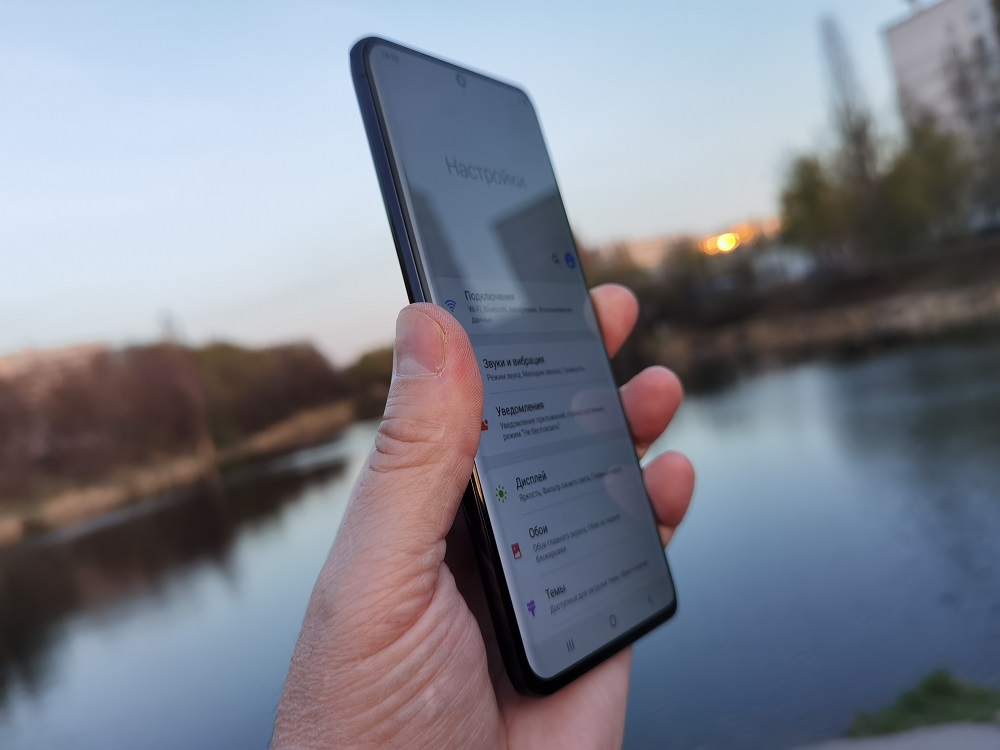 Galaxy S20 Ultra has connectivity at the highest level, with support for 5G networks, which sooner or later will be relevant everywhere. In addition, we have support for all standards: LTE, Bluetooth 5.0, NFC, ANT+ and the new Wi-Fi 6. The smartphone uses GPS, GLONASS, BDS and GALILEO geolocation for fast and accurate positioning.
With the typical use of a smartphone for communications, multimedia consumption and games, there is no doubt about the performance of the new flagship. Everything works smoothly and without delay. Before us is one of the most powerful smartphones on the market, equipped with everything necessary for effective work.
But, if anyone is interested in the results of synthetic tests, then here they are:
Samsung Galaxy S20 Ultra - бенчмарки
Android 10 and OneUI 2.1
The smartphone has the latest version of Android 10 operating system with the proprietary One UI 2.1 interface.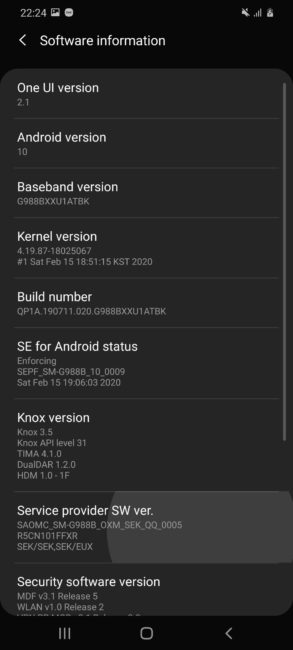 We could see a similar interface earlier in the Galaxy S10 series or in other smartphones last year. The system is lightning fast and offers many improvements. In my opinion, this is one of the best Android shells ever created.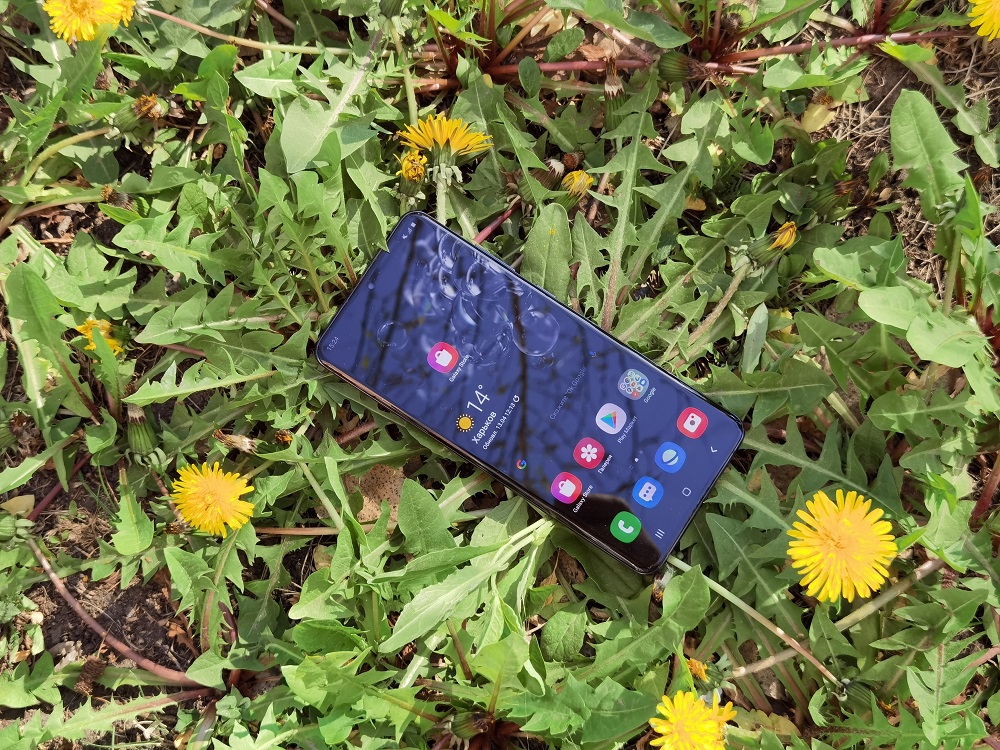 The main advantage of Samsung One UI is the improved user interface. The environment is easier to control with one hand, in addition, it is very good in appearance; it looks very elegant. System applications have a single design. Everything works perfectly, intuitively and can be customized. Phone settings are very feature-rich, and in general the environment is very user-friendly.
OneUI 2.1 offers integration of video calls through Google Duo directly into the phone application. Quick Share features have also been improved, which allows you to send large files (via Wi-Fi Direct) to other Samsung phones. Gamers should enjoy the improved Game Booster application, which allows you to completely "freeze" the game you are playing so that you can later return to where you left off.
One of the best features of One UI 2.1 user interface is the smart grouping of photos in a gallery.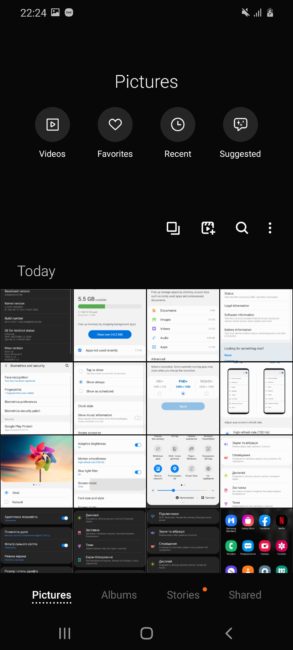 The system has learned to group similar images into one package using artificial intelligence. It selects a photo that looks better than others, and improves the overall experience while using the gallery (the smart grouping). You can find the smart grouping function under the rightmost label in the top row.
Also interesting is the Music Share function, which will allow your friends to play music on wireless speakers through a paired smartphone without pairing directly with the speaker. Samsung has also expanded the system keyboard with new features and gestures.
A new feature is instant transcription, which recognizes speech in real-time video and then automatically generates captions, but this technology is currently only available in English.
Together with Galaxy Note 10 line, Samsung introduced the next generation of the DeX computing environment. It was originally created with the goal of using a smartphone as a computer, to connect a monitor, possibly a mouse and keyboard, and use the Android environment in window mode. Now you can run DeX shell on a classic computer running Windows 10 or macOS (10.13 and later).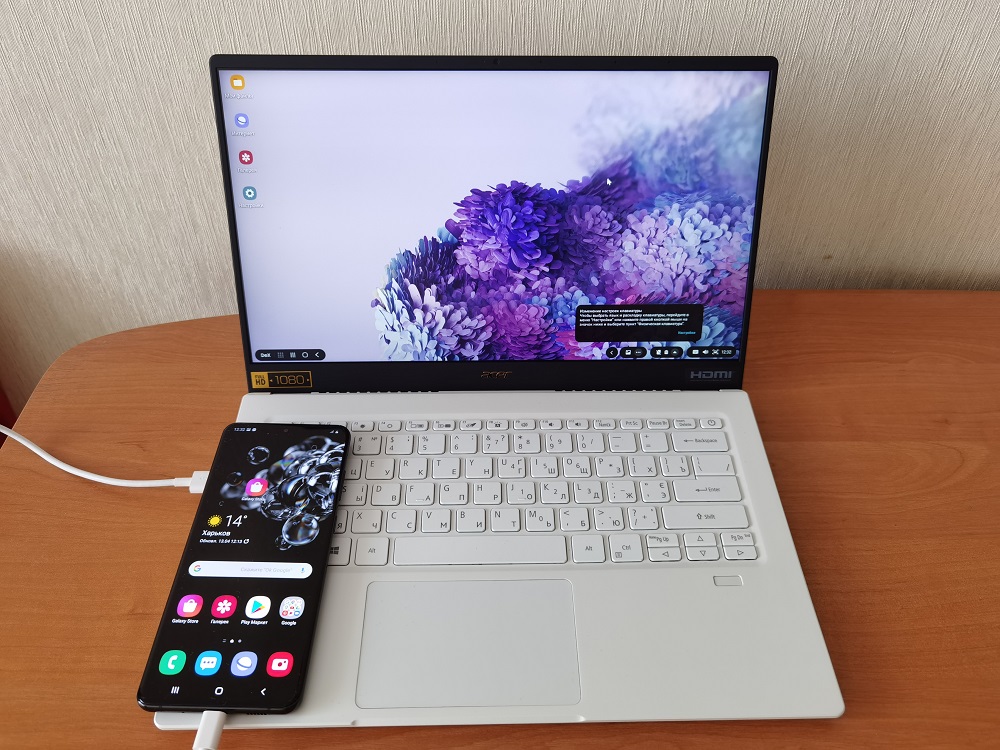 In this case, the smartphone must be connected to the PC using a cable. Applications run in a window that displays the Android interface in the Windows desktop environment. You can also fully work with some applications, for example Microsoft Office suite. Interaction with a mouse and keyboard is supported, and you can also move files between two devices.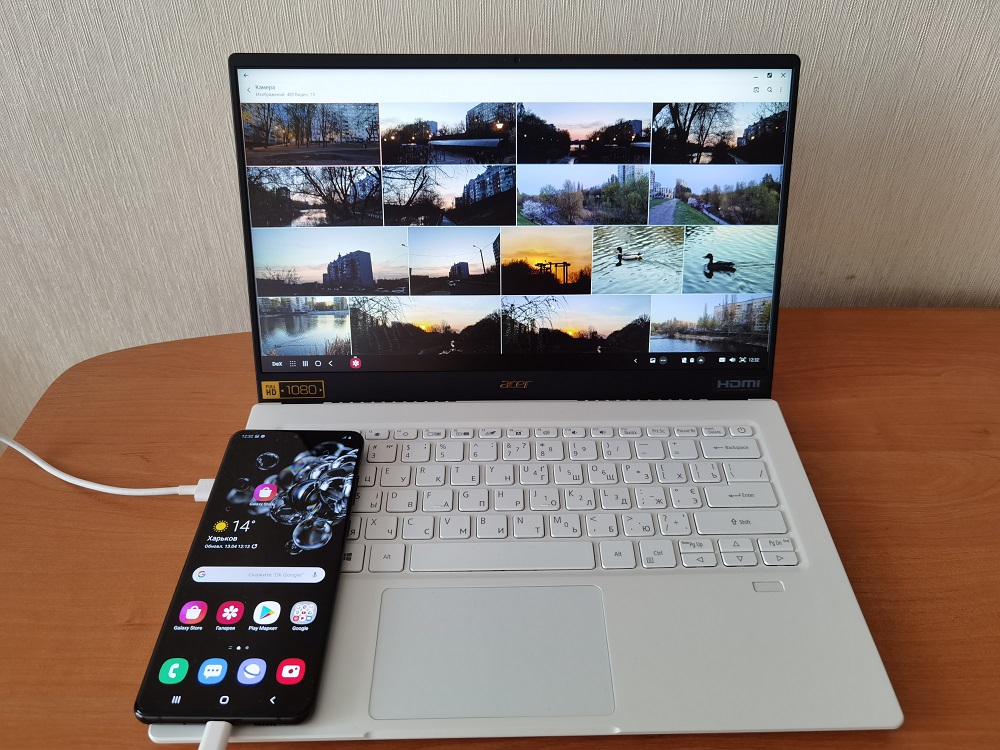 For users of Windows 10, the smartphone offers a link in the quick access panel. What's happening? The function allows you to connect to a computer with one click or quickly and conveniently establish a wireless connection. Then you can view notifications from your phone, send and receive messages, view photos or copy them to your computer.
Read also: Your Phone review – Calls, SMS, photos and notifications from Android on Windows 10
The Windows application is called Your Phone, and, in addition to the aforementioned things, it allows you to make calls or display the contents of the phone on your computer. Everything works fine, notifications are quick, and dragging and dropping photos, including mirroring the screen (even if it's just a preview), works flawlessly.
Samsung Galaxy S20 Ultra 5G battery life
Galaxy S20 Ultra 5G is Samsung's first flagship in a long time which positively surprised me with its battery life. The whole day of multimedia tasks did not impress it much. On the other hand, this is not surprising, since the manufacturer placed an equally powerful 5000 mAh battery in the large case of the smartphone.
Charging the battery with the supplied charger (25 W, one smartphone up to 45 W) is pleasant – in 30 minutes we will replenish 30 percent of the energy, and charging from zero to 100 percent will take about an hour. Galaxy S20 Ultra 5G also supports fast induction charging (15 W) and reverse wireless charging for other devices.
The main advantage of the 45 W charger is its charging speed for a short period of time. The differences in charging are described in detail in the following table:
| | | | |
| --- | --- | --- | --- |
| | 45 W | 25 W | 15 W wireless |
| the first 15 minutes | 37% | 32% | 11% |
| after 30 minutes | 73% | 62% | 28% |
| after 45 minutes | 93% | 87% | 45% |
However, I decided to additionally check one more nuance – how much a frequency of 120 Hz will reduce the actual performance of the smartphone battery. Here are the results:
| | | | |
| --- | --- | --- | --- |
| | QHD+ screen resolution, 60 Hz | FullHD+ screen resolution, 120 Hz | FullHD+ screen resolution, 60 Hz |
| web browsing | 16 hours 20 minutes | 13 hours 46 minutes | 18 hours 37 minutes |
| PCMark (Work 2.0) | 10 hours 10 minutes | 8 hours 36 minutes | 11 hours 7 minutes |
| GFXBench (T-Rex) | 332 minutes | 242 minutes | 377 minutes |
For comparison, iPhone 11 Pro Max received a result of 17 hours 20 minutes in the web browsing test, and our current leader Xiaomi Mi Note 10 – 18 hours 26 minutes. However, the performance of Galaxy S20 Ultra has improved significantly compared to Galaxy S10+ (10 hours 30 minutes) or Galaxy Note10+ (9 hours 19 minutes). The results also show that if you want maximum autonomy, you should give up 120 Hz, at least for a while.
Samsung Galaxy S20 Ultra 5G Camera
Samsung smartphones have always been one of the best camera phones on the market, and Galaxy S20 Ultra is no different in this regard. Ultra relies on a completely different set of cameras compared to its junior brothers. The leading selfie camera impresses with a high resolution of 40 megapixels with f/2.2 aperture with predictive autofocus.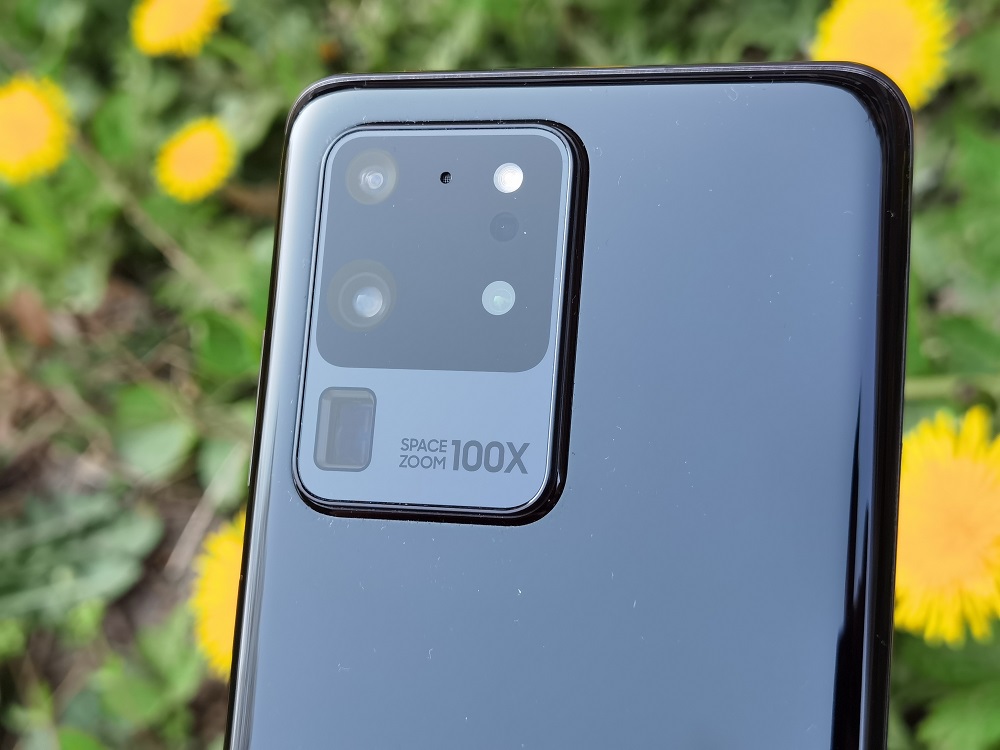 The main camera has an impressive resolution of 108 megapixels and an f/1.8 aperture. The ISOCELL Bright HM1 module has a width of 1.33 inches and 108 million pixels with a size of 0.8 microns. By the way, the size of the photosensor is almost three times larger than that of Galaxy S10. Using Nonacell Binding technology, which connects 9 pixels together (3 × 3), it can simulate 2.4 μm pixels. Thus, we get just superb 12MP images, especially at night.
SEE EXAMPLES PHOTOS AND VIDEOS IN FULL RESOLUTION
With a 12 megapixel viewing area, 3x lossless zoom is easily achieved. Main cameras do not have optical image stabilization or intelligent autofocus. In addition to the main module, we also see a 3D ToF camera for determining scene depth and a 12 MP wide-angle camera with f/2.2 aperture and fixed focus.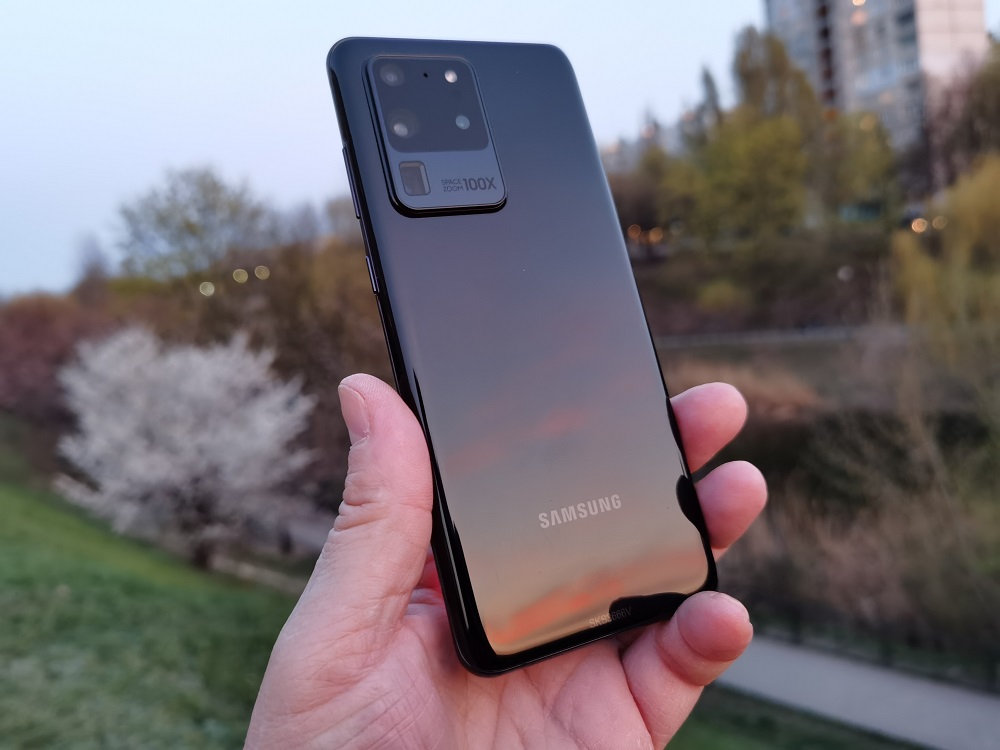 A 48-megapixel periscope camera with f/3.5 aperture, OIS and autofocus deserves much attention. The telephoto lens has a focal length of 103 mm, which in practice means 4x optical zoom. However, S20 Ultra also has a 10x hybrid zoom (by the way, Galaxy S10 (+) features ended at that value), and a phenomenal digital zoom up to 100x.
Camera modes include auto, live focus (even with video), night, professional (now with video), panorama, food, Instagram, and more. All three sensors use the help of artificial intelligence to optimize the scene and apply Auto HDR mode. Using artificial intelligence, Galaxy S20 Ultra can recognize up to 30 types of scenes and adjust color, tone, or recommend a suitable mode and perfect composition.
The selfie camera offers features like face beautification, lighting selection, background adjustment (blur, black and white), screen backlight, wide-angle selfie, or animated emojis.
The latest innovations in the field of photography is the Single Take mode, in which the scene is shot within 10 seconds, and then a selection of 10 photos and 4 videos is created, which the program evaluates as the most interesting. Then you can choose the ones you like the most, or export everything.
The main hero is, of course, the 108-megapixel camera. In good light, the results are excellent. I want to note decent sharpness, natural colors, high level of detail and low noise. You do not need to worry about backlit scenes, wide dynamic range or cloudy skies. When shooting with a resolution of 108 megapixels (12000 x 9000 pixels), photographs use up to 25 MB in size, which is often 5 times larger than conventional images with a resolution of 12 megapixels.
Full resolution photography has the undeniable advantage of zooming or cropping, giving you much more detail. However, I recommend shooting with a default resolution of 12 megapixels, where images are also very detailed and have a low noise level.
Macro shooting is also fine, although the classic S20 handles macro a little better. You need to take pictures from a distance of at least 10 centimeters, which is a lot. With S20/S20+ you could shoot from a shorter distance. Obviously, this is due to the limitations of the main sensor.
Widescreen images are pretty good, although due to the fixed focus, the module does not show the same quality as the main sensor. You can also try to fix the edges of the picture, but in some situations a slight distortion of perspective will be noticeable.
I have to compliment portrait shots and shots taken with the selfie camera.
When taking photos with bokeh effect, you need to be away from the subject, but you can use both the main camera and the telephoto lens.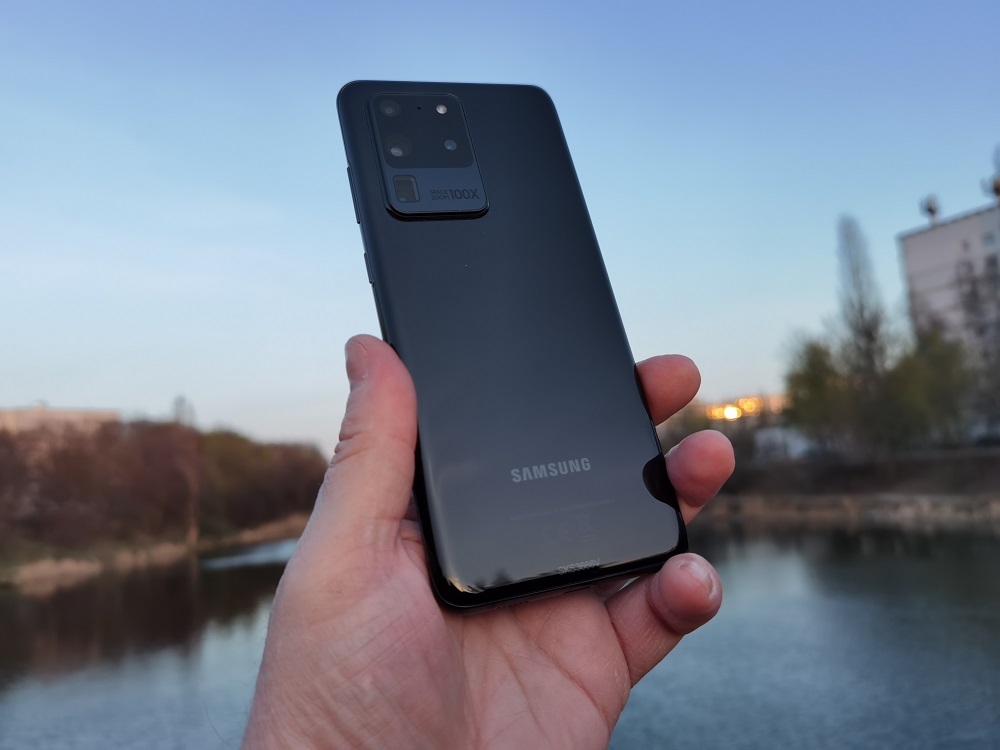 The zoom capabilities of this smartphone are impressive. The optical zoom is great, and even the hybrid 10x zoom is great. Of course, due to the low aperture of the lens, it does not impress in poor lighting conditions, but I must praise the telephoto module for optical image stabilization.
You can enjoy high-quality images even with 30x digital zoom, just know that focusing on the subject is a little more complicated. When zooming in, the app deftly shows a small preview so you can see where the focal point is.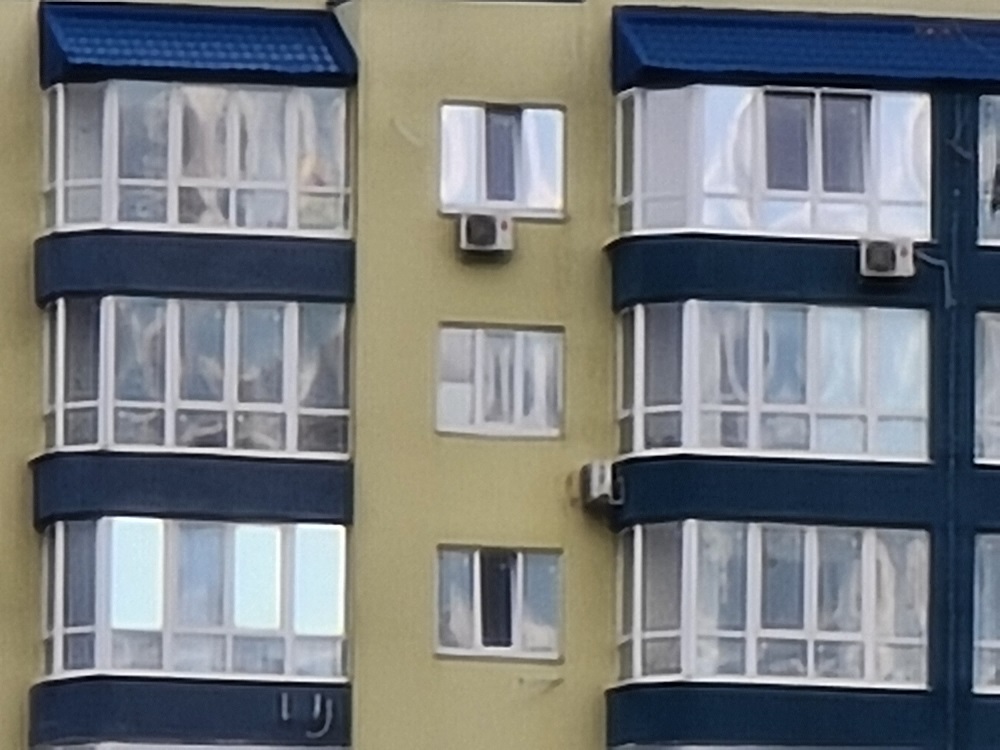 100x zoom is good for marketing, but not really very useful. However, you can still play with it. But be prepared for the fact that the image will be blurry even on the smartphone screen. I'm not talking about viewing such pictures on a large monitor or laptop. But you can certainly boast of such pictures in front of colleagues or friends.
And finally, a decent night mode has appeared in Samsung smartphones. When shooting in the dark, in low light conditions in the building and in the dark, the quality of the pictures is more than decent. Featuring a 108-megapixel camera and advanced AI post-processing, S20 Ultra delivers low noise and good brightness. The night mode can be used to shoot scenes with a slow shutter speed – up to 7.5 seconds with your hand, up to 30 pictures, from which the best options are then selected. For the S10 series, the maximum time was 5 seconds with 7 photos.
SEE EXAMPLES OF PHOTOS AND VIDEOS IN FULL RESOLUTION
The software can automatically detect when the phone is mounted on a tripod – in this case it offers a time in the range of 30 to 240 seconds (the time cannot be changed, the phone selects it itself). The resulting night photos, even without night mode, are very good. Night mode makes the scene brighter and stabilizes light sources.
Samsung Galaxy S20 Ultra is the first smartphone in the world to record video with a resolution of up to 8K at 24 fps. The resolution of the clips is 7680 x 4320. One minute of recording takes about 600 MB of memory. Similar to 4K, the 8K recording time limit is now set to 5 minutes.
8K is still not widespread, but from a marketing point of view, this is what customers want to hear. It is also possible to create 33MP photos from individual 8K images. On the other hand, recording 4K video at 60 frames per second is great. I highly appreciate the image stabilization in this shooting mode.
If you want to shoot with a wide-angle camera or a telephoto lens, you need to reduce the frame rate to 30 frames per second (this applies not only to 4K, but also to Full HD resolution). At 4K@60 fps, the wide lens is not available for shooting video. In addition, the main selfie camera can handle 4K video with 30 frames per second. There is also super slow motion video recording and the ability to shoot with support for HDR10+. When shooting video, the stabilization mode and live focus video mode are also supported.
In general, the smartphone's video recording abilities are excellent, and even in low light conditions I was surprised at the relatively low noise level and the quality of light sources stabilization. At first, I only complained about relatively aggressive refocusing, which worked automatically in low light conditions. But soon, Samsung released a firmware update that fixed this issue.
Final verdict
Samsung Galaxy S20 Ultra is a very cool flagship smartphone that's destined for success. It impresses with its design and almost perfect display with a refresh rate of 120 Hz. Despite the fact that S20 Ultra is a massive device, it has excellent ergonomics due to the minimal bezel size, and the weight of 222 g is not the worst for such a huge size. Superior build quality is complemented by protection against water and dust. A quick fingerprint scanner and a convenient face recognition system make using the device even more comfortable. Everything is fine with the sound too – stereo speakers with Dolby Atmos support and AKG headphones come with the phone.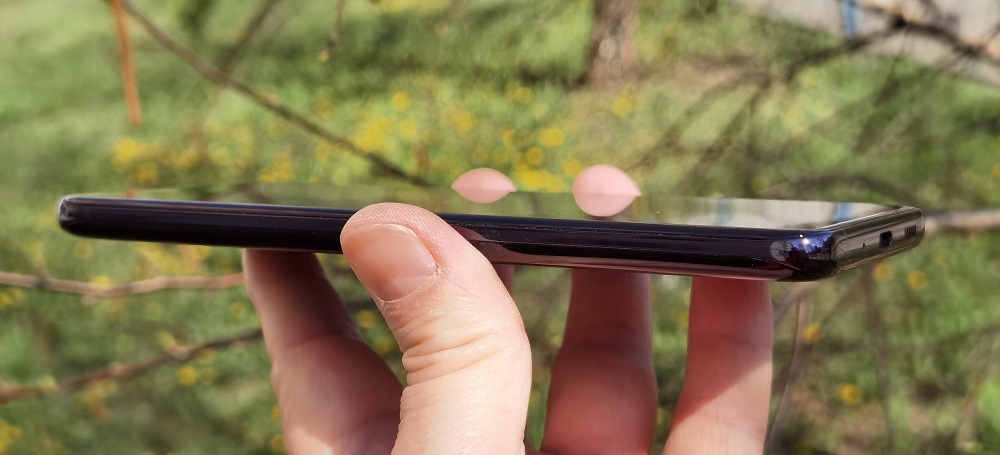 This smartphone has a lot of advantages, and the disadvantages are very difficult to find. But I'll try. Yes, the device does not have a 3.5 mm audio output, but this is the modern norm. Of course, many users may not like the big block with cameras, but the photo capabilities of the smartphone compensate for this inconvenience. Another disadvantage is the lack of a notification LED, but it is completely replaced by AOD. In addition, some customers may dislike the hole in the display, which cannot be hidden by software.
On the other hand, the hardware capabilities of the device are at the highest level, and the performance allows you to forget about the slowdowns and interruptions in games. Android 10 operating system is lightning fast, and One UI is very successful.
Samsung Galaxy S20 Ultra is great in every way and is just one step away from perfection. If you buy the new flagship from Samsung, you will receive one of the most advanced devices on the mobile market.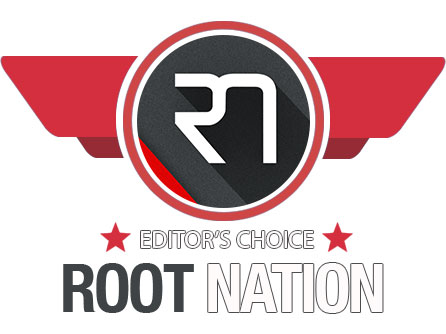 Pros
Excellent photos and videos
The best OLED display on the market with a refresh rate of 120 Hz
Design, thin bezels around the display
Excellent battery life, fast charge
Good fingerprint scanner and face unlock features
AKG stereo speakers with good sound
latest hardware, high-performance processor
5G and eSIM support
Enough RAM and storage, microSD support
Superbly optimized Android 10 and One UI
Cons
High price
Protruding cameras
Weak macro and errors in the camera application
Lack of a 3.5 mm audio jack
45w charger not included
Back panel is a fingerprint magnet
Large dimensions and overall heaviness