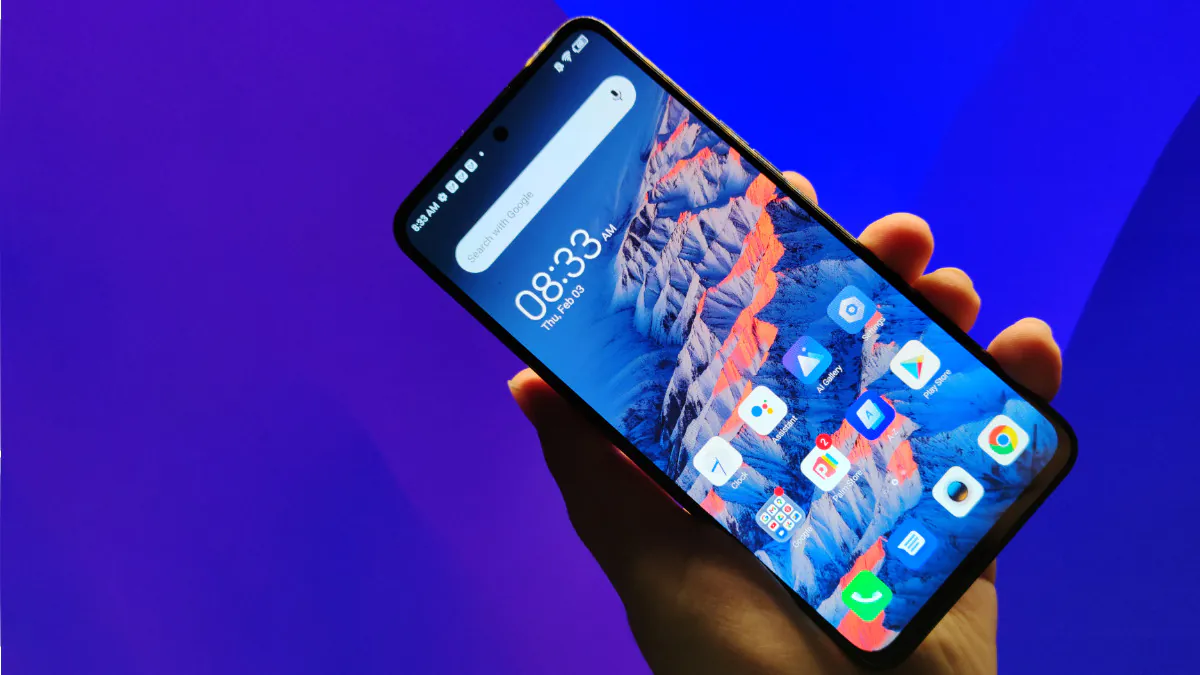 Flagships and mid-rangers are weird nowadays. When Samsung releases a flagship, it costs a pretty penny. When a company like Tecno releases a flagship, it costs like a Samsung mid-ranger. But is it any worse? It's hard to say. Depends on what you pay for. Any respectable brand (meaning a brand that spent a couple of million dollars on PR) wants you to pay for the name first, and then for the supposedly top notch features. But Tecno can't afford that. Not yet. The brand is only starting in Europe where it's still less known that a lot of it Chinese colleagues. And TECNO CAMON 18 Premier is what it calls a flagship. It's not a bad-looking phone, and the feature list is quite exciting as well. Interested? Let's take a closer look.
Positioning
In many respects, the TECNO CAMON 18 Premier is an impressive phone that can be compared, for example, to realme GT NEO 2, Poco X3 GT, Xiaomi Redmi Note 10 Pro or Motorola Edge 20. The 32 megapixel front camera, periscope, and even 120 Hz AMOLED — those are some peak 2021 features even your iPhone might not necessarily have. The price for all of this is about $325 for the 256/8 model. This is a good offer on paper, but how is it in practice?
What's in the box
The fun thing is, the brand sells itself short on its official website, making no mention of a protective case or a film that can be found in the box. But they are actually there, along with the device itself, a cable (Type-C), a charger, and some paper stuff nobody ever touches. It's a good set, although the case is as janky and cheap as they come. You'd want to buy something better ASAP. 
Design
Looking at the front of the smartphone, what we see is a awfully boring phone. A big screen, a small hole for the camera in the centre and not much else. Somewhere here hides a flash for the camera, which is actually impressive, since for the life of me I couldn't find it. But it works.
On the right edge we have all the interesting stuff: volume buttons and a power button merged with a fingerprint scanner. It's very unobtrusive: so much so that you will never notice it without knowing it's there. In a very modern phone having a dedicated fingerprint scanner that's not actually in the screen is a very outdated feature, but hardly a deal-breaker for anyone. But I got too used to in-screen scanners to go back. Thankfully, there's face recognition, which works very well and very fast.
On the left edge there's virtually nothing safe for a SIM/SD card slot. 
The most interesting part is the back: there you'll find a neat-looking back plate that's made of glass. The material gives it a pleasant coldness, and it looks great as well. Nothing spectacular, but still very nice. The camera block is elegant as well, with the three massive sensors located vertically. The device wobbles on a flat surface just like any other modern phone. 
Read also: Huawei nova 9 review: phone that could have been hit
The most interesting part is the back: there you'll find a neat-looking back plate that's made of glass. The material gives it a pleasant coldness, and it looks great as well. Nothing spectacular, but still very nice. The camera block is elegant as well, with the three massive sensors located vertically. The device wobbles on a flat surface just like any other modern phone.
Overall, the design is modern, if uninspired a bit. I mostly disliked the round plastic edges that stand out and feel extremely cheap. But this is subjective: I'm more of a fan of a angular, sharp design and preferably metal edges. But this isn't a $500 phone after all. As far as sacrifices go, this one is pretty minor.
Read also: realme Pad review: First tablet from the brand
Display
There's nothing bad about the 6.7-inch display. The device comes with AMOLED FHD+ (1080×2400) panel with a refresh rate of 120 Hz. Pixel density is ~393 and brightness is 550 nits. Nothing mind-blowing, but par for the course for most of the affordable flagships from China.
The display stands out for its refresh rate, as well as its bright AMOLED panel that behaves admirably in the sun and offers more or less natural colours. Once again, the missing fingerprint scanner is a shame, but one can live without it. 
By the way, while you can force the phone to use the 120 Hz mode all the time, it won't work in games which only run at 60. A shame, but it's only logical, considering that the processor is the main weak point of the device. But on that later.
There aren't many display modes: no "vivid" or "natural" toggles, nothing fancy like that. There is AoD, but even it lies to you: even if you toggle the "display at all times" setting, the screen will turn black when you aren't holding the device. A shame: I would've liked for it to have a fully-fledged AlwaysOn support, like Realme GT Neo 2. 
Read also: realme C25Y review: solid battery life and 50 MP camera
Performance
This is the first smartphone on MediaTek Helio G96 that we've reviewed. It's a mid-level platform that does not reach the level of "real" flagships. The Helio G96, based on a 12 nm process technology, is equipped with two Arm Cortex-A76 cores with a frequency of 2.05 GHz in an eight-core processor. Arm Mali-G57 is responsible for the graphics. Like I said, this here is the main issue for many buyers: it's a solid processor, but it lacks the power to run heavier games on high settings and utilise the fast screen. This isn't a gaming phone, but that's alright — not every phone has to be like that. 
Overall, it's weaker than Qualcomm Snapdragon 720G, but enough for a modern phone. But for browser, communication, social networks and the rest the processor and 8 GB (LPDDR4X) of RAM are more than sufficient. Heating is not an issue, the phone is stable and does not freeze up. Let me remind you that this model has only one configuration, with 256 GB of storage. Add an SD card, and you've got yourself a beast.  
As for wireless communications, first of all, there is no 5G support. This makes the phone a lot less future-proof. Other than that, everything is as it should be: Wi-Fi (802.11 a/b/g/n/ac), NFC, Bluetooth 5.2, GLONASS, GPS with A-GPS, BeiDou and Galileo.
Read also: Samsung Galaxy S21 FE 5G review: Now definitely fan flagship
Android 11 and HiOS 8
Android phones have a problem, and this problem is shells. Everybody knows how iOS looks and feels like, and a lot of people probably know what to expect of Samsung phones, but those Chinese brands, while they often offer exciting hardware, usually come with their own take on Android as well. And this take is rarely that good, to be honest.
HiOS 8 is a standard shell in many ways. It takes a lot of ideas from its more well-known alternatives with varying success. It's fast and smooth, and offers plenty of personalisation. But there's also a lot of bloatware, and ads might creep into your notifications. The size of many UI elements seemed overly large to me, and no amount of tinkering changed that. A shame, really. Some apps I advice you not to open: I tried Vskit one time, and it was enough for it to flood me with tons of TikTok-like videos, mostly from Nigeria, where the brand is mostly known. 
To the left of the main screen you'll find the special place for widgets and news and stuff. It works, I guess. I won't be using it.
Overall, it's fine. But I'm not a fan. Also, there's no word on upgrade to Android 12, while most modern phones at least vaguely promise it. Let's hope for the better. 
Read also: Xiaomi 11T review: Alternative to Flagship?
Cameras
Like I said, this phone is not for gaming, but it totally is for taking pictures. In fact, it's its main deal, and Tecno is saying some real impressive things about the trio of sensors. But how good are they? Can you make "professional videos" with it? Well…
First of all, here's what we have: 
64 MP, f/1.6, 26mm (wide), PDAF
8 MP, f/3.5, 135mm (periscope telephoto), PDAF, 5x optical zoom
12 MP, (ultrawide), gimbal OIS
The TECNO CAMON 18 Premier looks quite impressive on paper. The main camera uses a Samsung S5KGW1 sensor (64 megapixels). Believe it or not, the optical stabilizer is not here — it's reserved for the the second module: a wide-angle, 12-megapixel OmniVision OV12D2Q. The telephoto camera has an 8 megapixel sensor, OmniVision OV08A10. It opens access to a 5X zoom — another flagship feature. 
The front-face camera is also no joke — it's a 32-megapixel ISOCELL S5KGD2 module from Samsung (like in the Galaxy A52s) with two flashes.
First of all, the app. It's fine. Just a regular Android camera app with a few questionable features. First of all, there's a colour correction using AI. All it does is it makes all photos yellowish. Cool. AI is prevalent here: so much so that there's no way to turn of it, at least I couldn't find it. And I would be fine with it were it not completely crap at doing its job: the so-called AI CAM has no idea what I'm pointing at most of the time. When it sees a box with a game, it thinks it's food. When you're making a night photo of the city, it still calls it food — I guess it, like me, is perpetually hungry. I sympathise, but still. Oh and when snapping a picture of plants, the phone activates the portrait mode. Well, you get the idea. 
There are a couple of neat modes, like the Supermoon mode for making impressive zoomed-in photos of the moon. I couldn't test it since it's the middle of winter and I haven't seen cloudless sky in weeks. There's also the Super Night Mode that we'll discuss later. 
So, how are the pictures? They are fine. Quite good, even. The main camera offers good contrast with little noise noticeable. It's a fine level for this segment. HDR is turned on by default, and the dynamic range is sufficiently wide. If you want to make better and heavier photos, you can choose the 64Mp mode.
The aforementioned Night Mode works fine, and the Super Night mode is downright impressive — at least if you haven't seen it in other phones. It's main idea is to turn night into day, and it does so with some fancy processing. Each photo takes quite a lot of time, but the result is honestly not bad at all. It's unrealistic as heck, but that way you get to see a lot more details. It's handy, and not every phone has it. 
The wide-angle camera is the main star here, but not because it has a amazing sensor. In fact, the sensor is more or less mediocre. No, but it has a Gimbal sensor, which allows for some crazy stabilisation. It helps at night, but mostly you need it for videos. Take a gander at two short videos below: one has no Gimbal stabilisation, while the other has it turned on. Notice how much smoother the video is? You can walk and shot video that looks excellent. If this phone has a killer feature, this is it. 
The selfie camera is no slouch as well: it's the Quad Bayer ISOCELL S5KGD2 from Samsung with it's own flash. Just wow: any selfie lover (which I am certainly not) will be lost for words. The quality is excellent.
I wish I could say that all is well, but I can't. Something bothers me, and that something is the telephoto camera. You know, the camera with 5x optical zoom Tecno has been raving about? Yeah… it doesn't work. At least, for me. Trust me, I tried! But I guess it has something to do with the software: maybe an upgrade will fix this, but my phone just can't focus on an object. I expected excellent zoomed-in photos and got blurry mess. I know that for some, it works, and for some, it doesn't. Go figure. 
Video shooting is both great and so-so. It's great if you like stable shots thanks to Gimbal, but so-so if you care about UHD. The best it can do is 2K (30 fps), and Gimbal only works at Full HD. Not the best, to say the least. 
Tecno's software tries its best, and there are a lot of neat features. Like the one for making short videos with one theme. There are a lot of those here, like the one for shooting cityscapes. I tried it and you can see how it turned out below. Basically what I did was use this mode which prompted me to shot a few different places separately. After that the phone itself edited the video and added music. Looks amateurish, but I guess someone might use this… for something. 
Read also: OPPO Find N review and user experience
Sound
Tecno is not known for bombastic sound, and the TECNO CAMON 18 Premier has only one multimedia speaker, which means no stereo. The sound is loud and that's about it. It's not suitable for music. But there's Bluetooth 5.2 which supports SBC, AAC and LDAC, and sadly no aptX. AAC is rarely the best when it comes to Android, but this time I had nothing to complain about: using the Yamaha YH-E700A headphones, I enjoyed soft, encompassing sound with enough volume for noisy streets. I used Apple Music with lossless settings. What's more, there's an audio jack port here, which means you can use wired headphones without adapters. Unexpected, but very welcome addition. Oh and there's also DTS sound to make it all even better.
Battery life
The TECNO CAMON 18 Premier has a 4750 mAh battery, which is fine. It supports 33-watt charging, and the corresponding charger is already in the box. I can't say anything bad about the battery life: even with active use you'll get a day out of it, and charging itself is fast, taking about an hour. Sadly, wireless charging is missing.
Verdict
The TECNO CAMON 18 Premier costs like a premium mid-ranger, but it actually has a few flagship qualities. First of all, its cameras. I wish the periscope lens worked better, but other than that, it's quite impressive. You also get a bright AMOLED display with 120 Hz, a glass back, wired headphones support and a fantastic selfie camera. And the price is not bad as well.
Sure, not everything is great. The optic zoom straight up didn't work for me, and the software seems unpolished. No 4K shooting is a con as well, but still, it's a neat phone from the brand that tries its best. Take a look if you're interested in an affordable camera phone, but be wary of some of the well-documented issues. 
Subscribe to our accounts: