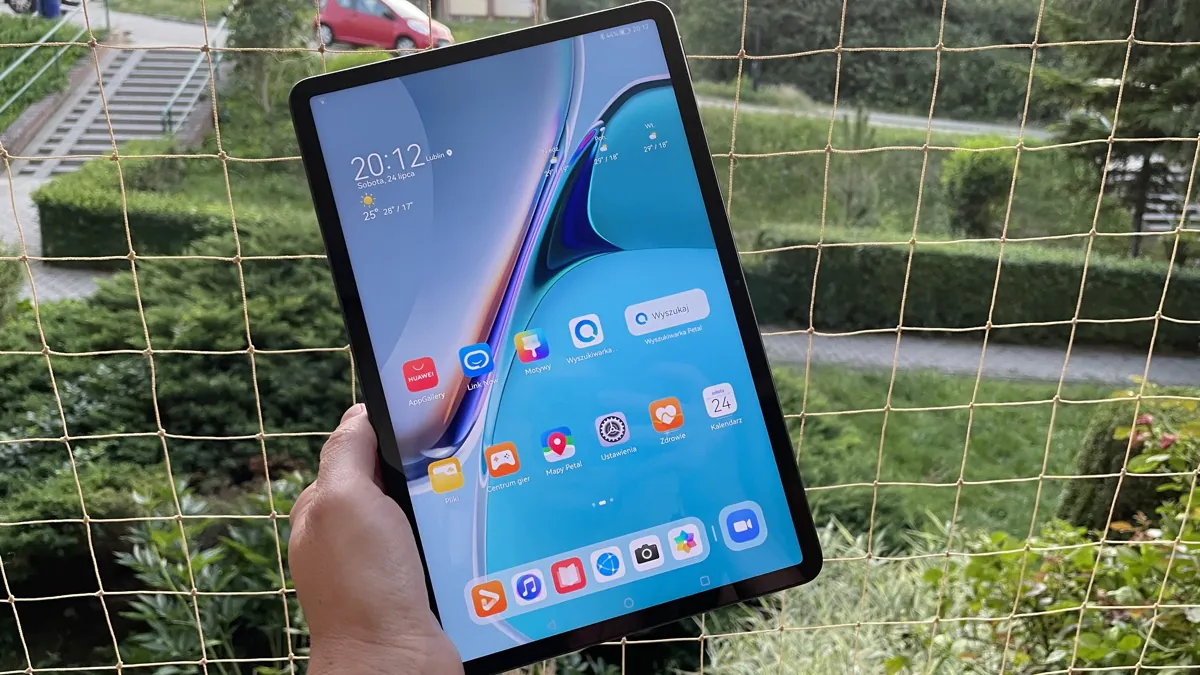 Our editorial team managed to get acquainted with the Huawei MatePad 11 tablet shortly before its official release on sale, and we are ready to share our impressions of both the device itself and the new OS. Exciting times.
As you know, Huawei has been at odds with the American government for several years. So much so that it can't use Google services in its products. Freely redistributable Android OS is allowed, but there are a lot of things tied to Google services. In general, the company decided not to suffer and create its own operating system called HarmonyOS. The first information about it appeared in the second half of 2019, and in the summer of 2021 the the Huawei MatePad Pro (2021), the Huawei MatePad 11 and the the Huawei Watch 3 Pro smartwatch went on sale. The Huawei P50 line of smartphones is on the horizon.
Full specifications of the Huawei MatePad 11
Screen: 10.95 inches, 2560×1600 resolution, IPS LCD, 86% screen-to-body ratio, 1500:1 contrast, 500 nits brightness, DCI-P3 colors, 16.7 million shades, 96% NTSC
Chipset: Qualcomm Snapdragon 865, 1×Cortex-A77 2.84 GHz + 3×Cortext-A77 2.4 GHz + 4×Cortex-A55 1.8 GHz
Operating system: HarmonyOS
Battery: 7250 mAh, 10V, 2.25A
Memory: 6 GB RAM + 64/128/256 GB drive, support for MicroSD memory cards up to 1 TB
Communications: Bluetooth 5.1, USB Type-C, USB OTG (5V 1A), WiFi 802.11 a/b/g/n/ac/ax 2.4 GHz & 5 GHz, GPS
Cameras: main 13 MP f/1.8 with autofocus, front 8 MP f/2.0 with fixed focus
Audio: 4 full-frequency speakers, 4 microphones, Huawei Histen technologies and harman/kardon tuning
Dimensions and weight: 253.8×165.3×7.25 mm, 485 g
Huawei MatePad 11 with HarmonyOS 2.0 review
Don't want to read? Just watch:
Positioning and price
The MatePad 11 is the second of the two Huawei HarmonyOS-based tablets. The first is the flagship MatePad Pro. The MatePad 11 is relatively affordable: not a weak budget device, but also not a flagship, more of a sub-flagship.
Below we offer to visually compare the top-end and base MatePads, as well as last year's version – MatePad Pro 10.8, which actually served as a prototype for the MatePad 11, only the OS is no longer Android, and a Qualcomm processor replaced the proprietary one.
| | | | |
| --- | --- | --- | --- |
| | Huawei MatePad 11 (2021) | Huawei MatePad Pro 12,6″ (2021) | Huawei MatePad Pro 10,8″ (2020) |
| Display | IPS, 10,95′′, 2560×1600 | AMOLED, 12,6′, 2560×1600 | IPS, 10,8′, 2560×1600 |
| Chipset | Qualcomm Snapdragon 865 | Huawei Kirin 9000 | Huawei Kirin 990 |
| Ram | 6 GB | 8 GB | 8 GB |
| Storage | 64 / 128 / 256 GB | 128 / 256 GB | 128 GB |
| Memory Cards | microSD, up to 1 TB | NM, up to 256 GB | NM, up to 256 GB |
| Connectors | USB-C OTG | USB-C OTG | USB-C OTG |
| Cameras | front 8 MP, main 13 MP | front 8 MP, main 13+8 MP and ToF 3D sensor | front 8 MP, main 13 MP |
| Network | Wi-Fi 802.11a/b/g/n/ac/ax | Wi-Fi 802.11a/b/g/n/ac/ax | Wi-Fi 802.11a/b/g/n/ac/ax MIMO (2.4 + 5 GHz), there is an LTE version |
| Support for Smart Keyboard and Stylus | Available | Available | Available |
| OS | HarmonyOS 2 | HarmonyOS 2 | Android 10 |
| Battery | 7250 mAh | 10,500 mAh | 7250 mAh |
| Dimensions and weight | 254.0×16.5×7.3 mm, 485 g | 287.0×185.0×6.7 mm, 609 g | 246.0×159.0×7.2 mm, 460 g |
It is also worth mentioning here that Huawei is one of only few tablet manufacturers left. Of the brands that really try, you can also name Samsung and Apple. And probably Lenovo. You can say that the tablet market is stagnating, most people have enough phones that have now become large enough to consume content, or laptops (a tablet with a keyboard is not for everybody). Or they bought themselves a tablet a few years ago, it works and they are not going to change anything. If you are one of those rare people who just need a good tablet – for home or for travel – with various accessories, this review is for you.
The price of the tablet is about $520, the keyboard and M-pen are not included, they are sold separately. The Huawei MatePad 11 is a basic model with good dimensions, comfortable ergonomics, excellent display, and high speed of operation. And I liked the new operating system, the lack of Google services was not a problem (there are similar applications) for me. But let's start in order.
Oh yeah, I'll also note that the OS section will be extensive, so I'll place it at the end of the review.
Read also: Huawei Watch 3 Pro review: premium smartwatch running HarmonyOS
What's in the box
In the package you will find the tablet itself, a 22-watt charger and cable, a SIM eject tool and a headphone adapter (USB Type-C to 3.5 mm), as well as documentation.
Huawei made sure that it was interesting for us to test the tablet, so they sent all the available accessories with it, namely a keyboard cover, a stylus and even a wireless mouse. Let's talk about them in detail in separate sections of the review. But let's start with the tablet itself.
Design
The MatePad 11 makes a good impression. The device looks sleek, thin, and lightweight.
Since this is a basic version of the tablet, we should not expect premium materials here. The back panel is plastic, the edges are metal (which is good for durability), but due to the thick layer of paint, this is not felt. However, the plastic is very high quality. It is matte, so that fingerprints do not stick.
The bezels of the screen are relatively small (it's worth noting that there are no bezel-less tablets at all). At the same time, all frames are of the same width, symmetry looks great. The tablet has no "top" or "bottom" at all, no matter how you hold it, the screen rotates automatically and very quickly.
Although, of course, conditionally "top" in the horizontal orientation is the side in which the front camera is located. There is a green notification light next to it that blinks when there are unread notifications.
On the back plate there is the manufacturer's logo, just below the engraving with the name of the model and the mention of harman/kardon. In the corner there is a protruding block with a camera, flash and microphone.
On the top edge there's the lock button. It's neat, with a red stripe. You rarely use this button since the device turns the screen off on its own, and to wake up it is enough to tap the display twice.
On the same edge there are two symmetrical speaker holes, and on the opposite edge there are two more speakers  four in total) and a USB Type-C connector.
On the left is the microSD card tray (there is no version of the tablet with cellular network support yet). On the other side there is a double volume rocker and three additional microphones for better recording and sound transmission.
The build of the MatePad 11 is perfect, even if you try to bend it, nothing creaks. It's better not to do this, of course, but I'm a reviewer, so I checked everything!
There are Matte Gray, Isle Blue and Olive Green colors.
This is not a smartphone, but a tablet with an 11-inch display. Nevertheless, you can say that the device is fairly compact and fits comfortably in the hand. Or hands. It is realistic to hold it with one hand in vertical mode. And your hands will not get tired, since the gadget weighs only 485 g. Considering that smartphones now weigh 200 g or more, it is not much, because a tablet is three times larger than a smartphone in size.
Compared to the 2020 iPad, the MatePad 11 is definitely more compact and lighter with a larger display. And the screen of the Huawei tablet is not as fingerprinty.
Read also: Huawei FreeBuds 4i review: TWS buds with ANC and great battery life 
Huawei MatePad 11 screen
Before us is one of the best screens that I have come across lately. Although this is not AMOLED, but IPS. Of course, IPS can be different, here the matrix is of the highest quality, with excellent color reproduction. The shades are juicy, while natural, they do not strain the eyes. The viewing angles are great.
In the settings there is an option akin to Apple's TrueTone. The trick is cool – the screen color rendition adjusts to the current lighting. If you disable the option, the picture will immediately become less pleasant.
Shades are also customizable – there is an option for those who like more color. The color temperature of the screen is also adjustable – warm, cold, medium (by default).
The color temperature can also be adjusted in the Eye Comfort section. Like in smartphones, you can turn it on permanently, or on a schedule (warmer tones are recommended in the evening). The saturation of the pink filter is adjustable.
Also in the settings there is a dark theme (it cannot be activated on schedule) and, much more interesting, an e-book mode. In this mode, the tablet is disguised as an e-ink reader and becomes completely monochrome. Better for the eyes (although, of course, the backlight is active, so you still can't compare it with e-ink), it's good for reading.
One of the main features of the MatePad 11 is the increased refresh rate of the screen – 120 Hz.
The picture is smooth and beautiful, it immediately catches your eye. In the settings, you can enable either the maximum refresh rate, or the standard 60 Hz, or the adaptive option, when the device chooses the frequency itself, depending on the application and the charge level.
The size of the screen is 10.95 inches, practically 11. The resolution is 2560 × 1600 pixels, the picture is perfectly clear.
The brightness does not break records, but it is sufficient, you can even use it in the sun, the text will be readable. Auto brightness works fine.
The display has a good oleophobic coating.
Read also: Huawei Band 6 review: It goes with everything
Hardware and performance of the Huawei MatePad 11
This is NOT a flagship tablet, so don't expect a top-end chipset. Qualcomm's Snapdragon 865 flagship solution does an excellent job last year, and it has a good performance margin. It's a little surprising to see that Huawei doesn't use a proprietary chipset, but a Qualcomm one, but in general it is not important. It works fine. The amount of RAM is sufficient – 6 GB.
I have no complaints about the performance of the device. It's all about software optimization, and Huawei has perfectly optimized its operating system, taking into account the hardware on which it runs. And since all updates will be created in Huawei itself, and not by a third-party company, like in the case with Google, there will be no problems.
In basic tasks, everything is very fast. You can also play games. True, at first I had a problem finding games for the test. The Huawei AppGallery has a poor selection of games, and many of the installed apk require Google services. As a result, I managed to launch PUBG and Minecraft: everything runs great, in terms of performance, the MatePad 11 performed better than the iPad 2020. Then I found a way to access Google Play (more on that later) and launched Pokemon Go, Need for Speed ​​No Limits, CS: GO. Again, no problems.
There can be either 64, 128 or 256 GB of storage, UFS 3.1. You can add a memory card up to a terabyte. Interestingly, earlier in its devices Huawei used the rare NM format, but here there's MicroSD, which is good news.
Data transfer
Everything here is at the highest level: Bluetooth 5.1, Wi-Fi including the ax standard, that is, Wi-Fi 6. GPS, too. However, in the absence of mobile communication, determining the position may take some time in that situation if you are not connected to Wi-Fi (Wi-Fi in this case works like A-GPS).
Sound
The sound in the Huawei MatePad 11 has been given serious consideration. Firstly, the tablet has as many as 4 speakers with a wide range. Secondly, Huawei Histen enhancements are available in the settings. Including automatic sound optimization, 3D audio,  natural sound or "standard" (when the sound subsystem consumes as little power as possible). There is also an equalizer for fine tuning. The Huawei Histen options are only available when headphones are connected.
The reputable audiophile firm Harman / Kardon helped tune the sound of the Huawei tablet. In general, the MatePad 11 sounds great. The sound is deep, spacious, pleasant stereo effect, the volume is high. In one word – delight! The device is suitable for listening to music and watching movies. And for games, of course! In shooters spatial sound is especially important.
The sound quality is also excellent in headphones. You can connect any wireless or conventional wired 'phones through a Type-C to 3.5mm adapter.
There are a lot of microphones, as already noted, so your speech is transmitted with excellent quality, even if you are outdoors or in a noisy room.
Read also: Huawei Smart Scale 3 review: a must-have gadget for the whole family
Cameras
I won't cover a lot here, since it is obvious that an 11-inch tablet is not for taking photos on a walk. It's for when you are sitting, reading news or watching a movie, and a smartphone is somewhere far away.
The main camera of Huawei MatePad 11 is 13 megapixels, with flash and autofocus. It's at a level of a very budget smartphone. In good light it is okay, in bad light it is frankly sad. You can even record videos in 4K, but the manufacturer recommends 1080p.
PHOTOS FROM THE HUAWEI MATEPAD 11 IN ORIGINAL RESOLUTION
In my opinion, the front-facing camera is more important for the tablet, since the device is more often used for video calls than for taking photos. The 8 megapixel selfie camera does not have autofocus, but you can take any selfies on it. Video calls are also no problem, the quality is acceptable.
The camera interface is minimalistic. The main modes are photo, video, beauty (you can choose the degree of smoothing of the picture), panorama, time-lapse. There is an option to add stickers to a photo, and a text scan mode.
The lens icon at the top of the interface opens the AI camera modes. Here you can find a code scanner, real-time translator, search by a picture, and determine the number of calories from a photo of food.
Read also: Huawei FreeBuds Pro review. Near Perfect TWS Earbuds  
Battery
The tablet is equipped with a 7250mAh battery. The MatePad 11 has proven to be very resilient! With normal use (a couple of hours of web surfing, games, maps or other apps, a movie from time to time), I charged it every 3-4 days! If you use the MatePad 3 in laptop mode, a full working day (8-10 hours) is definitely not a problem, and there will still be  charge left (the manufacturer promises 12 hours work).
If you play a 3D game with a brightness higher than average, the tablet will last about 5-7 hours. You can count on playback for 12-14 hours at maximum brightness. You can read from the tablet for 18 hours. Surfing the Internet is possible for 10-12 hours.
The set includes a 22-watt charger that fully charges the device in over 2 hours, while a little more than 30% is achievable in half an hour. Keep in mind – you need a powerful charger. If there is no support for fast charging, then the tablet simply won't charge, like laptops.
Optional accessories test
As I noted in the introduction, Huawei sent us not only a tablet, but also all possible accessories for it – a Huawei Smart Magnetic Keyboard cover, an M-Pencil and a wireless mouse. Customers will need to purchase all these goodies separately if they wish, and they are not so cheap – $ 110 for the keyboard and the same for the stylus. It turns out that if you buy both a stylus and a keyboard, you will spend almost half the cost of the tablet itself!
Let's start with the stylus.
M-Penсil
This is the second generation of Huawei's stylus. Platinum-coated plastic case, transparent tip.
The stylus connects to the tablet via Bluetooth, and charges from it without wires, as it is attached with a magnet. When you remove the pen from the body, a pop-up window appears with information about its charge.
The stylus itself is magnified to the right place. It's very tight, and it does not fall off if you shake the tablet. But this is more of an option for charging, and not for permanent storage of the pen.
The stylus recognizes up to 4096 degrees of pressure. The input delay is minimal – 2 ms. There is tilt sensitivity.
There are no keys on the stylus, but it recognizes touch. Double tap allows you to switch tools, the action is configured in the FreeScript section.
I am not an artist and I can't praise the stylus from a professional point of view. But as an ordinary user I have no complaints. At the OS level, there is a handwriting recognition system that works with all supported languages. Not always perfect, but quite usable. Although for me it's still faster to poke at the on-screen keyboard.
There are two preinstalled apps for working with the stylus – Nebo for Huawei and MyScript Calculator 2. In the first, you can draw, draw graphics or write. Recognition of languages other than English is better here than in the system, but still far from ideal.
And the second is a calculator. It recognizes special characters and formulas. Of course, if you need to multiply 45 by 87, it is easier to use a regular calculator, but for more complicated things MyScript Calculator 2 will come in handy.
In short, if you like to draw on a tablet, or you need it for work, you can purchase a stylus.
Huawei Smart Magnetic Keyboard
A standard smart keyboard like we've seen with other tablets. It connects to the device via Bluetooth (NFC is used for a faster connection) and charges wirelessly from it. It also acts as a cover, the tablet is attached to the lid with magnets. There are no bumpers, so theoretically the tablet could fall from the case, be careful.
The Huawei Smart Magnetic Keyboard is made of synthetic material. It feels like silicone to the touch, and its texture vaguely resembles leather. It feels durable and won't pick up fingerprints or dust.
There are two notches above the keys that allow for two levels of tilt. One option is convenient for working on a desk, the other for working on your lap. Of course, I would like more options, but you must understand that this is not a laptop.
The layout is well thought out. The keyboard is, of course, tiny, but quite convenient to type. I was able to do it even blindly. The key travel is pleasant, deep enough, and quiet.
If you want to use your tablet from time to time as a laptop, you should invest in the Huawei Smart Magnetic Keyboard. The only thing missing thing here is a touchpad. By the way, AppGallery has Microsoft office apps!
Huawei Bluetooth Mouse
A bluetooth mouse is has nothing unusual about it. Batteries are included. The mouse itself is plastic, with a pleasant silver shade, the scroll wheel is metal, and the build quality is perfect. The mouse is compact and flat.
The mouse is quite comfortable, the buttons work well, the scroll wheel too. The cursor does not look like an arrow, more like a circle. When you hover it over the program icon, it enlarges a little.
You can use the mouse similar to any computer or laptop, and I didn't notice any problems – menus, highlighting, dragging, scrolling through pages, and so on. Even gestures can be done with the mouse as well as with your fingers. Although, when using a mouse, it is better to enable virtual buttons in the bottom panel, and not using gestures (everything is similar here to Android).
In conclusion, I will add that the Huawei MatePad 11 will work with any other Bluetooth mouse (as well as with other similar keyboards). But there's no way to use the USB dongle.
Read also: Huawei FreeBuds 4 review: Improved TWS earbuds with familiar design
Unlocking
You can unlock the device either using a password, which is, of course, inconvenient, or using face recognition.
The face is recognized very quickly. As soon as I pressed the "add" button, I received the message "done!". The system did not ask to turn my head or anything. I even added a few more of my faces from different angles, and holding the tablet in different positions, just in case.
As a result, the process takes a split second. And it doesn't matter from which side I took at the tablet, it always "sees" me.
HarmonyOS
I must say right away that we will prepare a large and detailed HarmonyOS review within 2-3 weeks. Today, too, I will tell you in detail about my impressions.
Is is actually new?
Some people recently started saying that this isn't a new OS, but an Android with a shell. Of course, there are many similarities, but for obvious reasons. First, both systems are based on the UNIX kernel, so the file structure is similar. Secondly, HarmonyOS supports all Android apps and it is obvious that it has a subsystem similar to Android, otherwise the programs would not work.
I am not a programmer at all, so don't expect a professional opinion. New system, old system, redesigned Android, Android with a shell… actually, who cares? Android source codes are open and everyone has the right to use them. In this case, it looks like Huawei has indeed taken Android as a basis, but has made a lot of improvements.
Huawei has got a good operating system (or a shell), which I liked at first sight. It is nimble, beautiful, and comfortable. System logic and settings are similar to Android. But, first of all, there is no point in reinventing the wheel when everything has already been invented. And secondly, Huawei users are switching to HarmonyOS from Android devices. And it is important for them that all the usual settings are in their usual places.
Frankly speaking, a system created from scratch would not be the best solution. There would be a lot of flaws, glitches, and compatibility problems. So in this case, the geeks are upset, but ordinary users are happy. But this is my opinion, you are entitled to your own.
Desktops, icons
Everything here is like in Android. Or an iPad. The logic of the system is partly Android, partly iOS. The design of icons and folders reminds ms of iPad. Just like Apple's two curtains, one extends from the top for only notifications. The other extends from the upper right corner.
By default, all icons are located on the desktop, like Apple. But in the settings, you can also enable the drawer mode.
If you swipe to the right on the main desktop, you might find yourself on the "Today" screen woth popular apps, search, widgets, and news. The set of applications and news sources are customizable. The choice depends on the system language.
A downward gesture opens a search window – on the device, on the Internet, in apps or video (everything is configurable). Recommended apps and search history are available here.
Like in iOS/Android, a long press on the app icon opens a menu with quick-access functions. Some apps support so-called mini-programs – widgets that can be added to the desktop.
Icons can be collected into folders, and folders can be of two sizes – small or large, where all the contents are visible.
If you make a pinch gesture on the desktop, bringing your fingers together, you will be able to customize the desktops. Wallpaper, widgets, advanced settings, in general, everything like in Android. You can also turn off the Today screen if it bothers you.
Multi-window operation is supported. The options are different. For example, you can have one app in the background and open two more windows above it. You can change the size of these windows, but in any case they will be elongated in height.
If the tablet is in landscape mode, you can use the split screen mode. Here you can use four windows in general.
HarmonyOS settings
Again, in terms of design, it looks like an iPad, but in terms of logic and structure, it feels like Android. Everything is the same – privacy settings and app access to data, notifications, special features, memory analysis and so on. We will tell you more in a separate HarmonyOS review, and here I can show you a selection of screenshots.
HarmonyOS app
Everything looks like Android EMUI. You get all the basic things – calendar, calculator, file manager, voice recorder, weather, gallery, clock, compass, contacts.
There are other built-in utilities:
AppGallery is software marketplace like Google Play. Allows you to install apps, as well as update them. Sometimes it shows ads for 3 seconds, although not every t
Petal Maps is designed to replace Google Maps in HarmonyOS. Yes, it does not have a database with reviews and photos like Google, but the UI is pleasant, the map detail is good, navigation works in all system languages. We will tell you more about the app in more detail in the full HarmonyOS review, which will be released in a couple of weeks.
Petal Search is an app that aims to replace Google for search. There is a photo search, a list of trending topics and apps, news, places of interest nearby, even an aggregator of goods from stores. Note that my built-in services are partially in Polish, and changing the region in the settings does not help. This is because I tested a model for the Polish market.
Themes allows you to customize styles, wallpapers, and icons. Not everything is free.
Link Now is a messenger from Huawei.
Health is a proprietary activity tracking program that also works with Huawei fitness trackers and smartwatches.
GameCenter is a selection of games. The system has a game mode with useful options.
Email allows you can add accounts of popular services or set it up manually.
The browser is a handy app for surfing the net, only for some reason it often opens pages in the mobile version, but this is easy to change it with one click.
Notes allows you to draw and make handwritten notes.
Tablet Manager allows you to clear the cache, check for viruses and  set a password for selected apps. Data backup to the Huawei cloud is also configured here.
Tablet Clone is a utility for transferring data from another device.
Tips is for, well, system tips.
My Huawei is for Huawei news, Customer Services addresses, troubleshooting guides, and more.
The Member Center is a useless app with some kind of coupons, contests and discounts related to Huawei apps and services (though not only).
Kids is for the smallest of users, and you can only close it if you know the password. It allows you to draw, take photos, record sound, all with a time limit and a cartoonish UI.
Huawei Video is like YouTube. There are videos on various topics and films, some of the content is not free.
Huawei Music has various selections on different topics, but there are no famous artists. At least everything is free. The app is pretty, you can listen to your downloaded music here.
Huawei Books is similar to what Google and Apple have. The choice of languages is still small, and some of the content is paid. There are also audiobooks. It's a well designed app, you can use it to read your own books.
Some built-in apps can be removed, but not all. For example, there is no way to get rid of My Huawei.
You will also find folders with utilities that the system recommends to install with one tap. It's more like advertising.
There are also two pre-installed keyboards – SwiftKey and Kika. Both are comfortable to use.
Read also: Realme 8 vs Redmi Note 10S: Budget smartphones head-to-head
AppGallery, Android apps and the software situation in general
Let's talk about the most interesting stuff. Are there many apps on AppGallery? Quite, but still not enough. As a journalist, I see news almost every week that an app has been added to HMS (Huawei Mobile Services). True, its catalog is developing, which is good. Although, of course, not everything is there. For example, Twitter can be installed, but Instagram is no longer available. Games are an even worse situation, basically all sorts of small casual games are available, but that's about it.
Curiously, Huawei themselves understand that. That's why AppGallery shows links to apps on the Internet right in the search results, mainly on popular servers with collections of apk-files like Apkpure.
Yes, you can install any APK and it will work just like it would on a regular Android. The only caveat is that such applications will have to be updated manually, but the tablet will inform about the release of new versions. Only apps that require Google services don't work. This means all Google applications like YouTube, Gmail, and also some games like NFS and Pokemon Go.
BUT this is not a problem either. Firstly, right in AppGallery there is a manager of so-called apps that do not require installation. This means access to the web versions of Google services – GMail, Google Photos, and Google Drive. You can put icons right on your desktop. But this is still not the most convenient solution.
I found GSpace app in AppGallery. It emulates another device, which allows you to use almost any Google application, including accessing Google Play and installing any software from there. But it will not be possible to use the payment system (a tablet is not suitable for this anyway) and for some reason Google Keep notes. And everything else works fine. Maps, YouTube, Meet, GMail, Google Drive cloud service, etc.
In GSpace, you can install software and games that require Google services, put icons on the desktop, and everything will work perfectly. The only drawback is that the app shows full-screen ads when you launch the programs installed through it, so if you want to use it regularly, you will have to pay a subscription.
It is worth mentioning here that not all apps are adapted to work on the big screen. Some of them look like they would on a smartphone, although the space can be used more efficiently. Same happens with regular Android. There are apps (for example, Instagram) that do not react even when the screen is rotated to landscape mode. And there are those that react, but are launched at a third of its width.
However, it's not so bad. HarmonyOS has a cool feature, although not all applications support it yet. It's split screen. In the examples below you can see a store app and cloud storage. You start the program, select an item and a window opens next to it. Cool and convenient.
It is possible to separate the two parts of the app and use them independently of each other. Yes, like two windows of the same program!
On Twitter, I came across someone who uses Instagram like that. Honestly, I don't know where they got their version, mine (from both Google Play and apk) does not even support landscape mode.
Read also: Google I/O 2021: what's new in the world of Android
Huawei ecosystem
Huawei is, in a sense, following the path of Apple. And it is much easier to create a company ecosystem than Google, whose OS-based devices are produced by different manufacturers. Thus, Huawei can offer various features such as a shared cloud service with backups and synchronization, simultaneous operation between its devices (phones, tablets, laptops), instant file exchange, a shared clipboard, answering calls from a laptop, broadcasting a phone or a tablet screen (Cast+, an analogue of AirPlay), seamless switching of Huawei headphones between different devices, and so on. There is also Multiscreen, when an image from a tablet or phone can be displayed on a separate window in a laptop. It is even possible to transfer files between devices with a simple drag and drop! In general, it sounds and looks interesting.
Conclusions
Huawei made a successful and relatively inexpensive tablet. It has it all: excellent 120 Hz screen, good build quality and ergonomics, high operating speed, excellent battery life, and gorgeous sound. There is support for a stylus and a keyboard cover with a convenient layout, as well as Bluetooth mice.
Of course, the question arises, what about the operating system? Is there life without Google services? There is! It is not a stripped-down Android without services like before. Before us is another operating system, convenient, fast, thoughtful, beautiful. It's from Huawei, not Google, without any of Google's services. But Huawei made the transition as smooth as possible. Yes, not everything is the same. But if you want, you can easily use Google services on the MatePad 11, you just have to follow certain steps. And you can install any apk files too.
Of course, it should be noted that in the case of HarmonyOS, like in most Android tablets, certain number of apps are poorly adapted to the bigger screen. Sometimes it looks like a giant phone. But Huawei is trying to adapt such apps to work with a split screen.
And the Huawei MatePad 11 has no competitors. Especially when it comes to the price. There is only the MatePad 11. Of course, if you expand the price range, the competitors will appear. For example, the classic iPad 2020. The basic version with 32GB of storage costs about $430. iPad is arguably the best choice if you need a tablet. Convenient OS, excellent choice of software. But 32GB of storage is ridiculous, and the 128GB option (no 64GB option) costs $570. At the same time, the design of the classic iPad is outdated. And much more modern in terms of design and other features (including an improved camera and a new processor) iPad Air costs more than $700.
Samsung has a similar story. There's the Galaxy Tab S6 Lite 10.4 from 2020 for about $390. It is not bad, but the processor is old and there's only 4 GB of RAM, so in terms of performance, it loses to the MatePad 11. And the Huawei screen is better. An advanced Galaxy Tab S7 FE is available as well, but its price starts at $630, a whole another league.
There is also the Lenovo Tab P11 ZA7S0012UA, which even in the version with LTE and 128 GB of memory is inexpensive, about 350-400 dollars. But it is really weak. And for the more powerful P11 ZA7C0092UA Lenovo asks at least $700.
Actually, this is where the selection of current tablets with available original and convenient keyboard covers and stylus ends. All that is left are very cheap and boring models. But in general, the market, as already mentioned, is stagnant. And the MatePad 11 looks like a good value for this money.
In conclusion, Huawei has managed to make a good mid-range device. In this case, the flagship model (MatePad Pro) is not radically different from the non-flagship model. This is not to say that users are deprived of something critical, and the difference in price is pleasant. The screen is IPS, not AMOLED, but still good, there is one camera instead of two, the processor is weaker, but still good enough. Really, we can congratulate Huawei on a good start and look forward to the success of the new tablets on the market. The most important thing is how users will receive them. Share your impressions!
Read also:
Subscribe to our accounts: