Huawei MatePad Pro is the best tablet in the history of Huawei and at the same time a contender for the title of one of the best devices of its class. Can it be considered a real alternative to iPad Pro?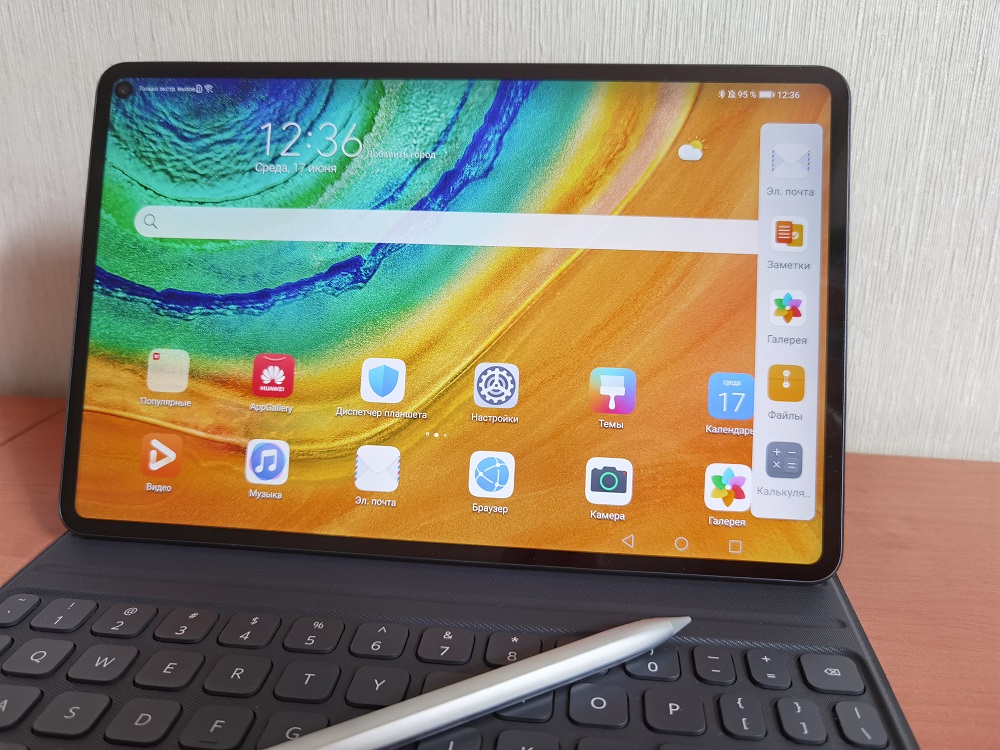 The world of tablets: evolution or agony?
It's no secret that the time of tablets is gradually running out. Less and less people buy them. Analysts say the reason for this is the growing popularity of smartphones. It is understandable. Phone is always with you, and the large screen sizes of modern smartphones not only allow you to view photos or chat on social networks, but also comfortably watch YouTube videos, movies and TV shows.
But sometimes we want a large screen, and often a keyboard with a mouse. This is where modern tablets come to the rescue. In many cases, they have almost become hybrid devices to which you can connect a keyboard, computer mouse, or a stylus.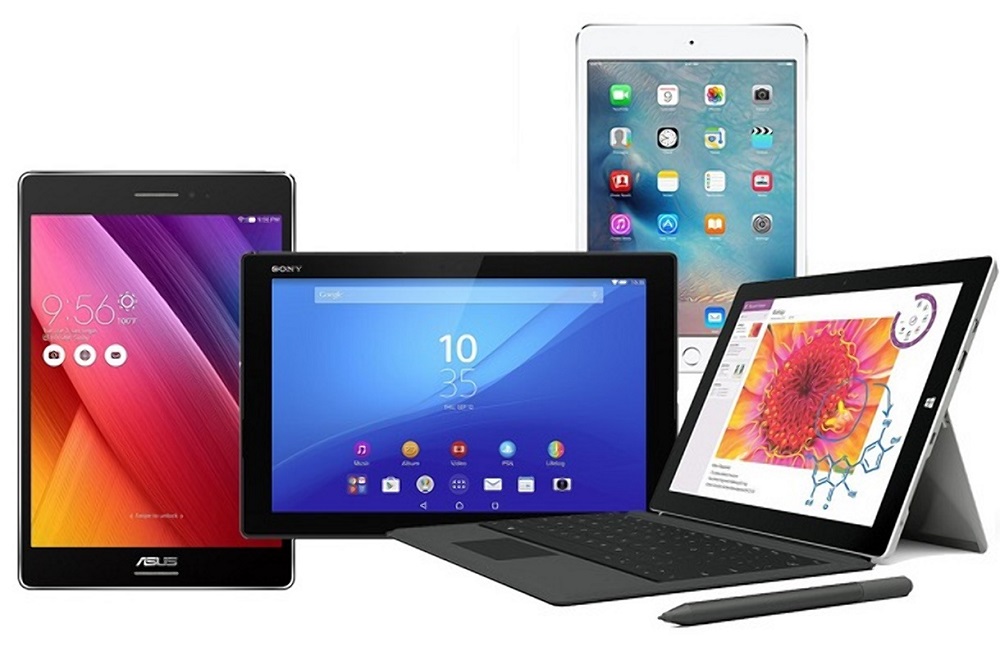 Sometimes it seems that their time has passed and they should just go away. And then a new model appears, and again we are talking about tablets. The fact that they are still alive and relatively popular deserves respect.
Of course, one cannot fail to recognize the fact that Apple is still dominating this market with its legendary iPad. Although competitors are constantly trying to impose decent competition, proving that tablets on Android OS also have a right to exist.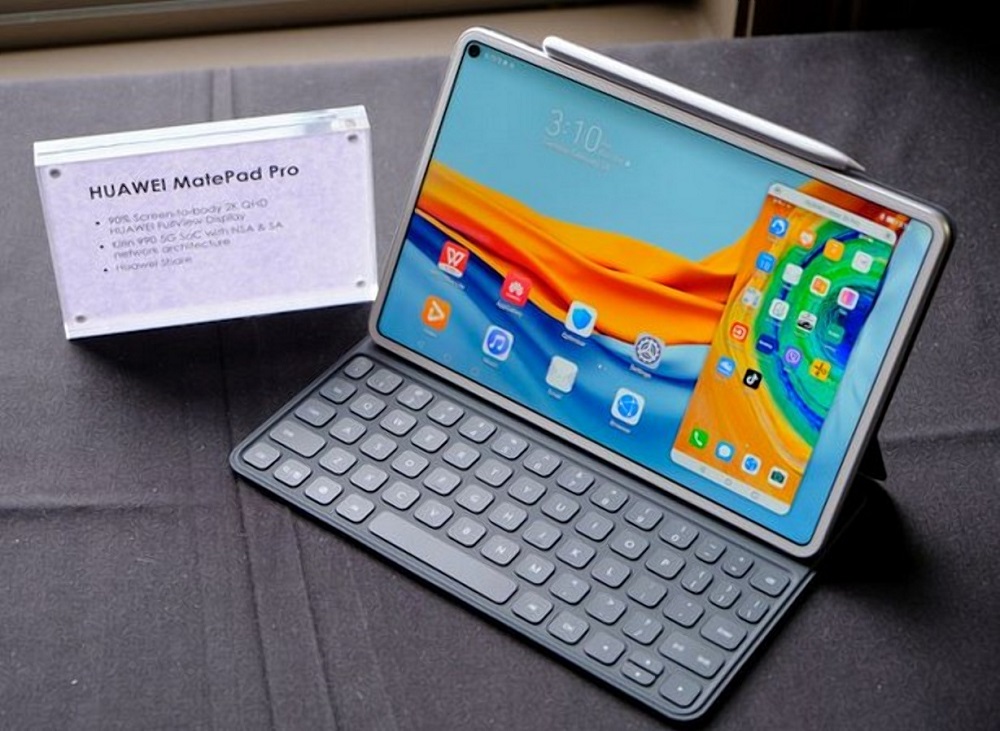 Today I'll tell you about such a new tablet, which has every chance of becoming a worthy competitor to iPad Pro. As you already guessed, today we will talk about the new Huawei MatePad Pro. This is an interesting device that I really liked and I will gladly share my impressions about it.
What makes Huawei MatePad Pro interesting?
I love devices that have more than one function, but if I had to choose one device for mobile work, it would be an ultrabook. Although manufacturers, in particular Apple, Samsung, Huawei and others, stubbornly insist that their tablets are capable of replacing desktop PCs and laptops. I wanted to check if there's some truth to that.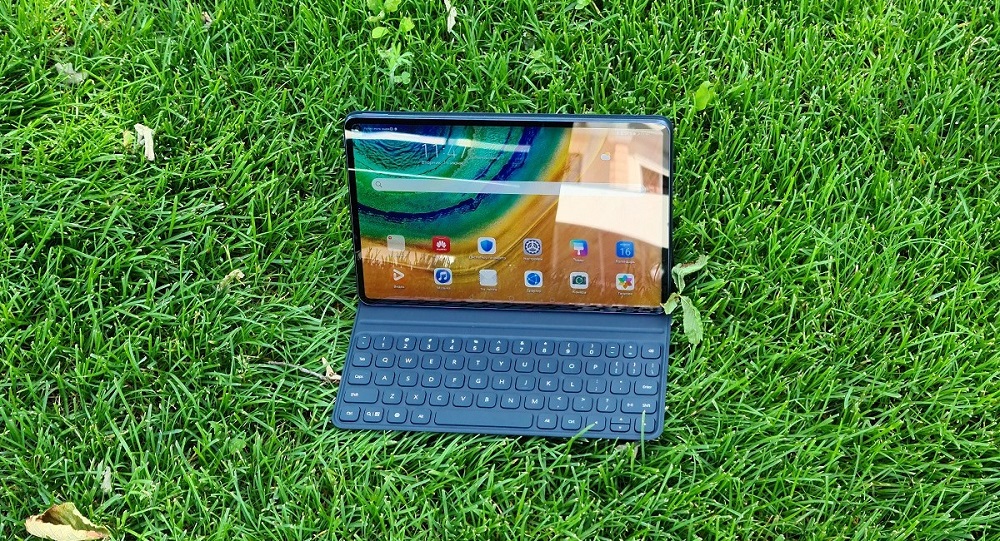 Huawei MatePad Pro is definitely the cheapest among its peers, and the price of the basic option (Wi-Fi, 6 GB of RAM, 128 GB of storage) is almost affordable.
To date, there are two concepts for creating a premium tablet. You can either "inflate a smartphone" or is use components and software typical of a PC, but in a more elegant form.
Huawei MatePad Pro is based on the Kirin 990 processor, known for Huawei P40 Pro on Android 10 AOSP. Thus, if you look only at the platform, then this is really a large-sized smartphone, a typical multimedia tablet and not necessarily a replacement for a laptop. But…
The manufacturer made sure that the functionality of the device was not limited to consumption of content. A keyboard and a stylus are available as an accessory, and EMUI 10 software shell used as an interface received a special PC mode. More than Android, it resembles KDE (Linux desktop environment) and supports applications in a format similar to Windows.
Huawei MatePad Pro is a breath of fresh air in the boring tablet market. It feels premium, although the lack of Google services means that its potential is slightly limited. But all that makes it even more of a curiosity.
And what's in the box? First impressions
And now my test model is finally here. To my surprise, the tablet arrived in a rather large white box, although the device itself is small. In addition to Huawei MatePad Pro inside, I also found a powerful modular charger (40 W), a traditional SIM card eject tool and an adapter from USB Type-C to a 3.5 mm jack for wired headphones. And of course – all sorts of paper instructions, warranties, etc.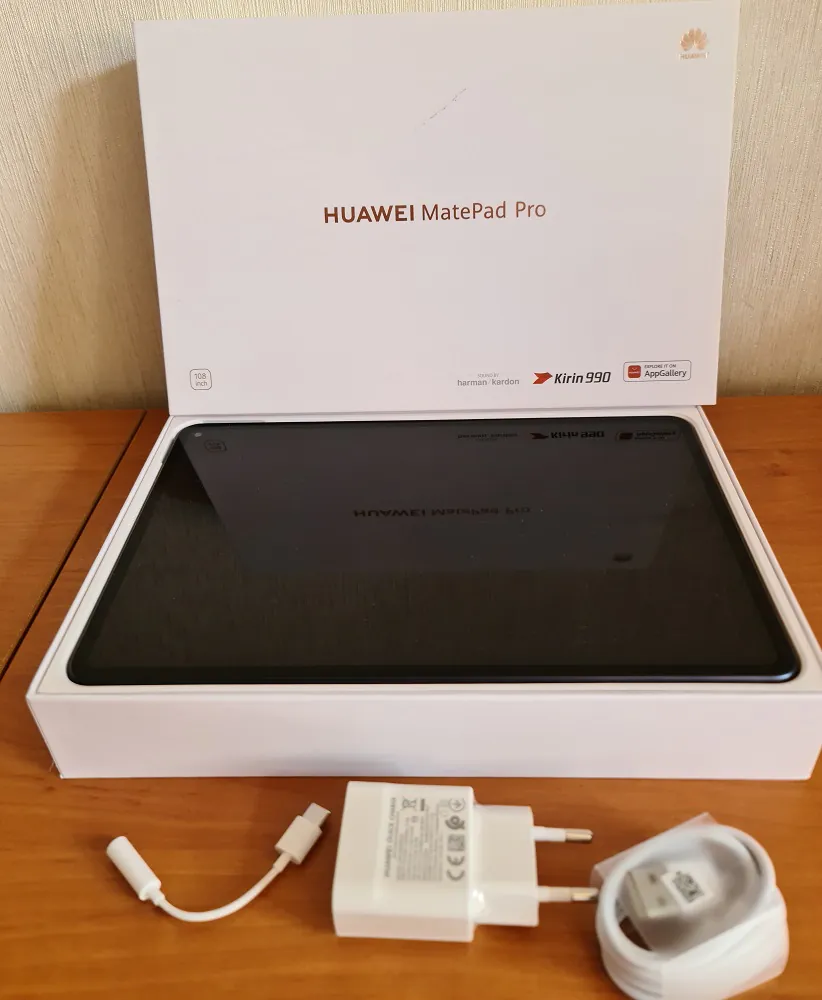 In addition, a keyboard and a proprietary M-Pencil stylus were also included, which ordinary customers still have to buy separately. Although, if you hurry up and pre-order before June 22, the stylus can be received as a gift.
Literally from the first second you realize that you have a premium tablet in your hands. Modern materials, an unusual dark blue color, the relative lightness of the tablet – all this is impressive. Sometimes it seemed that I was holding just a large, but very convenient smartphone. Even the main cameras are vertical. Huawei was able to pleasantly surprise me here.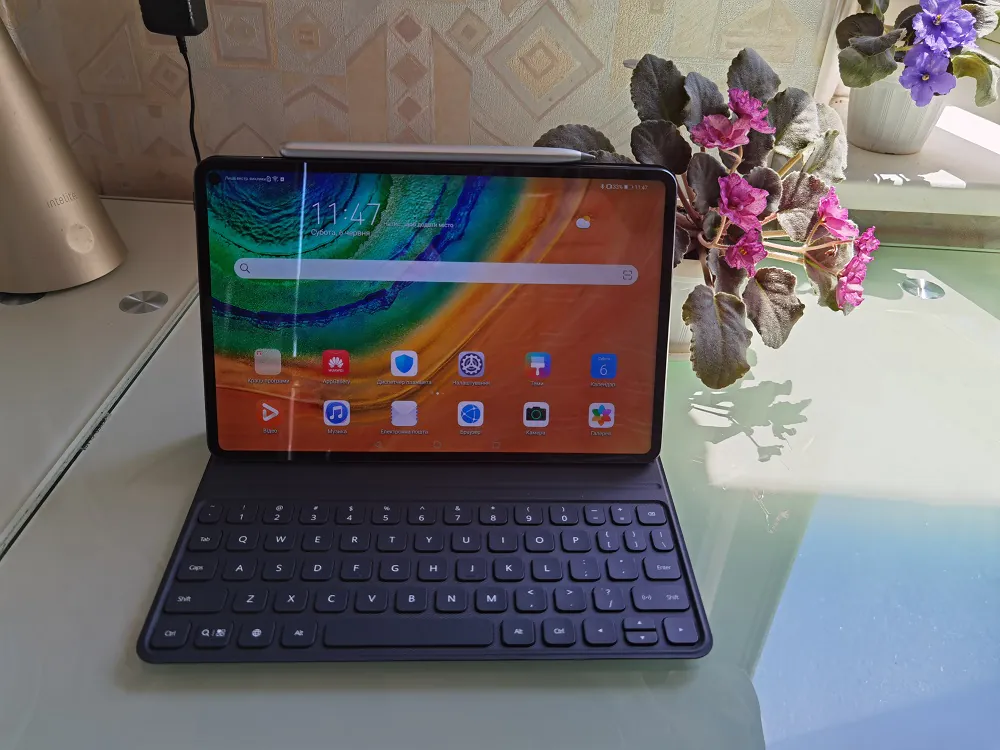 But still, the device shows some similarities with the iPad. And this should not surprise anyone. In such cases, I always quote the words of my favorite artist Pablo Picasso: "Un artista copia, un gran artista roba" (Good artists copy, great artists steal). Simply put, a bad artist copies the work and someone else's style, and a good one steals in order to create solely his unique creation on the basis of the stolen one.
First of all, the Huawei device is a much cheaper alternative to the iPad Pro. Although there are some nuances that should also be mentioned. The problem is that Huawei devices have stopped receiving support for Google services. And MatePad Pro runs on Android 10, but without access to Google Play store and many applications, games and services. Although maybe for some it is not critical at all, especially since Huawei MatePad Pro has something to surprise a potential buyer.
Modern design pleases the eye
Huawei has used an alloy of light metals. As a result, the tablet is comfortable, lightweight and durable. In addition, Huawei MatePad Pro is an extremely stylish tablet. However, this is not surprising, Huaweu has been long known for its style. Just look at the flagship Huawei P40 Pro, as well as tablets of the previous generation.
Visually, MatePad is definitely pleasing. The screen dominates the front panel. It is surrounded by very thin bezels, as for a tablet, and has a small front camera hole in the upper left corner.
The frame is steel and very durable. On the shorter ends you will find four (two on each side) speakers from Harman Kardon, on the left side is a screen lock button.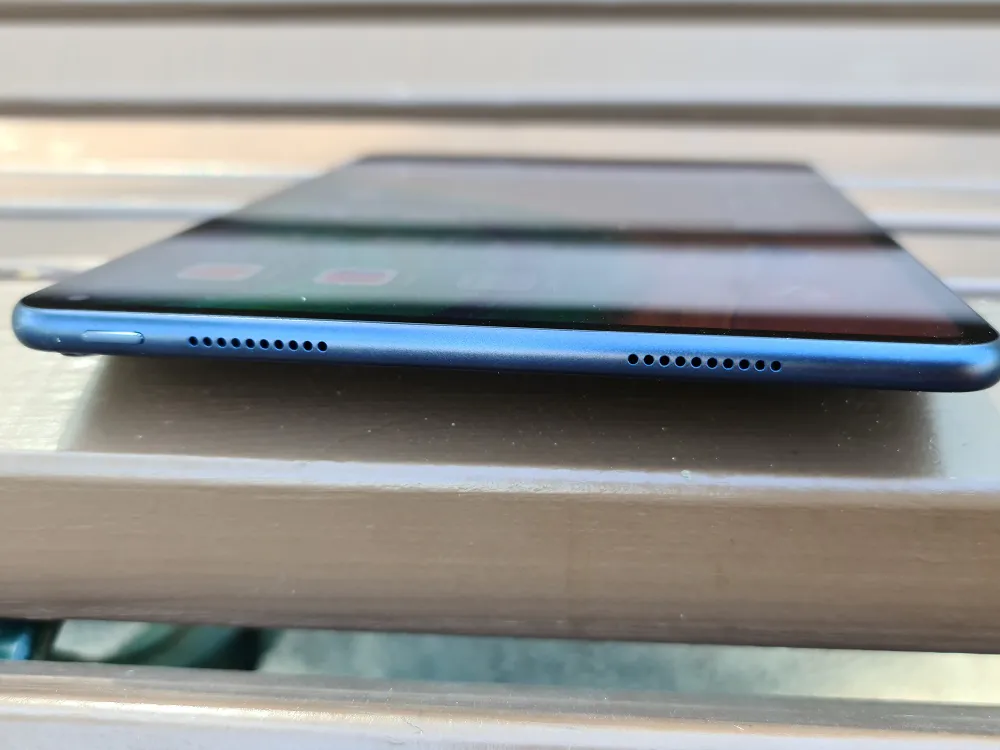 And on the right is a USB Type-C port for a charger and transferring content to a laptop.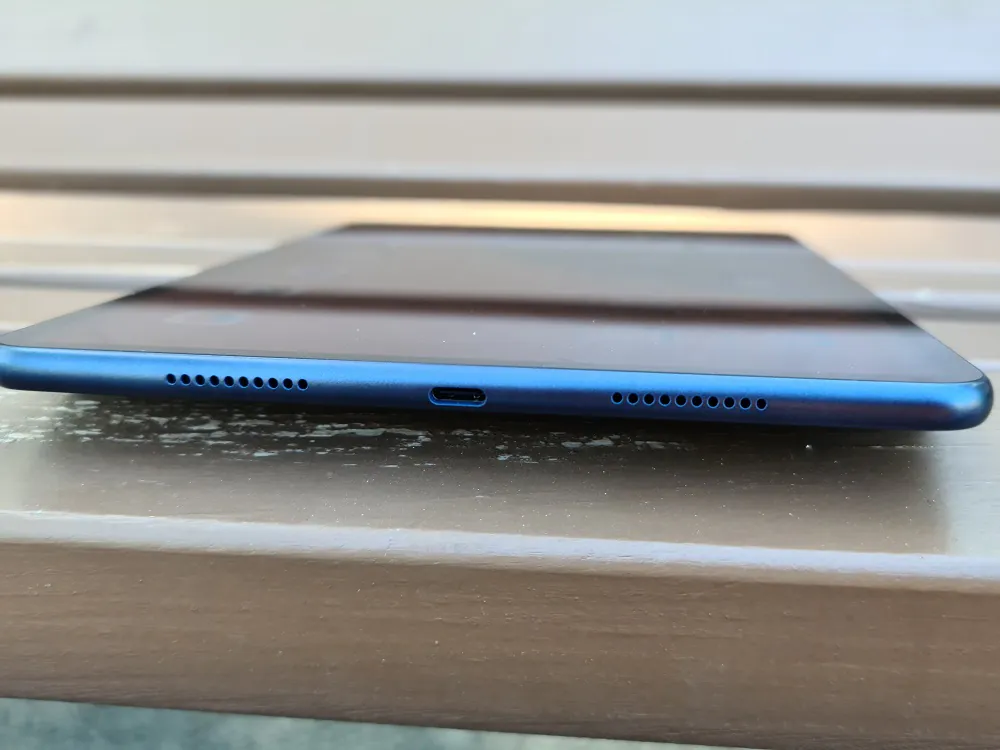 The longer upper side has volume buttons and four microphone holes.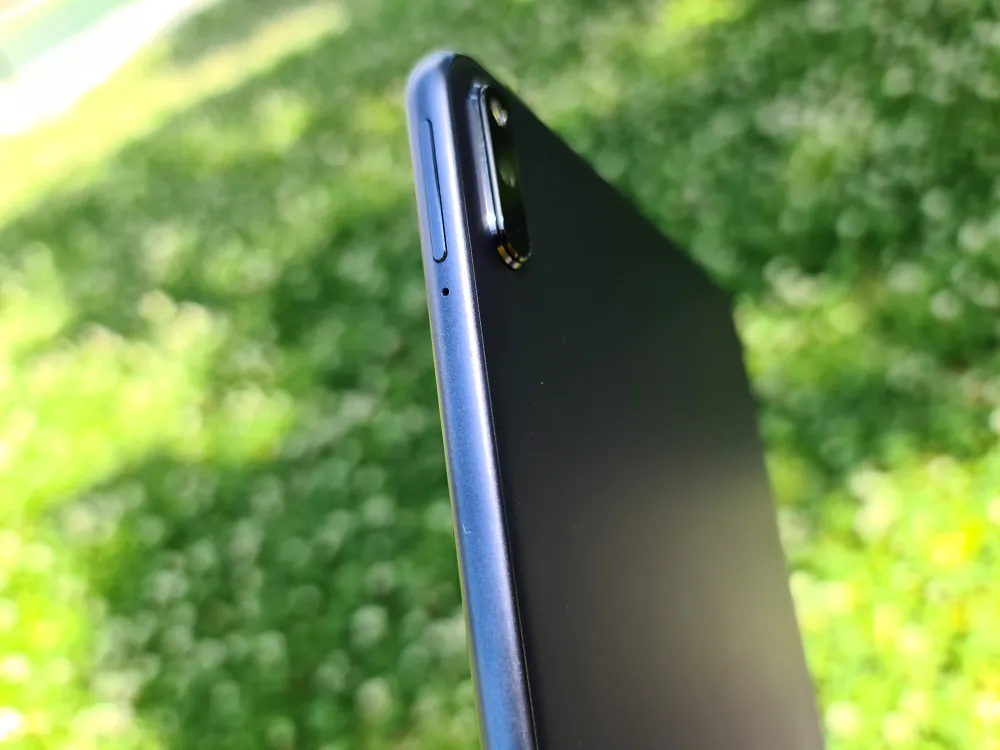 Below we have a SIM card slot and an invisible strong magnet. With it, you can attach a keyboard to the tablet.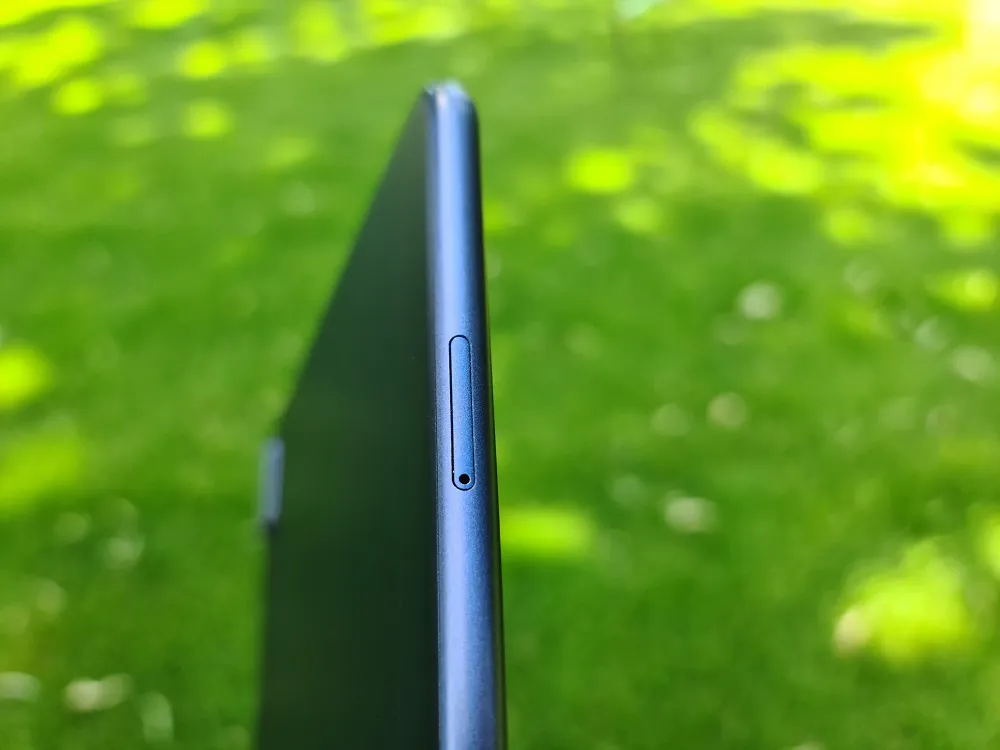 By the way, there is a similar magnet on the opposite end. It houses a proprietary stylus.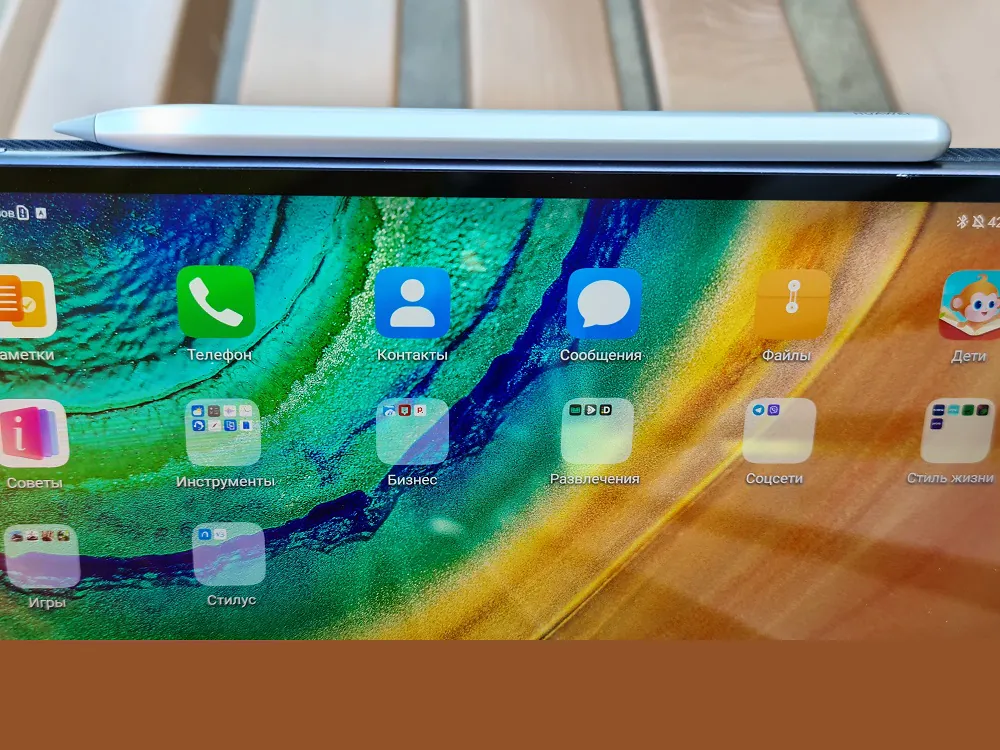 Huawei knows modern trends, so the back panel is made of aluminum, which goes well with the rest of the design. And this dark blue color… it really is beyond words. They need to release a similar smartphone.
The protruding island of the main camera can spoil the impression a little, but not much. The tablet stably lies on a flat surface, and with the keyboard attached, the camera unit is not visible at all.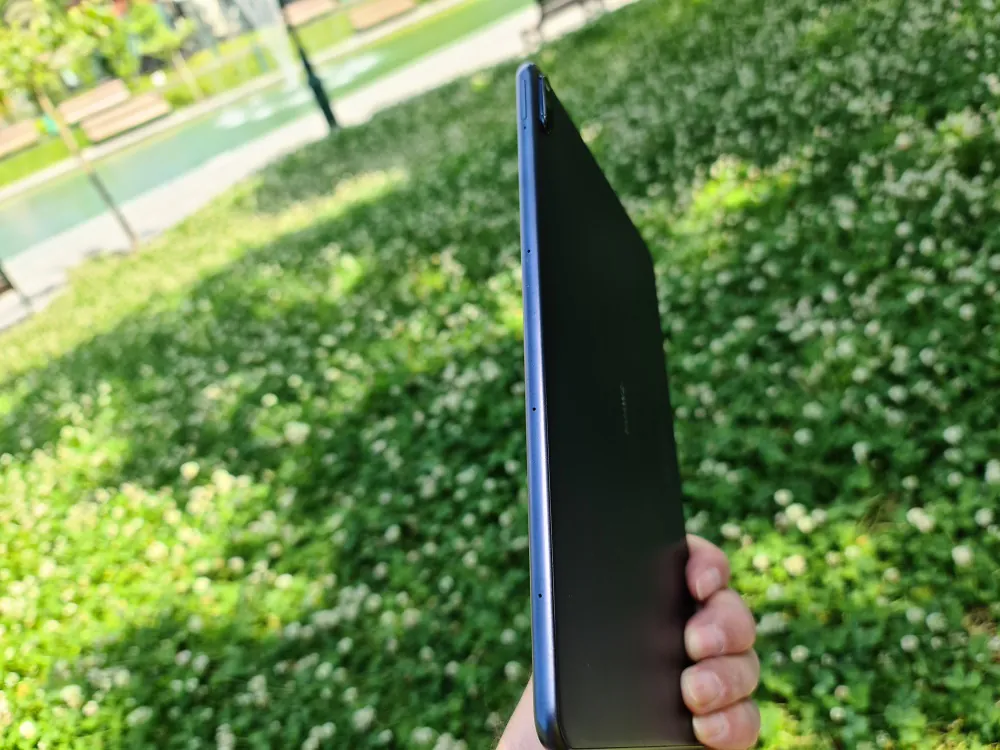 The thickness of the aluminum case is only 7.2 mm, and thanks to the extremely thin bezel, the 246 x 159 mm rectangle was compressed to a 10.8-inch screen. With an interesting 16:10 format and with a resolution of 2560 x 1600 pixels.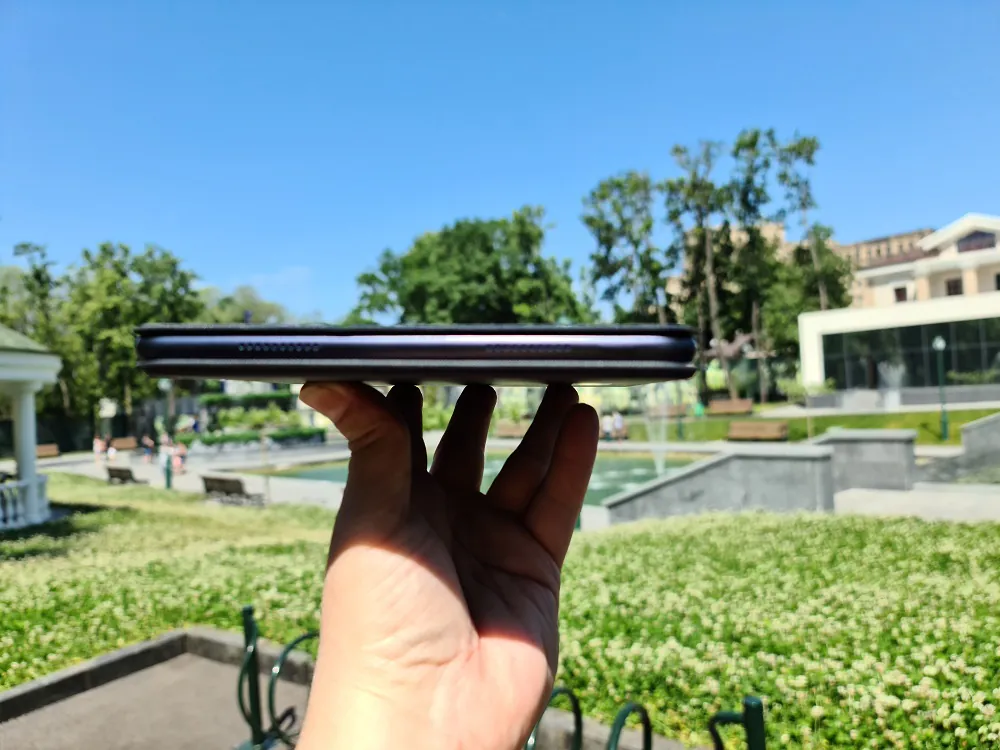 Despite my initial concerns, the device is very reliable in my hands. The rounded edges improve ergonomics, and the bezels are thin, but I had almost no cases of accidental touches. In addition, the rounded edges and relatively light weight (about 460 g) mean that in extreme cases, MatePad Pro can even be easily held with just one hand. It is very convenient on the train or on the plane, when you want to hold the tablet and use the stylus.
Screen with a hole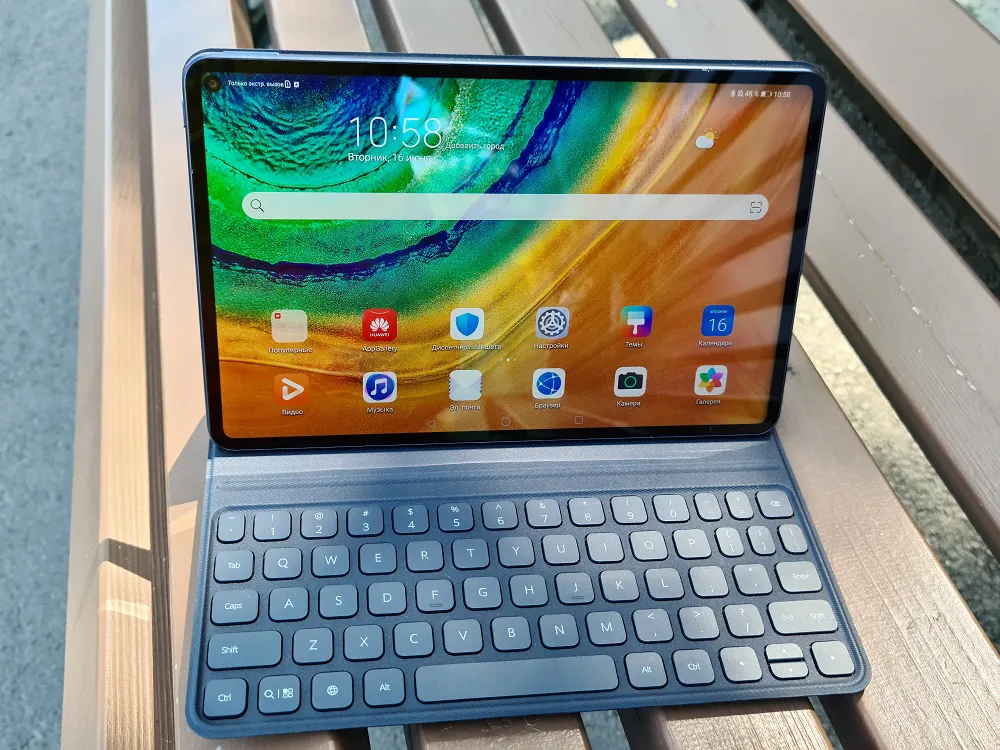 Huawei MatePad Pro has a WQXGA (2560 x 1600 pixels) screen and an optimal diagonal of 10.8 inches. With this configuration, the pixel density per inch is 338, so the displayed content looks sharp. There can be no talk of jagged fonts and blurry images. In addition, the screen has an aspect ratio of 16:10.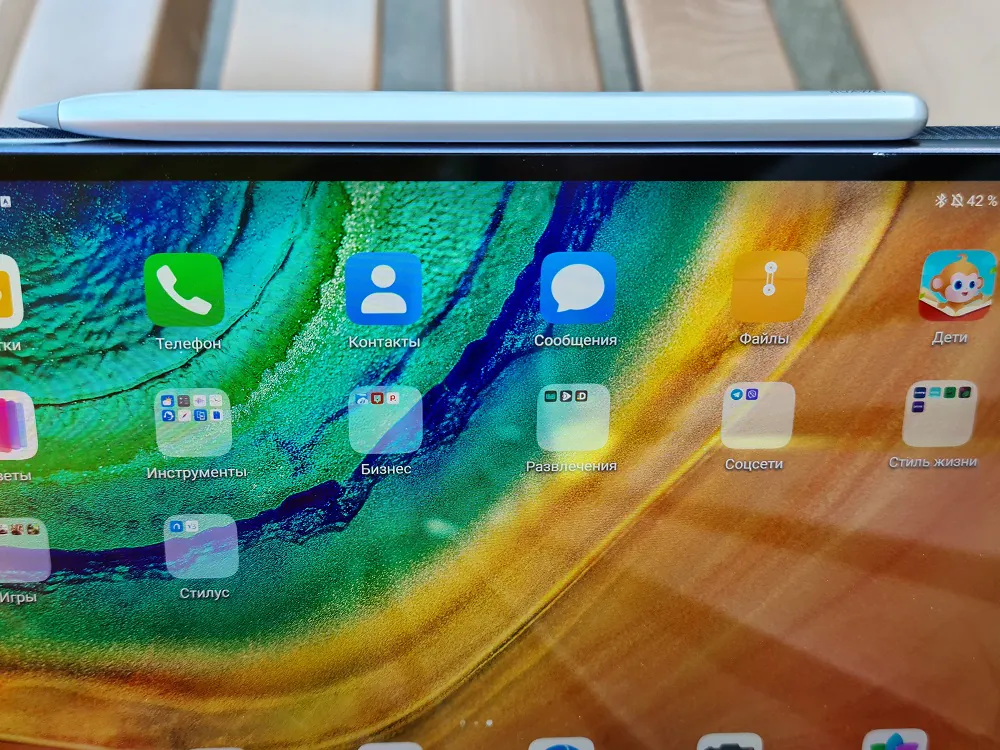 The maximum brightness is 540 nits, and the contrast is 1500:1, which is a pretty decent value for an LCD panel, but not as good as AMOLED. The display is capable of reproducing colors in the DCI-P3 range, which should suit users working with images. Viewing angles are good, the colors look great.
The MatePad Pro screen seems huge. This is mainly due to thin bezels. The screen seems much larger than it actually is.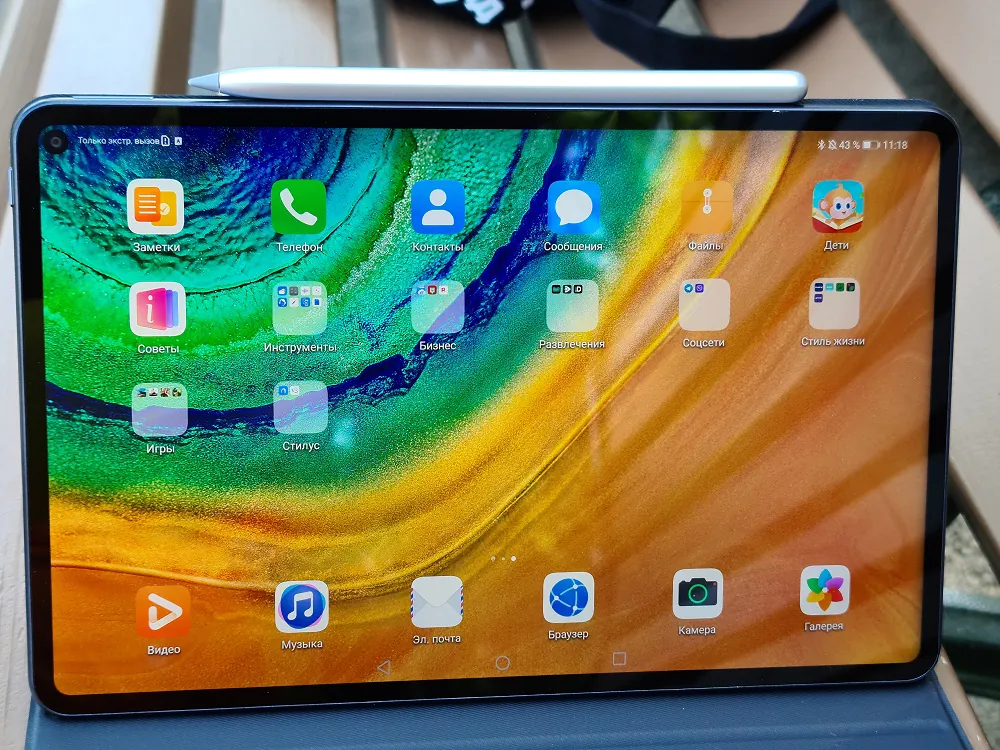 It is also worth mentioning that in the upper left corner of the screen there is a front camera. In the case of tablets, this is still not a common sight. Moreover, the hole is not particularly striking and does not interfere with the use of MatePad Pro. No matter how you hold the tablet, vertically or horizontally.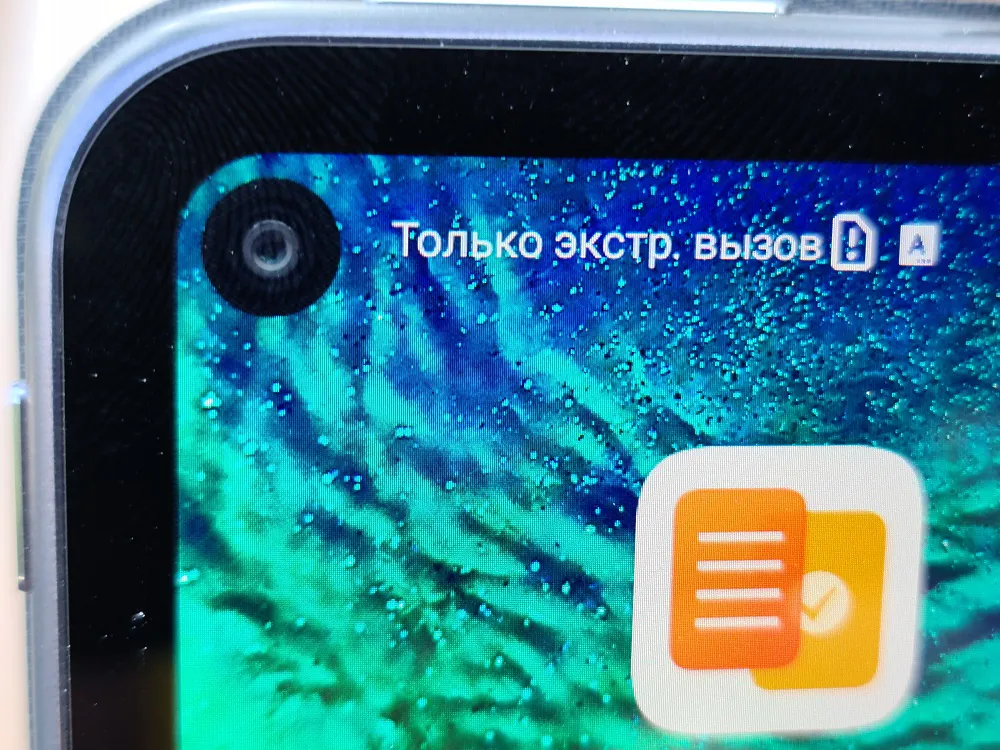 The matrix is ​​IPS, although visually very similar to OLED. It is of the highest quality, so I did not feel any discomfort when switching from Huawei P40 Pro to MatePad Pro. The display has excellent parameters, from maximum brightness to color reproduction. Very nice saturated colors, contrast and black color. The settings also have the ability to change the color temperature and limit the emission of blue light.
The matrix is ​​calibrated for two color palettes – the standard sRGB with a phenomenal coverage of 99.4%, as well as 93.2% favored by the movie industry.
I have no issues with the light sensor, which usually adapts the backlight to the current lighting conditions so that you can comfortably use the tablet. However, sometimes the sensor reacted with a slight delay. It is possible that this problem will soon be solved by an update.
The camera is no joke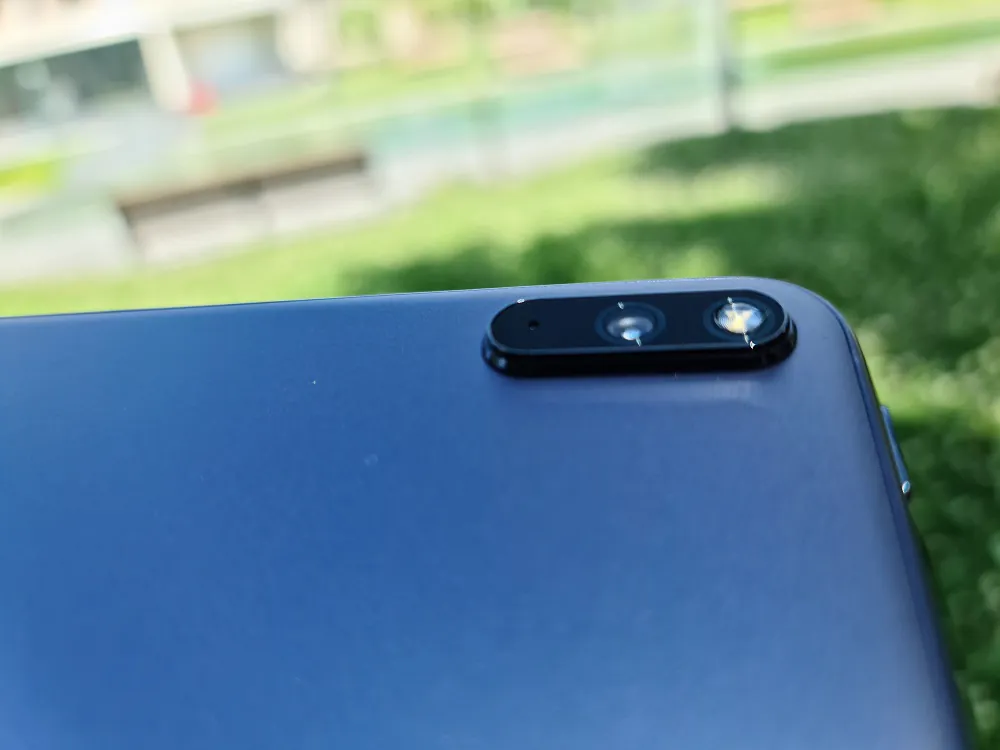 Of course, tablets are not smartphones, so you should not expect outstanding cameras here. On the back of this tablet there is one 13-megapixel camera with f/1.8 aperture, autofocus, and HDR mode, although not automatic. There is even an LED flash that is quite strong.
Pictures taken in daylight look good. They are characterized by good detail. This is due to the good automatic mode, which skillfully controls white balance, contrast, and sharpness. It is worth noting that the colors in the photographs are delicately enhanced using software. For some users, this will be a disadvantage, for others, an advantage. I belong to the second group.

Photos taken after dark look worse. The number of details decreases, noise appears. Despite this, the manufacturer offers a very good camera.
Video is shot with a maximum resolution of 4K at 30 frames per second. There is also support for FHD resolution at 30 and 60 fps, as well as HD. The quality is pretty good.
Autofocus works fine, but only during the day. In poor lighting conditions it refuses to perform its functions and is mostly useless.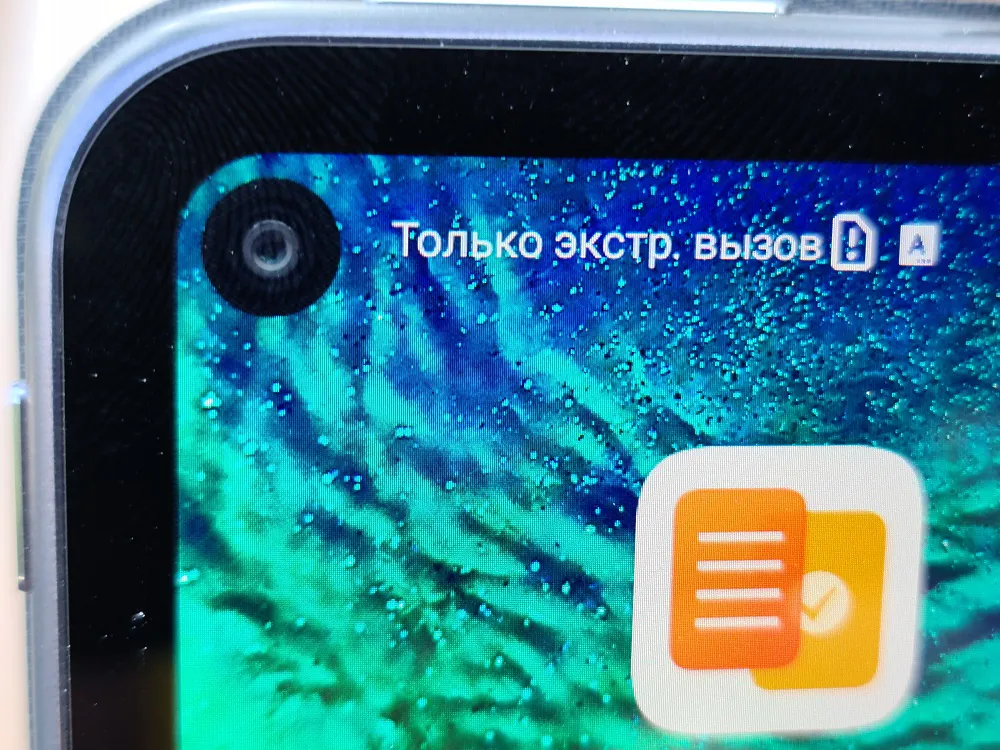 In the hole in the screen we find an 8 megapixel front camera with f/2.0 aperture. It allows you to take high-quality photographs and video that can be recorded in Full HD resolution at a speed of 30 frames per second. However, it is worth knowing that the beautification mode is activated by default. At least the camera is quite suitable for video calls, but, alas, selfie photos for Instagram are still better on a smartphone.
Harman Kardon speakers
Huawei, of course, could use even more RAM. But even those 6 GB of RAM that are available are enough.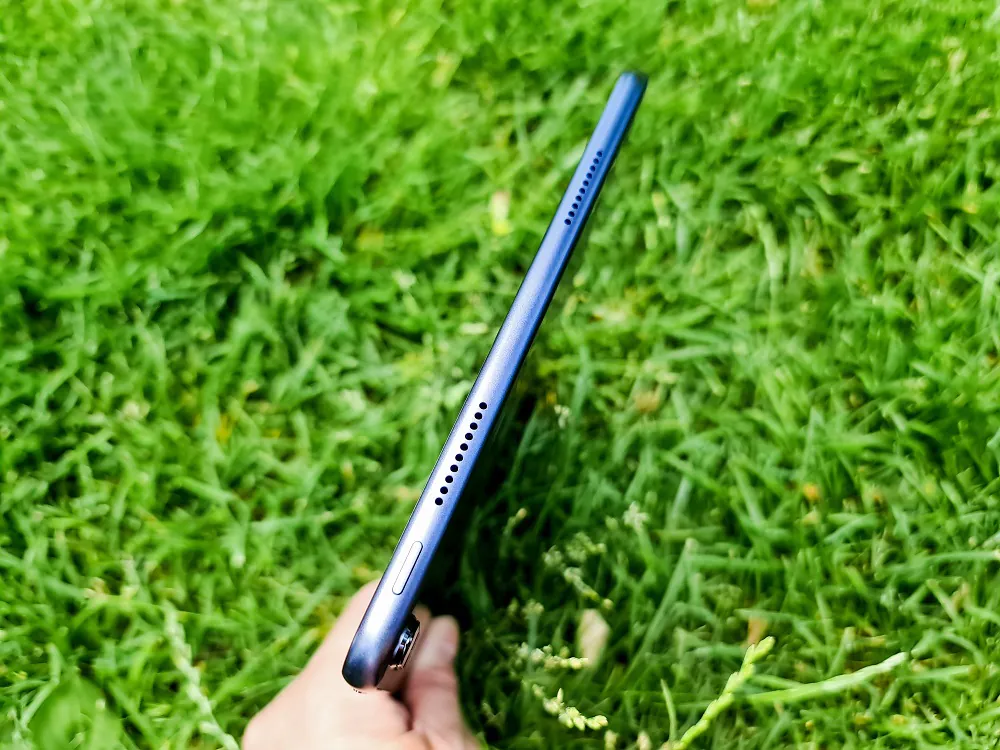 The sound is not without bass and treble. I'm not afraid to say that this is the best music tablet on the market so far. Huawei MatePad Pro is a tablet offering the highest level of sound quality.
Read also: Huawei P40 Lite review – Great price, but at the expense of Google services
Communication and biometrics
The tablet is equipped with one slot for a nanoSIM card, and an LTE modem, which provides fast data transfer. In addition, there is support for dual-band Wi-Fi 802.11 a/b/g/n/ac (2.4 and 5 GHz), which works very stably. It's a pity, of course, that there is no support for the new Wi-Fi 6 standard. I have Huawei WiFi AX3 router on the test right now. It would be nice in the future to have support for the latest standard. There is a Bluetooth 5.1 module (BLE, SBC, AAC, LDAC HD Audio), which works without problems with various accessories, including headphones and portable speakers. There is also GPS with A-GPS, GLONASS, Beidou and QZSS. I have no complaints about all of the above modules, because they worked without problems during the tests.
It's a shame that Huawei decided not to use a fingerprint scanner in this model. Of course, it is impossible to integrate it into the screen, because we are dealing with an IPS panel, but the fingerprint scanner in the power button would fit perfectly. But in this case, you have to be content with the ability to protect the tablet with a PIN code, password or pattern. Do not forget about face scanning – it is available, although this function does not work as well as in Huawei P40 Pro.
In a sense, I also miss the NFC module, which would definitely speed up pairing with other devices; contactless payments using a tablet are not the most convenient solution.
Flagship performance
In terms of hardware, MatePad Pro is equipped with the already mentioned HiSilicon Kirin 990 system (7 nm+). This is an eight-core processor (2 x 2.86 GHz Cortex-A76 + 2 x 2.09 GHz Cortex-A76 + 4 x 1.86 GHz Cortex-A55) and a graphics Mali-G76 MP16 subsystem with 16 cores.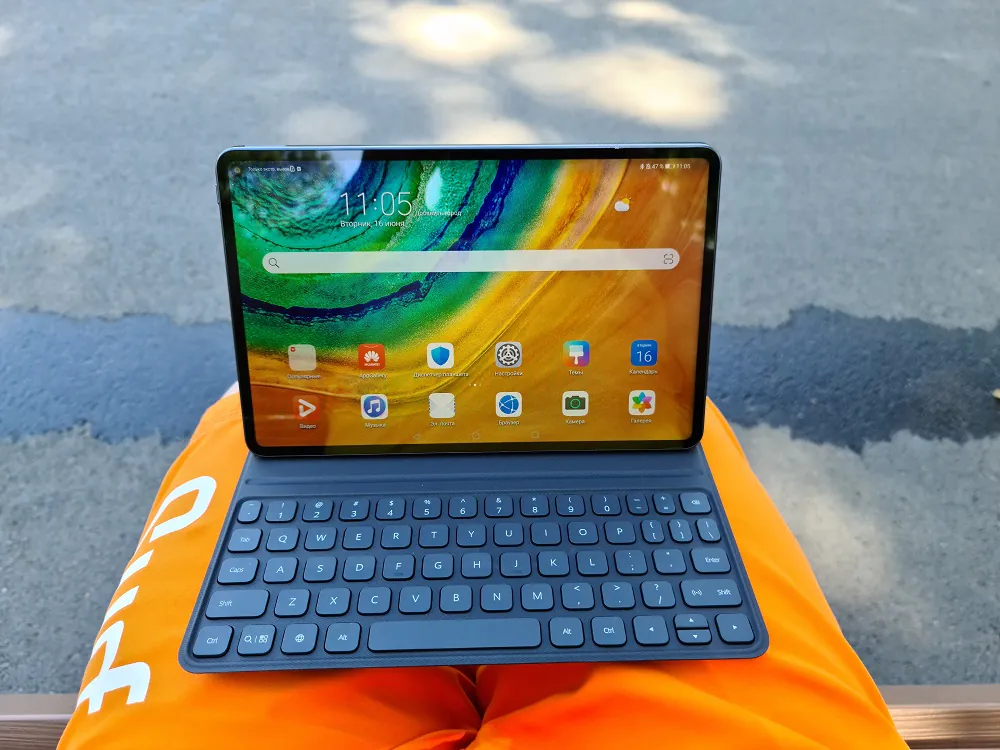 In addition, the buyer receives 6 GB of LPDDR4x RAM and 128 GB of UFS 3.0 space for storing user data. Storage can be expanded up to 256 GB using the exotic Huawei Nano Memory Card (NM). True, my test version of the tablet had 8 GB of RAM and 256 GB of storage.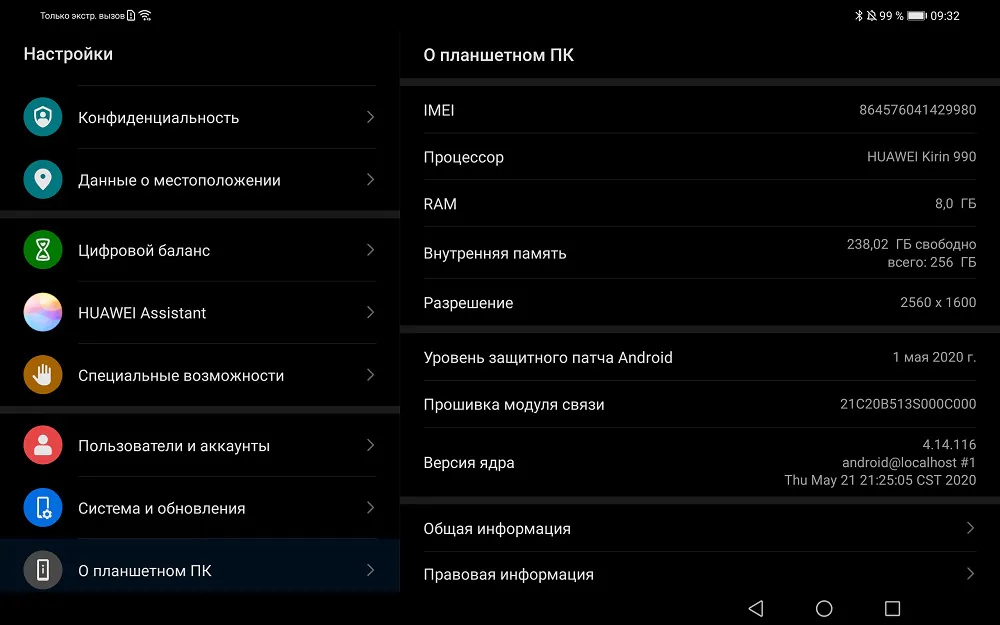 In terms of dynamism, performance or energy efficiency, I will not complain about this tablet. In the world of Android devices, this is one of the most efficient configurations on the market. The tablet works so fast that it cannot be faster. It quietly supports multiple applications at the same time and instantly switches between them. No glitches and slowdowns, including in 3D games.
Synthetic tests confirm the high class of the tablet, which, both in terms of processor performance and graphics, shows very competitive results.
Huawei, of course, could've added even more RAM. But even those 6 GB of RAM that are available are enough to feel comfortable.
Read also: Huawei P40 lite E (Huawei Y7p) review – Affordable recession-proof smartphone with a 48-megapixel camera
Software without Google Services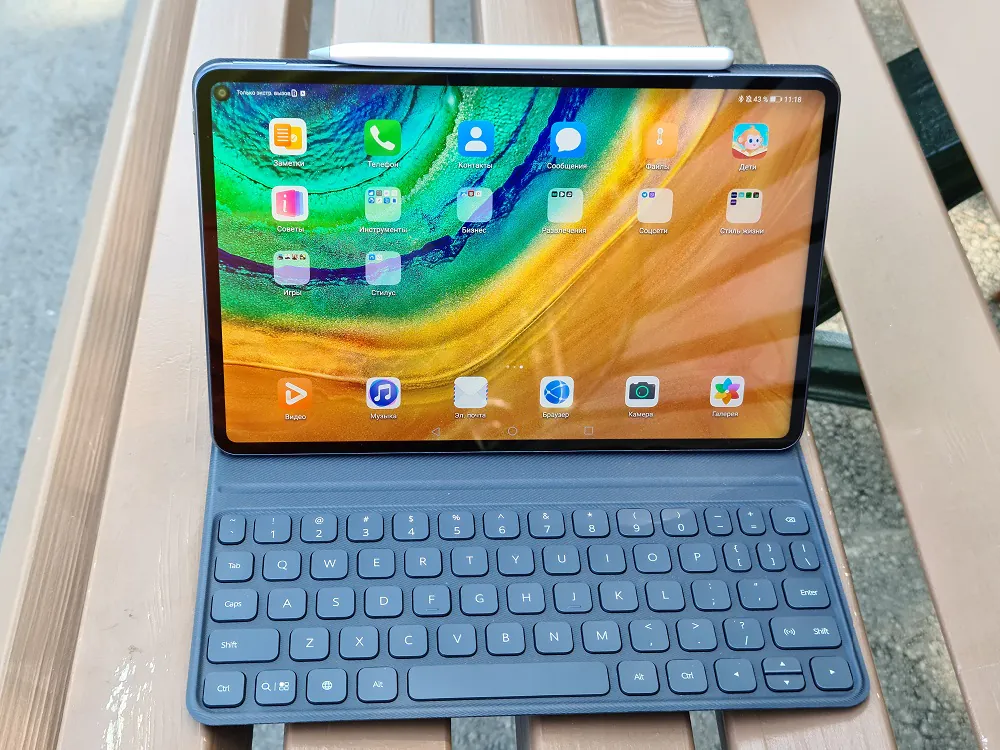 Huawei MatePad Pro is running Android 10 AOSP with EMUI 10.1. This is the first tablet without Google services and Play Store that I've tried. In their stead you get Huawei Mobile Services (HMS) and the AppGallery store, which should replace them.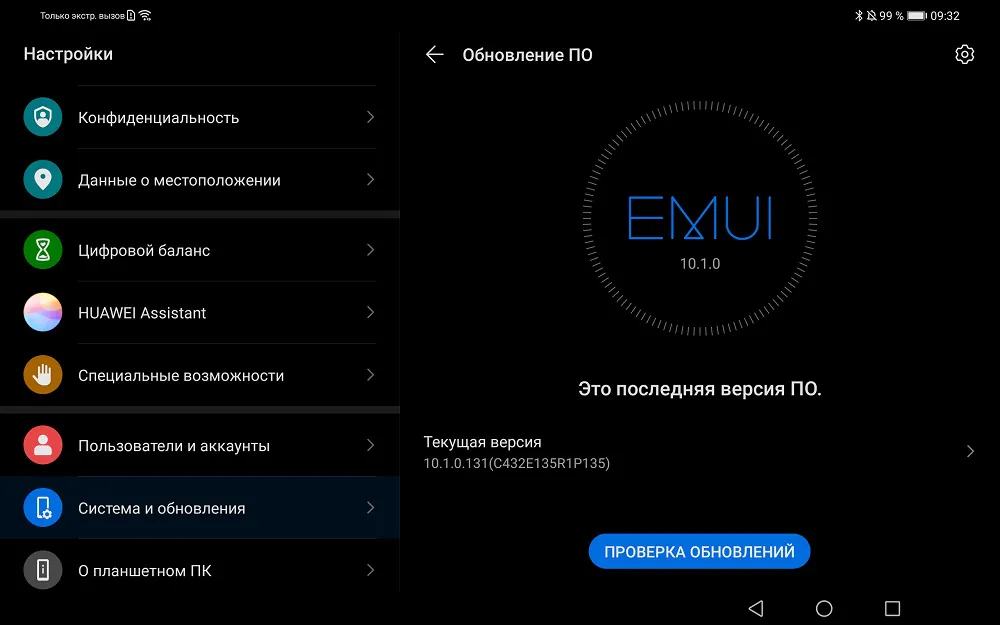 It is worth noting that the AppGallery store is growing every day, but it still lacks many of the applications that most users use. Of course, the problem can be solved. For example, you can transfer many missing applications from any device, thanks to a special application called Phone Clone.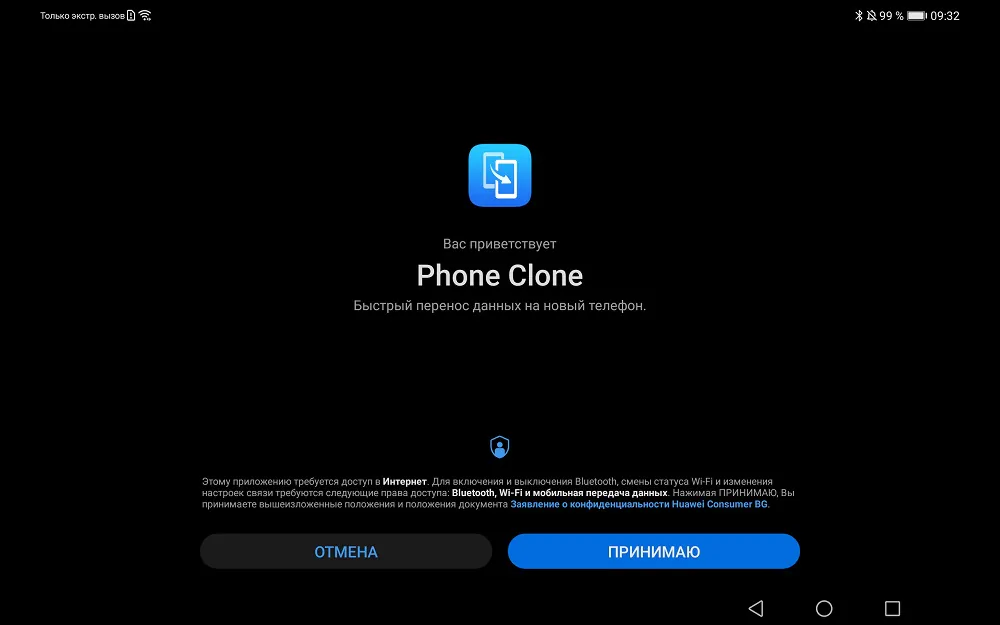 Huawei also equipped the tablet with an additional MoreApps search engine, thanks to which you can deal with some of the shortcomings by installing downloaded APK files directly from websites or from alternative marketplaces like APKPure. I talked about this in detail in the review of Huawei P40 Pro, and I won't repeat it again.
I still think that without Google services it's quite possible to live comfortably. During testing of Huawei MatePad Pro I did not feel any discomfort associated with the lack of Google services. Just next to me is always a smartphone or laptop, which I can use at any time to quickly check my email, for example. However, this is a compromise, so I understand that not every user might like it. Let's hope that soon the situation will change. So far the situation with Google services is not ideal.
Optional accessories
Huawei has decided to turn its tablet into an almost complete replacement for a personal computer. Because of this, MatePad Pro has support for Huawei Keyboard and the proprietary M-Pencil stylus. A rather interesting solution, which undoubtedly expanded the capabilities of the new device.
The keyboard is a treat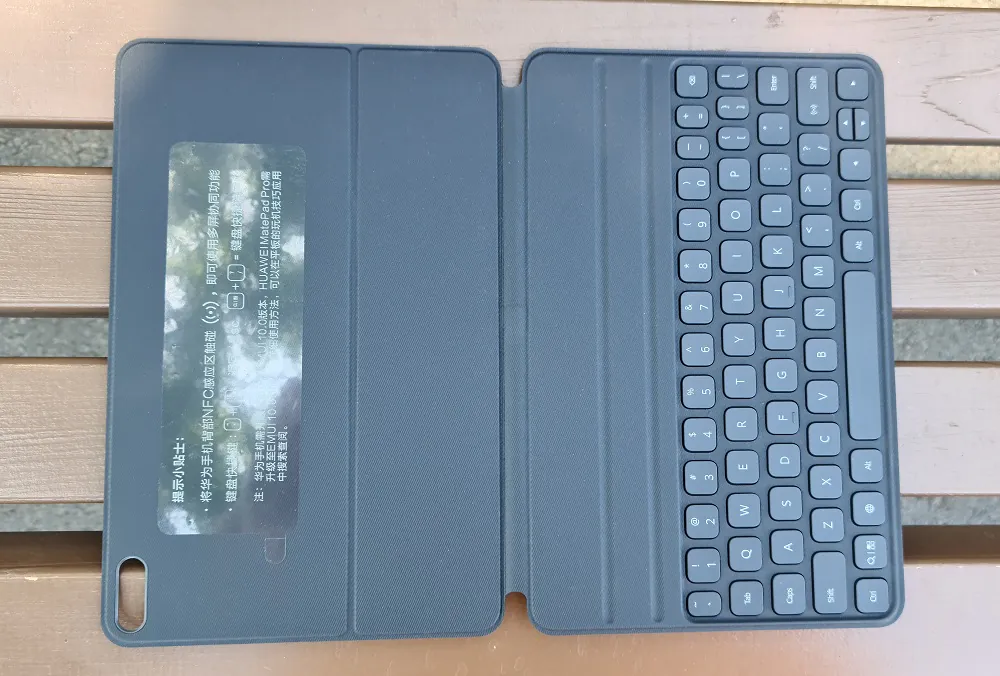 An optional keyboard is part of the protective case. It holds the device in the correct position thanks to magnets placed both in the tablet and in the case. The lower part of the body is tilted and forms a leg.
In the working position, the tablet is held by another set of magnets – in the lower part of the case and two (optional) grooves above the keyboard. Only then does the wireless power supply and communication between the devices work.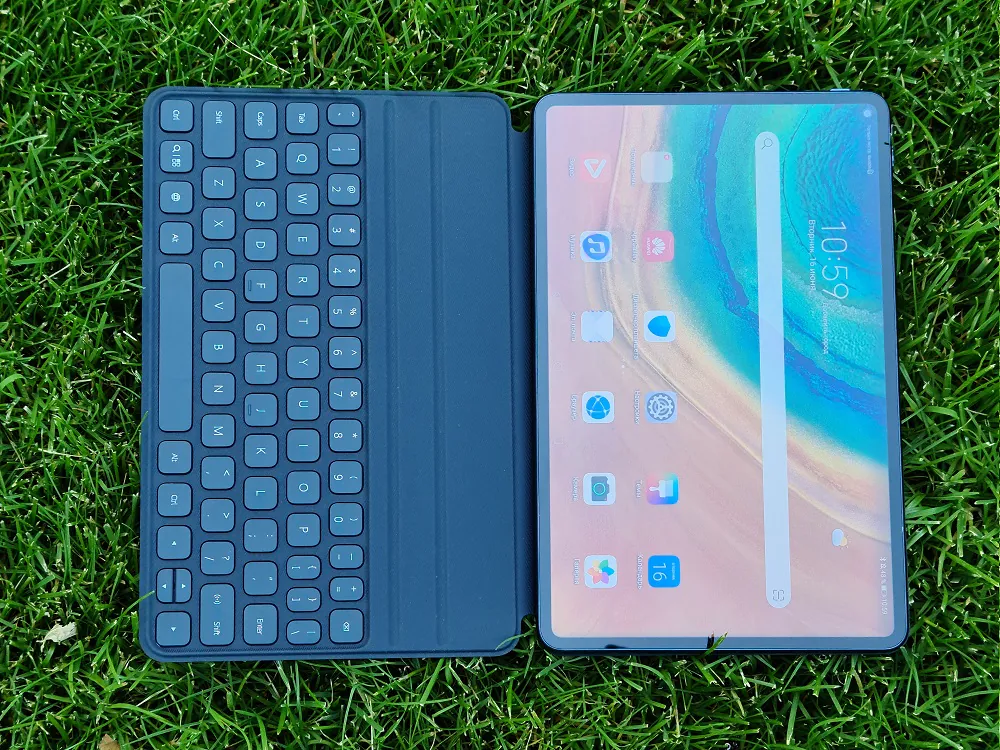 The optional keyboard case for MatePad Pro is coated with rubberized material. It's very good, unlike, say, Alcantara. If the cover becomes dirty, it can be cleaned with a cloth.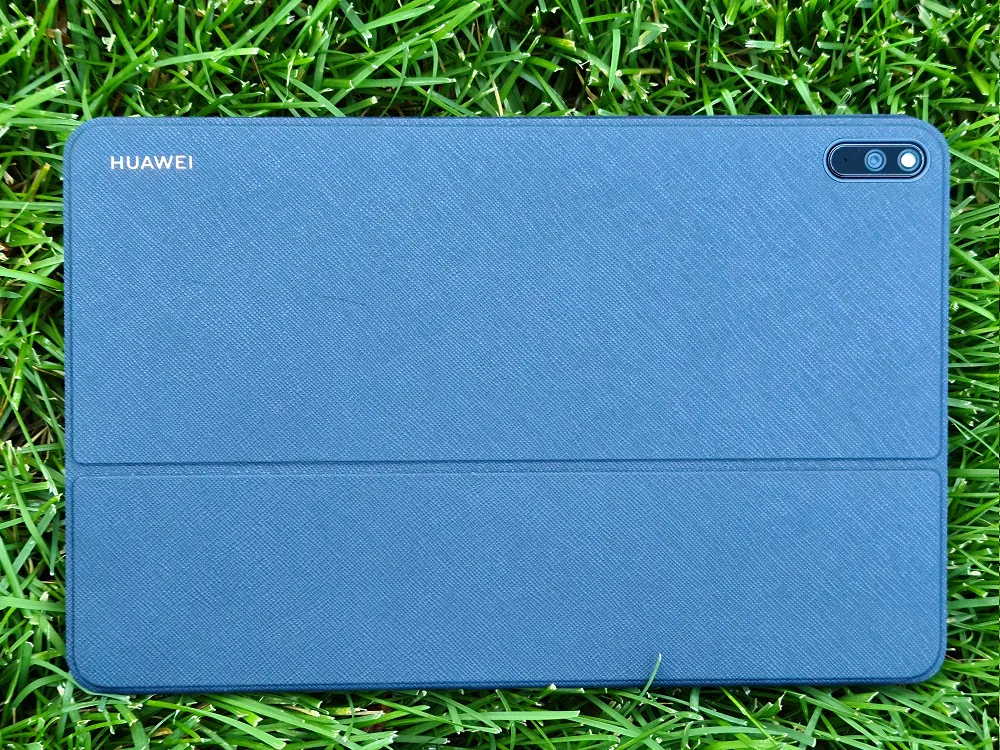 The keys themselves have a small height, but they work with zero issues. The keyboard is surprisingly comfortable, although some smaller keys take some getting used to. The buttons have a low stroke, but they are still nice to press, and you can feel them. Yes, the physical keyboard is definitely better than the on-screen keyboard, especially when entering a large amount of text.
In addition, the keyboard supports typical Windows keyboard shortcuts like CRTL + C or CRTL + A, and even ALT + TAB for the list of opened apps. And the arrows can control the interface. Great solution, because some actions are performed automatically.
Only the full backlight is missing, but high brightness of the screen mentioned above helps in solving the problem. The display very effectively illuminates the keyboard even in complete darkness.
Stylus with useful additional applications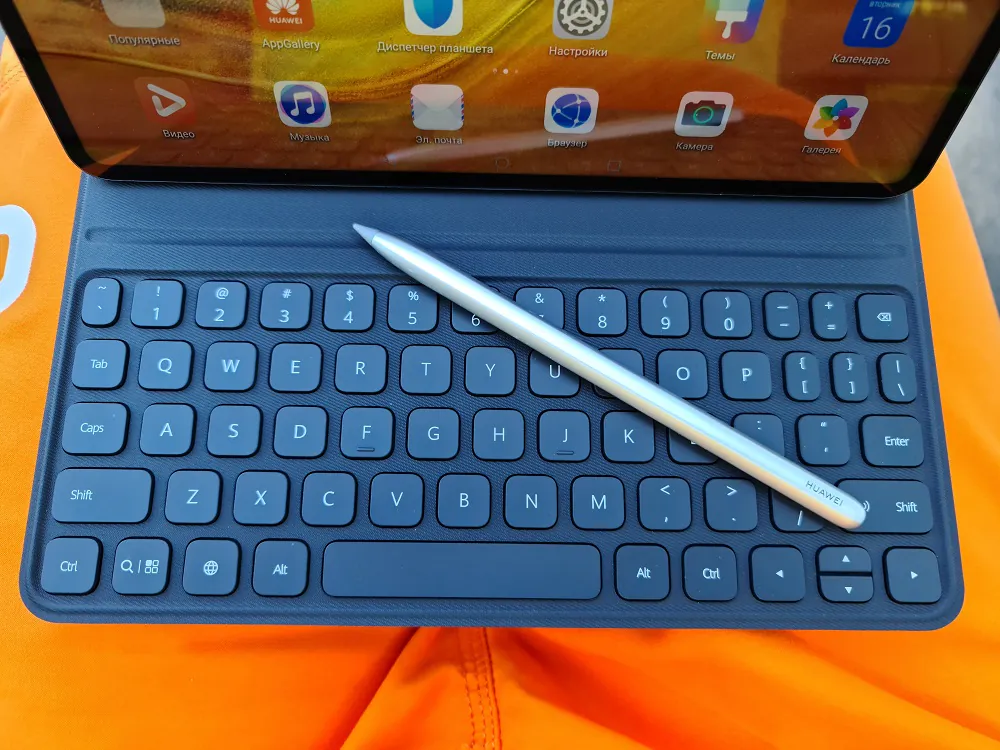 The time has come for the stylus, and here things become interesting. Huawei M-Pencil connects to MatePad Pro by contacting the top edge of the tablet, where it is held firmly by a magnet. In this position, it is also charging. Unfortunately, the case does not protect the M-Pen in any way, so during the tests the stylus found itself on the floor several times. This did not affect its appearance and performance, but I was a bit nervous that I might damage it.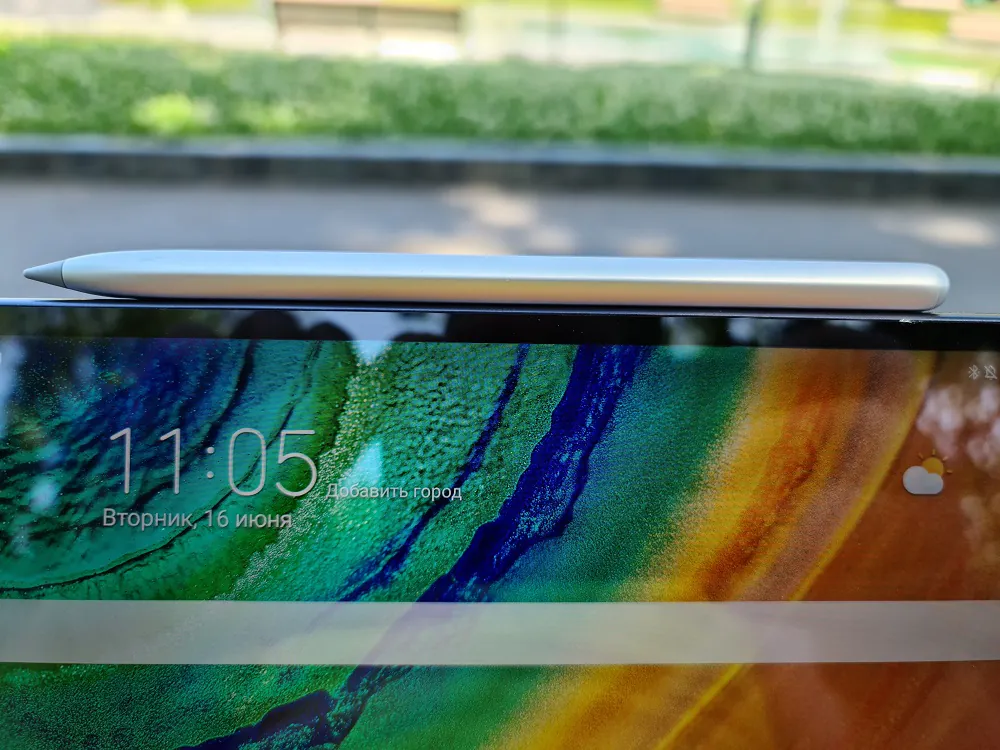 The stylus is so simple that I would call it inconspicuous. However, functionally, it does not differ much from competitors. The M-Pencil offers the same number of recognizable pressure levels (4096), and also fits very well in the hand. I have ambivalent feelings about it. It is large, convenient to hold, works very efficiently with minimal delays (you can write without any problems), but the lack of an additional button greatly affects its usefulness.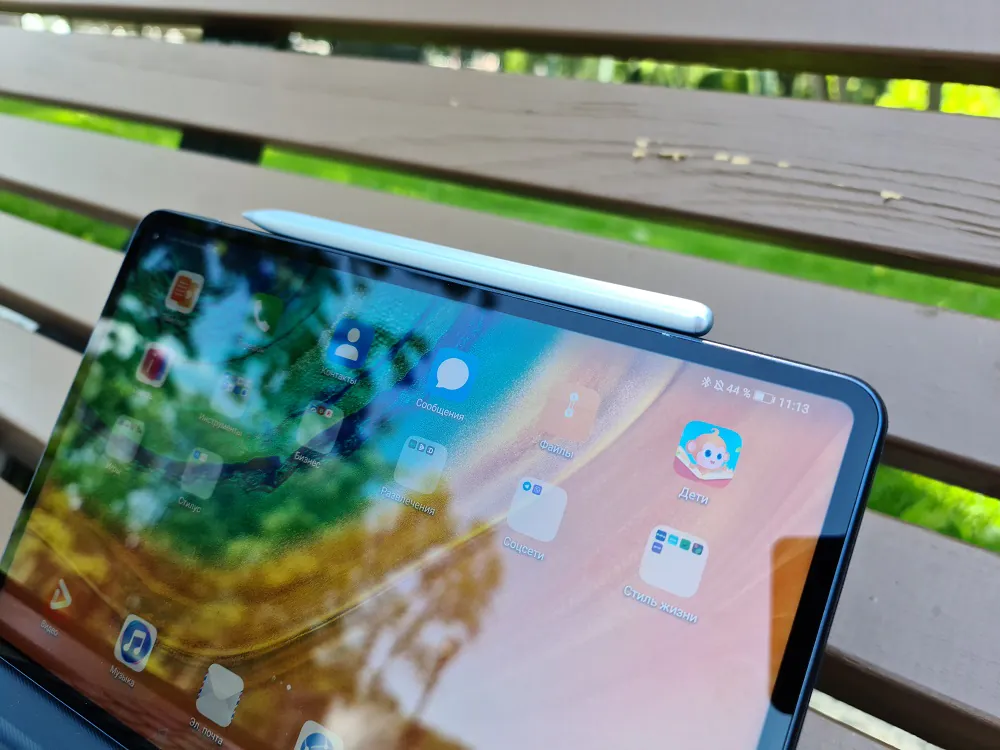 By the way, about the usefulness of the stylus itself and how to use it. First of all, using the stylus, you can open and close applications or settings. This is a kind of replacement for your fingers. The tablet also has two applications installed. Nebo for Huawei allows you to create handwritten notes, which can then be transformed into various formats. A kind of notebook for those who like to write.
The second – MyScript Calculator 2 – will appeal to students, as it can help them with math problems. The program translates the handwritten text into print and gives the result. So far, the application has been able to perform simple calculations. But it is often fails trigonometric functions. It's fun and useful to certain degree, that's for sure.
Read also: Huawei Watch GT 2e smartwatch review — Style and substance in a trendy package
MatePad Pro should be able replace the computer. But how?
Huawei is promoting MatePad Pro as a working tool. Therefore, the flagship tablet is equipped with a number of functions that make it look like a computer. For example, we have a feature from the MateBook series notebooks – Share OneHop with the ability to exchange images with a smartphone.
After pairing the tablet with a Huawei/Honor smartphone with EMUI 10, the phone's desktop will be visible on the screen with access to all its functions.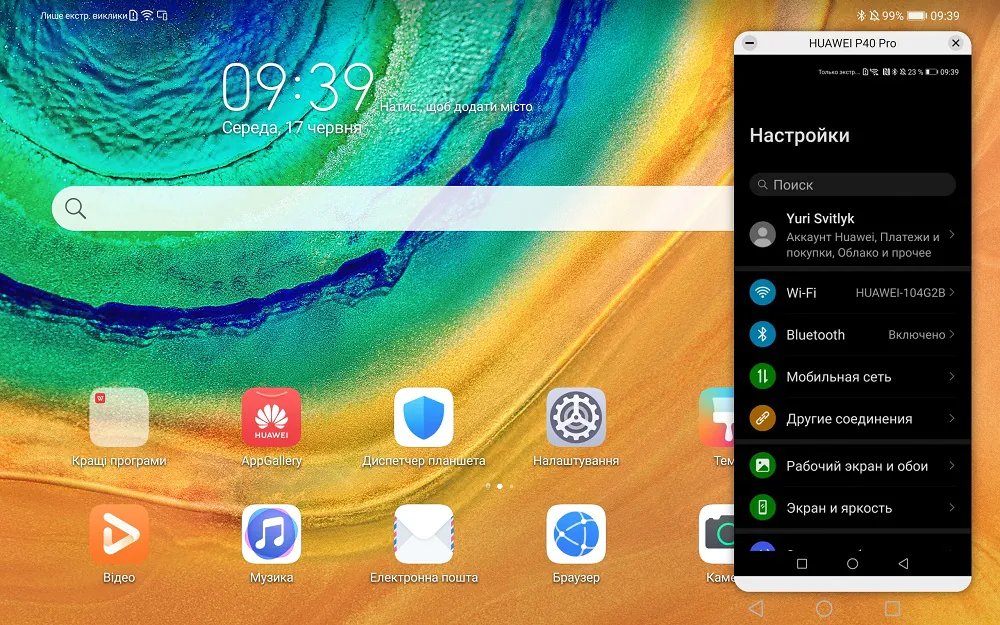 We can send messages, launch applications, copy text or files, and even take photos. For example, creating an endless picture in a picture. The function works fine.
However, the most interesting addition to Android is the so-called PC mode. With it, we get access to a more extensive user interface with several windows displayed simultaneously. I believe that the simultaneous operation of several programs in windows should be the standard for tablets with large screens.
We get an interface with a toolbar, a start button and a notification center. We can freely scale the windows and place them on the desktop. The only limitation is the ability to run up to eight applications.
There is also no access to the Nebo app. Android notepad only has the ability to take notes.
In the EMUI itself, you can also run applications in windows. Just slide the panel on the right side of the screen and select any application. Windows can be located side by side or one above the other. Of course, the list of applications can be freely modified. However, scaling windows requires some getting used to. This is definitely less convenient than in PC mode.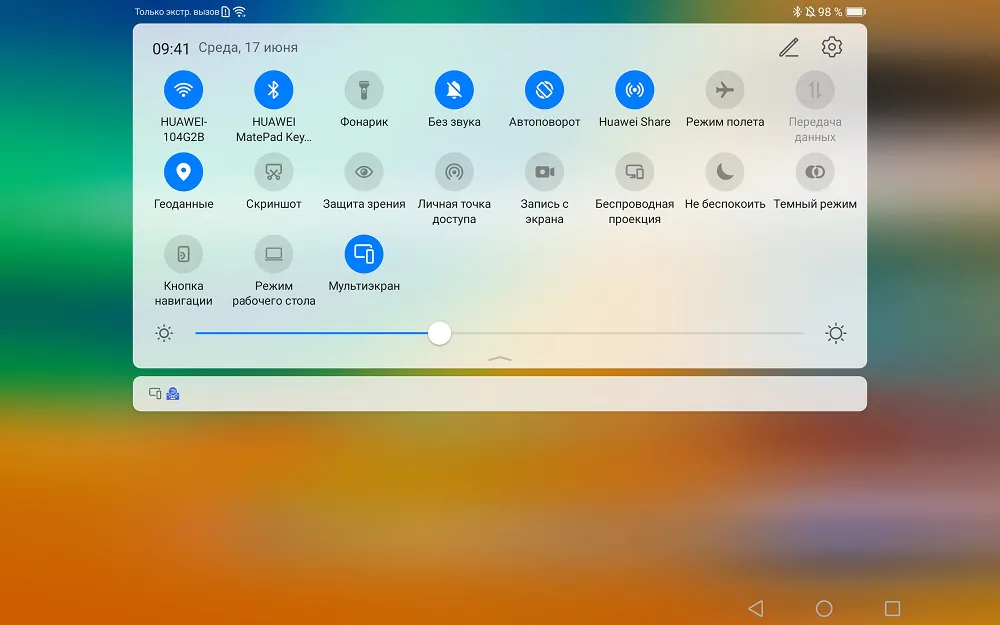 All the features are really useful and effective, but their advantages are crossed out by one significant drawback. It is not clear how to activate them. Finding PC and multi-window modes is quite difficult. It is not clear why they are not in the settings menu. You can find them only in the editable quick access toolbar. Only if they are there can we activate certain modes. Since these are probably the main flagship features of the tablet, by default they should be easier to find.
Battery: two days of work
Despite the slim body, MatePad Pro has a 7250 mAh battery. This is more than Samsung Galaxy Tab S6 Lite (7040 mAh), although less than Apple iPad Pro (2020), which has a 7812 mAh battery.
Under normal use, one charge lasts up to three days. Intensive use of the tablet means that you will use the charger every day. Of course, the working time is also affected by the brightness setting or the type of connection used – LTE or Wi-Fi. In the latter case, I got a little over eight hours of active screen.
To extend the working time, it is worth using the battery manager, in which you can choose one of the energy management scenarios. You can also save energy by changing the screen resolution, which happens automatically. However, you do not need to worry about energy loss in sleep mode – it's minimal.
It is also worth adding that MatePad Pro is the first Huawei tablet that supports wireless charging (15 W) and reverse charging up to 7.5 watts. The device also supports 20W wired charging. In half an hour I was able to charge the tablet from 0% to 30%, which is very good for devices of this type. It took me about 135 minutes to fully charge Huawei MatePad Pro.
And what about competitors?
There are only two direct competitors to Huawei MatePad Pro: Apple iPad Pro (2020) and Samsung Galaxy Tab S6. Of course, Microsoft's Surface Go also exists, but it is a different beast.
If we talk about direct competitors, then each tablet has its own advantages and disadvantages. For example, iPad Pro is popular because of its convenience and the OS. Apple in the tablet market is still the king. But the company's tablet is quite expensive, especially if you buy a stylus and a keyboard.
The Samsung tablet is elegant, powerful and has OneUI interface. And it also has Google services on board. Although the price of the device is also impressive.
But Huawei MatePad Pro has an advantage in price. Also, maybe the buyer wants to experiment and choose Huawei Mobile Services, abandoning the tired Google utilities. There are surprisingly many alternative solutions on the market.
Verdict: Should I buy Huawei MatePad Pro?
I still do not have a clear answer to this question. On the one hand, Huawei MatePad Pro is a great tablet with emphasis is on both modern design and effective components. It's an almost perfect multimedia tablet, which is good for both work and entertainment.
However, I will start with its shortcomings, because there are definitely fewer of them. Although there is one issue that many of you just can't ignore. Of course we are talking about the lack of Google services.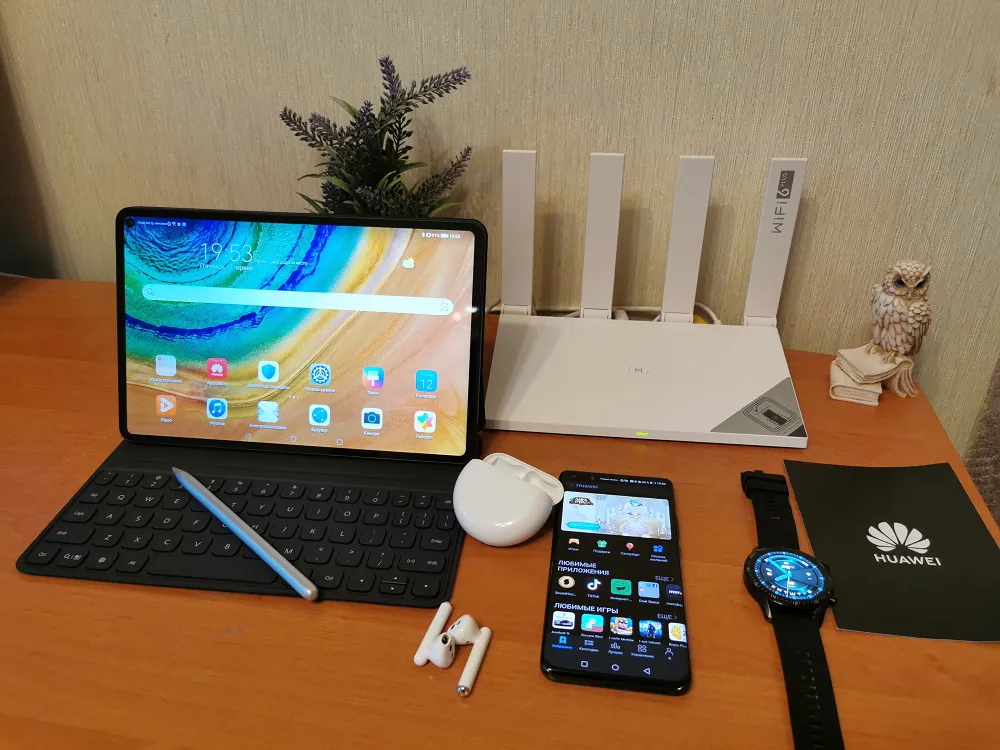 Disadvantages also include an insufficient amount of storage. Someone will say that 128 GB is enough, and if you want more, there is support for memory cards. There is support, but for Nano Memory format, which is still too expensive compared to microSD. At least you get free 50 GB in Huawei Cloud.
And now is the time to present the advantages of Huawei MatePad Pro, and there are really many of them. The first of them is the display with its impressive colors and bright backlight, thanks to which using the tablet is as pleasant as possible. It is worth noting good ergonomics and excellent sound quality.
Despite some software issues, I also consider Android EMUI 10 and EMUI Desktop mode to be an advantage. The first has a traditional look, known from the manufacturer's smartphones and tablets, and the second is ideal for office work. After connecting the keyboard and mouse, the tablet turns into a desktop PC. The stylus significantly expands the feature set. The window mode also significantly improves the comfort of work, and I really liked it during testing.
I can recommend this tablet to everyone, because it is not only great for work on the go, but can also make your evenings more enjoyable. Most likely, having bought Huawei MatePad Pro, you will not regret a single cent spent.
Pros
Modern design;
Perfect build quality;
Good performance;
High-end screen;
Built-in LTE modem;
Good battery life;
Quality main camera;
Induction charging;
Great sound:
Functional EMUI 10 UI;
EMUI Desktop Mode
The best price in comparison with competitors.
Cons
No Google services;
No keyboard or stylus in the box;
Custom Nano Memory Card.
Subscribe to our accounts: