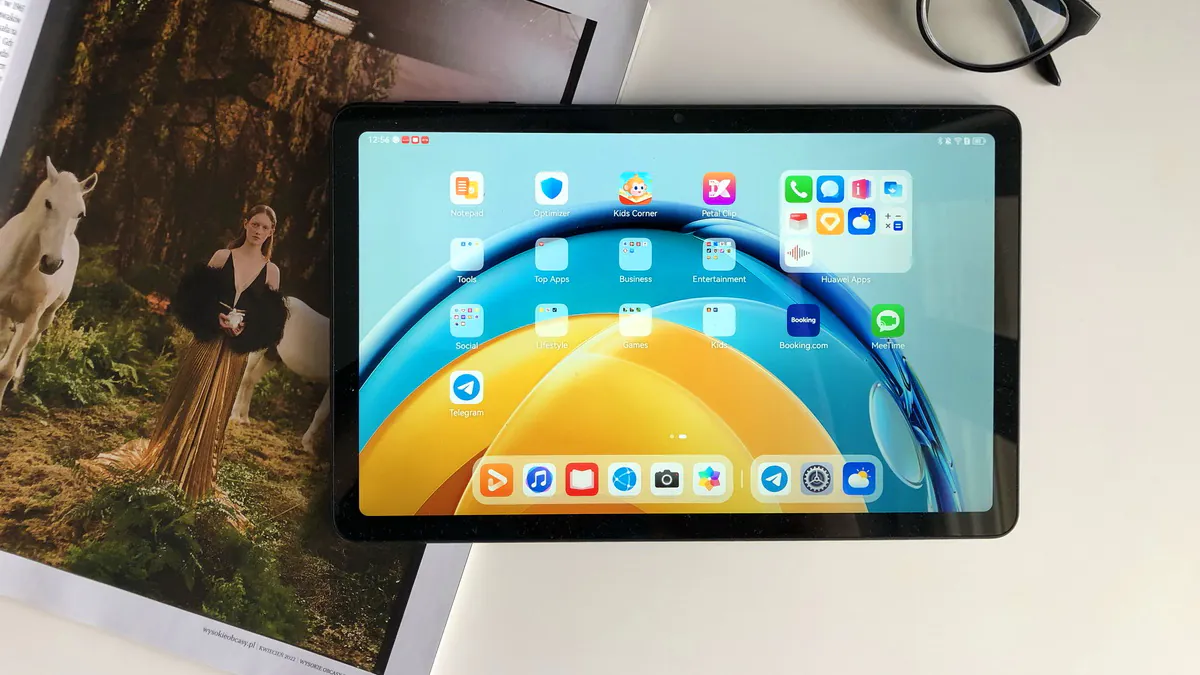 I have long been used to thinking of tablets as something completely unnecessary and, one might even say, an "extra gadget". But recently I have found that having a portable device with a large screen is my personal masthead for maintaining productivity. Online courses with a huge amount of material to watch and constant webinars have shown that a smartphone is small and a laptop is not portable enough. So the new Huawei MatePad SE 10.4 has become my lucky ticket into the world of comfortable learning and effective time management.
Huawei MatePad SE 10.4 specifications
Display: 10.4″, IPS, 60Hz refresh rate, 2000×1200 pixels
Chipset: Qualcomm Snapdragon 680, 8 cores: 4×Cortex-A73 2.4GHz + 4×Cortex-A53 1.9GHz
Graphics Accelerator: Adreno 610
RAM: 4GB
Permanent memory: 64/128GB
Support for microSD card: up to 1024GB
Wireless: Wi-Fi 802.11 a/b/g/n/ac 2.4+5GHz, Bluetooth 5.0, GPS/AGPS/GLONASS/BeiDou/GALILEO
Main camera: 5 megapixel
Front camera: 2 megapixel
Battery: 5100mAh
OS: Android 12 with Harmony OS 3
Dimensions: 246.9×156.7×7.8 mm
Weight: 440 g
Read also: Acer Swift Edge review: sleek 16-inch laptop
Set and positioning
I don't usually comment on the box in which the device arrives, but here I can't refrain from saying a few words. It is very compact, so at first I even wondered if I had been sent the right tablet, because how could something with a 10-inch display fit in there? But despite this appearance, inside you'll find not only your huge tablet, but also a nice package with a USB Type-C cable, power supply, the usual documentation and a paper clip for removing the SIM card tray.
After looking at the price of the tablet and comparing it to the features, I decided that I had found the perfect model for my needs. I will now explain in more detail why this particular tablet has earned the title of a great workhorse.
Huawei MatePad SE 10.4 design
There seems to be even less room for creativity in terms of design in tablets than in phones. The most that can be done is to choose the back surface material and perhaps work on the thickness of the side frames around the screen. And this is where I got the bull's-eye, according to my personal feeling.
The rear surface of Huawei MatePad SE 10.4 is made of brushed metal coating. The tablet is pleasant and comfortable to hold, the metal case feels very reliable and durable, although it easily collects fingerprints during use. Tactile and aesthetic impressions of Huawei MatePad SE 10.4 are like a premium device, there is nothing to say.
The bezels around the screen of the Huawei MatePad SE 10.4 are really minimal. This contributes to the fact that the tablet, with its large diagonal, is perceived as more compact than its competitors. We're talking millimetres of course – perhaps 5-10 mm, but trust me, it makes a difference too, especially if you plan to hold the tablet in your hands for a long time.
Another important point in terms of ergonomics is the rounded edges. Normally I don't pay attention to this, but I happened to have several devices in my work at the same time – and I noticed that the MatePad was much more pleasant to hold. The slightly rounded edges allow the tablet to rest comfortably in your hand and not put pressure on your palm, so, again, you will thank for that when you work for a long time.
The power button and the dual volume button are located in the corner of the top edge of the Huawei MatePad SE 10.4. The lower edge of the tablet has been left blank by the developers.
On the sides of the Huawei MatePad SE 10.4 there are speakers – 2 on each side. I really like the fact that many manufacturers add such stereo speakers to their tablets, because this is one of the scenarios for using the tablet specifically. Watching videos on youtube, entertaining content for a child, online conferences for work or study.
I was very surprised that the Huawei MatePad SE 10.4 has found a place for a standard 3.5mm headphone jack, placing it on the edge of the left edge. It's been a long time since I've seen this jack, especially in tablets that, due to their high portability, are hard to imagine with wired headphones. On the right edge, between the speakers, is the USB Type-C port.
A nice feature of the Huawei MatePad SE 10.4 is memory card support. Not many competitors can boast this nowadays, so it's definitely a significant advantage. If you have a 4G-enabled version of the tablet, there will be room for a SIM card in the same tray.
Huawei MatePad SE 10.4 screen
The screen resolution of the Huawei MatePad SE 10.4 is quite high – 2000×1200 pixels, which allows for a pixel density of over 225 pixels per inch. Thus, the image on the tablet looks very realistic, and it doesn't consume all the battery resources (and the battery is not particularly big here, but we'll talk about that a little later).
The refresh rate of the Huawei MatePad SE 10.4 screen is standard 60Hz – and this is weak, because I am already used to the comfort and smoothness of 120Hz screens. I can say that the Huawei MatePad SE 10.4 screen is decent for everyday tasks, it's nice to watch a film and read the news. But it probably won't be suitable for games, because of the low refresh rate of the screen.
On a personal note, the Huawei MatePad SE 10.4's screen is a bit 'warm' on default settings, and I was more than happy with that, given the amount of time I spent in its company. Additionally, there's blue light reduction technology, which contributes to less eye fatigue. Conveniently, it can be set on a schedule, because especially in the evening it's worth limiting the amount of blue light from devices so as not to disturb the body's natural rhythms. There's also a separate reader mode – conversion to black and white.
Read also: Realme Book Prime review: is the manufacturer's first laptop success?
Huawei MatePad SE 10.4 software
The Huawei MatePad SE 10.4 uses Android 12 as the operating system, with the Harmony OS 3 shell installed on top. And, as you know, Huawei devices are a case of 'there's one thing', namely the absence of Google apps, the Play Store and some of the other usual apps.
Is there life without Google apps? That is a question we have tried to answer many times before. It seems to me that yes. But it is worth pointing out that you might miss the standard office applications. Yes, there are substitute apps, but they won't work if your work, for example, involves sharing Google docs or Google sheets with colleagues.
Among the useful software features of the Huawei MatePad SE 10.4 tablet, I would like to mention the convenience and ease of setting up the multi-window mode. I also like the ability to comfortably customise the desktop look and feel, with shortcuts grouped into widget folders.
The Huawei MatePad SE 10.4 can be unlocked using face recognition or password recognition. No fingerprint scanner has been added, so keep that in mind if that's how you want your data to be secured. By the way, the protection of your data is given considerable attention here, there are even special settings and applications.
Under the bonnet of the Huawei MatePad SE 10.4, there's the current standard set of data connectivity: Wi-Fi (802.11 a/b/g/n/ac), Bluetooth 5.0, GPS. As I mentioned earlier, there is a modification to the tablet that supports a 4G SIM card to provide high-speed internet connectivity at all times.
Huawei MatePad SE 10.4 hardware and performance
Responsible for the performance here is the octa-core Qualcomm Snapdragon 680 chip. It boasts 4 powerful 2.4GHz Cortex-A73 cores and 4 energy efficient 1.9GHz Cortex-A53 cores. This combination enables the tablet to handle standard multimedia tasks and easily runs two applications in multi-window mode. What's more – even for mobile gaming it's mostly sufficient, as long as the other tablet specifications are suitable for you in this work scenario.
Huawei MatePad SE 10.4 doesn't have a lot of RAM, but it's not small either – 4GB, which is in line with other tablet characteristics and complements the tablet's positioning as a workhorse without too many claims. There's not much permanent memory here – there's a 64GB or 128GB version on board. But this is offset by support for memory cards of up to 1TB, and that should definitely be enough.
Huawei MatePad SE 10.4 cameras
The cameras in this tablet are a straightforward, economical solution. They are there, in principle, that's the end of their description.
Understandably, it's difficult to get much out of it with these settings. Let's just say you can use the main camera to take a photo of a document or a favourite recipe to send to a friend. The front camera is enough for video conferencing and calling your relatives. That's all.
Huawei MatePad SE 10.4 battery life
The battery in the Huawei MatePad SE 10.4 is not of the highest capacity. And this is probably the most painful moment for me, because I'm a fan of the most autonomous gadgets possible. I can put up with anything – the toxic acid colour of the back panel, the silly fringes at the top of the screen, the weak cameras or the front camera without autofocus, but a non-autonomous device is definitely persona non grata for me.
On the positive side, I have to say that the tablet is pretty well optimised and so I could easily handle 6-7 hours of video watching and browsing. And the fast charging (from zero to 100% in two hours) somewhat saves the situation. But I would have preferred to see a little more survivability in such a workhorse.
Conclusions
The MatePad SE 10.4 is hardly a solution for everyone. But it does have something that will help it win a niche in the market – great ergonomics and a cool screen, so it will be a handy solution as a tablet for study or work.
The outright weak cameras don't really matter when choosing this type of device, but the not-so-best battery life does undermine the chances of success for the Huawei MatePad SE 10.4.
Oddly enough, despite the lack of Google services, I agree to give the tablet a pretty high score for its software. That's because the Harmony OS 3 shell is very user-friendly, well-designed and glitch-free. This is what makes the tablet tear apart the competitors in the slightly lower price segment. And it beats the top competitors at the expense of price. So that is the formula for success among a wider range of consumers.
Read also: