In May 2022, Lenovo released another budget multimedia tablet with prices starting at UAH 7700. Can we expect good quality for this price? Let's check it out. We have prepared a review that will help you decide whether to buy Lenovo Tab M10 Plus 10.61 (3rd Gen).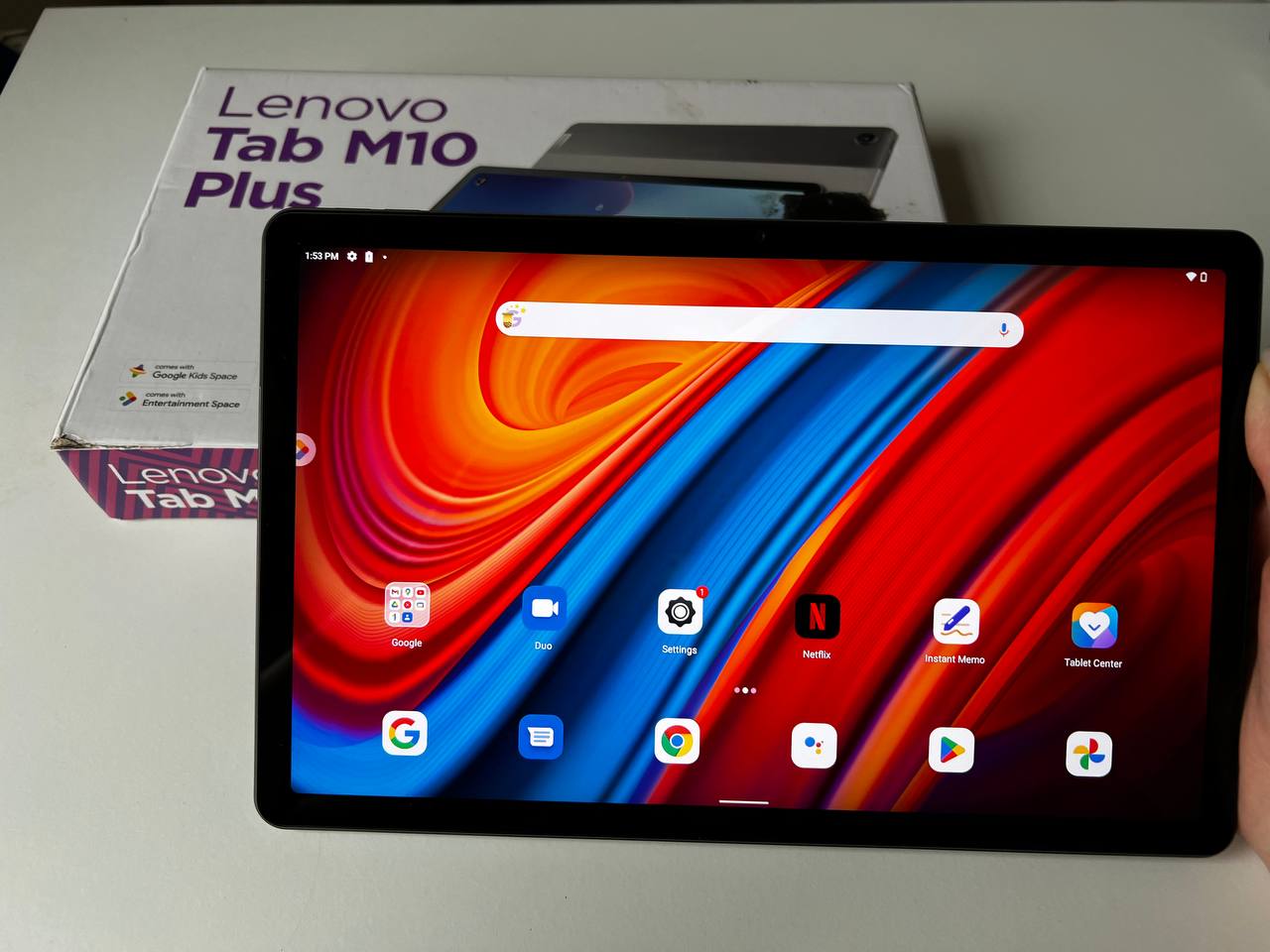 The Lenovo Tab M10 Plus (3rd Gen) is a multifunctional device that is used as a platform for watching movies, playing mobile games, surfing the Internet and using it as an e-book reader. Tab M10 Plus has a relatively high resolution 2K IPS display, four speakers and support for the Lenovo Precision Pen 2 stylus.
Read also: Lenovo Yoga Tab 13 review — Tablet or TV?
Technical Specifications of Lenovo Tab M10 Plus (3rd Gen)
The tablet is available in 4 configurations (3 configurations with Wi-Fi and one with LTE), which differ in some technical characteristics (chipset, processor, memory, connectivity).
For example, the Mediatek MT6769V/CU Helio G80 chipset (12 nm) is available only in Wi-Fi models, and the Qualcomm SM6225 Snapdragon 680 4G chipset (6 nm) is available in the LTE model. We've got the Tab M10 Plus (3rd Gen) 4/128 GB under review.
Display: 10,6″ 2K LCD (2000×1200), IPS, up to 400 nits, TÜV Low Blue Light certified to reduce blue light emission
Chip:

MediaTek Helio G80, octa-core (2×A75 2.0GHz + 6×A55 1.8GHz) (Wi-Fi)
Qualcomm Snapdragon SDM680, octa-core (4×A73 2.4GHz + 4×A53 1.9GHz) (Wi-Fi and Wi-Fi + LTE)

RAM:

Up to 4 GB LPDDR4X with MediaTek processor
Up to 6 GB LPDDR4X with Snapdragon processor

Permanent memory: up to 128 GB eMCP, expandable via microSD card
Available configurations: 3/32ГБ Wi-Fi, 4/64ГБ LTE, 4/64ГБ Wi-Fi, 4/128ГБ Wi-Fi, 4/128ГБ LTE
Cameras: 8MP main shooter with autofocus, 8MP front shooter without autofocus
Battery: Li-Po 7700 mAh, USB Type-C charging cable
Operating system: Android 12 (will be updated to Android 13 in 2023)
Connections: WLAN: Wi-Fi 5 802.11 ac, dual-band 2.4 GHz and 5 GHz/ Bluetooth 5.0/ Wi-Fi Direct/ Wi-Fi Display/ GPS, A-GPS (LTE models only)
Sockets/ports: USB-C 2.0, microSD card, headphone and microphone, nanoSIM slot (LTE models only)
Accessories: Lenovo Precision Pen 2 (sold separately)
Dimensions: 25.10×15.90×0.75 cm
Weight: 465 g
Positioning and price
The choice of mid-range tablets is quite wide, and one might even say that this is already a very crowded segment. By launching the Tab M10 Plus (3rd Gen), Lenovo wants to show that it is one of the best options in terms of price and quality. The device is offered to users in 4 different configurations (4/64 GB Wi-Fi, 4/64 GB LTE, 4/128 GB Wi-Fi, 4/128 GB LTE) in the price range of about $200-320.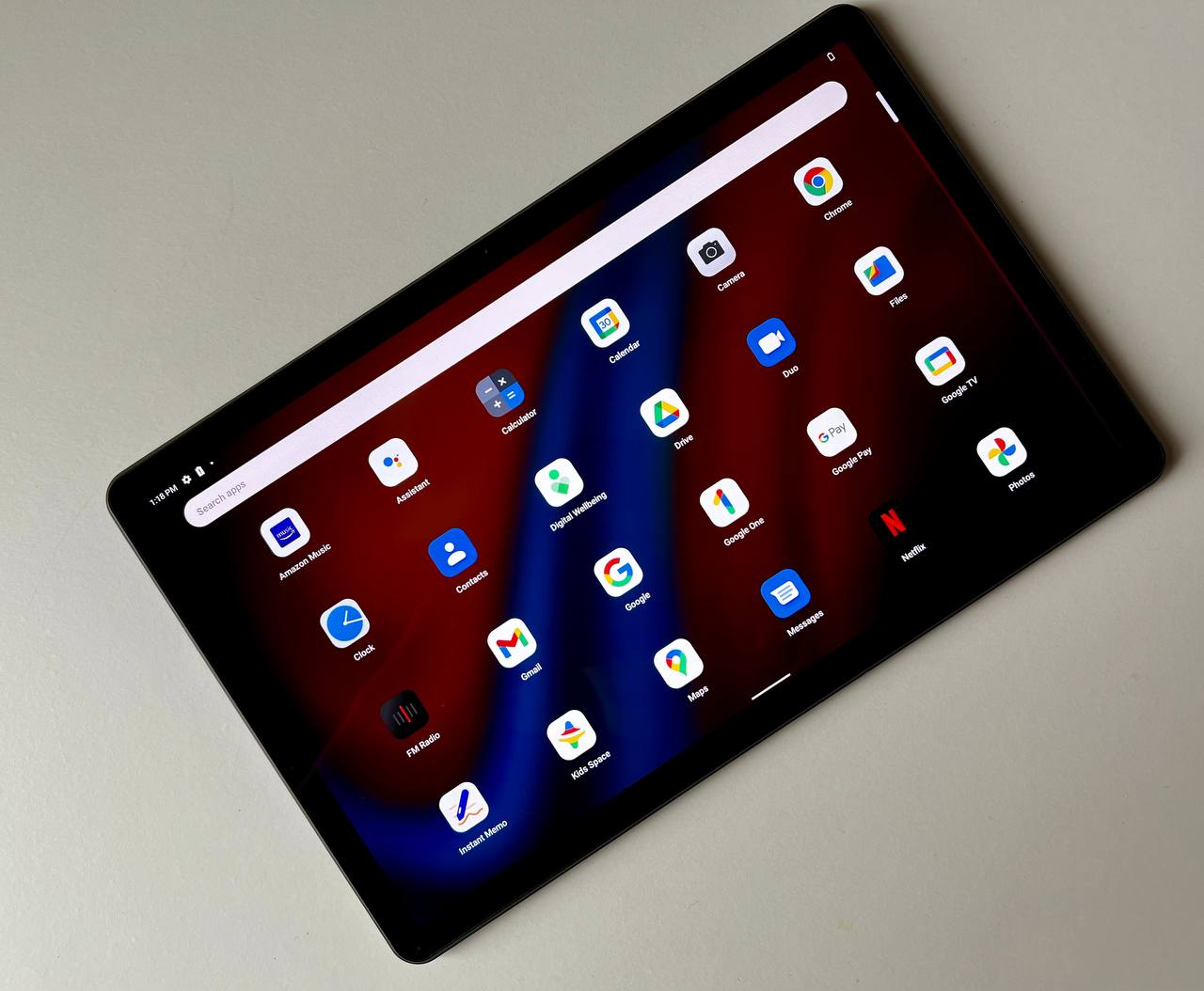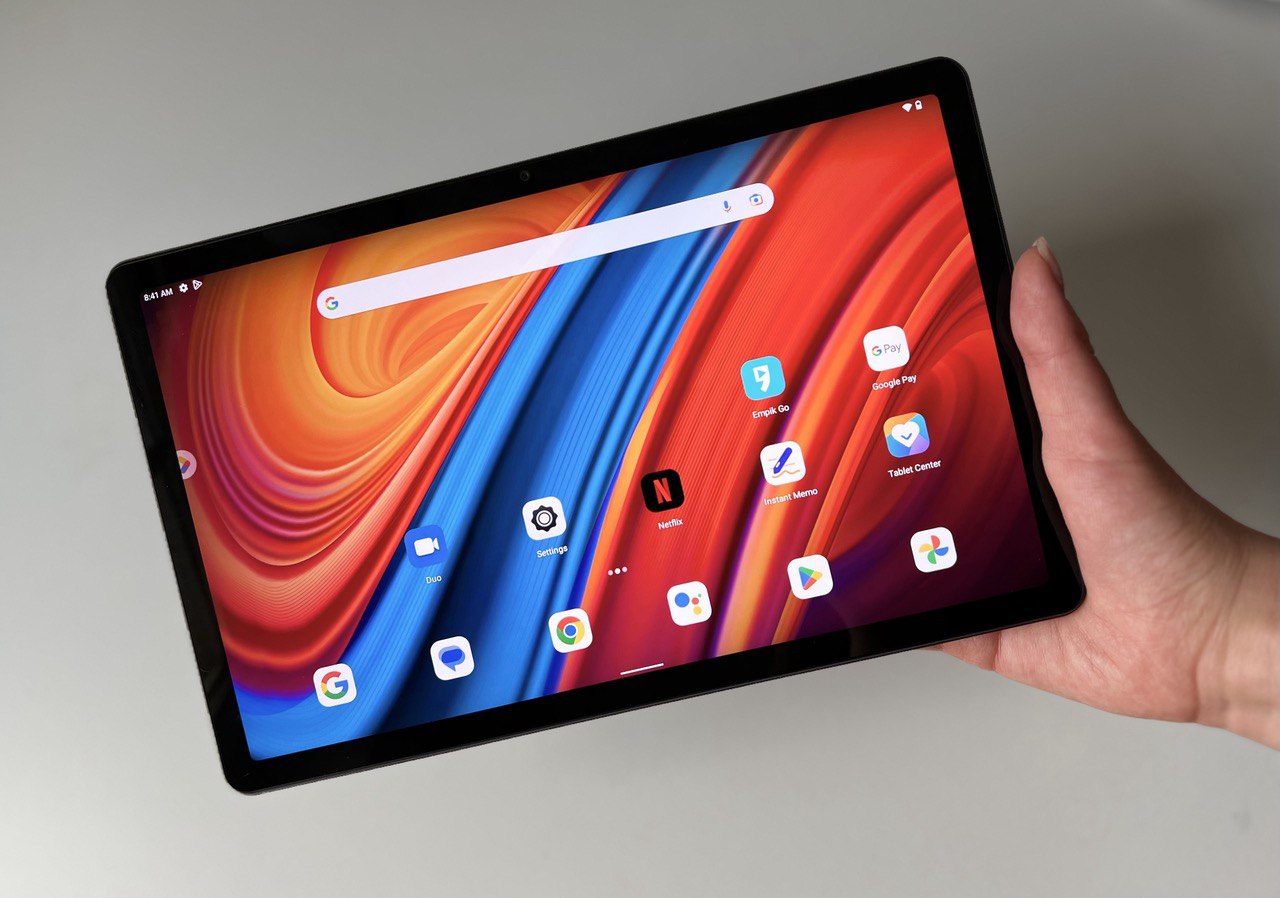 Package contents
The Tab M10 Plus does not come with a stylus, but you can buy the Lenovo Precision Pen 2 or Lenovo Active Pen 3.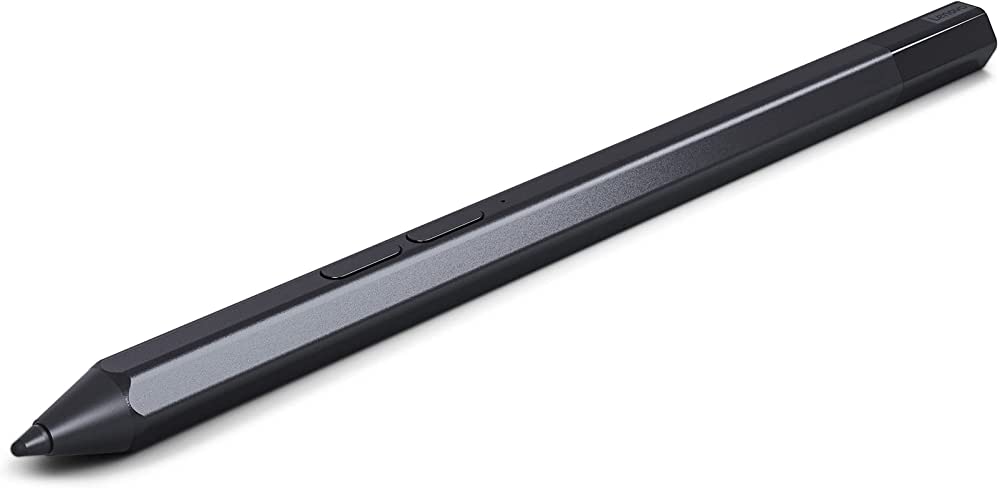 If you like to take notes or draw by hand, you should consider buying this accessory. Especially since Lenovo has added the Instant Memo notes app, which allows you to write notes and draw.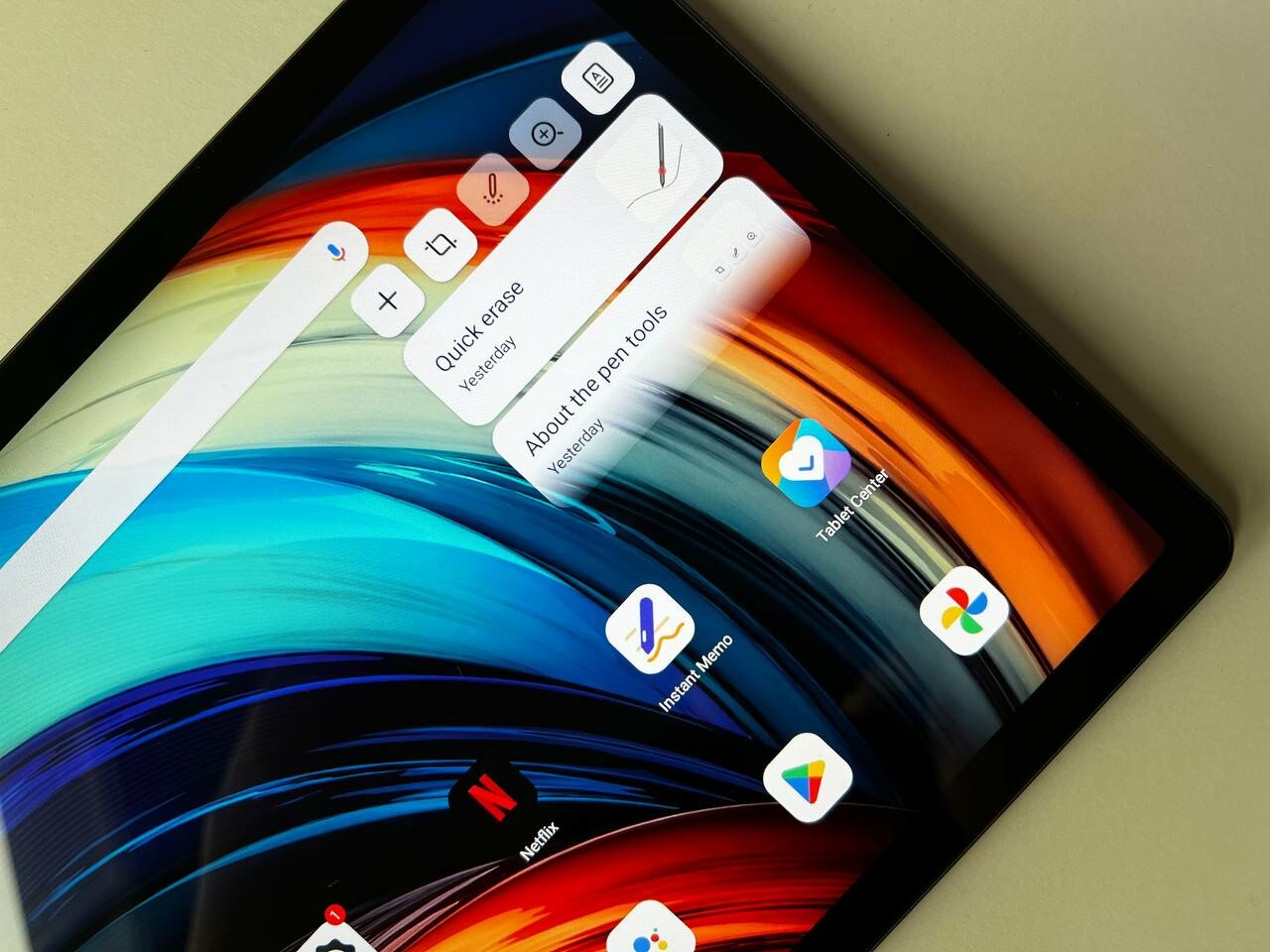 Please click on the link to install Instant Memo notes:
Design, materials and construction of Lenovo Tab M10 Plus
We have a simple and aesthetic design.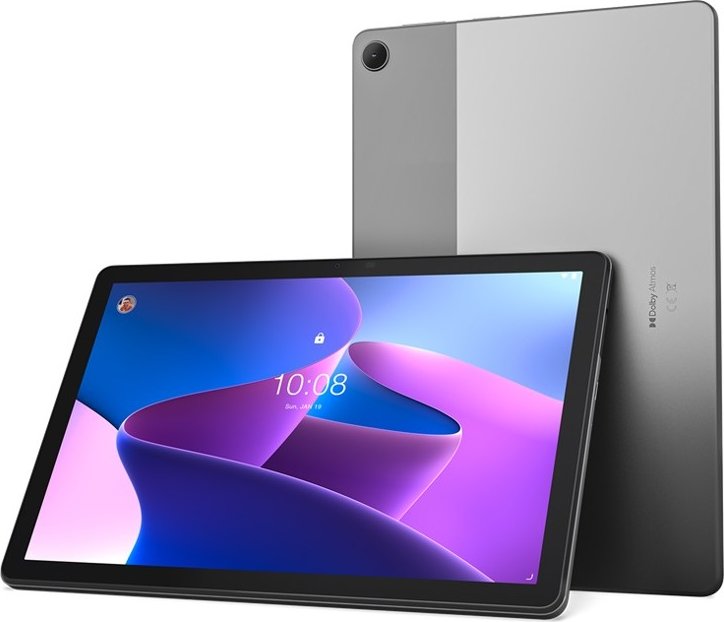 Like almost every Android tablet, the Tab M10 Plus also has a laconic design – it has a thin metal body with rounded edges and relatively narrow bezels around the screen.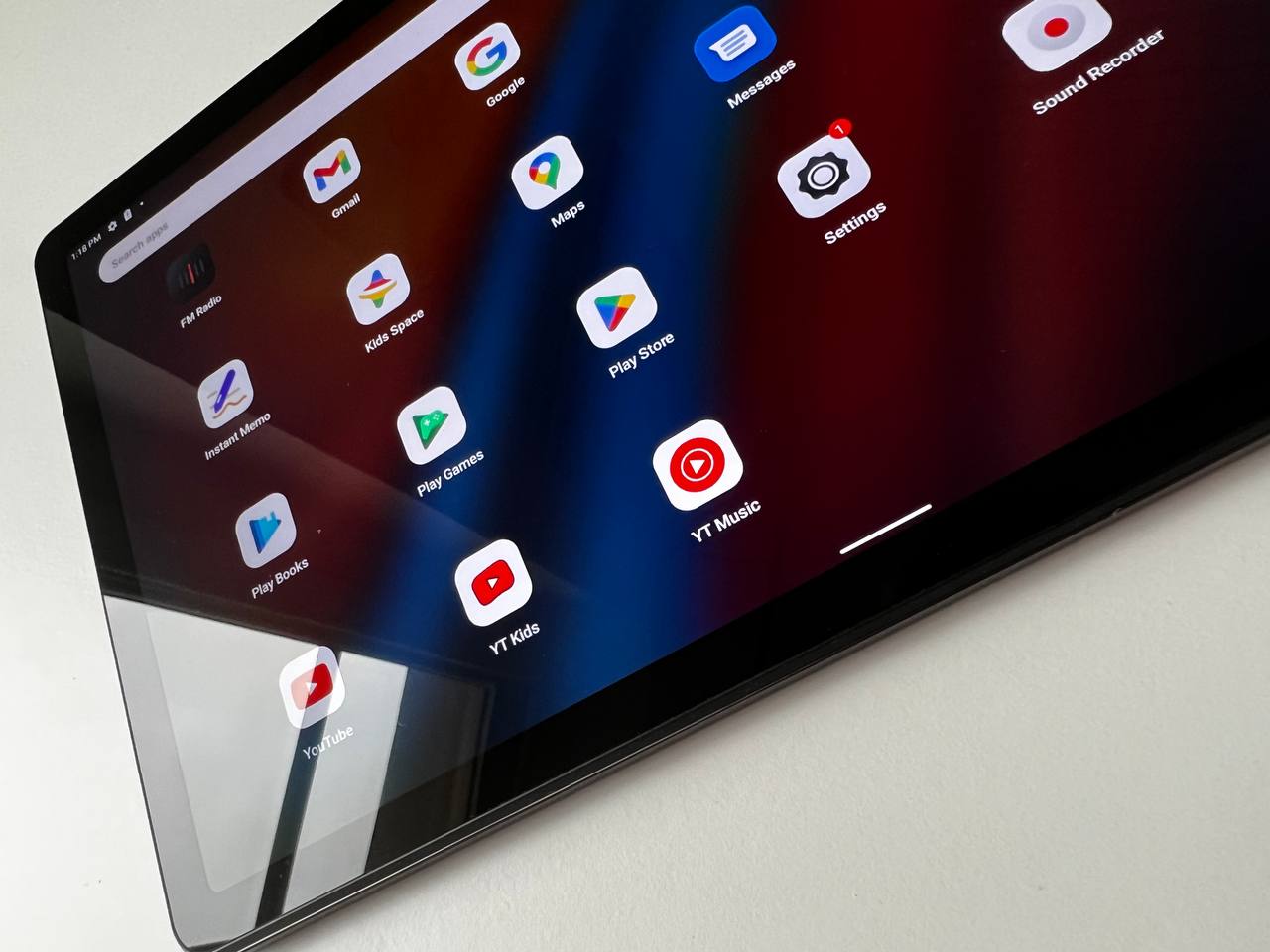 The tablet has a 10.61-inch display, and the slim bezels, which are less than 8 mm thick, maintain a screen-to-body ratio of 85%. It is surprisingly comfortable to hold.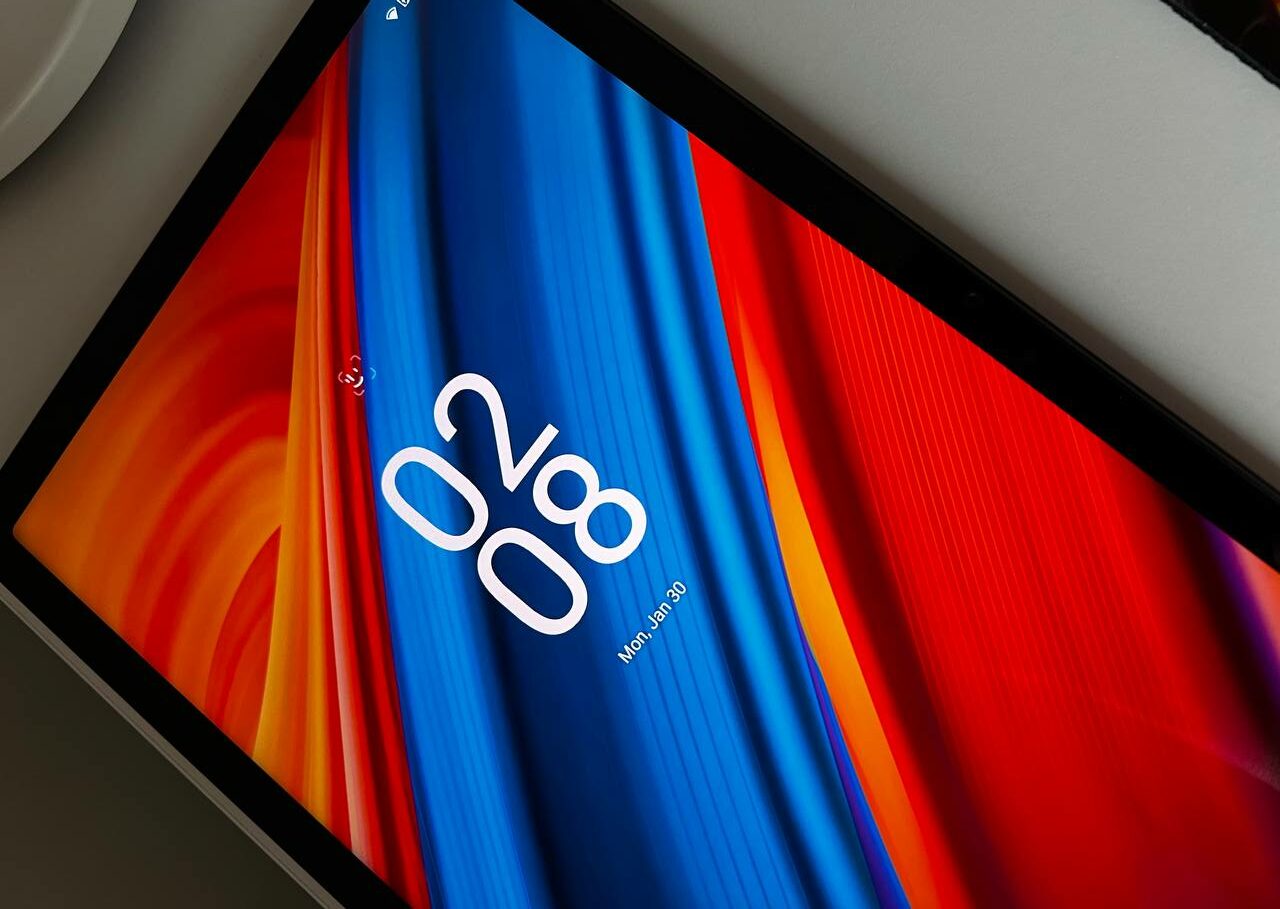 The small thickness and aesthetic aluminum plate on the back make the tablet look like a device of a low price segment. In addition, it is not too heavy, only 465 g. You hardly feel the weight when you carry the device with you and while working.
There are two color options: Storm Gray and Frost Blue. In Ukraine and Poland (where the testing took place), only gray is available.
Read also: Lenovo Legion 5 Pro review: The powerful duo of AMD and NVIDIA
Layout of elements
Around the edges of the tablet we find a standard set of elements.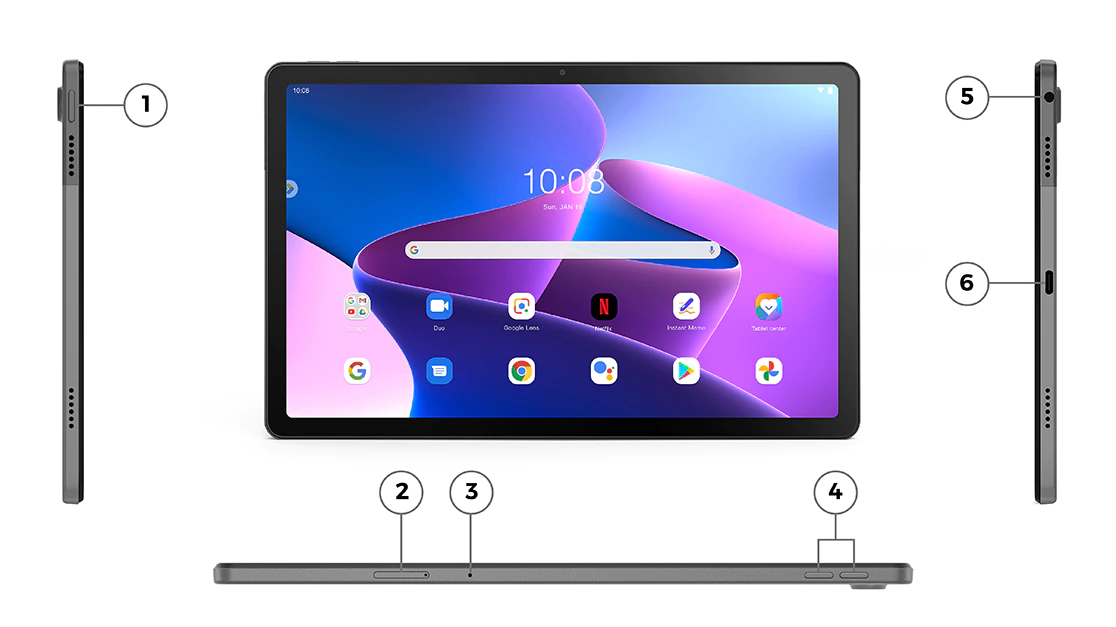 On the shorter edges are two speakers with Dolby Atmos technology. On one side is the power button, and on the other is a headphone and microphone jack and a USB-C 2.0 input (for charging).
Regardless of how we hold the tablet – vertically or horizontally, the speakers remain open.
Lenovo Tab M10 Plus 10.61
The upper, longer edge is empty, and on the other there are volume buttons, a Novo button and a MicroSD card tray + a Nano SIM slot (only LTE models), which can be opened with a pin.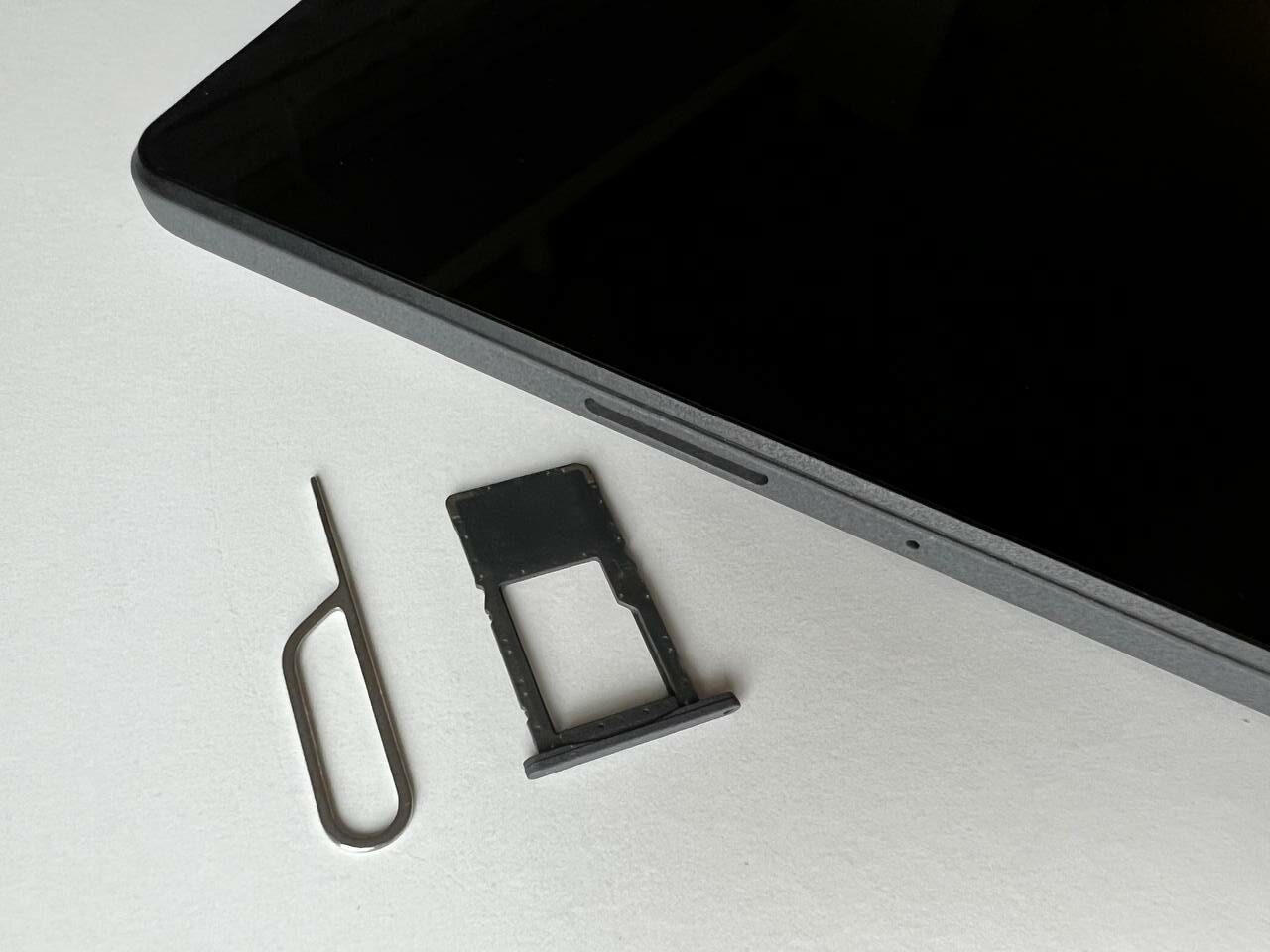 It should be noted that there are no buttons or a fingerprint scanner on the display. The display can be unlocked by entering a passcode or using Face Unlock (works fine, but not in the dark).
Ergonomics
The tablet is thin, with smooth and small bezels that make it easy to use with one hand. It is also lightweight. I can carry it all day in my purse or backpack, and its weight didn't bother me. When traveling or moving around, taking it with you will not be a problem.
The button layout on the tablet is ergonomic. It is available in both landscape and portrait modes.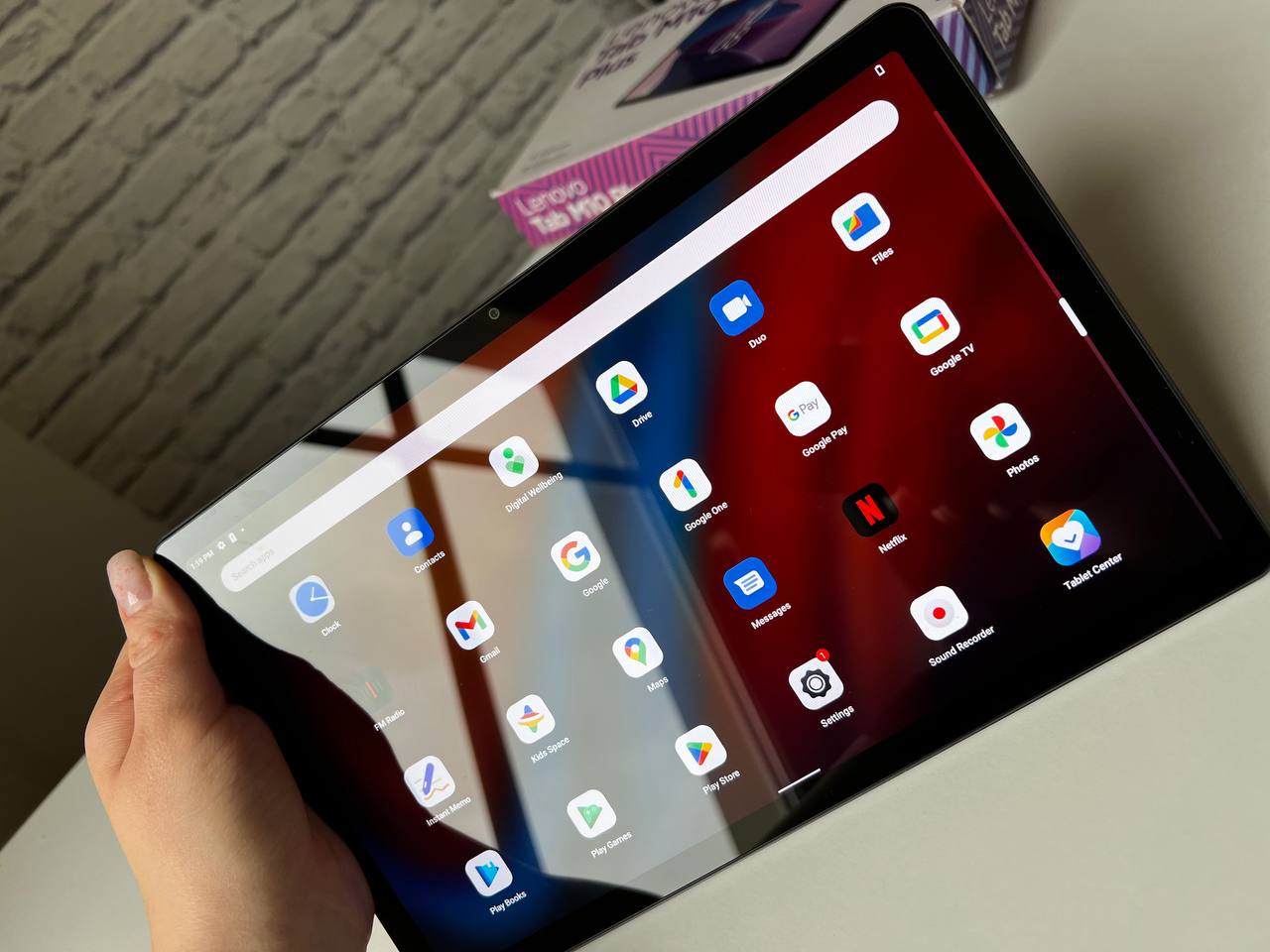 Read also: Lenovo Tab P11 review: Tablet with Potential?
Display
The tablet has a 10.6-inch IPS display with a diagonal of about 27 cm in a 16:10 aspect ratio. The resolution is slightly more than Full HD at 2000×1200 pixels, i.e. pixel density of 220 ppi; this is not a very high figure, but sufficient for this price category. Tab M10 Plus supports Widevine L1, which is a huge advantage for a tablet in this segment. Movies and TV shows in 1080p quality are a pleasure to watch.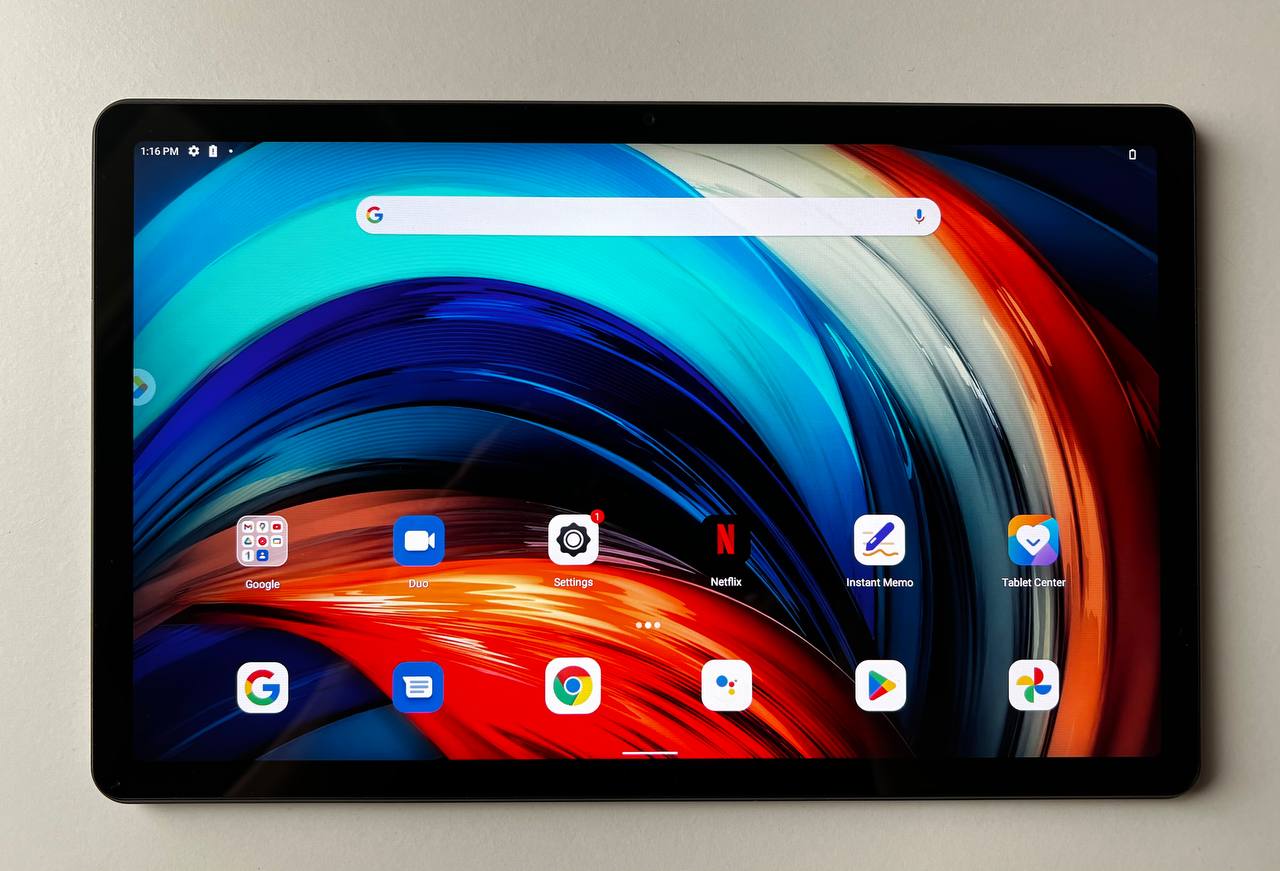 The matrix is glossy, so it reflects environmental elements. In direct sunlight, it gets a little annoying, but this is true of most tablets on the market in this price range.
On the longer upper bezel, in its central part, we also find an 8-megapixel selfie camera. It can be used during a video conference or simply for face recognition when unlocking the device.
The tablet can be used to read e-books and it has proven itself in this regard. The reading mode, which adjusts the color tone and contrast of the display, is perfect for working with large documents or reading.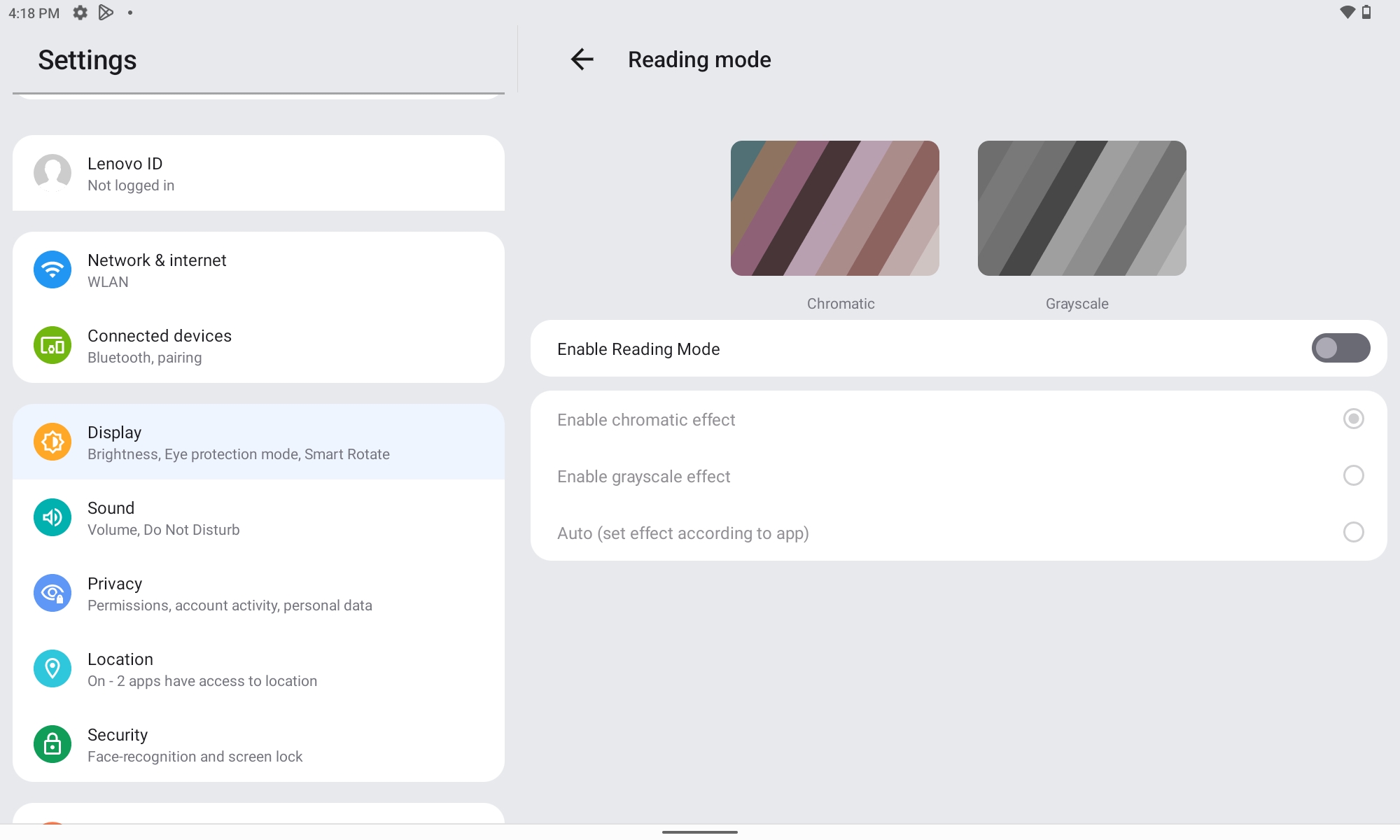 There are two reading modes: a chromatic effect that mutes colors and offers a more pleasant reading blend – colors are still present, but with a slight gray filter. The second mode is grayscale. Text and images are converted to gray.
The reading modes are comfortable for the eyes, similar to reading on paper with less strain on the eyes.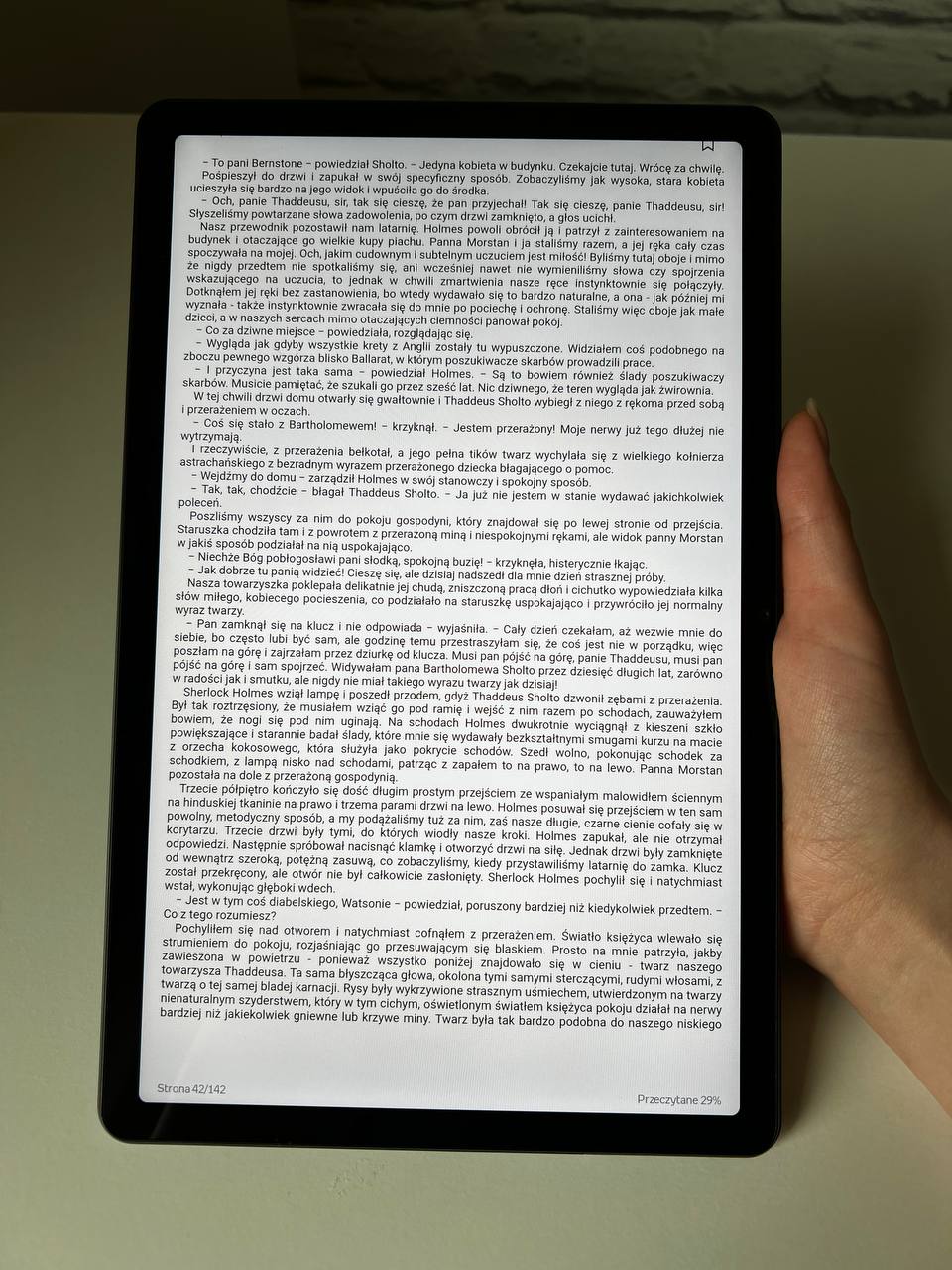 Different themes and modes are available: light/dark, eye protection. Screen personalization, a separate reading mode, and color temperature adjustment are available. Wallpaper settings, auto-brightness, rotation, font size, etc. are familiar to most devices.
The display refresh rate is low – 60 Hz. Many tablets offer displays with a high refresh rate, so Tab M10 Plus doesn't seem like the best option, but let's not forget that this is a budget device.
Read also: Realme Pad X Review: An Extraordinary Tablet
Lenovo Tab M10 Plus performance
The MediaTek Helio G80 processor used in Tab M10 Plus is designed to deliver consistent performance and long-lasting gameplay with a focus on mobile gaming. The chipset has 8 CPU cores in two clusters (Cortex-A75, Cortex-A55) and a built-in ARM Mali-G52 MP2 operating at up to 950 MHz.
Lenovo Tab M10 Plus 3 gen
The tablet is mainly used for everyday tasks: social networking, browsing the web and programs. The processor copes with these tasks without any problems, and it also copes well with multitasking, switching between several simultaneously open applications. It's worth noting that there were no delays when navigating through applications or undemanding games.
In general, the device copes with its task – its performance is quite normal. This is a good budget tablet for everyday use.
Cameras
Lenovo Tab M10 Plus is equipped with an 8-megapixel main camera and an 8-megapixel front camera. The only difference between them is that the rear camera is equipped with an LED flash.
The front-facing camera can be used for meetings in MS Teams or Zoom. There is also a portrait mode, but the photos are fuzzy and blurry. Of course, the camera is also used to unlock the screen via face recognition, and this is the only biometric protection. It works on average, there were problems with unlocking. In low light, it did not immediately unlock the screen using face recognition, it succeeded only after 3-5 attempts.
The main camera also leaves much to be desired in terms of photos. But it should be remembered that the main purpose of the tablet camera is to take photos of documents, notes, or scan QR codes.
Examples of photos (here in original resolution):
Lenovo Tab M10 Plus Photo Samples
Read also: Samsung Galaxy Tab S8 Ultra Tablet Review: Isn't That A Bit Too Much?
Battery and operating time
The device is equipped with a 7700 mAh battery, which, according to Lenovo, provides up to 12 hours of continuous video playback.
When using the tablet mainly for browsing the Internet and reading e-books, the device lasted less than 3 days on a single charge, and with continuous use (constant video viewing, gaming), it required charging every evening. For example, two hours of Netflix consumes about 15% of the battery, with similar consumption when using HBO and YouTube.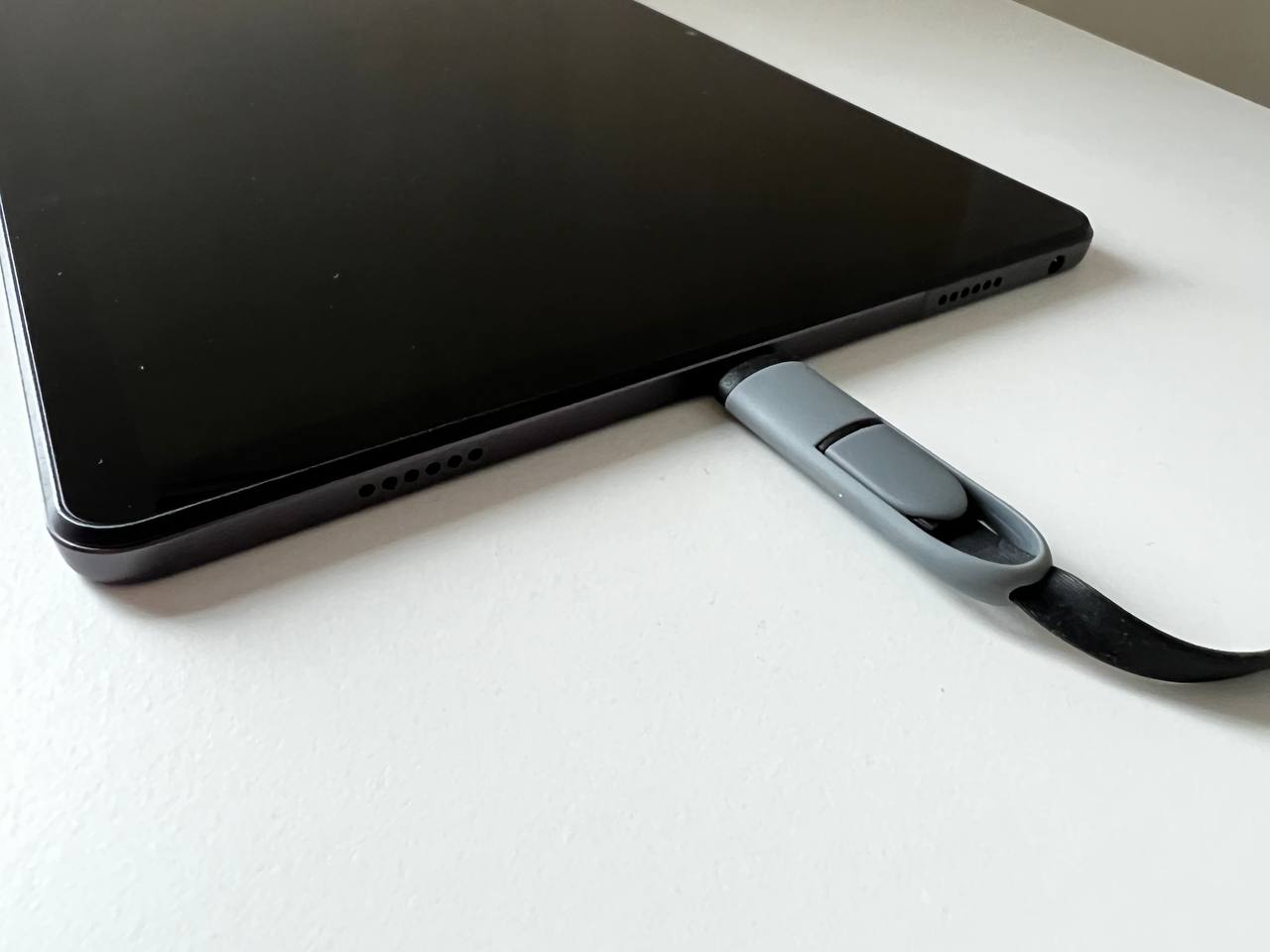 So when you take it from home to work or to university, one charge is enough. It all depends, of course, on how we use the tablet and our settings. Is it a heavy workload or do we only use it for YouTube or Netflix, or viewing documents.
Although the battery lasts quite a long time, the charging process is also long – about 5 hours. This is due to the fact that the kit comes with a 10W charger, so the best solution is to charge it at night or buy a more powerful 20W charger and cut the charging time almost in half.
Sound
We have 4 stereo speakers with Dolby Atmos technology located on both sides of the display, making everyday entertainment on this tablet even more enjoyable.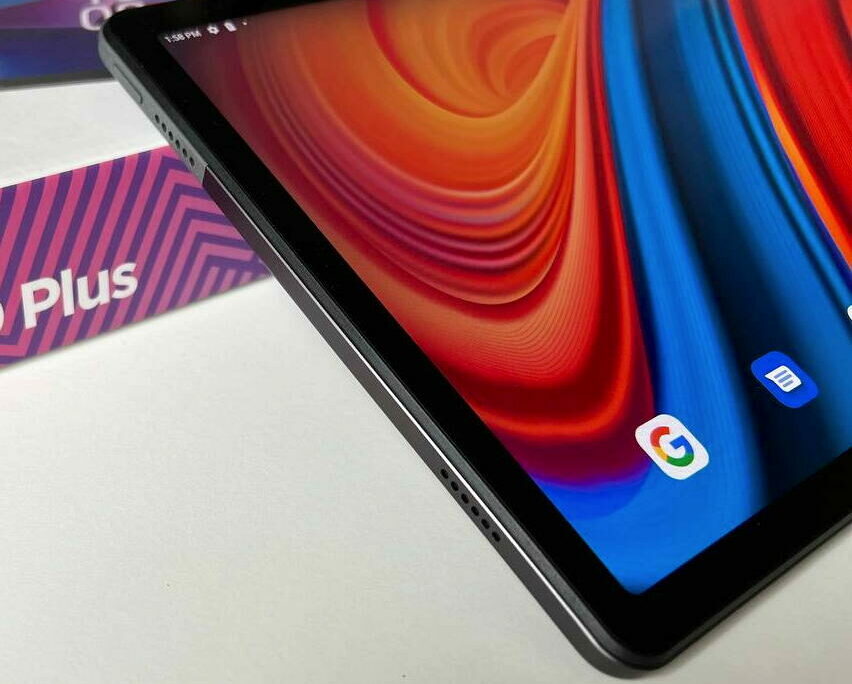 The sound is clear, but without much bass or detail. Only at maximum volume does the sound quality drop – you can hear a slight crackle.
We have 3 sound modes to choose from: Dynamic, Movie and Music. The Movie mode is pretty good. It has enhanced bass, so even podcasts sound better. To avoid switching between modes all the time, you can choose Music, because then each type of sound seems more refined.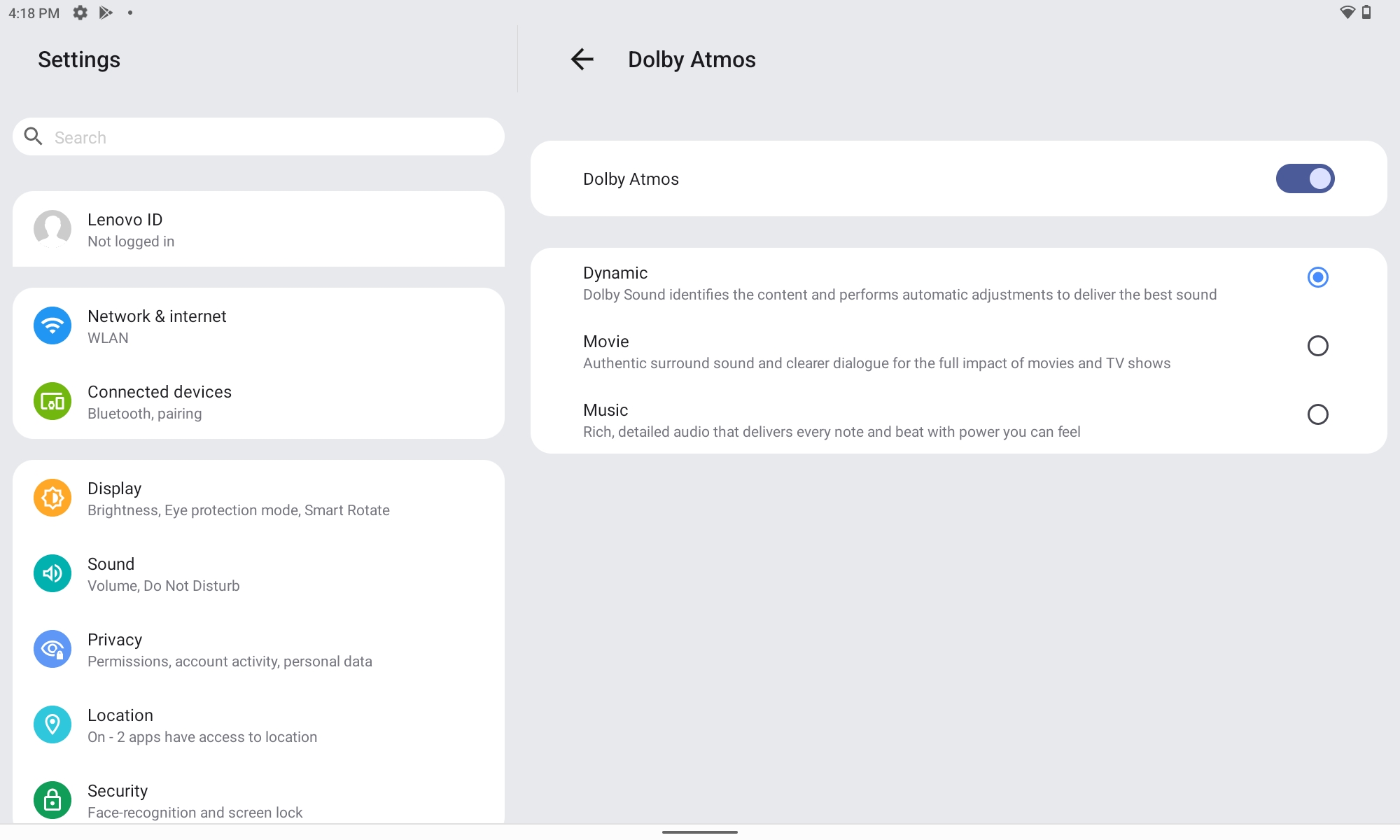 As for the microphone, it worked perfectly during video calls. The sound is good. There is an audio jack on the tablet. Headphones can also be connected via Bluetooth or USB-C port.
Read also: Huawei MatePad Pro 12.6 (2022) Review: Is it far from perfect?
Data transfer
The Wi-Fi version of Tab M10 Plus Gen 3 comes with Wi-Fi 5 and Bluetooth 5.0. The Qualcomm Snapdragon X11 modem version also supports LTE CAT13 and Bluetooth 5.1. Wi-Fi and Bluetooth worked well during the tests – there were no problems with Internet connection.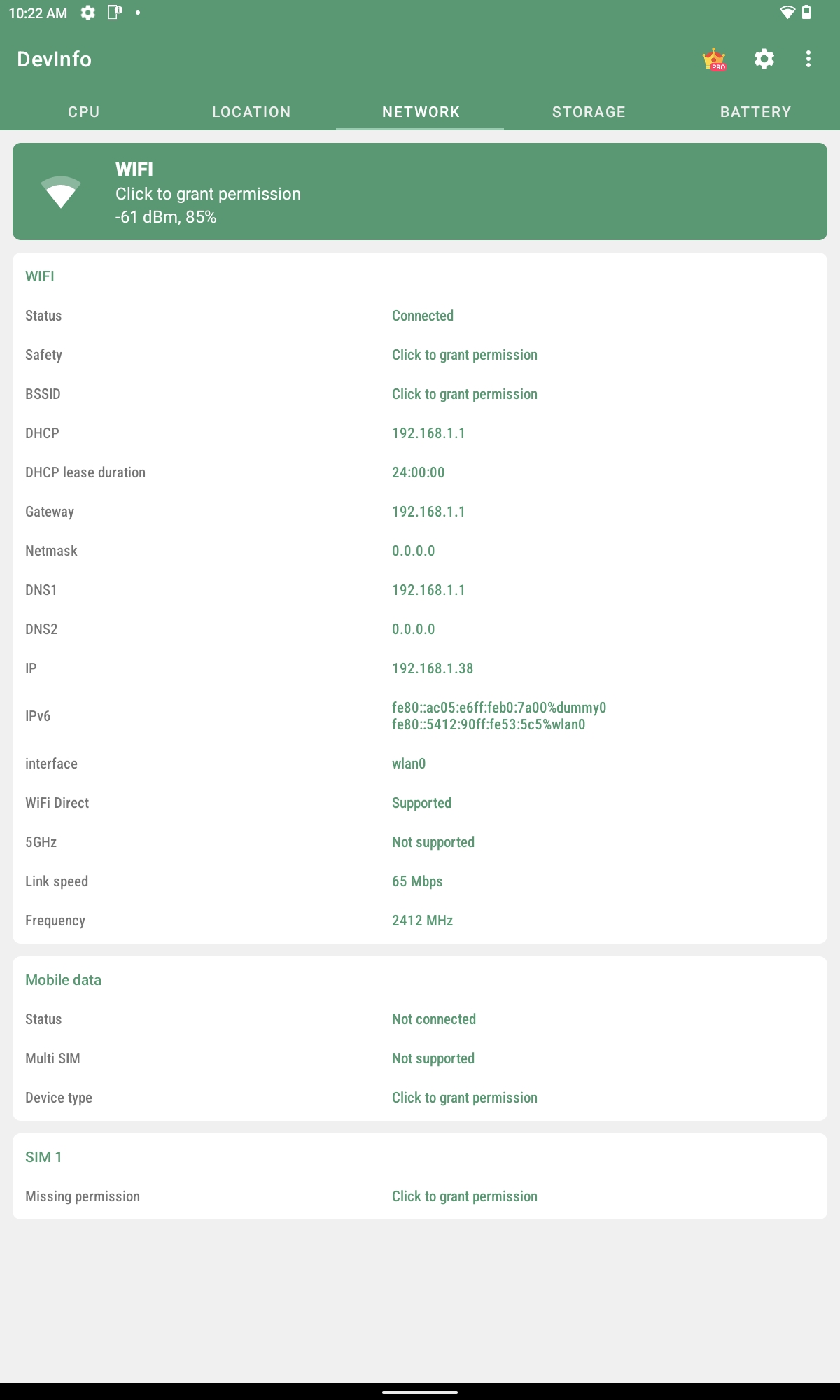 Software
The device runs Android 12, but is expected to be updated to Android 13 in 2023.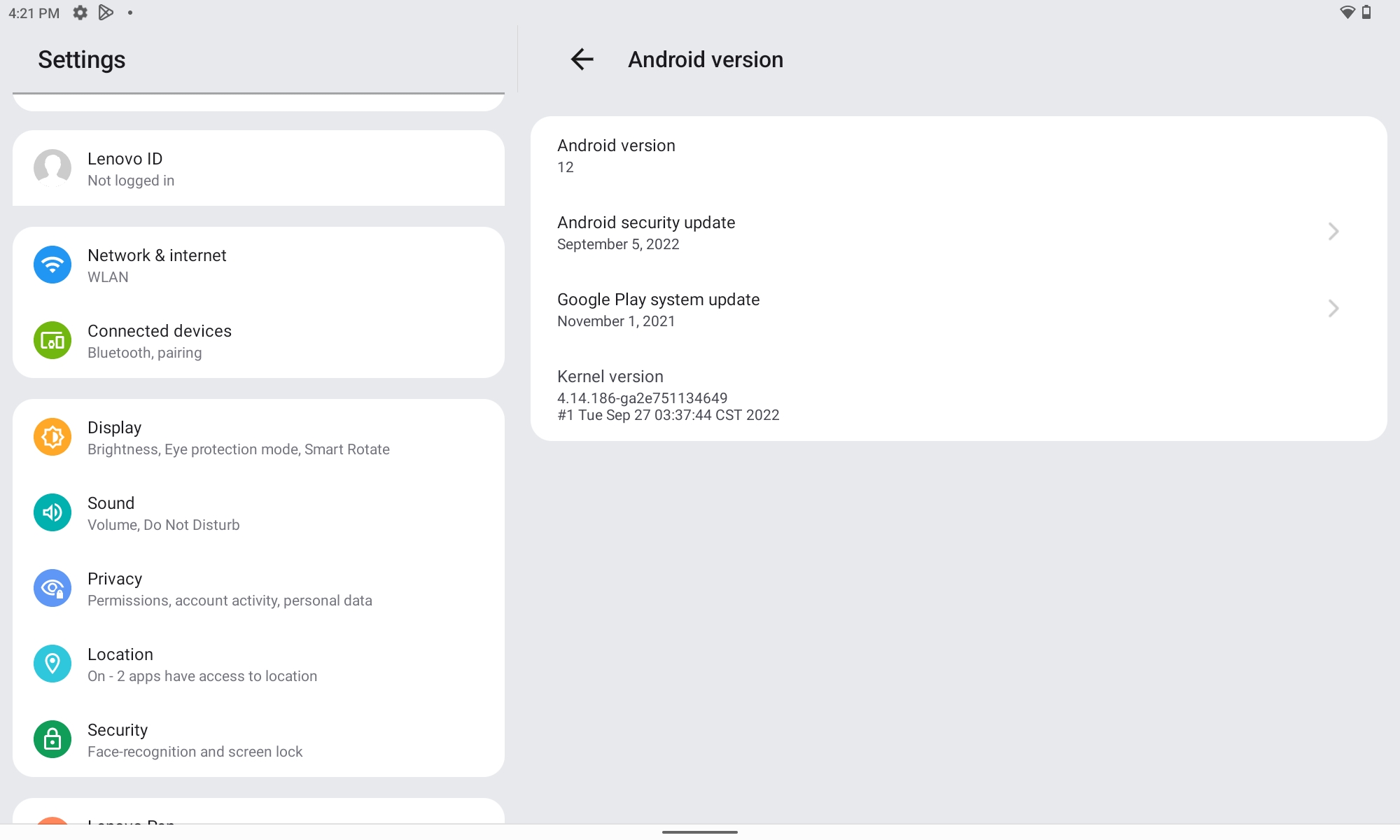 The tablet offers access to Google Entertainment Space and Google Kids Space, which parents will appreciate.
Entertainment Space is a place dedicated to entertainment. We have streaming apps, games, books, and music. The app is already installed on your tablet. You can open it by swiping left on the home screen. Entertainment Space provides convenient access to all the content we want to have at our fingertips in our free time – movies, games, books.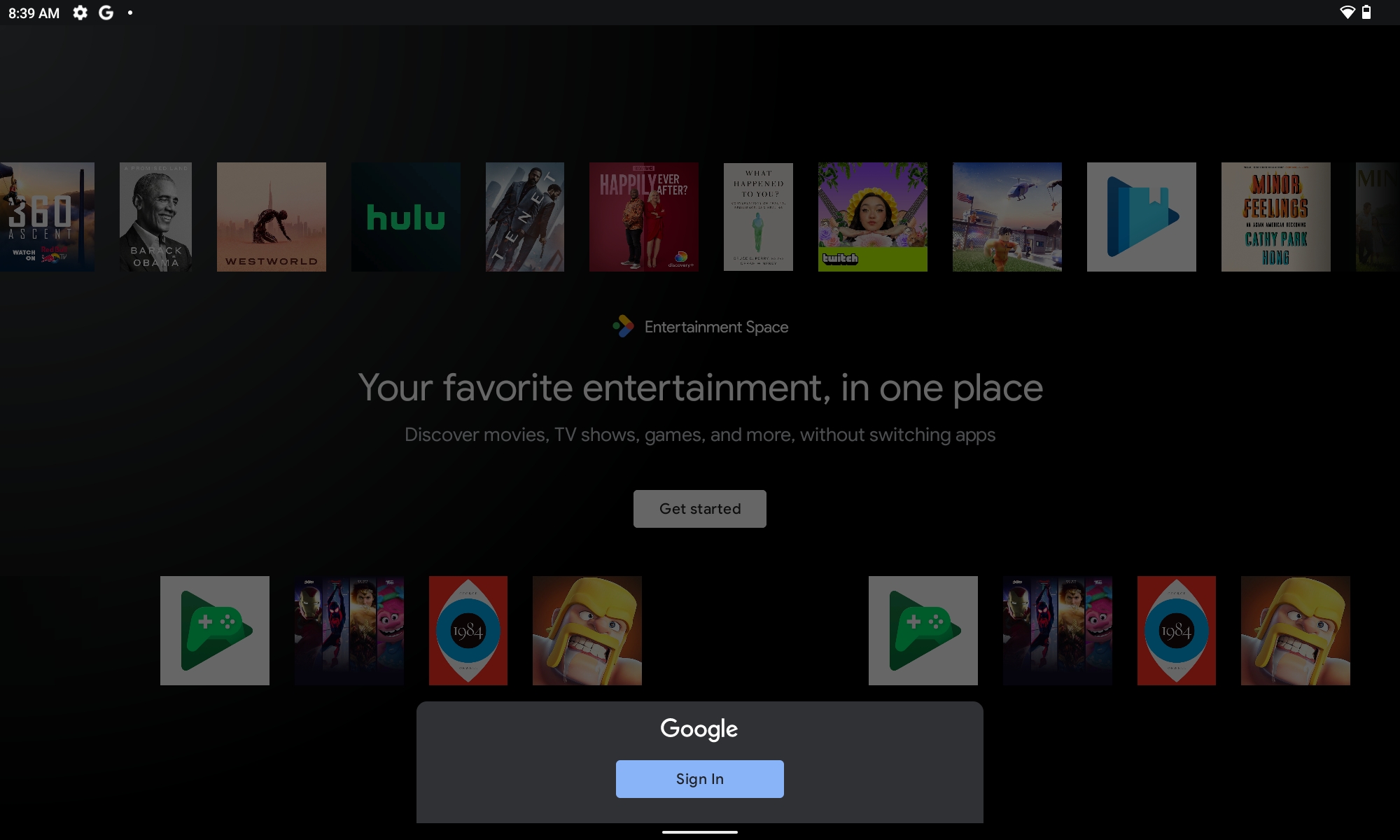 Read also: Realme Pad Mini Review: Compact and inexpensive tablet
Conclusion
Entertainment at your fingertips – that's how you can briefly describe this device.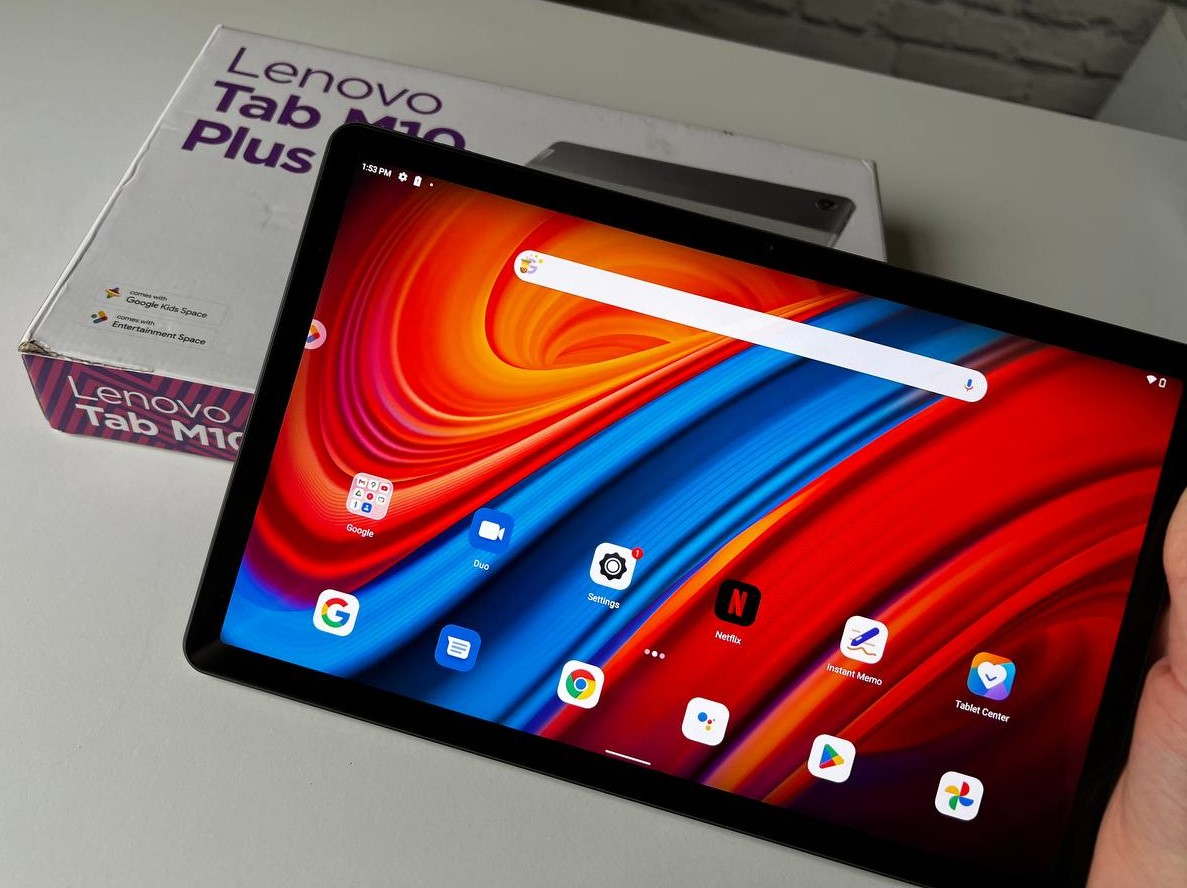 Lenovo Tab M10 Plus is designed for users who are not too demanding. It is a new generation budget tablet designed for media viewing and everyday work.
The Tab M10 Plus is a good device with a large screen and excellent battery life. If you want to watch movies and TV shows on the go, it's a good choice for a break between lectures.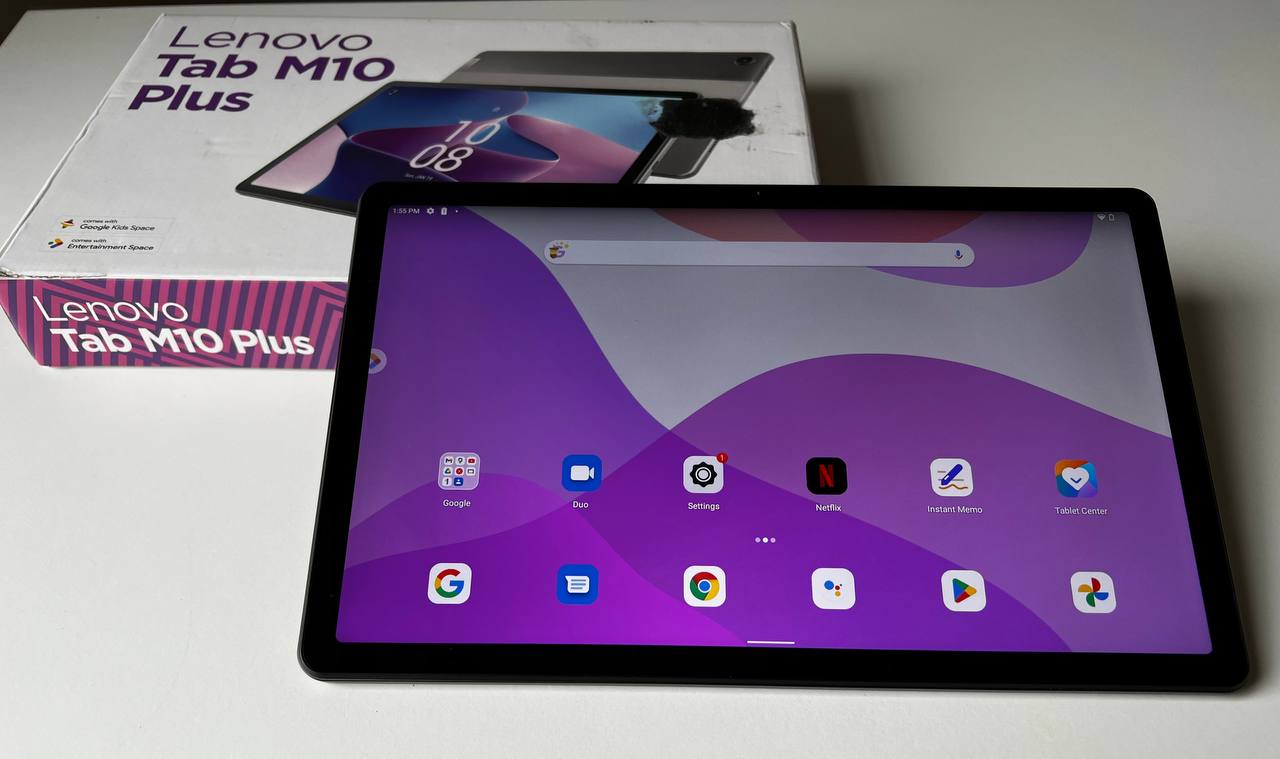 You should not expect versatility from a device in this price range. This is more of a reliable multimedia tablet.
Advantages
Good battery life
Speakers with Dolby Atmos
Pretty smooth operation
High screen resolution
Good and bright display
High-quality build quality
Personalized accessories for easier work and access to entertainment (stylus, case)
Disadvantages
Very weak charger
Problems with unlocking with face recognition, especially in the dark
Glossy display
Read also: Huawei MatePad SE 10.4 tablet review