I don't even remember the last time I reviewed a tablet. Moreover, to be honest, I wasn't even going to do it in the near future. But it so happened that all our authors were busy with other projects when the editorial office received a parcel with another device for testing, so I had to try it out myself. At first, I was just wondering whether another Chinese product from a brand I had never heard of was worthy of attention. Later it turned out that it was! The N-one NPad Pro is a fairly high-quality budget tablet with good equipment, and from time to time during the course of writing this review I even thought about keeping it, which is a sure sign that the device is good. Therefore, there was no turning back, I started writing the review and now I offer you to read it.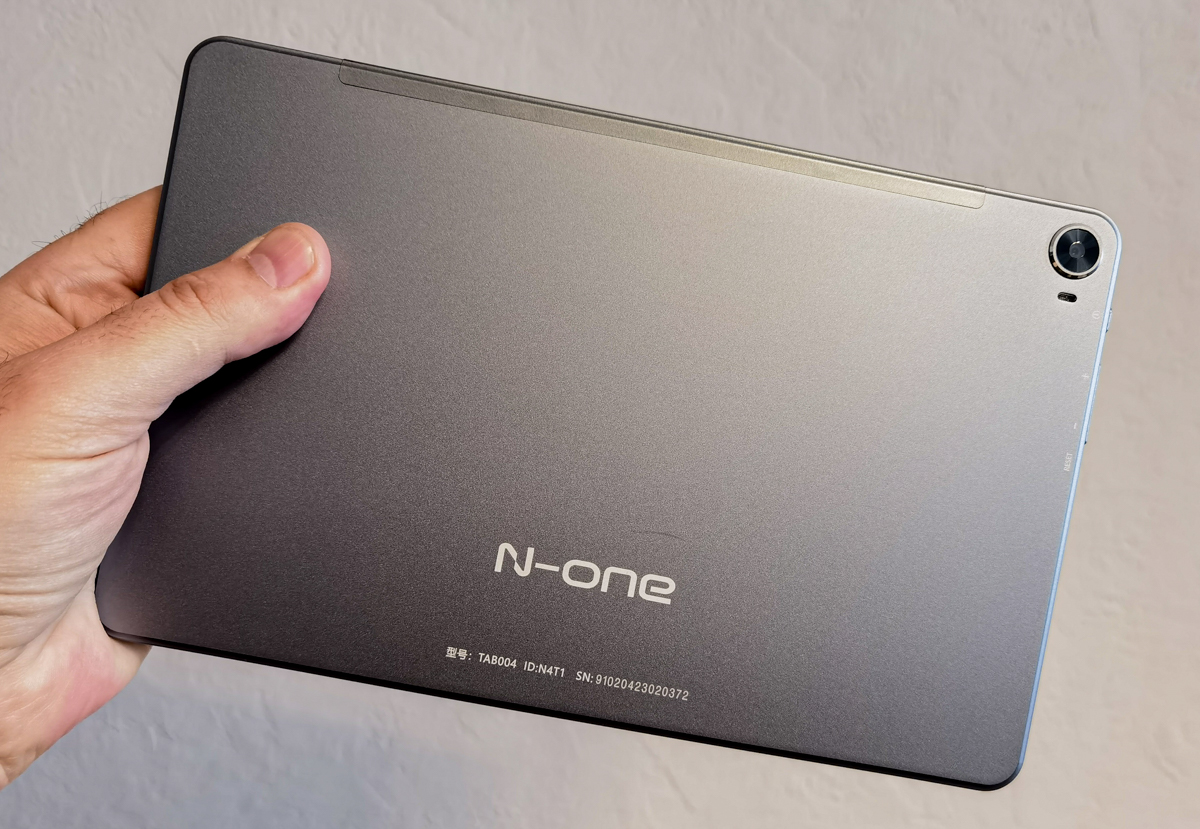 Technical specifications of the N-one NPad Pro
To begin with, let's traditionally look at the dry numbers of the characteristics and evaluate the overall equipment of the tablet to understand what we are dealing with:
Processor: 8-core 12nm UNISOC T616 (2x Cortex-A75 2GHz and 6x Cortex-A55 1.8GHz)
Video accelerator: Mali-G57 MP1
Memory: 8 GB RAM (LPDDR4), 128 GB ROM (UFS), microSD card slot up to 1 TB (instead of a second SIM card)
Display: 10,36″ IPS, 2000×1200 pixels, 300 nits brightness
Cameras: main 13 MP, front 5 MP
Battery: 6600 mAh, maximum charging power 18 W
Wireless communications: Wi-Fi Dual Band, Bluetooth 5.0
Mobile networks: Dual SIM TDD-LTE and FDD-LTE 4G:

GSM: 850, 900, 1800, 1900
WCDMA: 900 (B8), 1900 (B2), 2100 (B1), 850 (B5)
LTE: B1, B3, B5, B7, B8, B20, B38, B39, B40, B41

Positioning: GPS, BDS, GLONASS, GALILIEO, A-GPS
Audio: 4 speakers
Dimensions: 246 x 157 x 7.5 mm
Weight: 460 g
Software: Android 12
This can be noted after studying the characteristics. The tablet doesn't promise record-breaking power because it's based on a budget chipset. However, the performance should be acceptable for performing typical tasks for inexpensive devices. We also see sufficient memory, and it is of modern fast standards. That is, the tablet should not slow down. The 4 built-in speakers are also noteworthy, so the sound should be loud, but the quality needs to be checked. As for the rest of the parameters, they look good on paper, but we'll see how it all works in real life.
Positioning and price
The N-one NPad Pro is a budget Chinese tablet from AliExpress, it is offered at a price of about $150. There are a lot of offers in this category, and the competition is very high. That's why the manufacturer often holds promotions and all kinds of sales in the company store, and from time to time you can get the device at a reduced price of about $120, and even with a case or a Bluetooth keyboard as a gift. Just keep an eye on the product page and our news so you don't miss the next price reduction. The manufacturer also provided us with a unique PROFANS code for a $20 discount when purchasing the NPad Pro along with the test tablet – just use this coupon at checkout to reduce the price of the product a little more.
Package contents
The tablet comes in a large white box made of thick cardboard. Inside, all the elements are placed in foam holders. Here we find the tablet with a film glued to the screen, a charger, a USB-C cable at both ends, a manual, a key for the hybrid SIM and microSD tray.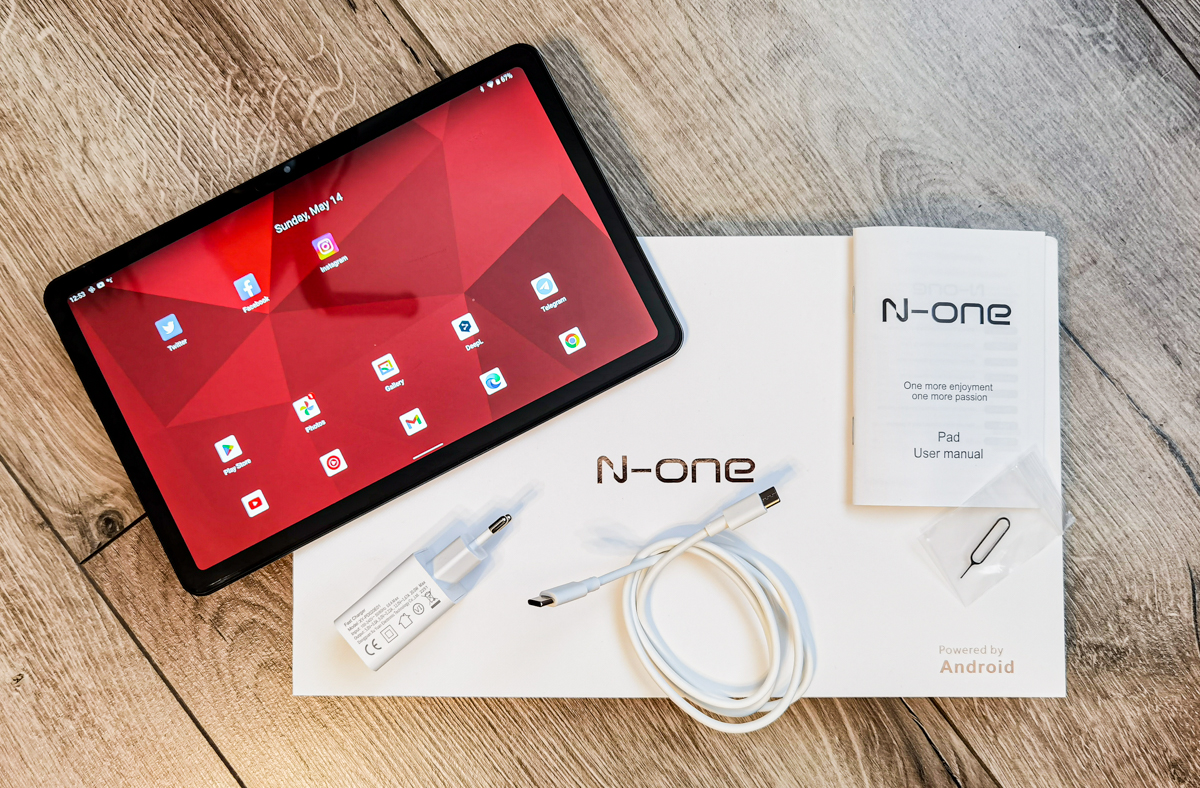 As for me, this set really, really lacks a case. It's almost impossible to buy it separately, especially in local stores. You'll have to order it on AliExpress or look for universal options. So keep this point in mind when buying a device. As for me, it's better to wait for the moment when the branded store has a special offer and you can buy a tablet with a case as a gift.
Read also: Oukitel RT3 review: "Unkillable" 8-inch tablet
Design, materials, arrangement of elements, assembly
The tablet has a classic design with reduced bezels around the display. In terms of appearance, the N-one NPad Pro does not stand out among a large number of similar Chinese tablets.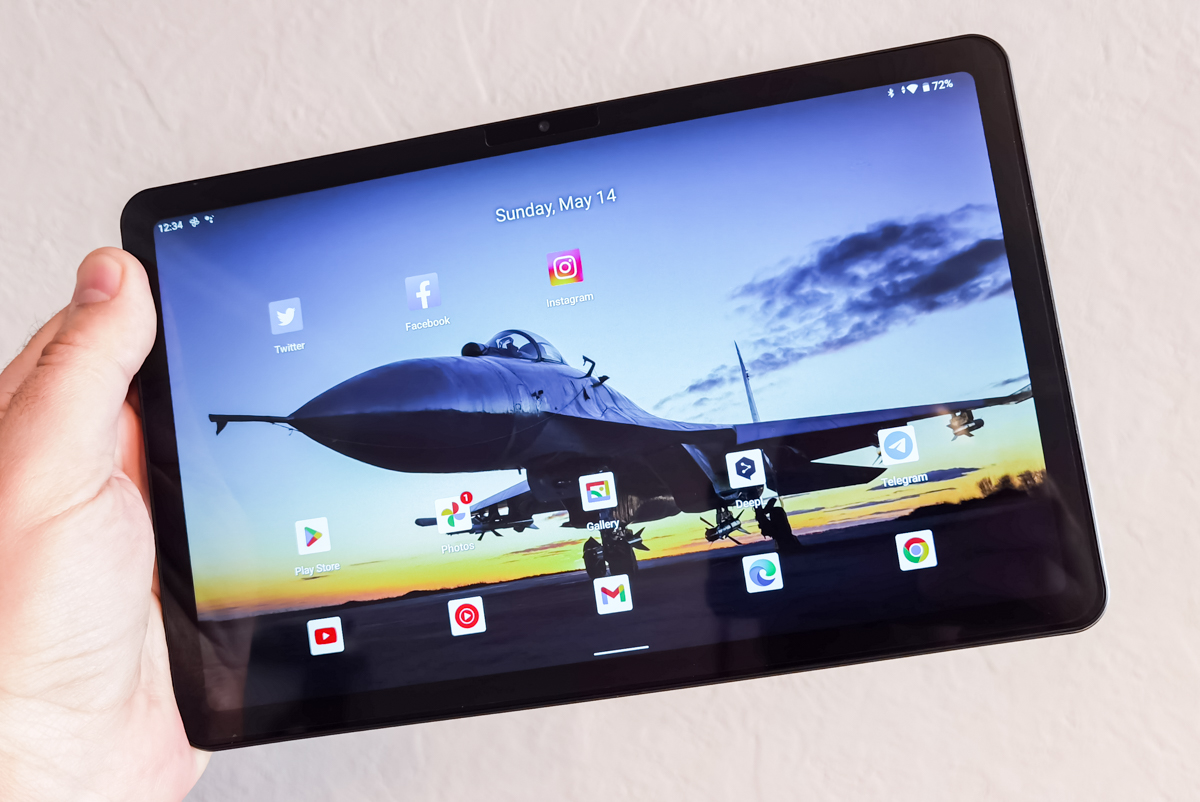 The screen has a film without an oleophobic coating, so the surface collects fingerprints and dust very actively. It also scratches very quickly. In the frame on top, in landscape orientation, you can see the front camera window. There is no light sensor in the tablet, so you can only rely on manual adjustment of the screen backlight brightness.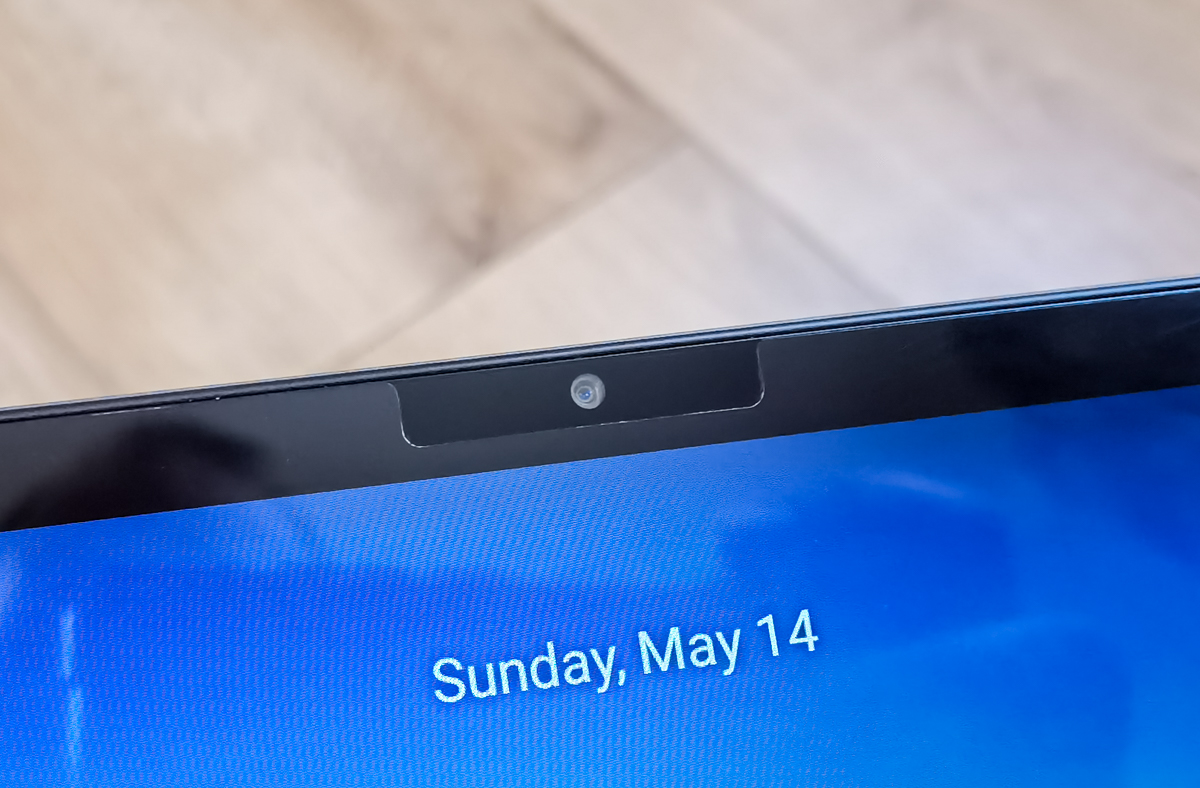 The case is all metal, grey in colour, made in the "unibody" format, i.e. the back cover and side edges are a single piece.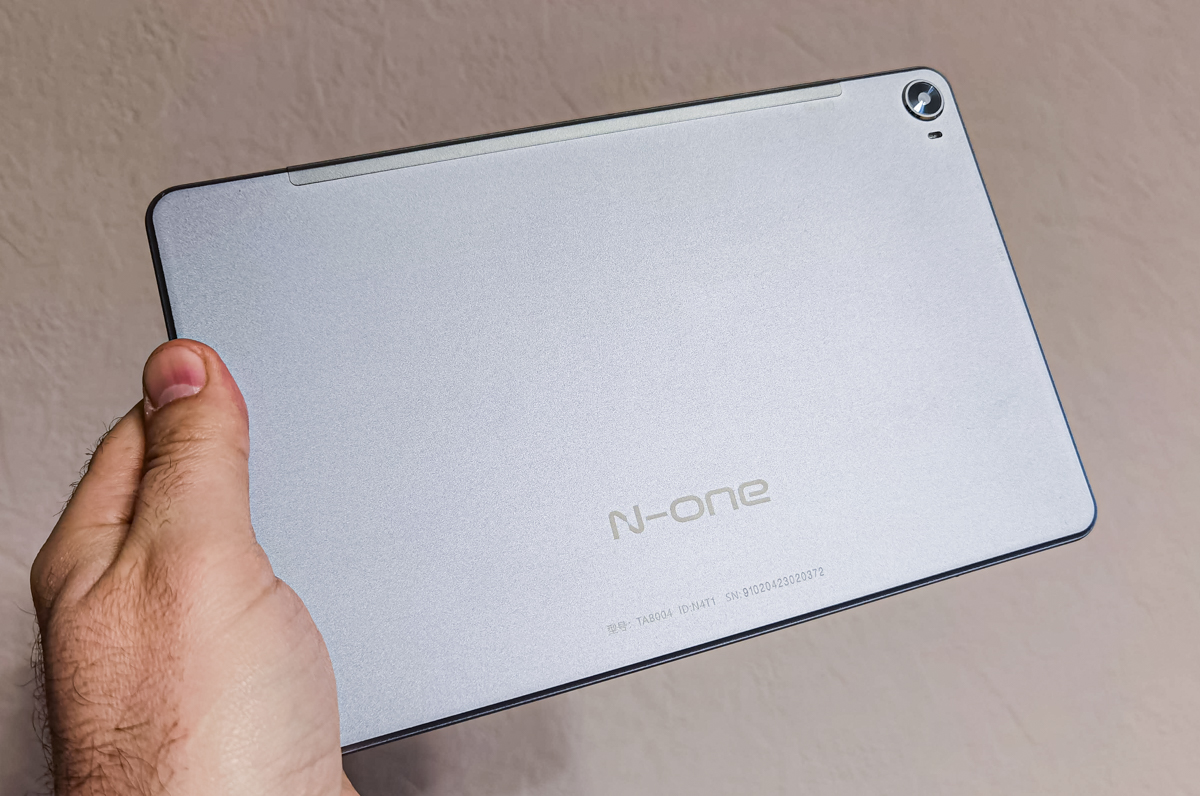 The rear edge of the case has a stamped recess around the entire perimeter, whether this is a purely design decision or some kind of structural feature is unclear. But it seems to me that such a recess improves the overall rigidity of the structure.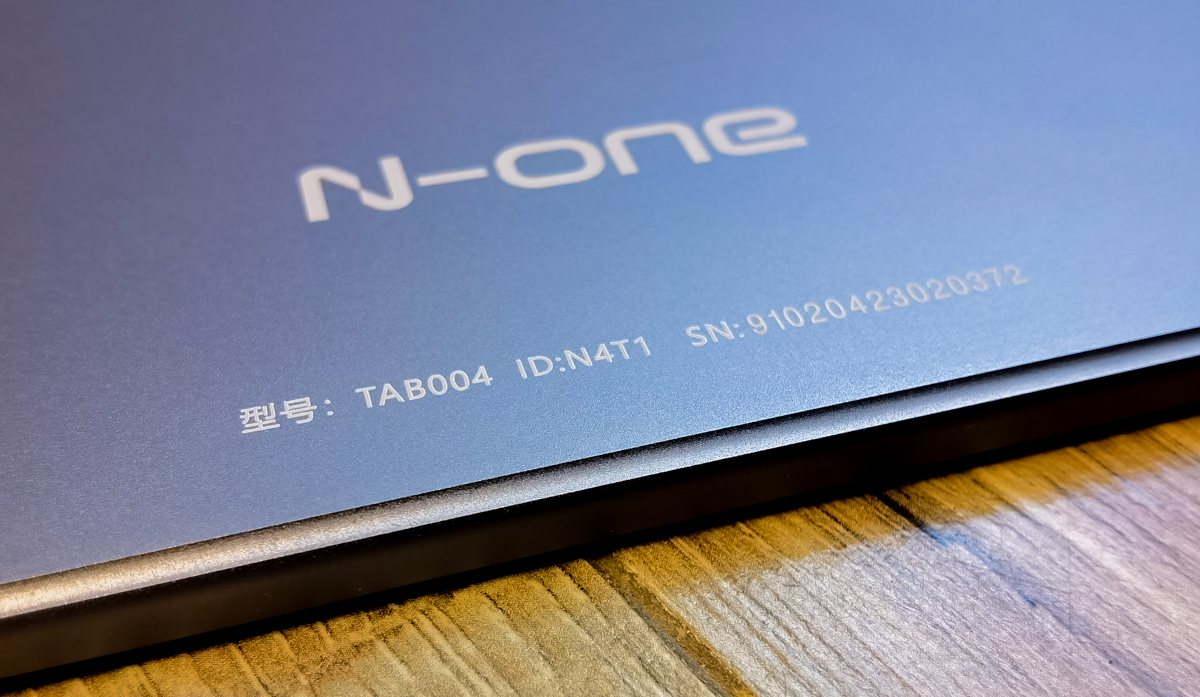 In the right corner is the main camera in a shiny metal ring and the LED flash below.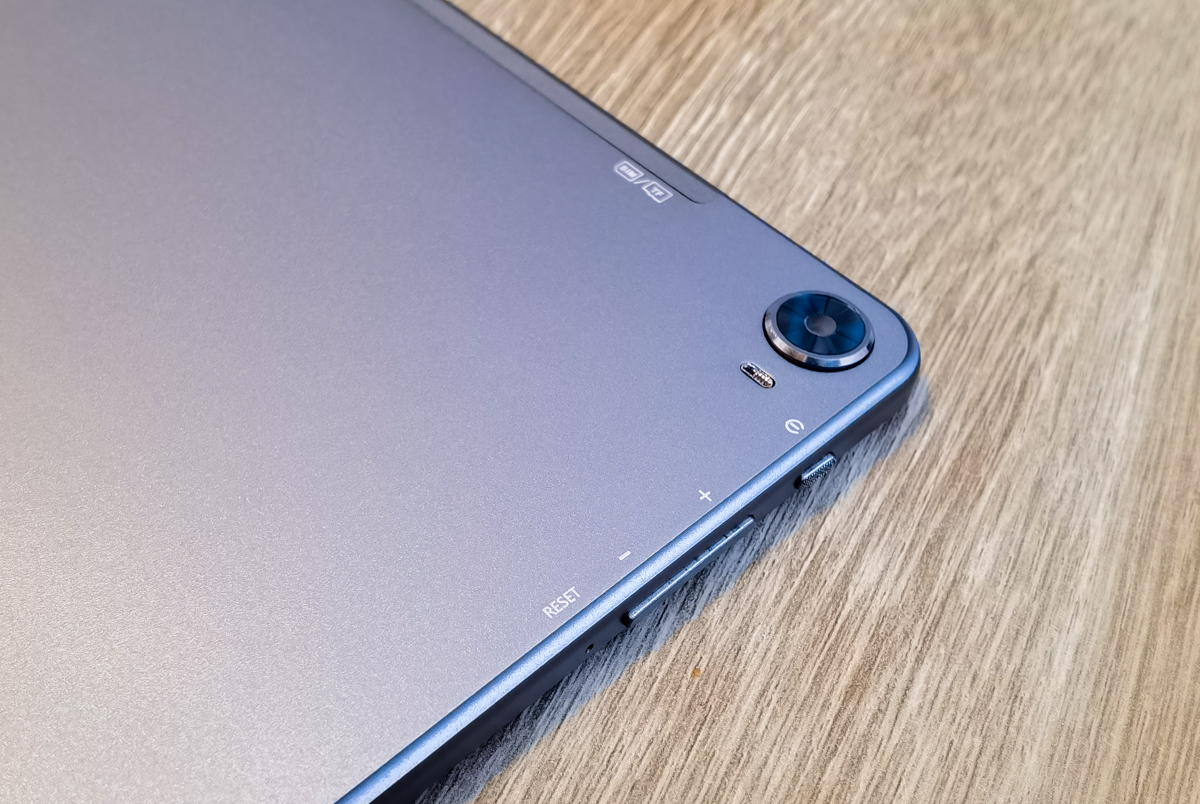 From the top, if you look at the tablet in landscape orientation, most of the end is covered by a plastic cap. Most likely, Wi-Fi and 4G antennas are hidden under it.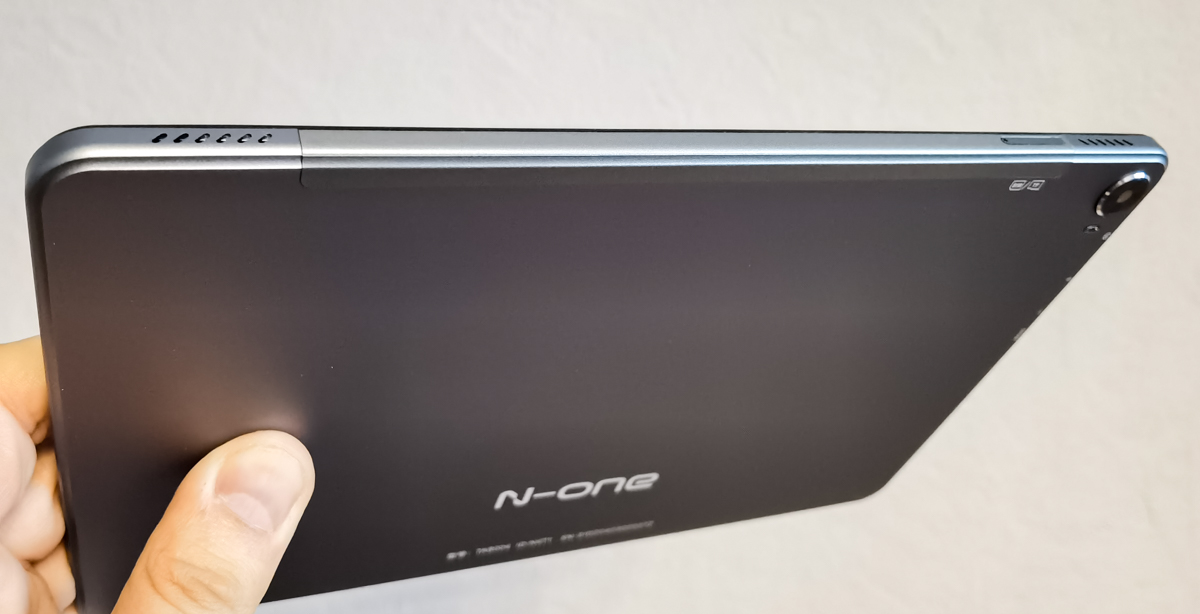 The plastic part also has a built-in slot with two seats, the first for a nano SIM and the second, hybrid, for another SIM or microSD card.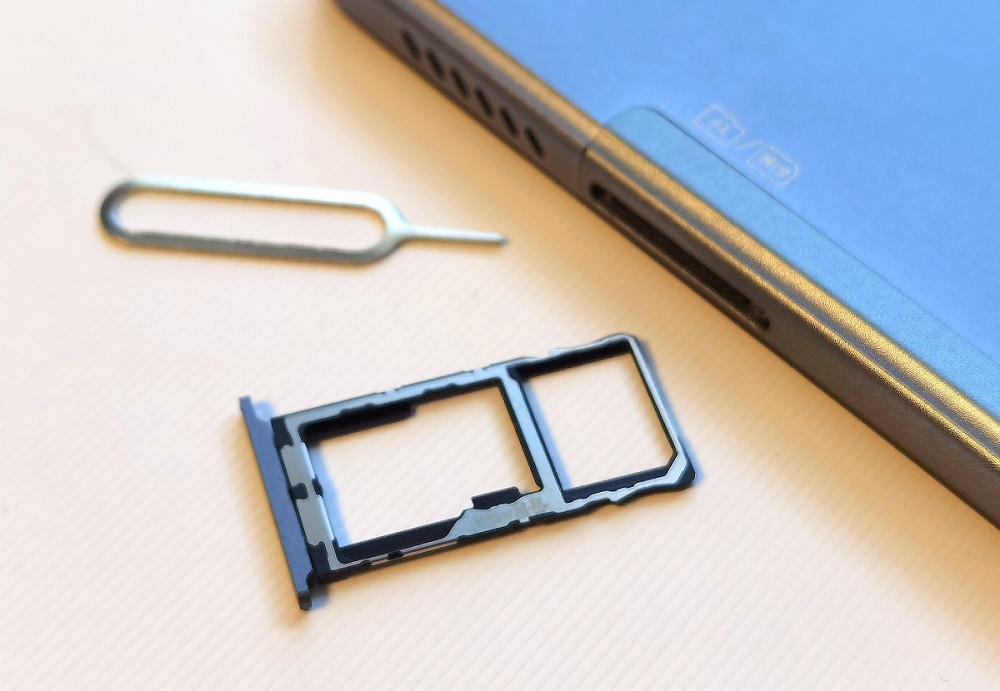 There are two speakers on the right and left.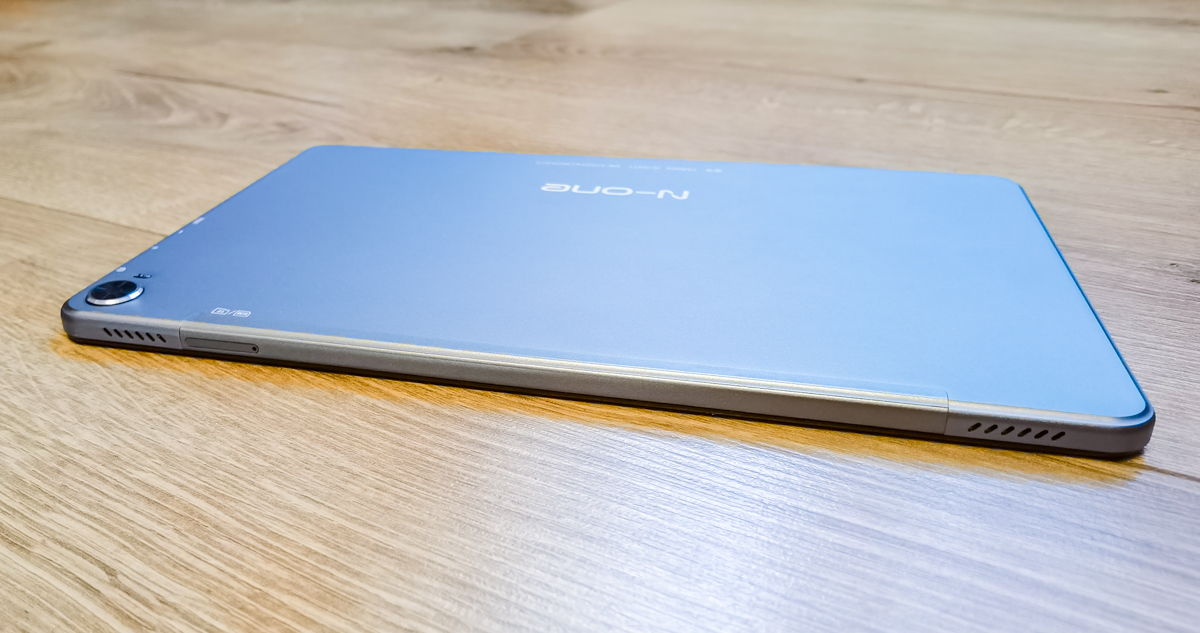 On the left side, we have a power button and a double volume key, a key hole with the word "reset" on it, and a USB Type-C port.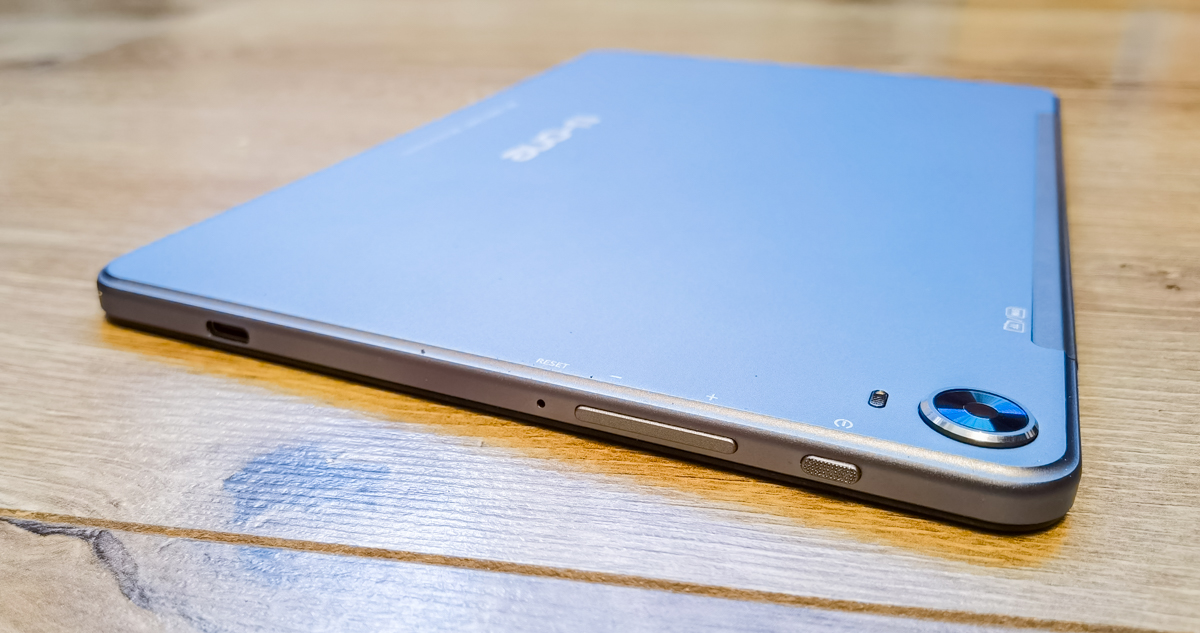 The right side is empty. There are 2 more speakers at the bottom along the edges.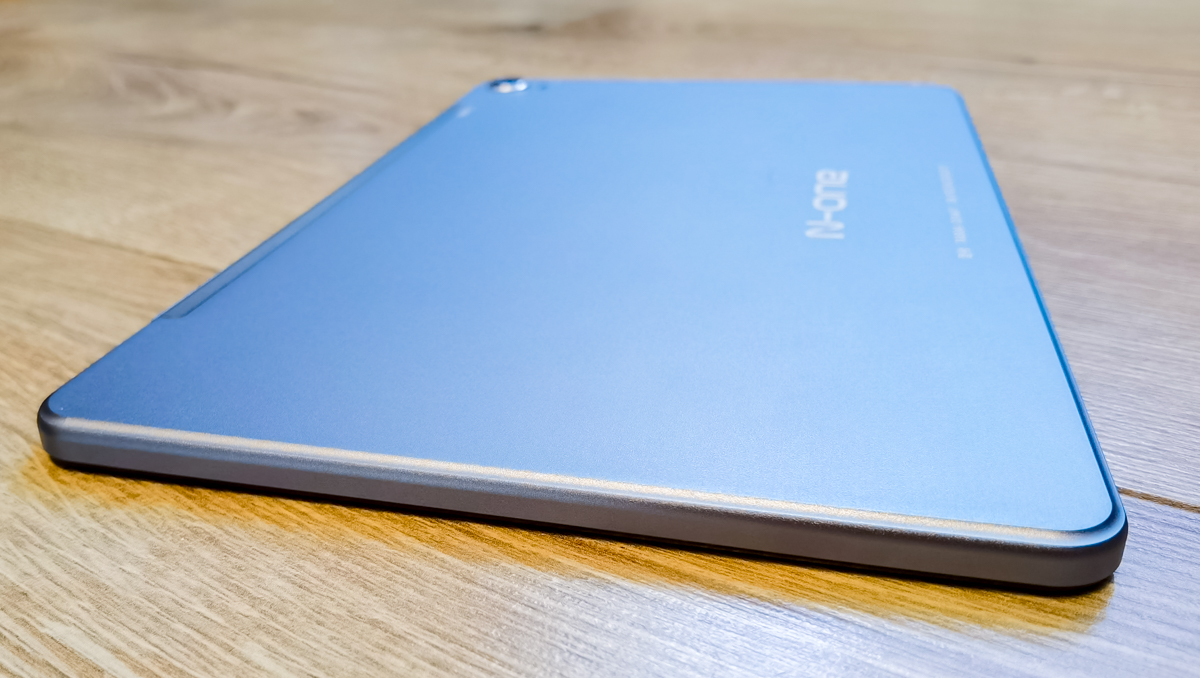 I can't find anything wrong with the design of the NPad Pro. The tablet looks good for its price. Although the inscriptions near the buttons and the slot on the back cover would be better if there were no inscriptions at all. And the manufacturer could have stuck a better quality film on the screen, with an oleophobic coating, because the finger clings to the screen when performing gestures.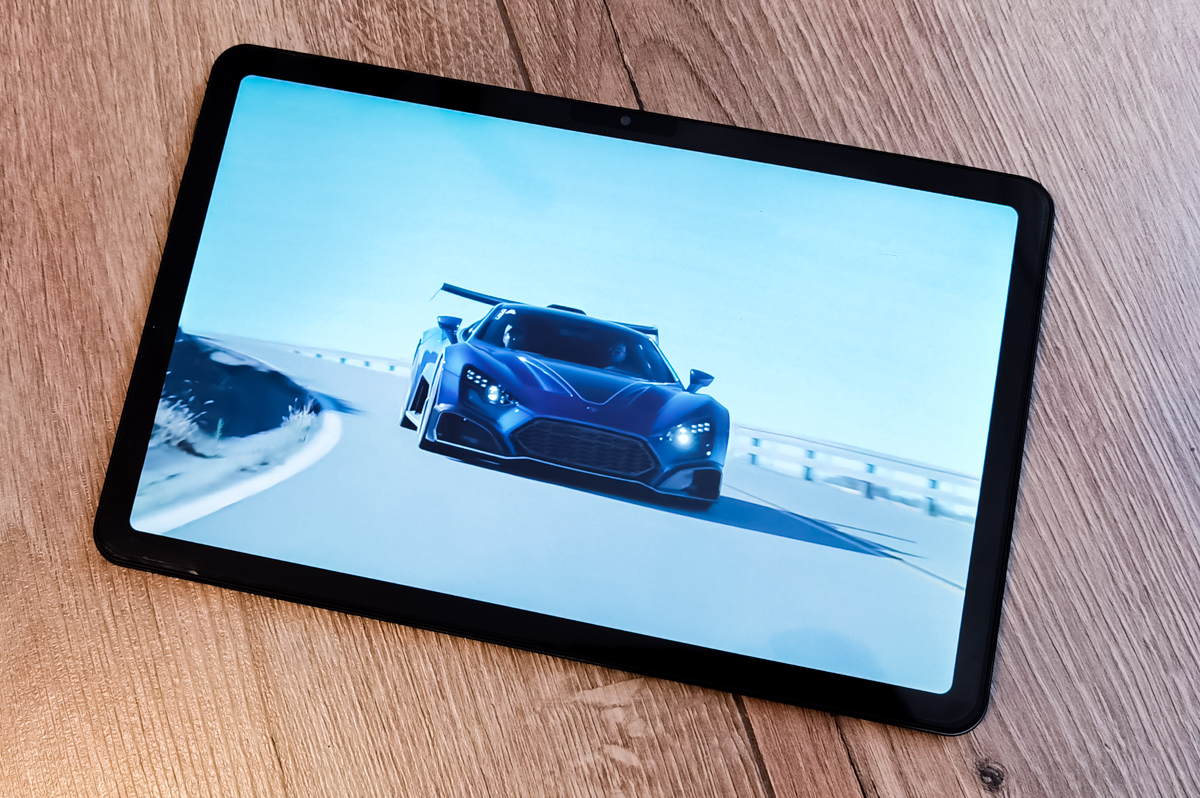 In general: the materials are okay, the build quality is good. An ordinary tablet. It will be…
Read also: Redmi Pad tablet review: simple and no frills
Screen
The N-one NPad Pro has a high-quality IPS-matrix with a resolution of 2000×1200 pixels. This value can be considered optimal for a 10-inch tablet for non-professional use.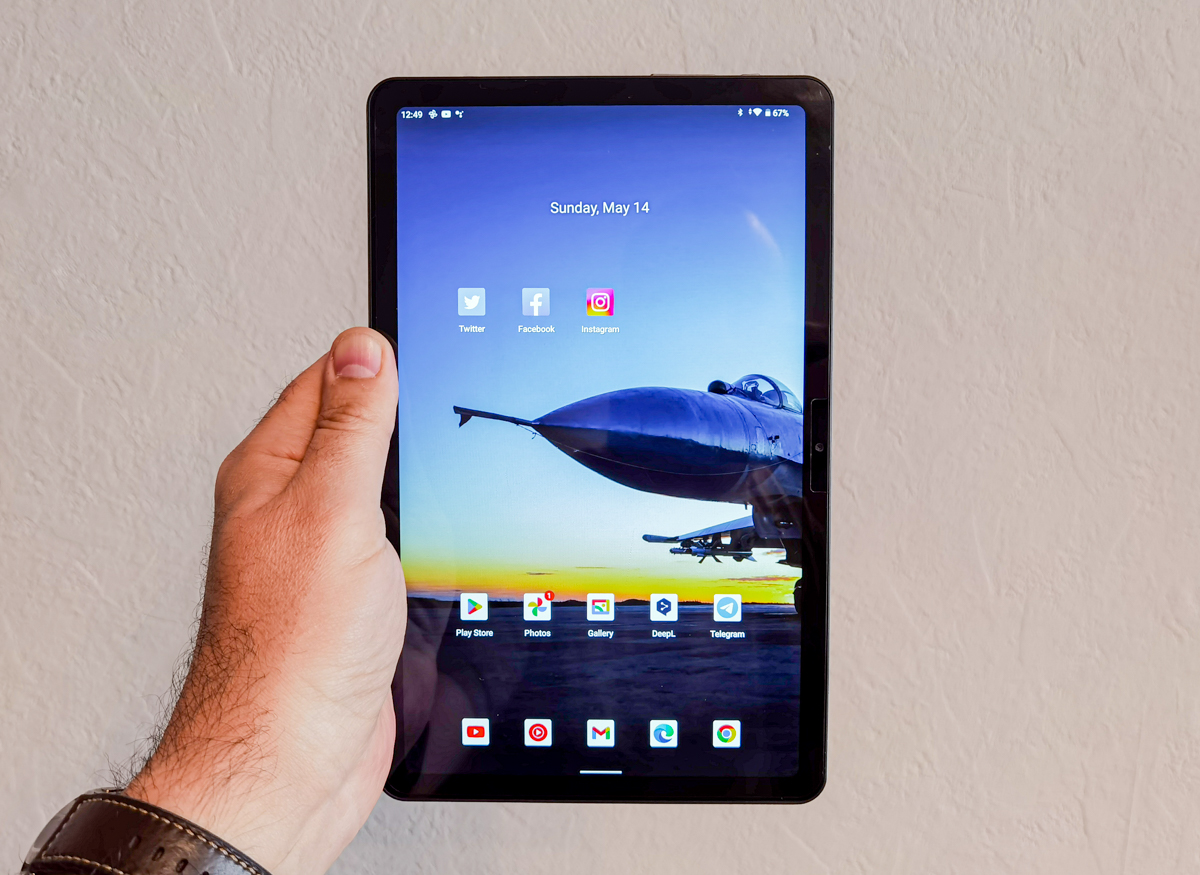 The screen is perfect for watching videos and reading texts. Viewing angles are maximum and colour reproduction is natural.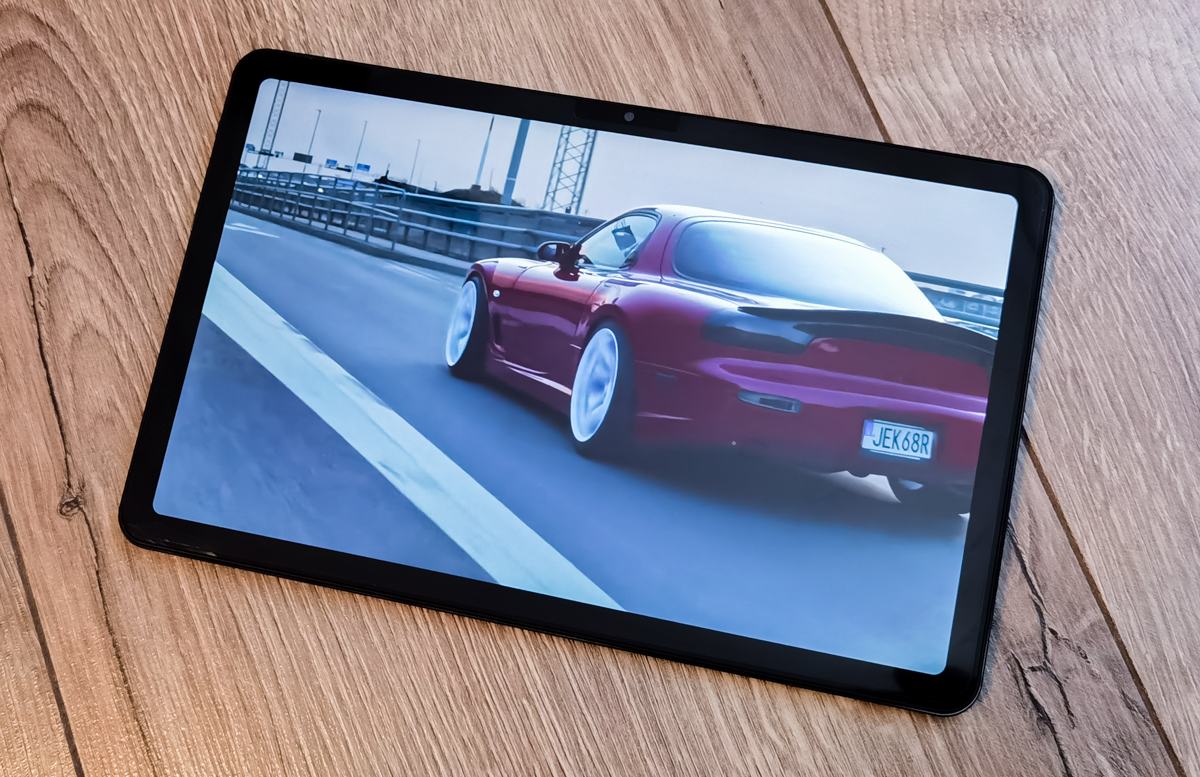 Out of the box, the matrix has a moderate contrast setting, but in the menu, you can change this parameter and choose rich colours, or enable a more natural warm colour reproduction. There is also an option to improve video display.
The range of screen backlight brightness is very wide. The maximum level is even too high to use the tablet in a bright room. The minimum level is very low, so you can comfortably look at the screen in complete darkness.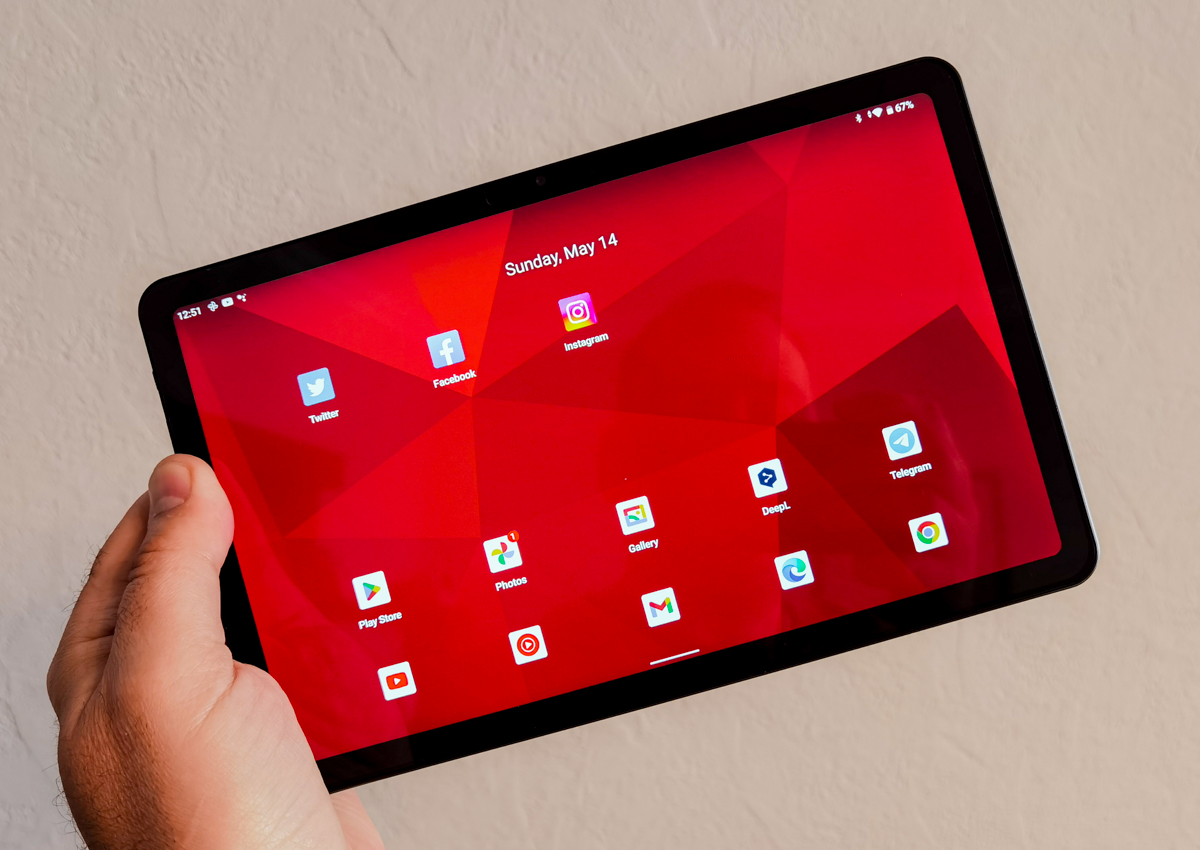 When it comes to outdoor use, the display information can be easily read even during the day. However, not in direct sunlight, because then the brightness is no longer sufficient.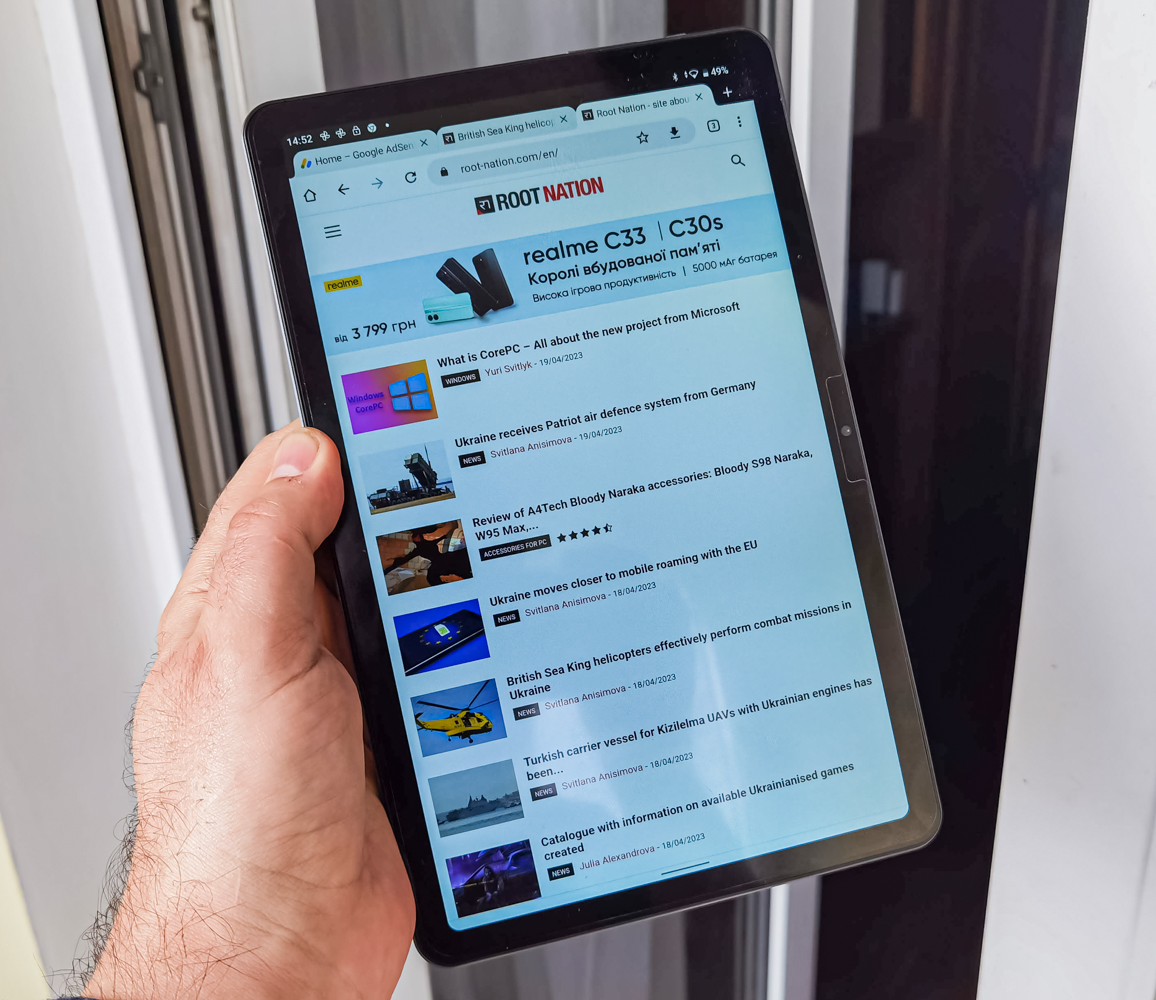 Overall, I have very good impressions of the NPad Pro's screen, as it is versatile and suitable for any situation. The only thing missing here is the automatic brightness control, but unfortunately, this is a common drawback of all budget tablets.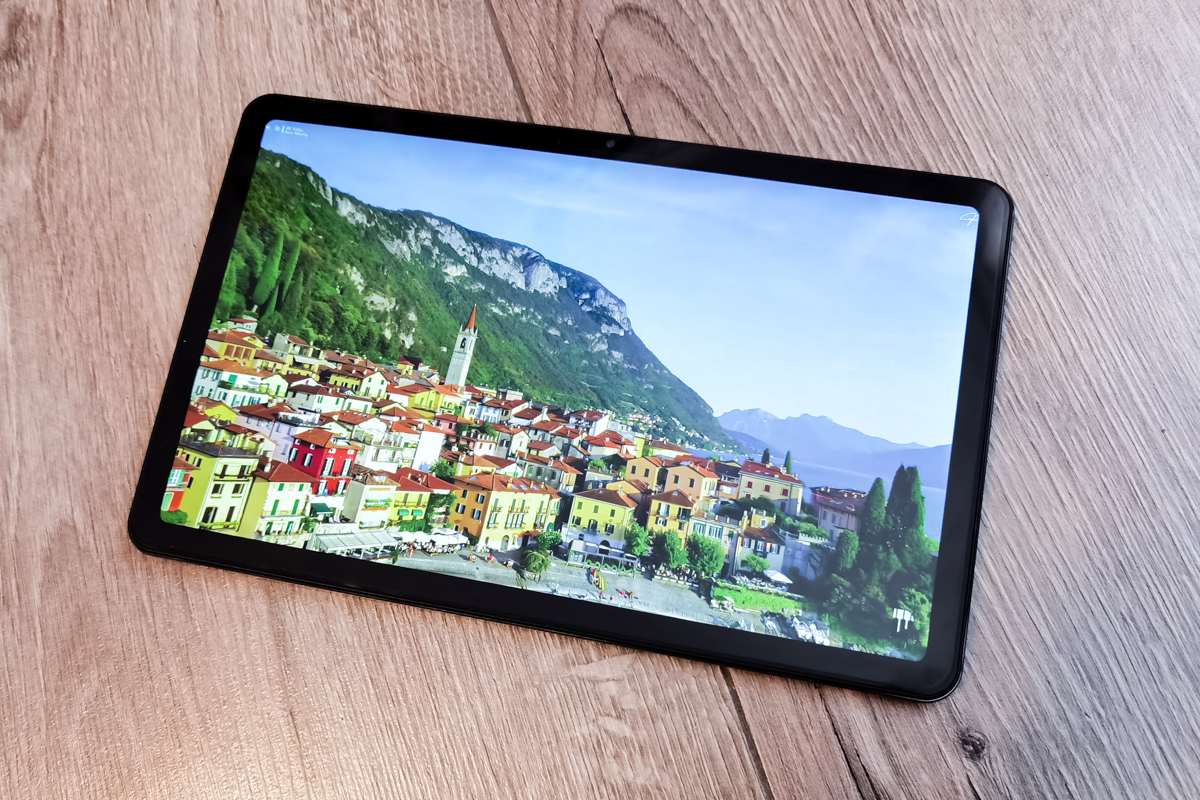 Performance
The N-one NPad Pro doesn't impress with its record-breaking processor and video accelerator power. But at the same time, there's no critical slowdown in the day-to-day operation of the device either. I can't say that the performance is catastrophically lacking for typical tasks that such tablets are tasked with. The interface is fast, although it lacks smoothness when performing heavy animations and scrolling through long lists. This is especially noticeable when you start using the tablet right after a flagship smartphone.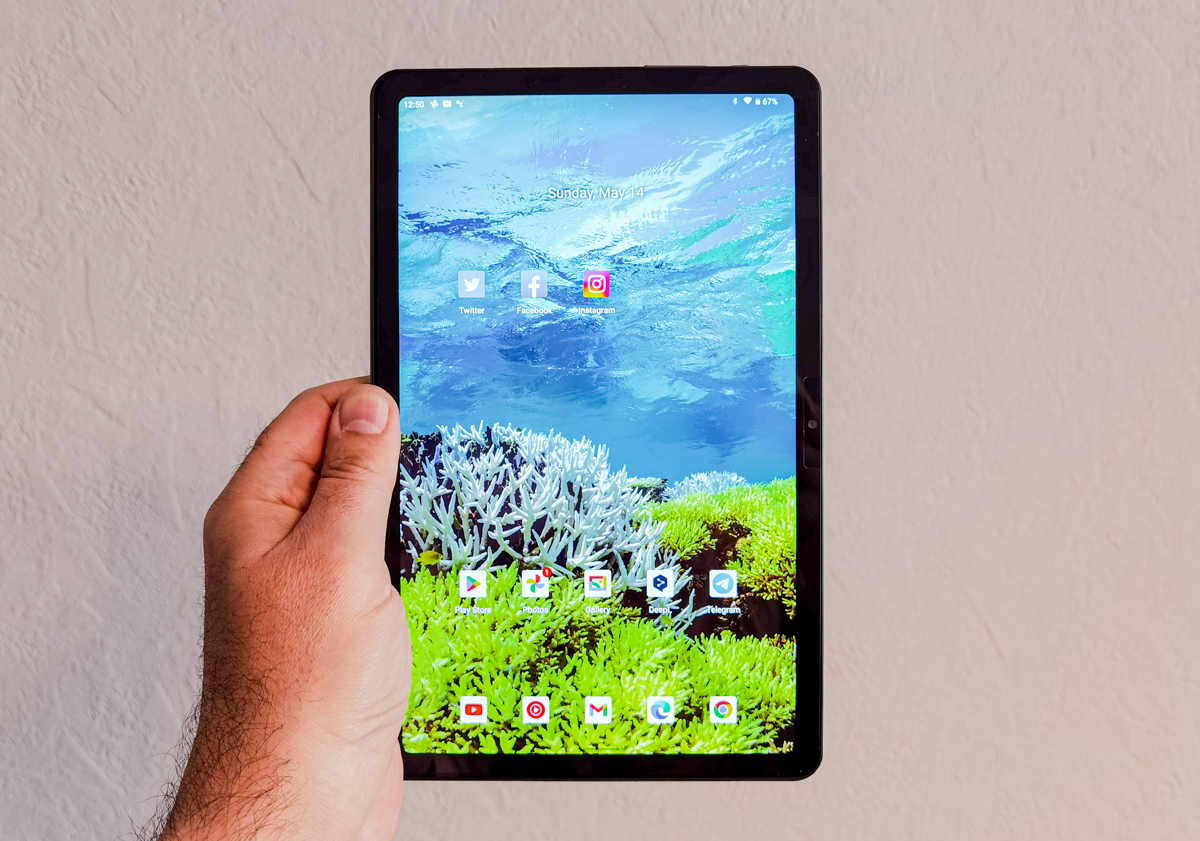 Below are screenshots of the results of popular benchmarks.
In general, the performance is fine, I can even say that I expected the worst, so I was pleasantly surprised. I can't recommend this tablet to users who are going to load such a device with professional tasks, for example, it's definitely not suitable for editing heavy photos and videos. But for viewing multimedia content, communicating in social networks and instant messengers, checking email and browsing the web on an enlarged screen (if you don't have a smartphone for that), the power of the N-one NPad Pro is quite enough.
The tablet also has 8 GB of RAM, which has a positive effect on multitasking, and 128 GB of fast UFS storage, so installing apps and working with large files is fast.
As for gaming, popular well-optimised titles run smoothly on the tablet. I tried Asphalt 9 (even with high graphics quality) and PUBG Mobile – the gameplay is quite comfortable and smooth, with no frame drops.
But you should always keep in mind that the hardware capabilities of the N-one NPad Pro are limited, so heavy games may not behave well and you may need to reduce the quality of the game picture to play. Of course, simple arcade games will run on the tablet without any problems. By the way, playing on a tablet is especially enjoyable because of the powerful sound. But more on that later.
Read also: Lenovo Tab P11 Pro Gen 2 tablet review: digital Moleskin
The battery life of the N-one NPad Pro
If you use the tablet for 2-3 hours a day, its net autonomy is 2 days. The maximum standby time is three days. This is an average result, which cannot be called outstanding, I expected more from a 6600 mAh battery and a not very powerful chipset.
The PCMark Battery Life test, which simulates real-world use of the device in typical tasks (watching videos, browsing, reading texts, editing photos, working with documents, graphs and tables), only confirms my impressions of the NPad Pro – 7 hours and 27 minutes of continuous operation and 15% battery life remaining. Admittedly, the device's battery life is not very high by modern standards.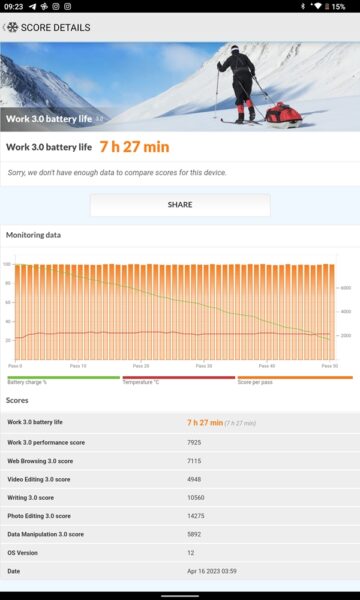 Also, I can't call charging the tablet from the bundled charger fast, although it supports a maximum power of 18 watts. But the first time I put the tablet on charge, it took a very long time. In 2 hours, the battery took 80% of the charge, and the remaining 20% took 1 hour and 45 minutes. The next time I tried charging from a Huawei P40 Pro (40W) and got about the same figures (3 hours and 20 minutes).
Over time, it seemed to me, the tablet's battery accelerated a little and started charging faster, but it still takes about 3 hours to fully charge, which is a very long time for me.
Read also: Lenovo Tab M10 Plus review: an affordable tablet for entertainment
Cameras
The main thing I can say about the main camera is that it is here! The quality is very mediocre, but you can take a picture of a document or a cat. The front-facing camera is even worse, so it's not suitable for selfies, but it's fine for video chats, although you shouldn't expect very high picture quality here either.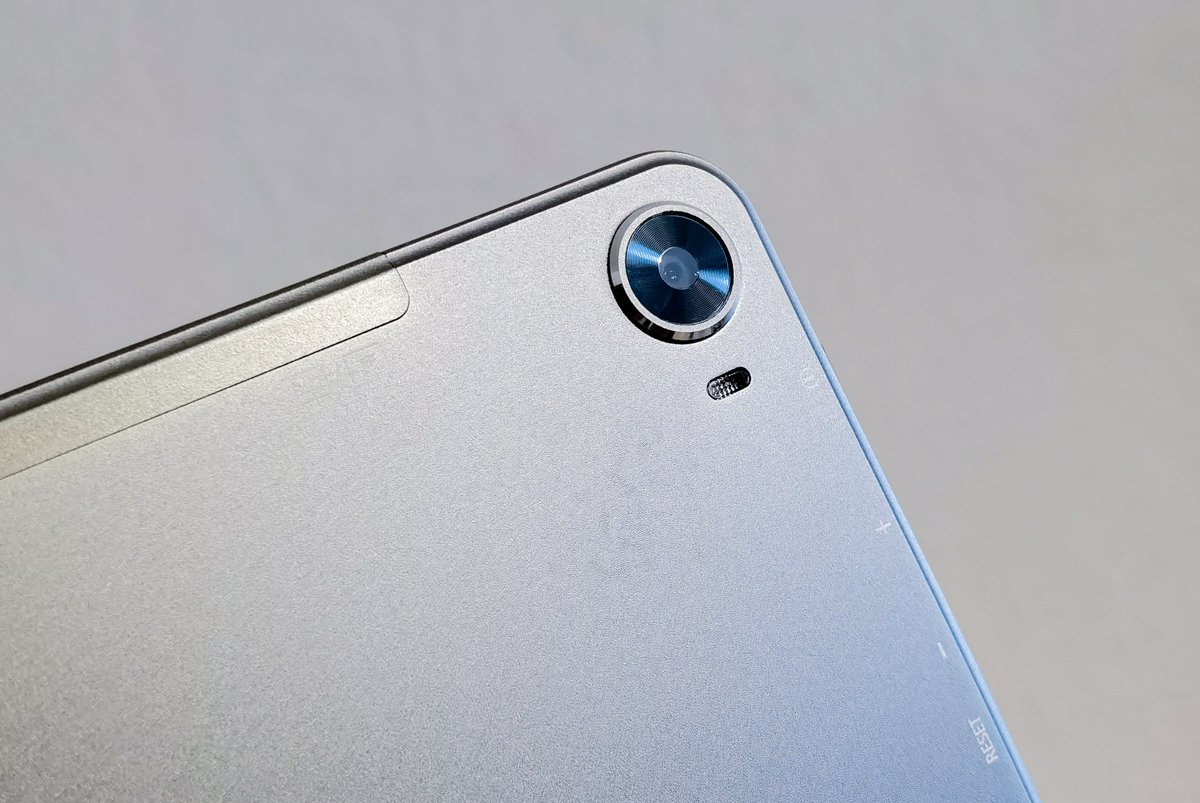 Communications
In this respect, everything seems to be fine. I'm not thrilled, but I don't have any specific complaints. The Wi-Fi module supports 2.4 and 5 GHz, it doesn't demonstrate record speeds (up to 100 Mbit/s), but it's enough for the tasks of the tablet. Bluetooth 5.0 provides a reliable connection with wireless headphones or a headset (remember, there is no 3.5 mm jack).
The tablet actually works like a large smartphone with support for two SIM cards that can be used for calls and mobile internet. Of course, you can talk, there is a phone application called dialer, but it is better to use a headset for this, otherwise you will have to turn on the speakerphone through the microphone and speakers of the device.
The NPad Pro also has a normal geo-positioning module with support for many satellite communication standards, so it is well suited for use in a car as a large-screen navigation device.
Read also: Huawei MatePad SE 10.4 tablet review
Sound
This is where the tablet does well. There are 4 high-quality and loud speakers. As a result, the tablet sounds like an inexpensive speaker, which is even surprising for a budget device. But in stereo mode, the speakers work only in landscape orientation, which is quite logical, because this is the position for watching videos and playing games. Moreover, you will not be able to block the speakers with your hands because of their placement. In landscape orientation, the channels will be separated from the top and bottom, which gives us loud, high-quality, but mono sound. In general, it's very good!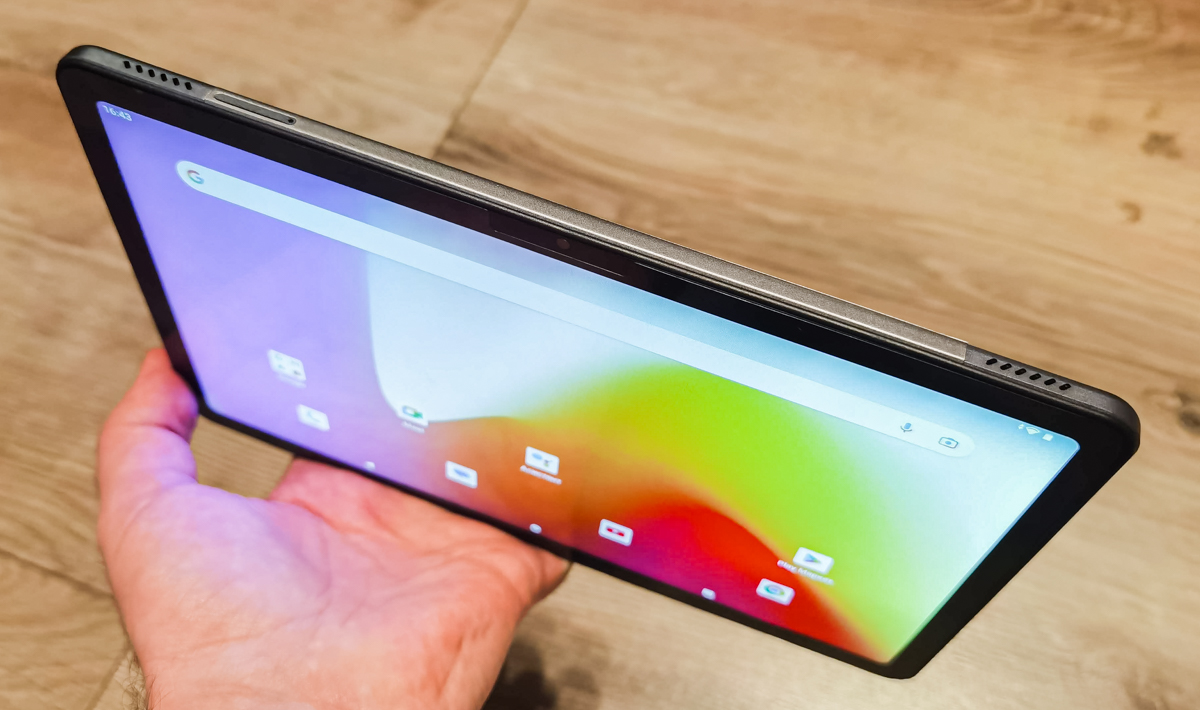 Firmware and software
The main software feature of the N-one NPad Pro is a pure Android 12 tablet without any interference from the manufacturer. That's why there's not much to tell here. The system is simple, you can choose to control it with buttons or gestures. The main feature of the interface is that it adapts to the colour scheme of the desktop wallpaper, changes the colour of the buttons and the menu background. After switching on the device for the first time, the firmware update was installed over the air. This means that you can count on some software and security updates, at least for the first year after buying the tablet.
Conclusions
Once again, the N-one NPad Pro tablet slightly exceeded my expectations. The device gives me even more than I expected to get from an inexpensive product of a previously unknown brand. The main advantage of the tablet is undoubtedly its high-quality IPS display. Because when we buy a tablet, we essentially buy a large screen and it is important that it is good, and here we get exactly that.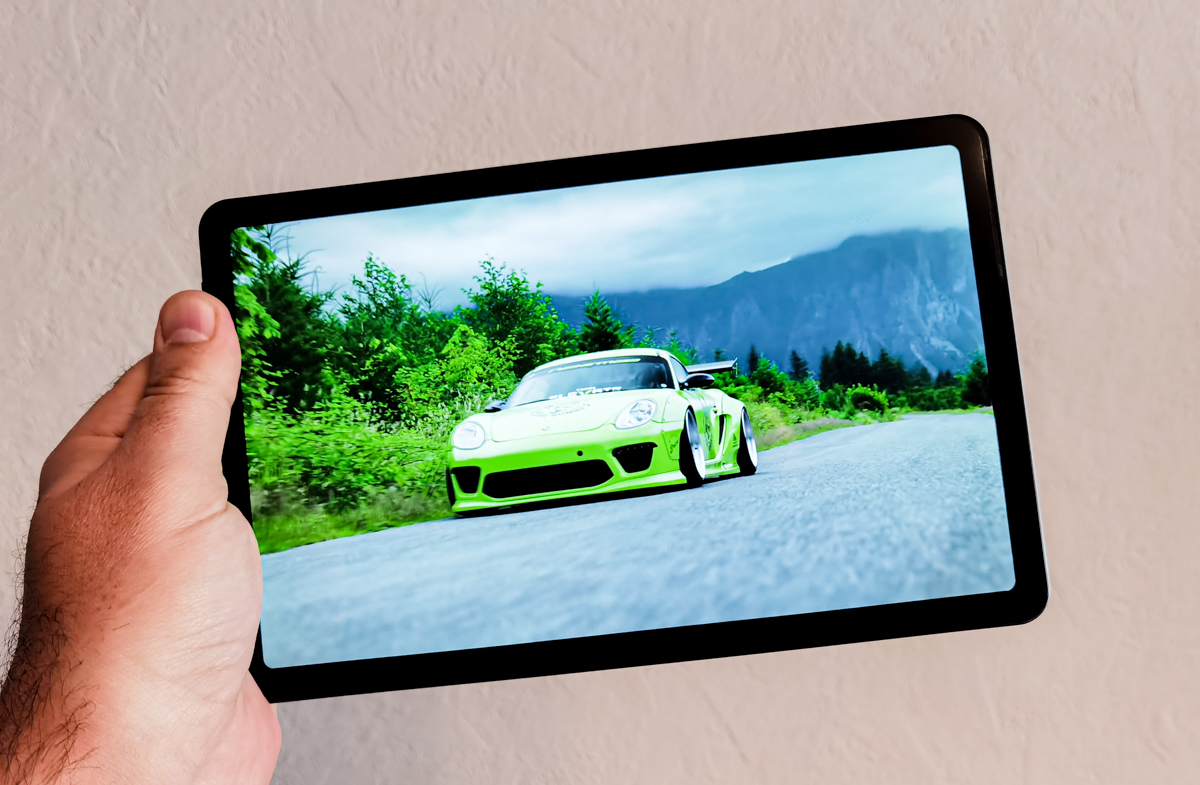 Next, I would like to note that in addition to the screen, we have a cool sound, which is also important when watching videos and playing games, and these are probably the main tasks of a tablet as a class of devices, you will agree. Let's also not forget about increased multitasking, a large amount of fast memory and support for memory cards, because this is also very important in a tablet, especially if you will download local videos to watch when travelling without the Internet. However, the tablet has 4G and GPS modules to keep you connected and navigate in any conditions.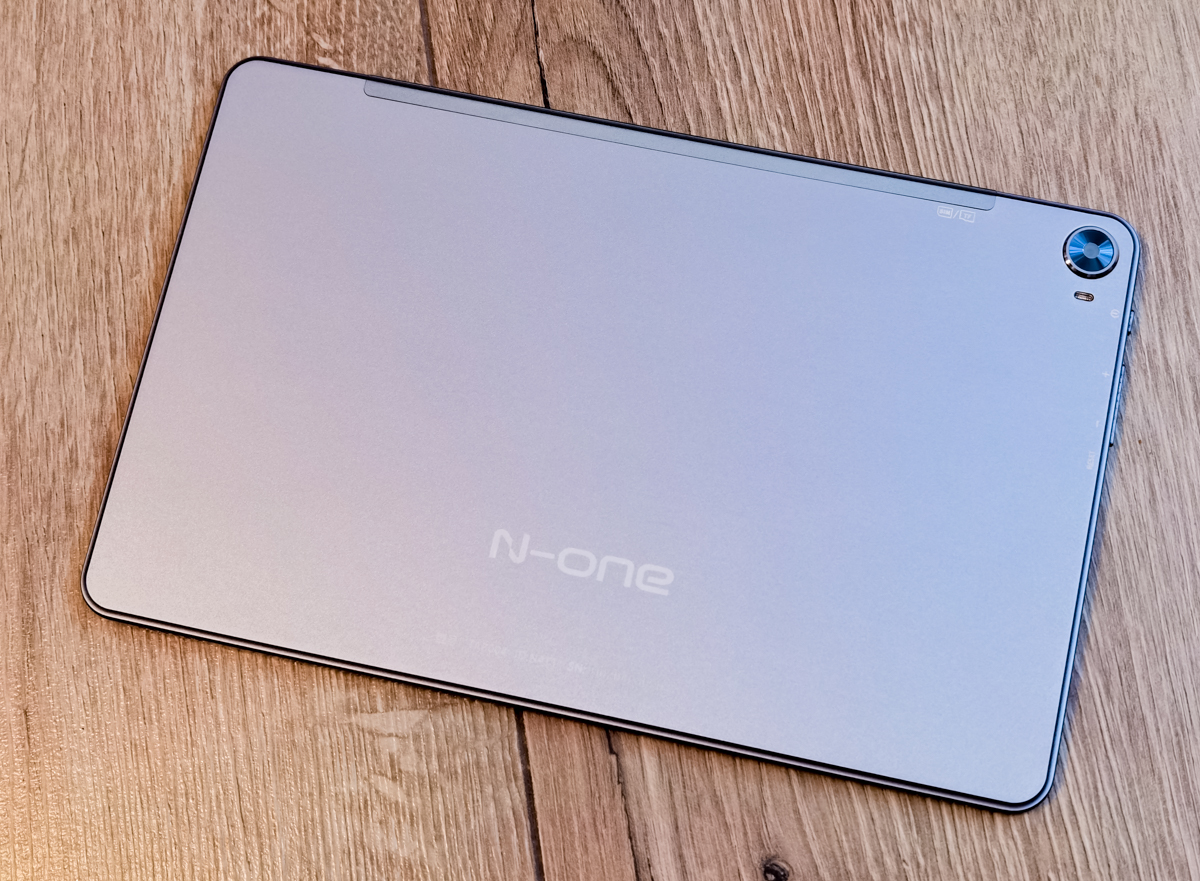 There are also some drawbacks. The main one, in my opinion, is the battery, which provides average autonomy, the tablet will need to be charged every day during intensive use or at least every other day. Also, charging takes a very long time by modern standards, which is another disadvantage of the NPad Pro. I also have some complaints about the quality of the screen protector, and it would be nice to have a case included, because it's quite difficult to find this accessory for this model separately.
Overall, the N-one NPad Pro is a pretty good tablet that I can recommend for purchase. I'll keep the device for personal use for now, and this fact alone is worth a lot, because not every device I've tested has been awarded such an honour.
Where to buy N-one NPad Pro