The most interesting realme tablet is the 11-inch Pad X. The device offers 5G network support with good components at a very reasonable price. realme Pad X was created for users who are looking for a tablet for entertainment and work. It has a battery with long battery life, 5G network connection, a large display, compatible accessories: stylus and keyboard, four speakers. According to the manufacturer, these are the features that will show themselves best when working remotely. Is it worth buying this rather rare and unusual gadget? Here is a review to help you decide.
Read also: realme Pad review: First tablet from the brand
Specifications of the realme Pad X
Display: 10,95″ IPS LCD, 1200×2000 pixels, 5:3 aspect ratio, 213 ppi, 120 Hz
Chipset: Qualcomm Snapdragon 695 6nm 8-core Cortex-A78, Cortex-A55, Kryo 660, 2.2 GHz
Graphics processor: Adreno 619 @ 840 MHz
RAM: 4/6 GB LPDDR4X
Permanent memory: 64/128 GB
Available configurations: 4/64 GB Wi-Fi, 4/64 GB 5G, 6/128 GB 5G
Memory expansion options: microSD up to 512 GB
Main camera: 13MP f/2.2, 1.12μm, 26mm 112° wide-angle, 1080p@30fps video
Front camera: 8 megapixel f/2.0, 27 mm, 105°, ultra-wide-angle, 1080p@30fps video
Battery: 8340 mAh Li-pol
Charging: 33W fast charging, reverse charging, USB Power Delivery
Operating system: Android 12, realme UI 3.0 shell
Dimensions: 256.50×61.10×7.15 mm
Weight: 499 g
Connectivity: Wi-Fi or 5G (RMP2107 or RMP2108)
Accessories: realme Pencil and realme Smart Keyboard (sold separately)
Positioning, price and availability
relame Pad X is the third tablet from the manufacturer. In the fall of 2021, relame introduced its first tablet, the realme Pad (here's our test), and in 2022 – the realme Pad mini. Like previous models, the Pad X is quite affordable, especially considering the features offered by the manufacturer.
It is available in 4/64 GB Wi-Fi and 5G configurations in two variants: 4/64 GB 5G and 6/128 GB 5G.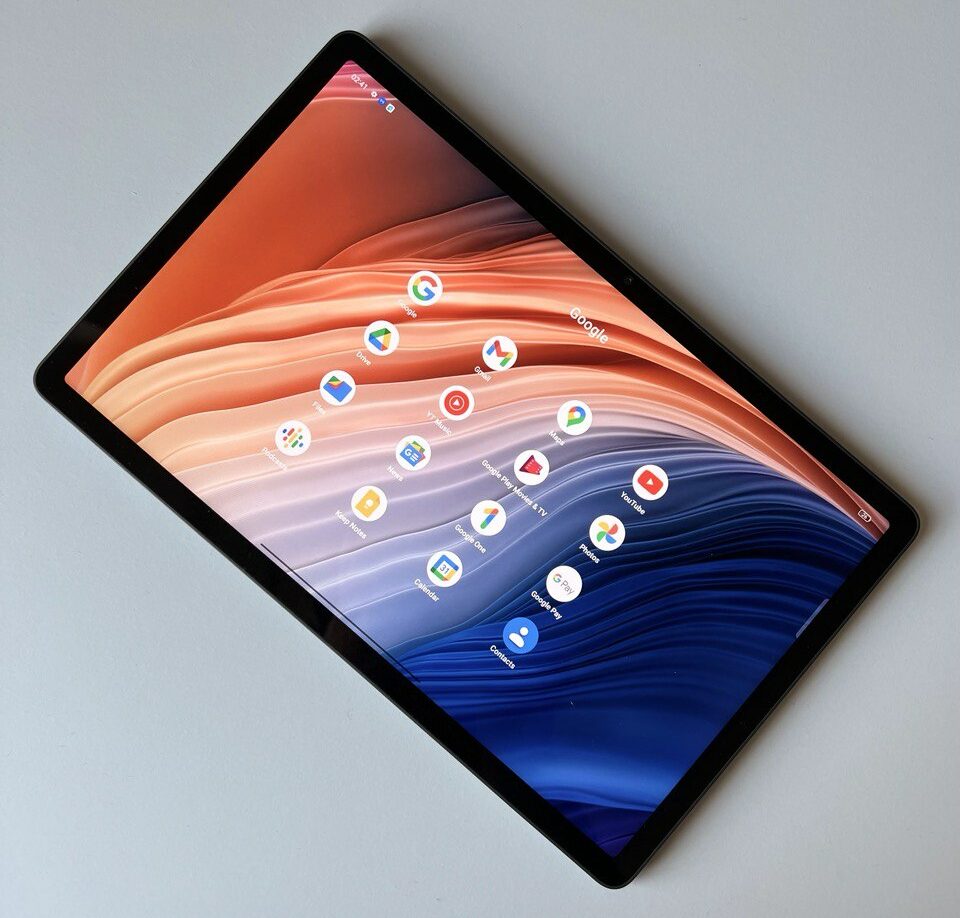 Currently, the tablet is only available in India, but realme intends to introduce it to the global market. The device is currently available for purchase online at the same AliExpress.
Additional accessories
realme has developed the realme Pencil and realme Smart Keyboard, which are compatible with the realme Pad X. The accessories connect to the tablet via Bluetooth. We received them for testing along with the tablet.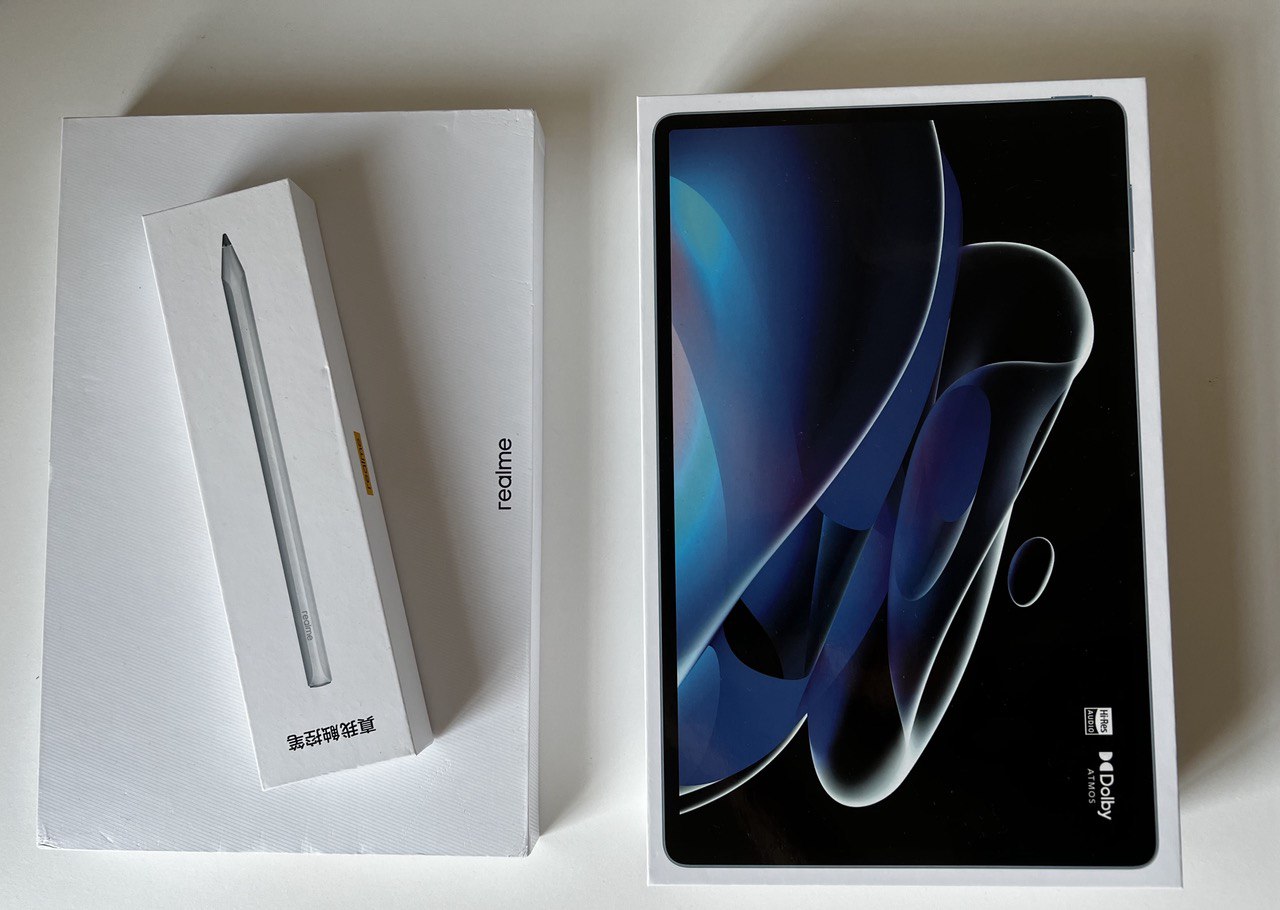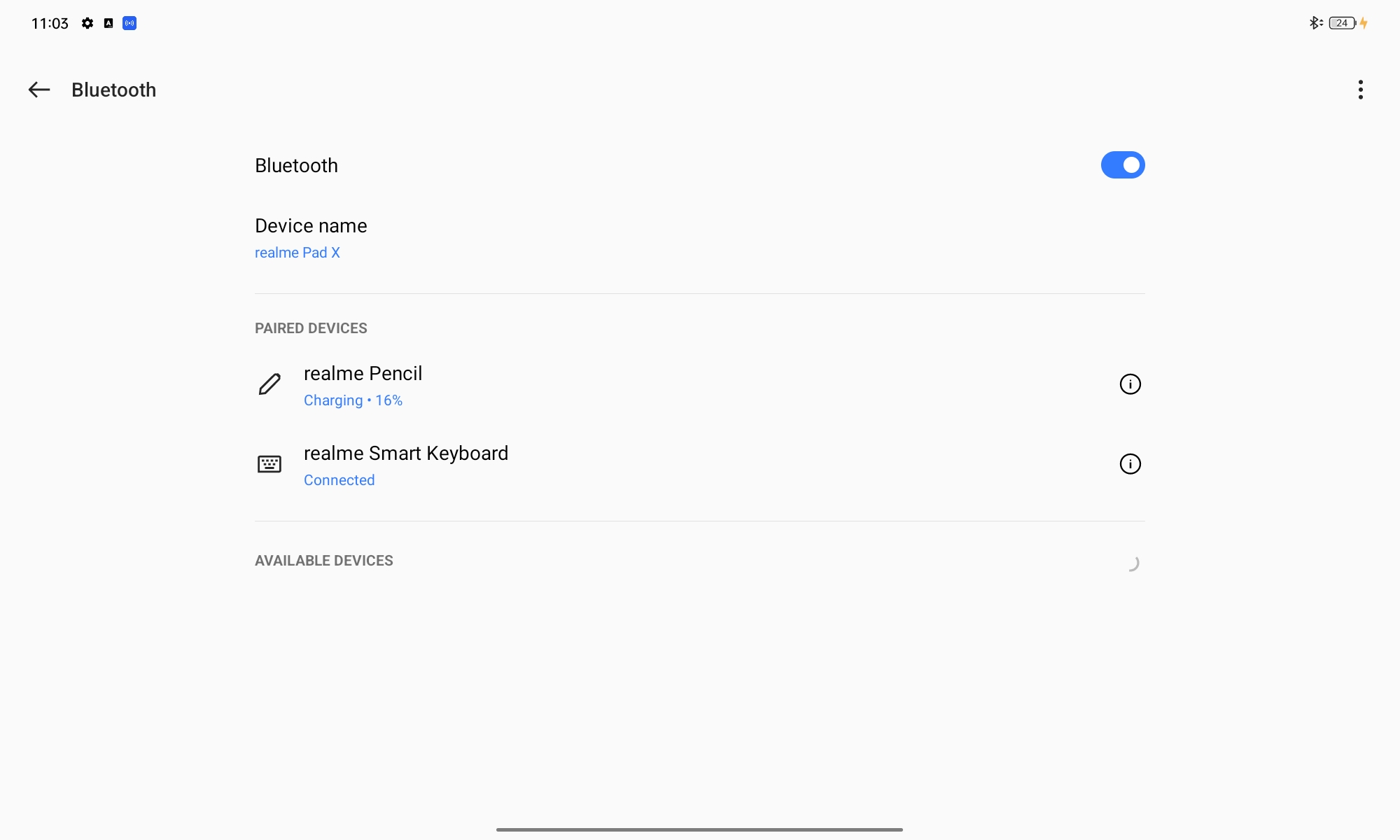 The accessories have proven to be very useful when using office programs such as Microsoft World, Excel, or Google Sheets. A great option, especially for remote work.
The stylus is made of polycarbonate and weighs 16.5 g. It recognizes 4096 levels of pressure and has a touch sampling rate of 240 Hz. The stylus supports writing at a 60° angle. According to the manufacturer, the battery should last for 10 hours.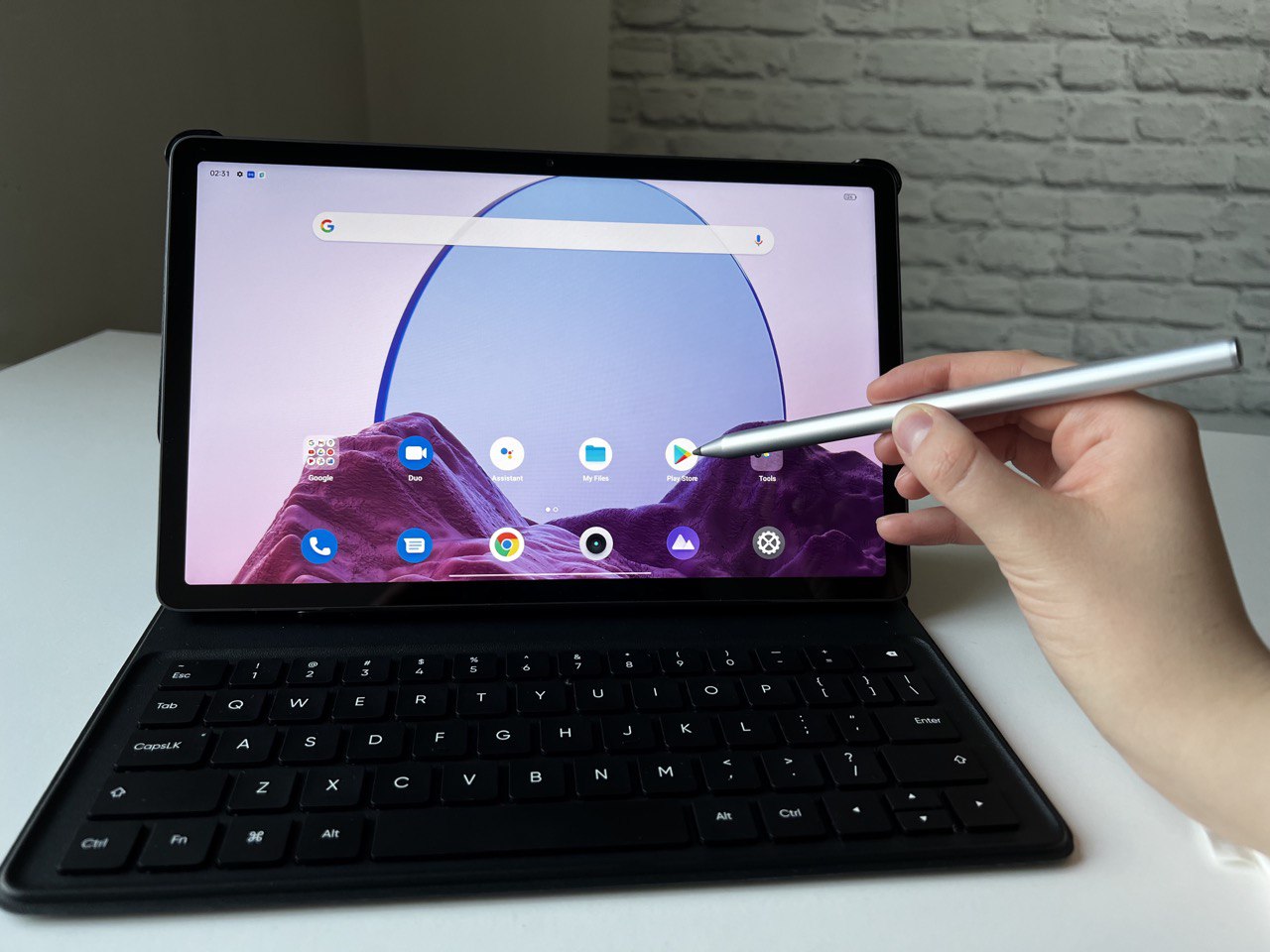 Charging the stylus is very easy. To do this, you need to place it on the top edge of the tablet, and thanks to magnetic wireless charging, the realme Pencil will draw energy from the tablet. 4 minutes of charging is enough for an hour of work. There were no problems with the stylus, either when handwriting or drawing. It is made of a nice material and fits very well in the hand.
realme Smart Keyboard serves as a hard case and a stand at the same time. It has a built-in kickstand that greatly enhances the comfort of working, browsing the web, watching movies, taking photos or reading. It also has a 1.3 mm key travel and a 280 mAh battery, which is said to provide up to 112 hours of continuous typing. Typing on the keyboard is pleasant, the key travel is good.
The keyboard case is made of skin-friendly PU material and connects to Pad X via Bluetooth. It is activated by a small switch at the bottom of the case. The keyboard needs to be charged separately via its own USB Type-C port.
Unfortunately, this is not a device that can fully replace a laptop. The keyboard does not have a built-in touchpad, so you need to touch the screen or connect a mouse to browse the web or view files. There is also no backlight on the keyboard, so working in a dimly lit room will be problematic.
The tongues for the tablet are made of plastic, which makes it very difficult to insert and then remove the tablet. It was scary to break them.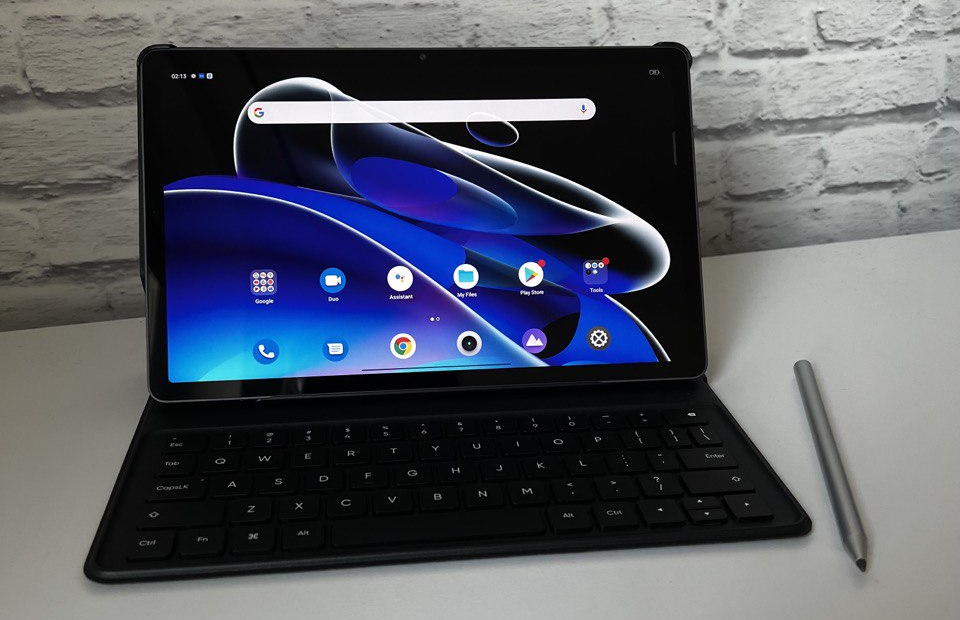 A separate plus is the addition of the Fn key, volume, brightness, screen capture or navigation functions.
Read also: Realme 10 Smartphone Review: A New Mid-Range Hit?
Package contents
The realme Pad X comes with a 33W charger, power cord, and documents.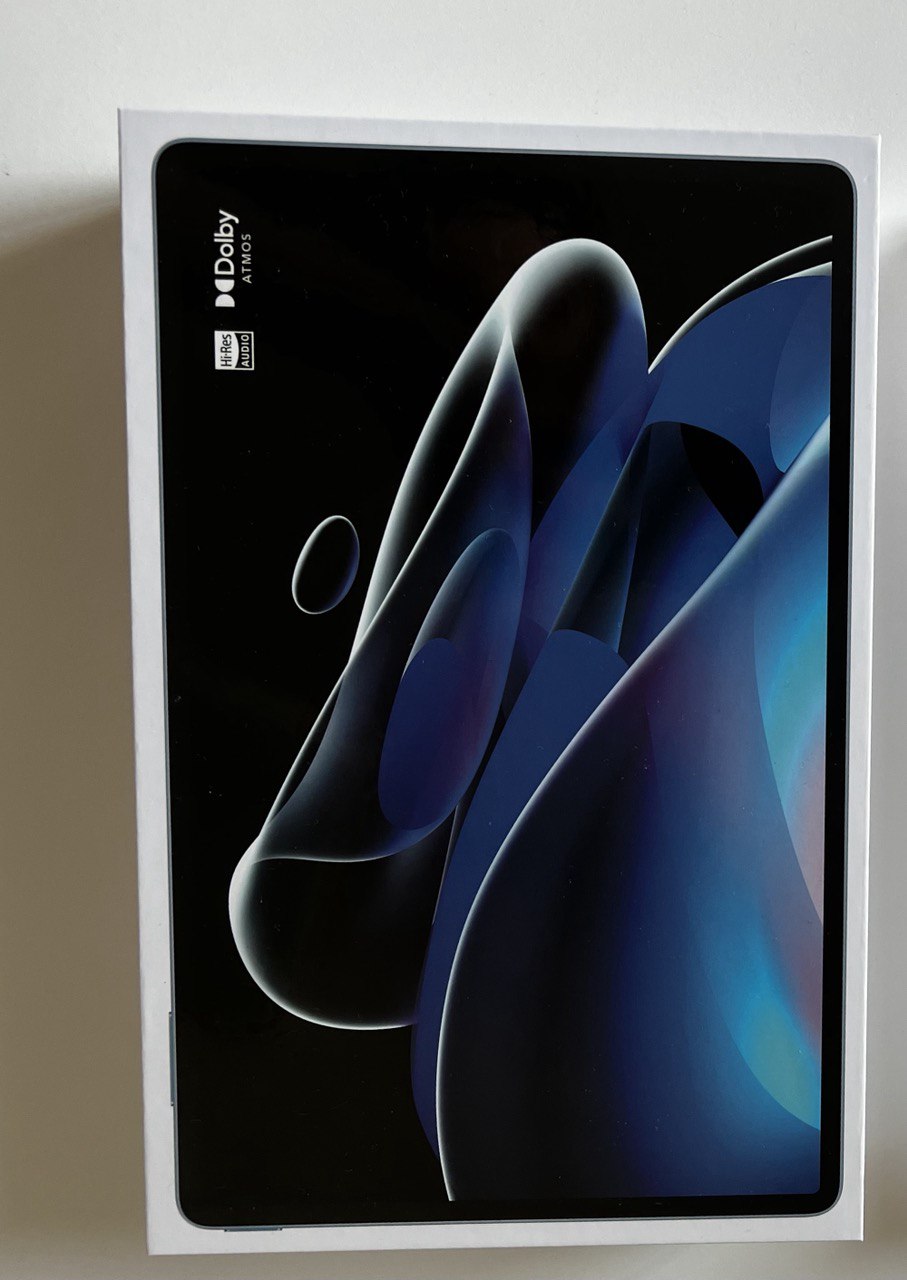 Design, materials and construction
The realme Pad X has a simple, aesthetic design without any unnecessary features. It resembles smartphones realme 9 series.
Like almost every Android tablet, the realme Pad X also has a laconic design: smooth bezels and rounded edges. There is a camera on the front panel (landscape mode). This arrangement allows you to keep the user in the center of the frame during video calls.
It has narrow bezels with the same thickness on all sides and resembles the latest iPads, but the width is sufficient to avoid accidental touches. The body is quite thin (7.1 mm), so it is easy to hold. The frame is metal.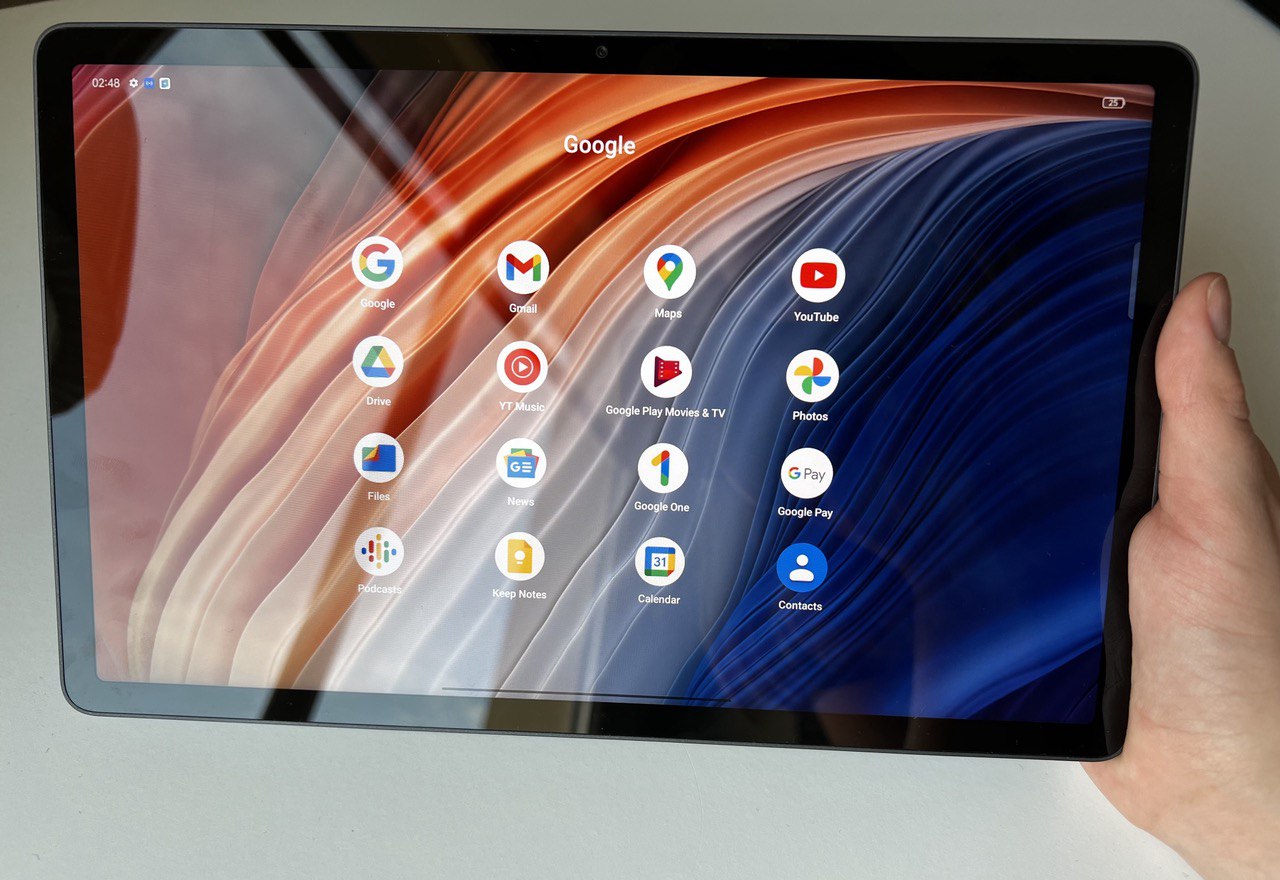 The back of the tablet does not actively collect stains or fingerprints. It has a plastic coating that is more susceptible to scratches than aluminum or glass. However, it doesn't look cheap. On the contrary, the matte finish makes it look quite exclusive.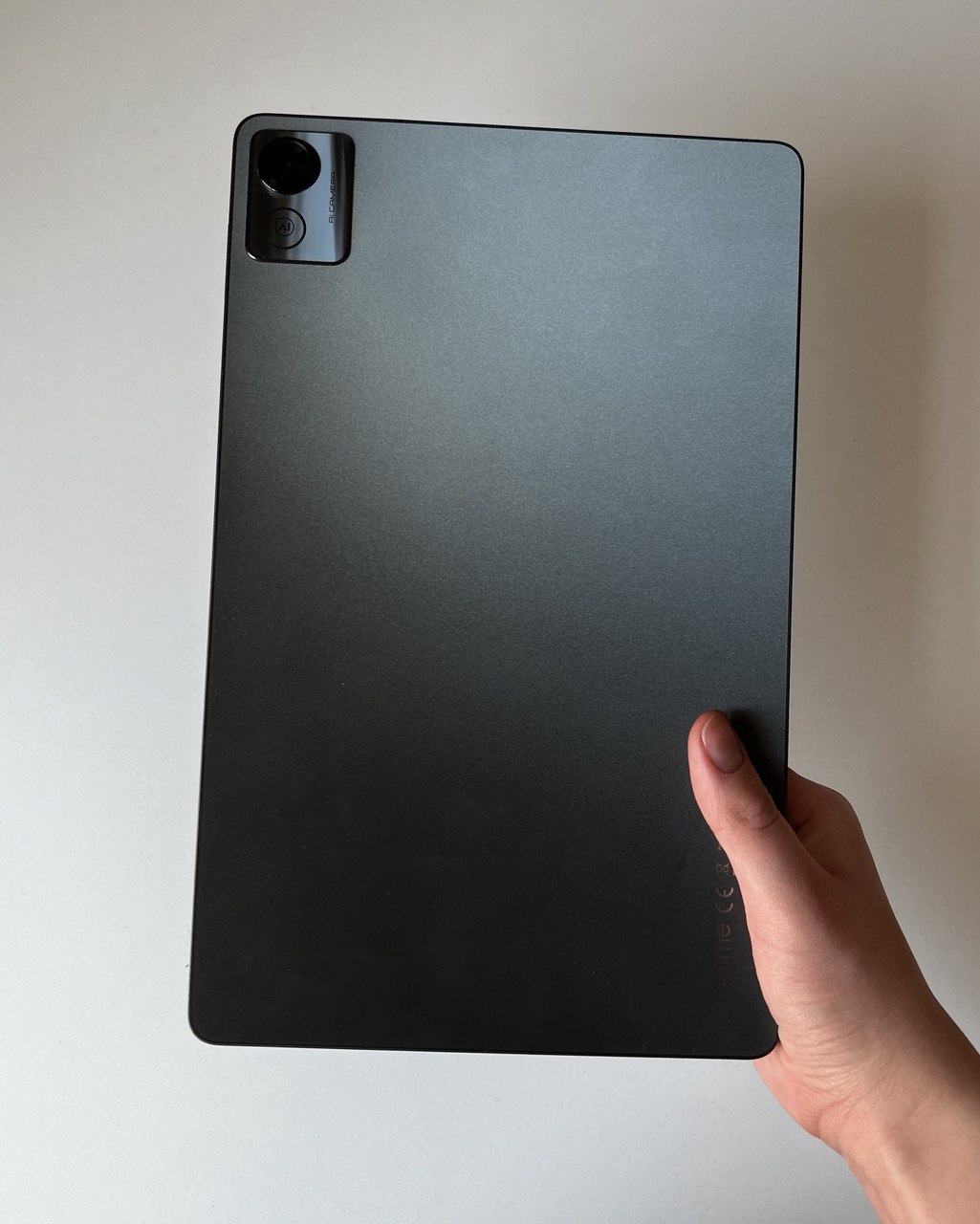 The rear camera frame made of glassy material looks interesting – it's a nice addition that affects the aesthetics of the tablet.
The tablet is available in two colors: Glacier Blue and Glowing Grey. The Glacier Blue color is supposed to hide fingerprints and smudges a little better.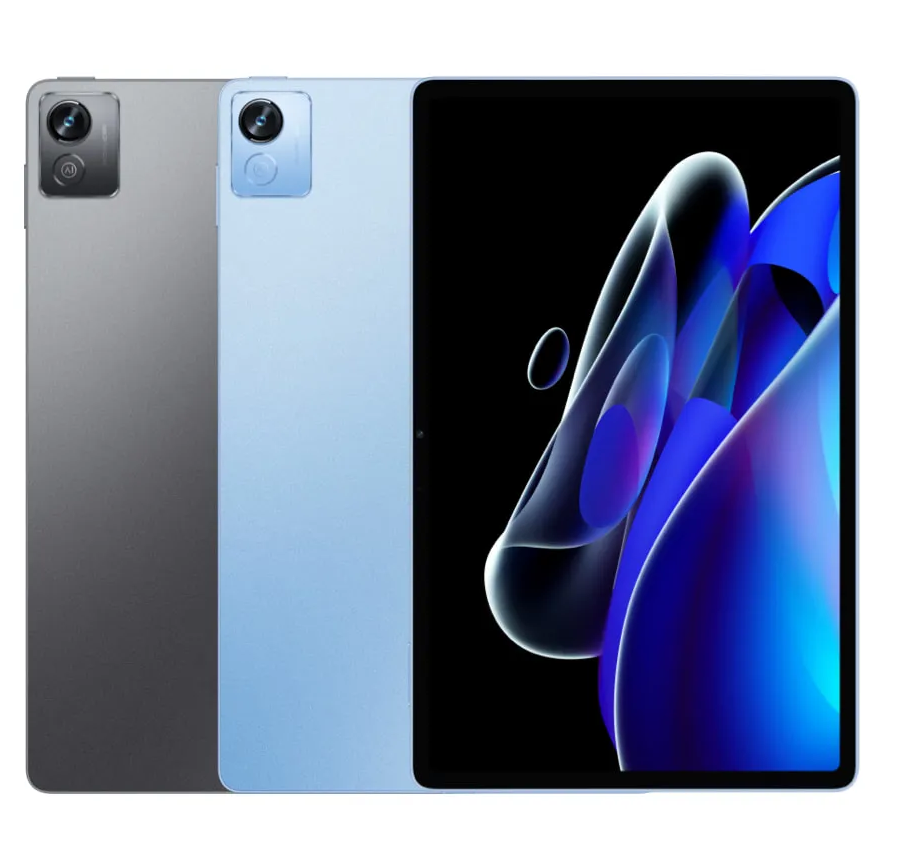 Arrangement of elements
Around the edges of the tablet we find a standard set of elements. Two speakers on the bottom and top, USB type C, volume keys, a lock button, a SIM card slot, and a microphone hole.
When we hold the realme Pad X upright, two of the four speakers and the power button are located on the top end. On the bottom edge are the other two speakers and a USB Type-C port. On the right edge are the volume buttons, and on the left is the SIM card slot.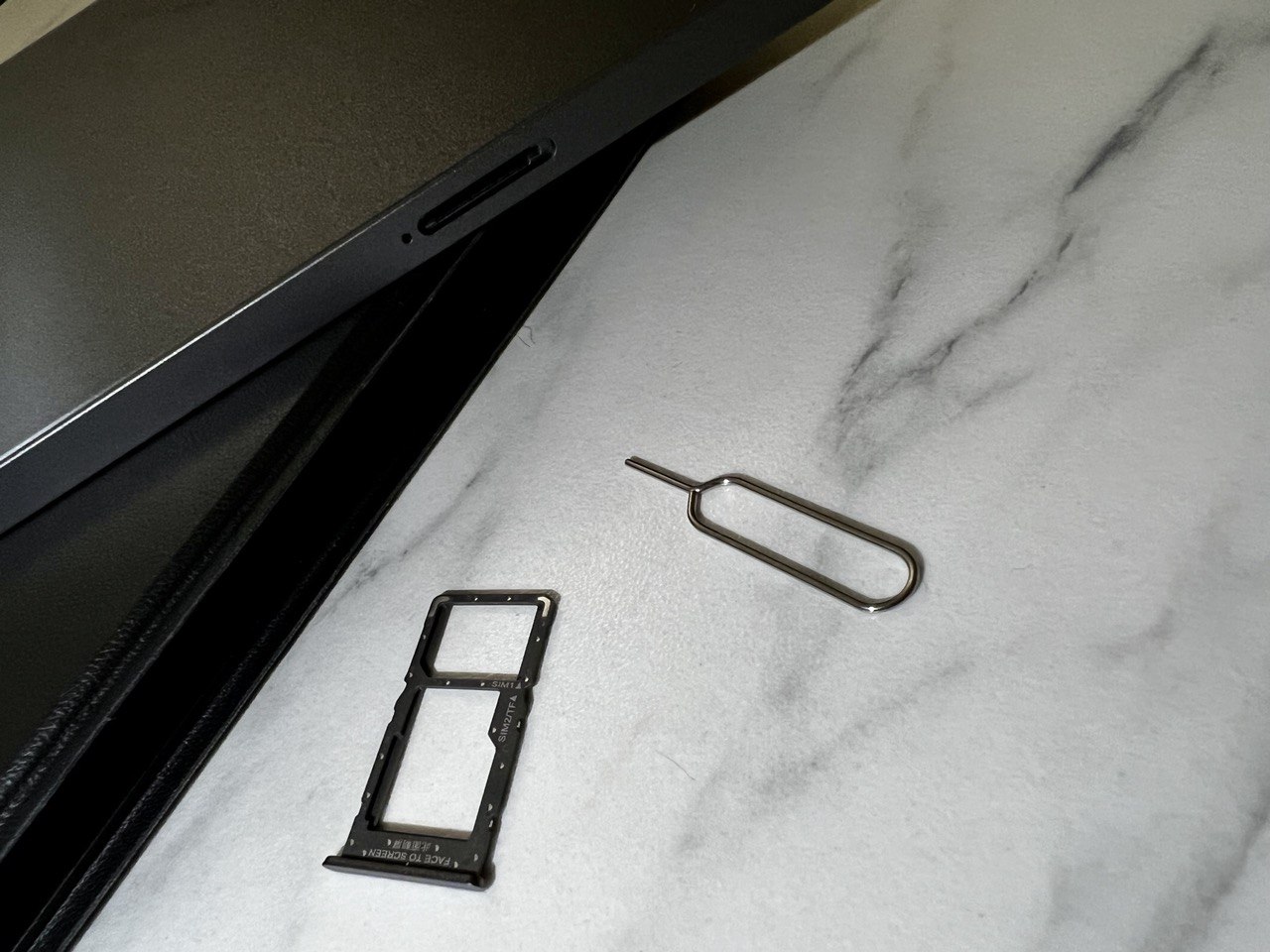 Note that there are no buttons or fingerprint scanner on the display. You can unlock the display with a passcode or Face Unlock.
Ergonomics
The tablet is very thin, with smooth and small bezels that make it easy to use with one hand.
The tablet is also light at 499 grams. It is slightly heavier than its predecessor and other competitors on the market. realme Pad weighs 440 g. The difference is small, almost imperceptible.
The buttons on the tablet are ergonomically arranged, allowing you to use it in both landscape and portrait modes. However, by holding the device with both hands in a horizontal position, we can cover the speakers with our hands.
The device is clearly designed for use in landscape mode, since the power button is located in the upper left corner, the front camera in this orientation is located in the middle of the top bezel, and the keyboard can only be used in this position.
Using the tablet on a flat surface, without a case, can be a little uncomfortable. Due to the protruding camera module, the tablet will wobble, especially when you are entering handwriting.
Read also: realme 9 4G review: Midranger with 108MP camera and 90Hz screen
Realme Pad X display
realme Pad X has a large 10.95-inch IPS display with WUXGA+ resolution (1200×2000 pixels). You can see the typical drawbacks of an LCD panel – insufficient black depth or not very rich contrast, but despite the LCD screen, watching movies on Netflix or YouTube is very pleasant. In addition, thanks to Widevine L1 support on the realme Pad X, you can play content in Full HD. This is a huge advantage for a tablet in this price range.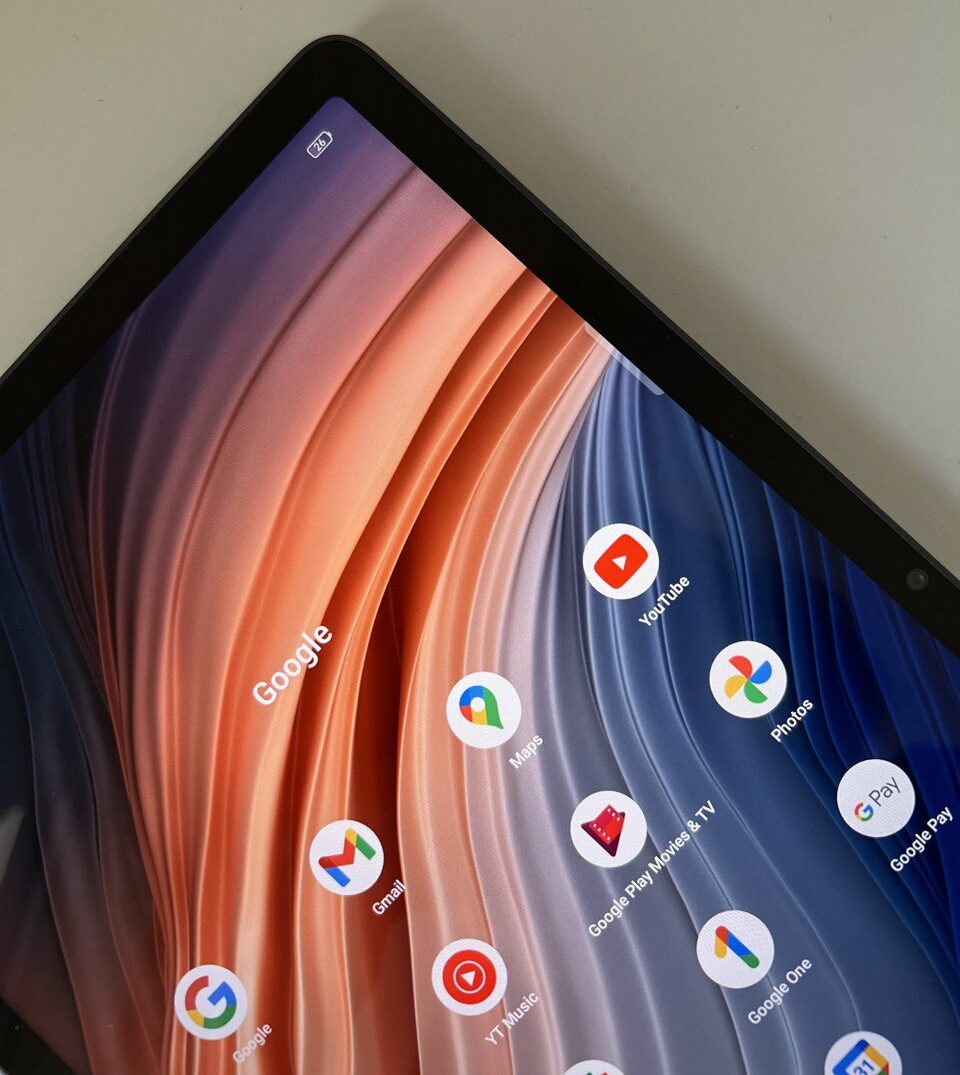 The realme Pad X has the largest screen in the series, but with a 60Hz refresh rate, just like its predecessor. You can find tablets on the market that offer a display with a refresh rate of 90 Hz.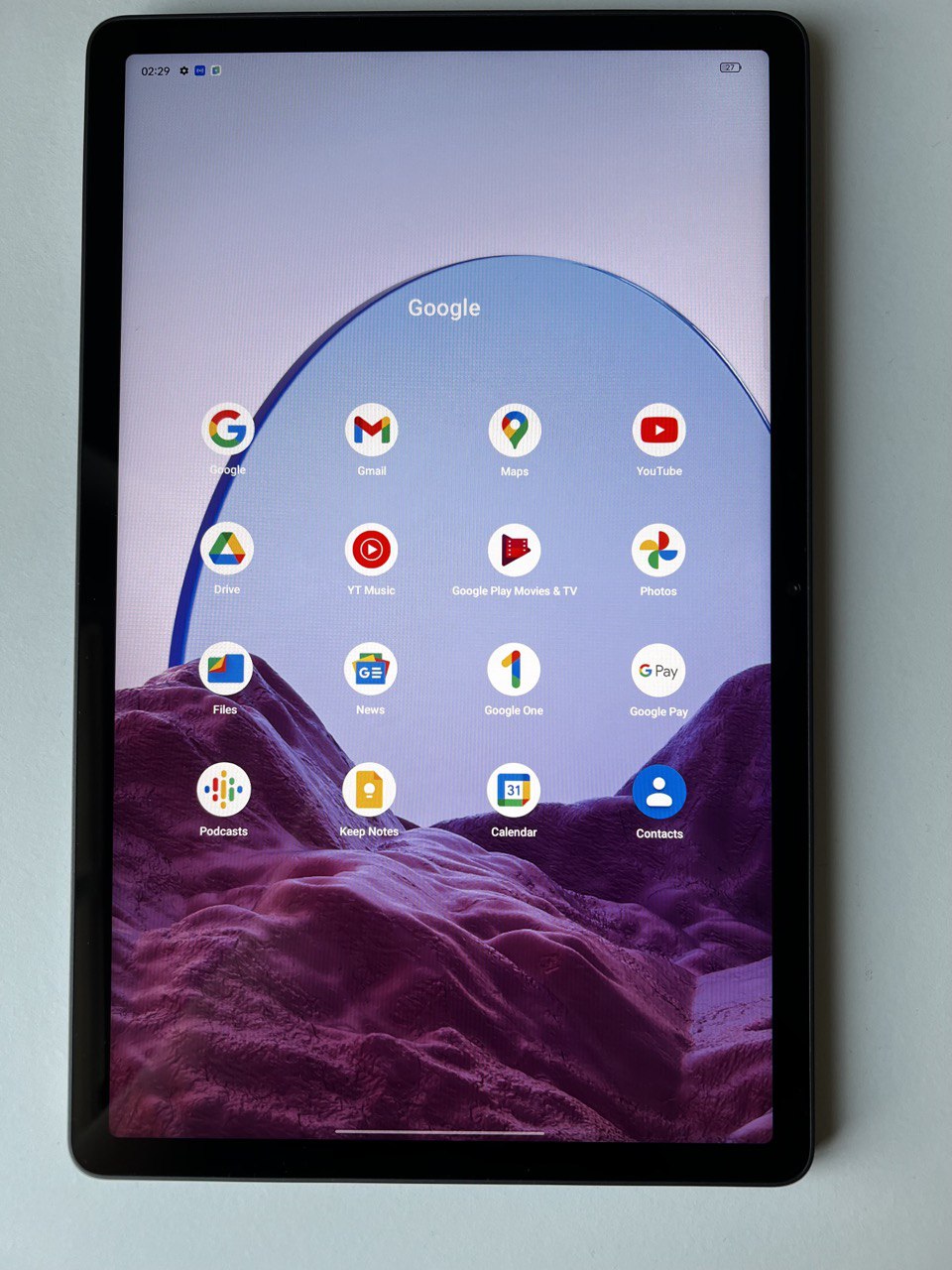 The downside of the display is the resolution, which is not enough for such a diagonal. You can see that the pixel density is not enough, fonts and inscriptions are a bit blurry. When using it, it can be inconvenient to adjust the screen brightness – it changes slowly and not always accurately.
A familiar but noteworthy solution is the reading mode. It is perfect for working with large documents or reading e-books, and allows you to adjust the color tone and contrast of the display. There are two modes: Eye Comfort Mode, which adjusts the color temperature, while Dark Mode is more suitable for very dark environments.
We used the Multi-Screen Collaboration feature, which is already available on Honor and Huawei devices. This is another solution that facilitates remote work through simple file or screen sharing. However, this feature is not yet available on all realme devices.
Different themes and modes are available: light/dark, eye protection. There is screen personalization, a separate reading mode (black and white), and color temperature adjustment. The settings for wallpaper, standby time, automatic brightness, rotation, font size, etc. are familiar to most devices.
Read also: Samsung Galaxy S22 Ultra review: the best Android smartphone?
Performance
The Snapdragon 695 chipset has enough power for everyday tasks, and there were no performance issues during use. This is one of the first tablets based on the Snapdragon 695 6nm processor. It has 2 A78 cores with a clock speed of up to 2.2 GHz, 6 A55 cores with a clock speed of up to 1.8 GHz.
The device was mainly used to perform everyday tasks: multimedia, web browsing, social networks and programs, with these tasks the processor copes without problems, with multitasking also shows itself well. There were no delays when navigating apps, games, websites, etc. With prolonged use, it gets a little hot, but not too much. It's a simple, reliable system that will get the job done no matter what.
Cameras
The realme Pad X is equipped with a 13-megapixel main camera and an 8-megapixel front camera. Both can record video in 1080p@30fps. The tablet should work well when taking photos of documents, scanning. realme Pad X has proven itself in this regard.
The main camera is good and takes decent pictures in daylight. Photos of text are legible and of high quality. The 8-megapixel front camera has a wide viewing angle of 105 degrees.
Photo examples:
PHOTO FROM REALME PAD X IN ORIGINAL RESOLUTION
Compared to its predecessor, the Pad X has a new feature called Limelight, which allows you to make video calls in Google Duo, Google Meet, and Zoom. It can also track the position and movement of multiple people. This feature uses the option of intelligent tracking of the interlocutor to keep him/her in the frame at all times, providing smooth transitions, improves lighting during a video call by adjusting the settings. The feature works well, it's accurate and fast, as expected. Limelight is realme's answer to the Spotlight feature used in Apple products.
Read also: realme 9 Pro+ Review: Sturdy Middle with Curious Design
Battery
In terms of battery life, the tablet has a standard 8340 mAh battery. The Snapdragon 695 is quite energy efficient and provides long battery life. The manufacturer promises up to 19 hours on a single charge. Working all day, and with eight hours of YouTube and Netfilx, the tablet did not need additional charging. In total, I got 17 hours on a single charge. With slightly less frequent use, you can safely charge it every two days.
A 33 W charger is included in the package. It takes about 3 hours to fully charge. This is a long time, but we keep in mind the high capacity of the battery.
Sound
realme has paid a lot of attention to sound. We have 4 stereo speakers located on either side of the display that support Dolby Atmos. The sound is loud and clear. Demanding users may argue that the bass could be boosted, but it's not noticeable when watching YouTube or Netflix. Unfortunately, there is no 3.5 mm audio jack.
Read also: realme 9i Review: For Whom Is This Budget Phone?
Data transfer
realme Pad X supports 5G network. The SIM card slot is located on the left side of the tablet. More precisely, there are two slots, one of which is for SIM/microSD. There is also 4G VoLTE with support for carrier aggregation.
realme Pad X is available with Wi-Fi in addition to 5G models. The 5G version has a hybrid dual-SIM slot, so you can use two SIMs or SIM+microSD. There is dual-band 802.11 ac Wi-Fi (2.4+5 GHz). There is also Bluetooth 5.1, GPS, GLONASS, and USB OTG support for connecting external drives.
Realme Pad X software
In terms of software, the realme Pad X is powered by Android 12 based on realme UI 3.0. The software also has some useful features such as support for split screen, sidebar, and floating windows. You can turn on the split screen by swiping two fingers down from the top of the display. Several apps that support floating windows appear in the sidebar. This means you can place these apps anywhere on the screen while the main app is running in full screen mode.
realme Pad X has 128 GB of internal storage. The manufacturer did not install unnecessary programs, which is nice. We have the main applications from Google. Parents will definitely appreciate the installation of Kids Space. Thanks to the stylus, the device can be easily used, for example, for drawing.
Read also: Realme GT Neo 2 review: Almost a flagship killer
Conclusion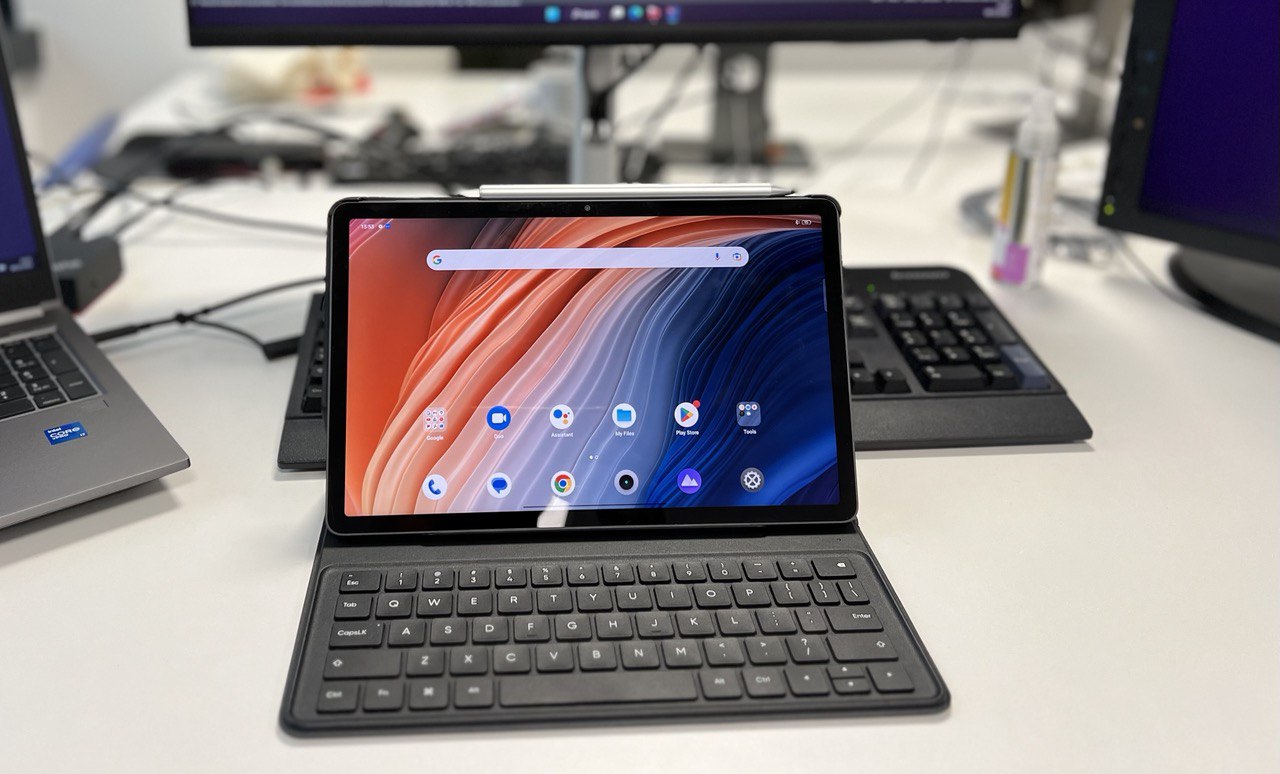 The realme Pad X is a great offer for people looking for a mid-range tablet with good performance. It has everything a good gadget should have, especially for remote work. The manufacturer has created special accessories to facilitate work – the realme Pencil stylus and Smart Keyboard, but they need to be purchased separately.
The advantages include the ability to split the screen or share it with a smartphone, as well as the Limelight function, which makes video calls more convenient. In addition, there are no delays when switching between applications.
For some, the lack of a fingerprint scanner may be a problem, but Face Unlock works very well and allows you to unlock the device instantly.
The manufacturer is targeting this tablet at people looking for a very portable alternative to a laptop. And it is. The compact size and lightweight design make it easy to use and work with. In addition, the price-performance ratio also motivates the purchase.
The realme Pad X is an Android tablet worth considering, especially if you need an additional device for work and play.
Advantages of Pad X
Smooth operation
Decent battery life and fast 33W charging
DualSIM, 5G
MicroSD slot, USB OTG
Customized accessories that make your work easier
Speakers with Dolby Atmos technology
Large display
Clean, feature-rich software
Cons of Pad X
No 3.5 mm jack and fingerprint scanner
Glossy display is not suitable for use in bright light
The camera is of average quality
The optional keyboard does not have a touchpad
Where to buy
Читайте також: