As they say, sometimes it's empty, sometimes it's full – and here I am holding another tablet in my hands. I've already had a super-giant, a premium notebook as well, so what interesting things did Redmi Pad have in store for me?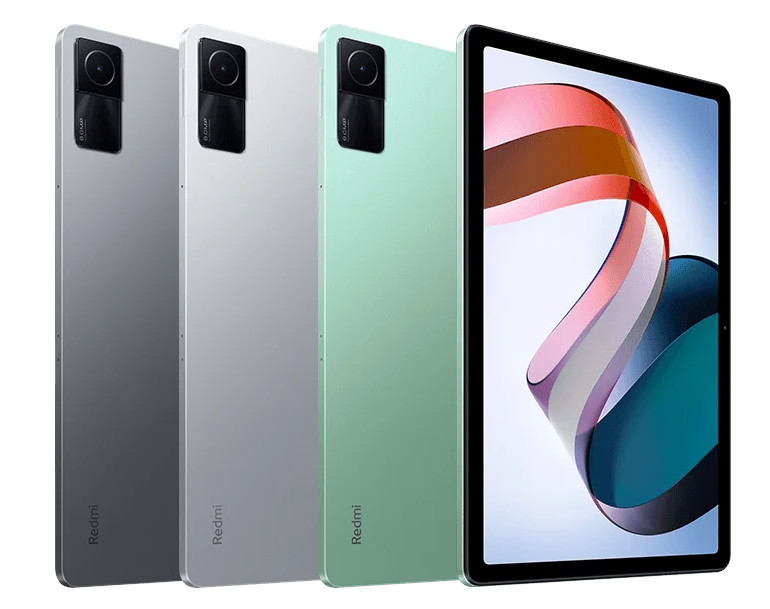 Redmi Pad specifications
Display: 10.61″, IPS, 90Hz refresh rate, 2000×1200 pixels
Chipset: MediaTek Helio G99 (6nm), 8 cores (2×2.2 GHz Cortex-A76 & 6×2.0 GHz Cortex-A55)
Graphics accelerator: Mali-G57 MC2
RAM: 3/4/6 GB
Permanent memory: 64/128 GB
Wireless networks: Wi-Fi 802.11 a/b/g/n/ac, Bluetooth 5.2
Main camera: 8 megapixels, f/2.0, (wide), AF
Front camera: 8 megapixels, f/2.3, 105°
Battery: 8000 mAh
OS: Android 12 with MIUI 13 shell
Dimensions: 250.5 × 158.1 × 7.1 mm
Weight: 465 g
Redmi Pad complete set and positioning
The tablet comes with a minimalist standard package: a USB Type-C cable, a 22W power supply, and paper manuals.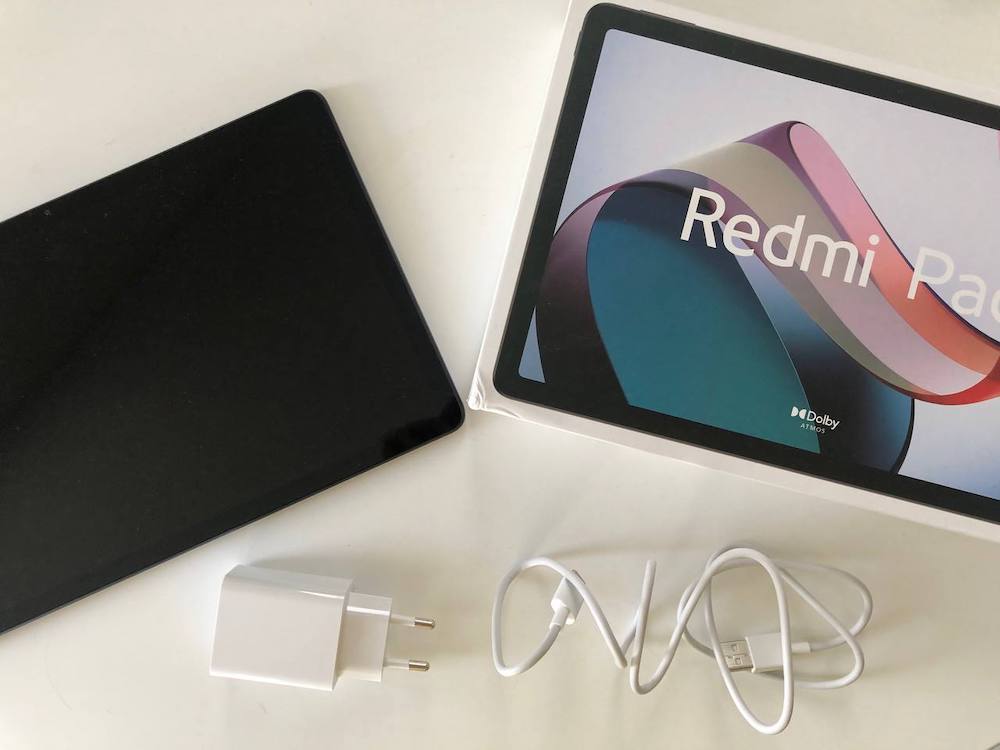 As you might expect from a Redmi product, the tablet is positioned as a mid-range device that doesn't cost all the money in the world. This is probably the most saturated niche, and the competitors are very similar to each other. Therefore, you need to carefully choose what, apart from the price, can attract a buyer.
Redmi Pad design
The use of metal in the construction of a tablet always has specific pros and cons. On the positive side, the tablet immediately feels more robust in terms of build quality and more elegant in terms of aesthetics. However, this sophistication quickly disappears as soon as you start using the device properly – you get tired of wiping fingerprints off the matte surface after about the second week.
The bezels around the tablet's screen are not the thinnest – the same Huawei that I recently tested is more in line with the concept of bezel-lessness. But there is nothing catastrophic either, just a regular tablet.
The power button and double volume button are located in the corner of the top and left sides. The developers left the bottom edge blank.
There are stereo speakers on the sides – two on each side. It's nice that they are loud and balanced enough to make watching movies on this gadget a complete pleasure. You can't ask for much more from a tablet, especially considering that this is not a top-of-the-line multimedia device.
Read also: Redmi Note 11S review: A good balanced mid-ranger
Redmi Pad screen
The resolution here is quite high – 2000×1200 pixels, which allows you to get more than 225 pixels per inch. The screen ratio is 5:3, which makes it a little more elongated than the usual 5:4.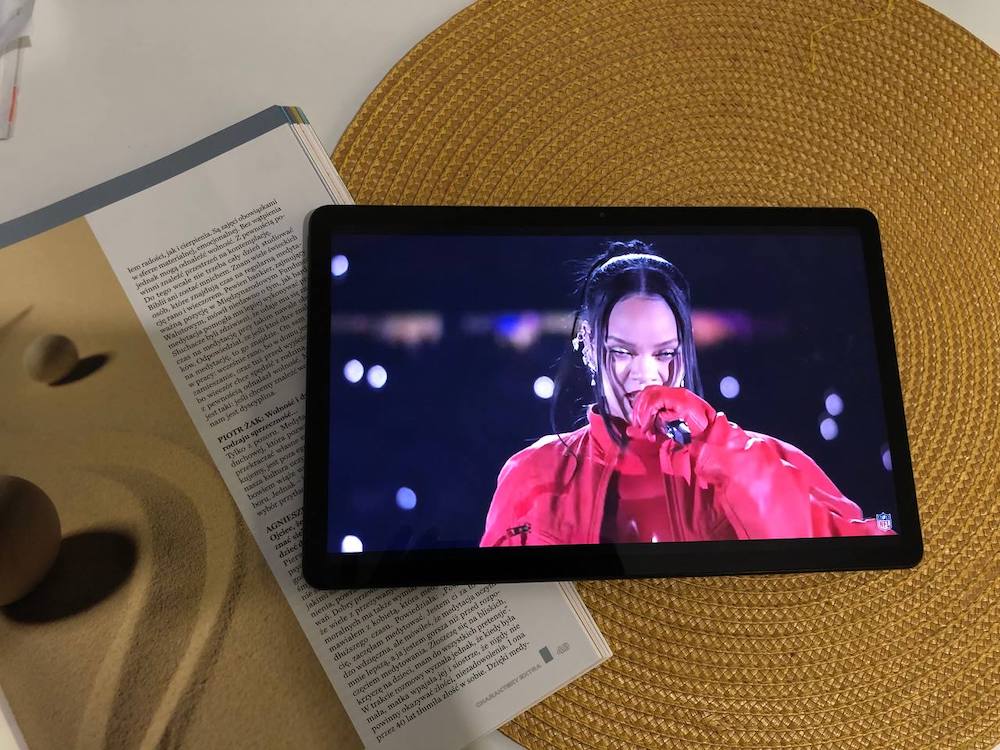 The refresh rate of the Redmi Pad screen is not quite standard – 90 Hz. Of course, it's better than the usual 60 Hz, but it's also a little worse than 120 Hz. Of course, we're not dealing with a flagship for gaming here, but with an ordinary workhorse, so this bonus in the form of an increased hertz rate definitely has a positive effect on the perception of interface performance.
Redmi Pad software
The tablet's interface is familiar to me after Xiaomi smartphones – the same MIUI 13 on Android 12. These are not the latest versions of the software, but I hope the updates will not be long in coming, because it was the MIUI 14 shell that, in my opinion, became a real achievement of the developers and was able to eliminate almost all the problematic issues that a user of a Xiaomi or Redmi device could face.
Among the useful software features, I would like to note the convenience of setting up a multi-window mode – perhaps the most important feature in any tablet.
Redmi Pad has a standard set of data transmission facilities: Wi-Fi (802.11 a/b/g/n/ac), Bluetooth 5.0, GPS. The tablet can be unlocked either with a pattern key or with face recognition. In general, the issue of protecting your data is given considerable attention here, and there are even special settings and applications.
Read also: Lenovo Tab P11 Pro Gen 2 tablet review: digital Moleskin
Hardware and performance of the Redmi Pad
The octa-core MediaTek Helio G99 chip is responsible for the performance here. It has 2 powerful Cortex-A76 cores with a clock frequency of 2.2 GHz and 6 energy-efficient Cortex-A55 cores with a clock frequency of 2.0 GHz. This is a cool and powerful solution for a device that is designed for everyday tasks that will take up most of the device's operating time.
Graphics accelerator: The Mali-G57 MC2 is not the best solution for mobile gaming, but you have to admit that not all games run on the tablet at all. And for casual games, it is more than enough.
Depending on the modification, the RAM here is 3, 4 or 6 GB, and it can be expanded with free permanent memory.
Read also: Test drive of the Realme GT3 smartphone: Need for speed
Redmi Pad cameras
Usually, I don't really care what kind of cameras are installed in a tablet. But I have to say, they are really good here, and if you suddenly need them, they will definitely not let you down and help you take a decent quality photo or video.
main 8 megapixel, f/2.0, (wide), AF
front 8 MP, f/2.3, 105°, AF
Photos taken with the main camera in daylight were very sharp and saturated, given the low resolution. Indoor shots were expected to lose some quality. Photos in their original resolution can be viewed here.
I was especially pleased with the front camera, which, thanks to its good module and wide-angle lens, is ideal for video calls. It's also useful for personal tasks, such as communicating with family and friends via video, as well as for holding work conferences or streaming.
Video on both cameras is recorded in 1080p at 30 frames per second.
Battery life of the Redmi Pad
In addition to the price, autonomy is a very influential factor in workhorse models, because if you choose a device for work, it must work, work and work again. Preferably without the need to constantly carry it to charge.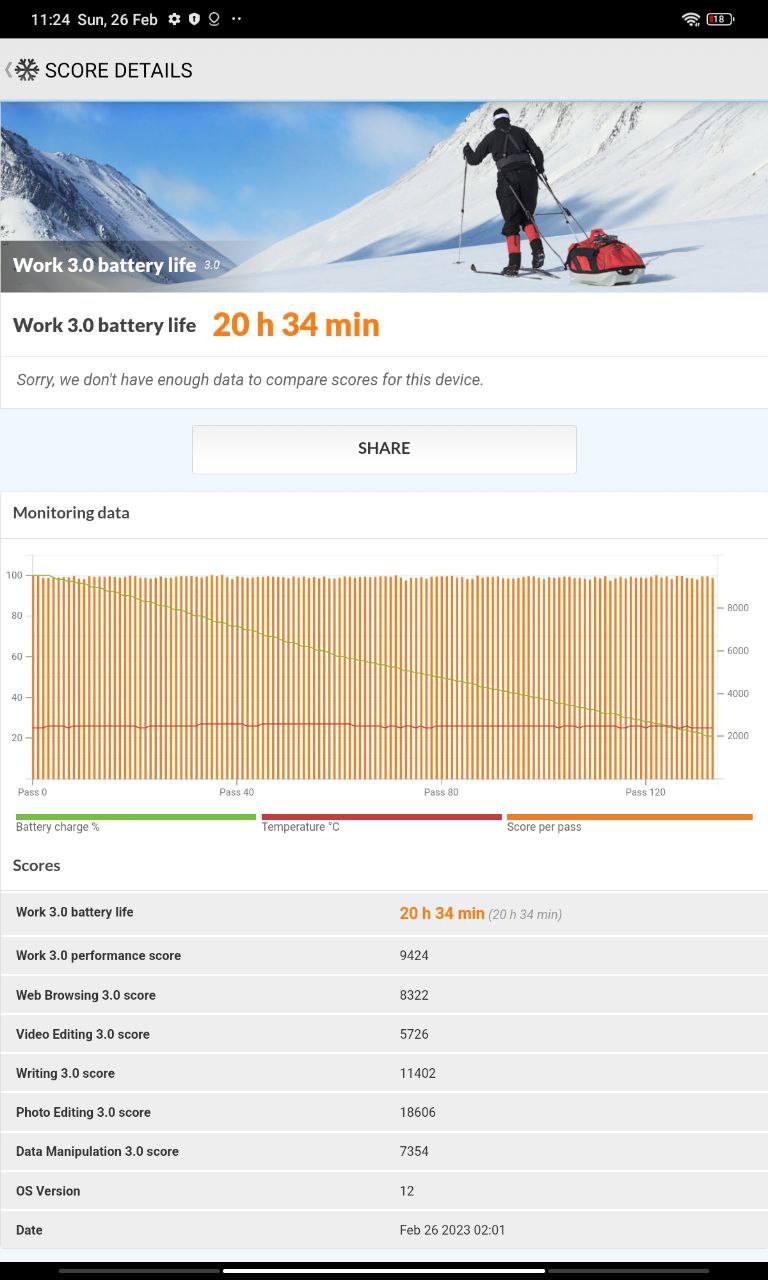 Therefore, the presence of a large battery in Redmi Pad – namely, an impressive 8000 mAh – is an extremely good decision. The average indicators in the autonomy tests show that the tablet is ready to work up to 15 hours of web browsing and 13 hours of video playback. Personally, the tablet lasted for about 5 days in a couple of hours a day, so I can fully confirm the validity of the synthetic tests.
Read also: Realme Pad X Review: An Extraordinary Tablet
Conclusions
Personally, I think that Redmi Pad is a very balanced and organic device. It has a classic design, a good screen, high battery life, and good cameras. It doesn't have any incredible exceptional features, but it doesn't have a single failure or significant drawback. It is a very marketable product that aims to satisfy all the needs of a middle-class user.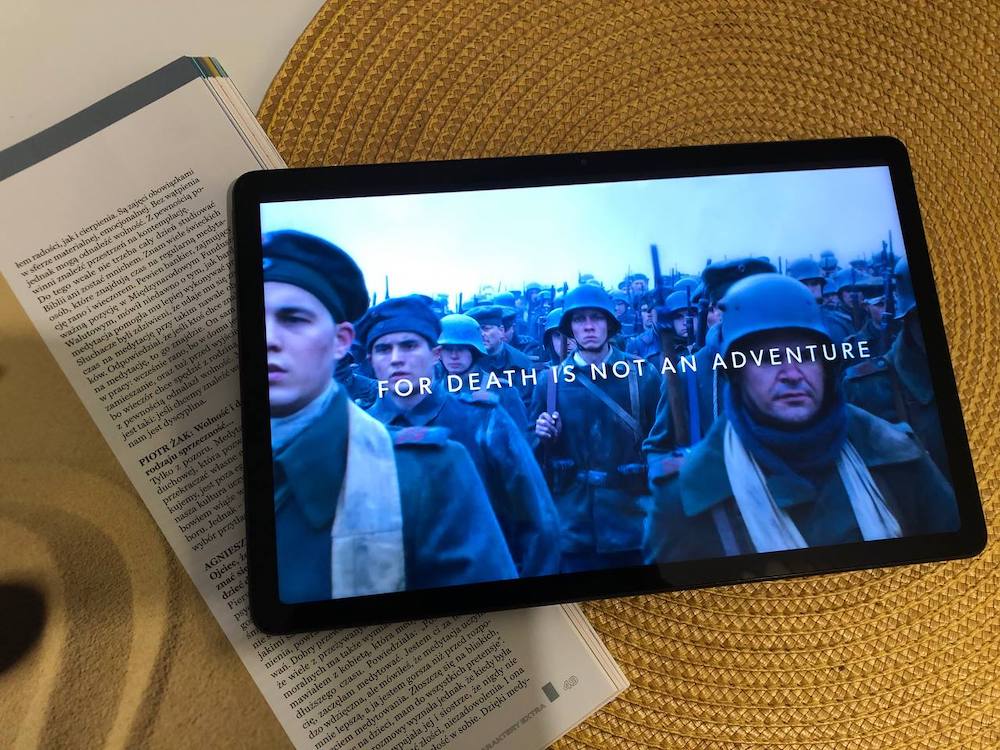 The difficulty is how to stand out from the competition in such circumstances, but for some reason you have read this far. In short, this tablet is definitely worth a look as a purchase option for the most utilitarian tasks.
Read also: