Tablets today are quite a specific niche. On the one hand there are giant (sometimes even foldable) smartphones, on the other hand there are super-slim ultrabooks with large screens. Therefore, manufacturers are trying to create such tablets, which will stand out for something special and be different from all possible competitors. Such an incredible and striking representative is our test subject today, the Samsung Galaxy Tab S8 Ultra.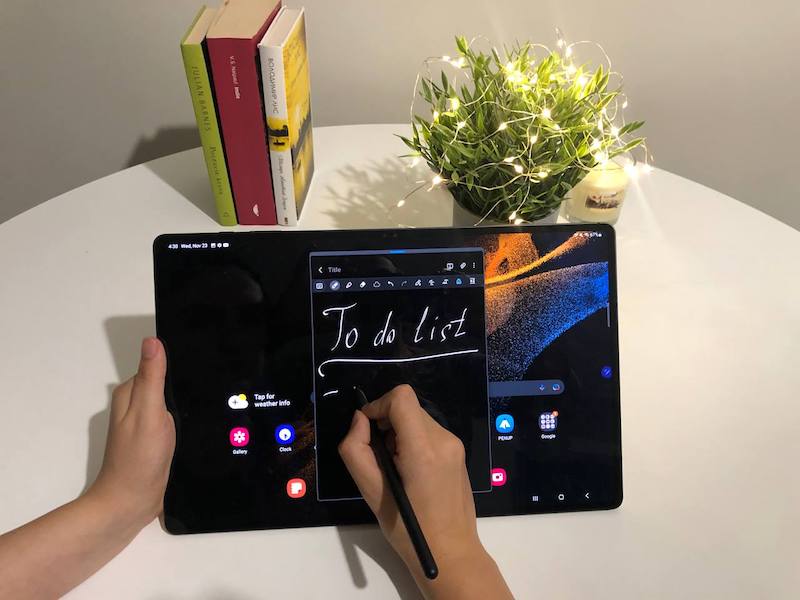 Specifications
Display: 14.6″, Super AMOLED, 120Hz, 1848×2960 pixels, HDR10+, 16:10, Corning Gorilla Glass 5
Chipset: Qualcomm SM8450 Snapdragon 8 Gen 1, 4nm, 8 cores, 1×Cortex-X2 clocked at 3.0GHz and 3×Cortex-A710 clocked at 2.5GHz, 4×Cortex-A510 clocked at 1.8GHz
Adreno 730 graphics video controller
RAM: 12GB
Memory: 256GB
Support for microSD memory cards: up to 1024GB
Wireless: Wi-Fi 802.11 a/b/g/n/ac/ax 2.4/5/6 GHz, Bluetooth 5.2, GPS, Beidou, Galileo, QZSS, LTE
Main camera: 13 megapixel f/2.0 + wide-angle 6 megapixel f/2.2
Front camera: wide-angle and ultra-wide-angle 12 + 12 megapixel
Battery: 11 200 mAh
OS: Android 12 with One UI 4.1 shell
Dimensions: 208,6×326,4×5,5 mm
Weight: 728 g
Delivery set of Samsung Galaxy Tab S8 Ultra and positioning
The delivery set here is more than minimalistic – just a USB-C cable, S Pen stylus, SIM card extraction pin, and the tablet itself. It's a pity that despite the high price of the device, they didn't put a powerful charger here, because you will definitely need it. I would have rather settled for a more bulky box, but with richer contents.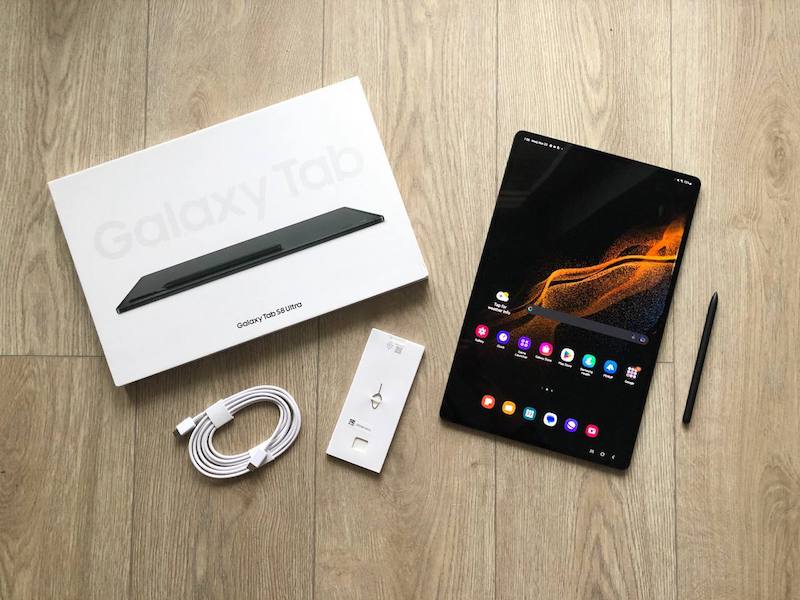 As for positioning, it is easy to understand the key competitor – iPad Pro with Apple Pencil stylus. They are quite close in price, so Samsung decided to give a salvo and presented three variations of the S8, S8+ and S8 Ultra. But after using the tablet for more than a week, I realized that everything is not so simple with this question of positioning and competition.
Samsung Galaxy Tab S8 Ultra model of use
I want to start the review of the functional part with a somewhat unusual unit, because our device is not ordinary. Everything is simple with ordinary smartphones and tablets, but for whom and why do we need such a giant?
Watching movies
It seems to be cool, because it has a big screen and stereo speakers, which are designed to consume audio-visual content in high quality. However, unlike a laptop, this wonderful screen will need something to lean on, because I doubt very much that you want to hold a tablet in your hands for an hour and a half or two hours. And if you have a stand, the Samsung Galaxy Tab S8 Ultra will make a great movie screen. So you can immediately order yourself a keyboard case, which will also come in handy for other tasks.
Online education
I think that this is perhaps the most interesting and appropriate scenario for this tablet. First of all, it has a convenient big screen – you can start a videoconference and open a textbook at the same time. Speaking of textbooks. If it is in pdf format then again, here the book can easily unfold to the full screen and remain easy to read. Second, unlike the laptops, which mostly turn off in a couple of hours of work, this giant can handle a full school day plus time to do homework, even enough charge for the evening cartoons. Third, thanks to the stylus and handwriting recognition, your child will be able to practice handwriting skills even while studying online, which is generally very useful for the development of children's brains.
Online games
I admit that at some point I thought that maybe it would be more interesting and convenient to play PUBG on the big screen. And it does look cool, but in this case you can't do without a controller, because it's uncomfortable to control something from the screen. But games that don't require fast precise movements like puzzles, coloring games, memory games or item search are a really interesting experience with this screen.
Editing photos and videos
I should note that I finally switched to editing all visual content on my smartphone a couple of years ago and feel comfortable with mobile editor interfaces. So I was looking forward to trying out my favorite apps on the big diagonal. I have to say, it really is very handy and may well meet the needs of SMM people and bloggers for a powerful device for digital work.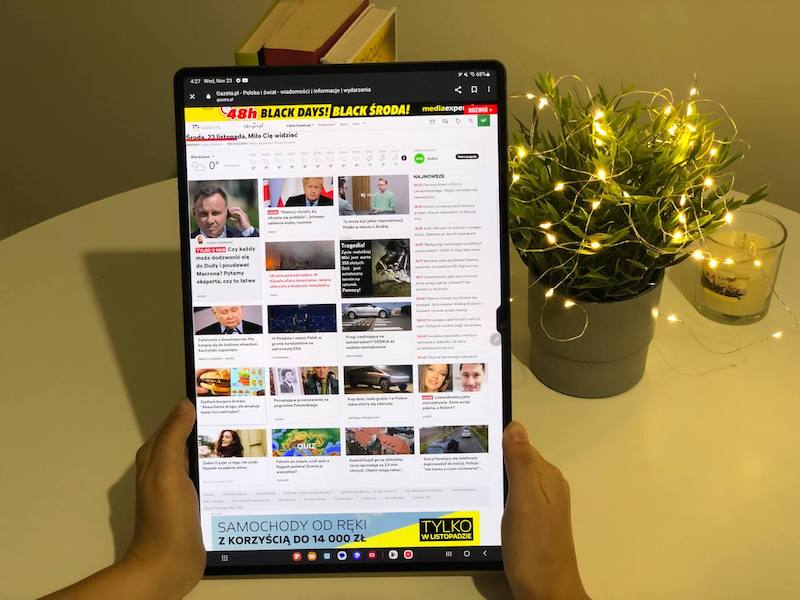 Reading books, magazines and news
One of the viable models of using the Samsung Galaxy Tab S8 Ultra is related to reading, but it is not without nuances. Indeed, a big screen, heaps of information at once, no scrolling… but it is also bulky in size. Therefore, this variant is not very suitable, for example, for reading in bed before going to sleep, because nothing can replace a usual book or reader there. At the same time, you will definitely like the Samsung Galaxy Tab S8 Ultra when you read magazines, comics, websites with lots of pictures, where a smartphone or reader is simply losing.
Social media feeds
You'd expect it to be cool, but it's not. The apps don't scale properly, scrolling is very long and uncomfortable.
Working with office applications
Whether it is convenient to type on the on-screen keyboard is a matter of taste, but it is difficult to overestimate the convenience of touch control when editing tables and creating presentations. My work became a good half or two times faster, and the process itself was also a pleasure. Of course, this tablet is a bit too pricey for an office machine, but if it is just one of the tasks that you plan to cover – here the tablet gets an A+.
A second screen for your laptop
Since the beginning of quarantine I switched to working from home, so the question of organizing a most productive, but compact workplace has become very acute. On the one hand, there was nowhere to put a regular monitor, and on the other hand, the small display of my laptop was clearly not enough. For me the portable monitor was a compromise solution, as it doubled the work surface area and offered me a handy multi-window display. Ideal option for those who work a lot with databases or CRM-systems, presentations, or have parallel communication in many messengers.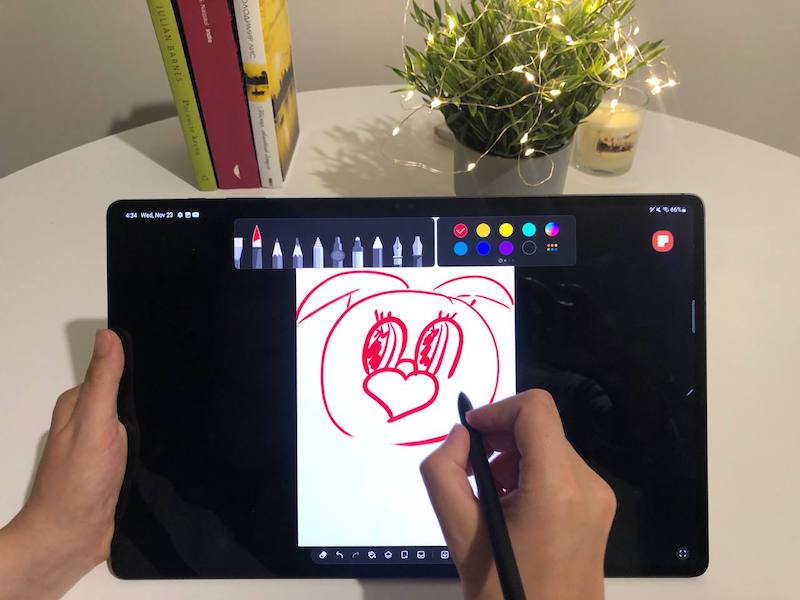 Graphics tablet
Although at first glance it might seem that such a tablet is a solution for designers, I have my doubts about the absolute feasibility of such an idea. First of all, most designers have graphics tablets like Wacom, which is specialized for designers' tasks and handles them well. Second, the price of this tablet is too high to consider it just as a graphic tablet. So if you plan to use this tablet to realize your creative visual ideas, it will be more of a hobby than a full time job 5 days a week.
Read also: Samsung Galaxy Tab S7 FE review: Surprisingly reasonable compromise
Design Samsung Galaxy Tab S8 Ultra
My first impression when I opened the box and took out the tablet was "wow!" And when I turned on the display, it was "wow!" again. Other words came a little later. Because really, you don't often see a tablet this size. And the super-slim frame around the screen completes the impression of an infinite display, which you just hold in your hands. A very interesting experience with a very unusual device.
Despite the large diagonal, Samsung Galaxy Tab S8 Ultra is very thin, so it is surprisingly comfortable to hold in your hands. It weighs 728g, which is quite significant, but then again – the display is bigger than a laptop, what would you expect? This case is made of reinforced aluminum, so it doesn't bend or squeak. By the way, no color variations. just this metallic gray graphite color. I like it very much, it looks expensive and restrained.
On the right side of the Samsung Galaxy Tab S8 Ultra you will find two of the four speakers and the Type-C connector. On the left side there are two more speakers and a microphone.
On the top end of the tablet there are the power button and the dual volume control button, as well as a slot for the SIM card and the memory card. On the bottom edge there is a slot and magnets for attaching a cover-keyboard.
The fingerprint scanner is built directly under the screen, and they didn't forget about the face recognition option either, but we will talk about it in more detail later.
Display of Samsung Galaxy Tab S8 Ultra
If in a smartphone the screen can compete with, for example, the camera, then in the case of a tablet a good screen is half the success. And Samsung Galaxy Tab S8 Ultra exceeds your expectations.
This tablet offers you the whole 14.6″ diagonal for absolute enjoyment for your eyes. Built with Super AMOLED technology, the display transmits black as deep as possible, so when I first saw the screen saver, I wondered if some new technology with holograms and projections was being applied here. The image is very voluminous, contrast and saturated.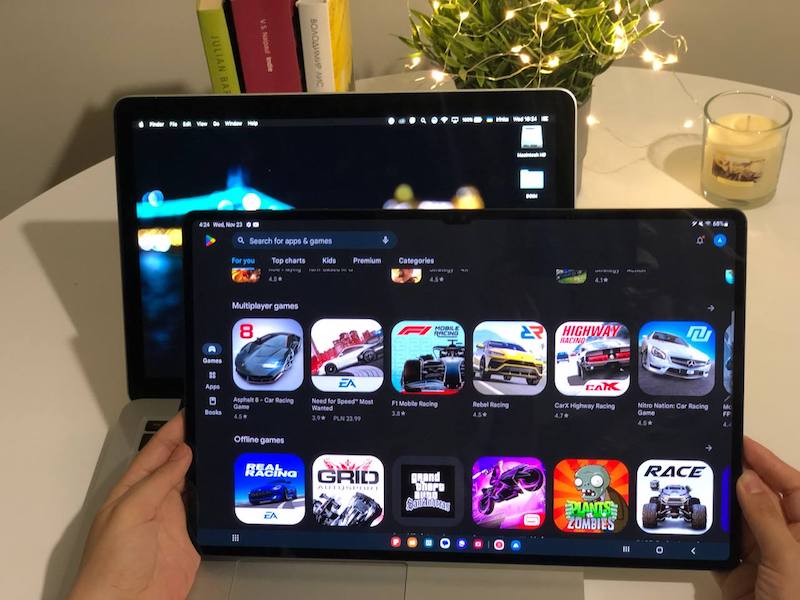 Regarding the size, my personal work gadget is a 13-inch laptop. That is the nominal size of the display, this tablet is larger than my laptop.
By the way, if you want, you can easily turn this tablet into a laptop by attaching a case with a keyboard. But I remind you that you will have to buy this accessory separately.
The resolution of the Samsung Galaxy Tab S8 Ultra is 2960×1848 (WQXGA+), and the refresh rate is 120 Hz, so we get a great picture both statically and dynamically. Clear, contrast and vivid images plus smooth scrolling and interface operation equals love from the first, second and all subsequent glances of your eyes. Just watch a video on this tablet once and that's it, you'll be comparing all other displays to this experience.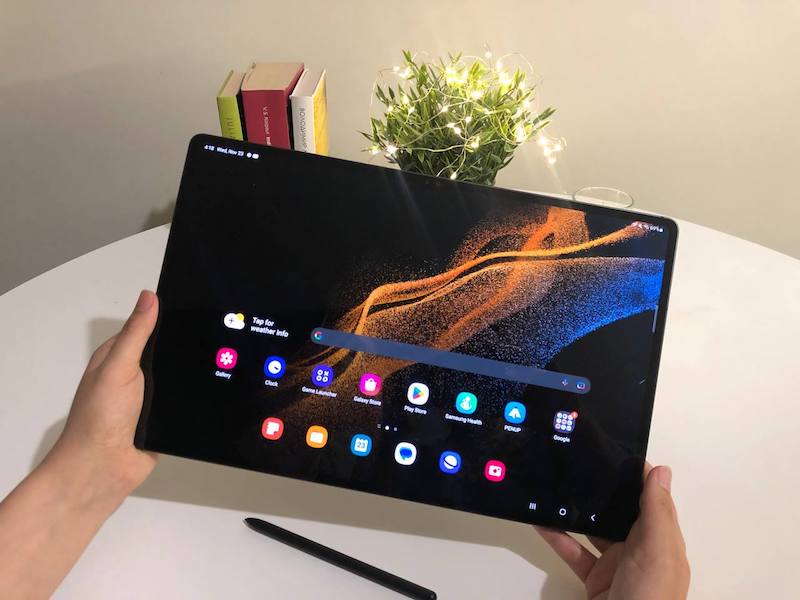 By the way, if we are already talking about watching movies, I note that in the tablet you can find four built-in speakers and they contribute to the most complete immersion into the atmosphere of what is happening on the screen. Excellent stereo effect plus a good balanced frequency range will not leave even demanding listeners indifferent.
Another nice features of this screen are the ability to adjust the color display mode and activation of eye protection. The latter technology today can be found in many displays from different manufacturers, and despite the different names, the essence is the same – reducing the intensity of blue light in order to minimize the impact on the eyes while using the gadget.
Of course, such a large screen is simply designed for multitasking. Therefore, it is possible to split the screen and simultaneously work in several windows, and you can run almost any application. To do this, just pull the sidebar and drag the shortcut of the application you are interested in to the screen. You can conveniently resize each window, and if necessary, maximize it to full screen format.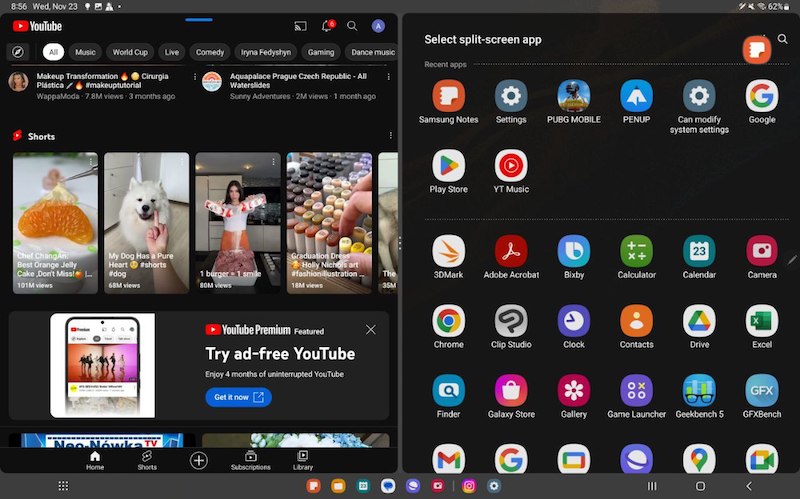 S Pen stylus
First of all, the cool thing is that you don't need a separate docking station to recharge the stylus. You put it on the tablet, it is gently magnetized to the surface – and that's it, the stylus starts charging. It is convenient, practical and reliable.
Actually, in my opinion, the implementation of the functionality of the Samsung stylus is the best on the market. The impressive experience of using this accessory in both smartphones and tablets is evident.
You can quickly save your ideas in the form of a note, a drawing, a screenshot with comments and the like using the stylus and Samsung Notes. Press a button on the stylus and you get to a convenient large menu where you can select the next action.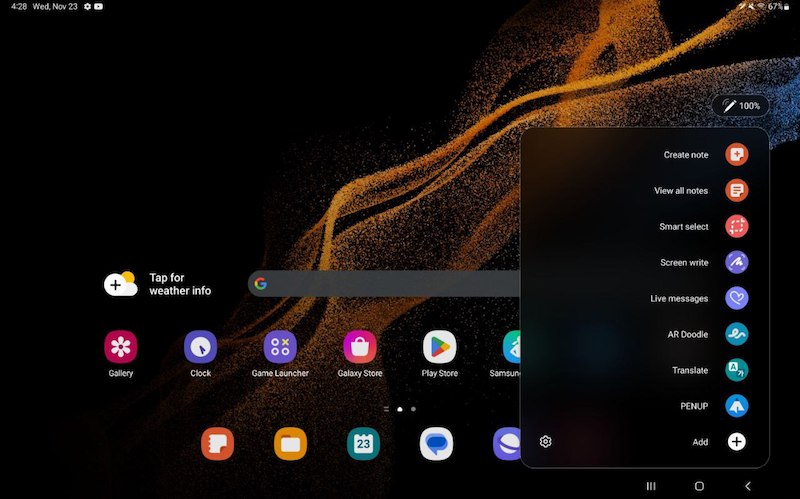 I liked such a trick as recognition when you write by hand like in a normal notebook, and then what you have written is recognized by the tablet and transformed into plain text. The same thing works with geometric shapes, which is very useful for drawing various diagrams and algorithms – you draw a crooked circle as it should be, and the tablet transforms it into a neat and clear geometric shape.
Samsung Galaxy Tab S8 Ultra
In drawing apps, you can even adjust settings such as ignoring the hand touch readout (useful when, like I do, you draw by leaning on paper, or in our case, the screen) and turning on or off drawing with your finger rather than the stylus.
Samsung Galaxy Tab S8 Ultra software
As the operating system Samsung Galaxy Tab S8 Ultra uses Android 12 with the proprietary shell Samsung One UI 4.1.
In addition to the specialized software for the stylus that I have already mentioned, there are many other useful features that will be useful to users. It was very convenient for me to launch applications from the sidebar without having to minimize everything every time and go to the menu with a complete list of all installed applications. Also, the user can customize the appearance of the control panel and the main screen according to his own needs and habits.
The tablet can be unlocked using the fingerprint scanner or facial recognition. Both functions worked correctly and quickly, so whichever way seems more convenient and secure to you is your choice.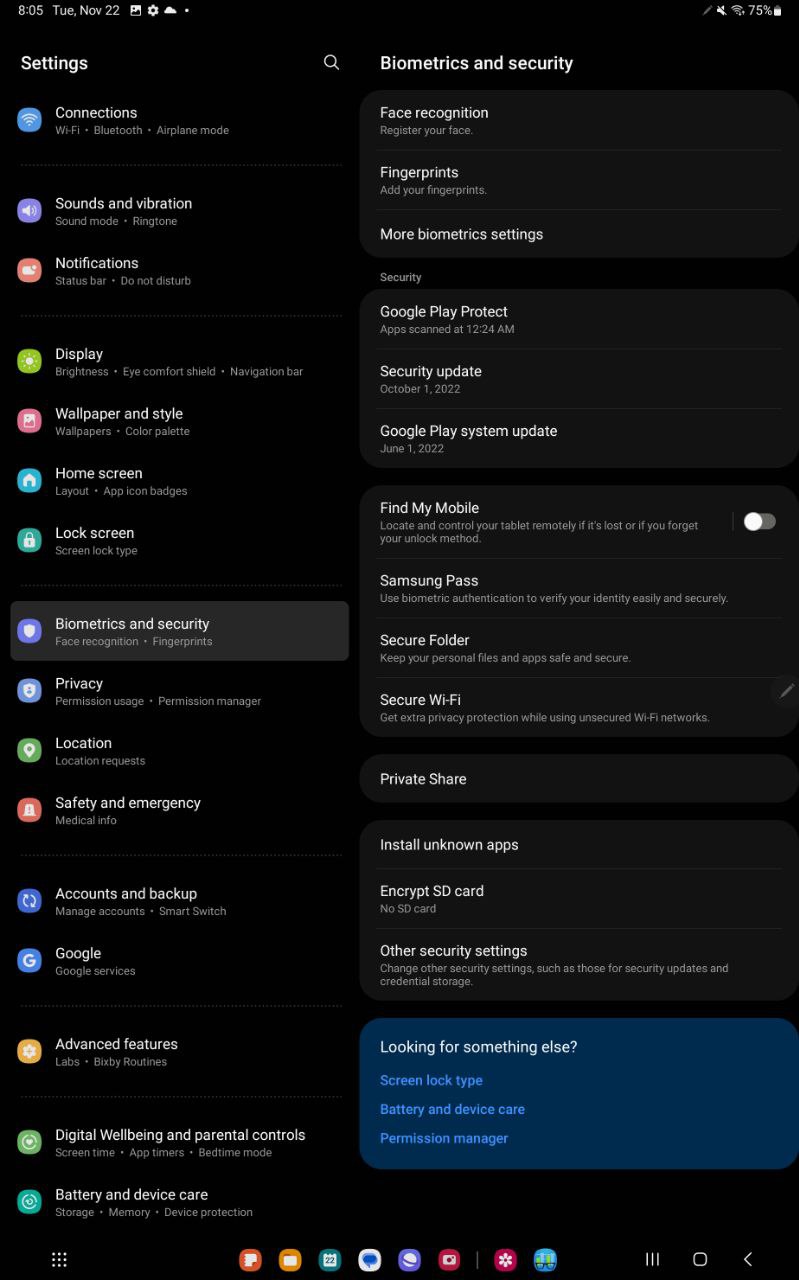 Speaking about the convenience of controls, I can't help but mention the biggest inconvenience I encountered. The habit of taking a screenshot by pressing the power and volume down buttons almost made me stutter, because pressing only the power button activates the voice assistant. The first time this accidentally happened, I frankly panicked. Tried to just turn off the screen and got a comment in a nice female robotic voice about my action. Turned the screen back on and again I got a greeting from the robot. In short, I think I managed to wake up all the neighbors until I found how to turn it off, because the speakers here are loud, and I like to work at night. So keep this feature in mind and maybe turn it off in the settings out of harm's way, I add a screenshot of where to do it.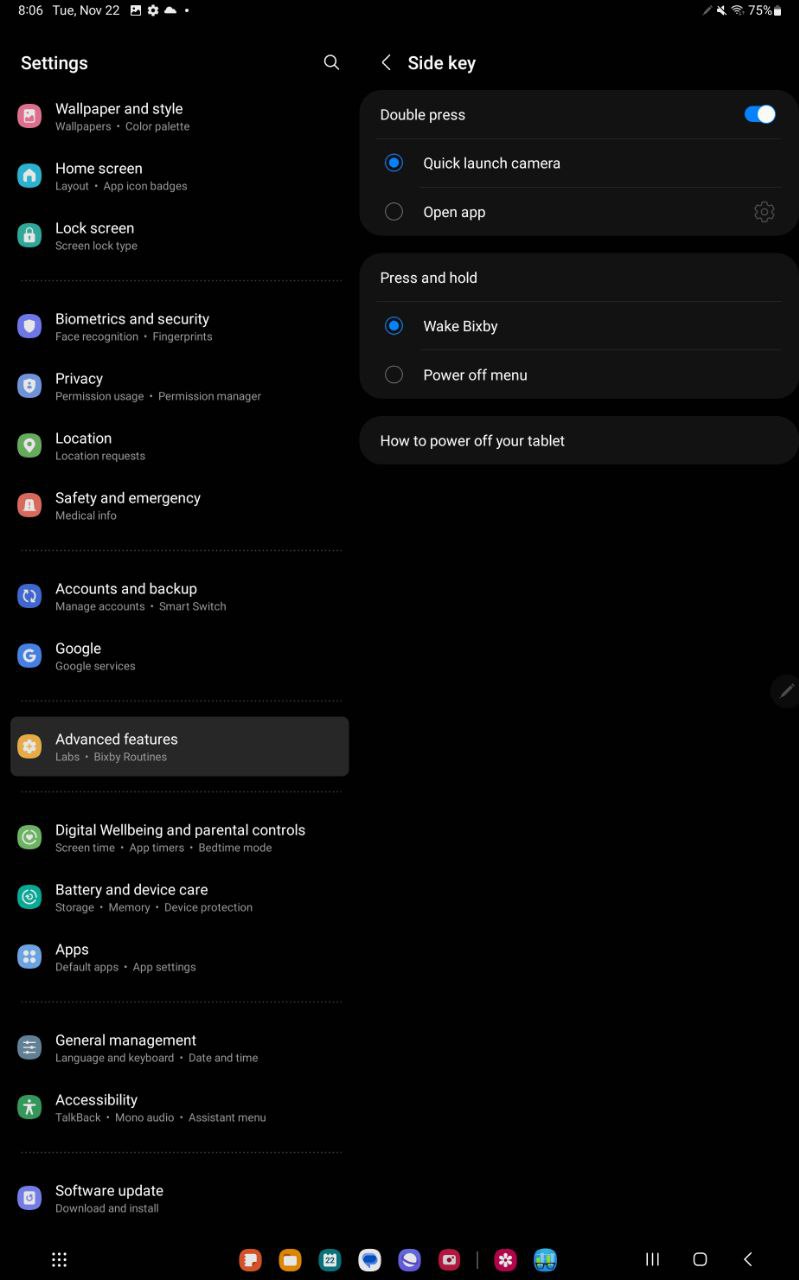 There is a standard set of means for data transmission on board of our test subject: Wi-Fi version 6 (802.11 a/b/g/n/ac/6e), Bluetooth 5.2, GPS, NFC, even SIM-card support was brought in. Of course, it is not so much needed here for calls, but to provide connection to the Internet at any time and at high speed.
Read also: Lenovo Yoga Tab 13 review — Tablet or TV?
Hardware and performance of Samsung Galaxy Tab S8 Ultra
They did not save on hardware to make this machine work quickly and without lags. Inside you will find the most modern chip Snapdragon 8 Gen 1. We are familiar with it by modern flagship smartphones, so even just by the information about it from the specifications, we can assume that the Samsung Galaxy Tab S8 Ultra will not have problems with performance.
This chip offers 8 cores: 1 core Cortex-X2 with a clock frequency of 3.00 GHz and 3 cores Cortex-A710 with a clock frequency of 2.50 GHz, as well as 4 cores Cortex-A510 1.80 GHz with a clock frequency of 1.8 GHz. Thus, both the potential of the tablet and the power consumption at low loads are used in the most productive way.
The results of synthetic tests confirmed our guesses:
GeekBench 5 (multi-core) shows 3207 points, GeekBench 5 (single-core) has 1210 points
3DMark Wild Life – 2 269
PC Mark – 13 789
Samsung Galaxy Tab S8 Ultra
As for memory, the picture here is extremely attractive. There is as much as 12 GB of RAM, which means that it is closer even to laptops than to smartphones and tablets. That is why it is clear that any complex tasks will be solved quickly and without freezes. The same applies to switching between applications, and it is also very important when working with them in parallel in multi-window mode.
Built-in 256 GB memory is also enough to store your files. If you think that this is not enough – the tablet added support for cards up to 1 TB, and this should certainly be enough! And don't forget about the many convenient cloud services.
Cameras of Samsung Galaxy Tab S8 Ultra
I find it very difficult to imagine a real-life scenario in which you would take pictures on a 15-inch tablet, except maybe as a scanner to take pictures of documents. For the rest, a camera in any modern smartphone would clearly be a more convenient solution. However, it is also impossible to imagine a modern tablet without a camera, so the Samsung Galaxy Tab S8 Ultra has two main cameras and two front cameras.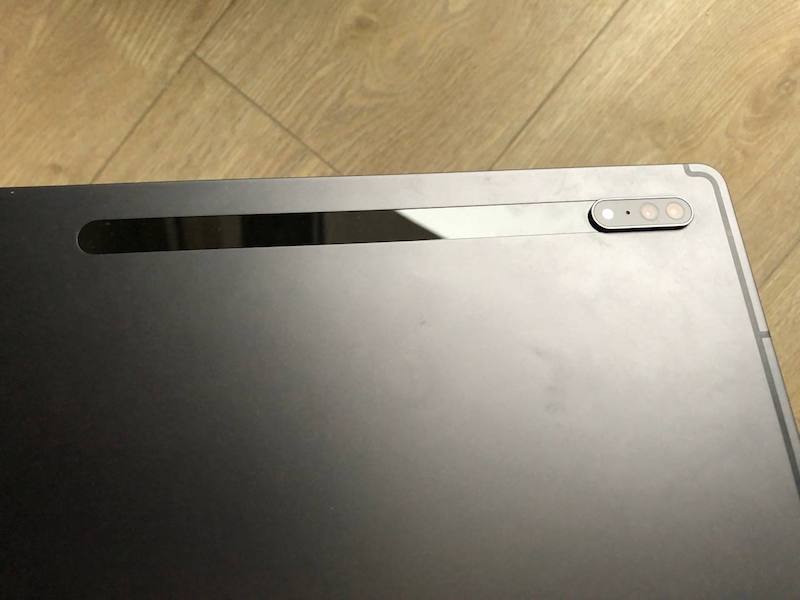 13 MP f/2.0 main camera
Wide-angle 6 MP f/2.2
Frontal: wide-angle and ultra-wide-angle 12 + 12 MP
To be fair, I decided to put the camera to the hardcore test – at night in a dark room with low lighting. That is, in conditions where almost all cameras are flat on their backs. Surprisingly, the camera in the Samsung Galaxy Tab S8 Ultra coped perfectly with such a difficult task and produced photos in pleasant quality, without unnecessary noise and with decent detail.
In pro-mode, all you get is white balance and ISO. In short, there is still a lot of work to do here before it's really "pro", although, as I noted above, I would be genuinely surprised if someone is seriously planning to take pictures with this giant all the time.
Samsung Galaxy Tab S8 Ultra
As for video, the potential of using the main camera recording in 4K at 30 fps remains even more elusive for me, because holding a nearly 15-inch tablet in your hands and recording video is really not the most convenient solution. This thing is not even easy to put on a tripod. In short, honestly, I just do not see the point in it, but such functionality is provided.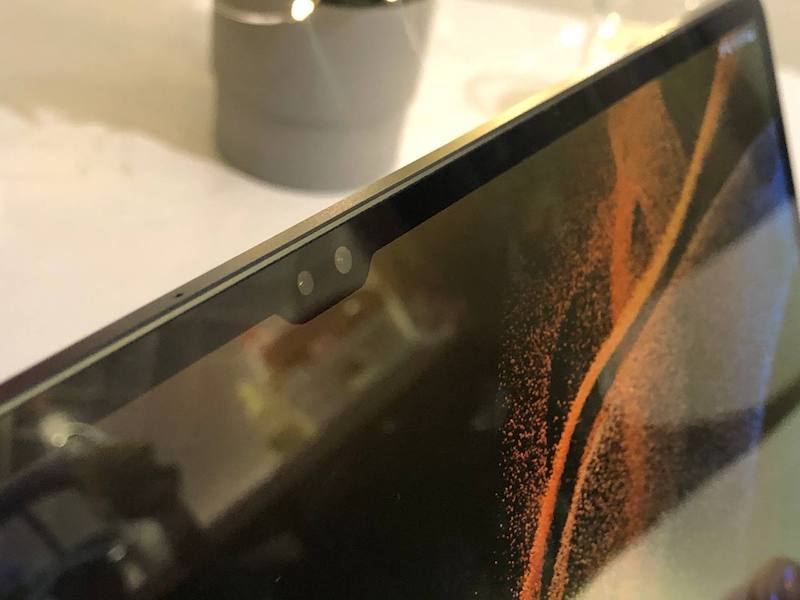 And what is really a must-have in post-covid times is a high-quality front camera. And everything is good here, for reliability they brought in two frontal cameras – wide-angle and ultra-wide-angle. It also records video in 4K. So if you want you can take virtual tours of your studio or conveniently record training materials or videos for YouTube and TikTok. I liked the quality of video recording on both cameras, so for this parameter Samsung Galaxy Tab S8 Ultra also unexpectedly gets a fat plus from me.
Battery life of Samsung Galaxy Tab S8 Ultra
The good news about the battery life of the Samsung Galaxy Tab S8 Ultra is that the manufacturer made sure that this monster would have something to power it. The built-in battery here is 11,200 mAh. The bad news is that even with all the super- and ultra-charges, it will take more than 3 hours to fully charge the tablet. In half an hour, the tablet only gained 20 percent of the charge, given that I used a powerful power supply of 67 watts. So here we have to remember the "put it on charge overnight" format, as it was in the early era of smartphones before the invention of various speed chargers.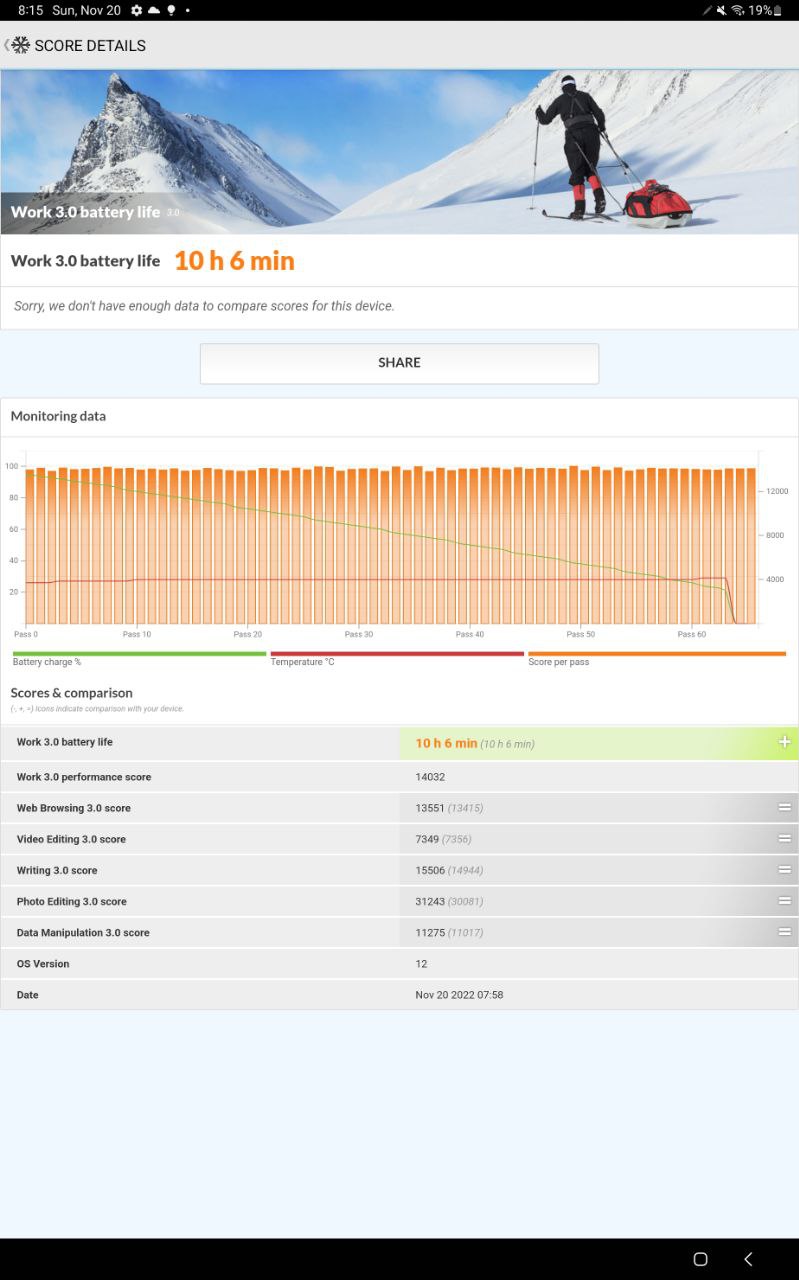 Regarding the standard performance tests, I should note that the Samsung Galaxy Tab S8 Ultra lasted about 8 hours doing various screen tasks, 8 hours of web browsing and 14 hours playing videos at medium brightness.
Conclusions
Can I recommend this tablet? Sure, if you really need to use its special features. Otherwise it would be a waste of money.
The stylus functionality is used to its maximum, but not everyone needs it. The large screen creates excellent conditions for multi-window multitasking and comfortable interaction with familiar applications through the touch interface.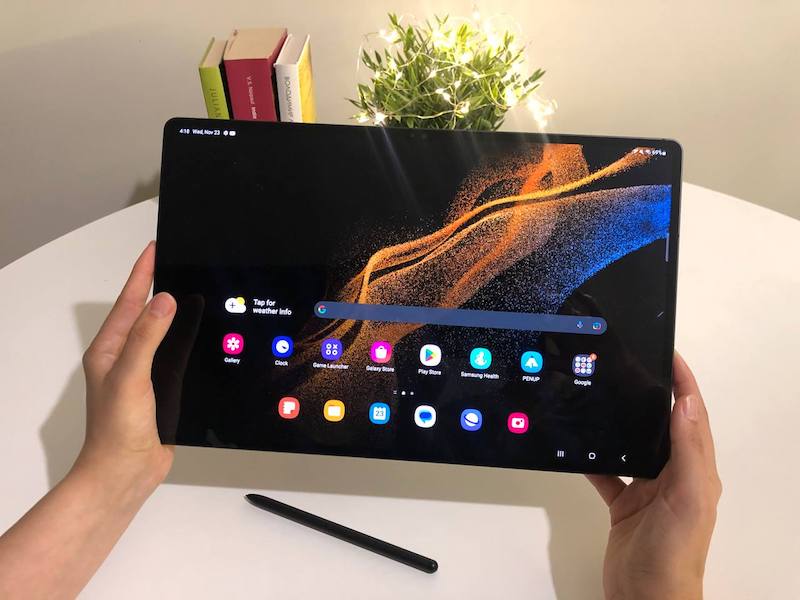 The powerful chip fully unlocks the potential of other system components so that you get a really pleasant experience of using the tablet – fast and smooth operation of the interface, launching many applications simultaneously and easy switching between them, fast execution of even complex tasks.
The Samsung Galaxy Tab S8 Ultra is the coolest device with the highest performance and functionality to date. It has almost no weaknesses in technical terms, there are only some issues of ergonomics and scenarios of use, due to the giant size of this beauty. And the price reminds us once again that premium things cost accordingly.
Read also: Motorola Moto G72 Review: Once Again a Strong Midranger!
You can also help Ukraine fight with Russian occupants via Savelife or via an official page of the National Bank of Ukraine.