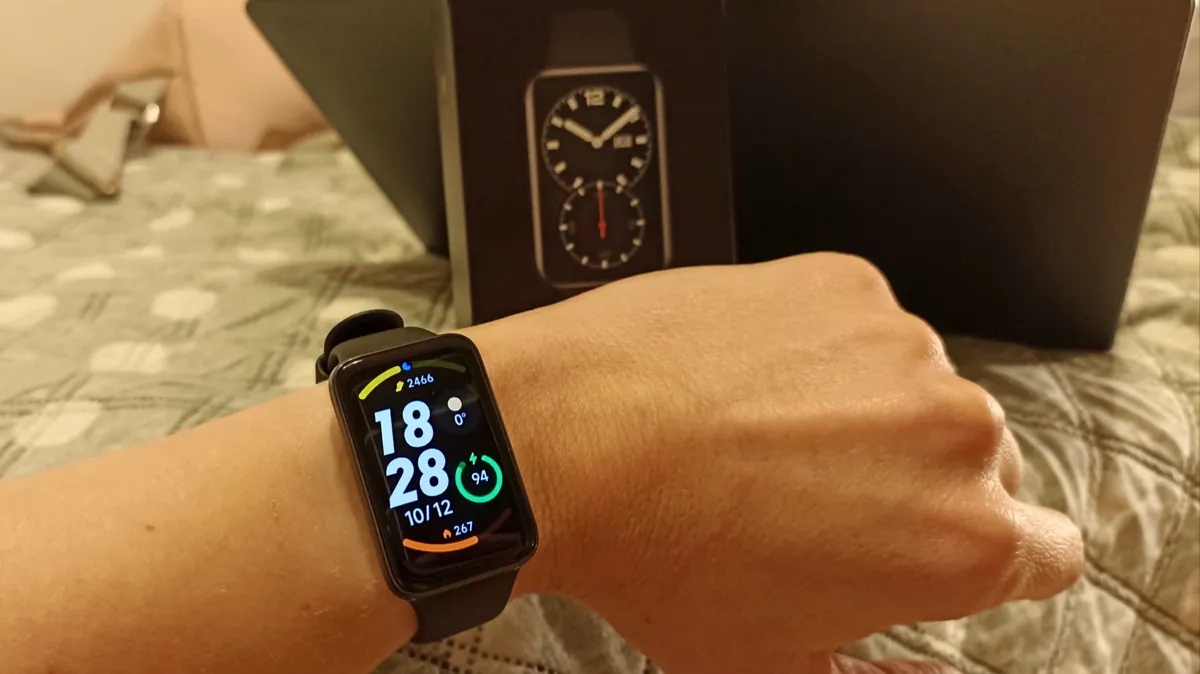 In this review, I will tell you about the new Xiaomi Smart Band 7 Pro (in some stores, it is still called Mi Band 7 Pro). I'll tell you right away, I decided to gift the watch to my beloved husband for his birthday. Perhaps that's also why the impression was so weak – it's not very pleasant to pay honestly earned money for something to be disappointed.
I must say it is hardly a new device. It appeared on the Chinese market at the beginning of summer. It was not available in the global version, although there were such enthusiasts who ordered the device on AliExpress and had fun with the Chinese firmware. In Europe, the device officially went on sale at the beginning of October, and that's when I ordered it – on the second day of sales, without really reading reviews, even those about the Chinese version. I liked the design, I liked the screen, and I expected that everything else would be up to par. Given that its price breaks the bank.
Read also: Redmi Smart Band Pro review: Advanced fitness tracker
Xiaomi Smart Band 7 Pro Specs
Screen: 1.64 inches AMOLED, 456×280, 326 PPI, up to 500 nits of brightness
Navigation: GPS, GLONASS, Galileo, QZSS
Connectivity: Bluetooth: 5.2 LE, NFC (only in the Chinese version, no contactless payments support)
Battery: 235 mAh – up to 6 days in normal mode and up to 12 days in eco mode, full charge time – 1 hour
Sensors: optical pulse sensor, SpO2 sensor, accelerometer
Training modes: 117 activities, auto-detection option
Strap: TPU, 205 mm
Water resistance: 5ATM
Features: continuous heart rate monitoring, continuous saturation tracking, sleep tracking, stress tracking, activity tracking, breathing exercises, activity reminder, drink reminder, phone search, weather, music and camera control, Amazon Alexa support
Compatibility: Android 6+ and iOS 12+
Dimensions: 44.7×28.8×11.0 mm
Weight: 20.5 g without a strap, 32 g with a strap
Colors: black, ivory
Positioning, Price, and Differences From the  Xiaomi Smart Band 7
For the first time, Xiaomi decided to release a more expensive "companion" to its hit fitness tracker Smart Band 7 (the company dropped the Mi name last year, but many stores habitually still use this word). I think for the sake of increasing the average check.
Of course, I am not saying that there were no such devices in the Xiaomi ecosystem. There is a Redmi Smart Band Pro (almost a carbon copy of the reviewed gadget), and there are many devices under the Amazfit brand, but it is the Smart Band series (former Mi Band) that received a PRO version for the first time.
How it Differs From Xiaomi Smart Band 7:
Design. Apparently, the need to compete with Huawei models (Band 7, in particular) led to this. Now we no longer have a capsule that fits into a strap, but a full-fledged watch with a rectangular shape, with user-replaceable straps
Screen. Diagonally it's just 0.2 inches larger. But due to the different aspect ratio, it fits much more information.
Light sensor and auto brightness.
GPS (and other satellite navigation systems – GLONASS, Beidou, Galileo, QZSS). Now you can run without a smartphone and the track will be recorded on the map.
Increased battery capacity. Now it's 227 mAh (against 180 mAh in the Xiaomi Smart Band 7), but I can say right away that battery life has not changed significantly due to the larger screen
There's now a microphone (exclusively for communication with the voice assistant). and, obviously, a voice assistant support.
Now about the price. I live in Poland, and here the device costs 500 PLN ($107 dollars), which is too much.
In Ukraine, the device costs about 3,300 UAH ($90) for the Global version and 2,500 UAH ($68) for the Chinese version. In general, there are no major problems with Chinese, except that the interface will first have to be switched to English using a special method, and the menu will not be in Ukrainian or Russian (but, judging by the reviews of the owners, messages in these languages will be displayed). If you order either the "Global" or the "Chinese" version from AliExpress, the prices will be almost the same as in the Ukrainian market.
In comparison, 500 PLN or more than $100 as you see is quite a lot. So I expected something outstanding given the cost.
Read also: Xiaomi Mi Smart Band 6 review: A new fitness tracker with SpO2 Sensor
What's in the Box?
Right after unboxing, I began to suspect that my expectations would not be met. The packaging of the Xiaomi Smart Band 7 Pro is clearly not what a device worth 100+ dollars should be packaged in. It's not even a box, as such, but ordinary loose cardboard.
Inside is an insert with recesses for the watch itself and a charger. That's it.
The charger is magnetic, and "sticks" to the contacts on the back panel.
Design and Materials
Smart Band 7 Pro looks good – you can't deny it. Everyone got tired of the oval capsules of the regular Smart Band 7, so here we have something fresh and stylish.
Xiaomi also made many beautiful photos for advertising, and that's what I've been sold on.
By the way, there are many colorful straps on them, but Xiaomi does not officially sell them (yet?), at least in its European stores.
The case is almost entirely made of plastic, compact, elegant, and light.
The display has rounded edges and a glossy aluminum frame (which already attracts fingerprints and probably will attract scratches in the future).
The smart band comes in two colors – black and white (with a gold frame), the second seems smeary to me.
On the back are contacts for charging and a heart sensor. It is made of simple-looking and rough plastic.
The set includes a simple silicone strap with a metal clasp. The straps are replaceable, but the fastening mechanism is proprietary. However, if you want to change them, different ones made of nylon, metal, and other materials are already sold on AliExpress.
Strap fasteners are made of plastic, and I have big doubts about their reliability.
On one side there is a hole for a microphone (I expected the possibility of conversations through the watch, but the only conversation it's here for is with a voice assistant, which does not speak the same language as me, and does not speak at all, more details below).
But what is missing is a control button. Yes, the usual "Mi band" does not have it either, but here we have a device that resembles a full-fledged watch, and other "smartwatches" are equipped with buttons. Its absence, to put it bluntly, messes up with my brain. Well, yes, you can turn on the device by placing it on the charger or turn it off using the menu… But it feels like crap anyway. I'll touch on this in more detail in the control section.
I would like to add that the band can be soaked and immersed in water, and swimming training is also supported. Protection against water is 5ATM (swimming, diving, immersion up to 50 m).
Read also: Huawei Band 6 review: It goes with everything
Screen
The new "Mi Band Pro" received a relatively large display – 1.64″, AMOLED, with 456×280 resolution. Nothing special, all similar trackers have similar screens. And it doesn't stand out amongst them with quality. It's pretty subpar, has poor readability in the sun, and worst of all – has noticeable PWM (flickering, especially at low brightness). The non-Pro "Smart Band" does not have such a problem.
The only plus compared to the Smart Band 7 is the auto brightness adjustment, but other watches with a similar price also have this function, nothing outstanding.
The interface and applications mostly have a black background, so the bezels are not noticeable, but they are huge, nothing like attractive promo photos.
Read also: Xiaomi Watch S1 review: is the brand's most expensive smartwatch going to surprise us?
Connectivity and App
To connect with a smartphone, you need to scan the QR code from the watch screen to download the Mi Fitness app (aka Xiaomi Wear). Those who used smart bands from various Xiaomi subsidiaries are outraged that instead of the usual Zepp Life, they are offered a new app, that does not have the option to export training tracks from the previous one.
In general, Mi Fitness is a relatively new app with a pleasant interface that does not differ from its counterparts in terms of functions or settings. You will find in it a visual representation of activity, training, and data from sensors. Within the app, you can adjust the parameters of the watch, in particular, the frequency of heart rate and SpO² monitoring, as well as change the widgets on the watch screen (additional screens with information that appear when you swipe the display to the left).
We talked about the capabilities of the app in more detail in the review of the Redmi Smart Band Pro, so let's not repeat ourselves here.
Read also: Samsung Galaxy Watch4 review: elegant smartwatch running WearOS
Interface, Control
This watch is NOT made by Huami, known for the Amazfit brand, but by some other company, so the software is also different. Personally, I don't like the design and fonts. The letters are thin, and difficult to read, especially from a short distance.
And what's more annoying is that the interface is jerky and sluggish. Again, you don't expect this from a device for $100+. Maybe that's just an early adopter problem, and and this will be fixed in the later software updates, but, in any case, the first impression was spoiled.
Compared to the usual "smart band", the display has become larger, and it has a different aspect ratio, so there is a lot of space on the screen – and it is certainly convenient. But if you compare it with other similar watches – everything is the same, and again, nothing outstanding.
There is an "apps" menu (workouts, activity, stats, running, heart rate, SpO², sleep, stress, breathing exercises, menstrual cycle, weather, events, music control, camera shutter control, alarm clock, timer, flashlight, phone search, settings), and a shade with quick settings.
The European version of the band has Alexa instead of the Chinese voice assistant, but it didn't work for me, and I couldn't figure out why. Well, in any case, Alexa does not speak Ukrainian, Russian, nor Polish, as well.
In the settings, you will find screen settings (auto-brightness, shutdown time, Always On mode, gestures to wake up and turn off the display), vibration settings, and DND mode, you can activate training autodetection (14 popular sports are supported), choose the main menu type, enable PIN -code.
There are 5 watch faces by default. None, except the first digital one, impressed me. Of course, through the app, you can install any watch face, the choice is huge. Unlike the regular Smart Band 7, the screen format allows you to display full dials with arrows and generally more information.
In the app, you can make dials with your photos. In total, up to 8 watch faces can be stored in the watch, and standard ones cannot be deleted.
Always On mode displays either hands or the digital time and date, depending on the watch face. There are no display settings. At the same time, the picture is very pale, on a bright day you can barely see anything.
The menu can be displayed as a list or icons in two rows (the second one looks completely unclear, especially for a new user). In this case, there is no infinite scrolling, that is, when you scroll to the bottom (and the list is long) – you should scroll back. And there's no button to simply click on it and return to the home page – you have to make a back gesture from the edge of the screen (which sucks – if you got far into the depths of the menu, you have to make several gestures in a row). And I can't find an explanation for why it was not possible to make a button.
Read also: Moto 360 3rd gen smartwatch review: long term experience and positioning
Features
The watch displays smartphone notifications up to 120 characters long. But there is no way to respond to them – neither with text, nor with voice, nor even with templates or emojis! And I would like to see such simple, but useful functions in an expensive device that is almost a smartwatch.
There is no possibility to answer the call from the watch either (you can only reject it), although I thought that this feature would be there, given the microphone. Of course, this option in fitness trackers is rather rare, but it happens, for example, in the cheaper Realme Watch 3 Pro, or in the slightly more expensive Huawei Watch Fit 2. And also in many smartwatches, some of which cost not much more than 100 dollars (OPPO Watch, Galaxy Watch 4, Huawei Watch GT 2).
The watch vibrates during notifications, but the vibration is very unpleasant, like a 15-year-old Nokia.
Also, like any other modern fitness tracker, there are options for tracking heart rate, blood oxygen level, stress, and for sleep monitoring. The collected data is as accurate as on the inexpensive device. That is, do not expect medical accuracy, but you can understand the general trend.
According to reviews, the sleep tracking is horrible – the data seems to be random.
Of course, there is activity monitoring and an analog of the "rings" from Apple Watch (in this case, semicircles) that illustrate your activity goals and their achievement (for calories, steps, and movement).
The watch supports 117 training modes. For convenience, they are combined into groups, for example, water sports, outdoor workouts, or activities with a ball. Heart rate zones and other useful information (time, calories, distance, etc.) are displayed during training.
Running is a separate item in the menu, as it offers not just simple tracking of your training, but different modes – interval running for beginners, fat burning, and endurance. In each mode, there are basic and advanced levels available. Any activity involves a warm-up, and the watch gives clear instructions, as well as stats after the end of the run.
GPS support is one of the distinctive features of the model. It is probably important to someone, but not at all to me. If I go for a run without my phone, it's enough for me to know the approximate mileage and training time. If for some reason, it will be necessary to record a track on the map (I have never needed this before), it will not be difficult for me to take a smartphone with me. Moreover, I like to listen to music or audiobooks on the run, and the watch does not have any built-in memory, it will not replace the phone even in this small aspect. In general, I don't see any sense in overpaying for satellite navigation.
Recommended reading: How to add music to Apple Watch and listen to it without a phone
In addition, it should be noted that the use of GPS drastically affects the battery life of a small device and consumes about 15-20% of the battery per hour. Thus, Xiaomi Smart Band 7 Pro will still not be enough for any triathlon or marathon. And for daily runs with GPS enabled, you'll have to charge the watch several times a week.
There is no NFC support in the version sold in Europe. You can order a modification with NFC from China, but you won't be able to enable contactless payments. So, for now, Xiaomi Smart Band 6 NFC is your only option for contactless payments (we are still waiting for Xiaomi Smart Band 7 NFC to arrive in Europe). And the more expensive pro-version does not have and will not have a payment option – another disappointment.
Read also: Xiaomi Band 7 sold more than 1 million units in China
Xiaomi Smart Band 7 Pro Battery Life
Official Xiaomi data shows 12 days of battery life from one charge. Of course, it all depends on how you use the watch and what features you need. If you use Always On Display or train with GPS on – expect less than a week of Xiaomi Smart Band 7 Pro battery life.
Since my husband and I did not like the Xiaomi Smart Band 7 Pro and sent it back to the store a few days later, I cannot draw conclusions about the battery life of the device. However, judging by the reviews of the owners, on average, the band lasts for 9-10 days if you train regularly. And if you turn on sleep monitoring every night, and constantly measure the heart rate, SpO2, and stress level, then the watch has to be charged every 4-5 days. 12 days of battery life looks realistic but with additional options disabled and without everyday training. Either way, that's a good battery life for a modern fitness tracker with a big screen.
Read also: KOSPET Tank M1 smartwatch review: Military-grade protection
Conclusions
The band went back to the store a few days later. As I learned from the other review, my expectations are my problems. Maybe so, but I expected much more.
So, on the one hand, we have a smart tracker with a large screen and all the advantages that come with it. It looks nice, and it also has GPS. Tracks activity pretty well, and offers many types of training and special options for runners, but this is not surprising today.
But everything else is disappointing. The manufacturer clearly cheaped out on the screen – it flickers and has a low brightness (nothing is visible outside in Always On mode). The plastic casing is of poor quality, the haptics is unpleasant.
The lack of a physical button and – at the same time – a non-cyclical menu is especially maddening. If you have gone somewhere deep inside the menu, returning back by swiping on the screen is another "pleasure". The interface is buggy and slow, the fonts are unpleasant. It is not possible to answer calls and messages (even with templates). There's also no contactless payment, as NFC is noticeably missing.
And all this "beauty" costs too much. In my opinion, even the Chinese version is expensive. It is better to take something cheaper and not worse. For example Amazfit Bip 3 Pro or GTS 2/GTS 3, Xiaomi Redmi Watch 2 Lite, Redmi Smart Band Pro, Realme Watch 3 Pro, OPPO Watch Free, Realme Watch, Huawei Band 7, 1st-gen Huawei Watch Fit. And AliExpress is generally full of everything interesting at good prices and with a full set of useful features. There are many alternatives. This time Xiaomi did not manage to make a "top for the money".
If you pay a little extra, it's smart to buy the beautiful Huawei Watch Fit 2 with a much more user-friendly OS, a gorgeous display, and the ability to take calls. You can also pay attention to watches from Garmin, Fitbit, or at least OPPO Watch – with good functionality and the ability to pay in stores. And, if you have an iPhone, you can even buy Apple Watch 3, used or new, from the outlet. It will be much better than waisting money on a failed Xiaomi Smart Band 7 Pro.
And what do you think about this new product? Maybe you already own it? Share in the comments!
Where to Buy Xiaomi Smart Band 7 Pro
Recommended reading:
You can also help Ukraine fight with Russian occupants via Savelife or via an official page of the National Bank of Ukraine.