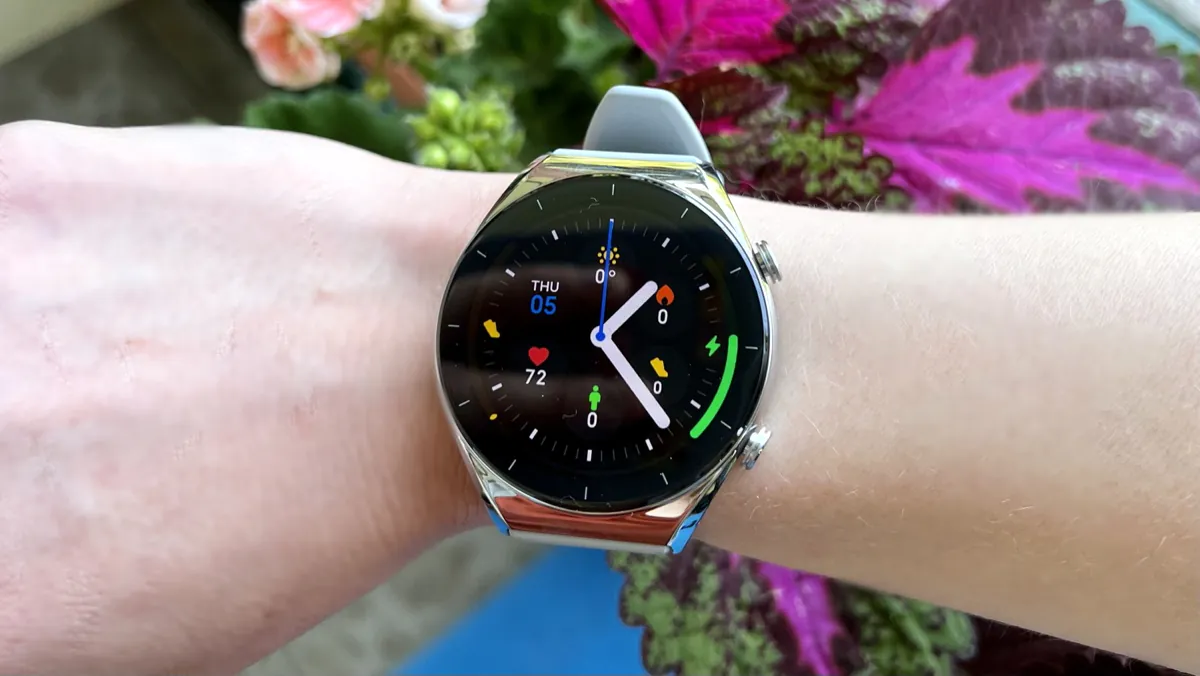 There are some  very expensive models in the market of smart watches, such as Apple Watch, Samsung Watch and some Huawei Watch, as well as many 'budget' watches for 60-110 dollars. With its new Watch S1, the Chinese company decided to 'jump over the head'. Xiaomi Watch S1 is the most expensive among the relatively inexpensive (the price is $265). Let's find out what they are capable of and whether they are worth buying.
Specifications of Xiaomi Watch S1
Compatibility

Android 6.0+

iOS 10+

Screen

AMOLED, 1,43″, 466×466

Wireless interface

Bluetooth 5.2

Battery life
470 mAh, up to 12 days in regular mode, up to 24 days in power-saving mode, 30 hours with GPS on
Strap length

149,8-233,8 mm (polymer strap)

165,1-225,1 mm (leather strap)

Waterproofing

5 ATM (submersion down to 50 m)

Navigation

GPS, GLONASS, Galileo, BeiDou, QZSS

OS

MIUI Watch 1.0

Additional features

WiFi 802.11 b/g/n (2,4 GHz), wireless charger, SpO2, continuous heartbeat monitoring, 117 activity types

Weight

77 g with polymer strap

Dimensions (H×W×T)

46,5×46,5×11,0 mm
Market positioning and price
Xiaomi Watch S1 was introduced simultaneously with the simplified model Xiaomi Watch S1 Active. You are probably interested in the differences between these models, so let's have a brief focus on them.
First, the design. The Active model has a sporty focus, looks more massive and comes only with polymer straps. Well, the more expensive version has a calfskin strap in addition to the 'common' fluoroelastomer.
Watch S1 is a bit more compact, but considerably heavier (52 g vs. 36 g), because it is made of stainless steel. Active has less premium materials – fiberglass-reinforced polyamide (feels like plastic to the touch), metal bezel that protrudes above the display and thus protects it from scratches and bumps. Well, the more expensive model, however, received a strong synthetic glass.
Second, the functionality. In general, the watches are similar – screen, degree of moisture protection, sensors, battery capacity… However, the Watch S1 has wireless charging, while the Active version can only be charged with a cable with magnetic contacts.
Actually, so much for the differences. Whether they are worth overpaying $ 60 is up to you. And now let's focus on the Xiaomi Watch S1.
Delivery set
The box itself makes it clear that it will contain the cheapest high-end device. It has a 'metallic' texture, and a convex with the name of the watch. Inside, in a convenient and well-thought-out package, you will find the watch itself, two types of straps, a charger plate and a short USB-C cable for it, as well as a thick book with manuals in different languages.
Putting two straps in the box is a brilliant idea. I do not quite understand why some manufacturers offer versions of watches with different straps, and force the customers to buy replaceable ones for considerable amounts of money. In the case of Xiaomi Watch S1 we have the optimal set – a strap made of fluoroelastomer for sports activities and for every day use, and a more elegant genuine leather strap for formal occasions or maybe for every day use as well (it's up to one's liking).
The quality of both straps is superior. They are comfortable, pleasant for the skin, have many holes for regulation and are suitable for people both with either thin or massive wrists.
Strap mounting is common with telescopic needles. So if you want, you can use any other 22 mm strap, there are plenty of these on AliExpress.
Design
The watch looks solid and serious. The case is made of durable 316L stainless steel (surgical steel standard), which is widely used for manufacturing jewelry, cutlery, watches. The steel is polished to a shine everywhere except the sides, which have a matte finish, and this combination looks good.
The screen is flat with trimmed edges and minute marks. Due to this design, the screen is not protected by anything, so it can be sensitive to shocks and scratches. However, durable sapphire crystal glass is used here, so hopefully there will be no problems. At least no scratches appeared during the test.
It is necessary to understand (although it is obvious from the photo) that the watch is very, very big. The size of the case is 46.5 mm. The diagonal of the display is 1.43 inches. Maybe there are girls who like this size, but I would still call the Xiaomi Watch S1 a male model, on a woman's wrist they look too massive. But on a man's hand they look solid, like cast, no worse than a Rolex, forgive me, fans.
There are two buttons on the right side of the case. They look like 'spinners', but it's just a design element, the buttons are simply pressed. Of course, you can rotate them, but you can't scroll through menus like in a Huawei or Apple watch. The keys are a little loose in their sockets, but not critical. The upper key is responsible for calling up the menu (or returning from it to the desktop), the lower key starts workouts.
You can't reassign buttons, except that you can hang a specific type of workout on the bottom key, such as running, instead of a whole list.
The back of the watch is made of plastic, there is also a heart rate sensor. The plastic does not pretend to be 'premium', but the lower part of the watch is still usually not visible. Microphone holes and speakers are located on the beveled parts of the rear panel.
Xiaomi Watch S1 display
The diagonal of the screen is 1.43 inches, the resolution is 466 × 466 pixels, the pixel density is 326 ppi. The AMOLED matrix is installed, so the image is very juicy, contrasting – a real pleasure for the eyes.
Maximum brightness – 450 nits, which is not as much as desired. In the sun, the screen remains quite readable, but I would like to tweak the brightness. In general, there were no complaints about the automatic brightness adjustment during the test.
Let me note here that the watch supports AoD mode (Always on Display), thus you can see the time without turning your wrist or activating the screen with the button – it will be displayed in energy saving mode. But, of course, this mode drains the battery faster than usual, so I do not use it: why show the time all the time, if I only look at it from time to time?
Interface and capabilities
Here everything is familiar not only for Xiaomi watches, but also for modern smart watches in general. The interface works smoothly, as befits an expensive watch.
I'll start with the dials – a small number of them are hard-written into the watch, but you can download a lot of them through the Mi Fitness program, about 200 options at the moment. Dozens of dials are animated, just as much can be customized by selecting the necessary elements.
The top-to-bottom swipe calls up the quick access curtain, which includes various functions including brightness, flashlight, battery charge, DND mode, mute, wrist rotation screen activation, go to settings; scroll more to see alarm clock and swim mode activation. Here is the date and battery charge percentage.
Swipes to left and right switch different widgets. And in Watch S1, several widgets on rounded dice can be found on the screen instead of one that occupies the entire screen. Here are the level of activity, and heart rate, and the level of oxygen in the blood, sleep data, and weather, and running workouts, and music management, and so on.
The number of widgets and the order of their location can be adjusted through the application.
The bottom-up swipe brings up the message menu. It collects all messages from messengers, SMS and messages from applications that the user has activated in the program. You can't answer all this, you can just read and delete. The maximum length of the displayed text is 280 characters. Smileys are displayed in messages.
The advantage of Xiaomi Watch S1 is that the watch is equipped with a microphone and speaker, so you can call and answer calls over the speakerphone. It is very convenient if you do not have a phone at hand and do not want to rush to look for it (but, of course, the phone must be connected to the watch in the Bluetooth area). However, you can only call back to the number that called you last, there is no synchronization with the smartphone call list (yet?).
The menu is called by the top key and it has almost everything you need – even a photo gallery, compass, barometer, camera control, Alexa voice assistant (you can only talk to it in English, Ukrainian or Russian), breathing exercises and more.
The settings in the watch itself are vast.
It should be noted that the watch is equipped with NFC and supports payment through the Xiaomi Pay service. If you have already encountered it, for example, in the Mi Band 6 bracelet, you know that the Xiaomi payment system works only with MasterCard cards. And with a limited number of banks. But in any case, it's better than nothing, isn't it?
Read also: Realme Watch S Pro review: Waterproof, with GPS and AMOLED… but is it enough?
Sensors and sport functions
The watch supports a large number of workouts – more than 100. There is everything you need, and even more (skipping rope, yoga, hiking etc.).
The screen contains all the important information during the workout, and later the statistics are displayed on several pages, it's impressive.
Also Watch S1 supports the function of automatic recognition of training, this applies to running, walking.
I had no complaints about the monitoring of physical activity. And during training (including when using GPS), and in normal time as well, there are no questions about measuring heart rate and saturation. Let me just remind you that a watch is still not a medical device and you should not completely trust the issued figures, if necessary, check again on specialized devices.
Read also: Realme Watch S Review: The Brand's First Smartwatch with Round Display
Companion app
The app that you may remember as Mi Fit has recently been renamed to Mi Fitness. The program has definitely changed for the better lately and looks very nice, especially when compared to the companion apps of lesser-known brands of smart watches and fitness bracelets. Excellent 'polished' design, easy to set up.
You can see the activity semicircles on the main screen, as well as the basic information collected by the sensors. Here you can view detailed statistics of heart rate tests, SPo2, sleep tracking and so on. You can also keep track of the menstrual cycle, record weight changes in the application.
There are also many settings available for the watch itself (however, it is more convenient to use a larger smartphone screen than a watch), a very large number of dials in any style and for every taste. The application can, in particular, include constant monitoring of heart rate, saturation and stress levels, advanced sleep tracking, activate the Do Not Disturb mode and activate the screen by turning the wrist on schedule. It is also possible to change the list of workouts, configure widgets on the side tabs.
Another useful option is to set the SOS mode by triple-clicking the bottom button.
Mi Fitness even has a catalog of applications. However, only 4 programs have been available in it for several months, so we still do not have a full-fledged 'smart watch', such as Samsung and Apple models with a wide selection of third-party software. But closer and closer.
Let me note that when 'moved' from Mi Fit to Mi Fitness, the ability to export activity data to other apps, such as Google Fit, has disappeared, which may be critical for some.
Battery life
Xiaomi claims that the gadget will be enough for 12 days of 'standard operation' and 20 days in energy-saving 'time only' mode. The battery capacity is 470 mAh. However, 12 days works more for the energy-saving mode, without AoD and most activities. The manufacturer's website describes the measurements, saying that 'standard work' considers a heart rate test every 10 minutes, receiving 100 messages a day, two reminders a day, 4 phone calls per hour (only about 30 minutes per week) , two 30-minute workouts with active GPS per week, payment via NFC 10 times a day.
In general, during the test, I used the watch according to the principle described above, except that I trained more often and for longer, and GPS consumes the battery substantially (according to Xiaomi, the watch lasts only 30 hours of continuous GPS operation). I had enough of the watch battery for about a week, but this is a great result if compared to the Galaxy Watch or Apple Watch.
The Watch S1 is charged by induction charger, to which it is magnetized. This is the "flagship" function, you can use special wireless devices to charge the device or even smartphones with reversible wireless charging function. It takes about 1 hour and 20 minutes to fully charge the watch.
Read also: Apple Watch SE review – No Reason To Overspend
Conclusions
Let's return to the question of whether it is worth buying this watch, given that it is not so cheap. Yes, the watch looks chic, steel case, two straps included, and leather will look great in the company of a business suit. Yes, there are a number of advanced features, including NFC for payment in stores, wireless charging, excellent AMOLED-display, the ability to answer calls from the watch, excellent heart rate and saturation sensors, barometer and altimeter. Autonomous work up to 7-12 days, depending on the activity, is also very pleasing.
However, we must understand that we still do not have a full-fledged smart watch here, but rather an advanced fitness bracelet.
It is not possible to reply to messages (even with blanks or smileys). The possibility of installing additional apps seems to be there, but only for a tick, because there are 4 apps available in the list and new ones do not appear, apparently, third-party developers do not have access to the API, and Xiaomi is not interested. And you might need, for example, the ability to use the maps on the watch. Payment works only with MasterCard cards of some banks.
There is no synchronization with the phone's address book, so you can't call a specific contact using the watch, and only the phone number is displayed during incoming calls, not the name. It is not possible to download music to the watch to listen to it, for example, while jogging without a phone through headphones. There is no eSIM function (not critical, but it is still an attribute of a 'full-fledged' smartwatch). It should also be noted that the watch is very large, so it will be to the liking of not every woman.
Among the competitors of the Xiaomi Watch S1 are the Galaxy Watch 4, which is cheaper in the 40 mm version and costs the same in the 44 mm version. Of course, there is no solid leather strap included, but it's a full-fledged smartwatch with Google's Wear OS and Google Pay support (works with any card and bank). The message can be answered, not only with blanks, but also with text, voice. Additional features include ECG, pressure measurement and the ability to detect a sudden collapse of the user. There is also an internal memory for music. In general, for the same money it is a more developed device, but, of course, the battery life is no more than 2-3 days, depending on the activity.
The Huawei Watch GT 3 falls approximately into the same 'weight' and price category. It is based on HarmonyOS and, of course, it does not keep up with Wear OS. The choice of third-party software is also meager (although it is much larger than in Xiaomi), the message can only be answered with blanks or smileys (but the clock shows more text – 460 characters). There is a built-in memory for music, but there is no possibility to pay in stores. But you can rewind the menu with the wheel-button, it's convenient. It is also possible to use maps on the watch. In general, you can choose the Watch GT 3 instead of the Watch S1, except for some subjective reasons, because both Huawei and Xiaomi are 'under-smart watches' at the moment, but still Huawei is a little less 'under-smart' than Xiaomi. However, the battery life in the Watch GT 3 is slightly shorter, though more than in the Samsung models.
Conclusion: You should buy Xiaomi Watch S1 if you need a smart watch in a classic design that runs on battery power for a long time and is equipped with a cool large display. But it should be understood that despite its high price, the functionality is not as developed as smart watches on Wear OS or Watch OS.
Where to buy
Read also:
You can also help Ukraine fight with Russian occupants via Savelife or via an official page of the National Bank of Ukraine.