Riot developers did not ignore the concern of the players about the constantly active anti-cheat code Valorant and took the necessary measures. They introduced a special switch that deactivates the Vanguard system when you are not playing a game.
Riot's senior software developer, Nemanja Mulasmasich, commented on the new improvement in his Reddit account. He explained that if you turn off the Vanguard anti-cheat program than you activate an untrusted mode on your machine. It also prevents you from playing until you reactivate Vanguard. He also added that the new changes improve the level of control and visibility of the updated Vanguard. Thanks to the update, an icon that allows you to disable the anti-cheat Valorant is placed in the system tray on the Windows taskbar. From there, you can enable or disable anti-cheat at any time.
Along with activity management, with this icon, you can also completely remove Vanguard. Nevertheless, to play Valorant, you still have to reinstall it. You can do it yourself or Vanguard will be installed automatically when the game launches. Therefore, this is an integral part of playing Valorant. Vanguard protects data while you fight with other players. Do not forget that you are more likely to win when you fight with players of your rank. Stats for each player can be viewed at Valorant Tracker.
The essence of Vanguard remains the same – it must be activated while the system is running so that you can play Valorant. Developers just added some options – you can disable or delete them, but you will not be able to play the game. You can take advantage of new opportunities if there are any problems in the system or Vanguard mistakenly blocks the software that you use.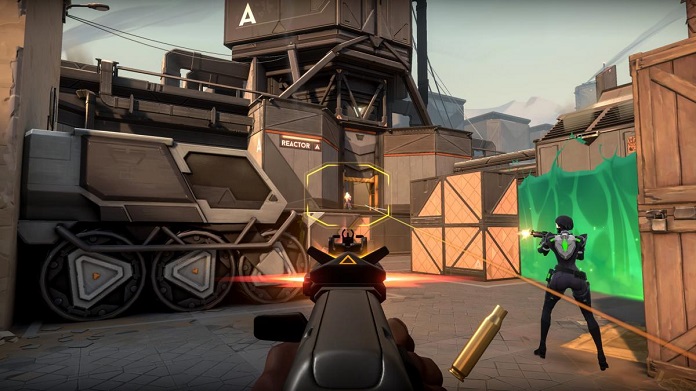 In an interview for IGN, Riot fraud leader for Valorant Paul Chamberlain said that Vanguard greatly facilitated their work. Firstly, protection mechanisms and technologies are so powerful that it takes much longer to create cheats and not all of them can bypass protection. Secondly, this development gave developers valuable time and the ability to respond to threats almost instantly. The Vanguard system was built in such a way that developers can introduce new security features at any time, and without having to update the game. Vanguard was created in the long term with the possibility of continuous development and improvement. The Riot team emphasizes that this is not a one-time product and soon something more can be expected.
Although Valorant has introduced the latest anti-cheat technology that works during the game and beyond, hackers still managed to hack the game. Such a development of the event Riot simply did not expect, at least not in the first stages. In his speech, he added that they were taken aback by cheat developers and such a quick turn of events attracted their attention more than ever.
They expected to see cheat attacks within two weeks of launching beta testing. But everything happened much faster. Already a couple of days after the launch, they had to work at full capacity with scammers and cheat programs.
The Riot team encourages hackers and offers up to $ 100,000 as a reward to identify flaws and security drawbacks in the anti-cheat technology used by Valorant.
The developers of Riot shared with the audience why the newly introduced anti-cheat system for Valorant is always active, even if you are not playing the game.
As part of a currently 1,700 comment-long Reddit thread about anti-cheat for Vanguard, a member of the Riot Paul Chamberlain team (aka RiotArkem in Reddit) spoke about the importance of using anti-cheat solutions on your computer. In general, when anti-cheat technology is active, it blocks attempts by fraudsters to launch cheat software on your device. Anti-cheat solutions that work only during the game are too vulnerable since they are inactive outside the game and this gives odds to scammers. That's why anti-cheat technology must work all the time.
Chamberlain strongly emphasizes that although Vanguard constantly works, it does not collect any data from your computer and does not provide it to third parties. "Any checks for cheat codes will be performed by a component that is not related to drivers, only during the game." Thus, Vanguard works constantly, but is active and collects data only during Valorant is active.
People's concern about the innovation is understandable because the software that constantly works in the background resembles a spyware program and causes suspicion. In the modern world, almost everyone is concerned about the security of their data and is skeptical of new technologies. We associate them with programs that track our activity and collect data, and which have always been an object that we try to avoid. However, Riot emphasizes that Valorant should be free from scammers and limited only to this area.