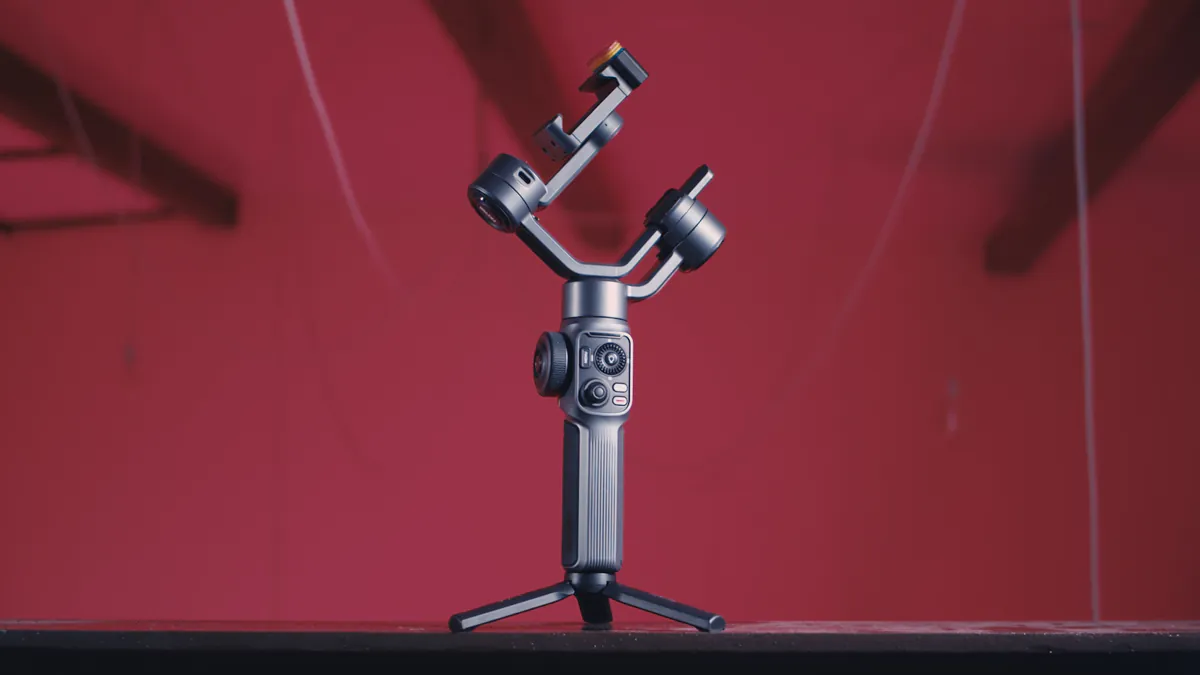 If you describe the Zhiyun Smooth 5 Combo in the two or three words, it will be… perhaps the most expensive stabilizer that should be bought exclusively for a smartphone. If your phone lacks pro video mode support – just don't bother. But for all others – that's the top dog.
Zhiyun Smooth 5 Combo video review
Don't want to read? Watch instead:
Price
Actually, for 300 bucks that costs this miracle, you can take the Zhiyun Crane M2, where you can clamp the wicked up to 700 grams.
But it will be again the story with the cheapest flagship and the most expensive medium -expert. Zhiyun Smooth 5 Combo is very nice in many things, and even bypasses film stabilizers in some.
For example, lighting. Put on the out-of-box magnetic flashlight with several colored backgrounds on top – and you will get a very bright light source, with a few different tints.
And it can shine forward and back, because it's magnetic. And it does not affect the balancing of the device at all. Well, it affects, but not so much.
What else is cool? Thread 3/8 inch on the side on the handle. Under the microphone-push is perfect, though the mobile is Synco MMIC U3, the review is here, though under Boya BY-BM3032, the review will be soon.
Everywhere else – just great. This stabilizer is just very high quality, reliable, with powerful engines, versatile and convenient. He should not be different for such money, but you know, every one happens.
The tools for managing the movement of the stabilizer are enough, it also gets up on the tripod without problems, and is reliably covered in it's travel case.
In addition, Zhiyun Smooth 5 Combo maintains several interesting effects, wilting the Vertigo and the shooting of a circular sky, and is able to shoot both from above and below.
Software
And… from the point of view of the hardware, exclusively hardware component, it is probably the best stabilizer for smartphones in general. However, there is still a software point of view.
Just straight facts for You. To use the effect of Vertigo, or the implementation of all control buttons, you need a proprietary ZHIYUN app. Or even two, because one does not have professional video shooting, and the other does not have chips to control the stabilizer.
You can also buy a paid subscription, which also gives certain bonuses, but does not justify the use of programs that themselves are difficult to call professional, unlike the price of this gimbal.
And finally, I say – the more Zhiyun does good in terms of hardware, and the less in terms of the software, the more satisfied the user will be.
This is only my opinion, because I am almost sure that programs are in demand in countries more asian than ours. But I'm reviewing this gimbal in Ukraine, and I can not display what I noted.
Verdict on Zhiyun Smooth 5 Combo
Let's summarize. Zhiyun Smooth 5 Combo is probably the best thing you can shoot a video through your smartphone. It is already familiar with the capabilities of the stabilizer are smaller due to the software component. But hardware gives more than all other models that I know.
So, yes, I do recommend. But I ask the manufacturer – to put it nicely, choose one or the other. It's not a toy. Do not leave us with less, that we can get, just because.
Where to buy
Read also:
You can also help Ukraine fight with Russian occupants via Savelife or via an official page of the National Bank of Ukraine.