ASUS begins a new chapter in its more than 30-year history. After two years of preparation and a successful start in selected markets, ASUS Business is ready to supply a wide range of products for business in more than 40 countries in the EMEA region this year.
Madeleine Hung, Regional Director of Western Europe at ASUS, explained the company's new strategy: "We have gained recognition in the field of consumer computers and are now expanding our business to reach new heights in the field of computer hardware for business. ASUS Business provides comprehensive vertical business solutions consisting of a wide range of products that are constantly improved and easy-to-use software to optimize business operations and support services. During the ASUS Commercial Business Summit, the company held product demonstrations in eight interactive zones. That allowed guests to see the ecosystem in action. The thematic areas covered hybrid work scenarios in areas such as the hotel business, education, retail, engineering office, computer class, and more.
ASUS takes into account the values of entrepreneurs and business owners in order to create a wide range of products for businesses that are trustworthy, professional, and efficient, such as the ExpertBook series of business laptops and the flagship ExpertBook B9 (B9400).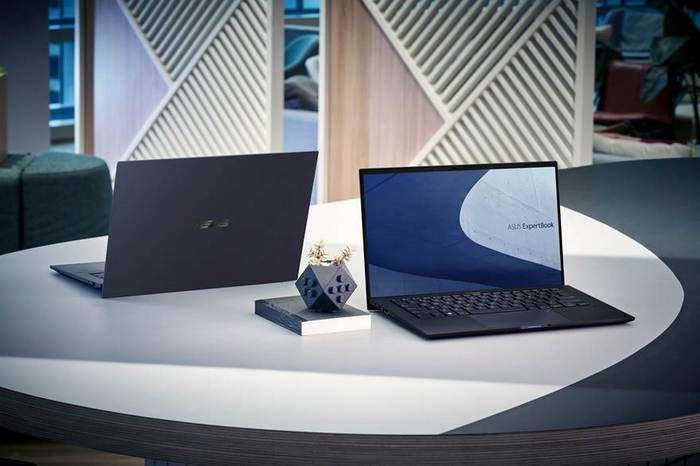 ExpertBook B9 is the world's lightest 14″ business laptop (880 g), equipped with an 11th generation Intel Core processor, an integrated Intel Iris Xe graphics, and support for the installation of two SSDs, to create RAID0 and RAID1 arrays. It also offers support for the latest high-speed Thunderbolt 4 interface, AdaptiveLock proximity sensor for easy and secure system login, and intelligent noise reduction technology, which provides crystal clear voice sound during online calls and video conferencing.
ASUS ExpertBook B9 business laptop is equipped with a large number of means for the protection of confidential data. The built-in fingerprint scanner allows you to unlock the laptop with one touch.
Since the early 2000s, ASUS has taken environmental issues into account in its strategy. In 2009, the company introduced the world's first "carbon-neutral" laptop, in 2016 it became the first among IT manufacturers to receive Zero Waste to Landfill certification, and in 2019 ASUS became the first company in the world to receive ISO 20400 environmental certification of procurement.
Last year, the company set a goal: to achieve energy efficiency for key products by 2025, which will exceed the requirements of the Energy Star standard by 30%. In addition, by 2035, ASUS plans to switch to 100% renewable energy use in its global operations centers.
You can also help Ukraine fight with Russian occupants via Savelife or via an official page of the National Bank of Ukraine.
Read also: